Women's 40th Birthday Outfits: You are so close to celebrating another milestone in your life as your 40th birthday is approaching. And despite what everyone may tell you, it is a big deal and worth celebrating. Not because you are getting older but because "life begins at forty!".
Dressing for your birthday is always special. But there is something a little more glamorous and significant when it comes to your 40th birthday. At this point in life, most of us have established our identities and earned our place. Thus, it only makes sense to celebrate your achievements with your loved ones. And must be dressed to impress, considering that you will be the center of everyone's attention on this special day.
30 Dressing Tips for 40 Plus Women
What to Wear on 40th Birthday?
Styling an outfit for birthday may seem overwhelming. But you do not have to worry since we are here to the rescue. There are certain things that you need to keep in mind when dressing for your special day which I will be talking more about in the tips section below.
Club Outfits For Women Over 40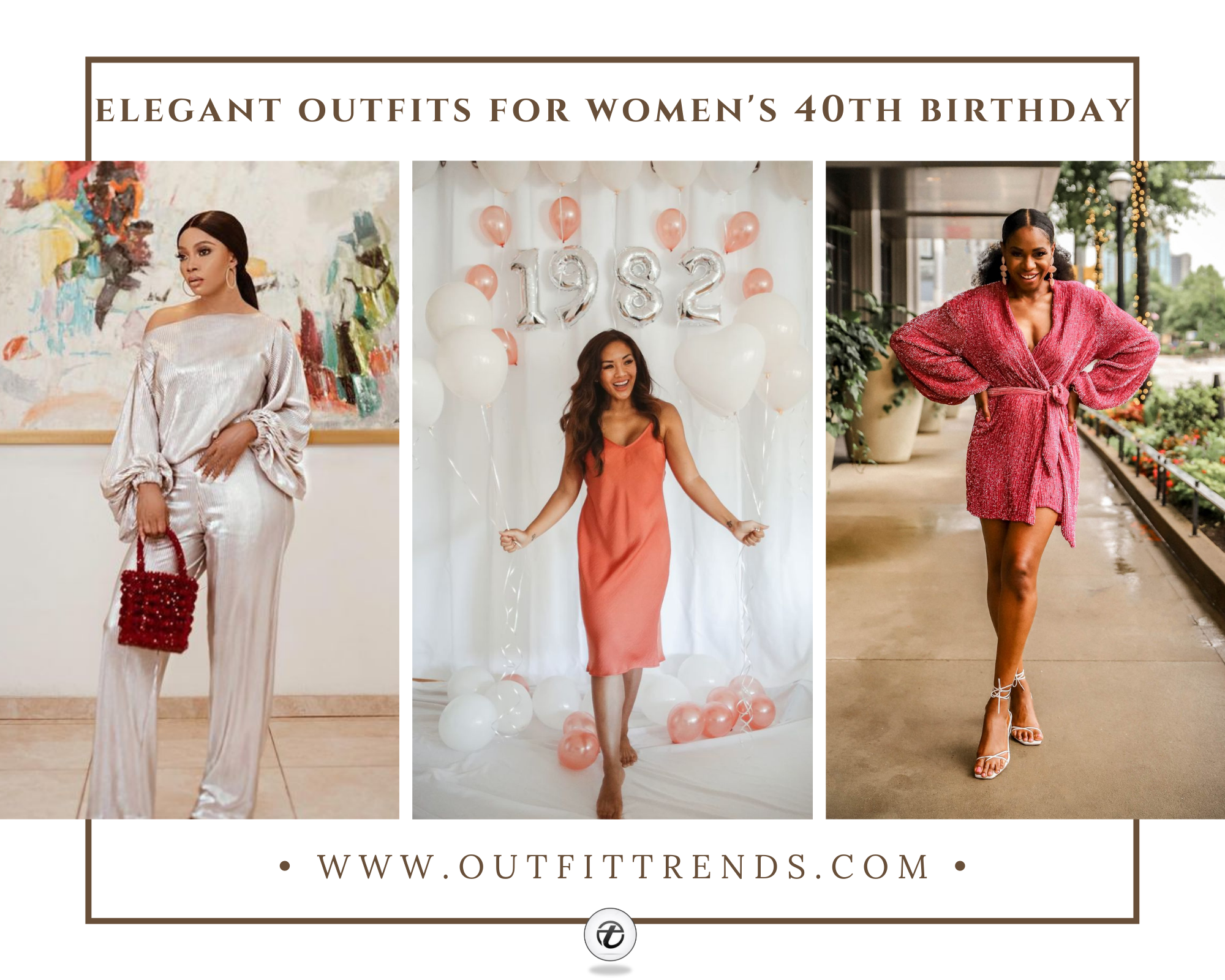 Styling Tips
Dress according to the celebration planned. If you are having a lowkey house party, a sparkly top paired with leather shorts or a skirt will look phenomenal. Contrarily, go for a floor-length draped gown or jumpsuit for a more formal gathering!
Find the silhouette that suits your body type. This day is not the day to be experimenting with cuts that end up looking unflattering.
Comfort is key! Wearing something uncomfortable will only hinder your celebratory spirit on this day.
Confidence goes a long way. If you feel like you might not be able to pull off a bright fuchsia color, then listen to your gut. And choose something which channels your inner diva instantly! Simultaneously, do not be afraid of experimenting to see what new trends you can pull off.
Do not forget to glam up with the right accessories, including jewelry, a bag, and a watch. Oh, and sexy shoes are an absolute must!
A photoshoot is an excellent way to get some great pictures as memory and commemorate this monumental moment of your life!
Here are 20 spectacular looks which are sure to turn some admiring looks your way!
20 – What Shoes to Wear?
Heels are always statement-worthy footwear for any and every occasion. I am huge of stiletto court shoes. The best part is that they come in every color, a variety of beautiful patterns and always look phenomenal. Whether you are wearing jeans or a fancy dress, stiletto court heels are bound to work flawlessly and make you stand tall and invincible. These shoes serve to provide you with just the right amount of confidence you have been looking for!
19 – Mix Bright Colors & Prints for a Casual Look
Psychedelic printed pants are the way to go this season. And pairing these pants with a sunny yellow was the best decision you can make. If you are not comfortable wearing this much color, then opt for a tan racerback top paired with a green cardigan to compliment the pants.
Street Style Outfits For Women Over 40
18 – Birthday Dinner?
A similar sparkly dress – short or long – will work flawlessly. Similarly, a fancy blouse paired with leather pants or a bright and bold jumpsuit is an excellent option for the dinner. Just make sure not to compromise on your hair and make-up. Get a classy up-do or let your hair down in gorgeous waves to frame your face. And to compliment your look, go for you a suitable lip color and smokey eye!
17 – Add a Darker Bag to your Sparkling Co-Ord Set
co-ords are the perfect pick for you! You would have to make a minimal effort in styling your look like half of it is already sorted. Add on a darker purse or shoes to contrast against your lighter outfit. A sleek hairstyle, glamorous make-up, and stunning jewelry are here to complete your look! Here are some more tips on how to style such co-ord and matching sets.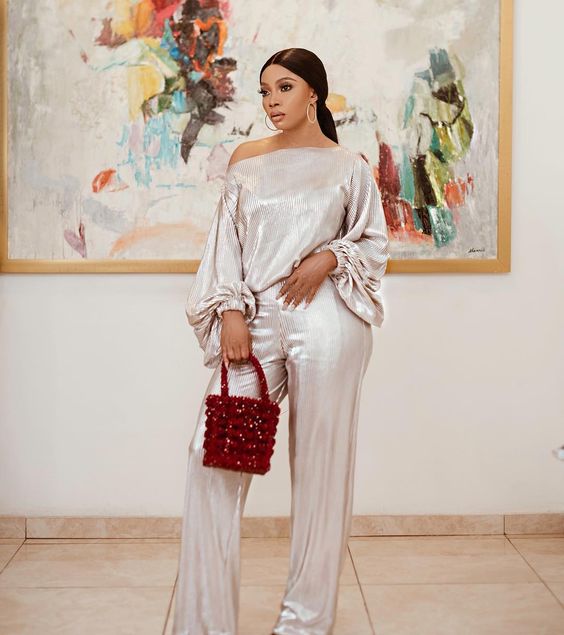 16 – Mix Leather Pants & Tulle for an All-Black Outfit!
I love how simple and pretty this look is! A "birthday queen" printed tee matched with leather pants looks super fresh and laidback. And the addition of tulle has made this look birthday appropriate! Go for heeled platform boots and gold hoops to add a little something extra to your look!
15 – Accessories to Pair with a Bold Jumpsuit:
I adore this look! Bold, bright, perfect accessories and an ideal silhouette, this entire outfit ticks all the right boxes for me! Leave the hat behind – unless you have a specific theme that calls for it – and pin your hair back intricately! This would also be great as a Dating Outfit For Women Over 40.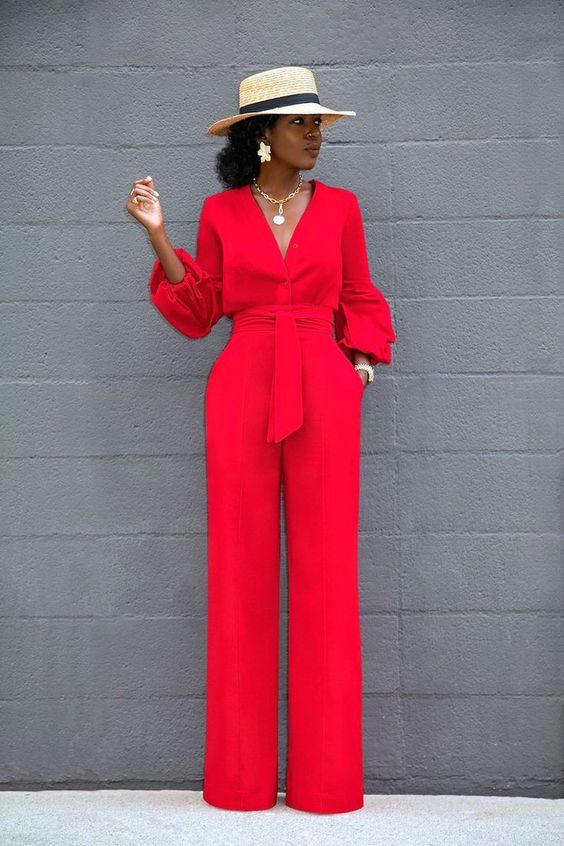 14 – Choose Corals Silk Slip Dress!
This look serves as some great inspiration for photoshoot ideas. Add a faux fur stole in cream and nude heels to make this look an absolute hit!
13 – Get Suited Up with Tribal Jewelry!
Suits on a birthday are one of the best ways to look fancy, trendy, and super sexy! I mean, it does not get any better than a woman in a suit and heels. Throw in tribal jewelry to the mix, and you have a look at your hands that is too hot to handle.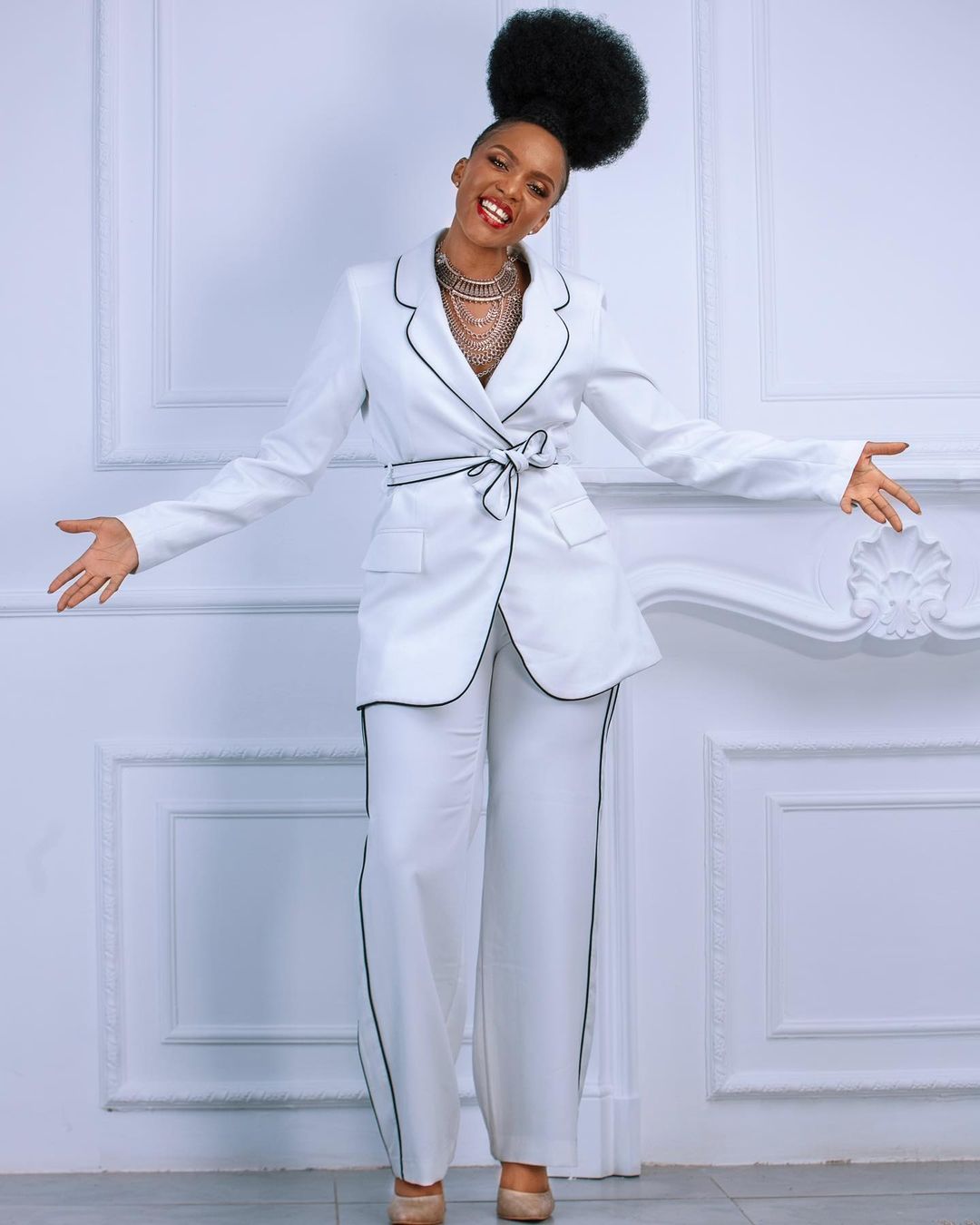 12 – Mix Stripes with Wedge Heels for a Summer Look!
This look is perfect for a summer birthday bash at the beach with your friends and family!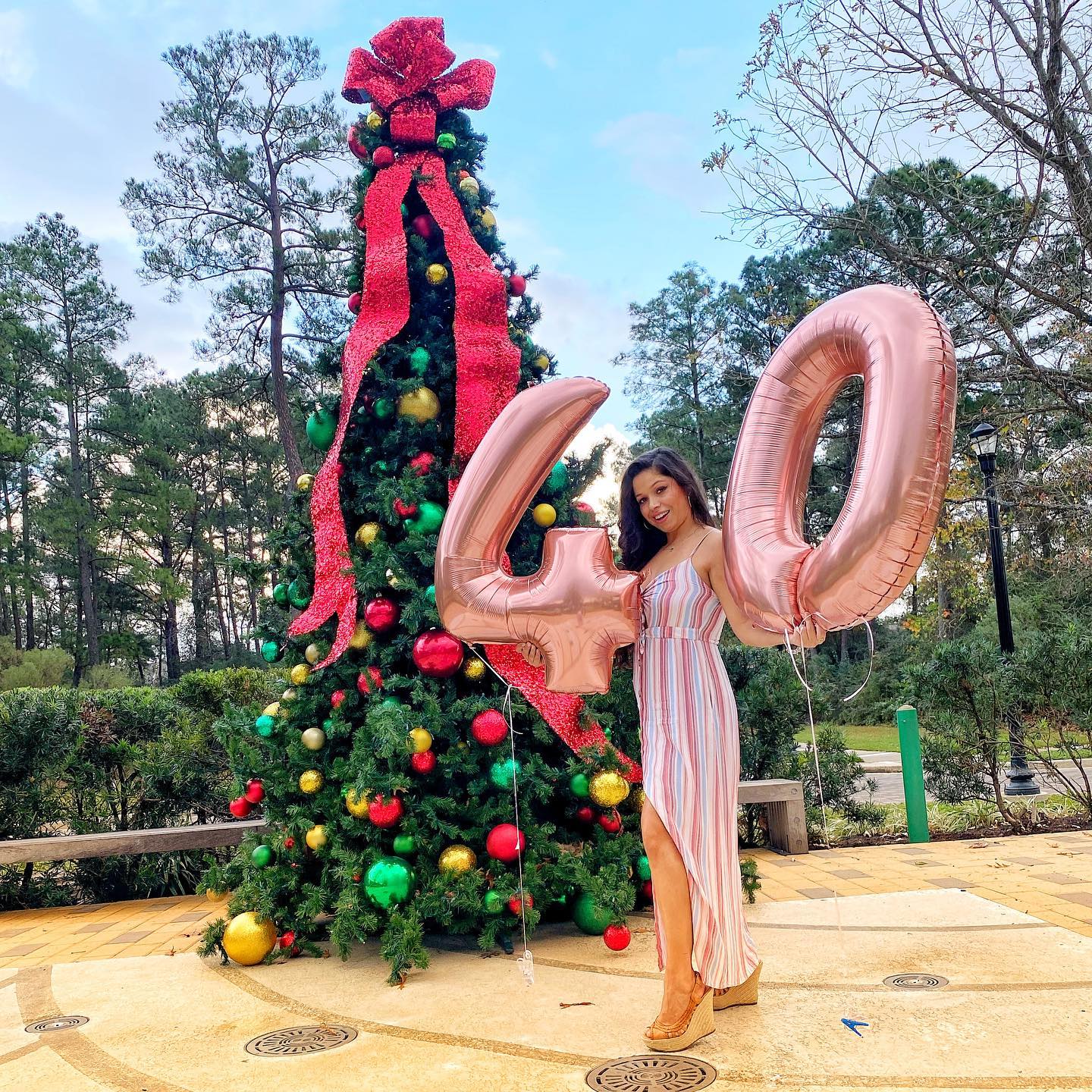 11 – Make Vintage Jackets the Statement Article of your Outfit
If your vintage jacket is flashy and bold, make it a statement article in your outfit. Opt for a top and bottom in solid tones to add attention to your jacket. You could go for fancy shoes or a bag to compliment your outerwear and a gorgeous make-up look with smokey eyes to tie your entire look together.
10 – Plus Sized Outfit
I love everything going on in this picture: the photoshoot idea, floor-length gown bedazzled with sequins, the classy hairstyle, and glowy make-up. It checks all the right boxes!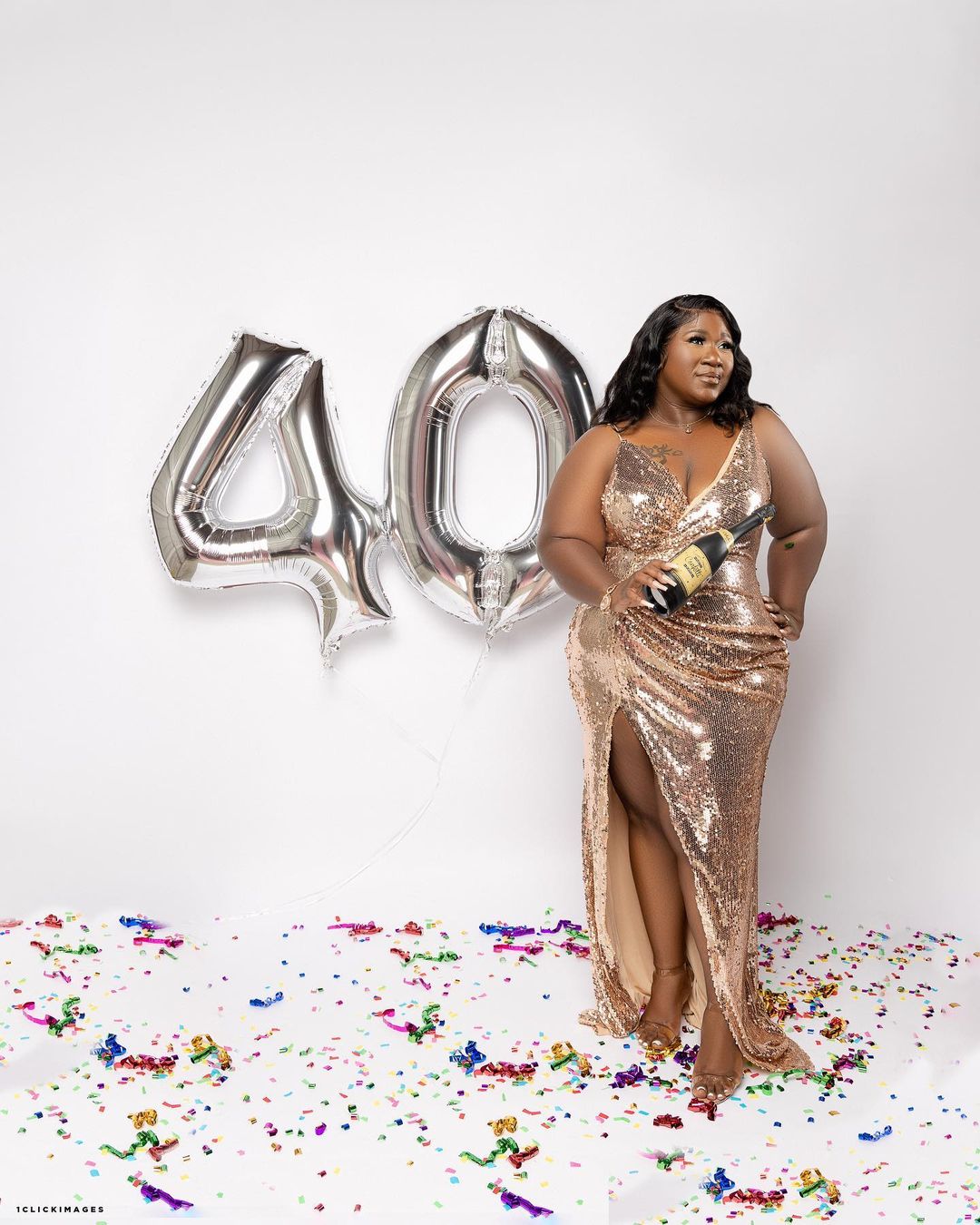 09 – Tulle Skirt
There are so many ways to style a tulle skirt! If you wish to keep it simple and more street style, the image below is an excellent option to consider. You could also go for a graphic printed tee or a solid-colored, puff-sleeved blouse. Contrarily, opt for a romantic blouse with ruffles and pair it with stiletto court heels. Let your hair down in soft, loose waves and a makeup look that compliments your outfit phenomenally.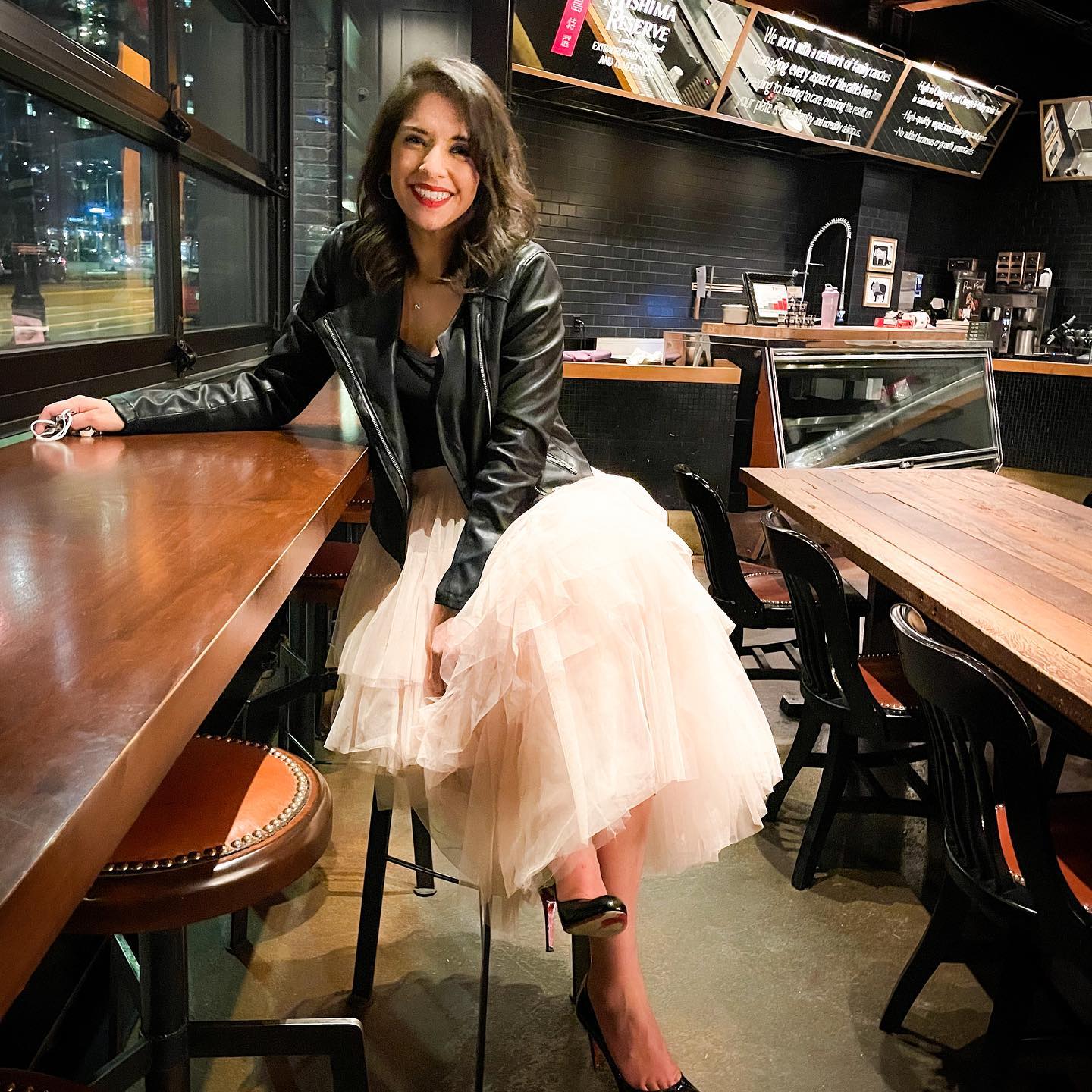 Your 40th birthday is a big deal, and what better way to mark this day down with a photoshoot? You could get a low-key family photoshoot done at your home or out in the garden. Contrarily, going all out and being super fancy is an excellent option as well. Moreover, getting a photographer to capture a themed birthday with your loved ones dressed according to the theme sounds like a spectacular idea. And an excellent way to commemorate your 40th!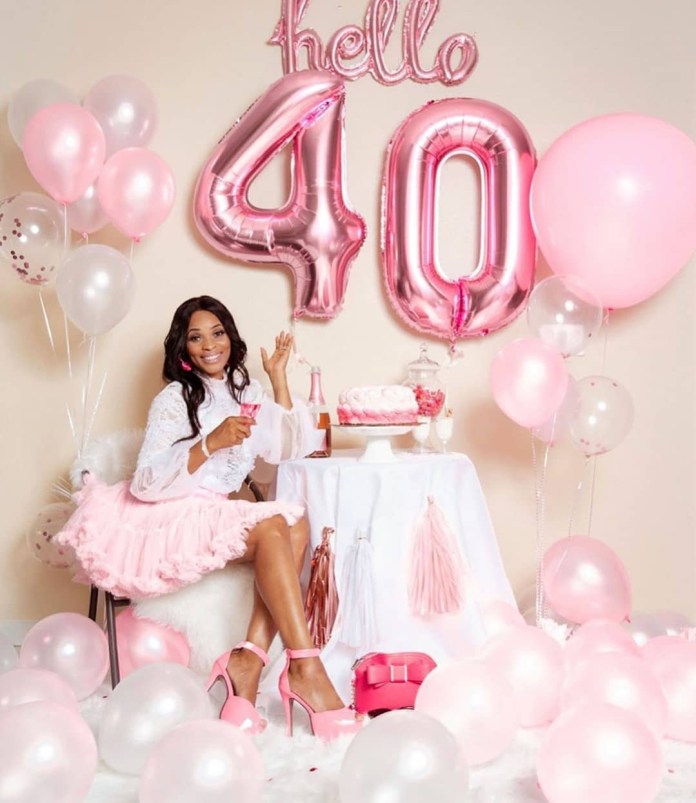 07 – House Party?
A house party sounds like a perfect way to cozy up and spend some quality time with your loved ones. And the best way to dress on this momentous occasion is to dress comfortably. Pair a fancy top with a mini skirt or shorts. Style your hair in a half-up half-down hairstyle, and get your comfy heels out of the closet. You could also go for a gingham patterned dress or top to dial it down on your style without having to compromise on it. I would also recommend that you go through these Club Outfits For Women Over 40.
06 – Opt for Minimal Hair & Make-up with a Sparkly Dress
If your dress is fancy, keep it classy and minimal with the hair and make-up!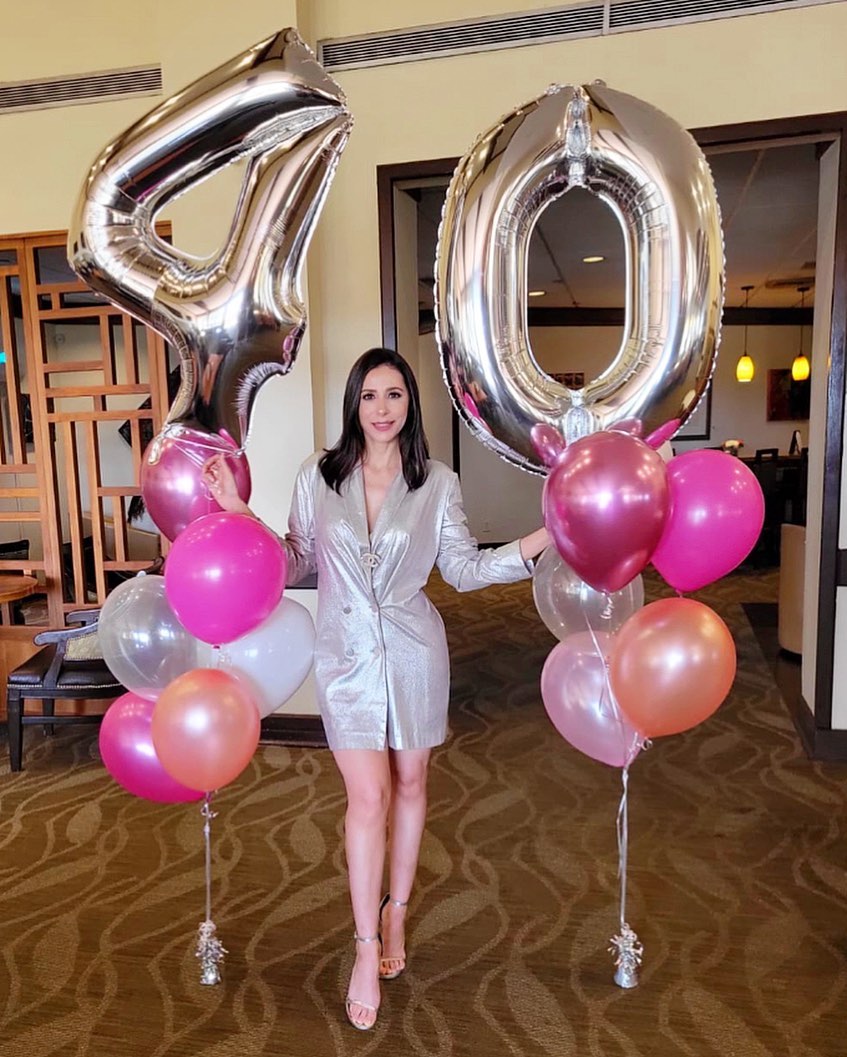 05 – Color Block Light Dress with Dark Accessories
This mini dress is stunning, feminine, and the perfect pick for a romantic night out on your birthday. I believe the sleeves on dresses and blouses make or break the article. And this article is a definite hit! I love how she introduced contrast into her looks by opting for black heels and a complimentary clutch. And to match the dress, we have got those pretty tassel earrings!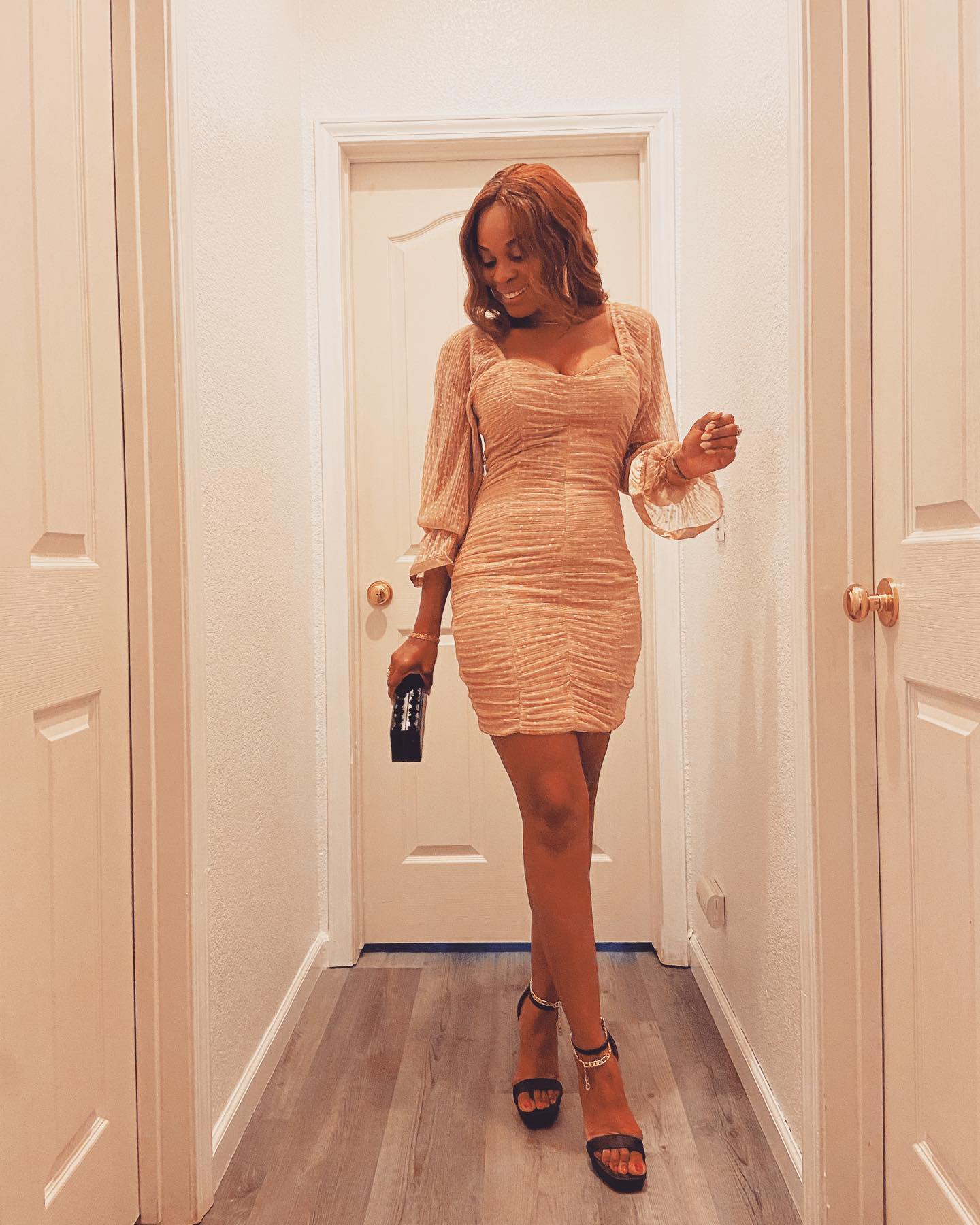 04 – Go for a Pastel Yellow Bag to Complete Your Fit
I love how cleverly the top and shoes have been matched to compliment each other!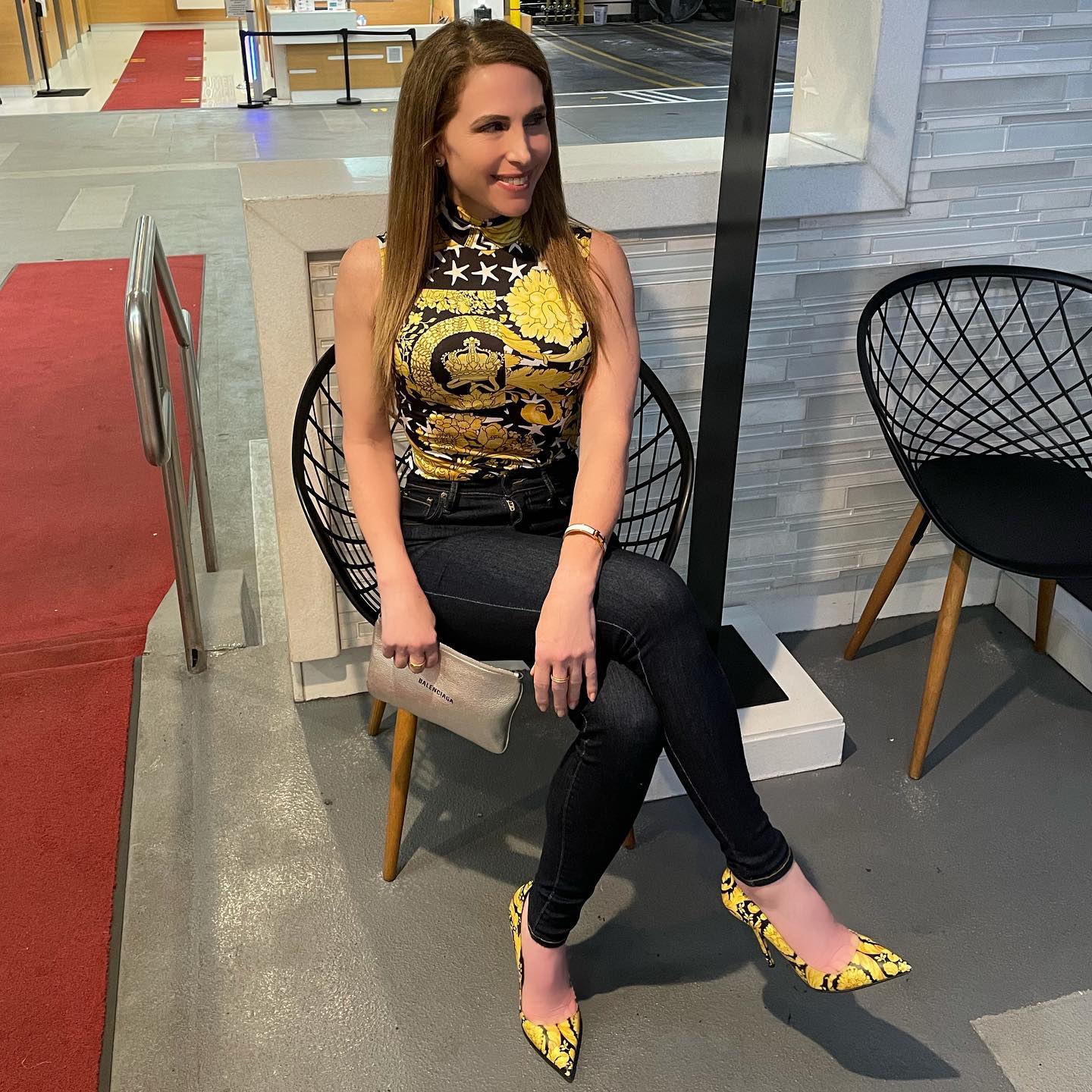 03 – Transparent Heels to Match Colorful, Printed and Striking Dress:
Want to show off your cute pedicure that you recently got? We have got you covered with transparent heels that have been making rounds lately in the fashion world and are gaining popularity. These heels are an excellent item to pair with any outfit but work flawlessly with prints and bolder colors.
02 – Add on Dainty Jewelry to a Vivid Fringed Jumpsuit
This jumpsuit is bold, bright, and everything nice! The fringes, off-shoulder look, and draping illusion details are phenomenal and super trendy. Add on nude stiletto court heels, along with a nude purse to match your shoes. Furthermore, dainty stones in the ear and neck are the way to go for jewelry. The details on this jumpsuit are to-die-for!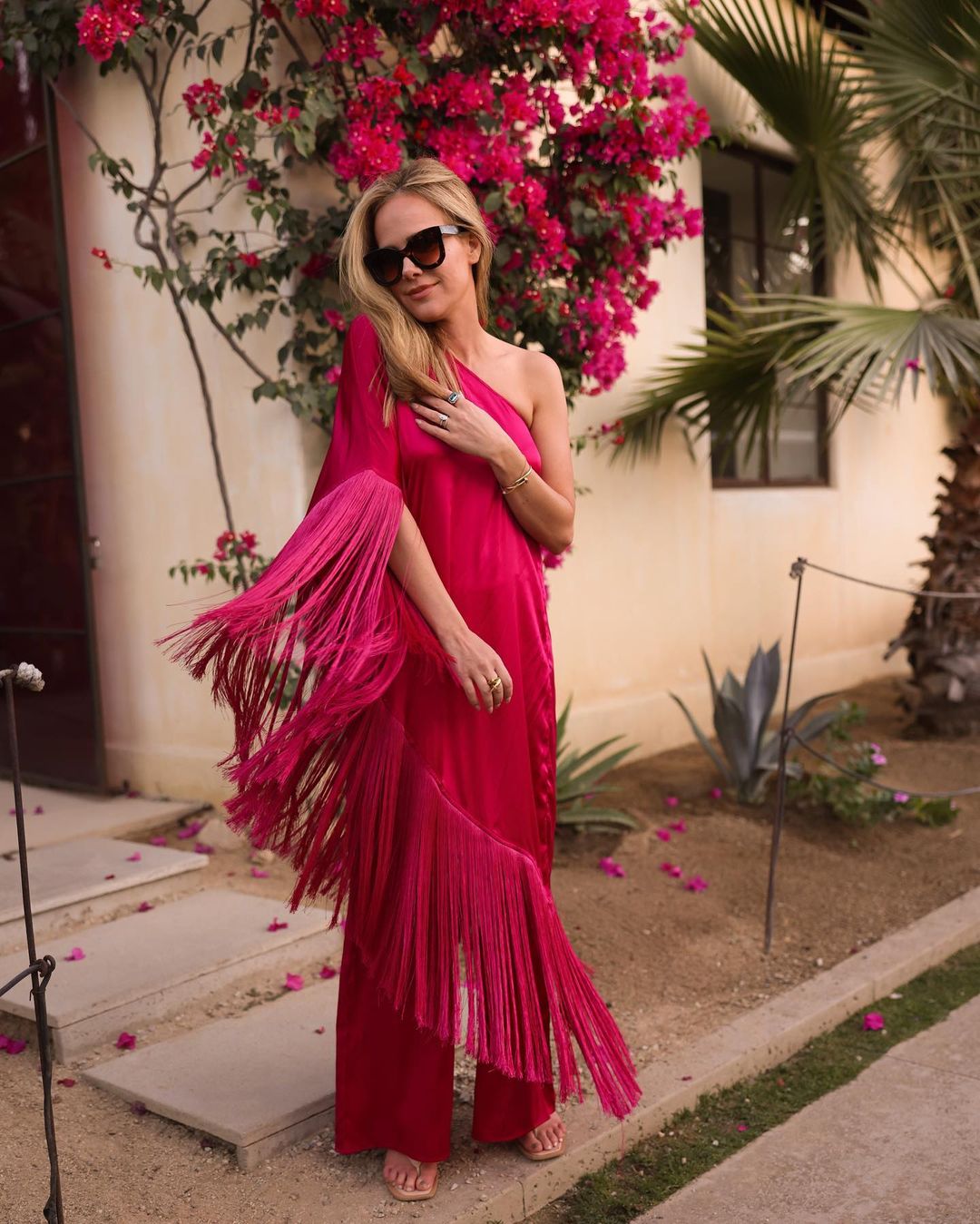 01 – Solid Top to Pair with a Seqined Skirt
Sequins on a skirt? Yes, please! Here are some more of my favorite Sequin Skirt Outfits.
Frequently Asked Questions
Q. What is the best color to wear on your 40th birthday?
Dress bold and bright! You should go for bright, popping colors such as bold pink, hot red, champagne, yellows, and blues! On this day, I would suggest standing out and dressing in the flashy, bold, and yet classy colors that compliment you. With that having said, there is no right or wrong when it comes to colors for your birthday outfit. What does matter is the type of cut and fabric you go for. Wear what speaks to you and attracts you the most! Wear what calls you and grabs your attention the most!
Q. How can I look stylish on my 40th birthday?
Stay true to your style if you wish to enjoy your day to the fullest! Furthermore, browse through the latest trends and fashions that are emerging and find ways to incorporate said trends into your outfit. This would create a blend of you dressing stylishly without having to leave your comfort zone.
These days, the gingham and psychedelic prints are making rounds in the fashion industry, so go for a sequined option in these patterns to shine on your special day. Moreover, the luminous colors are a popular choice, and draping in your dress is a perfect way to stand out!
Q. Can I wear black on my birthday?
Oh, absolutely! Black is a personal favorite. So I might be a little biased, but I truly believe that black is one of those colors that are timelessly classic and perfect for any and every occasion. Think of a sparkly jumpsuit in this color, paired with a red lip and silver accessories for a 40th birthday dinner. Does it get any classier than that? I think not!
Q. Where can I buy outfits for my 40th birthday?
Here are all the best places for you to shop for your 40th birthday: