Dating outfits for women over 40: You have just received a call, and he's asked you out for a date this Saturday. You'll want to look your best and show that you are a woman of the modern world. You might not have been out on a date in quite some time, or you might feel like you are in a wardrobe rut where you need some inspiration.
Nerves and self-criticism aside, several guidelines will help you feel confident and in control of the essence of yourself that you want to exude.
Of course, it bears mentioning that your first impression starts from within. A healthy body and mind are key factors in looking and feeling good. Be sure to eat balanced meals, get proper rest each night, hydrate yourself, and maintain a regular exercise regimen. By engaging in self-care, you will look your best in the clothes that suit your style.
What To Wear on a Date After 40?
Let's start with a simple do's and do not list that will be further elaborated later on:
DO's
Make sure your hairstyle fits a modern you. If you need to see a stylist, it might be as simple as changing where you part in your hair or hairstyle layering for versatility with fashion and style choices.
Consider your body shape when selecting clothes: are you rectangle, apple, hourglass or pear-shaped? Be sure to put an ensemble together that accentuates your shape positively.
Remember that dresses are easier to wear as they are flattering to the waistline and add a flirty, feminine touch to your expression.
When wearing shirts with skirts or pants, make sure you accentuate the shape you want to be defined and add accents such as jewellery or scarves that play to a style which fits your personality.
When wearing skirts and dresses, keep the length to the knee and always define your waist, no matter your size.
Look at your age when you dress. It serves your look to be confident in current age-appropriate clothes.
Dress comfortably, keep dressing approachable, and wear clothes that make you feel good about yourself. Consider shapewear to give yourself smooth lines.
Dress as per the occasion: if it's a formal dinner date, show some polish by dressing up and looking feminine and sophisticated. For a coffee date, be more casual yet still put together with accessories and soft-inviting texture to clothes while keeping the feminine allure.
Keep your hands and feet well-maintained and fresh looking.
Look at wearing more contrasting eye shadows that give your eyes a lift and tailor your brows to help accentuate bone structure. Wear soft-looking cosmetics and subtle lipsticks unless you plan on coordinating the outfit with a bold lip colour.
DON'TS
Style your hair pulled back or tight against your head.
Wear turtlenecks or clothes that look baggy or undefined no matter what body shape.
Wear dresses too tight, too high or racy, or low cut tops to appear desperate for attention.
Have too many accessories or appear blingy.
Go with no jewellery or understated pieces.
Wear bland-looking clothes or over-the-top patterns.
Dress like a 20-year-old, especially where the attire may not match the occasion.
Wear bulky shoes that make your outfit appear bottom-heavy
Wear stylish leggings or yoga wear unless it applies to the dating activity.
Forget proper hygiene and self-care
Overdo makeup to look too made up
↓ 10 – Hairstyle
Wear soft, feminine styles that lay gently and frame the face and your head shape. While different hairstyles and textures require different products, it's good to give some volume to the hair to give it a light, full, natural look. Also, consider colors or highlights that suit your look and style. Check with your hairstylist for modern, sophisticated looks that dazzle.
Here's a simple date hairstyle tutorial inspired by over 40 fashion blogger Alison Gary: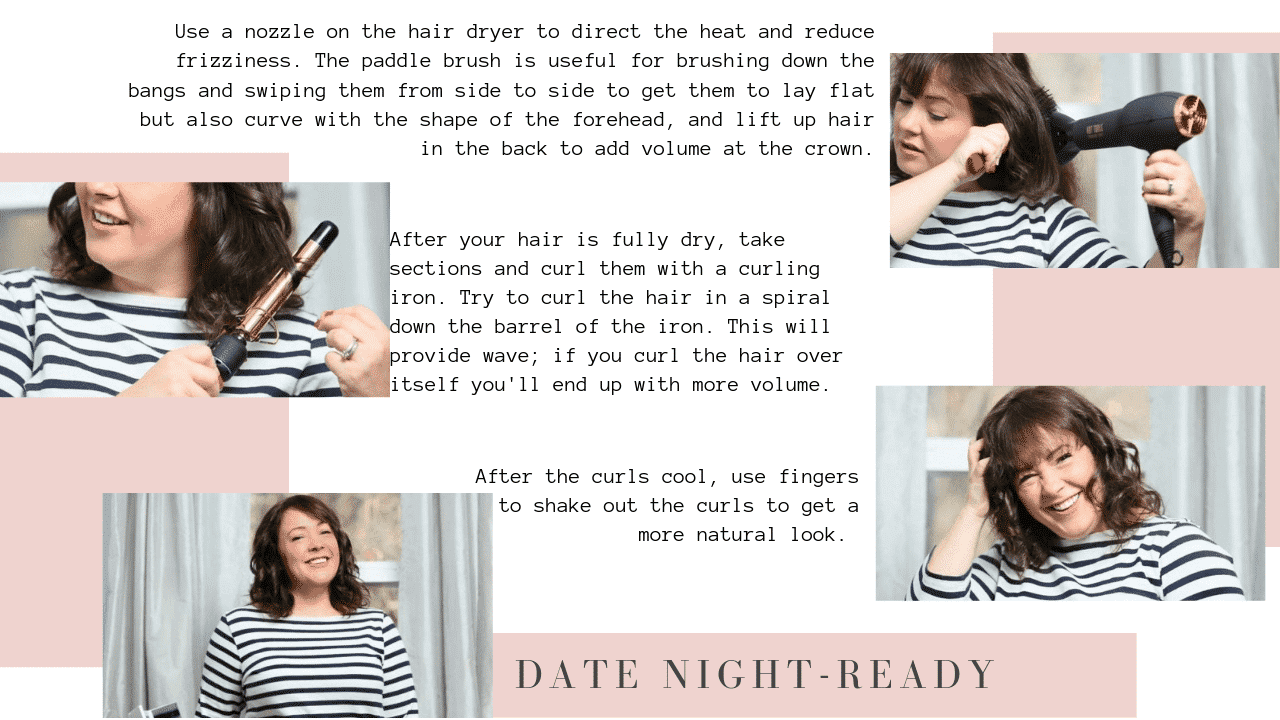 ↓ 9 – Body Shape
Inverted triangle shapes require making the bottom half of your torso look full to balance out your silhouette at the top. So wearing a layered, ruffled, or full skirt or dress helps to set the balance. Wide-legged pant also works; make sure, in each case, you accentuate the waistline.
Triangle or pear-shapes require making the top portion of the torso look broad and accentuated since your waist is wider than your bust.  Wearing a suit dress with fancy lapels or a statement top that draws the eye toward your top while highlighting the waist is best. Wear V-neck tops or scoop necks; the more fitted, the better, with other options like accessorizing with a bold statement necklace and earrings to finish the look.
Hour Glass-shaped dressing is to wear outfits that accentuate well-proportioned curves and a naturally slender waistline. So, for the upper body, you will want to wear mostly V-neck style tops coupled with a pencil skirt, boot cut, or flared pants. For dresses, be sure to wear ones that elongate the waist while giving bust support.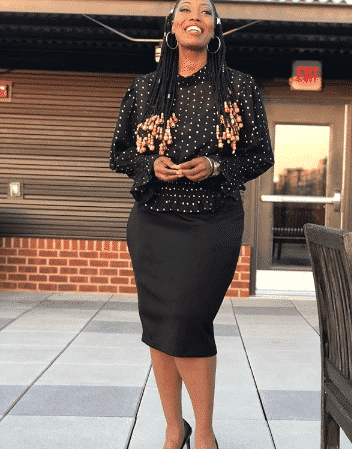 Rectangular Shape is where the upper body and lower body both measure in a straight line; the measurements look about the same with a very little waist-line definition. The way to flatter that shape is to create curves and wear gathered items like a dress with a slim cut in the waist or wear it belted.
An easy outfit is to wear a high-fastened wrap dress. Another method is to separate the top and bottom of the toro using separates; using bold colors accentuating the break at the waist, or just go with the classic black and white combination.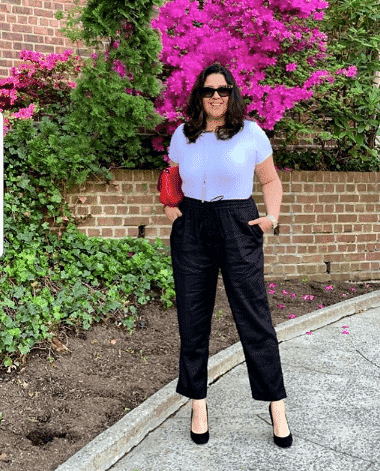 Round shaped bodies require dressing your narrow shoulders, wide hips, and midriff. Simple but flattering styles include wearing dresses with some sort of flare just below the midriff or a lose-fitting silhouette dress of your shape. It also helps to wear vertical or diagonal lines to elongate the body.
Wear three-quarter or full-sleeved dresses to add interest to the upper body. Make sure that the dresses fall at or just below the knee to give height to the style.
Wearing a jacket at waist level will draw the eye there. With separates, wear straight-cut pants and loose, long-waisted tops. Consider shapewear to keep lines contoured to your shape.
↓ 8 – Remember That Dresses Are Best To Flaunt A Feminine Style
Although there are so many styles and cuts of dresses, none is more versatile to all body types than the wrap dress. The main thing with this style of dress is to accessorize simply with a bold necklace and coordinating earrings and keep the shoe style light so as not to distract from the dress.
If you aren't okay with wearing a dress for the date for any reason, shirt dresses should be your second go-to option.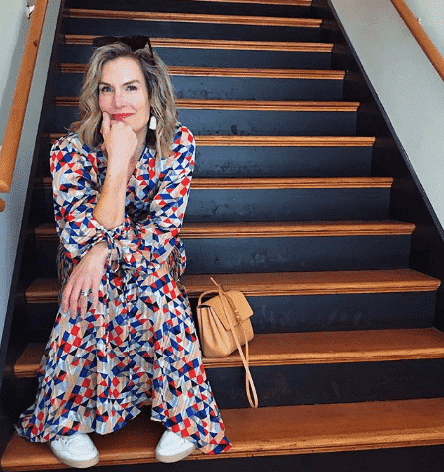 Casual Look with White Jeans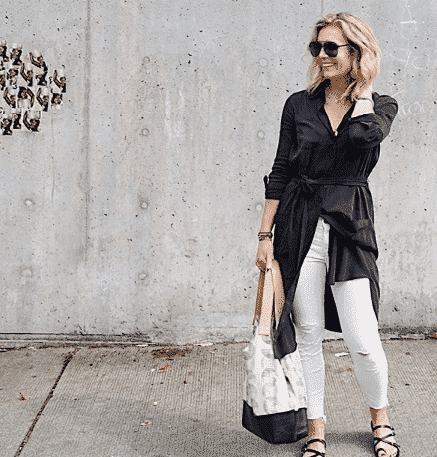 ↓ 7 – Accentuate Your Natural Body Shape
Remember to check your body type and assemble separates accordingly. Always keep statement pieces such as necklaces, earrings, and purses a part of your ensemble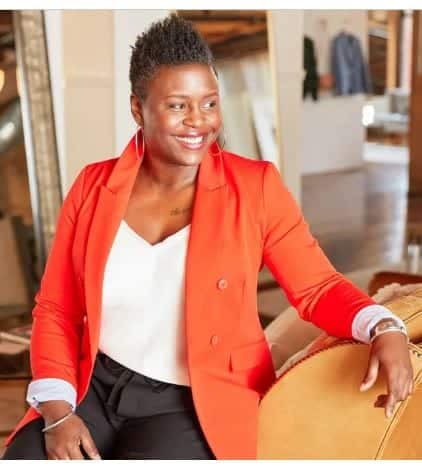 ↓ 6 – Keep The Length of dress To The Knee Or Longer
And always define the waist no matter what size you are. Simple rules to go by to serve your style and age!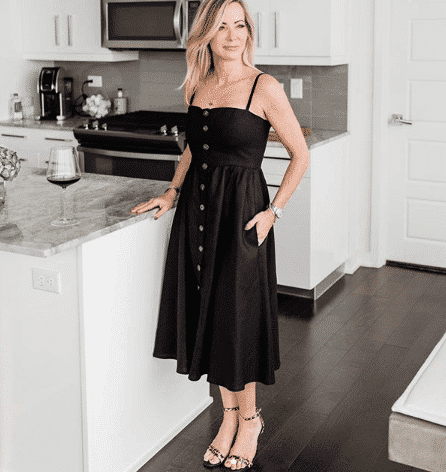 ↓ 5 – Wear age-appropriate clothing
Yoga pants are for the gym and hiking dates, nowhere else. A rule of thumb: if you have to ask if what you have on is age-appropriate, it likely isn't. In case you're planning to hit the club on your date, here are Club Outfits For Women Over 40.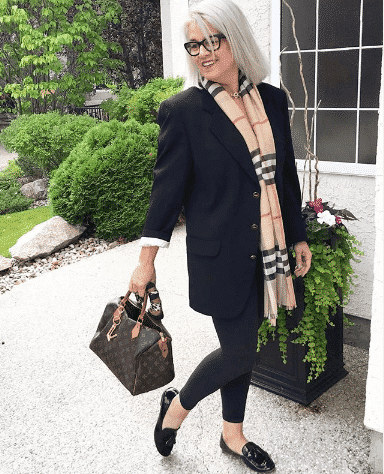 ↓ 4 – Always Dress Comfortably
Make not only the outfit comfortable but consider shoes too. Limit high heel use to formal events and consider a wedge or flirty-style tie-up shoes to dress up an outfit. Keep your hiking boots at home unless the date is to the mountains. Sneakers are always a safe option and okay for most date outfits.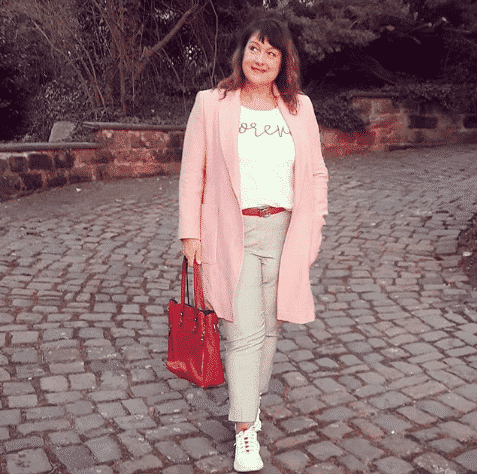 ↓ 3 – Dress for the Style of Date
Be sure to note the style of the venue you'll be headed to and make sure your attire is appropriate. Make a special note and even ask if the event you are to attend is a wedding or formal event that has a special dress code.
Being confident in your attire is knowing you are prepared for it when you arrive. If your event is formal, you will want to wear a fitted dress that suits your body type coupled with sophisticated statement jewelry, a clutch purse, and heels with a height you are comfortable walking in.
For a less formal date, you will want to wear an outfit that looks comfortable and soft yet put together to look like you are dressed for a date.
An option here might be to dress in a layered,  softer yet elegant look. Perhaps a wrap dress or separates suit this type of date. When meeting for coffee, opt for dressing in a soft neutral dress, pants, even denim paired with, a soft, inviting top.
When wearing layers, remove the scarf or over garment when you arrive to appeal more open for conversation. Maybe an off the shoulder look with cheerful accessories.
This look will signal you're open and ready for some fun. And remember, elegance is ageless! For more ideas, check out our earlier post on Best Dressing Styles for 40 Plus Women.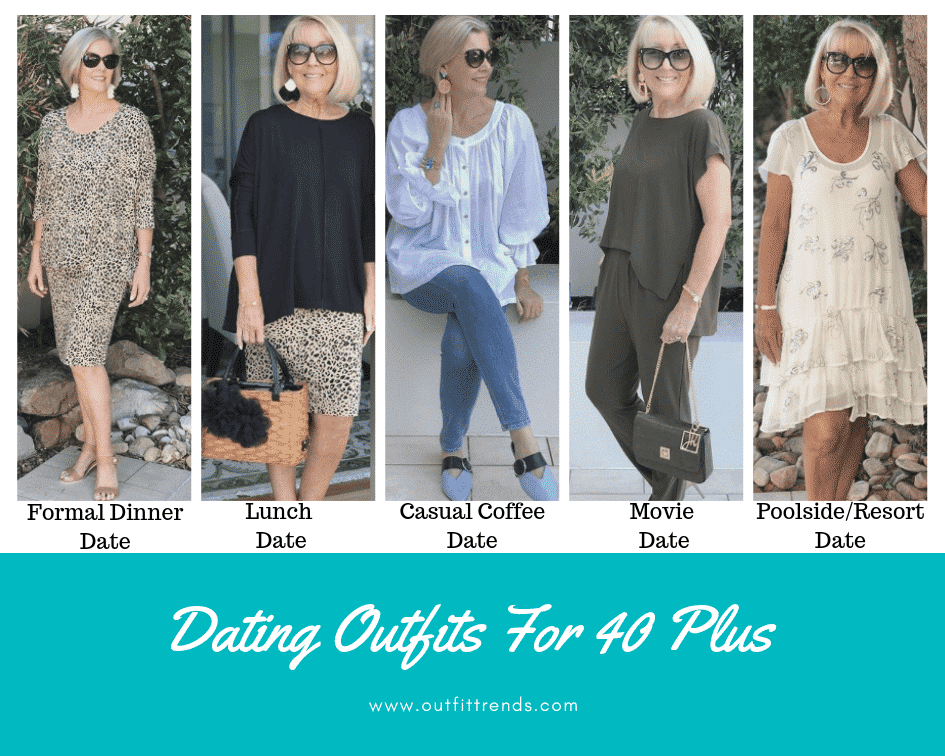 ↓ 2 – Pre-date Grooming
One of the easiest things to remember is proper foot and nail hygiene. Go to the professionals as they know how to make you look good for your special day and why not pamper in prep for your special day. Ask for a neutral shade or a color-coordinating to your outfit.
Think twice about red but rather, choose from a rosy, pastel palette for the nails and toes to make you more feminine in your look. You can also do a simple facial the night before to make sure that your skin is naturally fresh and glowing the next day.
These things are not essential, but they are always a great way to feel relaxed and confident on your date.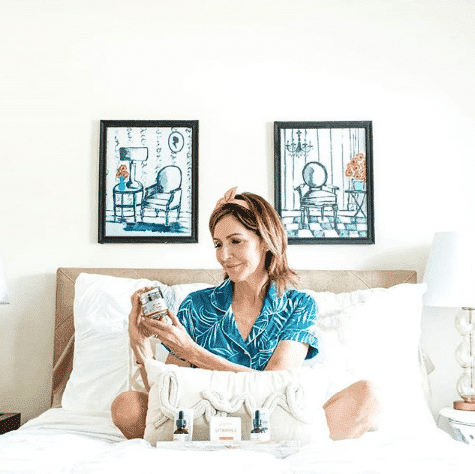 ↓ 1 – Wear Natural Makeup And Accentuate The Eyes
As we age, the skin around our eyes might become heavier and loose with less collagen, which is used to provide skin structure. In older women, eyes are also less defined where the bone structure is located.
Certainly, be sure to find the right cosmetics to showcase the beauty of your eyes. Use eye shadow to bring out the colour and depth of your eyes.
Here's how: Makeup Tips for Date
Firstly, keep it simple; you need glowing skin with moisture for a dewy look. Perhaps a tinted moisturizer will give a little shimmer without too much glow. Remember, you want to see your skin while still having coverage on your face and neck. You could also break away from the full foundation by cutting it with moisturizer and apply with a brush.
Next, you need an eyelid primer, a foundation for eye shadow to adhere to. Apply by brush as well, and remember to be light-handed. Keep the application light and sweep a bit under the eye as well.
Next, conceal discolouration and blemishes using a creaseless concealer; apply with a brush, usually below the eyes and on the cheeks. dot it on to discolourations.
For a youthful-looking brow, use a brush and coordinating brow hair color to create feather-like strokes in the brow line to accentuate them.
Next, using a brush, apply eye shadow using neutral colors; tans browns for brown or greenish eyes, use light neutral colors for blue eyes and apply to the inner corner of the eye then up and around the brow area.
Use eyelid color and apply eye-enhancing color being sure to apply lightly. Start above the eyelashes and work toward the center portion of the lid, staying away from the inner eye.


Then, apply a third last color a bit darker to create a wider eye look, start at the outer lash line working upward toward the brow.
Next, use a swirling brush to blend the three applications of color to make it look blended in.


Next, create an open look using an eyeliner dark brown or black depending on your skin tone applying to the upper lash line ( its called tight lining). You are drawing underneath the lashes pushing up and out to the outer edge with a tiny smudge in the lash line at the outer part of the eye.
Next, apply lash-boosting mascara to top and bottom lashes. Eyes, done!
Use a blending brush using little translucent powder to tone down too much shine and to blend the face.  Use a bronzer to accentuate the jawline and to sculpt the cheek area and nose. maintaining low coverage.
Add blush light along the cheekbone to give a hint of color and perhaps adding a highlighter using a brush for shimmer above your cheekbones.
Finally, lips, to keep a youthful look, go lighter on lip color, especially in spring and summer months and maybe a bit darker in winter months. Start with a lip liner that matches the color of your lipstick (it serves as a border to color within the lines). Add a tiny bit of shimmer of gold in the middle of the lip to coordinate with the face.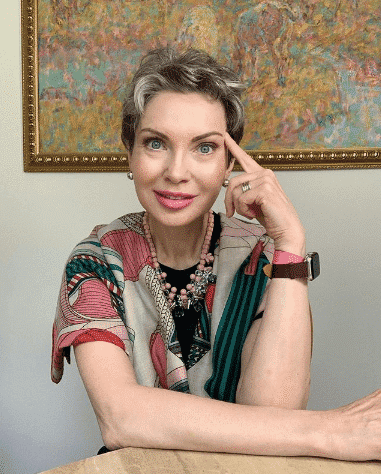 Most of all, remember, less is more in shades and colors as we age. Your real objective is to compliment your skin rather than cover it all up with heaviness.
Frequently Asked Questions
Q. What to wear on a date in your 40s?
A. You can go for a classic black dress because the black dress will never disappoint you. You can also choose to go for a black blazer and pants. It will give you a boss lady look that no one will be able to deny. However, if you aren't into either of these styles then you can wear whatever works for you because in the end, your personality matters more than how you look but just make sure you're dressed well!
Q. What dresses should 40 year old women wear?
A. 40-year-olds can wear all and every dress that they like. People say older women shouldn't wear dresses above their knees but it just doesn't make sense, right? They can wear whatever they want to. If you want to wear a short skirt, wear it. If you want to wear big sweaters with jeans, wear them. Forget about what the world has to say about your clothes!
Q. What are trendy clothes for 40 year old women?
A. Trendy clothes for women over 40 would definitely be super bright colored clothes. Prints that are unique and mostly teenagers wear, yes that would be trendy. Bodycon dresses and black doc marten boots would be extremely trendy! So don't worry about the world, go look for the latest trends and go rock them.