Rachel Green Outfits: To all our FRIENDS show fanatics! We see you, we hear you and we bring you, the iconic Rachel Green outfits that are still stylish, still on-trend. Watching the show FRIENDS back in the day really had us crushing over Rachel, Monica, and Phoebe for their little quirks and definitely for they ever so classic style that we see variations of even today!
Whether you are a lover of the classics or specific fashion trends from different eras, it is safe to say that Rachel Green's character saw tons of looks that are classics as well trendy. From long slip dresses to the iconic 2000s looks, everything is making a comeback in the current fashion scene.
This one is solely dedicated to our Y2k fashion queen because she and her looks do deserve it! We have pulled some of her best looks that are relevant and make heads turn even today and curated this special list that is definitely bound to take you down memory lane.
Channel your inner Rachel Green through these outfit inspirations and be whatever it is that you desire to be. Be it a shoe, a purse, or a hat! (If you know, you know!)
How to Dress Like Rachel from Friends?
These outfits are actually super simple and very easy to recreate. You could go thrifting to find actual Y2k-inspired clothing that matches the looks or shop from your local stores, or best yet, shop similar pieces online! The options are endless. There are no rules in this game!
You can pick your favorite looks that you adore and choose the ways you find comfortable to style up similar pieces. Be it exact looks inspired by the fashionista's outfits on the show, the sky is the limit. You can go and have fun by choosing some of her iconic looks for theme parties or Halloween, keeping the costumes simple yet super fun.
Without further ado, let's dive right into these super fun and timeless looks that still make us go gaga over the ever so gorgeous Rachel Green aka, Jennifer Anniston, who created the iconic character!
10 – Dungarees With Block Coloured T-shirts
Dungarees have made such a classic comeback in the fashion scene and needless to say, they are still as classic as they were back in the 90s. These denim overalls or dungarees are the perfect pieces in your wardrobe for the summer. They are versatile and add the perfect element of cute to a casual summer day outfit.
Dungarees are the easiest to style with absolutely any casual top looking good with them. You can go the classic route and opt for a simple cropped white t-shirt and pair it with sneakers. You can also choose tank tops in different colors to go with the dungaress and can be paired with black chunky shoes or any sneaker of your choice.
These are also perfect for hectic workdays around the house, like when you are working on refurbishing projects in the house and want to be wearing something comfortable that you can last in all day. Here are some more of the Best Ways For Women To Wear Dungarees.
9 – Mini Skirts And Blazers
The office looks- but make it chic! Rachel Green quite often donned some super chic office looks that look simple but are stunning. They are now some of the most commonly worn outfits for brunches and days out with girlfriends for a very easy-going Parisian look.
One among those looks was this gorgeous and trendy look on Rachel where she is seen wearing a very chic black mini skirt, along with a basic crisp white shirt to add a formal element to the outfit along with a gorgeous beige blazer that perfectly ties in with the look. If you want to try this look, here are all the tips you need on
8 – Graphic Tees And Printed Pants
We have definitely seen a lot of this coming back in style, haven't we? From oversized to cropped graphic tees; and from classic denim to printed trousers, the choices are endless in terms of aesthetics and style. Printed trousers do fall on the edgier side of styling outfits, but our fashionista queen definitely wore them with a lot of sass and cool!
Rachel was styled in a chic, casual outfit with green and black plaid print trousers and a cropped graphic tee to match the look. As simple as the outfit is to put together, it definitely makes for a very stylish edgy look, with a hint of punk.
You can create this look by browsing through your local thrift stores or online thrift shops as there is a much wider variety of Y2k-inspired clothing in those outlets. Better yet, you can even get the trousers custom-made at a fraction of the price that they are available in branded stores! Here are some Graphic Tee Outfits that I personally love.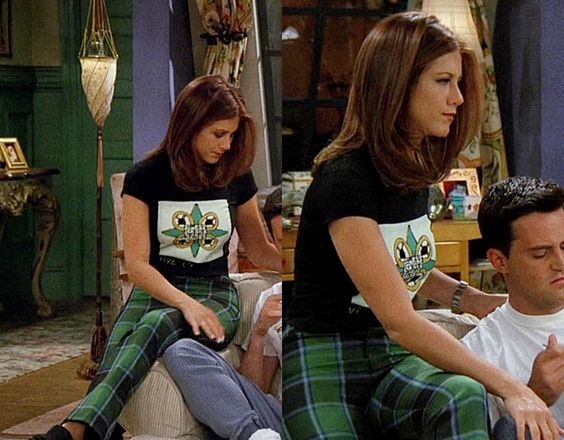 7 – All Black Sheer Tops
Sheer tops are the number one pic this summer! They are the most versatile and are honestly the cutest little tops that have got to own! While Rachel Green donned a lot of chic formal wear, her casual day-to-day attire definitely tops the list too. From baggy casual looks to dainty attires, she flaunts them all, and really well if may say so ourselves.
One of the episodes on the show saw her in a super cute, ditsy little sheer blacktop to create an all-black look, which works perfectly for any setting. Be it parties or just a dinner date, sheer tops are perfect for any occasion.
You can pair any style of sheer tops- whether full sleeve or sleeveless ones with skirts, or a pair of blue denim, with black chunky boots or a gorgeous pair of heels to complete the look!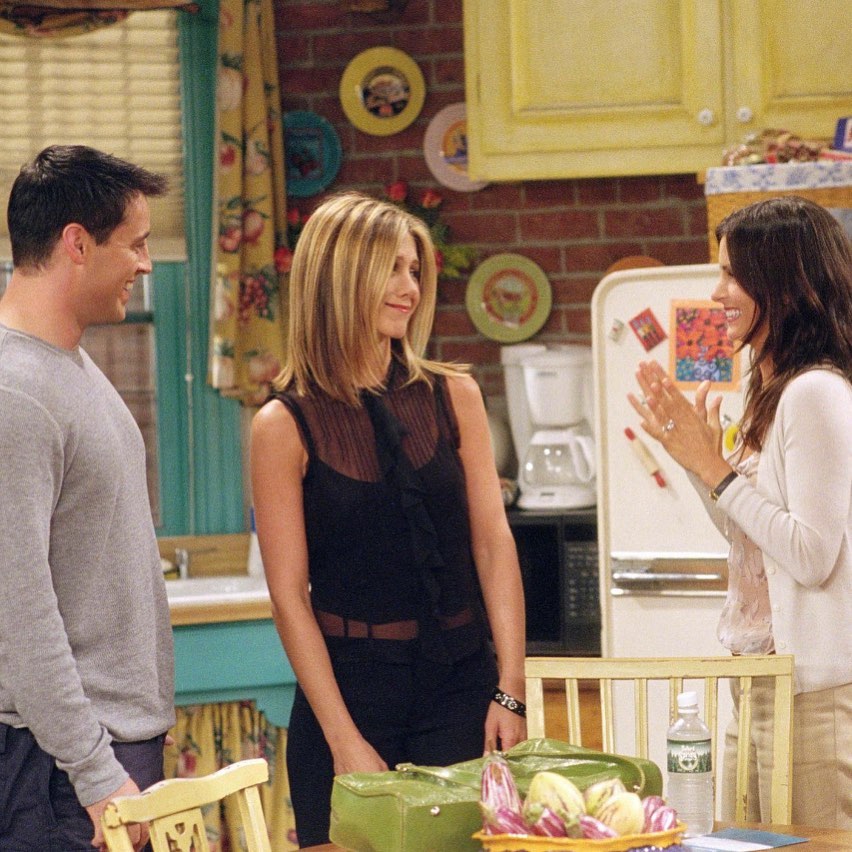 6 – A Printed Cropped Shirt Makes For The Perfect Layering Piece
Printed crop shirts are just the summer staple you need to add to your wardrobe right now. With various prints making their way back into today's styles, especially now in the spring/summer season, it is definitely a style worth trying.
A cropped printed shirt can be tailor-made in cotton or linen fabric or can be found at thrift stores too! pair them with a white tank top to let the prints remain the focus of the outfit, and pair the look with a pair of vintage-inspired denim or cargo-style pants. Alternatively, you could also choose a look with a pair of denim shorts, which is perfect for a day at the beach!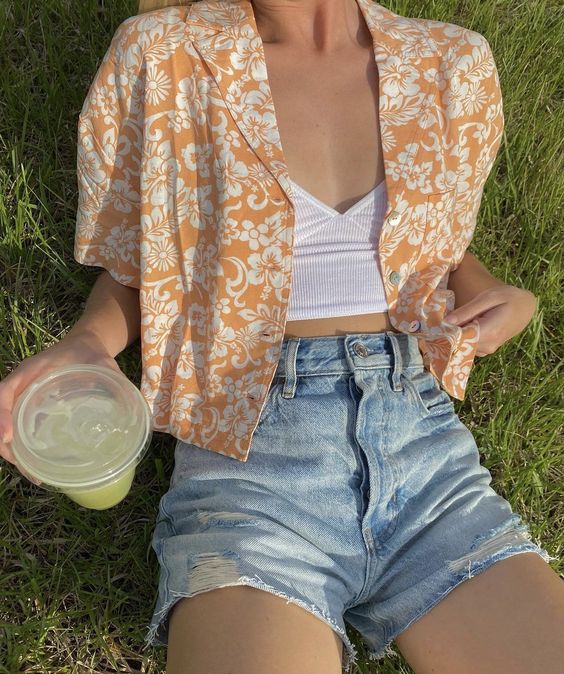 5 – Floral A-Line Maxi Dresses
Floral maxi dresses are a classic in our books. They are cute, dainty, and such a simple outfit to put together. The best part is how versatile they are in terms of styling them up or down depending on the day, events, etc.
Floral maxi dresses in any color look stunning, as proven by Rachel Green herself. She was seen wearing a gorgeous burgundy-brown dress with beautiful daisy flowers printed all over. It is the perfect shade for a sweet little date or even for a coastal holiday vibe.
You can pair a floral maxi dress with sneakers or strappy flat sandals for a more laid-back look, or dress it up with a pair of wedges or strappy heels which is perfect for a day-to-night transition outfit. Style the look with a baguette bag, dainty gold accessories, and a pair of matching sunnies to pull together the entire look!
4 – Classic Floral Skirts
On the topic of florals, how can we leave out floral skirts? Floral skirts are a timeless piece that you can have in your wardrobe. The right floral skirt can also prove to be a closet staple that can be worn in rotation throughout the year- mainly during summer, spring, and autumn. A-line skirts with minimalistic floral prints are truly a classic piece that can be worn in multiple ways.
You can pair them beautifully with a neutral casual tank top in the summers, or a full sleeves blouse for the cooler months. You can dress up the look with a pair of classic black heels and pair it with a black shoulder bag with minimal gold detailing to tie in all the elements together.
Alternatively, you could also style the look with a pair of casual sneakers or Doc Martins and a cute sling bag, which would make for the day outfit for brunch dates and days out with your girlfriends!
3 – Turtle-Neck Tops And Trousers
you can never shy away from a good and a classic turtle-neck sweater now, can you? These are absolute essentials for the autumn/winter months when everything you wear is warm and snuggly, but you want to look styling and on-trend too! Currently, turtle-neck tops are available in such a huge variety where we also see basic tops designed with a turtle-neck and they are just perfect.
Be it modest dressing, or a simple everyday look, turtle-neck tops are the one thing you need when you are running out of outfit ideas. They are the easiest thing to put together with absolutely anything. They work beautifully as layering pieces, with skirts, all kinds of jeans, leather pants, or even formal trousers.
You can layer on some minimalistic gold jewelry to keep the look classy, or turn it into a street-style looks with baggy jeans and sneakers that are perfect for daytime and nighttime! Here are some more Ways To Style a Turtleneck.
2 – Crew Necks And Vintage Straight Leg Jeans
This one is an iconic combo and it literally screams the 2000s era of street style and fashion. Crew neck tops or sweatshirts, paired with a pair of vintage straight leg jeans and sneakers is an ode to the iconic 90s and early 2000s fashion era, and that style and those trends have stayed on for decades after.
Even the simplest of outfits look absolutely chis on miss fashionista, who was shot in one of the episodes wearing a basic, casual white sweatshirt and pair of classic denim jeans and pair of white sneakers. So old school, but like they say, old is gold!
If you are looking for an outfit to wear to the mall or to run some quick errands, nothing gets any simpler than this. To add a vintage feel to the outfit, you can even look for pieces at thrift stores that will be perfect elements in your wardrobe as well!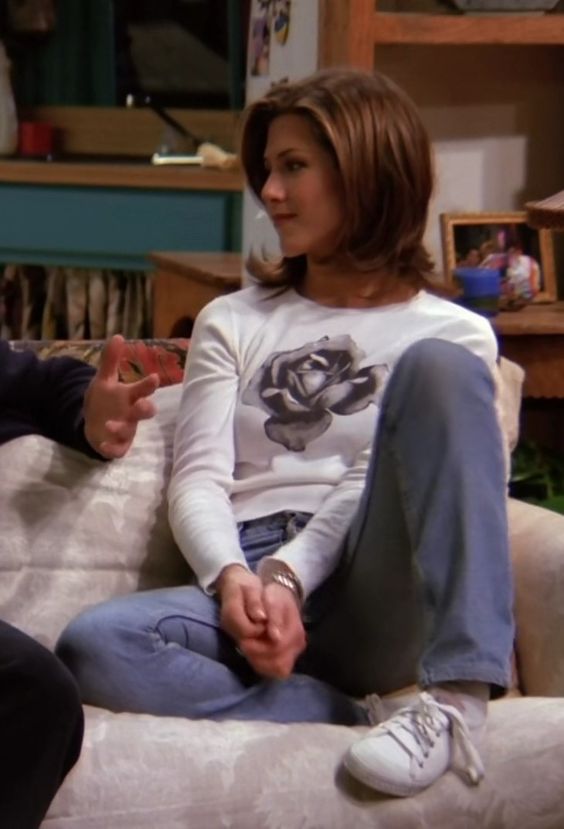 1- Slip Dresses Over Everything
We really did save the best for the last. This iconic slip dress as seen on Rachel Green on the show has to undoubtedly be one of her best outfits on the show. While her looks have never disappointed, there is just something about Jennifer Aniston in that sage green slip dress that makes you fall in love with her more than you already are.
Slip dresses are nothing short of perfection and look absolutely amazing any way you style. With sneakers and a crew neck top underneath? perfect for day wear. A gorgeous black slip dress with stilettos and bling jewelry? Perfect for date night. Should we go on? Words aren't enough to describe the versatility and the gorgeousness a simple slip dress holds!
Q. Where can I find similar outfits as those on the FRIENDS show?
Your best bet for when you are looking to find similar pieces like those of Rachel, Monica, and Phoebe would be Amazon! With the best deals and the best prices, you will surely be able to find what you are looking for! Another great option is thrifting, or flea markets and yard sales, especially if you are looking for vintage pieces of denim!