Women Dungaree Dressing Styles– Dungarees are the ultimate classic attire that can help one create a tomboy look as well as a cute and feminine look. Moreover one can wear them in winter as well as summer. To be precise it is an all in one ensemble.
And the best part is that they are back again in fashion and are surely here to stay for a long time. So here are some of the best dungaree outfit ideas that we've compiled together for you. Choose the one which best suits your personal style. Remember not to be afraid to experiment with it and make it even more special. You can get a lot of ideas from this collection as to how to wear dungaree? What to wear with dungarees, latest fashion trends, how celebrities pull off dungaree dress, and much more. So let's have a look at each outfit and see how it is styled.
How To Wear Dungarees
Whether we talk about fashion bloggers, celebrities, or street style fashion, everywhere the dungarees are making a mark these days. The great thing about them is that they can be worn for both casual and formal wear and in absolutely any season. Another cool thing about dungarees is that you can style the same dungarees in several different ways, and outfit trends has of course covered the most exciting ways for you.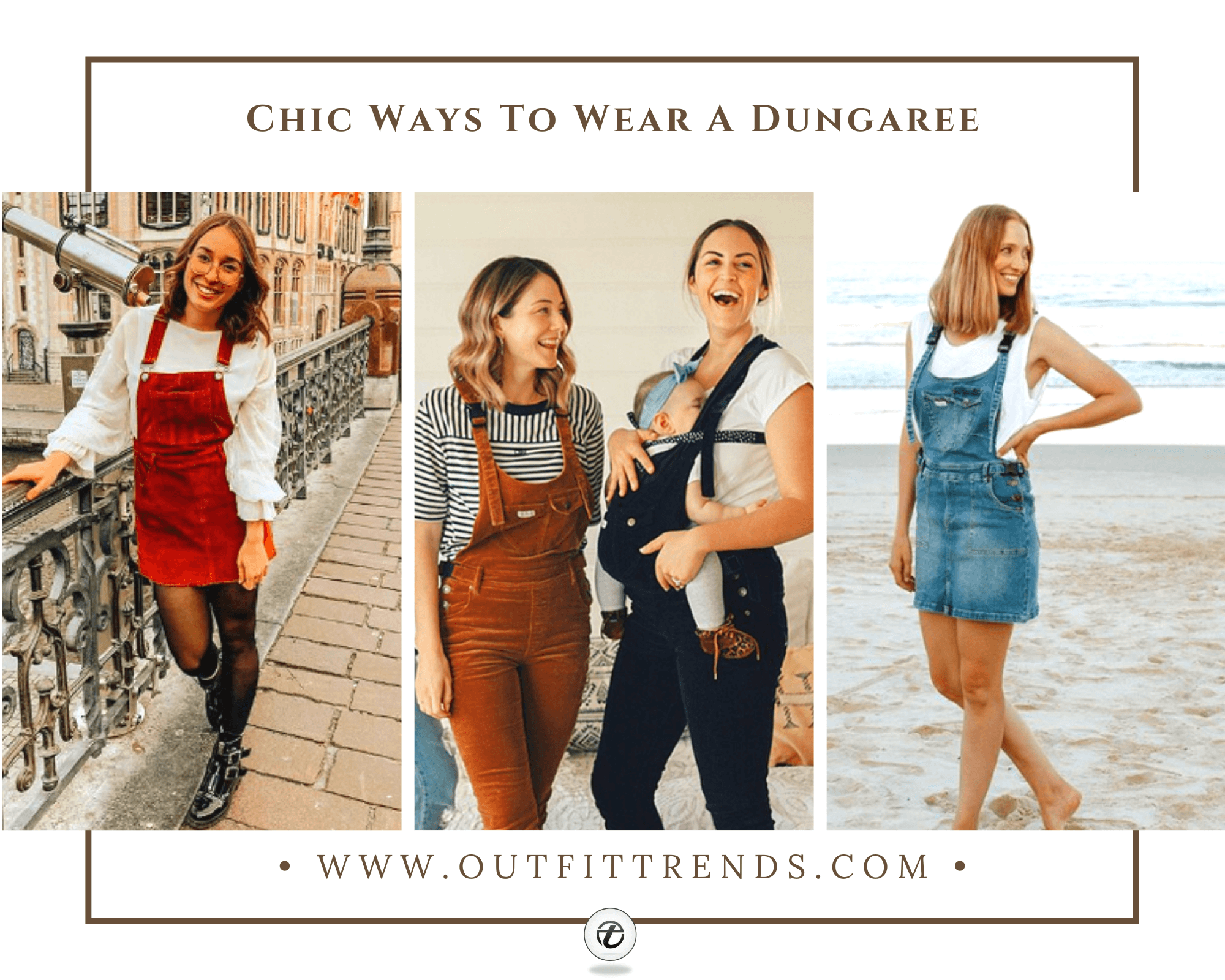 Here we have gathered a few great tips for you to keep in mind while opting for a dungaree.
One tip to remember is that dungarees are a style statement on their own, so you don't need to wear lots of accessories with them. Keep your accessories simple, neutral, and minimal for the best look.
Don't wear a top that is too long as fixing it will get difficult for you.
Well, fitted tops are the best to wear underneath a dungaree as they make your look neat and presentable.
The best choice for casual wear is to wear dungaree with a tee-shirt in summers and a turtle neck sweater in winters.
If you find your dungaree loose or want it to be more fitted, then add a belt to your outfit.
Sneakers or joggers look the best with dungarees.
If you've never worn a dungaree before, its best to start with a dungaree dress as they're more feminine and hence easier to carry.
One Dungare – Five Ways
Here are five different ways to wear the same dungaree: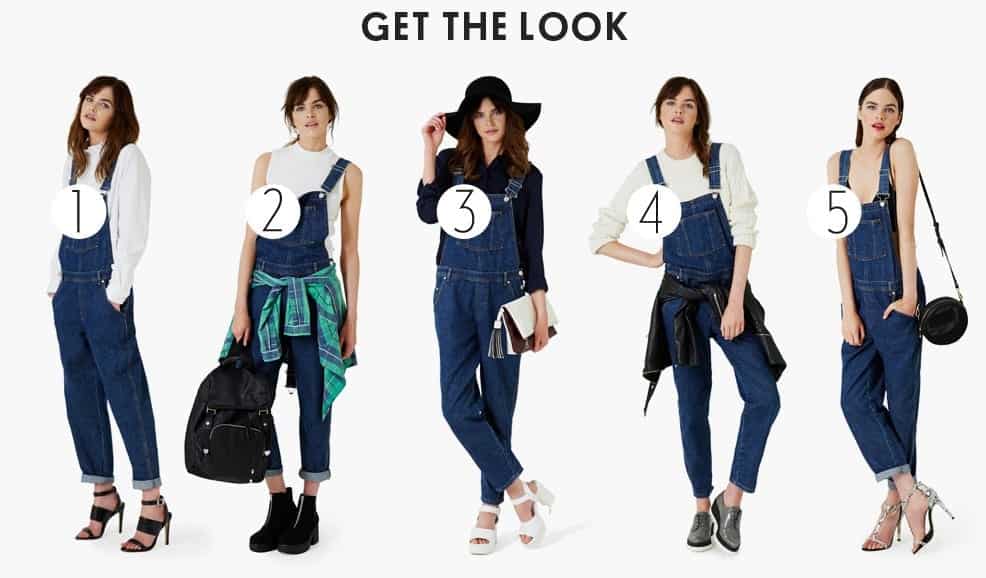 How Celebrities Wear Dungarees?
Go for this look by Rihanna, all you need to do is wear a crop top under the dungaree, tie a sweatshirt at your waist, and get this cool and casual look.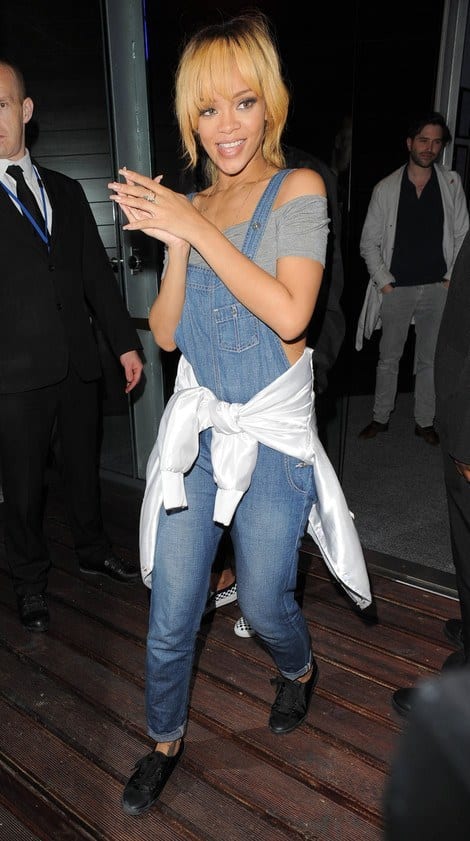 Next up in the list of inspiring celebrities, we have Kylie Jenner wearing a camel-colored dungaree.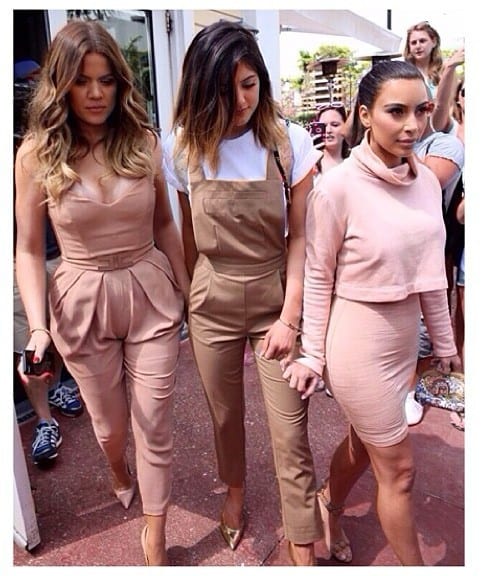 ↓ 28 – With Turtle Neck Sweaters
A solid black dungaree dress with a mustard turtleneck sweater underneath it! This dress is a perfect choice for an elegant look! It looks like a full-sleeved decent outfit with a high neck to keep you warm. You can match any glittery jewelry with it to attain a formal look or add some drama to it. Also, the fitted waist provides a perfect shape to your curves, with elegant details adding a very stylish look to the outfit. You can pair the dress with a classy multi-layered necklace, sneakers, and straight, sleek hair, and you are ready to rock on any event. Such outfits are also a great choice for women who are expecting and even for carrying the baby around. If you're planning to shop for some maternity dungarees, The Mumsie is our favorite place as they are the world's first and only dungaree+baby carrier makers which means that you can use their dungarees both before and after having the baby.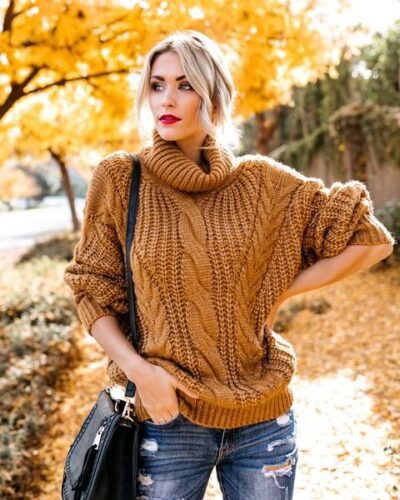 ↓ 27 – With Polka Dot Top
Polka dot prints have always been in fashion for creating a classy and chic look! Grab yourself a polka dot top with statement-making balloon sleeves and a round neck, wear it underneath a black dungaree. The round neck, long puffy sleeves, fitted waist, and stylish button details with added buckles are creating a graceful and elegant combination for this dungaree.
If you are looking for an elegant, classy dress, this is a perfect choice. You can pair this dress with some sporty sneakers, golden earrings, mascara, and dark lipstick, and you are ready with a badass girl look.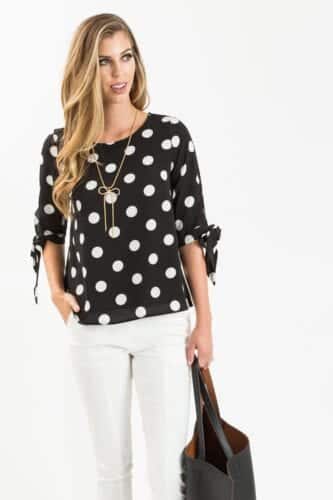 ↓ 26 – With A Printed Sweater
Looking for a cute and colorful dress for yourself? Then this is a perfect choice! This beige-colored dungaree is made up of cotton fabric and has some adorable pockets and waist accentuating fitting.  Wear it over a beige colored sweater to create a monochrome look. The colors of this outfit are making it a perfect choice for daytime wear. You can pair it with loosely curled hair and stylish strapped sandals with a bow and cute purse. Girls here, you are all dolled up, and now you are ready to go anywhere!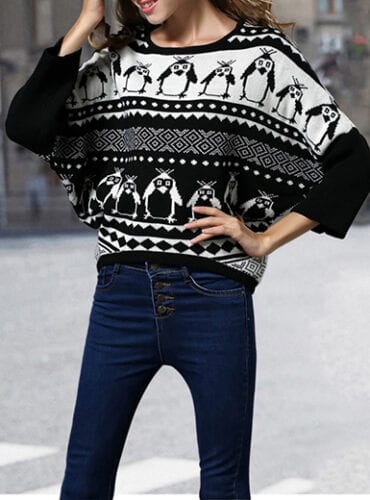 ↓ 25 – Wear Them Over Hoodies
Hoodie or denim? It is one of the hardest choices one has to make in winter. Well, outfit trends have made it easy for you because now you can wear both of them at the same time and equally slay them. So, girls! Take out your gap hoodie or any of your all-time favourite hoodie and wear your new denim dungaree over it that you've been patiently waiting to wear. Pair up your outfit with printed sneakers and studs. This is an ideal look for teenagers or school and college going girls. Outfits like these made you look young, fun, and sophisticated.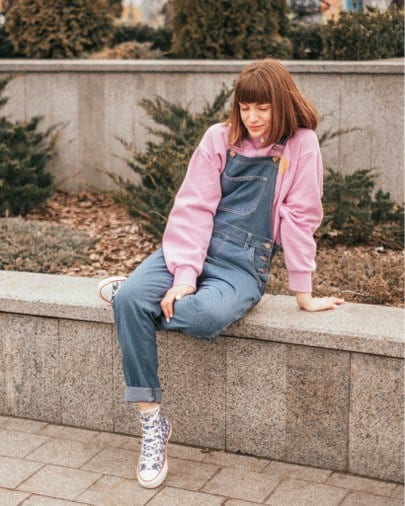 ↓ 24 – With Feminine Tops
Dungarees in summer? A big YES. Take out your black denim dungarees and pair them up with your cute floral tops or lace tops. These tops will add a sense of delicacy to your entire look. Moreover, such prints and colors are eye-pleasing in summers. Pair up your gear with white boots and a cute crossbody bag. Put on a pink or peach lipstick and blow-dry your hair. Enjoy your day in this simple yet classy look!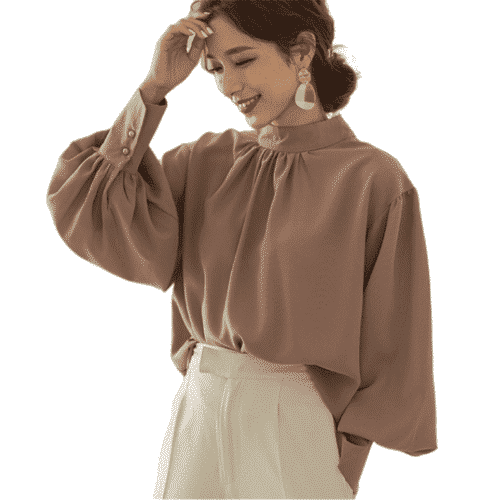 ↓ 23 – With Sports Jackets
Here we present to you the perfect and indeed the cutest schoolgirl look. Wear a casual hooded sports jacket over your dungarees. If its cold outside add more layers, and to complete the look, go for a braided hairstyle. The choice of the white-colored dungaree is also an excellent one for the summers.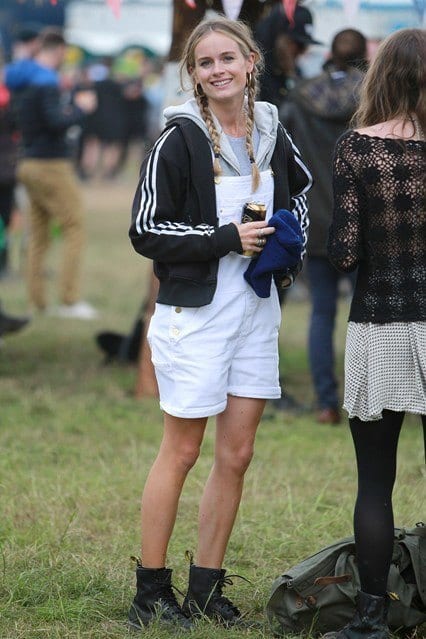 ↓ 22 – Make Your Dungarees Unique With Enamel Pins & Badges
Here's another festive dungaree outfit that was given a funky look at home with simple DIY tutorials. All you have to do is find some funky badges and embellish your denim dungarees with them.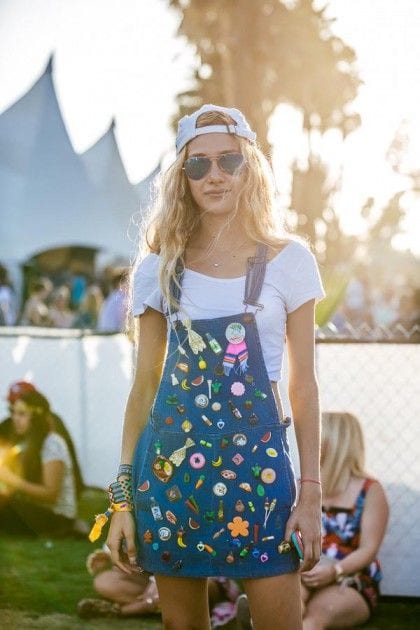 ↓ 21 – Wear Them On Their Own
Simplicity is the best policy, so how about just wearing the dungaree on its own and not worrying about the details like Jaime King. Moreover, denim dungarees are the best choice for this style as the denim has a class and grace of its own. The recommended hairstyle for this outfit is undoubtedly a high ponytail or else a bun. You can wear them with any sort of shoes, sandals and small heels look great though.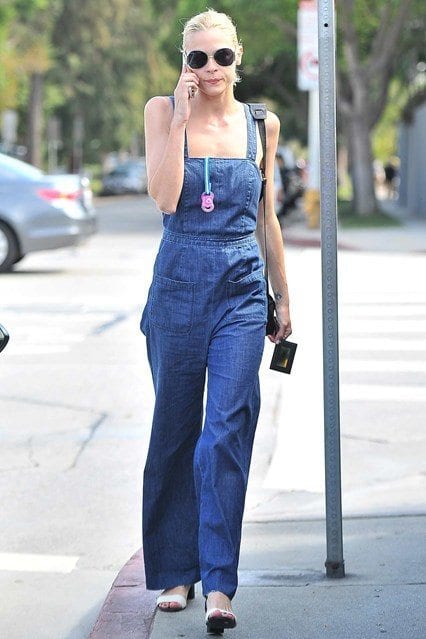 ↓ 20 – Wear Leather Dungarees Over Feminine Blouse
We all have seen trending leather jackets and coats, but little have we thought about incorporating leather dungarees in our closet. If you want to stand out, be unique, then get your hands on fantastic leather dungaree with a luxurious texture that will stun everyone. Wear it over a white half-sleeved shirt. Accessorize it with a gold chain, watch and black pumps, and file shaped bag.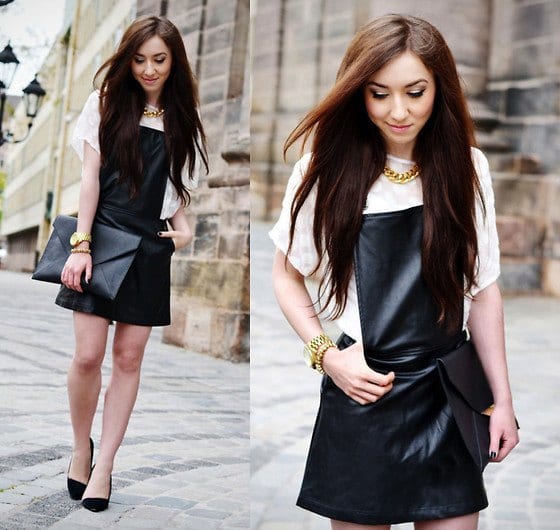 ↓ 19 – Wear It Over Your Bras
All teenagers love swaggy looks. If you are one of them, then this look is definitely for you!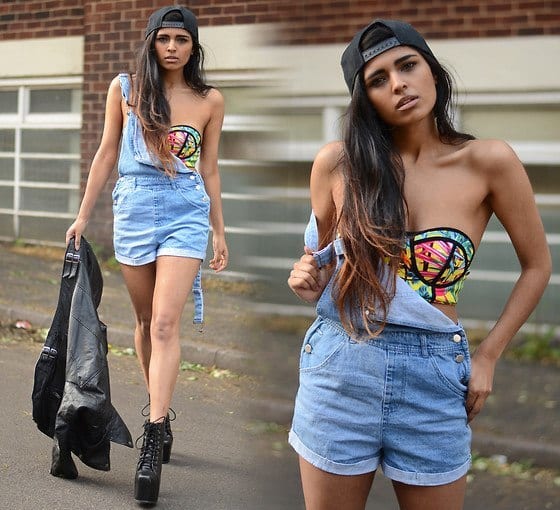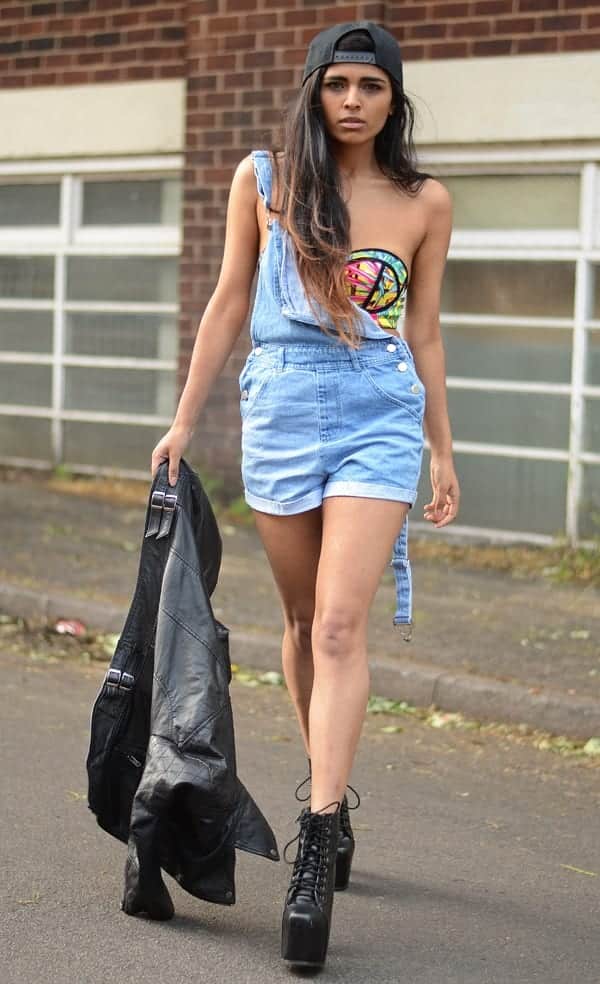 ↓ 18 – With Lace Blouse
Here's another swag dungaree look with a lace shirt added to it. If it gets too chilly, then you can always wear tights or leggings with your dungarees. Dungarees look great on women and girls of all ages but especially for teen girls, so here are 18 Popular Teen Girls Street Style Fashion Ideas for This Season.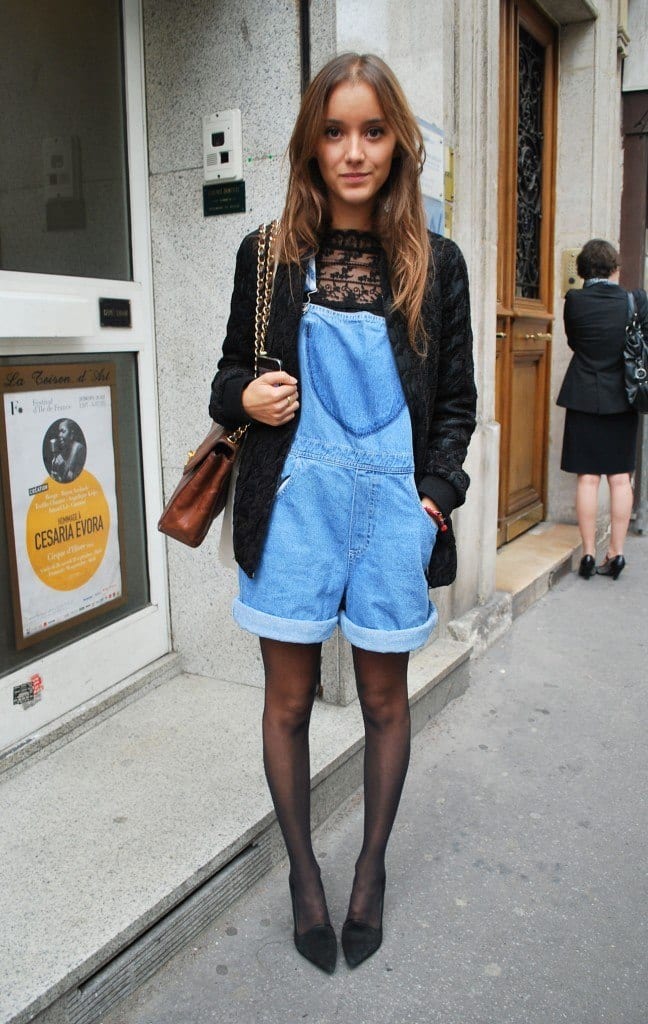 ↓ 17 – Dungaree Dress With Stockings
Create a charming and lovely look with a short denim dungaree. Wear it along with a white full sleeve top and stockings. Add colors to it by draping a check stole in your neck. Put on a hat and finish off your look with high heels.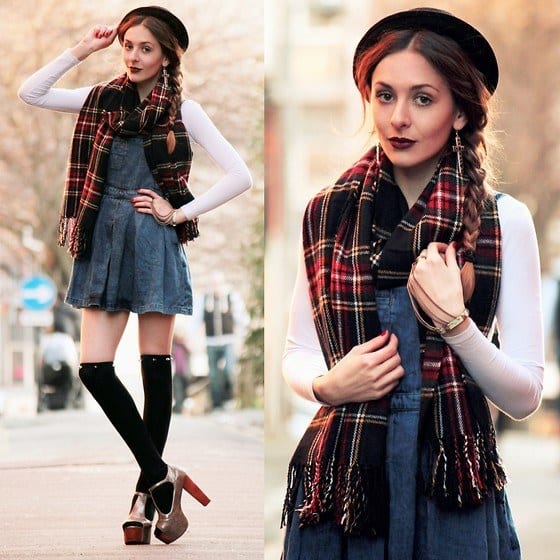 ↓ 16 – Short Dungarees With One Strap
If you want to wear your dungarees with just one strap, then short dungarees are the best choice.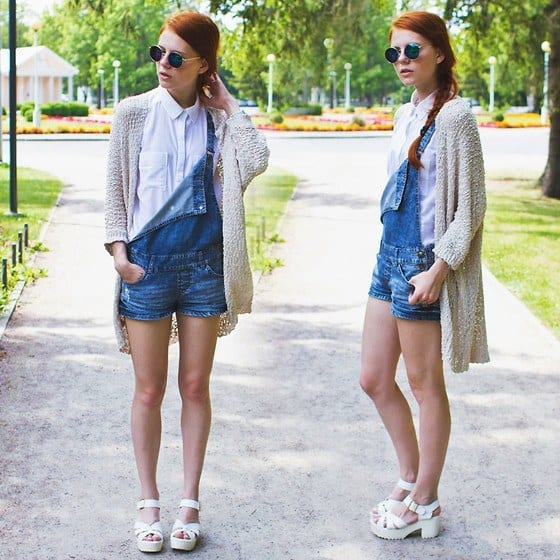 ↓ 15 – With Striped Tees
Wearing a striped shirt or crop top that matches your dungaree is another excellent idea. To make it an effortlessly cute look, tie a chambray shirt at the waist.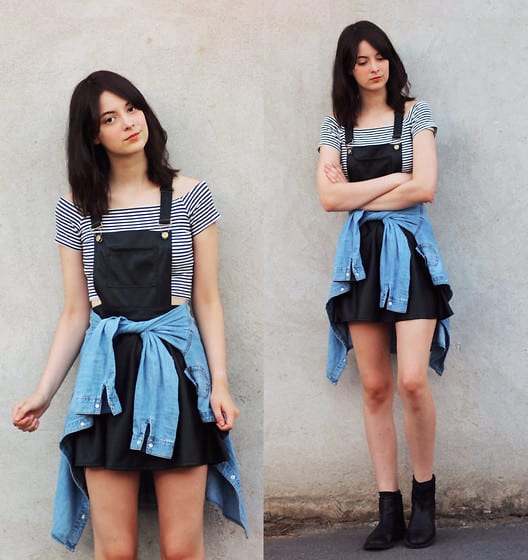 Ladies, forget the basic black and blue dungarees and try out something solid and ravishing as this rust-colored dungaree. Wear it over a striped full sleeves top to create a simple yet classy look. No choice is better than wearing this attire with black ankle sneakers. Add drama to your outfit with a delicate belt. Tie up your hair in a neat bun and wear basic accessories like studs and a necklace. Put on some lipstick and blush, and you are good to go.
↓ 14 – With Tights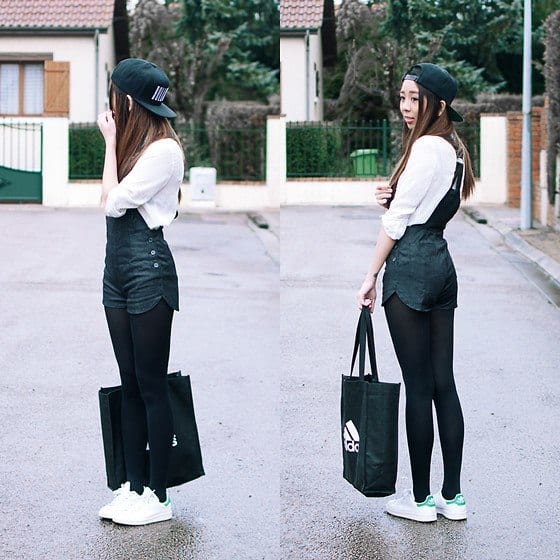 ↓ 13 – With Tie-Dye Shirts
A colorful tie and dye shirt matched with dungarees create a great summer look.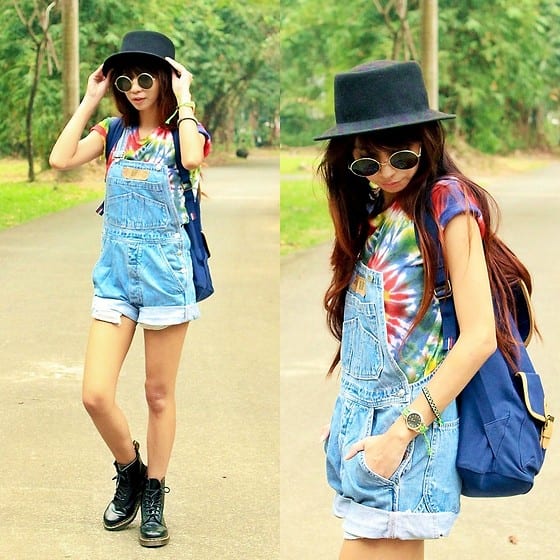 ↓ 12 – With A Collared Shirt
Heels and sandals look great with this outfit style.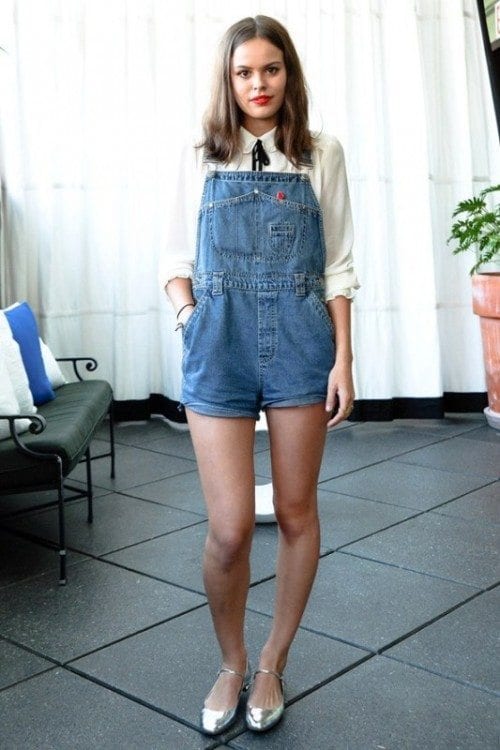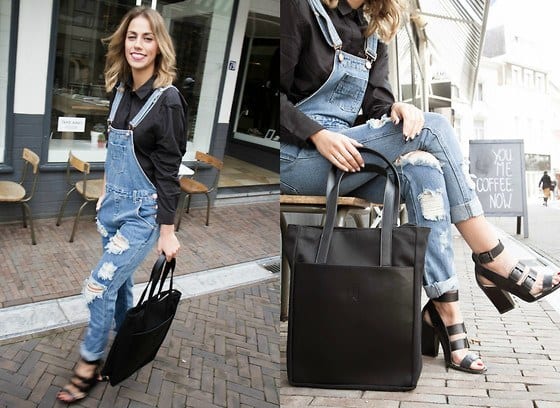 ↓ 11 – With Turtle-Neck Shirt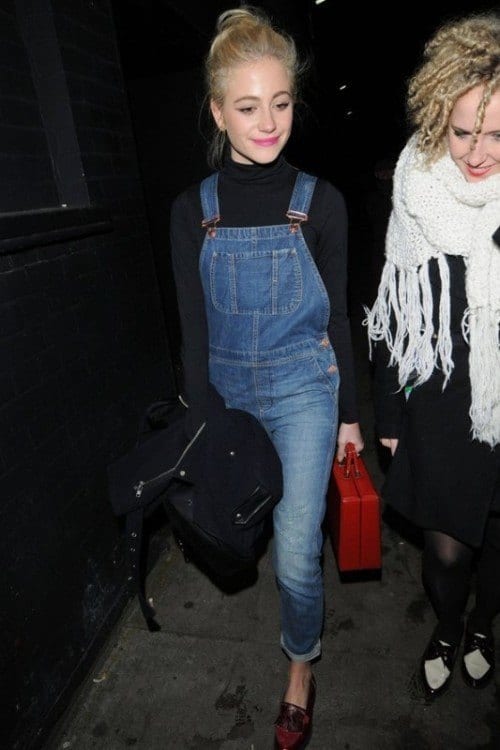 ↓ 10 – With Contrasting Colours
A dungaree matched with a contrasting shirt underneath looks visually pleasant. I'm sure all lovers of black will also adore this combination of Black and White in a dungaree outfit.

↓ 9 – With One Strap
A chic and classy runway look indeed.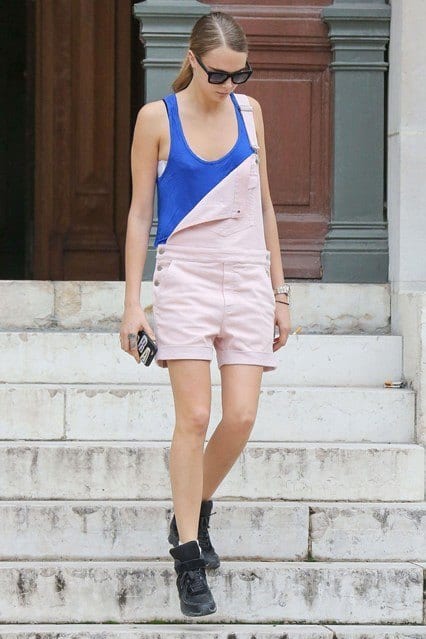 ↓ 8 – Layer Them With Long Coats
Check out how Jessica Beil creatively used dungarees as a maternity dress.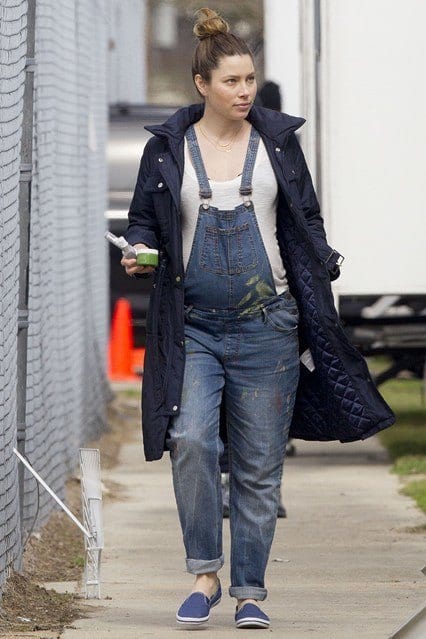 ↓ 7 – With A Leather Jacket For Fall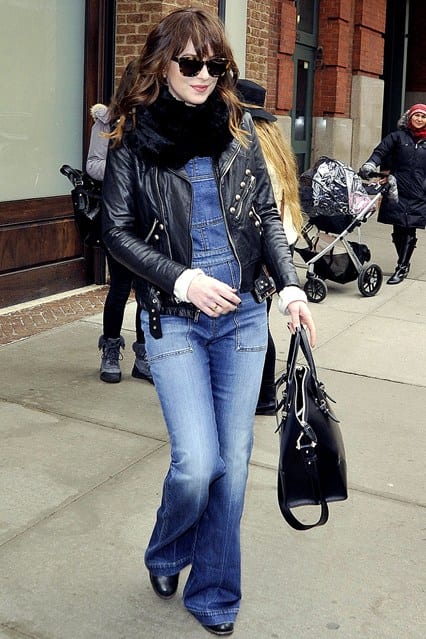 ↓ 6 – Layer Them With A Fur Coat In Winters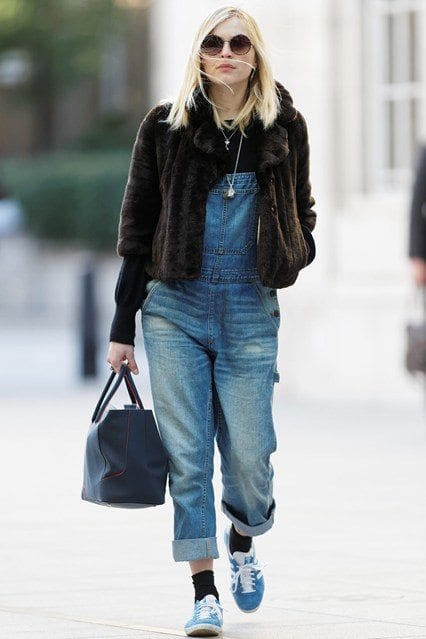 ↓ 5 – With A Flowy Oversized Shirt
If you are not the girl who is into fittings, then this idea is for you! Wear a cute flowy oversized shirt and pair it up with a short denim dungaree. Accessorize your look with sandals, earrings and a chain. Perfect for a day out in summers, be it a shopping day or friends hangout.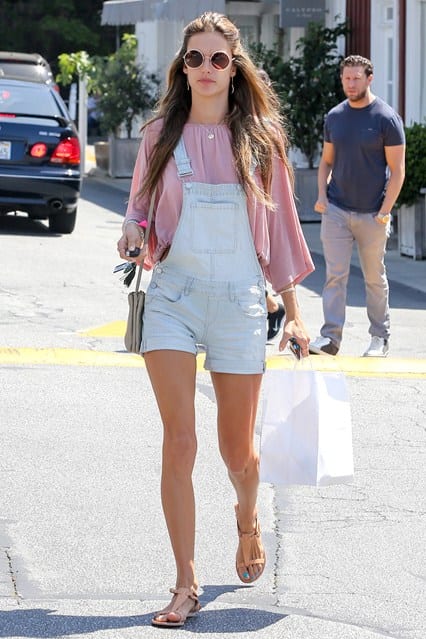 ↓ 4 – Over A Crop Top
Take inspiration from the style diva Taylor Swift and wear your dungarees with a crop top. The black and white combination is perfect for a fun-filled night out.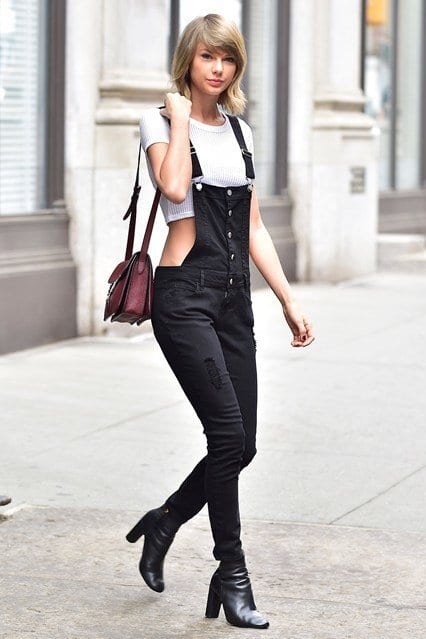 ↓ 3 – With Tank-Tops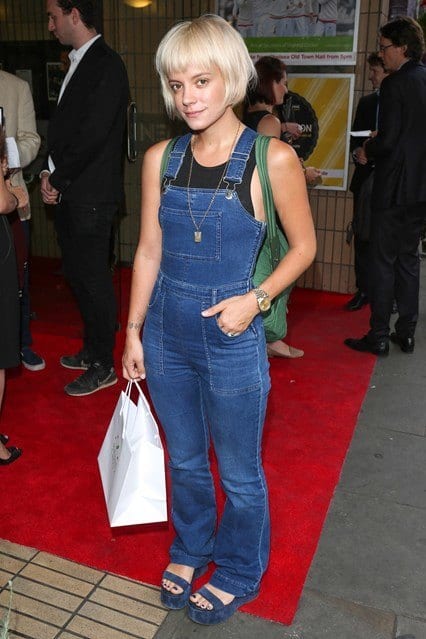 ↓ 2 – Wear Solid Tees Under Printed Dungarees
If you're fond of traveling, then you must have a printed dungaree. You can wear them with any plain tee and style with shoes and accessories of your choice. If you're a travel enthusiast, then don't miss out on these Tips from Kate Middleton's Travelling Style.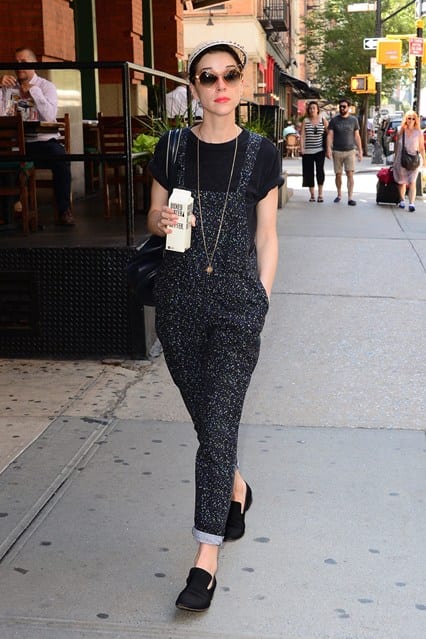 Dungarees look great on plus size women, and I particularly suggest them to go for the printed ones as they are sure to make any girl look breathtaking. You can style it with your favourite earrings, wear a crop top, or any other simple shirt underneath if you want. If the dungarees are shorter in length, then longer boots would look great, especially if matched with your under-shirt. Here are some more funky Casual Outfits for Curvy Girls.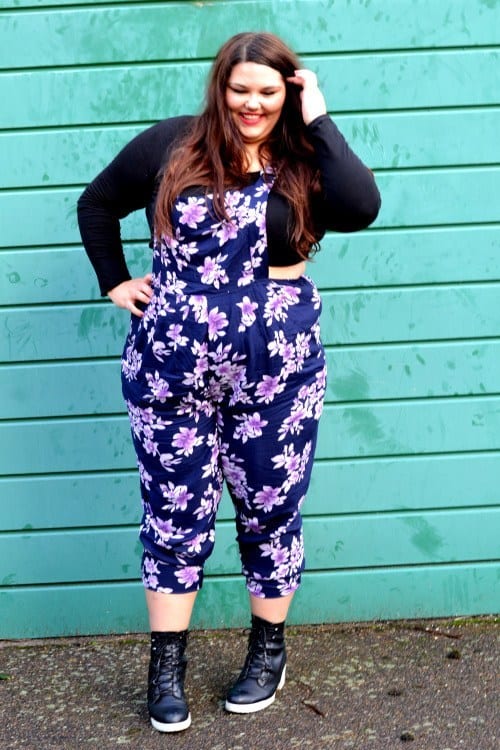 ↓ 1 – Wear It Over A Button-Down Shirt
A style statement by Allison Williams. The outfit looks casual and perfect for a random day out. A simple hairstyle or a blow-dry also looks lovely with this. This combination can also be a good option as a work outfit for most women and especially as a work from home outfit.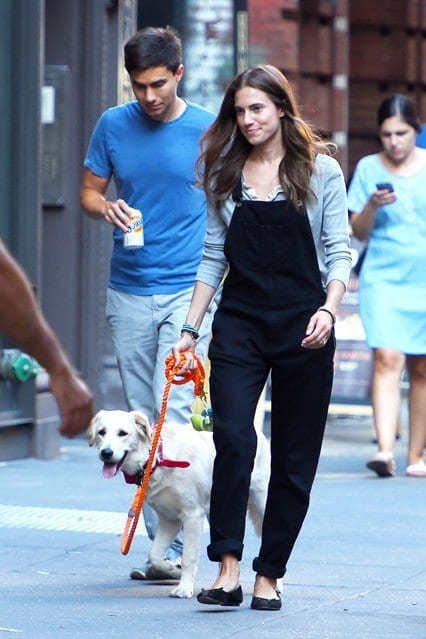 Expert Answers To Your Frequently Asked Questions
Q.

What To Wear With A Dungaree Dress

A. Style your dungaree dress with any plaid shirt, a black hat, and booties for a hot casual summer outfit! If you feel like wearing this outfit in Winters, then you can add black tights and blazer. You can also wear it over any solid colored or striped shirt.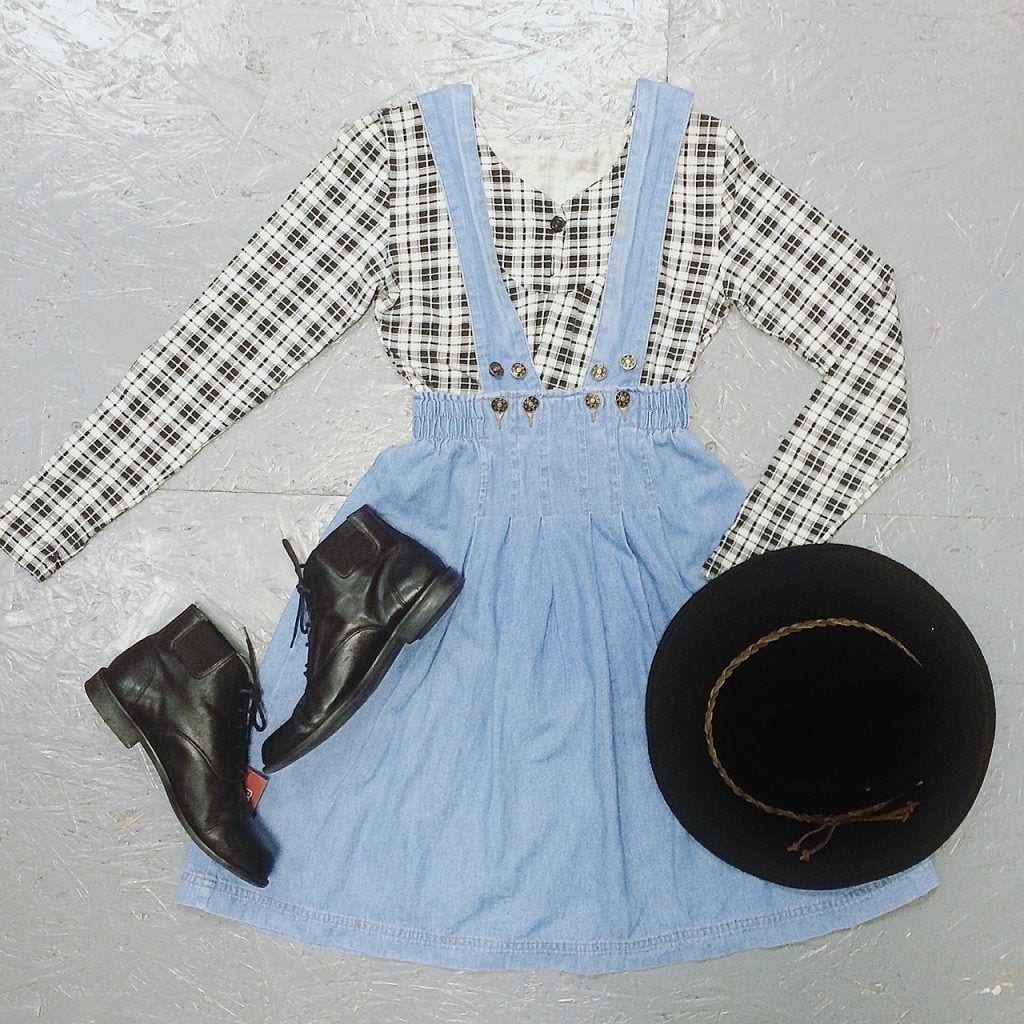 Q.

Can Short Girls Wear Dungarees?

A. Dungarees are one of those outfits that look super cute on girls with short height. If you play it right, dungarees can even make you appear longer than you are.
Q.

What Shoes To Wear With Dungarees?

A. Sneakers are surely one of the top choices to wear with dungarees, especially when you're wearing them casually. If you're looking for something different or a bit to the formal side, then you can opt for platform shoes, slides, or lace-up ankle boots. And for the ultimate party look, you can always wear then with heels or pumps.
Q.

What To Wear With White Dungarees?

A. White is always the best choice for any event, party, meeting, or formal occasion. I suggest buying a sophisticated white dungaree dress that fits you well. Wear this dungaree with a high white neck or turtle neck sweater underneath it to create a very chic look.  Details like neat buckles and buttons can give a classy look to your dungaree dress. You can pair it with a loose side bun, plain joggers, and nude shade lipstick with Smokey eyes to get a desired chic look for yourself! For layering the white dungarees in cold weather, I would recommend shearling jackets in darker colors.

This Look does not have an image.