How to wear saree with peplum: We already know, no girl can say no to a gorgeous saree. We have all dreamt of having our 'desi girl' moment donning the expanse of sheer elegance. Along with that, we too have fantasized about the different gorgeous styles of blouses we could possibly wear on different occasions- be it school or university graduation, or our best friends' wedding- we definitely want to feel like the main character of our lives, just once in a saree.
So when we do think of sarees, we think about one thing and one thing only- to be wearing a blouse that's unique and makes you stand apart from the crowd.
For this, we look to our favorite celebrities, because somehow they always get their hands on unique outfits that one day does or does not make it to our closets. Just like that, when we see our favorite celebrities wearing gorgeous sarees with really pretty blouses- we've got to have that too!
Spotted in this uber-cool way of styling sarees, our favorites have shown us that wearing a peplum blouse can be cool, trendy, and chic too!
We have put together a list of 13 ways to style and wear your saree with a peplum blouse and what kinds of sarees and looks go best with this blouse style.
Read on to find out tips on how you can make your saree outfit stand out just by turning up a notch when it comes to blouse patterns and styles!
How to Style a Saree Peplum Top?
Peplum blouses make for a very unique way of styling your blouse due to the short pleated or gathered strip of fabric at the waistline which creates the look of a frill or a flounce. Peplum is a widely known and worn style in the form of dresses and tops and has now made its way into saree blouse styles as well! They make for the perfect option to choose when looking for more modest dress patterns which look elegant and chic at the same time.
Peplum is one such style that suits every body shape as it helps accentuate the waist. It is especially a good choice for those who have an hourglass body shape as the peplum really helps enhance the features. When worn well, it can create a diminutive waistline and an elongated figure. If worn poorly, it can result in exaggerated hips and unnecessary bulk.
Tips To Remember
Ensure you choose the right kind of fabric when having your blouse tailored to your liking. The right fabric is important for different seasons and whether chnages and also plays a role in ensuring the best fit of the blouse.
Peplum style blouses are generally designed with a complete closed back. But if you choose to go for an open back style, ensure you wear the right bra, or avoid the hassle and get the blouse padded.
Do not overdo the styling and accessories. With a peplum blouse, minimal accessories are the key as the blouse in itself is a show stopper. Accessories can be kept minimal with one or two statement pieces to complete the look.
Peplum is a style that has a lot of flounce and can be a disaster if not made well. Always looks for fabrics with just the right amount of flounce and fall like organza to help you achieve a relaxed look while also accentuating your curves.
13 – Add Statement Sleeves for Wedding Guest Sarees
Starting off with the celebrity look of the day, we have the stunning Tapsee Pannu in a metallic saree with a matching peplum top that stands out because of its statement bell sleeves. It's a gorgeous look that one can easily take inspiration from and use as a wedding guest outfit.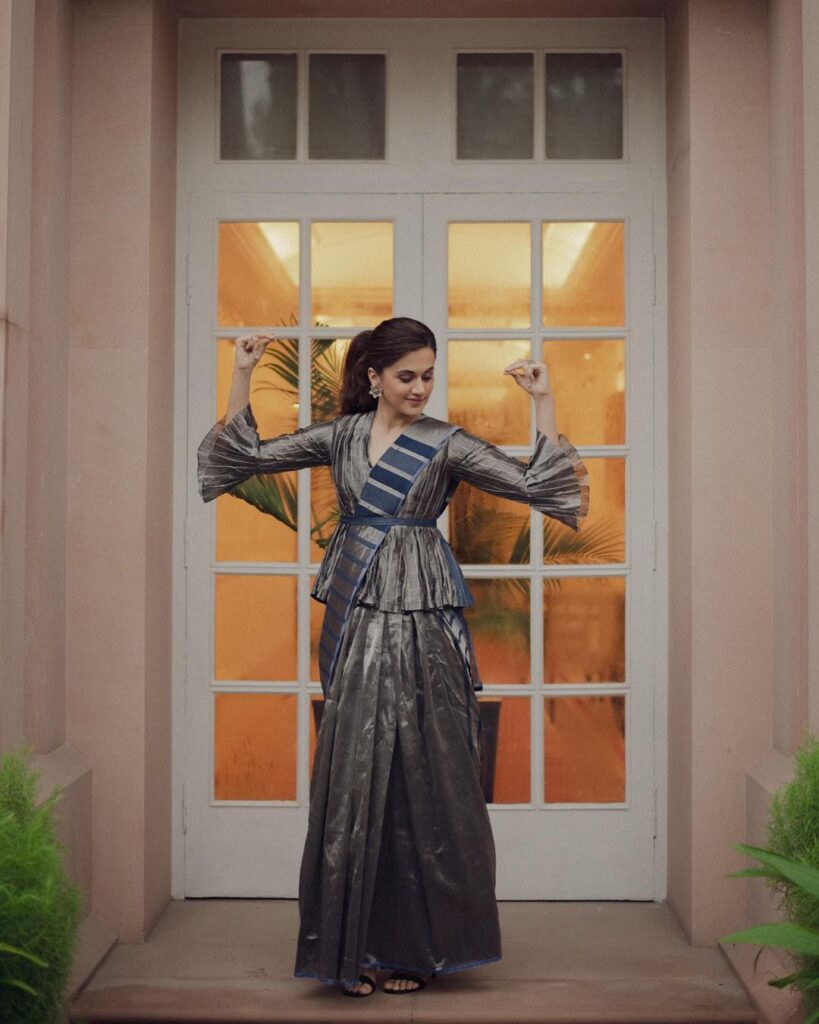 12 – Mix & Match Prints for Casual Sarees
For casual sarees or when dressing up for small-scale parties like a birthday function, it's always fun to mix prints like how over here a tie-dye peplum has been paired with a striped saree.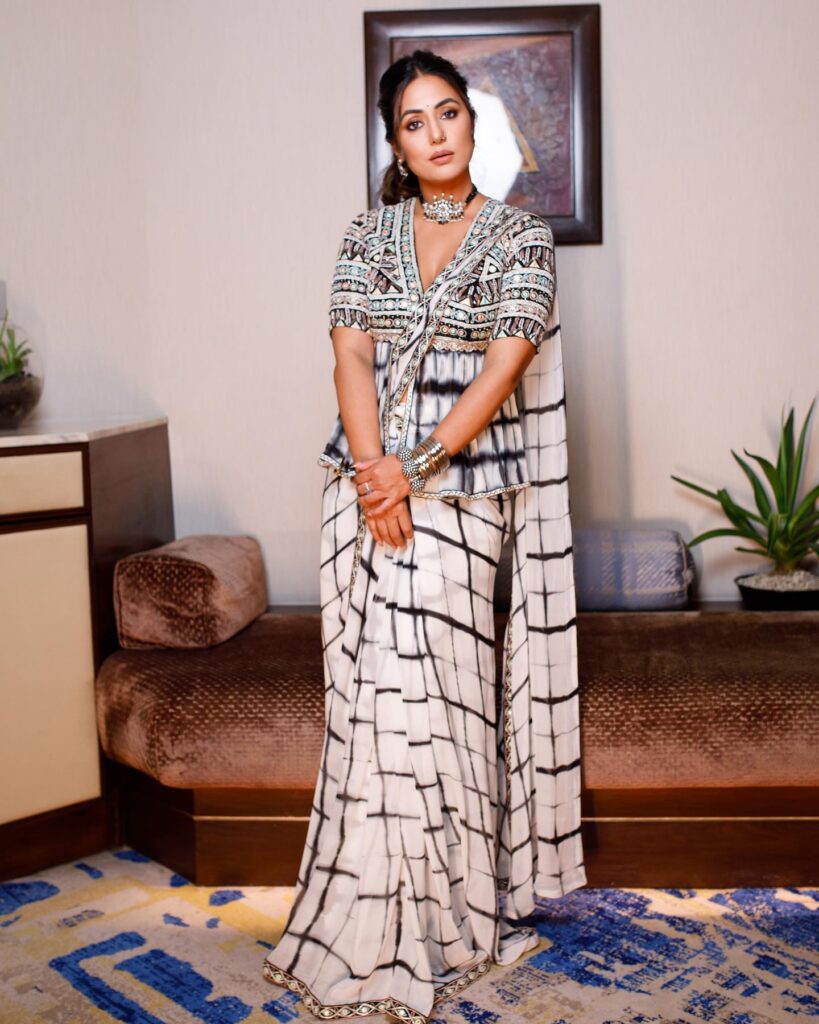 11 – Use a Peplum Pre-Draped Saree If You're Short on Time
Draping a saree can be time-consuming especially if you're not used to wearing them. In such situations, I love the concept of trying a pre-draped peplum saree since it makes things so much more convenient. Here we see a gorgeous Emerald Green saree paired with an embroidered peplum.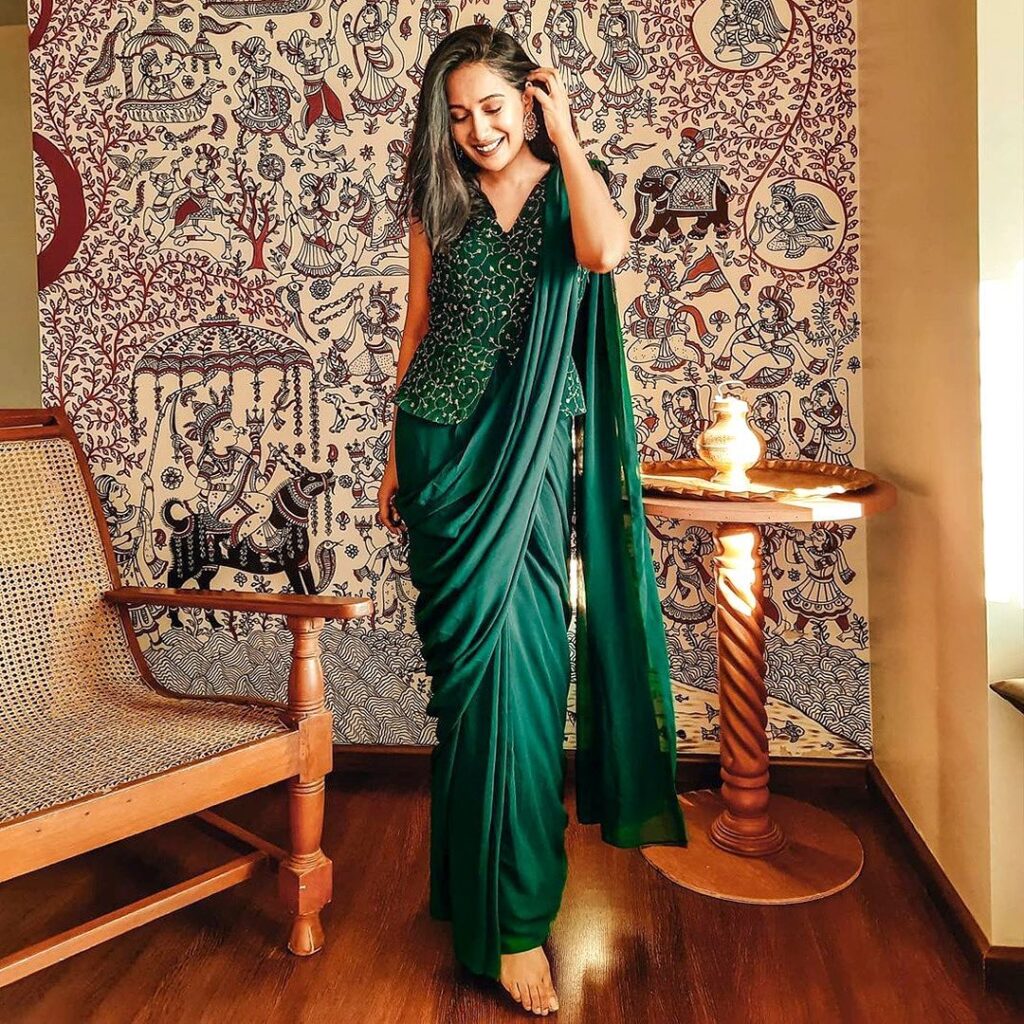 10 – Try It With a Bandhani Saree
A bandhani saree is a classic saree style that is a must-have in your closet. Bandhani or bandhej is an age-old method of tye-dyeing fabrics to create gorgeous patterns, which is so trendy even in the present day.
Typically, you would choose a regular blouse with minimal work to allow the saree to really stand out. But a really nice way to add some chic to everlasting elegance is by changing up the blouse for a peplum one.
A full-sleeve peplum blouse in a complimentary color to the saree will make for a great look for pre-wedding festivities, functions, and occasions during winters and a unique take on a more modest saree ensemble.
A well-made peplum blouse will hit the right spot with the right fabric, a simple pattern, and gorgeous complimentary colors. Here's our detailed post on the different ways to wear bandhani sarees.
9 – Plain Chiffon Saree Looks Great With a Heavy Embroidered Peplum Blouse
You are probably well aware of the trend with simple plain sarees, aren't you? The idea is to style them with a heavy blouse and add statement jewelry that brings in the wow factor to your outfit. You can elevate this look by opting for a peplum-style blouse with heavy embroider instead!
While your saree remains simple with no work and no detailing, a gorgeous heavily embroidered peplum blouse will bring in all the jazz to your outfit.
A sleeveless/half-sleeve blouse simply paired with statement earrings will be a staple for this kind of outfit. The peplum style in itself will add a simple yet chic twist to your ensemble making you look quite the head-turner on occasions like cocktail parties, evening functions, etc. It helps add a touch of modern to a very classic outfit.
8 – Choose a Deep V-Neck Cropped Peplum Blouse for Formal Wear
You can add a fun twist to the classic peplum by styling a cropped peplum blouse. This can make for the perfect pairing piece for sarees and lehengas too!
You can have the blouse tailored to create a loose fit which does not necessarily enhance the peplum, but does in fact have the same look and feel to it.
You can style this blouse with a pinned IP pallu to reveal the blouse style completely. When styling with a lehenga, you can opt for flowy airy fabrics to create a summery look, for which the peplum will be a great choice, adding a bit of chic to your ensemble.
The outfits are perfect to be paired with statement jewelry making for elegant yet trendy attire.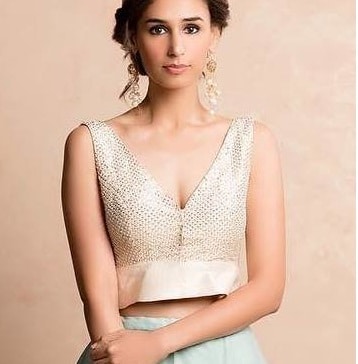 7 – Wear Solid Colored Silk Sarees with Embroidered Peplums
Monochrome looks are every bit stylish and evergreen. And let's not forget- they are the best way to go when in doubt about what goes well with what.
You can opt for a classic monochrome look by pairing a simple saree with peplum blouse in the same color with minimal detailing. This will add a bit of grandeur to the outfit without making the entire outfit heavy and uncomfortable for longer wear.
It will make for the perfect outfit to be worn as a wedding guest, or for intimate gatherings like pujas and seasonal festivities.
Chiffon, silk fabrics are the best options to choose to keep the outfit looking regal yet comfortable. You can play around with the blouse and style it as a long-sleeve blouse or opt for a sleeveless look depending on the time of the year and the type of occasion you want your outfit to cater to.
Here are some of our favorite silk saree designs to try this year.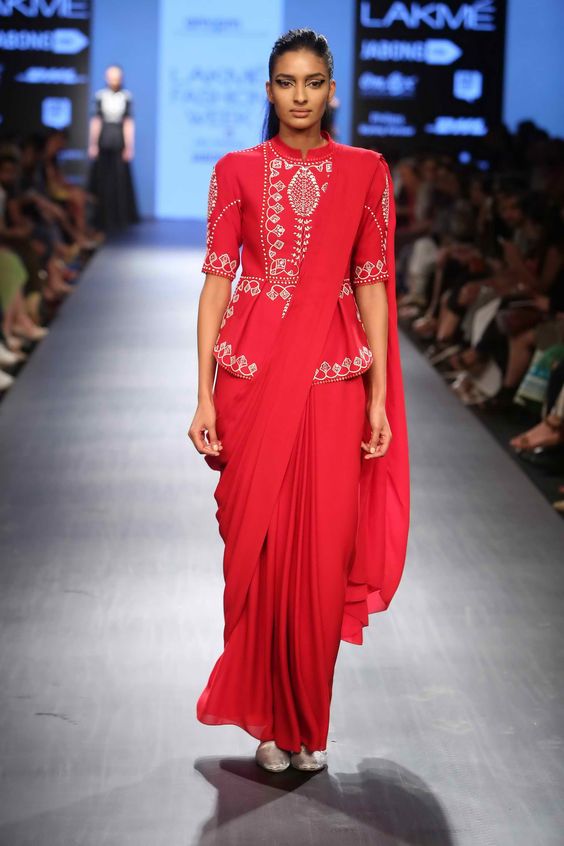 6 – Try It With A Dhoti Style Saree for Casual Get Togethers
A dhoti style saree is currently one of the trendiest ways to drape your saree. It is a cool take on regular saree drapes and acts as a super versatile outfit that can be worn to a number of functions.
You can choose to keep it simple by opting for a lightweight cotton saree or you can opt for a grander look by choosing sarees with brocade work or threadwork for the added glamour.
The best part about this style is that you can revamp your old sarees to be worn in the form of a dhoti drape, or a pre draped dhoti saree can become your best friend that will add ease and comfort to your dressing and styling.
Along with this, you can opt to have a peplum blouse to further add a unique sping to your outfit and paired with matching jewelry- it will definitely make for an uber-cool saree look!
5 – Try Long Puff-Sleeve Peplum Blouse for a Vintage Look
Are you looking to add a bit of vintage/modern flair to a traditional blouse to pair with your saree? Your best bet would be to opt for a vintage long puff-sleeve style along with a peplum.
This style works gorgeously for sarees with minimal work and detailing, allowing you to create a blouse that is slightly on the heavier side to achieve a grand look. If you are to attend a wedding reception or an evening cocktail party, this look can definitely be on your list.
You can choose a contrasting color for the blouse, or you can choose a classy monochrome look in pastel shades or in dark hues like greys and midnight blue for an ethereal look. The accessories can be kept minimal because after all, the star of the show is your gorgeous blouse!
4 – Add a Belt if You Want Better Fitting
A great way to bring your outfit together, especially with a peplum-style blouse is to add a belt to your ensemble. A simple belt can help elevate the outfit, helping you achieve a simple yet sophisticated look.
It will also help manage the pallu with a bit more ease, without you having to constantly worry about pinning it up every now and then!
You can achieve a stunning look by pairing simple pastel organza or chiffon ruffle saree, paired with a peplum blouse of the same material.
A belt matching the border pattern of the saree can be tailored to blend in well with the entire outfit giving you a statement look that works well for any occasion.
3 – An Asymmetrical Peplum Blouse Adds a Chic Twist to Traditional Sarees
If you are not a big fan of the traditional sarees and would look to achieve a similar look but that which is easier to manage, then you choose a lehenga saree ensemble.
A lehenga saree is nothing but a lehenga styled as a saree which when put together with the blouse and right drape, gives the illusion of an actual saree. It is easier to manage and a more comfortable option for anyone who would like to remain hassle-free during grand functions and festivities.
You can create a fun unique look by pairing it with an asymmetrical peplum blouse in chiffon or organza to allow for a nice fall and to create elegant flowy ruffles. This will create a beautiful layered look just like that of a ruffled organza or chiffon saree.
2 – Strapless Peplum Blouse are The Most Trending
It is no doubt that strapless blouses are 'IT' right now! Strapless blouses are making their rounds in a number of ways and are seen being styled beautifully for a variety of occasions.
Be it with lehengas or sarees, strapless blouses are a unique take on blouse design and style. Although fancy and chic, they can be a little uncomfortable to wear for longer periods of time, which brings us to the idea of choosing a strapless peplum blouse.
The peplum blouse would provide just the right amount of coverage, and straps that run over the arm would help hold up the blouse together with much more ease.
The outfit can be put together with a simple saree and heavy brocade or zari work peplum blouse, with long dangle drop earrings to complete the look. Along with comfort, it will have you looking like a million bucks on any occasion!
1 – Floral Peplums In Pastel Shades Are Great for Summers
Floral prints are so evergreen and such a staple in every wardrobe. Be it in the form of tops, dresses, skirts, sarees even- they have such a beautiful summer vibe about them that makes you want to have summer festivities all year long.
So why not incorporate that into your blouse design as well?
A simple minimalistic floral print blouse in organza, chiffon, or cotton, with an airy peplum look will make for such a versatile piece in your ethnic wear collection that can be paired beautifully with a lehenga, a saree, even with some festive cullotes or palazzos.
We love versatility, don't we!
Frequently Asked Questions
Q. Where can I buy ready made peplum blouses?
You can shop ethnic peplum blouses from these websites:
Azafashions
Amazon
Kalki Fashions
Pernias Pop Up Shop
Indias Pop Up
Q. What is the best way to style a peplum blouse?
There are a number of ways to style a peplum blouse as discussed in the article, but when in doubt, you can always pair your look with a belt. The belt helps further accentuate your curves and also adds a bit of fusion to the entire outfit.
Q. What is peplum blouse?
The term peplums originally referred to western-style peplum shirts with a flared section attached at their base. They however have made a greater impact on Easter fashion as we've seen desi versions of peplums with embroidery and embellishments being worn at weddings and also simple peplums with jeans or palazzo pants for casual wear. In recent years, peplums have become a popular choice to be worn as blouses for sarees. They are a really good option for women looking for modest blouses to wear with their sarees.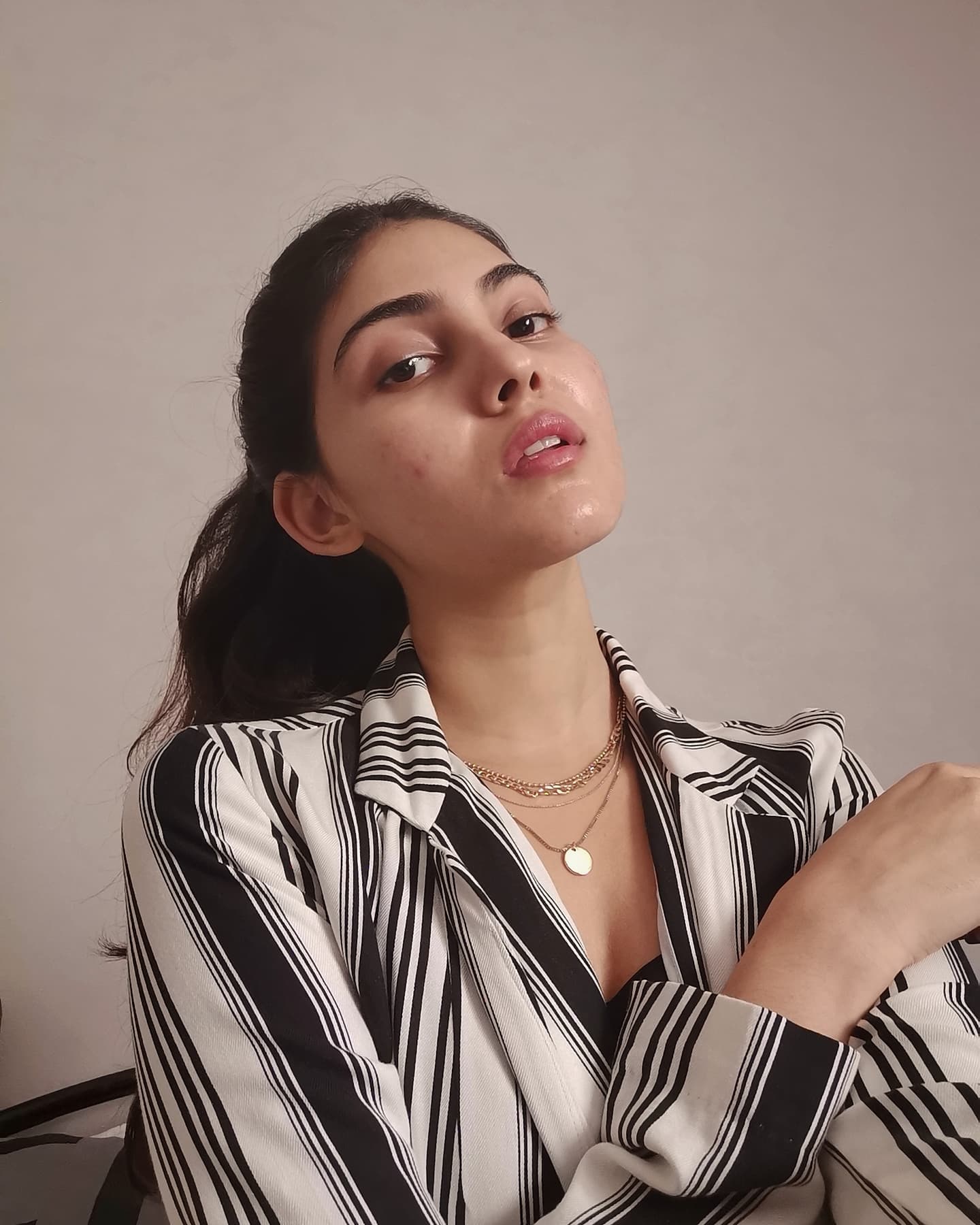 Hi! My name is Amrta. I am a 22 year old with a Bachelor's degree in Business Administration and a holder of a Post Graduate degree in Business Administration as well. I currently reside in Muscat, Oman. Though I have studied business at both the undergraduate and postgraduate level, I have had keen interest in fashion since a very young age. Along with that, my love for reading and writing, paved the way for me in terms of blog/content writing. I am here today, at Outfit Trends, to channel my passion for fashion and flare for writing and help build my skills as I go forward. As an amateur writer, I aim to use my time here to develop skills that can help me become better at what I love to do, while I also hone in on the skills I already possess and aim to create a fruitful experience here at Outfit Trends.