How To Style Lingerie – Lingerie designs have become so diverse in today's fast fashion industry that you can literally curate entire outfits from them as well as wear them outside. If you want to spice up your wardrobe, bring some adventure into your life and step outside that comfort zone then styling the perfect lingerie outfit is exactly what you need.
Whether you're looking to be more creative in terms of what you wear, or you're just looking for more outfits to stack up on, or even if you just stumbled upon this article because you were curious, we have the right fit for all of you.
Lingerie Outfit Ideas for Daily Wear
Lingerie comes in all shapes and sizes and is made for all shapes and sizes. If you want to show off some extra skin, don't worry because there is an outfit for everyone here. Lingerie outfits can be worn at a party or they can even be worn on a casual day out.
These outfits range from cute bralette outfits paired with sheer mesh overlays or lingerie bodycon paired with some plain pleated pants & some stylish-looking suits! Don't believe me? Let's hop right in!
Tips For Wearing Lingerie Outside The Bedroom
Fitting Is Super Important. If you're going to buy lingerie, I cannot stress enough how important it is to find out the correct size and get the ones that your body feels the most comfortable in because we don't want you to feel uncomfortable.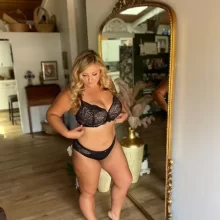 Remember To Wash Your New Lingerie Before Wearing It. You might think that when you get a fresh pair of lingerie, it will be clean but this is not always the case so we highly suggest that you wash them thoroughly before you use them.
Wear Nude Underwear With White Clothes. Many of us make the mistake of thinking that when wearing a white outfit, matching white underwear would be camouflaged but that's not true. Always wear nude underwear closest to your skin tone.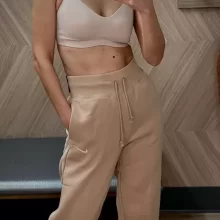 Experiment With Different Cuts. To find out what you like, you need to try on different types of cuts, shapes, and textures. Don't mock it before you try it because it might turn out to be something you really like wearing.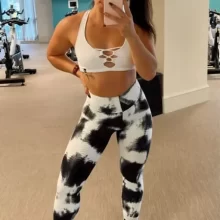 20 – Cream Embroided Bralette With White Collared Crop Top
If you're looking for something that's cute and sexy at the same time, then this is the perfect outfit for you. It features a cream, embroidered bralette with spaghetti straps.
Beneath it, is a white collared crop top with some brown and black printed straight-cut denim jeans. Paired with this outfit are some black boots and circular clear glasses.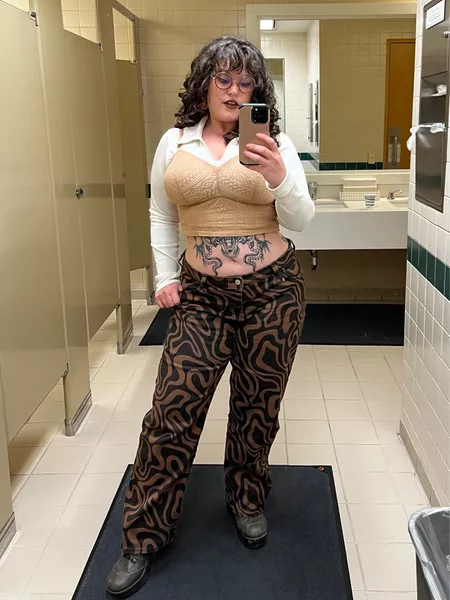 19 – Strapless Black Bra With Green And Red Check Button-Down
Sometimes you're not feeling that adventurous and that's okay because we have the right outfit for you. Stay in your comfort zone by wearing this by featuring a blend of white, green, and red check button-down paired with a strapless bra and some high-waisted black belted leggings.
Pair this with some beaded necklaces and some cozy white slippers with a yellow Santa emoji on top.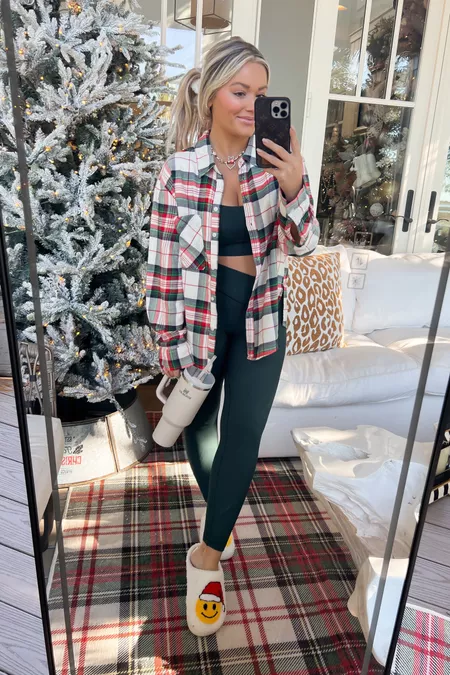 18 – Light Blue Co-ord Set With Fancy Flower Printed Light Blue Bralette
Lingerie can definitely be styled in a way that's more classy and modern and that can be seen in this outfit. This outfit showcases a light blue co-ord matching set with a light blue blazer and high-waisted belted and pleated pants.
This chic set is matched with a dreamy light blue bralette with flowers and silver embroidery on top of it. To tie the whole look together, add a cute purse and a gold pendant necklace.
17 – Sheer Black Net Bodycon With Pleated High-Waisted Black Pants
If you're wondering how to style it outside and make head turns but also look casual, then we might be able to provide some inspiration. This outfit highlights black belted and pleated straight-fit black pants.
Additionally, it has a sexy lace sheer black net bodycon that has spaghetti straps and is tucked inside. To complete the entire look, add a thick gold chain, a textured black shoulder bag, and some black chunky heels.
16 – Black Crisscross Mesh Corset With Black Denim Jeans
Do you want to look like a goddess and make everyone's head turn? This outfit will do exactly that as it features a sexy black crisscross mesh bodycon corset that is tucked inside black boyfriend denim jeans.
To enhance the entire outfit, add in some classic pointy black shades, gold hoops, some chunky black loafers and voila, you're ready to go slay.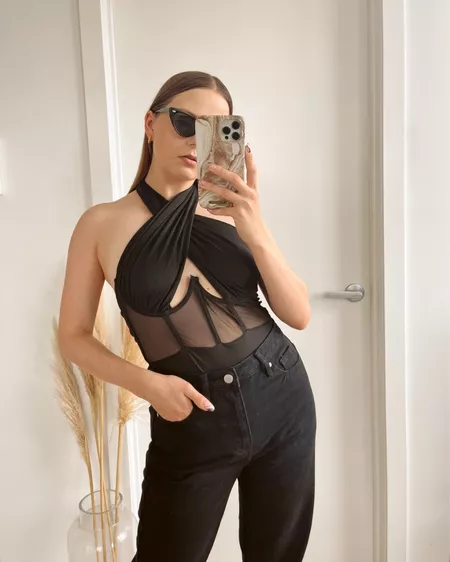 15 – Printed Bralette Top With White Button-Down And Blue Distressed Jeans
It's okay if you don't want to show skin because lingerie can be worn with minimal bare skin as well! This outfit features a yellow and white printed bralette top worn with a white collared button-down that is half tucked into some classic light blue distressed denim jeans.
Complete the outfit with accessories that include a crossbody black bag, circular shades, a brown strapped watch, and some white-laced sneakers.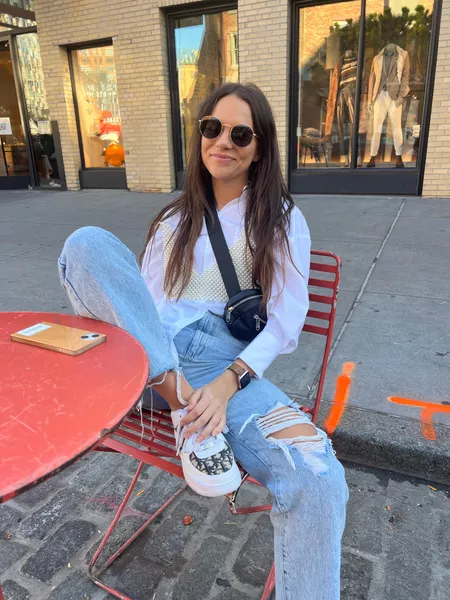 14 – Black Bra With A Mesh Overlayer And Beige Cargo Pants
This outfit is the perfect blend of casual lingerie meets coffee shop outfit and we are in love with it! It highlights a strapless black bra paired with a mesh overlayer top with loose sleeves.
Added to this outfit are some beige cargo pants with exaggerated side pockets. To complete this powerhouse of a look, add in some gold jewelry and black square vintage shades.
13 – Black and White Bra With White Blazer And Ripped Jeans
Lingerie can be worn casually to a day out shopping as well. This outfit showcases a cute black and white zebra printed bra that is strapless. Added on top is a white fitted blazer and matched with that are some blue ripped jeans with distressed ends.
To bring the look full circle, put on some pointy-toed heels, add in some white beaded bracelets, and a clutch.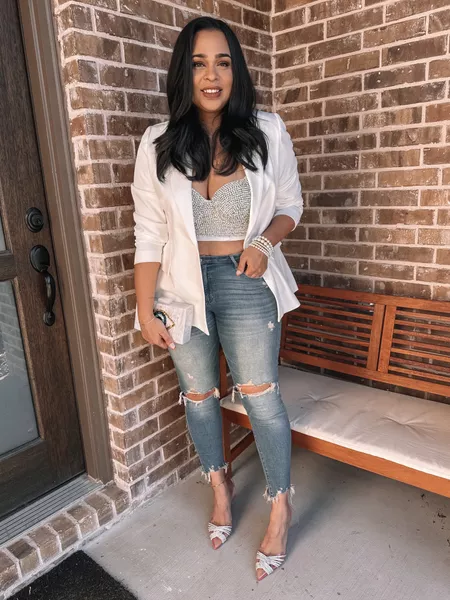 12 – Black Satin Spaghetti Strap Bra With Seamless Half-Sleeved Black Top
This stunning look features a black satin spaghetti strap bra paired with a seamless half-sleeved black mesh top with lace at the bottom and silver moon and stars printed across it.
Add in some plain old mid-rise blue denim jeans, throw on a silver choker and your look is complete. To add that extra flare, you can match the outfit with some chunky black boots.
11 – Lace Black Corset With Black Cargo Pants And Matching Joggers
Looking to style a corset bra? Then we have the perfect outfit for you to wear! This look highlights a lace black corset that is paired with loose-fit baggy cargo pants with an elastic waistband.
To complete this black-on-black look, add in some black jogger shoes and a cute little pendant, and tada! You're ready.
10 – Loose-Fit White Overalls With Bright Orange Bra Underneath
This article would not be complete without a jumpsuit look! This look showcases a cute loose-fit white jumpsuit (or overalls) with one side open.
Pair it with a bright splash of orange-colored strapless bra underneath and add in some thick black Dr.Martin sandals with some gold jewelry like a necklace and some earrings. See? Lingerie can be worn outside with absolutely anything.
9 – Black Bralette With Pearl Mesh Overlayer And Bottom Slit Pants
We are not out of comfortable lingerie outfit ideas yet because this look features a cute black spaghetti Strap bralette which is paired with a mesh overlayer top that has white pearls lined across it.
To further enhance the look, add in some belted black pants with a furry waistband and slits at the bottom. Additionally, add some black pointy-toed heels, some silver jewelry, and a watch to look like an absolute boss.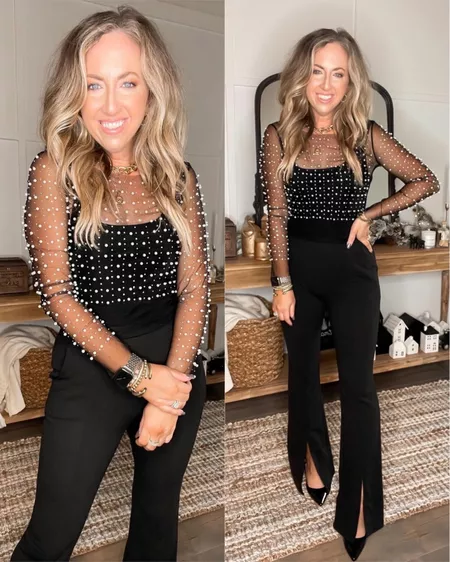 8 – Bright Orange Support Bra With Floral Printed Long Skirt
We know what you're thinking, can skirts be worn with lingerie? The answer is yes, they definitely can! This outfit embodies that by featuring a bright orange support bra that has thin spaghetti straps attached to it.
Pair it with a long flowy blue and white floral skirt that goes up to your feet. The best part is that you don't even need to worry about what shoes to wear because you won't even be able to see them.
7 – Thick Strap Bralette With Green Silk Skirt And Green Button Down Top
2023 will be the year of cool funky and bright colors and so to showcase that, we have for you a bright green look. If you're a little adventurous, then you should try this outfit which highlights a silk parrot green mini skirt with a belted waistband.
On top of that, add a thick white and black strapped bralette with a v-cut. To further elevate the look, add a matching green printed button-down, some gold chains, and small diamond studs.
6 – Grey Bralette With Hot Pink Leather Pants And Textured Shrug
Following our theme of brightly colored outfits, this lingerie outfit idea features hot pink faux leather pants with exaggerated pockets paired with a grey deep-neck bralette with a motif in the center.
Add on a textured warm printed brown-red shrug, some funky red-orange glasses, and beaded necklaces to complete the entire look.
5 – Black Lace Deep Neck Bodysuit With Red Long Blazer And Black Trousers
This outfit can be considered casual or semi-formal depending on the occasion. It features a black laced bodysuit bra with a deep u-neck that is worn under shimmery high-waisted loose black trousers.
Equally important is the brick red long blazer with black buttons on it. To tie the whole look together, add in some bowtie heels and wear that red lipstick girl!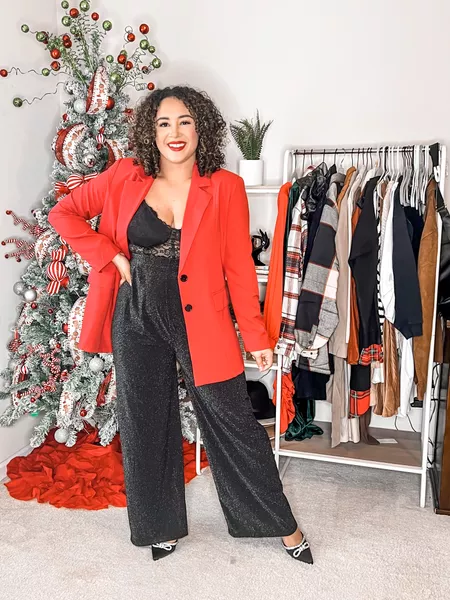 4 – Brown Knitted Bralette With Orange And Green Check Shirt And Ripped Jeans
This look might be simple but it is one of the cutest ones yet. It features a brown warm knitted bralette with spaghetti straps, paired with an orange and green check button-down and some light blue denim distressed jeans.
Add to the outfit by matching a thick strapped crossbody bag paired with beaded bracelets and rope chain necklaces.
3 – Orange Sise Cut Bralette Top With Black And White Stripped Pants
Another one of the funky outfits: features an orange side-cut bralette with thick straps and a crisscross back. Paired with this bright and exciting bralette is a black and white striped high-waisted pant that adds complements the orange color.
To accessorize the outfit, add in a crossbody blue velvet bag and some thick chunky gold hoops and slay like the queen you are!
2 – Black Co-ord Set With Blazer Slit Pants And White Textured Bodycon Lingerie
If you're looking for styling ideas for outside that are more classy and modern, then this is the perfect look for you to take your inspiration from.
This look highlights a black co-ord set with a long fitted blazer and some black high-waisted pants with slits at the bottom. Additionally, put on a chic white textured bodycon lingerie piece, add in a silver handbag, and some pointy-toed silver heels.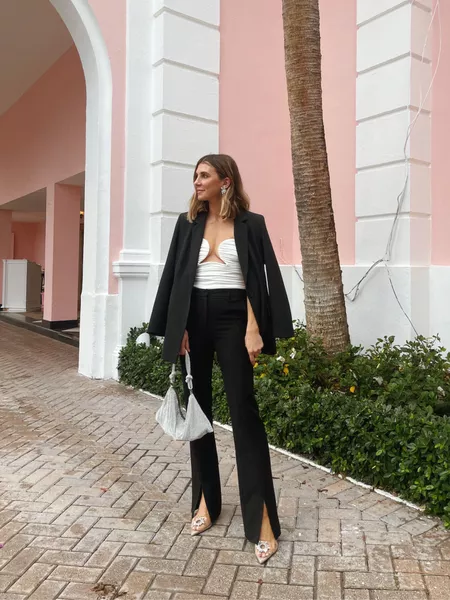 1 – Nude Pink Bralette With Sherpa Brown Jacket And Blue Denim Jeans
Last but certainly not least, this look features a baby pink bralette paired with some blue boot-cut denim jeans and a sherpa jacket in brown. This look can be further enhanced by adding in some classic pearl white sneakers and some cute hanging earrings.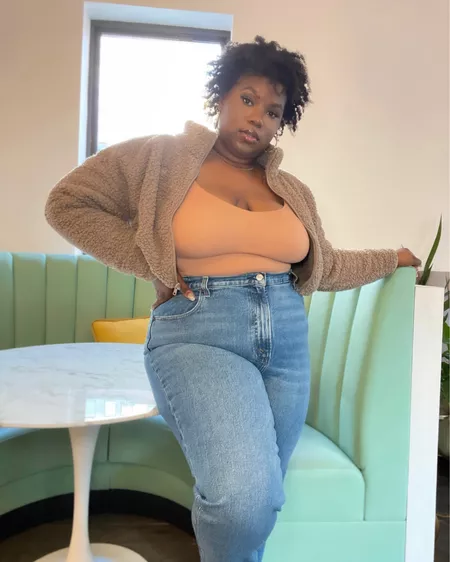 Frequently Asked Questions
Q. What bottoms do you wear with a lace bodysuit?
Ans. The best thing to wear with a lace bodysuit is either a long skirt or some high-waisted pants. Both of these look the best and help lift the bodysuit and will make you look the cutest.
Q. Do bras have underwire?
Ans. Most bras do have an underwire! They help contour your breast and provide support. They also help provide a smooth shape under your clothes.
Q. Why do the straps of my bra hurt?
Ans. This is often a sign that you're wearing the wrong-sized bra. The straps should never hurt so you should definitely go and get yourself measured again.