What to wear on Raksha Bandhan? Raksha Bandhan is a popular Hindu festival that celebrates the everlasting and pure bond of a brother and sister. Besides India, it is prevalent in other parts of the world, especially South Asia, by the same name. On this day, the sister ties a sacred thread, talisman, or amulet – known as the 'rakhi' around the brother's wrist.
The rakhi is said to protect them from various dangers of the world. In return, the brother offers a gift and promises to protect and care for his sister for all his living days. The Sanskrit expression, "Raksha Bandhan", literally translates to "the bond of protection, obligation, and care".
Trendy Outfits for Raksha Bandhan 2022
It is a grand day of festivities for most families in Asia, sometimes even in non-Hindu households. Festivities mean food, family, fun, and needless to say stellar outfits. As the sister, it's your day to get pampered, be showered with gifts and, be treated like a princess! Let us help you look like one, with some stunning rakhi outfit ideas for this year.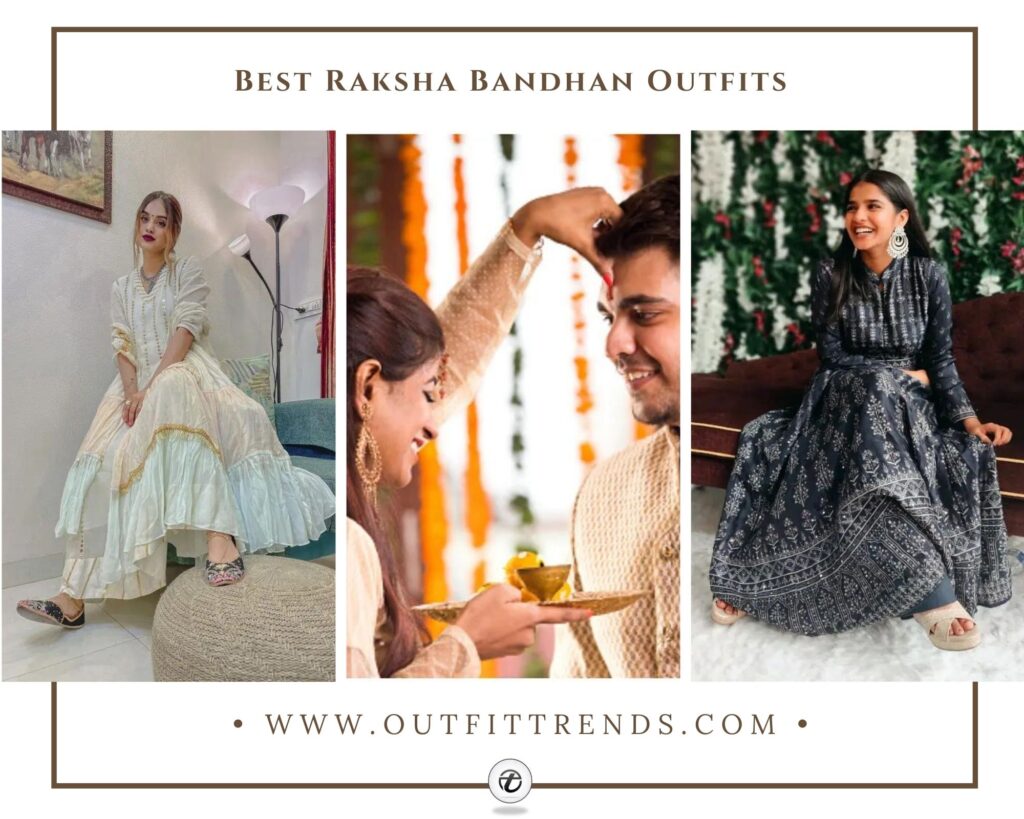 Things To Keep In Mind While Picking A Raksha Bandhan Outfit
Here are some things to keep in mind when picking an outfit for Raksha Bandhan:
More is More: Go all out, don't hold back. If the virus has taught us anything, it is that life is too short to not go OTT.
Bring the Drama: If you're a rebel with a conservative family, shock them with your unapologetic show of skin.
Modest is Fun: Tap into the elegance that exists in a modest fit and make it your own.
Small Bags: Rakhi ceremonies are usually indoor events, so accessorize with a small bag for just your essentials or take inspiration from these trendy Mini Bag Outfit Ideas.
Heels for Days: On princessy days like these, we'd like you to get that extra elevation, and a pair of fancy stilettos or your comfortable pair of box heels are the way to go!
Make-Up: Either go for bold lips or bright and colorful eyes. And if you're feeling confident enough, go for both together!
Jewelry Hoarder: Thank the hoarder in you and accessorize with your one-of-a-kind, intricate and unique pieces.
Now, with that in mind, let's dive into some iconic Raksha Bandhan outfits inspiration!
18 – You're So Golden!
Emanate a warm aura and vibe in a gorgeous outfit like this one, on the auspicious occasion of Raksha Bandhan. Go for a matching golden yellow co-ord set. The tie-up detail at the waist offers some flattering cinching and a visual break between the top and the long skirt.
Since it's a boat-necked top, we'd advise you to avoid a neckpiece and go for statement golden studs instead. Slip into some peep-toe platform and ask Alexa to play Golden by Harry Styles!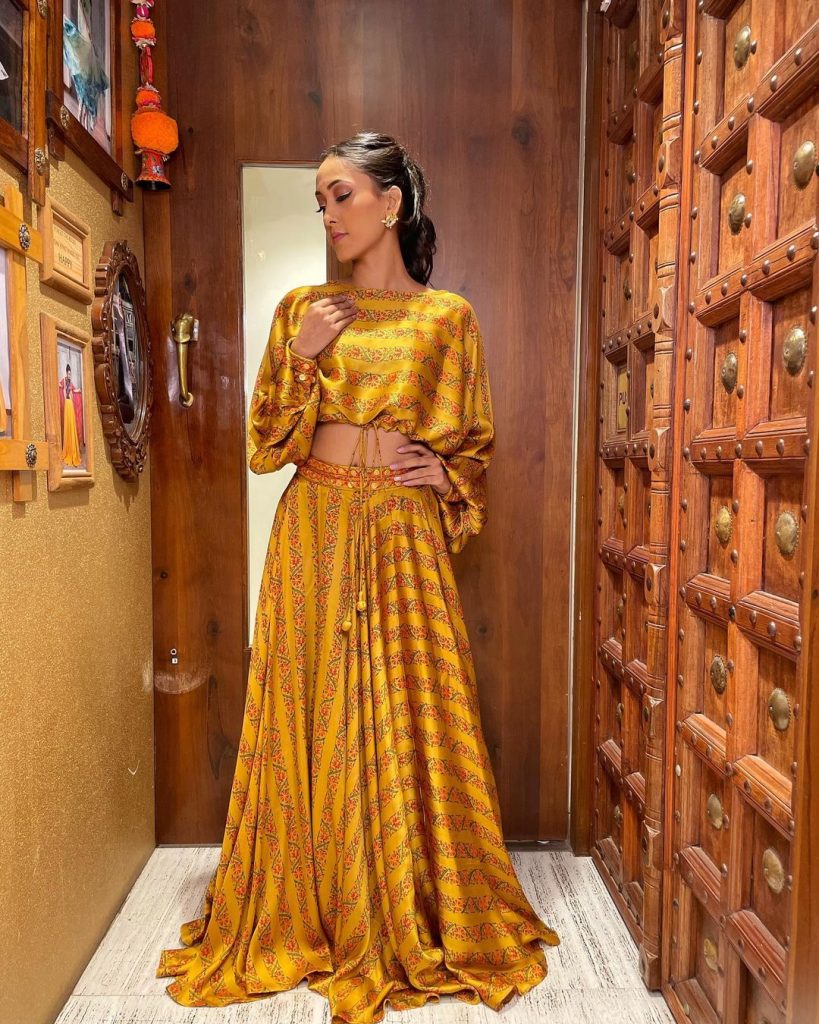 17 – The Understated Anarkali Glamour
Something so calming about whites paired with muted pastels, right? Take that combination put it on a gorgeous Anarkali. And then, put that Anarkali on you. A subtle, understated look for a morning ceremony on the day of Raksha Bandhan.
You could just add puppy eyes to the mix, and it'd be raining gifts with this outfit! Pick embroidered nagras as shoes for this fit and accessorize with anklets, earrings, and a choker. Here are some more Modern Anarkali Kurti Designs & Styling Tips.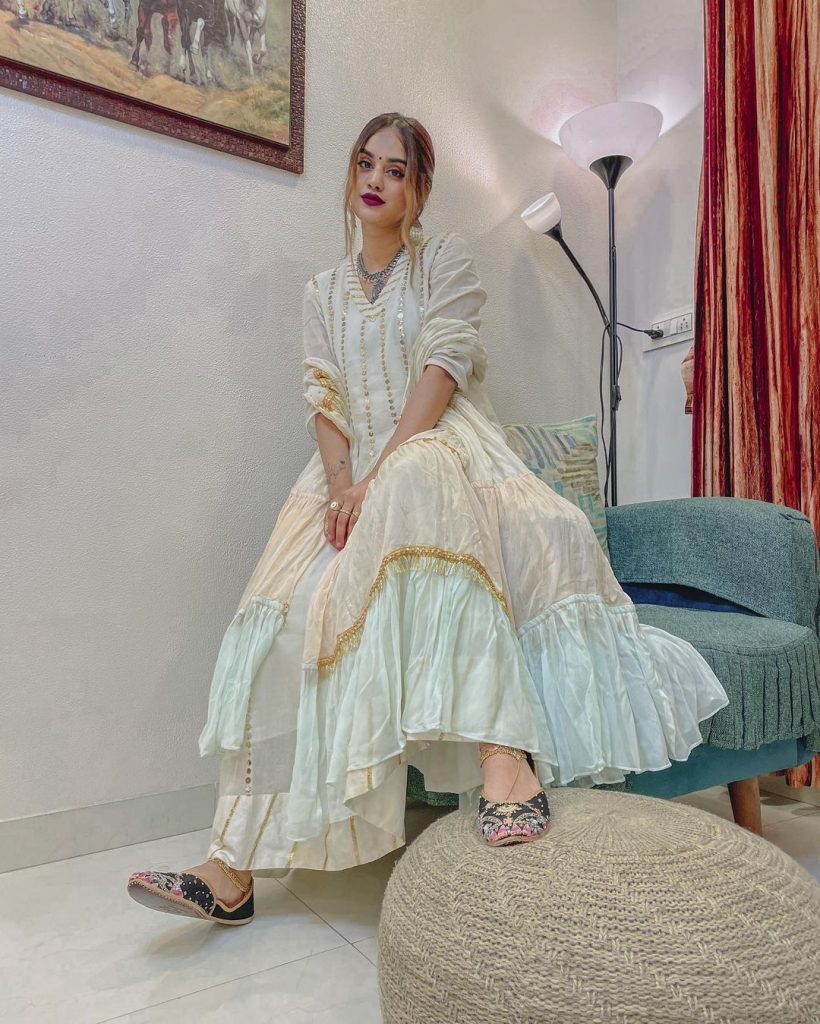 16 – Desi Girl Vibes
Get inspired by PC's iconic look in Desi Girl and make it your own. Choose a translucent maroon saree with a golden embroidered border detail.
Add a sequined maroon blouse that's impossible to miss. Keep the accessorizing minimal with golden hoops and a sleek watch. Simple and oh-so-elegant, this saree is nothing if not unexpectedly powerful. Here are some more Sequin Saree Designs that you'll love.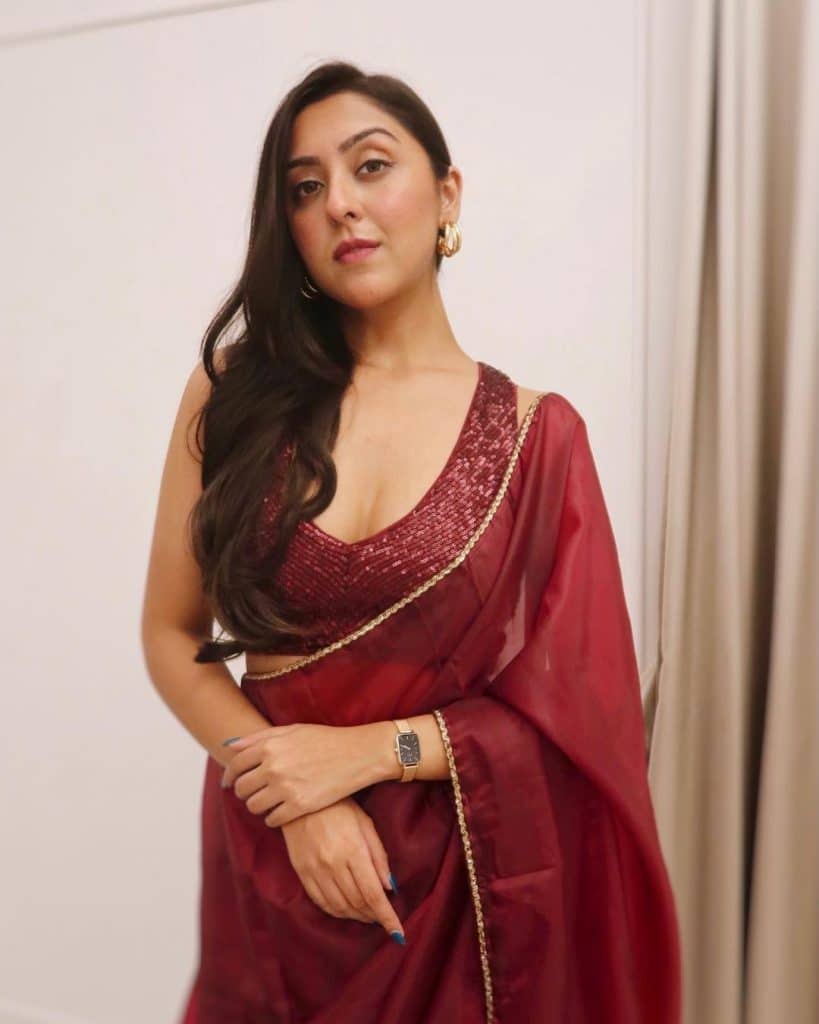 15 – Try A Long Dress as a Rakhi Outfit
Doing a casual Raksha Bandhan this year, just grabbing brunch with the cousins? Go for a simple and stylish long dress like this one. Choose a dress with quirky prints and patterns, pair it with strappy heels, and let your outfit set the vibe!
Go for simple studs, some beaded bracelets, and a small pendant to finish the look. Take a raffia crossbody bag before stepping out!
14 – Auspicious Red for an Auspicious Day
In Hindu culture, red is an auspicious color to wear on ceremonial days. Harping on that tradition, pick a red, floral printed, oversized kurta set for this Rakhi season.
Style it with a pair of matching red straight-fit trousers with a lace detailing at the hem, a pair of black flats, and take a black shoulder bag to complete the look. Here are some more of my favorite Ways to Dress Up your Kurti for a Party.
13 – Pink Dreams
Be the stunner you are, and strut down the hallway in a hot pink lehenga like this one! Style it with a pink and golden brocade, one-shoulder blouse.
Accessorize generously with a statement choker and a big smile! Let your hair down and carry a small bucket bag for all the compliments! Wear stilettos with this look to make tripping on your lehenga less probable.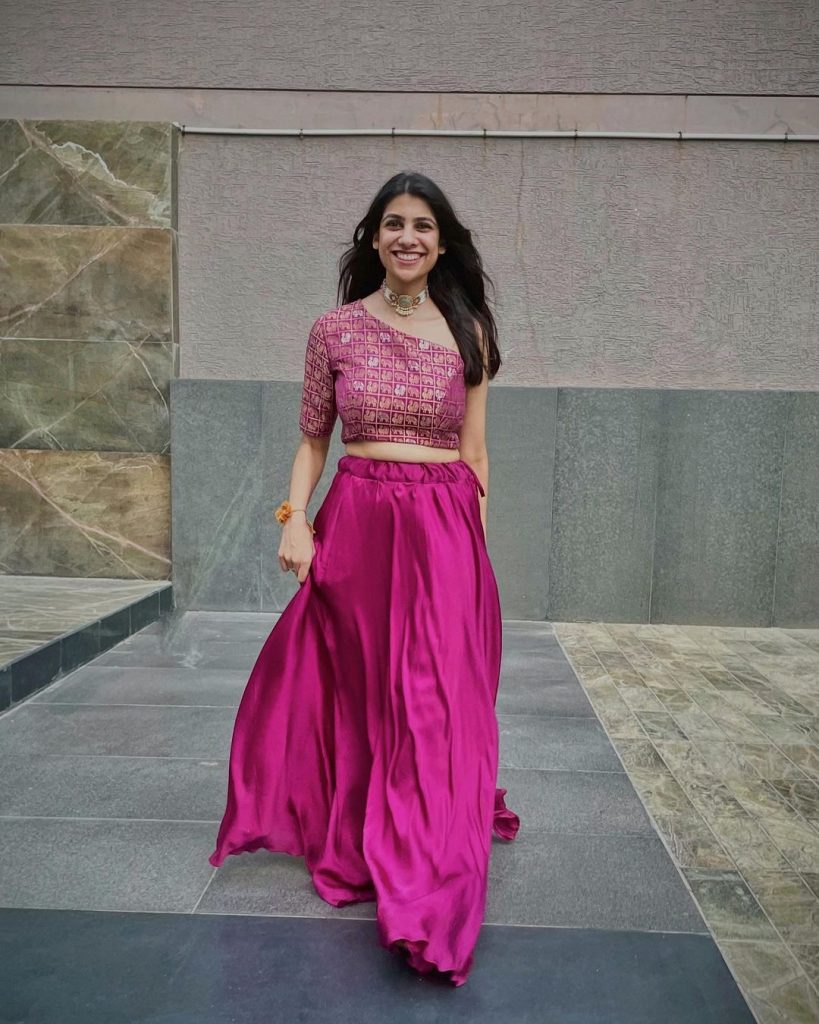 12 – Rakhi Outfit for an Early Morning
For an early morning Rakhi ceremony, go for a simple, hand-block-printed kurta set in light colors. Blue and white make the perfect combination for such an event.
In addition to your kurta and straight-fit cotton trousers, add a dupatta with a similar color scheme and print. Stack some silver bangles on one hand and pull the look together with a pair of jhumkas.
11 – An All Black Raksha Bandhan Dinner Outfit
Most of your wardrobe is black outfits and you don't want to change that? We understand. So our advice is to style an all-black Anarkali long dress for Raksha Bandhan. Choose one with gold/silver prints so that you don't have to accessorize further. However, you can add statement earrings if you're feeling it! A pair of wedges and a box clutch later, you're ready!
10 – Extravagant Purples
We didn't know how comfortable, extravagance could look until we found this outfit! Raw silk, purple kurta with sequin embroidery, paired with a matching pleated gharara and chiffon, baby pink dupatta – this look is outfit goals for an evening Rakhi party.
Add a studded bracelet and statement choker to this, and voila, you're serving looks!
9 – An Ode to Fun
Bring out the child in new and pay an ode to all the fun you had growing up with your siblings in this funky pantsuit like this one! Choose a pantsuit with bright, offbeat colors and unconventional prints. Be loud in your fashion choices and picky in your gift demands!
Wear simple rings and block-heeled nude mules to keep the pantsuit in focus. Go have yourself a day of uncontrollable laughter and memories you'll remember for a lifetime!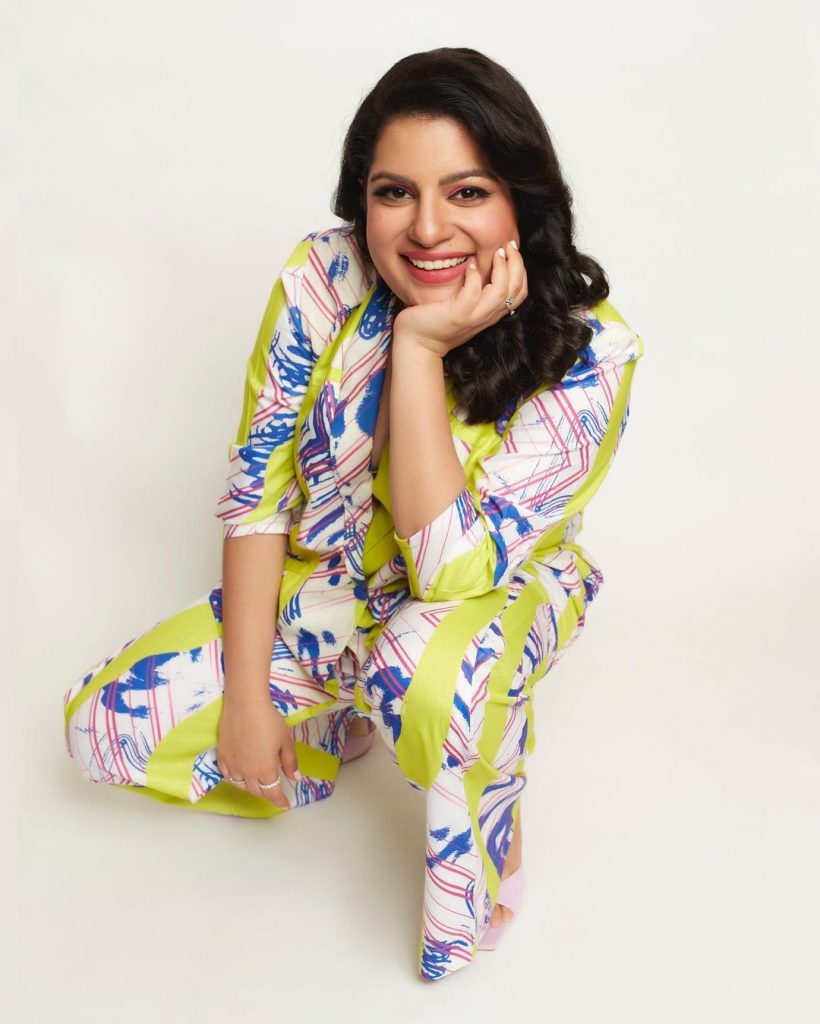 8 – Power Dressing
Are you one of those single sisters who had to grow up with multiple brothers and thus, learned all about power dynamics very early on? Well, we've got the perfect outfit for you! Power dress your way through Raksha Bandhan and be the boss you are! Go for mustard yellow, tailored, formal pants, DIY a scarf top or a bralette, and add an olive green blazer to complete the look. Drop jaws with the authority this outfit is sure to emanate and add a kundan choker for that ethnic touch.
7 – Serene Whites for the Rakhi Season
If you're in the mood for something serene and simple, we suggest you go for an all-white look with a splash of blue! A kurta and pair of straight-fit trousers in white, with an iconic blue bandhani dupatta, is all the color you need. Take a white baguette bag, slip into some nude block heels and add a pair of statement jhumkas. Don't forget to dab on some dark red lipstick before you head out!
6 – Drapin' the Drama
Go OTT this Raksha Bandhan by draping a white saree over a bright red chikankari kurta. The ruffle detail on the white saree adds a dramatic effect to the outfit. The red kurta, although modest is nothing short of a style statement. Bright red lipstick is the way to go with this fit along with a winged eyeliner. Add a golden clutch and embellished hoops to the outfit and turn heads with this outfit!
5 – Corsets but with a Touch of Desi
Corsets have made a comeback, and although wearing it as is could get you some nasty looks from your conservative extended family; wearing it with a saree ought to shut them up and have them staring in appreciative awe! So that's what we suggest you do. Be a fashion icon and wear your black corset as a blouse with your mother's gorgeous silk saree. Be a perfect combination of old and new with this look, and slay it!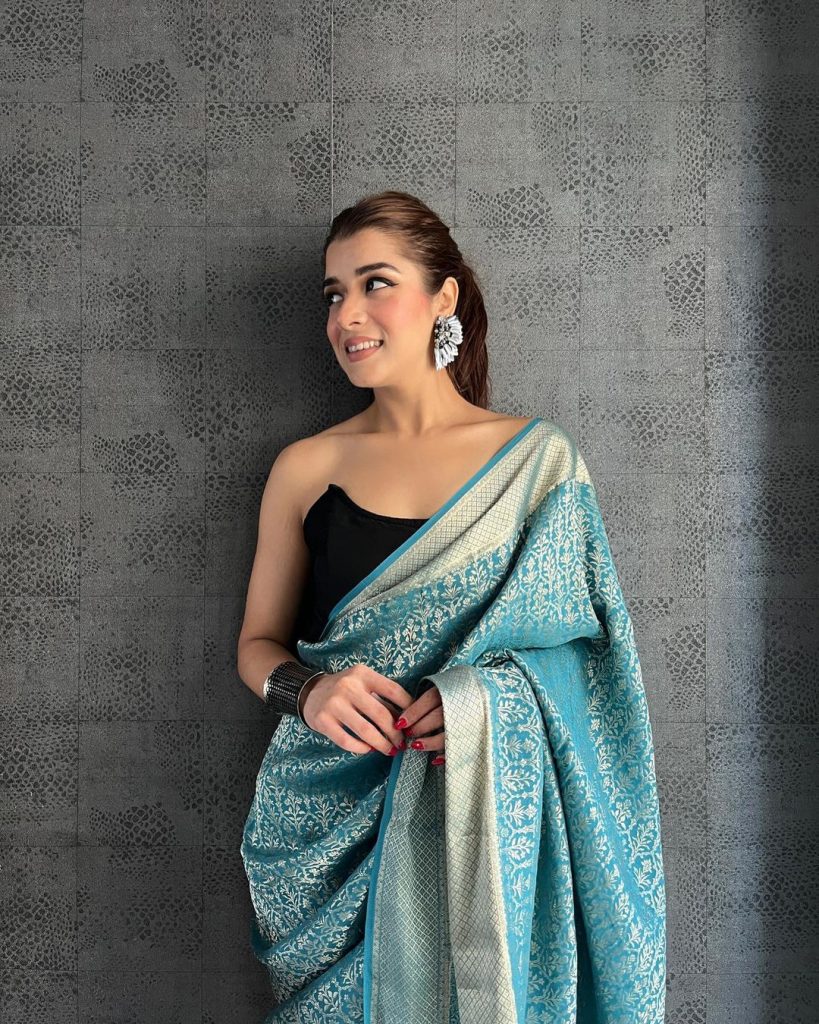 4 – Something to Twirl In? Comin' Right Up!
The lehenga of your dreams! Remind everyone (and most importantly, yourself) of your little princess days, as you feel and look like an absolute queen in this gorgeous lehenga set! A rust-colored trousseau pick that can be worn on multiple occasions, seems like a perfect pick for a Raksha Bandhan evening of fun and games with the family!
The tiered strap detailing on the blouse is an eye-catcher and gives the outfit a whole new dimension. Do your hair in a half up half down style and accessorize heavily to look like a dream!
3 – A Fuss-Free Outfit
Go for a fuss-free outfit this Rakhi season with a desi pantsuit like this one! This Ikat co-ord set is both practical and artsy, and makes for great OOTD pictures! Stand out amidst multiple lehengas, sarees, and kurtas in this piece. Accessorize this piece with big pearl earrings and add a pair of retro shades to complete the look.
2 – Channeling your Inner Poo from K3G
At some point in our childhood, Kareena Kapoor's character in K3G, the gorgeous Poo has an icon for all of us! With an impeccable fashion sense and unwavering self-confidence – we all wanted to dress and be like her.
A lehenga in this style and color scheme is something Poo would definitely go for, and we're only following in her footsteps. Channel your inner Poo when you wear a lehenga like this one for Rakhi, and own the narrative! Take one for the fan club, do us proud.
1 – The Ultimate Raksha Bandhan Outfit: Emerald Pleated Saree
This emerald green, pleated saree has got to be our favorite look from this list! Style it with a matching cropped camisole and a small pouch or bucket bag.
Add a pair of statement earrings and you're done. This outfit is so elegant as is, there's nothing more you need to add. Make heads turn as you waltz in for your Rakhi ceremony and bag all the compliments you'll get for this!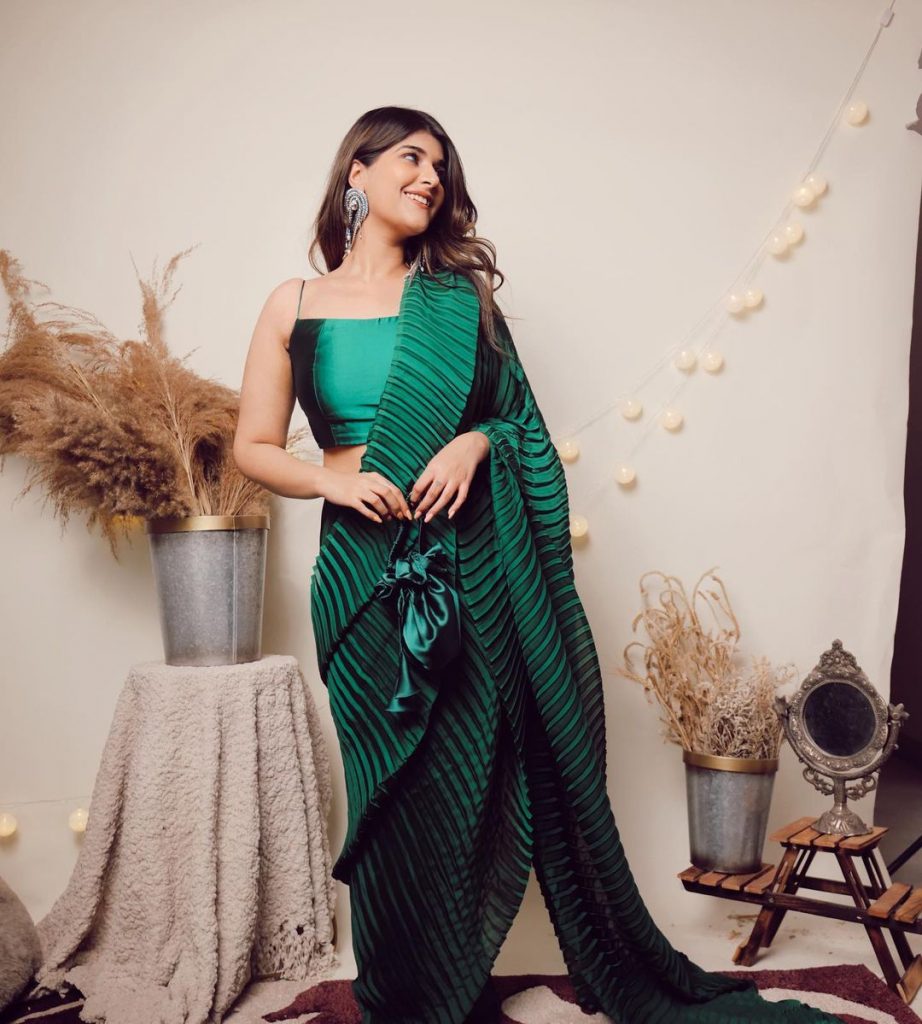 That was our curation of some jaw-dropping, beautiful outfits you can wear for Raksha Bandhan this year. We hope you enjoyed them and were inspired!
Frequently Asked Questions
Q. What are some Raksha Bandhan Outfit Ideas for Teenage Girls?
To teenagers, we'd suggest you keep things fun, light, and breezy! Opt for long dresses, bright colors, and funky prints. Have fun with your outfits, experiment, and most importantly, feel comfortable in whatever it is that you wear. Remember to focus mainly on rings and earrings for accessories, and wear shoes that you'd be able to walk around in, with ease.
Q. Can I wear jeans on Raksha Bandhan?
There are no hard and fast rules when it comes to dressing up for raksha bandhan, so if you want to keep it low-key and intimate in your most comfortable jeans, definitely go for it.
Q. What colors should I wear on Raksha Bandhan?
Again, there are no specified colors for Raksha bandhan outfits but white and red have traditionally been the most popular choices.
Q. Can I wear saree on Rakshabandhan?
Definitely yes as sarees are one of the most popular raksha bandhan outfits, especially amongst married girls. We've shared several sarees above that you can look at for inspiration.