Mini bag outfit ideas: The trend for the now infamous mini bags was a great hit in 2021. Not to mention that it continues on, and remains highly relevant in the year 2022 as well. We can attribute the start of the trend to Simon Porte the creative director of Jaquemus.
Evidently after his first release of the 'Le Chiquito' bag the fashion industry followed. Now you can find a mini version of high-end brands' most infamous bag models. Although don't expect them to be cheaper – they are the same price as full-sized bags, and this just shows how much of a trend this is.
If you are wondering why exactly this trend took the world of fashion by storm, we have the answers. Firstly these bags are highly versatile and can match any type of outfit. Starting with a party look, a museum trip perhaps, or even a lunch break. With the increasing optimization of information into our phones and tablets, these bags could even be applicable to have alongside you for certain work meetings. The best thing about them is the fact that they are compact and stylish.
5 Different Types Of Mini Bags
Although any bag under a certain size can be considered a mini bag. Whether it is a cross body, or a backpack, or a satchel bag. There still are several very unique and famous tiny bag styles.
The Baguette/Shoulder Bag: Number one on the list is one which you are most likely to be aquainted with best now. This bag style stems deeply from the shape of the Prada Re-Edition, which has taken the world by storm earlier last year. This style is also known as a shoulder bag – since the length of its handle and the shape of its base offer the perfect curve to fit on your shoulder.
The Envelope Clutch: The envelope clutch is a flat small bag, with no handle that is shaped like an envelope.
The Mini Purse: This bag style looks just like how it sounds. It is simply a miniature version of what a regular bag would look like.
The Bucket Bag: The bucket bag is made from a soft fabric, and takes the shape of a bucket that is sinched at the top. This style usually comes with both a short and a long (cross body) handle.
The Round Bag: Lastly we have the bag the shape of which is inspired by Chanel. This tiny purse takes a thick round shape, and has both long and short handles.
How to Wear a Mini Bag?
Now let's see all these different mini bag styles in action with our top picks of outfits that you can wear with your tiny bags.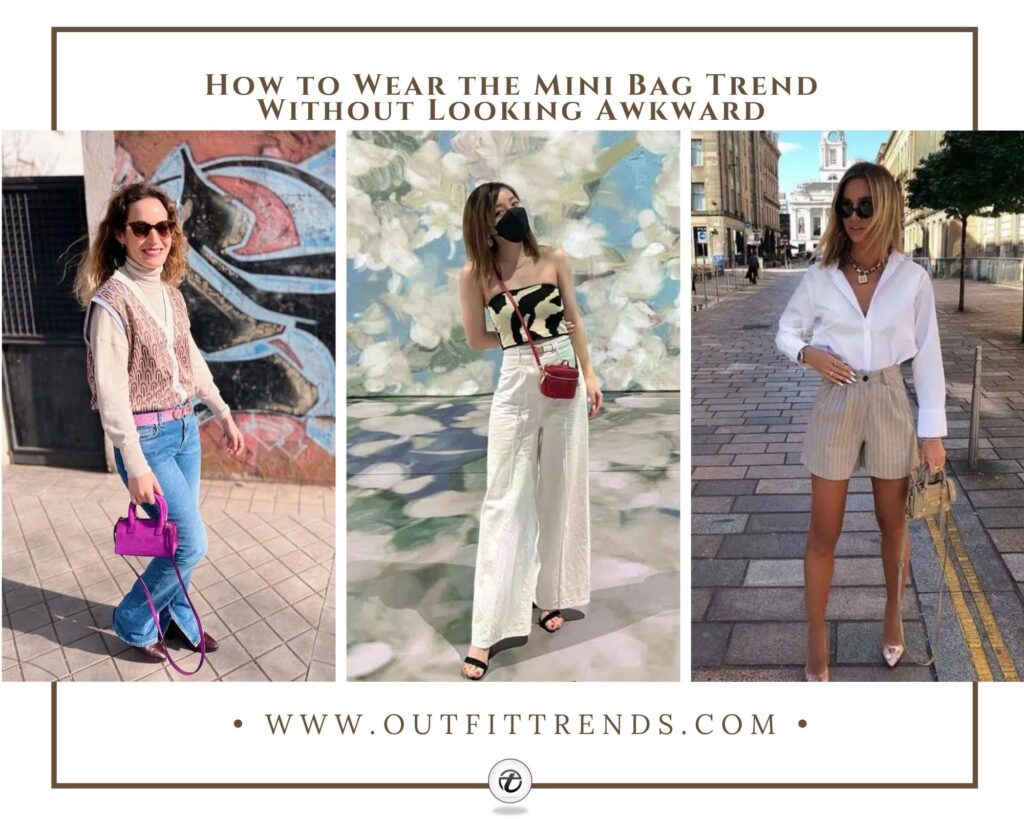 20 – Never Turn Down Animal Printed Bags
Starting off the list with a very casual option. However, nonetheless a very unique outfit. Primarily due to the addition of the tiny but mighty purse – covered in a full animal print.
The great thing about purchasing a bag with a lively print like this one. Is that on the days when you don't have the time or desire to dress highly elaborately, you will still stand out.
So if you are only going to buy one small purse, we highly recommend it will be in a vibrant print or color.
If you're a lover of animal prints then you must check out these cutest animal print outfits.
19 – Match A Nude Bag For An All Beige Day To Day Look
One great timeless fashion tip is to dress in monochrome. Pairing a lot of different colors is hard to get right, so staying safe with clothes and accessories in the same colorway is key. Since mini purses are produced in such a large array of colors.
Choose your favorite color, and style around it monochromatically, perhaps only leaving one clothing item a neutral white. Here are some more of my favorite Nude Dress Outfits that you can slay with such bags.
18 – Look For A Woven Bag For Summer Outfits
Try mixing two large trends at once – the mini bag and the woven bag trend. This is especially interesting for summertime outfits.
When the warm days leave you carefree, and you have no necessity for anything more than a phone and a lipgloss to take with you this bag option is ideal.
Similarly, you can achieve a cottage core aesthetic by mixing a flared maxi dress, and a woven bag option.
For more ideas on what to wear with woven bags read this article!
17 – Steal The Show With A Coral Messenger Bag
Similar to the very first option, this outfit also relies on the bag to make a statement. Apart from the bag, this is yet another highly comfy and realistic casual summer outfit. However, paired with a bag of not only a vibrant coral color – but also a unique shape. Which the mini messenger certainly is – you're going to look special.
16 – Diffuse An All White Look With A Daring Red
Alternatively to the previous look, this outfit is far less casual. Instead, it is very elegant and unique, however, it is being downplayed by the gentle white colors.
If you are interested in always wearing something eyecatching, one way to elevate this gorgeous look is a bright red pop of color.
Similar to the advice we gave in the very first outfit – purchasing a bag that is bright red, will most likely fit all of your outfits, and elevate them.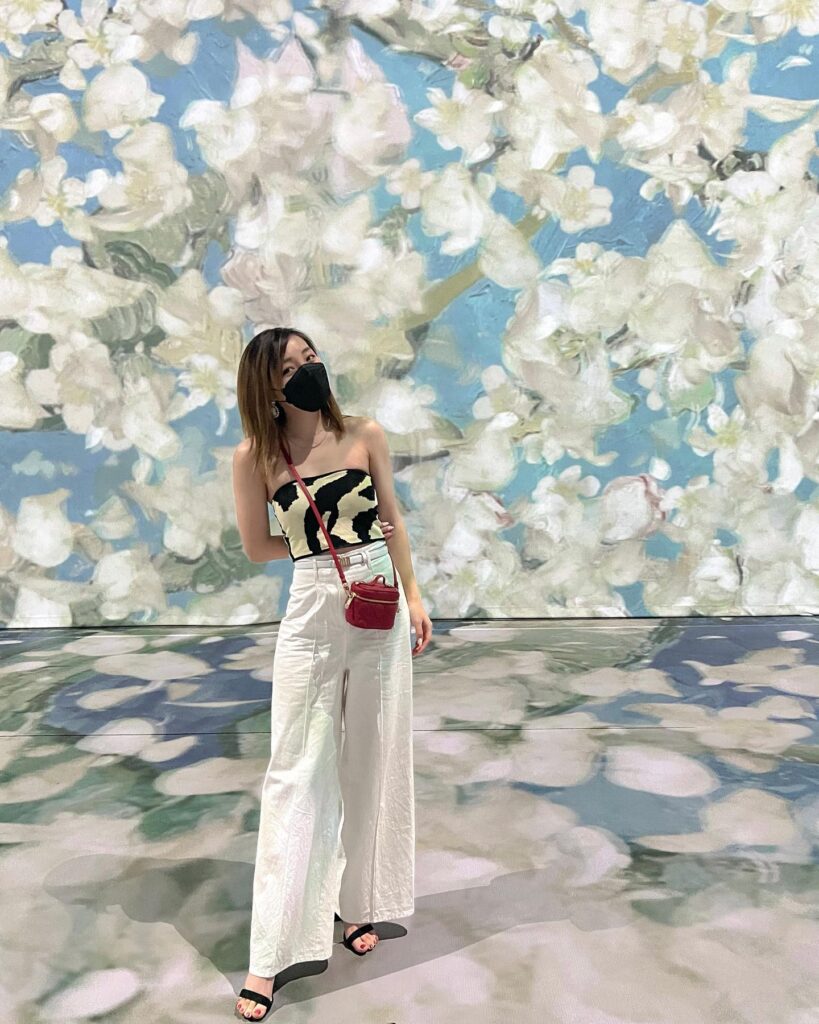 15 – Tie A Ribbon Around Your Purse For A Tuscan Inspired Aesthetic
If you ever see how Jane Birkin rocked her purses, you will understand that perhaps sheltering your bag from any decoration is not the way to go.
She was infamous for hanging lots of decorative beads or scarves around the handles, and the effect was mesmerizing. Try this out for yourself, especially for the summer.
Try to find a small satin scarf, or some ribbons and let them hang down alongside your bag. The key here is to match the print on the scarf to your outfit.
14 – Style A Round Bag In A Casual Way
Yet another casual way to use your bag in order to spice up and play up a casual outfit. This time, however, this does not depend on the color or the print.
Instead, we recommend that you put your focus on finding a bag that is of a unique shape. As we listed above – some of the most iconic small purses are round. If you find one – we can assure you, you will style it with a large variety of outfits and each one will be made special by it.
13 – Go Bold With A Neon Colored Shoulder Bag
If you look at where the shoulder bags get their origin, you will most likely find yourself at various images of colorful Prada Re-Edition purses.
It is precise because Prada instilled the desire to have a colorful, bright, and vibrant purse under your shoulder – that we recommend you try to find one for yourself. If you have yet to have a neon bag, let your shoulder purse be the first one you get in that colorway.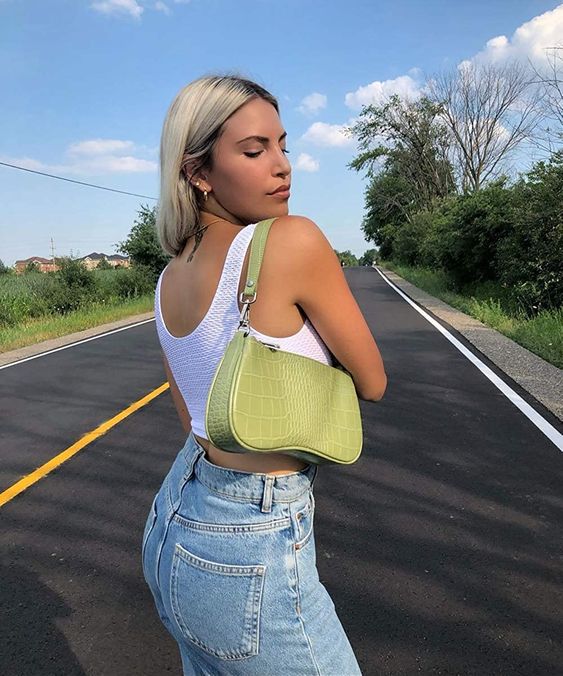 12 – Pair Shades Of Mind With A Magenta Purse
Moving forward to more fall/winter appropriate outfits we present to you this highly elegant and truly gorgeous sweater and jeans outfit. What makes this outfit so unique is the smart integration of a brightly colored bag into a relatively muted outfit.
Pay attention to the pairing of the colors, the sweater has muted tones reflecting the bright magenta bag. Similarly, the belt is slightly closer to the bright magenta. This creates a gradual integration of the bright color and makes it look very purposeful.
11 – Comfy But Bold Active Night Out Look With A Shoulder Bag
This option shows that the shoulder bags are best for active times, they will seamlessly hang on your arm and you can feel free to do whatever activity you like.
Moreover, it shows how versatile the shoulder bag is. The outfit has a mix of edginess with the corset top, as well as a casualty with the oversized pants. And yet the shoulder bag looks to fit very well with both.
10 – Make A Statement With A Dark Color For Your Bag
Earlier in the list options with bright bags can be seen, however, that is not the only way to make a statement. Especially if it is a fall/winter-time outfit.
You can easily make a statement with a dark color, like a deep wine, or chocolate brown. Place it in contrast with some nude clothes and see how it elevates your look.
9 – Style An Envelope Clutch For An Elegant Look
There is a misconception that an envelope clutch is not feminine or elegant. And yet, this outfit shows precisely how gentle it can look.
The most important thing to keep in mind is the color and fabric finish. Indeed there are envelope clutches made out of very thick sturdy leather – they look less elegant. However, this particular one is made out of soft faux leather and bears a light neutral color.
8 – For A Vintage Aesthetic Go With A Classic Black Shoulder Bag
We have yet to mention a classic black small bag because we wanted to present you with an option to style it perfectly.
For instance – instead of wearing it with jeans and a t-shirt try out to go for a vintage aesthetic. Look for distressed pants or shorts, a vintage knit sweater – and complement that look with a sturdy leather black bag.
You can also see our previous post to learn about the Trending Aesthetic Types to Uplift your Style.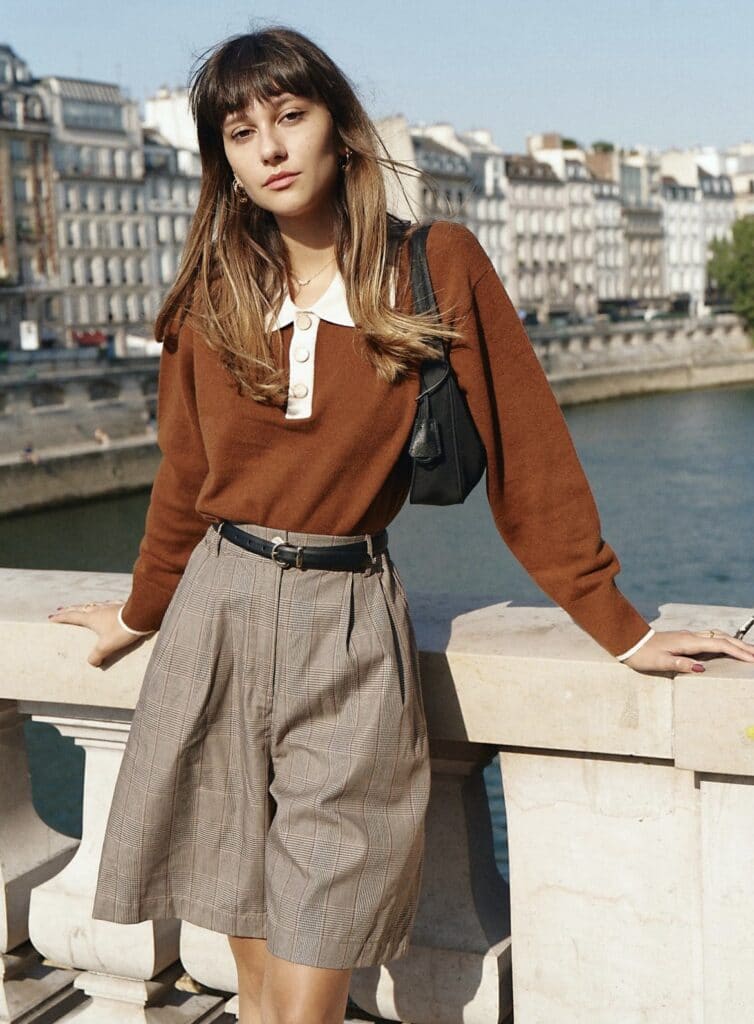 7 – Try Out A Parisian Style With A Lot Of Decorative Elements
Styling a tiny bag can be both careless and simple, as well as determined and elaborate. This look shows you the elaborate option.
Firstly, notice a lot of accessories – a hat, a bag, shoes, glasses, and jewelry.
Secondly, note that the outfit is slightly formal, mainly due to the pants' silhouettes.
Lastly, pay attention to the detailing on the purse and the complementary detailed print of the blouse. These elements really elevate an outfit. A chain bag is something you can always wear so if you dont know how to style chain bag accessories and you still haven't bought one, then what are you waiting for?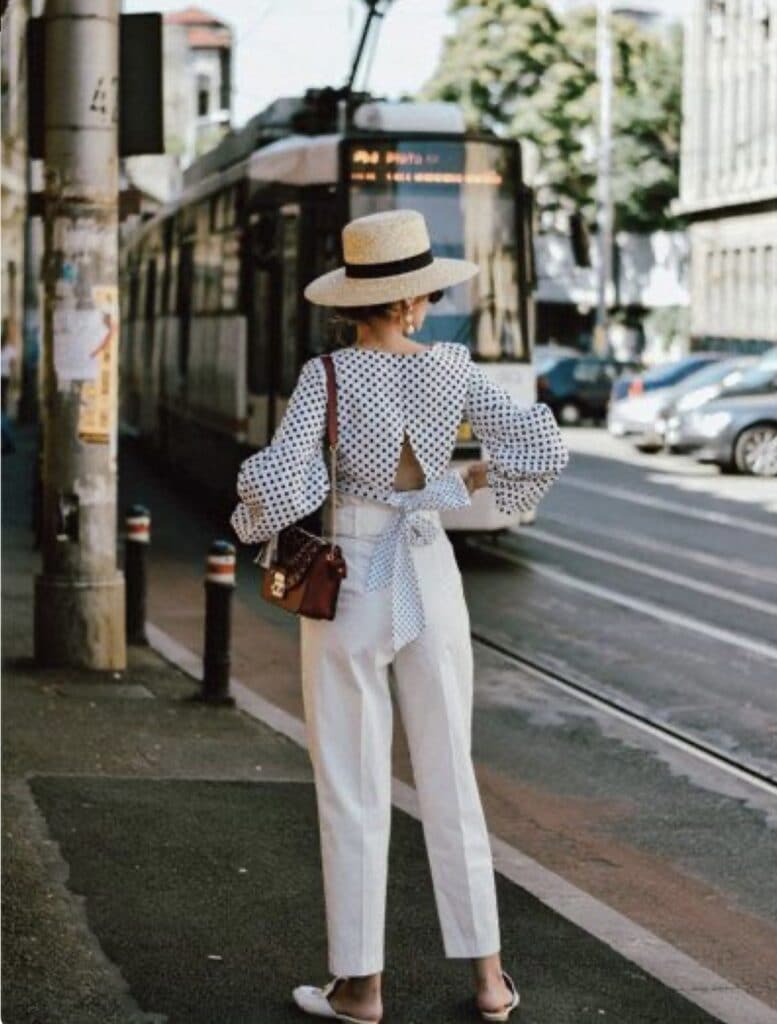 6 – Create A Color Clash Using A White Bag And Vibrant Sweaters
Small bags are amazing to create a color clash as they are not particularly disturbing as they are not overwhelming in size. So feel free to create a mini color clash within your outfit in order to elevate it, without it looking too overwhelming.
5 – Small Cross Body With Golden Detailings To Elevate An All Black Look
The following two outfits are elaborations on the iconic little black dress. This outfit includes a cross-body – the best thing about this style of bag is the ability to find one with decorative straps.
For instance, you can see that this outfit was made more shiny and eye-catching, through the simple small addition of gold chains on this crossbody.
4 – Tiny Black Purse To Match A Tiny Black Dress
Alternatively, you can successfully pair a little black dress with a miniature purse, another iconic small bag style. However here you can see that the outfit is more downplayed.
Therefore pairing a different color shoe to diffuse the all-black outfit is a good option. If you don't own such a dress yet, you need to check out these Ideas on How to Wear The Little Black Dress This Year.
3 – Go For A Bridal Inspired All White Outfit
We spoke of all-black looks, and now we show the alternative version. If you are a fan of very gentle feminine outfits, pair a small white purse with a white dress.
To amplify the femininity try to find a purse with the least amount of hardware, and a dress with lace.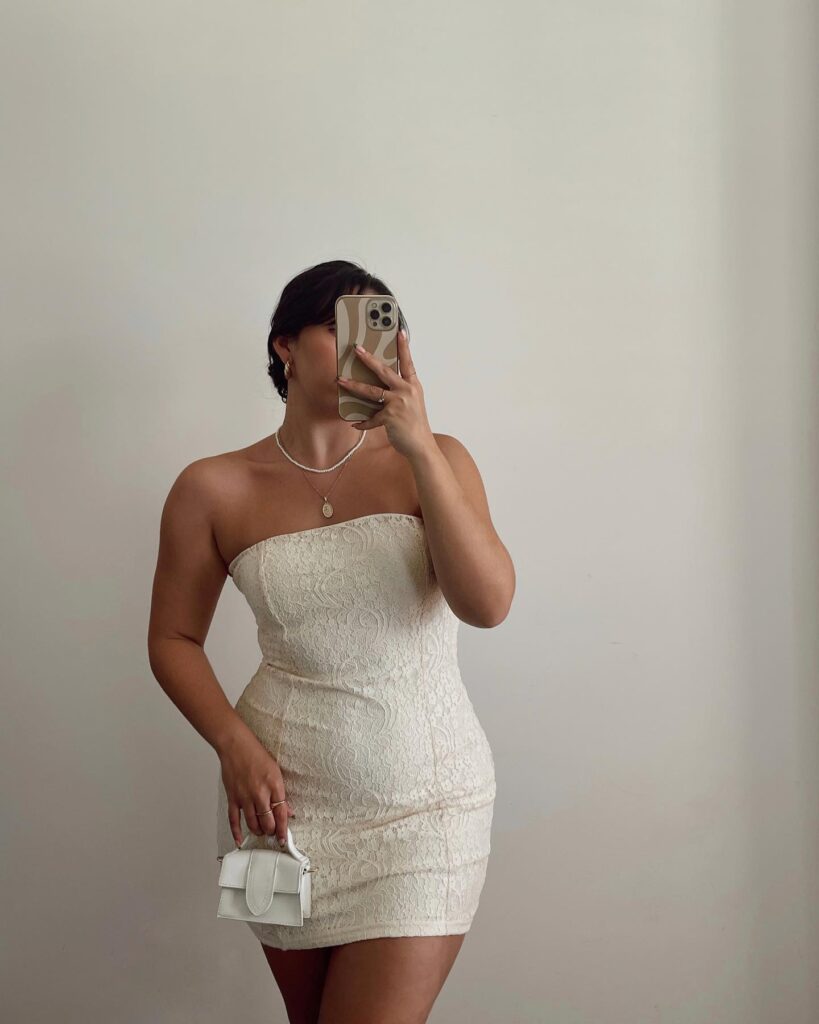 2 – High Fashion Look With Only Bright Colors
If you want to wear a brightly colored outfit there are two ways of using your purse to help achieve the desired style. The first option is the one you see here, a neon blazer and pants co-ord.
Since the outfit in silhouette and style is not very provocative, the small purse can be used to enhance the brightness. Therefore go with a bright mini bag.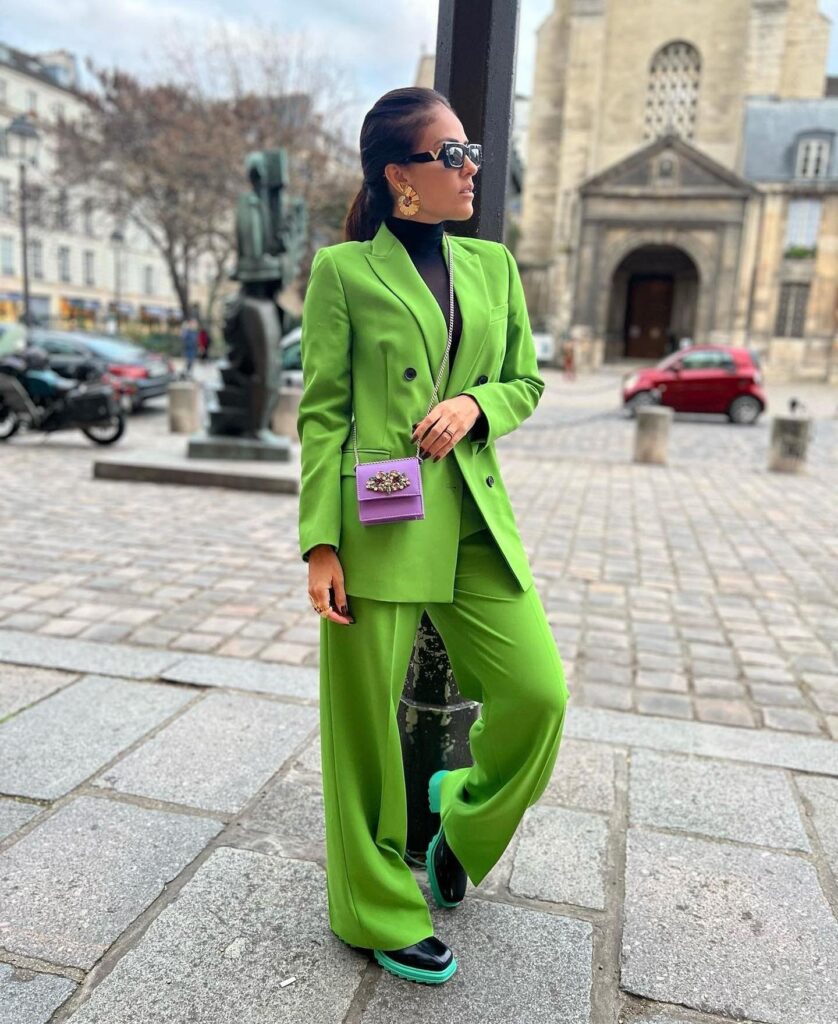 1 – Diffuse A Neon Dress With White
Conversely to the previous outfit, if you are going out clubbing and want to wear a bright dress, don't try to match that with your purse too.
The main reason for this is the style of a club dress compared to a blazer and pants is far less formal. Try to stabilize the outfit with the help of a white, or nude small purse. You want to look sexy but not overly exposed.
Frequently Asked Questions
Q. How To Use A Mini Bag?
Mini bags are not the most functional items you can add to your closet, however, they can be used in a favorable way to you. For instance – wear them when you will be moving around a lot, so perhaps on a trip. As they don't get in the way and are not really heavy. Similarly, pairing mini bags with clothing items with large pockets could be much more comfortable, because you can place all the secure items into a bag whilst having other less important items in your pockets. Thereby distributing the weight.
Q. Are Mini Bags Here To Stay?
This is a relevant question especially due to the new ecological thought processes of modern-day consumers. We say – Absolutely! To serve as a bit of proof – look to the Prada Re-Edition model. Which was first a hit in the early 2000s and then took the world by storm again in 2020