Outfits with feather skirt – Finding clothing for all the gatherings you have planned over the holiday season is a must! You can have all great outfits but one of your outfits should be trendy. Let us help you spice your holiday wardrobe with one trend is one that keeps coming back and can be styled in a wide variety of ways: feather skirts.
This year, fashionistas and style bloggers strongly have been seen wearing them throughout the holidays. Why not give it a try? Follow along as we got some amazing ideas in store for you.
What to Wear With Feather Skirts?
Before choosing any outfit, make sure you choose the right type of skirt. Take into account your height, body shape, and skirt length before making a purchase.
Tips and Tricks on Styling A Feather Skirt
Wearing a fitting top, a light cardigan, a blazer, or a leather jacket will enhance the shape of your feather skirt. Drape your coat over your shoulders for a casual outfit.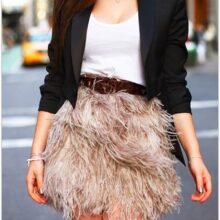 In my opinion, given their substantial volume and texture, plume skirts are best worn as the focal point of an ensemble. Therefore, it's better to pair them with a plain top.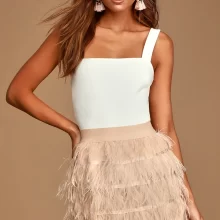 An otherwise boring outfit can be given life with a fashionable belt. While shorter skirts look excellent with thin belts, longer skirts frequently seem more attractive with larger belts.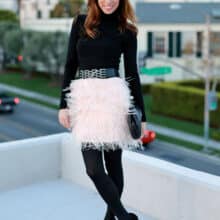 Choose the perfect pair of shoes that look good with your skirt. When wearing a skirt with a slit that reveals more of your legs, choose shoes that add height to lengthen your frame.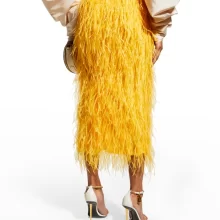 When styling your petticoat, consider the proportions of your entire ensemble. To highlight your figure, pair a tight top with a loose or flowing skirt. On the other hand, to balance your silhouette when wearing a more form-fitting feather skirt, wear it with a loose blouse or ruffled top.
20 – How to Style Mini Feather Skirt?
Black skirts are worn by a lot of women around the world, they are considered to be a safer and classier option than the rest of the colors. Try on an all-black outfit with stockings just like this one if you are not sure how to style your mini skirt.
Wear an all-black ribbed t-shirt, or you can go for a feather tube top as well. To amp up your look, try accessorizing it with feathered necklaces or bracelets and some black boots to finish off your bold look.
With little effort, you are all dressed up for the day.
19 – Feather Trim Hem Skirt With Black Blazer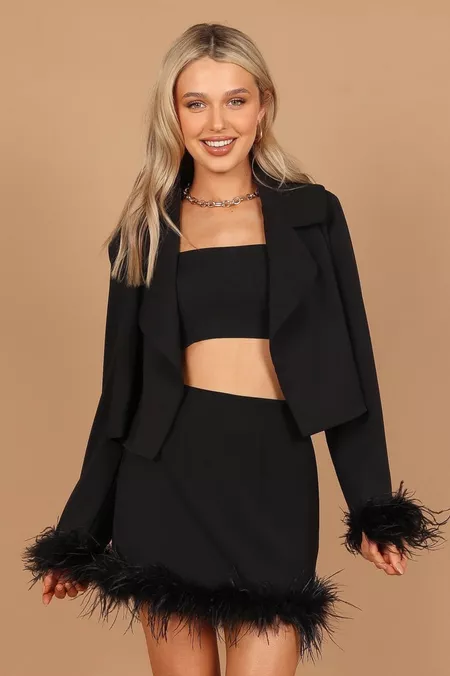 18 – Feathers and Graphic Tee
Graphic tees are the talk of the town, you can either wear them with jeans or skirts, it really depends on the way you style them, they look good no matter what.
Similarly, you can style your ostrich bottoms with a graphic t-shirt with little to no effort and look as gorgeous as ever.
The simple look is fashionable and will make you feel more confident. The cherry on top would be a pair of sunglasses that would boost your diva side, and you are good to go.
17 – Model Off-Duty Look With DIY Skirt
DIYs are super trendy these days. Everyone around you will be looking for different DIY alternatives for several outfits, which are creative and something that everyone enjoys. You can easily find DIY feathers in your local market and stitch them into a brand-new skirt for yourself.
It is less costly and if you DIY your own apparel, the fitting would be perfect for you. These skirts are easy to craft and a lot more comfortable and easier to wear.
Just throw on your comfortable white tee and some matching heels or shoes, and you look nothing less than a model. Who knew creating something on your own would be so easy and feasible?
16 – Formal Outfit With Asymmetrical Skirt And Crossover Blouse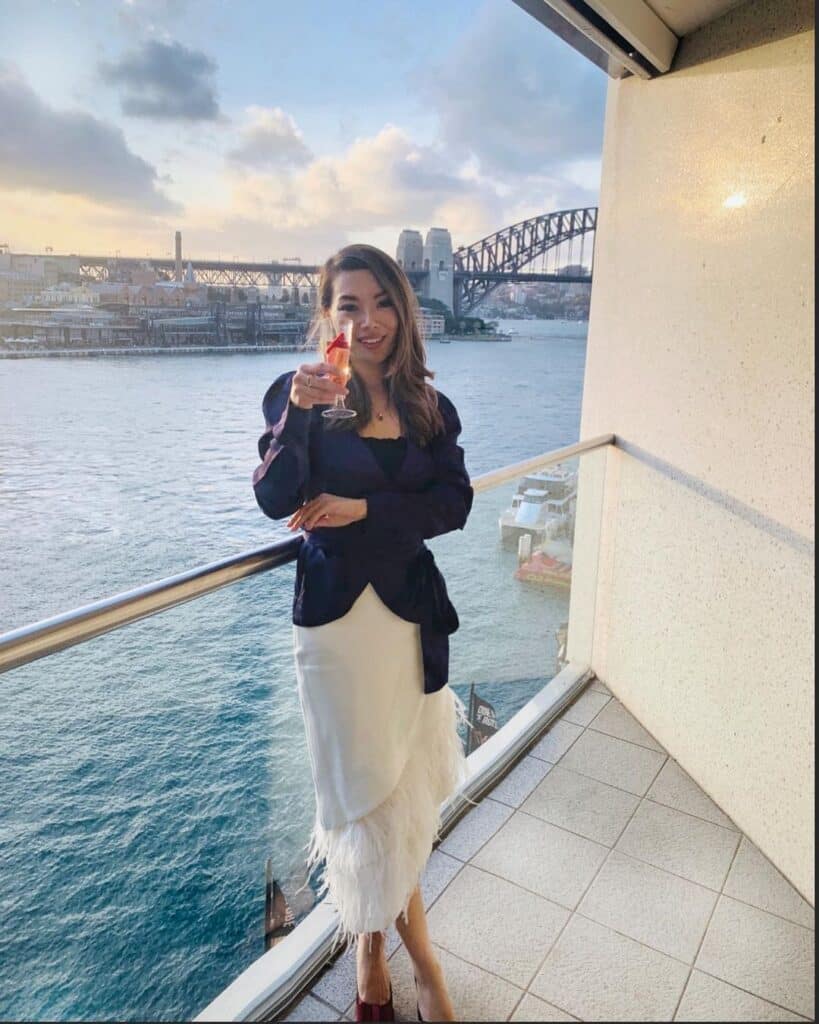 On a sunny day at the yacht, you can also go for a feathered skirt. Such skirts can be worn anywhere and at any time of the day.
To make it a tad fancier, you can wear a silver or gray bodysuit, you should always be ready for a dip. The black mini skirt would make your legs look longer and it will make you look a hundred times classier than wearing your everyday bodycon skirt.
14 – White Look of the Day
We talked about an all black outfit before, and now is the right time to mention an all white outfit. White is a color that gives off pure and friendly vibes, and something you should definitely wear during the day.
The cherry on top would be the white plume kilt, it gives off angelic vibes with all the white feathers wrapped around you. You will look super appealing in this fit.
Wear a white tank top and a matching white cardigan or you can even go with a white blazer or shawl. Along with some white colored heels that would go perfectly well with your whole outfit.
13 – Summer Chic Outfit With Ribbed Top And Fur Skirt
A ribbed skirt with feather hems is an amazing choice if you are looking for something to wear in the summer. Pair your bottoms up with a matching ribbed blouse or shirt. Go for cut out boots with this outfit and you are good to go.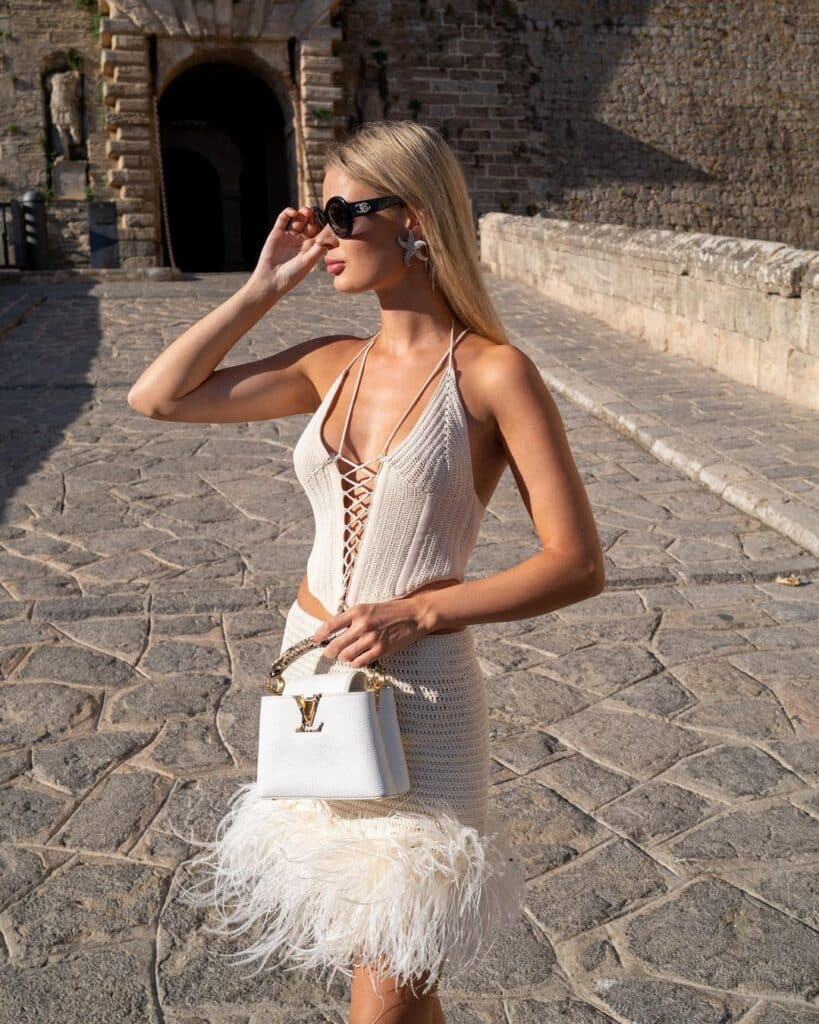 If you are going for a more country or cowgirl look, feather kilts are perfect for you. To go a little extra with the glamor and rhinestones you can wear a top with sequins all over it.
A mandatory cowgirl accessory is a hat, to match your hat with your whole outfit, try wearing one with rhinestones etched on it as well.
Of course, we can never miss out on some glimmering boots to finish off your look. You are now ready to go to a country party and ace it on the dance floor with your cute plume skirt.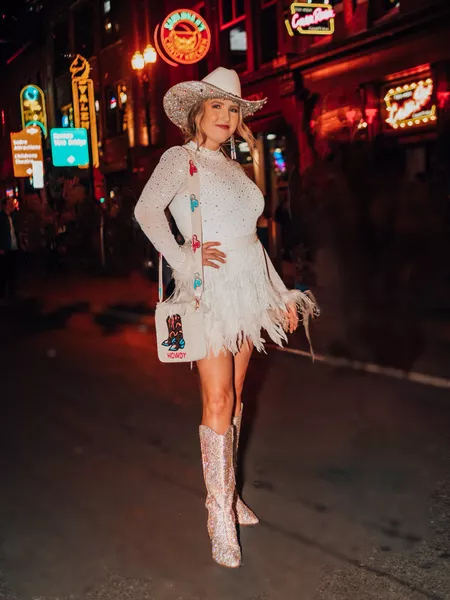 11 – Long Blazer And Feathers
A unique yet very trendy style is this one, with blazers and a cute mini skirt. This style is often not easy to pull off, which is why considering the colors and the style is important. You can either match the color of your blazer and bottoms, or you can go for a contrasting look.
Try wearing a beige color coat and skirt, or you can wear a black coat with a white ostrich feathered kilt. The black and white combination can never go wrong.
To make your look classier, you can also wear stockings or leggings and complete it all off with a pair of high heels.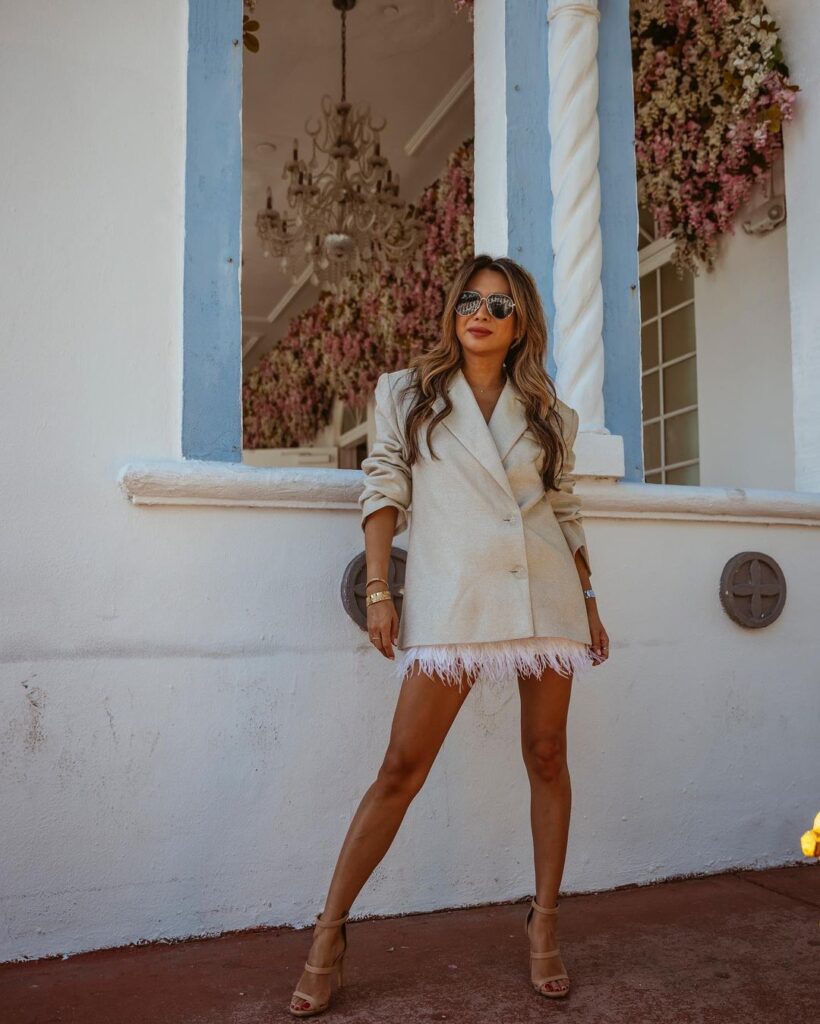 10 – Ostrich Feather Skirt for Lunch Date Outfit
There are several types of feathers you can find, all in different shapes and giving off different style statements. Like ostrich feathers, these are the most common ones worn by women all around the world. Not just in skirts but in shirts, jackets, and even clutches or handbags.
You can always be a fashion icon by pairing up your ostrich plume style skirt with a similar matching feathered handbag. You can just pull over a button down shirt that would make your skirt and clutch the center of attention for the viewers.
9 – Abstract Graphic Tee Outfit for Girl's Day Out
Another graphic t-shirt that looks with a bit of color is this one. Graphic tees always find a way to make you look good and make your outfit a hundred times better than it already is. You can pair them up with any bottom wear, from pants to skirts.
Just like pairing up a matching abstract art graphic tee with your favorite feather hem skirt. Tuck your t-shirt in and know that you look as fabulous as ever in such a cool fit.
Complete your look with a pair of platform or pencil heels, if heels get too uncomfortable for you, you can also wear metallic sneakers with this outfit.
8 – Floral Corset With Pink Skirt
If you are in the mood to go for something on a cuter or floral side, then this look is perfect for you.
Wear an adorable pink floral off-shoulder corset top and a plume hem skirt you will look as cute as ever. The pink color along with the flowers on your top is something that would make you stand out.
You can wear matching high heels along with matching pink accessories or jewelry, go for pink feather earrings to finish off the look, they will look charming on you.
Carry around a matching pink or white clutch, nothing too over the top and you are good to go.
7 – Party Ready Corset Top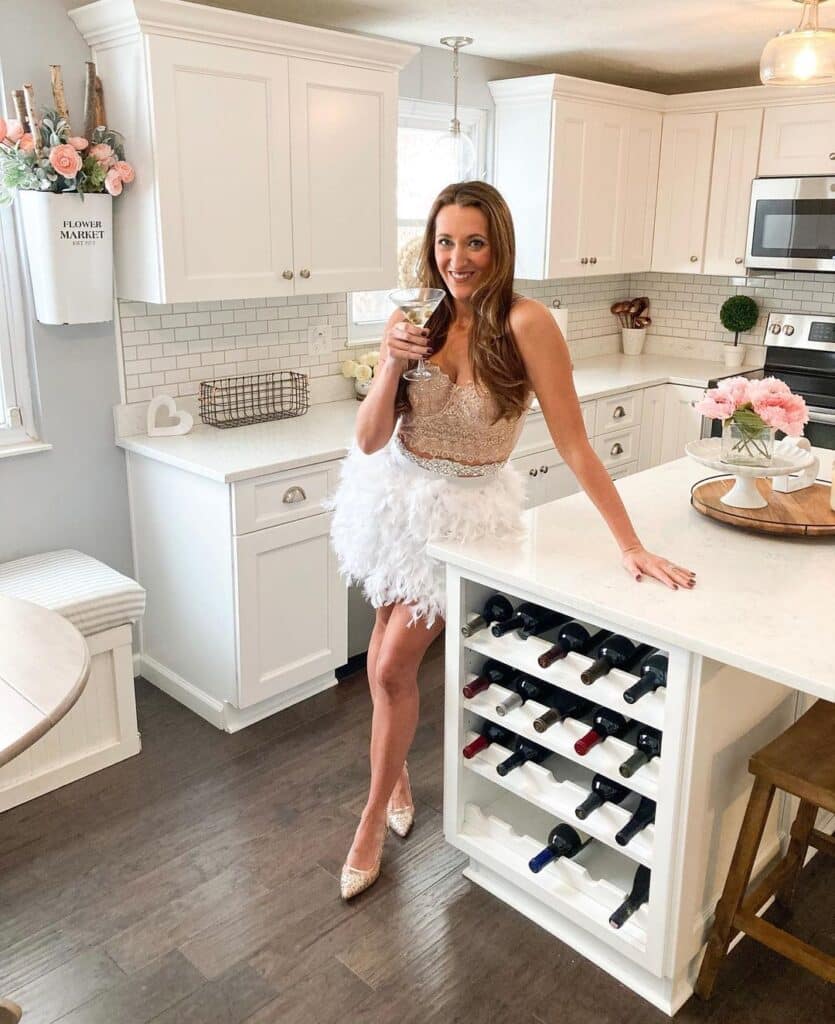 6 – Nothing Can Beat The Combination of Sequin And Feather
A vintage look for the day is this one, with the mix of green, silver, and pink, the colorful outfit never fails to catch one's eye.
You can pair up your ostrich feather pink kilt with your sequin corset or blouse and make your whole fit more old-school or vintage styled, pull over a green velvet blazer that would complete your whole look.
To top it all off and make your bedazzling look fancier, you can try wearing an iridescent face mask. All of the glimmer and shine in your outfit would definitely steal the show.
5 – How to Wear Color Block Skirts Like A Pro?
On a day out if you want to go for something that is cooler to the eyes, blue and green colors are perfect for you. These two colors will make you look as classy and elegant as ever.
You can wear a simple white tee or a matching green and blue colored camisole top to complete your look.
Along with some lace-up sandals that match perfectly with your skirt. You can also try wearing a white mesh cardigan to give your look a more summery vibe.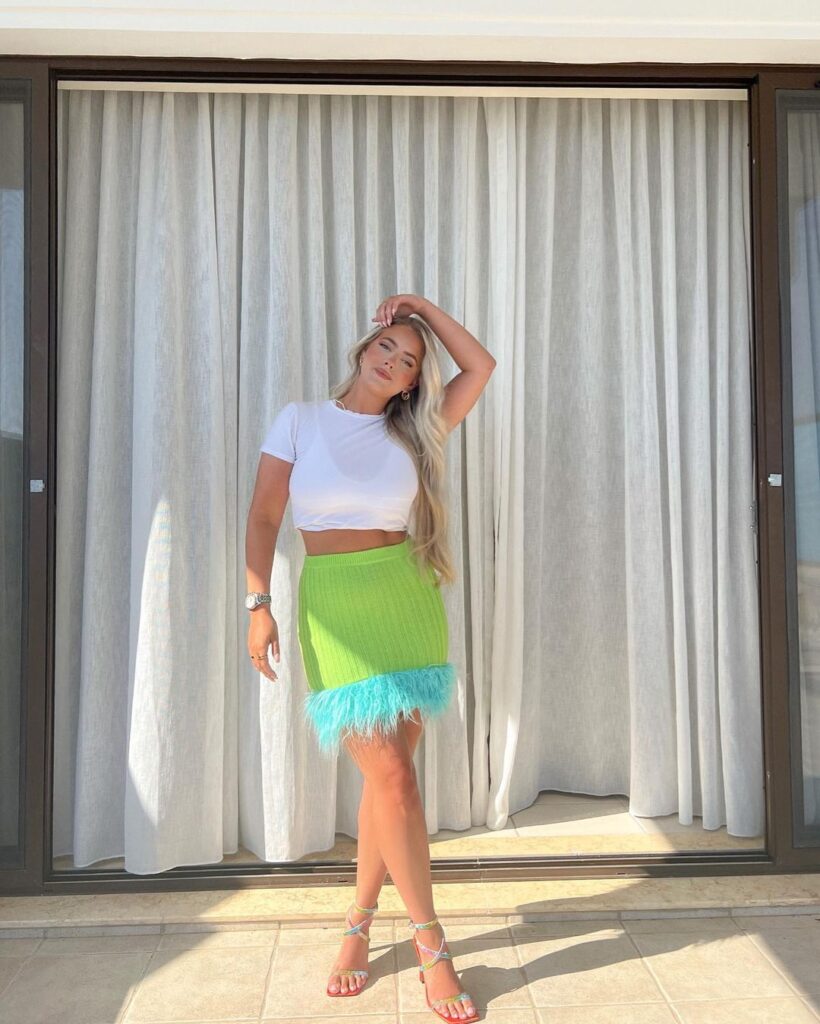 This look is my personal favorite. The below-the-knee skirt is of the perfect length, with the split ending just above your knee, it gives you the perfect level of comfort and style that you are looking for.
To balance out your outfit, you can wear a simple white tank top, as everyone will already be looking at your bottom wear anyway. Carrying around a matching handbag or clutch and wearing heels as your footwear would help make you look model-like.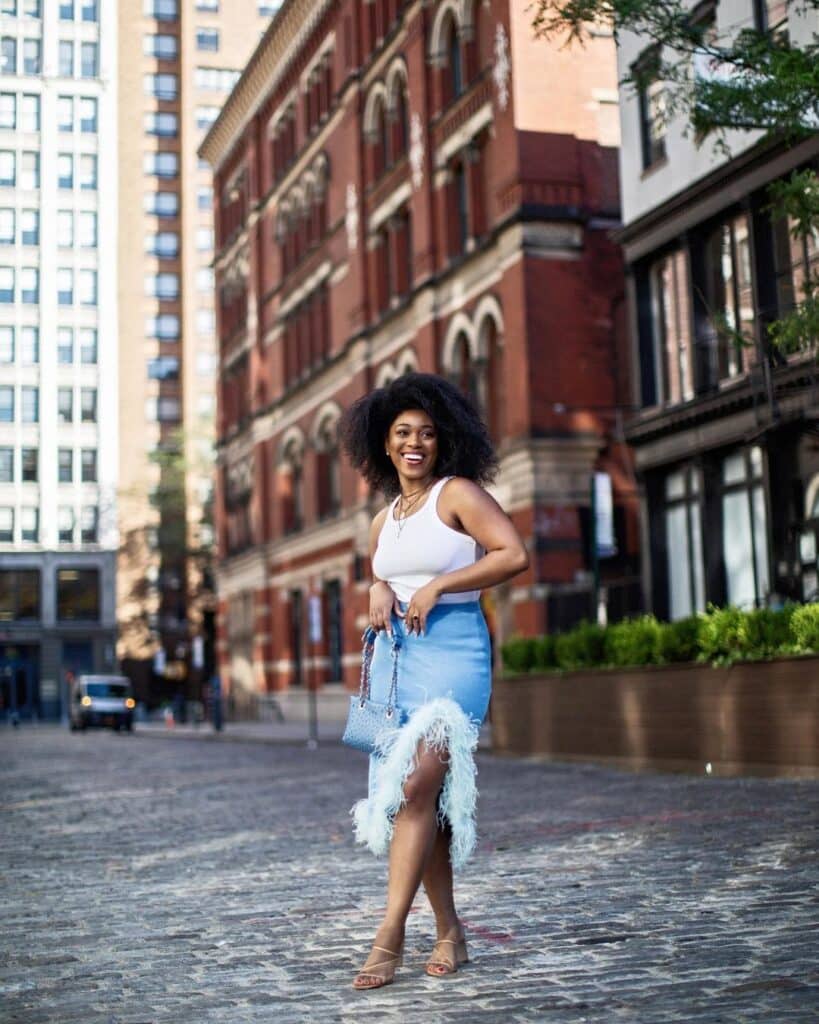 3 – Tiered Feathered Bottoms
Talking about skirts, we can never miss out on a tiered style, especially something similar to this. A three-colored or three-layered plume kilt would look aesthetic and unique on you.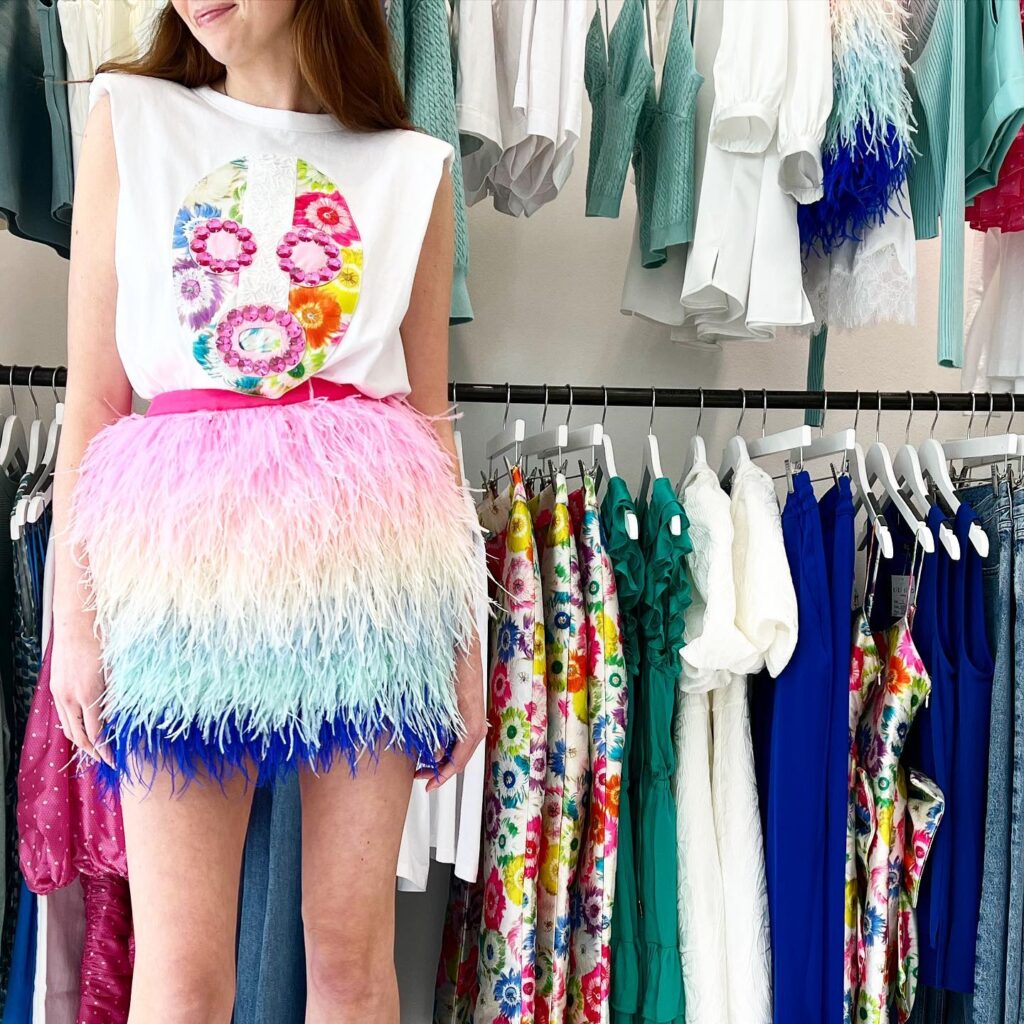 2 – Try A Neon Set for The Change
Ponte fabric clothing is something you should definitely wear at least once in your lifetime. If you are wondering what exactly is it; on double jersey (Rib or Interlock) knitting machines, Ponte is a thick, double-knit fabric pattern. It has a soft shine and is one of the knits' sturdy, strong constructions.
To have a matching feather outfit in such a comfortable fabric is an angel in disguise. Especially the super cute feathered shirt and the bright yellow color will make you the center of attention for the whole party. This is a look that you will never regret.
1 – Monochrome Fit
Opting for vibrant colors when going out in bright daylight is a very smart choice. Colors like orange, red, or electric blue will make your whole aura shine brighter than ever.
Such colors will give you a more friendly and cool-off vibe as well while still looking high maintenance.
You can match the color of your skirt with your button-down shirt, or get a matching set outfit just like this one.
If your shirt has a little detailing like the feathers on the sleeve of the shirt, your whole look will amp up instantly with little to no effort.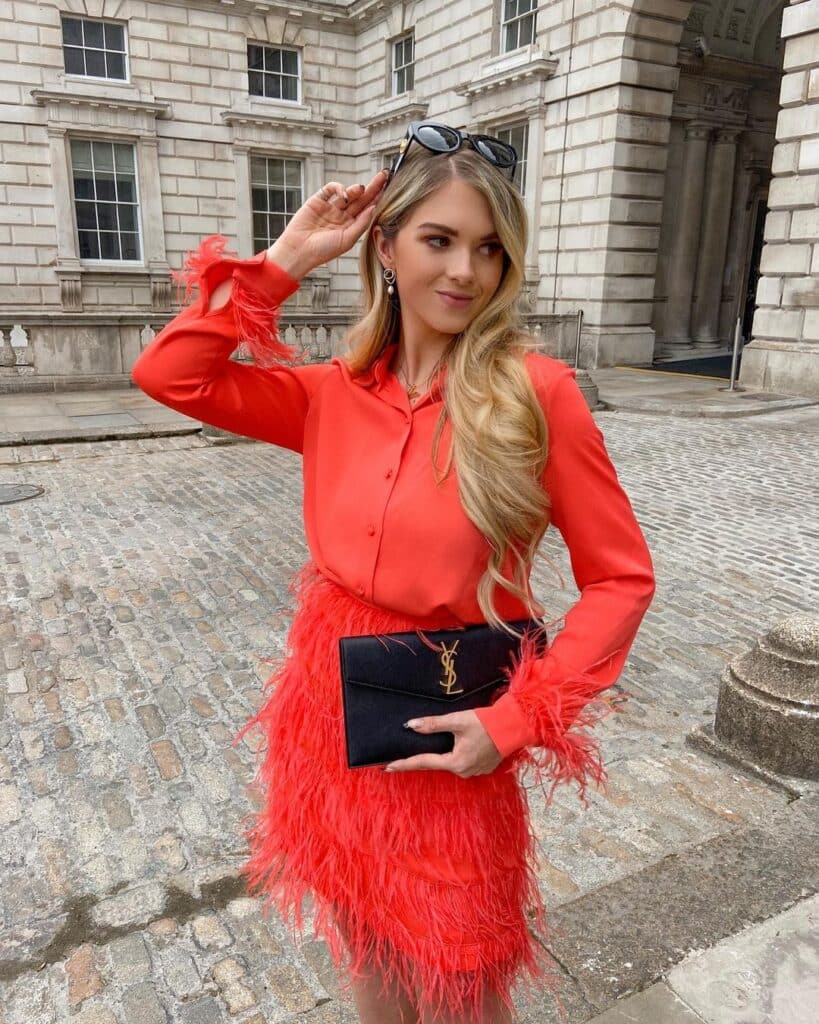 Frequently Asked Questions
Q. What goes with a feather skirt?
Ans. They go well with graphic tees, denim shirts, and even cashmere sweaters when worn during the day. You may also go for a layered appearance when the temperature drops and chilly air spreads over the area.
Q. Can women over 50 wear a feather skirt?
Ans. You certainly can. Even better, actually! You can get away with it without knowing how to ballroom dance. Yes, just like in the 1970s, you can go to the opera or another formal event wearing a maxi or tea-length A-line skirt. A nice option is pairing a chiffon or sequin top with it.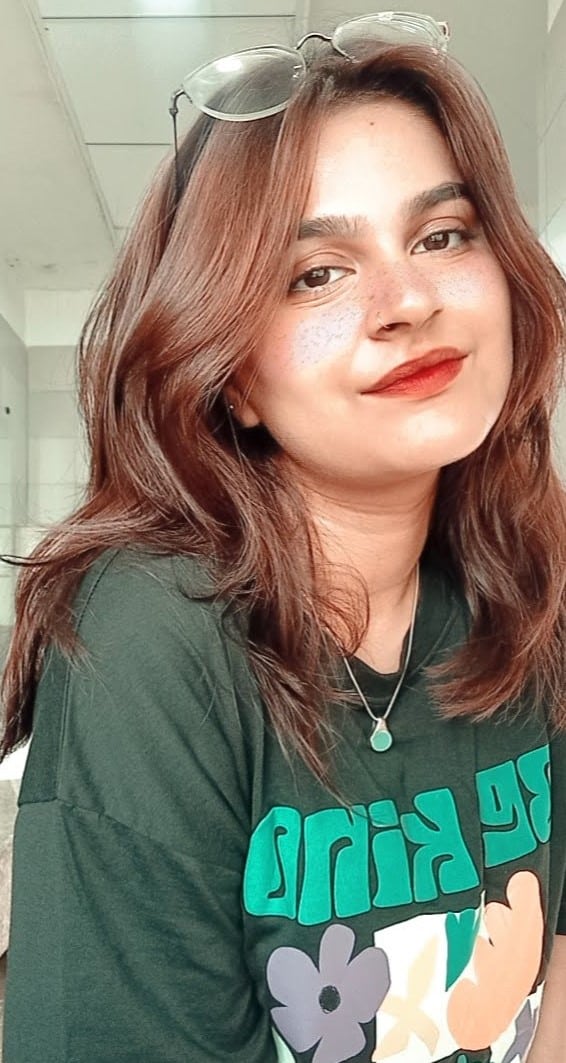 Adeena is studying Media Sciences at IoBM. She is a freelance content writer and graphic designer with experience in UI/UX as well. Adeena loves writing about fashion, taking photographs, making videos, and exploring many artistic things in her life.