How to Wear Denim Skirts: More often than you might think, the fashion trends from the past make a huge comeback whether we like them or not! However, the cool thing about this recurrence is that we get to see these pieces in non-cringeworthy ways and some of them actually make us fall in love with them against all odds. A similar case today is with this favorite of 2000's known as the denim skirt.
Whether it is the short mini skirt or the long maxi one, the denim skirt is a very versatile piece that can be worn in any season and multiple ways without any doubts. We have gathered together some excellent ways in which you can celebrate this timely revival of the denim skirt that is being flaunted by celebrities and fashion bloggers with equal excitement.
Styling Tips
Here are a few crucial points to keep in mind:
Experiment with different looks with the denim skirt and don't be afraid to show some skin.
With a short denim skirt, go for sneakers or flat ballet shoes instead of high heels.
Pay attention to which style of denim skirt will suit your figure. Go for A-line or pencil skirts according to your body shape.
When going for the double denim look, your top should always be lighter than the skirt color you are wearing.
Outfits to Wear with Denim Skirts
↓ 30.  Summer Street Style look
These come in a variety of colors and sizes and it depends upon your own fashion statement how you mix and match tops to go with your denim skirt. For the summer season, we usually would like to opt for over-the-knee skirts and crop tops, and for winter, the denim skirt is usually favored with heavy cardigans and leggings along with thigh high boots.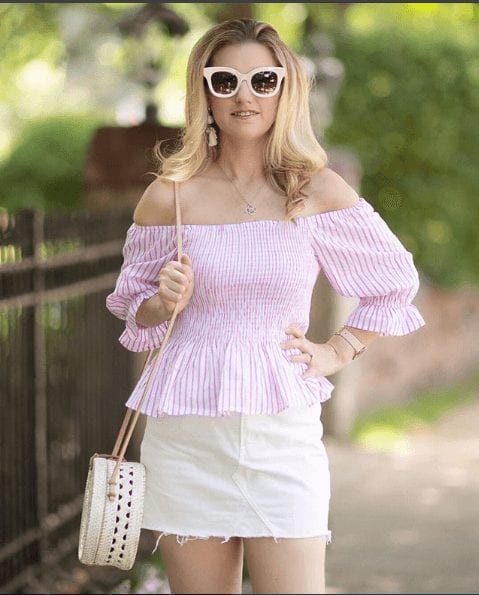 ↓ 29. With Oversized Sweatshirt
Pull over your favorite sweatshirt over a mini denim skirt with raw hem and tuck it in for an effortless look for when you are rushing around whether to do your chores for the day or for a quick meet up with friends. White sneakers will be ideal as they are comfortable for a hectic day ahead. You can find this sweatshirt here and the denim skirt here.
↓ 28. With Tights
There are multiple ways in which you can wear tights with a denim skirt. You can dress up the skirt and tights combo with a plain black tee and shiny leather jacket with black booties.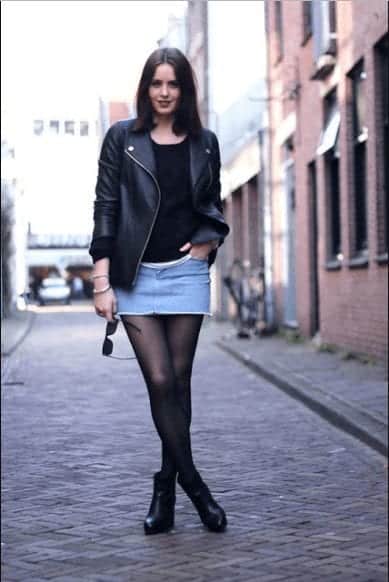 You can also play the girl-next-door charm by wearing this combo with an oversized graphic hoodie or sweater and strappy booties.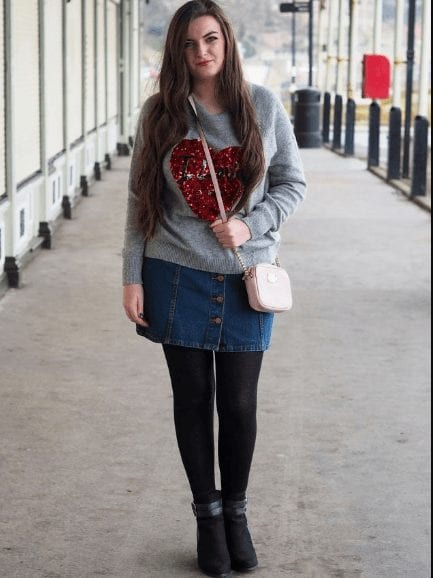 ↓ 27. Modern Street Style Look
For a modern-inspired street style look, wear this cute short denim skirt with a slit along with a black graphic tee and a slim-fit black blazer which is so easy to put together. Wear black mules to complete the look.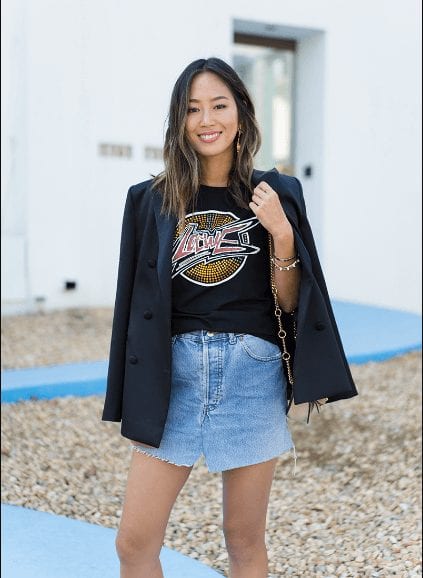 ↓ 26. Funky Look with Plain White Top
If you gonna wear a denim skirt, might actually have some fun with it right? Go full force funky with this cute patchwork distressed denim skirt and off-shoulder white top with white pumps. You can make one of your own such skirts by buying patches and sewing them or You can find a similar skirt here.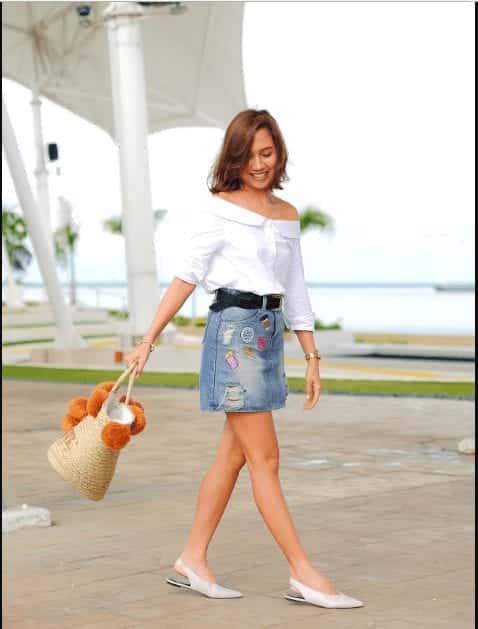 ↓ 25. Patchwork
A high-waisted patchwork design denim can take your outfit to a whole new level of awesomeness! You can pair up this classy and flattering double-shade skirt with a simple tee of your choice and you are instantly transformed! You can wear it with sneakers or black heels for a more dressed-up look. Here are 15 Cute Ways to Wear Mini skirts.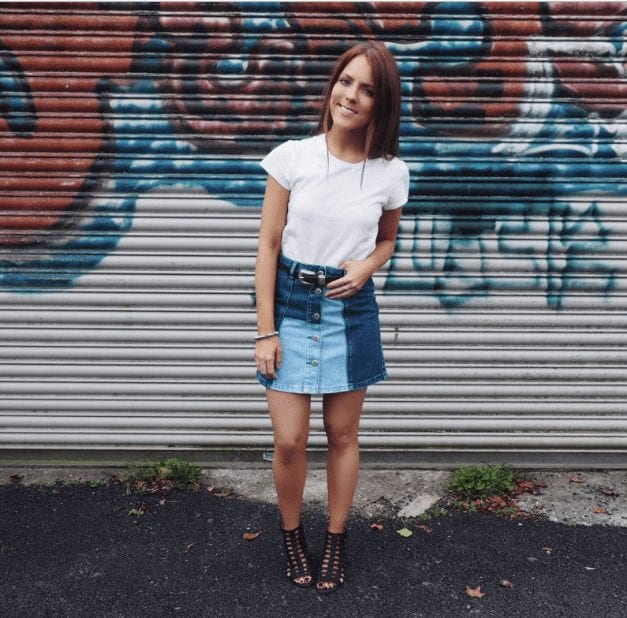 ↓ 24. Canadian Tuxedo
The double denim looks though somewhat tricky to pull off can work very well in your favor if done rightly! The key is to rightly co-ordinate the pieces in terms of color schemes and always wear lighter shade tops and darker shade skirts, shorts, or pants. You can also go for similar shades of both the top and bottom pieces for this look. Wear white mules for a classic look. You can find this shirt here and the skirt here.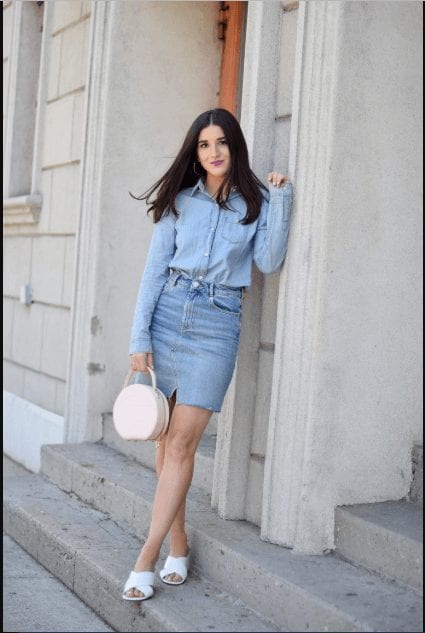 ↓ 23. How to Wear Denim Skirt to Office
A long dark-colored denim pencil skirt is good for office wear when casual Fridays arrive. If the color and style of a denim skirt are slightly conservative, you can wear it with a chic top and totally carry the outfit to the office. This pretty off-shoulder ruffled blouse is sophisticated and feminine for office wear and you can get the blouse here and the skirt here.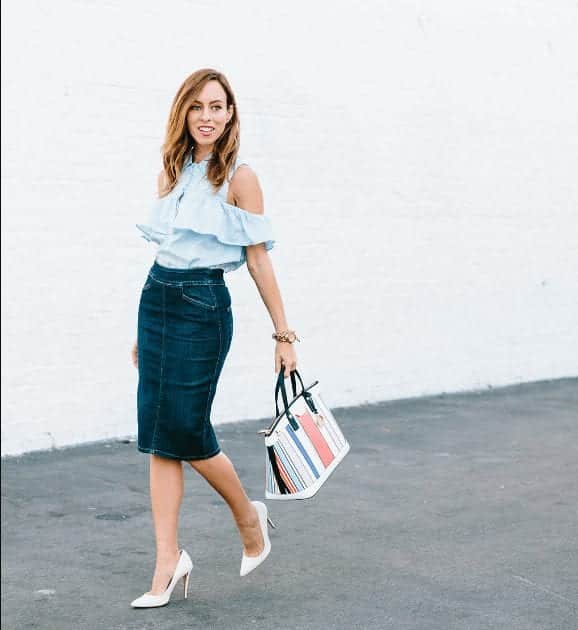 ↓ 22. Embroidered
Get some summer love with this awesome embroidered midi denim skirt with this colorful flower pattern and pair it up with a fun top or bodysuit for a classic look. With the slight slit at the bottom, it is perfect for summer strolling and frolicking and can totally power up your look. You can find this skirt here.
↓ 21. Chic Sightseeing Outfit
Enjoy being the tourist or profess your love for the city you are in with a big bold graphic shirt and comfortable A-line black denim skirt combo, with black and white sneakers. This outfit is perfect for a nice day out to spend in the city exploring new areas and enjoying with friends. You can get the shirt here, the rugged A-line black skirt here and the black sneakers here.

↓ 20. Ruffle Miniskirt With Graphic Tee
Ditch the idea of a plain old miniskirt and instead opt for this extra girlish asymmetrical denim miniskirt with ruffles on the hem. This playful little piece can be worn with a colorful graphic shirt and white booties for an alluring look. You can get this skirt here.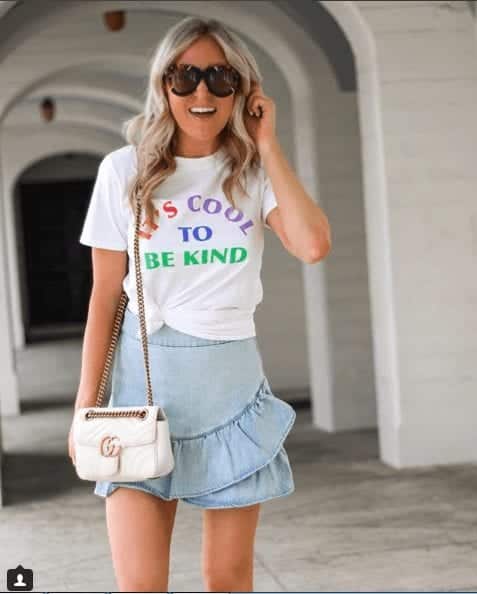 ↓ 19. Denim Skirt with Thigh-high Boots
With skirts, it is impossible to not feel any inclination to wear boots. Thigh-high boots look very interesting when worn with a short denim skirt in a light wash. So spurlging on some cute thigh high boots will pay off because they will perfectly complement the denim skirt and black top mix. You can find this cute skirt here and the boots here.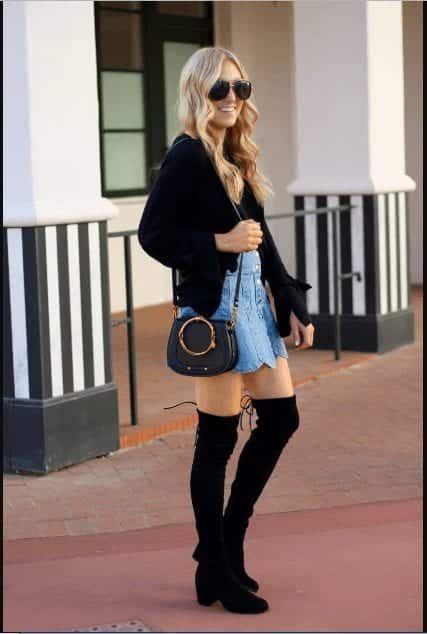 ↓ 18. Rock Chick Look
Nothing shrieks rock, edgy and grunge like our frayed denim skirt. For the perfect rock chick look match a high-waisted belt detail denim skirt with a grey metal band shirt. Add black booties and leather purse as accessories to perfectly go with this look. You can find this awesome skirt here.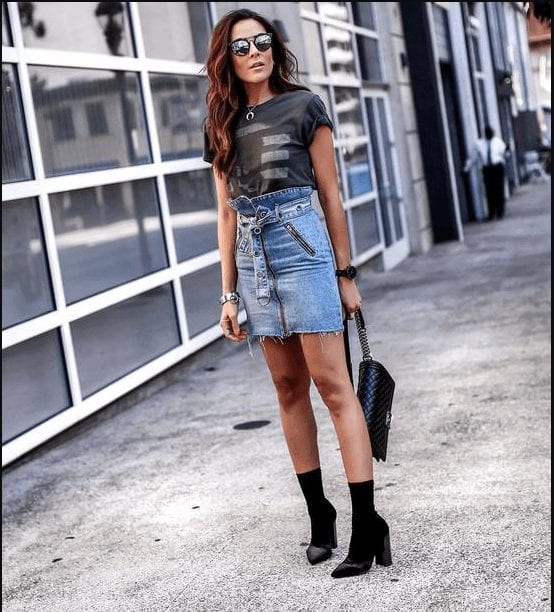 ↓ 17. Celebrity Style Outfit
Celebrities always show us how versatile a certain piece of garment can be and here Rihanna can be seen flaunting a blue denim miniskirt over a sweet striped long dress shirt and blue velvet booties.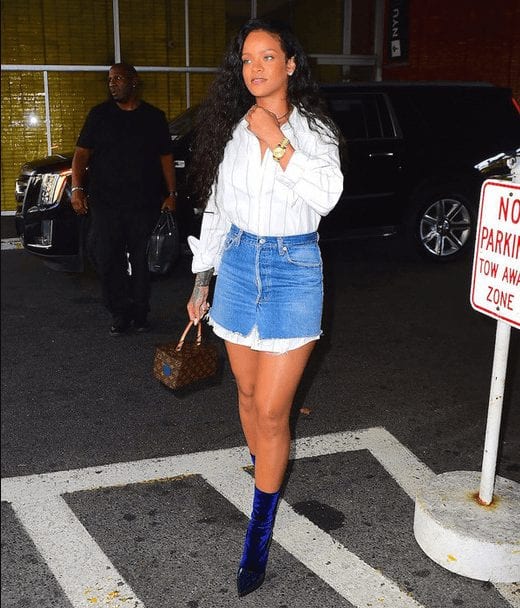 Gabrielle Union is seen with a chic denim button-down blouse and distressed denim front slit skirt with casual white sneakers.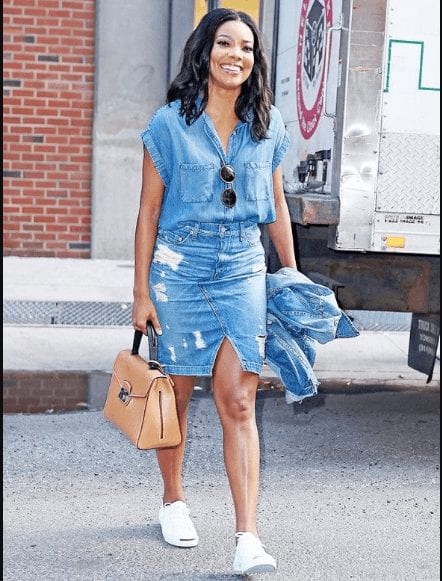 ↓ 16. Long Denims
Feeling a little chill in the air but the weather is yet uncertain! Try out this great transitional outfit with a modern chambray top and long denim skirt with a white overcoat! You can even play along with colors and try this with any other colorful overcoat that you might have in your wardrobe. Have a look at these 28 Stylish Ideas on How to Wear Wrap Skirts.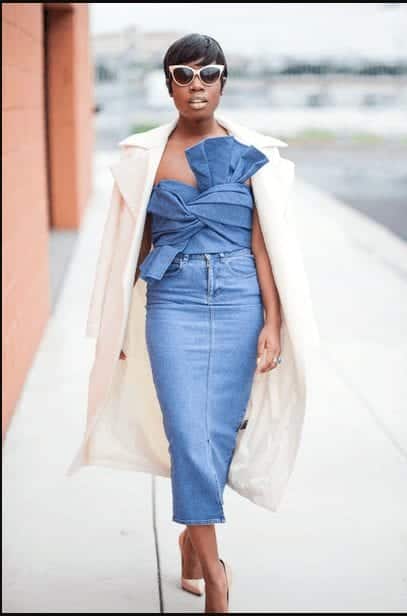 The same look can also be tried with a long buttoned white denim skirt!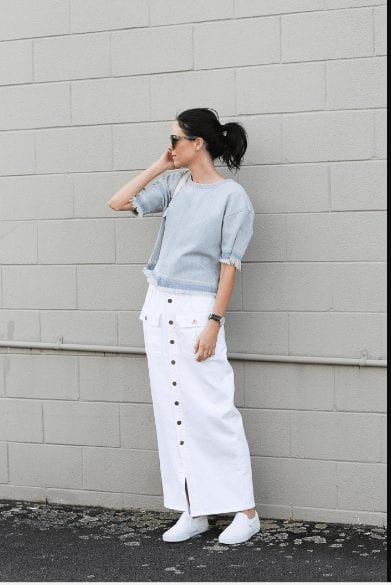 ↓ 15. Fun Party Outfit
↓ 14. Maxi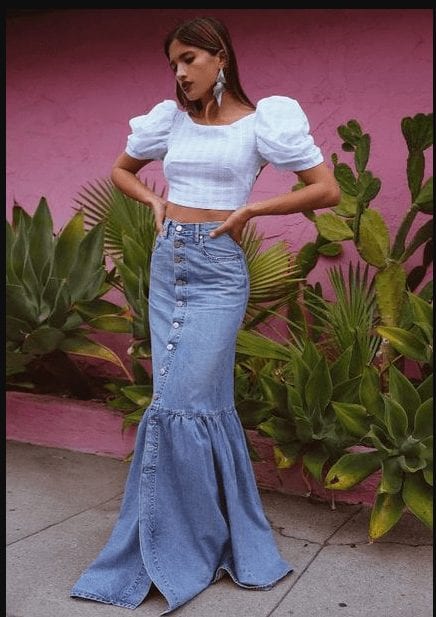 ↓ 13. Winter Outfit
Winter is all about layering up the right way and what perfect way but to do it with a denim skirt. Denim skirt gives you the heat that you crave in winter outfits along with great styling options and you can wear it with a bulky sweater and tights. Leather thigh high boots will not only add something nice to the outfit but will also protect you from the chill in the air.

↓ 12. With a Cardigan Style Kimono
Kimono with denim skirt is a very bohemian outfit that is not only light and breezy but also has the great appeal for springtime. Pair up your kimono with a distressed and frayed denim skirt and wear a hat to complete the look.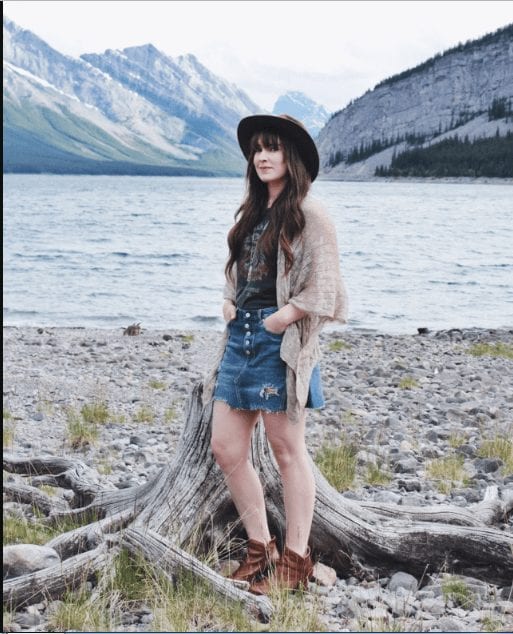 ↓ 11. Front Button Denim Skirt with Blouse
What can beat the class of a white blouse! Here are 18 Ideal Girls Outfits with White Shirts for Glamorous look.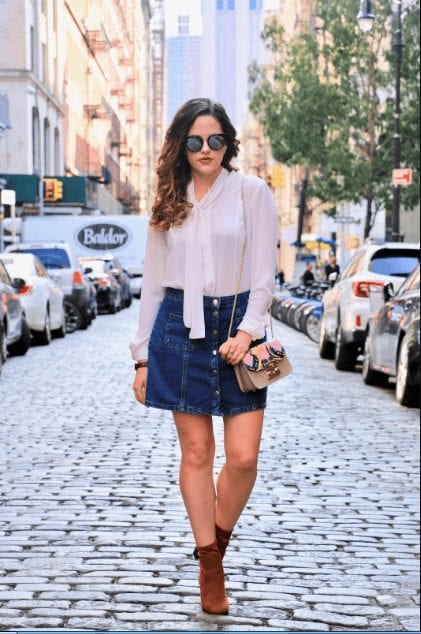 ↓ 10. Parisian Charm
A trendy Parisian look can easily translate into a simple black and white striped shirt with a black denim skirt with beautiful golden buttons on the front. This look is extremely sweet and feminine and for cooler weather, you can wear a knitted cardigan over this ensemble. Thigh high boots will look very chic with this outfit.
↓ 9. Amazing Brunch Outfit
Planning a brunch date? Wear a black floral vest over a black tee with a blue button-down denim skirt for a perfect finished look. Do check out these 15 Ways to Dress up for Sunday Brunch.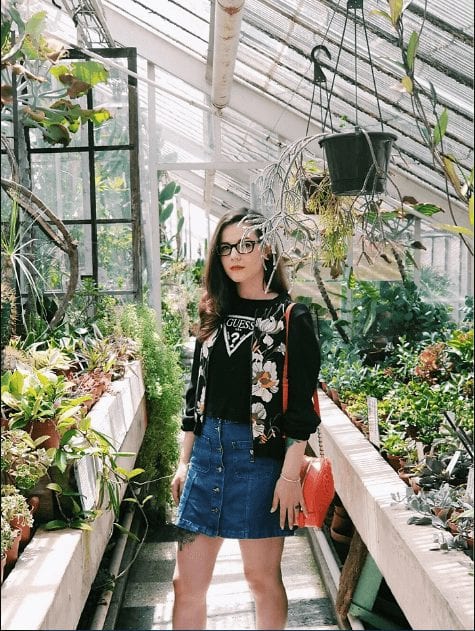 ↓ 8. Sexy Date Night Outfit
Why not try this exciting Bardot crop top and denim skirt outfit for the next date night you have planned? The top will help you in showing some skin and the skirt would help in slimming the waist and showing off those perfect legs for summer.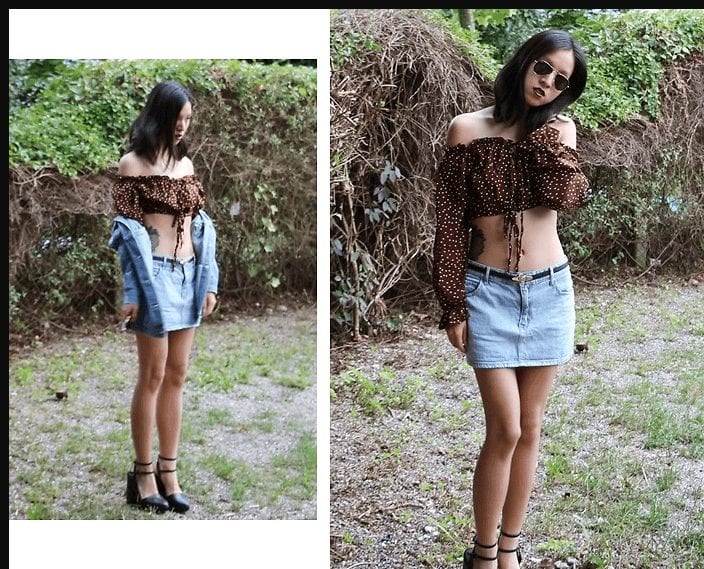 ↓ 7. Retro Look
Bring the vintage back in full swing by mixing up huge floral print tops with the colored denim skirt. A maroon denim skirt will look awesome with any jazzy vintage shirts you might have in your closet and tie the shirt on the waist for a slimmer look. You can find this skirt here.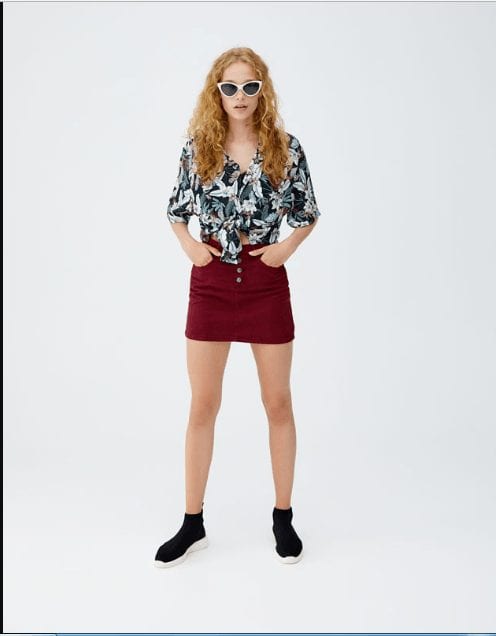 ↓ 6. Stylish Pearl Detailing Denim Skirt
A pearl-detailing denim skirt is not only the work of a genius but it is also very elegant and sweet. With an effortless way, you can dress up your plain tee with a pearl denim skirt and be the talk of the town. Wear beautiful blush colored strappy heels with the outfit for a distinctive look. Here are 25 Cute Outfits Ideas to Wear with Denim Studded Shorts.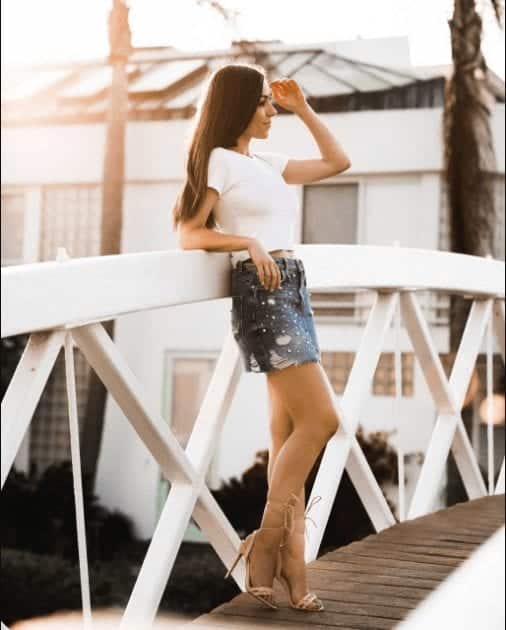 ↓ 5. Plus Size Outfit with Denim Skirt
Never feel that you can't wear a certain piece instead we bring you great motivation to wear a denim skirt for summer. This awesome chevron denim skirt looks classy with this striped blue off-shoulder top.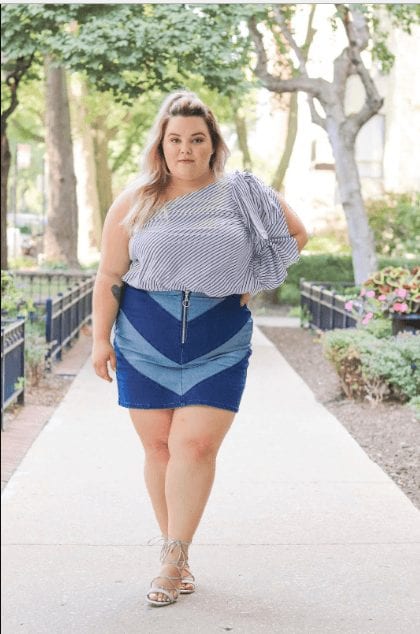 ↓ 4. Perfect Movie Outfit
When we love movies and tv shows, the best option is to get our hands on as many graphic shirts related to them as possible. A cropped graphic shirt along with black denim skirt with front zip option is a great option to wear for a movie night out with friends or family.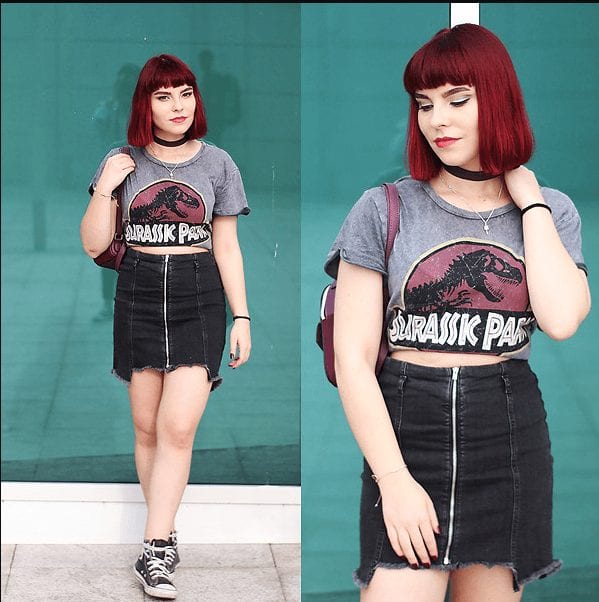 ↓ 3. Lace and Denim
As the temperature drops, you can favor a full-sleeves black lace blouse that will flawlessly dress up your distressed frayed denim skirt and you can wear it for formal lunches and dinners as well without a second thought.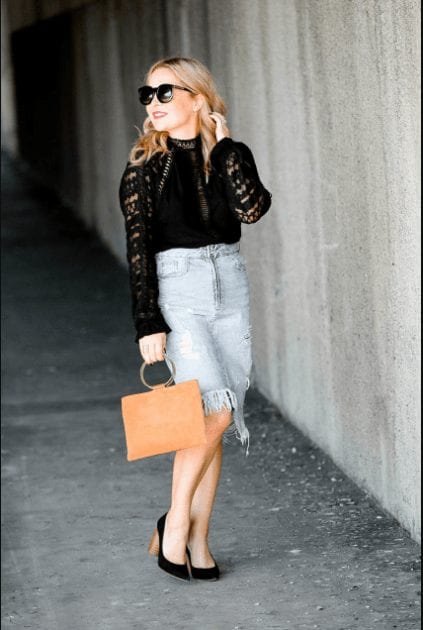 ↓ 2. Best Shoes to Wear with Denim Skirts
While wearing the denim skirt, you will first have to decide whether you want to go for the casual chic vibe or for the dressed-up fashionista look. The black ballet flats with a golden medallion or the white loafers are best suited for a comfortable casual appearance. You can get them here or here.
For a more formal appearance overall, you can either go for a softer look with these pointed nude pumps that you can get here or these big, bold black thigh-high boots that are a winter staple here.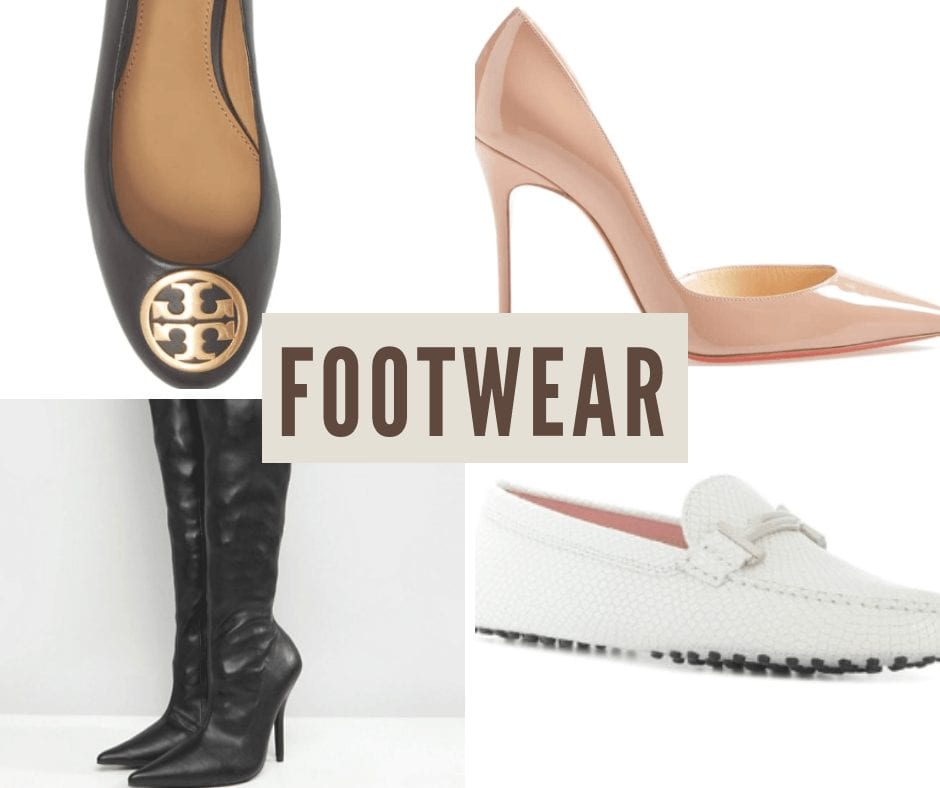 ↓ 1. Accessories
Accessories bring in this pleasurable twist to any outfit you may have planned for a day and will always make you appear more awesome in your Instagram photos. For any summer day, you will need some cool aviators that will go well with your outfit. We recommend these awesome sky blue aviator sunglasses that are comfortable to wear and will synchronize perfectly with your day. You can find them here.
This cute red backpack by Chloe is super youthful and light to carry on any day and is perfect to handle all your stuff. You can get it here.
This trio of pendants has great appeal for any girl who is a wanderer at heart and will upgrade your look. You can get it here. The spotted animal print scarf is best for spring and winter when you need something extra for the cool breeze. You can get it here.