Outfits to make legs look longer– When it comes to fashion, what bothers petite girls more than anything? You guessed it right; they all want their legs to look longer in outfits they wear. It is tempting to just grab any outfit that you like and hop into it without worrying much about your looks.
But to make your legs look longer, you must choose your outfits wisely. While the chances of walking fashion runway are scanty for you, you can still use our following pro tips to look like a high-end fashionista (well, without worrying much about your height).
How to Make Your Legs Look Longer
Keep our tips in mind while trying to make your legs look longer.
Do not wear multi-colored outfits.
Do not wear shorts/cropped jeans
Avoid wearing flat shoes whenever you can
Avoid horizontal lines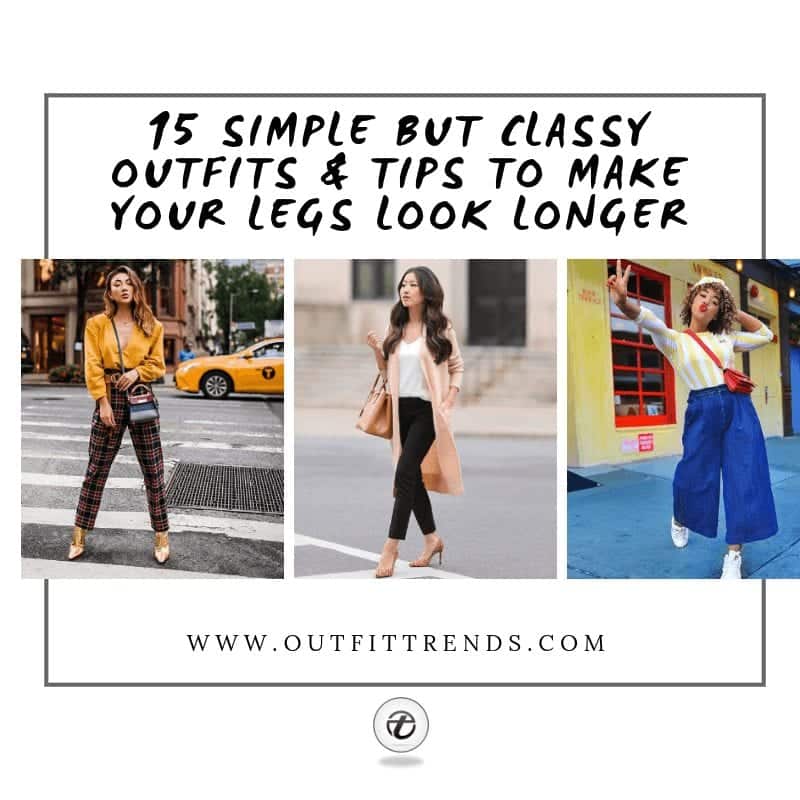 ↓15. Choose Shoes In Nude Shades
Do not be afraid to own nude colored shoes (read: heels). In fact, try to have several nude colored shoes as they are going to be your favorite fashion accessory for all the right reasons. Choose a color closest to your skin color as it is going to create an illusion of legs that are long. You can choose nude pumps, nude heels, nude slides and any other variation as all of them are going to make your legs look longer. Nude boots can be your best friend this fall (make sure to buy a pointy/ V-shaped pair though) as they will keep you cozy and comfortable while doing the job (you know what we mean). For some amazing inspiration, check out these Top 8 Short Height Plus Size Models Breaking the Stereotypes.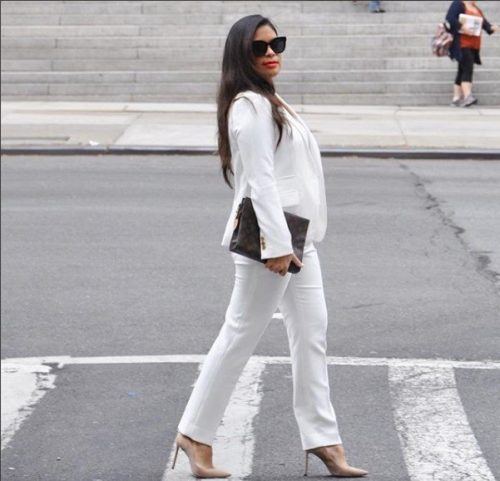 ↓14.  Wear Jumpsuits
Jumpsuits should be your next best thing as they are going to make your legs look longer without much effort. The rule behind jumpsuits is that they do not divide your body in two parts. No one can tell where your legs are starting from and where your torso is ending. A good deal! Just make sure to not choose jumpsuits with busy prints or that come in light colors. Stick to dark and solid colored jumpsuits. Pair your jumpsuit with pointed heels of the same color (as that of your jumpsuit). You can make a high ponytail with this outfit to create an illusion of 'taller' you. A touch of chunky accessories will polish your look even more. For makeup, stick to normal day/night makeup rule where too much makeup worn during daytime can add to your age and too little makeup in the night can give a 'dull' look.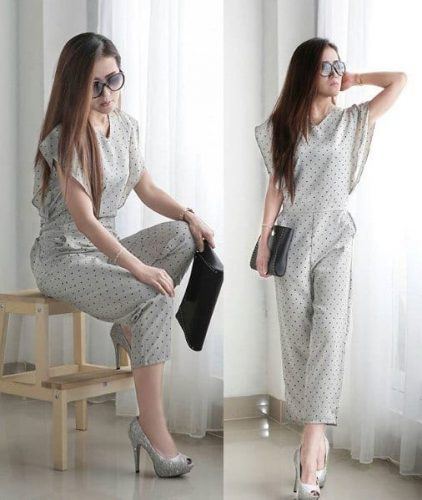 Via
↓13. Use Solid Colors
Using solid colors is important if you want to make your legs look longer than they actually are. Here is why; if you will choose printed outfits or dresses with color combinations, you will not be able to accentuate the length of your legs. Your body will look as petite as it is. Uniformity in colors will bring attention to your body's height. For that matter, use dark colors such as black, navy blue, dark green, violet, and maroon. Not only your outfit should be in one dark color but make sure to match your shoes with your outfit. To sizzle up things, add jewellery with bling.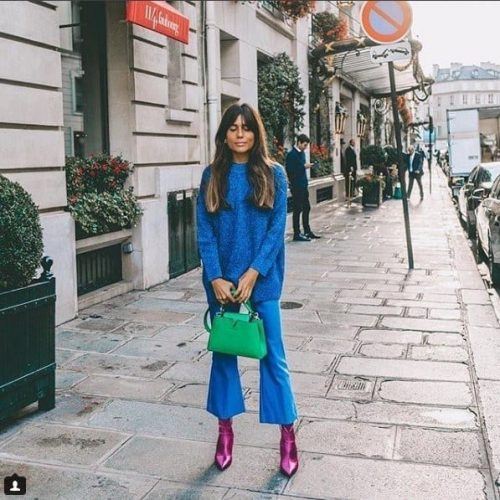 ↓12. Wear Palazzo/Bellbottoms
Yes, you read it right. Wearing palazzo will not shorten your legs (contrary to popular belief). Instead, if you wear palazzo and bell-bottoms the right way, you can make your legs look longer. Just make sure these bottoms are paired with heels and not flat shoes. Heels will accentuate your legs with wide palazzo and ultimately make them look longer. Try to add vertically lined palazzo to your wardrobe. In terms of fabric, use palazzo and bell-bottoms that are made of soft fabric like cotton, silk, and jersey. Stay away from stiffened pants as they will draw a line from left to right, rather than up and down. Length is crucial when you want to wear palazzo. The length should be just above the bottom of your shoes. You need to add a bit more length to your normal pants length. Here are 20 Ideas How to Wear Palazzo Pants if You Have a Short Height.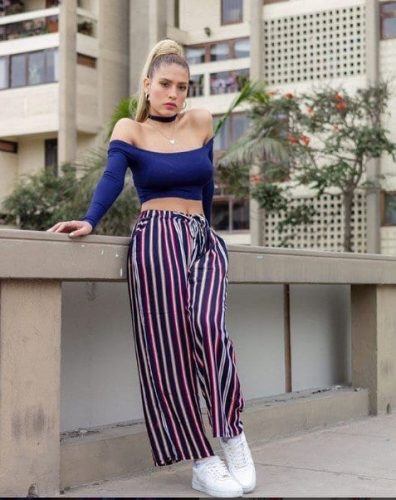 ↓ 11. Wear High Waist Bottoms
High waist pants can't be emphasized enough if you are petite. If you have missed on high waist pants, it is a good time to wear them. High waist will add to your legs' length. If you wear a tucked in shirt with high waist pants, you will be amazed by the results. Choose pants of either dark colors or nude shades. High waist pants elongate your looks as they mark your waistline higher than normal. Such pants also keep you comfortable as when you sit, your pants have enough room for movement. High waist pants are again in style and making their way on runways. It is the best time for you to adopt them as your wardrobe staple. many celebrities and artists are supporting this style of pants (a good reason to switch to them, right?). Fashion gurus recommend these kinds of pants to look stylish and glamorous. Easy said than done if you are a petite woman with an apple shape body or you have weight issues. Consider wearing pants with light fabric than denim but if you are someone with a slim waist, feel free to adorn yourself with high-waist pants.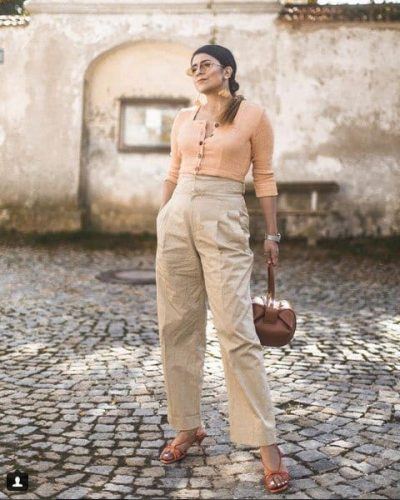 ↓ 10. Maintain The Same Color for Shoes and Pants
This works on the basis of a simple rule; your shoes will act as an extension of your pants (read legs). For instance, wear black shoes with black pants. Wear brown shoes with brown pants. Don't be afraid of too much of a color (we understand that this thought can concern you). Trust us on this as same colored shoes and outfits are going to make you look taller. Try few outfits and shoes like this before jumping to conclusions! Here are 18 Outfits To Make Your Legs Look Thinner.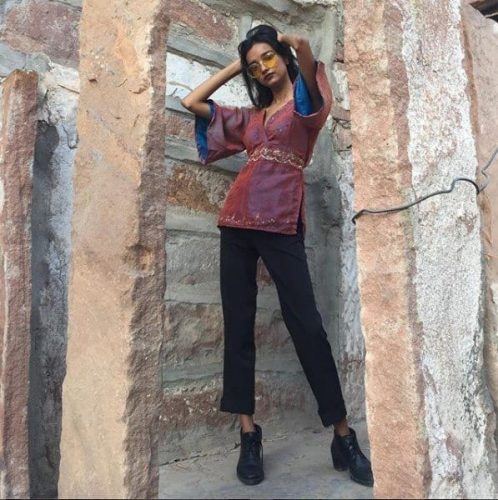 ↓ 9. High Waist Skirts
Just as high waist pants, high waist skirts should take place in your wardrobe. Skirts with high waist bands can outshine any other outfit if you pair them with short tops. For a possible combination, you can wear a sequined medium length skirt with a smart tucked shirt. Wearing skirts allows you to mix and match as well. So those of you who are unhappy with same colored outfits tip given above, do not hesitate to try different colors and patterns for high waist skirts and tops.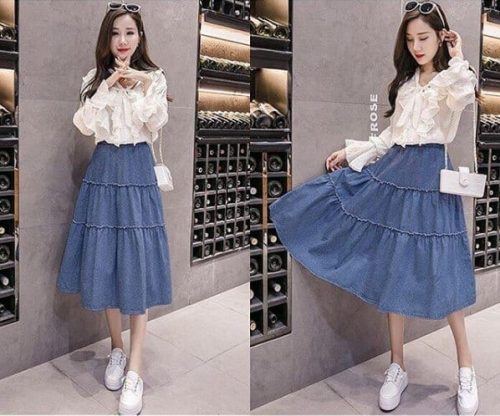 ↓ 8. Go for Cropped Tops
It sounds odd; you may feel doubtful. What shirts get to do anything with your legs? Well, they do for some reasons. Cropped tops give way to your bottoms, making your legs look longer. They allow you to show a little edginess in your style for their retro look. You can even bare some skin at your torso and this will create three sections that will make you look anything but petite. Use interesting textures and fabrics paired with high-end pants. Stay away from thick and stiff fabrics and choose soft and flare-y material for cropped tops.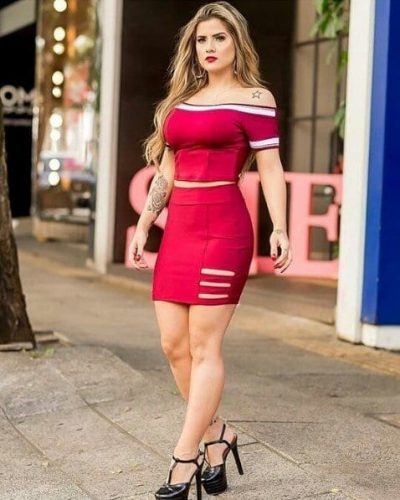 ↓ 7. Consider Stripes (Vertical)
Repeat after me: stripes, stripes, stripes! They are worth your effort as stripes can add an absolute illusion of long body. But it's a little tricky (even dodgy) wearing stripes. If you wear horizontal striped pants or tops, you are sure to look even smaller. Vertical stripes on other hand are great for petite women. If at any given day, you are unsure, wear stripes pants. You are sure to draw some attention to you. To balance out stripes, wear plain colored tops and shoes with stripes pants. Also, use subtle pieces of jewelry instead of loud necklaces or earrings. Have a look at these Top 10 Ways to Wear Striped Shirts.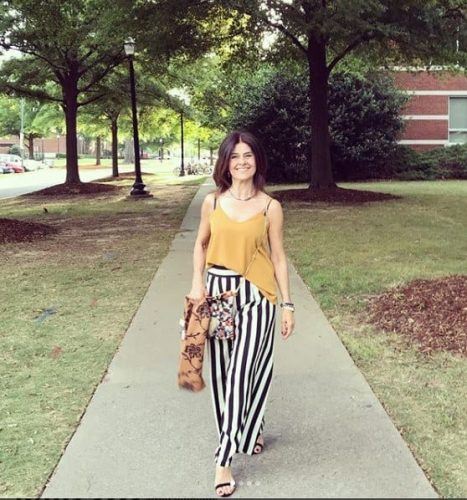 ↓ 6.  Smart Cut Outfits
Wearing flared dresses and layered gowns at occasions sound fun and interesting. but in reality, it may not be a good idea if you are petite. To make your legs look longer, you need to ditch flares. layers, and volume. Look for dresses that create a vertical line instead of a horizontal line from right to left. Skirts and dresses that are smart and slender looking will definitely add to your height. You can choose knee-length dresses that are smart or you can choose tube skirts to make it work. It is tricky though as you may end up choosing a dress with too many layers and volume, which may look smart but actually add 'volume ' to your body (and volume, of course, cuts down your length even further). You can pair a smart dress with pointed boots or heels to give your look that oomph factor.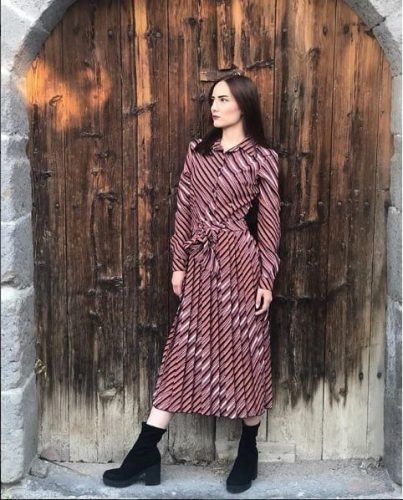 ↓ 5.  Wedding Outfits to Make Your Legs Look Longer
Getting married is the most important event in a woman's life. Your bridal dress can make or break your big day. Selecting bridal outfits can be a daunting task for a petite bride-to-be. But if you follow our ideas and tips underneath, you can look your best. It would be best to avoid conventional wedding gowns with layers and volume. Your best bet is to choose a mermaid/trumpet style wedding gown. The flare of such dresses is just appropriate for petite women. Feel confident in flaunting your bust and hips while keeping your waistline higher to give a look of longer legs. If you are a minimalist, try a vertical cut dress that runs in one vertical line from shoulders to legs. Put a pretty smile on your face to complement your dress when you walk down the aisle. Here are 10 Short Height Female Celebrities Fashion You Should Follow.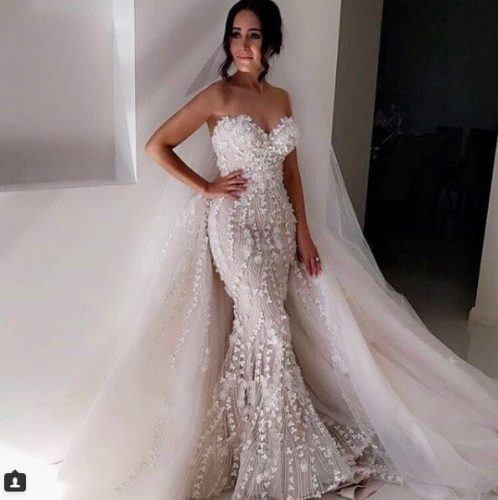 ↓ 4.  Tuck in Your Shirt
A top that is not ticked in at front can't do much about a petite figure. It will only add 'volume' to your overall look. Tucked shirts paired with high waist pants can make your legs look longer like nothing else. A high waist pair of pants is crucial in creating such illusion though. Tucking in your shirt kind of gives you an upright straight position that will add to your structure.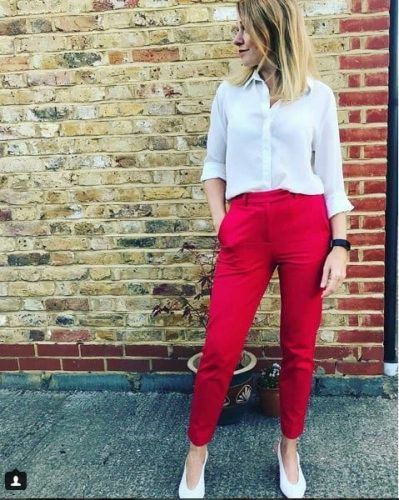 Via
↓ 3. Wear Well-Fitted Clothes
Nothing kills your look more than ill-fitted clothes (and if you are petite, you can make yourself look even smaller). Be certain to buy/dresses that fit well on your body. Imagine the scenario; you choose a skirt with too many layers and flare. You wear a loose top on it and carry it with flat shoes. You will end up looking clumsy and petite for all the right reasons. Adding curve-hugging outfits in your wardrobe is quintessential. You can show off your curves and figure well with such dresses. But do not wear any overly tight dresses or you will be uncomfortable the whole time.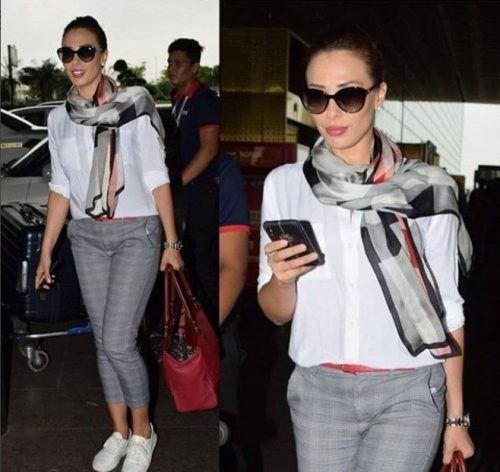 Via
↓ 2. Dark Colored Outfits
By now, you must have an idea that dark-colored outfits are your best bet if you want to make your legs look longer. Light colors can give a chubbier look of you to others. It is easy to tell about your legs and waistline in light colored dresses. On the other hand, dark colors make you look slender while concealing your weak spots. Your legs look longer as dark colors create a vertical illusion. Choosing dark colored shoes is recommended if you want to highlight your legs. If you are wearing a short dress, choose high boots with pointed heels. If you are wearing pants and top, choose to wear platform heels. Skirts can be adorned with dark-colored wedges. Monotone dresses that are dark in shade are the most suitable choice for all petite women.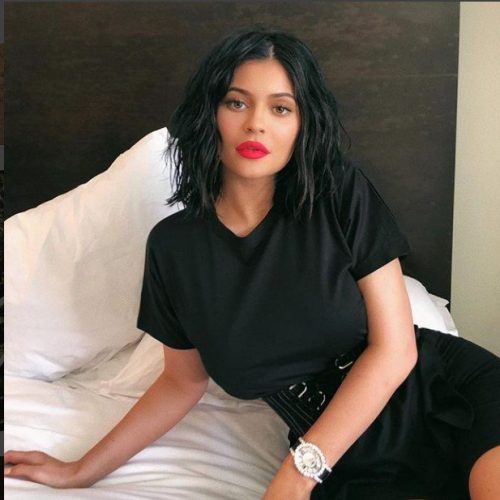 ↓ 1. Wear Shorter Jackets
Winters are coming and you are sure to buy a couple of jackets for variety and style. Jackets look gorgeous if done right but if you do not know how to carry a jacket to make yourself look longer, then keep reading. Short jackets with smart cuts can help in making your legs look longer as they hug your curves. Be careful about the fabric though as stuff like velvet will do the right opposite of slender and smart. Denim, on the other hand, is your key to looking chic. Your legs will look longer with short jackets as the end of length equates waistline so the kegs will appear longer and slender (if you wore some smart pants). The key to adorn jackets on your petite figure is to wear short jackets and ditch long and fluffy ones.