How to Wear Button Front skirts: Fashion trends have a habit of resurfacing every few years, with a new twist, innovation, and style in accordance with the current fashion. Button front skirts, which can be a-lined or straight cut, seem to be one such trend that has made headlines in the recent years.
These skirts look fabulous in the summer and spring time, beat the heat in style! With skirts, you have various a plethora of styles and lengths to choose from. Today specifically we talk about the front button up skirts that look so vintage and elegant. We take you through various looks so you can get inspiration for your next outfit with these skirts. 

Cute Ways to Style your Button Front Skirts

RECOMMENDED: How to Wear Thigh High Slits – 40 Best Outfit Ideas to Copy
#23. Spring Fashion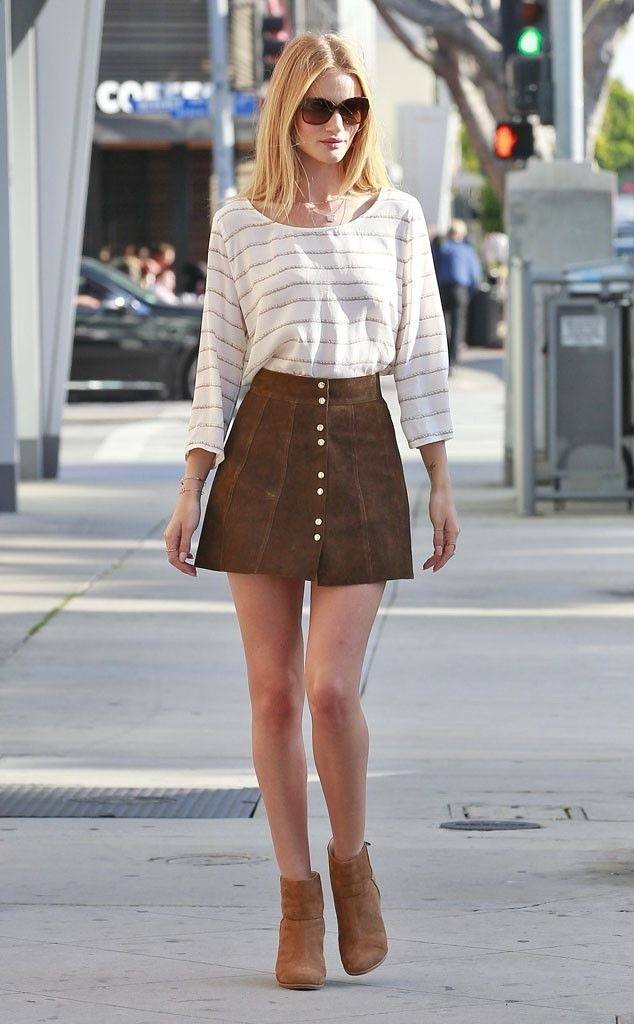 Source
#22. Pop of Summer Colors
Being bored with the winter neutral shades and cover ups, this is a perfect choice in color to welcome the Summer season with festivities in your eyes. Bell shaped sleeves have also made a comeback and what better to match them up with then a button front denim mini skirt with black cuffed heels and a nice tone bag.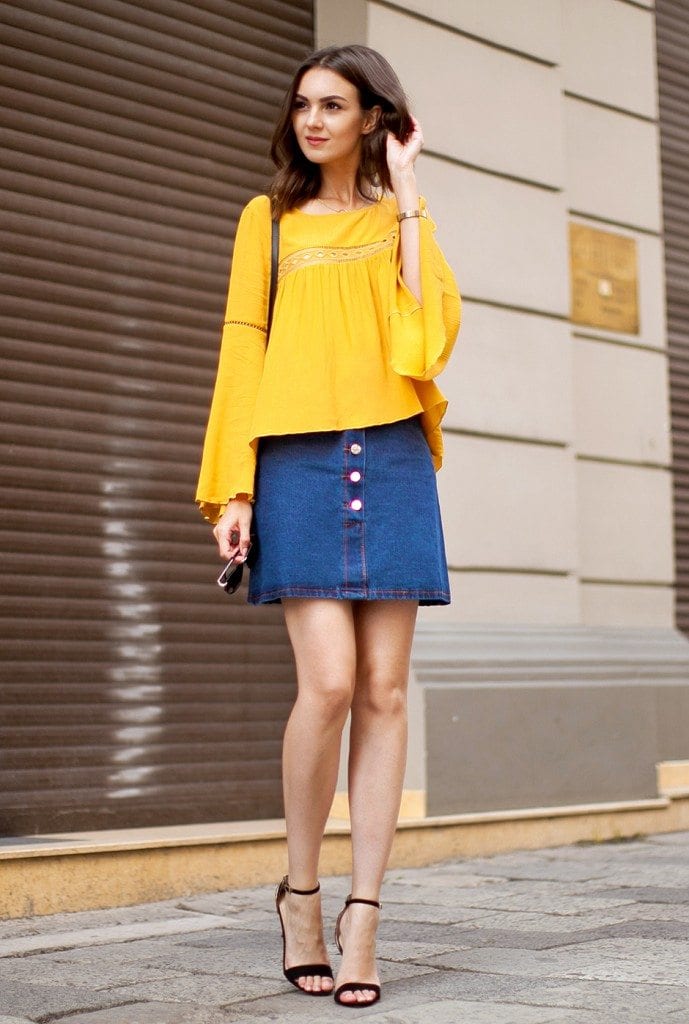 Source
#21. Styling Idea with Button Front Skirt
If trying to beat the summer heat go for this skirt in panels with a tank top in black and if want to have a go in the spring pair it up with a r'n'b jacket and shoes.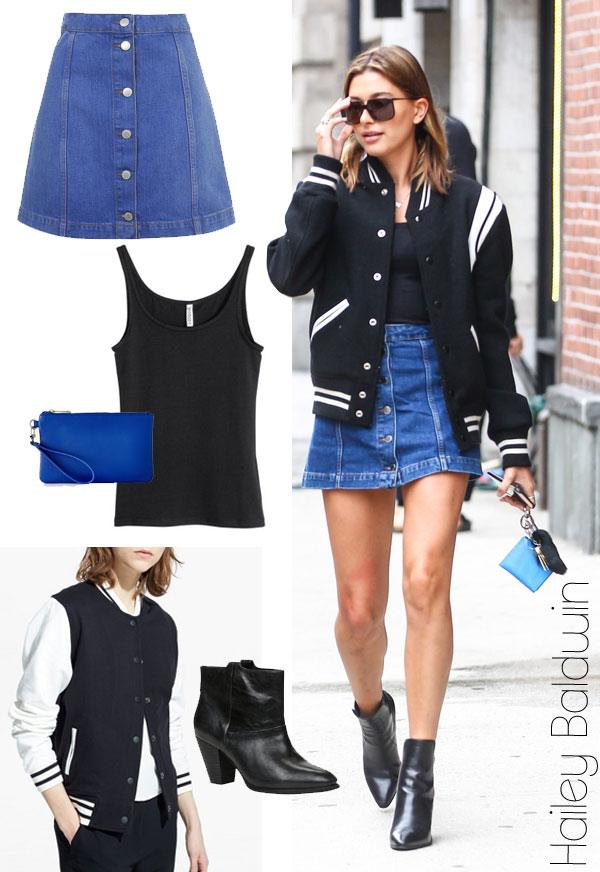 #20. Day Out Look
Beach parties will never look the same if all fashion conscious people land there. This mid length yellow skirt is awesome when worn with a white wrapped/binder and a hat.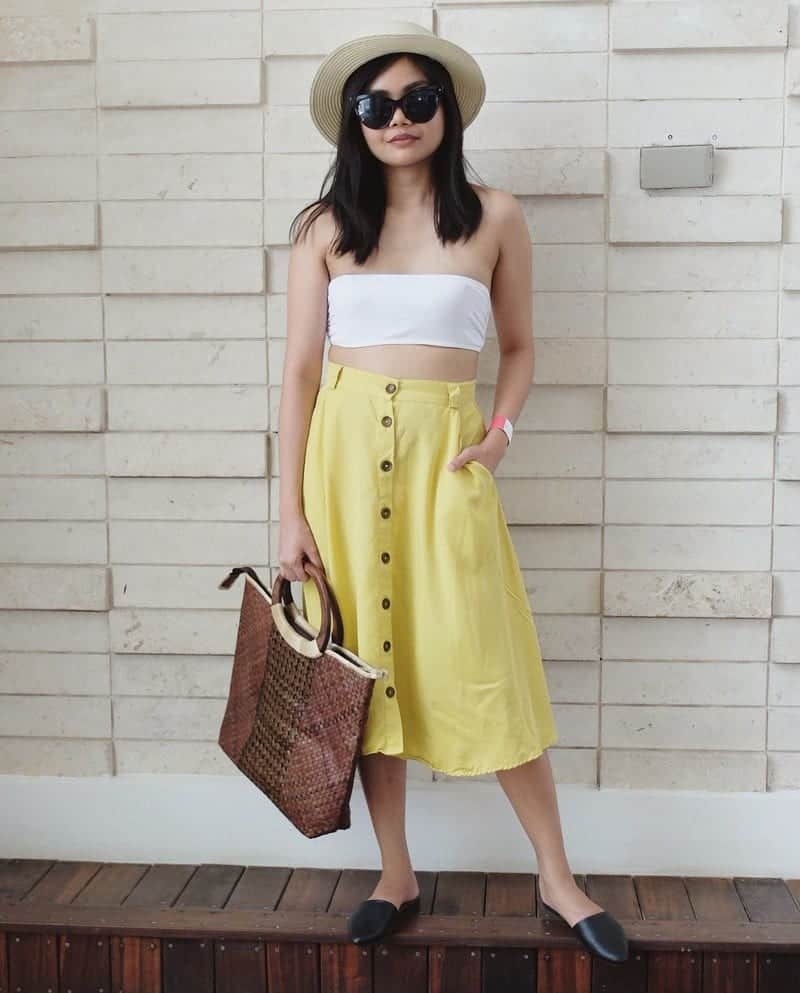 Source
#19. Double Breasted Skirt for Work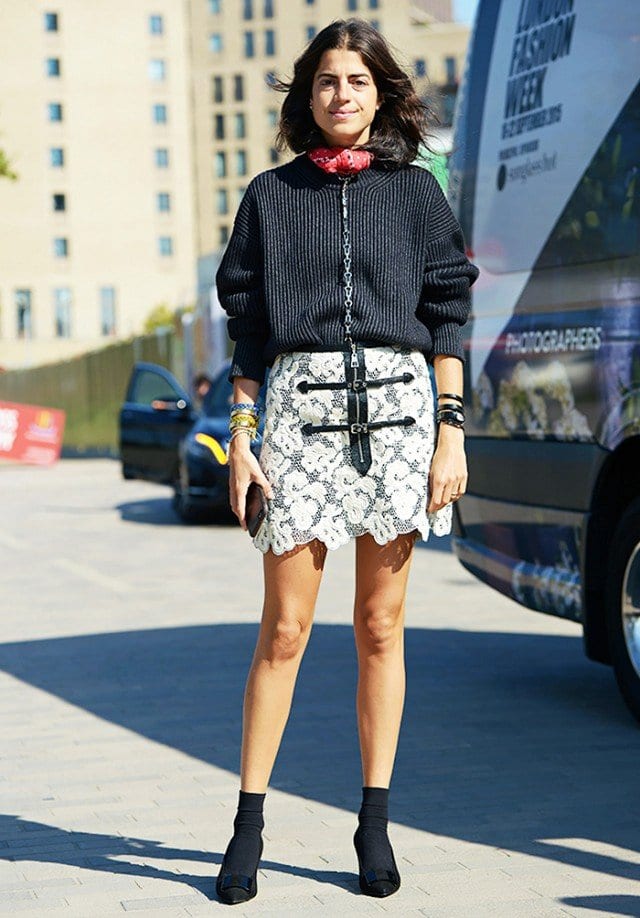 Source
Have a look at 20 Ideal Spring Work Wear Outfits For Women for Elegant Look
#18. Prissy Office Wear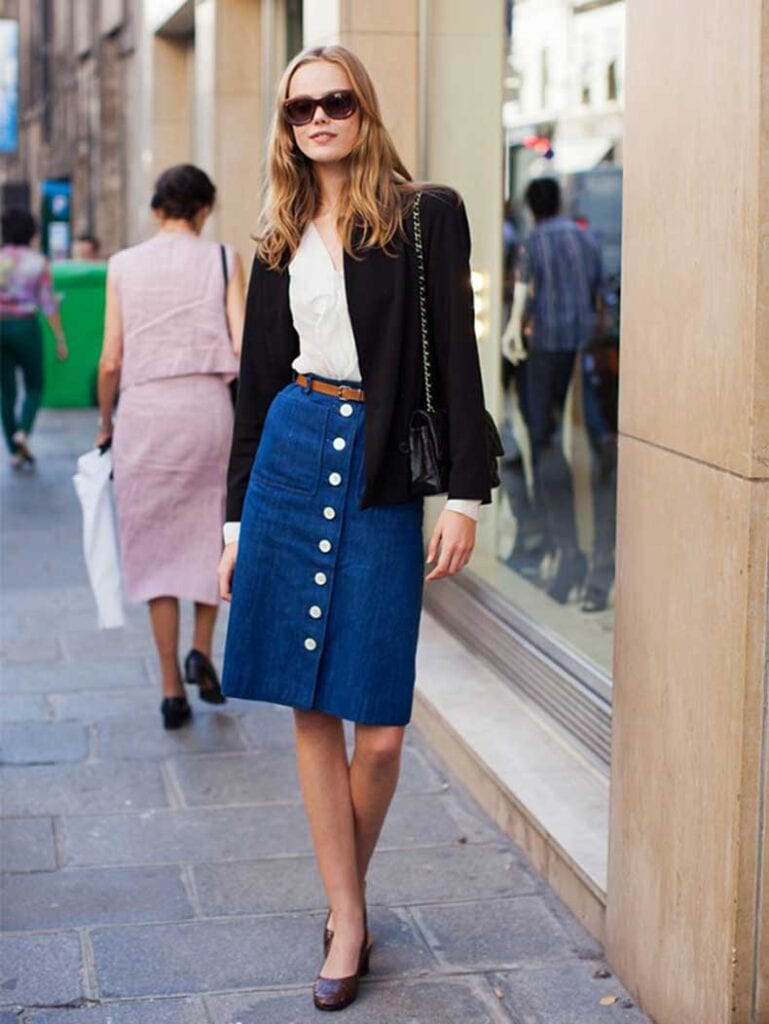 Source
#17. Dinner Night Fun Dress Code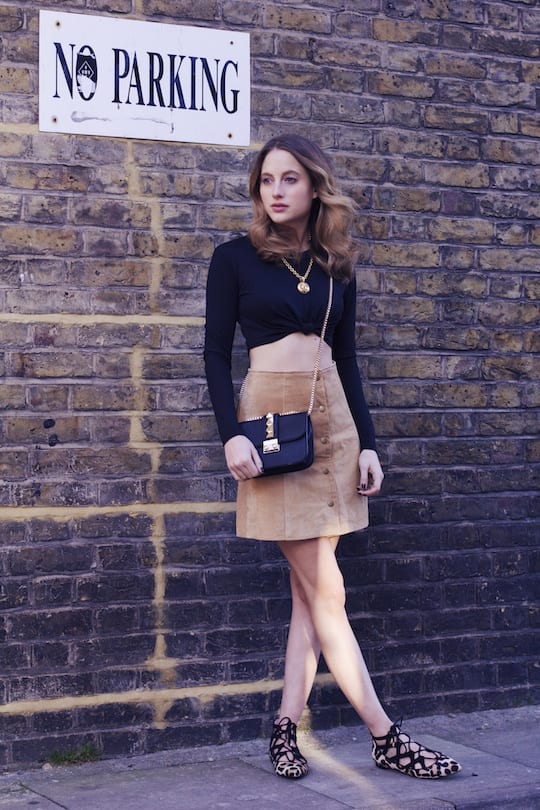 Source
#16. Teenage Swag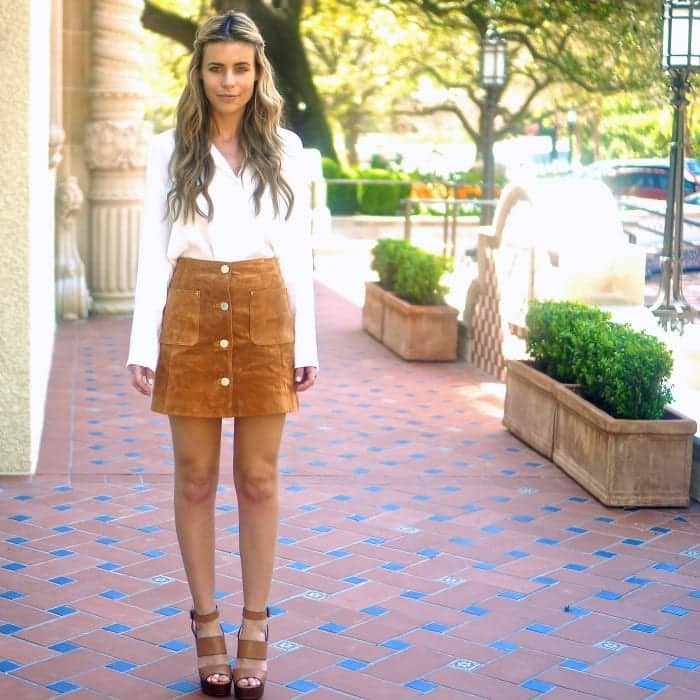 Source
#15. Full Length Navy Inspired Denim
Another great pick for summers in the mountains. Beautiful skirt in full-length with pockets paired with a washed off frayed edge top is perfect with a high pony tail and a long handle shoulder bag. Wear either white sneakers or sandals.. Metallic silver sandals will also look nice with the whole ensemble.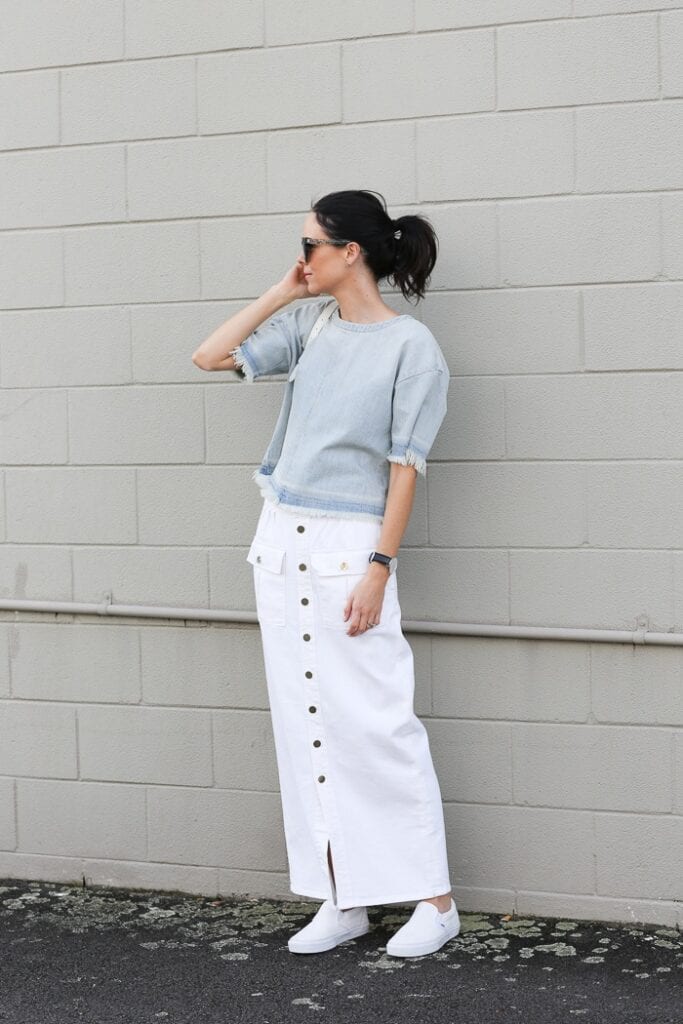 Source
#14. Prim and Proper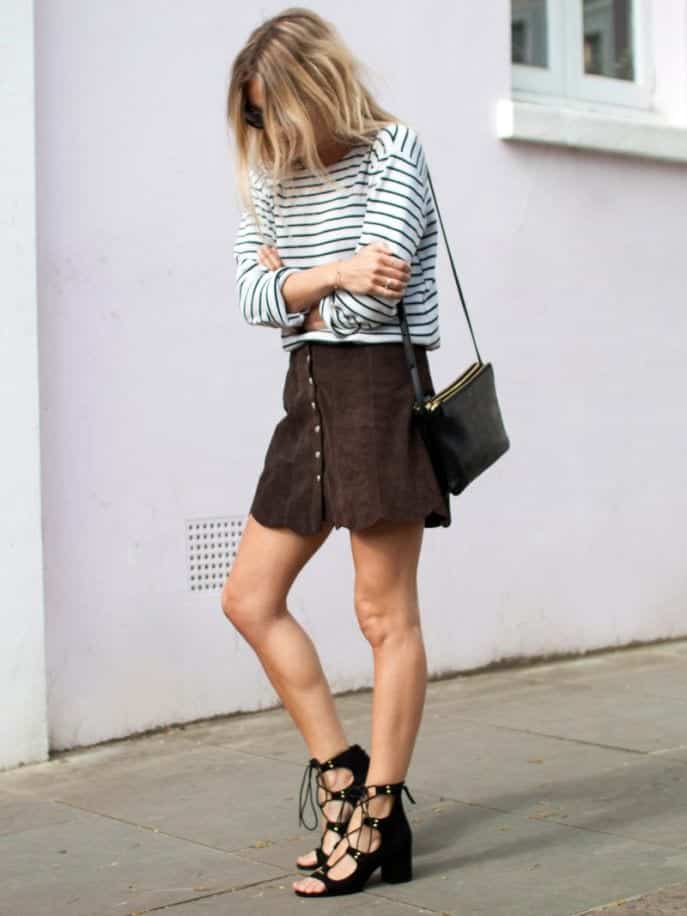 Source
#13. Ballet Shoes with Skirts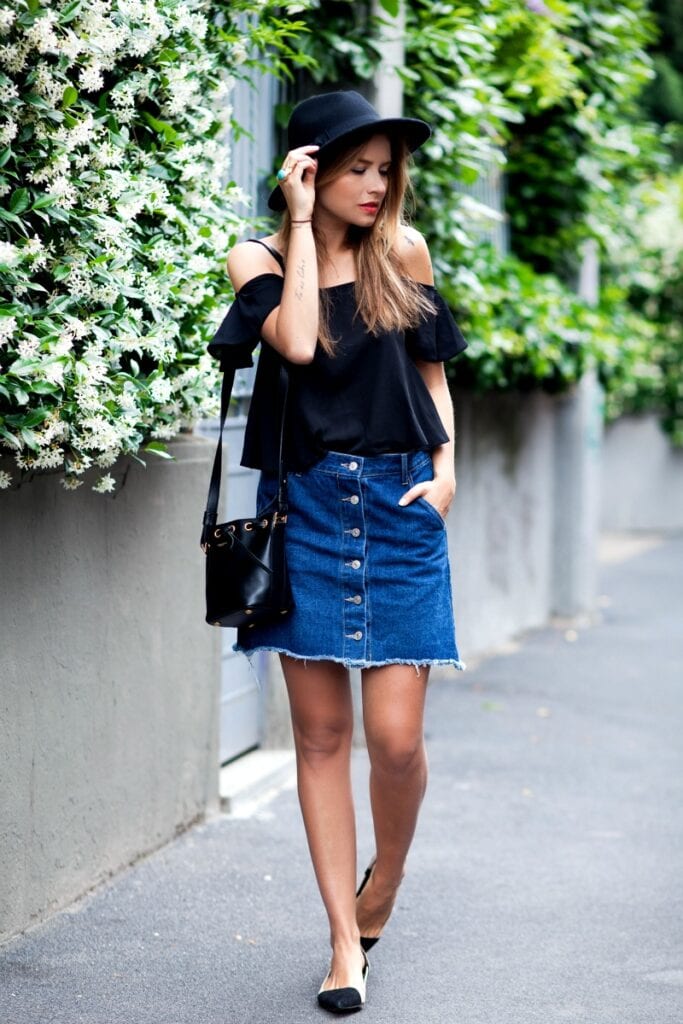 Source
Don't miss out 29 Cute Outfits with Lace Up Ballet Flats to Consider This Spring
#12. Voluminous Top Style
Off the shoulder top like this voluminous piece always looks  nice with a button front shirt as it adds the glam the otherwise plain outfit lacks. wear your strappy gladiators with this look.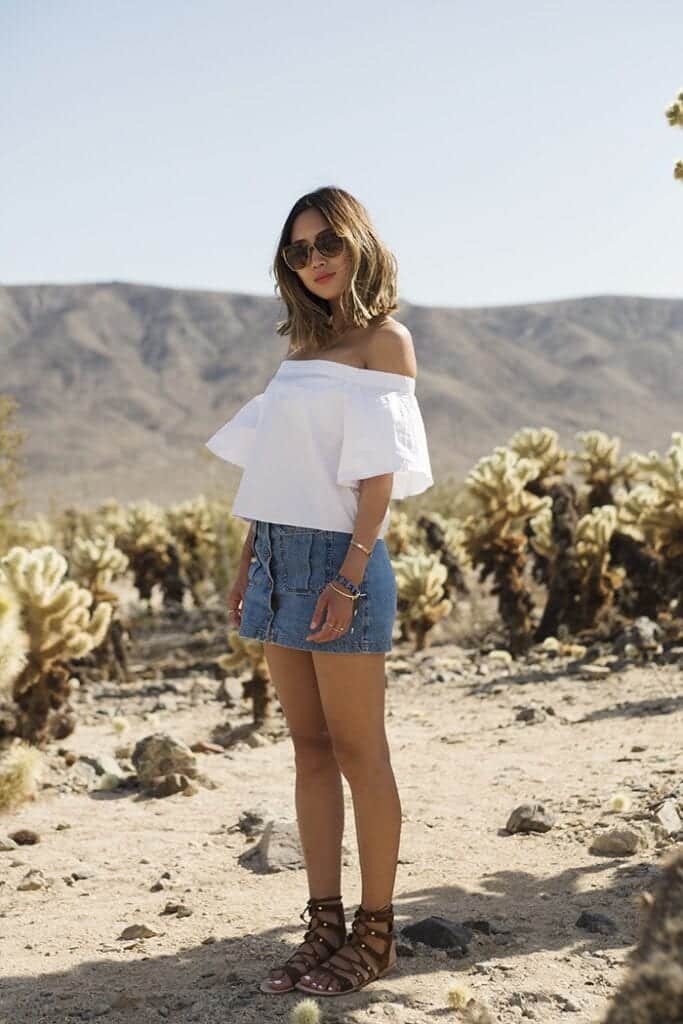 Source
#11. College Girl Look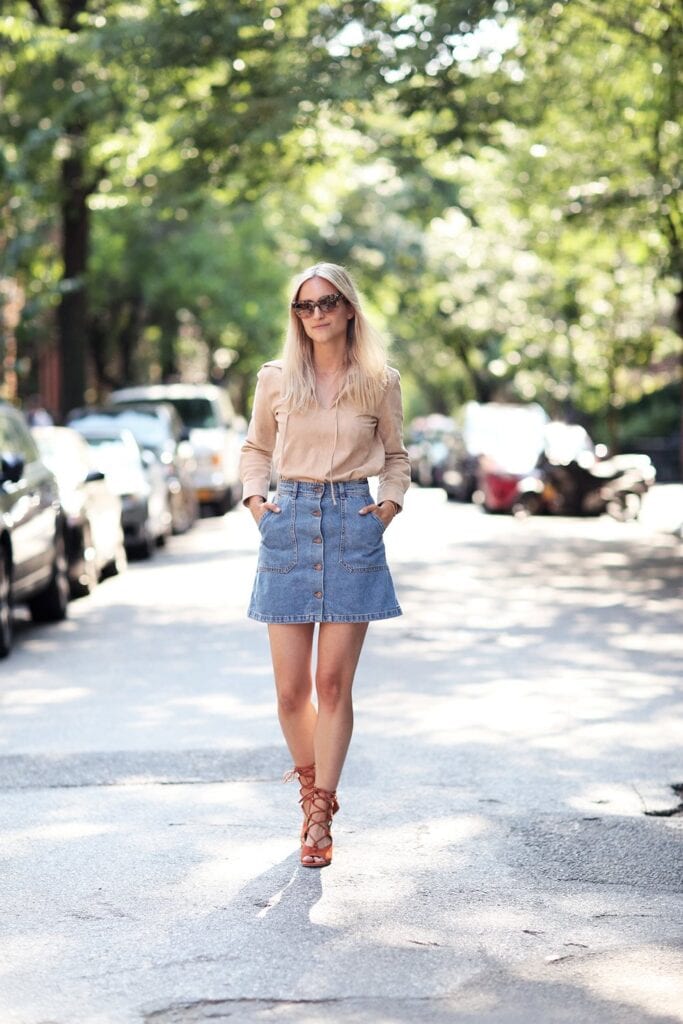 Source
#10. Smart Casual in White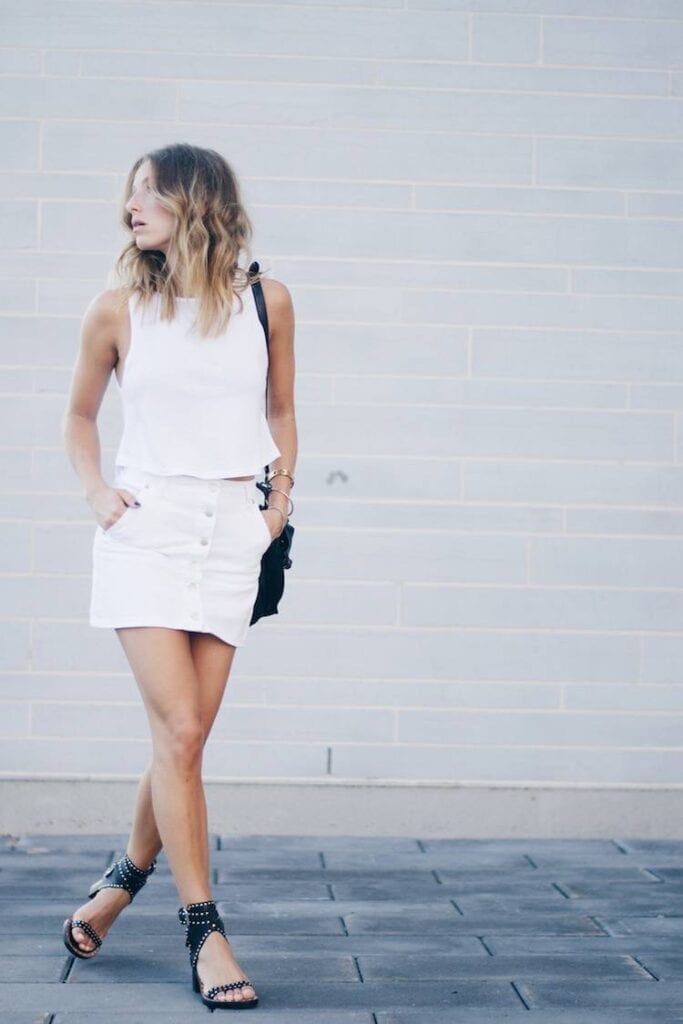 Source
#09. Sightseeing in Style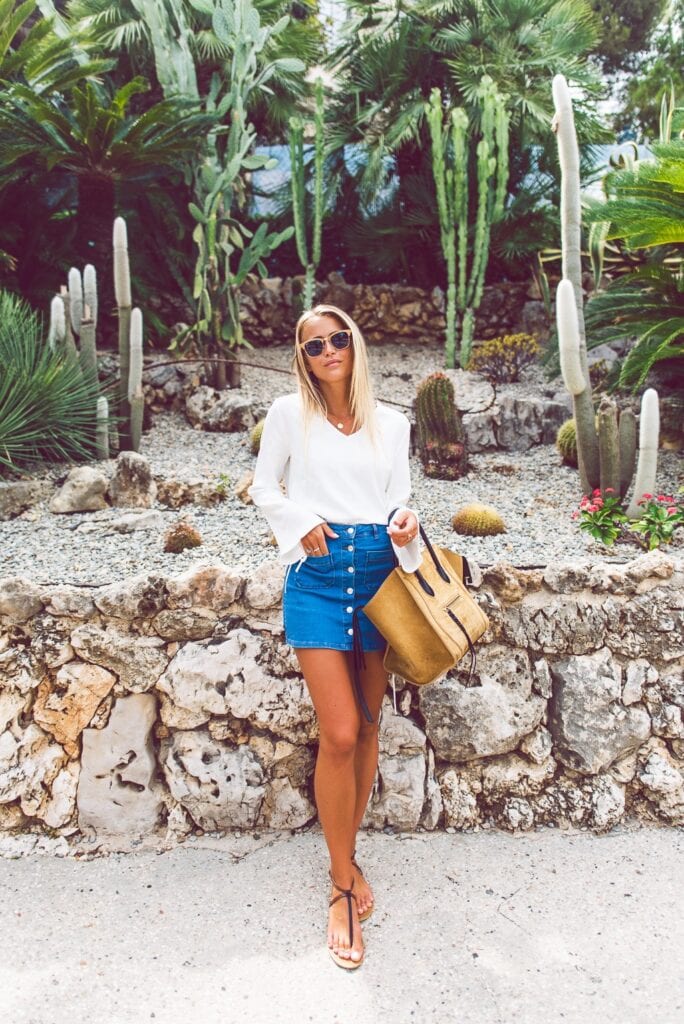 Source
#08. Country Concert Outfit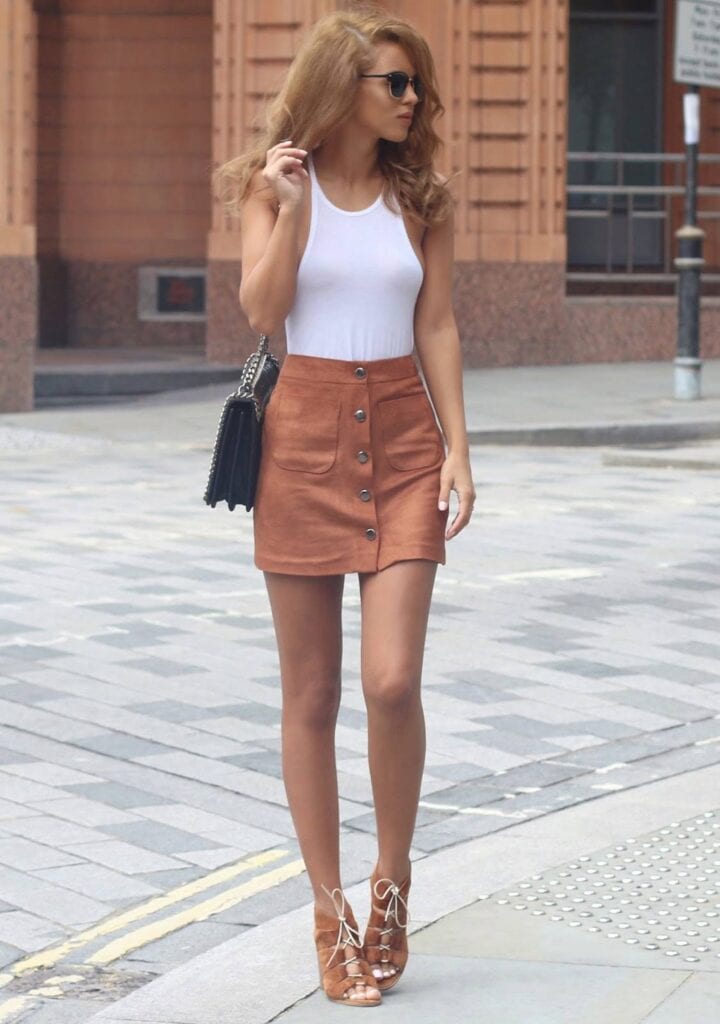 Source
#07.Girl's Night Out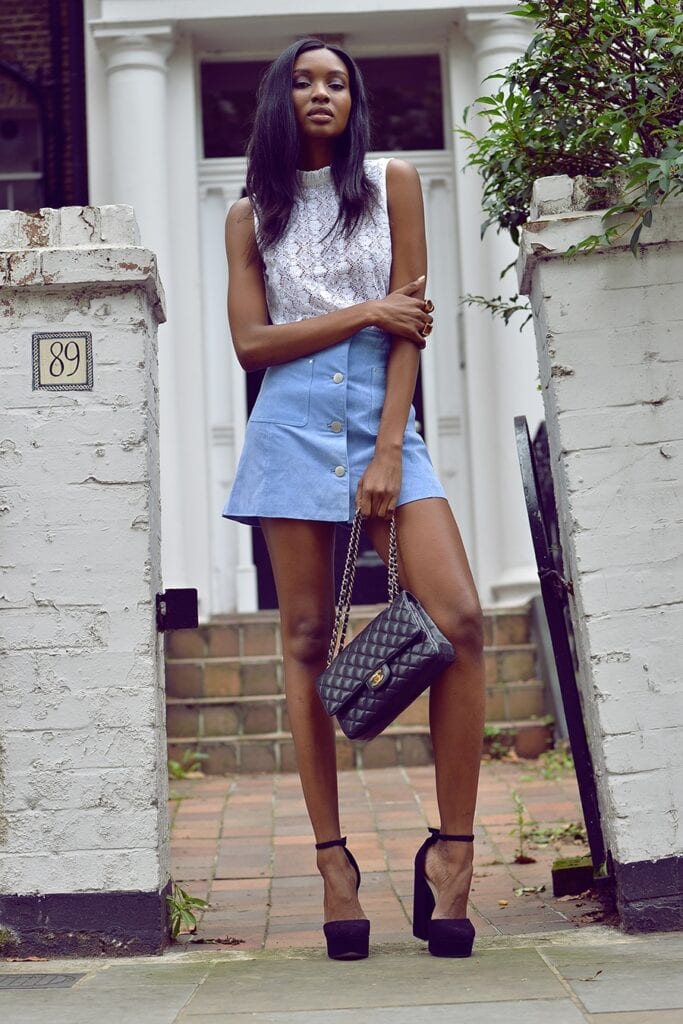 Source
#06. Business Dinner Look
Office wear never looked better than this for the winters.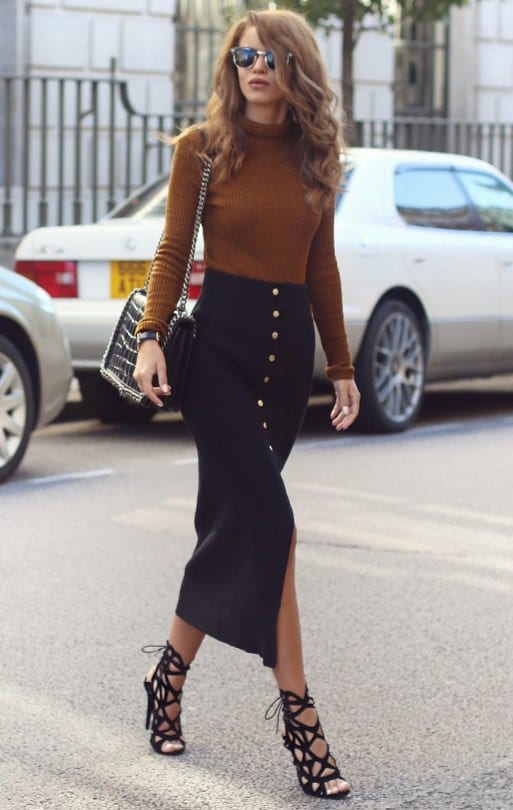 Source
#05. Sporty Look with Lace Top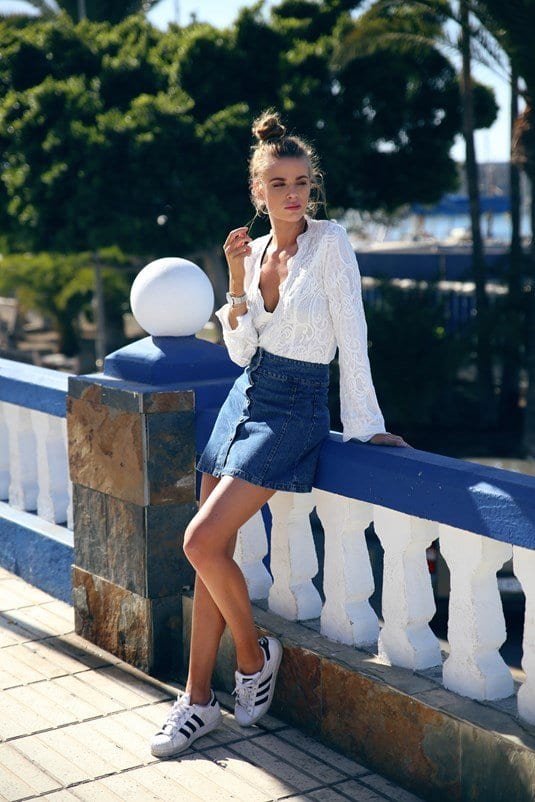 Source
#04.Winter Glam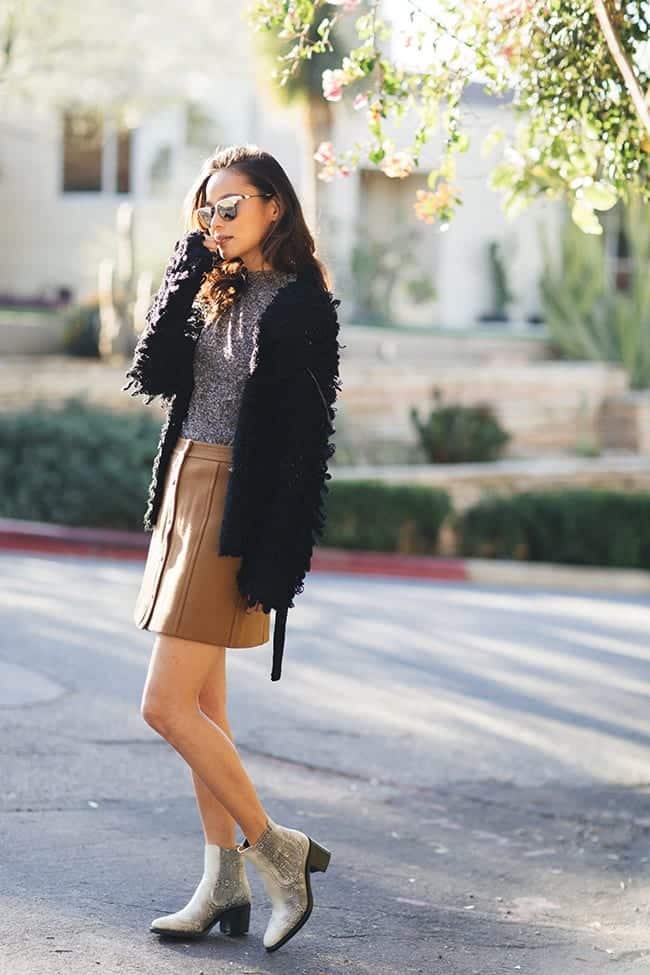 Source
#03. Turtle Neck Styling Idea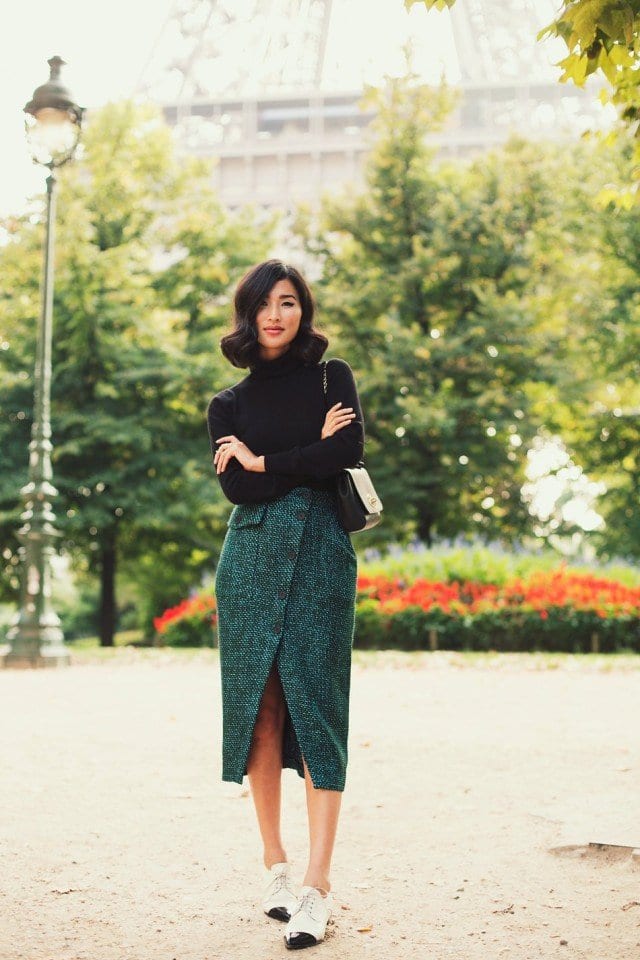 Source
#02. Bold in Summers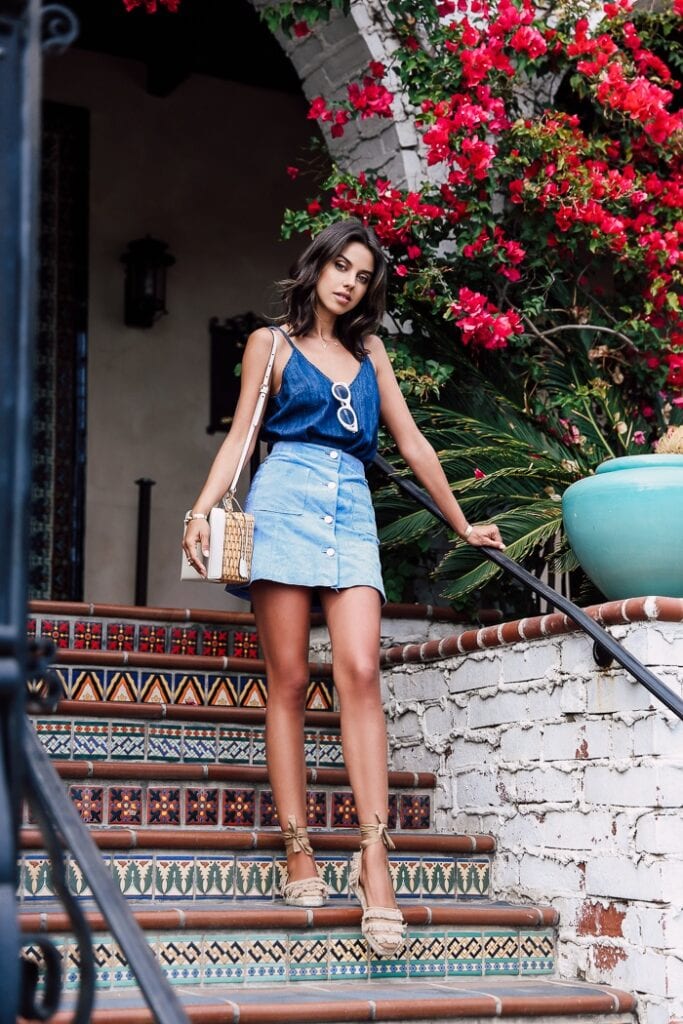 Source
#01. Plus Size Fashion