Terracotta Rust Outfits. Terracotta is considered quite a bold colour and can only really work in the right setting. This is one reason why some women would shy away from the colour. But if done correctly terracotta can make you look amazing as well as stand out from the crowd.
With its rustic feel, terracotta is ideal for the season of autumn. In keeping with the stunning golds, browns, yellows and rust tones of autumn, terracotta takes the top spot for best colour tone to wear. This does not mean that it should be avoided the rest of the year. In spring and summer terracotta fits in nicely with gorgeous flowers and the bright colours that everyone loves to wear at these times of year and even some beach wear looks stunning in this colour. In winter terracotta is a great colour to wear to get you noticed against the crisp white and sparkling silver of snow. This post has 21 ways that you can rock the rust! Have a look at the images below and create your own unique terracotta ensemble.
Ideas How To Wear Terracotta Dresses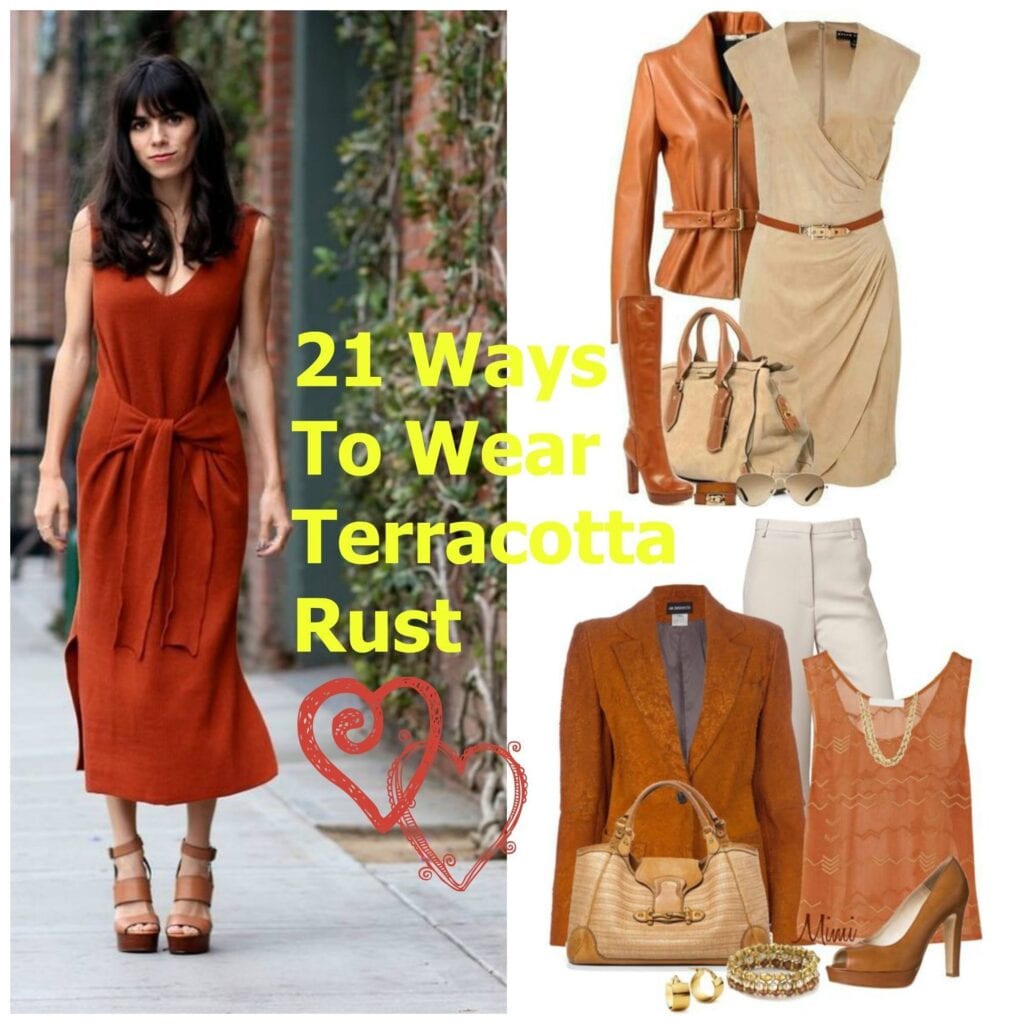 RECOMMENDED:[highlight] Pleated Skirt Outfits – 23 Ideas How to Wear Pleated Skirts[/highlight]
 #21 – Spring Boho Style. Use a crochet dress over an opaque dress for a warmer and more solid look. White cardigans are a simple essential that should be in every girls wardrobe.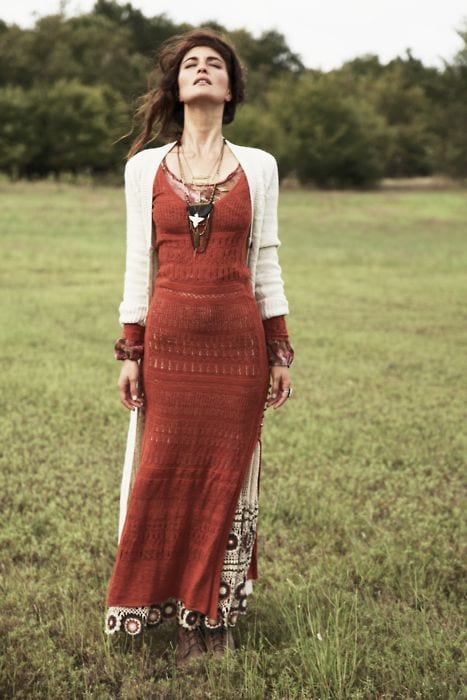 via
#20 – Summer Terracotta Combination. Sheer terracotta top, denim shorts. Accessorise with animal print bag and gladiator heels for a great summer style.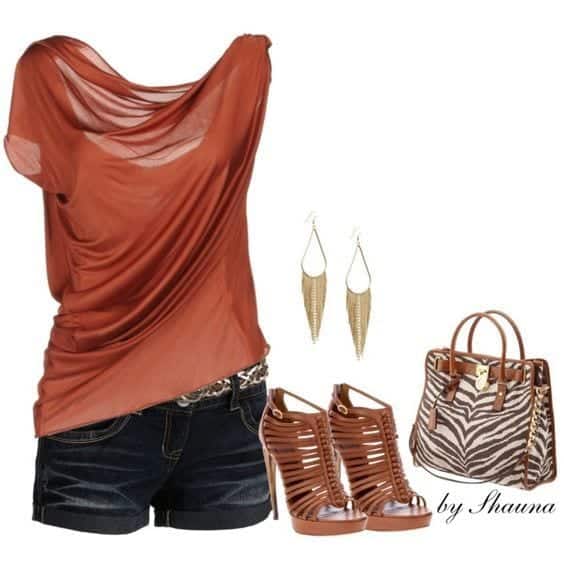 via
#19 – Autumn Terracotta Style. Terracotta tone leather jacket over a beige suede feel dress. Accessorise with handbag and terracotta or brown knee high boots.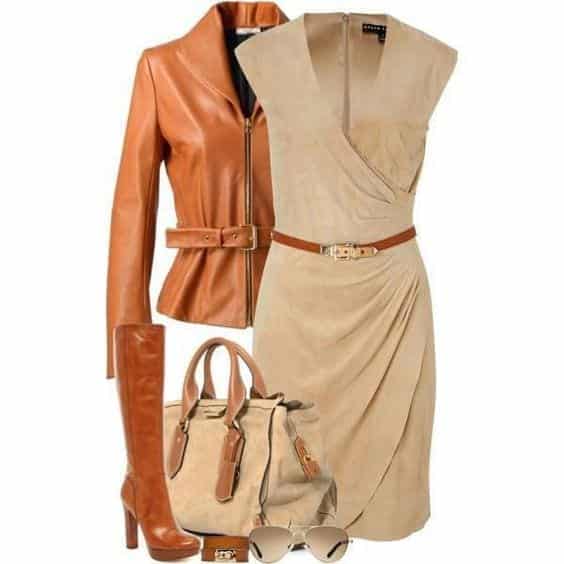 via
Also have a look at [highlight]13 Most Fashionable and Stylish Tote Bags for Women[/highlight]
#18 – Summer Beach Combination. A stylish and simple ensemble with a terracotta toned tank top with accessories and flip flops.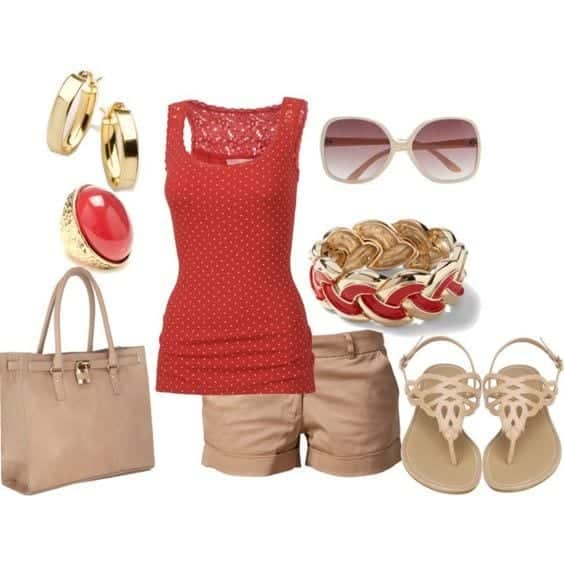 via
#17 – Classy Student Look. A fantastic look for the students using terracotta. Long sleeve blouse with black shorts and opaque tights. Why not finish this outfit with a pair of either black or terracotta oxford shoes?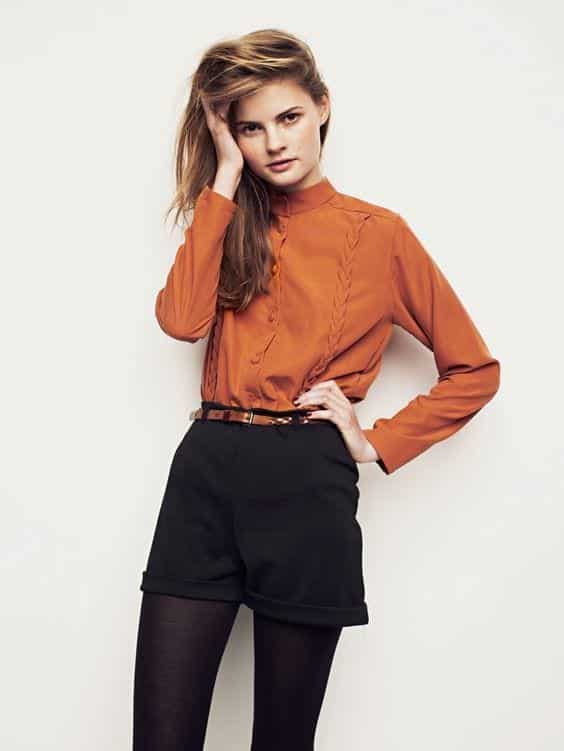 via
Don't forget to check out [highlight]20 Cute First Day Of College Outfits For Girls For A Chic Look[/highlight]
#16 – Sleek City Look. A gorgeous, sleek and sexy look for the city woth a terracotta jacket as the main colour feature.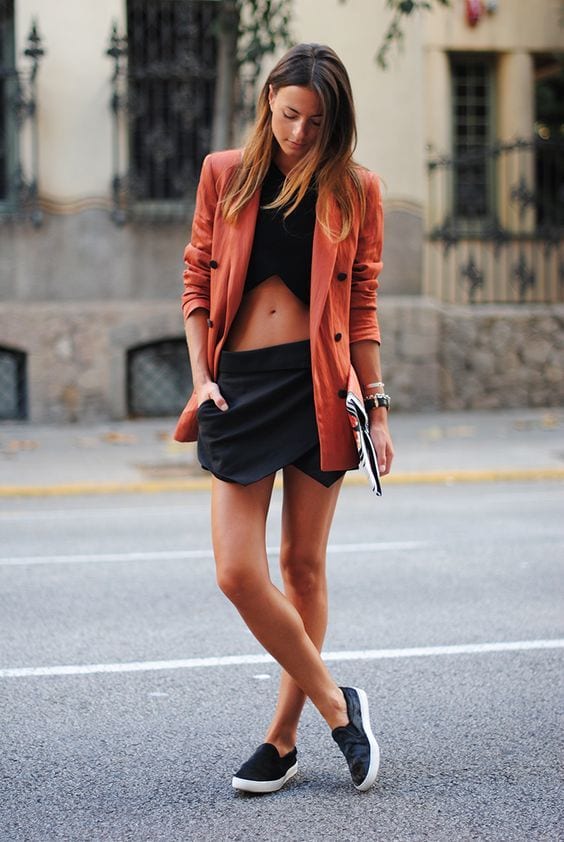 via
#15 – Quick And Easy Look. A cute terracotta dress with a simple tie at the front as the key feature. Solid and bold colour for a striking look.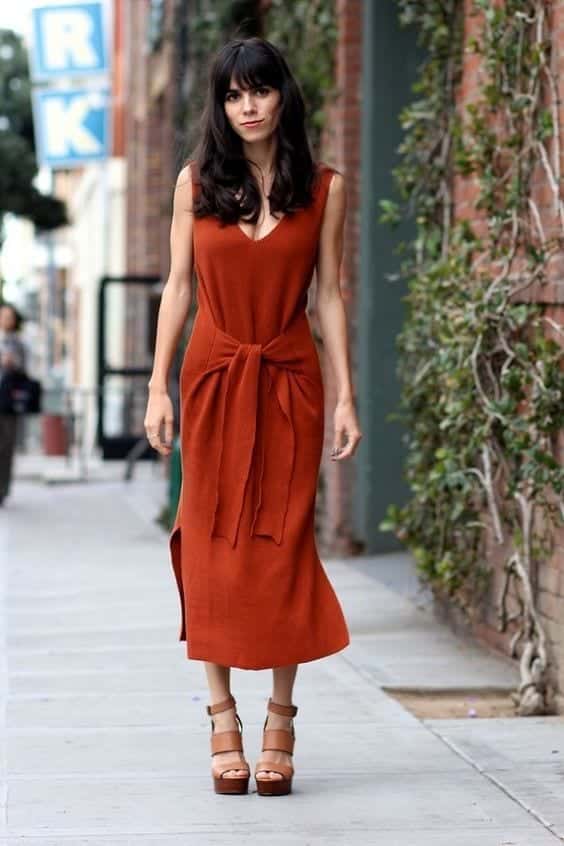 via
#14 – Terracotta Plunge Suit. A daring suit only for the brave! Plunge neck suit with white sneakers for a powerful look.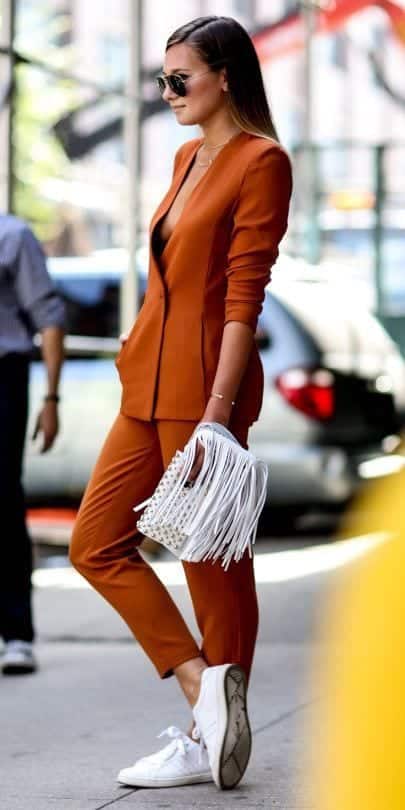 via
#13 – Simple Terracotta Jumpsuit. An easy style to achieve for summer and perfect for casual wear. Why not pair this with flip flops or sandals for a great beach look?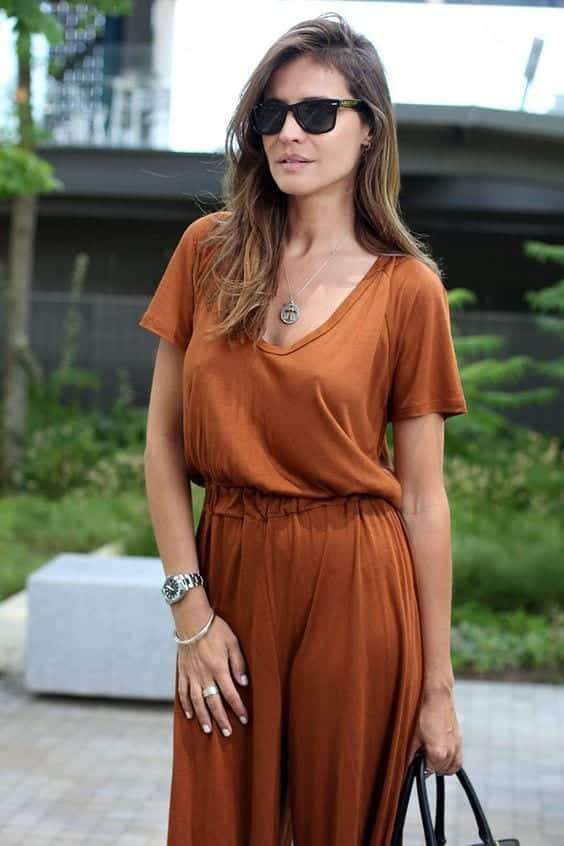 via
#12 – Terracotta Suede Skirt Suit. Stunning look for the business woman using terracotta. Suede is a soft fabric and the slit skirt and jacket give it a more formal look.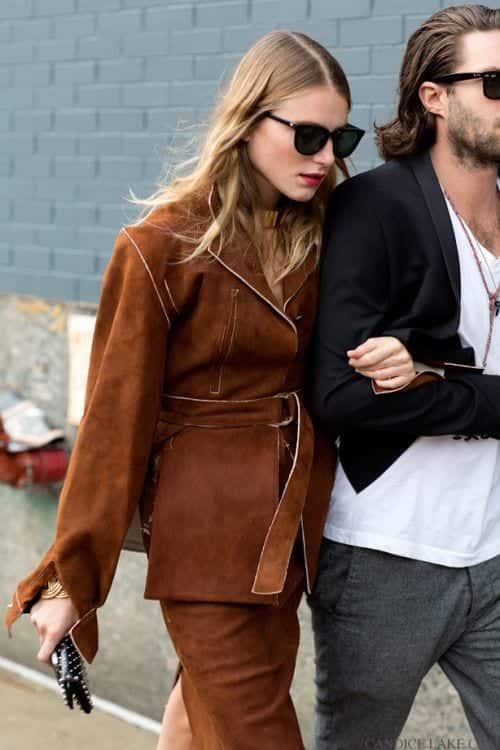 via
#11 – Winter Terracotta Style. Ok, so a short skirt in winter will be chilly, however, balanced with a thick woollen over coat and turtleneck jumper, this is a great style for this season.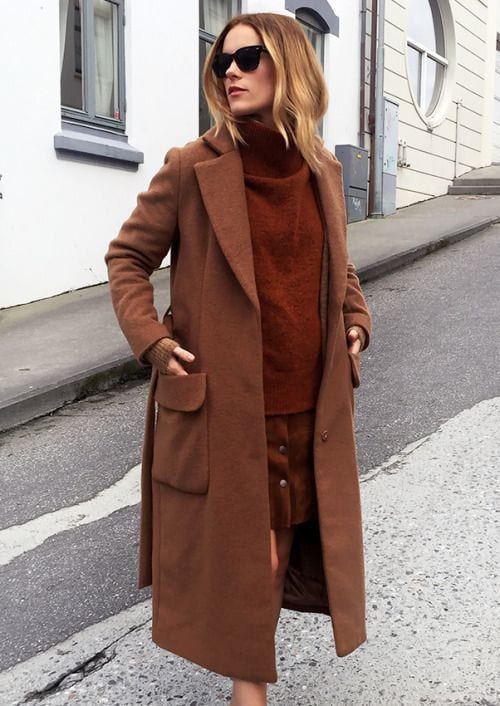 via
#10 – Casual Terracotta Combination. Quick and easy combination suitable for all women!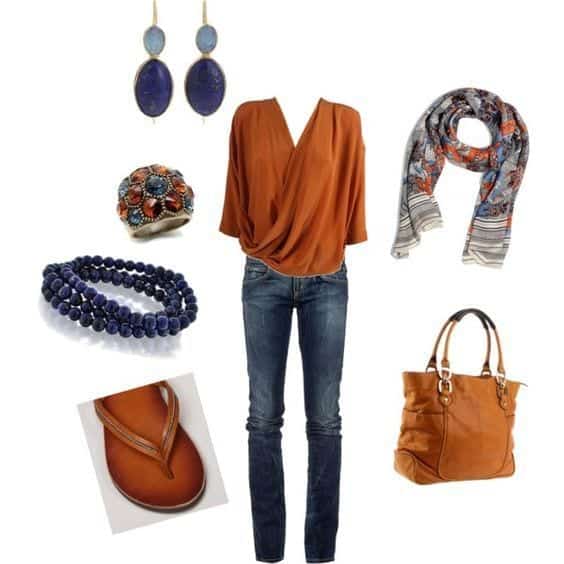 via
#9 – Summer Playsuit Look. Gorgeous terracotta playsuit. These are becoming more popular amongst young women so why not turn heads with one in bold terracotta?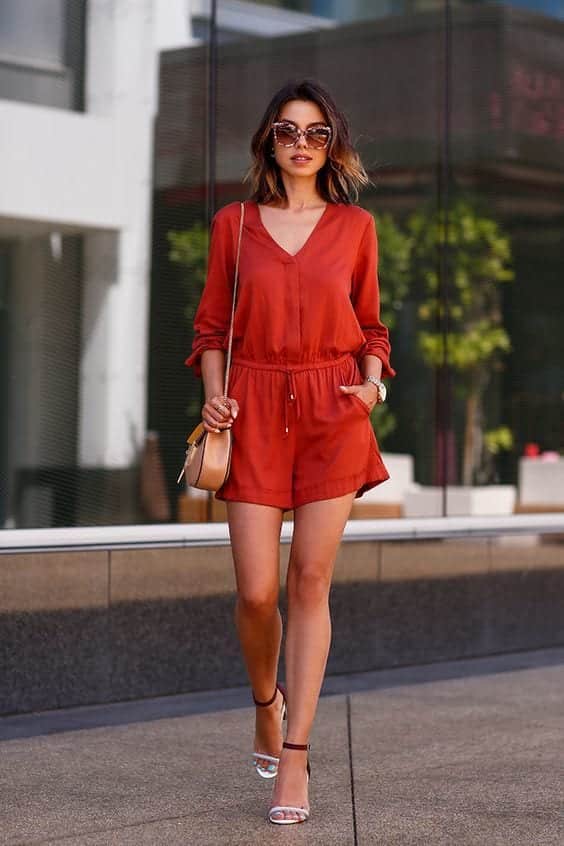 via
#8 – Thick Layered Winter Style. Mix and match layers for cold winter months. A terracotta duffle jacket over the top makes for a great focal point.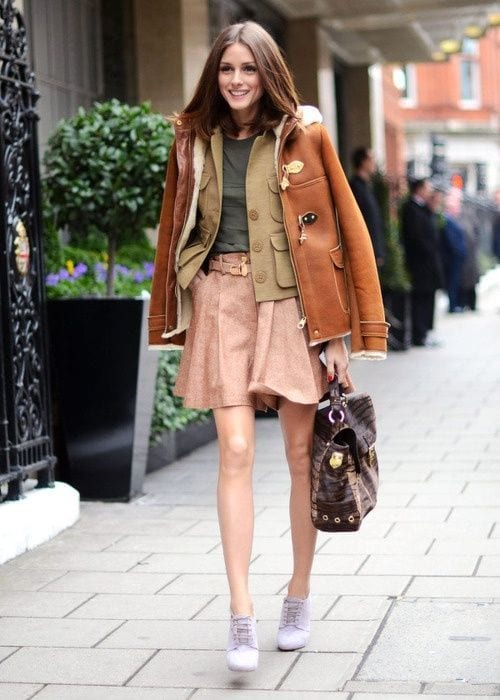 via
#7 – Smart Casual Combination. Stunning jacket with tank top and white trousers. A great look for smart/casual events or party evenings.
#6 – Chic Terracotta Style. A beautiful jacket complimented by a multicoloured scarf and trilby hat. Cropped denim jeans give a casual feel.
#5 – City Chic Style. Gorgeous terracotta overcoat with peach skirt and terracotta knee high boots. Black tops are a great contrast for a bold look and white is a great colour for a more subtle image.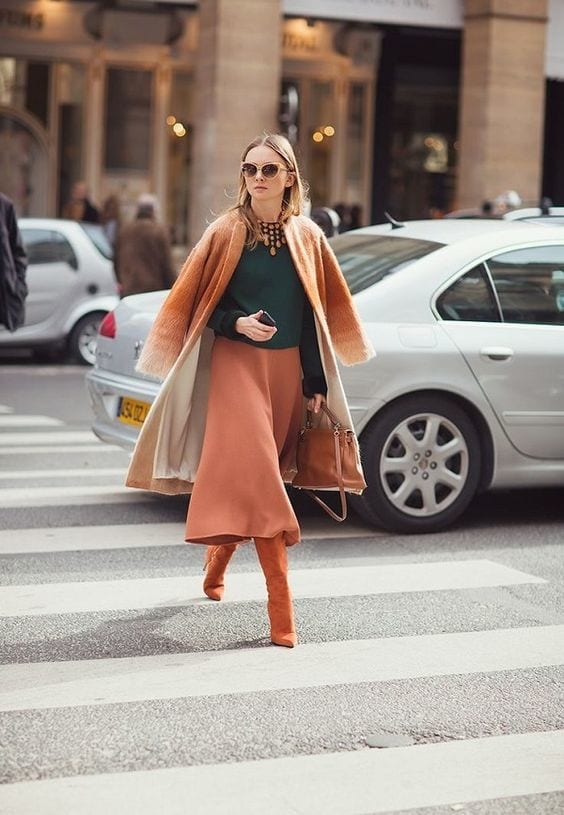 via
#4 – Terracotta And Camel. Bold trousers with bright buttons with nude tone blouse and camel tone woollen overcoat. A beautiful winter style.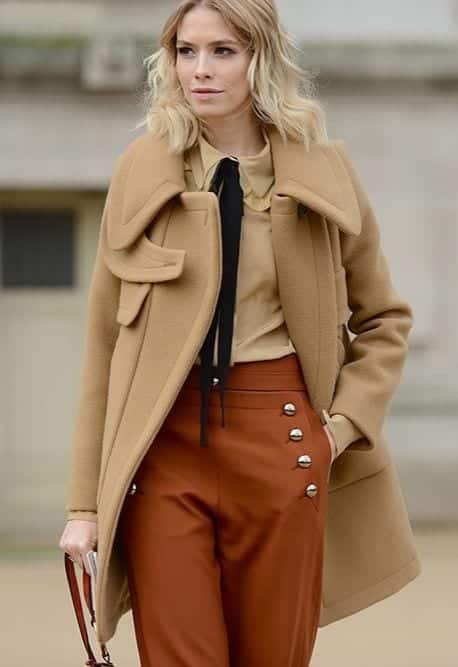 via
#3 – Leather Dress Outfit. Stunning terracotta toned leather dress. Multi-textured with belt. Perfect party wear.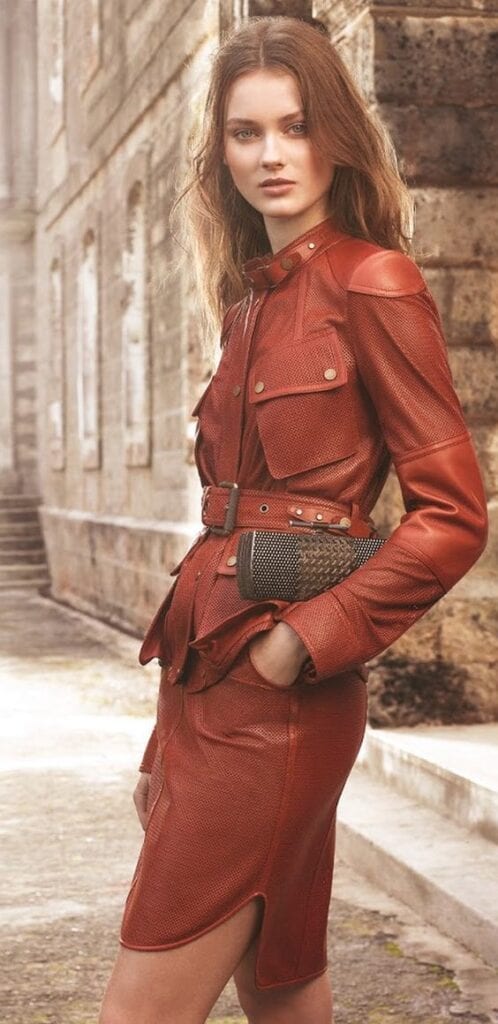 via
#2 – Simple Summer Style. Simple peach coloured dress or playsuit with terracotta jacket. An easy and effective style for summer.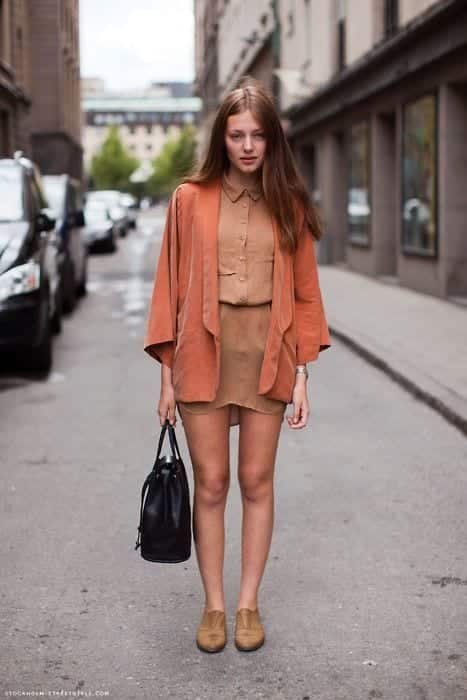 via
#1 – Crochet Weave Swimwear. Crochet terracotta bikini. Perfect for beach wear and beautiful feature tie at the centre.