Summer outfits for moms – It would be a dream come true for all mothers to be able to wear something comfortable yet stylish in the scorching summer heat.
Being a mom is not an easy job; being a mom while staying in style is a much more difficult task. But if you want, you can do anything! For instance, look as amazing as ever while carrying your child around!
It isn't easy to find summer outfits that are comfortable and also fashionable. Something that would fit with a trip to the park or running around with your kids. Everyone deserves a stylish makeover, from summer outfits for young mothers to clothes for moms in their 40s.
So this summer, embrace your inner child and spend time playing with the children. Here are some of your go-to stylish summer fashion for moms that you truly deserve!
Best Summer Outfit Ideas for Mothers
Finding stylish clothes for mom is not easy; selecting the right outfit and pairs and considering the comfort it would bring you is like running a marathon. The everyday struggle never seems to end!
Therefore, we bring you 21 summer outfits. Below are some ideas that would help you get stylish in this heat. Follow along and get that ultimate and get a plethora of summer-friendly outfits.
Tips and Tricks on Styling Mom-friendly Outfits
There are countless options mothers can find in the market for their summer outfits; all you need to do is keep these tips in your mind while looking for the perfect fit.
The colors should match, contrast or just look good together in general. Keeping the color palette in mind according to your aesthetics is the foremost thing you need to focus on.
Your casual shirt and shorts would look good if you wear cute jewelry that goes well with your look. For instance, add minimal bracelets and ear cuffs to complete your look.
A mother always needs to carry a handbag around. We all know how essential it is. This is why it would level up your whole look if you carried around a handbag that matches well with your outfit.
The summer heat would definitely make you sweat, especially with all the running around after your children. This is why it is important that you wear something airy, light, and comfortable for you.
Sneakers and sandals should be your go-to footwear, as they are comfortable and much easier to walk in compared to high or pencil heels.
And don't forget to try these looks if you're a soccer mom.
21 – Wear Polka Dots for This Summer
Beat the summer heat with this beige colored midi dress. Polka dots are the cherry on top, as your whole look levels up in the warm weather. You can easily carry your child around in such comfortable dresses and look stylish while doing it!
Your small one can wear something similar toned to match your vibe, as pastel colors look amazing in summer.
Wear some minimalistic jewelry and sandals that go along with the whole look, and you are good to go!
20 – Trendy Off-Shoulder Dress for Moms
Summers are not considered summers without a few pretty dresses. And why should moms miss out on this opportunity? Here is a perfect outfit for lunch in summer.
Wear a long blue dress, pair it with some sandals, and you will look as elegant as ever! Carry a handbag with all the essentials for you and your child. This outfit would help make you look like a wholesome and fashionable diva!
Add a hat to save yourself from the scorching hat. And how can one ever forget a summer hat to protect yourself from the sun's damaging heat?
Check out this post about What To Wear To Lunch In Summers? 20 Summer Lunch Outfits.
19 – Look Good in White on Your Summer Vacation
If you are a younger child's mother, wearing white is a task. But the color does look glamorous, so while you're at it, why not try something white for a day like this midi dress and look cute as ever!
Pair a comfortable shoe, let your hair down, and feel free in the wind.
White seems to be hard to take care of, but it's not really that hard. All you have to do is to be extra careful while eating food or feeding your baby.
In case you're looking for a white dress, check out the classy white bodycon dresses.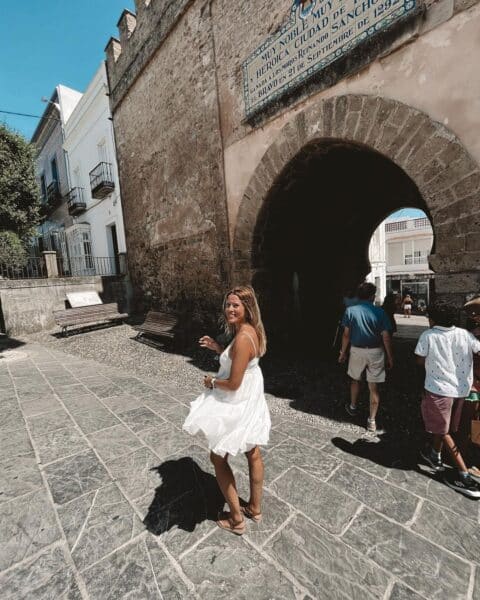 18 – What to Wear to Your Child's Birthday Party?
If it is your child's birthday or just you going out to a party with your family, you can always opt for a pink midi dress for a minimalistic look!
The baby pink dress looks graceful and stylish. Match your child's outfit with yours for an extra cute look! Let everyone look at you and your kids with awe at how super cute you guys look together.
Check out 20 Best Beach Family Photoshoot Outfits to Try this Year.
17 – Casual Summer Dress Outfits for Moms
Lighter shades of your everyday wardrobe look great in the summer season. Plus, they are stylish and breathable as well!
You can always put on a pastel-colored long dress and walk around with your child. Look good while strolling around in the greenery of the summer.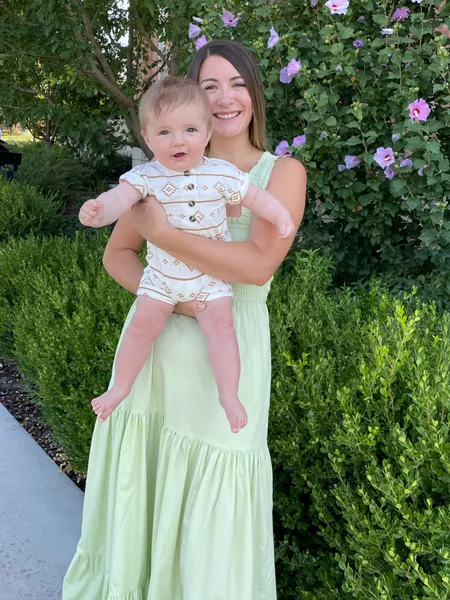 16 – Shades of Summer Green
Another shade of green to make you look good in the summer! As a mother, a flowy midi dress would suit you the best. It is airy and comfortable, so you can easily run around with your child.
Pair your dress up with some white contrasting shoes to make yourself more comfortable. Here are #16 Amazing and Comfortable Women Flat shoes/Loafers to try this summer.
15 – Beach Outfit for Mom-To-Be
Are you expecting a child soon and would love to visit the beach? Then sweat not; there are a plethora of options for you. In fact, why not flaunt your baby bump in a white ribbed dress?
Enjoy your day at the beach, and know that you look beautiful and stylish with your baby bump! I can assure you; that everyone will absolutely adore it.
Here are some more ideas on beach outfits when you don't want to wear a bikini.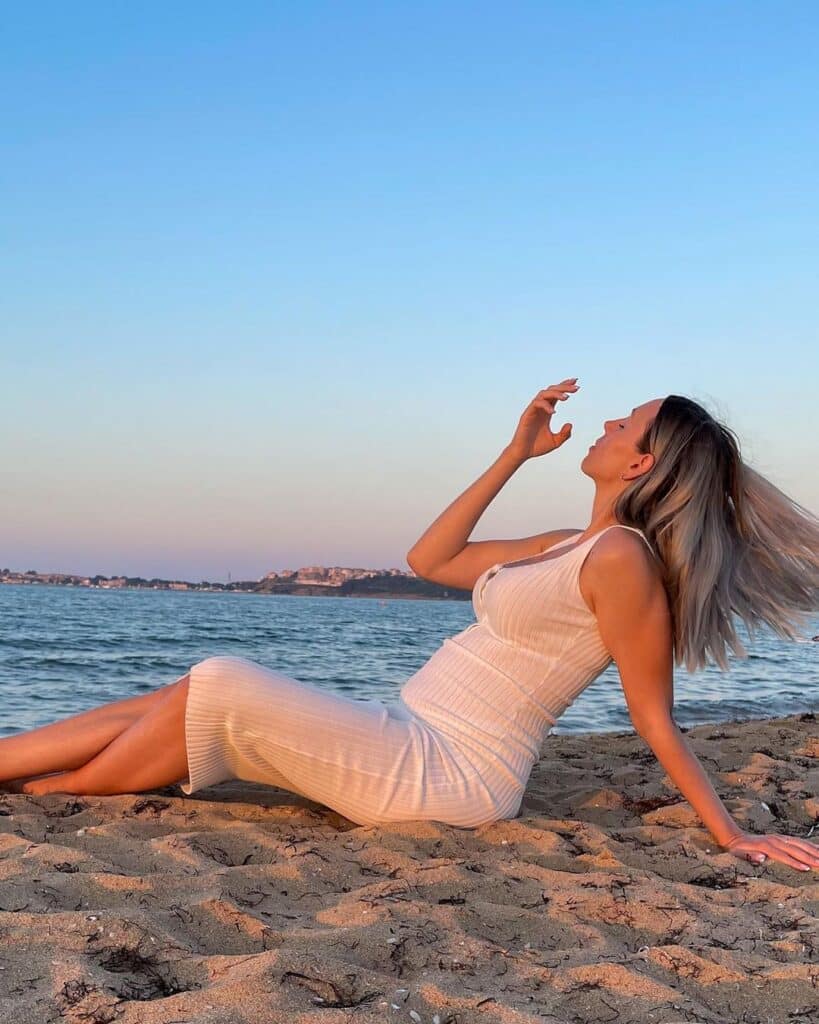 14 – Cute Summer Outfits in Nude Colors
Pull on one piece of a nude color to compliment your skin color for a causal day in the summer with your kid.
You can always match your dress up with your child to look picture-perfect any time of the day.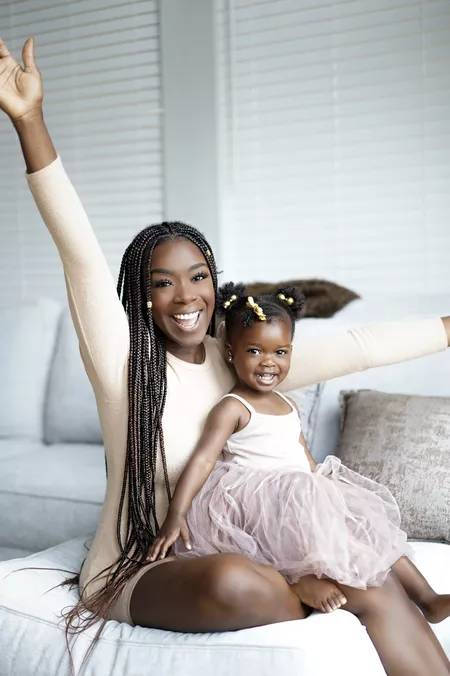 13 – Alluring Slim-Fit Dress Outfit for Young Mothers
Mothers can also pull off those alluring slim-fit cut-out dresses in the summers on special occasions or festivals with their children.
You will have a confidence boost once you pull this dress off, as it will make you look bold in all black.
Wear matching slippers and bags, and you will look as graceful as ever.
12 – Dress Up Pretty With Your Daughter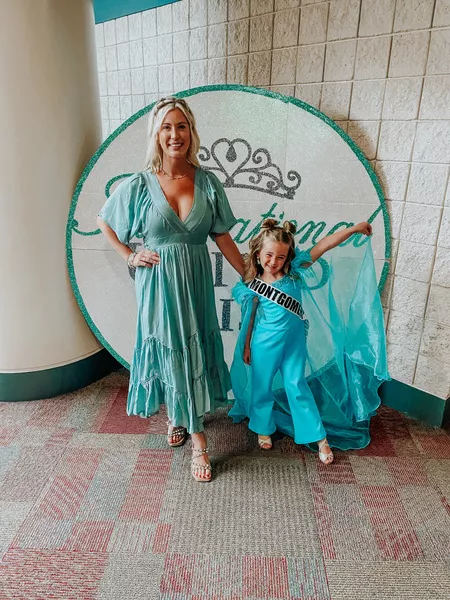 11 – Easy Work Wear Outfits for Mom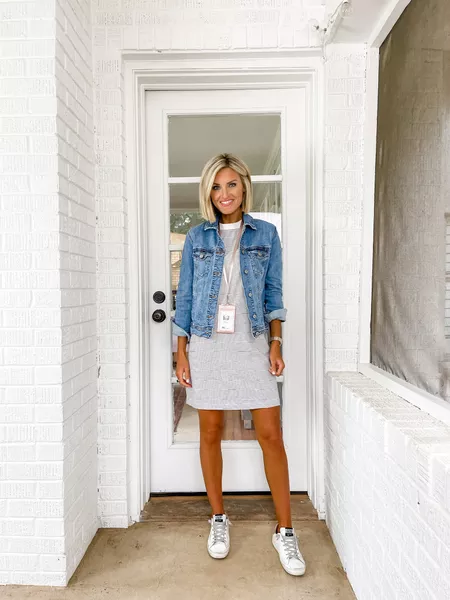 10 – Denim Shorts And Pastel Tube Top for Young Moms
Pastels and summer go hand in hand, and once you are able to pull off a pastel-colored shirt or dress, your summer will light up.
This summer outfit is for young moms. You will look classy in a pastel-colored tube top with denim shorts. If you are looking for denim shorts outfits, I highly recommend you to this post on 25 Cute Outfits Ideas to Wear with Denim Studded Shorts.
Put on some sandals, and you are comfortable carrying around your child and look good while doing it!
9 – Go on A Comfortable Stroll
Want to take your baby on a stroll and are not in the mood to dress up? Yet still, do you want to look stylish? Then worry not, as all you'll have to do is find a match!
Wear a matching shirt and shorts and tie up your hair in a bun to not get sweaty. Add your most comfortable matching sandals, and your whole fashionable look is ready!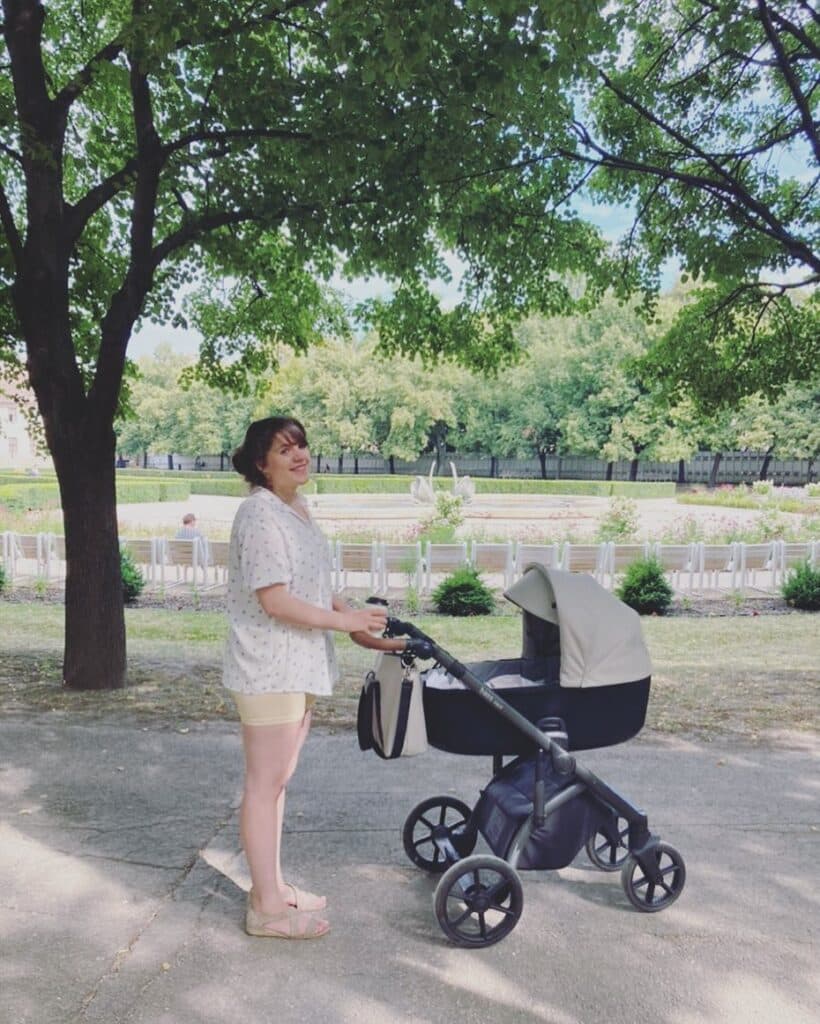 8 – Tank Tops And Denim Shorts Are Your Bestfriend
Blue is a cooler color that is perfect for the summer heat. If you are a mom of three or more toddlers and want something comfortable, you can always go for shirts and a tank top. Tank tops need to be considered comfortable and stylish as ever!
7 – Summer Outfits Ideas for Plus Size Moms
A t-shirt that matches your thoughts? What else would anyone need? Pair up a grey shirt with black shorts for a casual day out with your children.
You can always carry around a handbag for all the important things that you need 24/7 and put on some black matching slippers, and you are good to go!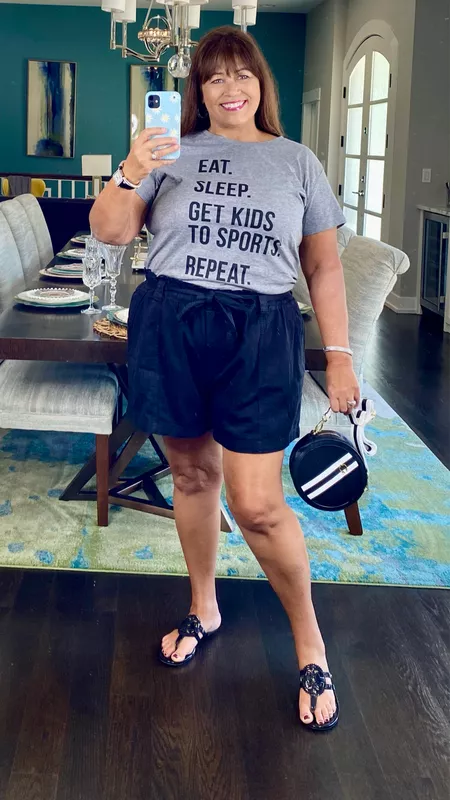 6 – Simple Look Never Looked This Good
Just put on some shorts and a white shirt, let your hair down, and you will look nothing less than a diva!
Get a cross-body bag and some matching sandals while you're at it!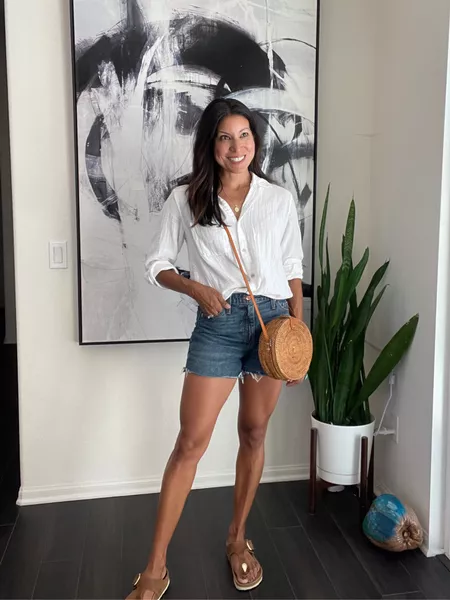 5 – White Top Outfits for A Day Out With Kids
White puffy shirts are trendy these days, so you should never miss out on the opportunity to wear one, even as a mom.
Pair your white puffy-sleeve shirt with denim shorts for the summer heat. The outfit is stylish and easy to walk around with your kids.
Put on some platform heels, which are much more comfortable than any other heels, and you will look classy as ever.
4 – Casual T-Shirts for A Trip to Parks
Pull on a graphic t-shirt and some shorts to look classy and stylish as a mom on a trip to the park or the zoo with your child.
Throw on a should bag to fit everything you need rather than carry them around in your hands.
Don't forget to carry around a paint of sunglasses to protect your eyes from the harmful rays of the sun!
3 – Trendy Mom-friendly Outdoor Outfits
A day out with your little one, and you have nothing else to wear other than your mom's jeans? Well, you can certainly pull this off too! Just pair them up with an off-shoulder top that matches well with the color of your jeans.
You can always go for something green and look classy! Match your outfit with your child's for that extra cute twinning look!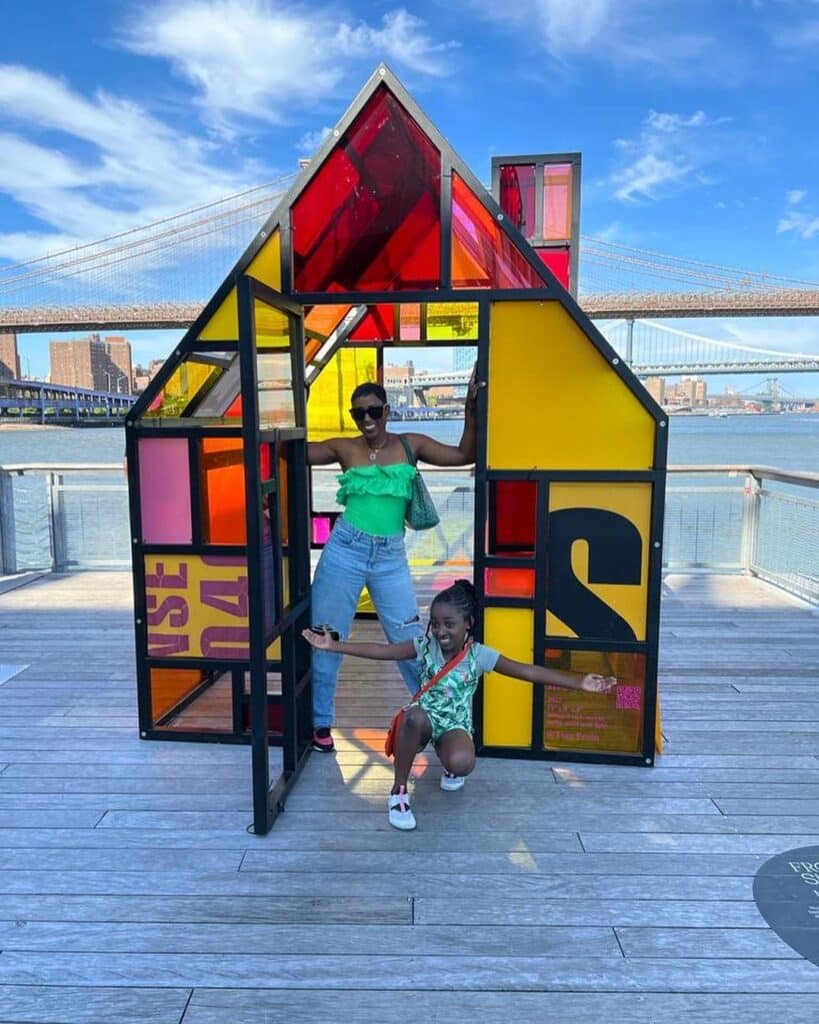 2 – How About Yoga Pants for A Beach Outfit?
If you are looking for summer fashion for moms and want to wear yoga pants to be as comfortable as you can be, why not?
Just pull on some contrasting yoga pants and a ribbed shirt that go along with the hot weather, and you are ready to take your child to the beach!
Pull on some white shoes that would help complete your whole look!
1 – Throw on Casual Jeans and Overalls
Heading out with your kids for a casual day out and not sure what to wear? No worries, we got you covered.
You can always wear an overall or jumpsuit for that casual yet stylish look! Denim overalls are fuss-free and stunning.
Frequently Asked Questions
Q. How can a mother look stylish?
Ans. Mothers can easily look stylish by wearing trendy outfits that match their aesthetics. For instance, you can pull off shorts, leggings, jeans, tank tops, and several designer shirts. You can also try dresses or overall; both of them are fuss-free and look great. You can also wear matching outfits with your children.
Q. What should a 40 year old mom wear?
Ans. Even if you are a mother in her 40s, you can find numerous fashion statement ideas that you can adopt, from white button downs shirts to designer colorful midi dresses and shorts. You can also try flowy dresses or skirts outfit. Age should never define your outfits. Here are more outfit ideas for women over 40 with styling tips.
Q. How do I make my mom not look frumpy?
Ans. You can always balance the proportions, swap their running shoes with trendy new slip-on sneakers, define their waists in flowy dresses, and get the correct sized tops and bottoms. Do not forget to accessorize the outfit.
Q. How do you become a glam mom?
Ans. A glam mother may be edgy, dress up or down, and can even live in sneakers and denim. There is no one style that defines a glam mom. You just need to have a confident look on your face, and you will look as glamorous as ever! You can try stunning dresses and co-ord sets for some amazing look.