Outfits to wear in January:  January means new beginnings, fresh starts and making a resolution. We have one resolution for you: look you best this year. Life is too short for boring clothes and dull wardrobe. Here are our top picks of the internet of outfits that you should try on the first month of the year to have a banging start.
 With the nights long, the weather cold, and fashion better January gives us a lot of chances to wear clothes that make us feel good about ourselves. It is the best time of the year for a comfortable yet chic fashion statement. It is finally the sweater weather. The weather when our Instagram feeds gets better with a picture of hot coffee, a good book and a pair of fluffy gloves holding them.
What to Wear this January for Women
With January and New Year comes the excitement of changing your wardrobe, replacing old summer dresses with quilted coats, tank tops with comfortable sweatshirts and flip-flops with a nice pair of thigh high boots. The shelves of your favorite stores are filled with new stock waiting for you to come and grab it. The new collections and clothes are something we all get excited over. We are given a new chance to fix our lives. We have picked a few outfits for you take inspiration from this January. You can mix and match or recreate the outfit it is totally up to you, though we always recommend adding a personal touch to everything you do so it feels like an original. The best thing about the sweater weather is that you can even make your pajamas look like a presentable outfit if you have a nice long coat to wear on top. You do not need to worry about ironing cotton shirts that take forever because winter clothes mostly do not need to be pressed. So, you can sleep in for a few more minutes in your cozy quilt (trust me, the feeling is heavenly).
Tips on how to look the best this January
The first tip of fashion is to wear something you are comfortable in. Never ever go out looking uneasy because it shows on your face and everyone will think that you are trying too hard.
Winters mean you can wear heavy make up. Bloody dark lips and contour on point is the look to go for.
Match your accessories (for example, your bag with your scarf or your gloves with the pom-pom on your beanie).
Invest in a good coat in a neutral shade that will look good with every article in your closet
This is the season for velvet. A slim velvet dress will cover for any party coming in to celebrate the New Year
And make your highlight pop like a sunray hitting the ice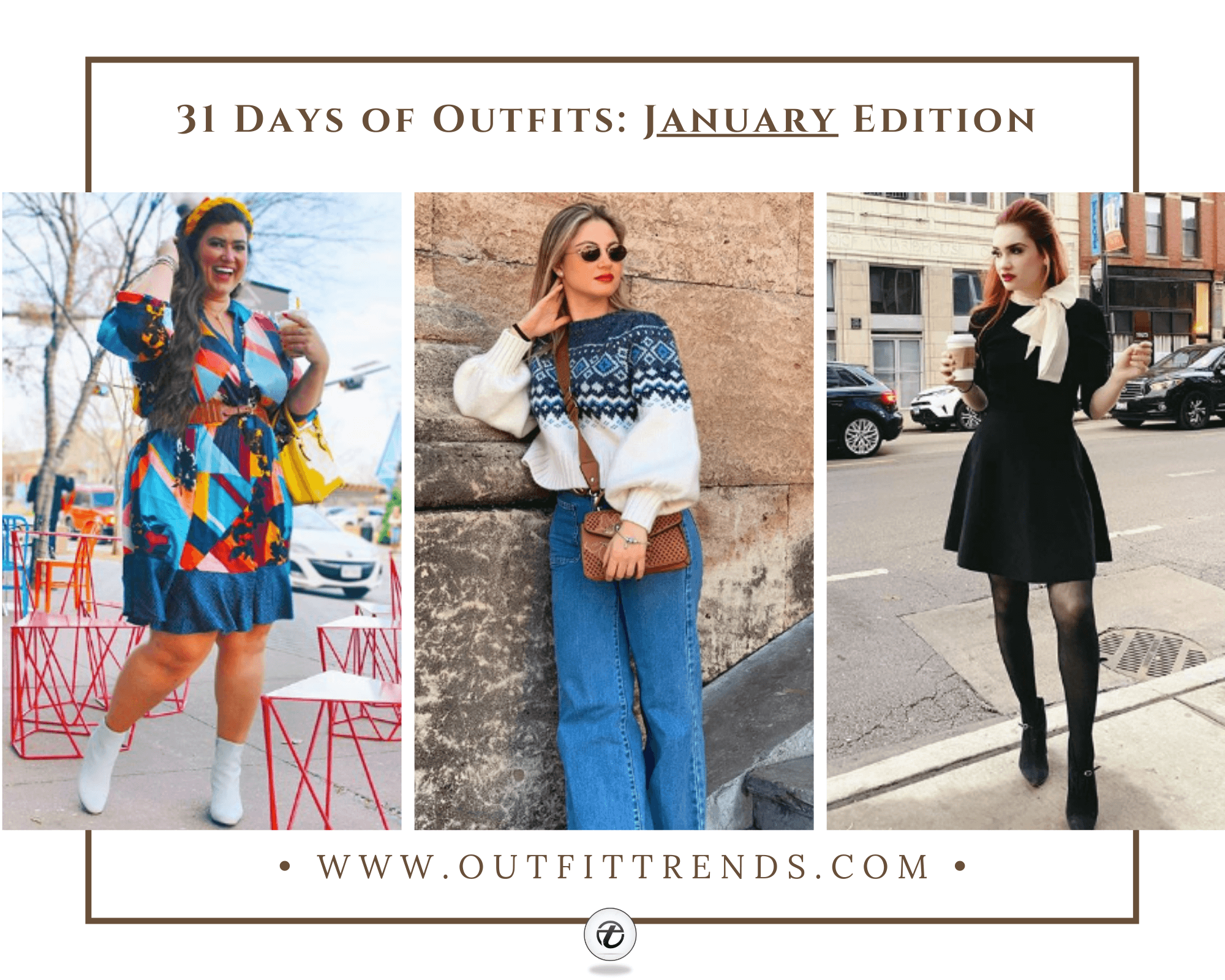 ↓ 31 – For The Rainy January Days
Many of us experience a lot of rain this month and for such dull days, I recommend adding a pop of color with your outfit!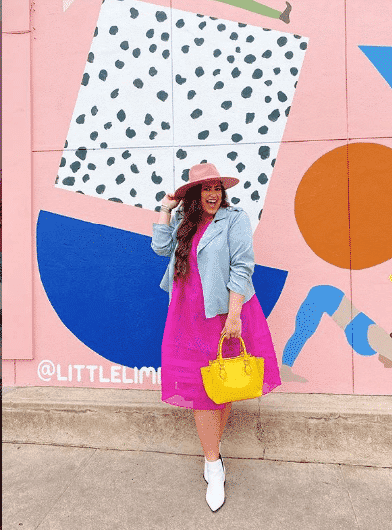 ↓ 30 – Faux Fur
Oh, the warm and soft feeling of fur. Wrap your neck in soft faux feathers this January to add bling to your outfit. You can even wear fur jackets and coats that give a sexy teddy bear vibe while keeping you extremely warm. If you feel like you do not want to go too overboard and keep it low-key hen some fur around the collar will work just fine. Here are some great ideas on Outfits with Faux Fur Coat.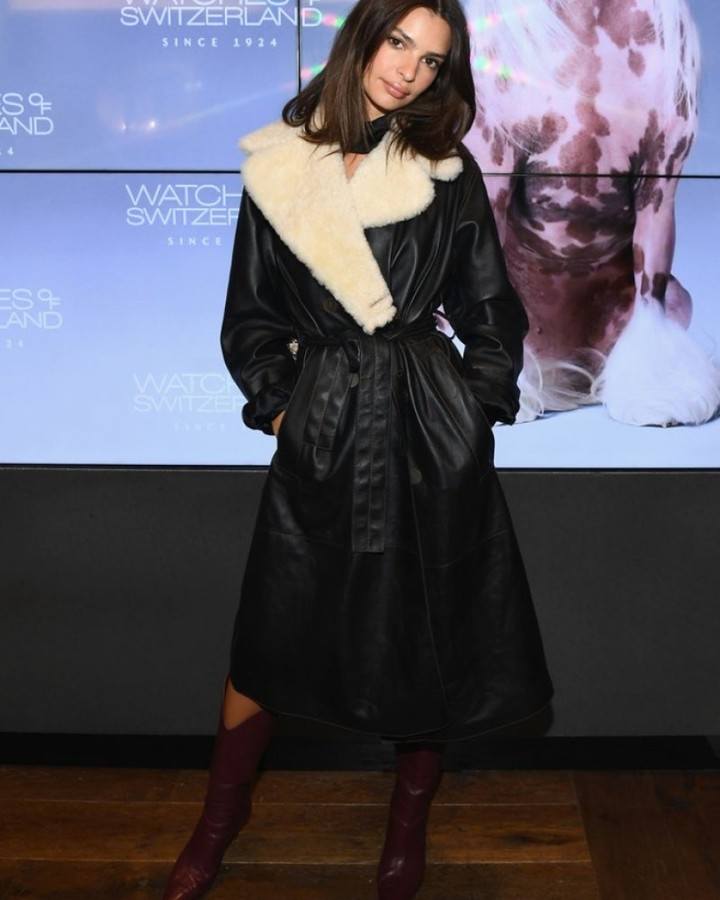 Via
↓ 29 – Hoodies
Hoodie season from November to March means these are our jumpers, our shirts, our dresses, our outerwear, our stay at home wear, everything. Hoodies' versatility is amazing. Mix and match your hoodies with articles of your closet to get different outfits. You can wear an oversized hoodie with no pants on, you can wear the same hoodie with blue jeans the next day. Replace the jeans with sweatpants and voila, another outfit. Play around with what you have to create different looks.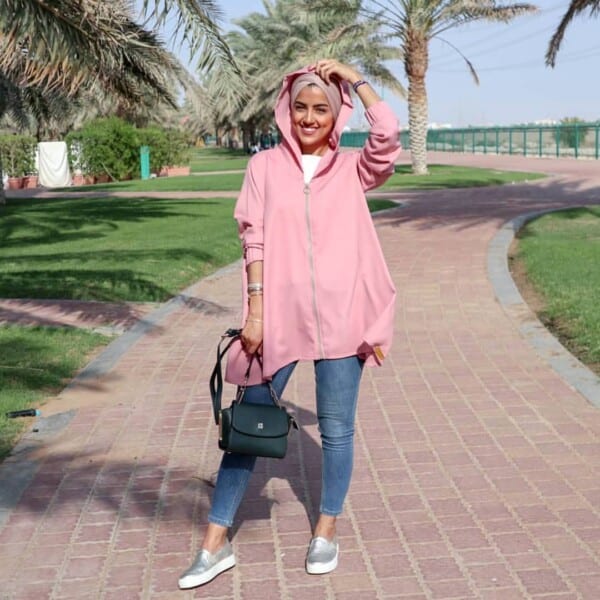 ↓ 28 – Comfort Wear
Who says sweatpants are only for your couch or gym? Their comfort is not parallel to anything else in the world and that's why we will wear it where ever we want to. Grey sweatpants have this magic in them that makes anyone look hundred times hotter immediately. You can match it with a tucked in a sweatshirt or a crop top for a careless look. Slide on your fur slides for a more sexy yet comfortable look.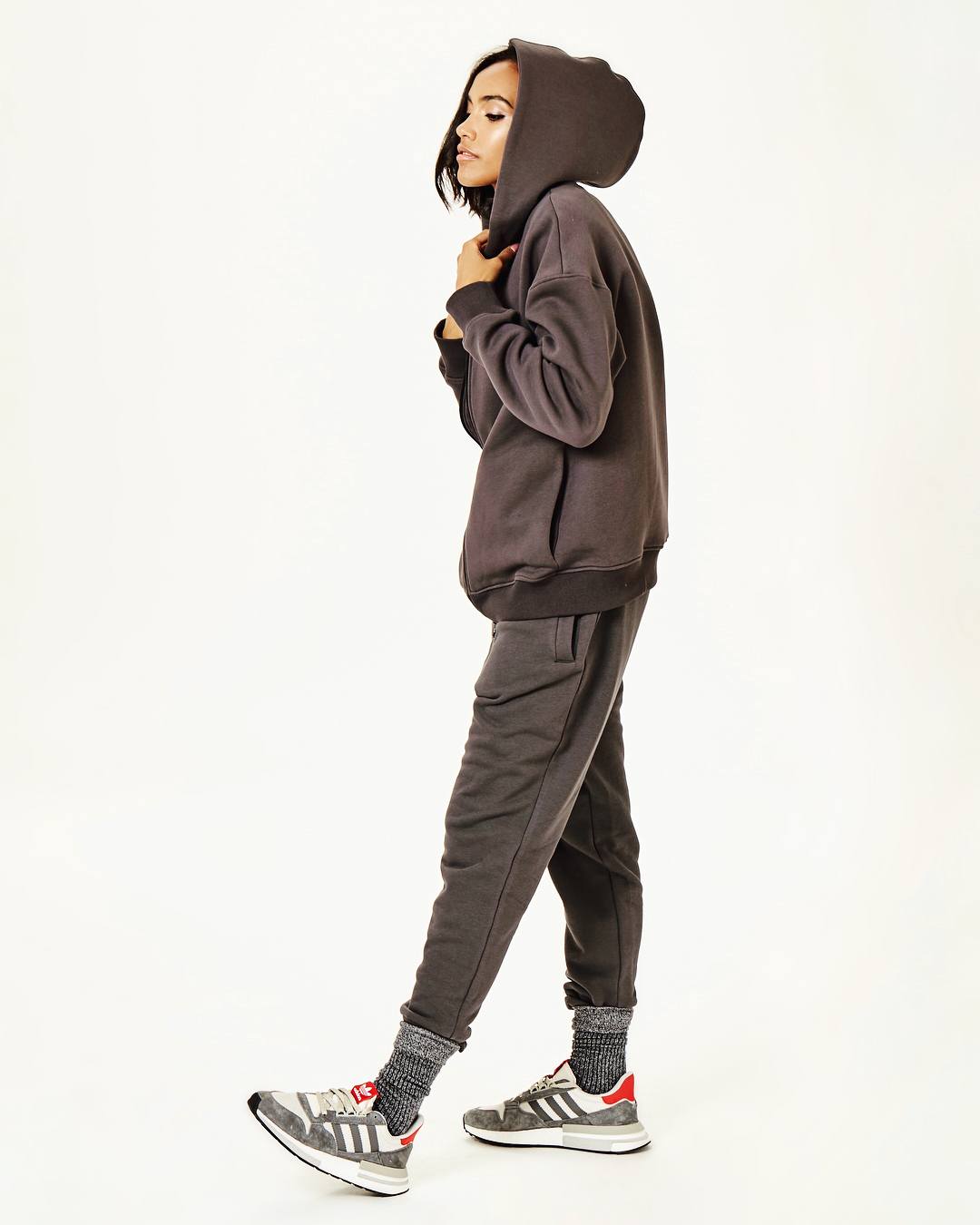 Via
↓ 27 – Trendy Tracksuits
Tracksuits will be the big thing this year. Don't be scared that does not mean that you have to be athletic. A trendy, flashy tracksuit with your make up on point will give the blend of casual as well as well-dressed look. Take Jeffree Star for inspiration (though, not all of us can afford Versace tracksuits as our everyday clothes we definitely can look for cheaper alternatives).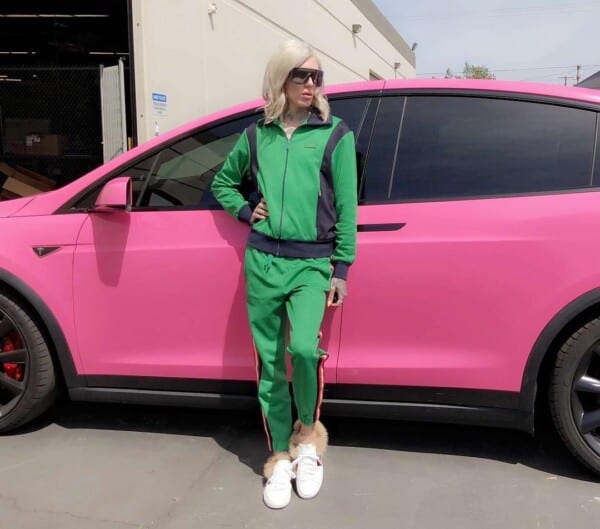 ↓ 26 – Ripped Jeans
Just because it has gotten a little cold does not mean we can not show skin. Flaunt that body with a pair of ripped jeans for a '90s inspired look. You can layer up good with a nice denim jacket.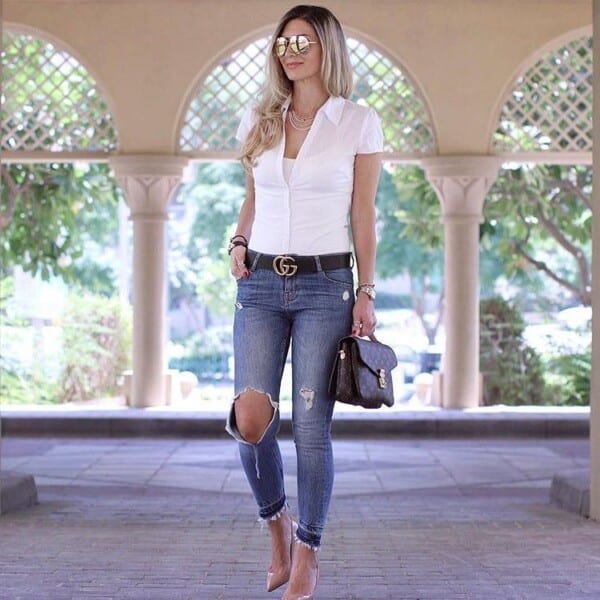 ↓ 25 – Trench Coat
If you live somewhere with a lot of rainy seasons then a trench coat is a must-have. And make sure it's stylish and elegant. A camel colored coat goes well with almost everything in your closet and it brings elegance as well. Trench coats are extremely trendy when paired with boyfriend jeans and a plain shirt on top. You can add sunglasses for that classy, grinding woman look.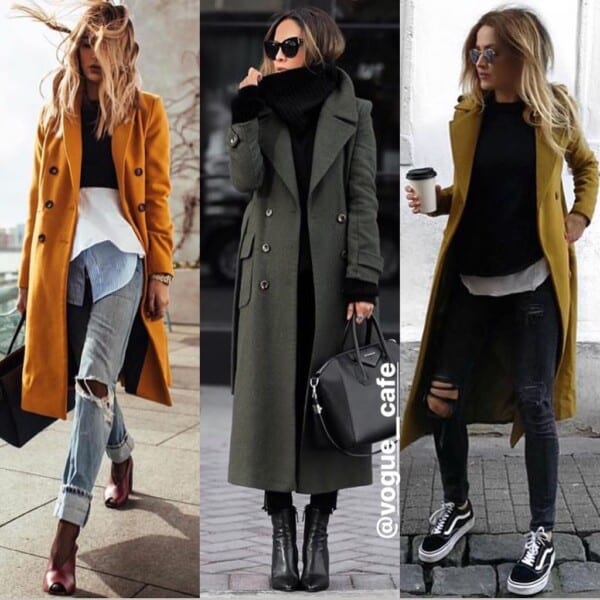 ↓ 24 – Teddy Coats
Teddy coats are huge this winter because look how cute!! Teddy coats can be worn over anything from your winter wardrobe. Brown and camel color are the most popular shades but you can wear any color that matches your personal taste.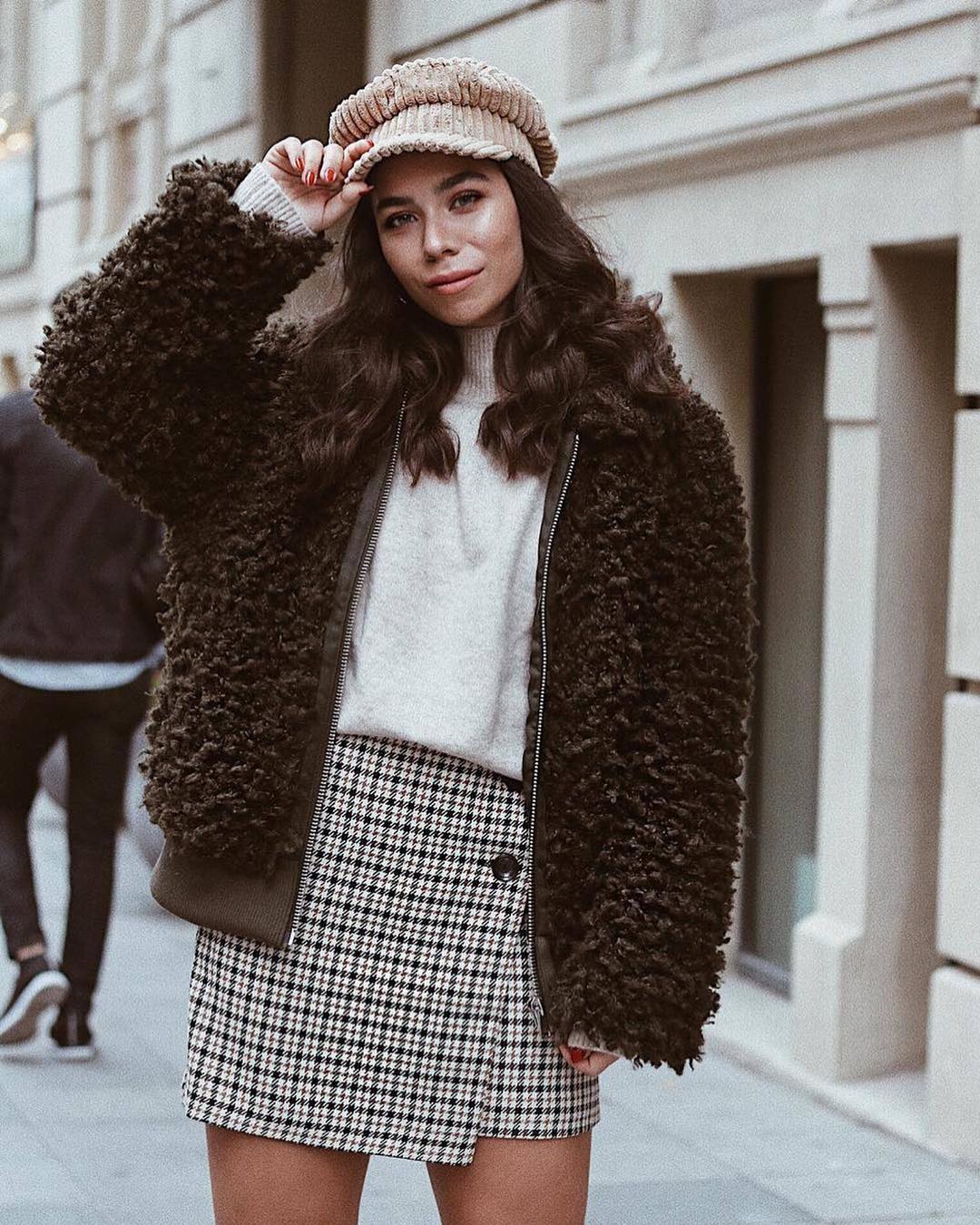 ↓ 23 – Long Dresses
Dress that fall even further down your knees can be paired with boots and a nice tied up hairstyle. You can wear them with a denim jacket for a casual look or a buttoned cardigan for formal occasions. Printed dresses are the most trendy outfit this season.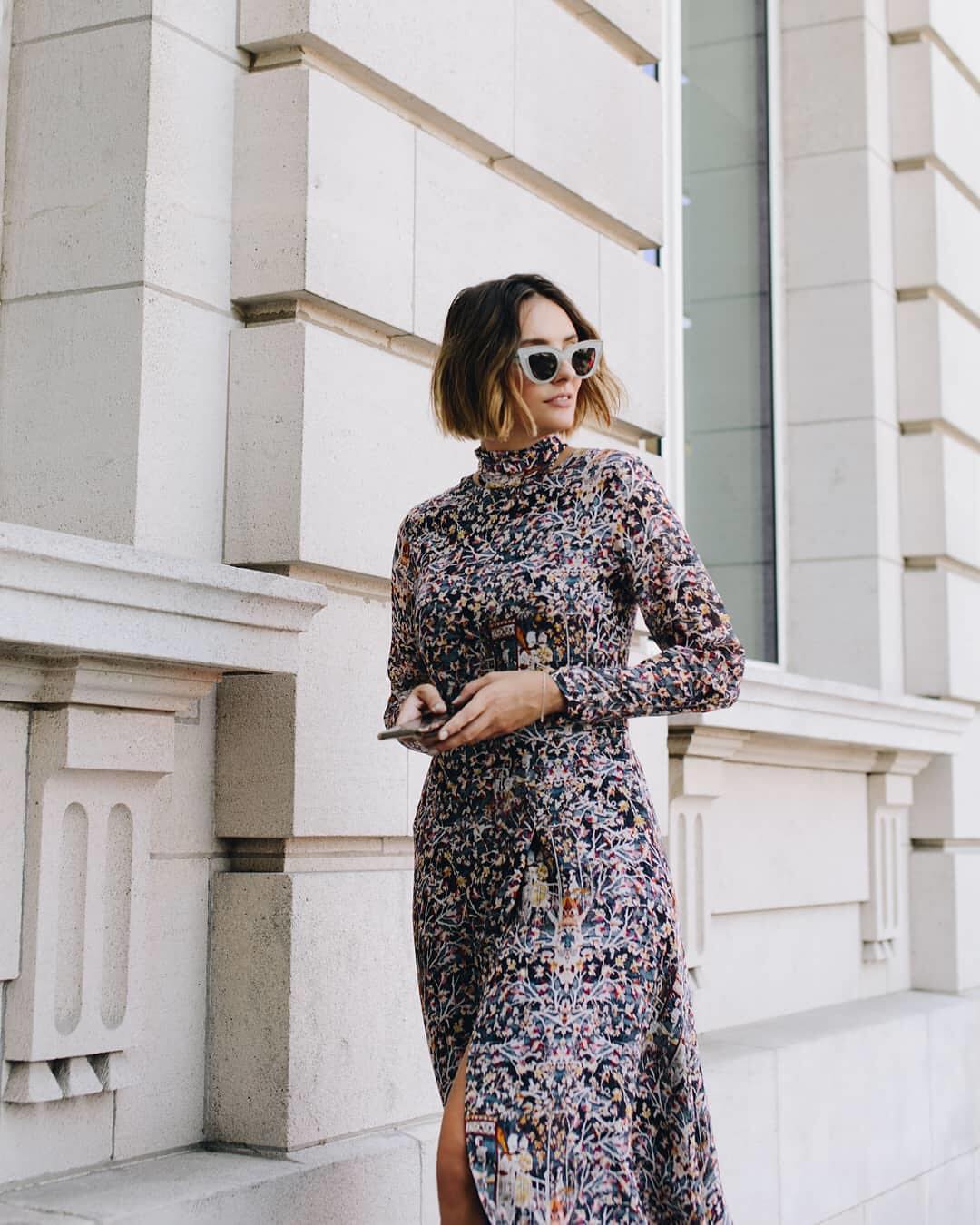 ↓ 22 – Overalls
Overalls are one of the things we brought with us from our childhood. They look playful and cute while being sexy at the same time. You can pair them with a plain shirt underneath, or a hoodie ties around the waist.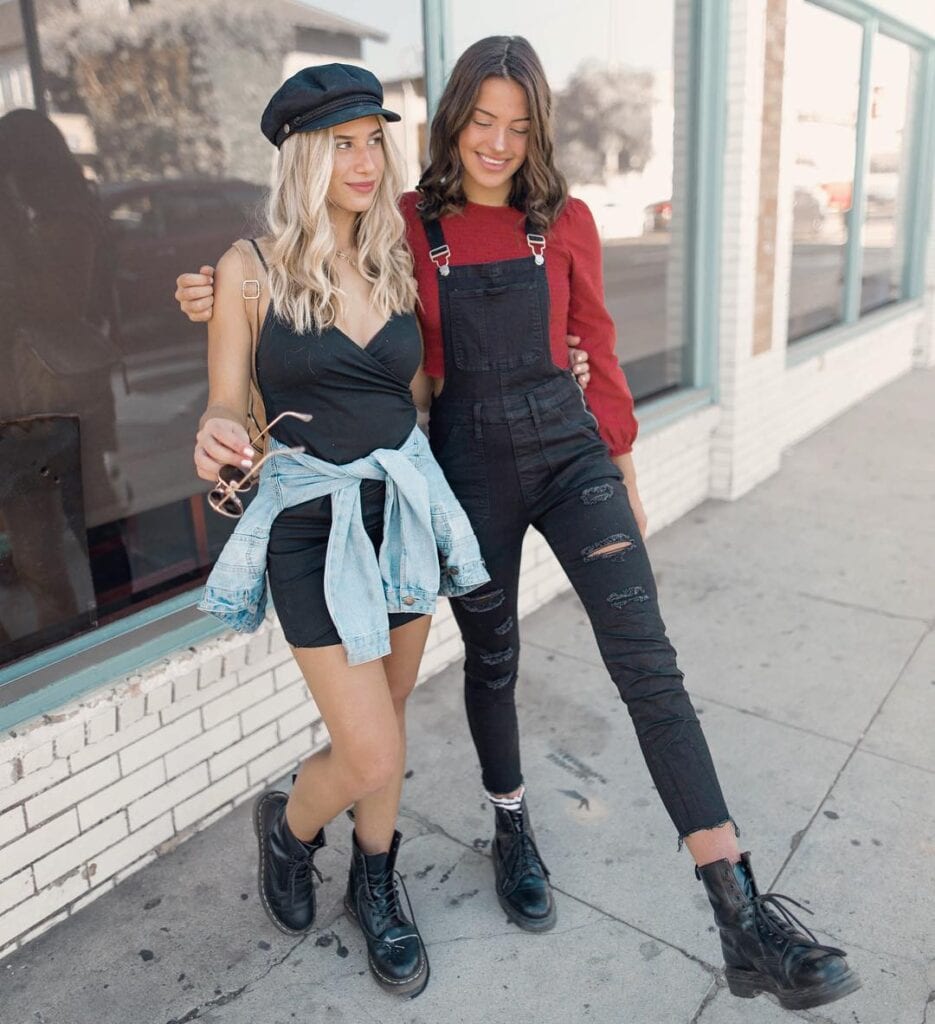 ↓ 21 – Colorful Sweaters and Cardigans
Ever since sweatshirts and hoodies became popular people have pushed sweaters to a side. Well, this year we are looking at unique fashion choices, ones that standout. Get your sweaters out for an indie, sweet girl look and rock the hell out of them. You can tuck them in high-waisted pants and wear some light makeup as a go-to look.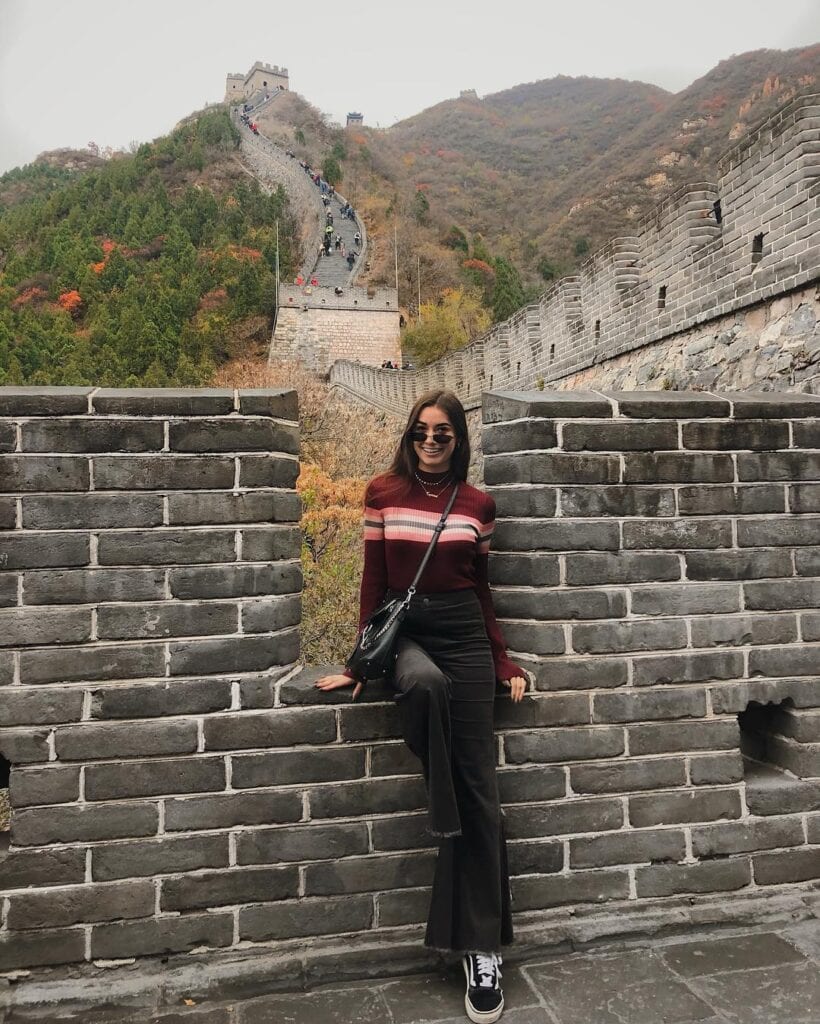 Via
↓ 20 – Quilted Jackets
Quilted jackets are huge and keep you warm. They are also fashionable and cute if worn right. You can pair your jacket with a shirt tucked in loosely in your jeans. Or you can wear a single colored outfit underneath (Like grey pants and a grey shirt) and wear a basic colored jacket on top. Add a belt as an accessory as well. Here are 21 Best Leather Bomber Jacket Outfits for Women.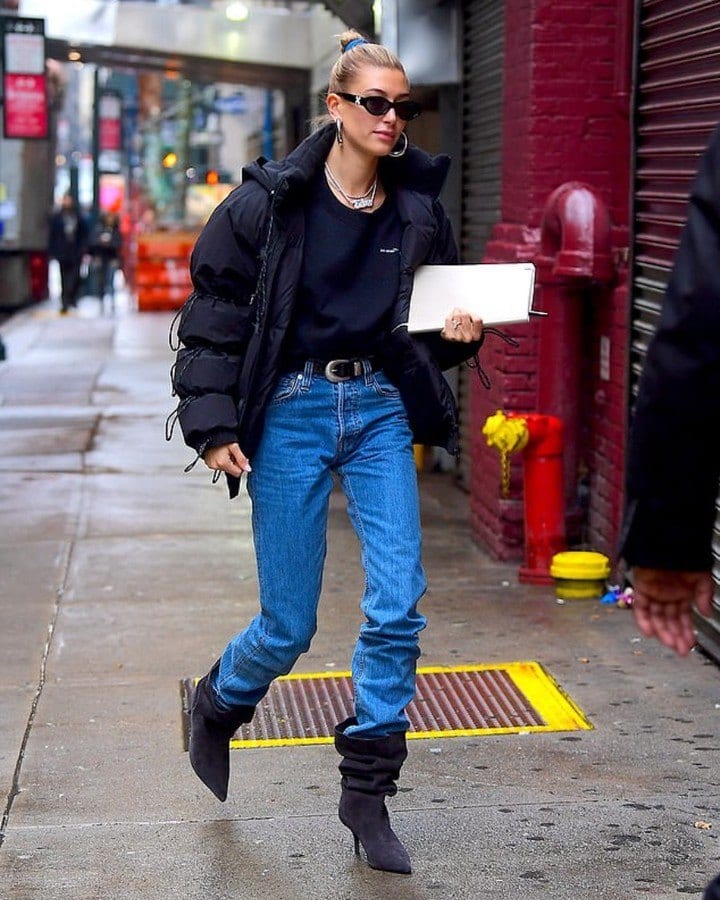 Via
↓ 19 – Long Boots
Winter boots are our favorite thing about December. They are extremely stylish and fashionable without making much effort. All while keeping you safe from the biting cold. Match your boots with your favorite pair of coat or wear them over jeans and a casual sweatshirt. You can even wear a coat as a dress with some stockings.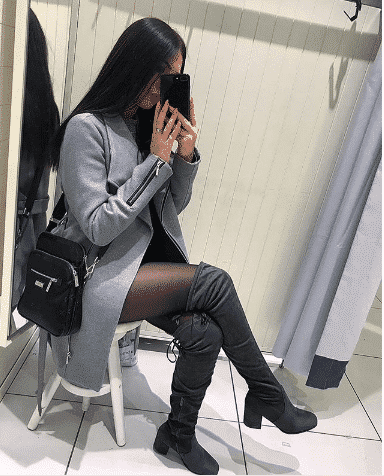 Via
↓ 18 – Nude Tones
Ever since the Kardashians have taken over our Instagrams all we see is nudes and neutral tones. A beige shirt paired with a peachy coat looks perfect with light blue mom jeans. You can wear ankle boots with it to make your outlook more classy. Nude colored outfits go well with any sort of makeup. You can opt for a matching nude lip and natural looking makeup or a dramatic maroon lipstick, popping highlighter, and long lashes.
↓ 17 – Sweatshirts
Sweatshirts, the ultimate winter clothing. As soon as winter rolls in all the stores are flooded with stocks of sweatshirts. You can get so many designs on them. Depending on your taste, choose the design and print you want. For the safest look wear something with a small logo printed on the corner. OR you can take this as an opportunity to preach 'cause why miss a chance to let your clothes represent you. Shirts with empowering messages like "Future is Female" or something motivational like the iconic Nike "Just Do It"is quite popular as well. Your sweatshirt will be your partner everywhere, from your cozy couch to your chilly classroom.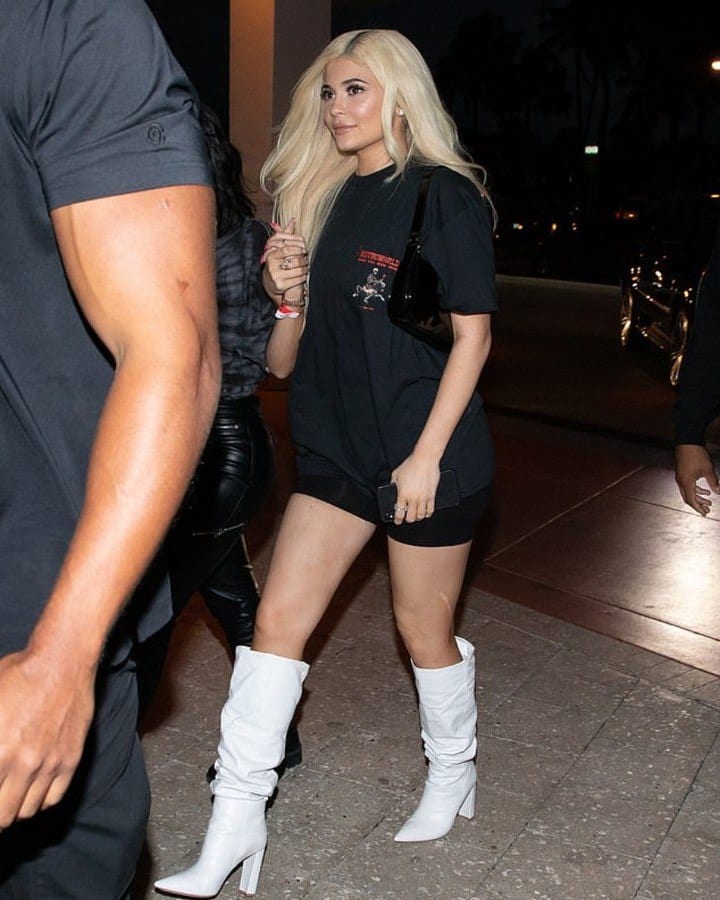 Via
↓ 16 – Inspiration from Nature
Take inspiration from the beautiful world outside. January's short-lived sun has a lot of mesmerizing views for us and we definitely should not sleep on it. Gold and red and orange blend gorgeously together. Incorporate these colors in your outfit. You can also go for an angelic white look as all that snow makes everything look pure and clean.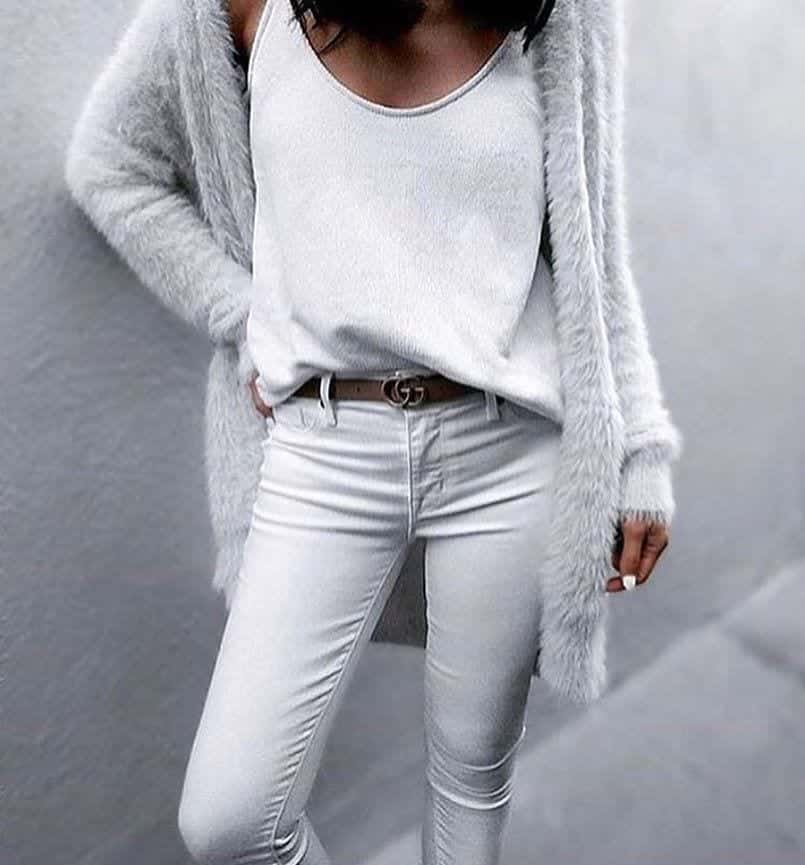 ↓ 15 – High Necks and Turtle Necks
Oh, nothing feels better than a high neck blocking off the chilly breeze. High necks look highly sophisticated if worn right. You can wear them with matching thigh-high boots and add a little bag to finish the look. These also gp really well under a two-piece suit, perfect for any meetings, presentations or office look. It gives the impression of a collected, hardworking girl who does not take shit from anybody.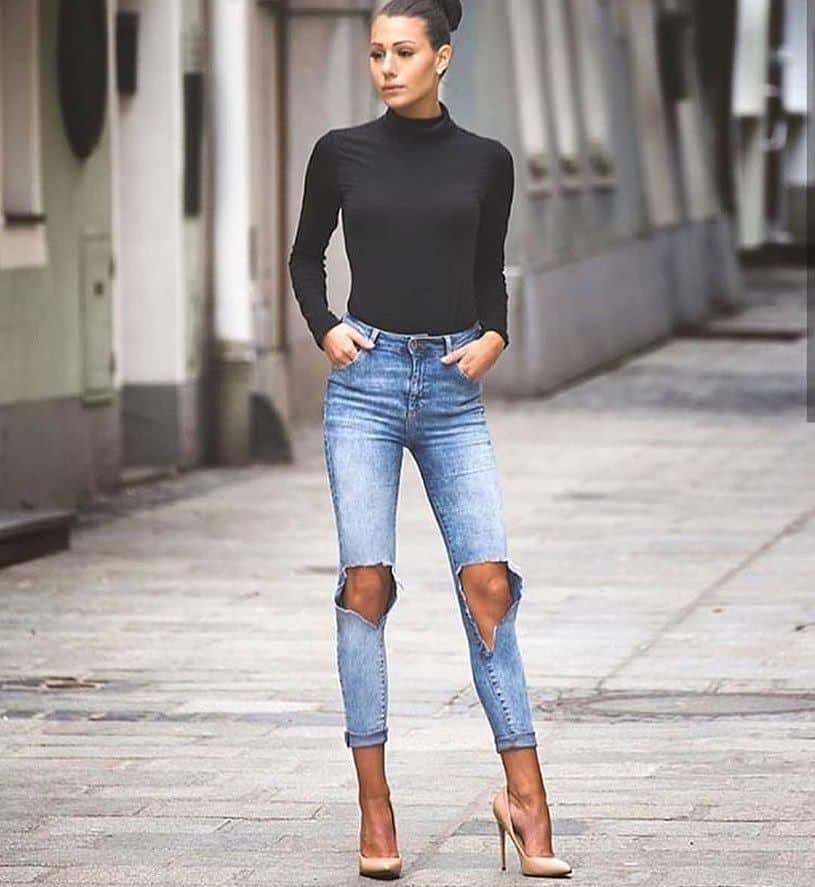 ↓ 14 – Jumpsuit
A good warm jumpsuit works for semi-formal events where jeans would look too casual and suits make you look overdressed. You can even wear your favorite summer jumpsuit in January with the right layers. A smart cardigan or a handsome jacket on top would complete your outlay. Jumpsuits are the types of outfits that make you feel boss-like and confident. Depending on your taste and mood, you can go with a body-hugging jumpsuit or a loose one. Either way, they look amazing.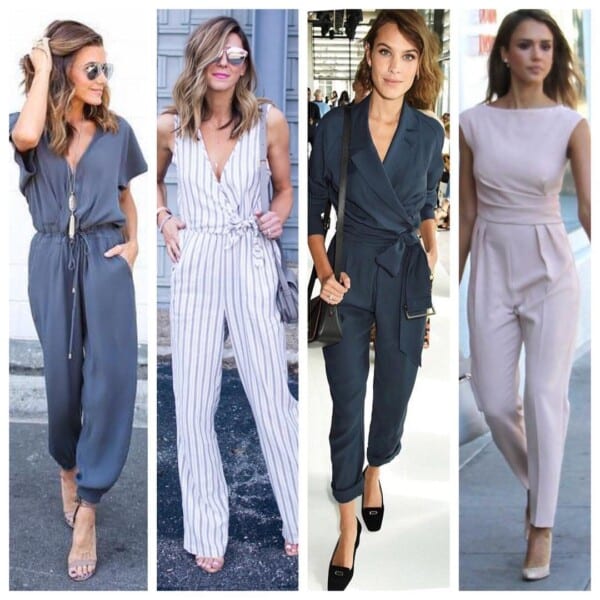 ↓ 13 – Checkered Suits
Checkered suits scream grace and elegance. With the proper fitting your suit can make you a boss. Paired with heeled pumps or stilettos your outfit will automatically get people out of your way because they can see that you are not here to play. Choosing checks over traditional suits say that you are on the grind from day to night, but you also have time for looking your best while you do it.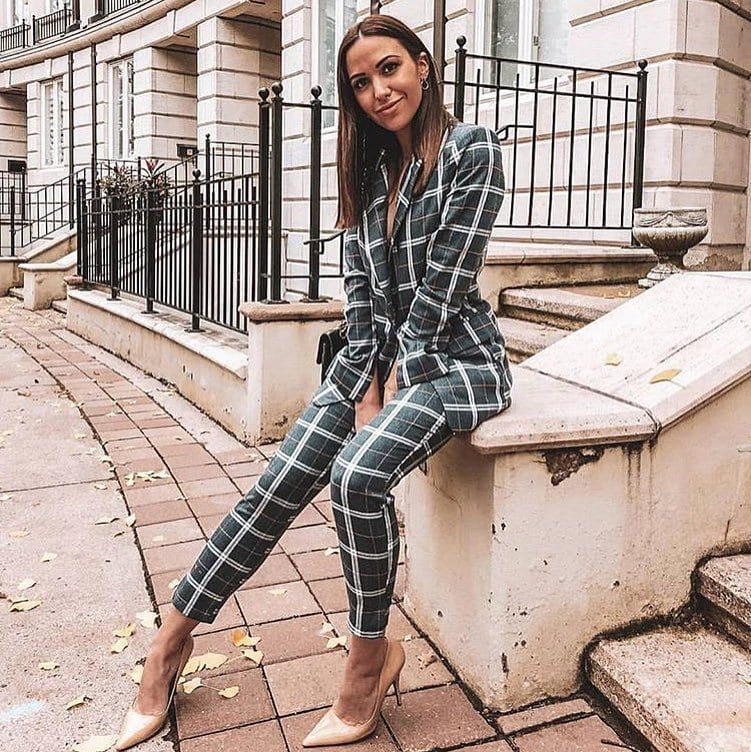 ↓ 12 – Skirts
Formal skirts to replace the traditional creased trousers is what you should opt for this January. When the weather is a little warmer during the day you can pull out your favorite skirt and wear it with some stockings. Plus, with all the central heating you can keep your legs bare. Add a simple sweater on top for a minimalist look. Skirts look smarter raised up to your waist with your top tucked in. Or else you are just going to look all flowy and sloppy.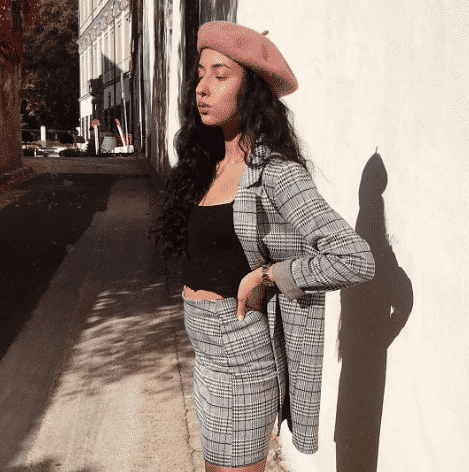 ↓ 11 – Printed Pants
Printed pants can make the simplest outfits look better. They are easy to pull off and comfortable at the same time. A plain sweatshirt or jacket on top makes your outfit look perfect. Camouflage, stripes, check are the typical prints you can wear. If you feel a little girly you can wear floral pants, too. Or any other cute print you find in the stores. Even in printed pants, checks are the most trendy nowadays.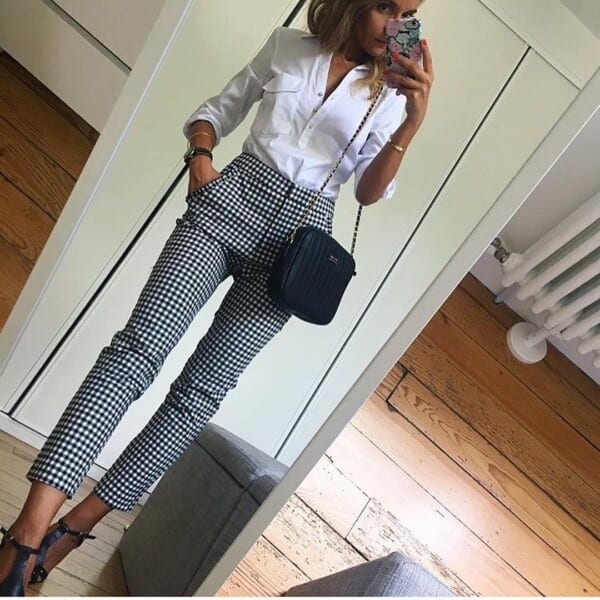 ↓ 10 – Striped Shirts
Stripes are the ever-gold fashion trend that looks amazing any way you wear them. Black and white stripes is the coolest option for an everyday look. Here are 10 Ways to Wear Striped Shirts.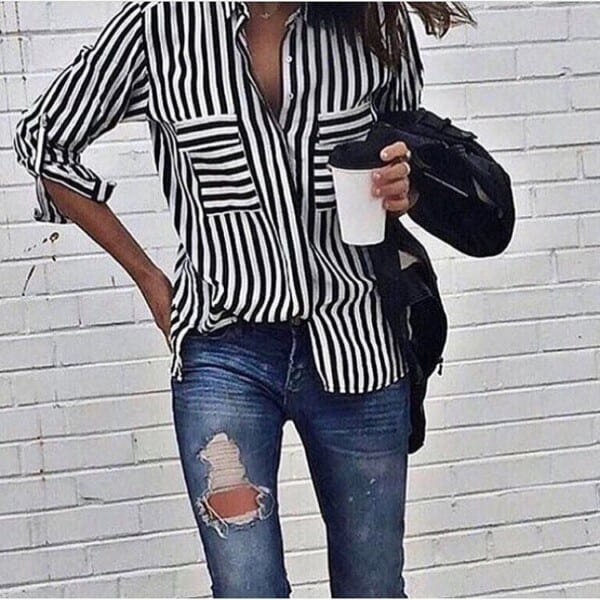 ↓ 9 – High-Waisted Pants
This is not 2008 so anyone with low cut jeans is definitely way behind in fashion. Whether it's your jeans or formal trousers, pull your pants up to your waist for a tall and bold look. Pair it with your shirt tucked inside. It makes you look smarter and taller.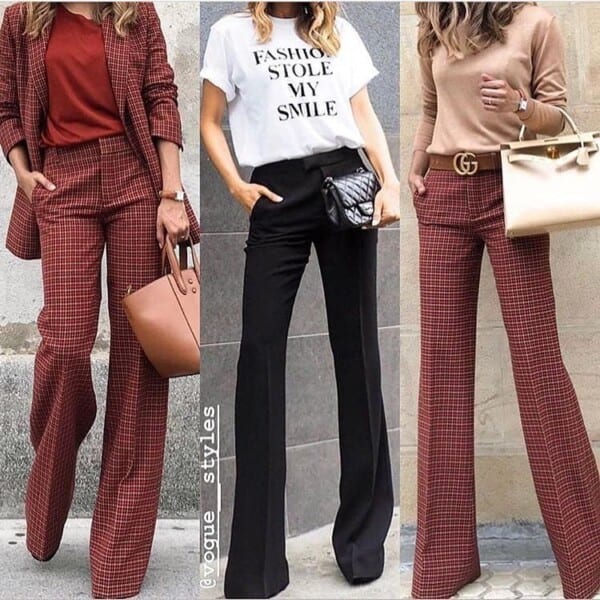 ↓ 8 – Bold Prints and Colors
Vibrant colored sweaters that are also baggy are what we are living for this winter. They lift up your mood immediately and kill the winter blues. Flashy colors like fuschia match really well with denim blue.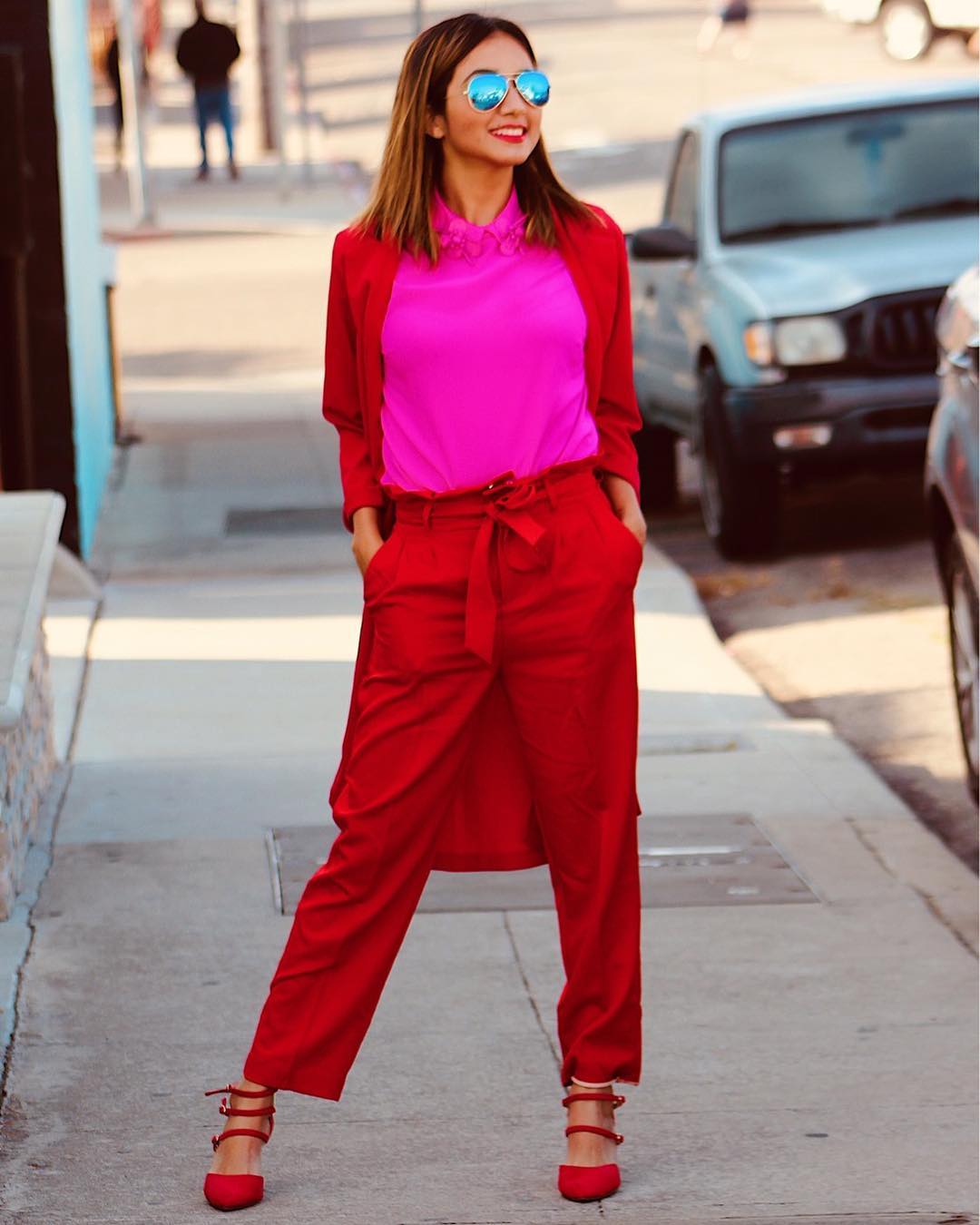 ↓ 7 – Denim Jacket
Denim jackets are a staple. Every woman must own at least one. It can be ripped, plain, with graphics or whatever according to your style but you must own one. Denim jeans look good with all black clothes or you can match your pants to your jacket. It's low maintenance so that is a plus point, too.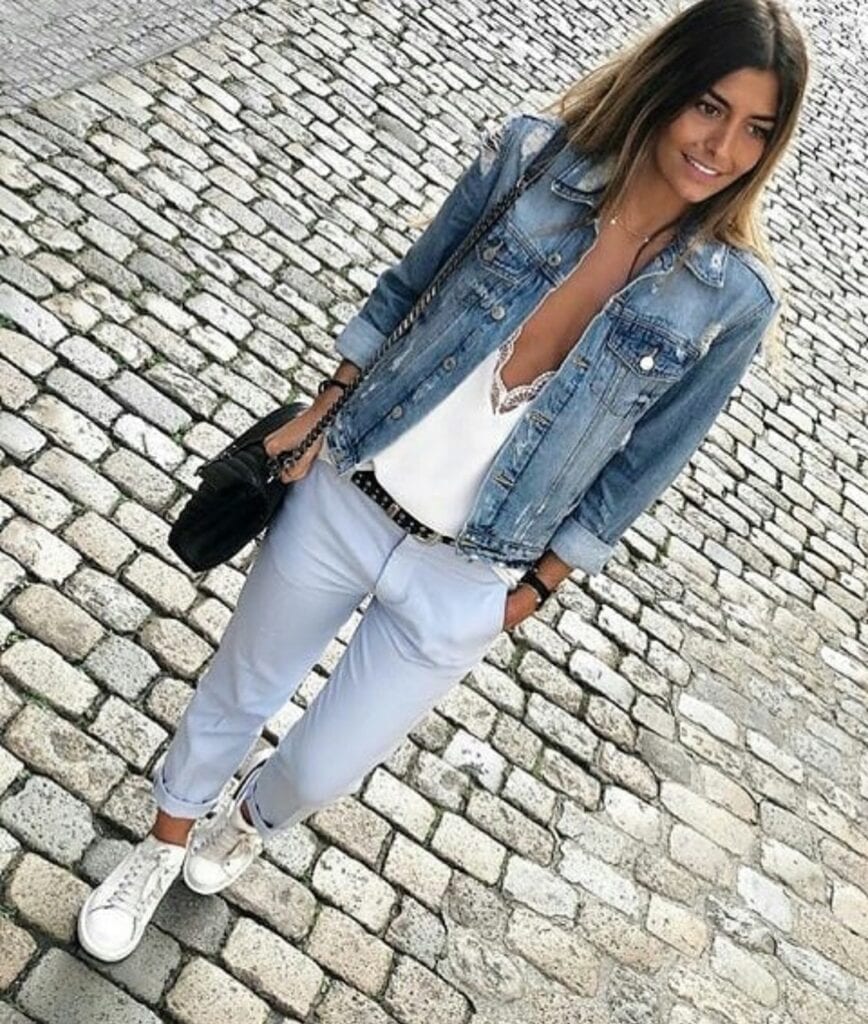 ↓ 6 – Velvet Party Dress
Dress to kill. Velvet is one of the most graceful yet threatening cloth. It gives the clear message that you are the boss in the party hall.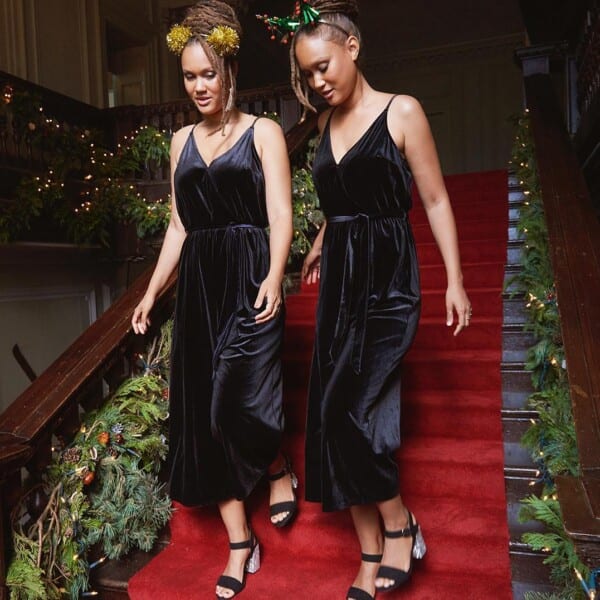 ↓ 5 – Ankle Boots
A pair of black and a pair of white ankle boots will get you through winters, honestly. These are not only pretty and fashionable but extremely warm. They are versatile enough to go with anything in your closet, from jeans to dresses and sweatpants.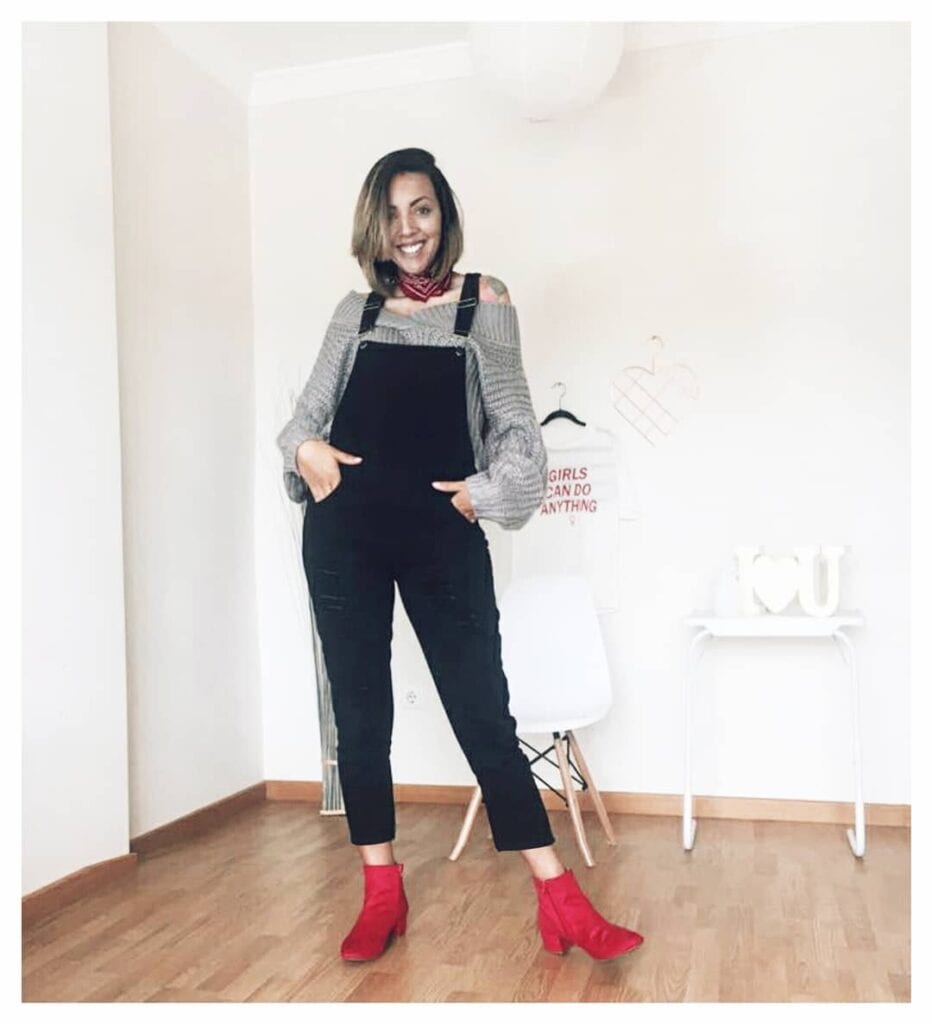 ↓ 4 – Scarves and Mufflers
If you feel really cold then a soft muffler is the way to go. The soft touch of mufflers and the warmth that they give will get you in a habit of not going anywhere without one. Scarves can be used to add a pop of color to your outfit.
↓ 3 – Gloves
You can add gloves as a trendy solution to cold. Use them as a statement of sophistication.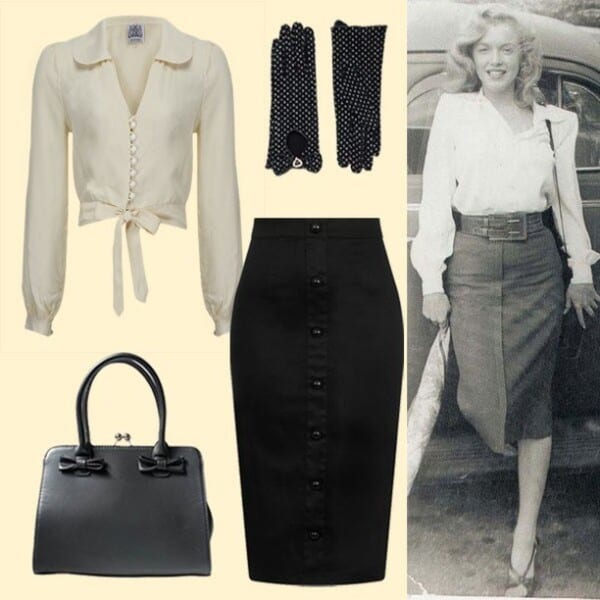 ↓ 2 – Beanies and Caps
Beanies are super cute, also extremely handy for those bad hair days when you can't even think of getting in the shower.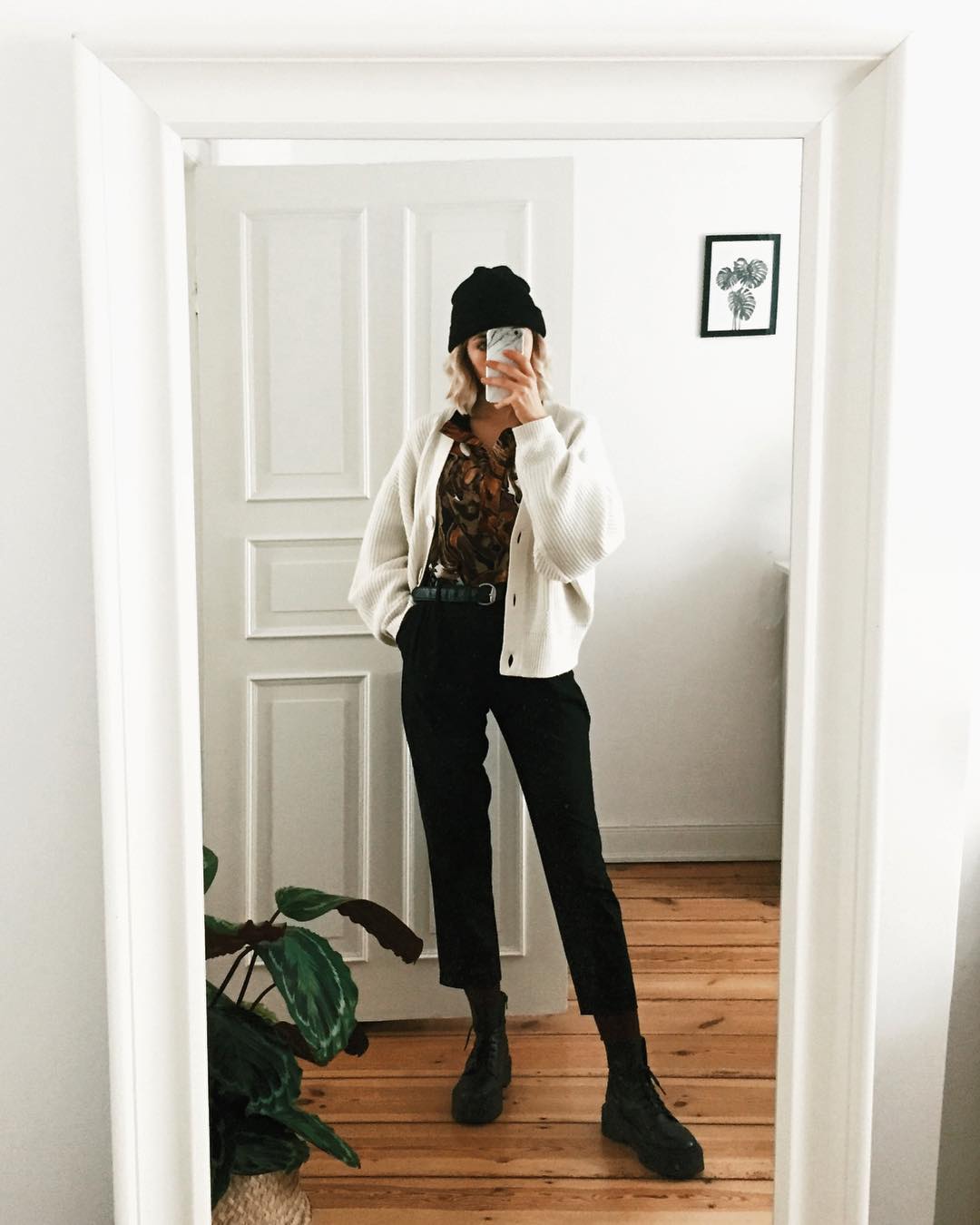 ↓ 1 – Velvet Bodysuit
Velour sweats and velvet bodysuit is the new thing this year. They look smart, making you look sharp and beautiful. Go for dark colors for a lean look.