Leather Bomber Jacket Outfits. If you're searching for the perfect piece of clothing to turn your everyday dresses into something chic and trendy, we have got the perfect suggestion for you: leather bomber jackets!
Whether it's a casual tee with distressed denim or a sundress that's too good to ignore this season, there is no better way to give it a final touch than to wear a bomber jacket on top. Leather has always been in style, it is one of the ever-popular materials for bags, belts, watches, jackets and even pants! So it is safe to assume that a wardrobe stays incomplete without a good leather jacket. And to make it easier for you here is everything you need to know about leather bomber jackets and the kind of outfits to wear them with. Let's get started!
What To Wear With A Leather Bomber Jacket
There's only so little that could go wrong with a leather bomber jacket! Chocolate brown is undeniably the most popular color if you want to place a safe bet, making it a must-have in your wardrobe. However, if you're looking for something to catch eyes and stand out you should definitely experiment with nudes. Nude leather jackets are the latest fashion trend after nude lip colors and nude pants. And of course, if all else fails we have the classic black retro look to pull off, especially at night. The secret to pulling off a bomber jacket is to keep it simple. Make sure you keep these tips in mind:
Avoid wearing excessive jewelry, especially big pieces because that will steal attention from your jacket. Instead, when accessorizing, shift your focus to parts other than what the jacket covers such as the legs and the hair.
A high ponytail is an excellent way to flaunt the neck and shoulder style of your bomber jacket.
Try and avoid pairing a hat with your bomber jacket, as both are statement pieces that will probably compete with each other. However, when done right, it can be very chic.
A leather jacket with boots can never go wrong so make sure you invest in a good collection of boots. You can pick between ankle-length boots with a 4-inch heel or the knee-length boots which look amazing in winter.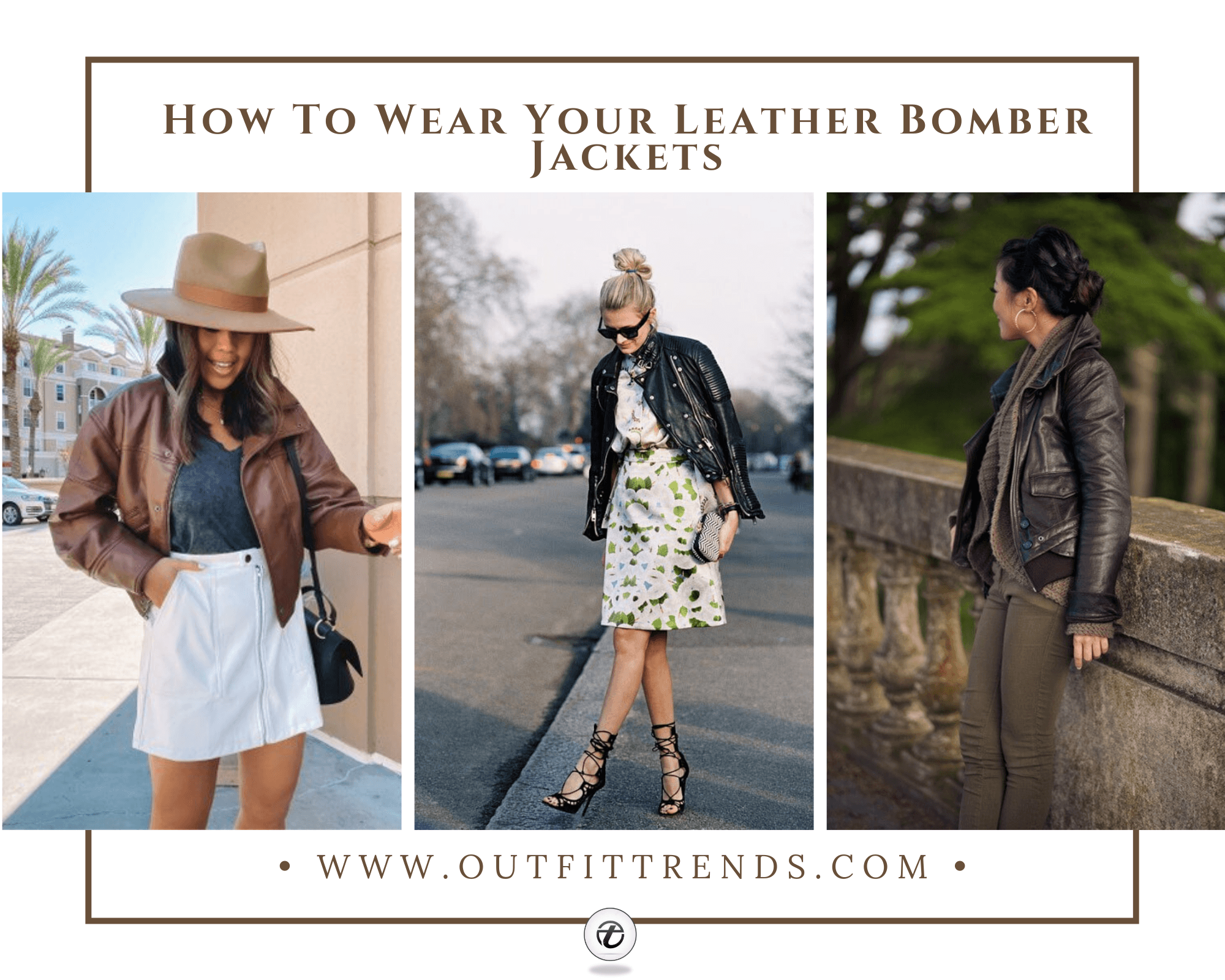 To help you further we have rounded up a list of 26 best leather bomber jacket outfits for women. Check them out!
↓ 26. How to Wear a Leather Bomber Jacket in Summers
We've already talked about Bomber Jackets in detail in our last post but leather bomber jacket are definitely a league of their own and they deserved a special post. Though a leather bomber jacket might not be your go-to piece when you think of hot summer weather, a few style tweaks can make it perfect for a cool summer day or a warm autumn day! Pair a soft brown faux-leather jacket with a cute gray top and a high-waisted miniskirt. Top off the look with a felt brown fedora hat and flats or wedge sandals. This is an adorable look for a lunch date, trip to the theater or a wine-tasting event! You could even swap out the top for a cami or choose a lighter material for your skirt to make it more summer-ready.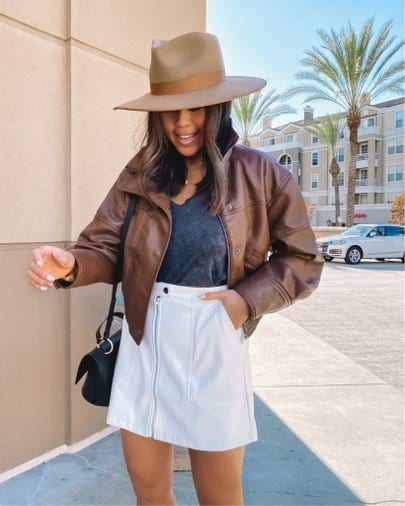 Shop the look at the links below:
UO Flat Brim Felt Fedora Hat $44
Vegan Leather O-ring Zip Front Miniskirt
UO Faux Leather Bomber Jacket $119
↓ 25. Funky Style For Petite Ladies
This fun and funky look will have you smiling from ear to ear with its sweet-and-spicy style blend! Pop on a bright red long-sleeved blouse and top it off with a retro-style black leather bomber jacket. We love the cropped paper-bag waist pants which, when done right, look great on petite figures. For a dash of sweetness, add a colorful headband to your hair; to tie in some spice, opt for cheetah-print slingback pumps. You can have fun with your accessories with some stacked rings, dangling earrings, and an animal-print bag to tie it all together! For an outfit to showcase all the wild and fun sides to your personality, this one does it all!
Pro tip: opt for a bodysuit instead of a blouse to ensure you get that smooth and perfect tuck-in without worrying about fabric tugging free, or having to adjust it multiple times a day!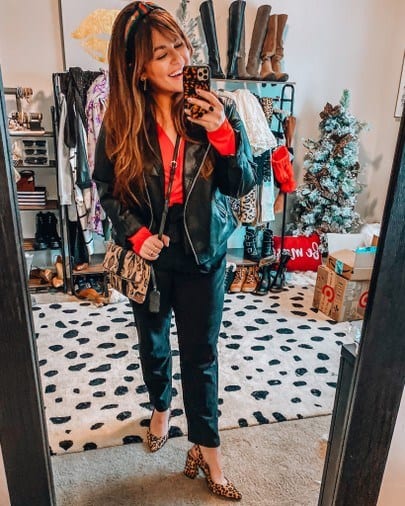 Shop the look at the links below:
Limmon Long-Sleeved Bodysuit $15.99
Grace Karin Cropped Paper Bag Waist Pants $24.99
Scoop Vegan Leather Panel Ribbed Biker Jacket $29.97
Sole Society Trudie Slingback Pumps $40.48
↓ 24. Cute Coffee Date Outfit
Headed to a coffee date? Running errands at Target? Meeting up with the gals for a movie night? This outfit covers all the bases! This faux-leather bomber jacket is understated chic without going overboard. Pair it up with a black turtleneck or high-neck top and your favorite light-wash ripped jeans. Super oversized sunglasses and chunky Doc Martins tie the whole ensemble together. Best of all, you can easily adapt this outfit to almost any type of weather! Have a date planned this week? Don't forget to check out these Weekend Date Outfits.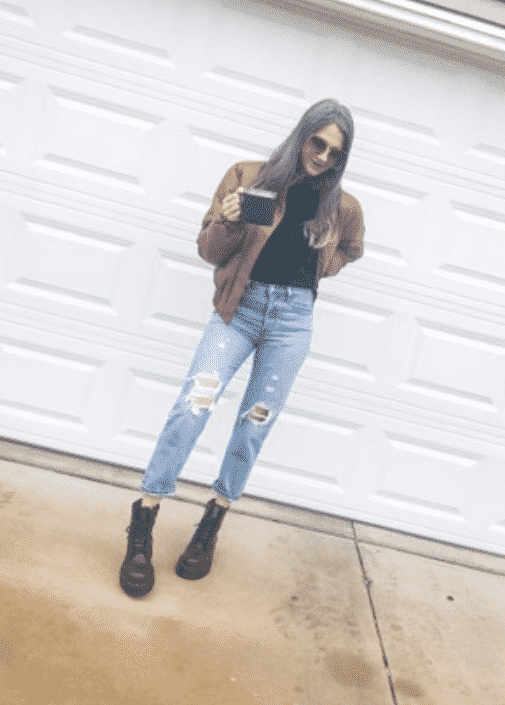 ↓ 23. Ultra-Chic Look for Fashionistas
If you love making a statement with your outfit pieces, then this is the look for you. This daring version of the leather bomber jacket is not only chic and bold but takes a risk-loving gal to pull it off. This piece works best in the fall or winter as it features a gorgeous fur collar. Opt for a slightly oversized version of this jacket to really take it to the next level. You pair this jacket with some high-rise crop jeans and some cat-eye sunglasses. For footwear, sleek black or deep brown booties would tie the look together. This ensemble is great for touring new cities, having brunch, or traveling.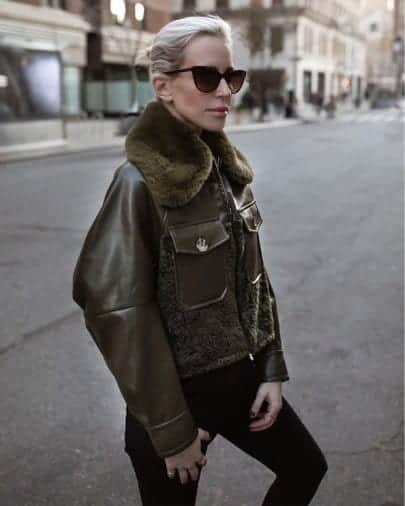 Shop the outfit details at the links below:
J Brand Alana Crop High Rise in Vanity $188
Prada 01VS Cat Eye Sunglasses $298
↓ 22. Easy Everyday Look
A simple but stylish look for the average gal, this ensemble is super easy to throw together. Pop on your favorite jeans and tuck in a cheetah-print blouse. Add small pumps and a leather bomber or puffer jacket. Loose, hair, a couple of stacked necklaces, and a red lip will tie the look together.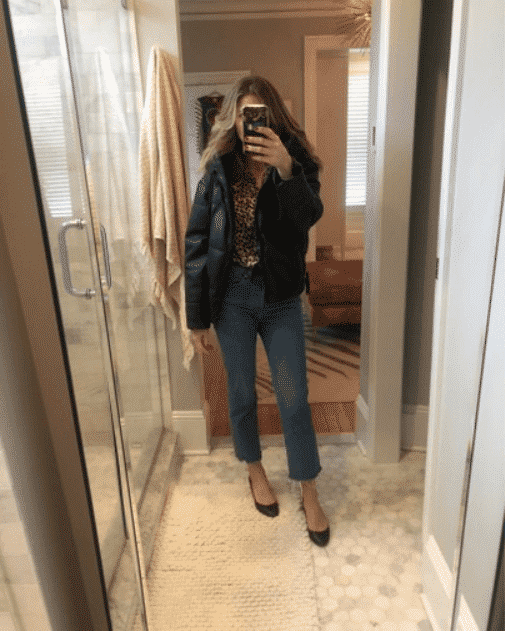 Shop the look at the links below:
Neiman Marcus Chloe Scalloped Leather Pumps
Levi's Wedgie Crop Straight Jeans in Love Triangle
↓21. Styling a Bomber Jacket in Fall
Here is a lovely fall look that will not only make you feel cozy but look extremely stylish. Olive colored pants are trending this season, so why not pair them up with your favorite jacket to bring out a trendy look? We love the overall color scheme of this essentially monochrome ensemble. Here are 22 Ways to Wear Shearling Jacket.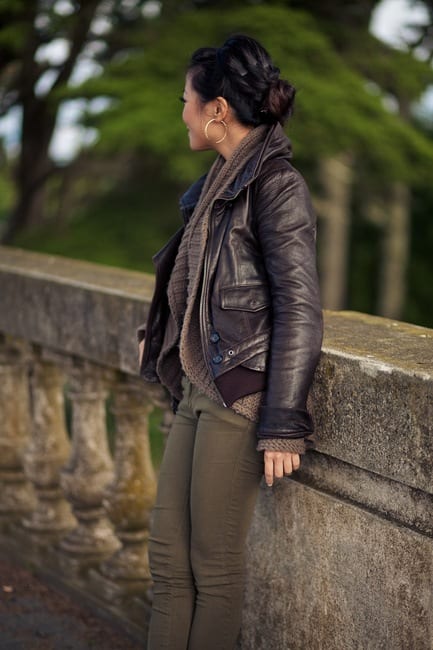 ↓20. With Ripped Jeans
You can pair your jacket with a cool pair of boyfriend jeans and red heels for an instantly fashionable ensemble, perfect for date nights, trips to the theater, or traveling.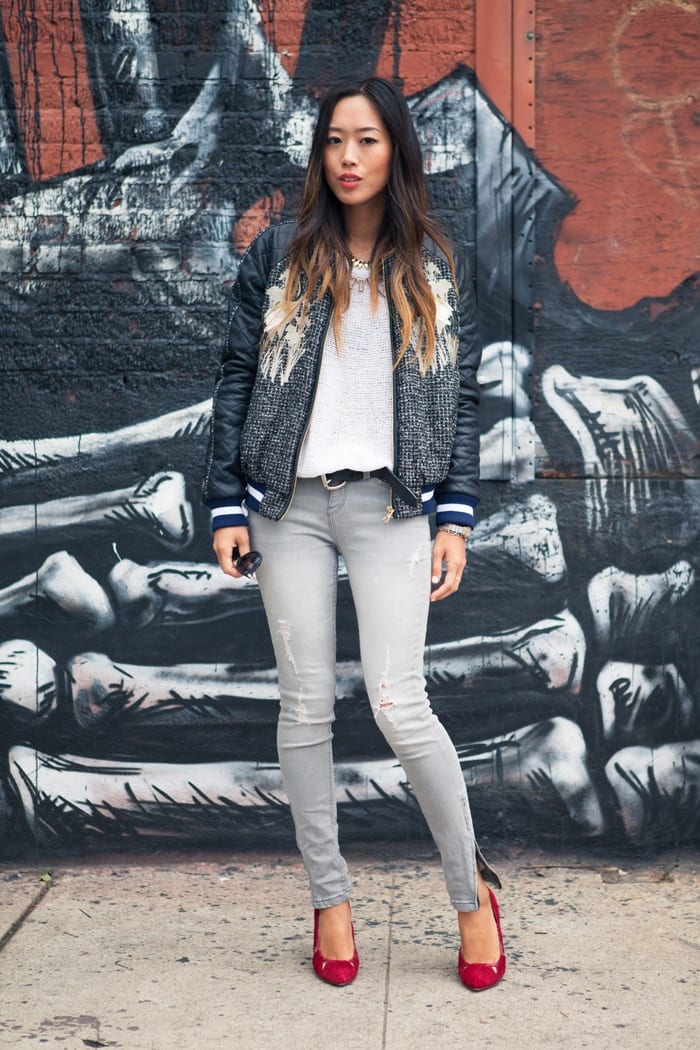 Via
↓19. Leather Monochrome Outfit For Street Style Look
Here's an outfit inspiration with leather overalls and a leather jacket for the perfect street style look. Keep it monochrome with black and white pieces and opt for an evening style makeup look to keep it edgy.

↓18. Cropped Bomber Jacket For A Trendy Look
If you want to give your outfit a modern look, go for a cropped jacket with a short dress. Notice the extra detailing as that is where all the fun is happening. The black trim on the green bomber jacket, the buttoned-up collar, the over-sized sunglasses, as well as the black-and-white top is what really brings this look to a whole new level.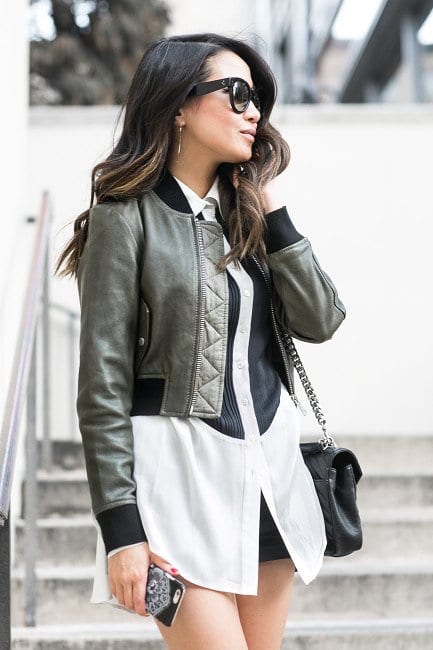 ↓17. How to Style a Bomber Jacket for Date Night
For a semi-formal occasion, you can pair dark-wash jeans with a bomber jacket and an ultra-chic purse. Wear heeled boots to further enhance your look. Here are 26 Beautiful Lace Dresses and Ideas on how to Wear Them.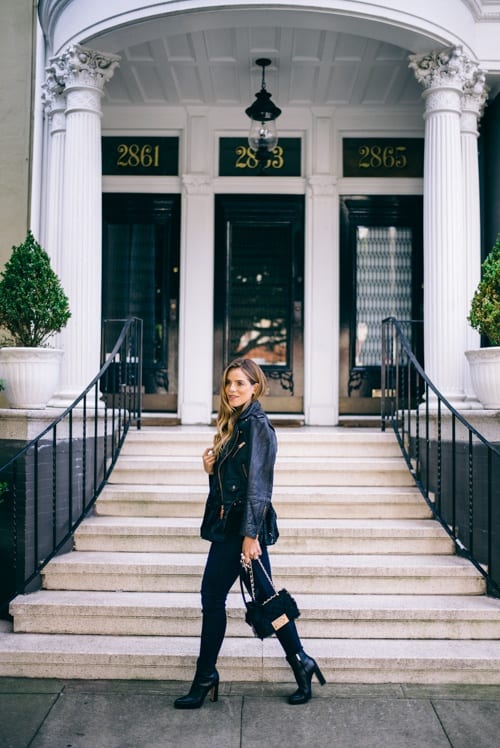 ↓16. Leather on Leather For A Chic Look
Leather short skirts always look great. You can make them look even better by pairing them up with a cool varsity-style leather jacket.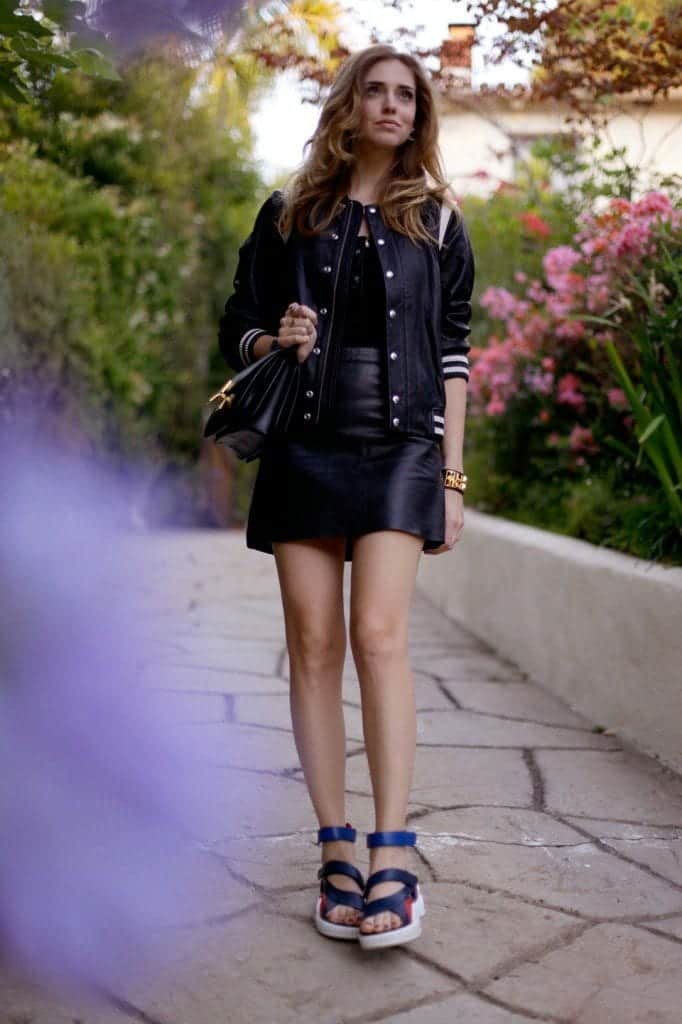 ↓15. Winter Travel Style
This is the perfect texture for someone who doesn't like heavy jackets! Style it with your favorite top and jeans for an unforgettably chic look.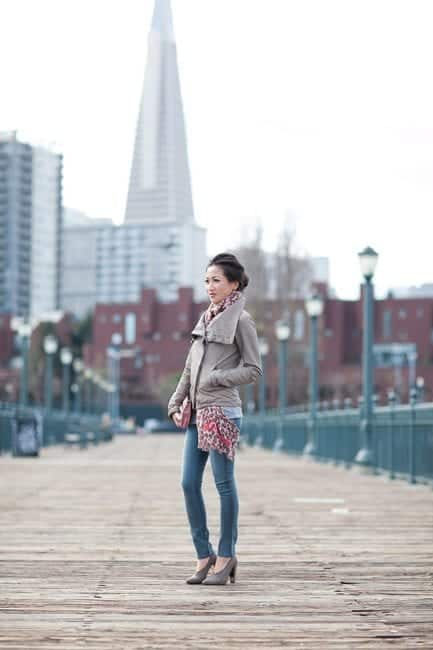 ↓14. How To Wear Bomber Jacket With A Short Dress
If your dress is printed, go for a simple jacket and glam up your look with funky shoes or wedges and a clutch.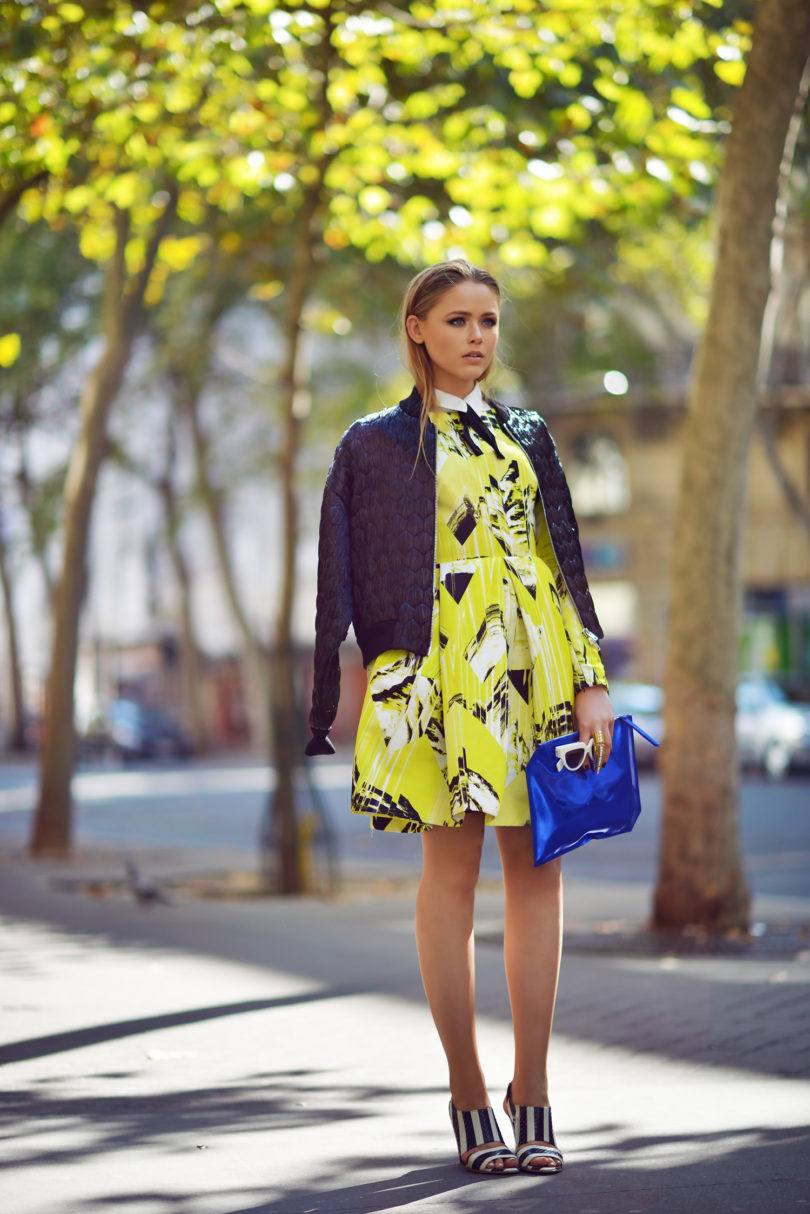 ↓13. Outfit With Printed Pants For A Funky Look
You can make your outfit look interesting by pairing a leather bomber jacket with a flowy top and printed trousers or pants. And don't forget your funky sunnies! Here are some more ideas on How To Wear Printed Pants.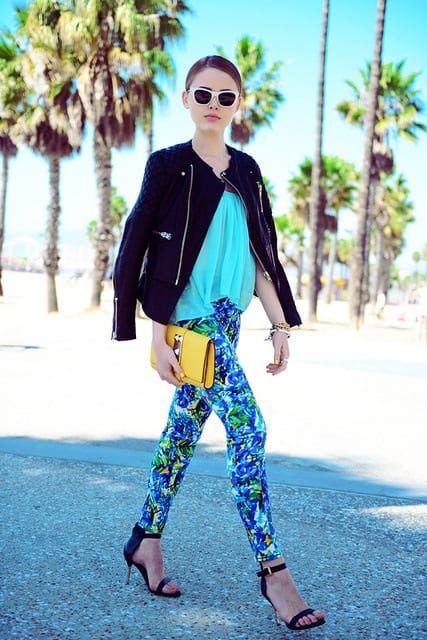 ↓12. Spring Outfit
If you're wondering how to style your bomber jackets in spring, here's a cute look paired with a dress and stylish heels. Check out these Spring Fashion Trends for College Girls.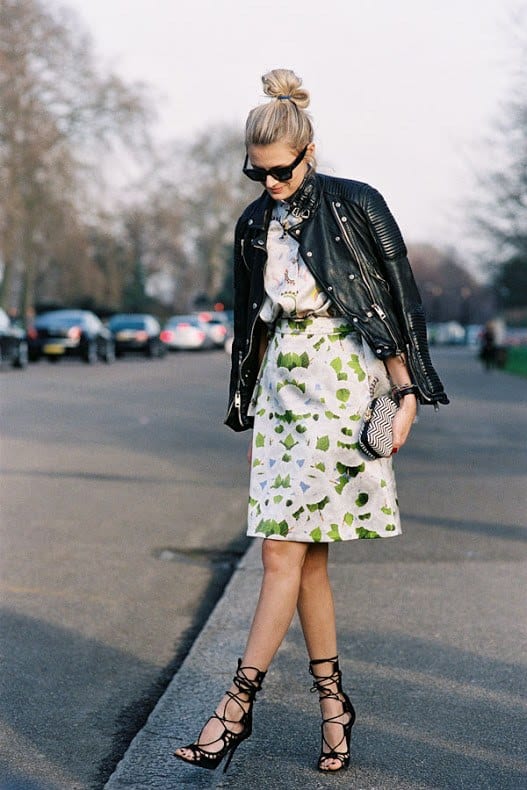 ↓11. Work Attire
Here's how you can wear leather jackets to work or any other formal event: pair it with a button-down shirt and flared trousers. Add mules, sunglasses, and a chic white purse.

↓10. Embellished Leather Bomber Jacket
For a fancy event or parties, go for a jacket that has embellishment to give it an especially unique quality. Pair with a graphic tee, black pants, and an oversized tote.
↓ 9. Fur-Lined Leather Jacket with White Jeans
Fur gives off the perfect winter vibes and makes your outfit look classy. These are perfect for those chilly days where you want to look cute but stay warm. For more ideas, here are some of the most Perfect Winter Outfit with Faux Fur Jackets.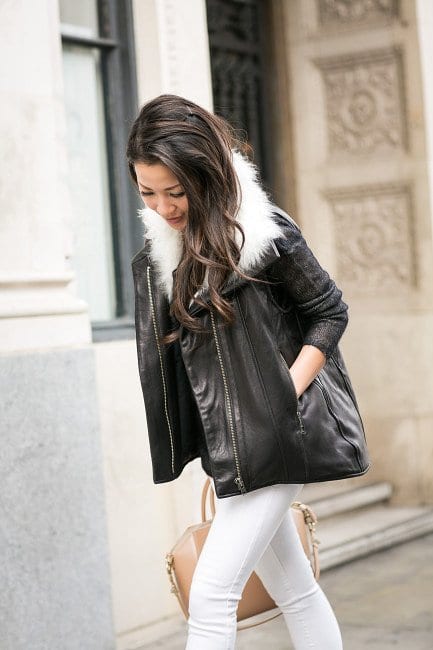 ↓8. Party-Ready With Crop Top
Cropped tops will draw more attention towards your jacket and make you stand out. Pair it up with a cool skirt or pants of your choice. You may also find some great inspiration from these 25 Cute Ways to Wear Crop Tops This Season.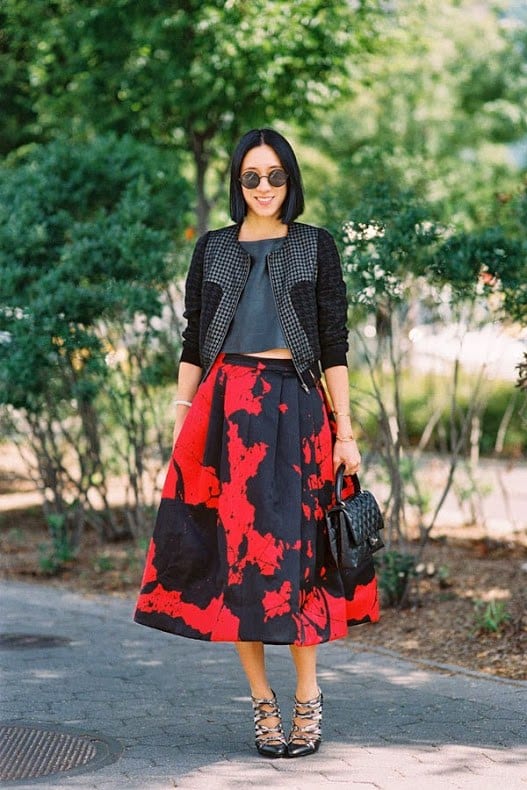 ↓7. College Outfit
For an elegantly tomboyish outfit (perfect for college girls!) pair up a collared blouse with a black leather bomber, dark-wash jeans, and black shoes. An orange-red lip adds chic femininity.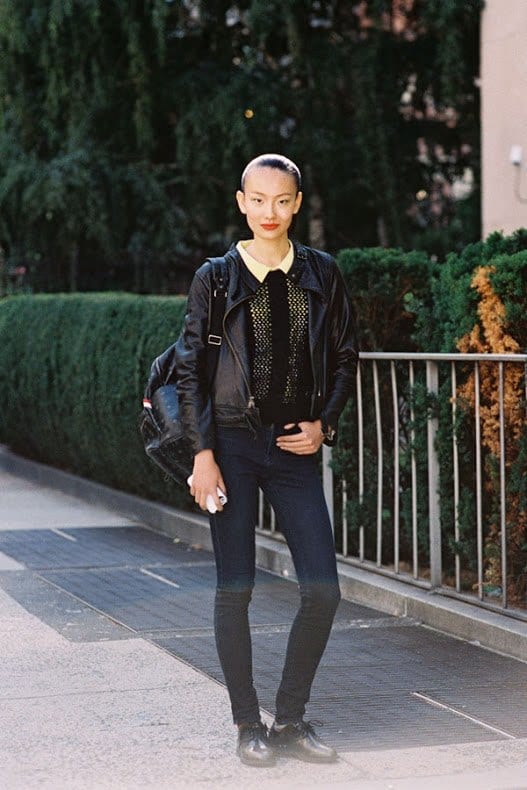 ↓6. Super Stylish Bomber with Maxi Dress
This outfit is a perfect blend of feminine elegance and edgy street-style. A fur-lined leather bomber jacket is paired with a two-toned maxi dress and open-toed stiletto boots. Swipe on some red lipstick and add a leather cross-body bag.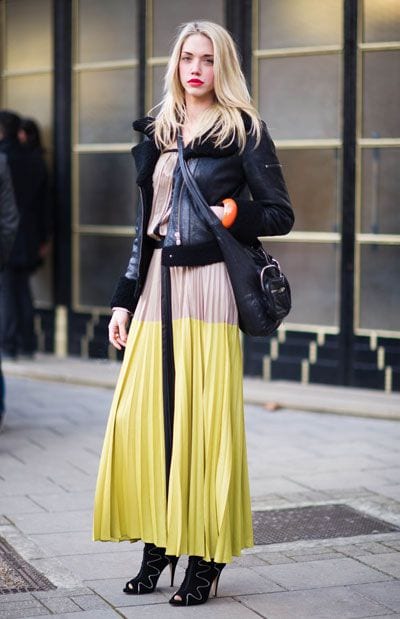 ↓5. Street-Style Monochrome Outfit
Check out this look with black leather pants, a white shirt and a black leather bomber for some style inspiration. Add Aviators and swipe on some red lipstick to tie the look together.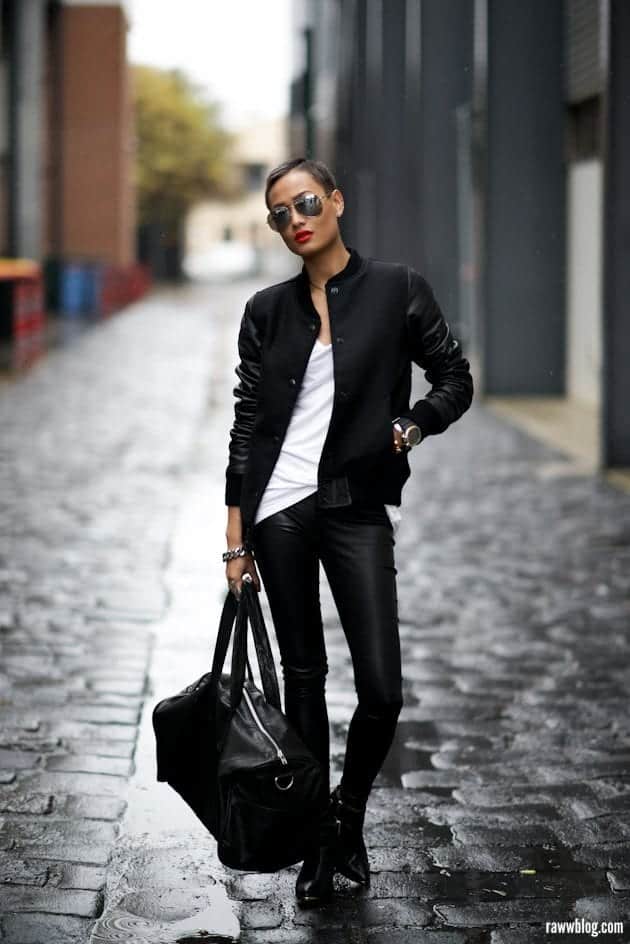 ↓4. Like a Parisian Girl
Parisian girls are known for their classic, understated, yet endlessly chic style. Model your look after the same with a bomber jacket worn over a tank, paired with trousers, a red lip, and a leather clutch.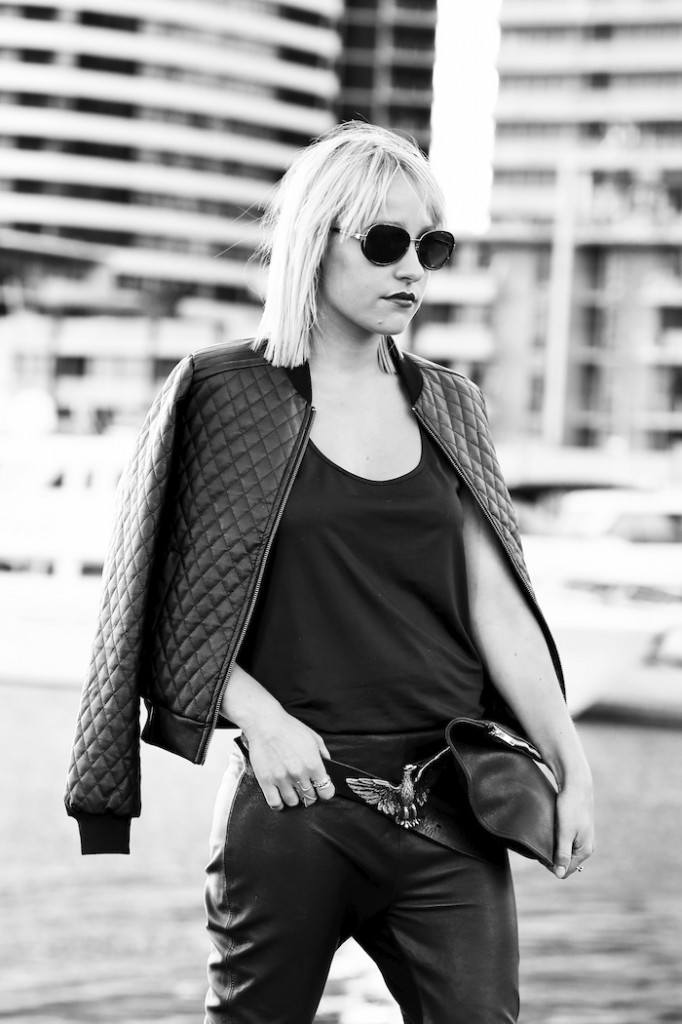 ↓3. Monochrome Outfit
When in doubt, pair your jackets with stripes that never go out of fashion! A striped crop top looks chic and flirty when paired with black skinnies and booties.
↓2. Red Leather Bomber Jacket For A Unique Look
If you are tired of black and brown jackets, go for a red-colored bomber like this one and pair it up with a plain tee or sweater with a classy skirt. Add sheer black stockings, sunglasses, and combat-style boots to tie the look together.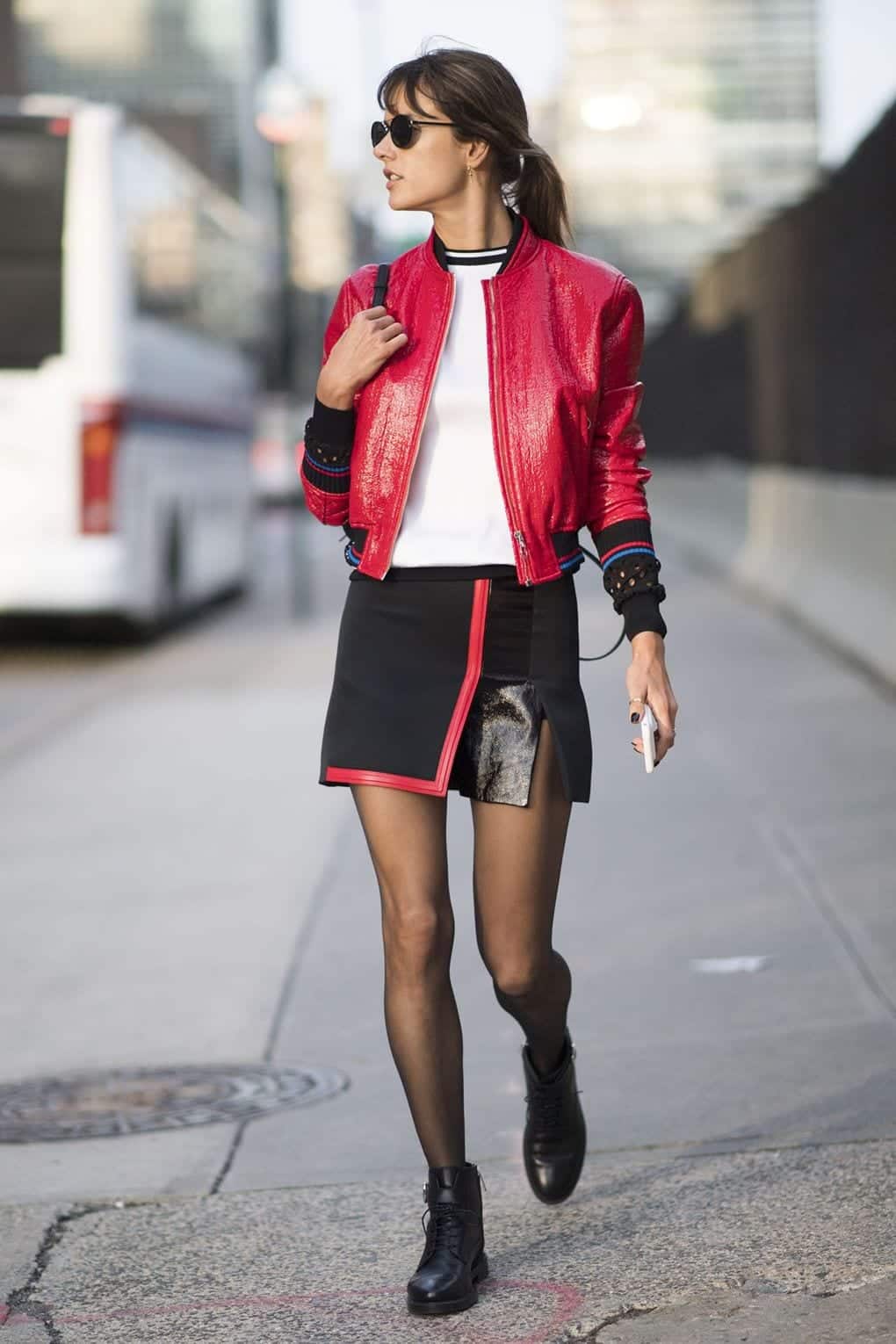 ↓1. Rock It Like a Celebrity
Here's Gwen Stefani rocking the leather bomber look with a military sweater and ripped jeans. To get a similar look, opt for a jacket with extra detailing around the collar, statement sunglasses, and a bright lip.
Fashion is all about exploring different styles until you find your own, something that looks good on you but at the same time is comfortable. So keep experimenting, keep trying new styles and new colors until you find the perfect match for yourself. Don't forget to give us your feedback in the comments!