Weekend Date Outfits. The weekend rolls around, you and your special someone are ready to hit the town together. But what do you wear?! Maybe you have run out of inspiration or maybe you are looking for a new look to spice up your regular ol' blouse and jeans combo. If that is the case, then here at Outfit Trends we have you covered.
Whether you are looking for a cute date night outfit for this Friday, a look for a summer lunch date, or even just fun ways to dress up your jeans for the perfect Saturday date night ensemble, look no further because we will be covering all that and more in this post for weekend date outfits!
What To Wear For Your Weekend Date
Whether you have something formal planned, or even if you just plan on going for a walk and eating some tacos, we're sure you'll find some inspiration from the amazing date night outfits we share today.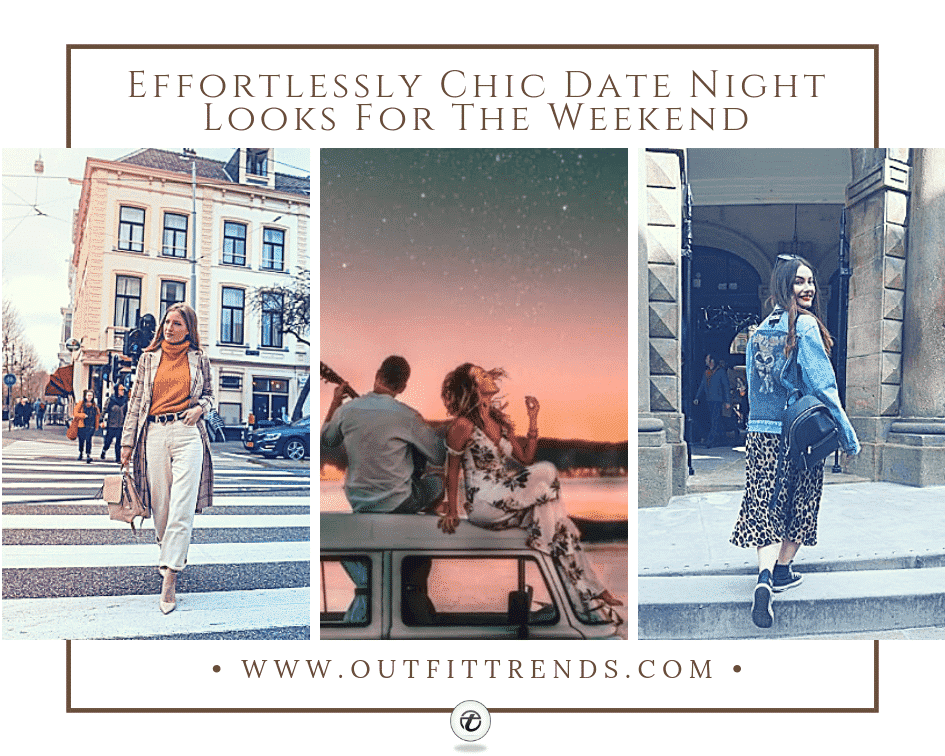 ↓ 25. Stylish Friday Date Night Outfit
In our earlier post, we already talked about 20 Best Outfits to wear on a Date, but today, its all about the weekend shenanigans. For a gorgeous and stylish outfit, check out this ensemble. Featuring a show-stopping pair of mulberry red pants, this look is perfect for an evening out with your love. Start with a black spaghetti strapped top and tuck into high-waist pants. These hit right above the ankle and feature a wide belt that perfectly cinches the waist. Some translucent "glass" heels help to elongate the leg and really highlight those gorgeous pants. For accessories, opt for a delicate drop necklace and a glitzy, glamorous purse. Loose curls and matching red nails further complete the look.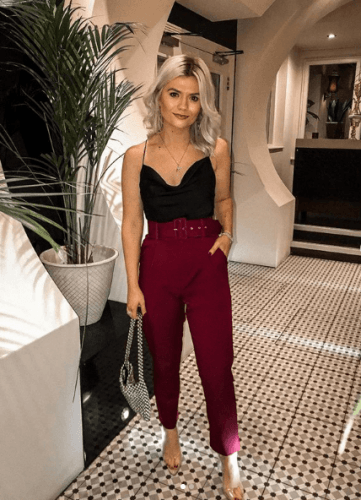 ↓ 24. Casual But Cute For Outdoors Date
For the fun and warm-hearted gal, this sweet look is perfect for a date night with your hubby! This yellow button-down top features detailed sleeves and a lovely v-neck, perfectly showcasing an eye-catching necklace. Perfect for a shorter torso-ed girl, this top's hemline hits right at the belly button. But there's no bare midriff here. Instead, these white mid-rise skinny jeans take center stage along with a thin, brand name belt. It's all about the accessories with this look, but don't forget that bold and beautiful hairdo! Last but not least, a statement pair of earrings – white to match the jeans – and some trendy heels complete the look.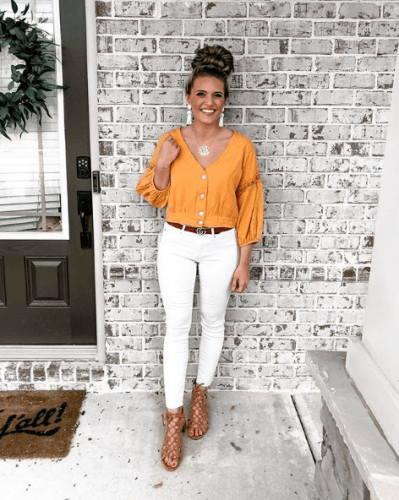 Here are some more cute outfits for a casual outdoors date: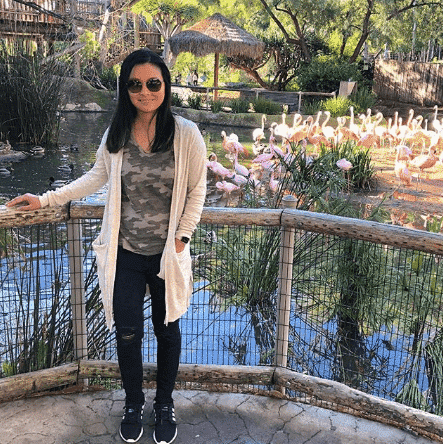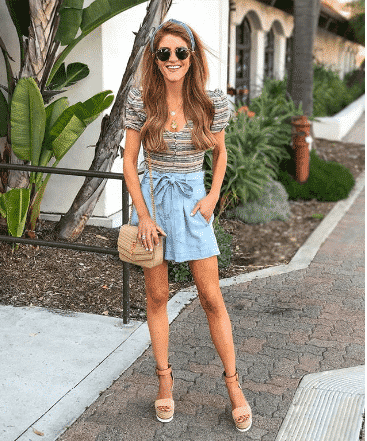 ↓ 23. Fabulous In All-Black
There are few things sexier than an all-black ensemble. Add a leather jacket to it and you have just taken it to a whole new level. This black one-piece jumper is flattering in all the right ways and is such a great piece to either dress up or dress down depending on the occasion. In this case, it's all about the style. Let your hair down and throw on a pair of glitzy earrings. A black handbag and heels offer the finishing touches to this stylish look.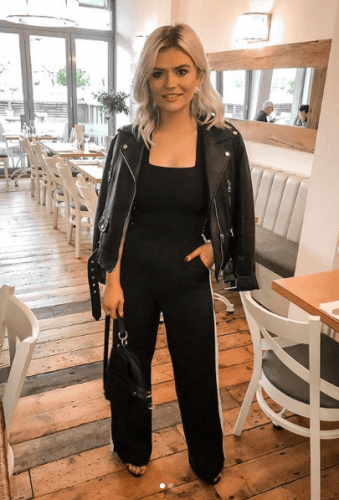 If you feel like making it more fun, add on a denim jacket over your black slip dress and don't forget your sexy heels.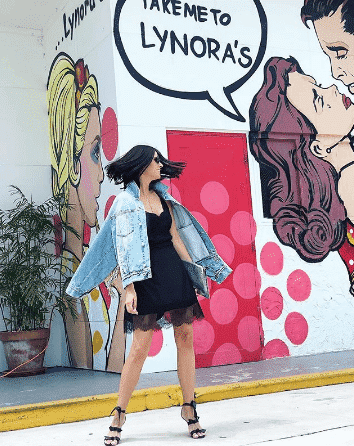 ↓ 22. Date Outfit with Jeans
For a classic and easily styled look, check out this weekend date night look featuring ripped skinny jeans. When styled correctly, even this deceptively casual clothing item can look chic. This crepe navy blue top features bell sleeves and an embroidered neckline. Loose curls pair well with the statement sunglasses and trend-setting earrings. Beige open-toed heels match perfectly with this pale handbag, providing the perfect finish to this cute weekend date look.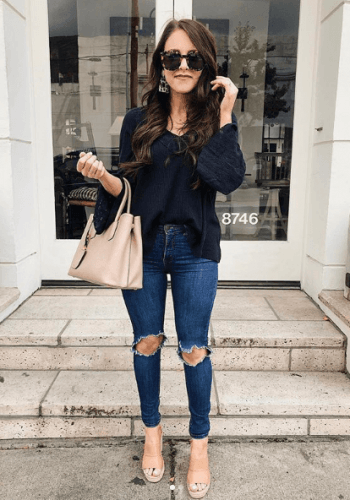 ↓ 21. How To Dress For a Saturday Lunch Date
This look is perfect for a breezy fall Saturday lunch out. Pair a black off-the-shoulder sweater with a patterned shin-length skirt of your choice. Soft brown booties match this cross-body purse so well, and is further complemented by this chic hat worn over loose curls. You'll be warm but best of all, you will look gorgeous! If you're planning on watching a movie, then we highly recommend this post on Movie Date Outfits.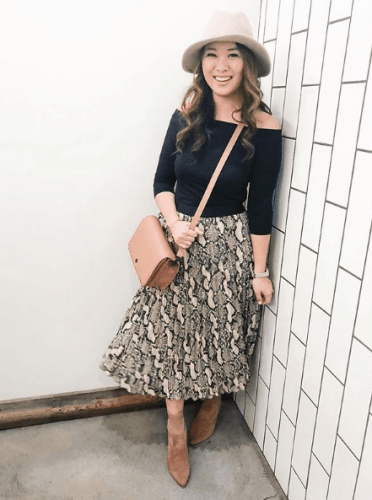 ↓ 20. The Perfect Weekend Beach Date Outfit
For an endlessly chic and stylish beach look, check out this gorgeous ensemble. This boldly printed dress is so feminine and fashionable. Throw on an oversized pair of statement earrings and a cute beach hat. Opt for chic flip-hlops and a standout purse.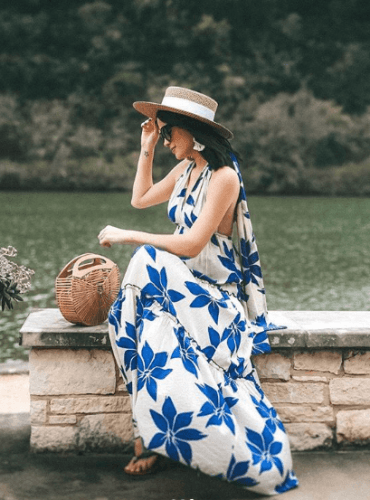 ↓ 19. Sweet & Simple For Your First Date
For the gal that loves a girly but understated style, this is the look for you! This pink, high-necked peasant-style blouse has long sleeves and is covered in a smattering of darling red and pink flowers. It's paired with an oversized pair of gold statement earrings and dark blue skinny jeans. Last but not least, opt for a comfy pair of clunky wedge heels – these match perfectly with the earrings! Don't forget your best accessory – a gorgeous smile!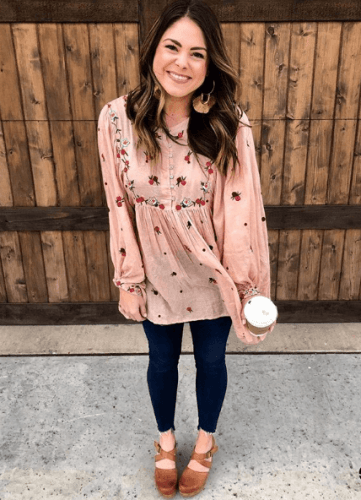 ↓ 18. What to Wear for a Glam Weekend Dinner Date
Wouldn't we all just love to be whisked away for a dinner date overlooking this gorgeous view?! For a night where you want to look especially glam, check out this look. This stunning cocktail dress features short bell sleeves and a v-neck. It's satiny, silky emerald green and is sure to catch the eye of that special date of yours. Loose hair, diamond earrings, and a brand name purse of your choice fully complete this look. But don't forget those strappy silver heels – pairing perfectly with that beautiful purse!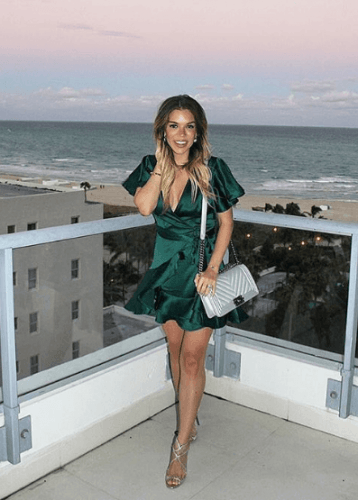 ↓ 17. Leather & Jeans
For the woman who loves a little edge, this is the look for you. A lacy top (or bodysuit) is worn under a pair of ankle-length skinny jeans with distressed hem. Opt for accessories like this delicate necklace and small hoop earrings. The leather jacket pairs well with this statement handbag bedecked in tiny studs and silver finishes. Last but not least, go for some white, pointy-toed heels and a silver belt to top it off.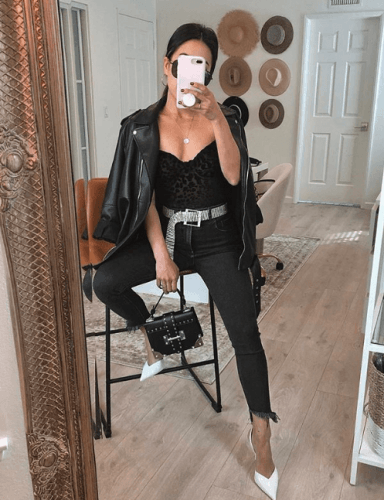 ↓ 16. Gorgeously Sleek
Not all of us can pull off shiny vinyl leggings but if you can rock it, then why not! This look is fun, sexy, and glam. And you can get away with minimal accessories – a win in our book! Opt for an off-the-shoulder blouse with bell sleeves and loose, spiraling curls. Knee-high boots and red lipstick complete this simple but fabulous ensemble.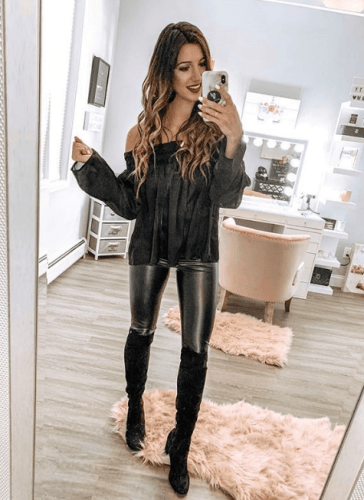 ↓ 15. Vinyl Pants For The Win
For the brave gals: these vinyl pants may seem risky but they're also crazy fun and eye-catching. Paired with this white cashmere one-sleeved top, these pants are the standout piece of this ensemble. Opt for a simple necklace and various jewelry pieces, like a ring and a couple of bracelets. Loose hair and manicured nails really bring the finishing touches to this look. Here are 20 Cute First Date Outfit Ideas for Girls He will Love.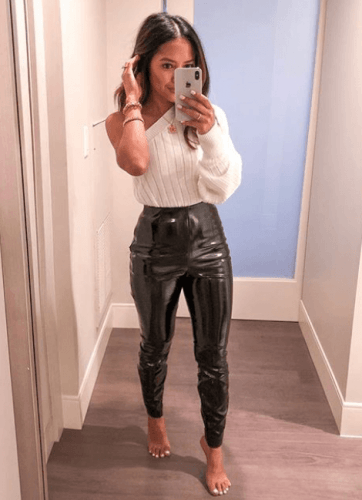 ↓ 14. Uber Chic Coffee Date Look
These trendsetting sunglasses are too gorgeous not to revisit! This navy blue tiered top features a fun eyelet style that is great for dates outdoors as you'll feel cool without sacrificing style. Skinny jeans and a taupe colored handbag round off this lovely Saturday look.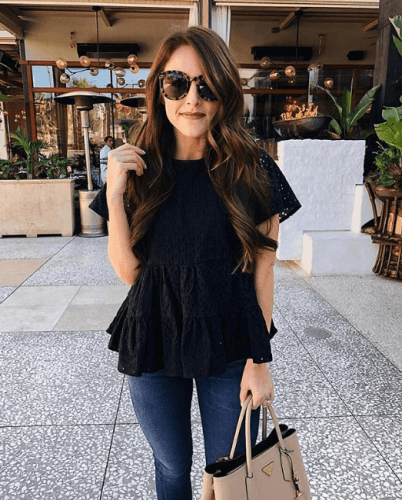 Or just go with stripes since you can never go wrong with them.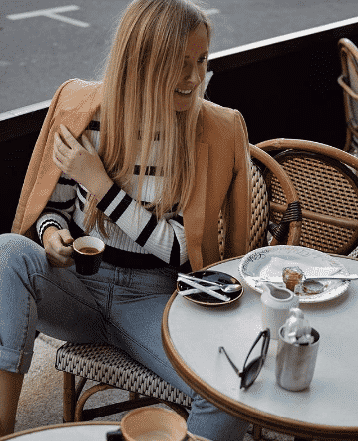 ↓ 13. Midwestern Style
For the girl that loves a Midwestern look, this is the ensemble for you. Thigh-high boots and funky-patterned skirt really bring a western vibe, and this off-the-shoulder long-sleeved top is perfect for rounding off the look. Long, loose curls and minimal jewelry finish off the outfit.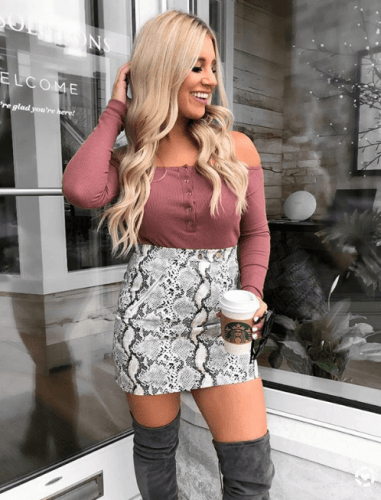 ↓ 12. Casual Weekend Date Outfit
This is a natural, all-girl look perfect for those coffee dates or lunches out at your favorite spot in town. Casual but pretty and stylish, opt for a high-necked white blouse and ripped jeans. A watch and boots are pretty much the only finishing touches you'll need, so play up your makeup and hair and let them do the talking.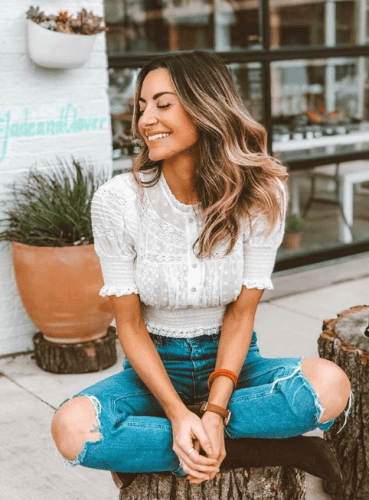 ↓ 11. Stylish Sunday Brunch Date Outfit
For an LA-inspired look, why not try this super cute outfit? An olive green chambray shirt is worn over a black camisole top, tucked into a pair of ripped white skinny jeans. Wear your hair in long, loose curls and accessorize with an oversized black purse, sunglasses, a velvety soft brown hat, and dangling earrings. Make sure to play up your makeup and have fun with your choice of footwear. A great option would be a pair of booties or even some strapped heels. Don't forget your favorite bracelet and necklace!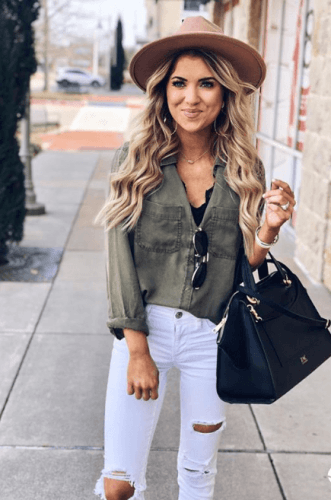 ↓ 10. Comfy & Cute
A simple look for the girl that loves a low-key look that's both comfortable and stylish, check this ensemble out. It's all about the jacket with this outfit. Feel free to go a little bold with the statement jacket of your choice. This one is denim-inspired and features an array of decorative buttons. Wear over the little black dress of your choice and pair with some white slip-on shoes. Long loose curls and a purse are the only accessories needed! For more ideas, here are 20 Awesome Ways To Style The Little Black Dress in 2019.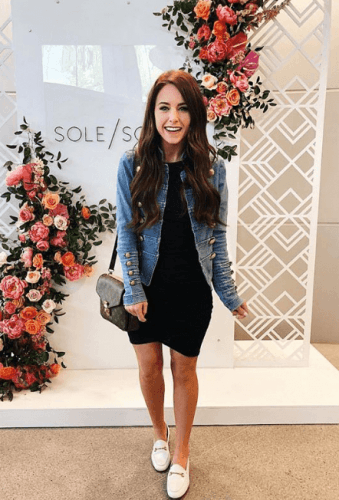 ↓ 9. Fun Daytime Date Outfit
This look is perfect for a day out with your love when you want to look cute and put-together but still comfortable enough to run errands afterward 😉 (Because real-life love stories include trips to Home Depot as well as the dinners out at the Ritz!) Simply opt for a sweater featuring some kind of standout feature. This one has large horizontal stripes. Tuck the front bit into the top of your jeans and grab your favorite oversized purse. For a chic hairdo, tease out your hair and pull back into a low pony, making sure to tug a few strands loose to frame your neck and face. Last but not least, choose your favorite array of jewelry. Opt for statement earrings, an understated clavicle necklace, and a bracelet or two.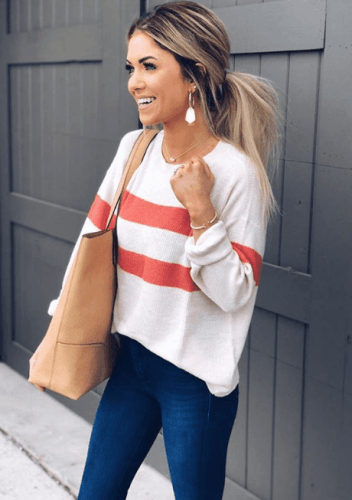 ↓ 8. Pretty in Pink
For a darling look, opt for a blush-colored and pair with similar colored heels. Don't forget your clutch and loose, romantic curls!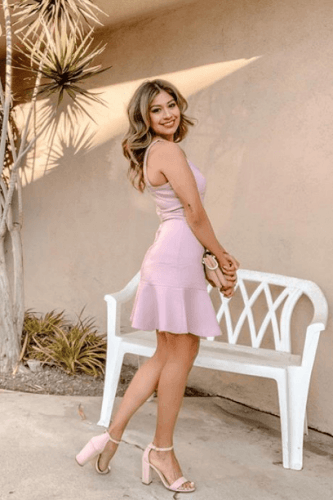 ↓ 7. Fall Outfit
This stylish look is perfect for a date at your local vineyard. Opt for a well-fitting, thick cashmere sweater. Beige is sophisticated and works great when paired with jeans. Go bold with your choice of footwear, like these cheetah-printed booties. Last but not least, bring along your favorite oversize purse and pop your favorite sunglasses up on your head for the perfect finishing touch.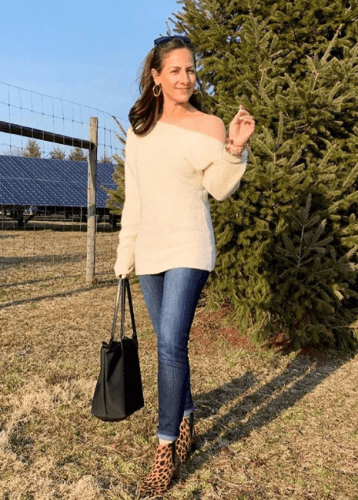 ↓ 6. What to Wear for a Weekend Dinner Date at Home
This look is perfect for those nights in on the back porch or sitting at the dining room table with your favorite candles. This dress is bright yellow with trumpet sleeves, a v-neck, and a wraparound style skirt. It falls just below the knee and is paired with some slip-on flats and an oversize pair of earrings. It's a minimalist-like look that is perfectly feminine, simple, yet beautiful.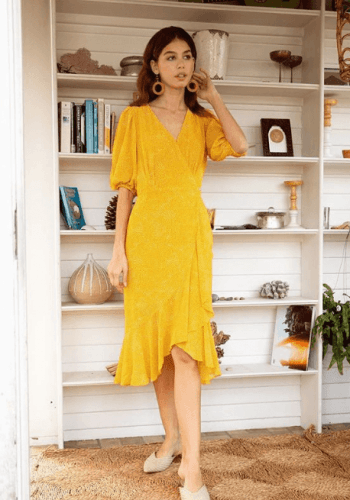 ↓ 5. Chilly Autumn Daytime Outfit
This look is perfect for a warmer winter day or a chilly autumn day where you want to be warm but still look cute! With this ensemble, you'll wear a charcoal gray turtleneck sweater under a fitted black leather jacket. Tuck your turtleneck into a pair of high-waist light-wash jeans and pop a snow-white beanie on your head! For footwear, go for a pair of black booties or even knee-high boots. Go for a light and fresh makeup look and a necklace to accessorize.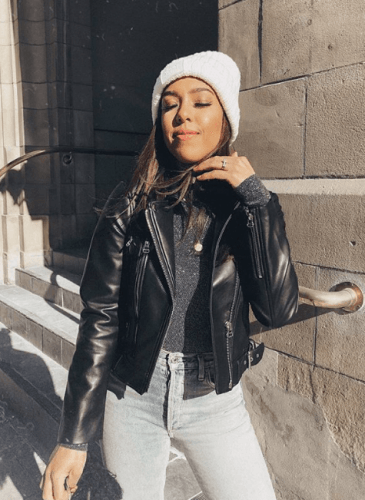 ↓ 4. Sweet & Feminine
If you want to look sweet and feminine, you really can't go wrong with a dress. This dress modestly falls almost to the ankle, and it has a lace hem, a v-neck, and a darling row of buttons down the front. Slip on your favorite pair of nude heels and let your hair down. This look is effortless but so pretty.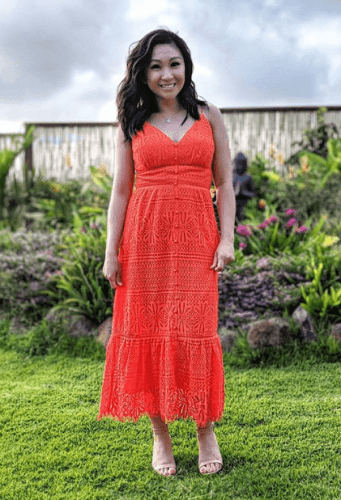 ↓ 3. Dressy, Beautiful & Cocktail Party Ready
This satiny slip style dress is so perfect for a dinner out with your love! It's an effortless look and works beautifully with a handful of black accessories: namely, black heels, a black clutch, and diamond earrings. And that's all! Let your hair down and opt for a smokey eye makeup look. You're ready for a night out on the town!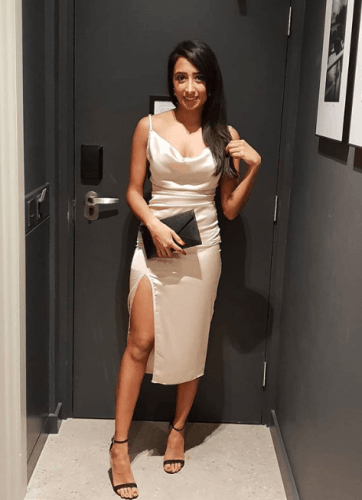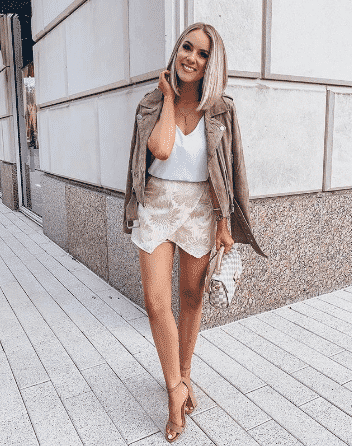 ↓ 2. Black & White Weekend Date Outfit
This is a daring and bold look for the gal that loves showing off her figure! A strappy black top with back cutouts is tucked into a white high-waist pencil skirt. Pair with black stilettos and loose, wavy hair. Voila! Date night ready.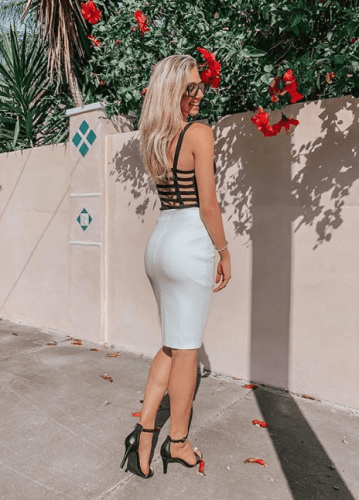 ↓ 1. Fun & Sweet Date Night Ensemble
For a cute summer date outfit, pair a white crop-top with the midi skirt of your choice! This skirt is boldly patterned and looks great with these glitzy heels. Pull your hair back in a half-up, half-down updo, and pop in some hoop earrings.