Sequin Outfits: Sequin dresses have been part of fashion for so long. All those sparkles and shines always brought a new kind of style. It has its aura because nothing makes a statement like a sequin outfit.
It has been wholly embraced day and night, including suits, dresses, shoes, purses, gowns, etc. Sequin dresses always have that glamorous charm that can make your evening spectacular. Indeed, it is the perfect attire for a perfect formal occasion.
Sequin dresses are a perfect way to slay the party. You can never go unnoticed in shimmers. Sequin dresses are trendy, versatile, and wearable for any occasion. But sometimes, pulling all shine and glittering sequin outfits with style can be challenging.
It is understandable when you're trying to incorporate sparkle and glitters in your outfit by going out of the way.
How to Wear Sequin Outfits?
Sequin is quite a hot trend these days and one of the best thing about sequin is that it can be worn in a variety of ways owing to its versatility. Sequins look great in a variety of color be it a dark and rich black or a hot pink. Sequin dresses are perfect party wear.
Whether it is a new year party, birthday bash or any casual gathering you need to have such outfits in your wardrobe., If you have a love for blingy things, sequin is your best friend. Here are some amazing outfit ideas to help you incorporate sequin in your day to day fashion.
Want to look fabulous and have extra oomph at a party? Then go with an elegant strappy sequin dress paired with a kitten. Or you can be the start of the night in that long sleeve covered head-to-toe, sparkle with a vast range of embellishments, including puff sleeves, high split, keyhole, and tassel detailing with a touch of shimmer.
Wear a sequin dress with solid color sandals, heels, or flats. It's better you avoid glittery fancy shoes to not look overdressed. You need to balance out your look.
Remember: When Wearing Sequins, Go for Nude Makeup
If you are wearing a sequin dress, go nude makeup look. It is perfect if you keep your palette neutral but play with subtle shimmer and shine and a layer of lipstick and gloss. Stick to nude lipstick. Nude lipstick alone might look too daytime, and brilliance alone might be too simple, so it's better if you add layers of both.
Avoid using bright or daring colors on your face. Just use a neutral palette enough to enhance your features. The more you keep your makeup simple, the more prominent your sequin outfit will be. So, it is right that nude makeup is perfect for sequin dresses.
Outfits with Sequin Pants
31 – With a Black Blazer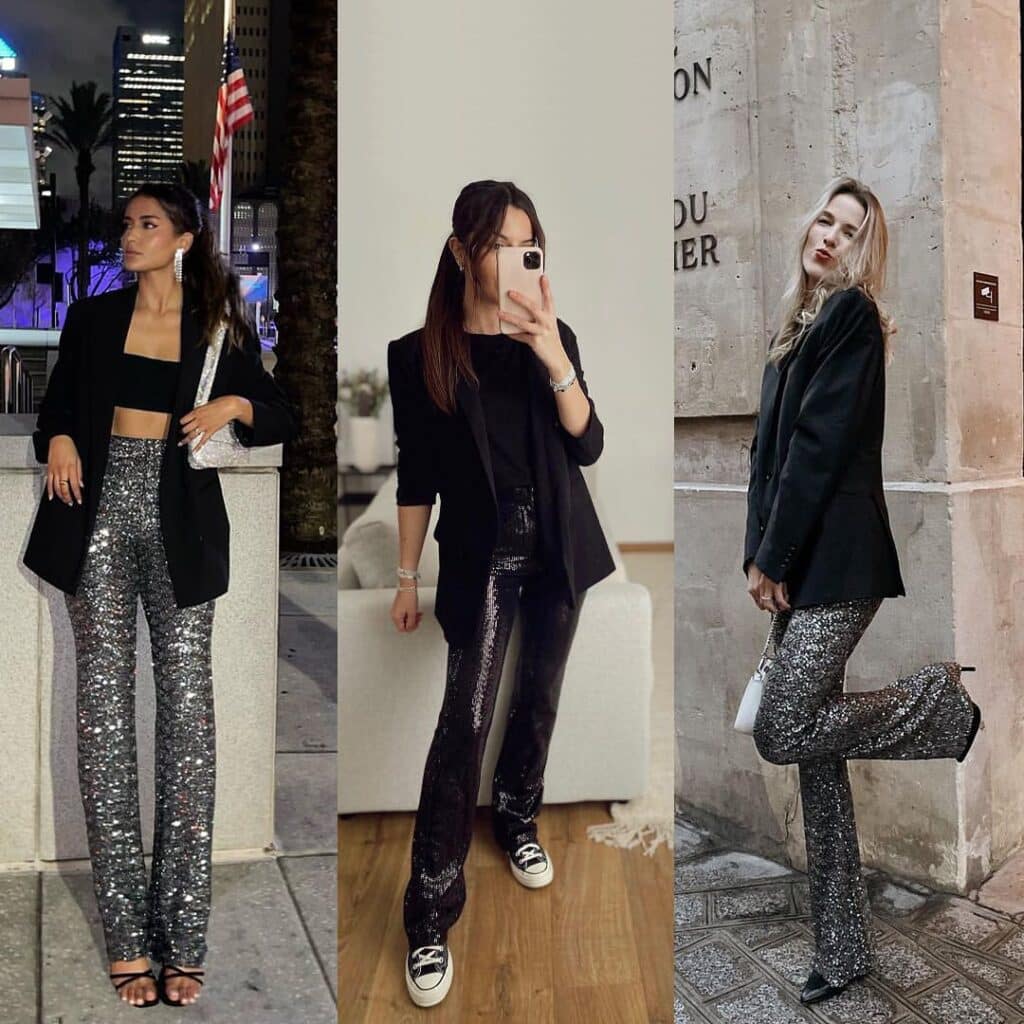 30 – With a White Crop Top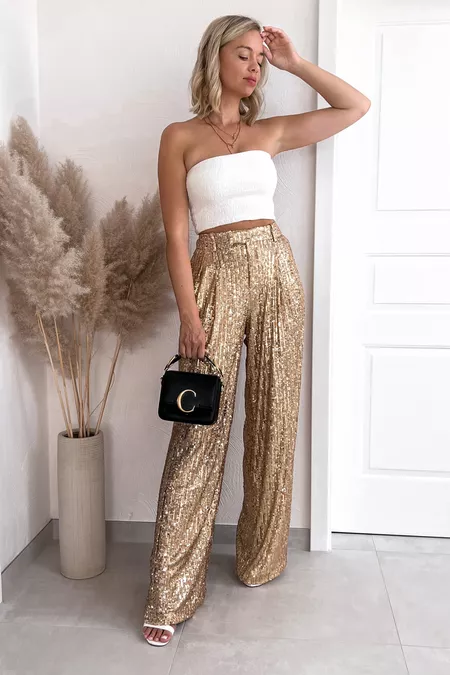 29 – Try a Simple, Black Blouse with Golden Sequin Pants
Sequin pants are another way to show the world your love for pretty, shiny things! You can pair it with a simple top and add a matching necklace to give your look a great makeover.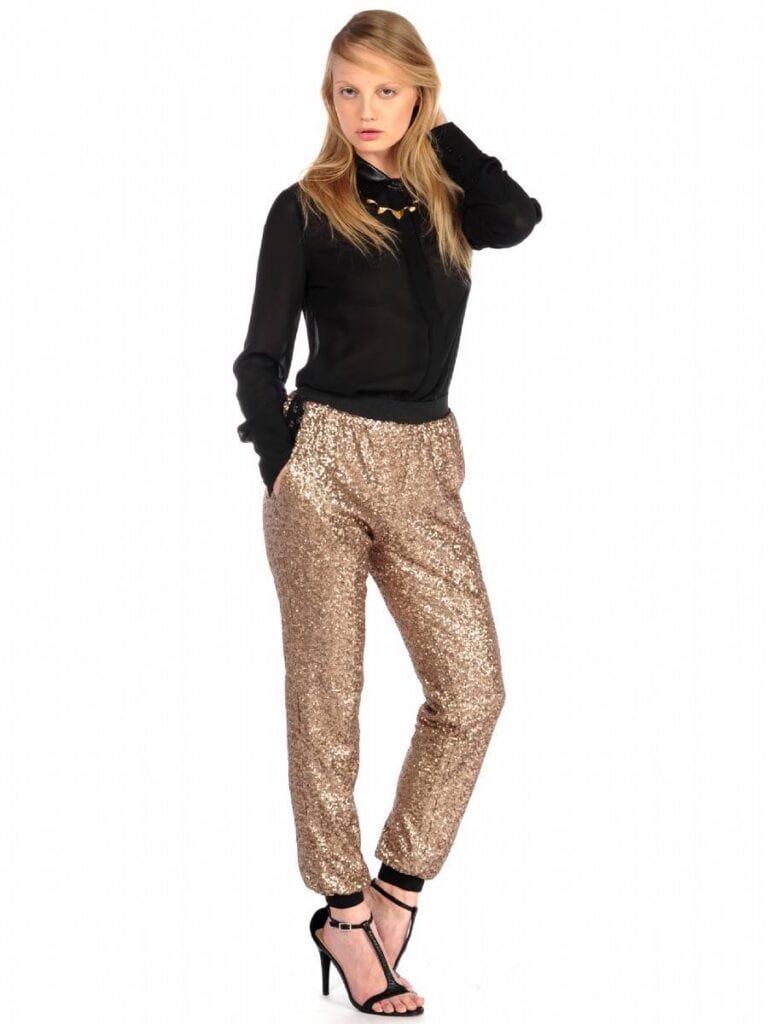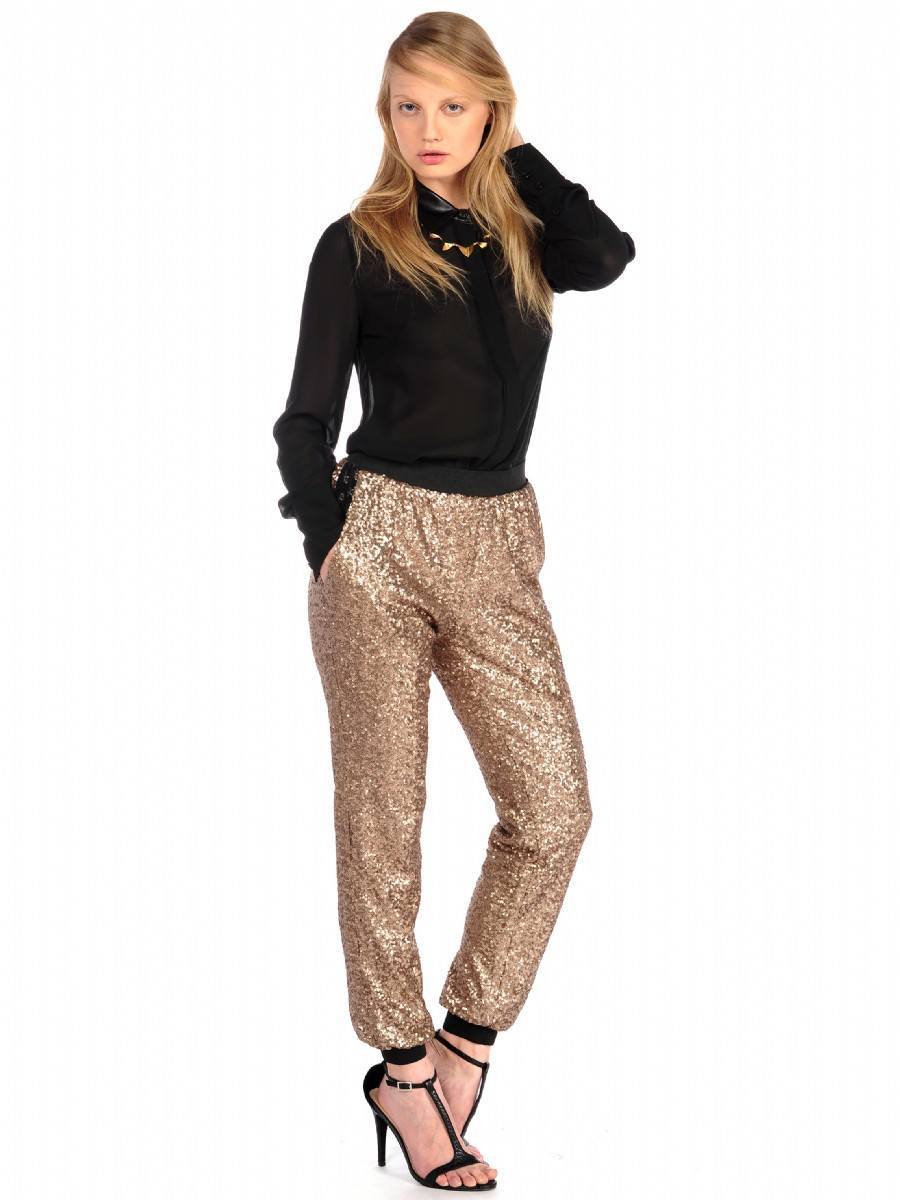 28 – With a Matching Sequin Top
Sequin top and pants are the most powerful look you can ever ask for. If you want to ensure all eyes are on you this season, then a sequin top and pants are perfect attire to catch your attention. It is so classy, professional, and stylish.
It can go for any event from festival season to Christmas party season; either you're getting ready for a night out with your girls or want to add some sparkles to your daytime look. You've got all the sparkly outfit look you need in your wardrobe. It is effortless to style.
Sequin Ethnic Wear
27 – Sequin Dupatta
Sequins are a common theme at most Indian or South-Asian weddings. Here we see a beautiful floral lehnga paired with a sequin dupatta. If you want to try this look in a more western look, simply try a sequin scarf with a floral skirt – it would have the same effect!
With the wedding season going on, you might have come across a lot of bling and glitter, but this time it's not just the festive sparkle. This time it seems that the bling trends are here to stay. Sequin saree seems to have become the new trend.
Sequin saree are proof that the blingy trend is back and is not going anywhere. So, if you're looking forward to wedding attire this season, go for a sequin saree outfit and slay the wedding.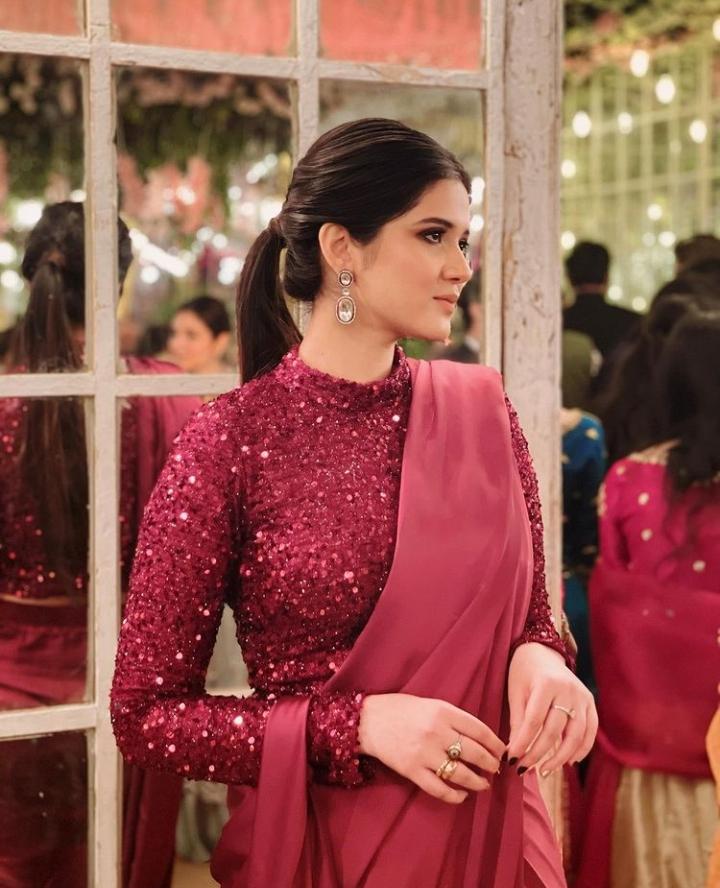 Sequin Outfits for Summers
25 – Sequin Shorts
Another cute way to add sequin to your life is by wearing a pair of trendy shorts which are pure sequin and make quite the fashion statement.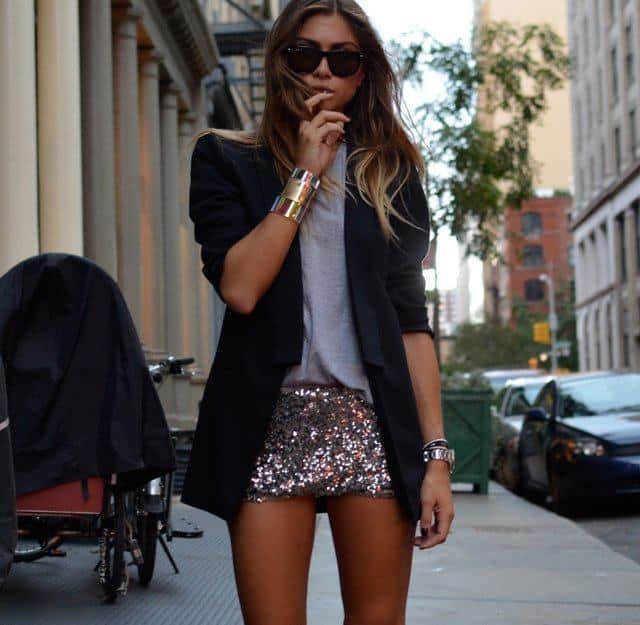 24 – Sequin Skirt Outfits
Sequin skirts will help you make quite an impression on everyone around you as they look simply stylish and go amazingly well with a smart formal top tucked into them.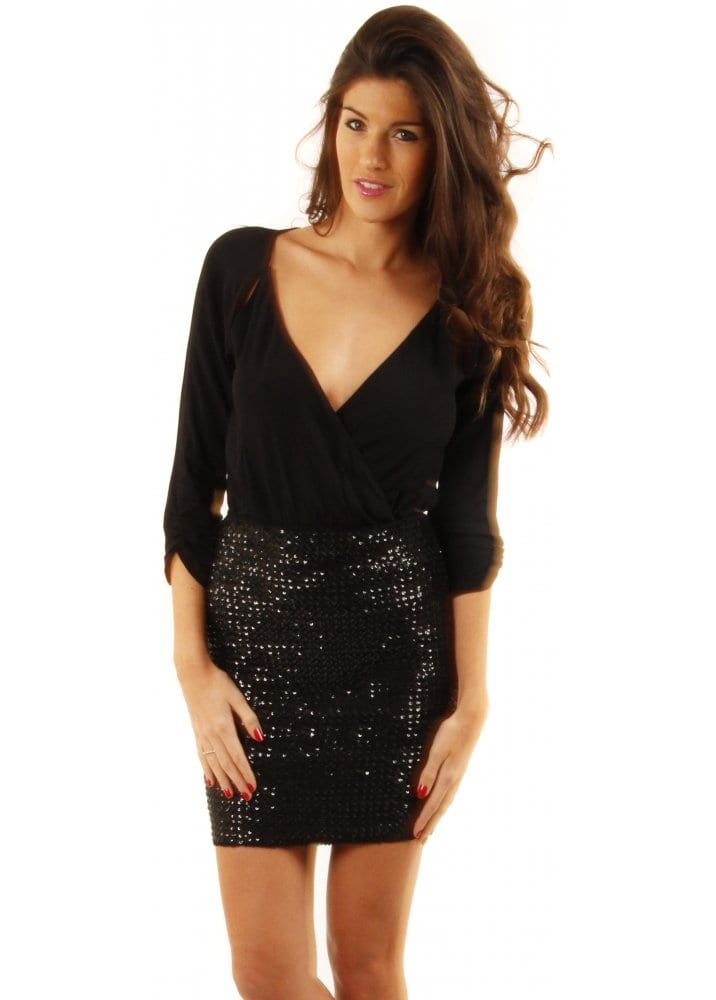 For a more modest look, try a midi length sequin skirt with a silk top in black: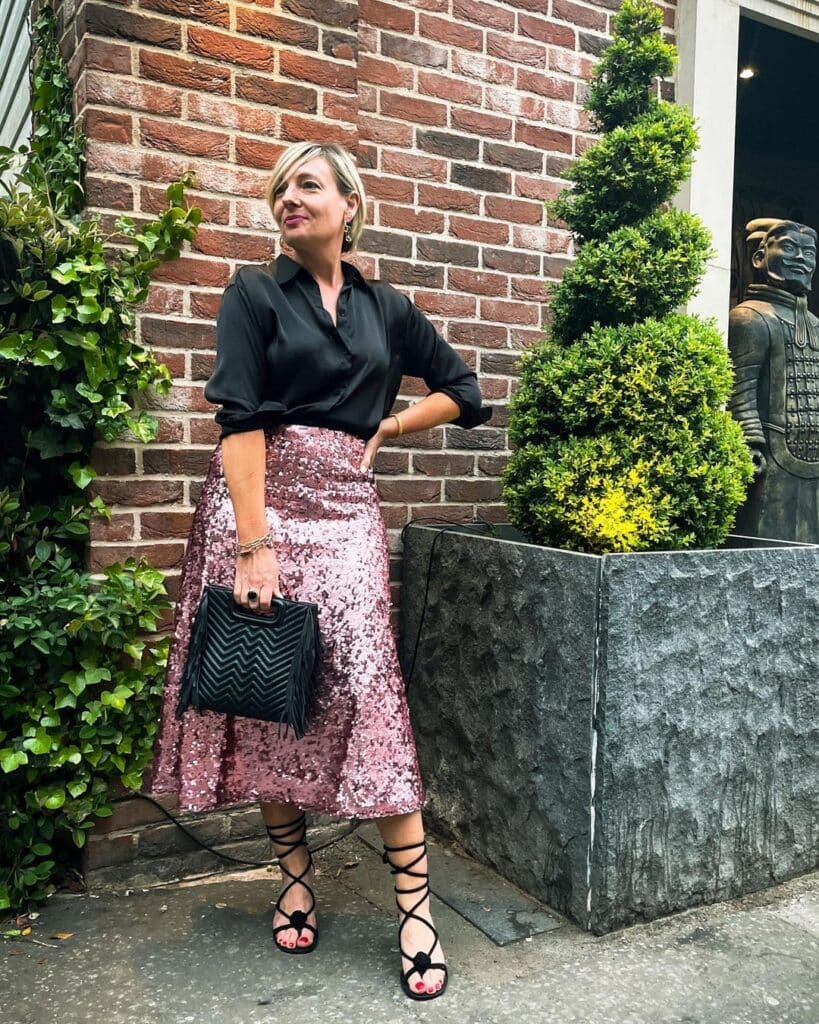 23 – Sequin Tank Top
Sequin can work great in the form of tank tops too which can be paired with shorts or jeans.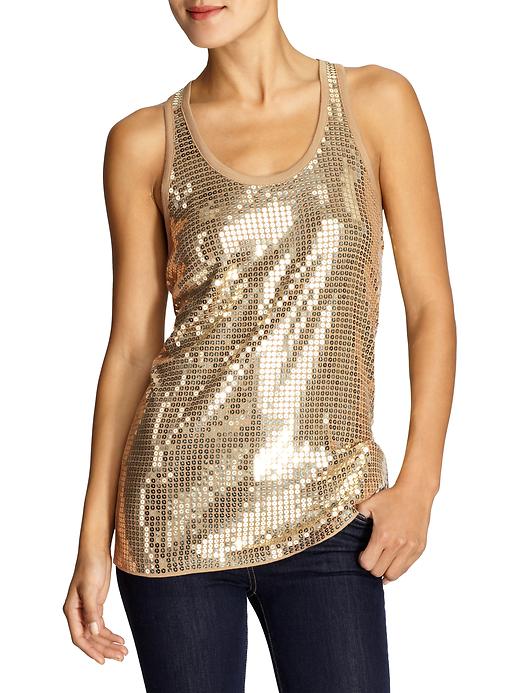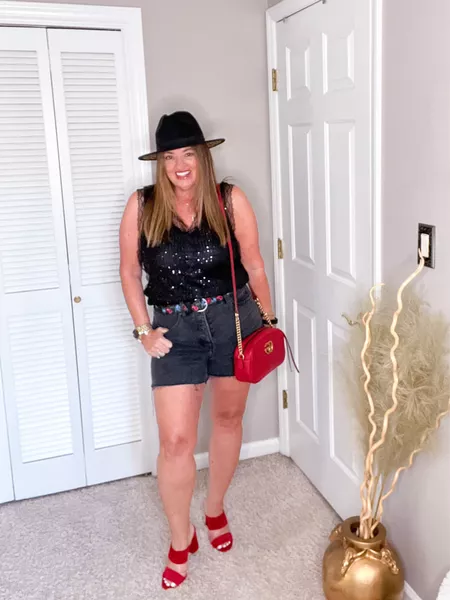 Sequin Outfits for Winters
22 – Sequin Blazers
A sequin blazer will go nicely for an evening look when you want to party with the girls. Keep the rest of your outfit simple as the blazer will grab you all the attention you need.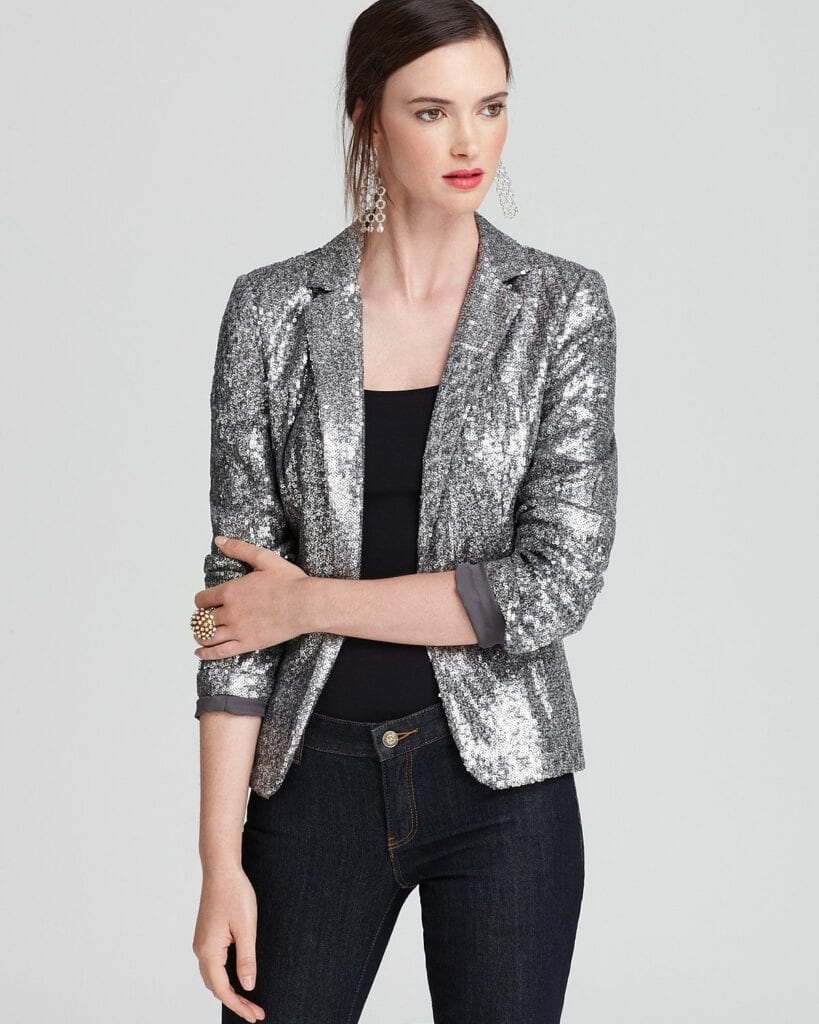 21 – Sequin Blazer Dress With Transparent Heels
Sequin blazer dresses are perfect if you want to make a statement appearance at any event. It is a striking outfit and is easy to style. Even if you are not a fan of sequin dresses, you can deny sequin blazers.
They have their impact. Sequin blazer is a statement piece; dressing it up with chic all-black pieces allows it to shine and be ready to steal the show.
You can style a blazer with velvet slim-leg trousers, adding sophistication to the playful piece. Sequin blazers looks are so versatile that you can wear them to the office, Christmas party, a work function, date night, etc. You can effortlessly give a look you want.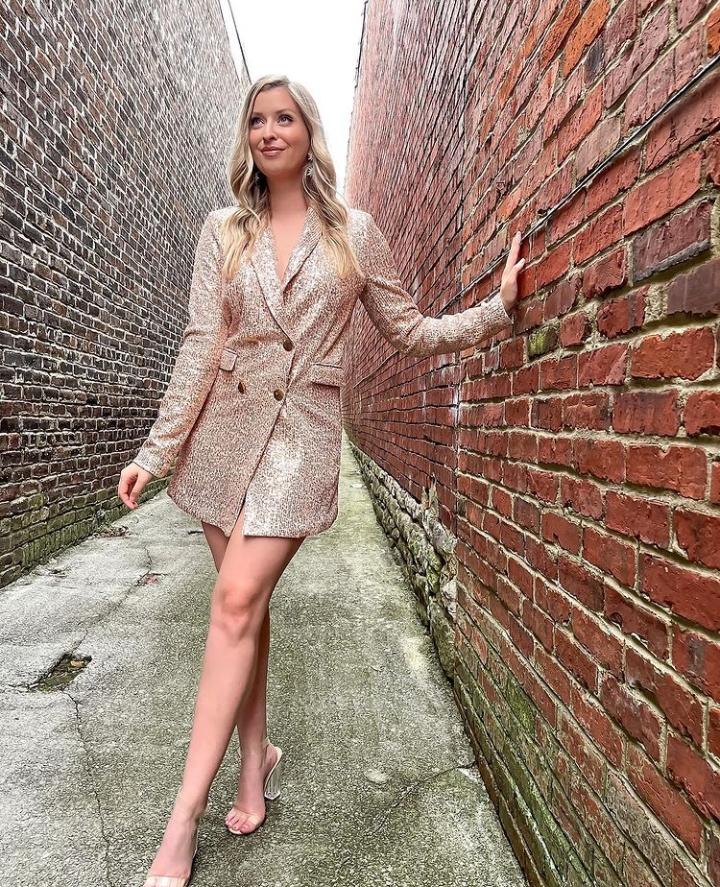 20 – With a Faux Fur Jacket/Coat
Choosing accessories for a sequin dress is a question we hear very often. Because a minor mistake in choosing accessories and all your look can go wrong, it's better to pay some heed. A sequin outfit is only as good as its accessories. But you can't expect to finish up a low-cut sequin dress without something to make it show.
If you're wearing a higher neckline, then prefer not to wear layers; instead, go for a higher necklace such as a choker to dress up your look and as for earing, choose sleek and straightforward, whether just studs or skinny drop earrings which bring attention to your neck.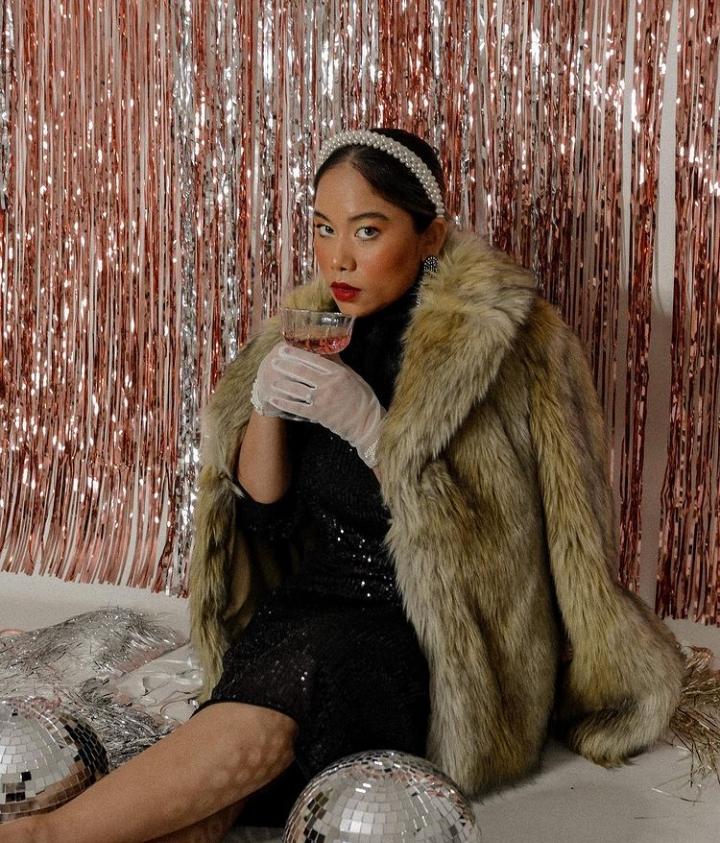 No matter what season it is, sequin dresses are always in. they are a complete festive package. You can style sequin outfits according to the weather. Add layers you usually would for a high/low look that works or match your sequin outfit with your cozy winter knit.
Another best look is to layer a colored faux-fur blazer over your sequin dress party dress. It takes on a whole new dressed-down edge. And you are all set to crash the party without getting cold.
19 – A Simple Winter Look with Sequin Tights That Isn't Over The Top
Sequin tights go great with long, baggy tops or paired with a blazer and crop top as they show case your legs and give your overall look a stylish uplift.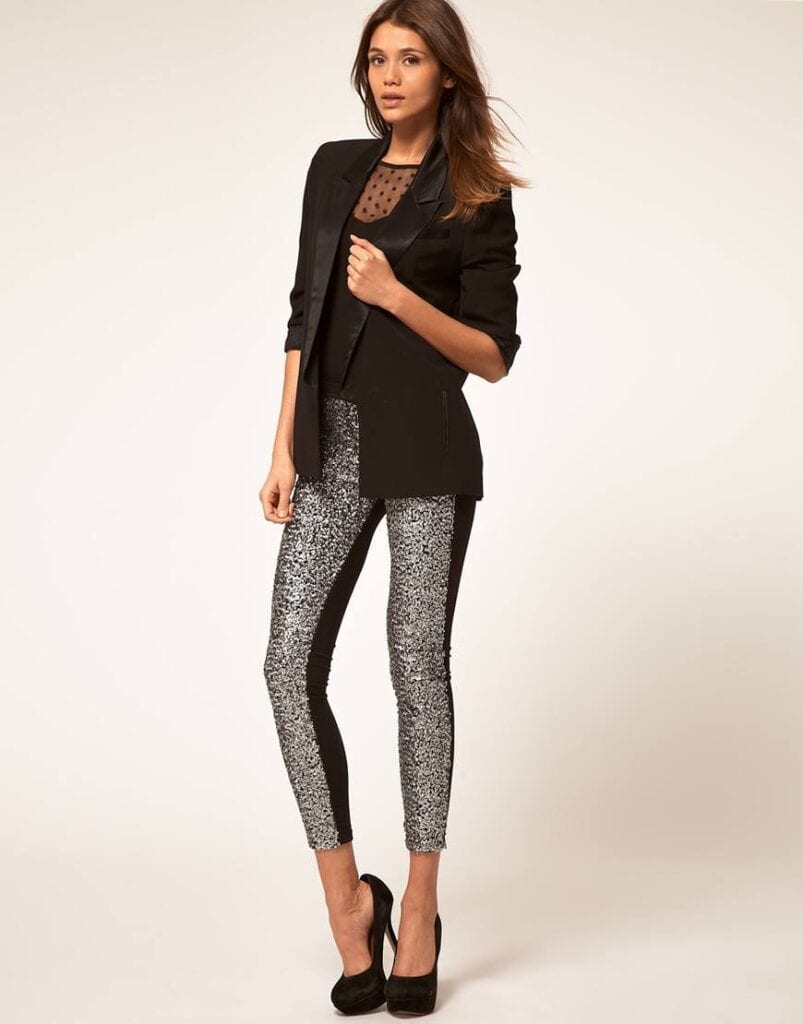 18 – Layer Your Sequin Dress With an Oversized Jacket
Wearing a sequin dress with an oversized jacket is an excellent choice. Some people do it because they like it, sometimes because of weather requirements, or occasionally when giving a casual look. It creates both a simple and modern look. A sequin dress looks fantastic with jackets. So, if the weather ever demands or you want to add an oversized coat with your sequin dress, then never hesitate; go for it.
17 – Wear Sequin Dresses with Blazer and Stockings
You can never go wrong with the stockings, that is for sure. Stockings are an excellent pick for formal wear and winter outfits. You can create a punk look by styling fishnet stockings with distressed jeans. Or you can go with floral pattern stockings but make sure that the pattern blends in with your outfit, and it can look great; and make sure you pair them with high heels.
Moreover, you can pair stockings with maxis, camisole dresses, and even long skirts with high heels, and you're all set to steal everyone's heart.
How to Wear Sequin Outfits Casually?
16 – Go for a All Black Look
Black color is a color that goes with every flush. It doesn't matter which color you choose because it always slays with black. But black with the black outfit is one of the best and most decent combos.
For instance, let's style your black mini dress or turtle neck with a black jacket or blazer with black heels. What an alluring combination. I think you should go for it; you will feel powerful in these colors.
15 – With Ripped Jeans
One of the best ways to tone down a sequin if it's too bright is by adding casual pieces of clothing to it. Pair a sequin top with your plain old skinny jeans or boyfriend jeans to get a nice, laid back look.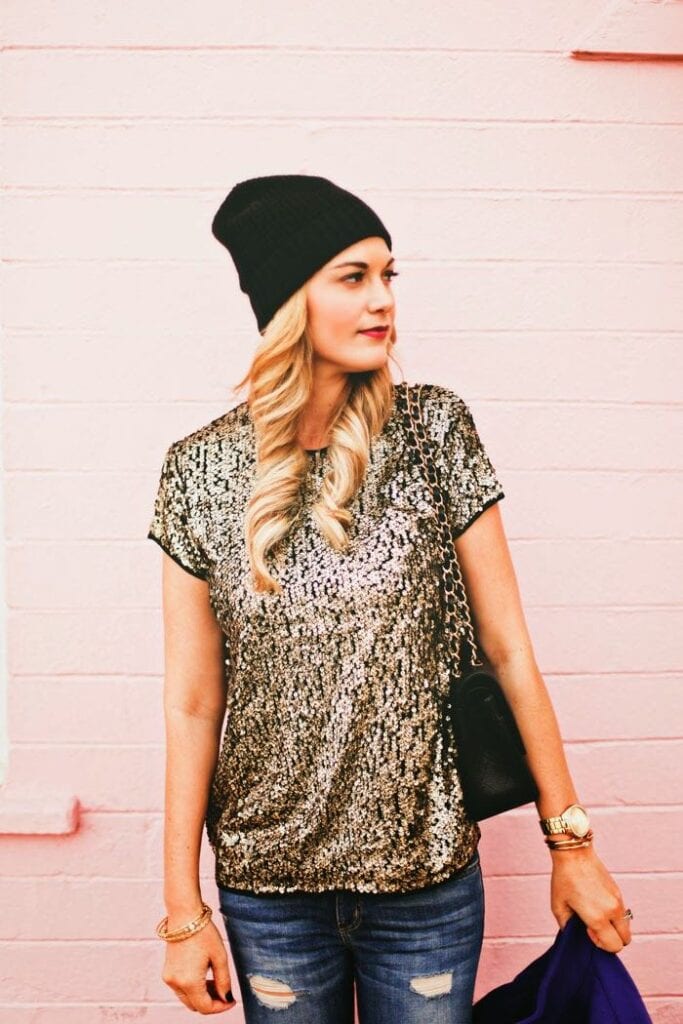 14 – Go for a DIY Sequin Top to Keep it Simple
We have already talked about 50 DIY Winter Fashion Hacks. With the little intuition, you can give new life to your old tops by adding sequin touch on top of it or at shoulder areas.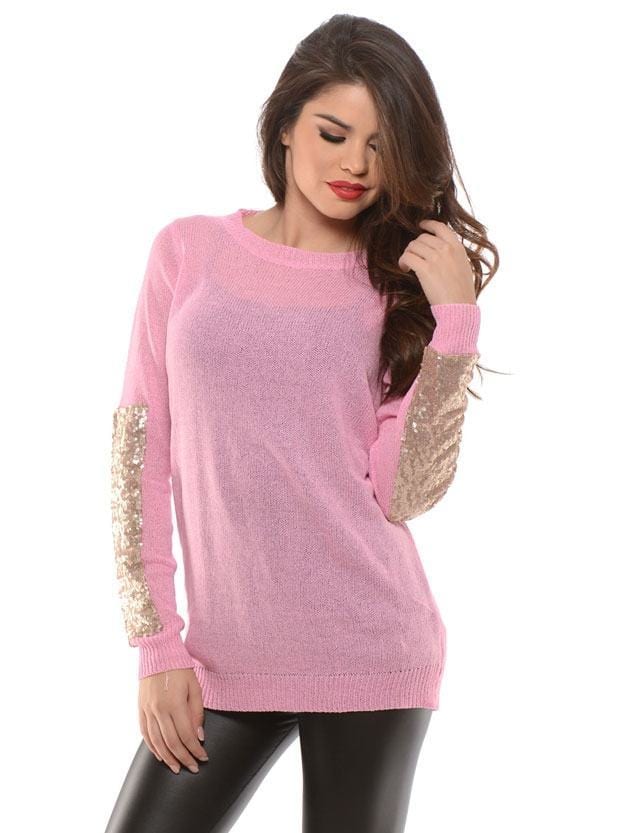 If even the sleeves are a little too much for you, go in for a top or sweater with elbow patches and you'll get the perfect look of toned down meets bling.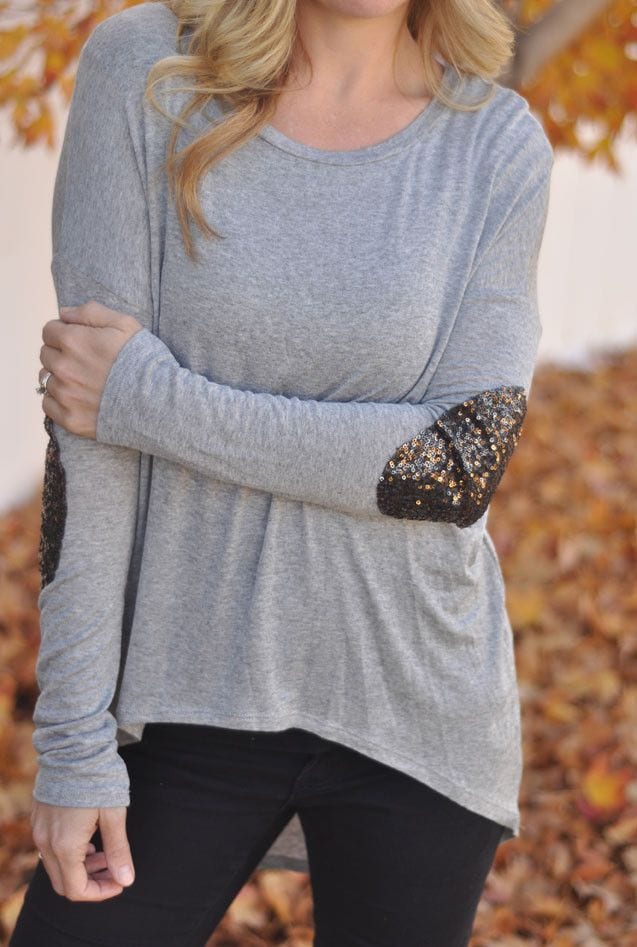 Best Sequin Dresses for Parties
13 – Try Funky Sequins For New Year's Eve
If you want to make a noticeable appearance on new year's eve and look gorgeous, then a sequin dress is perfect. You can always bet on a sequin dress when it comes to apparel for a special occasion. Whether you wear a mini, midi, or floor-grazing style, a sequin dress, no matter how minimal you keep the rest of your outfit, you'll always look dressed up and ready for the party.
12 – Blue Sequins are Our Favorite
Pretty much everyone always goes for a black color dress. But these days, the blue color is trending so high without even coming low. It is because it is a perfect color for party wear, everyone loves blue color. Blue color never disappoints in sequin outfits. With your shining personality and style in spades, it's like Blue Sequin Dresses was made just for you. They always give a very classy modification.
11 – Cocktail Party Outfit
Skip your everyday boring outfit for a glistening sequin dress, and I can bet that it'll lift your mood on the dreariest of days. Mark my words, "Glitters never disappoint." If any dress style will make your squad look like a million bucks, it's a shimmering sequins dress. A glittering sequin outfit will look effortlessly chic.
So, fill your life with shimmering, sparkling, and glittering gowns and enjoy every moment.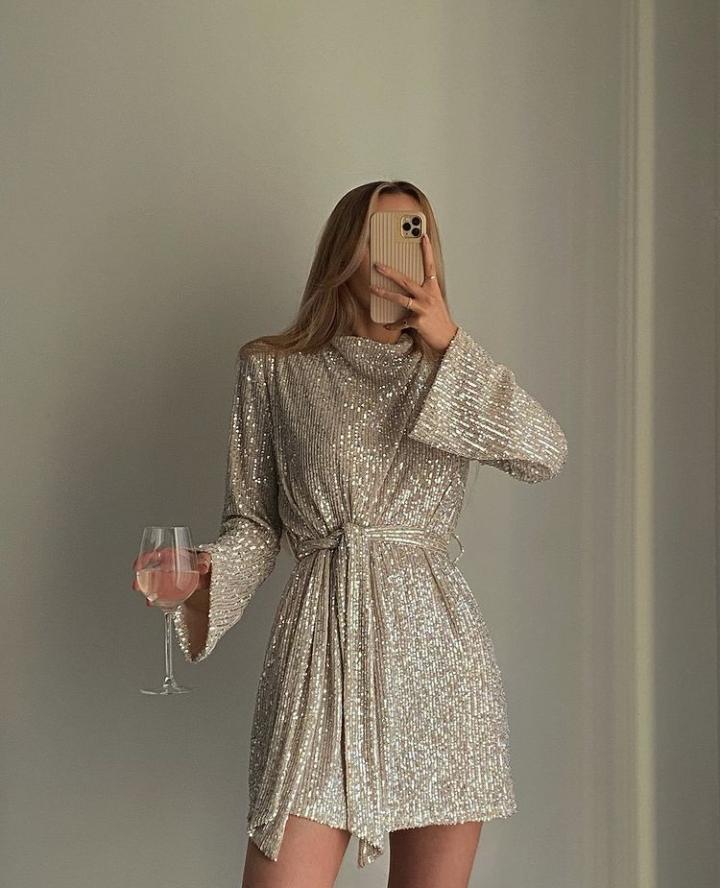 10 – Cindrella In Sparkles
Sequin dresses are a perfect representation of Cinderella in sparkles. So, what are you waiting for this festive season? Go for the sequin outfits to create your own Cinderella look? All those shines and glitters are stunning. Moreover, e wearing a sparkling sequin dress and not the heart robe of the night would be impossible.
9 – Sequin Dress For Baby Shower
Who dared to claim that a sequin dress is just for parties. No, they are not. They are not limited to particular occasions. You can wear them whenever and wherever you want to. So, why not get all your sparkles in a sequin maternity dress. If you're looking to add some shimmer to your motherhood style, you should straight go for a sequin maternity dress for a baby shower.
There are so many ways to style your sequin maternity dress. You can go for a shimmery one that's full of sparkle or has more muted tones or whatever you want. Check out the other ways to dress up for baby showers.
8 – Neon Sequence Outfits Never Disappoint!
A bright color sequin dress never disappoints. It always cheers the mood. Colorful color sequin dresses are perfect for party seasons. So, party hard and sparkle even harder this season in your favorite bright sequin dresses.
From leg-lengthening minis to mid-length silhouettes, all in the sparkly colorful dresses you need to bring the fire. A bright, sparkling dress generates a different kind of aura that makes many heads turn in your direction. You'll be shining the whole night in your bright sequin dress.
7 – Go Backless
If you want to make a statement by showing some skin, go for it. Usually, the front looks classic, but behind it reveals the back, making you look bold and hot. There are different ways to style your backless dress, so it says you need practice, but it's not that difficult.
Make the right choice, such as picking the proper undergarments and choosing to appropriately accessorize.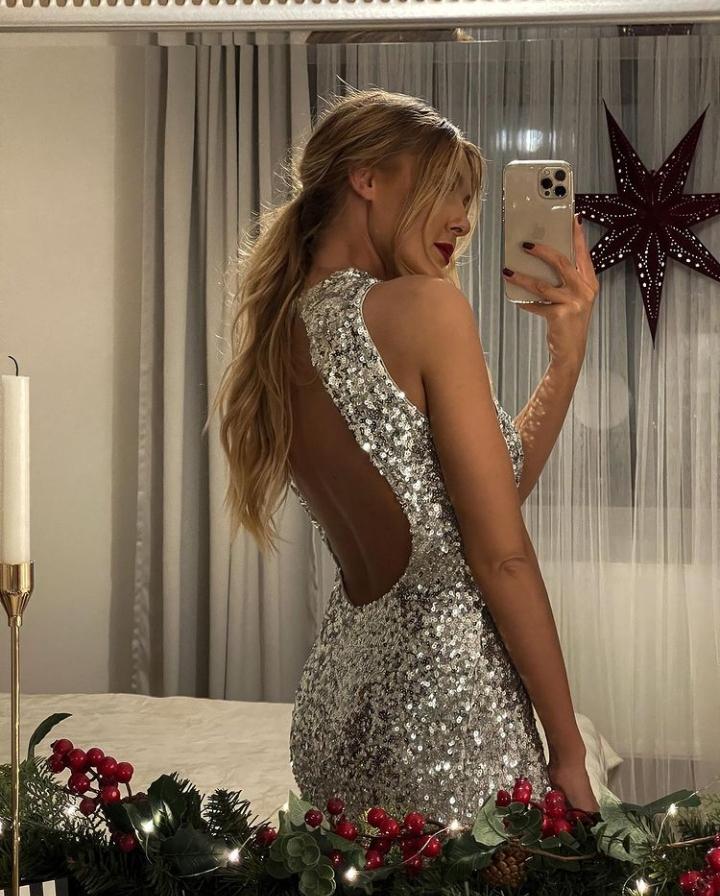 6 – Choose Silver Sequins for Your Birthday Party
Suppose you want to make a striking impression and choose a silver sequin dress. It would make a sparkling red carpet look.
A sparkling silver sequin dress is truly fashion magazine cover-worthy. If you want to ramp up your outfit with a pair of shoes immediately, why not complete this look with a couple of silver-heeled sandals.
So, complete your outfit with a pair of heeled sandals to make it look slightly more elegant.
5 – Sequin Dresses for the Club
There are different ways you can pair up your sequin dress. By pairing a flattering sequin dress and styling it correctly, your outfit will sparkle just right. The most simple and effective ways are adding a layer to your sequin dress but making sure they go with your attire or adding or avoiding accessories. It is better to keep your clothing in your mind while selecting accessories.
Choose your hairstyle wisely. And another importanthing is that shoes significantly impact your whole look. So, make sure they are not distracting attention from your dress.
Want to leave a sparkle wherever you go? Then try shimmer this season. Shimmering is always in trend. It's better to say that every season is a shimmering season.
So, please don't give it a second thought; grab and glam up your style with ease this shimmering season in your shimmery dress.
There are countless options for you to choose the best one. Add shimmer element to your style and amp up your style game.
Here's a complete collection of Night Club Outfit Ideas.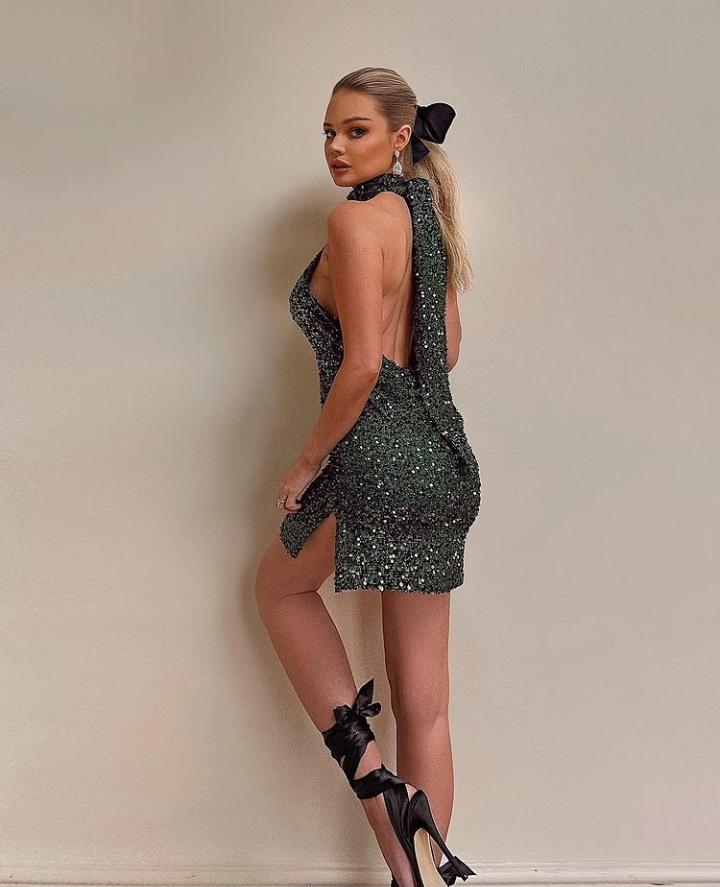 Sequin Outfits for Plus Size Women
Sequins look really nice and elegant on plus size women so here are some of our favorite picks:
4 – Relaxed-Fit Sequin Shirt Dress
3 – Matching Sequin Set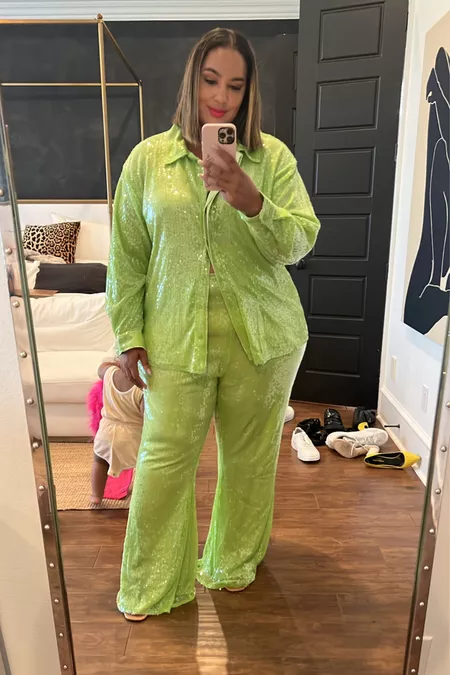 2 – Try a Sequin Kimono Over Any Nude Colored Co-Ord Set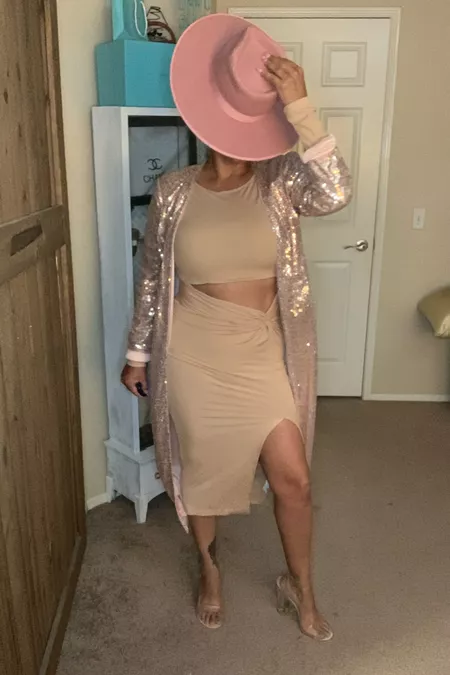 1 – Try Silver Sequins as Wedding Guest Outfits
Both the sequin dress and the sequin jacket look perfect to be worn for a wedding or engagement function.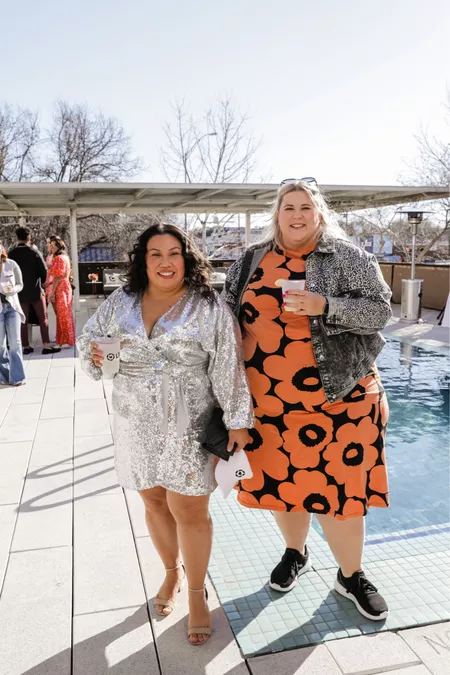 What Shoes Should You Wear With Sequin Dress?
Your shoes must compliment your dress. Because they can either make or break your look. Choosing that doesn't distract your clothing in the sequin dress is necessary. You want your sequin dress to slay with the best shoes and steal sparkling attention.
So, please select high heels with solid color and no shimmer or glitter. They would serve perfectly with your dress.
Frequently Asked Questions
Q: What kind of accessories goes with a sequin outfit?
Classic diamond earrings or simple chains can be an attractive choice for accessorizing dresses with sequins if you want to go with some jewelry. But it's not necessary to wear jewelry when you are already wearing a sparkling dress with enough bling.
So, skipping any accessory is the right choice. Wearing additional and too many accessories can distract from your outfit. And your sequin dress will also lose all its glamour.
Q: How to layer your sequin dress?
Adding layers to your sequin dress is an excellent choice. Some people do it because they like it, sometimes because of weather requirements, or occasionally when giving a casual look. You can layer your sequin outfit with a sleek jacket or coat.
But do it in the right ways like, don't put knitted cardigan and something similar instead go leather or denim jackets, fitted blazer or coat. Firstly it will keep you warm in cold weather, and secondly, it will give you a casual look. And most importantly, keep the layer less fancy and colored. They will go perfectly with your sequin outfit.
Q: What makeup to wear with a sequin outfit?
It is better to keep your palette neutral but play with subtle shimmer and shine. Don't use any bright or daring colors on your face. Just use a neutral palette enough to enhance your features. For instance, for lips, stick to a nude and soft pink, etc., or add a gloss on your lipstick to give a bit of the shimmer, and for eyes, shadows stick to colors like tan, brown, gray, black, etc. The more you keep your makeup simple, the more prominent your sequin outfit will be.
So, you don't have to put glamorous makeup on a sequin dress; keep it simple.
Q: Why choose sequin dress in one color?
Always choose a sequin dress in one color instead of a patterned dress. A patterned or multi-color sequin dress will make you over, while a  sequin dress with one color will make you stand out. A single-color dress always gives a most classy and stunning look. Whether the color of our clothing is black, midnight blue, silver, gold, red, or whatever color, it's better to choose one color and stick to it.
While sticking to one color doesn't mean your dress is covered in sparkle. So, you can go with sequin accents such as dresses with a sequin pocket, sequin elbow patches, sequin trim, etc., and a little bit of addition is an excellent option.
Q. Where to shop for sequin outfits?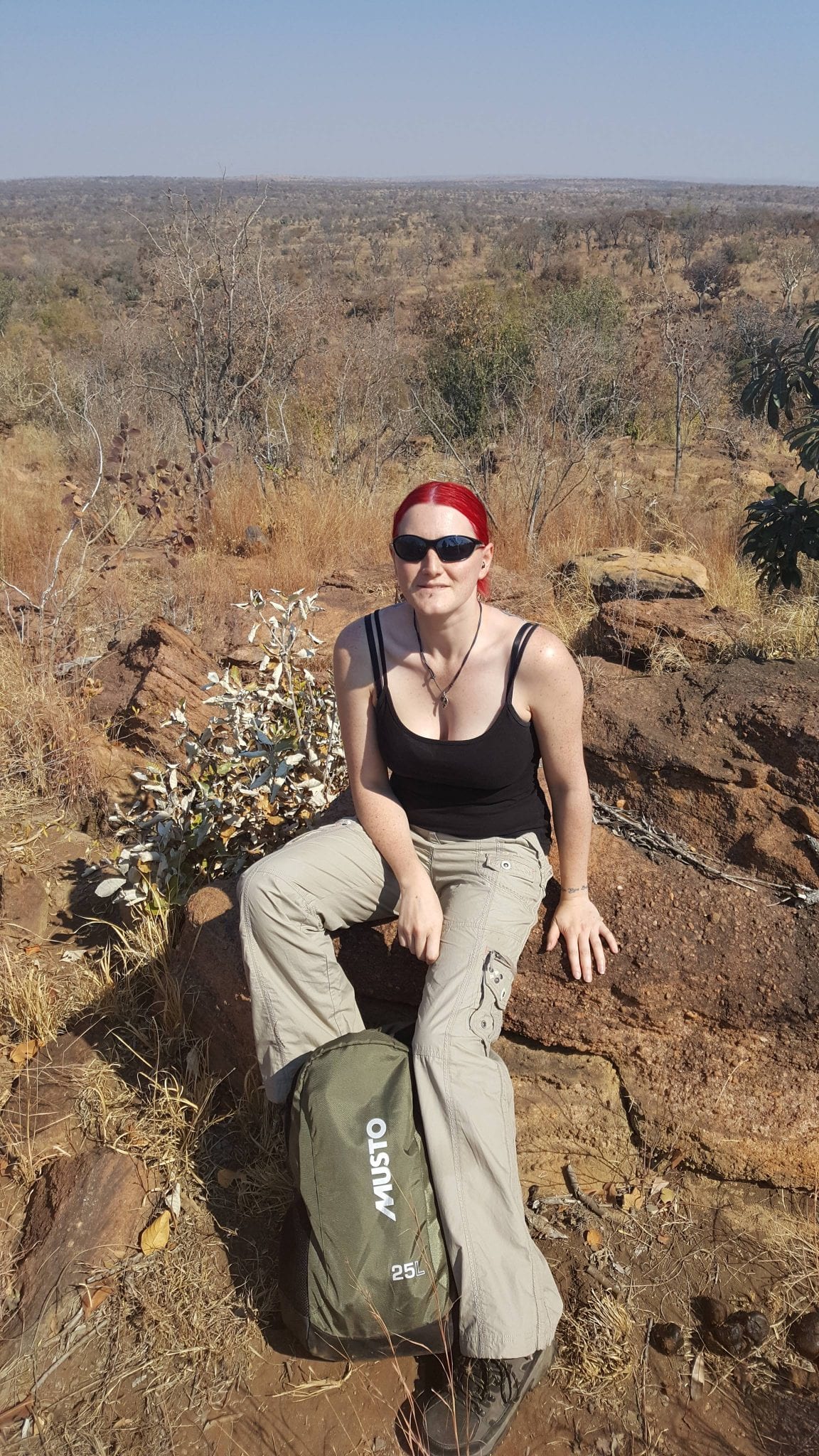 Caz, aka Vixen, has been freelance creative writing for several years. She has a lot of experience in different fields including high street fashion, tattooing art, and even the gothic and historical costumes. Caz has a Diploma in Fashion and Textiles and also a Bachelors Degree in Historical Costume and Corsetry. Her passion lies with gothic design, corsetry and any other styles considered to be taboo or unusual. Style-wise Caz has a love for Vivienne Westwood and her take on the punk era. Although Caz loves the weird and wonderful, she has a deep love for all fashion and allows this to show through her work.