How to rock Shearling fashion- When the temperature drops, shearlings are the one thing which everyone would want to add to their wardrobe. The sheepskin shoes and accessories are not only just cozy and warm but give ultimate style to your winter outfits as well. Winter wear asks for some layers and style as well, and shearlings are best for it. Let outfit trends help you find out what kind of outfits you can put on with shearling boots to have a cozy, stylish winter.
Here we have compiled a list of outfit ideas which you can try on this winter and get that comfy, stylish looks with these cute boots, available in all types and sizes.
What To Wear With Shearling Boots?
If you are someone who loves heels, then do not worry, shearling shoes are also available in block, wedges, and long heels. Get a look and learn how to rock the look this winter.
You can for an entire shearling look that includes long shearling coats, boots, and even accessories.
For days that are not very cold, opt for ankle-length shearling.
For a snowy day, outfit trends will recommend you to go with knee-length boots and stay super warm.
The best option is to wear shearling boots with skinny pants for formal wear.
For casual days try wearing shearling boots with Leggings.
When the shearing season, ie, winter and autumn is over, pack your boots properly and keep them in a place where there is no seepage.
Last but not least. We will recommend you wear socks with them Irrespective of the fact that it is warm enough inside. It will prevent any bad smell.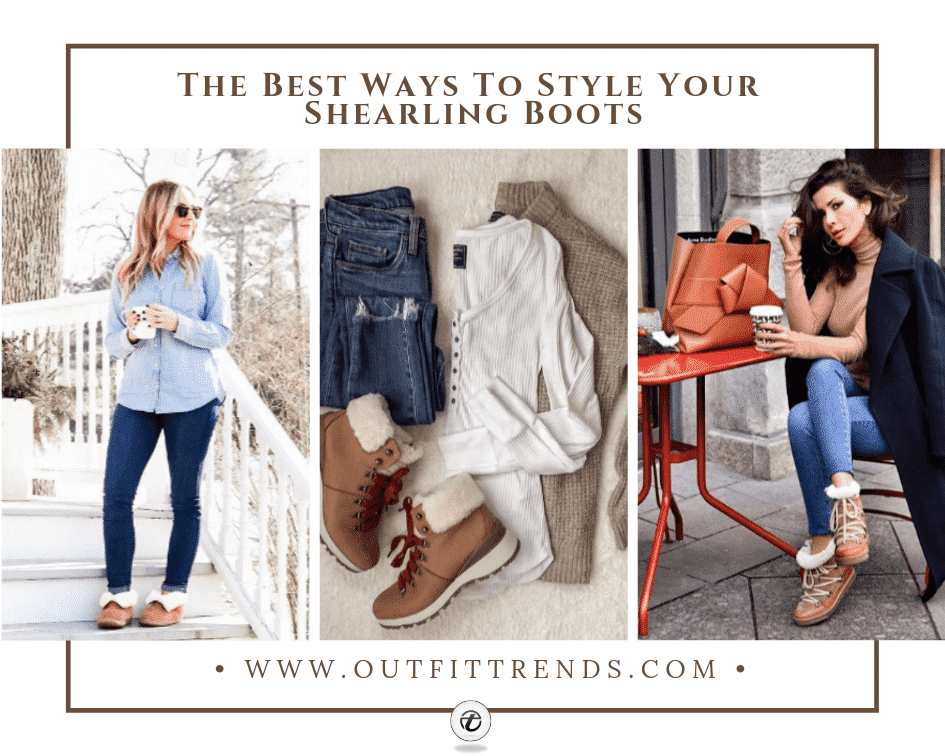 ↓ 35 – The Perfect Shearling Look
Shearling is made for winters, no doubt. Pack yourself in them A-Z. Have a look at these Sorel boots which are one of our top choices for overcoming Minnesota winters. They're amazingly reliable even against the most severe storm and are ensured to last. You should also check out these Ways To Wear Denim With Ankle Boots.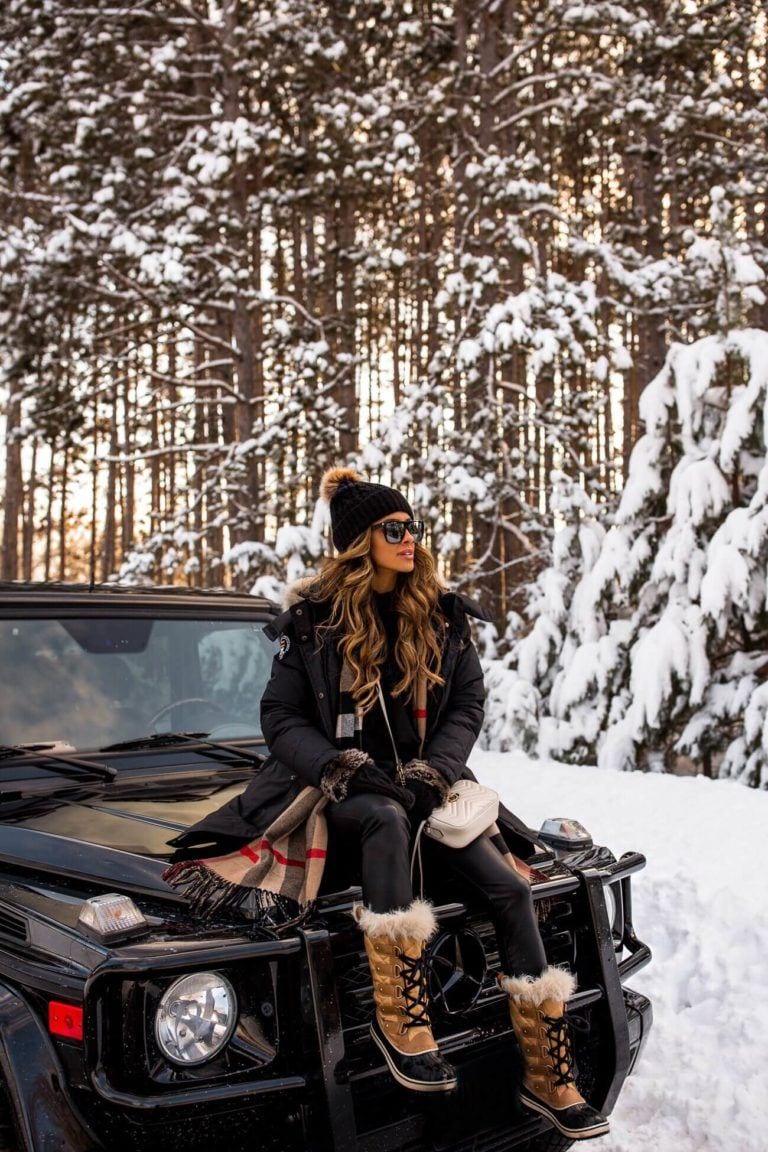 Shop similar item below
Sorel Tofino II Boots $170.00 Color: Curry/Fawn
↓ 34 – Shearling Boots With Leggings
Casually wearing boots is an option that you can never rule out. Put on your Leggings along with your favorite loose sweatshirt. Tie your hair up in a messy bun, get your shades, and go to your nearest grocery shop on Sunday.

↓ 33 – Mommy style
Mommy's have one of the busiest days. Handling your children, staying warm and catching up with the latest trends seems like a challenge. Well, mommies here's a chic idea that you can try out. Checkered shirt, leather jacket, black shearling, and a stole. Perfect for taking your kids to park or grabbing grocery with the little munchkins.

↓ 32 – Stay Comfy And Cozy In Shearling
Shearling from head to toe. What else could you want when you have super fluffy shearling coat, boots, and your favorite jeans. Have two of them in different shades, and you are covered for the season.

Buy similar items
Wubby Fleece Pullover THREAD & SUPPLY
UGG Women's Mckay Winter Boot $149.95 – $154.95
↓ 31 – For Teachers
A teacher's life is pretty busy and hectic. You have to stay presentable every day, without losing your cool, not an easy task. Here is something that you can add to your weekly wardrobe. Knee-length shearling with a 2-3 inch heel along with Leggings/jeans. Put on a stylish woolen sweater and bold stole. Add on light accessories, and you are ready to go.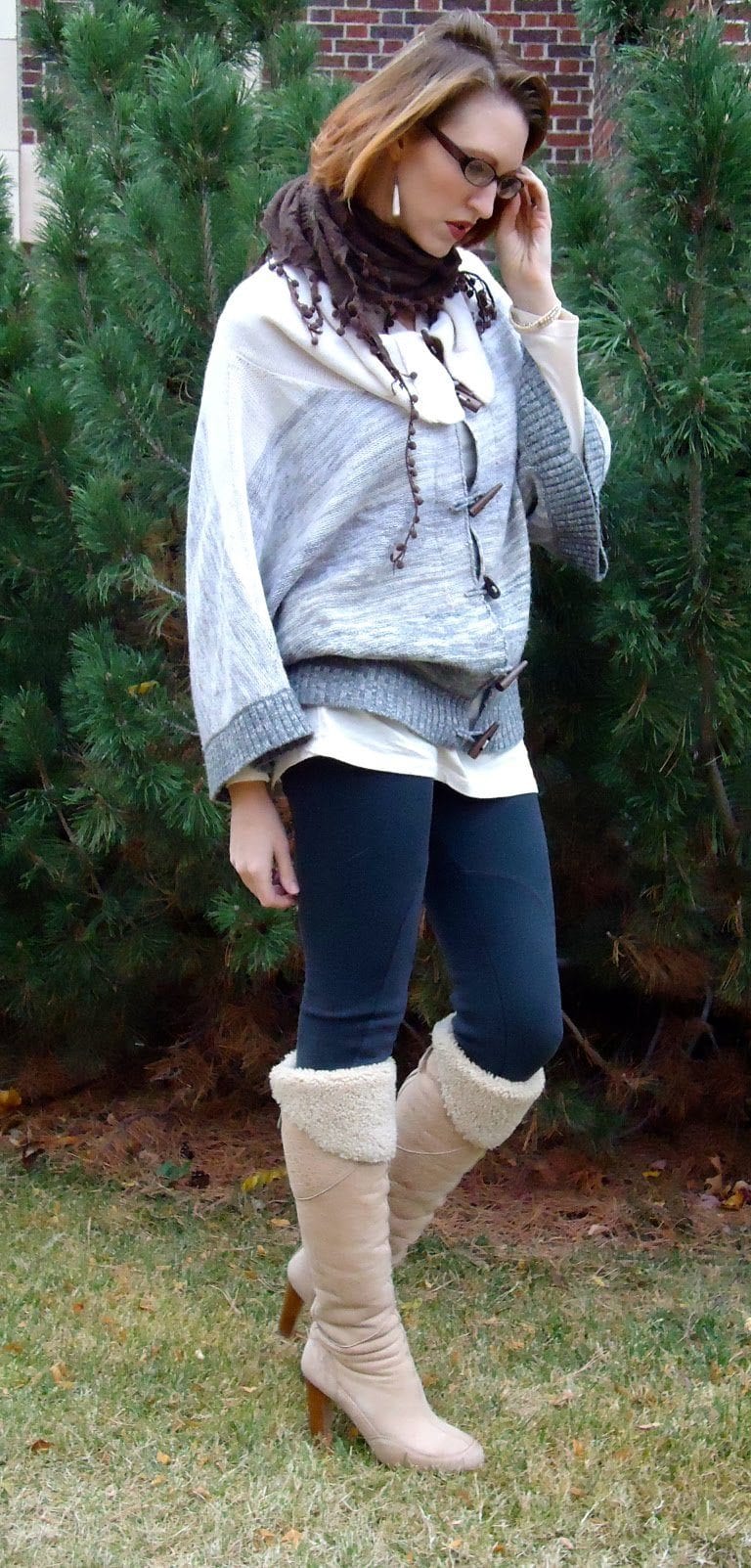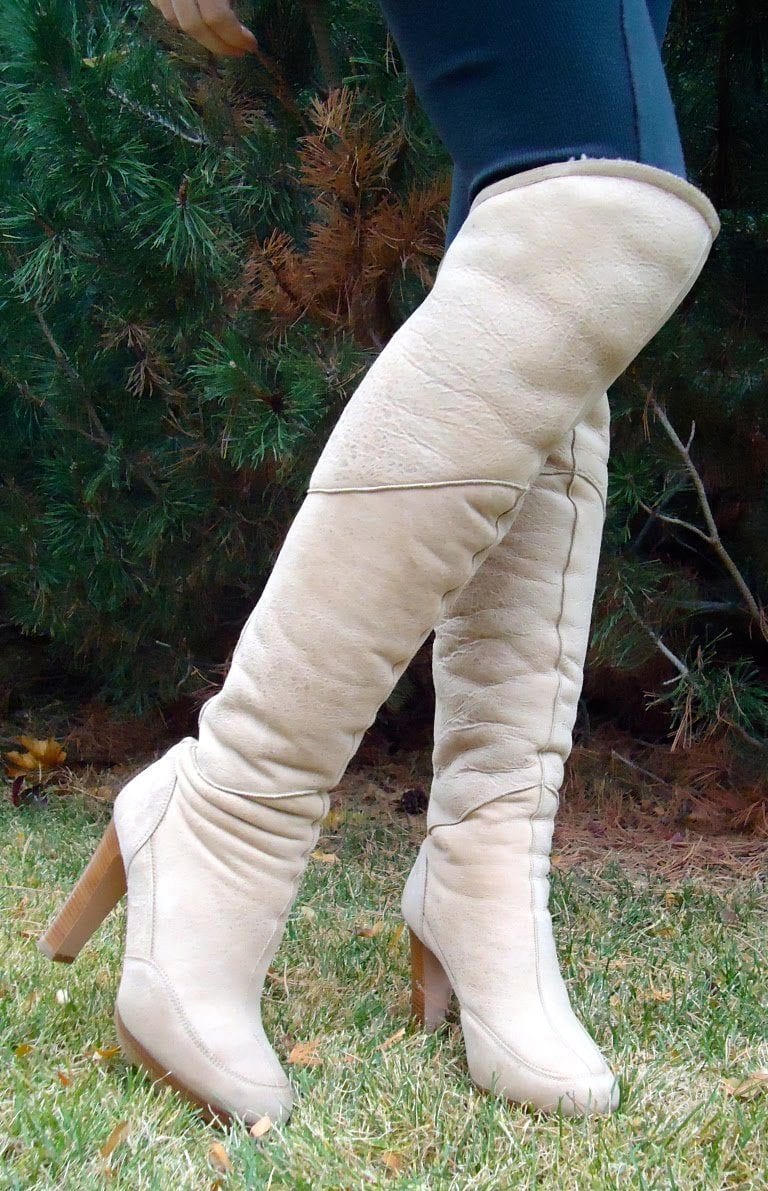 ↓ 30 – How To Wear Shearling Boots In Winter
Ladies, we must tell you that Timberlands work admirably of shielding your feet from the cold. They are amazingly agreeable for long winter days when you have to keep running and hushing all around. These exemplary boots have a streetwear vibe that looks effortlessly chic. Here are some cool Girls Outfits with Tan Boots.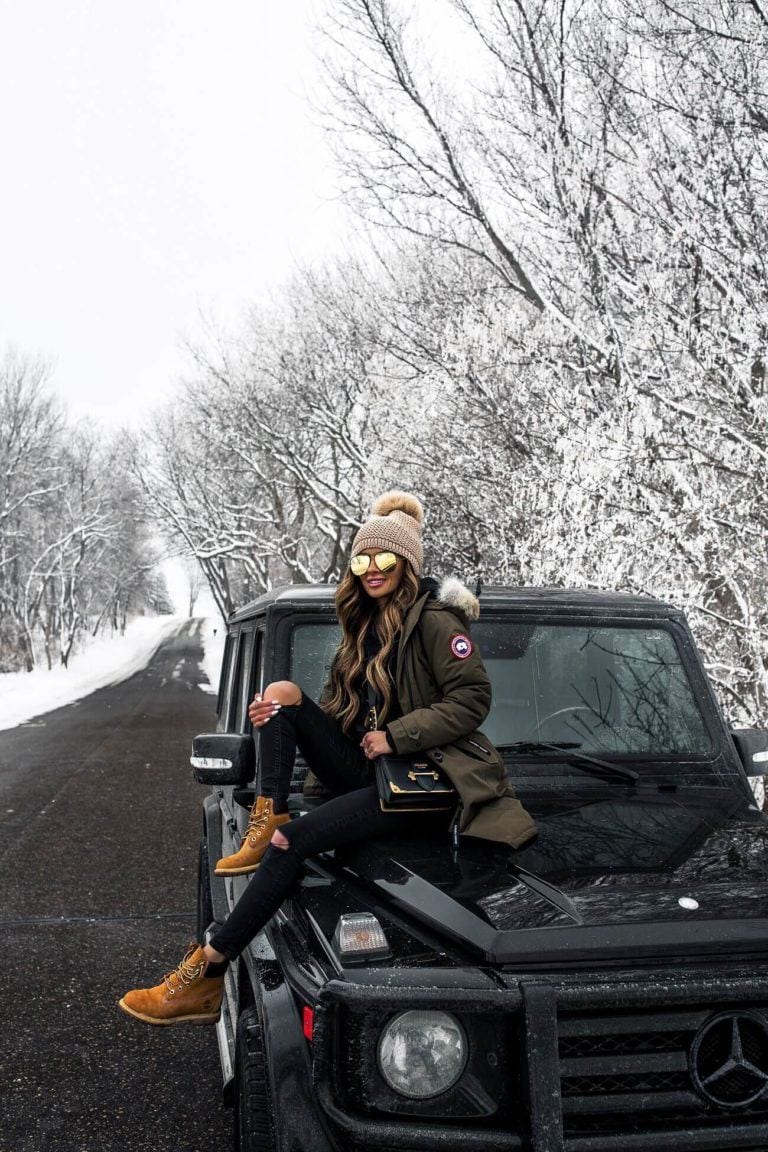 Buy similar boots here 
Wayne Waterproof Hiking Bootie TIMBERLAND PricePKR 27495.56
When you join a hide fixed boot with some substantial weave socks, you're good to go to overcome the winter virus. The sexy boots catch on this one carry style focuses!

Shop similar item below
Bailey Button Triplet II Genuine Shearling Boot UGG® PricePKR 37809.62
↓ 29 – Spring In Shearling Boots
Well, shearling is not just for winter. You can style them up in late autumn and early spring as well. Looks super chic and fantabulous.

via
↓ 28 – For Sweet Vibes
White ripped pant, light purple sweater knitted by grandma, brown shearling boots and loose curls. Whoa!! Let's not forget to mention again that the shearling trend makes dressing for the weather look chic and timeless.


Shop similar item below
marc fisher lug sole ankle boots
↓ 27 – Shearling Coats And Boots For Formal Office Wear
Shearling coats are a must-have if you feel too cold and lazy for adding many layers into your outfit. Pairing a cozy jacket with some jeans and ankle boots is a good idea. For more outfit ideas on wearing boots, check out these Outfits with Boots – 60 Cute Outfits to Wear with Boots for Girls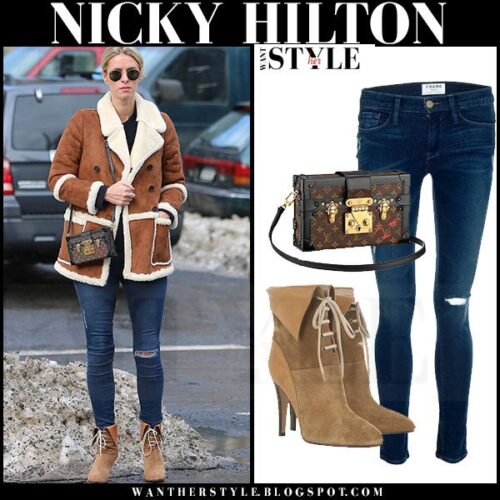 ↓ 26 – Simple Yet Trendy Outfit With Shearling Boots
Shearlings could be your best mate in the winter season. Investing in a good sheepskin pair of shoes and jackets can save you not only from the cold but also give a very trendy look. From day to night, you can rock this accessory.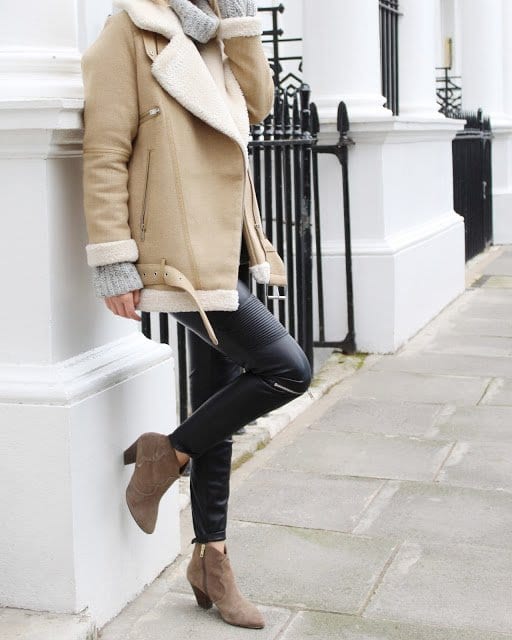 ↓ 25 – Funky Dress Ideas For Winter And Fall
Who says you can't wear these boots in the fall season. Also, some brands are offering these skin boots in multiple colors, so do not get bored with blacks, brown or beige, when you can add some colors to your winter outfit. Find out more about our Fall fashion tips outfit collections.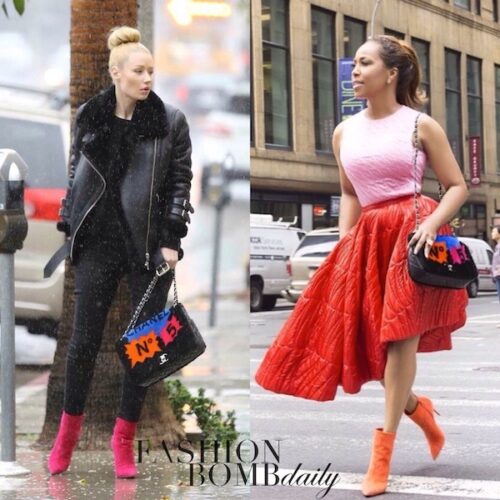 ↓ 24 – Perfect Casual Shearling Outfit For Winters
Winter might make you lazy, and feel there is no fun in dressing. But, with knee-high boots, you can stay warm and flaunt some skin as well. A loose oversize sweater would make your outfit more desirable.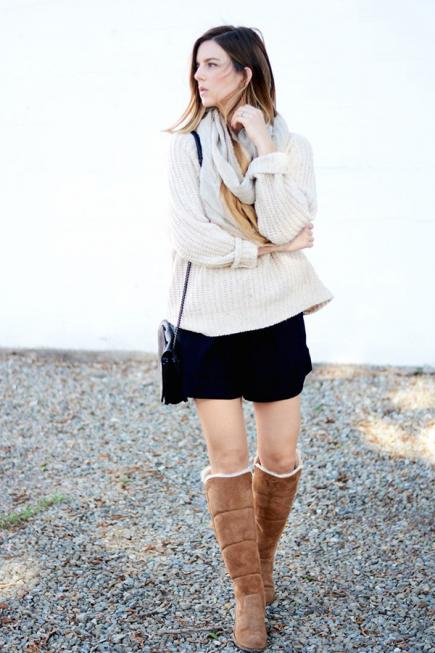 via
↓ 23 – Celebrity Style
Usually, our celebs give us the right way to wear our accessories. Shearling ugg boots not only look cute but they work best in daily routine as well. That's why celebs love to wear them on their casual routine days. If you like following the celebrity fashion trends then here are a few ones that you might want to incorporate in your wardrobe and daily winter wear.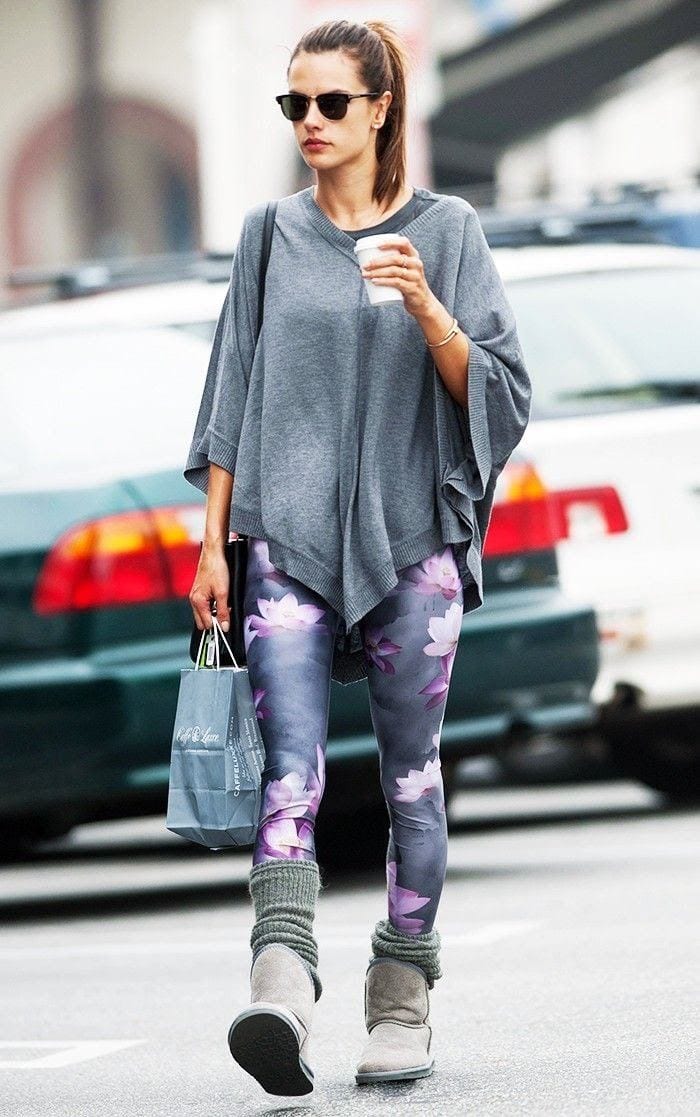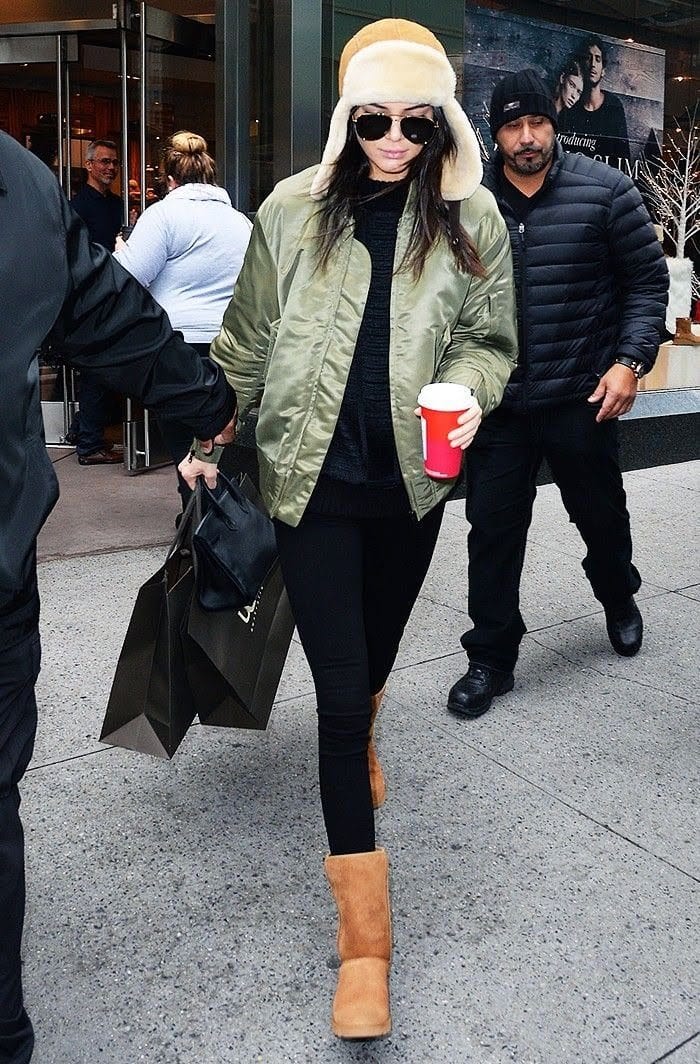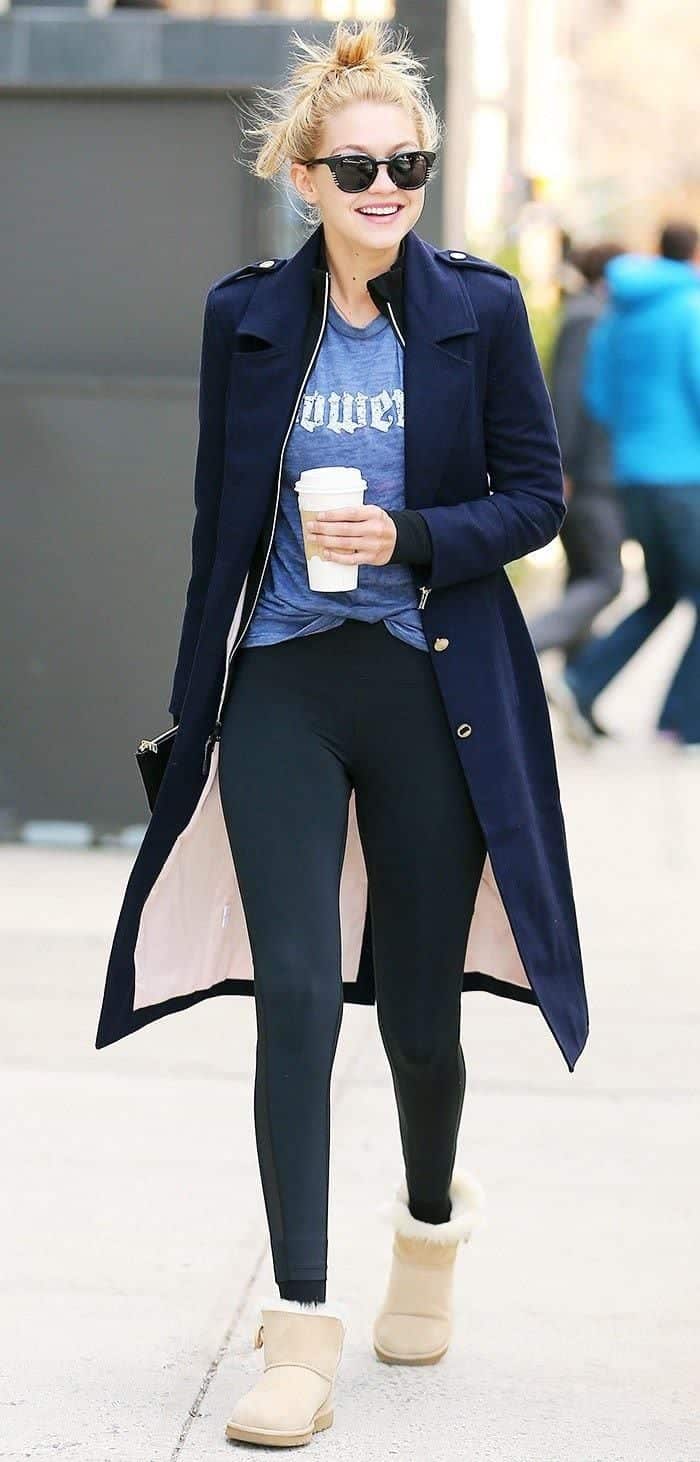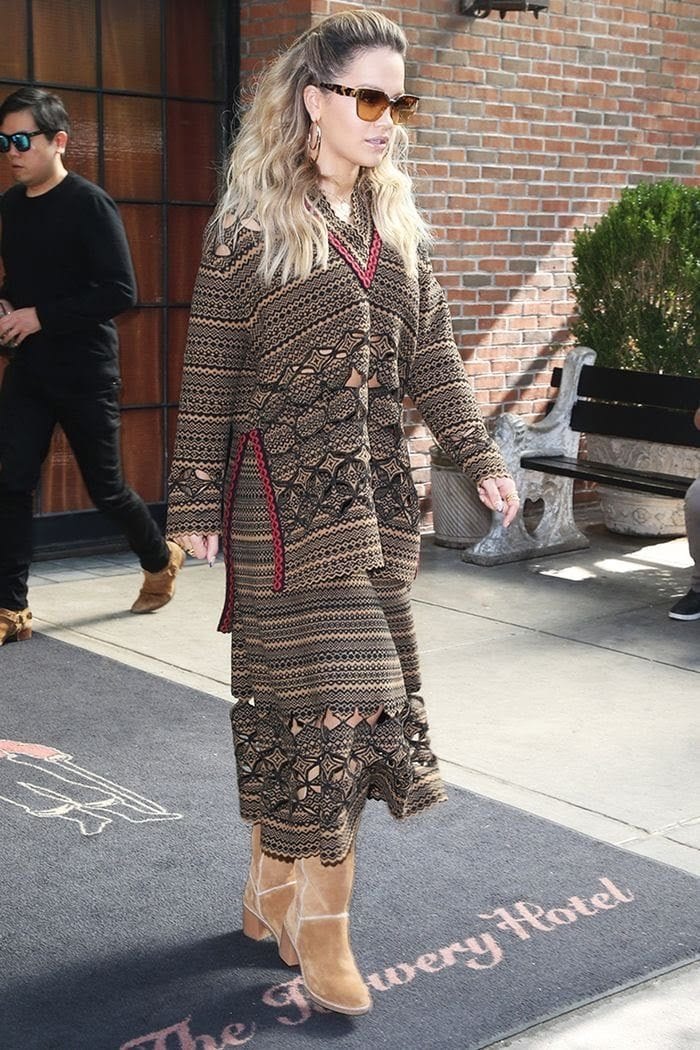 ↓ 22 – The Lunch/Meetup Outfit For Girls
Don't worry if you have a formal lunch meeting and it's too cold outside. Gear up for the season's best days and style with some denim dress and long boots. A statement necklace would add more charm.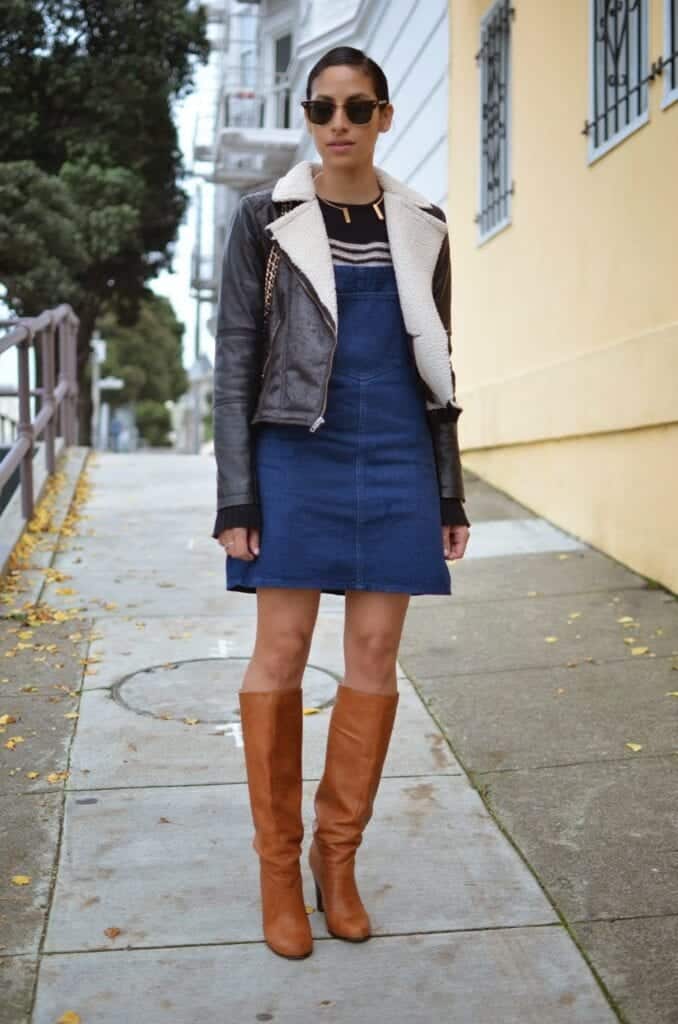 ↓ 21 – Cozy Outfit For Young Girls
Many school/college going girls do not want to put much effort into the dressing. Just an oversized jacket, leggings, tights or jeggings, and good ankle boots are best for your day. To get this glam look, put on some kohl in eyes for an in-depth look. If you're a fan of leggings then here are 20 Cute Outfits To Wear With White Tights/Leggings This Season
↓ 20 – Trendy Casual Outfit For College
College-going girls, especially in winters, must add shearling coats and uggs to their closet. Little effort but stylish look.
via
↓ 19 – Shearling Outfit Of The Day
Isn't it the best winter outfit of the day? A striped tee, cozy fluffy cute coat, high waist denim, comfy uggs, and the classy hat. I'm in love. How about you?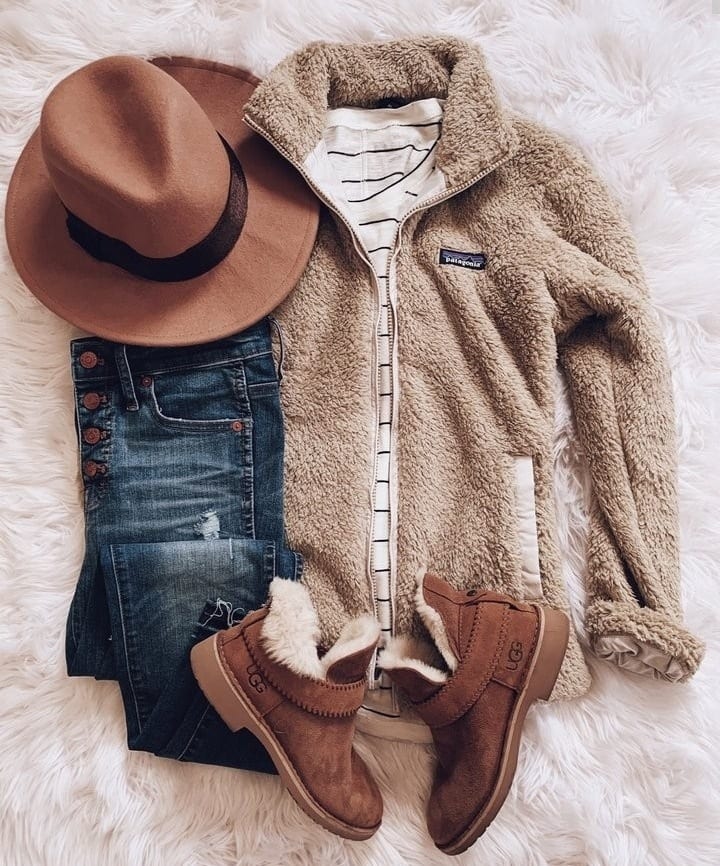 Shop similar look here
Plush Sneaker Boot, Main, color, CHESTNUT SUEDE Priya Plush Sneaker Boot UGG® PriceSale: PKR 13754.71
Shine Trim Wool Fedora Hat SOMETHING NAVY
Los Gatos Fleece Jacket PATAGONIA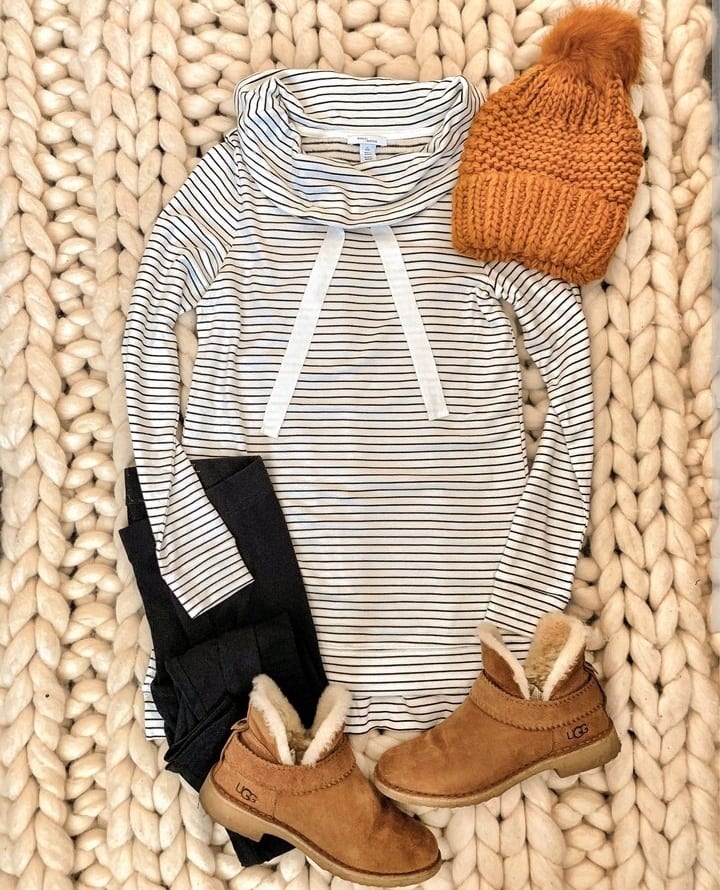 Shop the same look here
Daily Ritual Women's Supersoft Terry Long-Sleeve Hooded Pullover -28$
90 Degree By Reflex High Waist Power Flex Tummy Control Leggings – Price: $19.99 – $54.99
UGG Women's Mckay Winter Boot – Price: $149.95 – $154.95
↓ 18 – Winter Cheeky Dressing Ideas With Shearling Boots
Ugg boots are cute, and wearing them adds some preppy look in your attire. A beanie or some messy hairstyle gives you an attractive yet simple look. Here are some more Cute Outfits to Wear with Uggs Boots This Winter.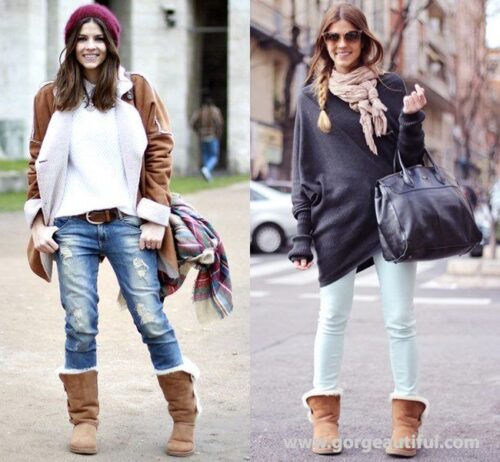 via
↓ 17 – Fashionista Style For Day Activities
Have a look at fashionista's winter style and add it to your wardrobe.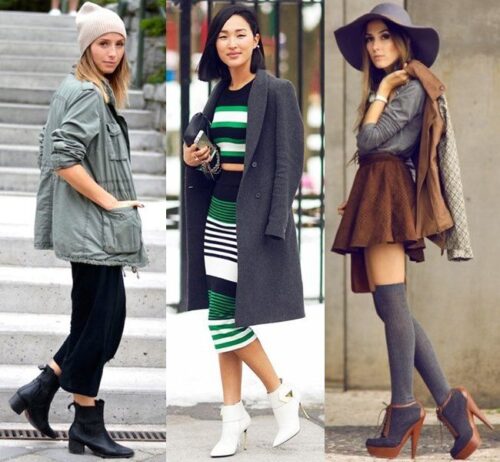 ↓ 16 – Red And Black For Eternal Style
This combination neither gets old nor failed. A red snakeskin shoe with black jacket and pants is your outfit for the office.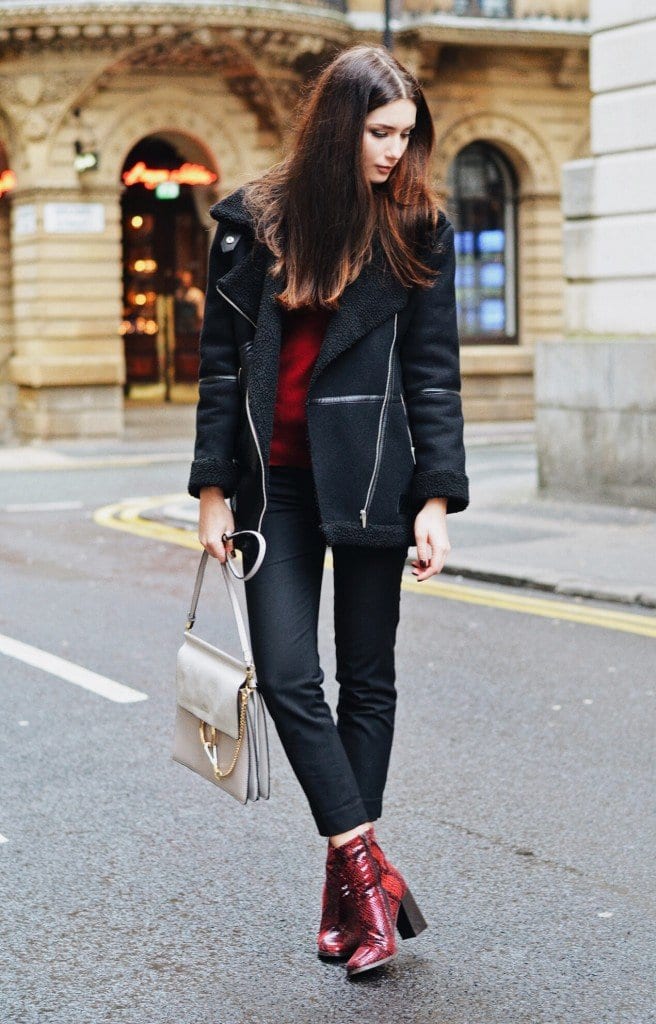 ↓ 15 – Graphic Hoodies And Street Style For Winters
Hoodies not only look cool but are very much in fashion. From scarves to shorts, you can pair your shearlings any way you want.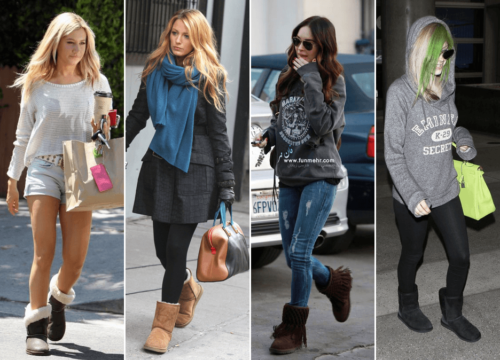 via
Shearling shoes in ugg style, knee-length or even ankle boots not only suit women of all body types, but they work best in freezing weather to snowy areas. The material is comfortable and if you want to make your style statement then buying some new style, frills or bright color shoes, is advised. Women of any age can wear these shoes and even for semi-formal dresses, you can pair them with a suit. Those who like the minimalist approach in fashion are very comfortable with this accessory.
↓ 14 – Military Inspired Outfit
Olive green looks very Military style color. Keeping the accessories rugged gives you a unique look for the day.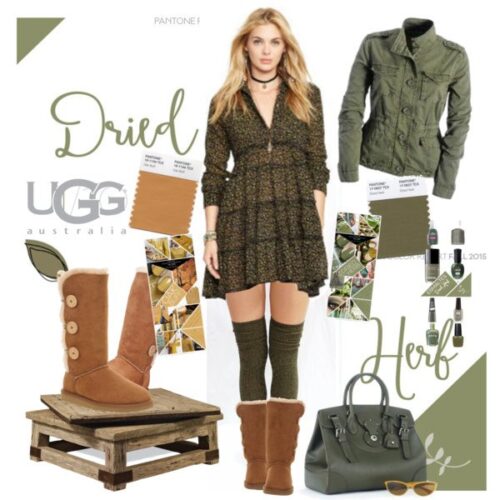 ↓ 13 – Best Outfit For Office
Workplace outfits are chosen with care, as they depict your personality and also needs to give you comfort the whole day. Some oversize sweater or distress jeans are your picks for this winter.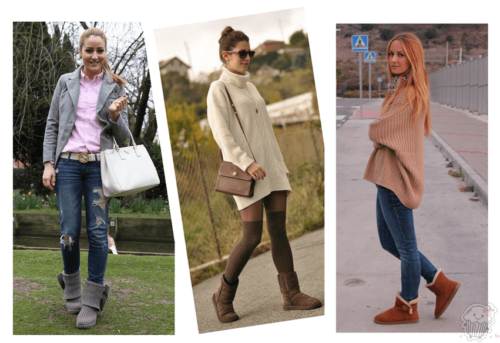 ↓ 12 – Mix n Match Winter Accessories
Every season's outfits need some necessary accessories. Mix and match those accessories to get your statement look for the day.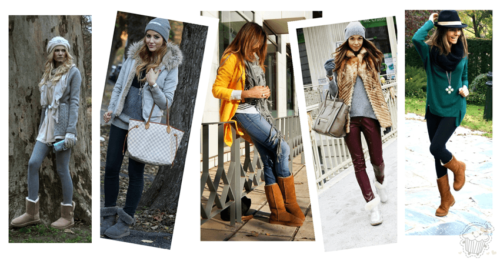 ↓ 12 – Brown And Artistic – Fashionable Dress Idea
The brown color is very dominating in winters. Investing in good brown shoes, jackets, and bags can save you from everyday styling. Just add some pom cap to make your unique style.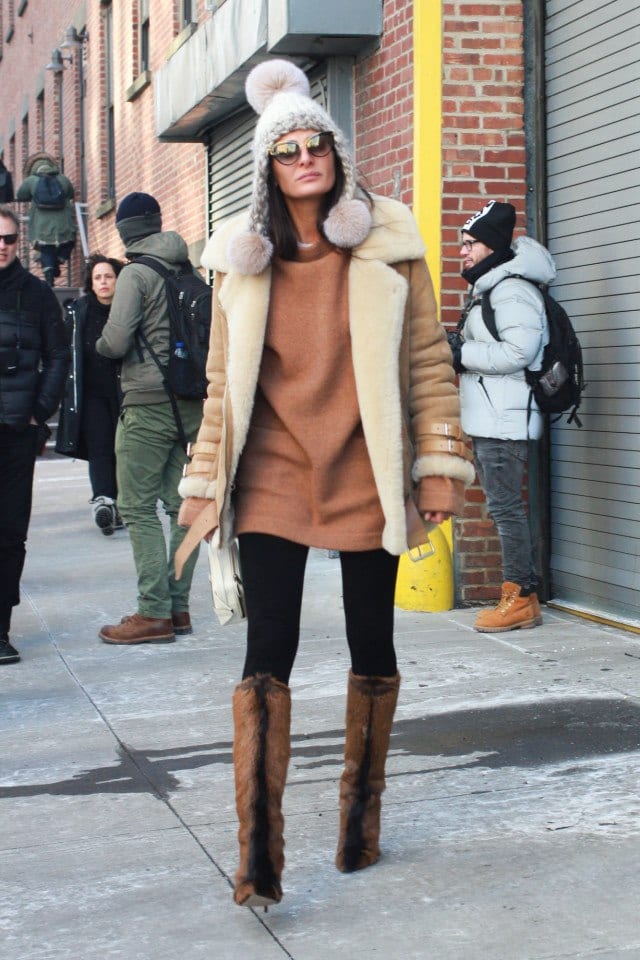 ↓ 11 – The Housewife Outfit
This might sound cool and breezy for you, but a cute dress with shearling ankle shoes looks not only sweet and straightforward but also enhances your figure as well.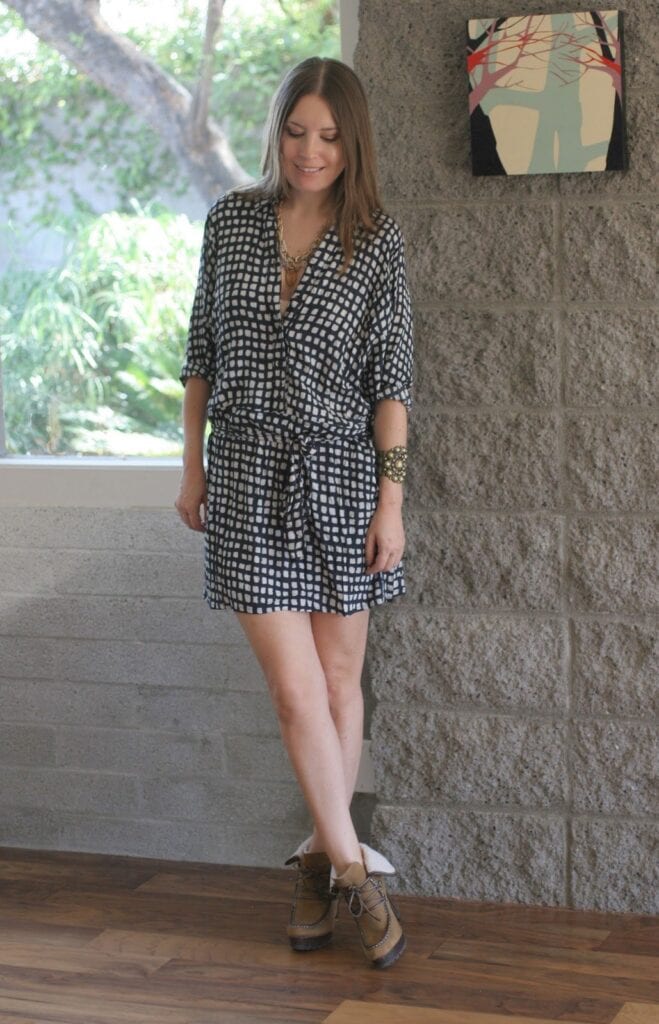 ↓ 10 – The Pink a Boo Outfit
A candy pink long coat with denim and a white shirt is best for office, parties and even for college. A pair of lovely and warm sheepskin shoes makes your attire perfect.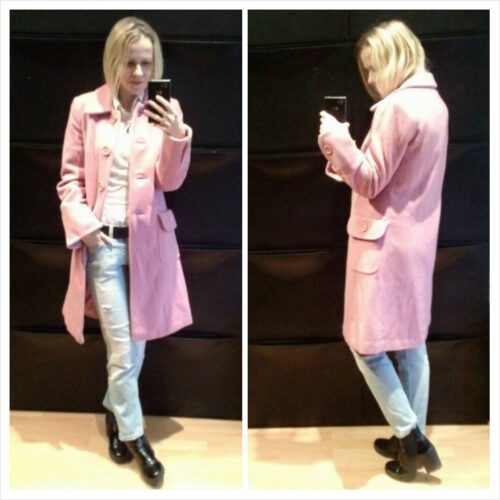 ↓ 9 – Cheeky College Girl Outfit
College-going girls want more style with less effort. A sweatshirt with a cardigan and some prominent style of shearling ugg boots or ankle boots can give you that head-turner look.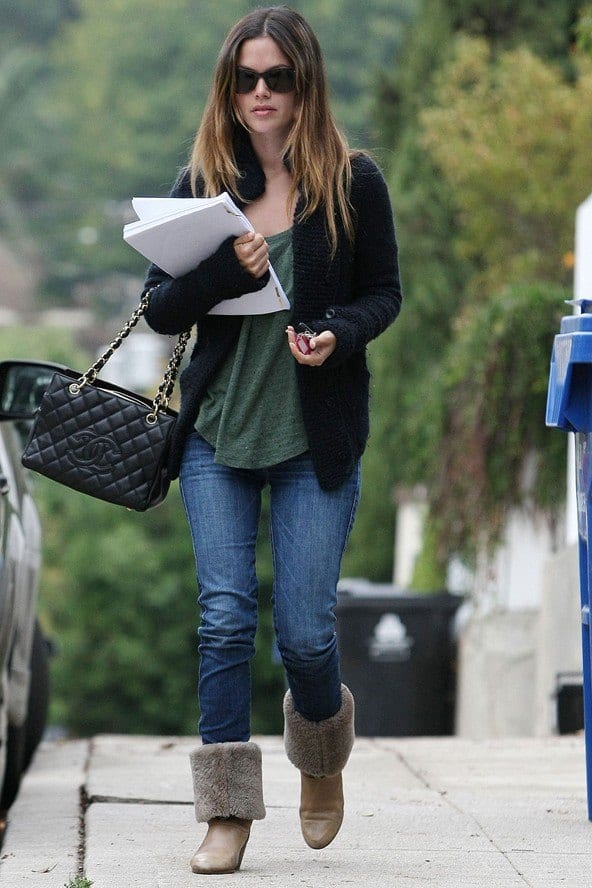 ↓ 8 – Animal Prints For Diva Look
Winter is the time when you can best pull on animal prints. Try some stylish animal print scarves with pieces of denim for office or casual gatherings.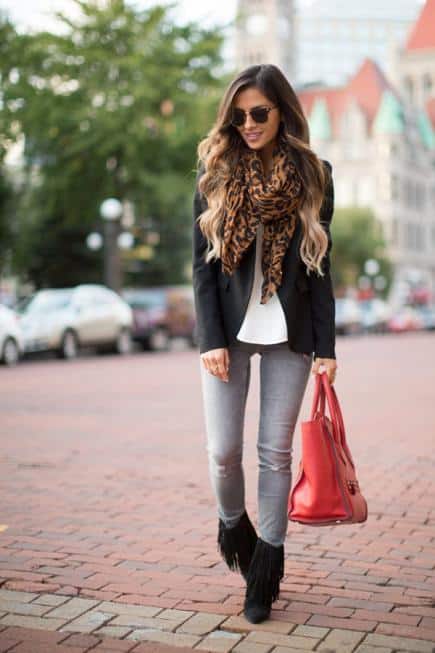 ↓ 7 – The Fashion Blogger's Favourite Style
Bloggers always give us some primary style goals. And here's one of it for your winter styling.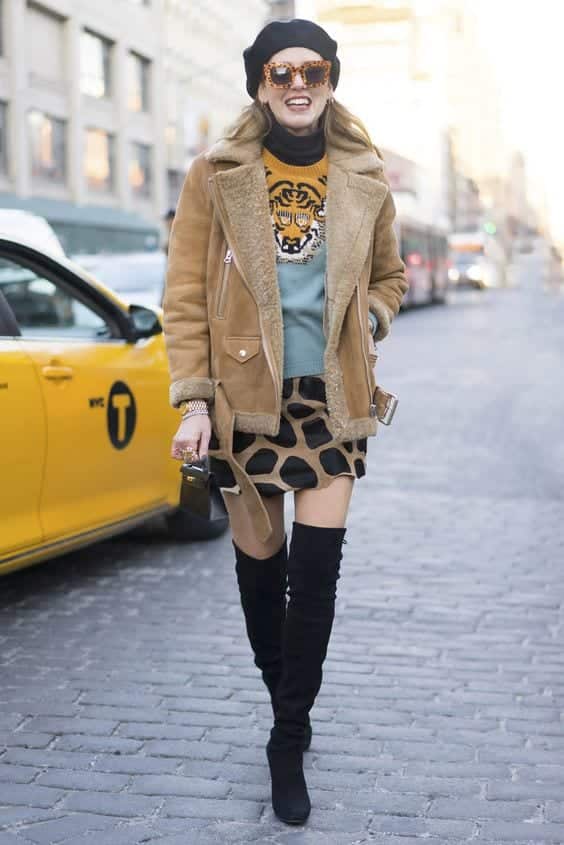 ↓ 6 – Best Shearling Accessories For Winters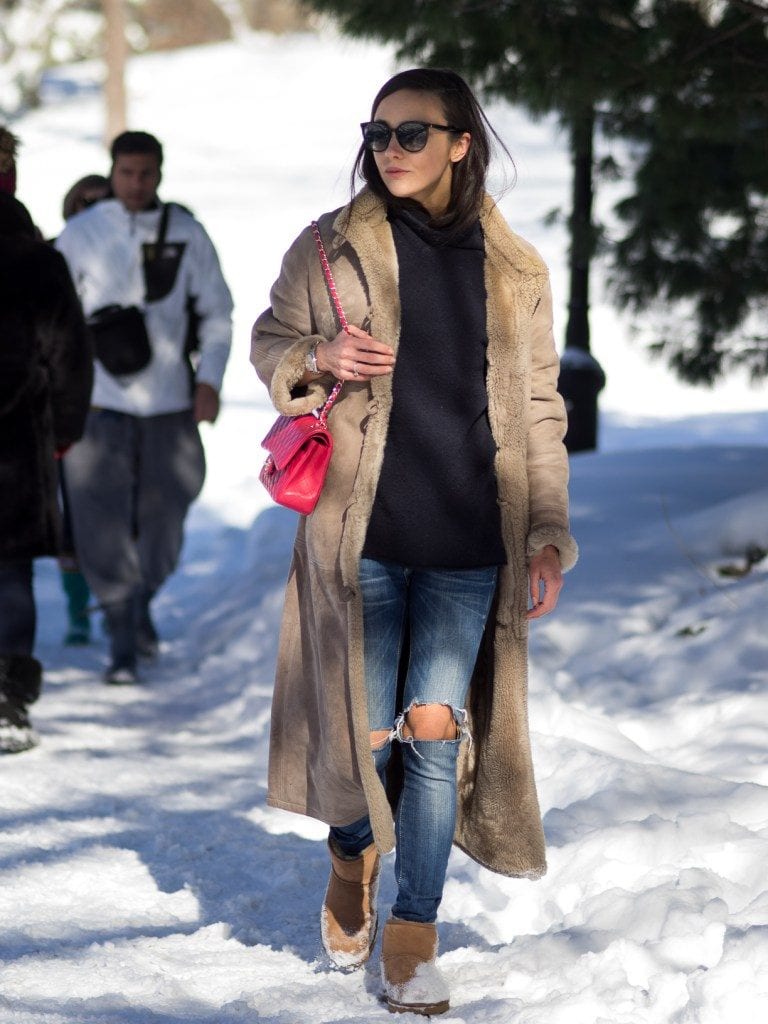 ↓ 5 – The Check And Cheeky Outfit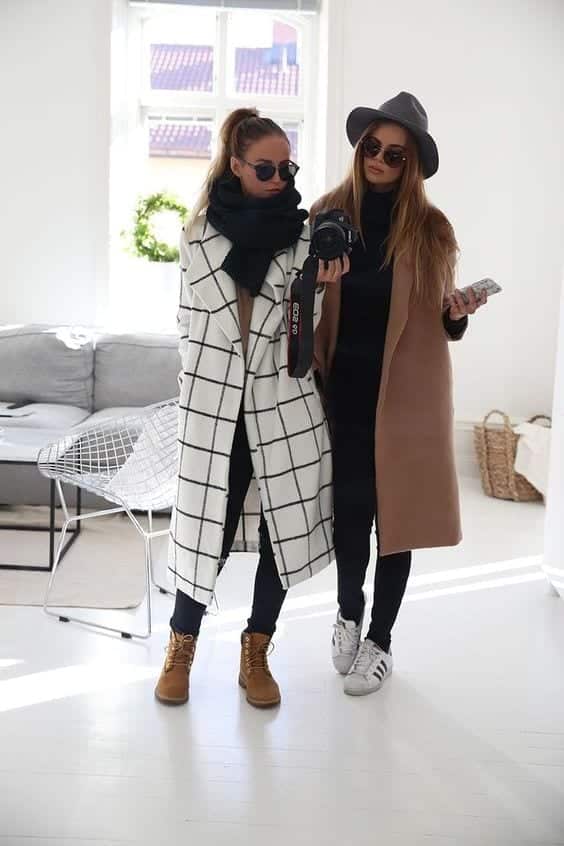 via
↓ 4 – Minimalist Dressing For Routine
Like the minimalist fashion? Then don't miss out these 13 Cute Minimalist Outfits for Winters – Minimal Fashion Style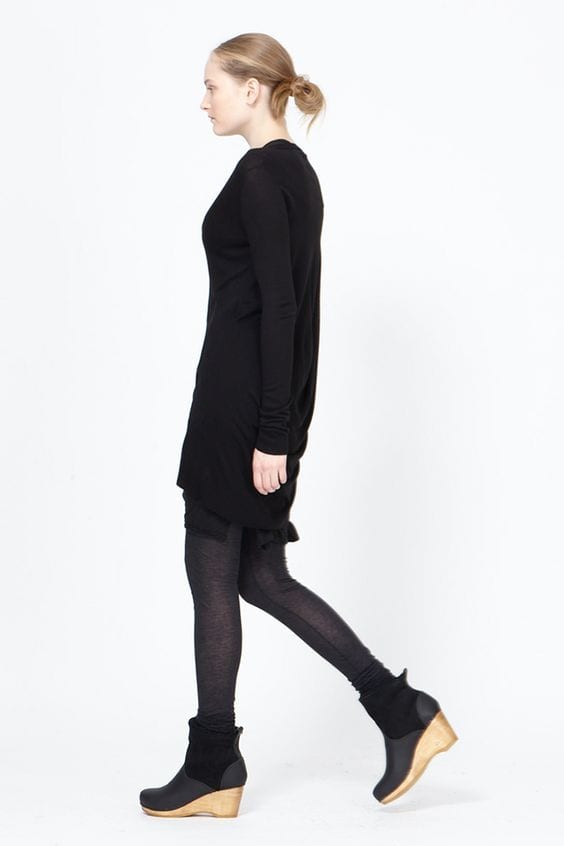 ↓ 3 – Sexy Outfit For Young Girls
Skirts are the fines staple one could wear. They work from day to night and in all seasons. Just choose ones who go best with your body type. Long boots add a very glamorous look to your outfit. Try some funky prints and unique style this winter.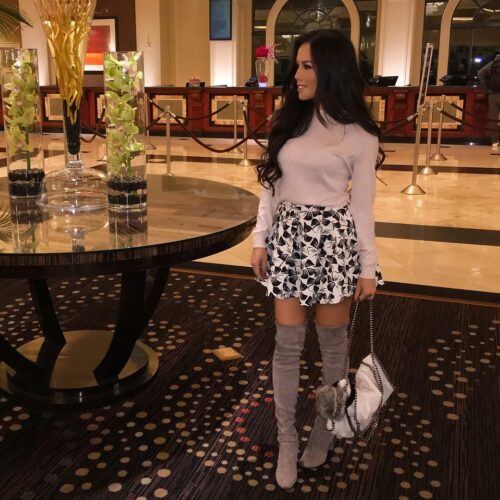 via
↓2 – Types Of Shearling boots You Must Have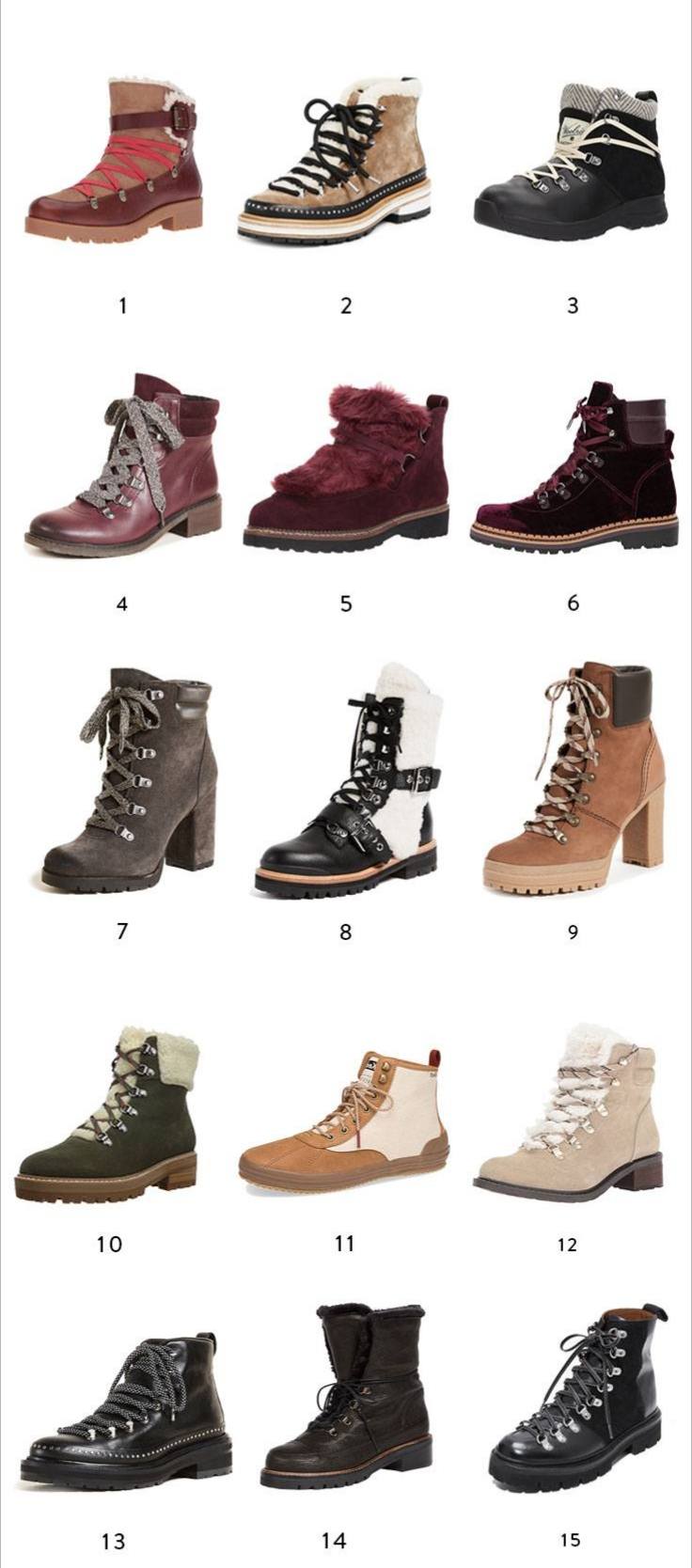 The Best Shearling Boots You Must Have
Here is a collection of shearling boots for you. Add them to your footwear collection so that you don't have to worry about which shoes to wear. Buy all the boots from the image above here.
They are available on Amazon
 Shearling Trimmed Hiking Booties
Shop  here
Shop at Shopbop, Nordstrom & Zappos
 Burgundy Shearling Ankle Boot
Available on Amazon
shop on Amazon, Nordstrom & Zappos
Buy on Amazon, Shopbop & Zappos
Available on Amazon, Nordstrom & Zappos
shop here Amazon
Available on Amazon
Available here on Keds
Shop here on Amazon, Nordstrom & Zappos
Available on Shopbop
Black Leather Combat Boots
Available on Shopbop
↓ 1 – Best Places To Buy Shearling Boots From
Here are a few of our favorite places for buying shearling boots and uggs. We hope they become yours as well!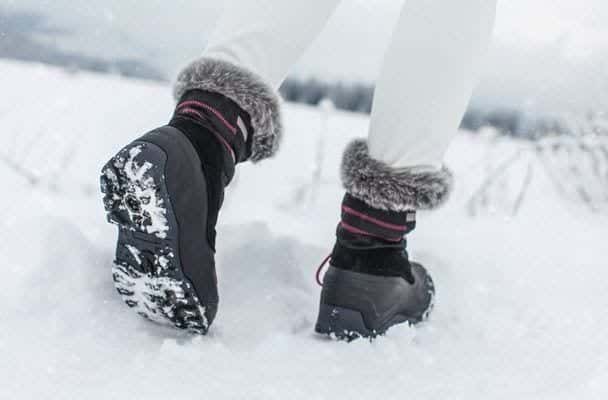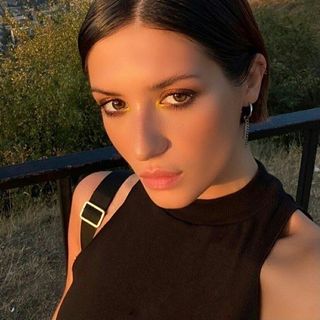 Avid reader and Fashionista. London Based freelance lifestyle editor