Back to School Outfits for Girls. The break is over! It's time for you to start off a new year at school, and for that you need a fresh look. You will need to make a good impression all over again and create your own style statement.
And just for that, we have some cute back to school dressing ideas lined up for you to look flawless, chic and cool.
BTS Outfit
After long days and warm nights of summer, vacations come to an end. As September approaches, so does the excitement of a brand new semester. A new semester brings new beginnings, another chance to fix your GPA (I'm sorry if I was not supposed to remind you of that, moving on), so many new events and experiences. But, most importantly you will get to meet your friends after three long months. This year you and your girls can plan your outfits beforehand to be *that* group everyone wishes to hang out with. Though, you need to remember that, as Audrey Hepburn puts it, "true beauty in a woman is reflected in her soul. It's the caring that she lovingly gives". So please be kind to everyone in your school, your fellows, teachers, and especially the junior staff.
With the summer vacation ends, you will need to fix your schedule and sleep cycles. Plan your homework, schedules, and of course your outfits beforehand so that you do not have to stand in front of your closet wasting 30 minutes every morning. Going back to school brings a lot of excitement but it might also bring waking up early in the mornings, semester stress, and homework, ugh. A good outfit might not get you out of homework but it can be motivation to get up and go to school. Now is the perfect time to go through your closet and sort out the clothes you will need for the coming term. You can donate the rest to the needy. Some stores also have back to school sales which you can loot. Maybe you will find your statement piece of the year, too. Lucky for you we have compiled the trendiest outfit styles that you can get inspiration from.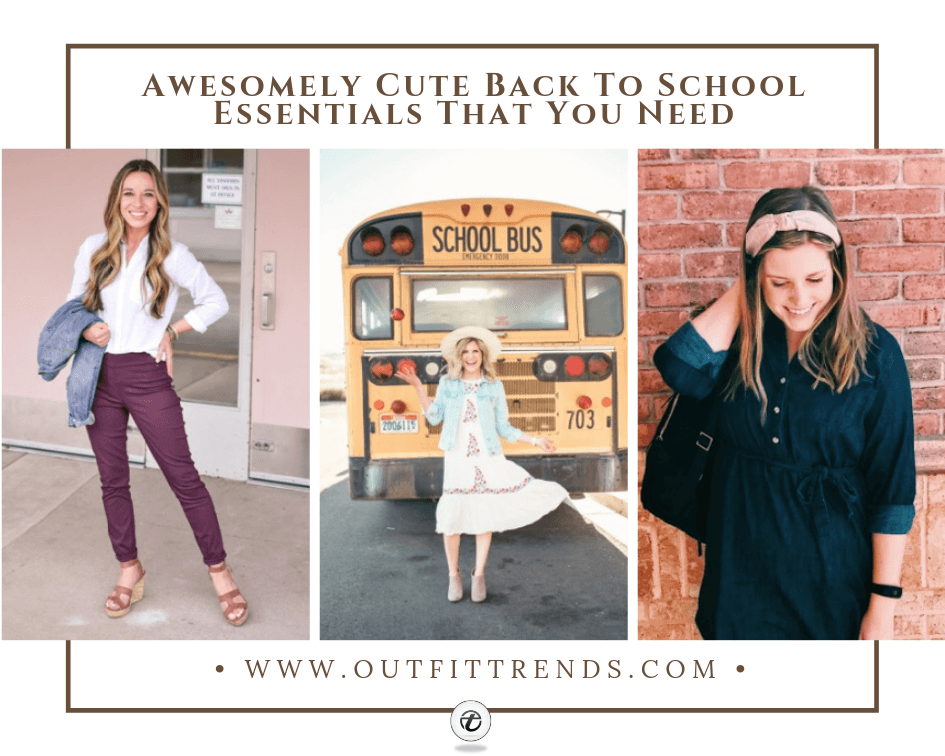 Styling Tips
Black Tights: No girl can live without a pair of black tights. Black tights are essential for any season, any occasion. They are perfect for a lazy day, being the most comfortable yet appropriate looking article of clothing.
Accessories: Cute accessories can enhance even plain and boring outfits. Scrunchies, hairpins, silk scarves, earrings, chokers, etc. can add style to your look without much effort.
Bag:  Look for a good spacious school bag that can carry all your stuff, but looks pretty, too. Neutral colors or monochromatic tones work best as they go with every outfit. Or you can go with nude and pastel shades as they are not only trendy but also super cute.
Statement Style: If you are not the type to try new styles every day or change your look every day, stick to a statement style that you are comfortable with. For example, you can be the girl who always has a scrunchie on her wrist. Or if you want to have a more significant look, you can buy a ton of similar themed T-shirts which you can wear with black or blue jeans. Or maybe a specific, but different hairstyle that you make every day.
Blue Jeans: Jeans are important and I think we all know that. They are a blessing from God. You do not need to press them. Anyone can pull them off. They are very easy to style. The list can go on and on and on.
Shoes: Well, we have all heard that a person's dressing sense can be judged by their footwear. Invest in a few pairs that go with almost anything and are comfortable for everyday use. For example, white sneakers or tennis shoes. You should also buy a good pair of sandals for days when you want to let your feet breathe and most importantly a good pair of shoes for days when you feel like dressing up extra good.
Makeup and skincare: Oh, the most important thing of all. Even if you are not the type to wear makeup daily, there is no harm in wearing a gloss or tint to look fresh.
Don't go overboard: Your everyday outfits should not be the same as your back to school party outfits. 
Use one of these ideas to put together a cute back to school clothes that will impress everyone around you and make you stand out:
↓ 32 – All Black From Head to Toe
All black is an edgy, yet simple look. Dressing in black from head to toe says, I'm too good to be talking to you and sometimes, that is exactly what school makes us feel. So on days when you feel like a bad bitch, an all-black look paired with eyeliner sharp enough to slit throats is the perfect get-up. Leather jackets and skinny jeans are a great combination that does the job of making you look badass, effortlessly.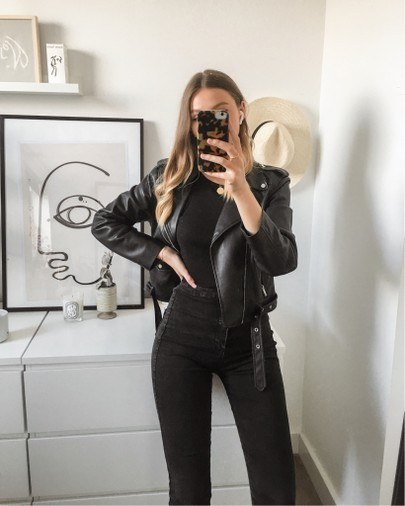 SHOP THE LOOK HERE
Pull & Bear Faux Leather Biker Jacket in Black – $32
Missguided Black Vice High Waisted Skinny Jeans – $24.50
Collusion Racer Back Vest – $6.13
↓ 31 – Berets
Missed your alarm and do not have time to shower? On days like these, a beret can be your knight in shining armor. Buy a few hats that can save you on bad hair days. Berets are trending again and this is the best time for them to make a comeback. The best thing about berets is that not everyone is brave enough to pull them off, so you do not need to worry about this being a basic accessory.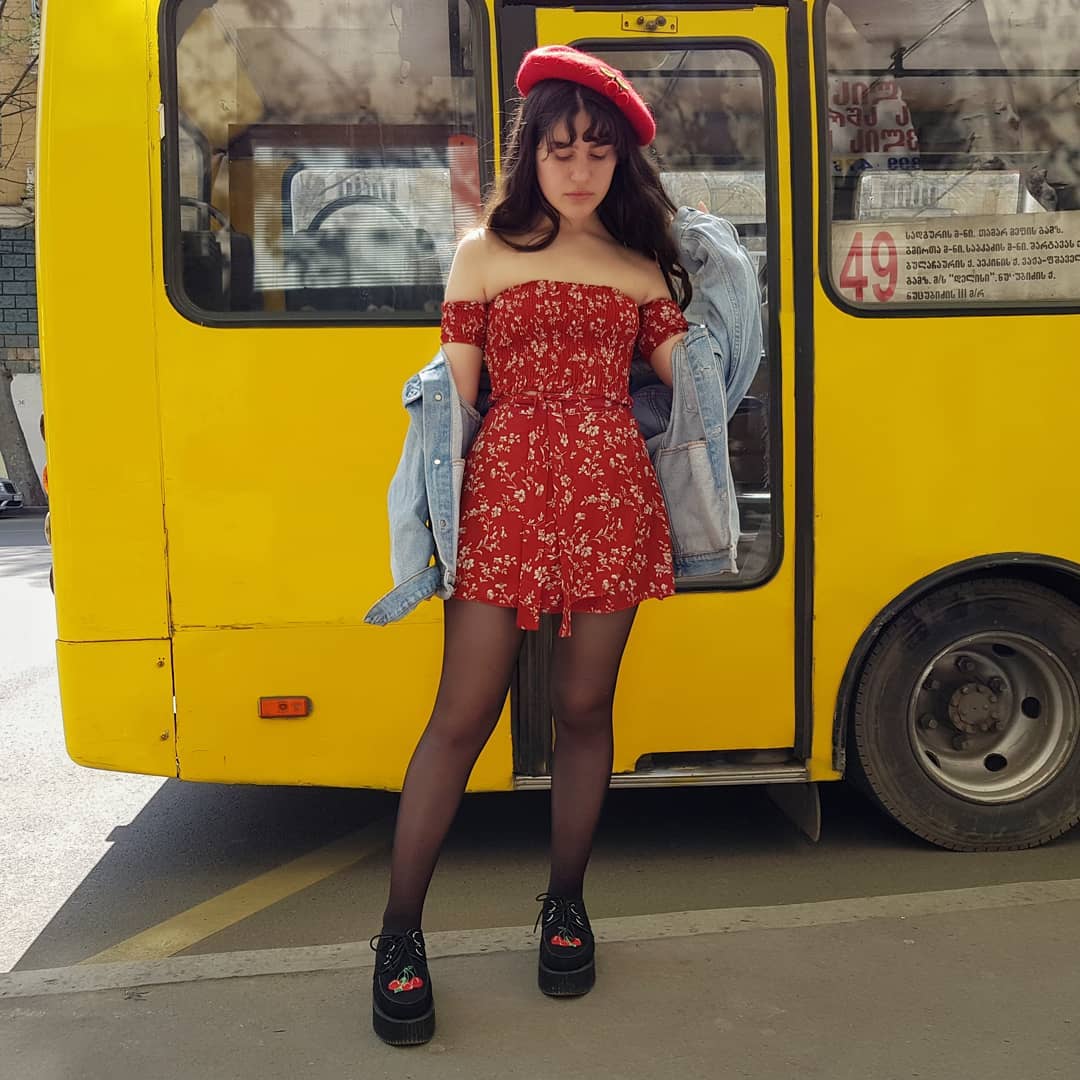 ↓ 30 – Tracksuit 
A tracksuit is better and more put together than normal sweatpants. Tracksuits are becoming more and more popular in 2019, well, considering the comfort and coolness why wouldn't they? Throw your hair up in a "messy" bun and you have the whole look. Please don't blame us if you get addicted to tracksuits and start hating everything else.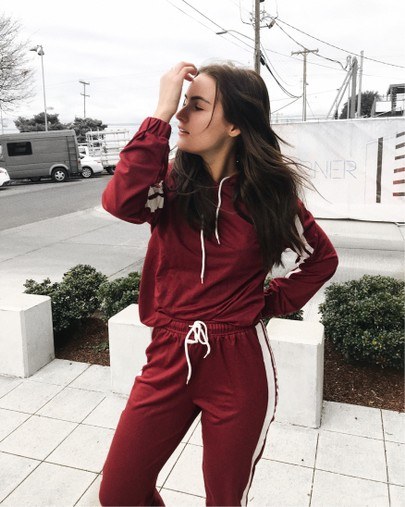 SHOP THE LOOK HERE:
Shein, Striped Side Hoodie & Sweatpants – $11.00
↓ 29 – Tie and Dye 
Tie and dye is a cute trend that needs to make a comeback. You can make a plain old white tee new with tie and dye. You could do the same to a dress that you do not wear anymore. This way you can recycle your old clothes and this could be a dainty and inexpensive project for days left before school.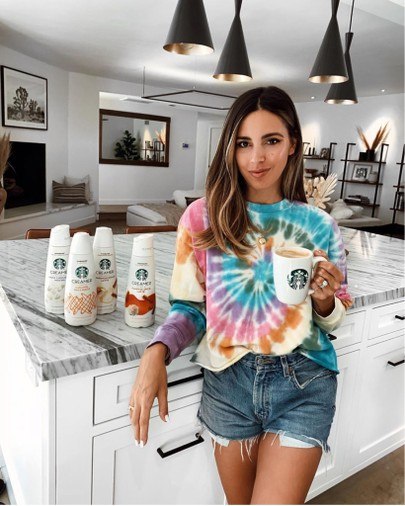 SHOP THE LOOK HERE:
Era of Artists, Tie-Dye Cropped Long Sleeve Tee $19.50
↓ 28 – Ripped Jeans
Ripped jeans are a step up from generic jeans and they can raise the status of any outfit. You can pair them with your favorite sweater or a cropped top, depending on the weather.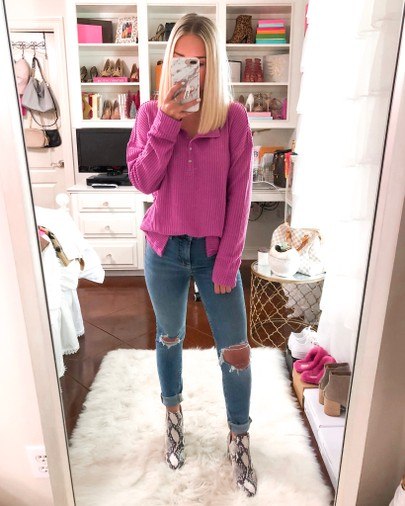 SHOP THE LOOK:
Nordstrom Ripped High Waist Skinny Jeans – $52
Nordstrom Thermal Henley Top – $63
Nordstrom Steve Madden Rockstar Booties – $400
↓ 27 – What to Wear on Presentation Days 
Presentation days can be scary, especially with stage fright, which is pretty common. But, try to stay confident and use the oldest trick in the book -imagine everyone in the audience is naked – works every time. Just know, it is just for a few minutes and it will be over. And if you are dressed to impress, it surely will make you want to stay on the stage a little longer. With a good fit blazer and straight pants, you can definitely get on the stage with poise and self confidently. Presentation days are a good excuse to overdress to school and strut in the hallways like a boss.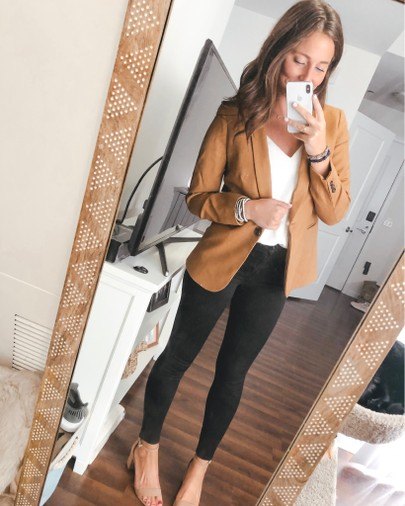 SHOP THE LOOK 
J. Crew 9″ High Rise Stretchy Toothpick Jeans – $137.50
J. Crew Parke Blazer in Wool Flannel – $247.50
Express Downtown Cami – $39.90
↓ 26 – The Right Shoes
It is really important that you have the right pair of shoes, that are comfortable, trendy, and, cute of course. Nike Air Force are a good pair for everyday wear. Black shoes also go with almost every outfit. Buy a good pair of formal shoes for presentation days, something with a little heel.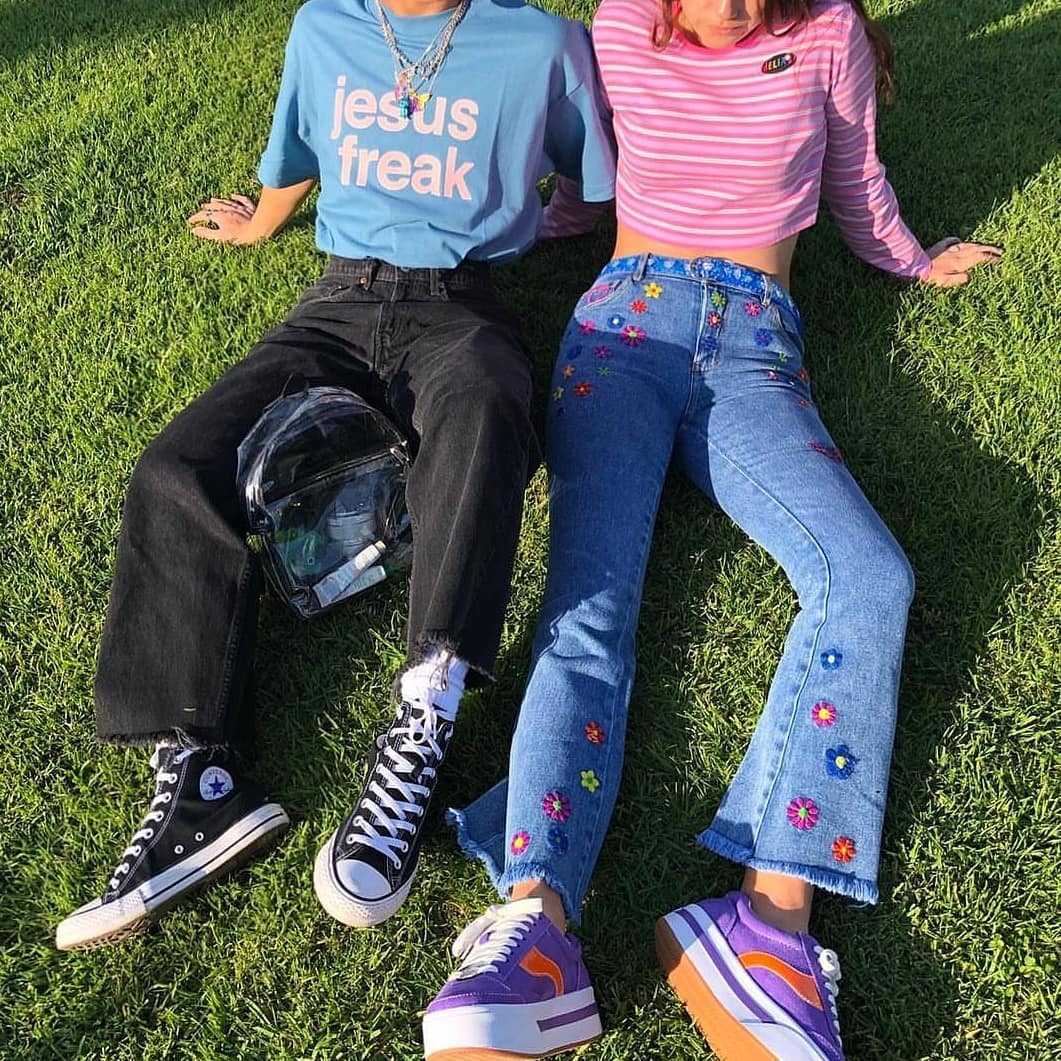 ↓ 25 – Shirt Dresses
It is beyond me how shirt dresses are not more popular. Shirt dresses are comfortable than formal dresses of course. They do not make you look overdressed, in fact, they look super casual and comfy.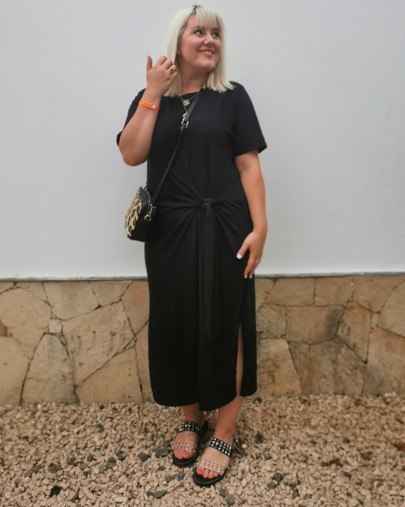 SHOP THE LOOK HERE
Hush Palma Bag – $24.25
↓ 24 – Florals
Floral dresses and shirts present a dainty aura. They make you look sweet. Florals will never go out of style, that is for sure. With a subtle Victorian aesthetic, florals can create a magical look. 
↓ 23 – Bootcut Jeans
Boot cut jeans can be worn with a casual t-shirt, a flannel shirt, or your favorite hoodie on a lazy day. High waisted jeans of nay cut make you look leaner and taller so they are perfect for days when you feel a little bloaty. It is okay, we all have those days.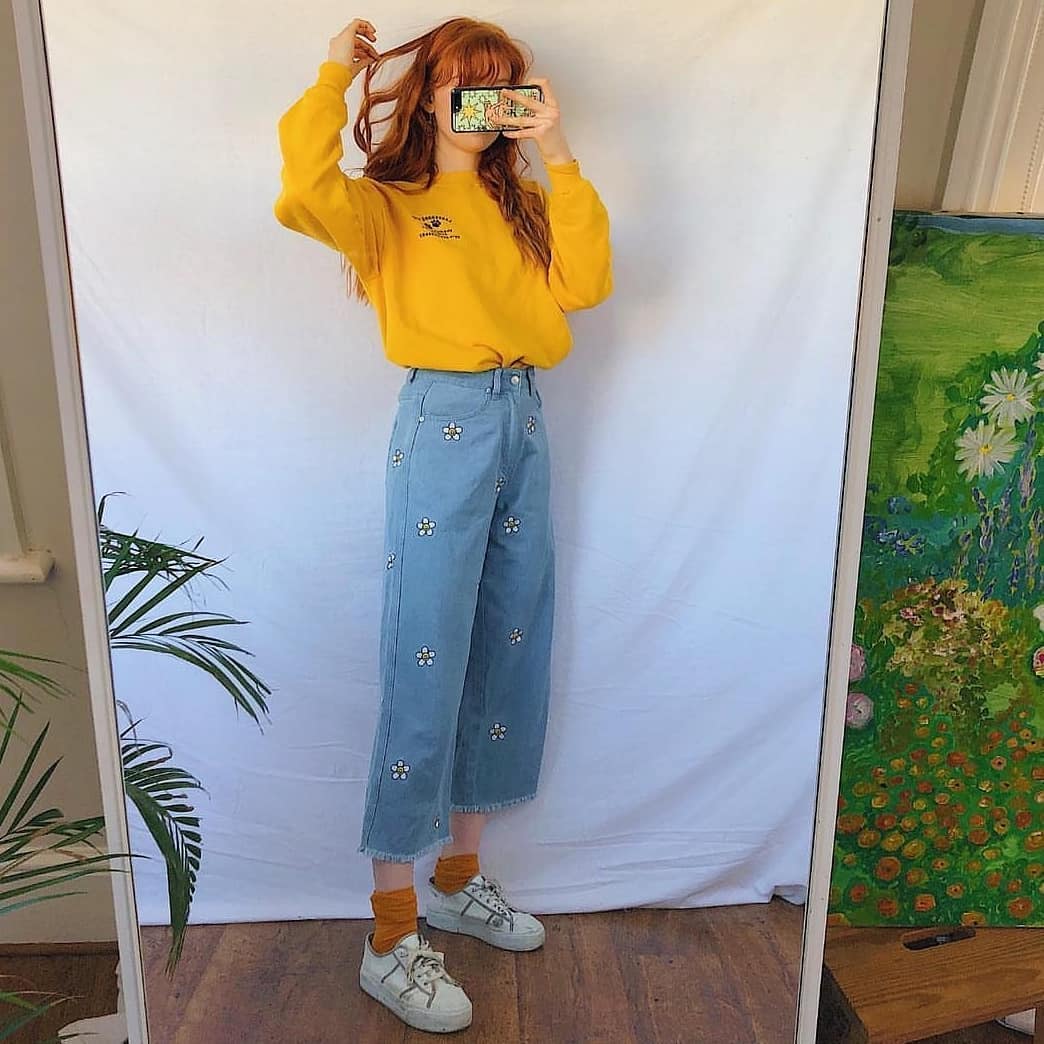 ↓ 22 – Statement Pieces
A statement piece is something you would want to be recognized with. It does not have to be huge, but people around you associate you with it. Try not to make it something basic that every other girl is doing the same. Silk scarves are cute little addition that you can include in your daily look. Plus, there are numerous ways to style it. You can add it to your bag some days, to your hair some days, around your neck some times, and around your wrist in a knot the others. Or you can go with colored eyeliner if you can manage to have it on fleek every morning. The inner corner of eyes painted with neon eyeshadow is also a good look and easier to do. You can even wear a bracelet or necklace that really stands out and people know it as a part of you. Or maybe a jacket. The options are endless it is just up to you how you style it.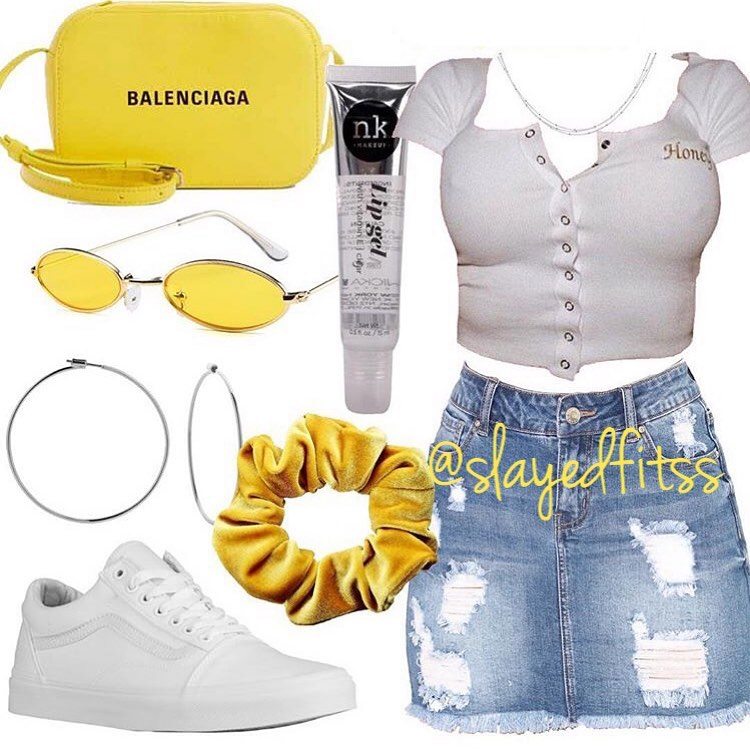 ↓ 21 – Skirts 
If you want to stand out then skirts will do the job when styled properly, and this is what we are here for. High waisted skirts paired with a t-shirt, tucked in, make a very cute outfit. You can even go for flowy patterned midi skirts, that give a soft vibe and a fairy-like aura. Add little flowers or a silk scarf on your hair as an accessory if you want to enhance your outfit.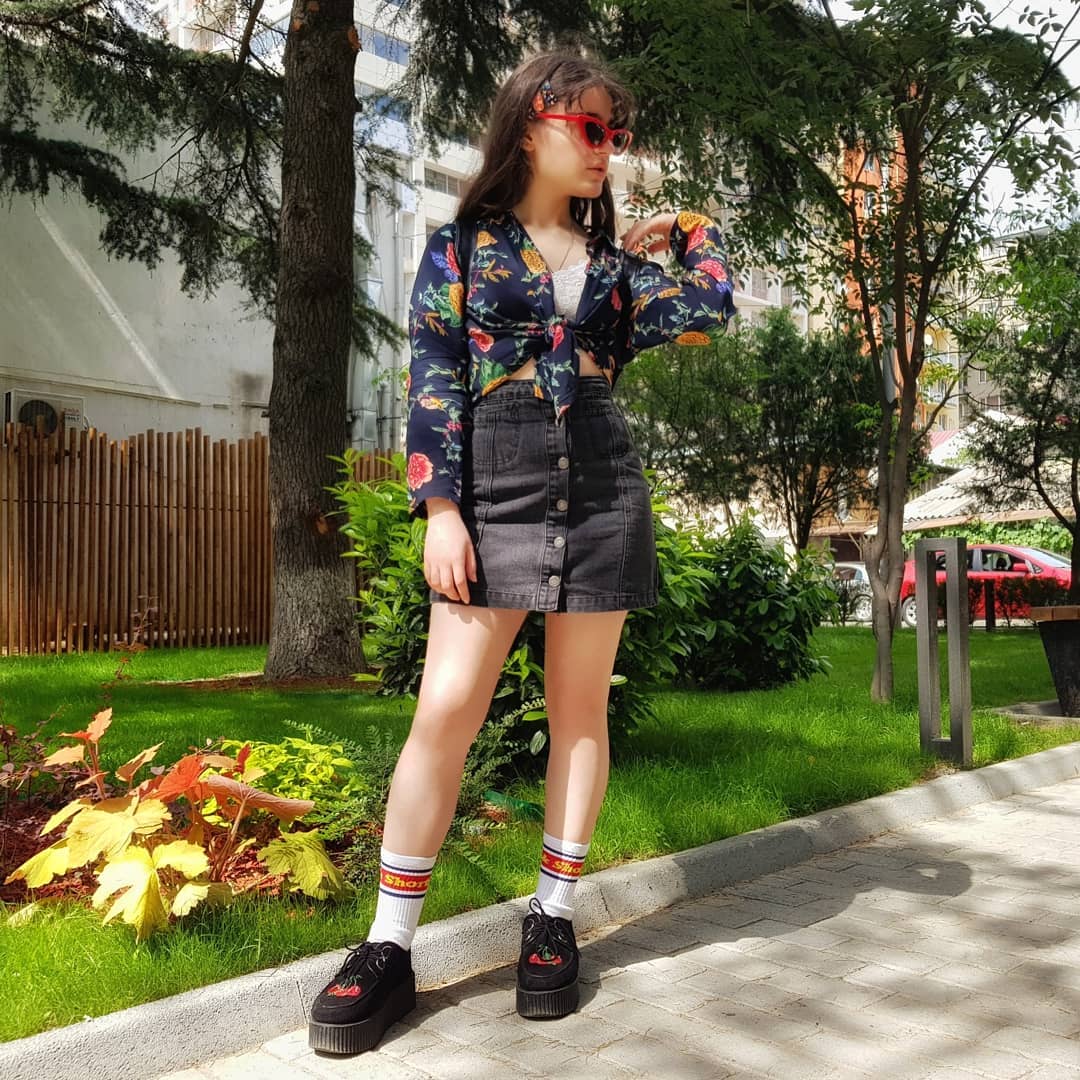 ↓ 20 – 90s Inspired Outfits 
The nineties are back. From music to fashion to art, the 90s aesthetic has pretty much taken over everything. With hashtags like 90s babies and black choker necklaces making appearances again and apps like Huji trending, 90s have everyone obsessed. A lot of influencers and designers, too have recreated looks popular in the 1990s. And you can, too. Checkered flannel shirts, oversized t-shirts, chokers, and lip gloss.
Before school starts, you can do a movie night with your galpals and watch 90s teen movies for fashion inspiration. Our favorite picks are Clueless (it's perfect, from the story to the looks Alicia Silverstone serves to the dialogues), Ten Things I Hate About You, and Pretty Woman.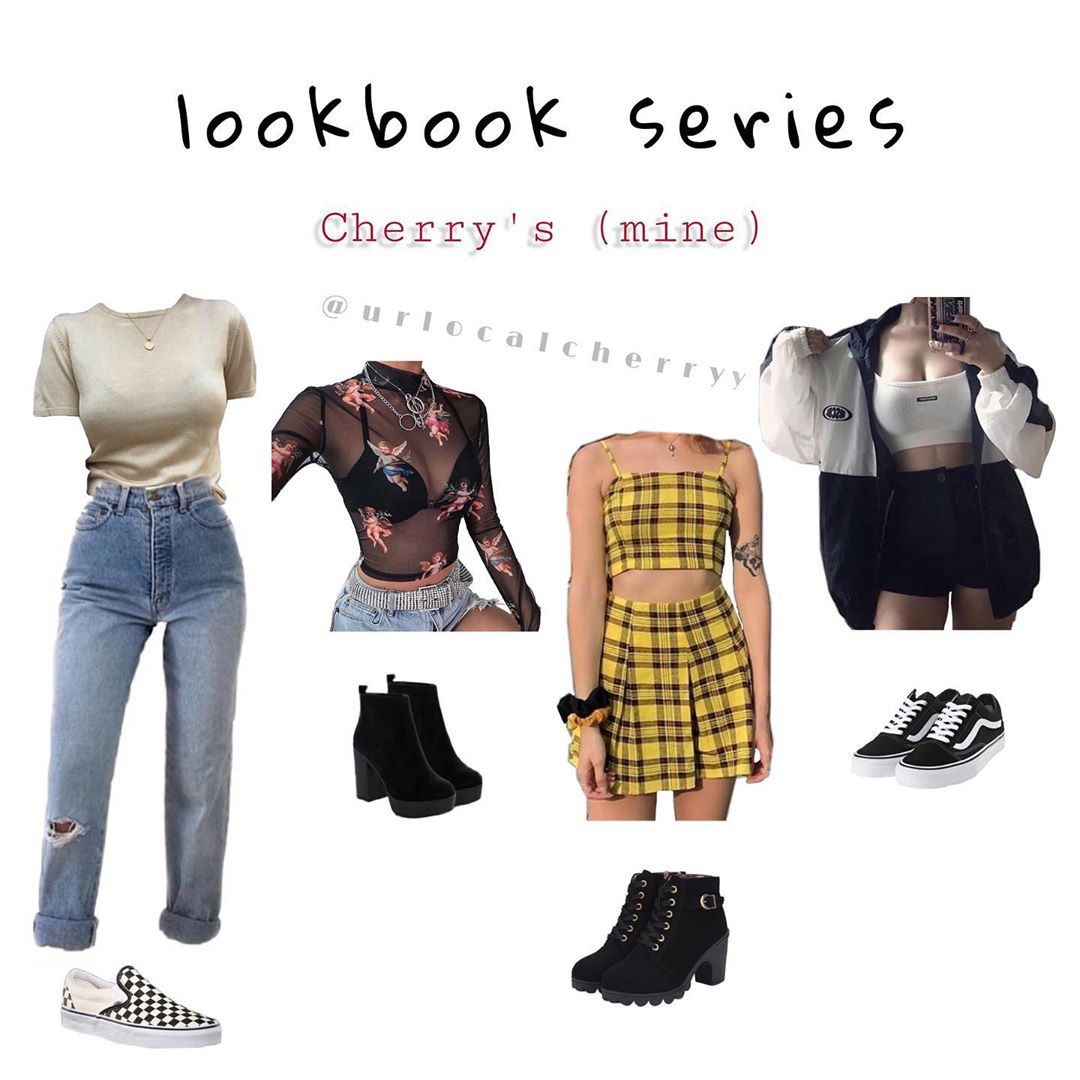 ↓ 19 – Signature Makeup Look

School is not the place to have a full glam makeup. Firstly, it looks unnatural. Secondly, who has the time to stress about 20 makeup steps every morning? It could only mean either having to wake up 2 hours early every day or going to class late. Besides, you do not need that much makeup with young skin. So, instead, we will give you a shortcut for looking fresh every day.
Make sure that you cleanse, tone, and, moisturize your skin. This needs to be done twice a day, after waking up and before going to bed.

Wear a BB cream, with SPF to protect your skin.

Skip foundation and go right in with a concealer to brighten under eyes and hide blemishes.

Set your concealer with a setting powder and add some blush and highlighter.

Paint your lips in a beautiful shade that goes well with your outfit.

Fill in your brows and add some mascara. Ta-da! A natural-looking makeup-look that makes you look flawless, yet not too caked up.

Makeup brands like Glossier have a range of natural-looking makeup. Look for organic and environmentally friendly brands that your skin does not react to.

Since you will be wearing these products every day make sure they suit your skin type.

Go with trusted brands, they do not have to be high-end names, drugstore products work just as well.

Make sure that you read the label and are aware of what is going on with your skin.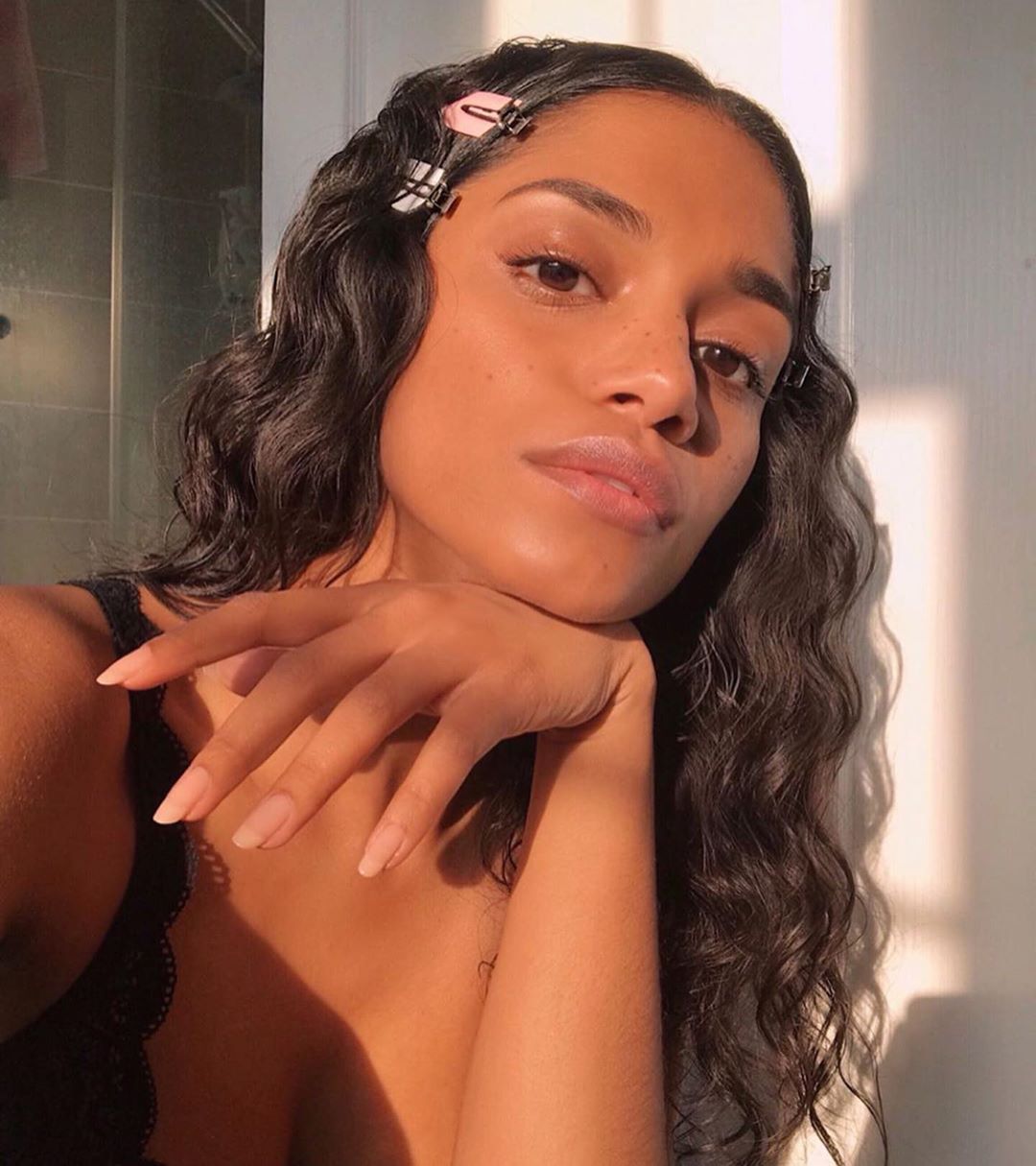 ↓ 18 – Monochromatic Outfits For High School
Single colored outfits can be fun to plan. They can be reflective of your mood. An all-red one, for example, might scream excitement and energy so it is perfect for the first day.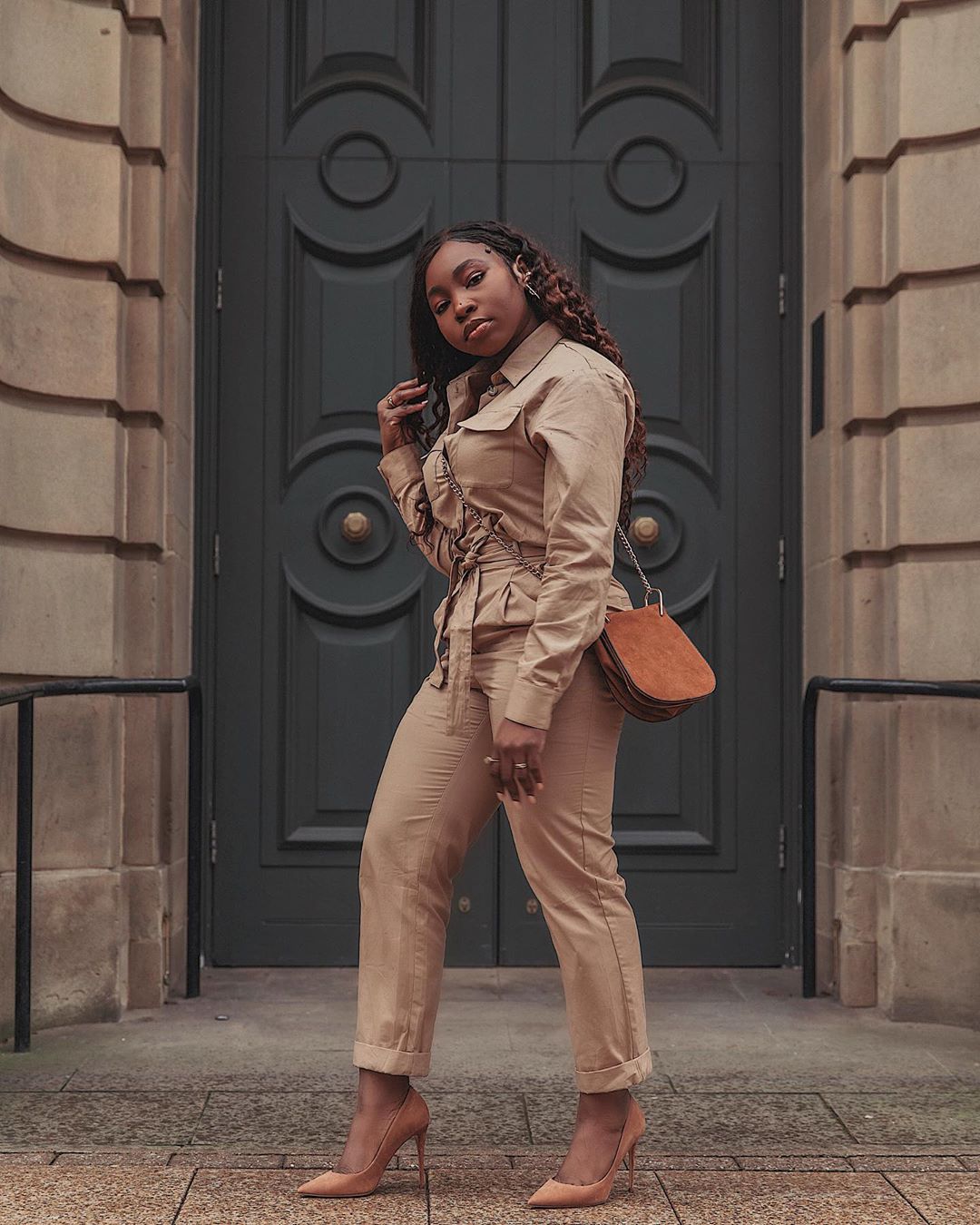 ↓ 17 – Cool Shirts With Text
These cool customized shirts will give you all the attention that you need! Pair them with denim jeans and get ready to attract a lot of attention.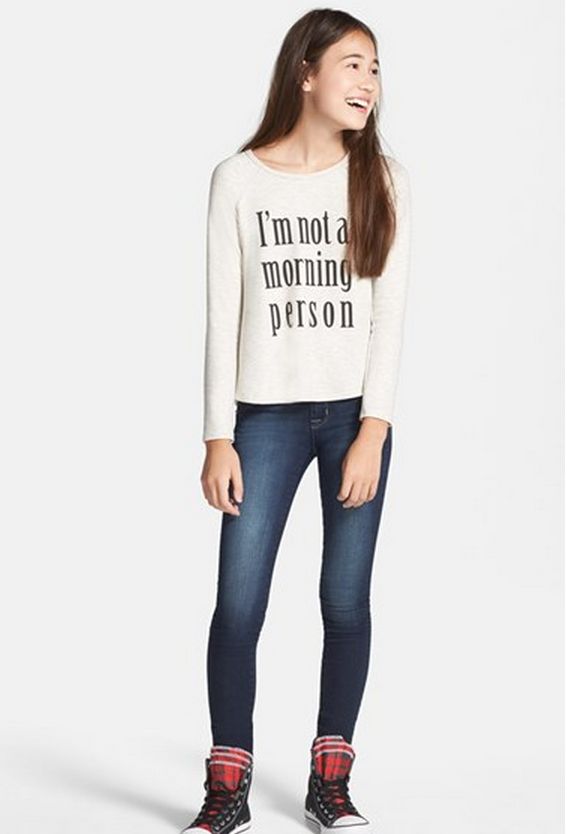 ↓ 16 – Boyfriend Jeans For Casual Look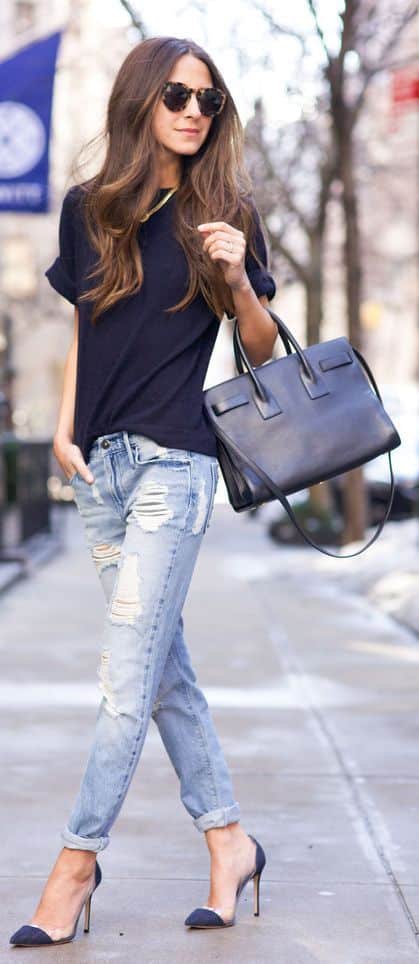 ↓ 15 – Lacy Top And Shorts – Summer Wear
Wear a pastel lacy top with shorts for a cute and adorable look.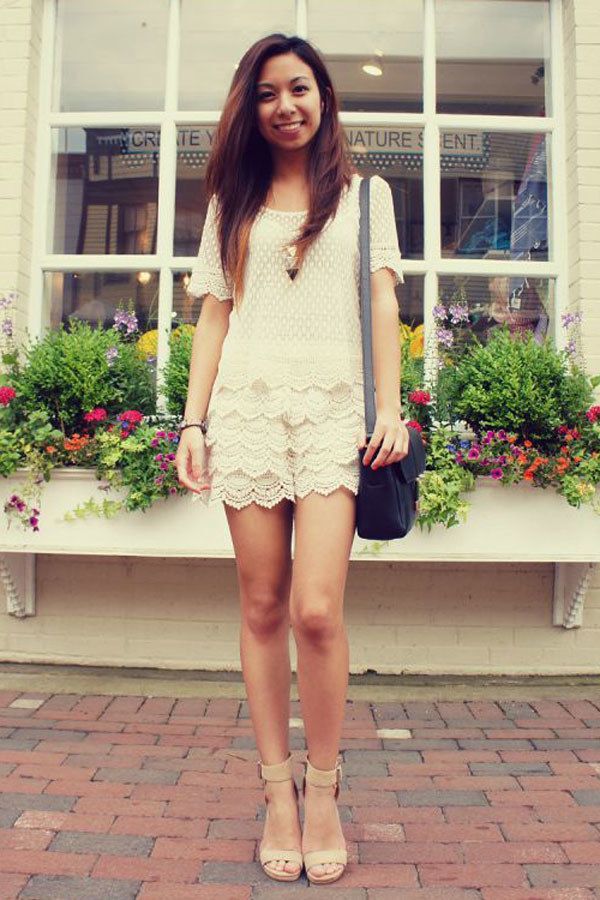 ↓ 14 – Denim Dress with Sneakers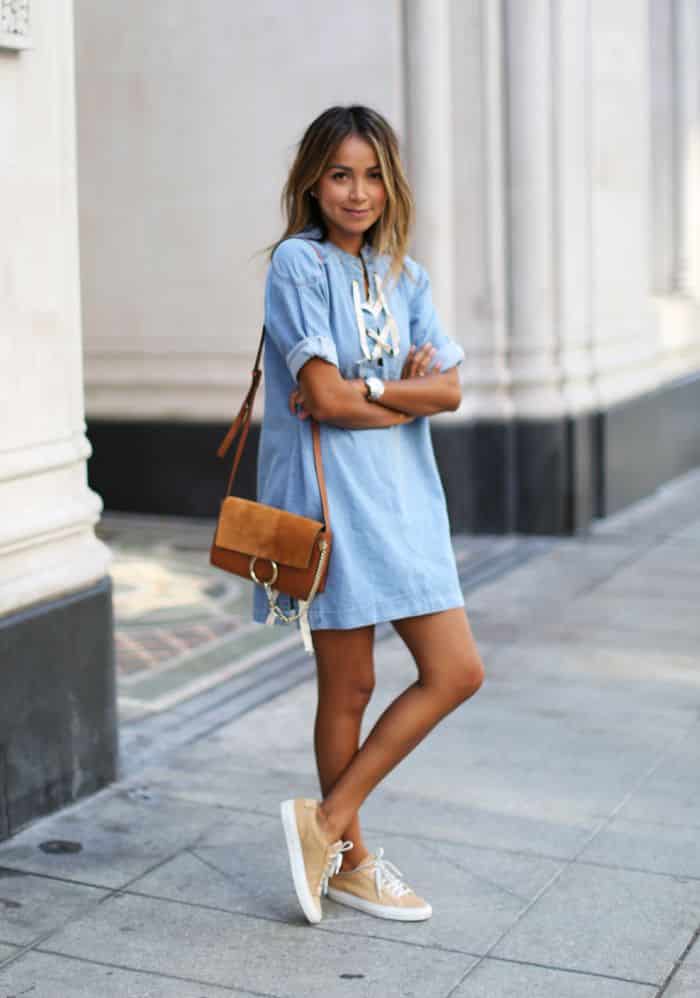 ↓ 13 – Striped Shirts For Teens
Stripes never get old! Wear a striped t-shirt for a classic back to school look.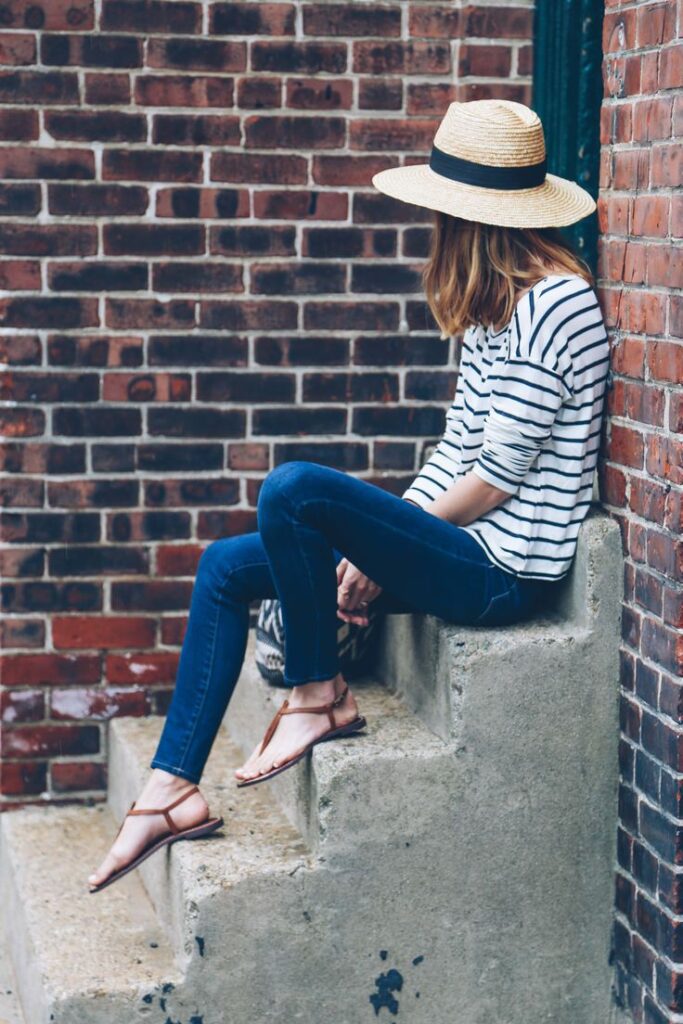 ↓ 12 – High Waisted Shorts With Slim Belt
You can completely change the look of your high waisted shorts simply by adding a slim belt and wearing it with a bright colored shirt.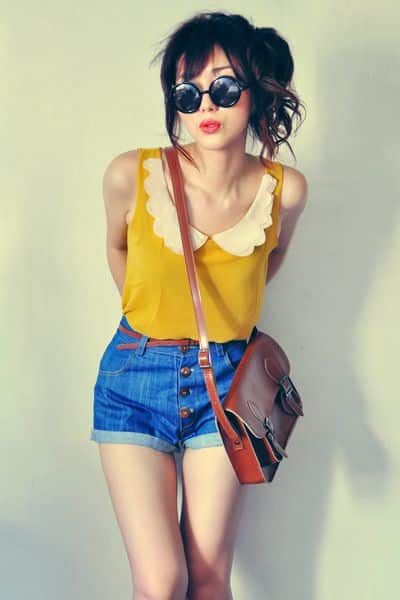 ↓ 11 – Skater Skirts With Collar Shirt
Pair your skater skirt with a button-down, tucked in shirt to look chic and trendy. Here are some more ideas on Skirt Outfits That You Can Wear To School.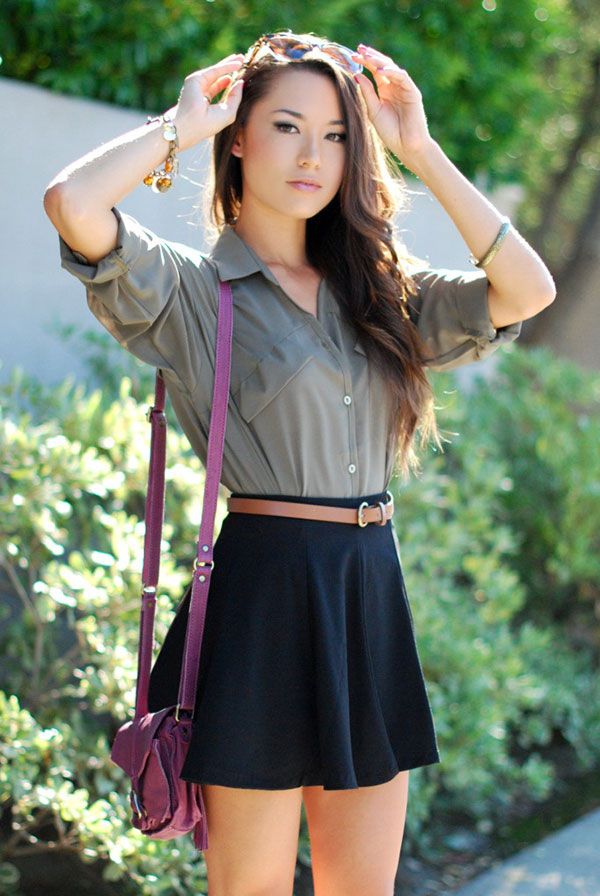 ↓ 10 – Denim On Denim
We can never outgrow our favorite denim jackets, can we?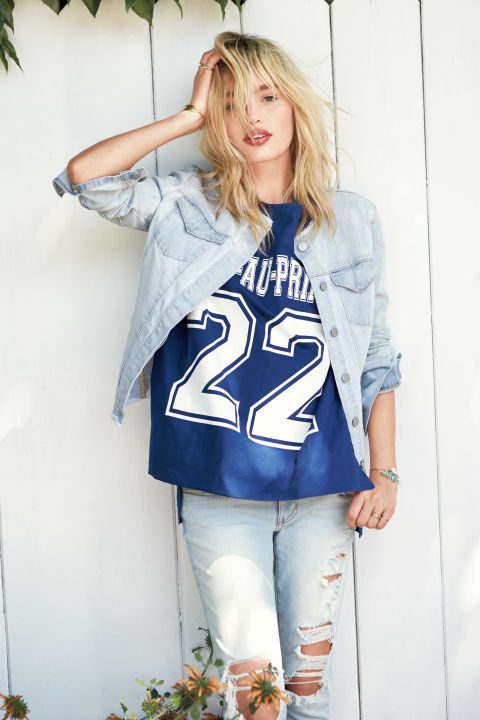 ↓ 9 – Vintage Style Overalls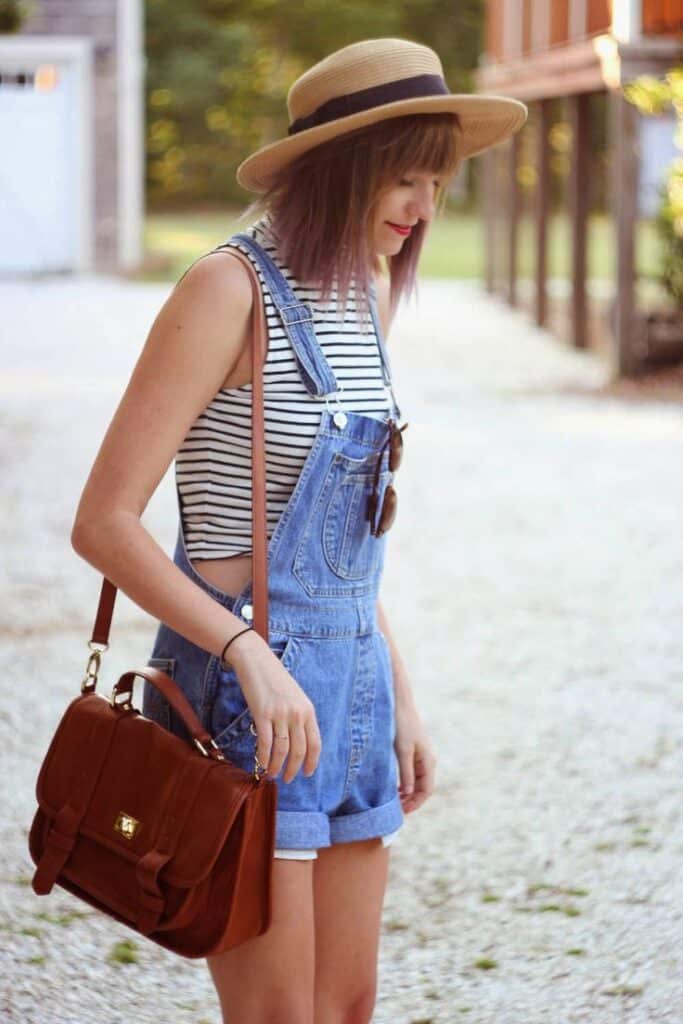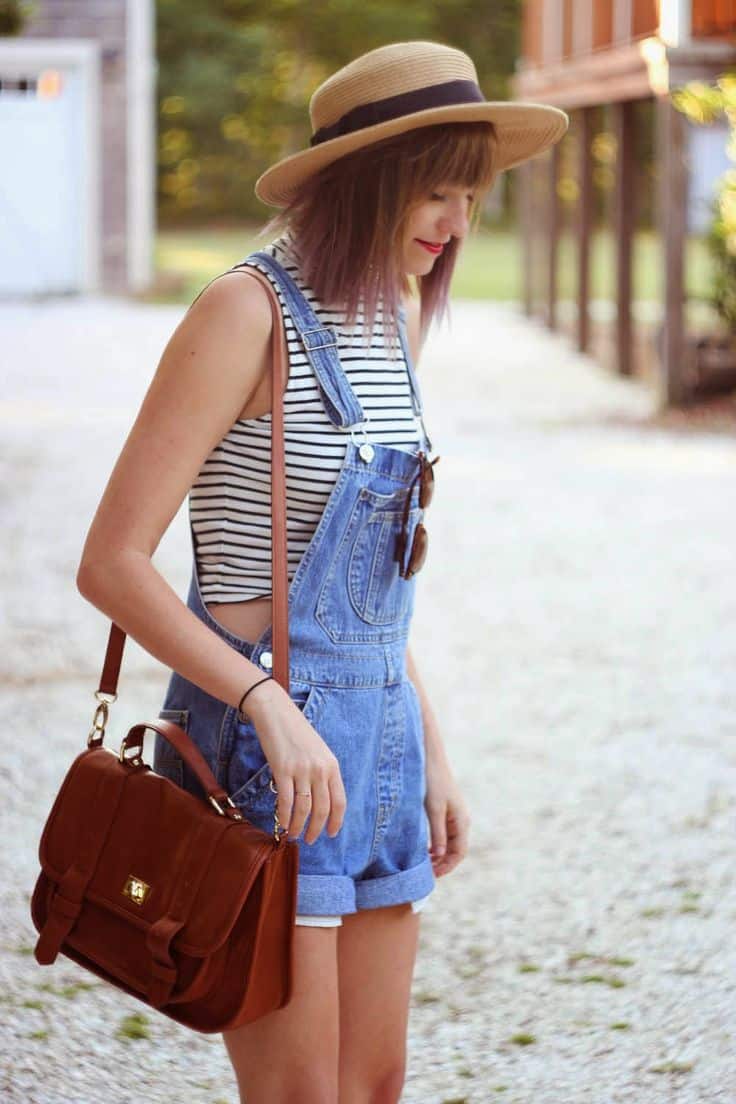 Source
↓ 8 – Play Around To Create Cute Girly Looks
Pull off a cute girly look by pairing a cute shirt and skirt with a patterned backpack and pumps.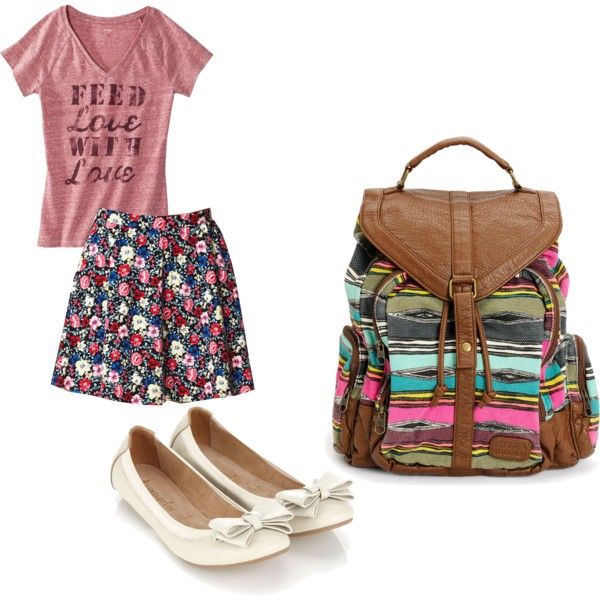 ↓ 7 – Baseball Shirts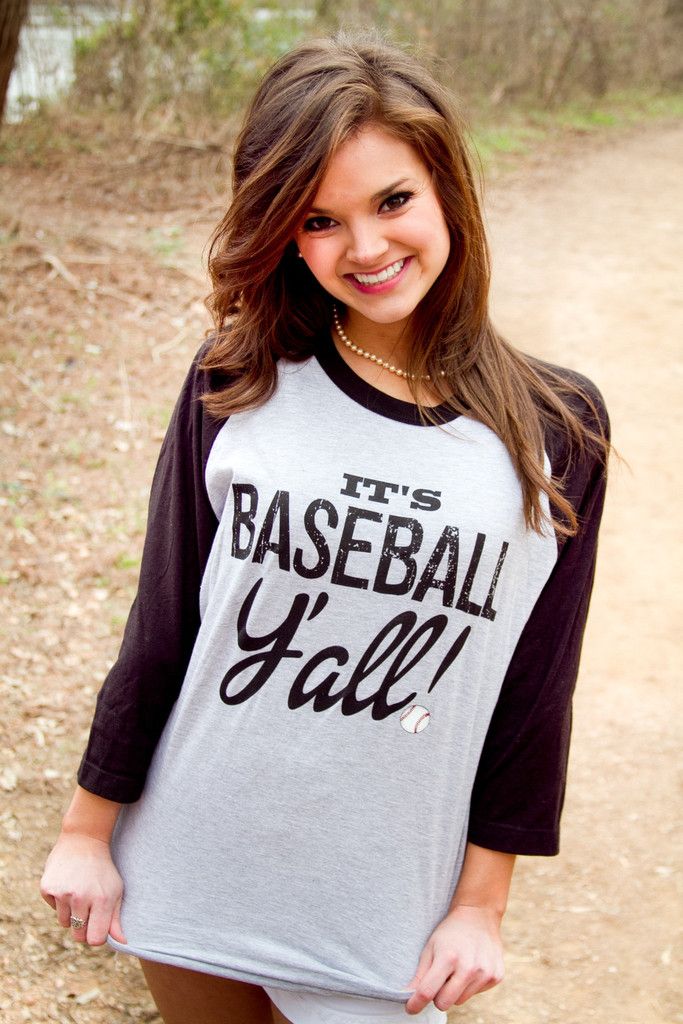 ↓ 6 – Back To School Outfits For Highschoolers
Choose a simple outfit and pair it with the right scarf, bag, heels and accessories.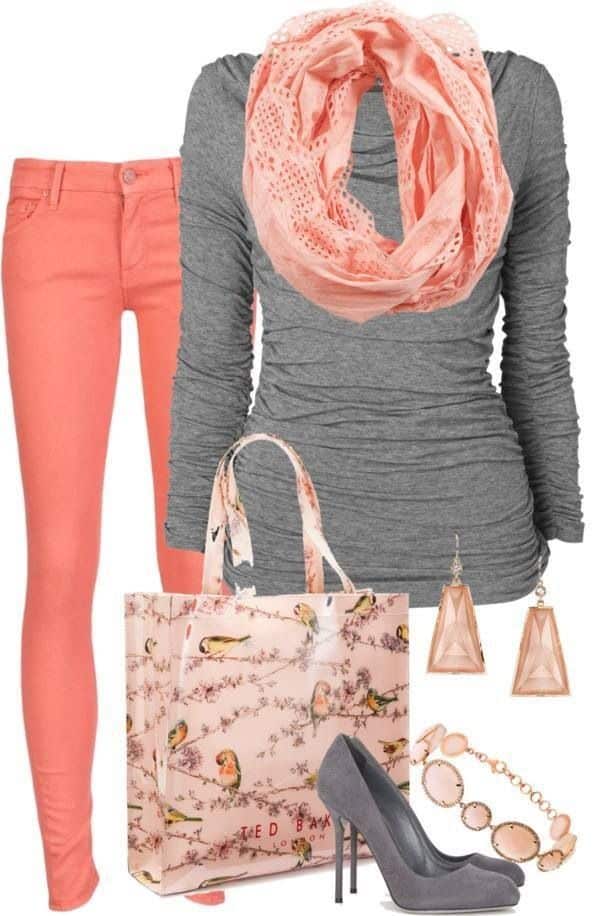 ↓ 5 – Flannel Shirt With Simple Tank Top
Flannel shirts with plain tank tops look super cool and chic.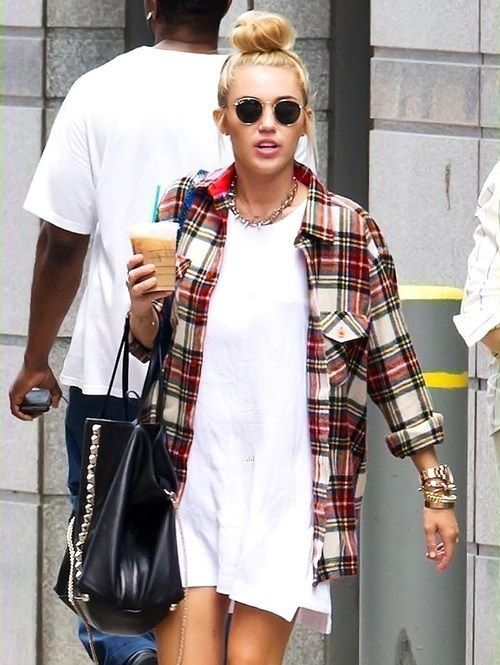 ↓ 4 – Take Out Those Cute Sweat Pants
Who says you can't wear sweat pants to school? Pair them with any sweater or shirt and stay comfortable all day long.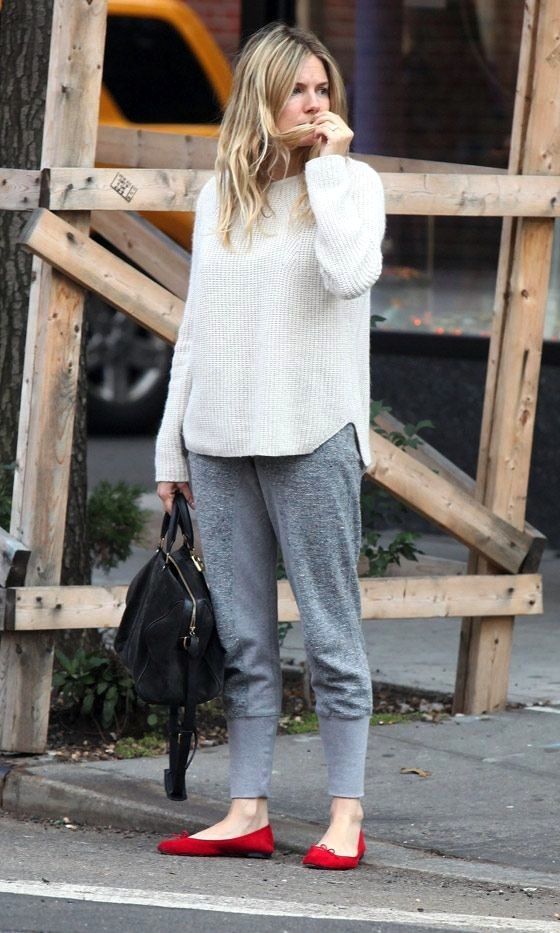 Source
↓ 3 – Polo Shirts Are Always Classy
What can be classier than a polo shirt? Wear it with denim jeans for a stylish look.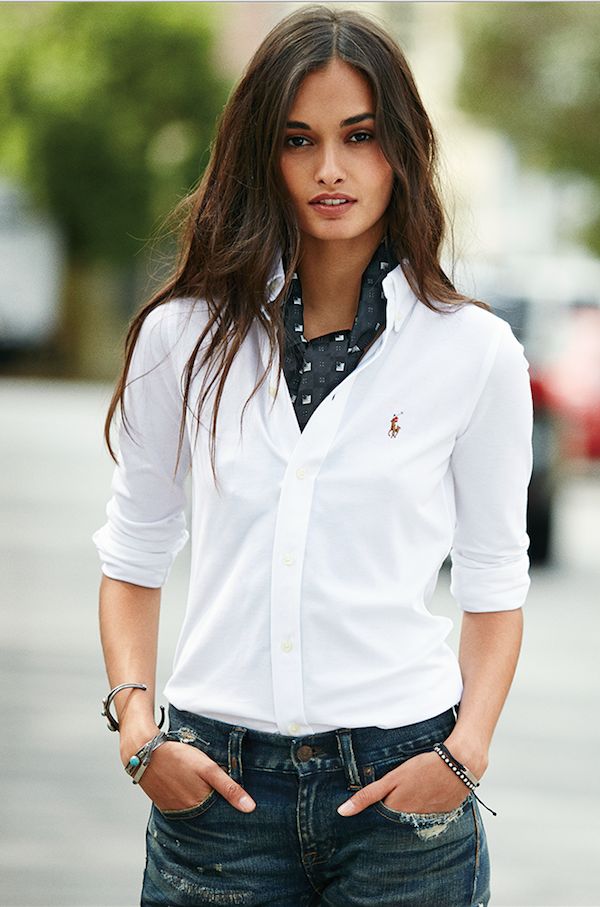 You can always give polo shirts a more feminine look by accessorizing them: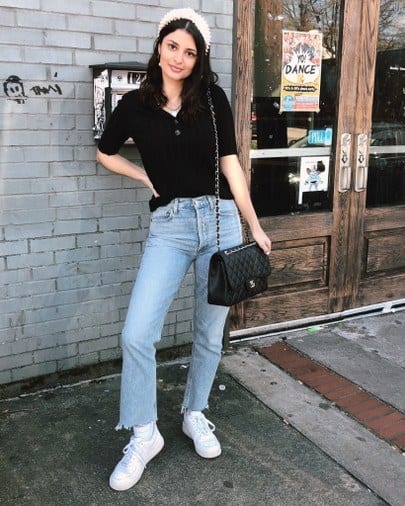 ↓ 2 – Wear Blazer For A Sophisticated Look
You can also wear a blazer with boyfriend jeans to look hot and sophisticated at the same time. Do check out our earlier post on Summer Blazer Outfits for some inspiration.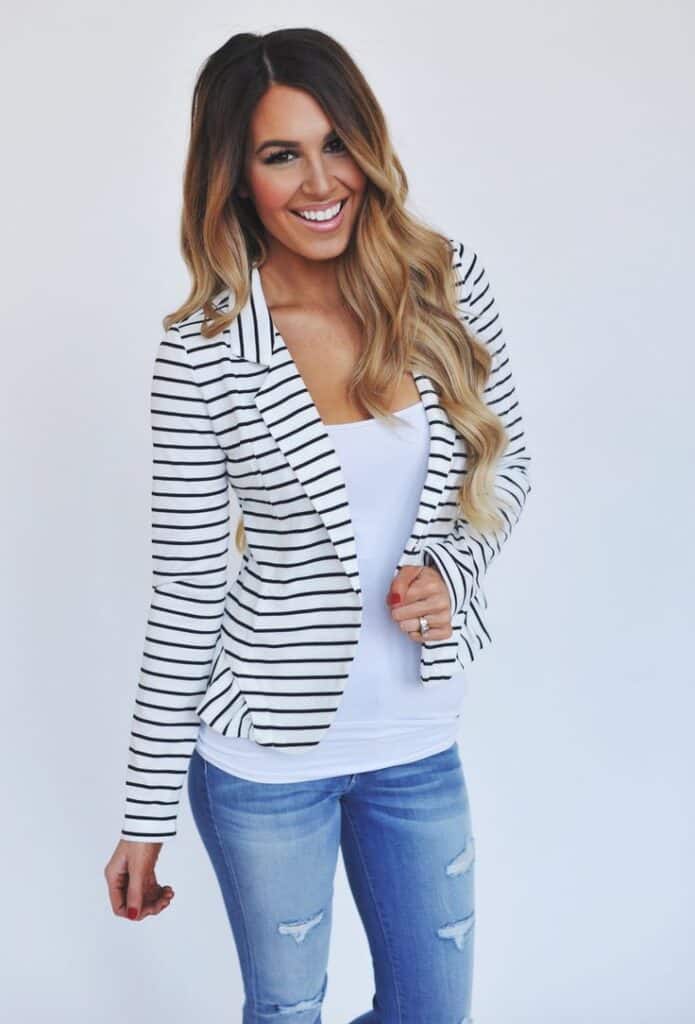 ↓ 1 – Don't Be Afraid To Wear Bright Colours
Add colors to your outfit. Choose bright pants and a top, wear them with matching sneakers and accessories for a smart look.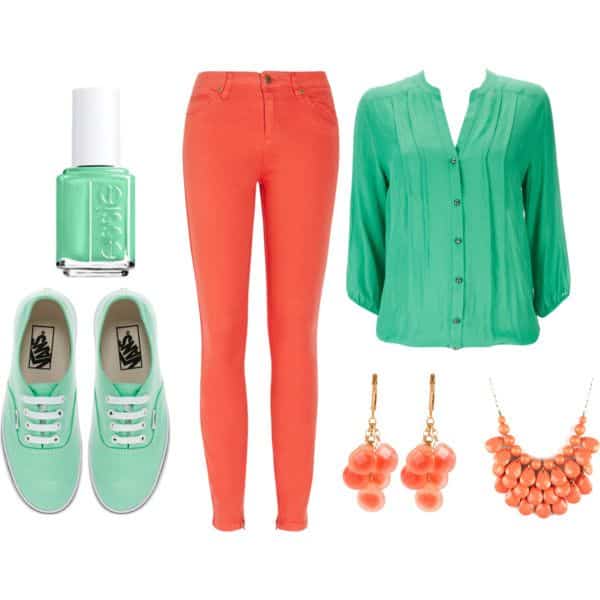 Choose your dress to kick start a new year using these tips and ideas. Stay confident, make new friends and impress all your teachers! Let us know which one of these looks is your favourite or if you have any of your own tips that you would like to add.