How To Wear A Saree For Plus Size- Women in the East are an absolute saree lover. This draped dress looks very elegant and beautiful if carried and worn the right way. However, plus-sized women feel that they somehow can't pull this look the right way. Well, we can prove them wrong as they can look ravishing in a saree.
Hence today, we bring you some curvy girls rocking their sarees in styles that will surely leave you in awe.
Latest Saree Styles For Plus Size Ladies
The concept of zero sizes is usually not liked by many people in Asia, where saree is worn the most. A healthy or a little bulky figure is preferred. Moreover, women above the age of thirty or forty are mostly curvy as compared to the youth. So for all the women who are curvy or plus-sized, this post is dedicated to you. We hope you find out some beneficial tips and ideas to wear a saree and rock it.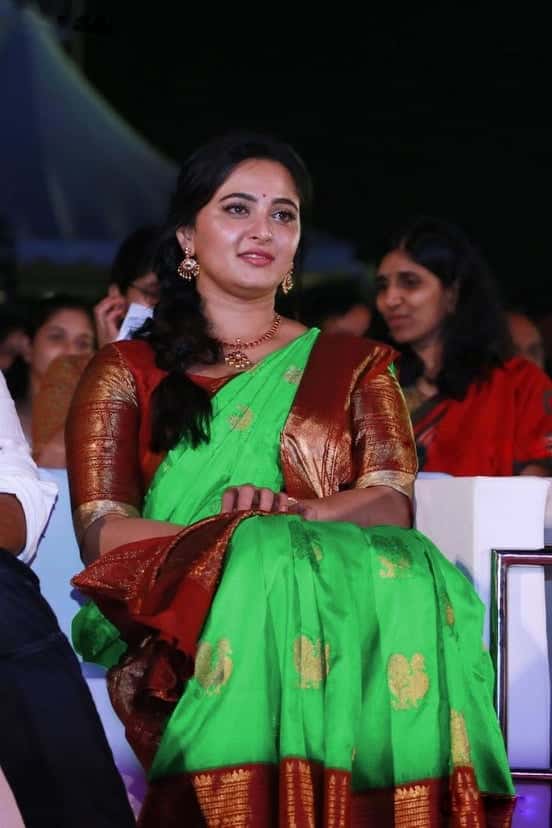 Some Tips to Keep in Mind If You're a Plus Size Lady
Always drape the saree in a neat and tidy manner, because a clumsily draped saree can make you look fat no matter what fabric is used. We also recommend that you check out these Most Elegant Saree Designs.
Make sure that the material of cloth you use is always right. A stiff cloth will make you look overweight, thus it is not recommended.
Avoid big prints and always opt for smaller prints.
Try to go for dark colors instead of light tones as they contour the body.
You can also play around with the type of blouse. Different kinds of blouses can give you a completely different look even with the same saree.
One great tip is to go easy on the border/pallu of your saree. Thin borders are ideal for curvy women as they only outline your outfit.
Avoid wearing blouses that have ban collars etc. Go for a sweetheart neckline or boat necks.
Don't wear blouses that are heavily embellished as they will make you look broader.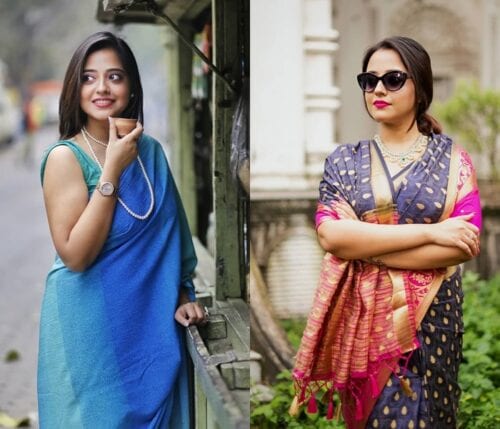 ↓ 20 – Cape Over A saree
Cape over a saree is something to modern yet traditional. You can add a cape to your saree to give it a whole new look. You will surely leave people in awe in such a styling. The first way to drape your saree with cape is to wear one solid-colored saree like this aqua silk saree with golden borders. Go for a skin-colored skin cropped sleeveless blouse. Just wear a beautiful golden net cape will full sleeves over it for finishing touch. The best thing about the capes is that they cover up your shoulder fat. Moreover, they are exemplary for women who want to try out something different instead of a dupatta.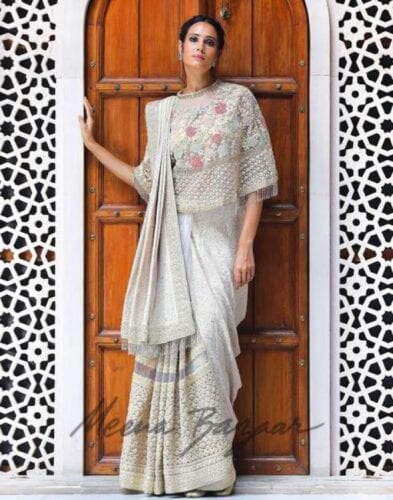 Outfit details:
Another amazing way to add interest in your saree is to wear a solid green saree and wear a cape of a similar shade over the blouse. You can add some silver or golden linings to the cape to elevate the look. With your cape and blouse having short sleeves, you can easily accessorize your look by wearing golden bangles. Add jhumkas in your ears and fix your hair. You are good enough to attend any event now.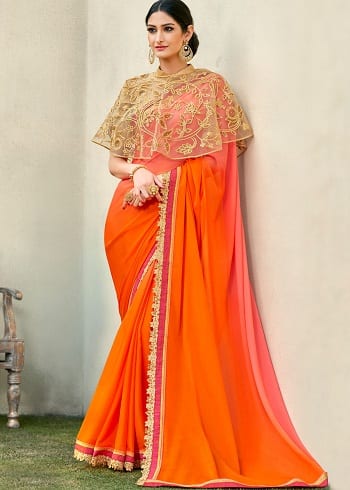 via
Outfit Details:
PrettyGuide Wraps Flapper Bolero
↓ 19 – Saree With Ruffles
You might have heard people telling you that don't go for ruffles if you are plus-sized or curvy. These words might even have heard your sentiments if you badly wanted to wear ruffles on some occasions. So, stop listening to people who pass negative comments on you because we don't need such negativity in our lives.
Here we have a ravishing idea in which you can add ruffles to your saree and look like a diva. Wear a tie and die pink and orange saree with a navy blue blouse having slight embroidery. What makes the blouse interesting are the ruffle sleeves. So for yourself that how little detail can make a simple outfit look so beguiling.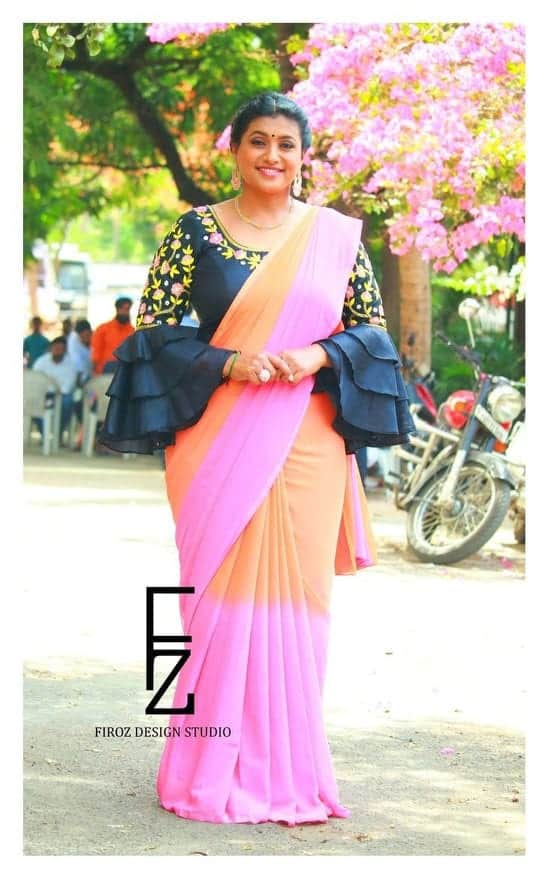 ↓ 18 – Best Saree Ideas For Curvy Bride
The time of your life when you are finally going to be a bride is the hardest and most overwhelming time for any girl ever. There is so much to stress and think about. Be it packing stuff, dealing with family members, or looking after the event arrangements and, of course, hair, makeup, and outfit. If you have chosen to wear a saree on your big day then be prepared to deal with the hustles. Let outfit trends drop a lifesaving hack for you. Wear a chiffon saree in a pink or red shade that has golden embroidery on it. If you are plus-sized, then we recommend you to go easy on the embroidery. Keep the borders thin, and that's all. Get your hair and makeup done. Put on your family jewelry if that's your tradition.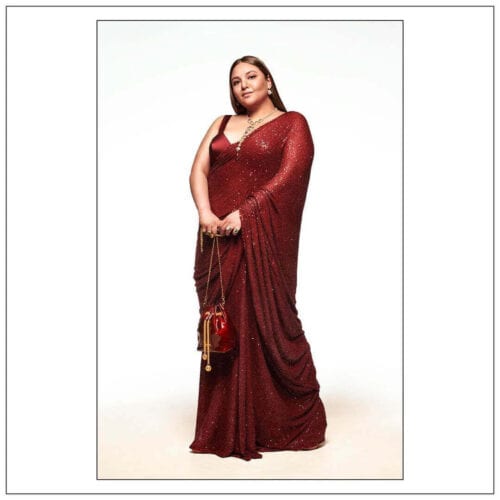 Outfit Details:
Indian Sequence Potli Bag For Women
↓ 17 – Draping Saree With A Belt
If you ever plan to wear a fabric that's stiff and feel like it is making you look too broad, then do nothing else but this. Add on a thin belt.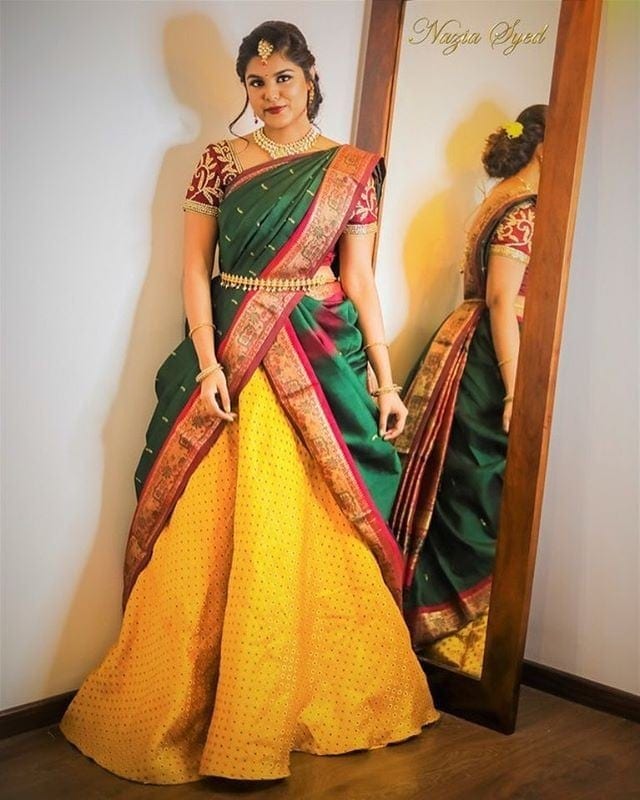 Outfit Details:
Indian Traditional Banarasi Silk Saree with Waist Belt
↓ 16 – The Traditional Look
Women can benefit a lot if they opt for a simple and traditional look. You can wear a bright colored saree with a contrasting colored blouse. For further styling options, a center-parted bun with traditional jewelry (including Jhumkay and a long chain necklace) is ideal. To add more to this look, you can also go for a bold winged eyeliner with a soft lipstick. Viola! You're all set to rock!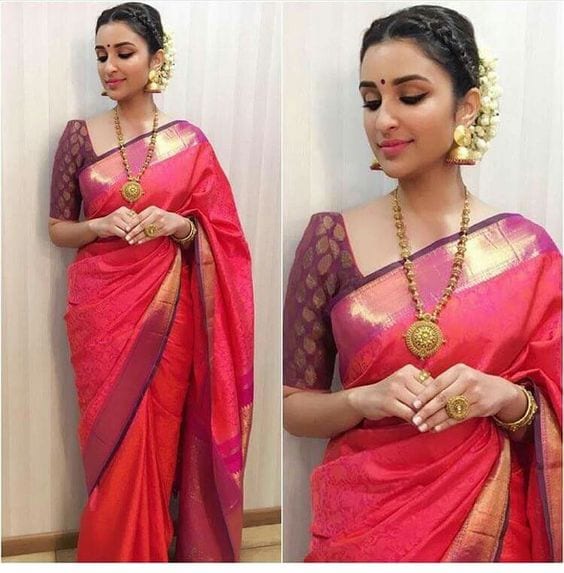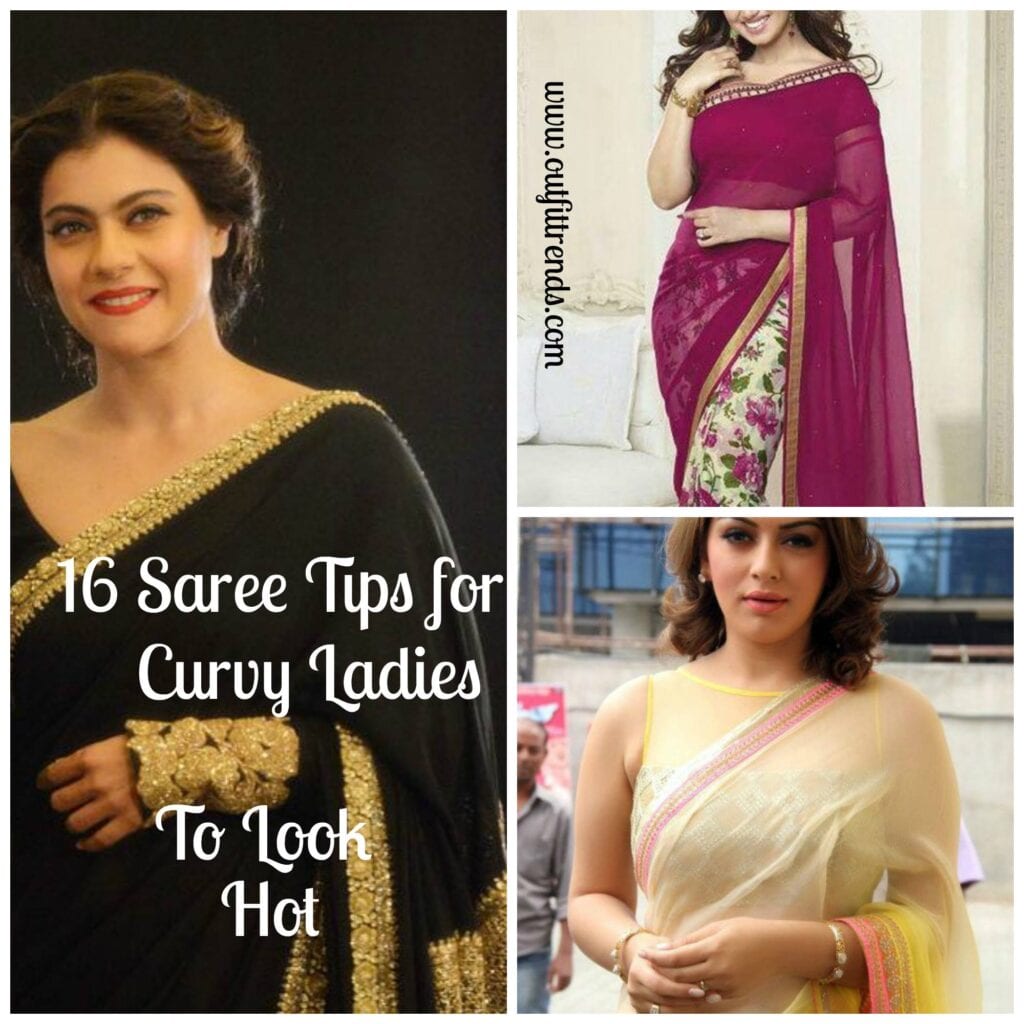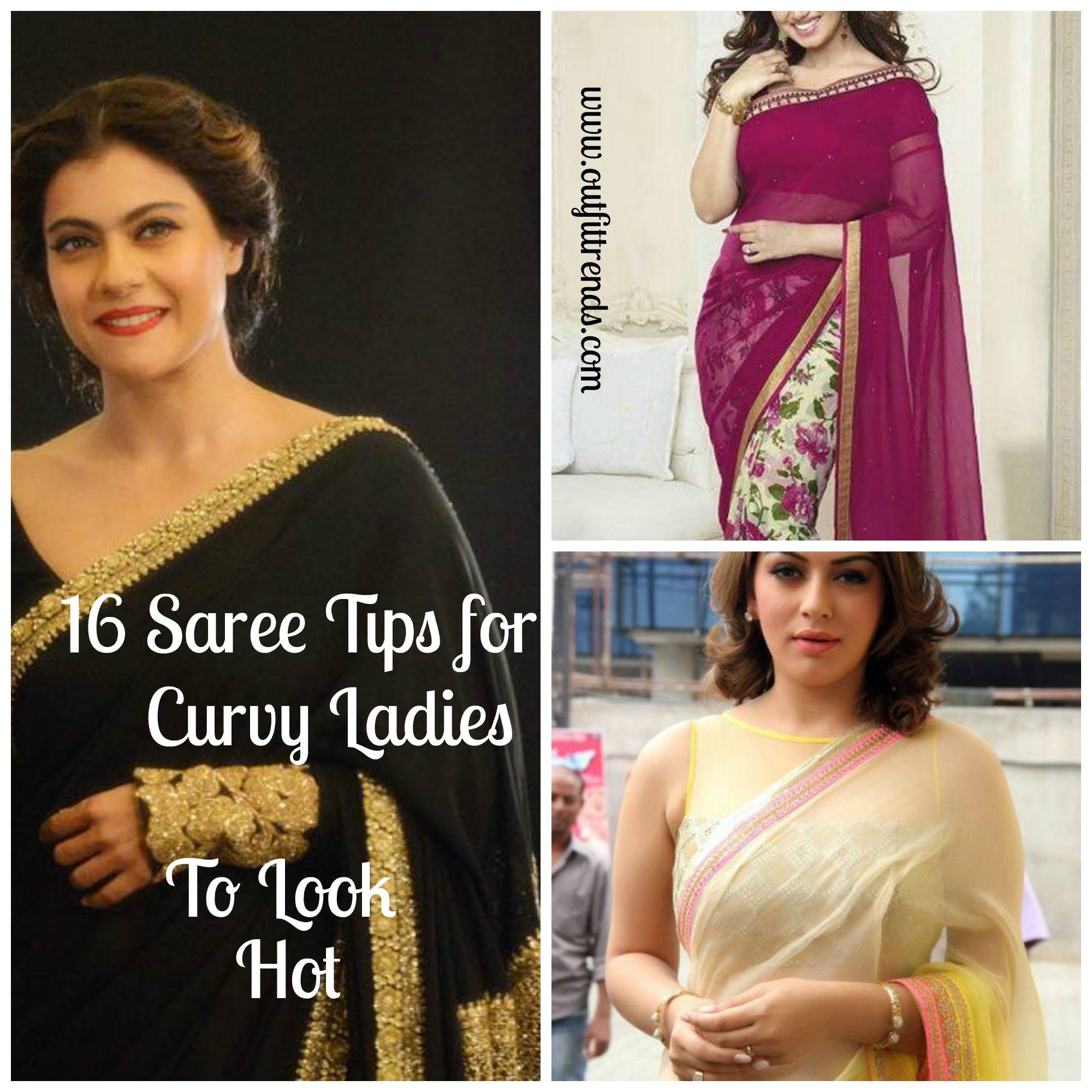 Outfit Details:
Sarees for Women Banarasi Art Silk
↓ 15 – The Sophisticated Look
Women who want to attend a formal meeting or event of such sort need to look elegant and sophisticated. For this, the ideal thing to do is wear a dark-colored saree with a printed blouse, but the print should be a simple or geometrical design rather than floral prints. And make sure your makeup should be a right balance of nude lipstick with liner and tie your hair to give yourself the perfect formal look.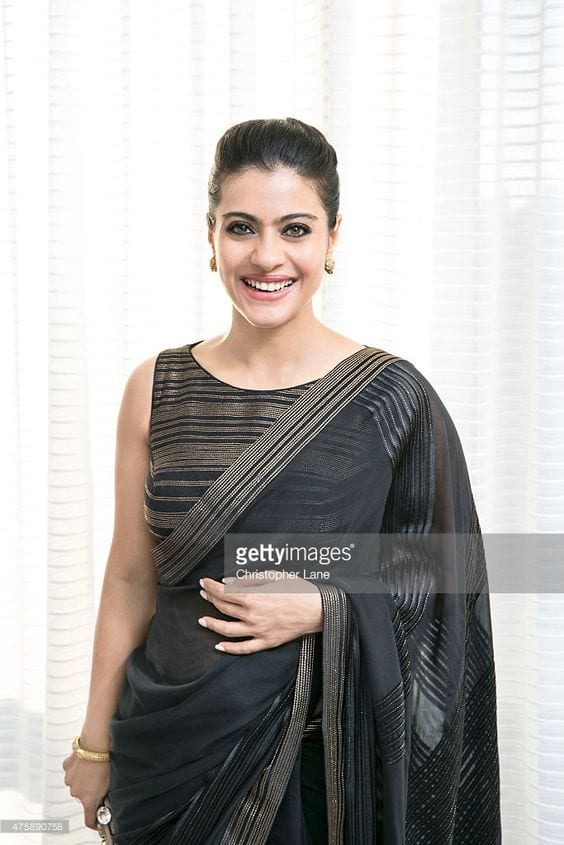 Outfit Details:
Elina Fashion Cotton Art Silk Printed Weaving Border Saree
↓ 14 – The Right Kind Of Saree Fabric For Curvy Girls
What most women forget is that it is essential to choose the right kind of fabric if you want to appear slimmer. Go for clothes like chiffons or soft-net material, as when you wear these materials, they'll give a flowy effect rather than making the body appear broad and more plus-sized. Do check out How to Wear Saree for Short Height?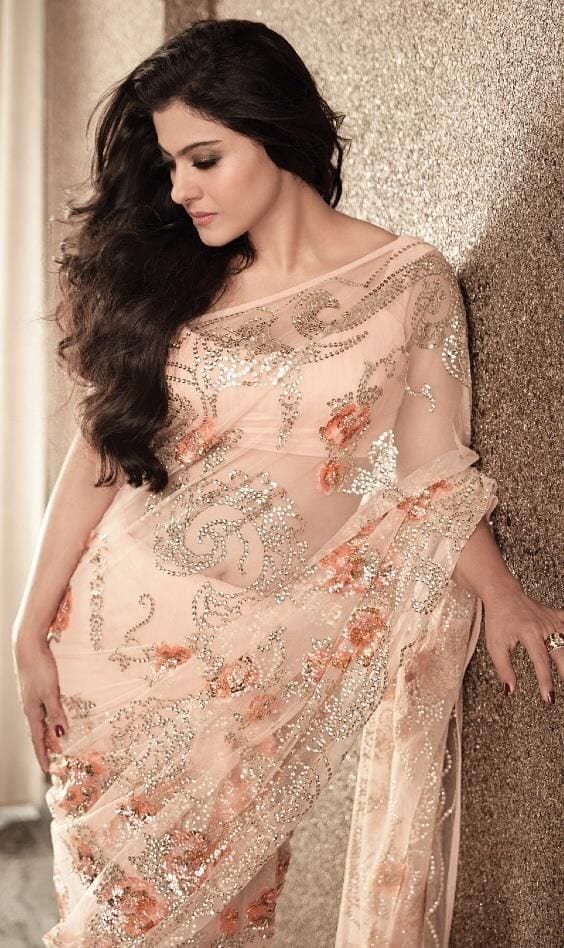 Outfit Details:
Indian Trendy Women's Bollywood Sequin Embroidered Sari
↓ 13 – Choose The Right Color
Ladies are mostly aware that the right colour choice can do wonders. Similarly, when wearing a saree, all the plus size ladies should keep this in mind that always go for bright and dark colors rather than soft and pastel shades. These colors will give your figure a well-defined shape rather than soft colors.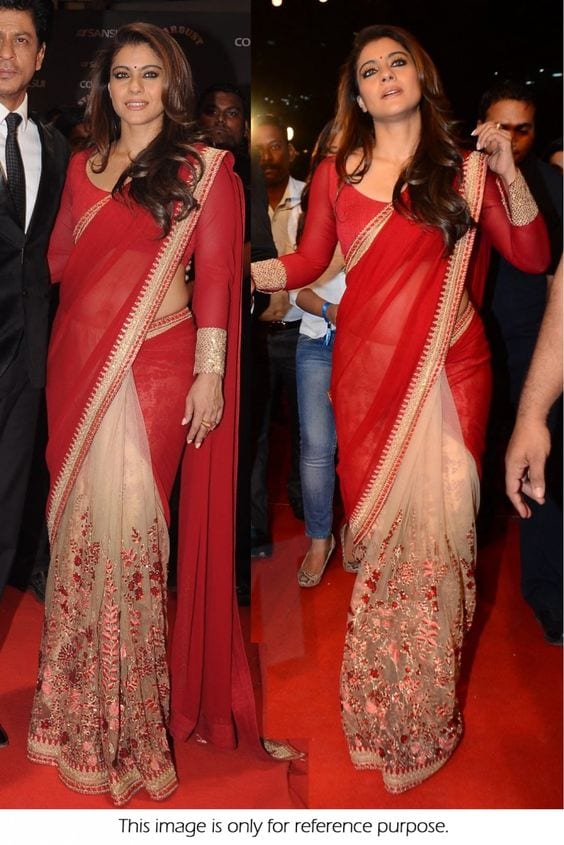 Outfit Details:
Nivah Fashion Women's Satin Embroidery Saree
↓ 12 – The Bling Queen
Plus-sized ladies are usually not willing to experiment much with their outfits. They're afraid of whether it'll suit them or not. Well, we all agree that change is good so to all the curvy ladies, try wearing a shimmery blouse or a shimmery bordered saree. This will make you look fabulous and smart as well. Here's How to Wear Saree Tutorial with Step By Step Guide to Drape Saree.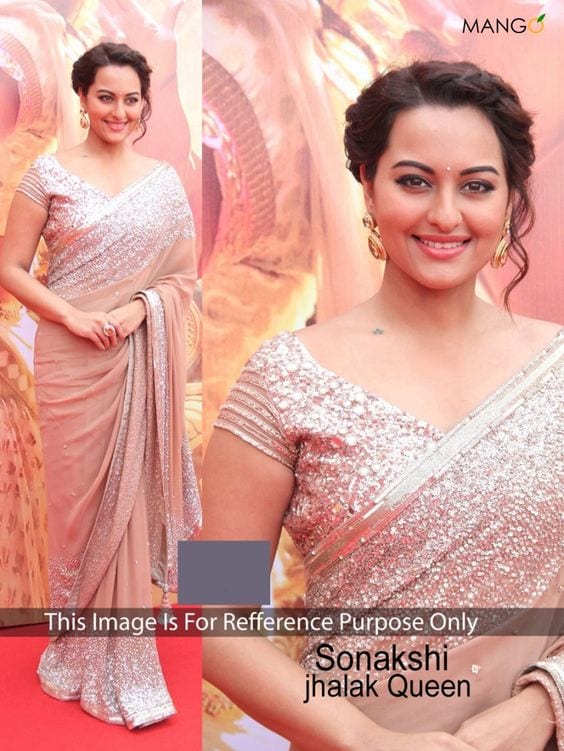 Outfit Details:
Chandrakala Women's Party Wear
↓ 11 – Keep It Simple
Sometimes the easiest way to look good is to keep it simple and elegant. You can choose to wear a light nude shade of saree which has simple and delicate embellishment. For the makeup, make sure it is light and not overshadowing your overall look. Let your hair be loose in long loose waves.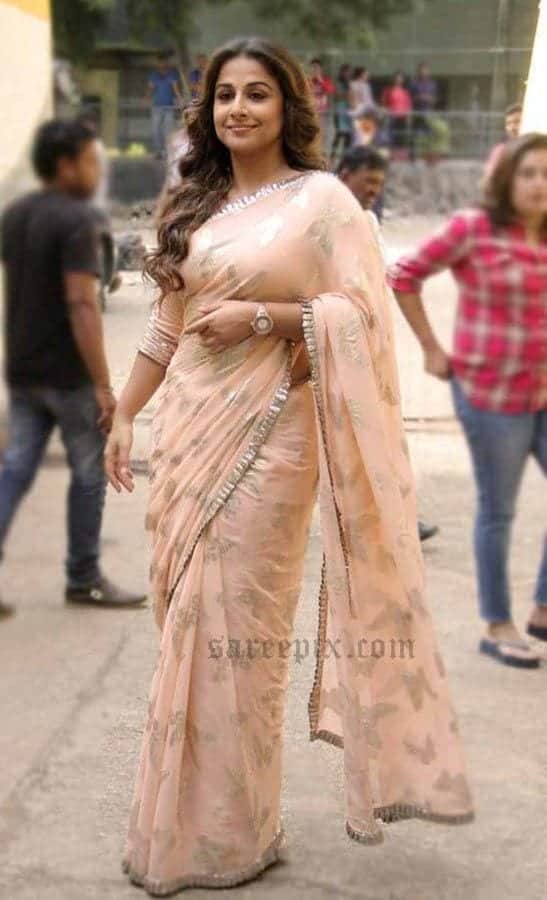 Outfit Details:
Chandrakala Women's Indian Ethnic Banarasi Saree
↓ 10 – Makeup With Saree
Often women are looking for the perfect makeup inspirations with saree. The ideal way to look smart is to maintain a natural look. Very light smokey eyes paired with a natural blush and a very natural, peachy lip colour. This will flaunt your natural beauty and make you look effortlessly stylish. Here is a collection of the Latest Saree Blouse Designs for your sarees.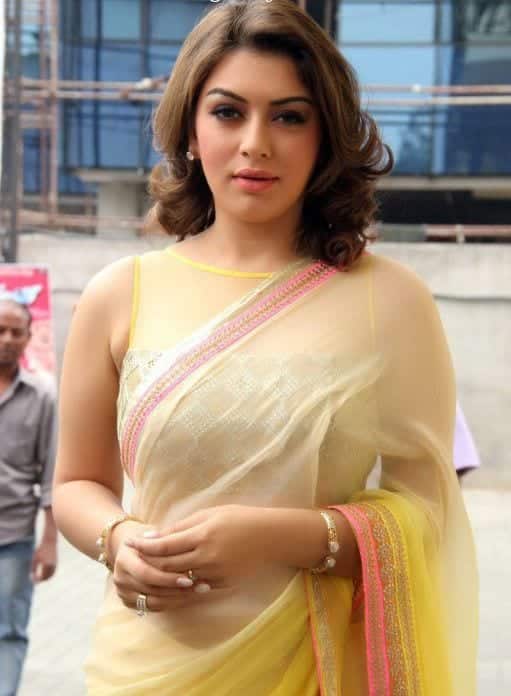 Makeup Details:
↓ 9 – Hairstyle With Saree
Women who are curvy or plus size often need to opt for hairstyles, which will define their face, thus fully tied back hair are not recommended. You can opt for low buns, but you have to ensure that the bun is either side or center-parted so it can give definition to your face and make you look more stunning. Check out these Cute Celebrities Inspired Hairstyles To Wear With Saree.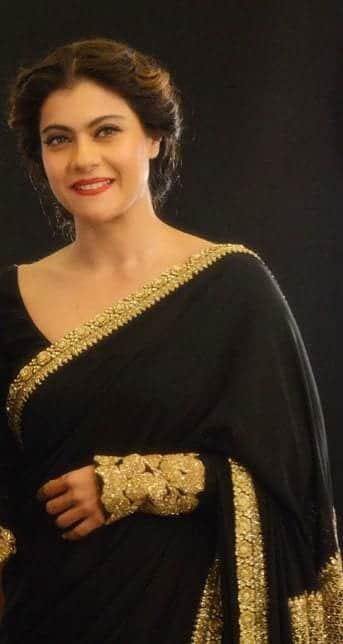 Outfit Detail:
Panash Trends Women's Indian Lycra Malai Silk Embroidery
↓ 8 – Go One Tone
Another useful tip for plus-sized women when wearing saree is that instead of going for multi-colored saree, you can wear a single tone or monochromatic saree. However, make sure that the colour is preferably dark instead of a light colour. This will add charm and make you appear slimmer. You can do multiple variations with the fabric and the style of the blouse.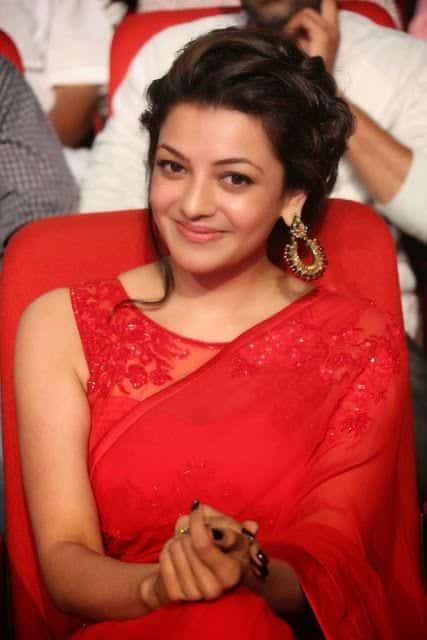 Outfit Details:
Sourbh Women's Faux Georgette Saree
↓ 7 – Go Basic
Plus size women who want to appear slim experiment way too much with the saree style, thus ending up with a disaster. Sometimes the easiest way is to drape yourself in a simple, classic saree. With bright colors, you can play as much as you want, but make sure there are a maximum of 2-3 colors involved.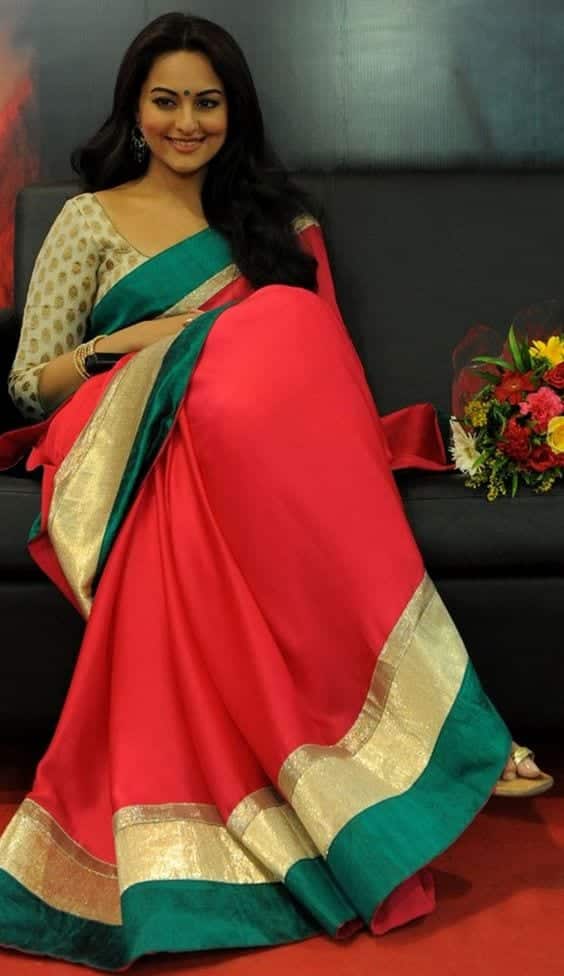 Outfit Details:
The Indie Quirk Bollywood Kanjiwaram Banarasi Katan Silk Saree
↓ 6 -Best Wedding Attire
Invited to a wedding? And you're stressing about the saree style which you'll wear? Well, here is an easy pick, go for the traditional red and golden colour combo. Wear a shimmery blouse with red saree draped over your shoulder. This is easy and will make you look beautiful, no matter what size you are.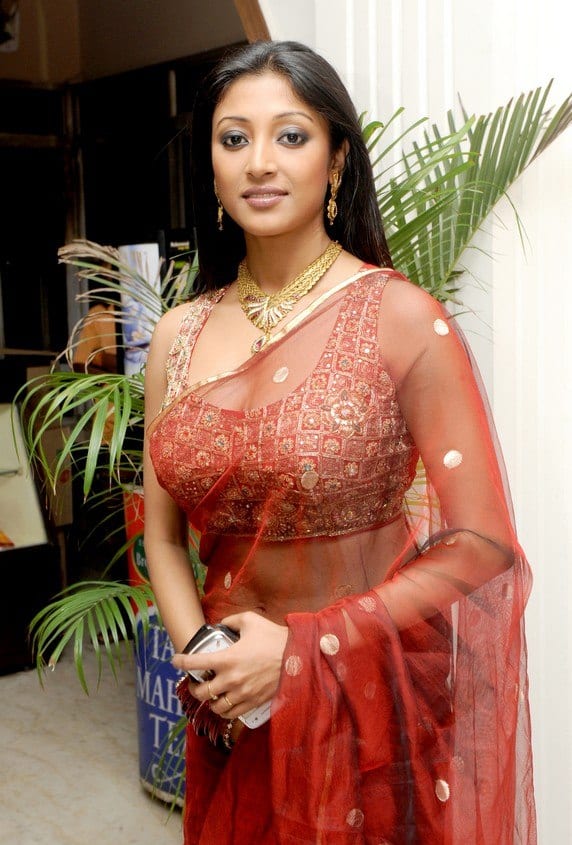 Outfit Details:
D'VINS Real Mirror Work Ready to Wear Silk Blouse
↓ 5 – Fancy Event Look
Fancy events call for a super classy and fancy look at the same time. Plus size women sweat over the fear of how will they look ravishing. We have a simple solution, wear a black and white saree. You can contrast multiple types of fabrics, including net and velvet, to make yourself look jaw-droppingly hot! Here are Stylish Indian Street style Fashion Ideas for Women.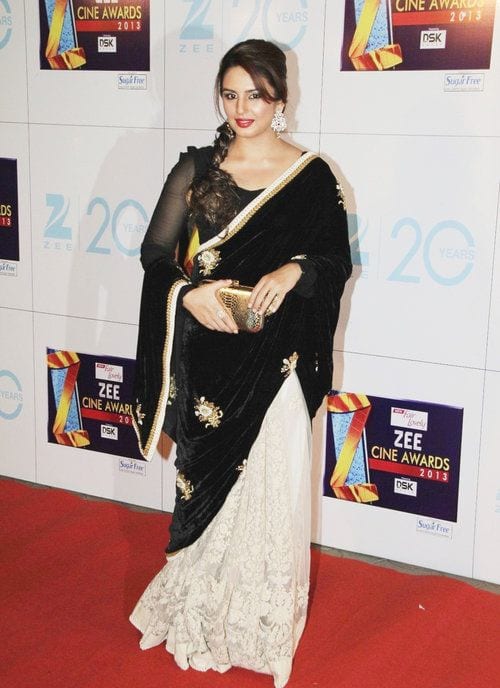 ↓ 4 – Rightly Draped Over The Shoulder
One thing that most women can do wrong is that they might not drape the saree in the right way. You have to ensure that your saree is completely draped over the shoulder instead of letting it fall out clumsily, as that can make you look chubby.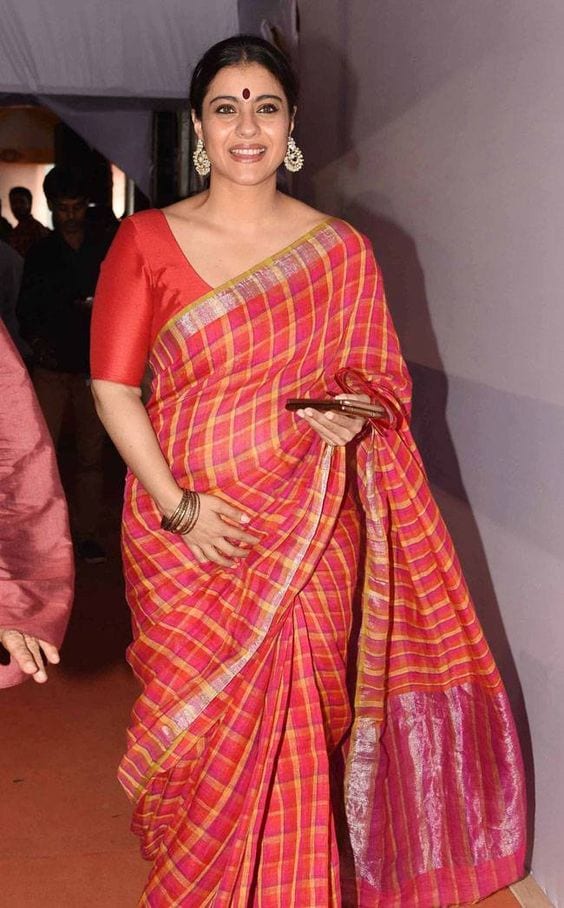 Outfit Details:
Mysore Art Silk Printed Indian Wedding Saree
↓ 3 – Light Borders, Always!
Another useful tip for curvy ladies is that they need to go easy on the borders. Yes, you need borders for outlining and details, but make sure that the borders are light and that they don't take away the glam of your overall look.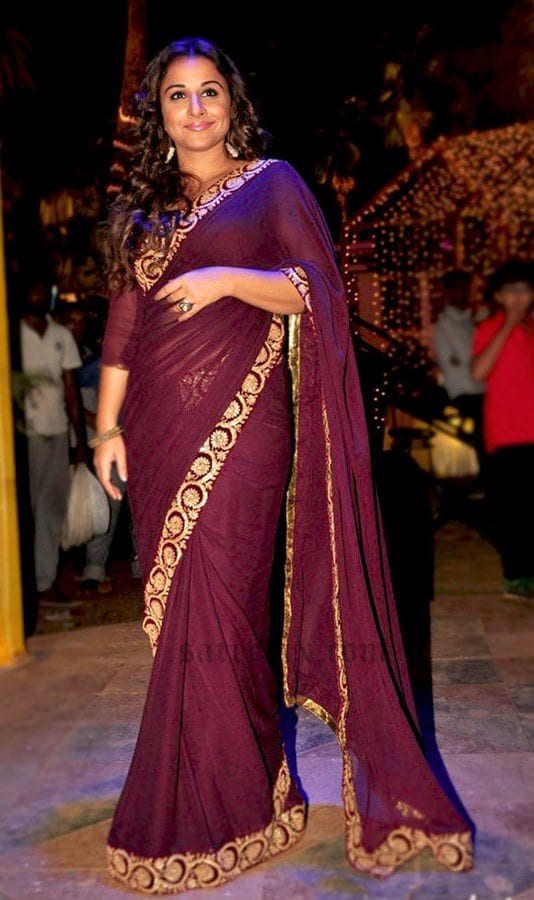 Outfit Details:
SOURBH Georgette Lace Border Saree
↓ 2 – Add Some Accessories
A nice way to drift away attention from your curvy body is to add some statement accessory to your saree. This will add glam and also make you look hot!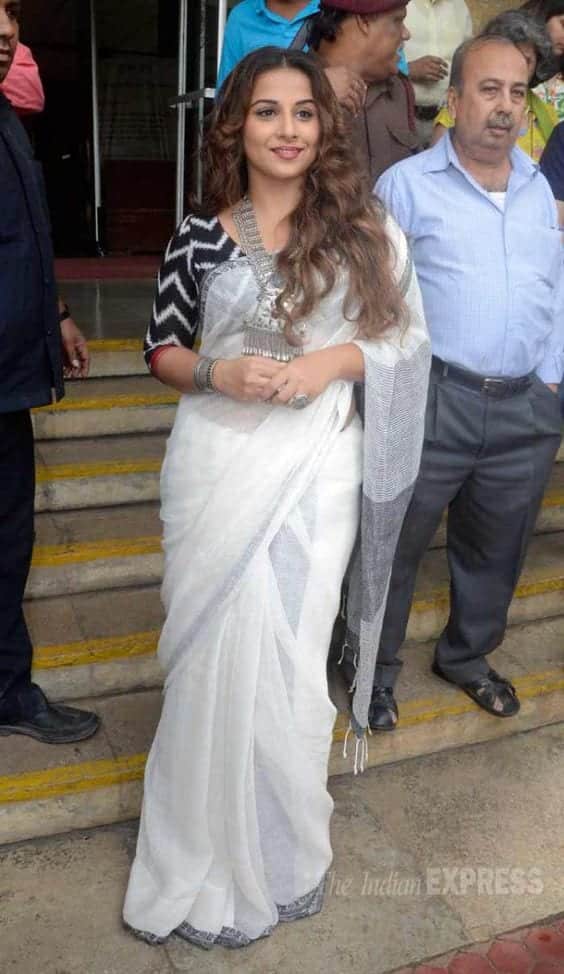 ↓ 1 – Add Some Different Style
A nice way to add more style is to go a little differently about the dress code. Instead of a printed blouse, opt for a printed saree. This will give you a fresh and unique touch and shape up your curves nicely. I wouldn't suggest going for very big flowers, instead, opt for smaller or medium-sized ones.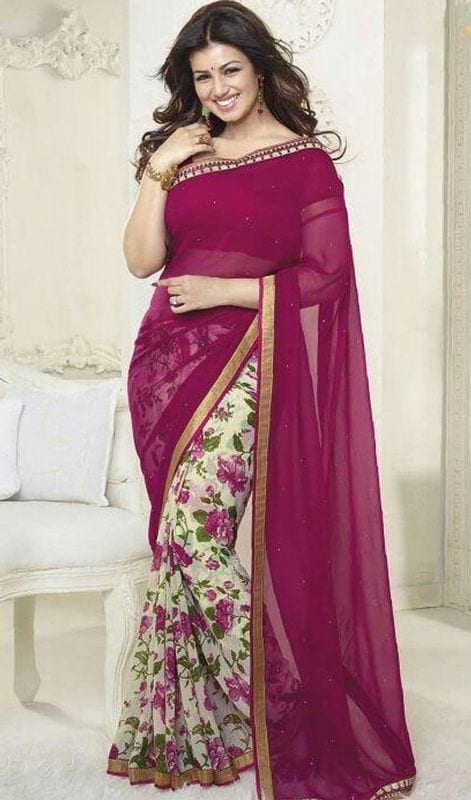 Outfit Details:
Crocon Digital Flower Printed Saree
Expert Answers To Your Frequently Asked Questions
Q.

What Is Th Best Saree Fabric For Curvy Women?
A. Mosty women, especially those who are past their youth years, or are mommies, are bothered by belly fat. It is obvious that working women or even housewives can't work out on a daily basis or think that doing house cores is an exercise itself. Well, dealing with a fat belly can be a hurdle in your dressing up sessions. But ladies, don't worry. Embrace your body just the way it is. Because we have a better idea for you. It is simple but very beneficial. Just use the appropriate fabric. The best fabric for curvy women is Chiffon or soft net fabric. These fabrics give you a slimmer illusion and conceal your body rather than making you look wider and broader.
Q.

What Are The Best Saree Draping Styles For Plus Size Women?
A. Draping your saree in the right manner is the key to acing it, irrespective of your shape and size. The first and foremost rule is to drape it in an elegant and tidy way. Use safety pins if you need to tuck it properly. Gujrati draping is a beautiful way in which curvy women can wear this luxurious ethnic clothing. Moreover, adding a cape or belt are great options too. Also, we recommend you not to overdo the layers. The more the layers you add, the bulkier you will look. So, wear bold colors, minimal layering, and soft fabrics.