Celebrities Hairstyles with Saree. Sarees are a key feature of the South Asian fashion and we would not have it any other way. Draped appropriately, they make for one glamorous and elegant attire. These can be found in traditional as well as contemporary designs that never stop trending worldwide. With the Indian and Pakistani celebrities jumping on the bandwagon of many fashionistas, we have been spotting more and more of these Sarees.
An outfit alone cannot define your style. Your apparel needs to be styled with the right kind of footwear, accessories as well as hair and makeup. Styling your hair to go with the kind of saree you wear is an art of its own. We bring you over 20 hairstyle ideas that you can get inspiration from. Glam up your saree by picking some interesting hairstyle choices from our list. These Bollywood celebrities inspired hairstyles with saree are very much in trend these days and easy to make. It is not only the outfit you are wearing, but you need to have a matching hairstyle to stand out in any party.
What Hairstyle To Wear With a Saree
Here are some tips to pick the right kind of hairstyle:
Try different looks to find one that works best for you.
You can let your hair down by either keeping them straight or wavy.
you can also create different updos that can be styled with fresh flowers or other hair accessories.
Do a half updo if you cannot decide between letting them down or tying them up.
If you have curly hair, get inspired by Kangana and try to pull off her messy updo.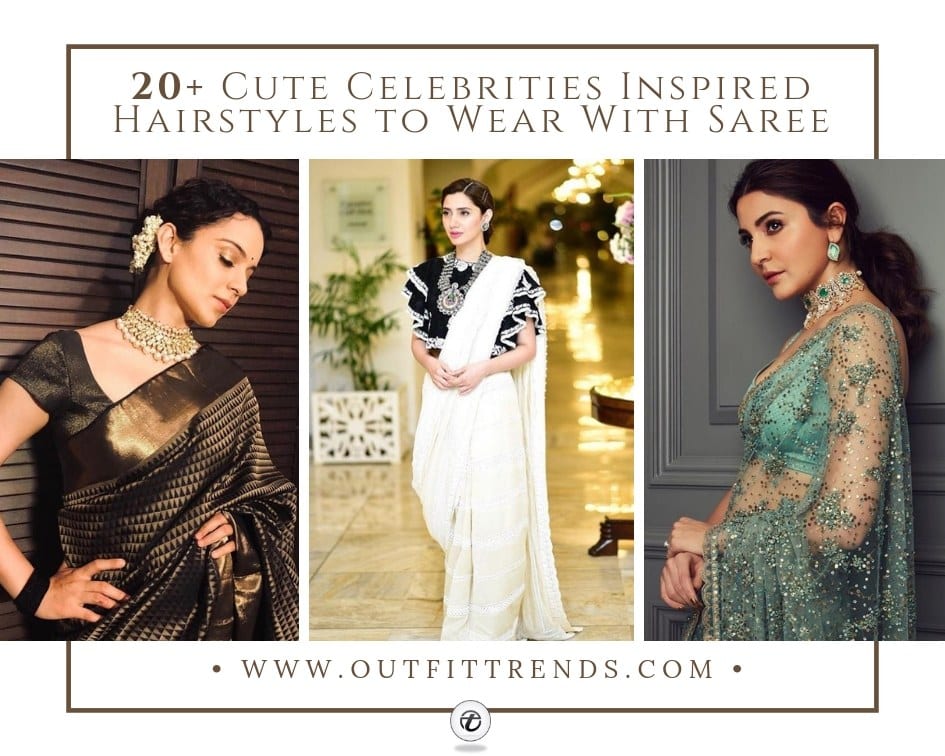 ↓ 25. Hairstyle with Traditional Saree
Deepika Padukone has mastered the art of carrying this particular hairstyle for more than a couple of times. It is to get your hair in a bunch behind and accessorize it with a flower. The puff in front gives volume to hair that makes your face look longer when styled with a Saree.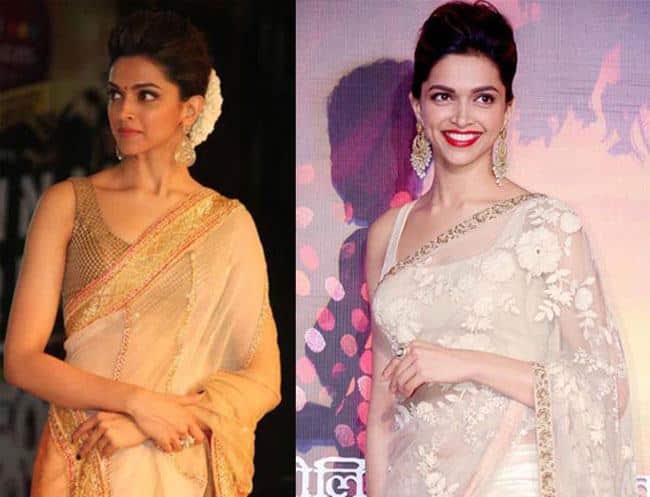 ↓ 24. Messy Buns With Saree
Want something that is different from ordinary? Follow Deepika's ways by going for a look that is neat at the front but messier at the back. Her messy bun looks great with her sleeveless blouse. Since the back has the kind of detailing you would want to show off, go for a hairstyle that is tied up. This modern hairstyle looks great with the traditional saree and can be adorned with hair clips or flowers.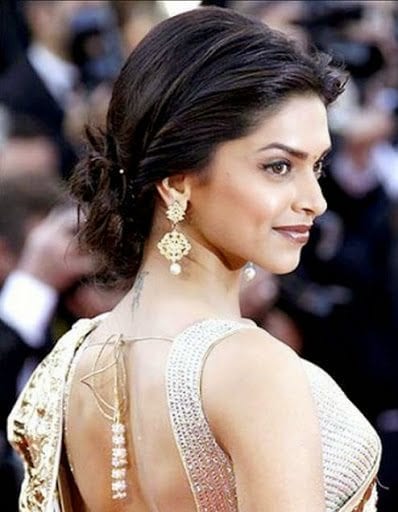 ↓ 23. Short Hairstyle
This is one of the most simple and popular hairstyles that could be worn with a saree. It also takes less time to make. Pin up your hair behind giving a mid partition in the front. You can add volume by going for some backcombing. Here Aishwarya Rai is wearing this style and carrying her self confidently.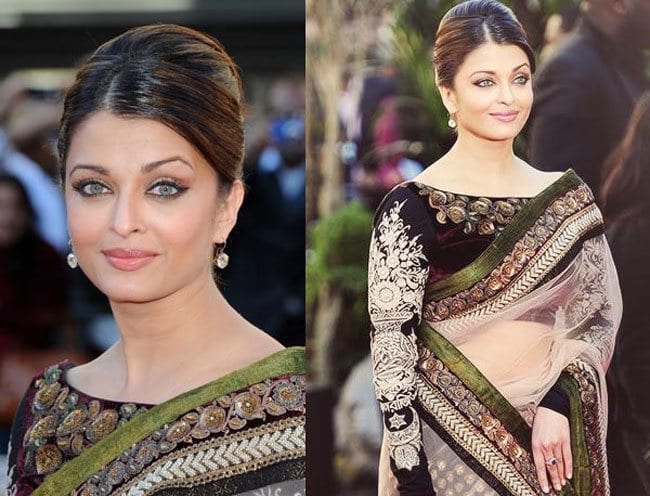 ↓ 22. Long Hairstyle with Saree
Kareena Kapoor Khan seems to be the only one of her contemporaries to look this fine even after the birth of a little one. She is known to be fitness, fashion and women goals. Here is her in a gorgeous white silk saree that she has paired with an intricately worked blouse. To finish off the look, she was given side-swept waves, taking the look to another level. If you are in a hurry or do not feel like tying the hair up, let them down by giving them some beachy waves.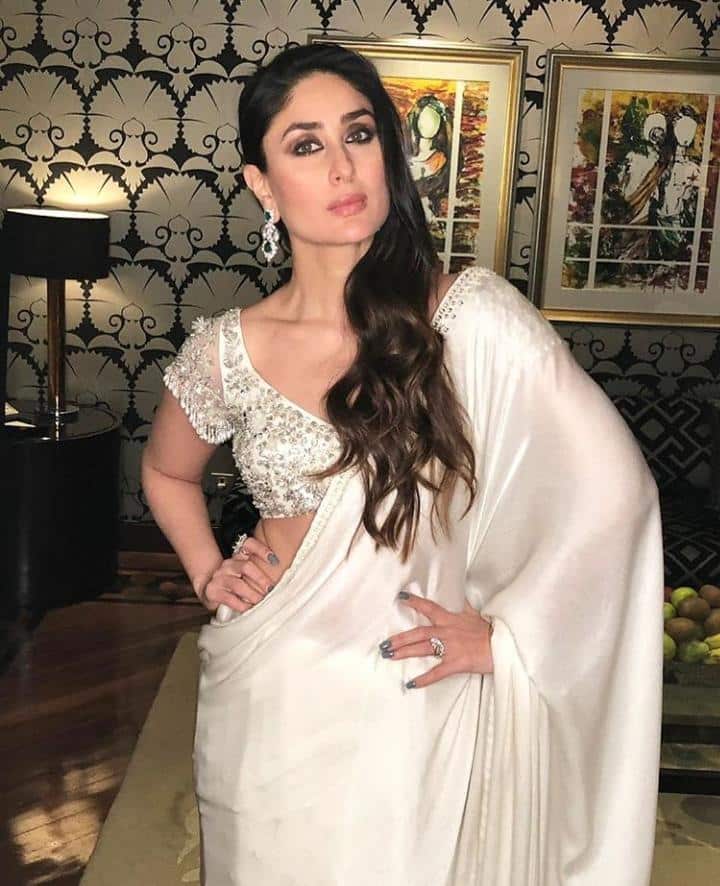 ↓ 21. Ponytail on Saree
Nargis Fakhri shows us how to wear a Ponytail on Saree. She looks gorgeous in this simple yet elegant hairstyle. You can go for a simple look or add twists, braids and puffs for some added details.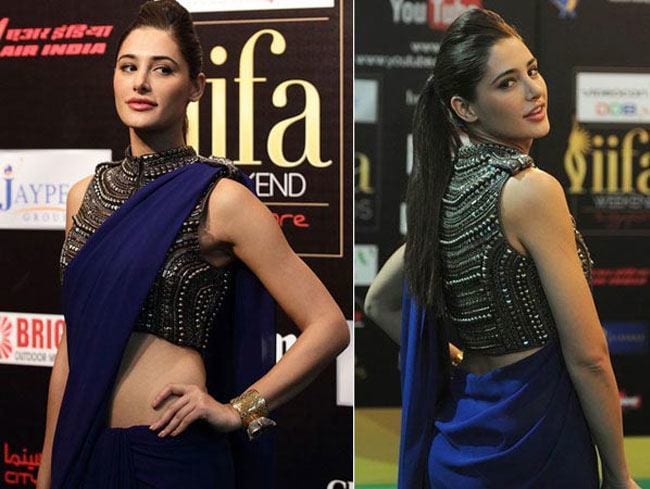 ↓ 20. Curls
Bored of the traditional straight hair look? Give yourself the much-needed transformation with a permed or curled look. Curls can be of different kinds, for example, loose, tight and the blow dry curls. These Sonam Kapoor curls look super lovely and glamorous. Get a funky look for any wedding or nighttime event with the curled look. You can go for a half tie-up or add in a puff for a fun look. Sonam Kapoor chose to go for a mid partition that she styled with side twists.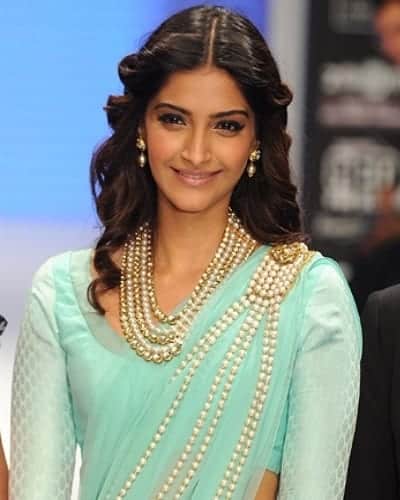 ↓ 19. Loose Curls
The easiest way to go for loose curls is by opening up your tight curls. You can also do it the natural way by pinning up your hair and sleeping over them. The loose curls give a far more natural look than the tight curls. You can also achieve them with a tong or by doing the blow-dry curls. The loose curls can be styled with front braids or twists or can be let down on their own.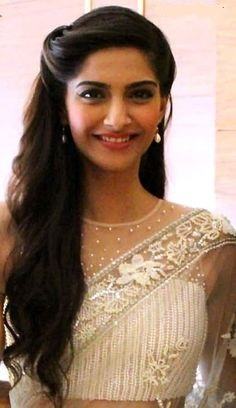 ↓ 18. Loose Curls with Side Partition
Just loose curls with side partition made Katrina Kaif look Stunning and traditional. This hairstyle is perfect for attending a wedding function.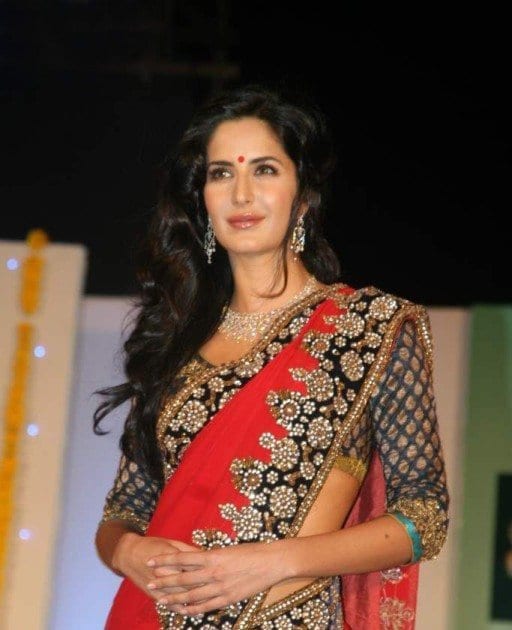 ↓17. Messy Ponytail
Anushka Sharma is another great name in the Bollywood industry. She has sported some Desi fashion outfits in her movies like "Band Baja Baraat" and "Rab Ne Banadi Jori". We find her to be looking her best when spotted in Indian attire. Here is a picture of Anushka in a beautiful blue net saree with gold embellishments. Anushka chose to wear this ethereal outfit with a wavy ponytail. Her middle-parted hair and messy look seem to be doing the trick for her.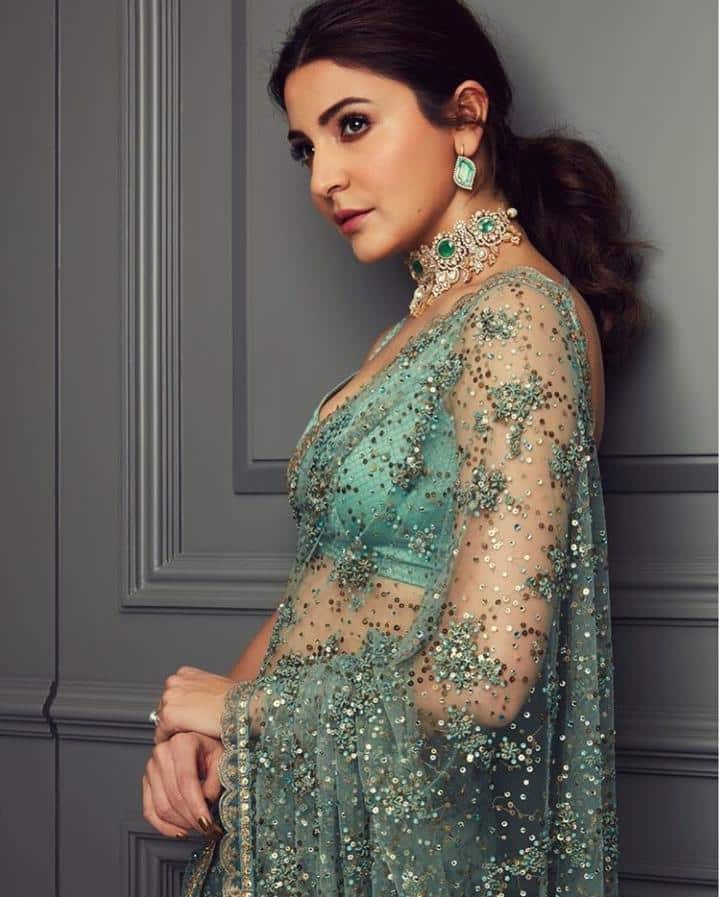 ↓ 16. French Tail With Saree
If you are looking for ways to tame your frizzy hair without trying too much, a French braid is a solution. Tie up your hair into an effortless style by going for a braided look. Not only does it help tame your hair but also gives a traditional yet modern look with the Saree. This Alia Bhatt inspired French tail is a neat one that seems to be looking great with her traditional Saree.
↓ 15. Loosely Tied Hair
Being the daughter of Sri Devi, it was expected of Janhvi Kapoor to wear the Indian attire with the same poise and grace as her mother once did. While we still cannot compare the two, Janhvi has definitely learned the art of carrying Sarees with elegance. She was spotted in a green Manish Malhotra saree that she wore to Isha Ambani's wedding festivities in Jaipur. For the ultimate Indian look, Janhvi tied her hair into a mid-parted, loosely tied ponytail. Since Janhvi wore a low-neck blouse and chose to wear a chunky necklace, she made sure to go for a haircut that best suited the neckline. If you are wearing a high-neck or a collared saree blouse, tie your hair into a neat bun instead of keeping them loose.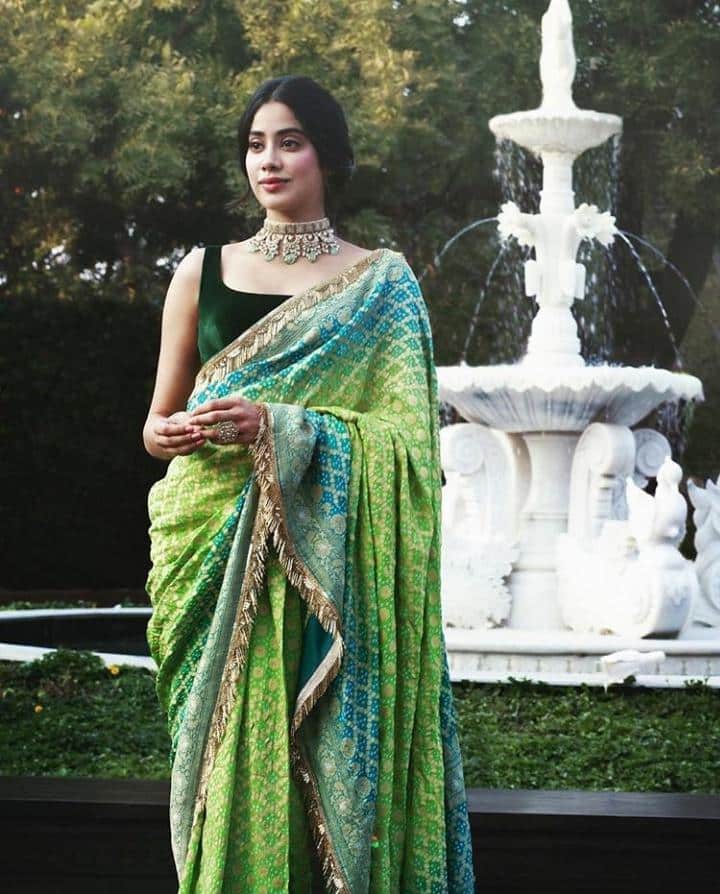 ↓ 14. Braided Hairstyle
Sick and tired of bangs falling all over your face? Here is a solution for all your hair problems. Tie up your bangs in a waterfall style front braid while leaving the remaining hair down. You can also go for a bun or braid with the front braided look. This Alia Bhatt inspired hair look will definitely make you saree style look a hundred times better.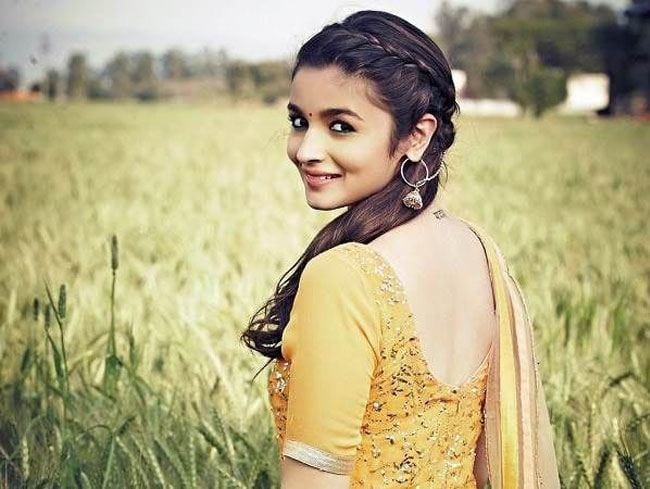 ↓ 13. Knot Buns With Saree
Got wedding festivities to attend and have a formal saree lying around somewhere? Now is the time to put together a beautiful formal look. Formal sarees definitely need a heavy look and the easiest way to do that is by going for a beautiful hair updo. This knot bun is a messy style of hair updo that looks ravishing with Sarees.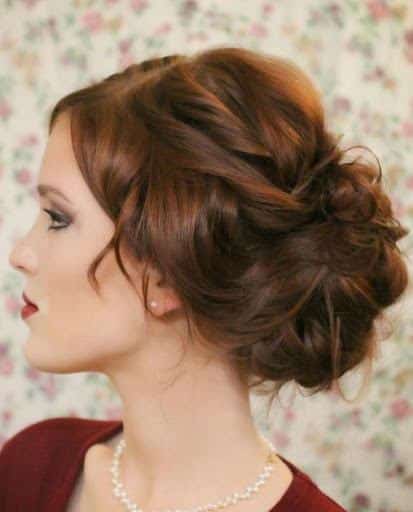 ↓ 12. Kriti Sanon Inspired Hairstyle
While Kriti has only recently stepped foot into the Bollywood industry, she has become a fashion and beauty sensation owing to her exquisite fashion choices. From Western to Eastern, Kriti has done it all with immense perfection. This is her in a multi-coloured threadwork saree by Manish Malhotra. Since the saree is beautiful on its own, Kriti went for the side-swept hair look. Instead of curling her hair or adding details like braids and twists, she kept it simple with a side partition.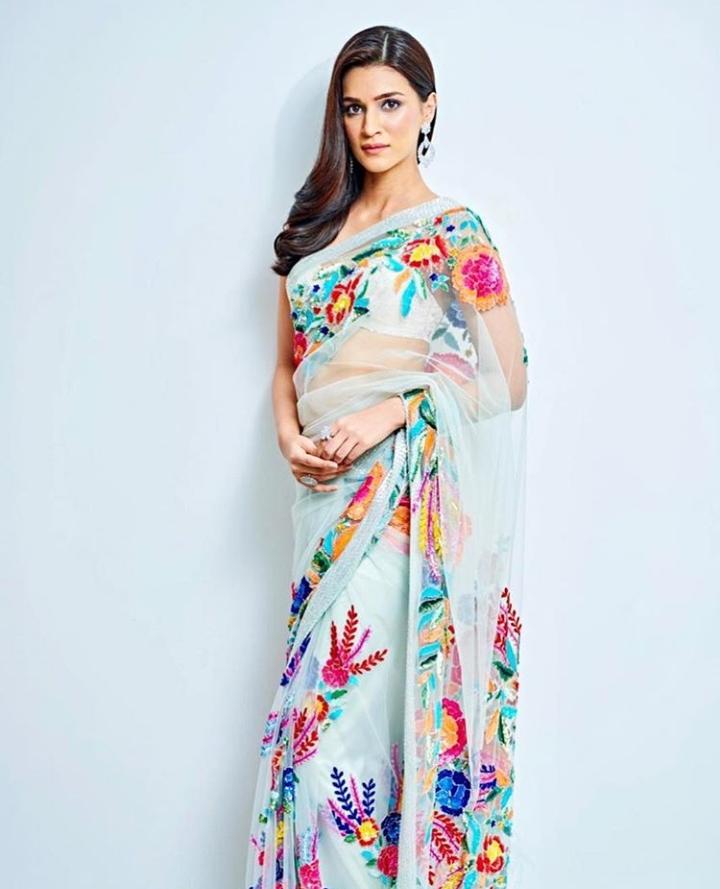 ↓ 11. Blonde Hairstyle
The blonde hairstyle was quite a popular one in the early 2000s. Every actress seemed to be dying her hair a shade of golden brown to keep up with the trend. If you, too, are fond of the sunkissed look and want to dye your hair, you should totally go for it. With a hair transformation like that, you can easily let your hair down by keeping them straight or giving them a few waves or curls. You can also tie them up into a beautiful bun or braid for a more formal look.

↓ 10. Straight Hair in Loose Ponytail
Need a hairstyle that is easy-to-do and does not require much effort? Straighten your hair with a flat iron and leave them down. You can also tie them into a ponytail for a different and unique hair look. Straight hair seems to look great with the Indian Sarees and can easily be worn to formal as well as casual events.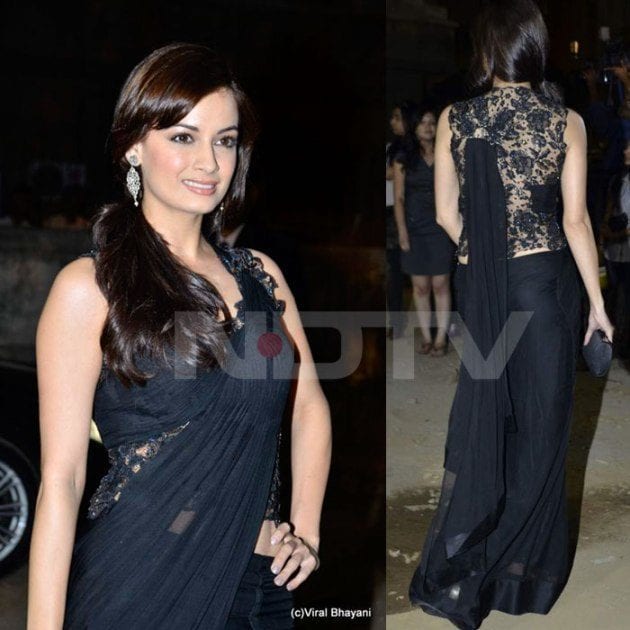 ↓ 9. Dead Straight Hair With Side Partition
Do not want to waste time doing the hair and need something that is easy-to-do? Here is a hairstyle that suits almost every kind of face shape and saree styles. If you have a mid-length or long hair, straighten them with a flat iron and let them down for a quick hairstyle. Go for a mid or a side partition for a beautiful modern look.

↓ 8. Simple Style Mid Partition
↓ 7. Tight Curls With Side Partition
If your blouse has a low neckline, style the look by going for a messy and heavy hair look. The best way to achieve that is by curling your hair and giving them tight curls. If you have a tong at hand, use that or you could also watch tutorials on how to use a flatiron to curl your hair. Tighter curls give a messier look going well with the low neckline.
↓ 6. Top Knot
Give yourself an Indo Western fusion by opting for a look that is traditional yet modern. We love this top knot style bun that has been styled by keeping a few strands out. The hairdo looks superb with the high-neck style blouse and the printed saree. Since the neck is a bit high, going for a messy look would have just been a bad idea.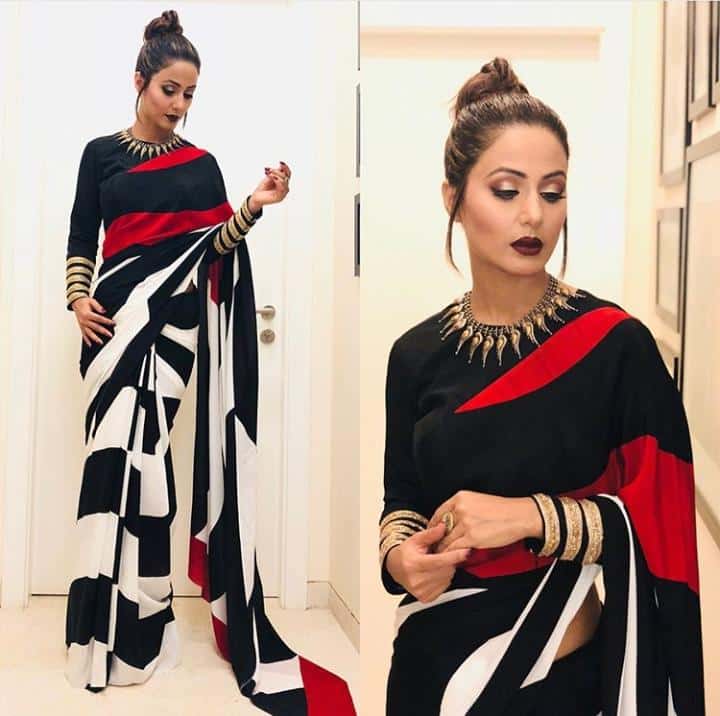 Via
↓ 5. Side Braid With Curls
The best way to score fashion points is to make sure your overall appearance is immaculate. This combination of creme and green is a subtle and elegant one. Kajol is one of the very few actresses that like to stay in their comfort zone by dressing up in Indian attire. She seems to have a beautiful collection of Indian Sarees that she is often spotted in. She dressed up for the occasion by going for a side braid that she did with messy curls. The side bangs have been curled and left out of the braid to give a messy yet sober look.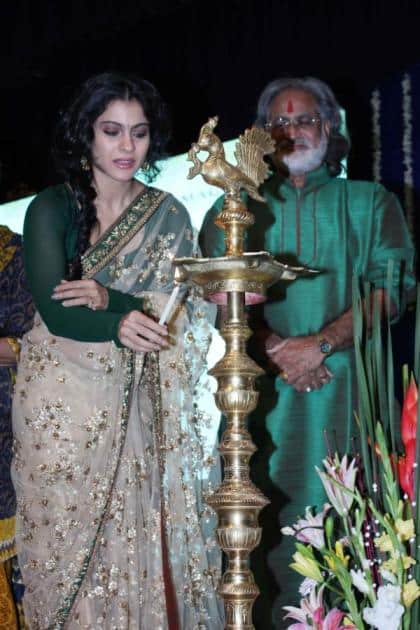 ↓ 4. Deepika Padukone Braided Hairstyle
We have seen the braids make a huge comeback in the last couple of years. The new styles include the fishtail, waterfall braid, snake braid and the inverted French braid. The best way to do tied hair without giving them an updo is to tie them in a braid. This hairstyle gives a very traditional look, perfect for the Indian Sarees. Here is Deepika Padukone in a beautiful black saree that she styled with a braid. To add more height to our look, she has added volume to her head by going for a puffed front look.

↓ 3. Neat Bun
If Hema Malini is India's Dream Girl, Mahira Khan is Pakistan's. We strongly admire her impeccable fashion sense and grace. Here she is in an Indo-Western Saree fusion where her Cape passes off as a blouse. She has styled the monochrome look with a neatly tied bun and added Bobby pins for a girly look. If you are wearing something that is similar to Mahira's saree or is a fusion of Eastern and Western fashion, consider going for a hairstyle that is neat just like her updo.
↓ 2. Curls In a Bun
Kangana Ranaut has her own personal fashion style that seems inspired by Rekha Ji. Her choice of Kanjivaram sarees is a classic one and we love how she styles them to perfection. Having curly hair to deal with, Kangana tames them effortlessly into a bun that she has adorned with flowers. This is the classic Indian hairstyle that is often done with Sarees. If you are looking for a hairdo to wear to a formal event or occasion, this one is for you.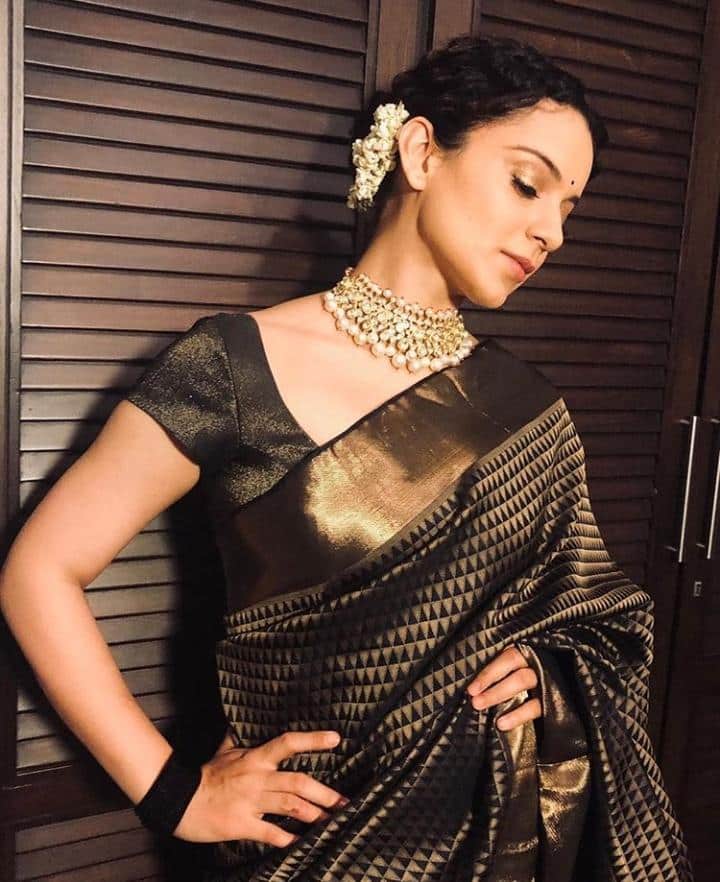 ↓ 1. Madhuri Style Updo
Madhuri is one of India's finest actors known for her elegance and grace. Her Indian fashion outings consist of intricately worked Sarees that she wears along with the perfect kind of hair and makeup. Here is the perfect example of the Madhuri style hairstyle. She seems to love the heavy style of updo where she ties a bun, adorning it with twists and braids.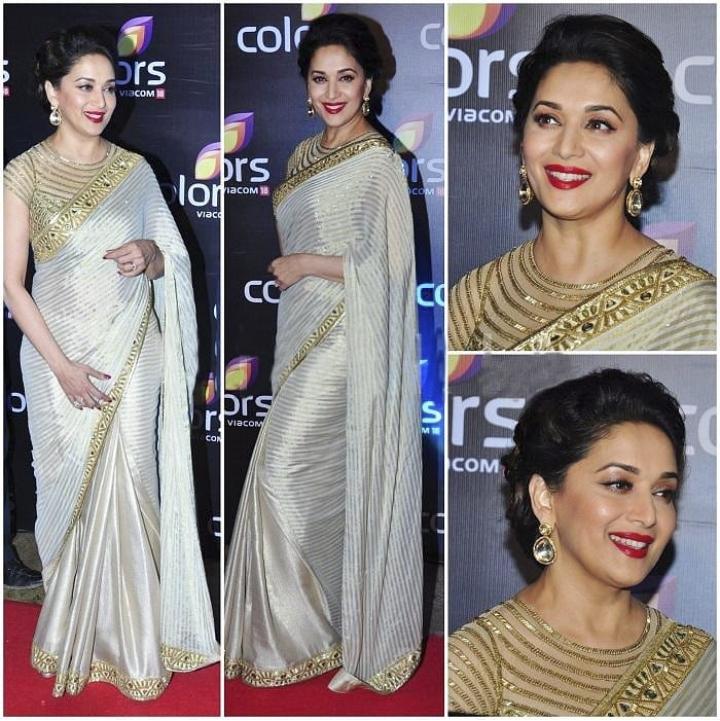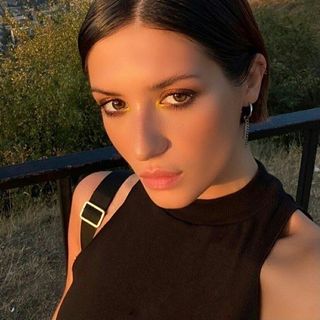 Avid reader and Fashionista. London Based freelance lifestyle editor