Hairstyles for walima function: Being a Walima bride can be a little confusing and overwhelming. It is your first day in a new house, where you are totally on your own. It is when you don't have your sisters and cousins around but a totally new family. Dressing up and styling can be very exhausting on this day.
But don't worry as we have the best tips and ideas for you.  We have seen that most of the girls find a lot of trouble and difficulty during the Walima functions that what should be their hairstyle! They get much nervous during this Walima session and fail to come up with a suitable kind of styling. Walima is the most important day for girls from the groom's side. It is these formal events and sessions in which it is essential for you to come up with a decent and elegant kind of styling rather than having a dull and boring kind of hairstyling. And we'll be discussing walima hairstyles for not just the brides but also the wedding guests!
What Hairstyle To Choose For Walima?
You need to look your best on the day that comes only once in your entire life. Yes, your wedding day! With the most ravishing outfit, expensive jewelry, and on-point makeup, something else which you need to focus a lot on is your hairstyle. Because it is something that can make or break your entire look, you must be thinking now that how to achieve that flawless hairstyle, right? Well, for that we have put together some of the most useful tips and 25 beguiling hairstyles for you in the article.
Keep on reading!
First of all, understand your face structure and then opt for a hairstyle. A sleek hairstyle can look great on a slimmer person rather than a chubby person. Similarly, waves look better on people with chubby faces instead of a slim face. Not to be offended, but it is better to opt for things that look good on you, so you can look at your best.
Start a good hair care routine before your wedding. Hair masks and hair oils can be a great help.
Don't get a haircut a day or two before your wedding. Do it at least two weeks before, so you can get used to your new Style and be able to fix it well.
Don't blowdry your hair thoroughly after a shower, leave them a little wet so your hairstylist can do it according to her expertise.
Wash your hair on the morning of your wedding day instead the night before, and use a good conditioner, so your hair looks shiny and silky.
It is a must to have a hairstyle that can withstand the weight of your dupatta, as mostly Walima brides like fixing their dupattas on their heads.
Choose hairstyles that not only compliment your face and bone structure but also go well with your jewelry and outfit.
Make sure you have plenty of hairpins, bobby pins to fix your hair and dupatta.
Get a good hair spray when planning a complicated hairstyle. As wearing any hairstyle for a long time is not easy without it.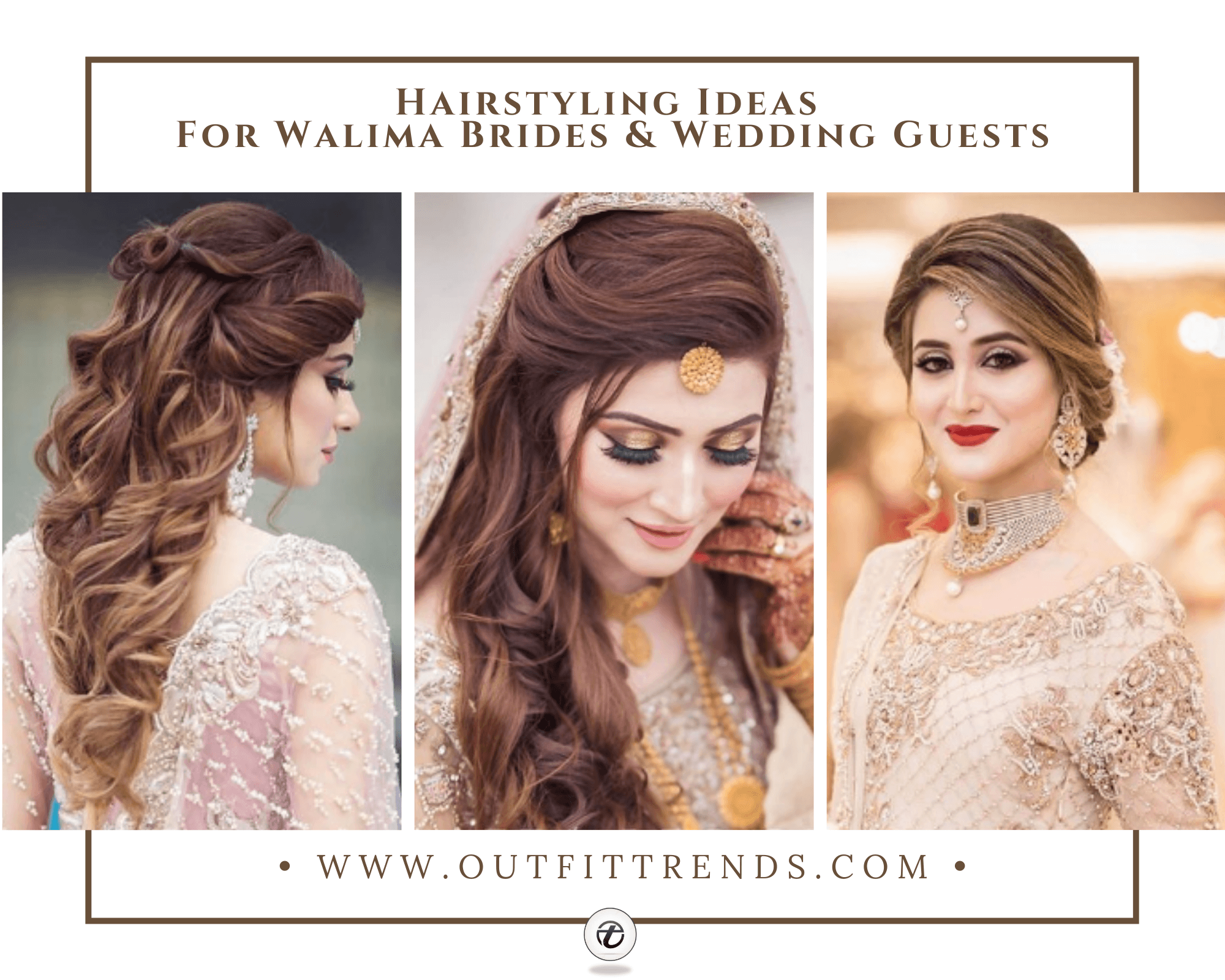 If you are looking for a braided hairstyle for Walima, then you must check out our collection of easy to do braided hairstyle tutorials.
↓ 25 – Hair Updo
Hair updo is not only about wearing your hair in a bun! There is so much more to it. It is one of the most versatile hairstyles ever that any bride can opt for. The best thing about hair updos is that they can be created with almost any type of hair length. It adds a lot of volume to one's hair as well, making it perfect for girls with thin hair.
So, why not create an all in one hair updo on your Walima? Go for tight curls and make sure you apply hair spray, so your curls don't open up. After that, wear them in a bun leaving the front hair alone. The next step is to backcomb your front hair and tie them back while blending them with the bun. Leave a few hair strands out and curl then with either a straightener or roller. To make your hairstyle a little fancy, fill your head with beads, and add a floral clip.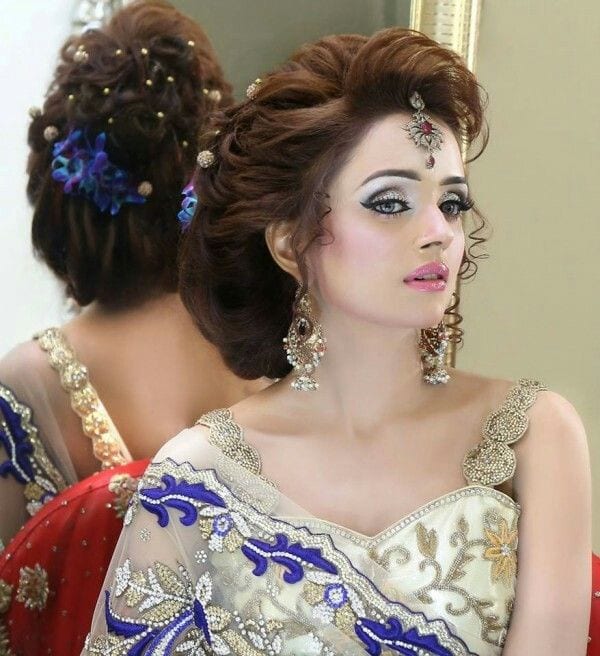 ↓ 24 – Puff Style
Puff hairstyle has always been in fashion, but it turned over the fashion world after 2010. Even today, it is one of the most wanted hairstyles, especially by brides who want to wear head jewelry like matha Patti or Maang tikka on their big day. This hairstyle aids in adding extra length to face shape, hence it is more suitable for people with round, triangle, or square-shaped faces. There are numerous ways of adding a puff to your hairstyle. It can either be with a braid, bun, or even open hair. Moreover, side puffs are also in fashion.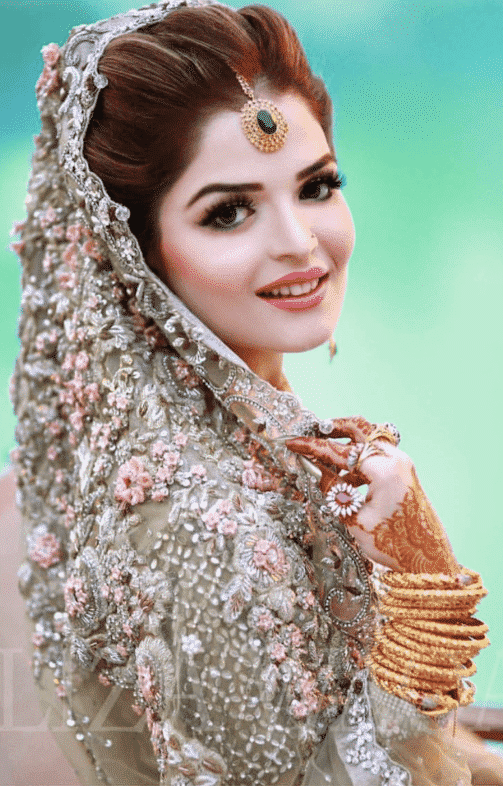 ↓ 23 – Sleek Hairstyle
Do you ever see sleek hairstyles and crave to have them? Or ever wanted to try them so badly, but they didn't blend well with your casual outfit? Well, a Walima can be the perfect time to get sleek hair.
This is a minimal yet extremely classy hairstyle that anyone can opt for. Moreover, with fancy makeup, jewelry, and outfit, you need to keep at least one thing a little lowkey, so why not hair? You can go with sleek straight hair, a sleek ponytail, or an elegant bun. Oh well, a sleek braid accessorized with some jewelry would look great on you as well.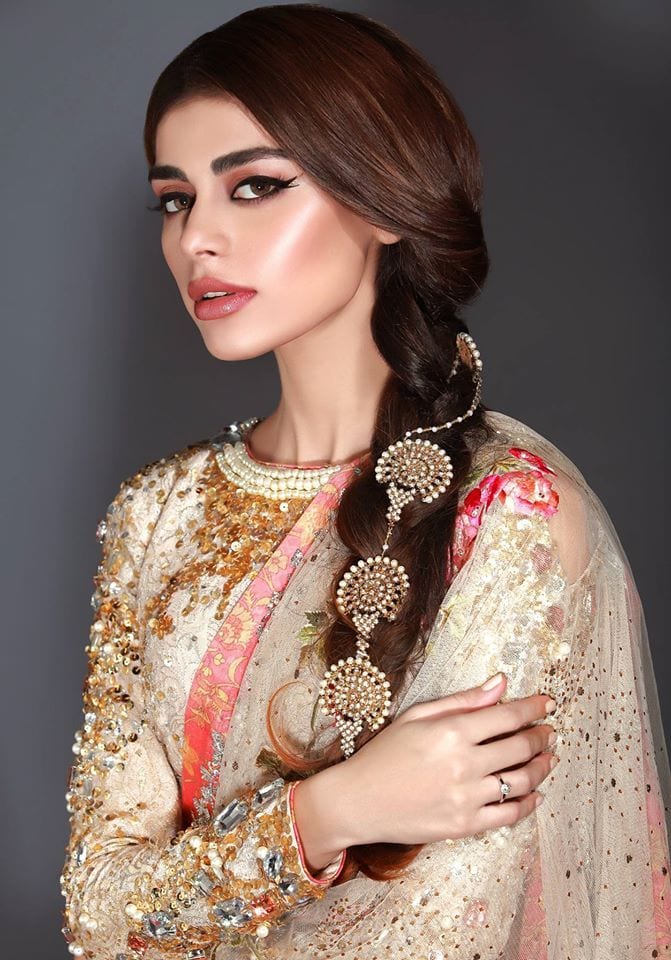 ↓ 22 – Wavy Hairstyle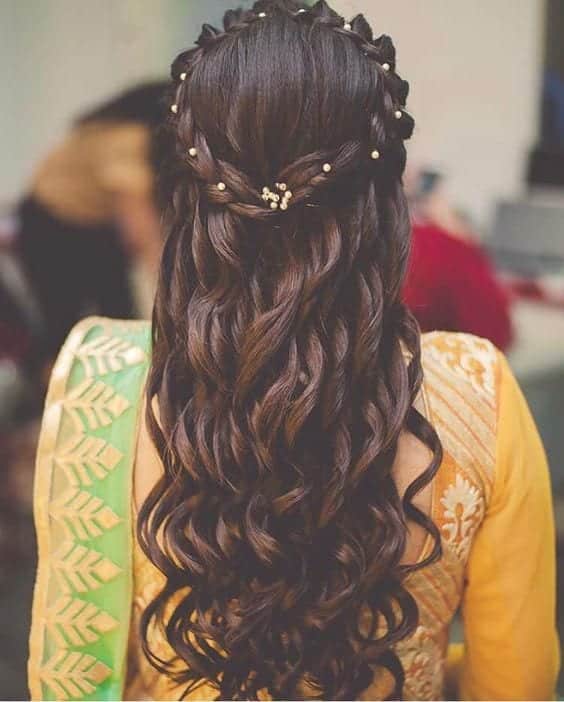 ↓ 21 – Floral Hair Jewelry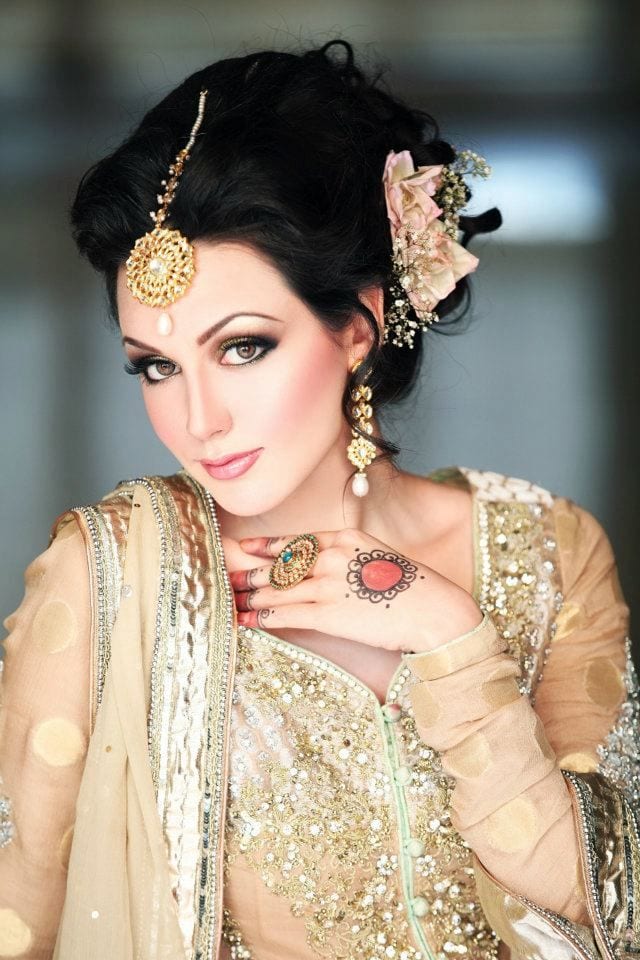 ↓ 20 – Soft Hairstyles For Walima Function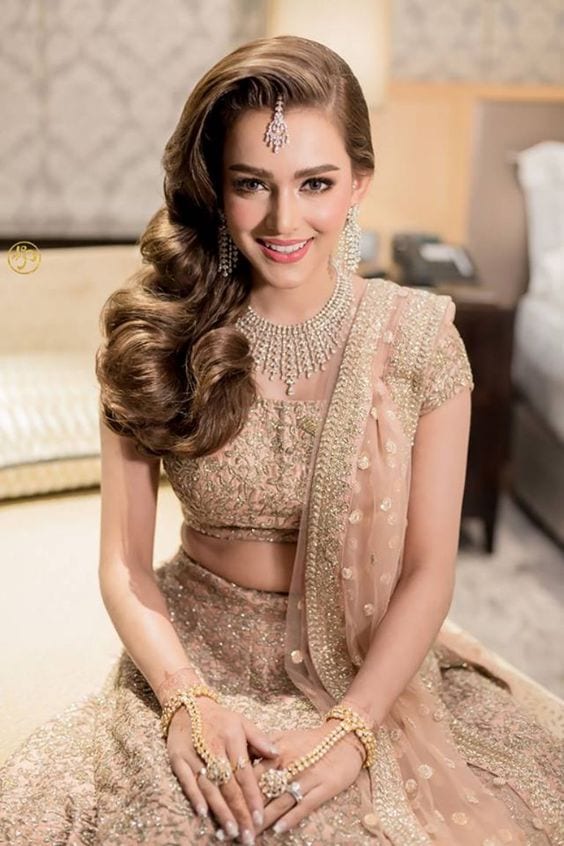 ↓ 19 – Side Curls
Side curls, along with the addition of flowers on one side of yours, can also look charming for walima functions. It is the best hairstyle for brides who have shoulder-length hair, as they can't get a voluminous bun with that length, and straight hair would look very simple.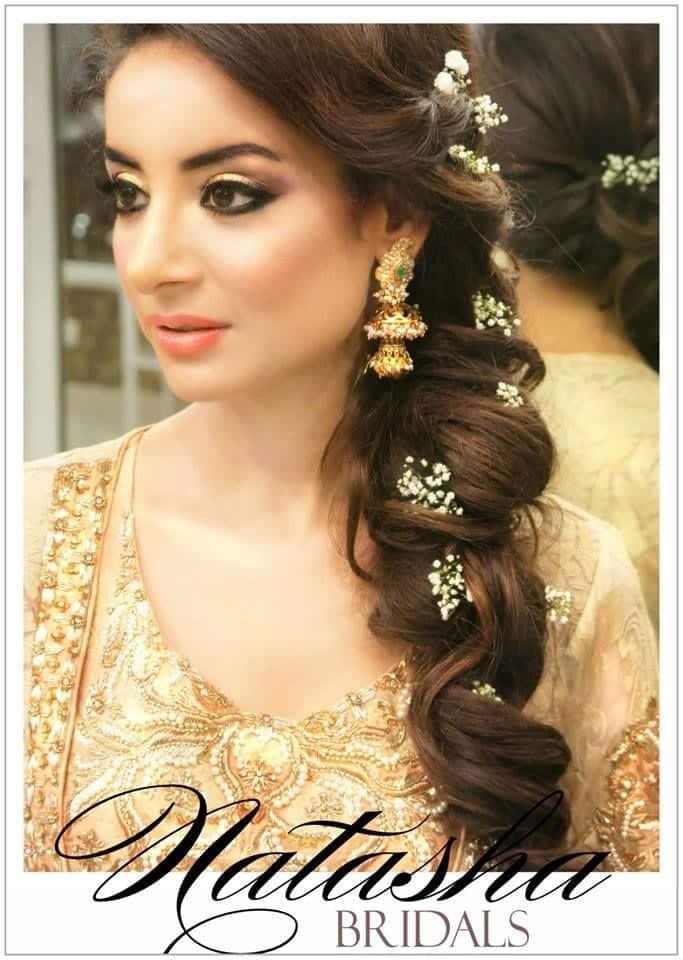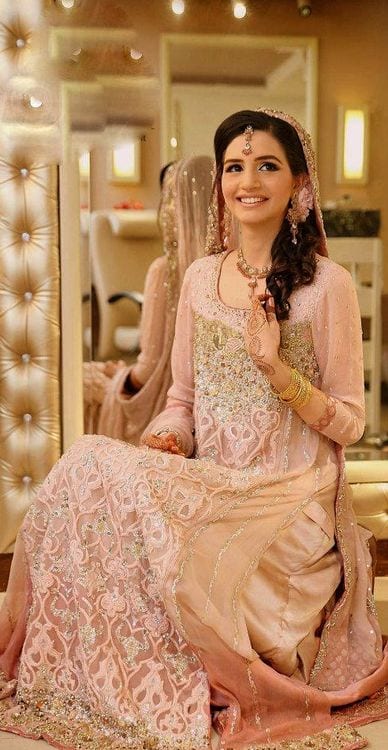 via
↓ 18 – Dynamic Hairstyle
It can be marked as one of the most dynamic hairstyles and this loose kind of bun styling can give you a decent look.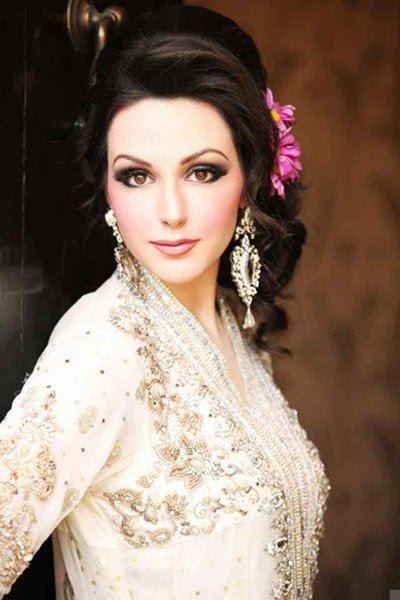 ↓ 17 – Front Twists And Bun
Looking for a hairstyle that can make your face look a little fuller so you can put on all the makeup and accessories with your favourite jewelry? We think we have the perfect hairstyle for you.
Add beachy waves to your entire hair, even the bangs or first layer. After that backcomb the front, or go for side twists, just to fix the maang tikka. Wear the rest of your hair in a loose messy bun and wear your dupatta. Make sure you add plenty of pins to your hair as you don't want to be fixing your dupatta throughout your reception.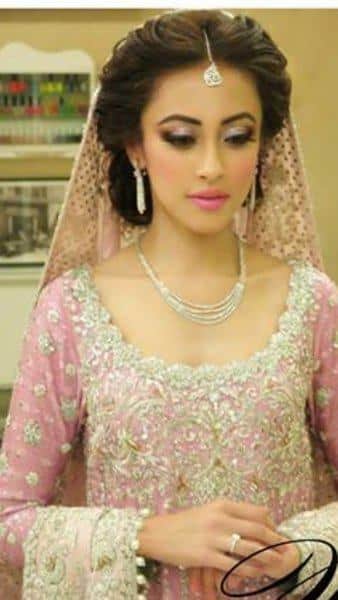 ↓ 16 – Curly Hair Bun
Looking at your mother's pictures just before your wedding? Is nostalgia hitting you? Well, why not recreate her look on your big day?  You can opt for a sleek, curly bun and some traditional jewelry. Trust us; you will be falling head over heels in this charismatic look.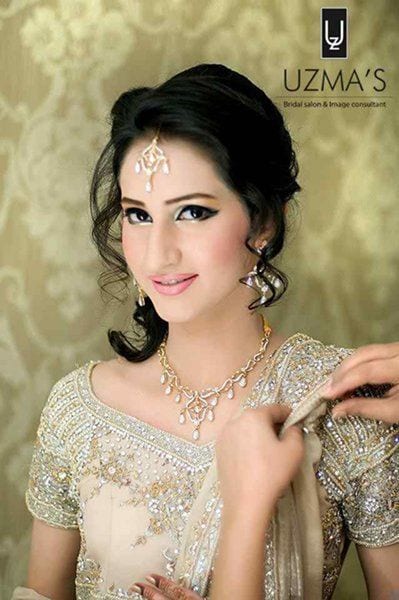 source @Uzma's
↓ 15 – Straight Long Style
It is a simple kind of Style having to pin up your hair on one side and then giving light curls to your hair. You can try it too; this is a very easy to achieve look.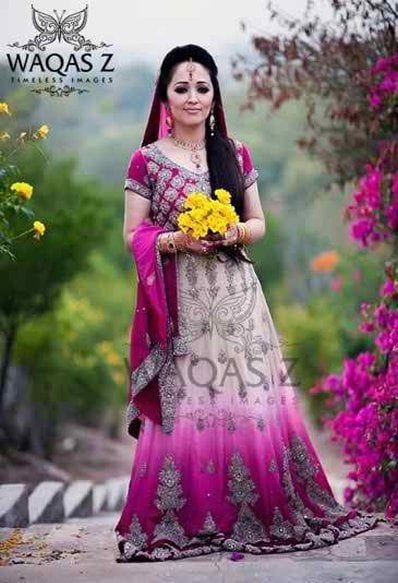 ↓ 14 – Hairstyles With Back Combing
It is a rough wavy kind of hairstyling in which the front half of hair are worn in twists, and the other half is backcombed on which the dupatta is fixed. The hair are let down open in the form of beachy waves giving the best, relaxed bridal look. We are sure that you will get in hand the prettiest look if you try this hairstyle.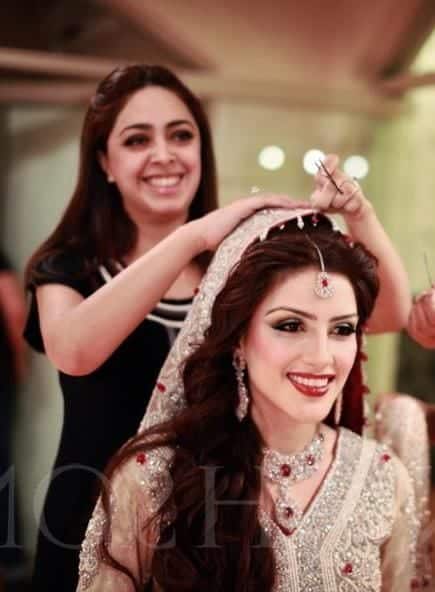 ↓ 13 –  Pakistani Celebrity Walima Hairstyle
Here in this fantastic Style, a very light kind of backcombing is done so that tikka can stay up. It can be the perfect Walima and engagement hairstyle for brides who have short hair or want a minimal hairstyle. Try it too and let us know about the experience!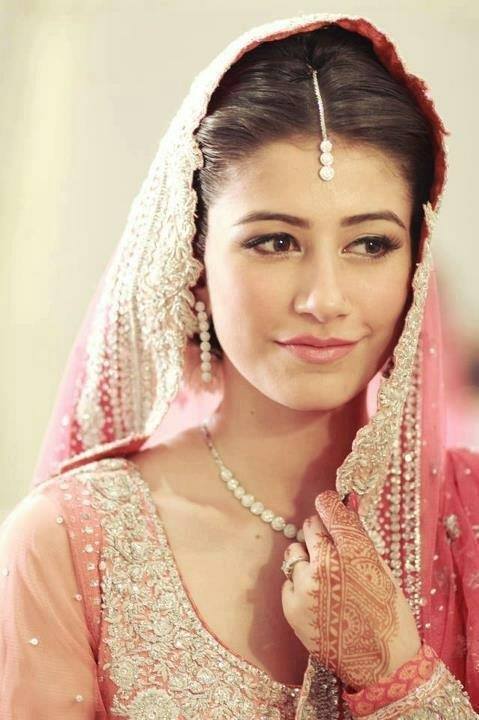 ↓ 12 – Simple Blowdry
If you love simple blowdries then why not opt for them once again. Just give a simple blowdry to your hair and add some front twists to them afterward. Then you are all good to go to your own reception.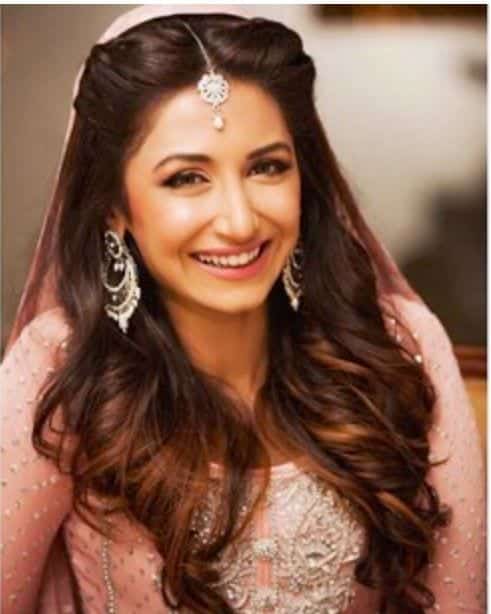 ↓ 11 – Aisha Linnea Akhtar Wedding Hairstyle
For brides who don't like wearing their hair in buns or braids, and neither like too straight or curly hair, this is the best hairstyle. Wear your upper half of hair straight and add some loose curls to the lower half of your hair. After that, go with center partition and wear maang tikka. This works best for girls with long hair.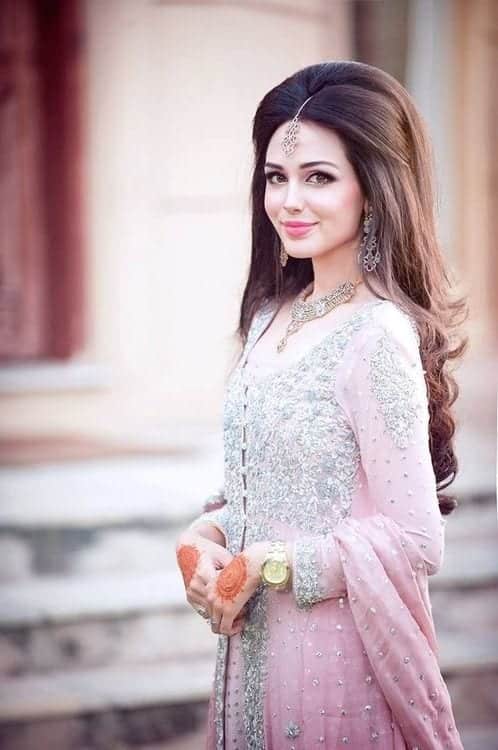 ↓ 10 – Perfect Style Jewelry Matches with this Hairstyle
In this pretty picture, this magical looking Aiza Khan has this french side braid styling. This hairstyle is giving her enough room to add heavy accessories without looking over the top.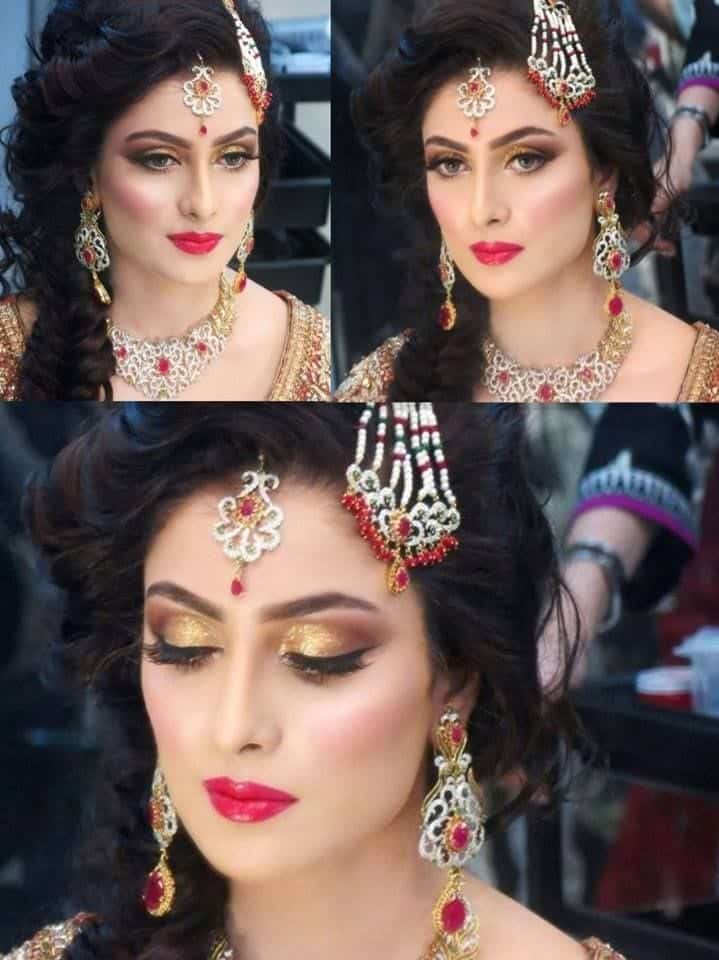 ↓ 9 – Hair Style Inspiration From Jugan
Juggan Kazmi is looking the prettiest in this picture; she is having this simple and stylish looking braid made with wavy hair.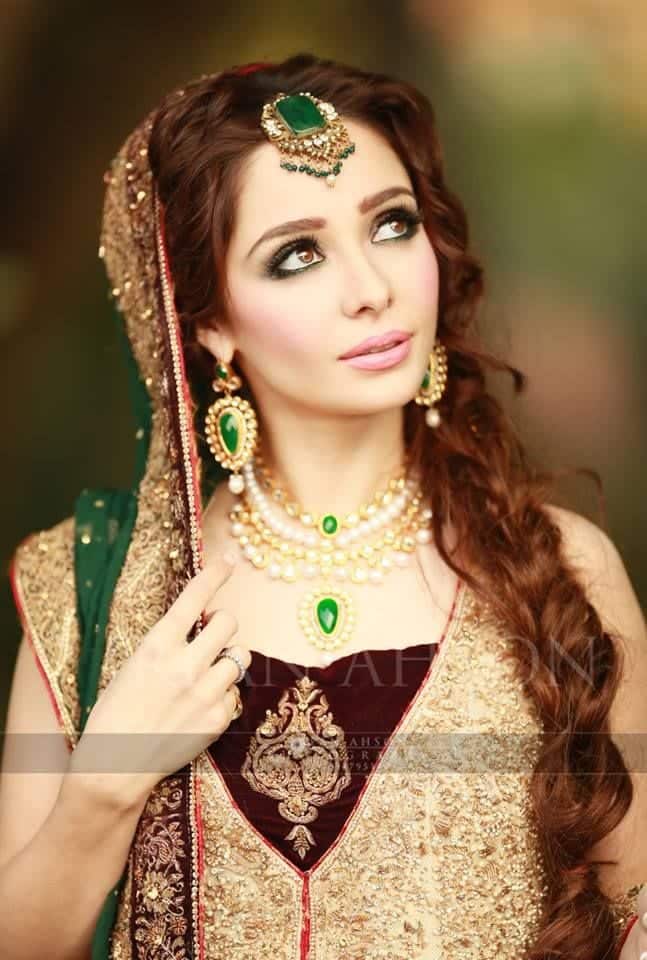 ↓ 8 – Faryal Makhdoom
Faryal Makhdoom looked simply stunning on her Walima day with boxer Amir khan. She went for a hair updo that included a low bun and a lot of backcombing. You can easily get a similar hairstyle on your big day, either from a salon or even by yourself.
Such hairstyles are best for people with a slimmer face as it adds some volume to it and makes a face look a little fuller. The next best thing about this hairstyle is that heavy dupattas tuck really well in them.
↓ 7 – Side Curl Hairstyle
Here you can have the twisting and light curly kind of hairstyle.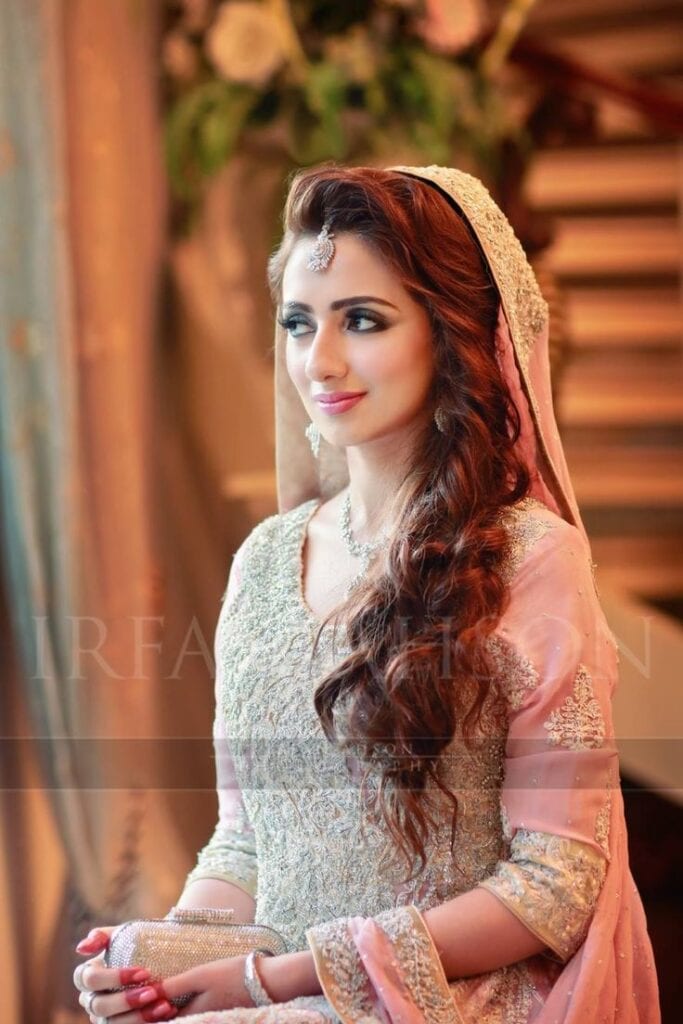 ↓ 6 – Short Hairstyle with Dupatta
Who says you need to have long silky and shiny hair to get the perfect hairstyle for your walima? Even if you have short hair, you can get the ideal hairstyle. Go for a loose side bun, and wear your front hair waves. Don't forget to leave out a few strands of your front hair and curl them.
A small maang tikka, preferably in diamond style, will complement this hairstyle the most. Moreover, with such a decent and elegant hairstyle, you can go with heavy makeup or jewelry and turn everyone's heads.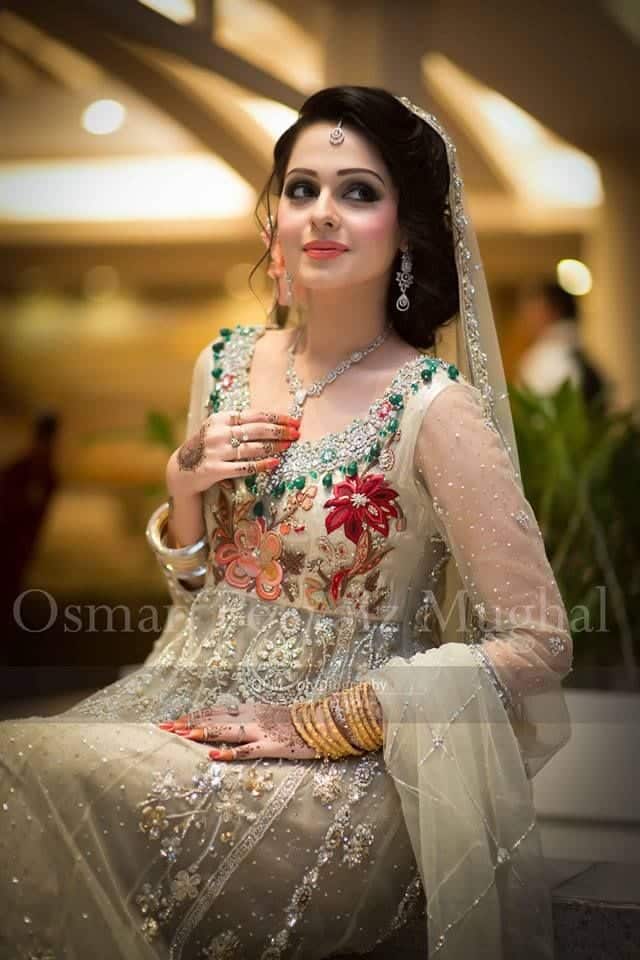 ↓ 5 – With Loose Low Bun And Tikka
Not everyone likes going for hairstyles that are sleek. You can wear your hair in loose hairstyles, even little messy ones and still look your best. Go for a low messy bun along with some front twists and backcombing.
You can wear any type of jewelry with this hairstyle, be it maang tikka or a Maatha Patti. But what will suit you the best is a Kundan maang tikka as it will be the easiest to fix in your hair.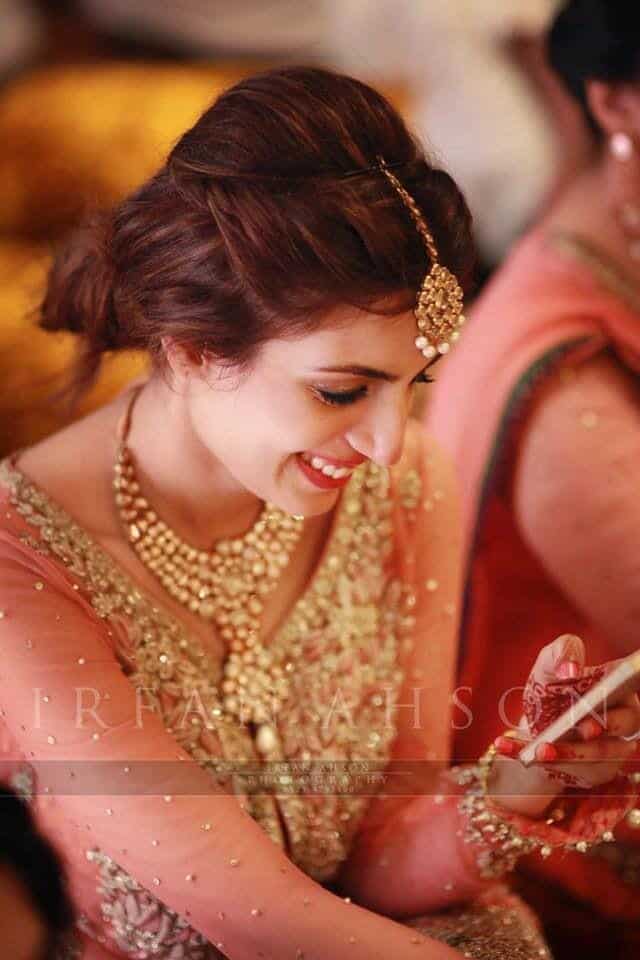 ↓ 4 – Indian Bride Hairstyle
Indian brides often go for very chic and sleek hairstyles at their weddings. This idea can be incorporated into a Muslim Walima bride's hairstyle as well. Straighten your hair, and with the center partition of your half head, style your hair in twist rolls and add a maang tikka to it.
Backcomb the hair of your second head's half. Along with this hairstyle, you need some dramatic makeup, which includes kajal, eyeliner, and a popping eye shadow.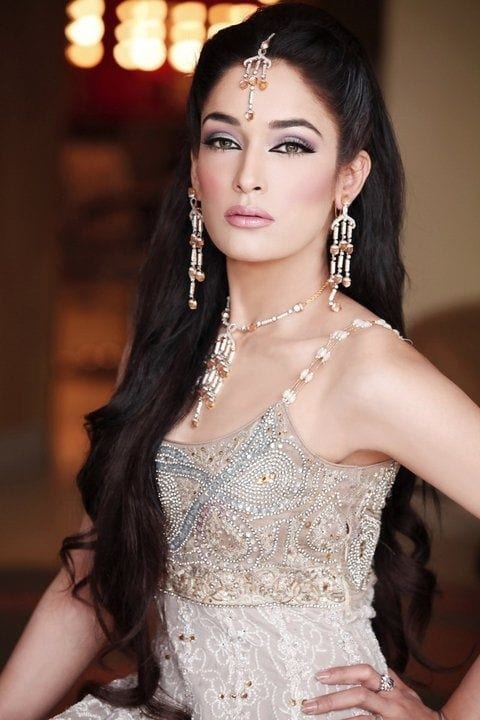 ↓ 3 – With Beads And Curls
Nothing beats the drama that hair beads add to your hairstyle. On your big day, wear your hair in loose curls, or loose braids and add pearl-shaped or multi-colored beads to it. You can match the color of beads either with your dress color or jewelry color.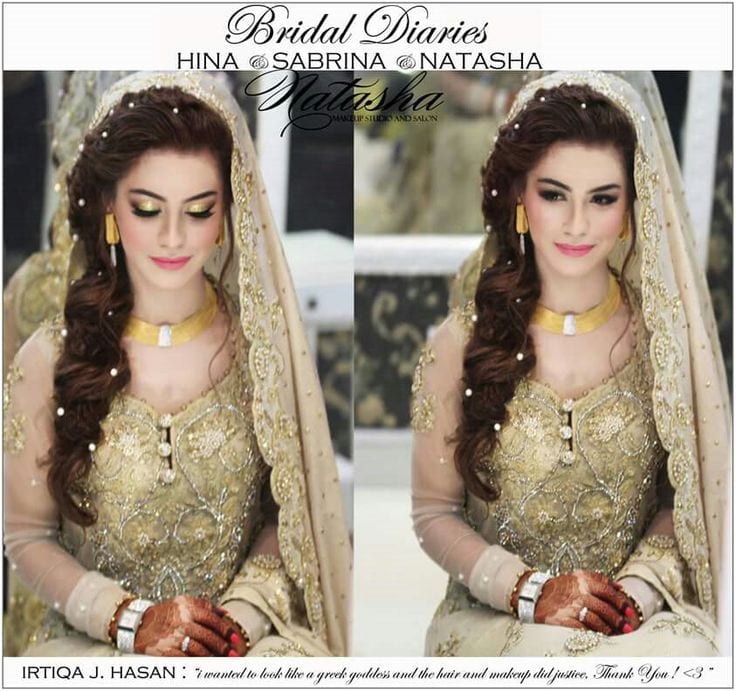 Image source @Bridal Dairies @Hina @Sabrina @Natasha
↓ 2 – Walima Hairstyle For Guests
Looking for ideas as to what hairstyle to choose for attending your loved ones, Walima. Here, we got a few ideas for you to check them out.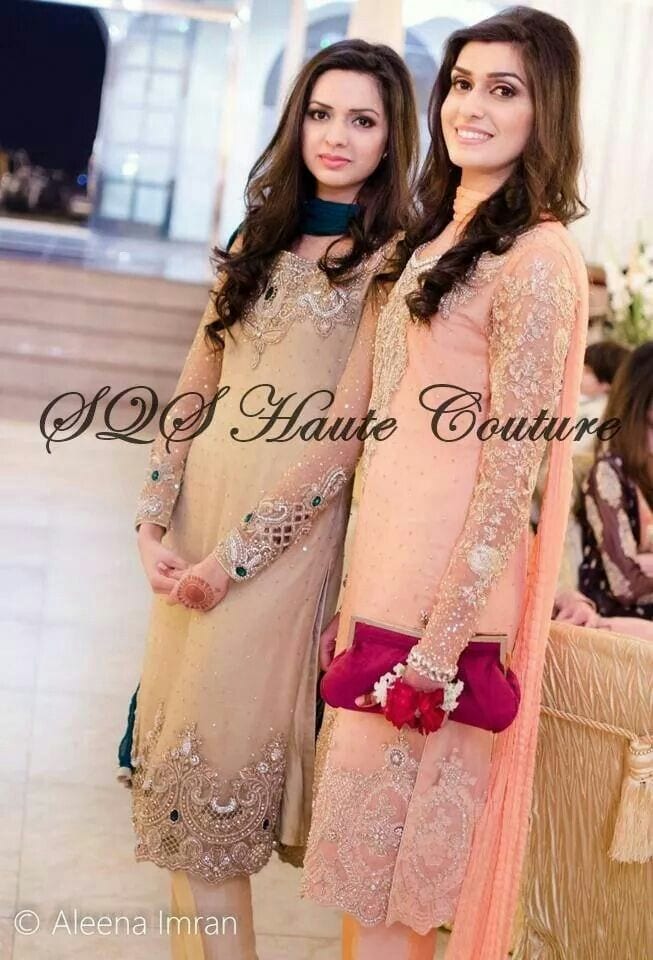 ↓ 1 – With Maang Tikka For Simple Look
Hair accessories are a must for any girl on wedding functions. As people like going all fancy and loud on Baraat functions, Walima tends to be more on a simple and sophisticated side. Bride's sister or cousins should go for a hairstyle that is very elegant, like mid parted straight hair or loose curls. Accessorizing it with a decent Maang tikka is a great idea as it will elevate your entire look.