Braiding your hairs have never been so easy. These easy to do braided hairstyle tutorial can be done quickly. To get an idea which braided hairstyles are trending these days check out this collection of top 12 celebrities in braided hairstyles.You can easily make many pretty hair braids in a short time. That is why we bring this collection of 20 easy doing braided hairstyle tutorials for any occasion. Just follow these step to step braided hairstyle tutorials and you shall achieve perfection after some time.For College, Girls Exclusive See these :  Cute Winter Hairstyles for College Girls For Chic Look. 
To all the fashionista's reading this post, you will enjoy reading it. We will talk about some fantastic braided hairstyles that you can make. We will reveal you some of the cute and easiest braided hairstyle tutorials. For your comfort, we chose the easiest one's so that it doesn't take you much time. This summer season, braided hairstyles are going to set a trend. Get inspired by the ideas and try them on.
Below, you have step by step easy and quick braided hairstyle tutorials. You can check them out. They are pretty easy and can be made regularly with a little change for day to day look. Try the tutorials, follow the step by step procedures and you will surely love it. It will completely transform you and make you look absolutely gorgeous. Keep yourself updated with all the latest hairstyles that will make you look great.
Women wearing braids look very elegant and pretty. The braids give a very charming look to any girl. There are plenty of braids hairstyles so you can easily keep changing on daily basis and not look the same every day. A little change is always good. You can also make these braids for a wedding and other occasions. The most famous ones are ponytail braid, mermaid braid, fishtail braid etc. Pretty much all kind of styles. Easy to make and easier to carry.
Young girls are usually very conscious about hairstyles. With a good outfit, a good hairstyle matters too. Therefore girls should be aware of the best trending hairstyles that can suit them. There are different types of  braided hairstyles that you can make. Our main focus will be about the latest designs such as fishtail braid, french braid, bun braid, messy braid etc. College and school going girls are usually in a hurry and they run out of time. These ideas will be very helpful for them to make braids and flaunt their hairstyles.
 Step By Step Easy Braided Hairstyle Tutorials.

This cute and pretty hairstyle can be recreated very easily after a few tries. For this hairstyle, start by backcombing your hair a little to give them volume. Section your hair in two parts and make pony on one part. Now pass the other strand through the pony. Repeat the same procedure, alternating the sides of the section used. This super easy hairstyle is perfect for prom. RECOMMENDED: 12 Latest Style Prom Dresses Collection for This Season

How to make Mermaid Tail Braid easily.
To make this hairstyle, section your hair in two major parts and make two simple braids on each section separately. Now loosen the ponytail a little to make it look more voluminous. Tie a pony at the end of each braid at one place. Finish it off with hairspray to keep everything in place. Voila! The perfect date night hairstyle is ready. Check out 20 Cute First Date Outfit Ideas for Girls He will Love

This next hairstyle is perfect for wedding receptions or even for brides. You can create this look yourself but if you are not confident enough, you can tell someone else to make this hairstyle on you. Check it out.

Sweet and simple Braid Hairstyle Tutorial.
This simple braid hairstyle is perfect for college girls who are always running late. It literally takes only 5 – 10 minutes to recreate and look extremely pretty on anyone. Start by sectioning your hair into three different sections. Make a braid of the middle section. Now make another simple braid using all the three sections altogether. RECOMMENDED: 15 Quick and Cute Hairstyles for University Girls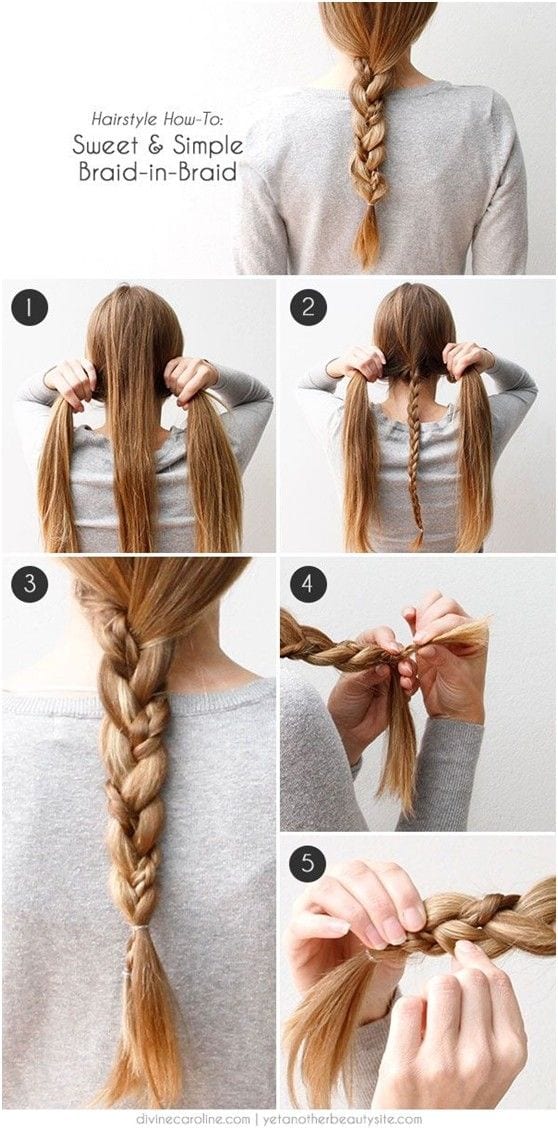 Cool French Braid Hairstyle.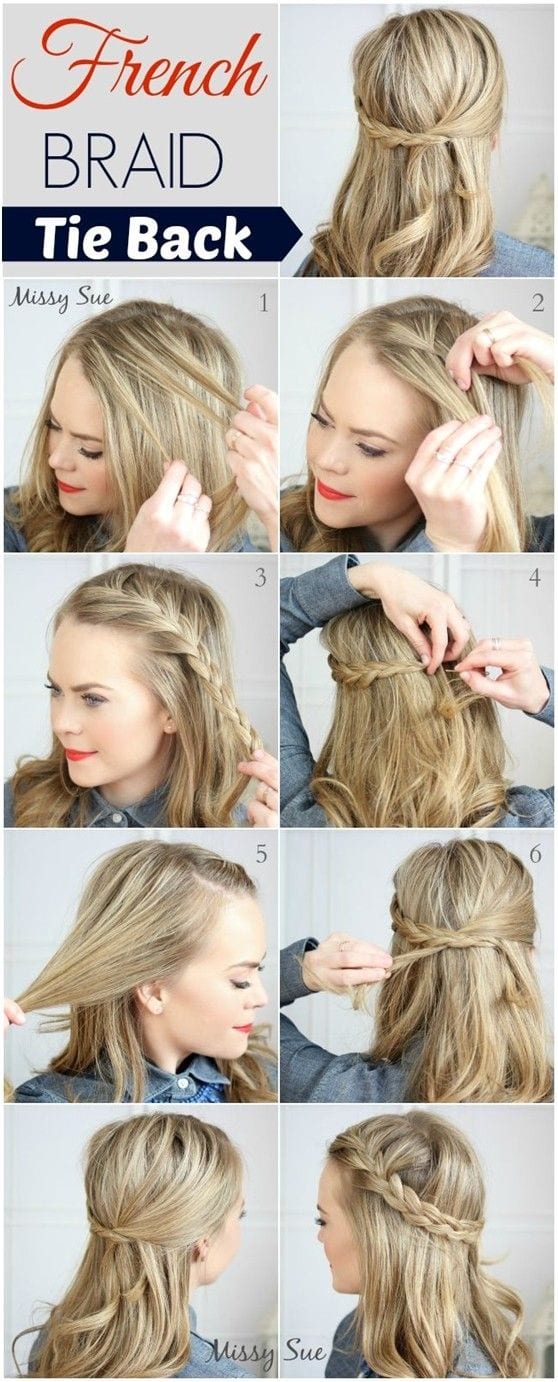 Easy Braided Hairstyle for Any Occasion.
This elegant hairstyle involves combining two separate braids. Start by sectioning your hair in half and then make their braids separately. Now make a tie knot using both of these braids, make another tie knot using the ends of the braid to make the bun look messy. Tuck the ends in the bun using bobby pins and finish off with hairspray. RECOMMENDED: 10 Most Gorgeous Celebrities Eye MakeUp Ideas/Secrets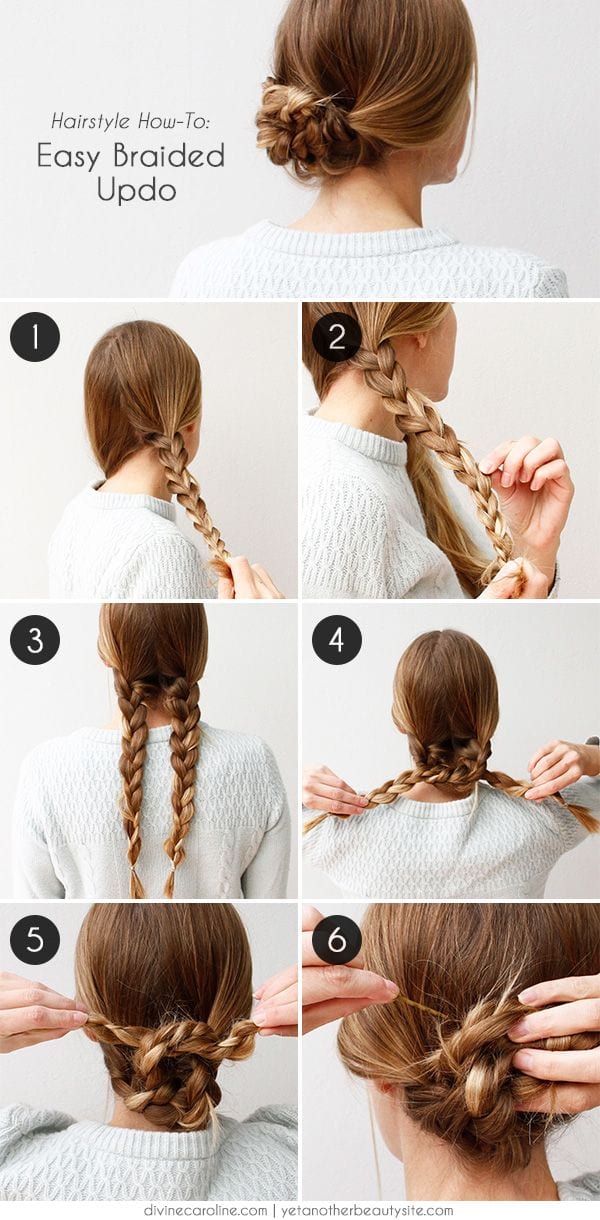 via
How to Make stylish Braided Bun.

DIY Cascade Waterfall Braid Hairstyle.

via
DIY Braided Hairstyle.
This simple but cute hairstyle can be made for any casual get together and meetings or when going out with friends. All you have to do is to start by making two braids in the front part of your head. Both on either side of the head. Now bring them back at the center point and tie them using fancy hair bow or hair tie.

Simple and easy Tutorial for Half Crown Braid.
This brown braid is perfect if you are going to attend your friend's wedding or if you are going for a date night dinner with your boyfriend. This hairstyle looks amazing on curly or wavy hair as wavy or curly hair enhances the beauty of this hairstyle. RECOMMENDED: What to Wear for Wedding in a Garden-19 Wedding Outfit Ideas


French Braided Hairstyle Tutorial.
THE TRIPLE BRAID HAIRSTYLE TUTORIAL.

 via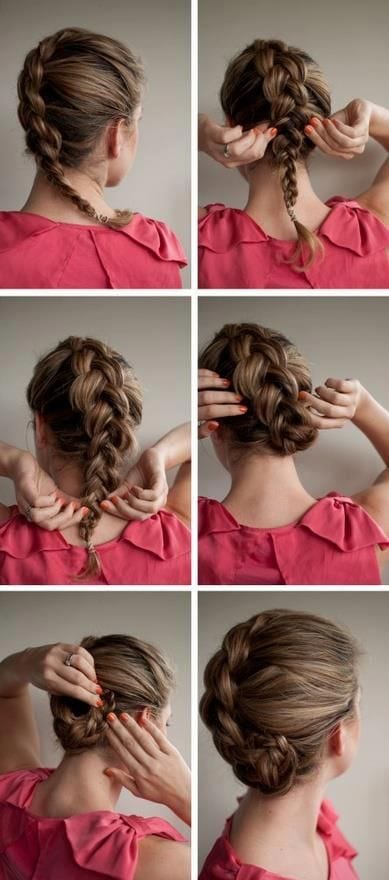 This hairstyle is a very unique and perfect for those who love to go for hairstyles that involve messy buns and braids. Simply make a french braid on one side of your head, extending towards to end of your hair. now using bun enhancers, make a bun and roll the braid around the bun. Tuck the end part of the braid using bobby pins and finish off with hairsprays to keep the hairstyle in place.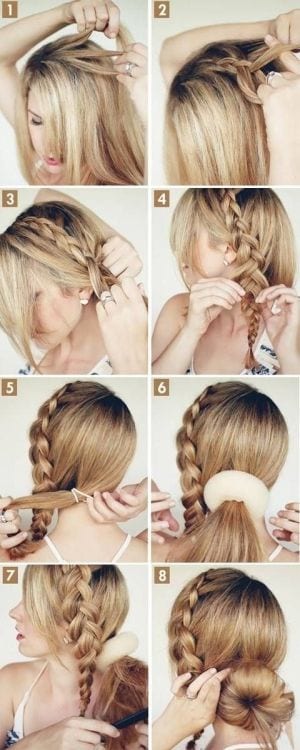 Half Upside French Braid Tutorial.
French braids were already in trend but now girls are trying out new techniques with french braids and new hairstyles with them. This half side french braid is an amazing alteration in the ordinary french braids. Check out this step by step guide to creating this beautiful look.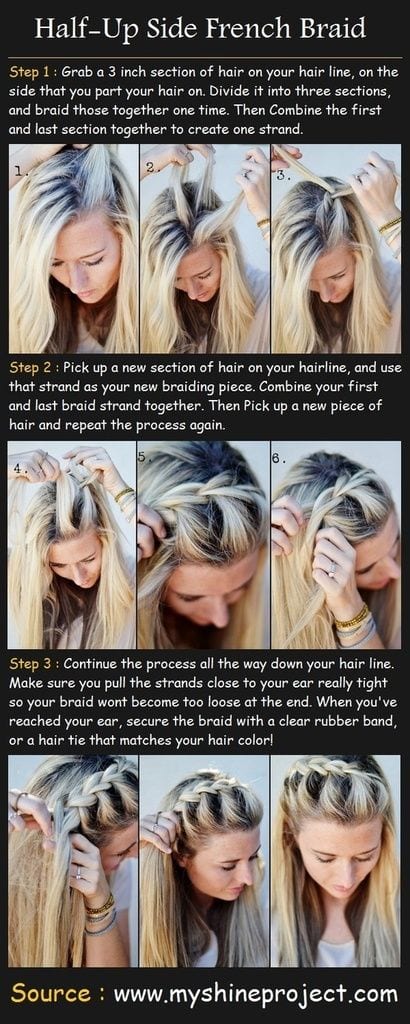 via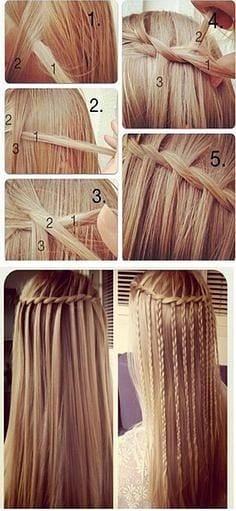 Braided Bun for Black Hairs.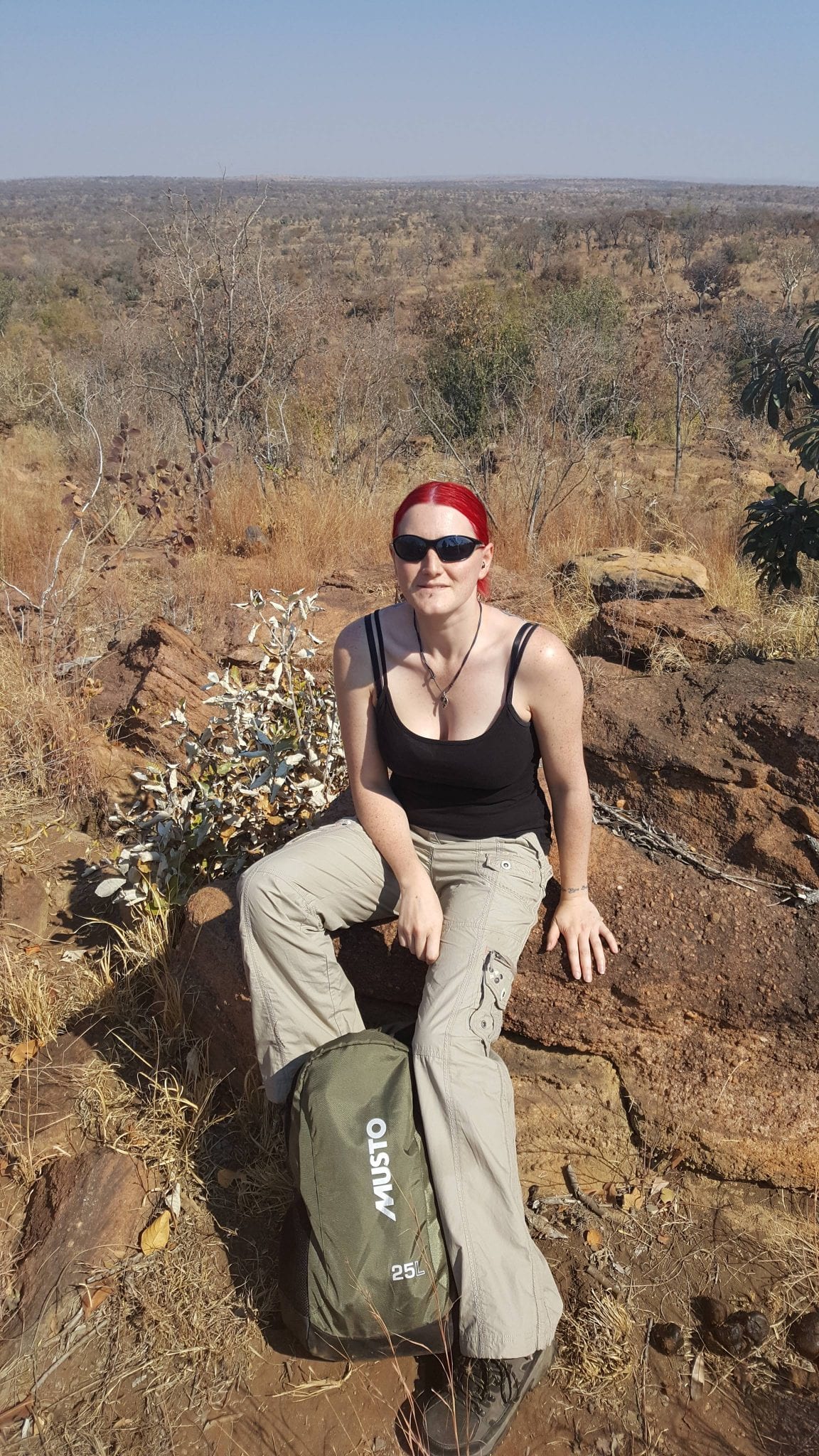 Caz, aka Vixen, has been freelance creative writing for several years. She has a lot of experience in different fields including high street fashion, tattooing art, and even the gothic and historical costumes. Caz has a Diploma in Fashion and Textiles and also a Bachelors Degree in Historical Costume and Corsetry. Her passion lies with gothic design, corsetry and any other styles considered to be taboo or unusual. Style-wise Caz has a love for Vivienne Westwood and her take on the punk era. Although Caz loves the weird and wonderful, she has a deep love for all fashion and allows this to show through her work.