Wedding guest hairstyles – Hair matters the most, especially for women who are willing to rock the upcoming nuptials with a gorgeous hairstyle as a wedding guest.
The coiffures for such pompous ceremonies are endless. But I've selected the most exotic wedding guest hairstyles that are easy to wear and a lot of fun to flaunt at a wedding ceremony.
How to Style Your Hair for a Wedding?
A perfect hairdo is quite important. It not only accentuates your outfit but also signifies the aesthetic part of your personality. There are many popular "Big Day" guest hairdos, such as a chignon, high ponytail, pushed-back sleek hair down, cascading braids, fishtail braids, beach waves, top knots, wavy buns, and braided buns, among others.
So, girls, pull out your curling wands and style your hair in loose curls. If that doesn't fit your style, then opt for some french braids. For a voluminous look, go for messy high buns, or sleek-backed hair.
However, their enchanting spell won't benefit you in any way if you don't style them wisely. They should be worn according to the occasion, the dress code, and, of course, the hair texture.
Now, don't fret about it as described below are some easy-to-remember tips that will help you style your hair in the most adorable way possible.
Tips And Tricks for Creating Beautiful Wedding Guest Hairstyles
Know your hair type: Different hair types demand different tools and accessories to style them. For instance, fine hair can't hold curls easily and thick hair looks coarse. So, an appropriate hairdo according to the hair texture is important.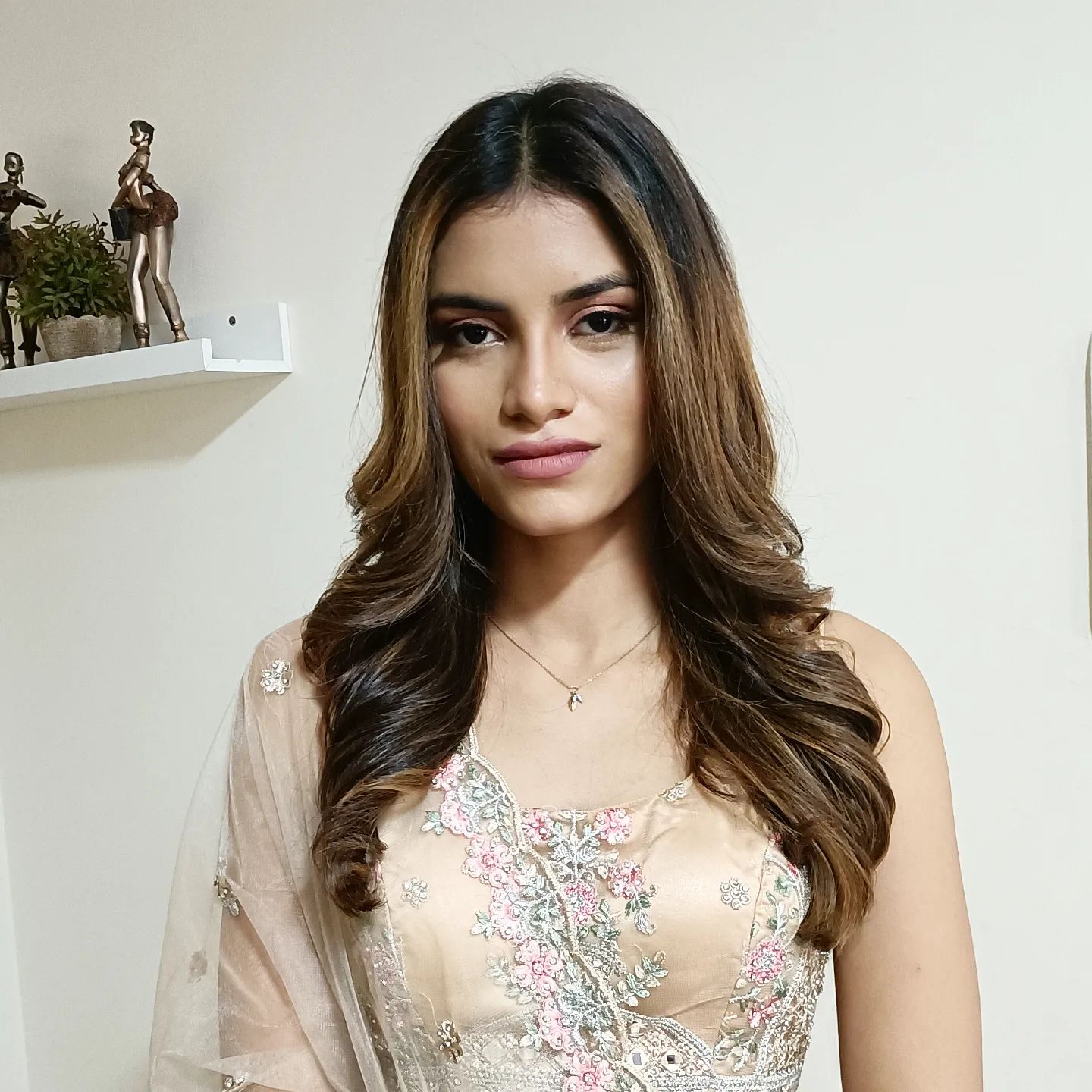 Use hairstyling products: The hair styling products like mousse, blow-dry lotion, hair gel, etc give an extra boost to your hair. For bouncy blow-dried hair opt for Velcro or heated rollers.
Use the right hair tools: For fine hair, a lighter blow-dryer to resist damage is a good choice. For straightening thick hair, a high-temperature straightener is a good option. Use bobby pins according to the hairstyle. Neither too much nor too less.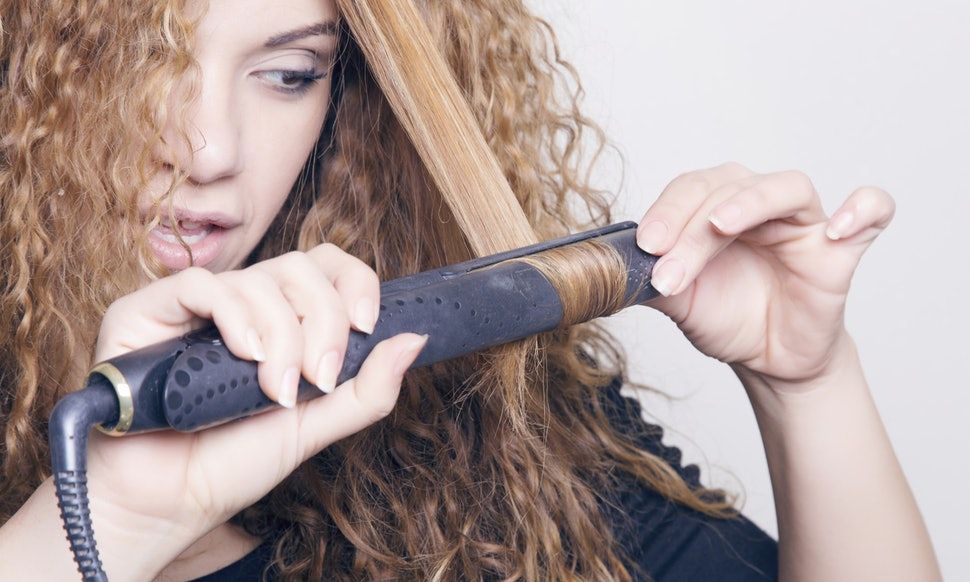 Hair accessories are compulsory: They bestow you with a dainty and feminine look. Crystal hairpins, bridal hair vines, vine hair pieces, chunky clips, hair combs, headbands, pearl hairpins, etc look so aesthetic for matrimony events.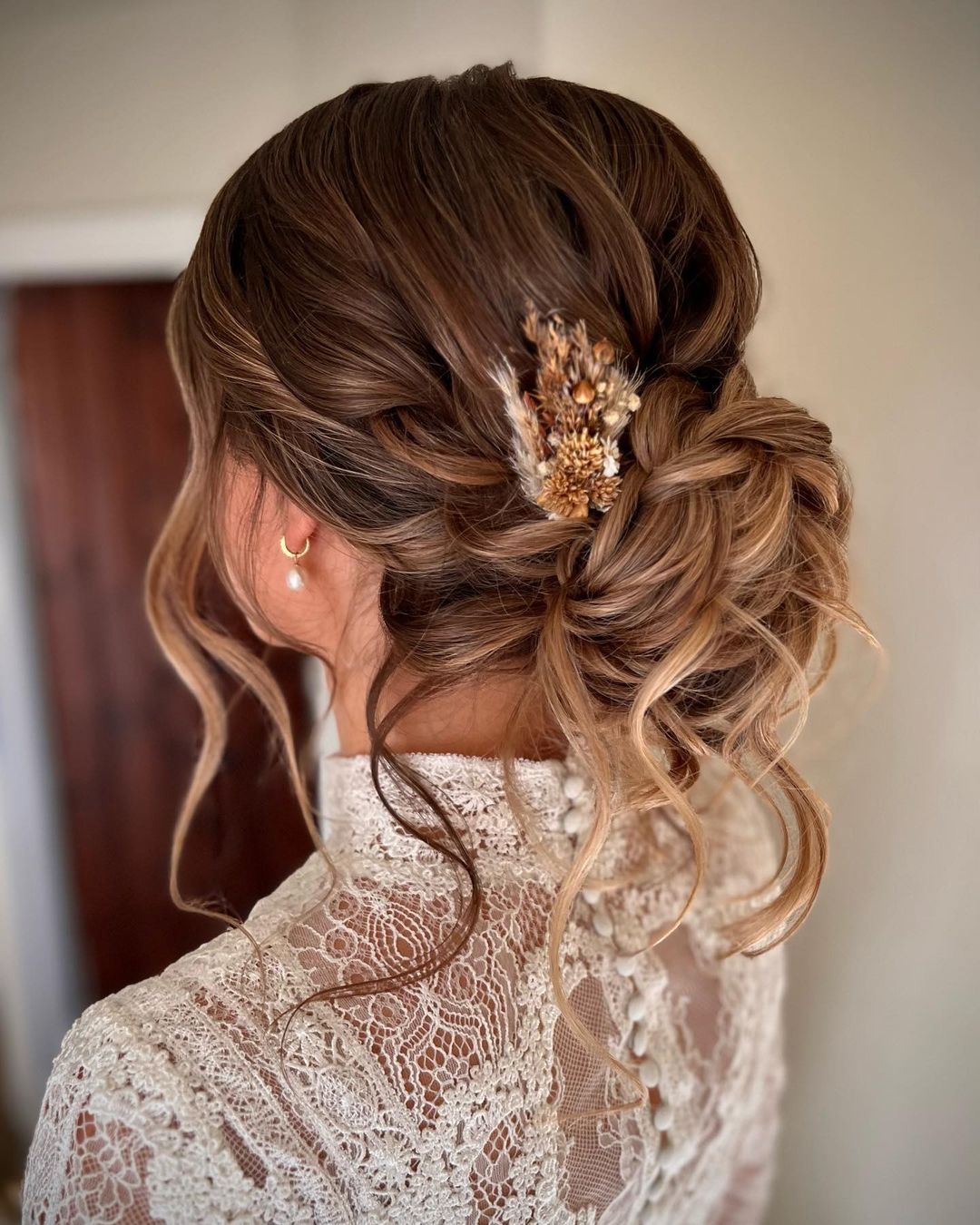 Use teasing and extensions for a voluminous look: The extensions and the teasing or hair combing add more boost to your hair. Your hair looks fuller, more enriched, and more attractive due to them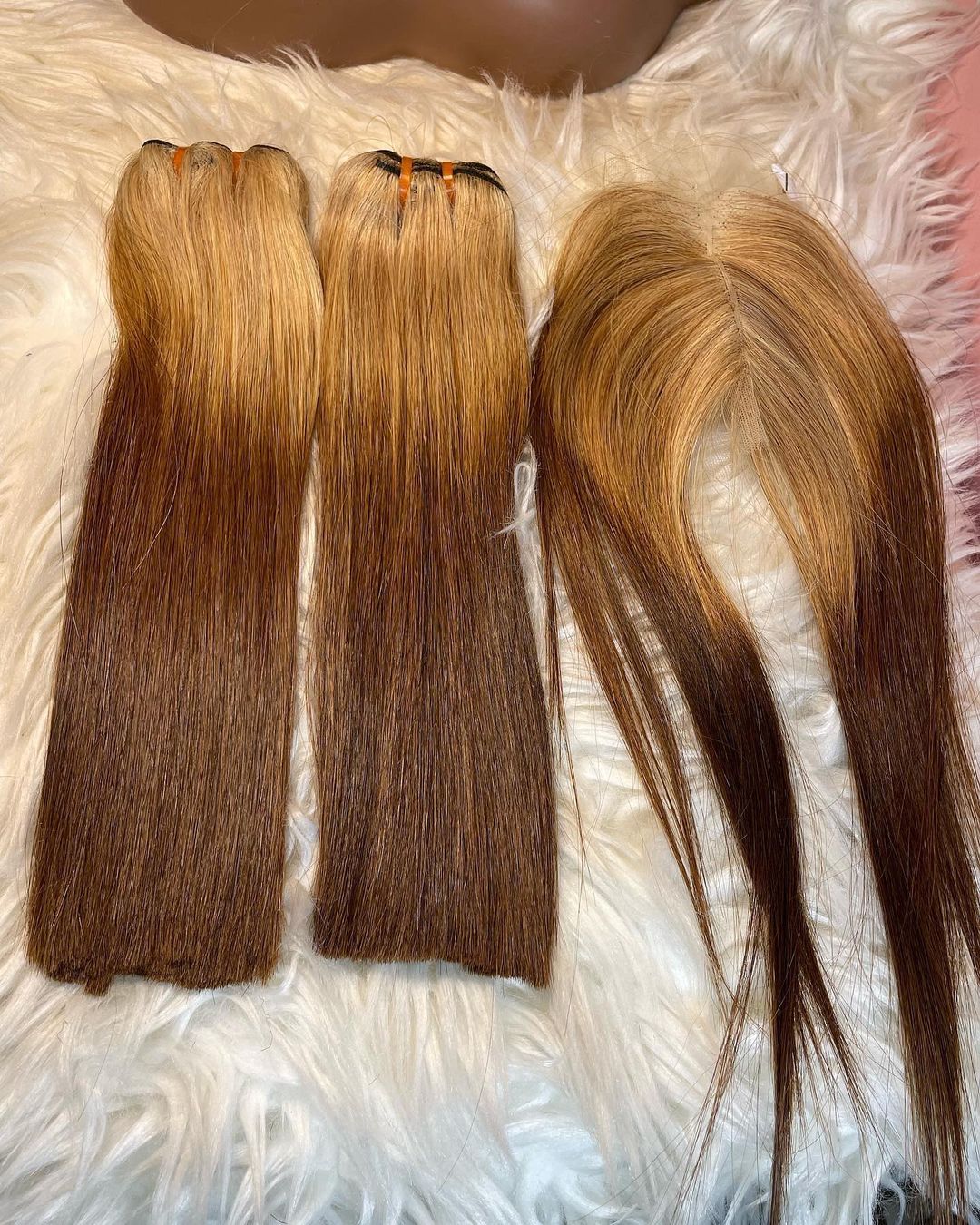 Hairstyles for Short Hair
29 – Elegant High French Twist Bun
Who doesn't love the astonishingly twisted and modish French twist? This hairdo is perfect for every event and is among the most popular nuptial coifs of all time.
So, for an absolutely flawless and well-tressed look try this twist. Just take some hair on one side, twist it and secure it with some bobby pins.
A nice pearl hairpin for an extra oomph factor, and dear me! Now, who'll look more elegant at the marriage than you? Of course, No one.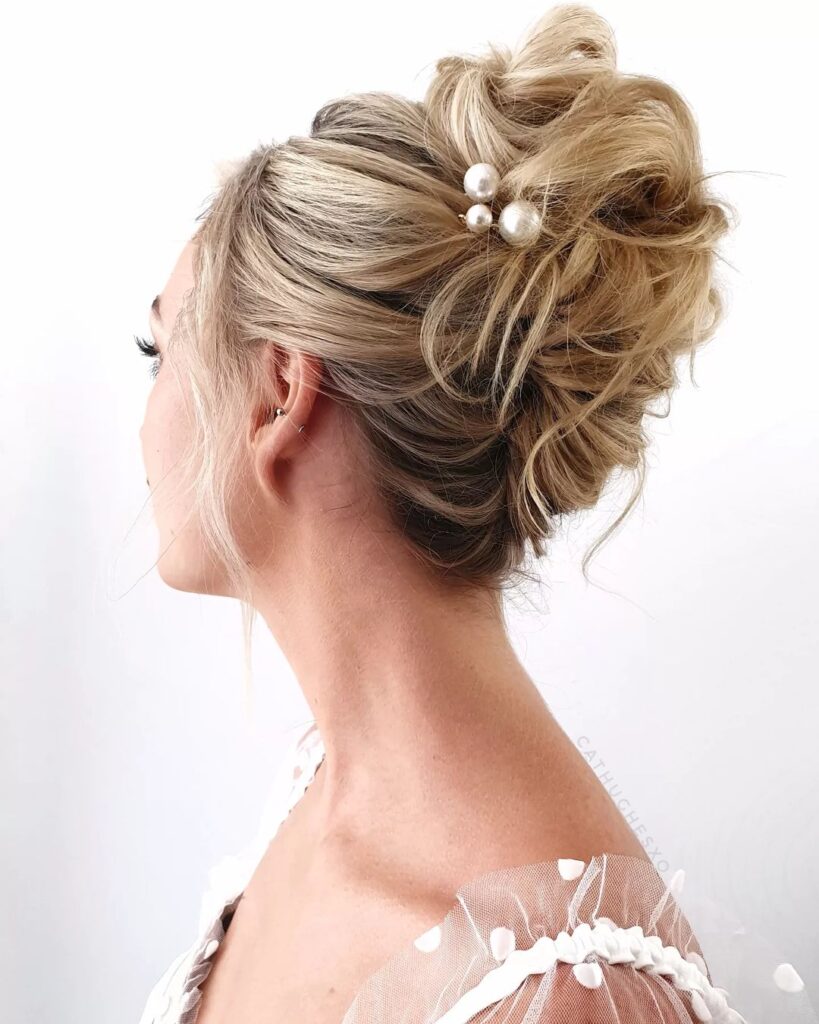 28 – Blow-dried Bob Hair with Front Bangs
My most beloved senior citizens, I present to you the finest coif, which I hope will fit your liking. A classic bob cut and nice bangs are perfect for our lively grandmas. I assure you that you'll rock the whole ceremony with this style.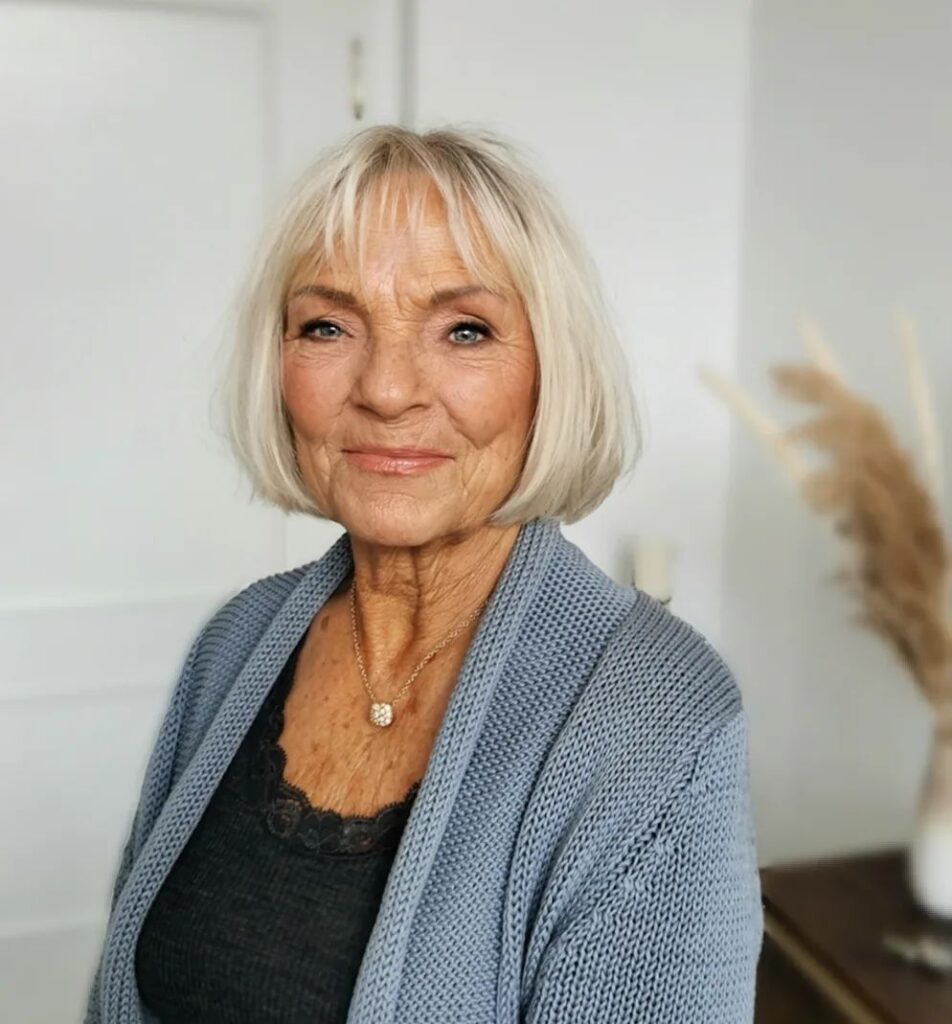 27 – One Sided Braid
The remarkable one-sided french tucked to a side is here for short-hair gals to make them stand out of the crowd with their hair.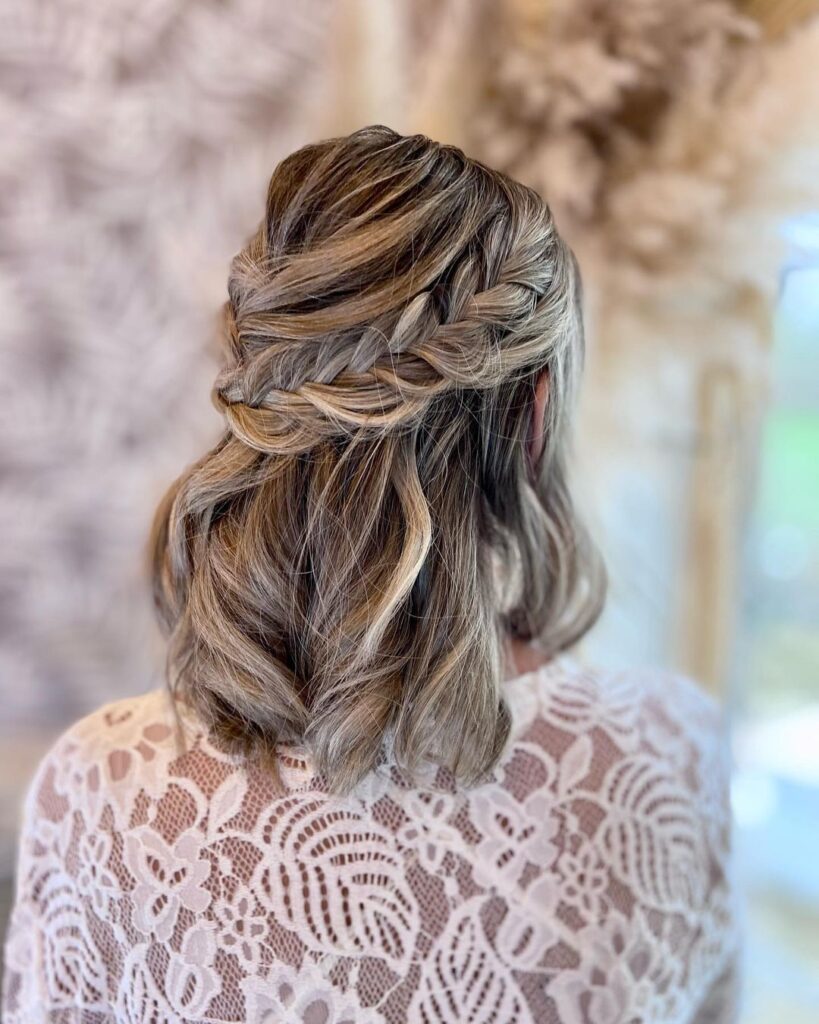 26 – Tie The Chignon Up With A Ribbon
Chignons are the staple hairdo for festive occasions. They are chic and look so classic. So, for the upcoming wedding season, opt for a low chignon and add more cha-cha to it with a satin ribbon.
Accessorize your outfit minimally and let the chignon do all the talking.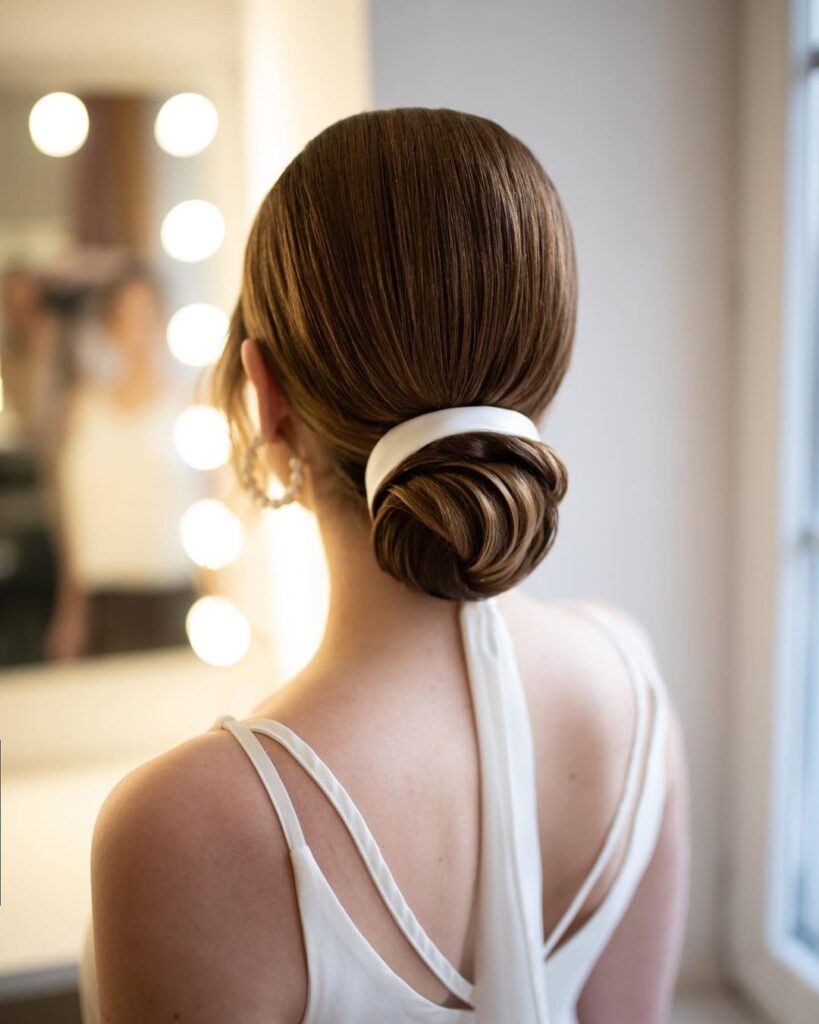 25 – Unique High Bun For Thick Hair
This hairdo is perfect for ladies who have fabulous, dramatically curled hair. All this style needs is a nice combing of the front hair, a nice scrunchy on the top, a hair donut on the top, and some curls dangling loosely on your face. Now, our diva is ready to slay!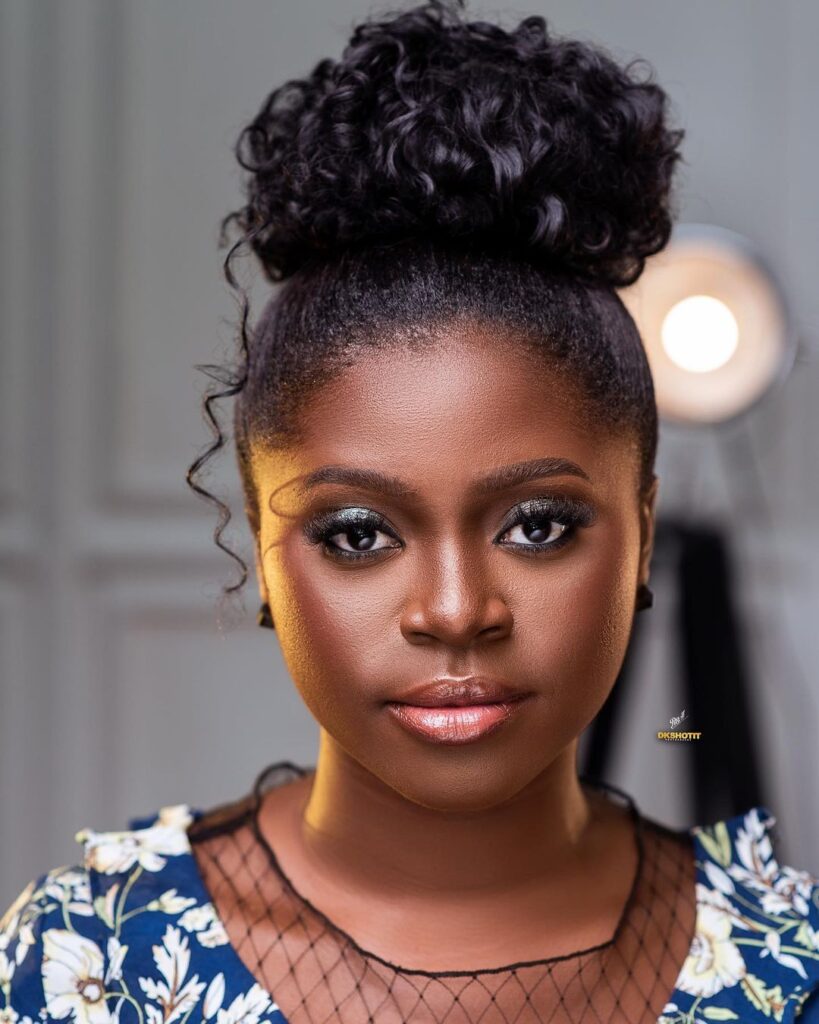 24 – Braided Low Bun
Doesn't this appear to be the most intricate yet sleek hair bun to you? it does to me though. And, don't feel frenzy with the effort it'll take to make it; it's as easy as a cupcake. Just make small, sleek braids of fewer strands and tie them up in a low knot.
So, if you think that this is your cup of tea, then do try it, but don't forget to accentuate it more with a dainty hairpiece.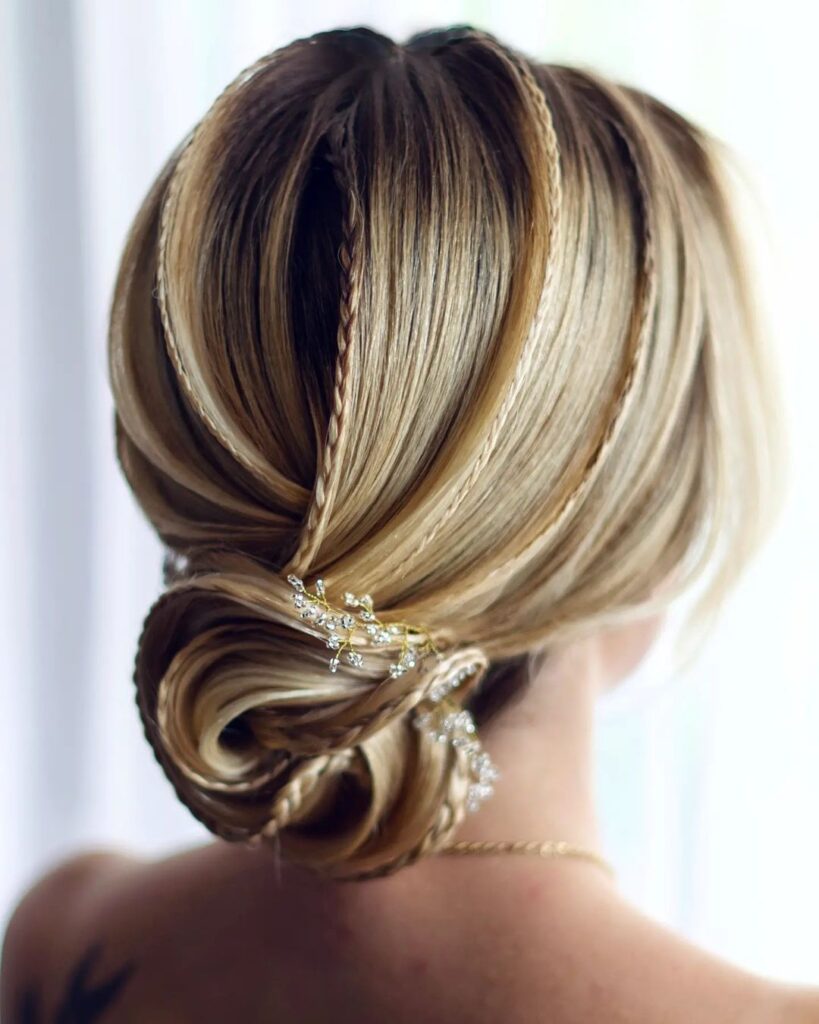 23 – Add A Cute Accessory to Your Braided Bun
Nothing looks more retro-chic than a messy French braid bun. I mean, they look so exotic and easy. Now, believe me when I say that you will not be sorry if you try this look because it is so stunning.
I love the small heart piece, so you have to add that in with this hairstyle too okay?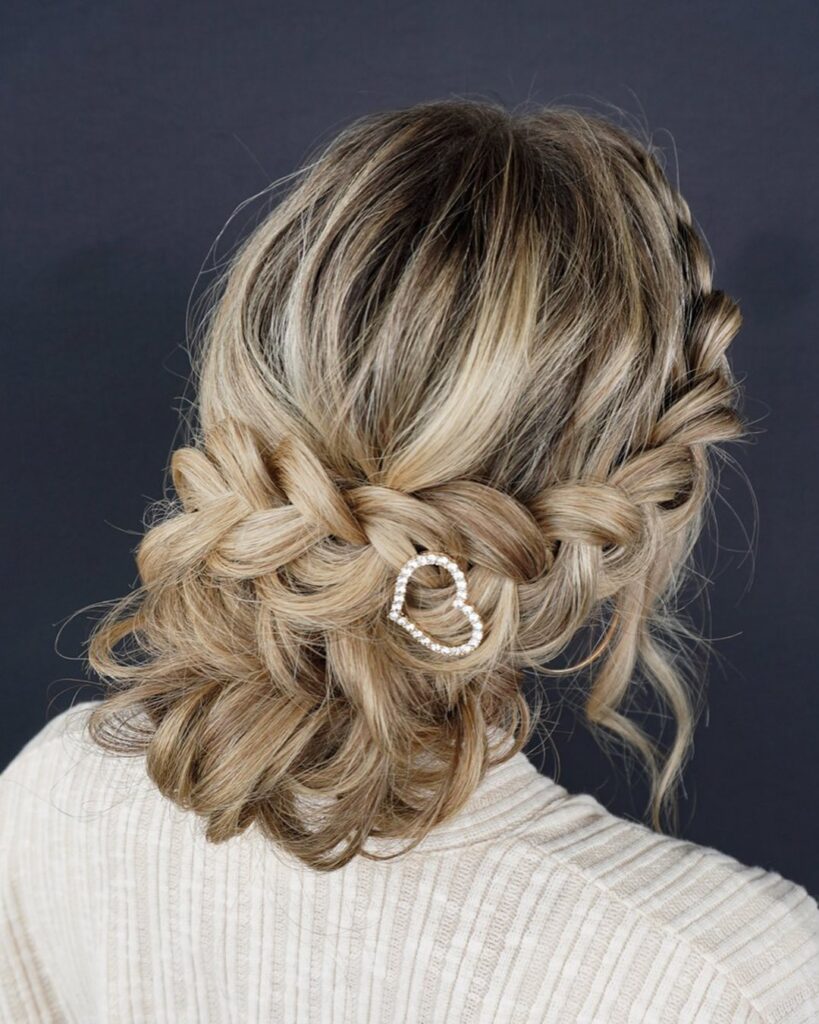 22 – Short Hair Glammed Up with Floral Accessories
Loose curls are the best hairstyle for girls with short hair, and if you're planning to have them as your style, then do opt for a waterfall hairstyle. When I had short hair, I tried it a million times, and it always looked great.
A floral hairpiece at the core of the hairdo and you're all set to bloom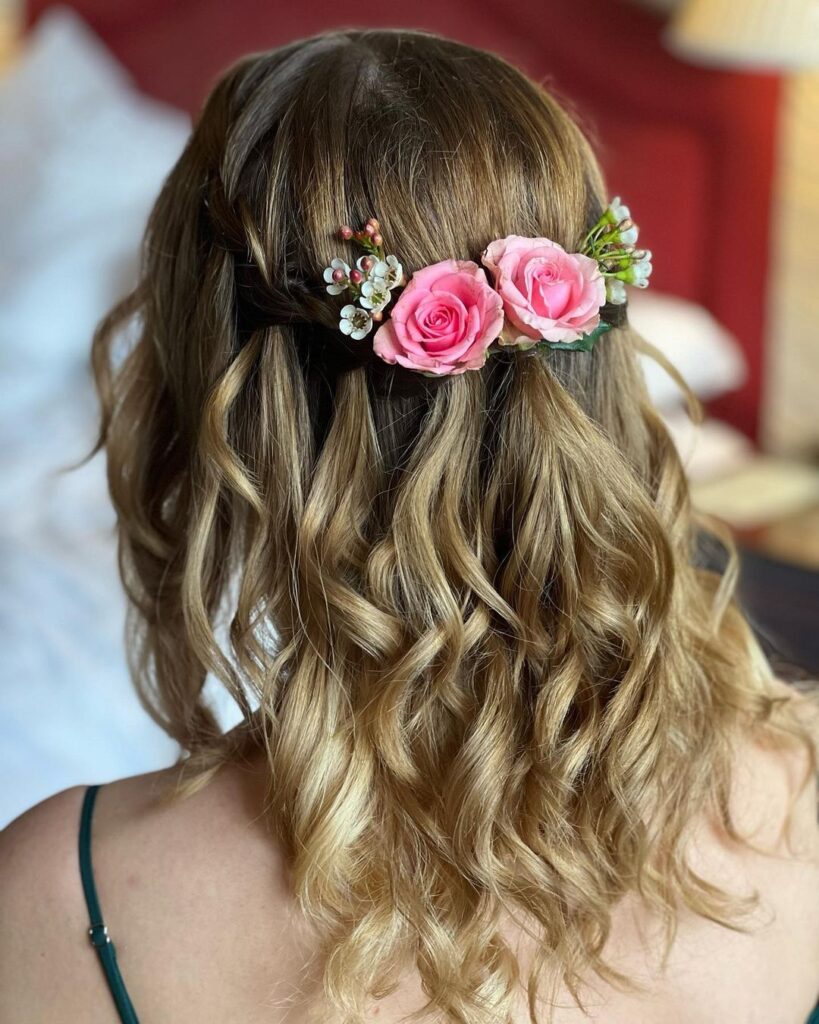 This is another cute but simple style that I'm pretty sure you'll love to wear. Just a few loose curls tucked behind the ears and tied with a bow, and ta-da! Our Bella from "Beauty and the Beast" is ready to dance the wedding floor off.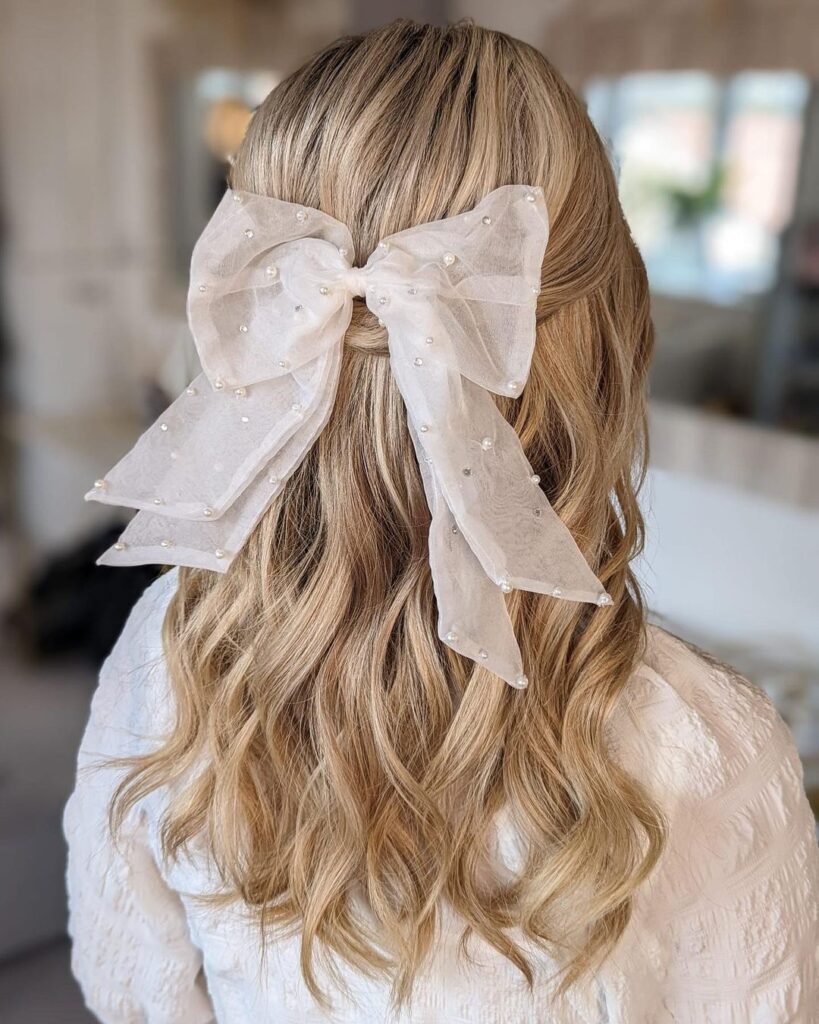 Hairstyles for Medium Hair
21 – Low French Bun
One can never go wrong with a messy French bun, as it is perfect for medium-hair women, who want to flaunt a French bun at their co-worker's wedding. I suggest having some curled curtain bangs with this style too as they look pleasing on silky hair.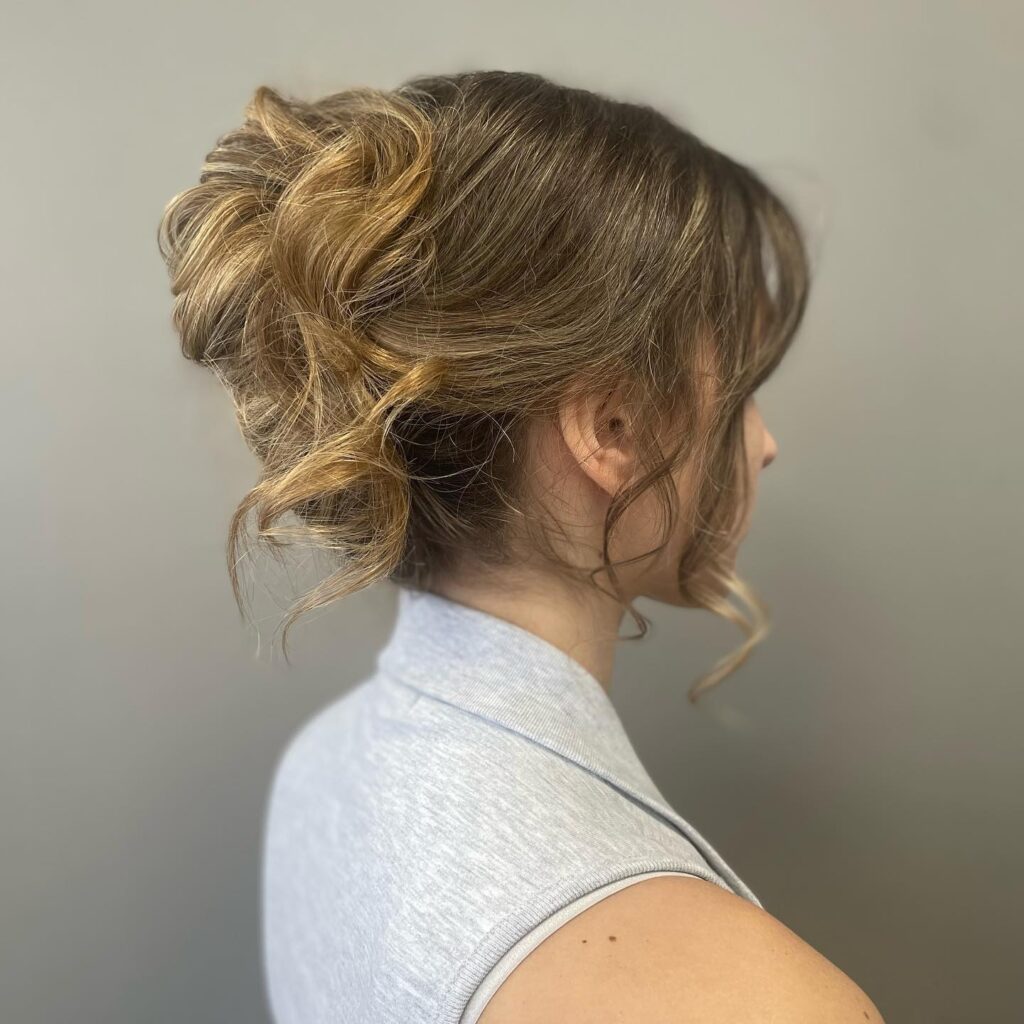 20 – Emma Stone's Guide To Side-French
Nothing looks more retro-chic and alluring than a side twist braid for marriage, and Emma Stone proves it with a perfect demonstration. This style is perfect for short-hair gals who know how to twist their silky strands to the side and tie the braid's tail with a bunch of hair strands.
I've tried this look with my short hair, now it's your time to rock it.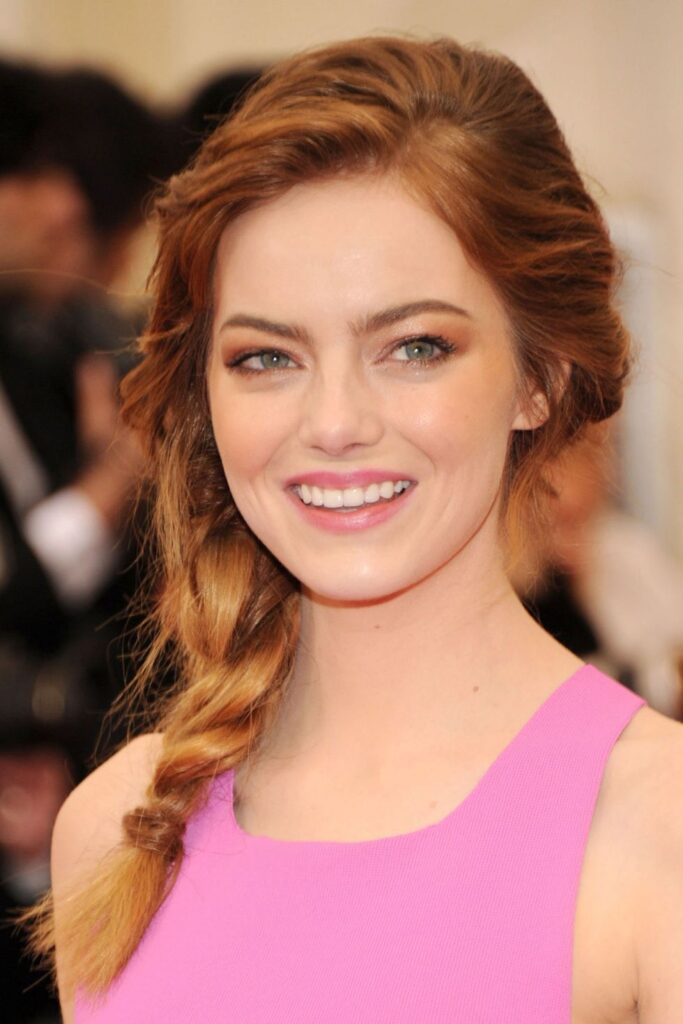 19 – Bangin Bun + Curtain Bangs = Exotic Hairdo
I pulled this off myself at a ceremony, and I want every one of you to try it as a guest. It is one of the chicest hairdos of all time. And, with curtain bangs! They'll be the show-stealers.
A nice dress accentuated with a nice banging bun accessorized with a chunky hairpiece is all you need to complete your look for the ceremony.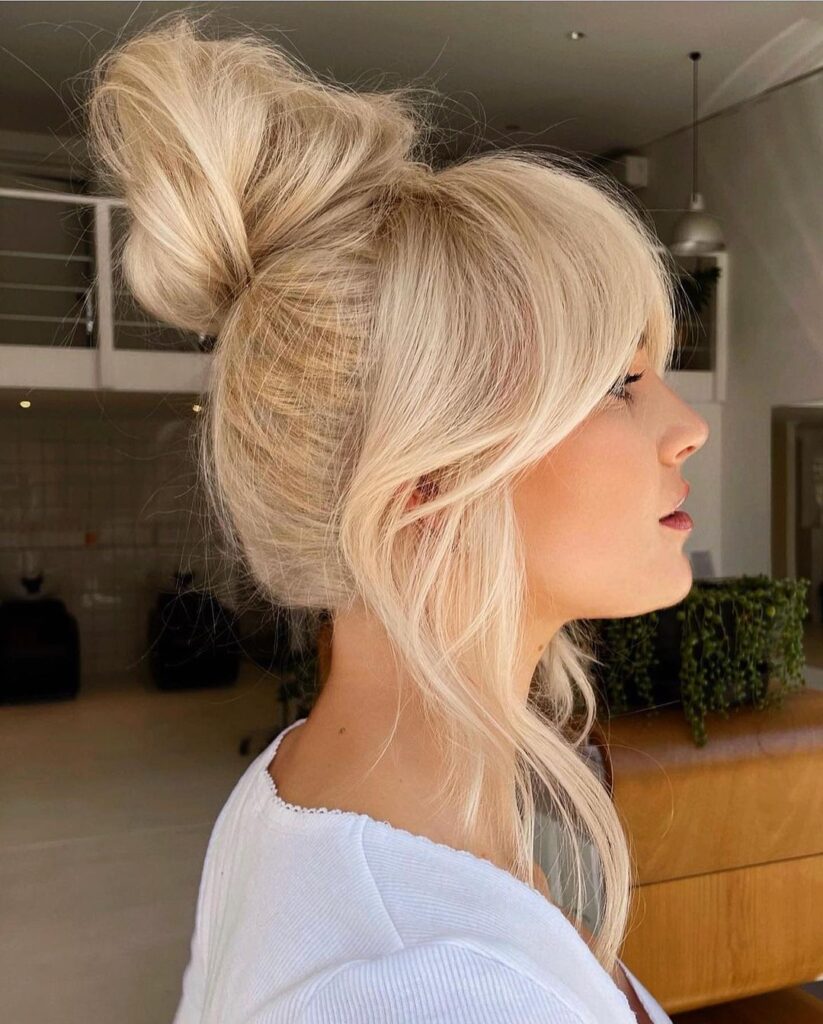 Hairstyles for Long Hair
18 – Cutest High-Low Hairstyle
This is my favorite look. The high ponytail with strands twisted like hooks at the end! This look surely gives us Barbie vibes. If you have this much volume in your hair and that much gloss, then do slay this look.
Just divide your hair into highs and lows, Take a ponytail and twist it on the upper half. A portion of hair from the back twisted on the base of the high ponytail, and our fashionable Barbie is ready.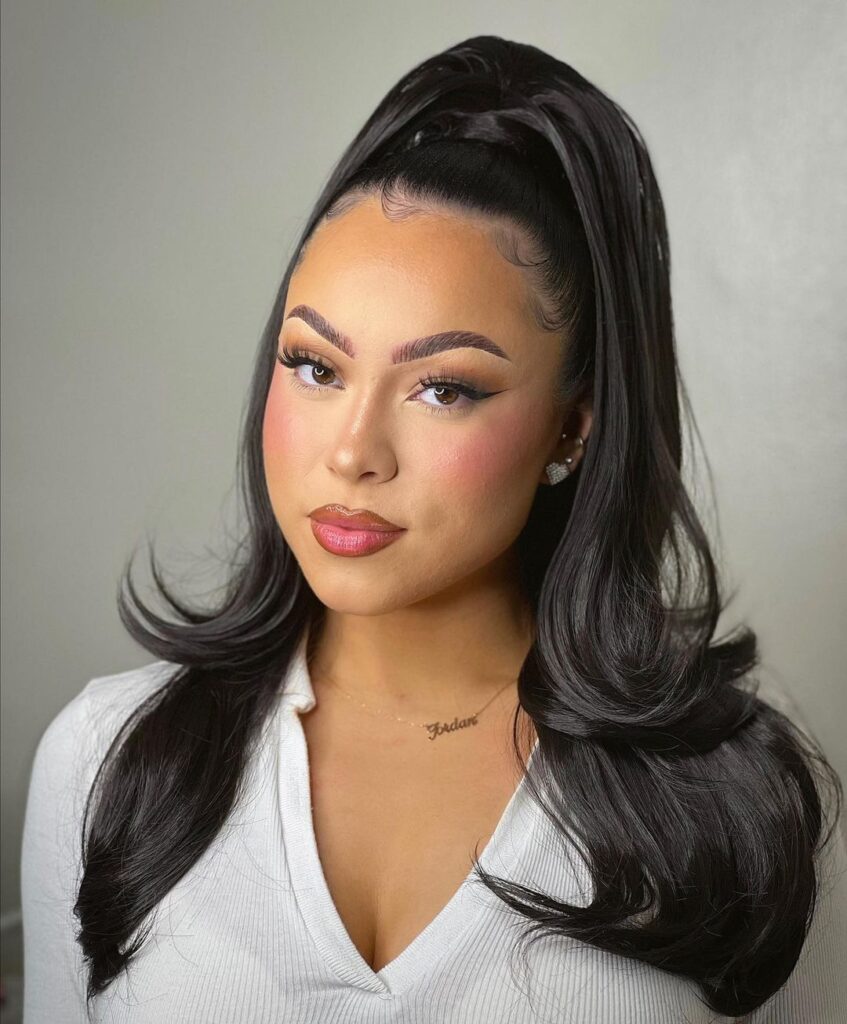 Summer cocktail weddings, are the best for wedding guest ladies to show off their hairstyling skills. A messy French braid is ideal for those summer days when you just want to put on a nice dress and let your hair do all the talking.
The pro-tip is to take out some strands from the braid and curl them. They will look soo good!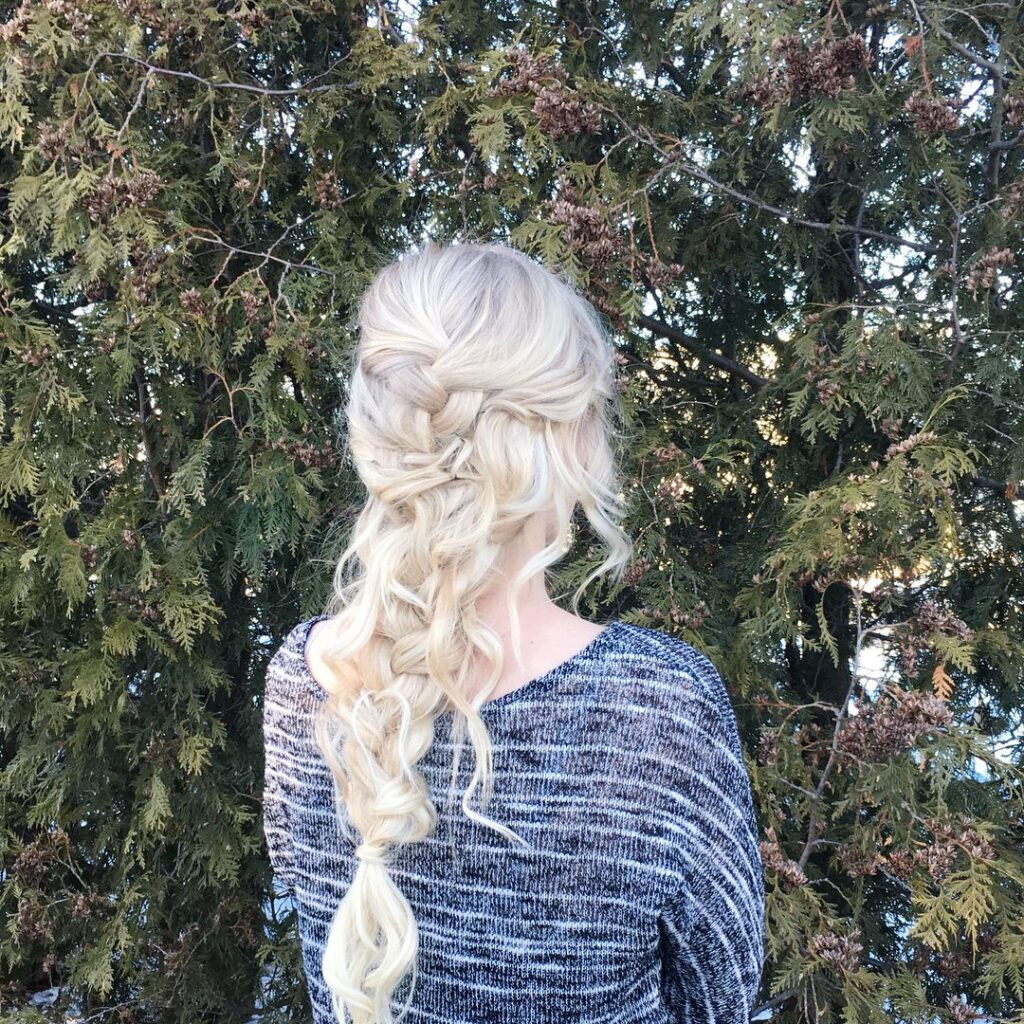 16 – Simple And Sleek Hair for Wedding Season
Nothing looks more elegant than sleek, middle-combed hair. This hairdo is perfect for a simple but elegant look. This is your sign, ladies!
Just dead-straighten your hair. Divide your hair into two portions and tuck each portion's half behind the ears. Use a gel or mousse for a smooth style. With a nice dress and some nude makeup, our charismatic lady is all set to slay!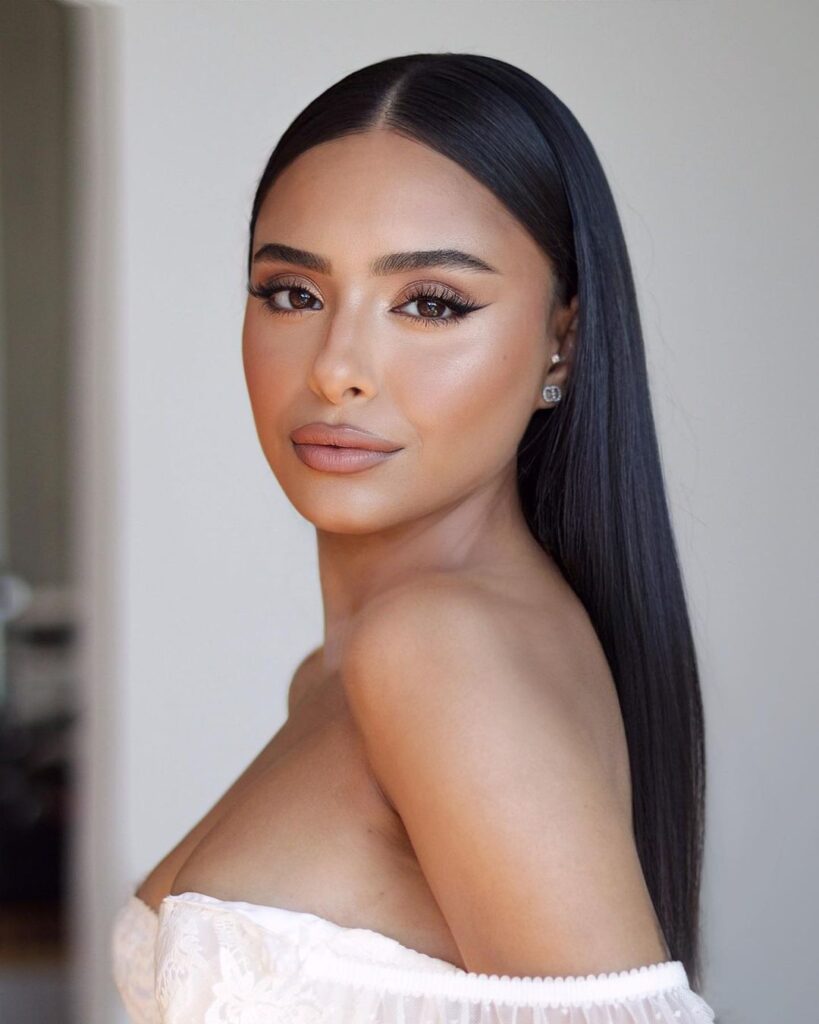 15 – Slay It With A Curly Ponytail
This look is a lifesaver and a time-saver for curly-haired women who can't make time to do their hair. This look is so simple yet so chic that I want every curly-haired senora to try it.
All it needs is some front portion of your to be straightened. You can also alternate the straightening with a good hair gel or mousse. A nice low ponytail with the natural curls all loose and you're all good to go.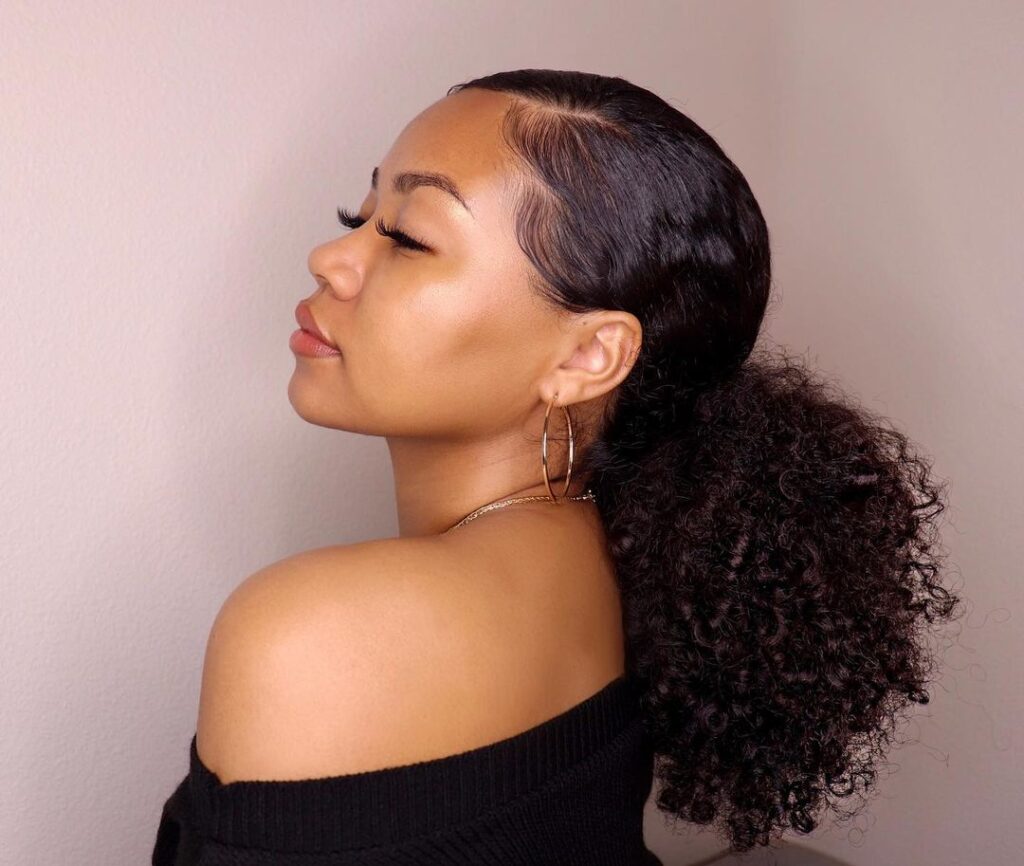 14 – Unique Hairstyle for Thin Hair
Ladies who have thin hair need voluminous hairstyles, and the hairdo below is perfect for that. So, do opt for it. Just back-comb your hair a little and put some curls on the loose ends. Ta-da! The gorgeously curled hair is ready to bag all the compliments.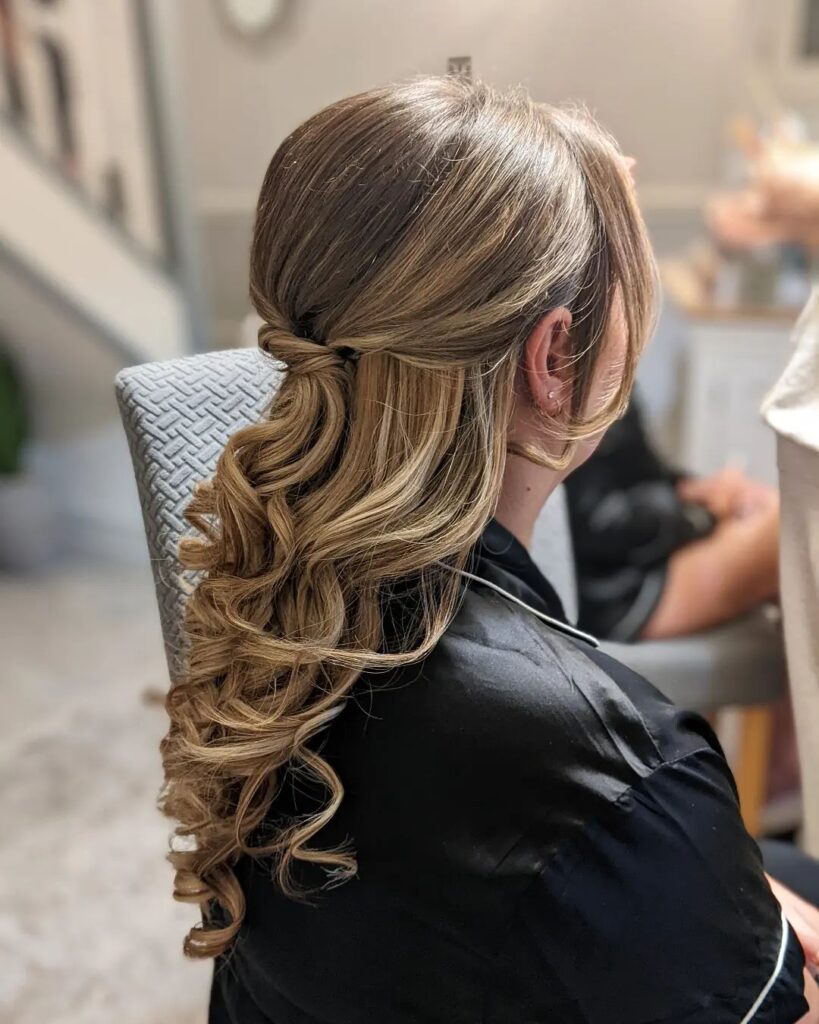 13 – Voluminous Hairdo For Straight Hair
Yea, I know dead-straight-hair girls suffer a lot, as their hair is too silky to stand a style, especially the curled ones. No worries, as I have a protip for that. If you're up for a marriage ceremony, then wash your hair one night before the ceremony, apply mousse, and then spray the curls to keep them tight.
With that done, just add the snow-flaked headband and star-struck everyone with your looks.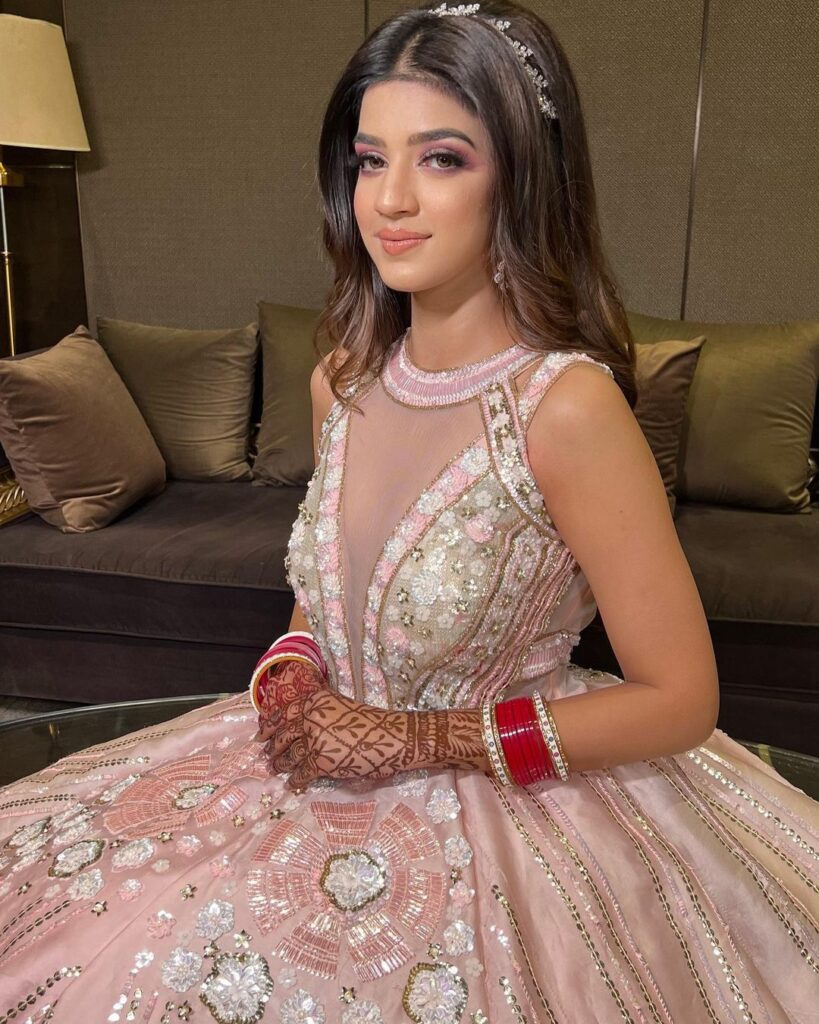 12 – Feel Breezy With Beachy Waves
For thick-haired ladies who are fretting over a hairstyle. Stay cool, as the beach waves are here for you. You can use a wave iron or the classic french braids; they are worth it.
They're the statement hairstyle, and if you have long hair, go for it because they'll look so breezy with your summer wedding guest outfit.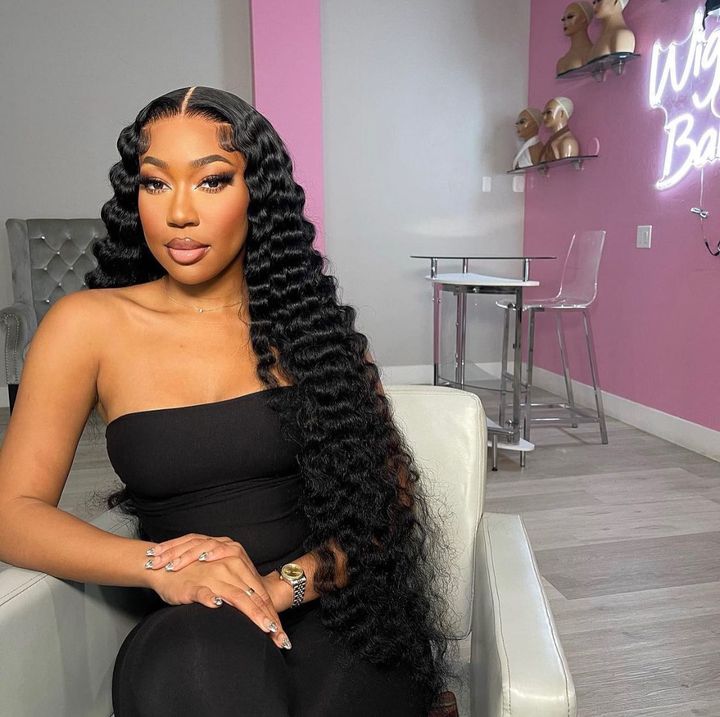 11 – Chunky Hairdo For Dry Hair
This style is perfect for dry hair. That's because, with the french braid from the front and the curls on the loose ends, no one will notice your dry hair. Do opt for this look, and to make it more fascinating, add one or two floral bridal vines to them.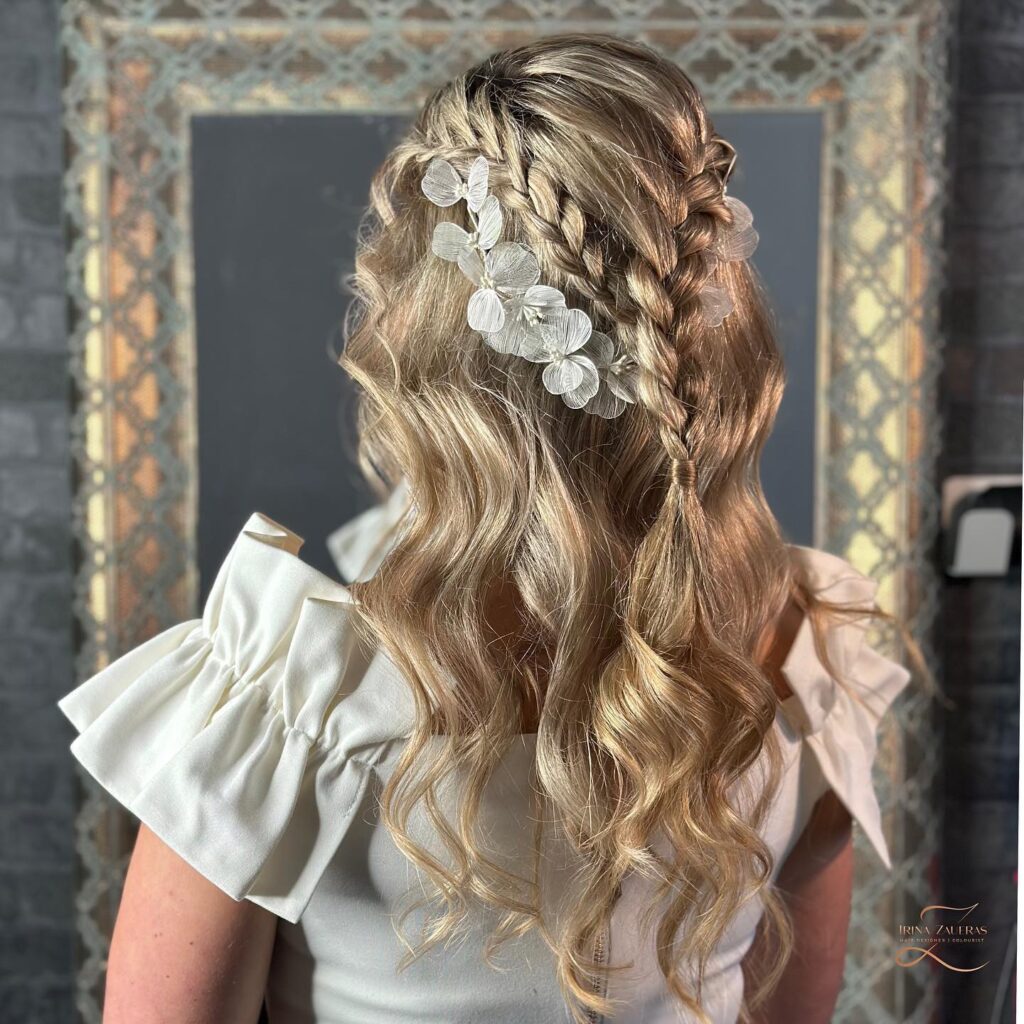 10 – Twisted Low Ponytail For Wedding Guest
This is the most adorable and alluring coif I've ever seen. It's so simple, too. All it needs are some twisted strands tucked inside the ponytail. Really, just that.
Little pearl vines will look good on the ring of the ponytail, so accessorize your hair with them too.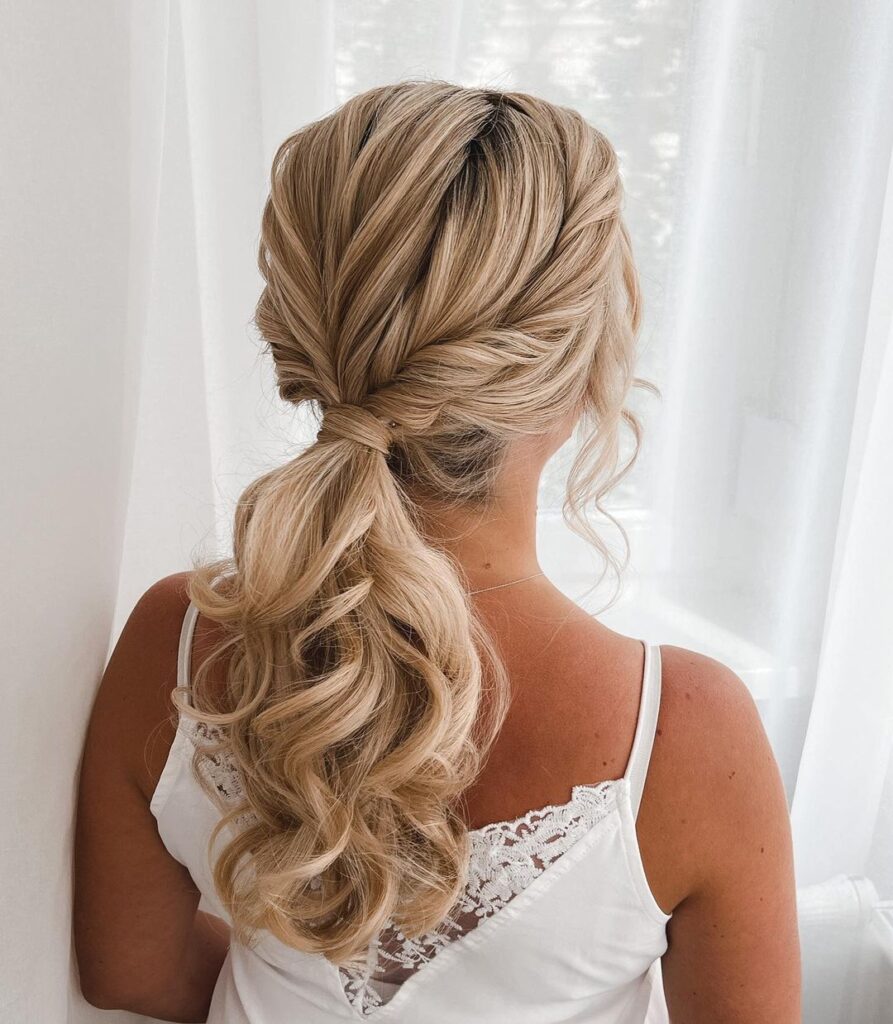 9 – Bubble Ponytail For Indian Weddings
A bubble ponytail is perfect for someone who is fascinated by Princess Jasmine. This hairdo is so cute, I love the bubble on the length of the ponytail too.
Apart from buns, it's one of the perfect hairstyles for the mehndi function for a summer wedding.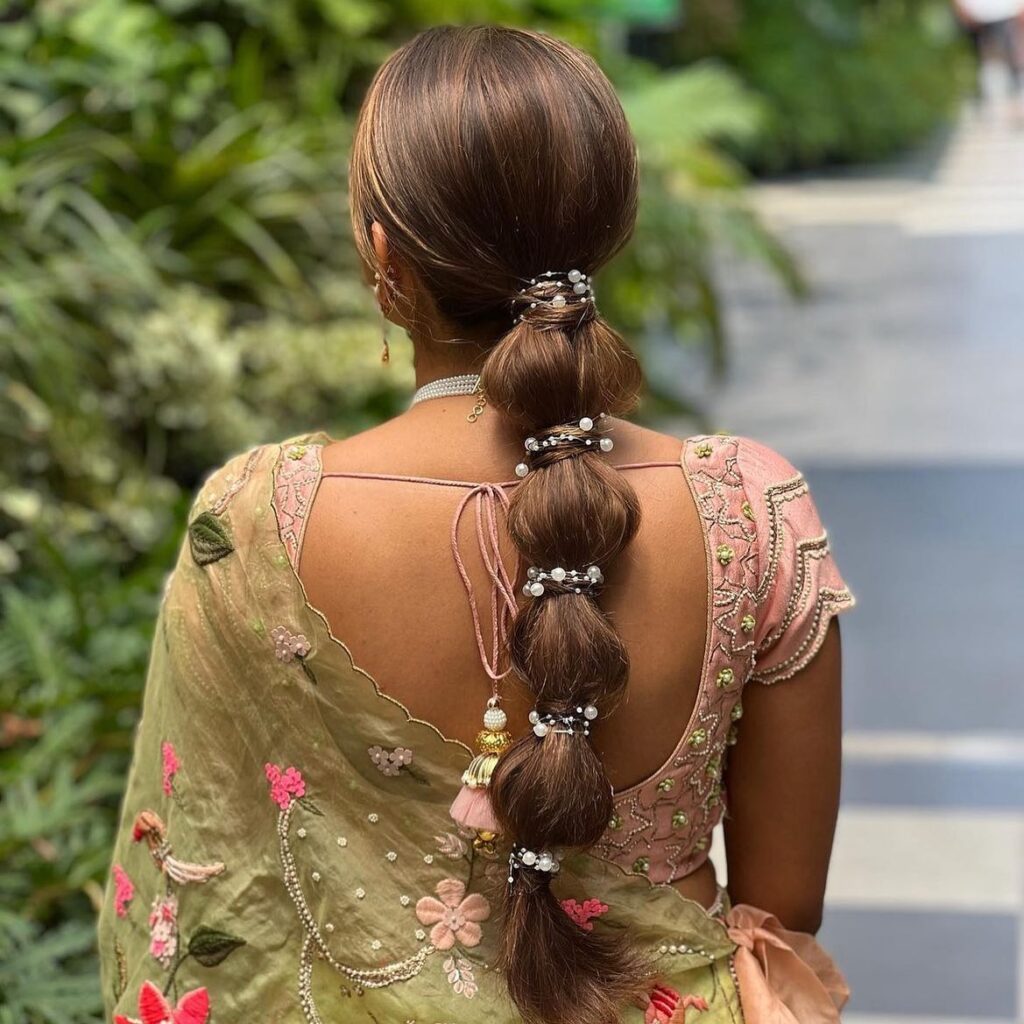 8 – Half Up Half Down Hair
Hair tucked on one side has always been so seductive to women. They make them more fragile and sweet.
If you've had highlights and desperately want to show them off in the most flawless way then do try this hairdo. However, a nice floral piece is a must and should be unforgettable with this hairdo.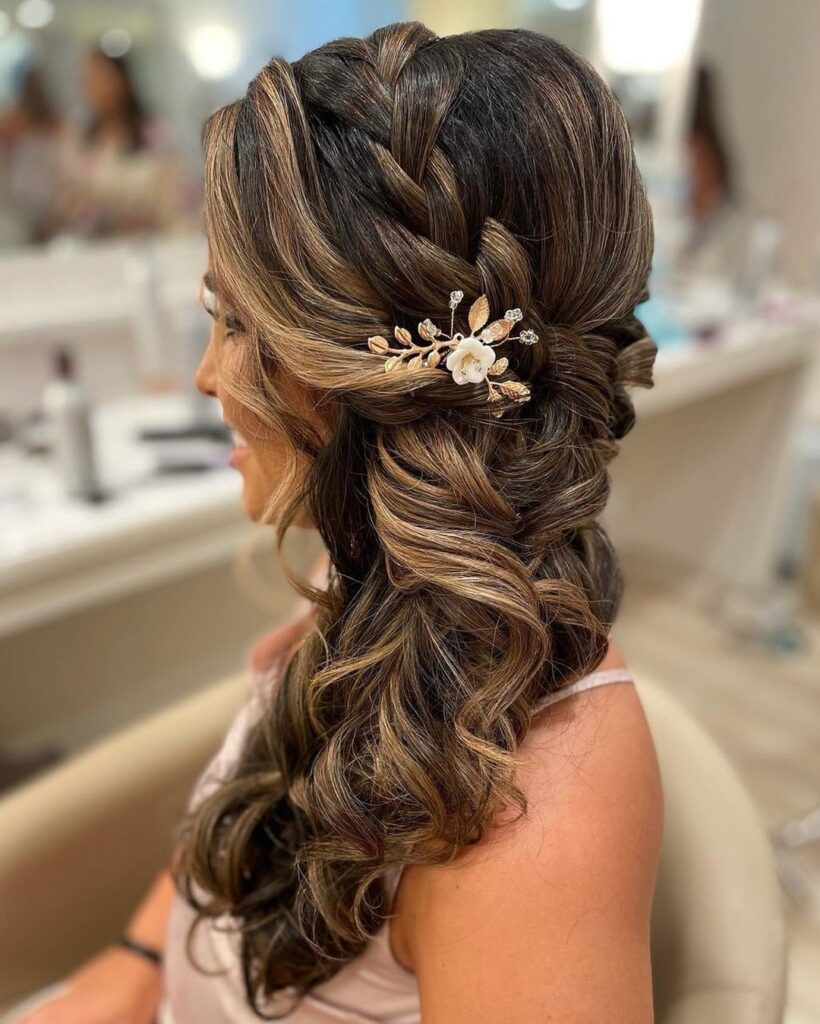 7 – Wedding Ponytail Inspo For Thick Hair
This sleek and wavy high ponytail is perfect for people who have naturally voluminous hair. It is so simple. Just tuck your hair into a high ponytail and wave them with perfection. With that done, you're all set to be the center of attention at your cousin's wedding.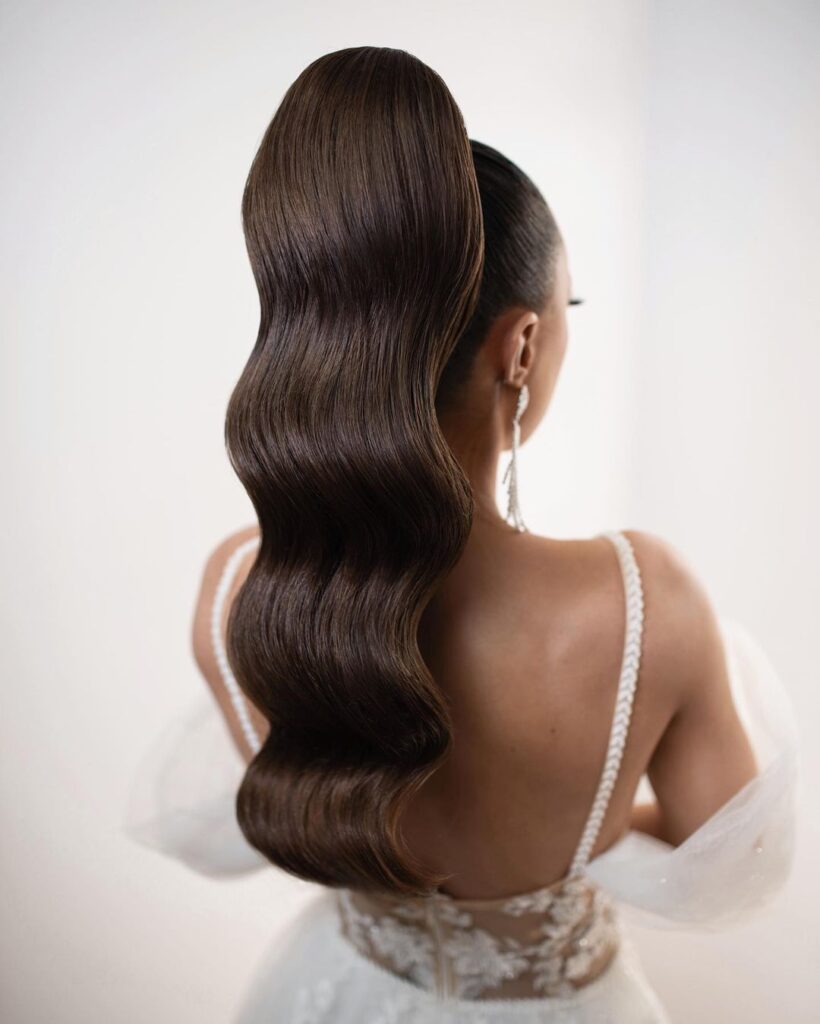 6 – Fishtail Fashion Inspo For Medium Hair
Fishtails are the most enigmatic and classic coif of all time. You can just wear them for any occasion and they will blow everyone's mind with their intricated strand patterns. Do opt for the two fishtail braid with loose curls if you want to steal the show. There won't be any regrets about that I'm telling you.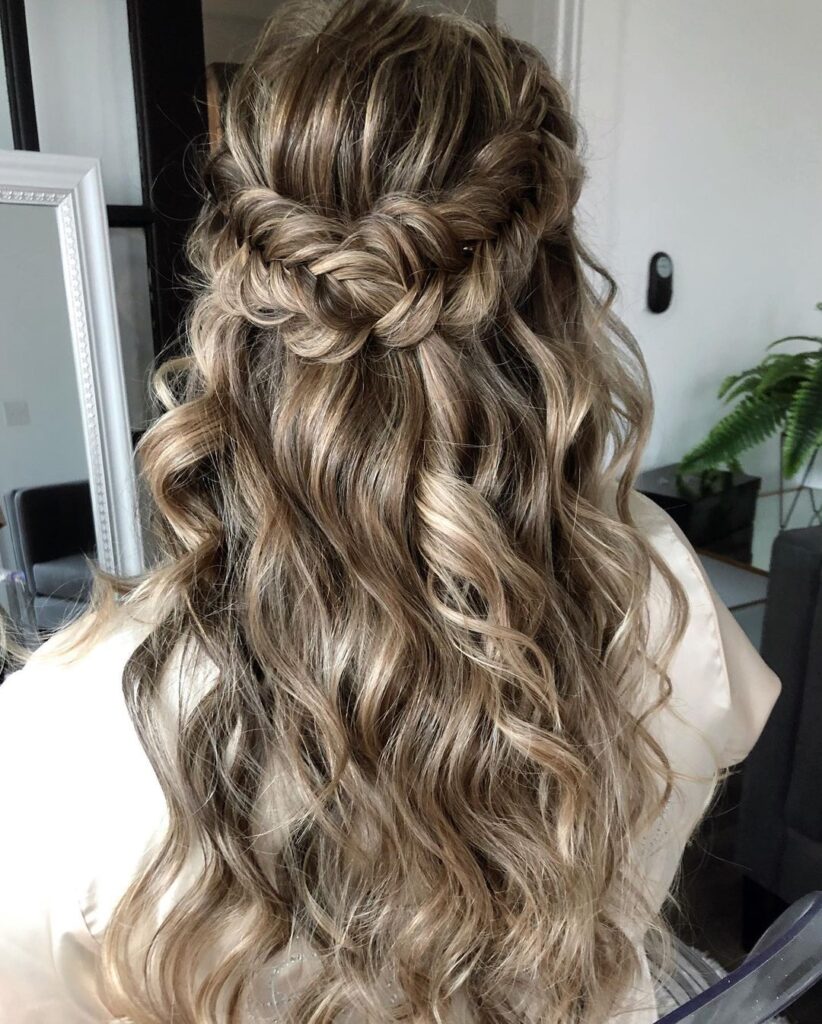 5 – Enchanting Style for Marriage Ceremonies
This style is the same as the above one but with bubbly small fishtail portions. Do you see? This will look so exemplary on you so do give it a try. You can add a nice hairpiece to your hair with that too.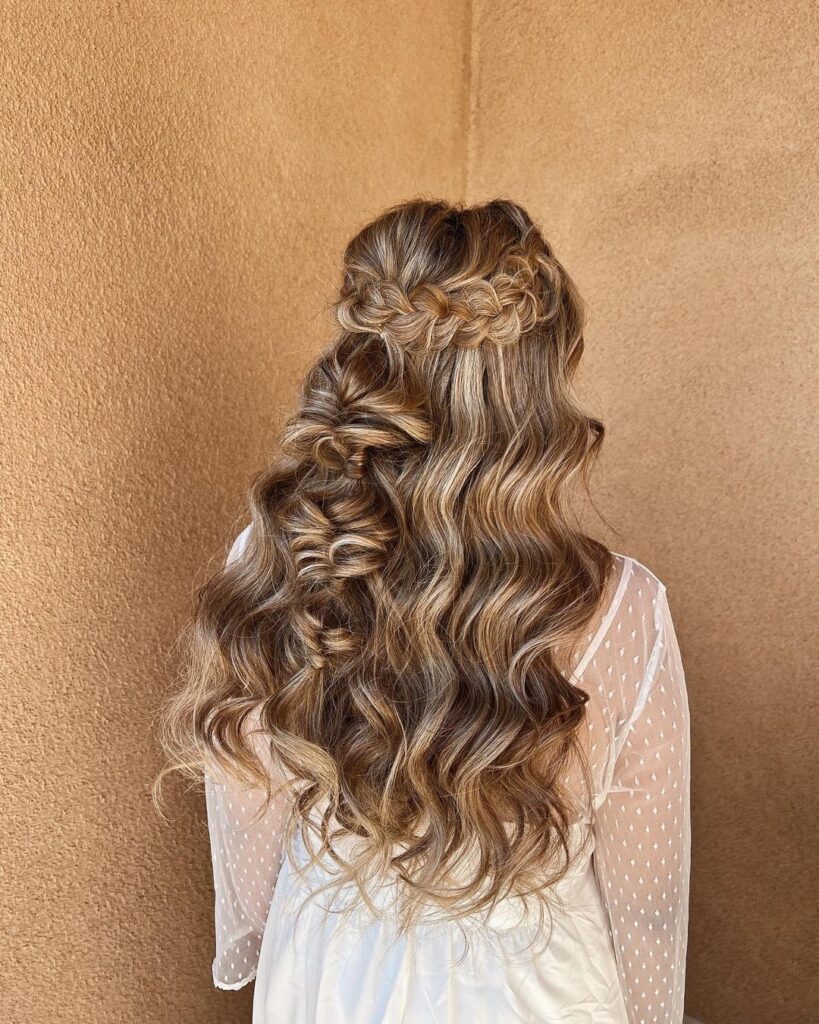 4 – Cascading Low Ponytail
Nothing looks more alluring than the cascading low ponytails. I just love the texture and the twist in this style. It looks so magical, right? Do try it and add that sparkly hairpiece on one side. It looks so great below!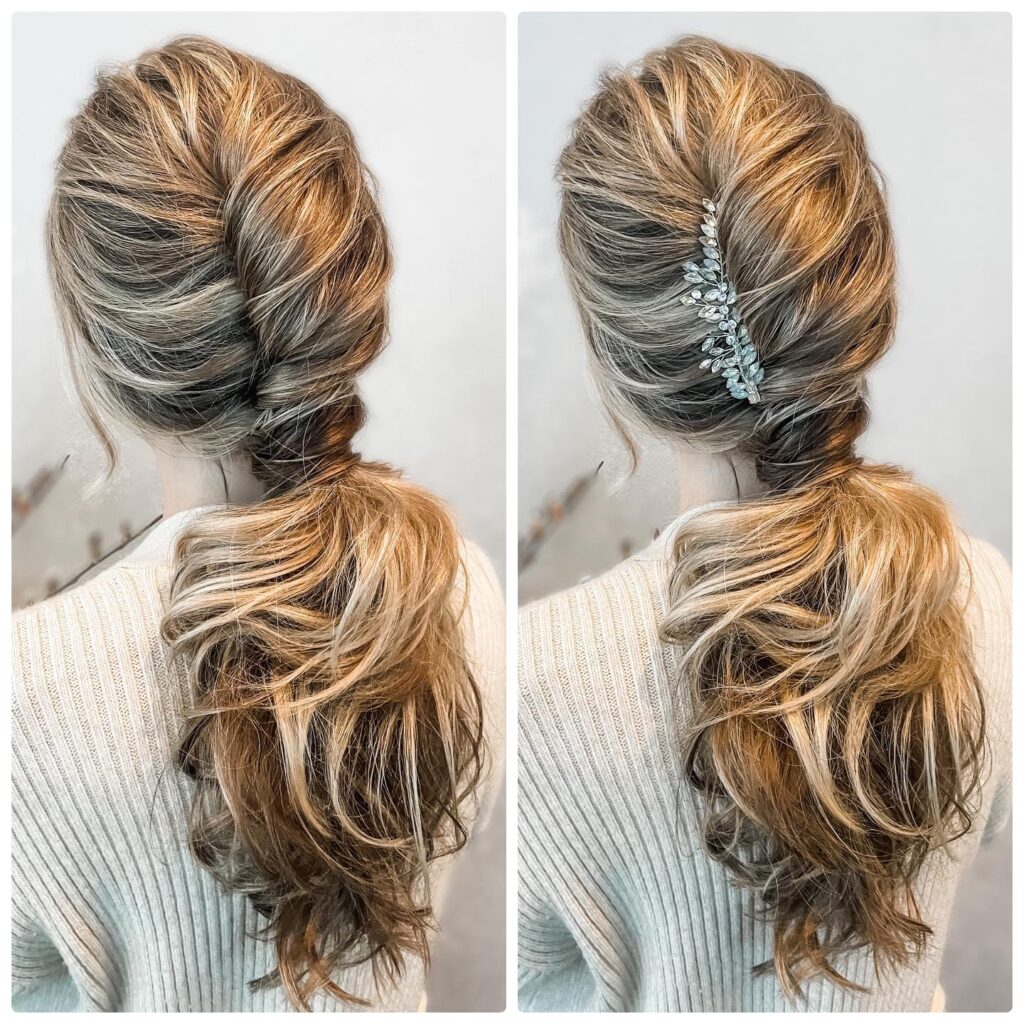 How Celebrities Style Their Hair When Attending Weddings
You know we love celebrity style trends so let's take a quick look at how some of our favourites styled their hair when attending wedding functions:
3 – Gigi and Bella Hadid
While attending Marc Jacob's wedding, Gigi was soon in beach waves and a hat while Bella looked super glam in a sleek ponytail with bangs.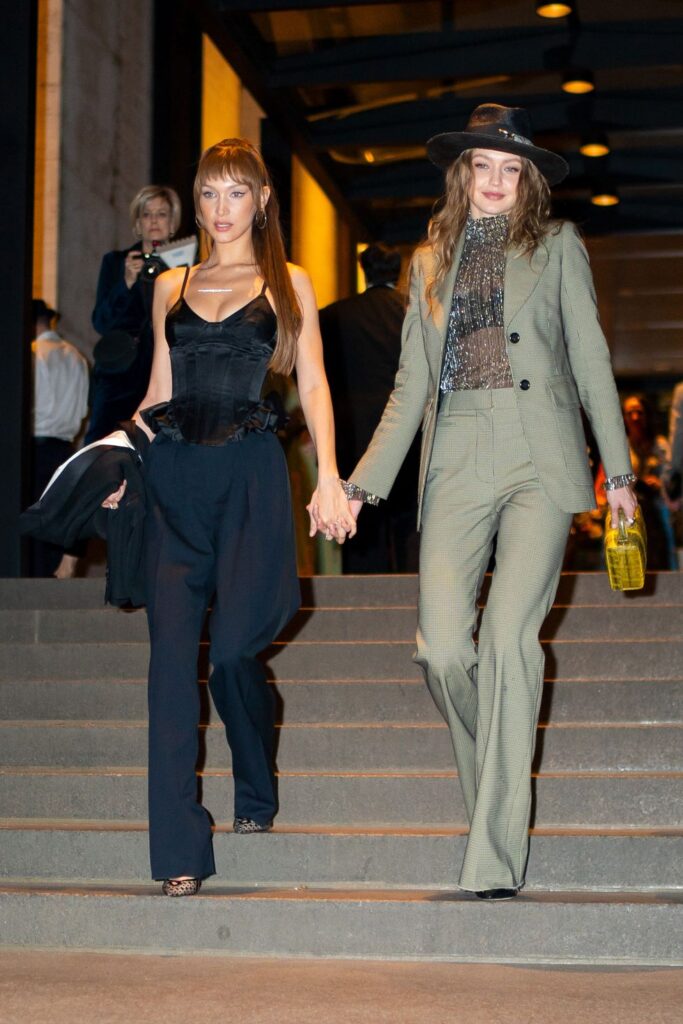 2 – Jennifer Lopez
As per her stories, Jennifer attended Marc Anthony's wedding in a messy high bun and long, center parted side bangs.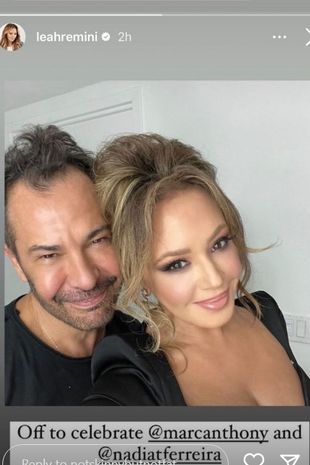 1 – Victoria Beckham
Here's another one of our favourite looks from Marc Anthony's wedding. Victoria was seen in a sleek, spiky bun that went perfectly with her dress. This bun is super easy to make, especially for girls with short hair as you don't need to worry about tucking in your hair strands.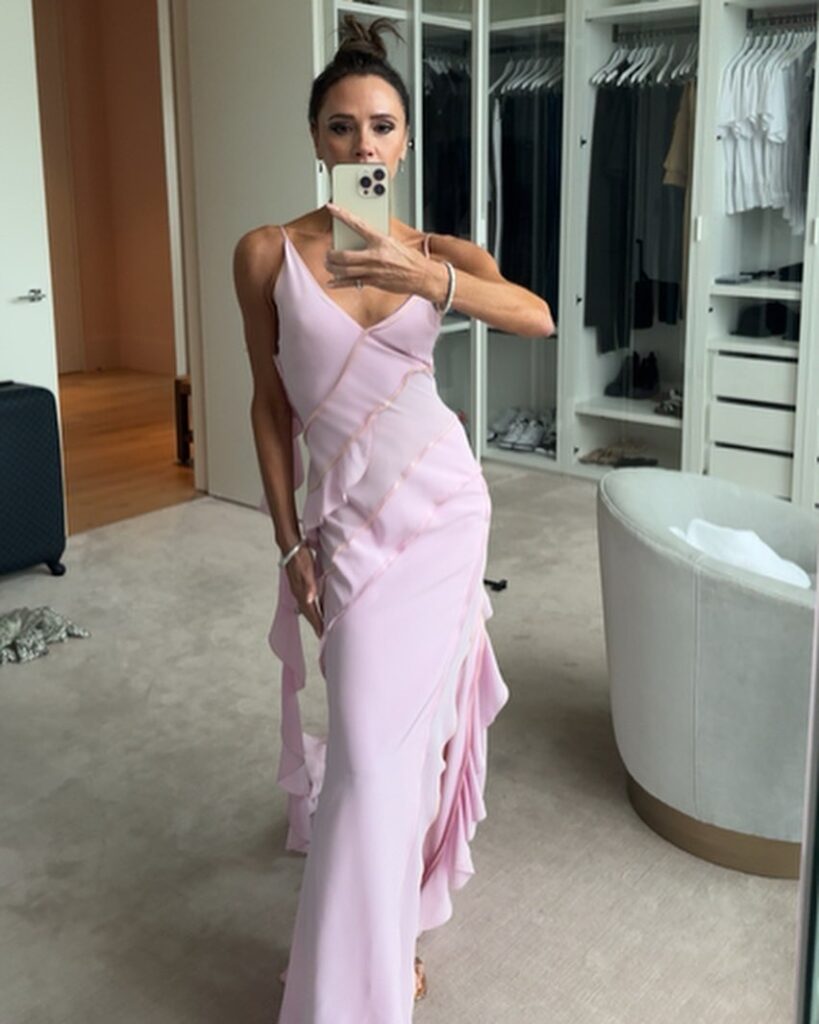 FAQs
Q – How can I make my hair look thicker for a wedding?
Ans – If you want a more voluminous look with your hair then do opt for beach waves, loose curls, or blow-dried hairstyles. You can also use hair extensions for adding an extra boost to your look. You can use mousse in combination with Velcro or heated rollers for bouncy hair. Back combining of front hair also gives them an extra volume and the scale appears full with it. For a bouncy and voluminous bun, do add a braid around it. The braid tends to accentuate the bun more appropriately.
Q – What hair accessories can wedding guests wear?
Ans – Hair accessories like bobby pins, hair barrettes, headbands, glittery hair clips, and pearl-beaded bridal hair vines, crystal hairpins, vine hair pieces, hair combs, and pearl hairpins, are a must-have for wedding hairstyles. They assist you in styling the most sought-after hairstyles like a chignon, high ponytail, pushed-back sleek hair down, cascading braids, fishtail braids, beach waves, top knots, wavy buns, and braided buns, etc.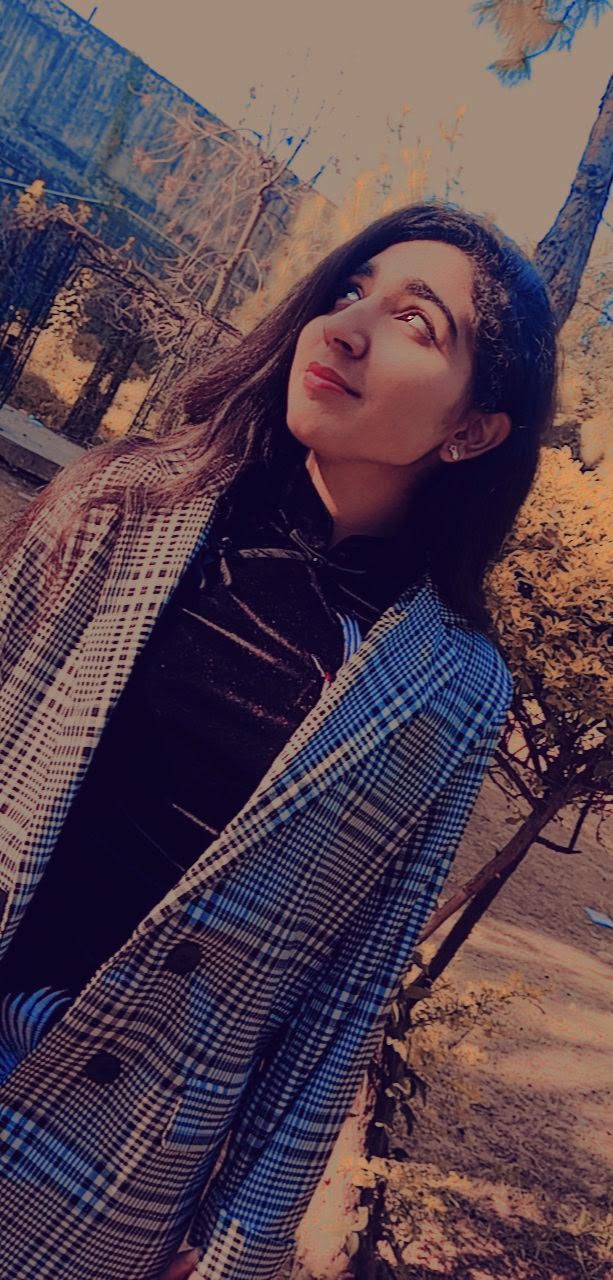 Noor-ul-ain Ali is a 20-year-old freelance writer. She is an amateur painter and is fond of reading books which are a driving force for her creativity and assist in polishing her writing skills. She is enigmatic as she knows how to secure her aloofness with her bubbly nature.