Mini Hair Clips Hairstyles – Are you fed up with holding back your stray hairs all the time? And, looking for something that can solve the issue while making you look more adorable? No worries, you're at the right stop! Mini hair clips are the best solution for your hair, no matter the length, and now they are on-trend as well. No matter what kind of hair you've got, you can try new easy hairstyles with mini clips, since they can go with all hair types.
Hair pins are still as fashionable as they were decades ago. They once were the mainstay of small children and old ladies, but now a fashion accessory for anyone with hair has taken on novel forms. Resin, pearls, and even rhinestones are now incorporated into the clips. They are available in many styles and colours. These days, they become an accessory that women can sport to look chic no matter what activity they're planning to do.
How To Style Hair Clips
Discovering new ways to create stunning looks with hair is the best feeling ever. Especially, when it comes to working with your locks and creating fresh and unique looks that can wear for any occasion. Besides, hair clips are one of the most commonly used hairstyling tools. They are lightweight, affordable, and can be used with just about any hair type.
If you're one of those whose first assumption about the mini clips was that we can only wear them one or two ways. But we're here to show you otherwise. There are many ways you can incorporate the mini hair clip trend into your look. In spite of their versatility, hair clips don't cost a fortune or require a lot of styling to look fabulous. They can keep your hair out of your face while you work, add a pop of color to monochrome outfits, or dress up your look for a night out.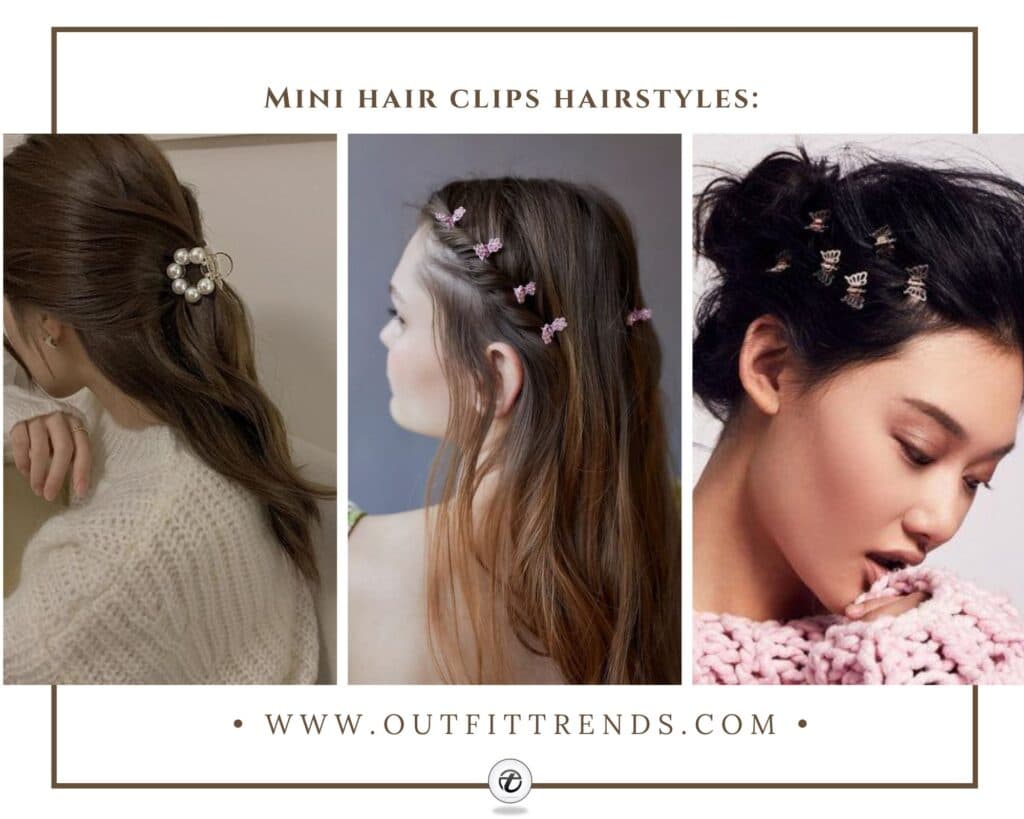 Tips For Styling Mini Claw Clips
Hair clips need to be placed correctly. Make sure you incorporate the clip in a way that enhances the beauty of your eyes or cheeks and make them eye-catching. For instance, you can place it simply just above the ear on a slightly lower side.
Never think too much on using more than one clip and never force yourself to add a bunch of hair into one mini clip. Just wear as many clips as you want to secure more hair.
Just like with any important thing, you should be kind to your hairs. While shopping for hair accessories, you can see a variety of clip materials and grip approaches out there. Consider clips that shouldn't pull or damage your hairs.
Last but not least tip, make the internet your guide and look for inspirational ideas. Find someone who's got the same hair length, color, texture as yours and check how different hairdos look on them.
13 – Space Bun Style With Mini Claw Clips
This one is awesome! These fun space buns with claw clips are absolutely adorable and an easy way to make use of our favorite hair accessory. In order to create some cute hairstyles with mini claw clips, divide your hair into two sections in the middle. Each section should be pulled back to create two ponytails on each side of the head. Afterwards, twist your hair around the ponytail base and secure them with small claw clips to keep them in place, and you're good to go!
12 – Kate Middleton's Mini Clips Hairdo
It was popular in the 90s to wear mini claw clips (such as Hilary Duff and Sarah Michelle), but now they're trendy again. These are worn nostalgically by the young-set with several crossing their hairlines. You can also create a simple side twist, or make a bun or ponytail with accents. Choosing decent mini clips in a complementary color will help you to achieve a sophisticated hairstyle like Kate Middleton's.
11 – Simple Long Hair Clip Style
If you are looking for a cute and simple hair style, try mini clip hairstyles. Mini clip hairstyles will not hold your hair like large ones, but they will make you look cute and minimize the appearance of frizz. If you have long hair, try a mini clip to refresh your look at any small event. Take a few hairs and slightly twist them on respective sides, now you're ready to go!
10 – Half Pull Back Look For Short Hair
A decent pearl claw clip is all it takes to turn your short hairstyle for mini claw clips into a cute, vintage-inspired hairstyle. All you need to do is pull back your front hair and secure it at the nape of the neck with a metal claw clip. Get in on the mini claw clip trends right away, since they no longer can wait for you!
9 – Slight Twist With Mini Butterfly Clips
Luckily, if you were too young in the '90s to try out butterfly clips on your pixie cut, the trend has come back. They are super-cute on short hair, and they're great for a person who has trouble getting their pixie style to behave, says Los Angeles-based hairstylist Clariss Rubenstein. Just twist the front pieces back, tightly clip them to the head and let them dangle down.
8 – Mini Flower Clips On Side Twist
For a cousin's engagement, you can wear this cute hair hack by just taking small sections of hair from the left side and twisting them. You can clip them up with adorable mini flower clips to create a soft, touchable look that is perfect for any amazing dress you want to wear!
7 – Loose Braid Hairstyle With Mini Clips
A braid is already an ornate hairstyle, but you can take it to the next level by adding bold hair clips. Two-twist braids, french or Dutch braids can all be made more secure with claw clips. Hair clips can heighten the impact of your beauty. Pick out a few decorative ones to achieve an equally impressive visual effect.
6 – Stunning Style With Half Top Knot And Mini Claw Clip
If you want a unique style, forgo typical hair adornments like bobby pins and hair ties for a hair clip instead. Just wrap your top section in a slight bun and secure it with a mini claw clip. Your top knot just got an upgrade.
5 – Look Pretty With Braids All Over The Mini Clips
Hair claw clips can be super youthful, charming, and crazy fun. These hairstyles make no apologies for being whimsical, and experimental. Older people may find these hair styles to be silly and childish, but that is exactly the point! It is important to embrace your inner spirit in order to lead a happier life. Create braids all over your head and secure them with rubber bands. Decorate with mini rock clips for an easy, fun style that's perfect for everyday wear.
4 – Twisted Rows With Orange Mini Clips
You can keep your hair out of the way with this stylish and practical look. Based on how much hair you have, divide your hairline into several one-inch sections. Twist one section of hair away from your hairline and place it in the opposite direction. After you reach midway, stop twisting and secure the hair with orange mini hair clips. Repeat with the remaining sections. Since a unique hairstyle is like a new relationship, it makes you giddy, confident, and excited.
3 – Messy Bun With Striking Mini Clips
What could be better than a bun with a messy appearance? The low messy bun is hardly a time-consuming hairstyle; it is simple to do and does not bind in any way. You can achieve this look by slicking your hair back in a bun. To finish the look, attach butterfly clips to the bun. Loose hair texture allows for a freer look and avoids any possible damage to hair follicles. Moreover, it fends off your hair roots strains and releasing tension while promoting hair growth.
2 – Easy To Wear Half Up Small Bun Hairstyle With Mini Clips
There's nothing easy about this hairstyle, but you'll love it because it's SO cute and takes no time at all! You'll need this on those days when your hair doesn't have the luxury of being styled. Moreover, styling your hair every day, whether in the form of curling or flat ironing, is time-consuming. This small clip hairstyle is a great way to give your hair a break from all the heat. You can easily create this small clip hairstyle by lifting up half of your hair (or however much you plan to put into your clip) and twisting it around your fingers. Continue to twist the section of hair until it is rolled up completely. Take the hair clip and place it over the twisted-up hair as if it were a ball. The clip should be tightly secured so that the hair doesn't fall out. Easy!
1 – How To Know If Any Hair Style That Suits You
Making a decision can be tricky when faced with so many styles to choose from. It is important to know which style will suit your hair. I've spent the better part of a decade looking for the types of hairstyles that work for my thick, yet fine, naturally straight hair, and I'm constantly discovering new ones. Hence, you must try different styles every day even if you're alone at home, not only when going out. Try and test which few styles suit you well and enhance your overall appearance. You will naturally feel glam in the look since the right hairstyle can make a plain woman beautiful and a beautiful woman unforgettable.
Q. Are hair clips making a comeback?
A. Absolutely, mini hair clips are on trend for 2022, particularly butterfly and floral mini clips. Every year a new trend dominates the old ones, since scrunchies were on the top last year. However, sometimes some things will always be a sensation for the people, just like the claw hair clips, never doubt!
Q. Why are claw clips better than hair ties?
A. Because they are easy-to-use, you just clip your hair up and don't have to make weird dents. Plus, they are super cute and can go with any dress you put on. Sometimes they can also go with hair ties just to make them look fuller and eye-catching. They are ideal for fine hairs, but if you've got bangs or short layers, these goody clips still can be convenient to make stunning multiple hairdos.
Q. Are claw clips style still trending in 2022?
A. The trend of claw clips has been on spark since 2018 ramp shows. The 90s hair trends are now winning the hearts again in 2022 since you-all know, OLD IS GOLD! Similarly, mini hair clips trend is giving more refine look to fit in 2022. You can see more dainty clips with exquisite details in shiny finishes.