How to wear black and navy – "Having a black and navy duo on proms and other events? No, Absolutely not." This is what most girls think when someone rants about this duo. But, isn't it tiring to always go with bland monotones when you can mix them and pro-create something new?
Think out-of-the-box and plan on carrying a new duo fashion trend that is sure to stand out of the crowd as being the haute couture of the night.
Best Black And Navy Blue Outfits
Black is the definition of ethnicity and it has power, elegance, and luxury too. Just think of how gorgeous the Duchess of Cambridge, Kate Middleton, looked in a sheer black gown that bagged all the compliments at the Royal Variety Performance 2019.
But where black stands enigmatic, navy blue, on the other hand, is all about grace. It not only makes you look ostentatious but also diligent and graceful through its power and sophistication. Black is an eye-catcher and navy blue is elegant but having them together for an event is a risky experiment and Girls certainly can not risk their looks right?
To ward off such fears of our beauties, we are here to assist them in choosing and styling a stunning outfit in this duo that will prove both pristine and sassy. Keep reading the 20 ways we have discovered for styling the black and navy together.
Tips And Tricks on Wearing Black And Navy Together
To make you look chic and an embodiment of a bolt from the blue, metaphorically speaking, here are some quick tips for your future outfits.
Do not overdo your outfit. While wearing a navy blue dress, do not jump into extreme fashion. Start with a cozy navy long sweater dress and emphasize it with black leggings or jeans.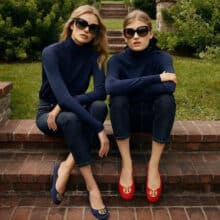 Be open to enhancing your dress-up sense by experimenting with different outfits. Velvet is not for casual outings but you dress it down. For example, add a pair of black stockings to a mini-dress.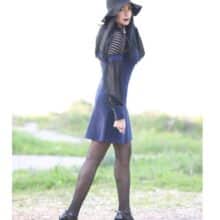 Be open to experimenting with different colour combinations. Use a white blouse with a lavender blazer, a black shrug with a navy skirt, or a black dress with a cream-coloured muffler like Meghan Markle. These combos are all fine. They will are not only decent but will also look good on the one carrying them.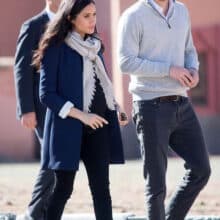 Accessorize minimally. Add some simple jewellery like a black choker or a silver bracelet etc and you are good to go for your event.
20 – Pair Your Navy Sweater With Formal Pants
Enjoy being casual and raunchy with some simple formal black pants and jumper tops. Glamorous Liu Wen showcases how beautiful one might look while pairing a navy cable knit turtle neck jumper top with high-waist sailor pants.
So, just plunge into this amazing combo and complete your look with some chunky accessories like a cute silver clutch or hooped silver earrings, etc. With this outfit done, you are perfectly ready to slay.
19 – Modest Outfit for Hijab
This look is specifically for Muslim girls who face a hard time deciding what scarf to wear with their gowns. To look really pretty and decent one should give a shot to a navy scarf by donning it over a dark gown. This will surely increase your "beauty in simplicity" look by 100 folds.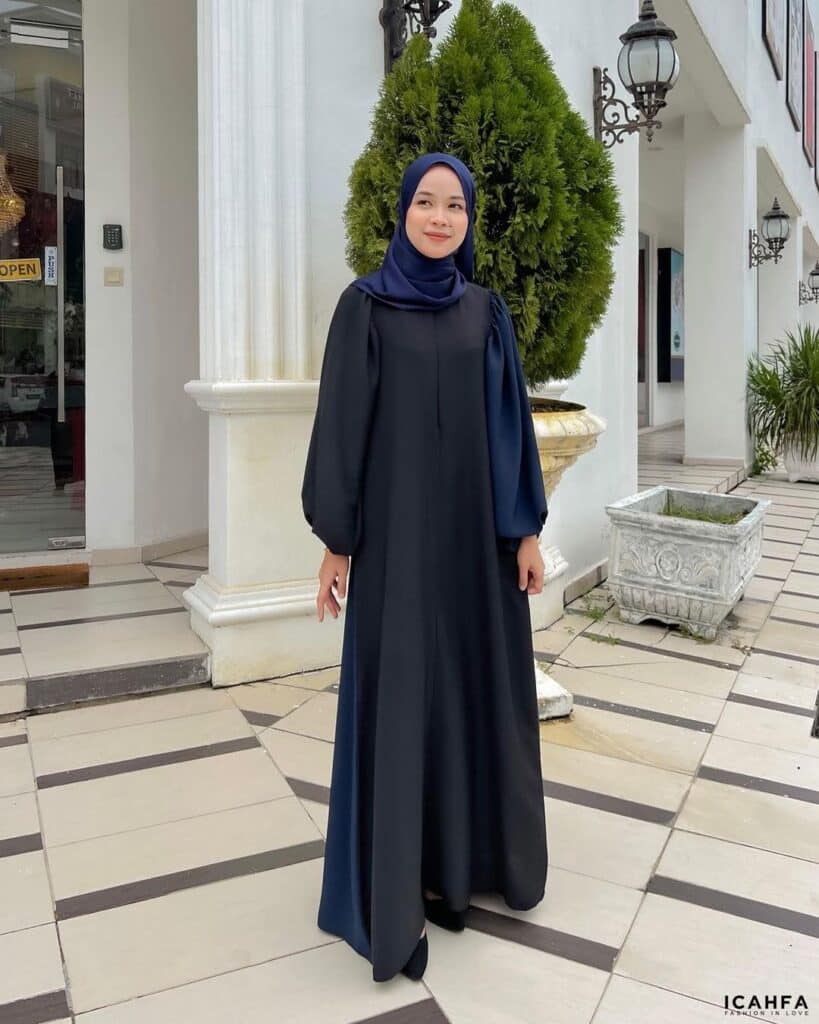 18 – Add A Black Coat Over A Sweater
Feeling in cold winter but actually getting fascinated by the idea to walk on the streets with style? If that is the case, then the outfit below is meant for you.
To bring your idea into practicality, first, get rid of the warm duvet holding you back. Now pull out the dusty blazer from your wardrobe then step into some black knee high boots and a navy sweater dress and Tada! you are ready to put the streets on fire with your screamingly gorgeous look.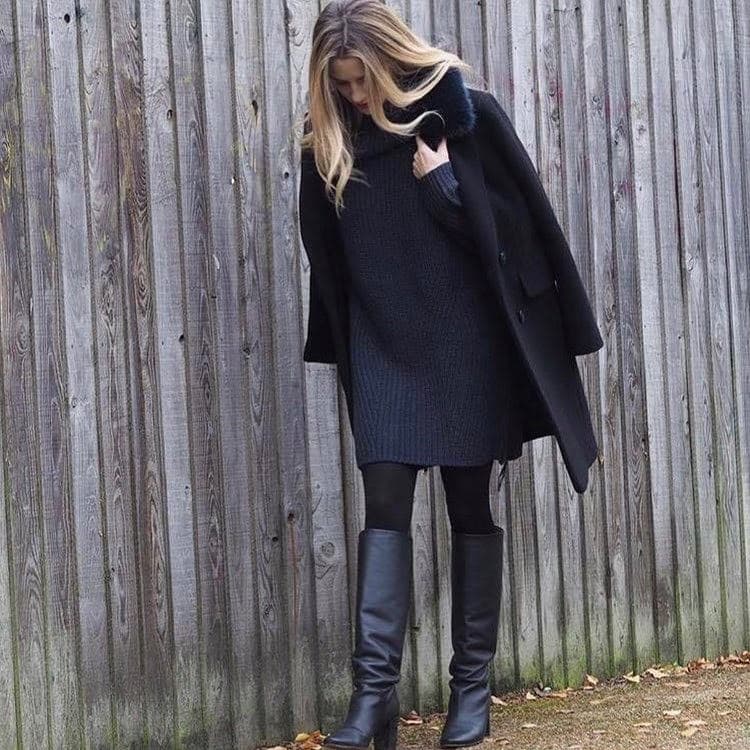 17 – Add Blue Blazer Over Your Colorful Outfit
Getting bored by black, blue, and other monotones? or feeling jaded by a formal color duo? If yes, then why follow such a boring trend when you can set new a new street-style trend with a blend of different colors? So, walk like a diva in a formal navy blazer with some cool-colored striped palazzo pants.
To accessorize this daring outfit use a black leather trapezoid bag with it. Also, comb your hair in a low ponytail and you are ready to rock.
16 – Skirt With T-Shirt And Ankle Boots
Getting ready for a girls' night out but don't know what to wear with your tulle senorita skirt? Now don't fret and faint from all the hustle. Think about it and be creative.
Show your innovation by throwing on a T-top over the black tulle skirt and making them look like a match made in heaven.
Add black ankle boots and complete it more with some chunky jewelry. You are good to go.
This color combination is perfect for your loungewear in winter. Just throw in a sweater and jeggings.
Make your hair and add a simple pendant if you want.
If you want a more refreshing rather than dull and homesick look then apply some light makeup. Now, you are ready to spend the day fashionably at home.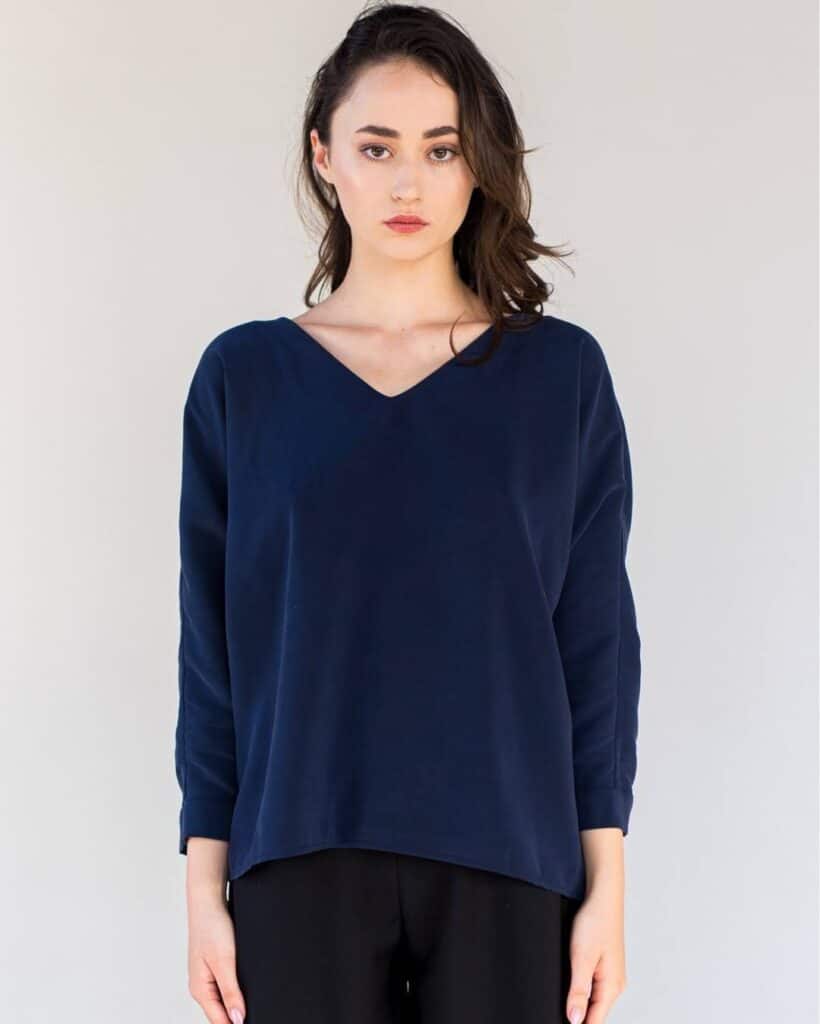 14 – Take Inspiration from Kate Middleton
Do you want to feel classy and majestic like The Duchess of Cambridge, Kate Middleton? Then slip yourself into a double-breast navy jacket and complete your formal look with some boot-cut pants and heels.
To add more richness to your royal look wear a bluish-pendant necklace and golden earrings with this outfit. Make your look more charismatic by trying vintage makeup looks with this outfit.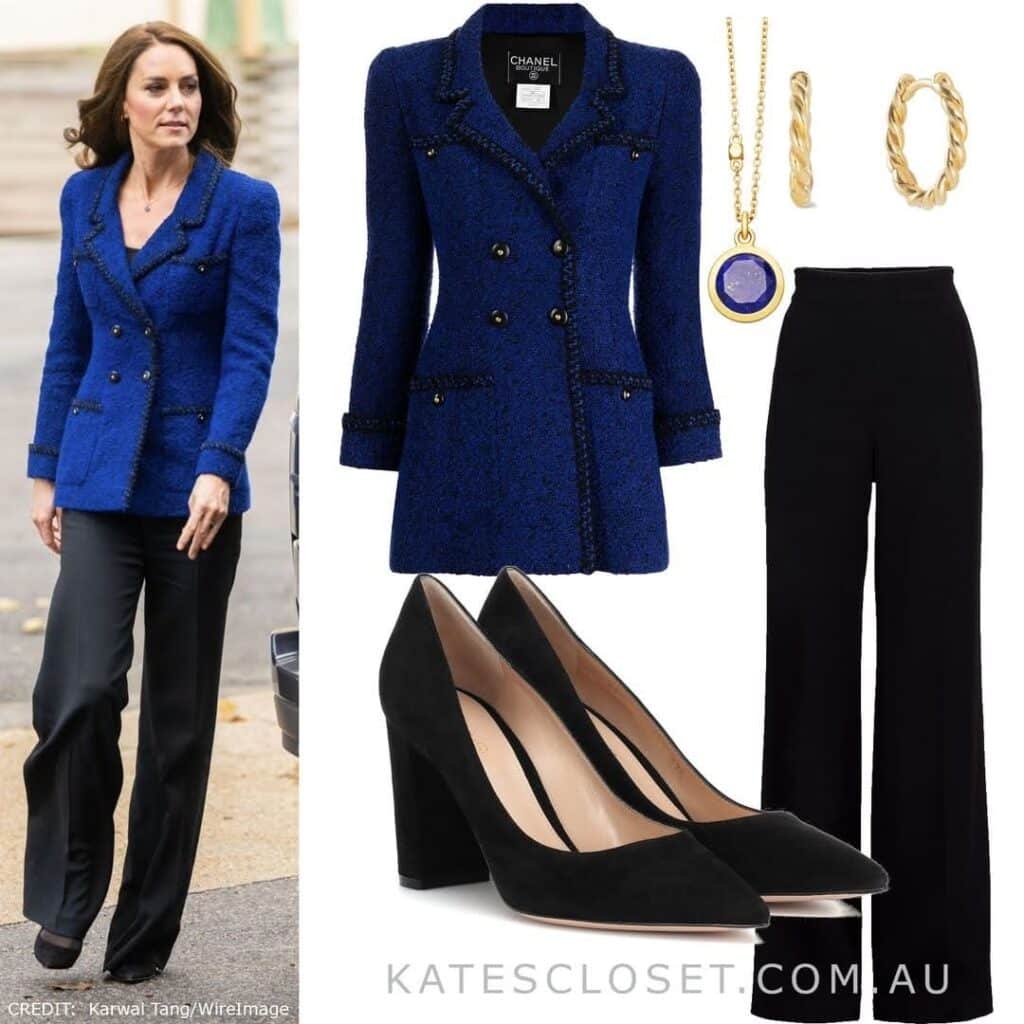 13 – Iconic Britney Spears' Outfit
While buzzing with the songs of Britney Spears, feel the wind of the 90s and early 2000s with a sexy v-line knotted crop top. Pull it over with some black jeans or capris and complete your look.
Such an outfit looks so iconic and classy that every girl should give it a shot. With some blow-dried hair and scintillating eye makeup, the look of the 90s will revive and enhance the outfit.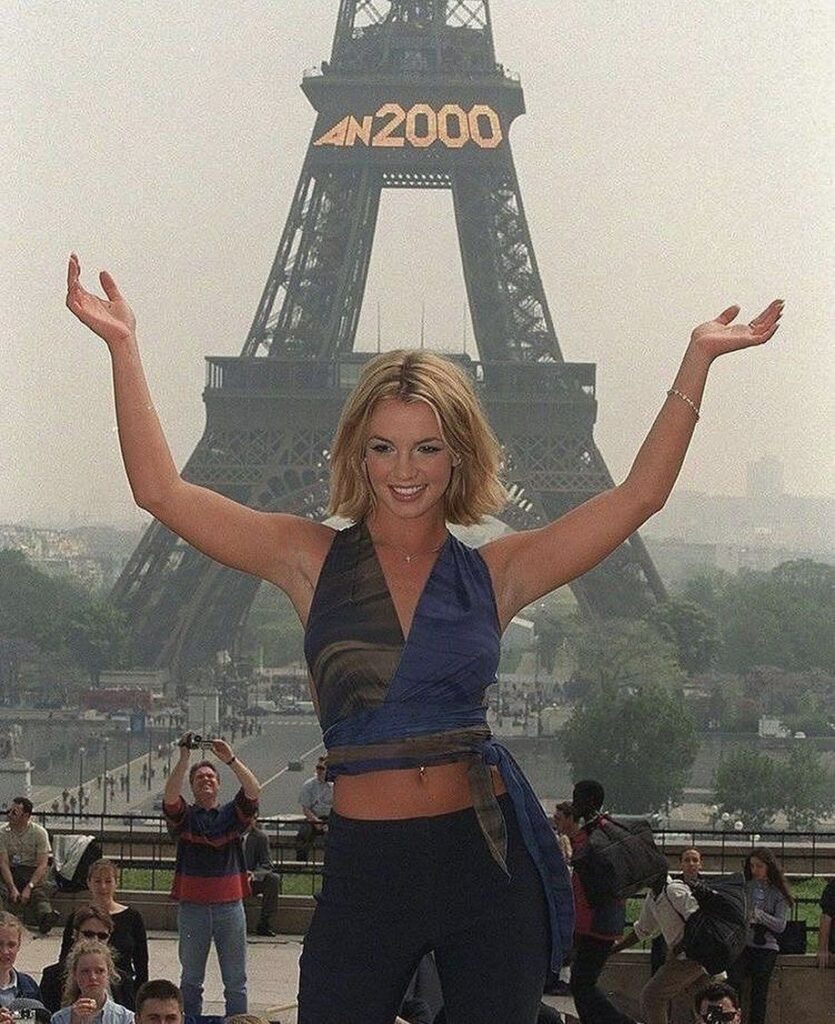 12 – Formal Outfit With A Skirt
Are you stuck between formal and casual outfits while going out? Don't fret yourself and simply style elegance like Emma Corrin. With a simple Miu Miu nautical shirt and black leather skirt, you can rock this look.
To be more ravishing with this outfit, carry a little black handbag with you. Now go boating and enjoy your style with this outfit.
11 – Throw Blue Coat Over All Black Outfit
Follow Meghan Markle's choice of cosy outfit as it will keep you edgy and warm. To follow this cozy fashion just put on a navy blue blazer over your all-black outfit. Throw a cream colored muffler and you are done.
Not just for the outfit but take inspiration for makeup too. Just understand the top celebrity's eye makeup secrets and do it. Finish the look with nude lipstick and you are good to go.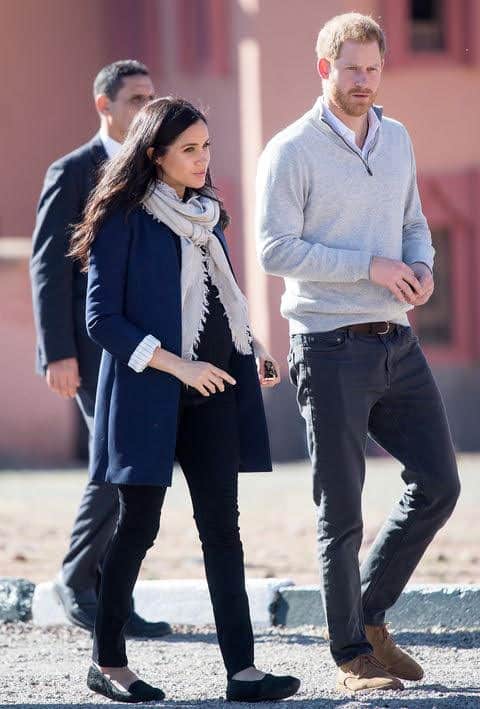 10 – Winter Outfit Ideas for Working Women
This outfit is specifically for women who want to stand against the world with hyped looks. For such bold looks, pair up your cardigan with black tights.
You can also pair it with black cargo pants for a casual look.
Enrich this daring outfit with a pair of glossy long shoes and black hobo bag. Now you are ready to jump into a thrilling adventure and ride your world with this amazing outfit.
9 – How to Style Navy Blue Culottes?
This outfit is the best for every girl who loves to have a model-off-duty look. This winter outfit looks so alluring when paired with a black leather jacket and sartorial culottes.
So, girls go for a photoshoot with this model-off duty outfit. For adding more colour to it just walk in on the streets with cute heels and a handbag swinging in your arms.
8 – Balloon Sleeves Top With Black Pants
Balloon sleeves are at the pinnacle of today's fashion trend and are looked-forward to by many girls. So, to look beautiful in this trend without looking awkward all you need is a balloon-sleeved navy top and a nice set of pyjamas.
Slay this gorgeous look with some funky accessories like sunglasses, a watch and curled hair. With everything done, now light the streets with your glamorous look.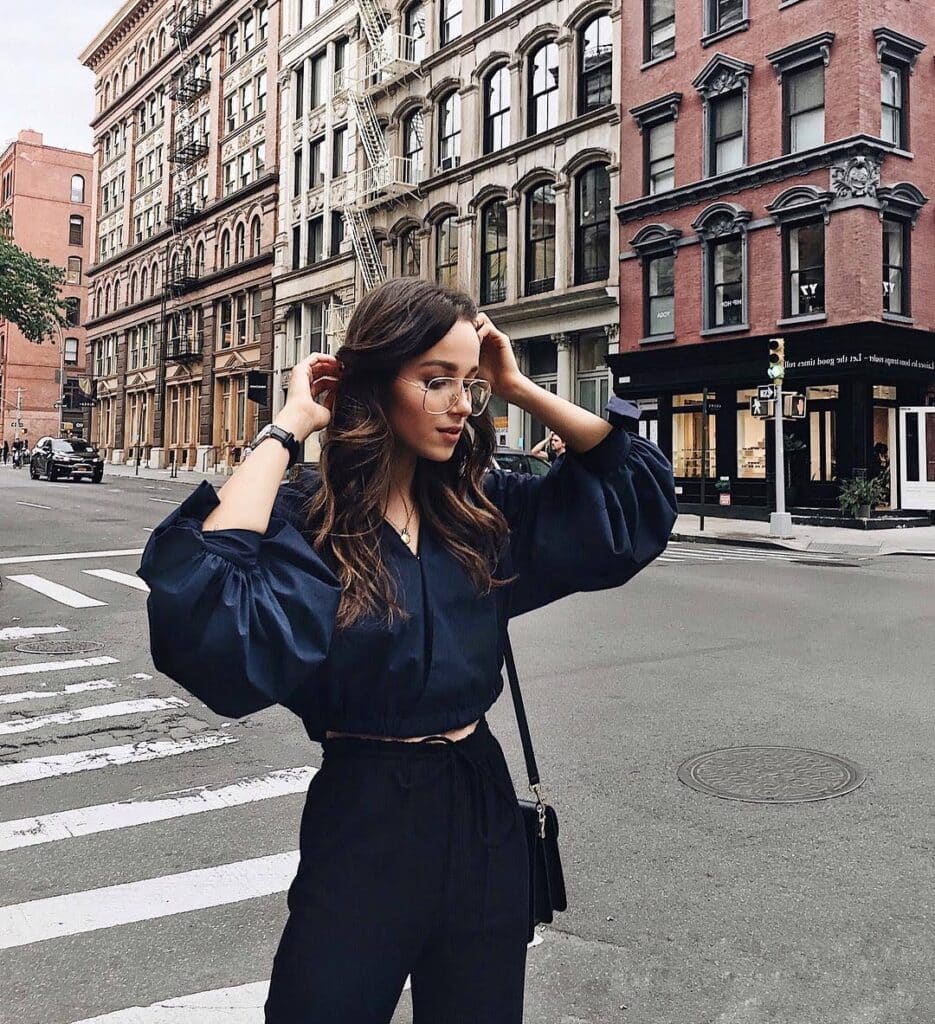 7 – Winter Get-Together Outfits for Mature Women
This outfit is particularly for moms managing their children while having a casual get-together with a friend.
A pair of embellished top with black satin skirts will prove a blessing in disguise. This outfit is not only convenient but also magnificent.
Add earrings and simple pendants. Wear elegant footwear like pump heels and nude make-up. You are sorted for the day!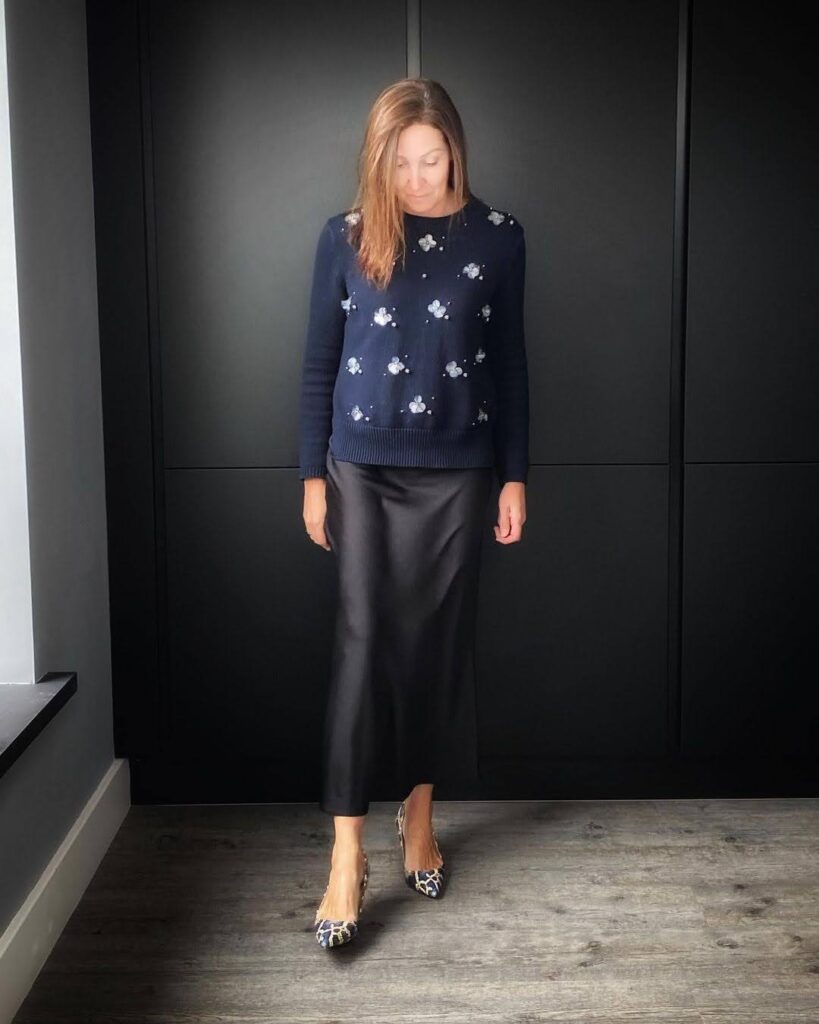 6 – Cool And Casual Outfits for Sisters
Wanna wear a slaying look without doing anything? Then try a turtleneck chic top with black jeans. This duo will never disappoint you. Though simple, it is still enticing.
For more blatant look, add some chic glasses, a cute pair of contrasting pumps and a low ponytail to your outfit.
4 – Flared Pants And Blazer
For those who want to look stylish and authoritative, this outfit is the one for you. All it needs is a simple pairing of a formal blazer with striped pants and a nice contrast of inner tops.
Now, ladies walk off with an air of command with this bossy outfit and complete your look with some amazing heels and simple makeup.
03 – Casual Disney Outfit For Girls
Ever got entranced by the musketeer's dresses while watching Disney? If so, then this godet outfit is what you were looking for. The outfit looks so breezy and catchy with its cuffed sleeves and blended colors.
Every second person will gawk at you wearing this fearless outfit. Add a wide-brimmed hat, a pair of stockings, and a nice pair of chunky heels. With that done, you are ready to shake the world with this valiant outfit.
Street style is actually the one which is followed the most and if you want to stnd-out in it then try pairing a fancy jacket with black jeans and some drippy top.
Don't forget your mini-bag as it enhances the charismatic outfit. Now, swing the mini bag and walk the streets with confidence and recklessness.
1 – Celebrity-Inspired Navy And Black Fashion
Here is our favorite Kate Davidson rocking this color combination. The Queen has served as a great inspiration for styling a plain blue dress with over-the-knee boots.
Every girl now wants to pull off a deep-neck dress with shiny black leather boots. Finish off the look with some chunky bracelets and earrings. You are ready to slay!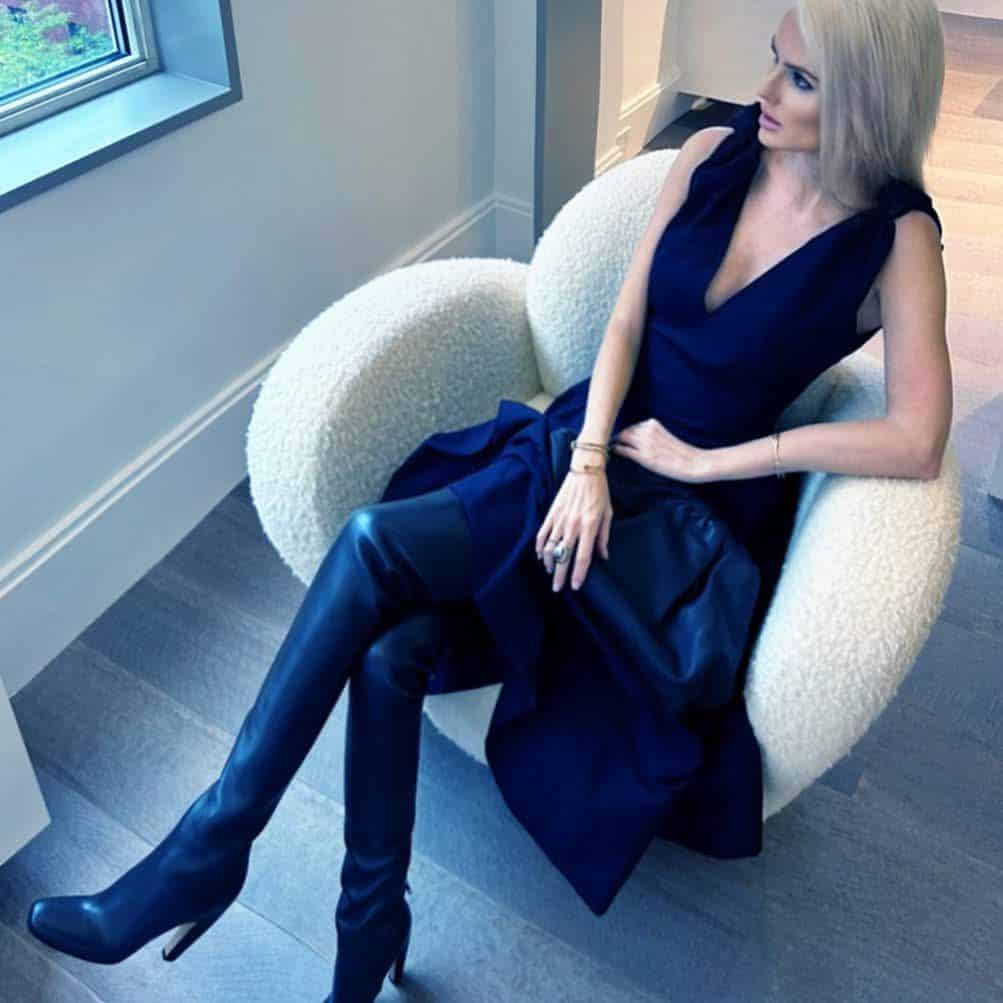 Frequently Asked Questions
Q. Is it okay to pair black suit with navy blue blazer?
Ans. Yes, you can wear a black suit with a navy blue blazer. Both work well with each other and give you a decent look.
Q. Can I use white top with black coat and navy blue pants?
Ans. Yes, you can wear a white top with a black coat and navy pants as the contrast of different colors do well with this combo.