Black Cargo Pants Outfits: Cargo pants were initially designed for the military people that later on entered the fashion industry and became a timeless fashion trend. Black cargo pants are one piece of outfit that can make your casual outfits instantly stylish. So, if you are a person who likes to dress up casually but want to look effortlessly stylish then a cargo pant outfit is the best option for you to wear.
Black cargo pants are a versatile piece of an outfit that goes along well with almost most types of tops. Their large pockets and loose fit makes them a great fit for a casual work outfit. So next time you are uncertain about what to wear to work, choose a black cargo pants outfit and slay it with your style.
What to Wear with Black Cargo Pants?
Styling cargo pants is not a very hard task, it goes along well with most casual clothes. Even a person with a basic fashion sense can create stylish black cargo pants look. For example, you can wear black cargo pants with a sports bra to crash your workout sessions in style.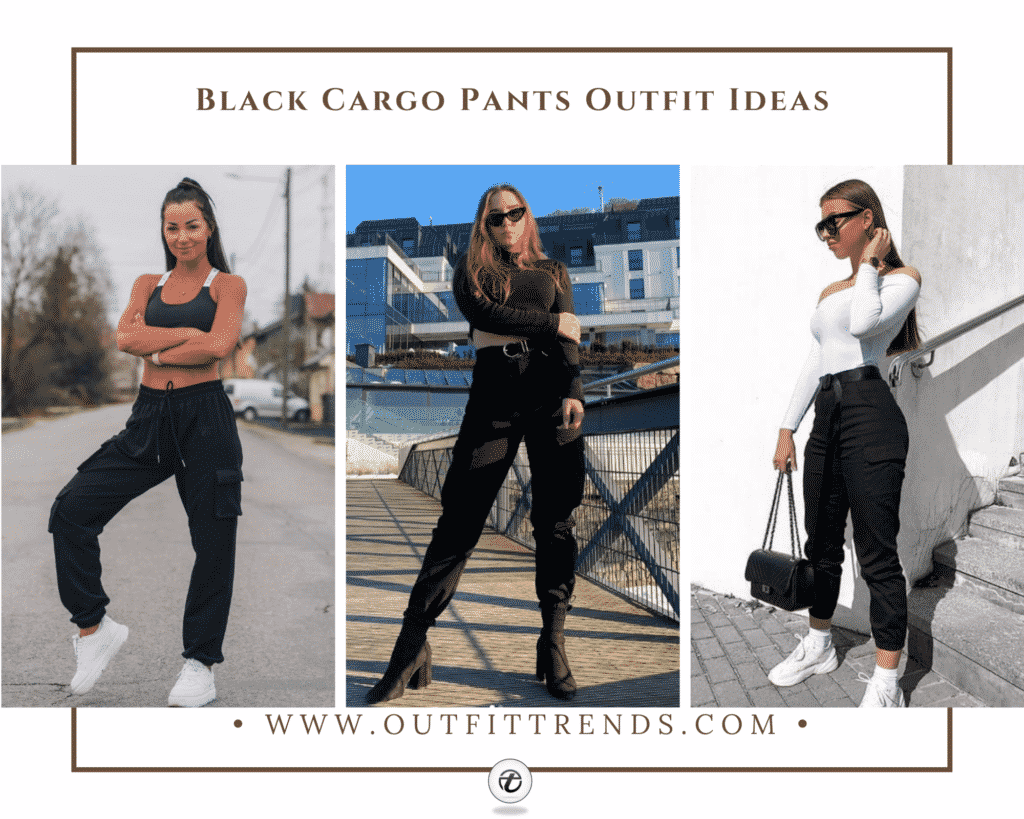 Tips on How to Wear Black Cargo Pants Outfits
Black cargo pant outfits works best with sneakers and boots, as they match the casual vibe of the outfit.
You can style a black cargo pants with many other colors but white and black will always be classic color combination.
Wear minimum accessories to compliment pants. A lot of accessories will kill the beauty of this outfit.
For daywear, a stylish pair of sunglasses can lift your black cargo pant outfit more than anything.
If you're a fan of black bottoms then don't forget to check out these Outfits with Black Jeans.
20 – With A Lace Crop Top
This is a very casual but stylish lace crop top look. She has styled a sleeveless, V neck, black crop top with a pair of black cargo pants in this outfit.
Wear some light make-up with bold red lips. Lastly, complete this look by wearing a pair of black boots.
19 – With A Sports Bra
If you are a gym enthusiast and want to burn some calories while keeping your fashion game in check then you should surely try this outfit.
A black and white sports bra has been styled with a pair of black cargo pants. If trying this look, wear no to light makeup with a casual ponytail hairstyle and white platform sneakers.
18 – With a T-Shirt for a Casual Black Cargo Pants Outfit
In this cute casual look, we see a brown T-shirt crop top with black cargo pants.
Wear shiny eye makeup and nude lip colour to complement the look. Running shoes would look best with this outfit.
17 – You Can Easily Use Them As Everyday Outfits
If you like wearing loose and breezy outfits you will surely love this wide-leg cargo outfit inspiration. We have styled a white spaghetti strap crop top with black wide-leg black cargo pants. Wear some light makeup with a sleek back bun hairstyle to compliment the entire outfit. Wear a few pieces of delicate jewelry and complete this look by wearing grey and black sneakers.
If you are fond of partying and wanted to pull off a really casual but stylish party look then you should definitely try this one: Black cargo pants with a round leg sleeveless top. Style this with kohl eye and nude lip colour and a low ponytail hairstyle. Wear a pair of golden hoop earrings and carry a black and gold crossbody bag to compliment the look. Lastly, style this entire look with square toe lace-up sandals.
16 – With a Hoodie and Hat
Here's a cute outfit for days when you don't feel like putting too much effort into dressing up or if you're having a bad hair day. Just wear your cargo pants with a hoodie and add a fedora hat.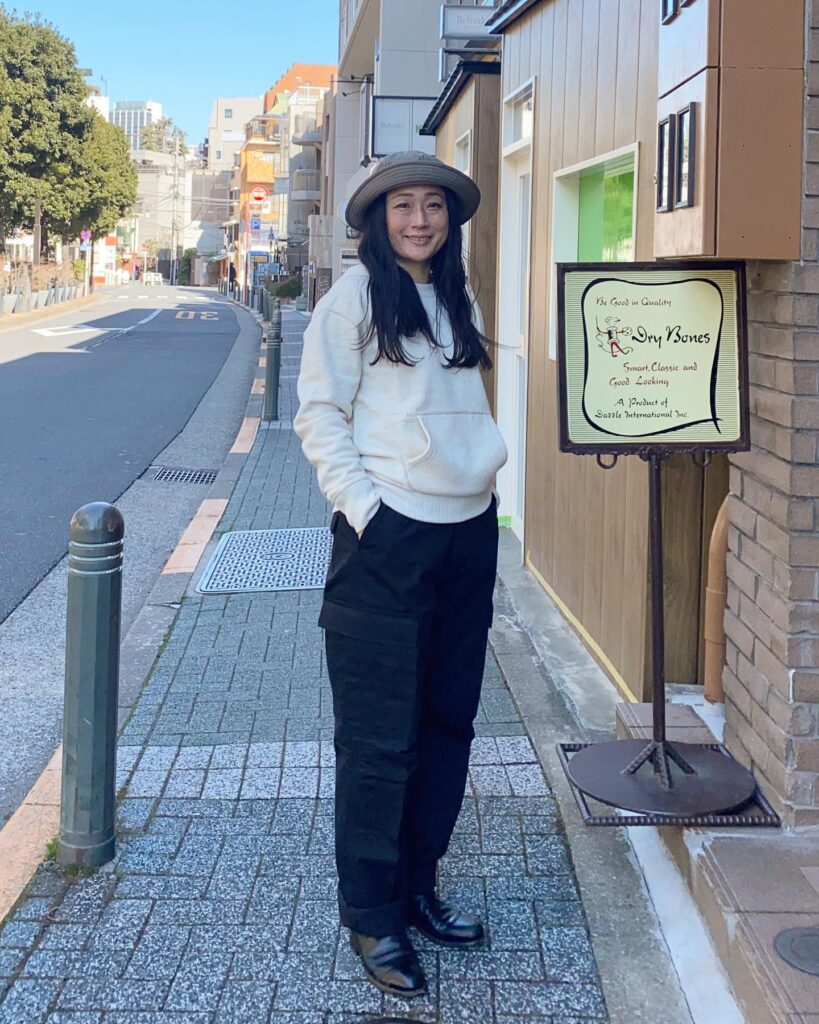 15 – With a Plaid Button Down Shirt
In this cool plaid outfit, a black and white button-down short is styled with black cargo pants. Wear some light make-up with a ponytail hairstyle. You can wear some minimalist accessories to style this outfit if you like. Lastly, complete this look with a pair of brown ankle strap heels.
14 – With Combat Boots
One of the best shoe types to wear with cargo pants are definitely combat boots.
13 – Use Them As Beach Wear Outfit
What a cute and modest beach outfit! It could even work as a boating outfit or for casual hangouts.
12 – With A Blazer
You can pretty much wear any type of blazer with cargo pants but what I love the most about this look is those white combat boots, proving our earlier point that combat boots look superb with these pants.
11 – With Off Shoulder Top
This is a pretty simple outfit but it has to be one of my favorites. Since cargo pants are kind of lose fitted, they look spectacular with well-fitted tops, especially if you can dare to show off those beauty bones in an off-shoulder top.
10 – Try an All Black Look This Fall
Turtlenecks are a must-have for the Fall season. Whether you choose a regular turtleneck or a cropped one as shown here, it'll look super cool with cargo pants. If the outfit looks too boring to you then you can always add a pop of color with your accessories.
9 – With a White Jacket In Winters
As we said before, black and white is the most classic color combination and you can never go wrong with it. It's a must for you to have at least one white-colored jacket in your wardrobe this Winter.
The style of the jacket is your own personal choice, you could go for a sherpa jacket, a bomber jacket or a simple leather jacket. But no matter what jacket you choose, it will always look good with your black cargo pants.
8 – Wear Your Cargo Pants To Work
Here's a boss girl outfit that you can try for office or even for meetings. An asymmetrical crop top has been paired with black cargo pants and layered with a blazer.
7 – With a Camel Sweater
In this street-style outfit, a beige knitted sweater is paired with black cargo pants. Style this look with a pair of sunglasses and a few delicate golds imitated accessories. Carry a camel-colored tote handbag and lastly complete this look by wearing a pair of dark brown loafers.
6 – With Satin Cami Top for Date Night
There's nothing more romantic than silk or satin camis for date nights with your significant other. Cargo pants are a good option here because they help tone down the look and make you look effortlessly stunning. Here are some more of my favorite date outfits.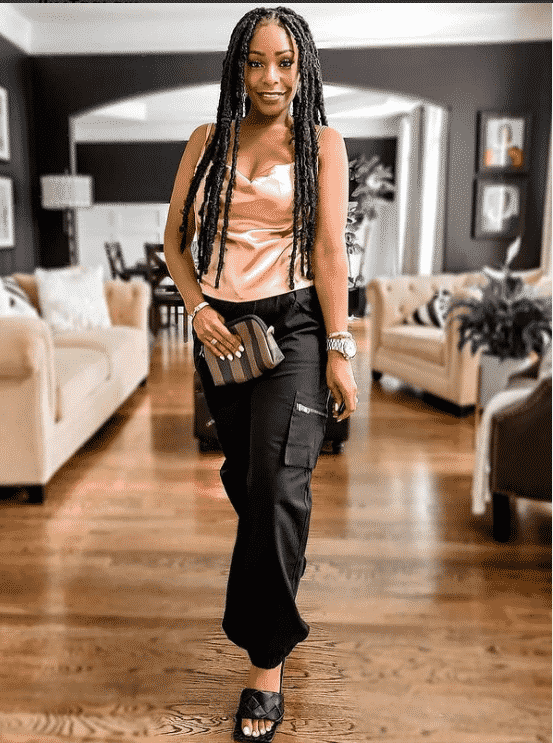 5 – With Leather Corset for Clubbing
Here's a stunning look for your next club night. Wear a black leather corset with your pants. I would switch the heels with flat shoes though since I prefer dancing in comfortable shoes. Here's our complete guide on outfits you can wear clubbing.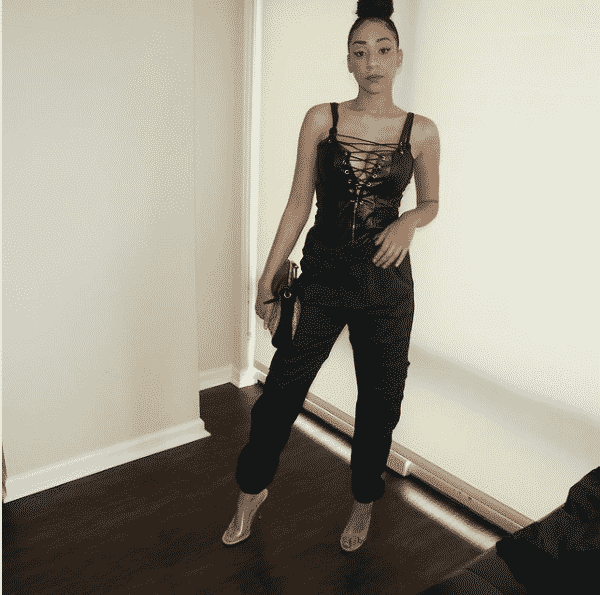 4 – With Colorful Top
Tie and dye are all the rage this year and everyone wants to try this trend. If you haven't gotten your hands on a tie-dye shirt yet then it's high time that you get one.
Go for something in a bright color like the red blouse shown here and pair it with your black cargo pants. Try to match your accessories including shoes and handbag with the color of your top.
If you too are a fan of this trend, do check out these Fabulous Ideas on How to Wear Tie-Dye Outfits.
3 – With a Plaid Blazer
Cargo pants with black crop tops or sports bras make the best athleisure outfit for jogging or working out but if you feel like layering then go for a plaid blazer.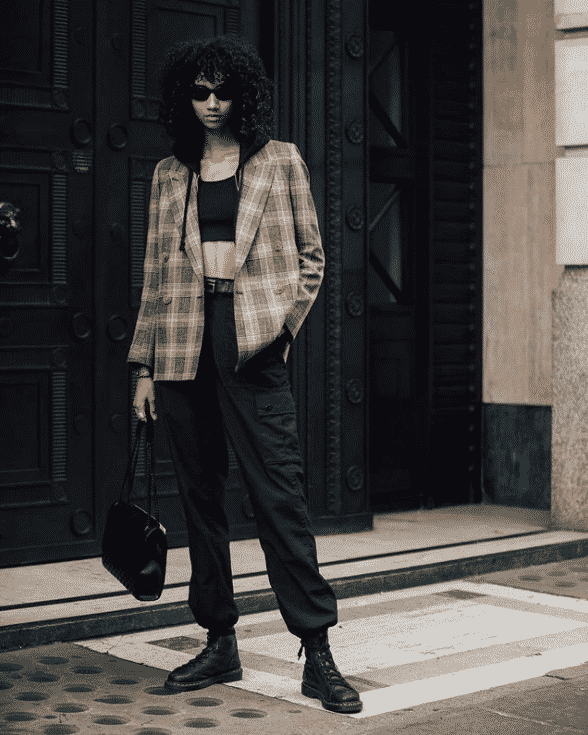 2 – With a Printed Button Down
Try this outfit for a concert, a meeting, or just hanging out with your friends. A simple yet elegant look: it comprises of a black and white button-down shirt with black cargo pants and a large black tote bag with black lace-up cargo boots.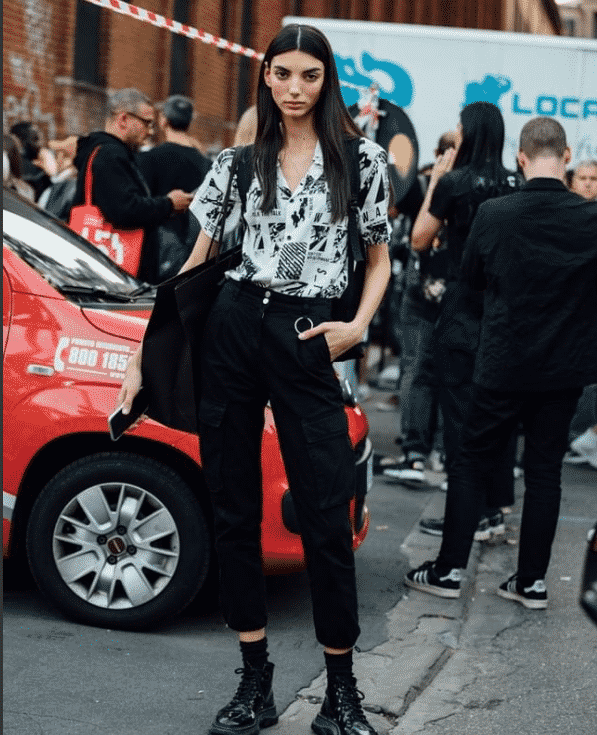 1 – With a Tucked In Sweatshirt
Here we see a mustard round neck full sleeve sweatshirt is paired with straight wide-leg black cargo pants, a pair of stylish sunglasses and gold-colored statement earrings. A leather waist belt and a black and white handbag add a bit of drama to this look that has been perfectly matched with red slip-on shoes.
An outfit like this is good for casual occasions but you can also dress it up a bit with jewelry to make it acceptable for semi-formal functions. Here are some more of my favorite Sweatshirt Outfits for Women.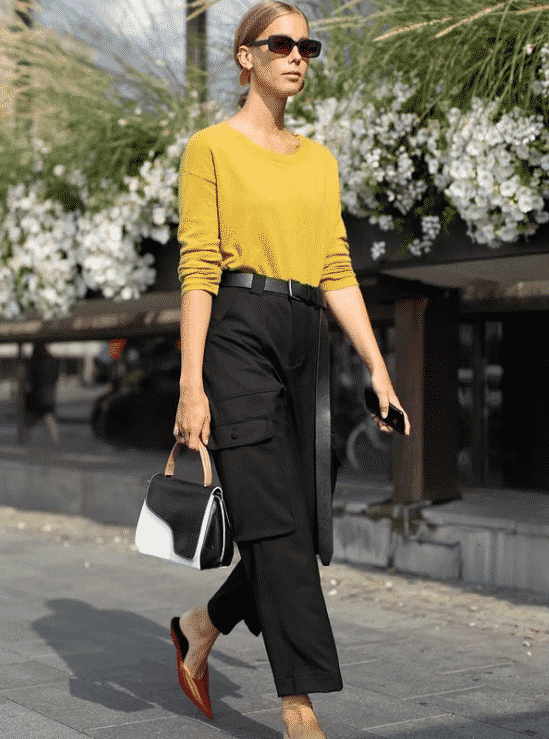 Frequently Asked Questions
Q: What are the best tops to wear with black cargo pants?
A: A cargo pants is a basic but effortlessly vogue piece of an outfit, you can style with almost any type of top. For instance, in order to pull off a casual look, you can wear black cargo pants with a basic graphical T-shirt and a pair of nice sneakers shoes. You can also style black cargo pants with a sports bra for all your workout sessions at the gym.
For a chic party look, wear black jogger pants and style them with a black sleeveless top. Style this look with a cool waist belt and some suitable accessories. Lastly, wear a stylish pair of sunglasses and a pair of black lace-up ankle heels.
Q: What Jackets to wear with cargo pants?
A: Jackets are a timeless wardrobe staple that has the ability to instantly lift any outfit within seconds. Cargo pants and jackets are a classic combination. For instance, you can wear a nice white jacket blazer with black cargo pants and a top to pull off a chic office look. You can also wear a denim trucker jacket with a white cargo pants outfit for a stylish casual look. Try cargo pants with a puffer jacket and combat boots to pull a trendy winter street style look.
Q: What shoes to wear with cargo pants?
A: Footwear is an important factor if you want to pull off a stylish look. Choosing the right type of shoes to wear with your cargo pants is a crucial task. You can style your favourite cargo pants with any type of footwear depending upon the occasion. For example, if you want to wear it with a casual outfit go with sneakers or athletic shoes. For a semi-formal cargo pants outfit try to style it with heels. You can also wear ankle suede or combat boots to go along well with your winter cargo pants outfit.