How To Wear Purple Blazers : You should be pretty familiar with blazer styling if you dress professionally or semi-formally for work. Unsurprisingly, a blazer can make you appear smart and intelligent. Without a doubt, the black blazer is the most popular color among all others, and it looks fantastic. But if you only wear the black one, you're losing out on a lot of fun. Today, I'm going to discuss the ultra-feminine and beautiful purple blazer. I've compiled a collection of the most fabulous purple blazer outfit ideas I could discover to demonstrate how to style it. Let us now examine them.
What To Style Purple Blazers?
Considering that the most common colors for blazers are grey, black, and white, have you ever considered how a brightly colored blazer may look? Yes, it appears weird and eccentric, but it also seems unique and stylish, depending on your point of view.
Blazer outfits for both sexes are currently in style and demand. Customers' mindsets and wish lists have evolved in the current age, and we now have access to a wide range of luxurious and fashionable clothing options in a variety of colors and variations.
A good example is a purple blazer available for both men and women. These are sure to catch people's attention and provide you with a one-of-a-kind experience because they are so trendy right now. Read this article about dressing in a purple blazer with flowy shorts, pants, or jeans.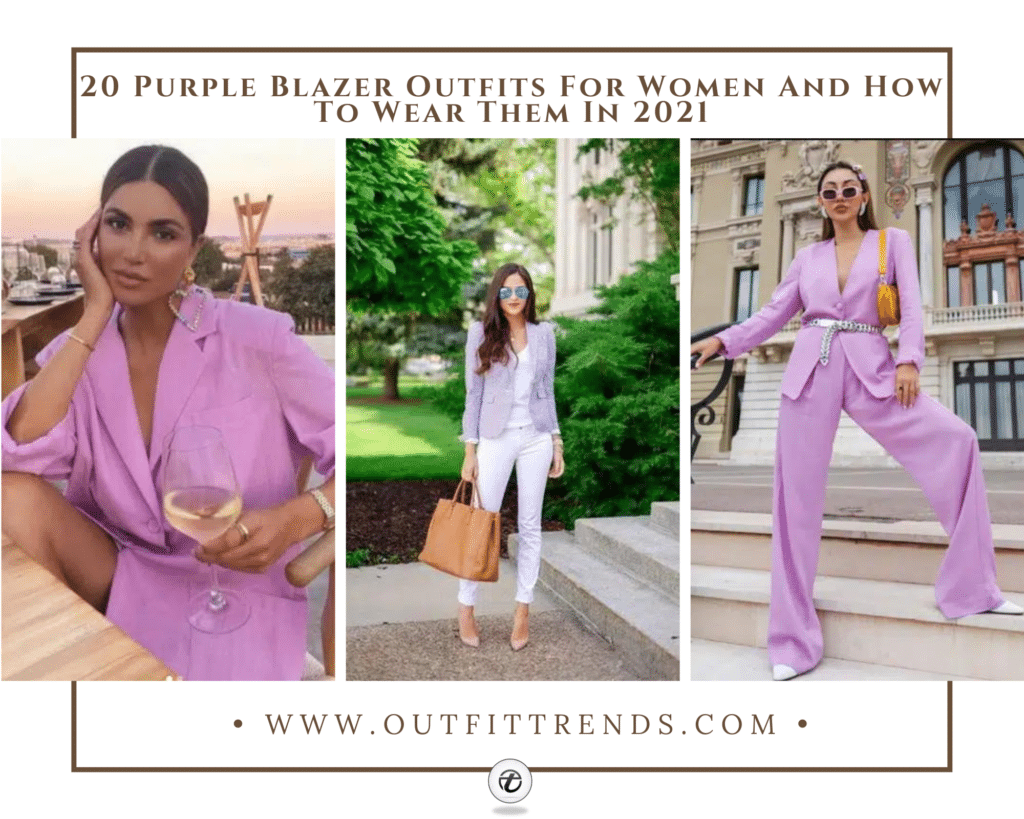 Tips For Styling A Purple
Purple provides a vibrant flash of color that works well with lighter alternatives.
Purple velvet blazer jackets go well with lighter jeans and more casual formal pants, as well as matching pants.
Women can also dress these up nicely for both formal and fashionable informal settings.
Women can also wear a feminine purple blazer with a lighter skirt and pants.
The purple female blazer looks great with shorts for gatherings or with full pants for a more formal look.
20 – Statement in any ensemble?
As a symbol of the monarchy, purple has long been connected with royalty. What better way to honor your status as a king or queen than by adding some purple to your wardrobe? If so, how much are you spending on a new one? When it comes to color, purple is an excellent choice because it can make a statement in any ensemble. There are several ways in which you can include purple in your wardrobe. Purple and neutrals create an earthier, boho impression when worn together. When paired with a more casual look, it can transform a traditionally regal color into something more down-to-earth.
19 – With Blue Jeans
A significant benefit of wearing a blazer is that it can make you appear significantly thinner and taller. This is very attractive for dainty ladies. This is an excellent illustration of how a purple blazer can make a petite lady appear sophisticated and lean. To accomplish this look, wear the blazer with a white t-shirt and a pink gold chain necklace with a design for the top. Combine them with dark blue skinny jeans and gold ballet flats for a primary and clean look.
18 – With A Button Down Shirt
This innovative ensemble tries to combine feminine and fashionable elements unconventionally. Dress in boho-chic style with a white button-down shirt, then top it all off with a pastel purple blazer. The tattered black skinny jeans and the black moccasins look great together. Accessorize this chic ensemble with a white leather purse for an extra touch of refinement.
17 – Purple Blazer With White Top
Wearing a jacket might make you appear thinner and taller, which is a huge benefit. This is an excellent option for petite women. This perfectly illustrates how a purple blazer can make a tiny woman appear clever and lean. A white t-shirt and necklace are all you need to pull off this stylish look. Wear them with a pair of dark blue skinny jeans and gold ballet flats to complete the look.
16 – With A V-neck Shirt
It's hard to go wrong with this outfit if you're looking for something fun and carefree. Wear a purple jacket over a white V-neck shirt for the top. To complete the look, add a brown crossbody bag and white jeans. The big reveal is about to occur. Adding a pair of nude pointed-toe heels will brighten this ensemble and make it stand out.
15 – Styling With Just Nothing
Take a look around and see what works for you! That's a lot of work, but it's worth it in the long run. You should try on anything you're not sure will fit well, because you never know what you'll discover if you don't. Yes, you will find items that are either too small or too large. These should either be thrown away or placed in a separate pile for modifications or at the very least, separated from the clothing that does fit. To achieve a stylish yet rugged appearance, you can wear this fascinating ensemble! Just wear a long cotton purple blazer alone styling with statement earrings gives you a perfect bossy and casual date look that looks stunning on any day.
14 – Styling With Purple Wide Leg Pants
Wear a purple blazer with wide-leg pants for a relaxed and sophisticated look. Combine them with a quirky belt and white pointed boots for a fantastic, dark eye.
13 – With Skinny Pants
This is the most adorable work outfit I've ever seen. To achieve this stunning look, pair a white and black polka dot blouse with a purple blazer and, of course, skinny black jeans. This blazer features an eye-catching gold button. Do the buttons to showcase the gold button design and to appear even leaner. Combine the top with black cuffed skinny pants and black pointed-toe heels.
12 – Styling With Dark Velvet Trousers
This is an exciting outfit to consider if you're looking for a casual and colorful look. Wear a pleated purple blazer as the top. They look great paired with dark purple cuffed straight pants. Now for the surprise. Add a pair of yellow pointed-toe pumps to this ensemble to make it even more eye-catching and cheerful.
11 – With A Tie and Dye Shirt
You can wear this fascinating ensemble for a lovely look with a little bit of toughness and roughness to it. The shirt should be paired with a purple blazer for the top. Wear black riding pants and black leather knee-high heeled boots for an elegant look at the bottom of your ensemble.
10 – With A White Casual shirt
If you're permitted to wear jeans to work, here's a look you can rock to look professional. Wear a purple jacket over a white casual shirt. Dress them down with a pair of cuffed and frayed boyfriend jeans. Pink pointed-toe shoes may lend a feminine flair to any outfit.
9 – Purple Blazer Set
At this point, most of the outfits I've discussed have included some form of pants or jeans. Consider the case of a woman wearing a dress. If you'd like to look polished and stylish, you can do so by pairing your short purple jacket with a gathered waist flared midi tweed dress, for example. A pair of hot-colored heels can make you even more appealing. Add a bunch of stylish jewelry and go rock this fit!
via
8 – Styling With A Black Skirt
7 – Purple And Black
This truly unique style will set you apart from the others. You can accomplish this by dressing in a black top under a purple velvet blazer. Black slim jeans or shorts and nude pointed-toe shoes go well with these. To complete the look, don't forget the purple felt hat.
6 – When To Wear A Purple Blazer?
This outfit can be worn to an office meeting or just any other day at work would be better in this purple blazer. Wearing a white-collar button-up shirt with a purple jacket will give you a professional and intelligent appearance that has a nice touch. Put on a pair of cuffed dark blue skinny jeans and a narrow brown leather belt to complete the look. A couple of pale pink heels will make you look more sophisticated when it comes to shoes.
5 – Shoes To Wear With A Purple Blazer
I adore white shoes paired with purple blazers. Additionally, white sneakers look great with attire in any color. Although they will get dirty the most quickly, a pair of flat white shoes gives a touch of je ne sais quoi to an all-purple look! You can mix your purple dress white shoe ensemble with a silver, gold, beige, black, or contrast color purse. I prefer a contrasting color such as orange or yellow, but it all depends on your level of boldness!
4 – With A White Turtle Neck
For a classic-meets-cool look, marry a navy blazer with a white and purple turtleneck. These things play extremely nicely together. This style is matched well with grey suede shoes. To make the outfit more elegant, pair it with gold pointed-toe heels.
3 – With A Jumpsuit
If you've never worn a jumpsuit before, a blazer will help you feel more at ease than wearing one without it will. To soften the look of the jumpsuit, it adds an extra layer of interest with a scarf. It would help if you opted for something that improves the jumpsuit and matches the event when picking a blazer or jacket to wear. This ensemble is versatile enough to be worn to a cocktail party, a formal dinner, or a night out with friends. It is essential to think about where you will wear your jumpsuit before deciding on the blazer.
2 – With Hijab
This week, most of you on our social media channels chose to wear a brightly colored jacket. For Hijabis, it is one of the most popular summer fashion items. If you're looking for a fun, vibrant look that's yet trendy and modern, this is the place to start! Match your attire to your blazer's hue for a stunning monochrome style. The style can be broken up by wearing a beige veil or a bag in a different color if you think it needs more interest.
1 – Cropped Blazer
Wearing a purple velvet blazer with a matching short dress will give you a relaxed and edgy vibe. This ensemble is appropriate for both a formal dinner and a party.
Frequently Asked Questions
Q. How to get the perfect blazer for your body type?
Ans. Fit is the most crucial consideration when it comes to finding a job. At the hip bone, the sleeves should fall to the first joint of your thumb with a more traditional jacket. When it comes to looking polished, a well-fitted blazer is essential.
There's an easy way to deal with oversized blazers. Look for styles with two of the three primary characteristics of fit large while the third is more conventional. For example, if the shoulders and sleeves are lengthy, balance that out by wearing a hip-length shell.
Q. What to do with a blazer?
Ans. There are many ways to wear a women's blazer, as shown on social media platforms like Instagram. A blazer doesn't necessarily have to be reserved for the office when it comes to fashion. To jazz up your off-duty appearance, you can throw on some distressed jeans, paper bag shorts, or a silk dress. But if you're going to be at the office, wear your blazer differently.
Q. Which style of blazer is best for me?
Ans. Make a list of the occasions on which you intend to wear this piece of clothing. Remove all of your clothing that you want to wear with this jacket, such as jeans, shirts, and T-shirts. Google images of blazers to make your decision. You should print out a list of no more than five blazers that you like from this process, it could be a sleeveless blazer, a white one, a full sleeve one, or an orange blazer. Find a tailor that can transform a design into an actual piece and the insight to assist you in narrowing down your choices from a set of 5 photographs, Customize it according to your needs. Make sure to keep fit in mind.

As an alternative, you can continue to peruse the shelves of retail establishments until you find the one that best matches your imagination and body shape. Buying a blazer online is not something I recommend. You wouldn't be able to tell how the garment fits, how it fell, or how it felt.