Yellow Outfits For Women – Summer is here which means t's time for you to upgrade your wardrobe with some cool bright colors. And what's better than the beautiful yellow colour? It's a perfect color to improve your mood and spice up your fashion game.
As stunning as the color looks, women are really afraid to try the yellow color. But, hey you don't have to cringe at the idea of wearing yellow. Trust me, it's a sexy, crisp, and funky color to try. Remember Gigi Hadid's iconic yellow oufit at Gigi Hdid x Maybelline party in 2017? Well, if she can manage to pull it off so can you. If one shade of yellow doesn't suit you that doesn't mean you should never wear it. There are plenty of other shades too. Hence, get out of your comfort zone, and let's experiment with some colors this year.
Best Yellow Dress Outfit Ideas
In this article, I will be showing you how to incorporate yellow into your outfit. You can wear an all-yellow outfit but if you are hesitant about it let's start with adding a bit of yellow to your outfit. Below, I have presented the 26 yellow outfits ideas for women, they include everything from all all yellow to a bit of the color. Hence, find the best pick for yourself and style this luminous color this season!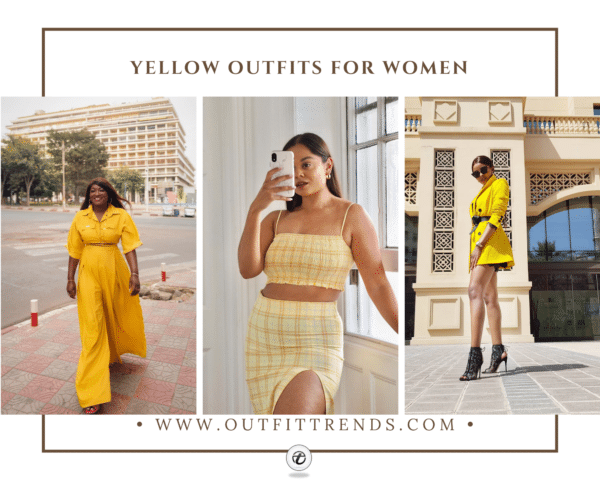 Before we get into the outfit ideas, it's important to know how to style it properly. Therefore, here are some tips that you need to read to style the yellow dress in a chic way.
Do's And Don'ts of Wearing Yellow Color
Pick a shade of yellow that's a bit lighter or darker than your skintone. The idea is to wear the shade that stands out, hence, don't choose a yellow shade that blends well with your skintone.
You don't have to wear all yellow unless you wish to create a monochrome outfit. Adding yellow color is a great option. For instance, yellow and black or yellow and white are the safest options.
Other than black and white, here are six colors that go well with yellow: pink, brown, grey, blue, beige, green. Neverthless, I would suggest you to scroll down and decide for yourself.
Yellow color looks amazing with stripes, hence, never hesitate to pair them together.
26 – Cute Two Piece Set in Yellow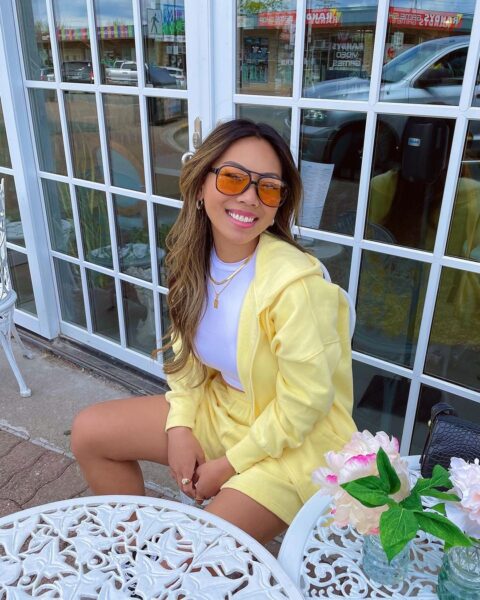 Crop Jacket Hoodies Tops Shorts Set (similar) $27.99
25 – Yellow And White Combination
24 – Pair Off-shoulder Yellow Top With White Pants
Flaunt the color with unique chic trend and shade. Yes, the color of sunshine that captivates your attention more than any color. Tone down the vibrancy of color with this off the shoulder style.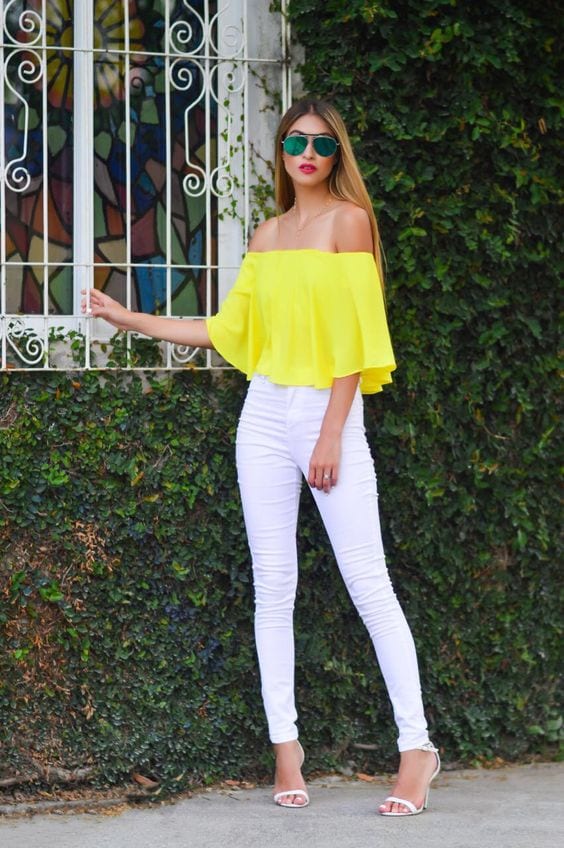 23 – Yellow Trench Coat with Distressed Jeans
Do you want to look stunning with this statement color? Then this is the perfect trend to master for the shade. Yellow trench coat with distressed jeans.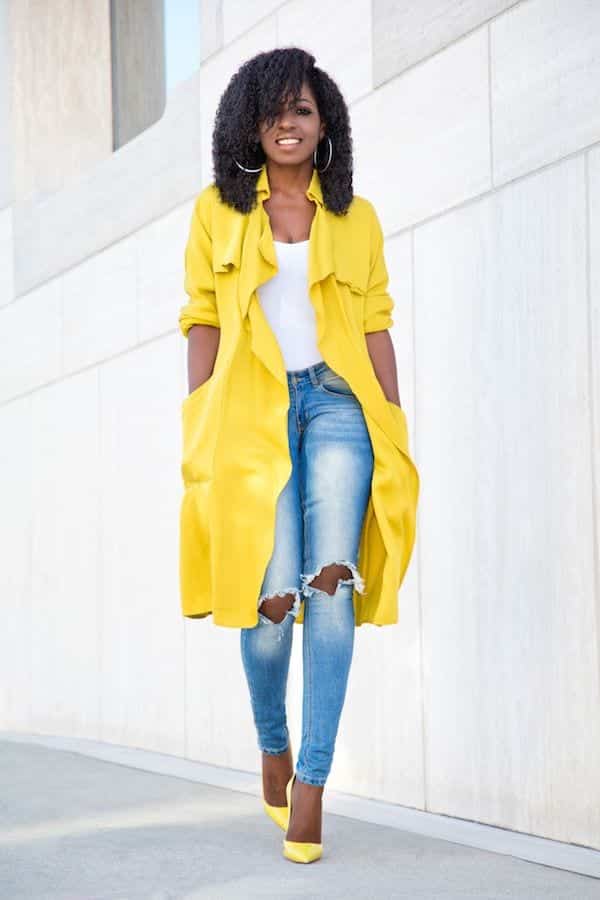 via
22 – Flared Yellow Skirt With White Lace Top
What about this fabulous look? White lace top paired with light yellow flared skirt completes the true look of the color.

Flared Skater Midi Skirt $19.90
21 – Yellow Dress With Leather Belt
If you want to look cute and casual while also having a comfortable outfit, then simply get a stunning yellow dress and add a belt over it. Moreover, put on a simple pendant or neckpiece. Throw in your favorite shades to complete the look in style.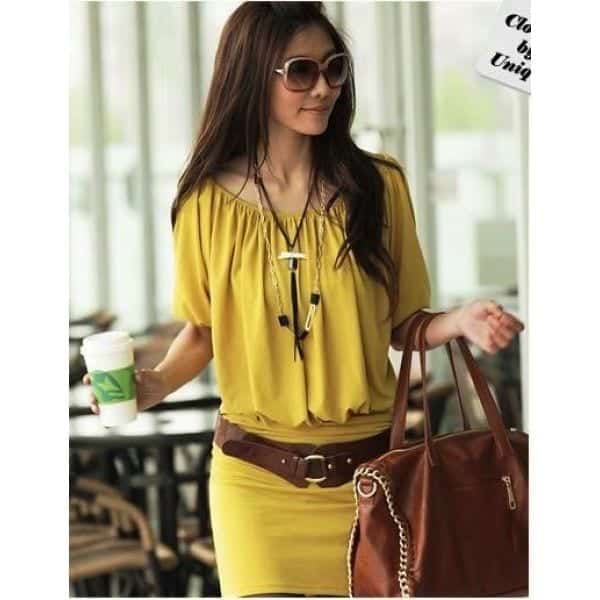 20 – Halter Neck Yellow Dress
Have a look at this pretty yellow dress that is a perfect summer day outfit. Wear this dress to sunday brunch or on your summer holidays, the color and design will help you stand out in style.
Halterneck Yellow Dress (similar) $27.99
19 – Yellow Pencil Skirt With Striped Top
Here we have the stunning Olivia Wilde in a striped shirt and yellow skirt. It's definitely a stunning look to recreate. Besides, the outfit is also business appropriate. Hence, recreate this look and level up your fashion game.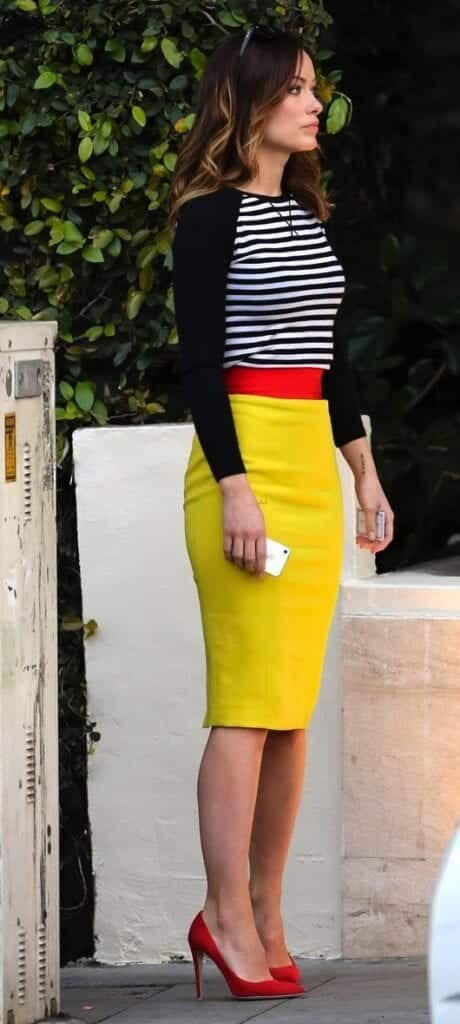 Striped T-Shirt (similar) $17.99
18 – Yellow Pants With Checkerboard Tube Top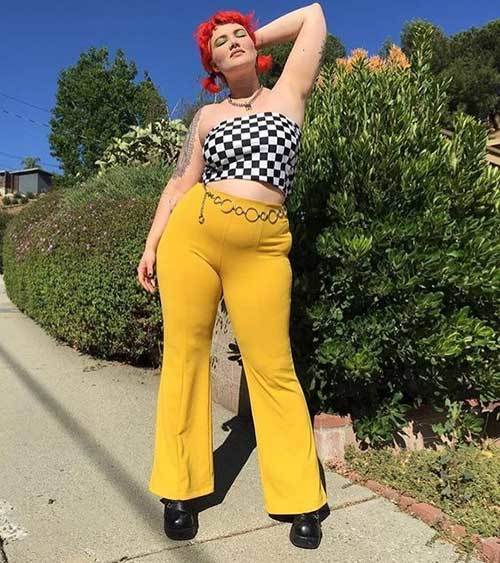 Palazzo Pants in Yellow $26.99
Checkboard Pattern Tube Top $12.99
17 – Yellow Lace Top With Ripped Jeans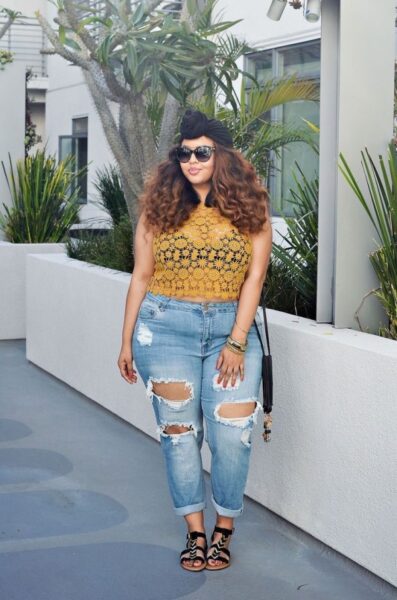 via
16 – Yellow Lace Gown
There is another subtle way to rock an event with yellow lace gown. If you don't already have a yellow gown, go and get as soon as possible.

15 – Add Yellow Cardigan Over A White Top And Shorts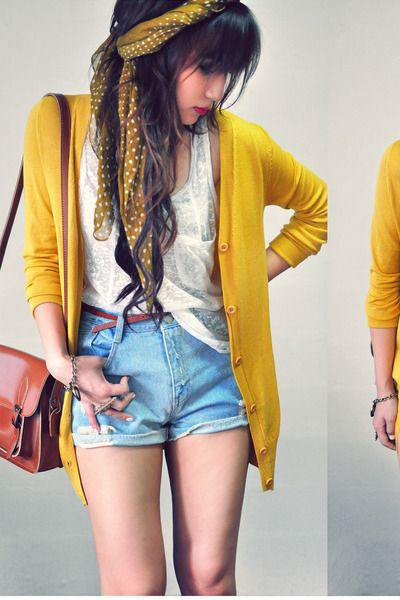 14 – Yellow Tunic
Tunics are ideal for all body types and you can wear them in a number of different ways. Just pair jeans, capris, or tights with them, ideal for summer weather.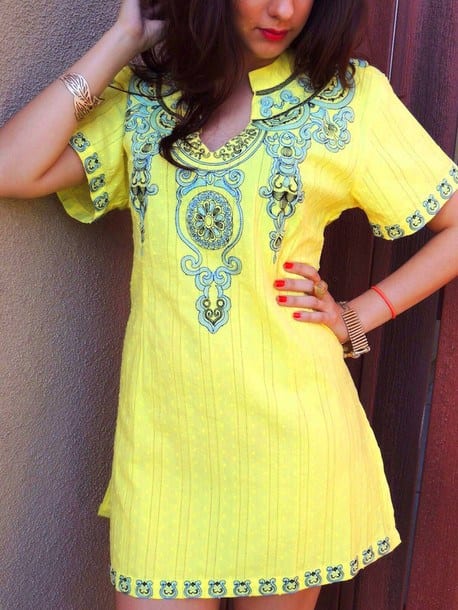 13 – Yellow Pants With Off White Blazer
Yes, yellow trousers are a cool and funky idea and a smart outfit addition. You can pair it with a t-shirt, blazer or a top. Here we have a white polka dot blouse with a blazer over it. Moreover, wide leg trouser stands out and brings some cool vibes.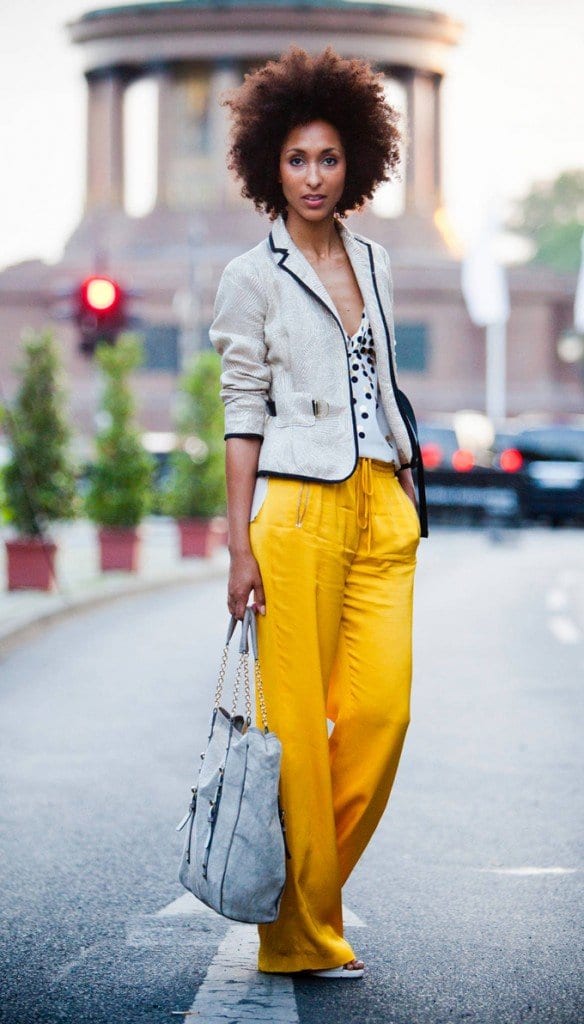 12 – Yellow
11 – Yellow Button Down Shirt With Black Pants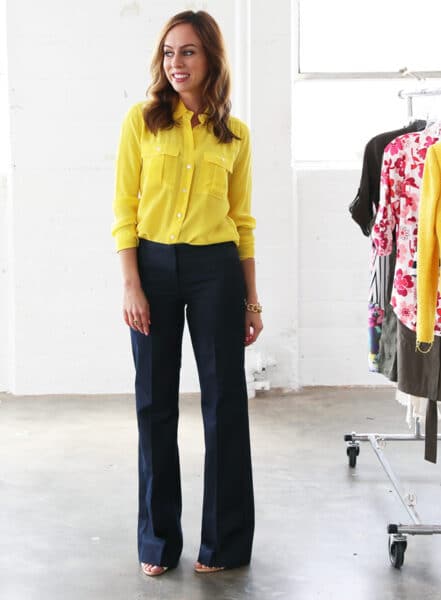 Yellow Button Down Shirt $25.99
10 – Yellow Angel Sleeves Dress
If you want to go for a retro look with yellow then adore the style with angel sleeves style. Perfect and appropriate casual outfit for any day.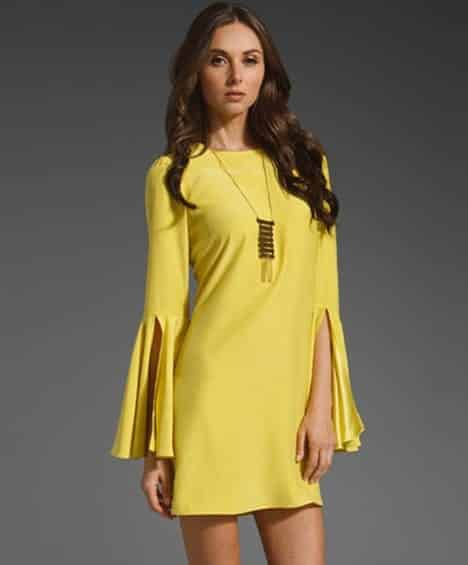 9 – Yellow Two Piece In Plaid Pattern
8 – Yellow Lace Dress
From daytime weddings to night dates, this yellow hue embellished in lace is the perfect outfit for all such events.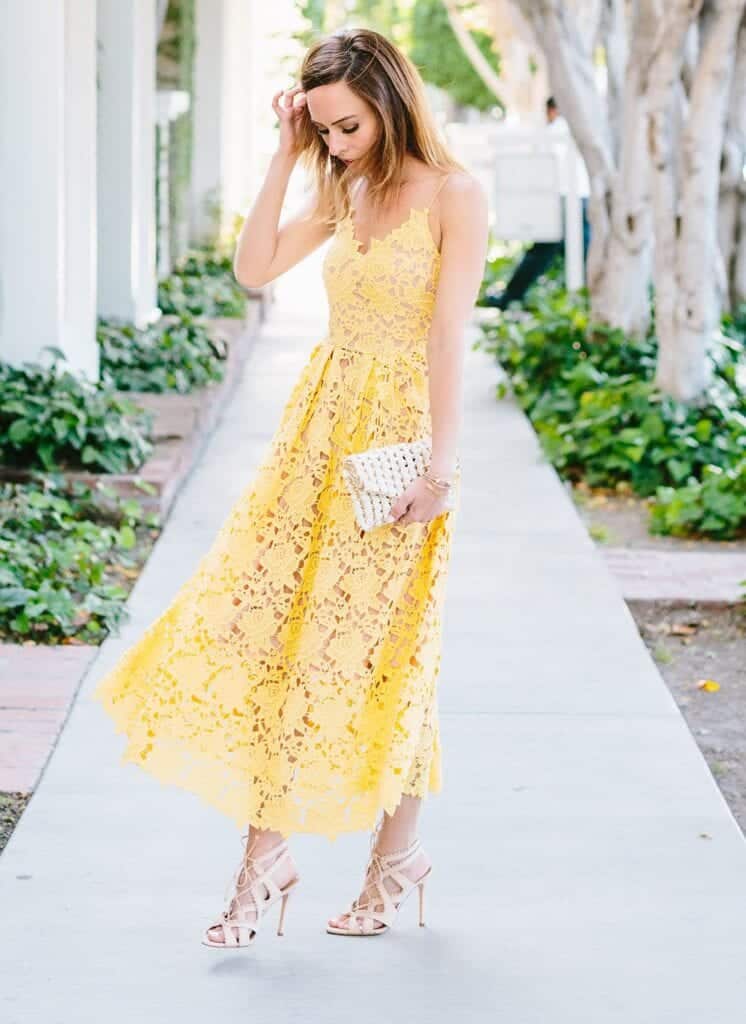 7 – Yellow Jeans With Polka Dot Shirt
Get yourself yellow jeans with a top, a chambray shirt or slouchy blouse this season.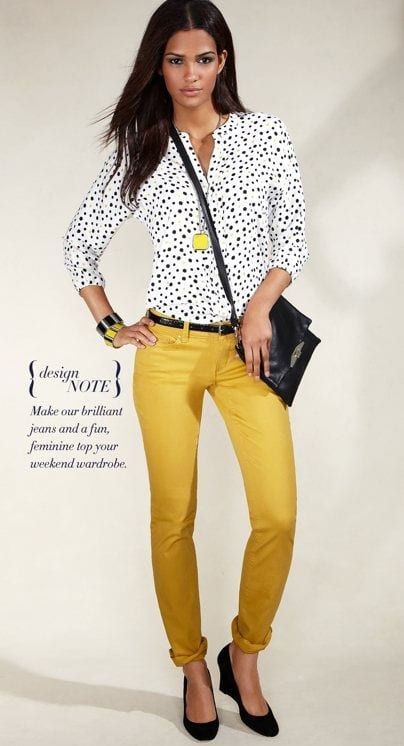 6 – Yellow Leather Jacket With Ripped Jeans And Heels
This time try a different colour in a faux leather jacket – perhaps yellow. Pair the cool yellow jacket with boyfriend jeans, striped t-shirt and long laced heels. That's it and you will have an amazing look.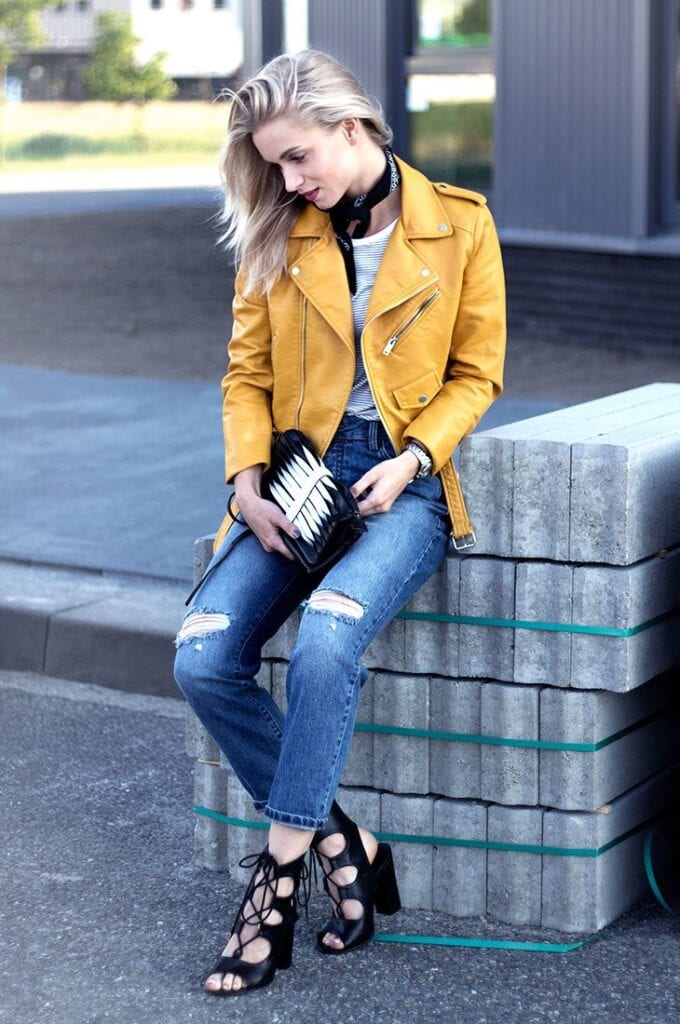 5 – A Yellow Jumpsuit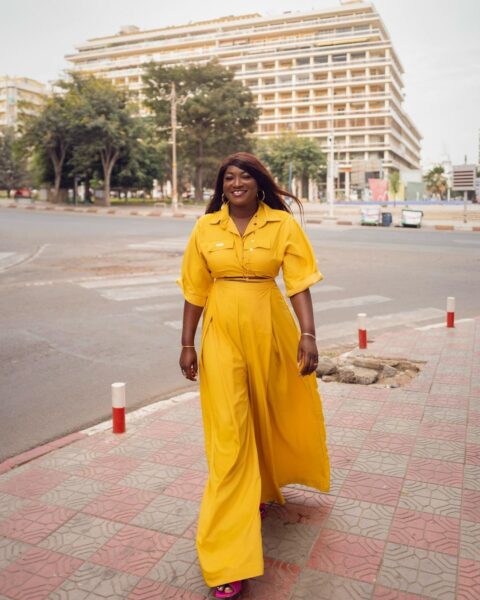 4 – Mustard Yellow Sweater Under Plaid Dungaree
Isn't it one of the most aesthetic outfits on the list? Wear the cute oversized mustard yellow sweater with a dungaree.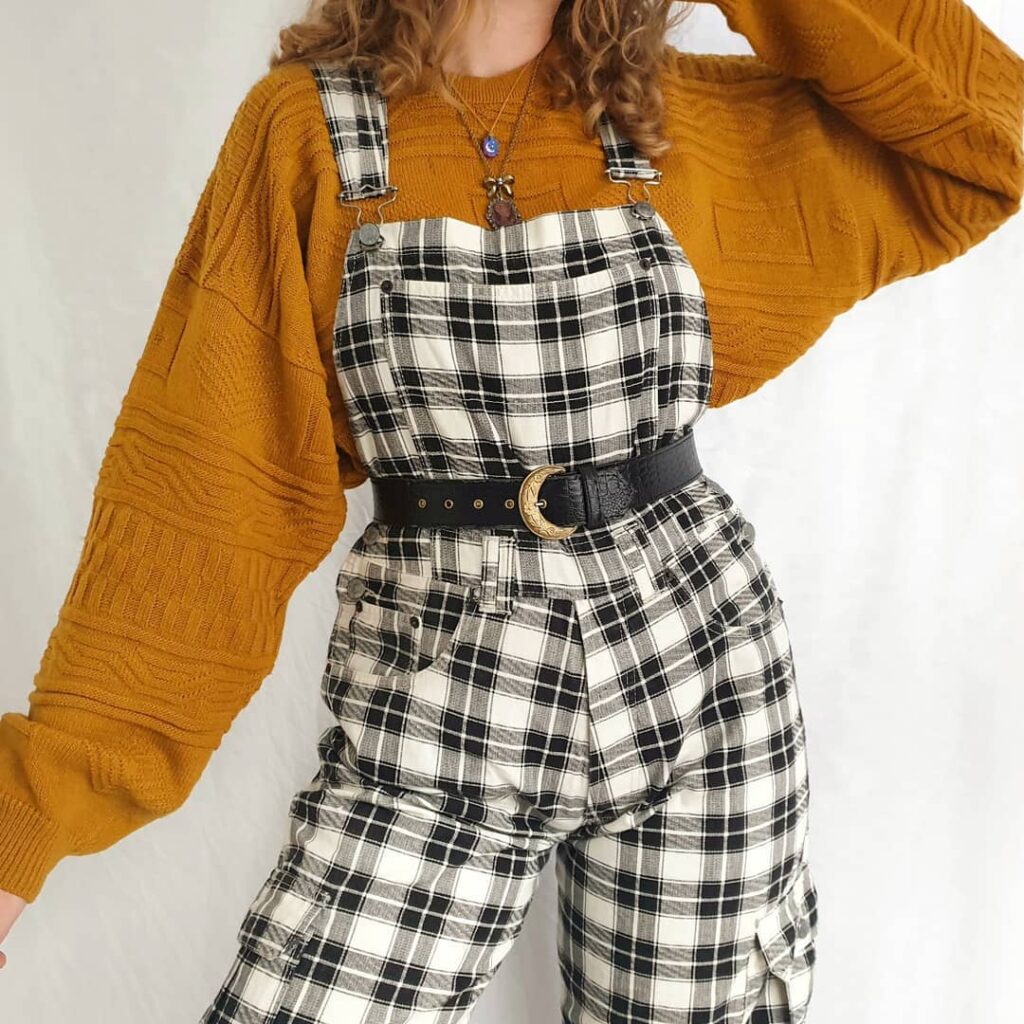 3 – Yellow Striped Dress With A White Blazer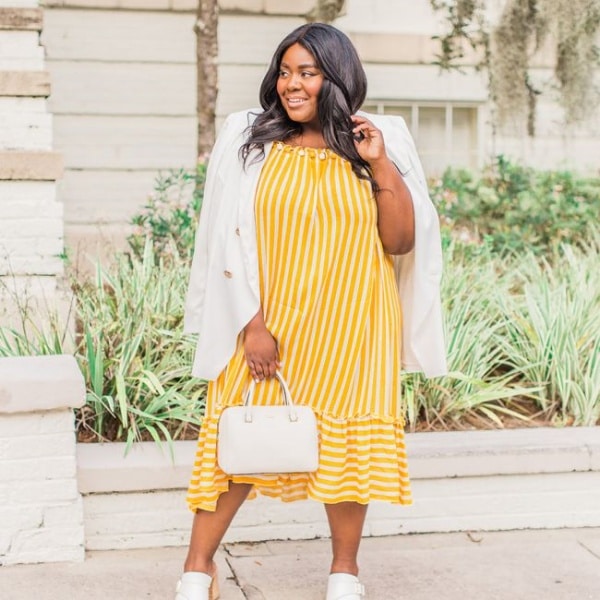 via
2 – Gigi Hadid's Iconic Yellow Outfits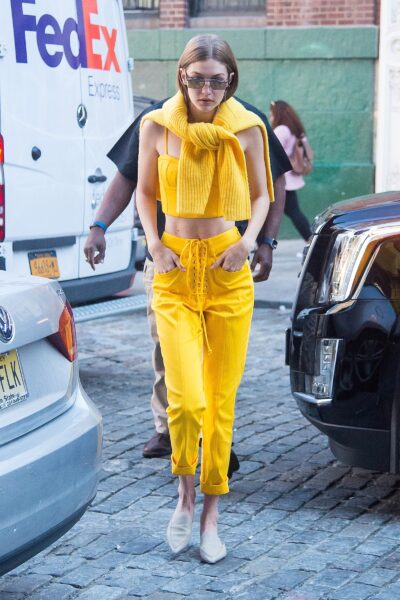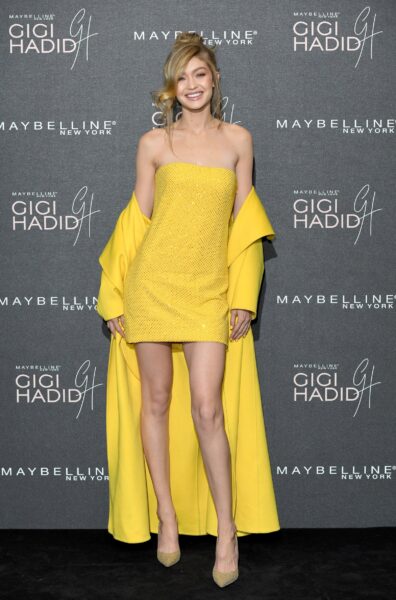 1 – A Yellow Blazer With Black Lace Heels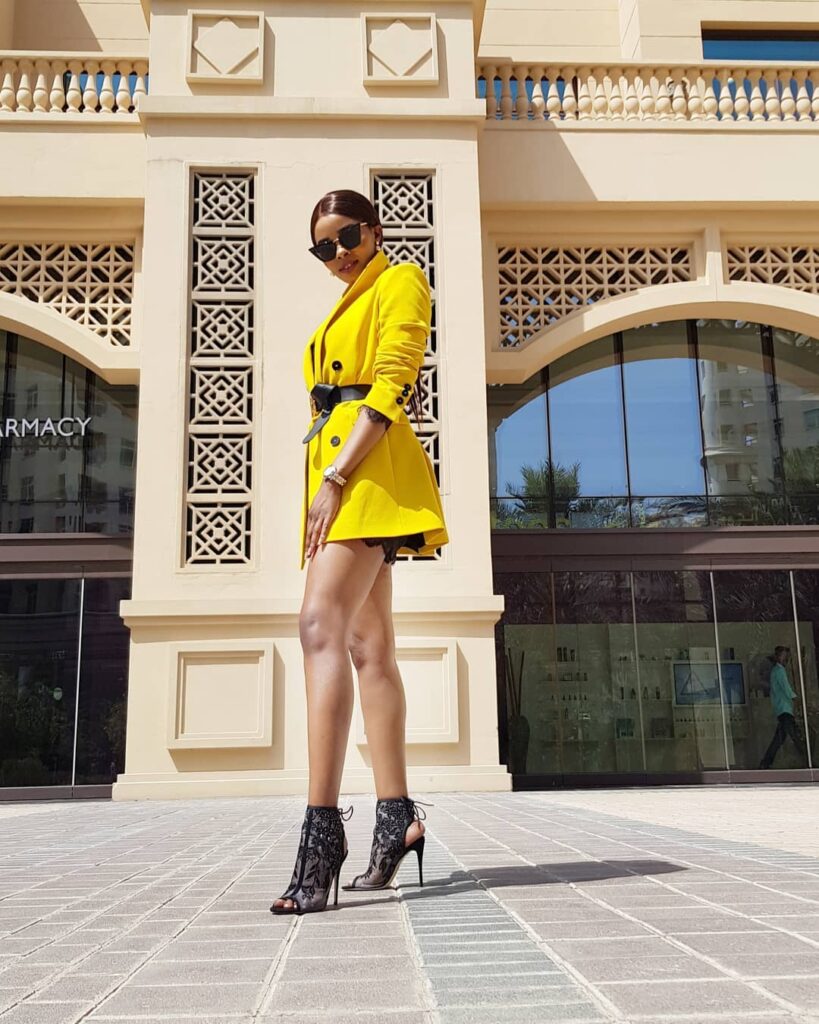 Frequently Asked Questions
Q. What makeup goes with yellow clothes?
Ans. Ideally, your face makeup should be flawless with a subtle glow. Adding a bit of blush to your face is a big yes – it will look fabulous and will highlight your facial features. As for eyes, brown-toned eyeshadows or basic black smokey eyes look beautiful with a yellow dress. Moreover, finish off your makeup with a warm or peachy brown, or a berry pink lipstick.
Q. What top can I wear with a yellow floral skirt?
Ans. It depends on your skirt – mostly on the color of your floral skirt. Nevertheless, you have a variety of options. For instance, you can wear an off-shoulder top, a button-down shirt, or you can also wear a simple white T-shirt. As for the color of your top, choose the main color of your skirt's print or you can also wear a contrasting color.