Ribbed dress outfits: Always wanted to wear ribbed dresses but never really got the chance? This is your sign to buy a ribbed dress and go rock it. Ribbed dresses are versatile items of clothing as they can be paired with a lot of accessories and clothes. Do you want to wear a ribbed dress to a birthday? Sure. A party? Sure. To the supermarket? Sure. Ribbed dresses are fun and super stylish. You can find ribbed dressed in tons of designs and colors.
Because ribbed dresses are mostly bodycon and fit right to the skin, people are afraid of wearing them at times and shy away from them. but everyone needs to try out a ribbed dress at least once because they are just so comfortable that you'll wish you had tried them earlier.
How to WEar A Ribbed Dress
Bodycon dresses are super sexy and basic. Basics are what you need to go back to when you get too confused in the great big world of fashion. Find the 3 basic colors black, white, nude, and go with something like a ribbed dress. Then you can style it according to your choice and you shall have an amazing outfit.
DOS AND DONTS OF STYLING
• DO try new outfits.
• DO wear what you like.
• DO try to dress according to your style and not "fashion".
• DONT forget to wear seamless undergarments underneath a ribbed dress.
• DONT be scared to show a little skin.
• DONT worry because people will always have something to say about you whether you listen to them or not.
20 – Long Sleeve
This grey ribbed dress looks extremely comfortable. This outfit is good for anyone that doesn't prefer to show a lot of skin. This dress can be paired with slides or sneakers and even heels if you want to wear it to a formal event. This dress is full sleeves and it can even be used as a nightsuit because it looks that comfy. You can wear this dress out to run errands, meet your friends or just at home.
19 – All White Outfit
This white dress is stunning. This white dress can be paired with a matching white fur jacket or coat. This outfit can be worn in the winter as well so you don't have to worry about not being able to wear ribbed dresses in the winter. Pair this dress with a white hat and a matching handbag. You can wear this dress to a birthday party, date night, or a night out with your girls. If you wear this outfit with matching white heels they would complete this outfit. Here are some more fabulous White Midi Dress Outfits.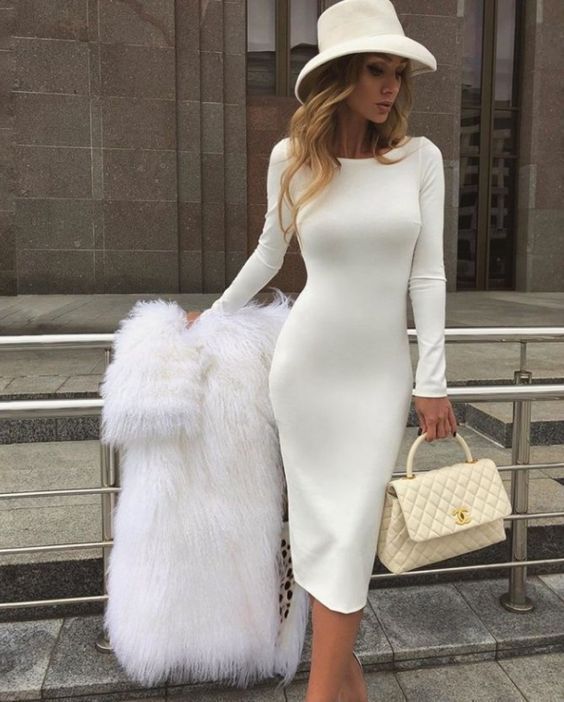 18 – Celebrity Style Ribbed Dress Outfit
Bella wore this exquisite brown ribbed dress with a white buttoned shirt on top. We all know the supermodel loves to experiment with clothes and walks out in the best outfits ever! Bella paired this outfit with some cheetah print heels and red sunglasses. Bella's small handbag makes a style statement and is the perfect accessory. This outfit looks comfy and stylish both at the same time. You can wear it on a night out with your partner or your friends.
17 – Turtleneck Ribbed Dress
This ribbed dress is in a turtleneck style which is perfect for places where the cold is unbearable. You can wear this dress and be stylish even in the cold. This dress also has a slit on its side which looks super cool. Pair this outfit with a matching overcoat and sneakers. If you like you can wear it with heels too. Wear this dress to an anniversary dinner, a birthday, or any other celebration! If you're a fan of turtlenecks, do check out these Women Turtleneck Outfits.
16 – Ribbed Dress With Fur Jacket
Fur jackets look cute with just about anything. You can pair a fur jacket with a ribbed dress and you will have the cutest outfit. Nude and brown tones look stunning so wear a brown jacket with a nude dress and voila! You can wear sneakers with this outfit and you will have yourself a comfortable and chic outfit but if you like wearing heels then you can wear those in a matching color. Your outfit will be on point whether you wear heels or not.
15 – Yellow Dress With Denim Jacket
Denim jackets are all the rage! You can style a denim jacket with just about anything. Try this yellow ribbed dress with a denim jacket on top. You can pair this outfit with sneakers or heels but sneakers would look cooler because a denim jacket gives off a casual vibe and sneakers would compliment that. The yellow color looks stunning in the summertime so don't think twice before wearing it. Here are some of my personal favorite Yellow Outfits For Women.
14 – Kendall Jenners Black Ribbed Dress
Kendall wore this black dress and styled it perfectly. Kendall loves to wear sneakers with dresses and she did here too. This outfit looks super easy to put together and it still looks sexy. Try this outfit for yourself and you'll know how easy it is to achieve Kendall Jenners looks. Kendall also carried a black handbag and let her hair down. Wear this outfit to run some errands, meet friends for lunch, or just to lounge around the house.
13 – Brown Toned Dress
This outfit looks super pretty and it gives off fall vibes. You can pair this dress with heels or sneakers. The belt is a dope accessory that can easily make a boring dress look glamorous. You can wear this outfit to thanksgiving, a picnic, or a lunch date with your friends.
12 – Ribbed Dress With Chunky Sweater
This is another outfit that will be perfect for the winter. Big chunky knitted sweaters look cute with anything and everything which is why you need to try to wear one with a ribbed dress because you will love it. Pair this outfit with matching white sneakers and a white fanny pack. This outfit looks super comfy and even easier to put together. You can wear this fit to run some errands or meet some friends.
11 – Ribbed Two-Piece
This two-piece is something you won't see everyone wear. The two pieces are super cute and versatile. The navy blue is exquisite and will have everyone asking you where you got this set from. Try wearing this set to a birthday party, a date, or just at a meetup with your friends. Black chunky boots would look amazing with this outfit but you can also try wearing heels with it if you like. Don't forget to carry a cute bag with this fit as it would really complete the outfit. Since matching sets like these are super trendy this season, I highly recommend that you check out this post on the Best Matching Sets to Wear & How to Style Them.
10 – Green Ribbed Dress
Green is a stunning color and looks amazing no matter what you wear. This green maxi ribbed dress is amazing and would be the perfect outfit for Christmas. Try wearing this dress with black or beige heels. Gold jewelry would look dope with this dress so don't forget to wear it. You can wear this dress on Christmas, a date night or your birthday.
9 – White Ribbed Dress
This dress looks stunning and would be an amazing outfit. White looks amazing with everything and its the easiest to wear. You can wear matching white heels with this dress. Gold jewelry would make the white really pop and look even more stunning. Wear this outfit to a dinner date or on any other big day where this dress will get all the attention that it deserves.
8 – Baby Blue
Pastel colors are stunning and look even prettier in the ribbed material. This dress is different and looks super cool with its matching shrug. You can pair this outfit with heels or sneakers but slides would look best with it and they keep the comfy and casual vibe the dress gives off. However, baby blue heels would look just as amazing with this dress. You can wear this outfit to run errands, go on a picnic, or meet some friends for lunch. You can wear some bangles and necklaces as they would make the blue look even prettier.
7 – Matching Bestie Outfit
Don't you just love to match with your best friend? We do. Try out this ribbed dress matching outfit and you won't regret it. One can wear a white dress and the other can wear a beige dress with a slit on the side. These dresses would look best with big chunky black boots. Fanny packs are super dope and you should definitely add them to your outfit. Don't forget to wear sunglasses because they complete the outfit. Wear this matching fit out and show everybody how cool you and your bestie are!
6 – Dark Brown Ribbed Dress
Dark brown is a sexy color and you can wear it any time of the year. This dress looks comfortable and dope. You can pair this dress with some oxford shoes or chunky boots and even heels if you like. Wear this dress out to dinner, lunch with your family, or a night out with your girls!
5 – Black Maxi Ribbed Dress
Maxi dresses are super versatile and comfortable because you can pair them with anything and they'll look good no matter what. In the image, the person is wearing a black maxi dress with black sandals and black sunglasses. They are also wearing a single silver necklace which looks stunning. You should try wearing this outfit to go to the superstore or just to go out because it's super casual.
4 – Collared White Dress
Do you like collared dresses? We do too. Collared dresses are super sexy and just as stunning. Everybody needs to own a collared dress because they are a staple. This white dress looks exquisite and you can pair it with whatever you like. You can wear white matching heels with this outfit as they will truly complete this outfit but you can also wear black boots if you aren't into heels. Wear this to a dinner or a date night and watch everyone around drool over your outfit.
3 – Black Mini Dress
Mini dresses make life better! Who doesn't like a mini dress? This ribbed black mini dress is the perfect dress. Mini dresses make life better. You can pair this black dress with chunky boots or heels if you like but boots would look better as they make the outfit even sexier. You can wear this outfit to a festival, concert, or date night. Don't forget to wear silver jewelry with this dress and a pair of sunglasses. This is the dress you've been looking for!
2 – Slit Dress
Slit dresses are super sexy and perfect to wear to any occasion. Pair this burgundy ribbed dress with a fur jacket if you like or just wear it as it is. Wear it with black leather booties and carry a matching purse to complete your outfit! Here are some expert tips on How to Wear Thigh-High Slits.
1 – Olive Ribbed Dress
The color of this dress is stunning. You can wear this dress with heels or sneakers it just depends on your personal preference because the dress will look great with both. This is a super cute outfit and you can wear it to just go meet your friends or go out on a picnic. You can pair a cute jacket with this dress if it's chilly out. A small shoulder bag would be a cute accessory.
Frequently Asked Questions
Q. What is a ribbed dress?
A. A ribbed dress will usually look like a bodycon knit sweater dress. The detail on these dresses is what makes them look ribbed. Ribbed dresses can be spotted from afar and it's not hard to tell a difference between ribbed material and normal material.
Q. How to style a ribbed dress?
A. It's very easy to style a ribbed dress. This article includes 20 ways that you can style a ribbed dress. You can wear a ribbed dress with sweaters, jackets, boots, heels, and just about anything you feel like goes with your dress.
Q. Are ribbed dresses formal?
A. Ribbed dresses are not super formal but they can be if you wear heels with them and dress up in a way that looks formal. You can also make it formal by pairing a ribbed dress with a blazer. It basically depends on you and how you want to style your dress.
I am a women's holistic health coach and student that enjoys history, experimenting with makeup and skincare, playing sports, working out, and doing all things adventure-related.