Back to School Party Outfits for girls: Since the summer season is here, everyone wants to get trendy clothes for school. Your first day back to school calls for something interesting to wear so you can make it memorable.
Are you confused about what to wear on the first party of your new school year? Then you have come to the right place! Here you will see amazing outfits to pair with stunning tops and bottoms. Girls want to have fun, and they always want to look cool, classy, and stylish.
What To Wear To A Back To School Party?
The first thing you need is to choose a dreamy outfit to wear. It can be a tie-and-die jumpsuit, or you can have a plain, white tee shirt to pair up with denim. Moreover, you can also pair a red maxi with golden slides.
Colorful patterns and outfits are significant aspects this summer. You can wear maxis for a movie night or to a brunch party. Try casual clothes like a black blouse with a red upper and pair them up with black pants – a quick way to look smart yet classy.
Maxis can also be worn to back to school parties or even when you want to go for hangouts with friends. These summer outfits go perfectly with matching accessories such as chokers, necklaces, watches, rings, etc.
Back to school party is a memorable day in your life. So you need to wear something that looks sassy and classy on you. To make this night memorable, wear something unique to stand out. After a few years, you'll look back on the pictures of this day and feel nostalgic so make sure you wear something you'd be proud of yourself for wearing.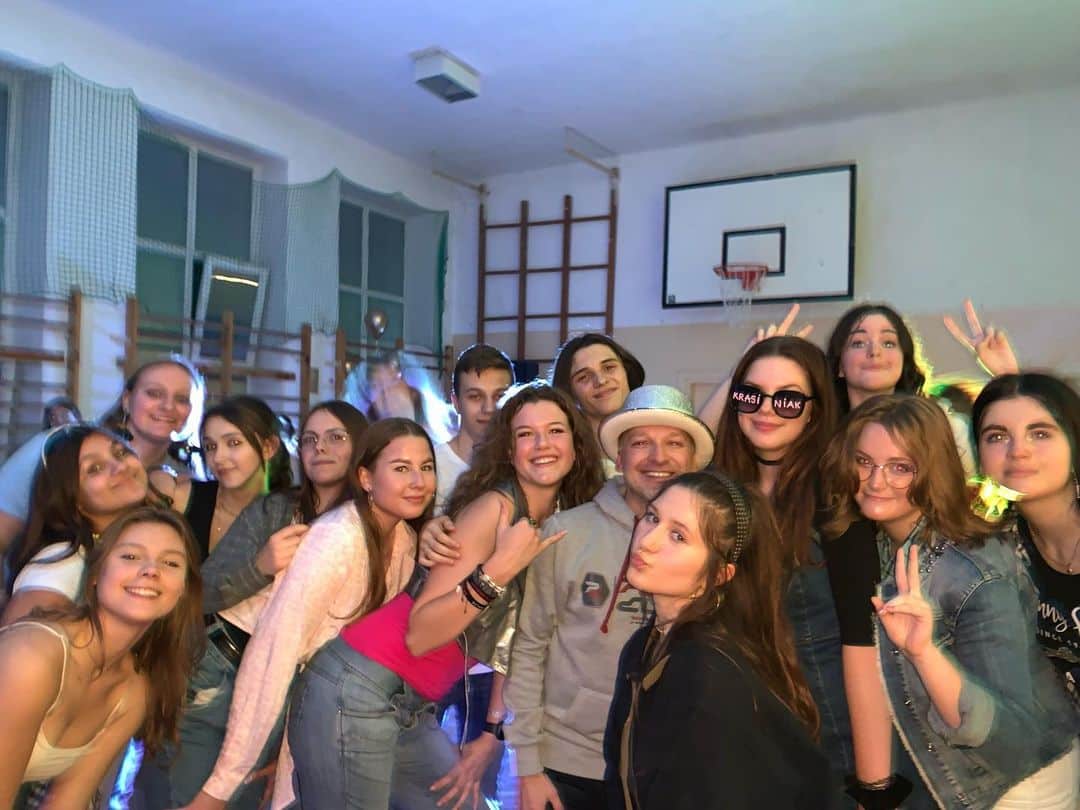 DOS AND DONTS
If there's a theme – stick to it. Most schools have themed back to school parties such as a pajama party, sports theme or a crazy sock party; whether you like the theme or not, be a team player and go with it.
If there's no theme, then instead of wearing something trendy, go for something timeless – so years later when you look at these pictures, you'll be proud of how great you looked.
If you are aware that your peers are dressed casually, avoid overdressing with a plunging V-neck sequin dress that stands out from the crowd.
Don't spend too much on the party outfits – instead, look for options that you can easily tone down for your every day back to school outfits after the party.
Remember, confidence is everything at these parties!
Back to School Party Outfits for Summer & Spring
22 – Color Blocked Dresses
Tiered dresses have been really popular lately and if you can find one in color blocked pattern, you have to wear it for the party. Extra points if you can find a matching headband like this one's.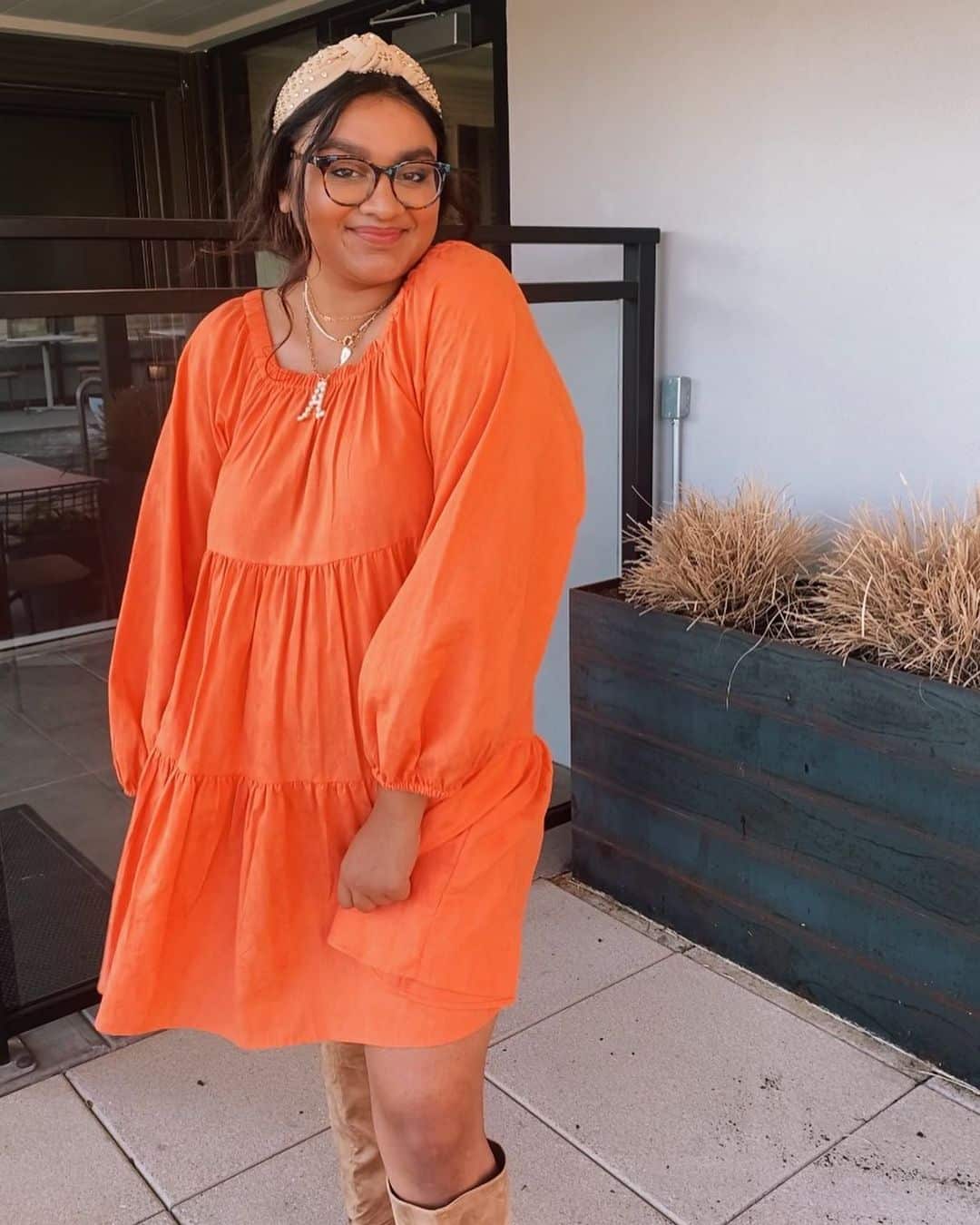 21 – Black Oversized Sweatshirt
This outfit looks super cool. Wear a black oversized sweatshirt with blue ripped denim and white sneakers and recreate this look – you can add chains and make this outfit even cooler. Black is the perfect color and everything looks great in black.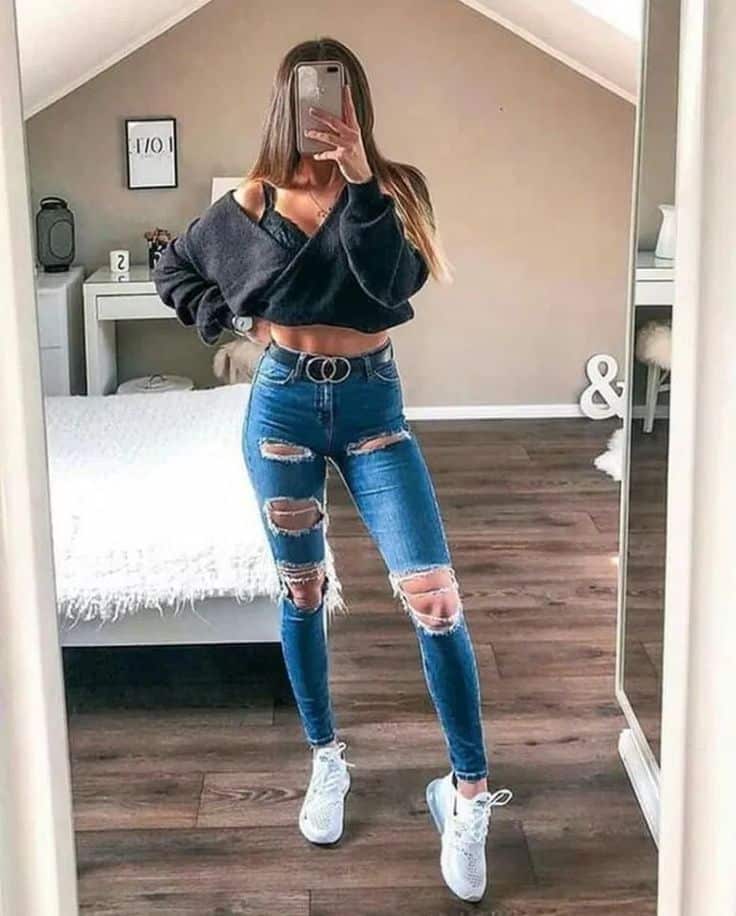 20 – Yellow Tee With Denim
If you are a school going girl then you must know how it is important to wear comfy clothes so this yellow plain tee is a perfect match for you with denim ripped jeans and white sneakers.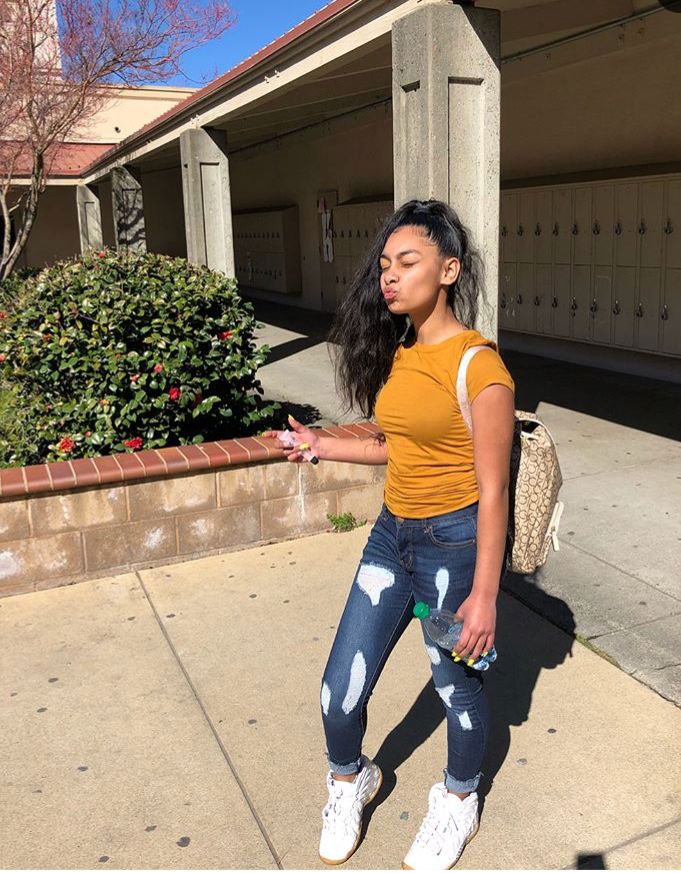 19 – Rainbow Themed Shirt
18 – Red Garden
Graphic tees are the most essential part of your school wardrobe and you can just never have too many of them. For a party, you can tuck in one of your favourite graphic tee in your comfiest jeans, add a nice bag and you're good to go. If you need more pairing ideas, you can check out these outfits with graphic tees.
17 – Lavender Magic
If you go to school in summer then this crop top is made for you. Pair it up with pink Capri and bow slides, and do wear pink lipstick with a subtle look and some chains.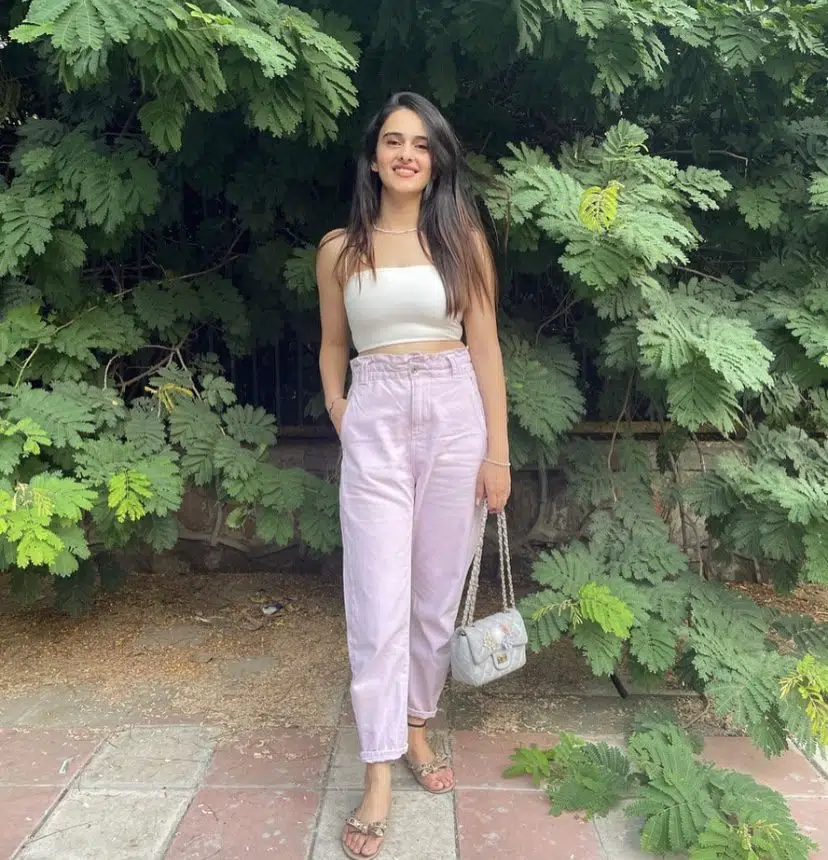 16 – Knot it Up
Buttoning up the shirts is too mainstream, go for a front know instead.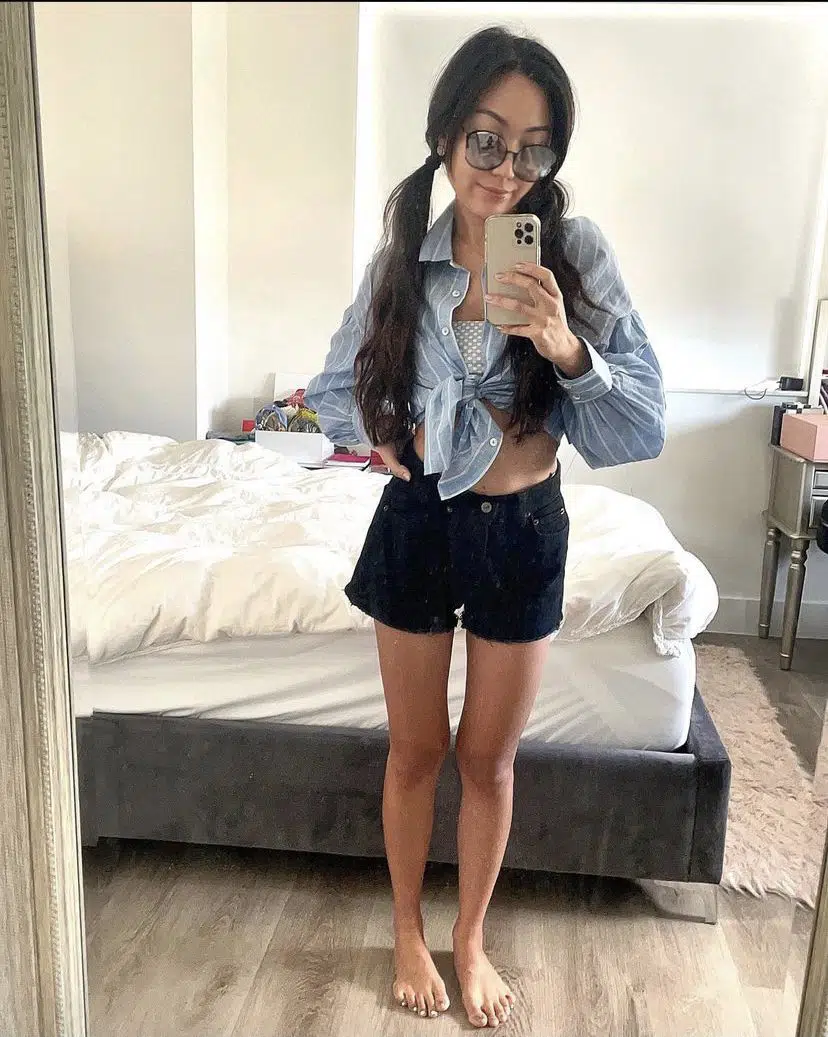 15 – Yellow Arena
Who does not love yellow? Everyone loves it. It can be a perfect match for you – if you love graphic tees, then pair it up with denim shorts and pink sneakers.
Lastly, complete your look by adding some accessories and a funky bag, and add some chains or two it will go perfectly with this look. Here's our complete guide on Back To School Accessories For Girls To Buy.
14 – Brown Daisy
This girl is killing this whole look. That bun with golden earrings and brown pants just looks exceptional. Pair it up with nude heels and you are ready for the back-to-school party night.
Back to School Party Outfits for Winter/Fall
If the back to school season in your country falls in the colder months, these are the looks you can opt for. We tried adding warm outfits that look equally chic so you can truly enjoy:
13 – The Power of Corduroy
This brown corduroy blazer can be a game-changer for you. Trust me this whole look is so beautiful – like you can wear this brown jacket with black boots and a stunning clutch or you can also style it with a black undershirt and blue denim with the addition of chains and a golden necklace. Rock your look by wearing nude-colored lipstick and some loose curls.
12 – Matching with Your Bestie
How about twinning with your gal in color coordinate outfits?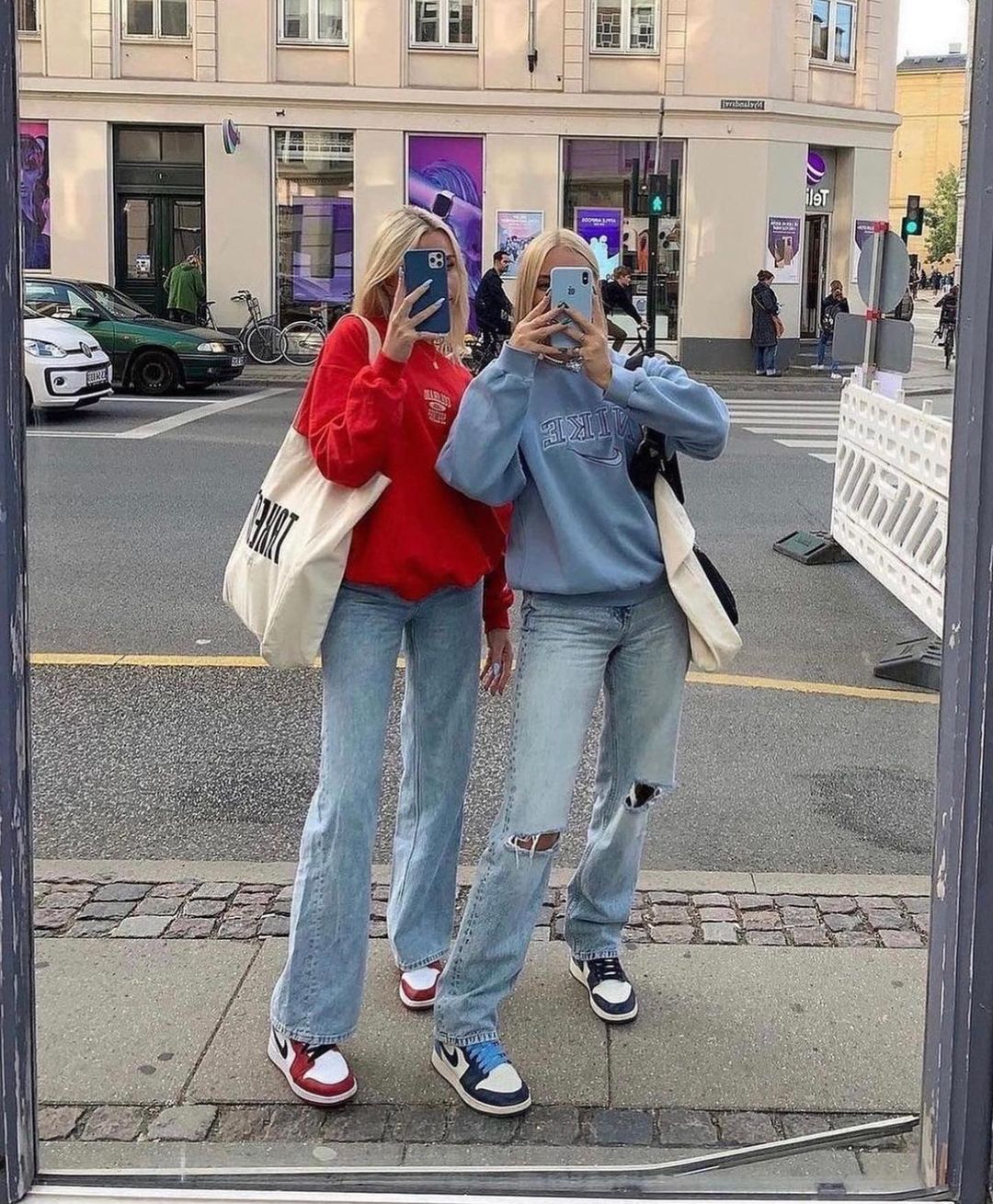 11 – Funky Hats to the Rescue
Most people find winter outfits boring, especially because of all the layering but if you have a funky had, it'll always save the day.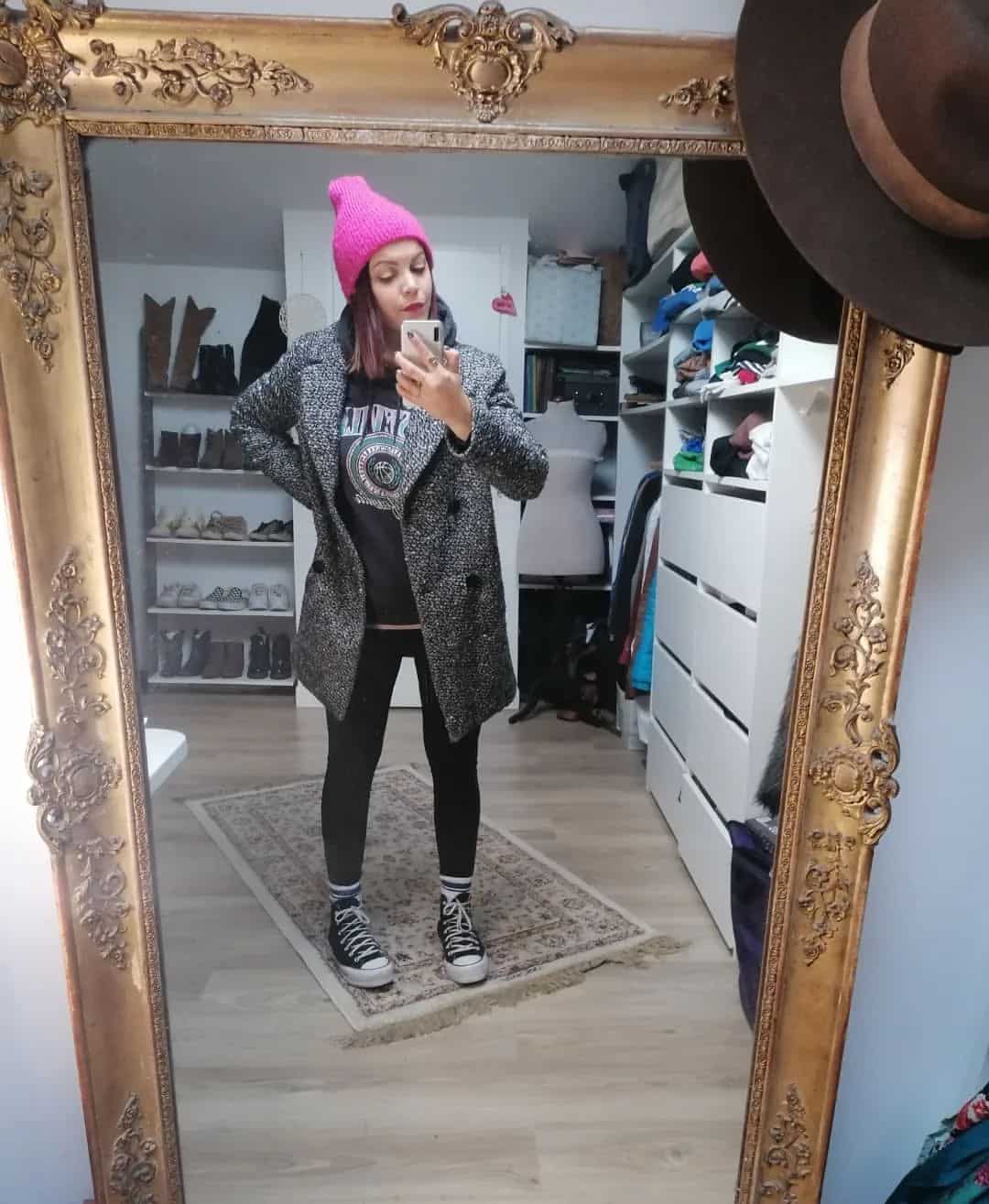 10 – Denim Jacket
If you want a casual look that screams fun, this is it – as for the jeans, the ripper the better!
9 – Beige And Black Fever
A pretty hot combo for this back to school season.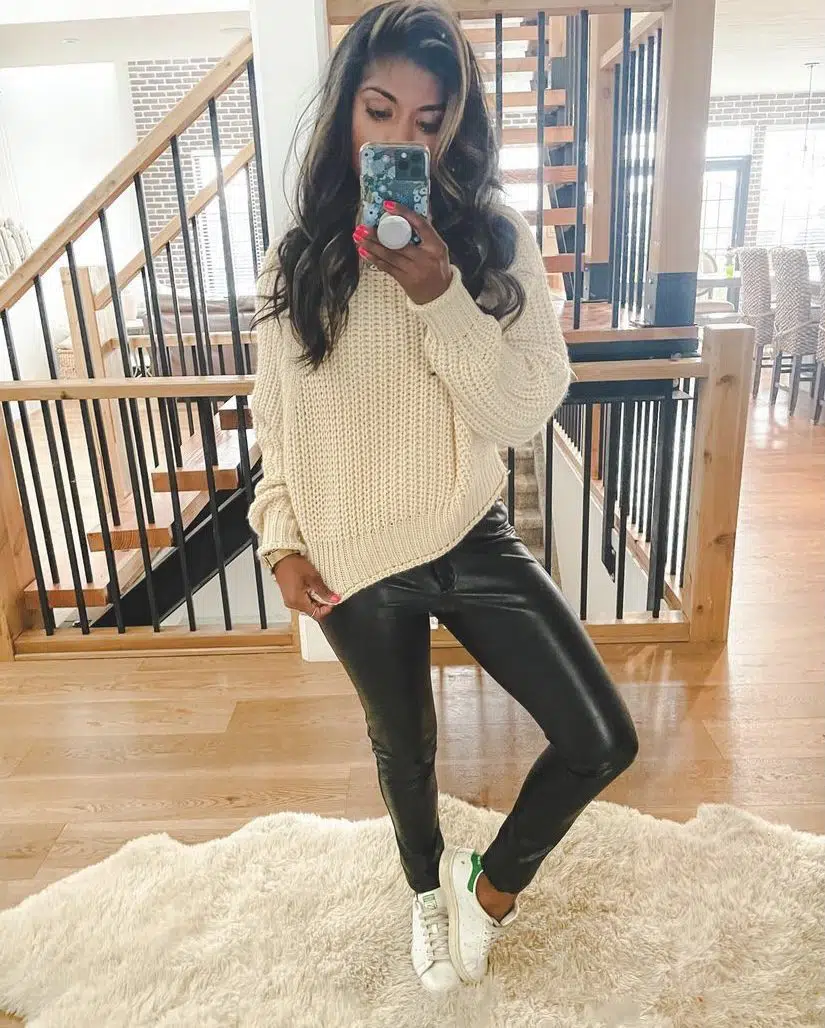 8 – Black Tracksuit
Black is everyone's favorite color. It looks good no matter what you wear. As you can see this girl is looking amazing with a black tracksuit, layered with a grey overcoat and black boots. With the addition of nude-colored lipstick, make a high ponytail and you are ready to go.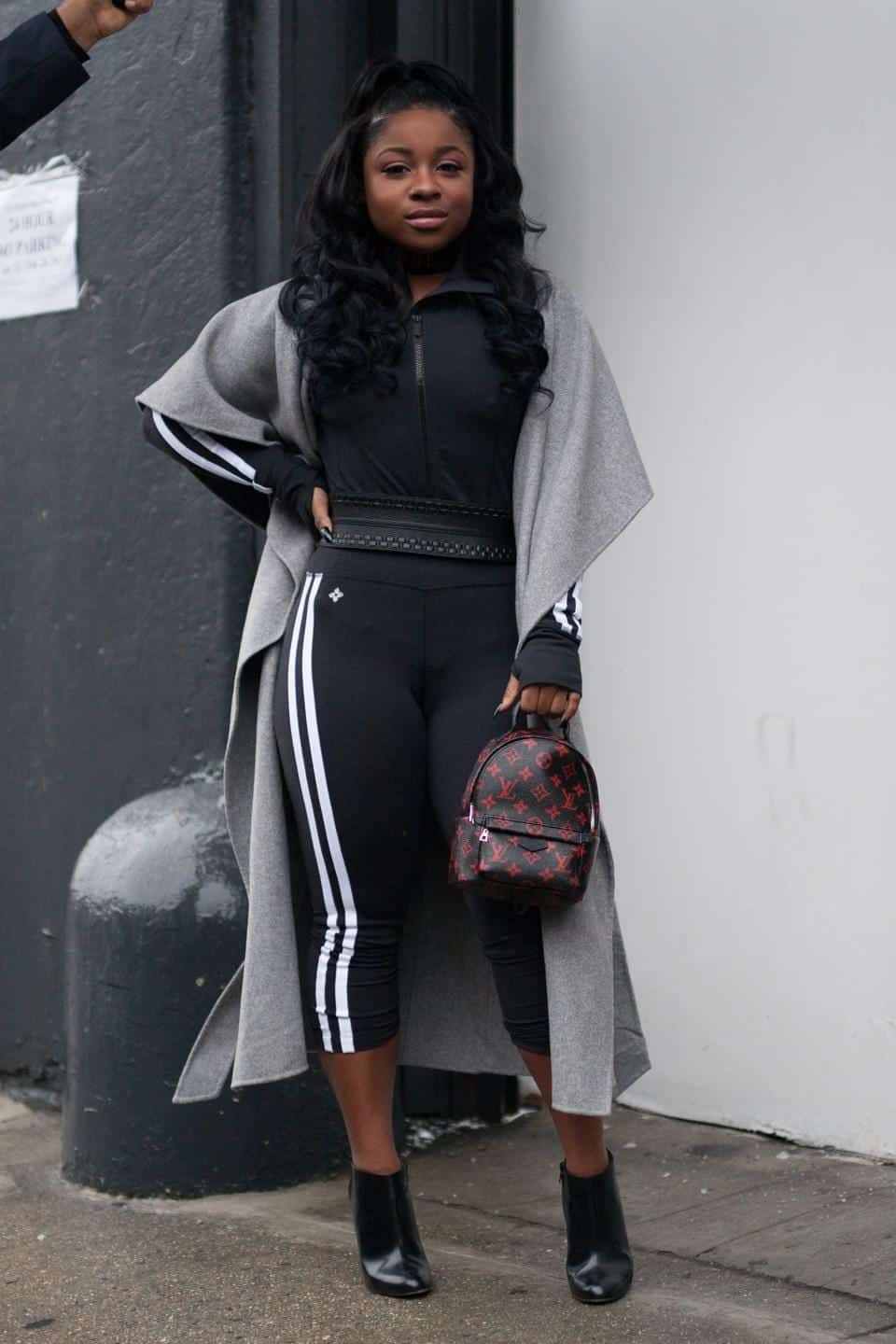 7 – Blue Oversized Boyfriend Shirt
If you are a fan of oversized t-shirts then you can pair one up with a plain white top with black mom jeans and grey slides.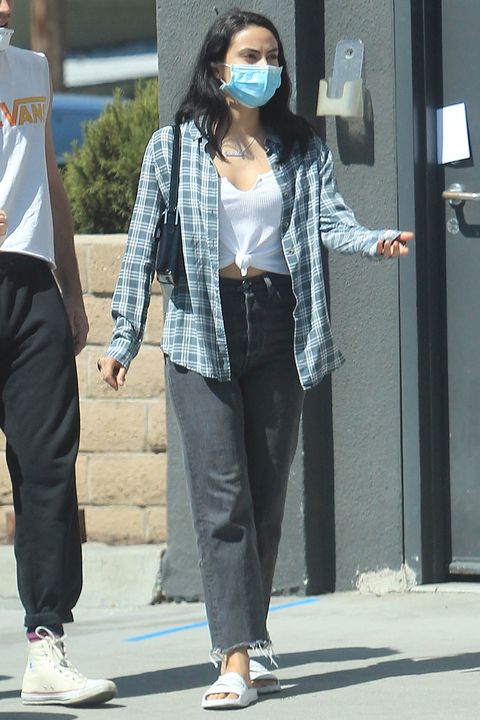 Sports Theme Outfits for Back to School Parties
We've noticed that most schools this year are opting for sports themes – and even if yours is not and you want to wear something sporty, choose from the looks shared below:
6 – Varsity Jacket
A sports themed party is pretty much incomplete without a varsity jacket, isn't it?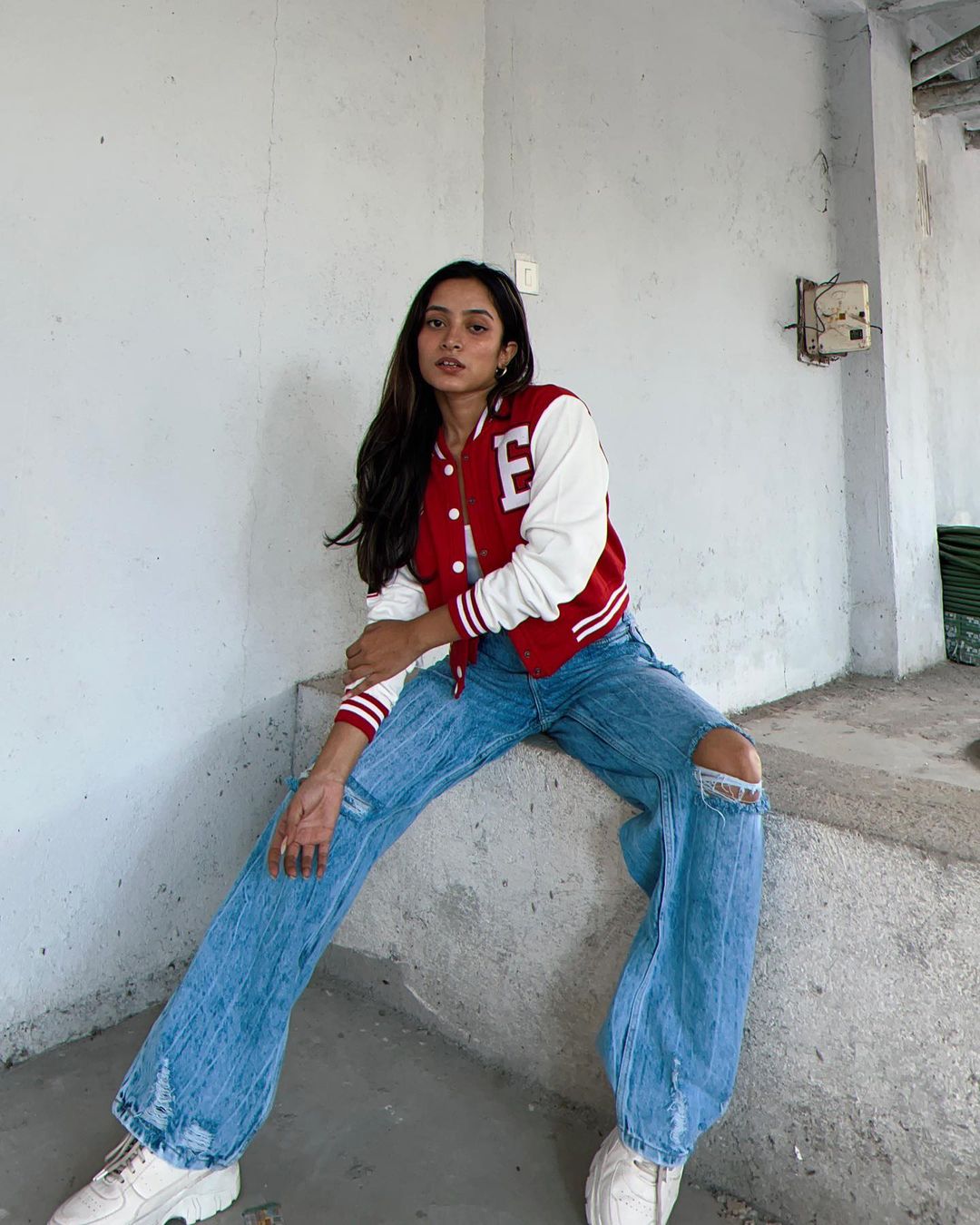 5 – Fila Fever
If you love fila tee shirts then give this simple sporty look a try. Wear your FILA shirt with pink sneakers and blue ripped denim and accessorize your look with some bag and hoops.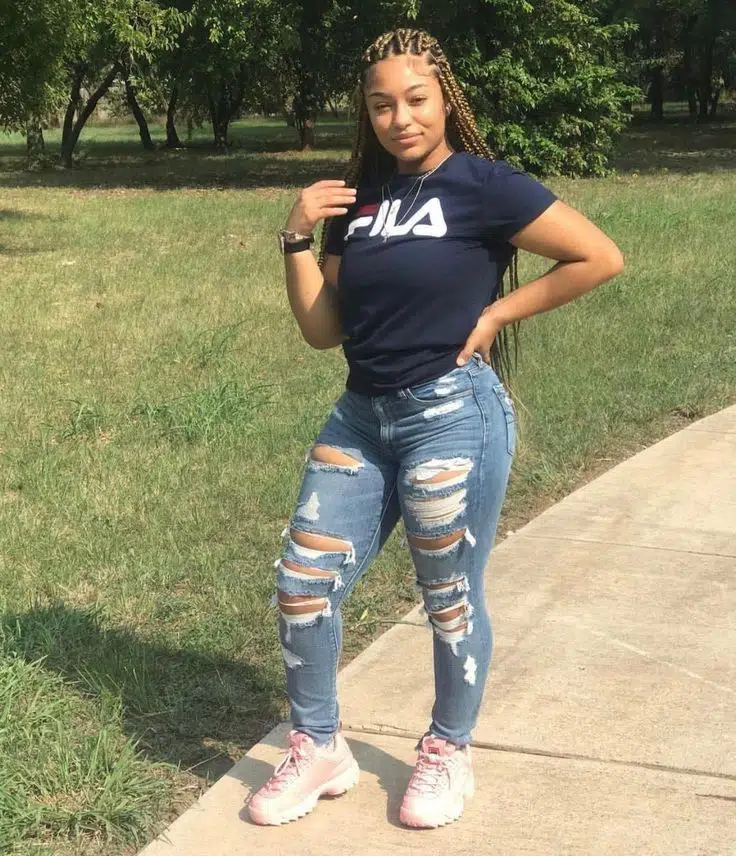 4 – White Heaven
All white every day! This outfit will perfectly go with your school's first party. Pair this trouser with some sneakers and hoops and you are good to go
Modest Back to School Party Outfits
3 – Blue Paradise
If you are a hijabi then you must try the blue and white combo. Pair this white dress with blue leggings and complete your look by adding a blue hijab scarf and you will look stylish and classy.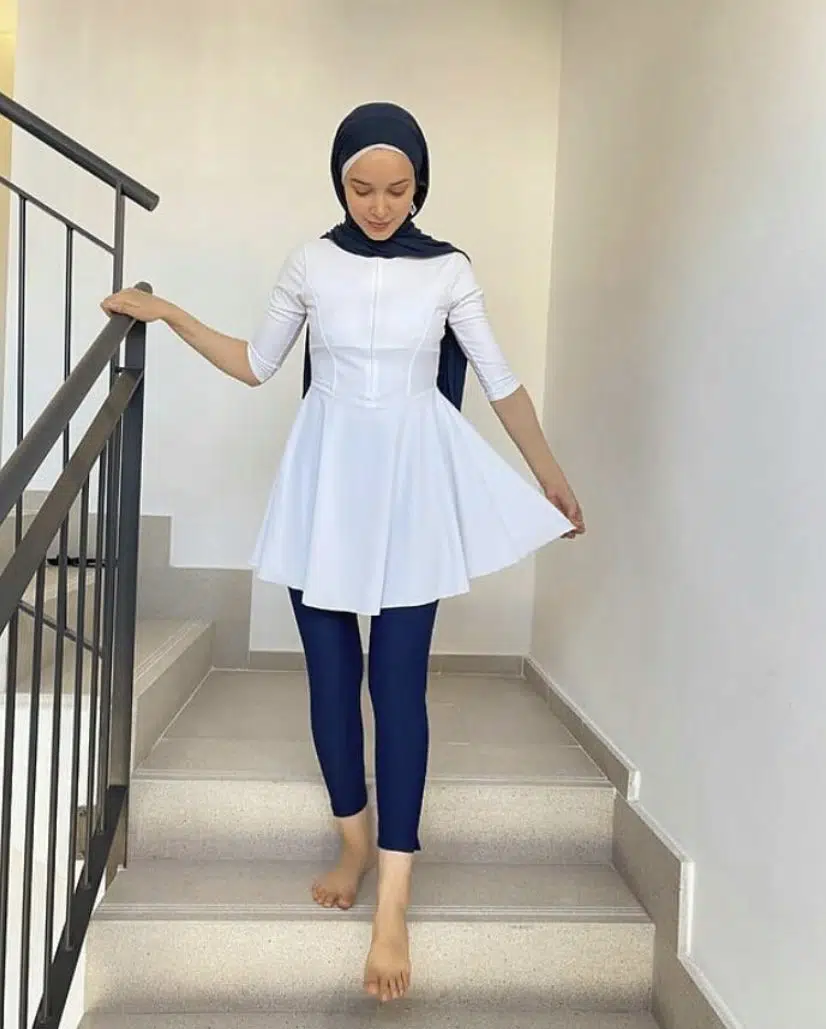 2 – Go All Black
This all black outfit looks so so stunning on this girl. So it's the perfect match for back-to-school bash night – pair it up with a red bag and a pair of slides. Recreate this look by taking a picture in sunny daylight and you are ready to rock the day.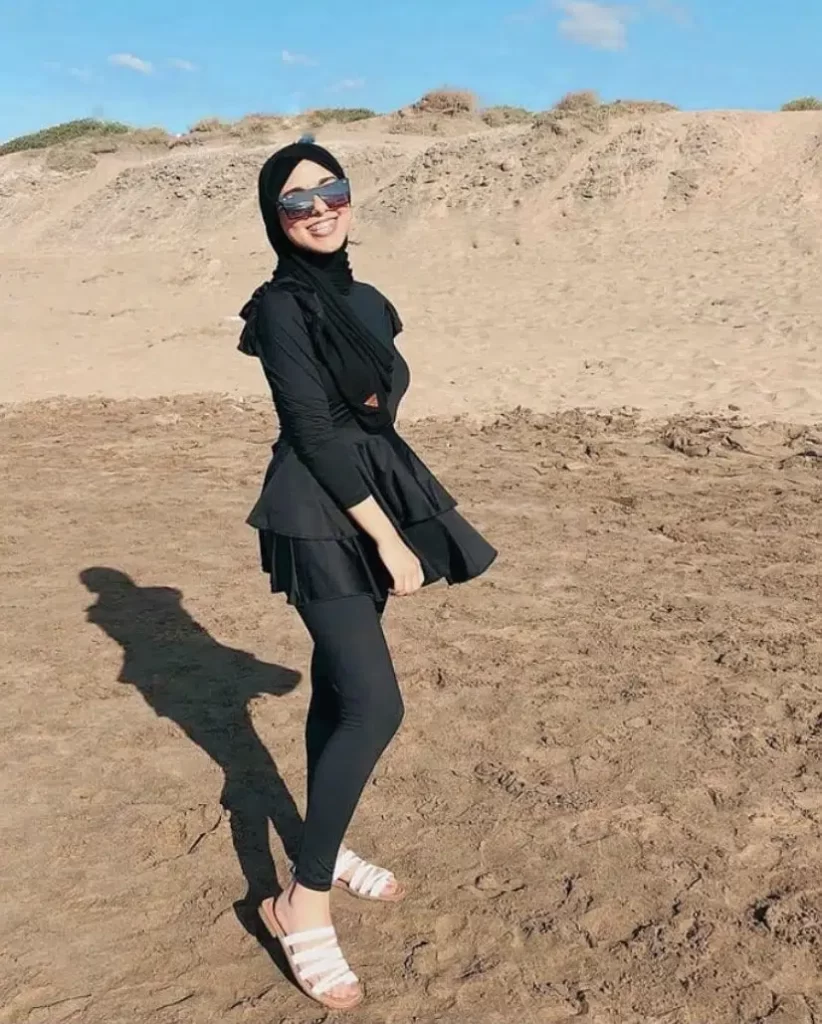 1 – Movie Night Party at School
If your back-to-school party involves a movie night, then this could be your go-to outfit. Pair it up with white sneakers and a black clutch for a stylish look. Wear a clutch as it helps you to enhance your personality and you will look classy as well.
FREQUENTLY ASKED QUESTIONS
Q. WHAT TO WEAR TO A BACK-TO-SCHOOL PARTY AS A GIRL?
As a girl, can have a lot of options if you are going to a back-to-school party. You can wear a black maxi with golden heels and complete your look by adding some gold accessories. But if you want to keep things simple, you can go for a mini dress, jeans and tee or even a sporty outfit. The options are endless and we've listed some great combinations.
Q. Where to shop for back to school party outfits?
For budget friendly picks, I would recommend that you browse Amazon, Walmart, Target and H&M. For more high-end brands or outfits, you can head to Shein, ASOS or Nordstorm.