How to Wear A Tiered Dress? Say hello to summers in easy breezy dresses. Fun, casual, and chic, this summer, the memo is flattering fashion.
Tiered dresses are one of the most flattering pieces of garment that fit and compliments all body types. With a beautiful bodice, these dresses are made up of multiple layers in the skirt. The unique layers can be of the same fabric or could be something absolutely different to turn the whole look around.
A summer must-have, such dresses come in all shapes and lengths and there is one for everyone. From casual to ball gown, we have culled out an interesting list of how to wear a tiered dress for that perfect look.
Tiered Dress Outfit Ideas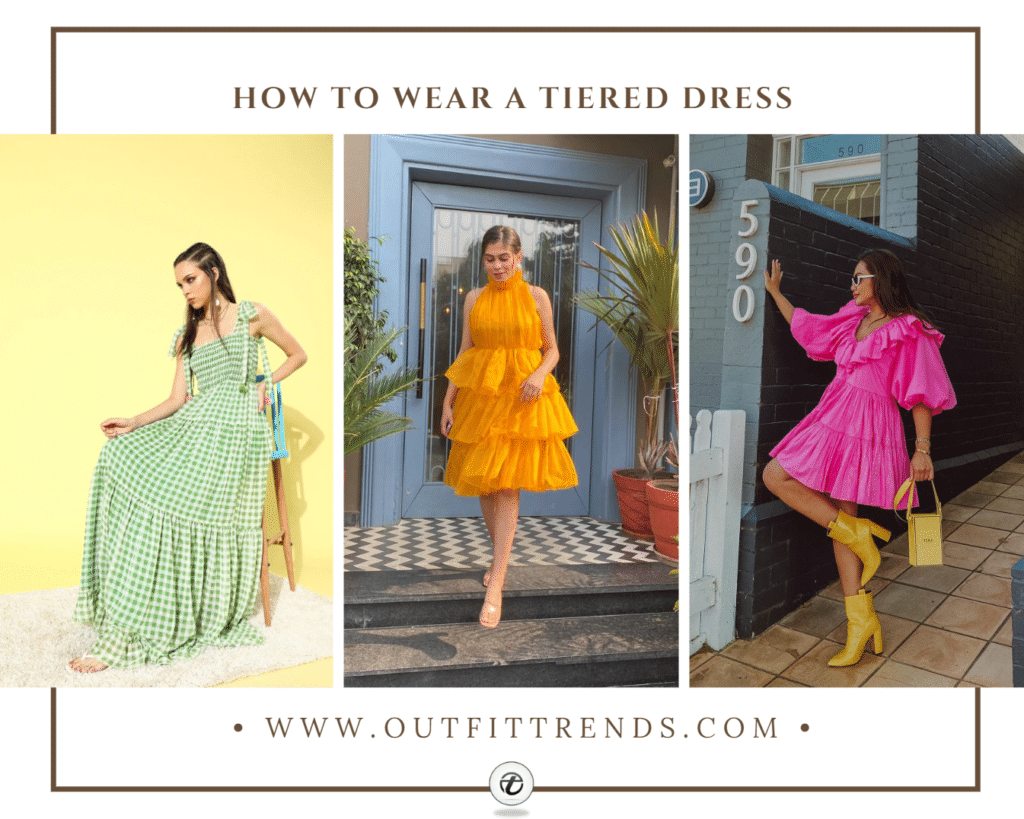 Tiered dresses come in various different lengths and shapes. Don't be afraid to experiment and find one that satiates your heart and suits your style.
When opting for a dramatic dress with extravagant layers or feather details, keep your accessories to a minimum and let your dress be the star of the show.
For a casual, boxy dress, throw on a layer of a denim jacket or add on colorful accessories to zhush it up.
What about shoes? Style your formal tiered gown with slinky heels and pair your casual dress with strappy sandals.
Tiered dresses with dainty floral patterns in fresh pastels are the perfect summer outfit so do check out these Cute Pastel Combinations.
18. Styling a Tiered Dress for Work
If you're planning on wearing the dress to your workplace, I would suggest opting for longer lengths and fuller sleeves as they look office-appropriate. Here are two different ways to accessorize this dress, do let us know which ones your favorite: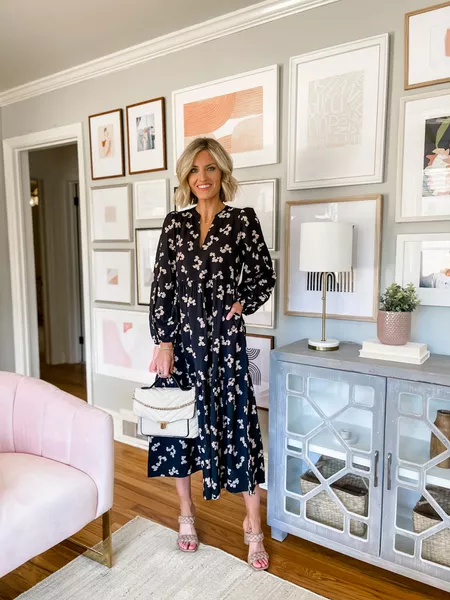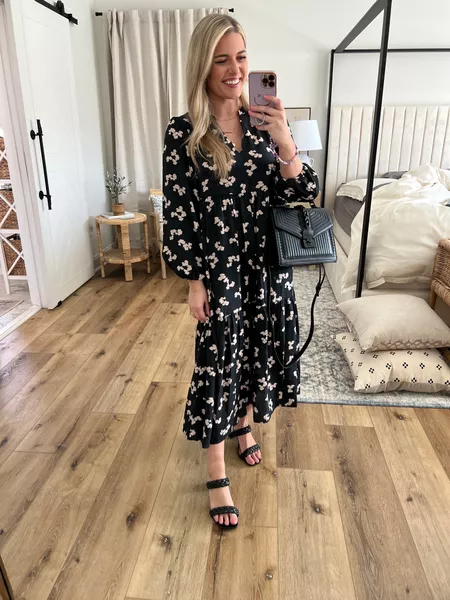 17. Go the Classic Route with Long Tiered Dress Styled with Straw Hat
This nude long dress is the perfect choice for our old souls who love to keep it stylishly simple. A classic monotone look with a soothing muted shade, this dress is a versatile number that when styled with silver accessories turns into an Indo western fit and when paired with a straw hat and white strappy sandals turns you into a bohemian princess. Perfect the look with these tips on How to Dress Monochrome.
16. Treat your Boo with this Stunning Dress
For all our romantics at heart, this-tiered dress with an adorable print is surely going to be your next favorite outfit. Wear this with a fun hairdo and finish it off with a dainty necklace. Flirty and feminine, adorn this to your date night with boo and don't forget to tag us in your pictures.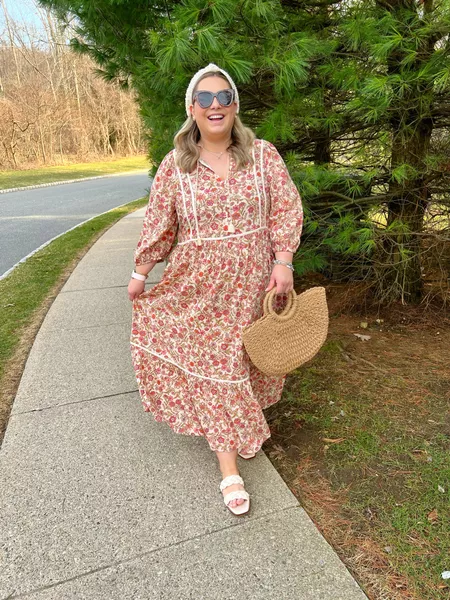 15. Off-shoulder for the Bohemian Soul
Add a touch of bohemian magic into your outfit by opting for this fun and casual off-shoulder dress in powder blue with stunning tassel details for that perfect brunch look. Pair it with a braided jute bag with a wooden handle and white tied-up flats and our boho-chic princess is ready. You can find more ideas like these in our post on What to Wear With Cold Shoulder Tops.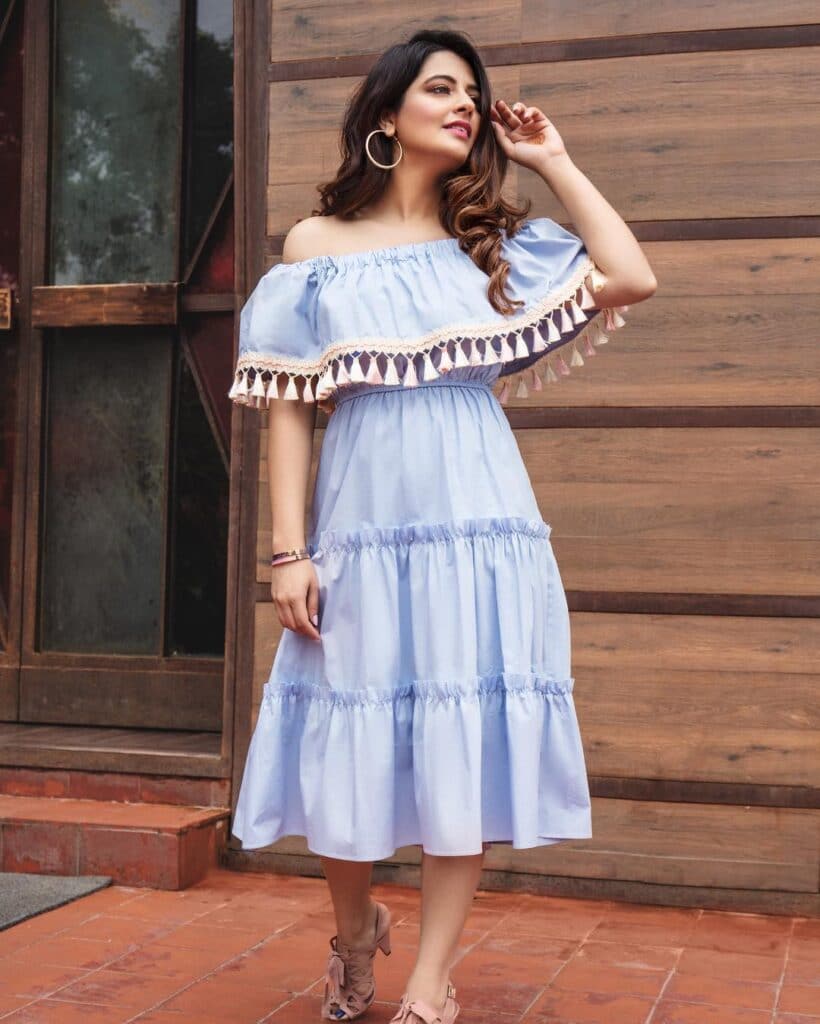 14 Embody Kate Middleton with a Pastel Dress
Bring out your inner Kate Middleton with this stunning soft pink number and style it with dainty pearl earrings, black net gloves, and delicate kitten heels. You can also add a black bow scarf to add to the charm. A fabulously sophisticated and classy attire, this dress is graceful and posh. Wear this for a tea party or for meeting your boyfriend's parents and leave a mark wherever you go.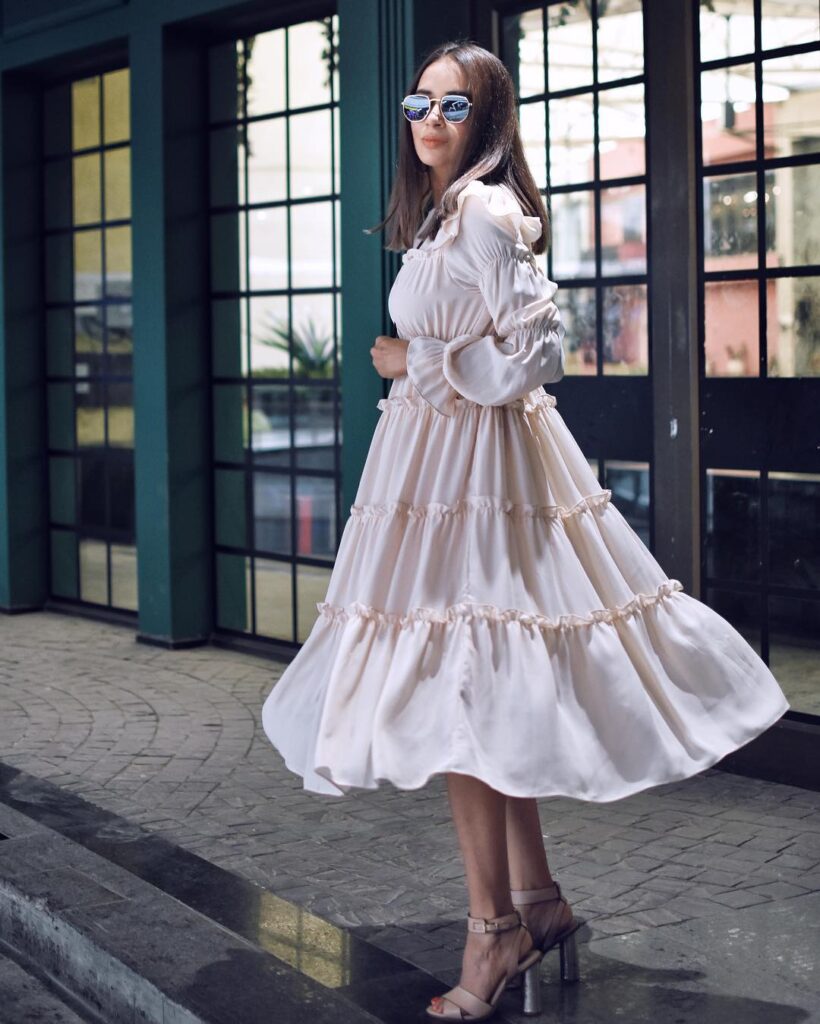 13. Pair it with a Crossbody Bag
A simple but beautiful look for everyday wear. Crossbody bags are an excellent choice when wearing such dresses for casual wear. Platform sandals or espadrilles are definitely the best options but you could also opt for sneakers if you're looking for extra comfort.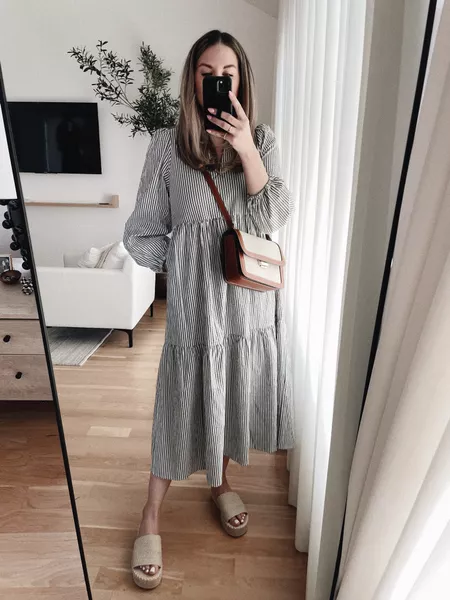 Via
12. Ruffled Tiered Dress Paired with Gold Slinky Heels for the Party Girl
Get your party shoes on because we have found the perfect party fit for you. Spectacular, comfortable, and with a hint of sass. No points for guessing, it is a red ruffled dress. With an air of carefree vibe, matched with the fun and chic ruffles this number is perfect for a night out with your girlfriends. In a popping red shade, this dress will surely grab all the limelight.
11. A Summer Dream – Floral Tiered Dress Styled with Diamond Danglers
This stunning number is exactly what summer dreams are made of. An absolute stunner, the soft florals simply take your breath away while the structured layers lend a polished and well-defined look. Perfect for the races or evening soirees, this number is for all our classy ladies who just want to have some fun. Pair it with diamond danglers and let this masterpiece of an outfit do all the talking. I also love the choice of a bamboo bag here because nothing beats sustainability. If you like the bag too then you should check out these Ideas on What to Wear with Bamboo Bags.
Also, if you've been wondering how to layer a tiered dress, you can see here how perfect a denim jacket looks with these dresses.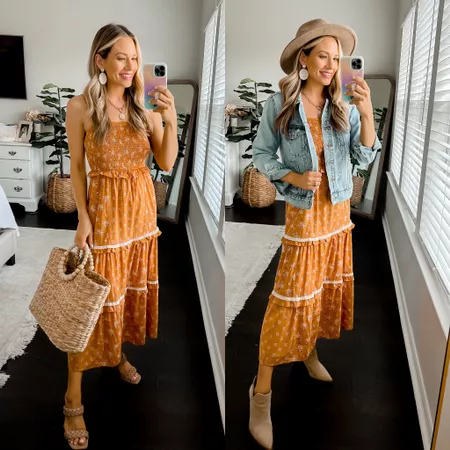 10. Look Snappy with this Striped Tiered Dress Paired with a White Satchel Bag
A magic trick that we are a fan of is eye illusions. Nothing creates an illusion of a tall height with a slender shape better than a vertical striped dress. And this easy-breezy number in white and blue stripes is one of our top picks for this summer. A perfect hot day outfit, this comfortable dress is a minimal effort with maximum appeal. Throw on a pair of strappy sandals and a wayfarer to complete this Sunday brunch look.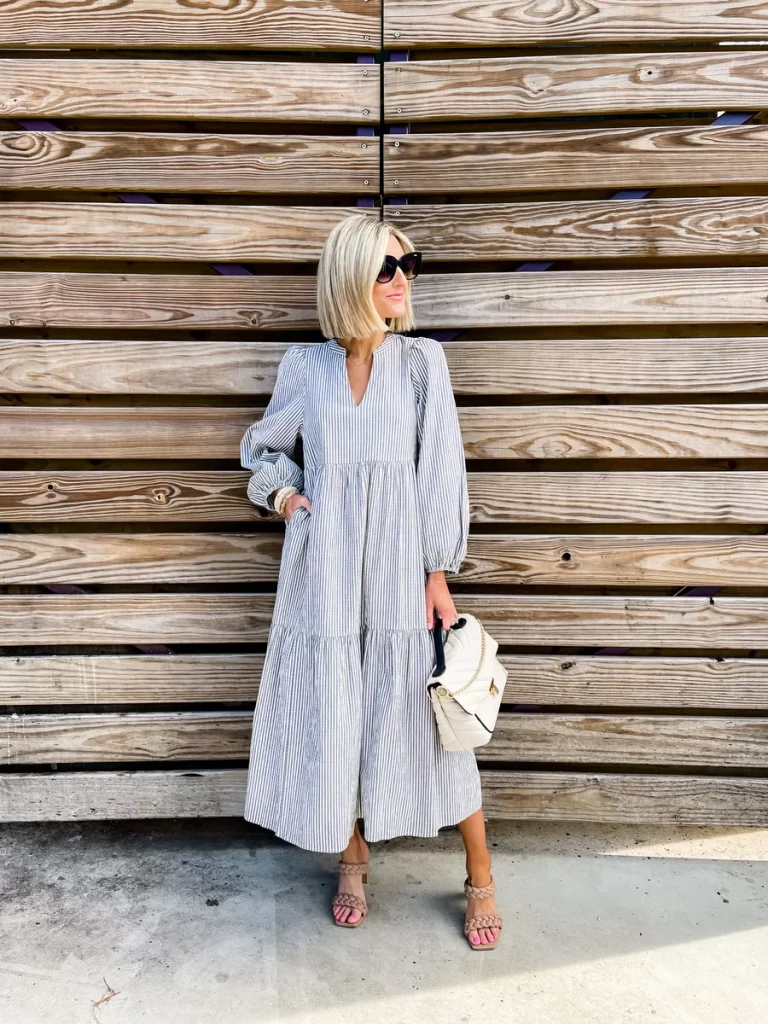 9. Deal with the Heat with White Cotton Tiered Dress Styled with a Hat
A summer wardrobe is incomplete without a cotton dress. Get ready to soak in the sun with this casual yet chic white cotton dress and style it with a stylish straw hat to protect yourself from the heat. A breezy option and a summer must-have, accessories this number with a chunky tan bracelet, comfortable flats and stroll down the streets of your city with no care in the world.
8. Multicolor Dress with Tie Shoulder Details
Who doesn't love classic muted tones with some fun ruffles? If summer vacation was an outfit, it would be this. Slide down the memory lane of popsicles, colas, and water rides with this dreamy multicolored tiered dress. With a gorgeous color palette of blues, whites, and browns, this excellent piece with dainty tie shoulder detail is going to steal your heart, just like it did with ours.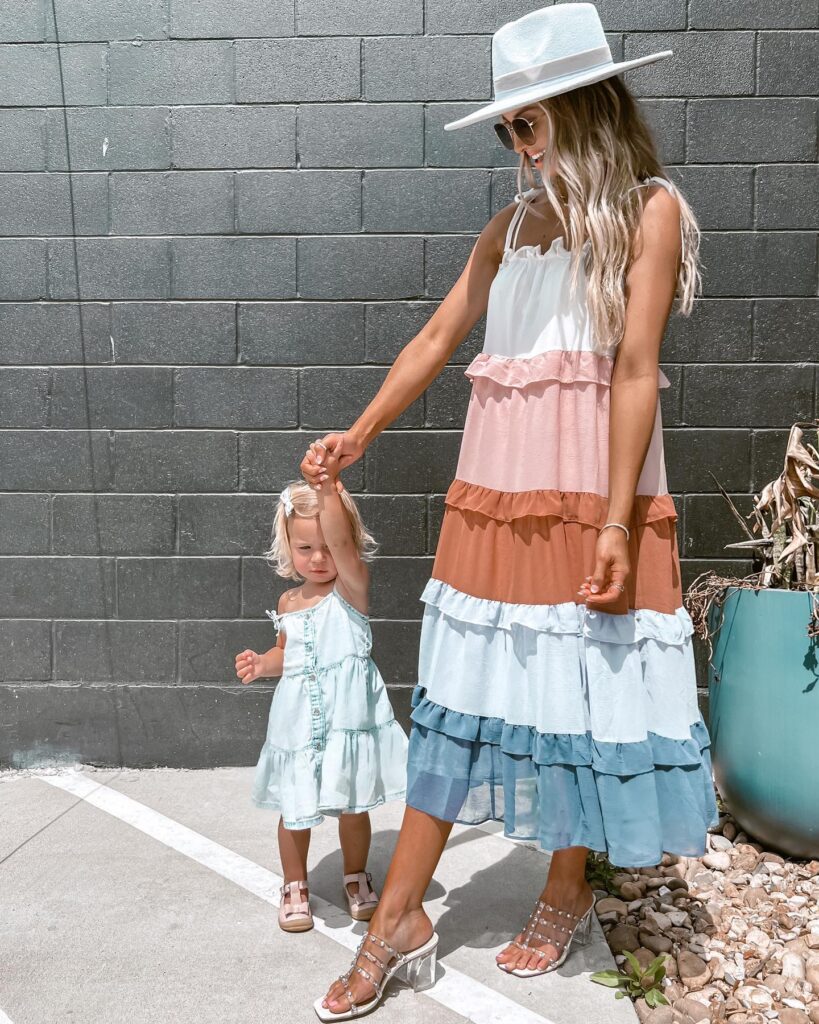 7. Balloon Sleeves with Contrasting Accessories
Hello fashion influencers, we have got the 'it' dress of the season for you. Bold, beautiful, and feminine, this fun and flirty pop of color is exactly the eye-catching piece you need, to be the star of the show. With a hint of sass and a lot of drama, this dress with statement balloon sleeves is the perfect outfit for the 'poo' inside you. Accessorize it with contrasting jewelry and bag and make the streets your runway.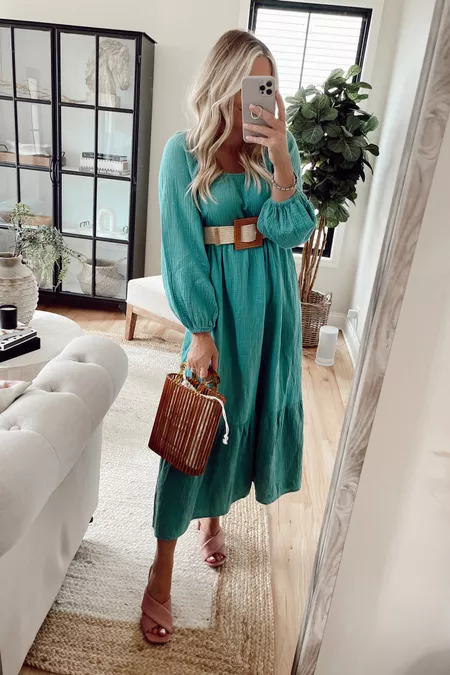 6. Ravish in this Printed Dress or Match with Your Girls
This printed dress in a happening burnt orange hue and a chic floral print is one of the prettiest dresses we have come across. Best paired with oxidized silver earrings, and a magnificent silver anklet. Tiered dresses are a great choice for family pictures so matching them with your little girls is always a good idea.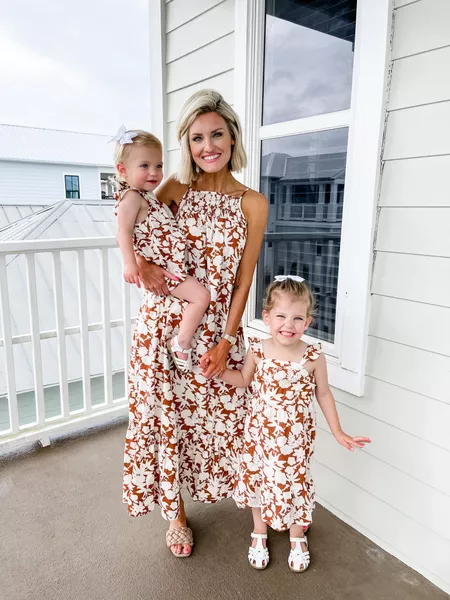 5. Tiered Ball Gown Worn With a Low Bun – A Princess Dream
Want to make a statement at the next wedding or looking for that perfect ball attire that is not only trendy but also timelessly chic. We have got you covered. This statement piece is both parts glamorous and fantastically stunning, style it with a low bun and let your dress do all the talking. With all the glitz and glam this splendid tiered gown with an exaggerated neck and fitted bodice will have everyone salivating at your feet. Live your princess dreams with this magnificent number and don't forget to tell us all about it in the comments below.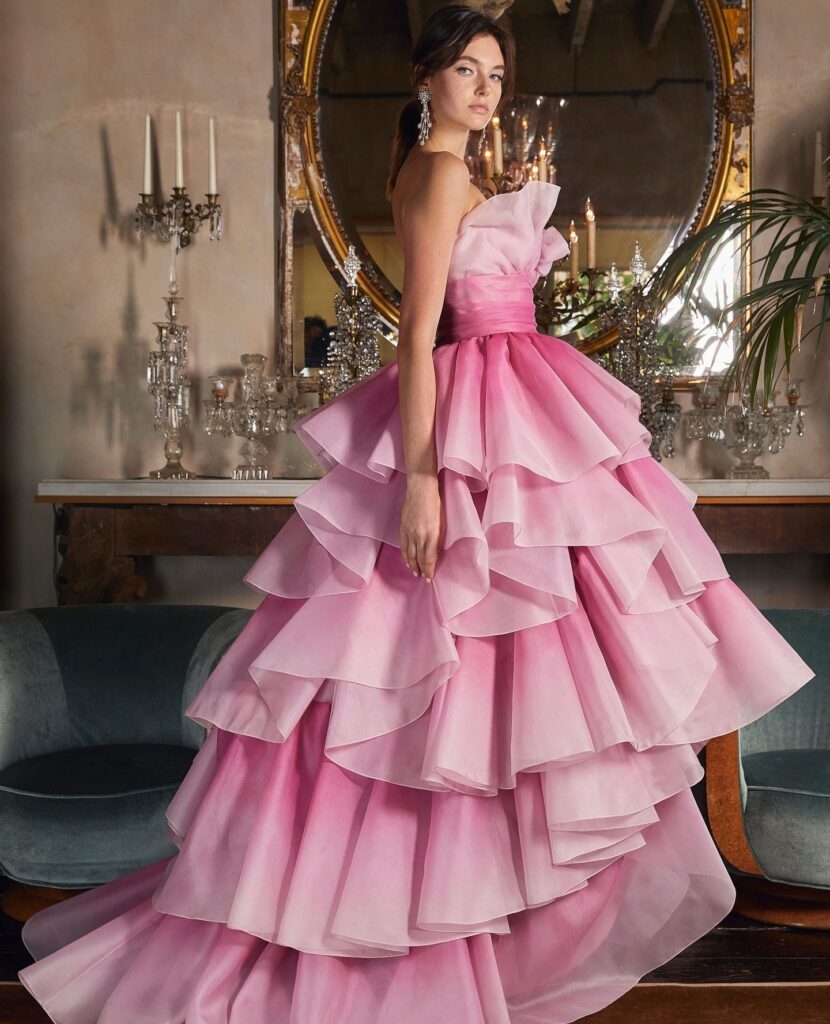 4. Indo-Western Dress with With Pearl Earrings
Add a twist of indo-western fashion into your everyday outfits by adding this striking blue dress to your wardrobe. A beautiful fit and flare number with a delicately embroidered neckline is trendy as well as perfect for all body types. A perfect summer maxi, style this dress with silver chandbalis, and kolhapuris and to finish off this beautiful look, tie your hair in a messy bun, add a bunch of white flowers, and you are good to go.
Via
3. Turn Back the Clock with this Gingham Dress and Vintage Sunnies
Trend Alert: With a whiff of retro, gingham prints are back and how. Indulge in the nostalgia of summer picnic dates, and walks in the garden with this fresh and youthful gingham print dress with flirty neck shoulder detail. A perfect companion for the hot summer days, throw on a pair of vintage glasses and sip on your colas while looking like a retro queen. If you like this look then you must try out these Gingham Outfit Ideas.
Via
2. Shine Bright in a Yellow Monochrome Dress
Sleek and sensuous dresses have taken the fashion world by storm and we are left completely smitten. Hop on the trend train with this slinky Yellow number and look like the badass diva that you are. In a gorgeous hue, this dress is the perfect birthday outfit that you have been looking for.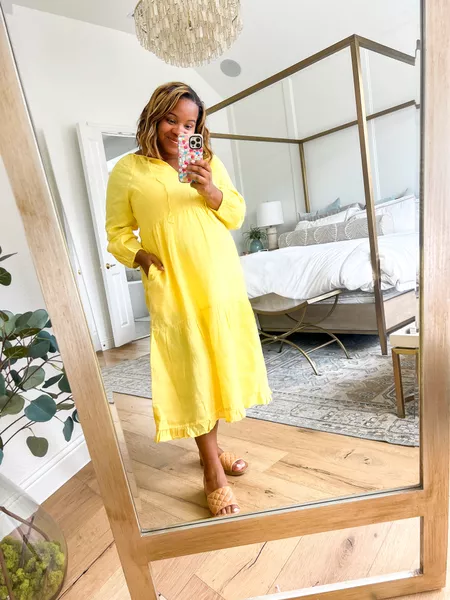 1. Short Dress with Chunky Earrings – The Classic LBD for the Win
The wardrobe of every fashionista is incomplete without that perfect LBD. The coveted little black dress. Perfect for every occasion any time of the day, you can never go wrong with a well-fitted black dress. And we have found the perfect fit. This young and flirty short-tiered dress is the perfect LBD that your wardrobe desperately needs. Style it with a low bun and strappy heels for a summer wedding look or wear it with soft waves and gold chunky earrings for a girl's night out. When it comes to styling this versatile piece, the options are endless.
Frequently Asked Questions
Q. How to Style a tiered maxi dress?
Style your tiered maxi dress with strappy flats and chunky bracelets for a casual, laid-back look. Accessorize with gold earrings and a gold watch for a more luxurious and put-together appeal.
Q. What do you wear with a tiered dress?
Throw on a pair of denim or leather jacket with your tiered dress to add a layer of dimension to your outfit. Or you can also accessorize it with oxidized silver jewelry, strappy heels, straw hat, when it comes to styling a tiered dress the options will spoil you for choices.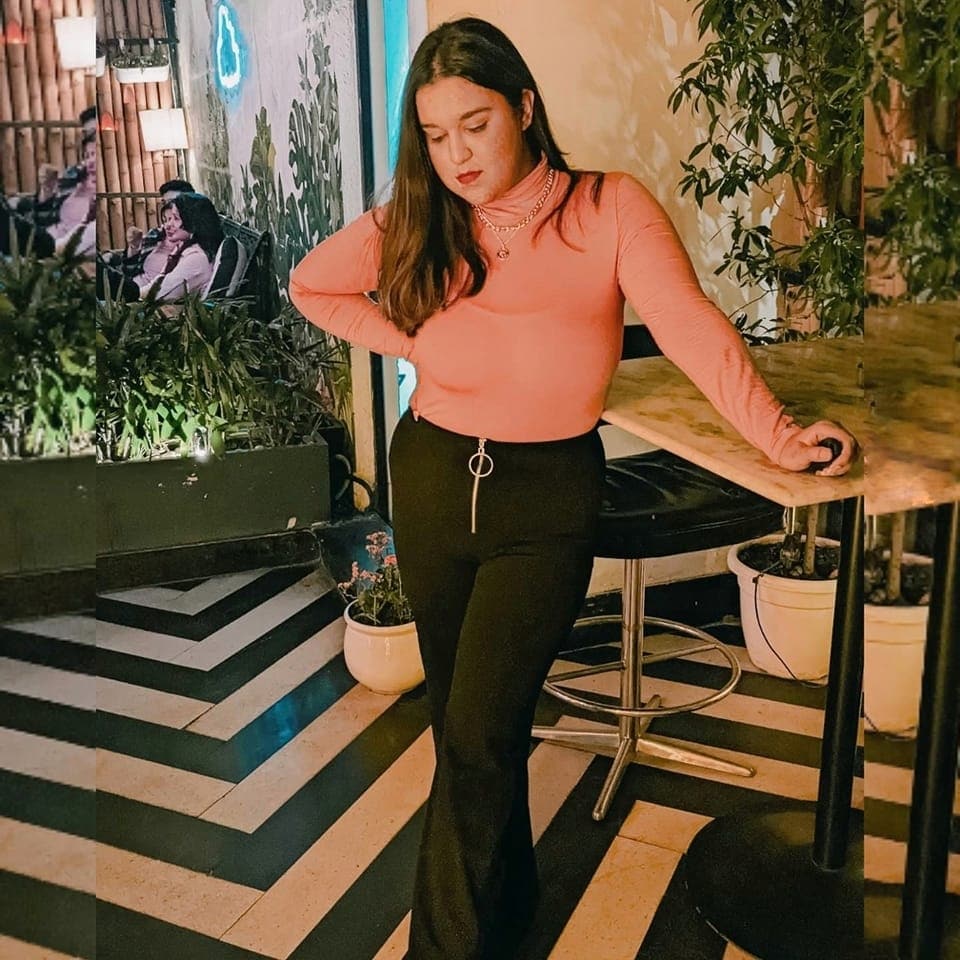 Lover of sunrise, tea, mountains and flowers. When not reading or writing, Mansi is often found cafe-hopping around Delhi.