Pastel Outfit Ideas. Pastel shades are a winning collection of tones for all women during the spring and summer periods. But with such a vast variety of ways to wear pastels, what are the best pastel outfits combinations? What accessories match pastel trends? And what shoes to wear with pastel dresses?
All your questions will be answered in this post! Pastel colors are not just limited to tops, dresses, and trousers. They are also seen in jewelry such as rings, hair clips, necklaces, bracelets, and anklets. Why not accessorize your outfit by including some of these items? Pastel floral rings are frequently seen and break up color nicely. Necklaces, bracelets, and anklets can have small pastel-toned gems that add twinkles of color around the body which may otherwise seem boring. Read on to find some awesome ideas on wearing pastel-colored outfits like a pro. 
How to Wear Pastel Colors?
Here are the things to remember when wearing pastels:
When wearing pastel outfits, wear accessories that will stand out like black colored ones or bright and funky ones.
Remember that pastels are the easiest colors to mix and match for a bold look.
For a sophisticated look that's appropriate for work or other formal settings, go monochrome.
If you are wearing one pastel clothing item like a blazer or shirt, keep the rest of the outfit simple and in a neutral color like white, as this will make your pastel stand out.
When using the color blocking technique, try wearing the darker color as the bottom.
Keep your hair and makeup simple.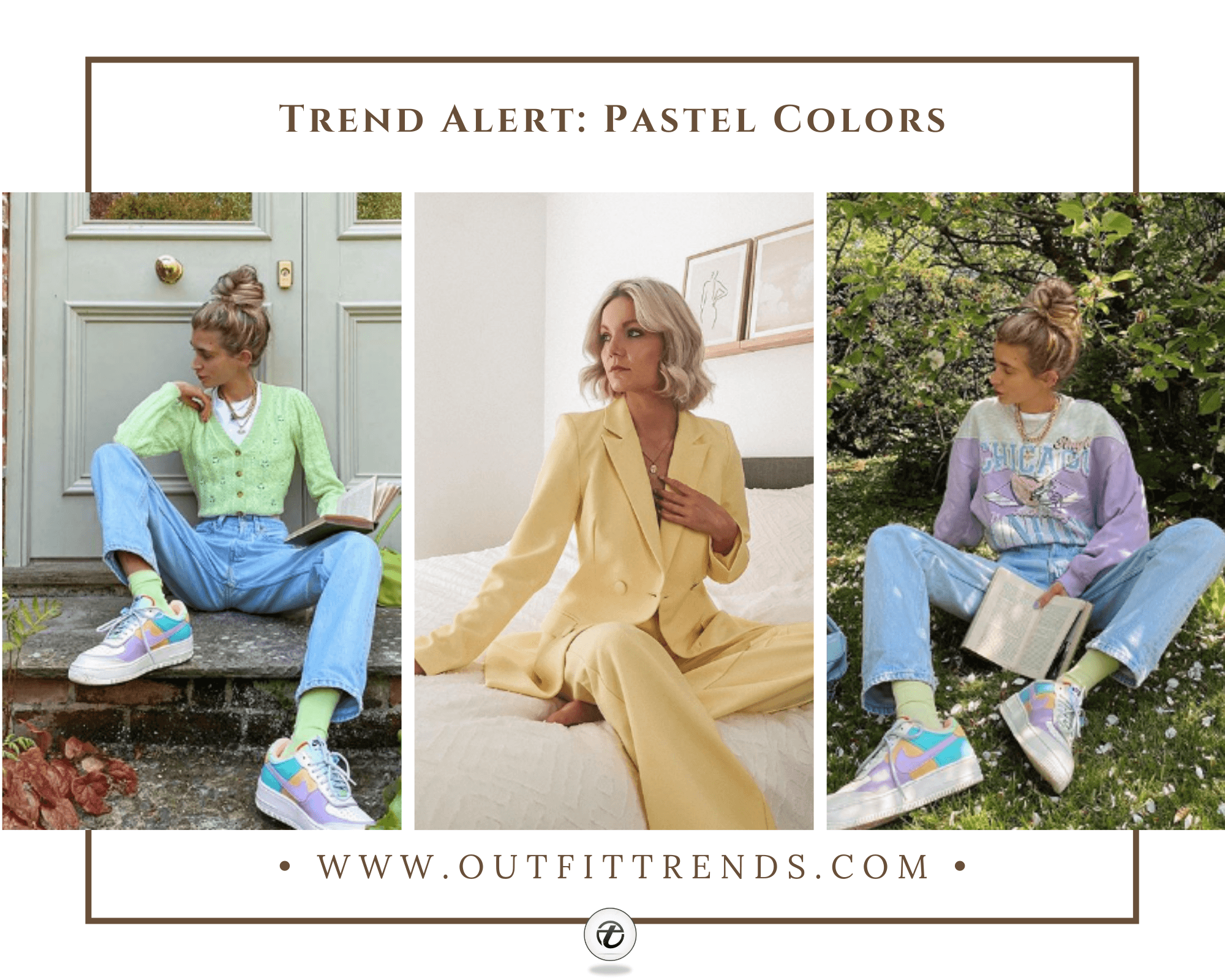 Have a look at the images below for inspiration on how to create your own pastel look. See also how the celebs rock the pastel tones.
↓ 22. Baby Blue & Pink Date Night Look
Did somebody say chic?! This gorgeous ensemble featuring a baby blue body-con dress and pastel pink coat with pink accessories and heels is a dream. This look makes for a fabulous springtime date look and can even be rocked for a holiday or semi-formal event as well.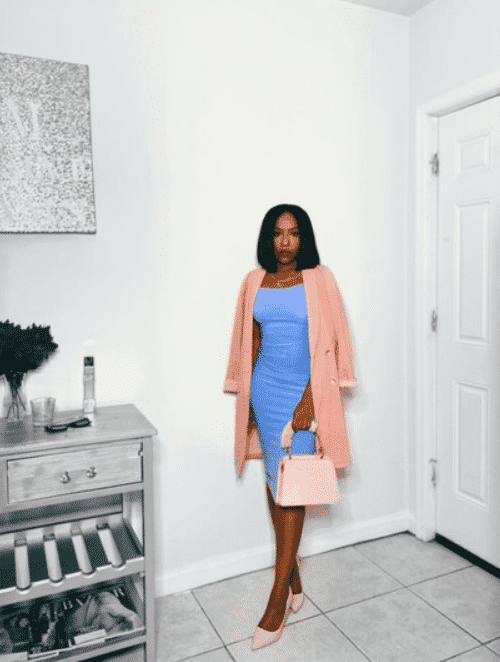 ↓ 21. Business Chic 
Every stylish lady ought to rock a look like this at least once in her life. It is an outfit that requires supreme confidence and innate elegance… but even if those aren't two traits you are known for, after this look, they will be! Start with a lace-trimmed camisole worn under a baby-blue pantsuit. You can go for a looser fit on the jacket to ensure you do not look too office-like. Go for bold accessories. A burnished ropey chain necklace with thick hoops are a great combination. Be sure to go glam with your makeup and hair and prepare to be the belle of the ball wherever you go!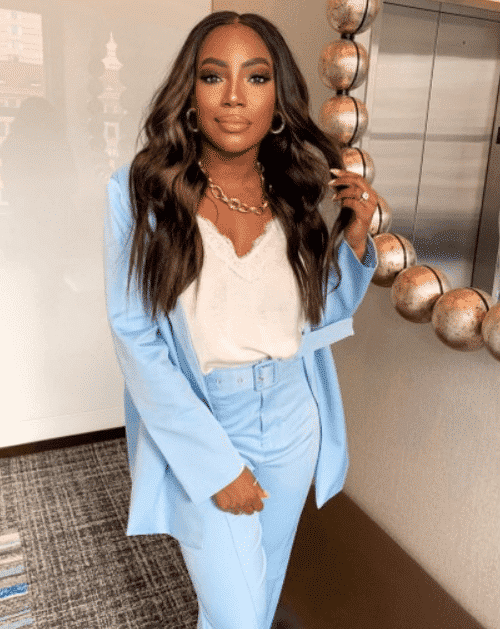 ↓ 20. Soft Blue Romper Jumpsuit
We can't think of a better weekend look or cute lounging look than this one right here. If you are usually in a rush but still want to look cute while spending as little time as possible on your wardrobe, then the romper jumpsuit is for you! This is a one-and-done look that requires very little effort. You could even add a few accessories to jazz it up a bit… or go without for a cute around-the-house look. Go barefoot or style your outfit with flats or mules.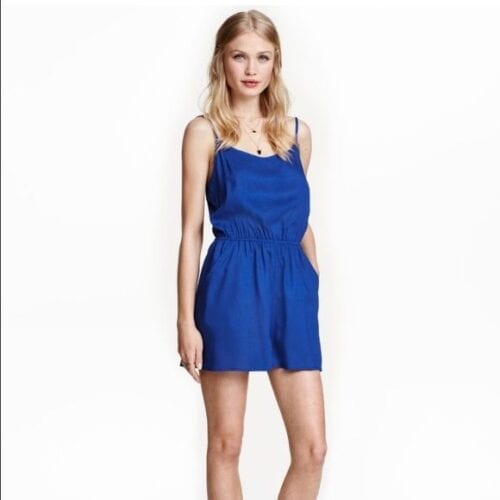 ↓ 19. Super-Cute and Feminine Dress & Purse Combo
Here is a look we are just crazy about! This outfit is perfect for going to a wedding, attending a graduation ceremony, or even throwing a birthday bash. When going for a solid color (in this case, mint green!) opt for a dress that features special detailing. This little number features fantastic ruched sleeves, a tiered hemline, and a sash at the waist. These little details help to bring the look to the next level. Lastly, opt for a statement purse like this beaded handbag. You can finish off this look with nude or white heels.
↓ 18. Easy Summer Look with Sleeveless Top
Strappy tops and vest tops are frequently seen throughout these seasons what with the warmer weather coming in. Pastel pinks and blues are great colors for tops and can be easily contrasted against plain white or ivory blazers and cardigans. Short sleeve blouses are beautiful tops to wear, especially in pastel tones. They are bright yet subtle enough to bring out stunning pale skin tones, and with button-up fastenings and added lace, you do not need much more decoration to make these tops stand out. Extra-long blouses make for different silhouettes and can also be used over a tank or vest top for added layers and volume. Also, check out 22 Cute Floral Print Outfits for more pastel-colored styles.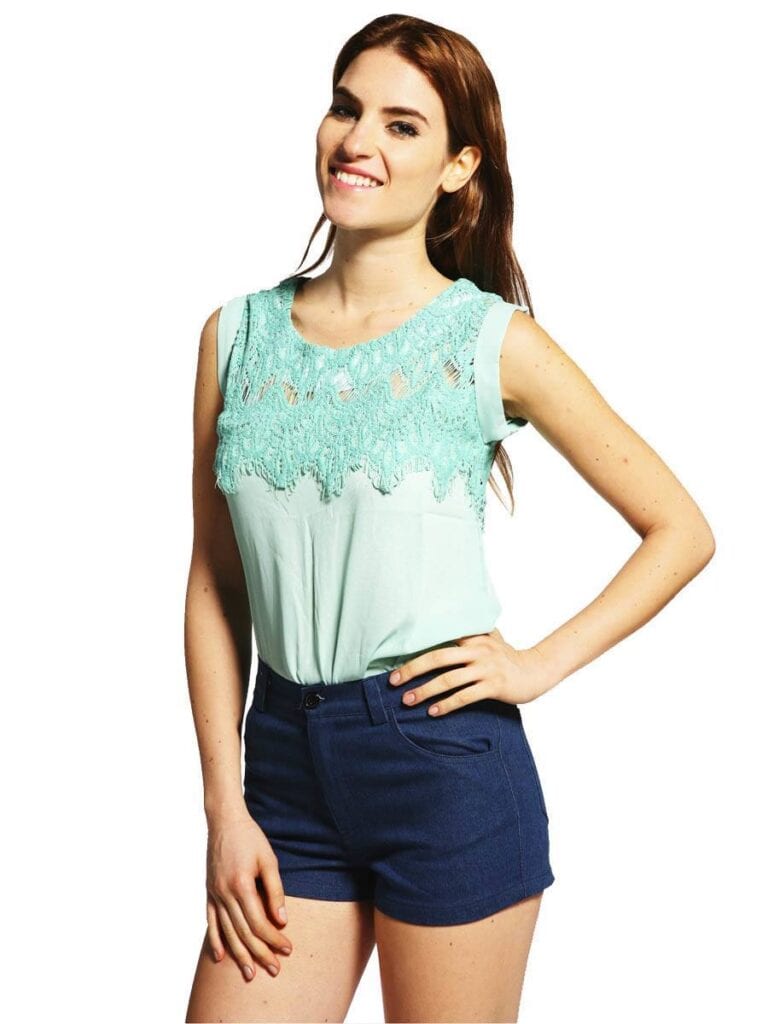 ↓ 17. Soft Blue Lacy Dress for Summer
Knee-length pastel-colored shirt dresses which have capped or short sleeves are every fashionistas summer must-have. These are great for waist definition as they are shaped and can be accessorized with a small belt. If shirt dresses are not your style, why not choose a gorgeous floor-length maxi? These are such a popular choice for summer dresses that they are available in a wide range of beautiful pastel shades and stunning pastel patterns. Purples, blues, and yellows are common shades seen for maxi, midi, and mini dresses.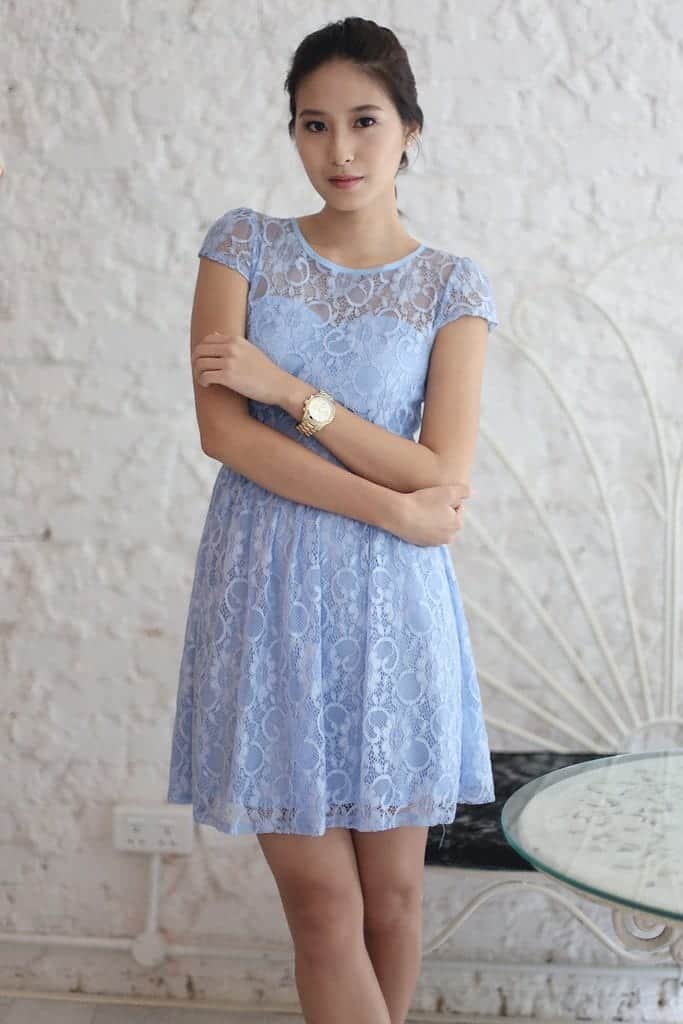 ↓ 16. What to Wear with Pastel Bottoms
Pastel shades are also great when it comes to skirts, skinny jeans, and shorts. Chambray is a great choice of color and fabric as it will easily match any shade of pastel. Bear this in mind when choosing a top to go with your pastel jeans or shorts. Lilac, butterscotch, mint, and pale blue are shades that work with any style bottoms, including skinnies, shorts, and three-quarter peddle-pushers. Have a go at mix and matching your own pastel colors and see what looks you can create. Have a look at these 25 Ideas How to Wear Mint Colored Skirts.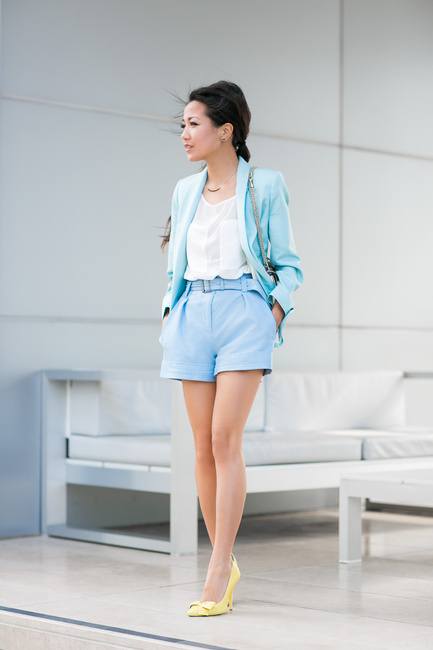 ↓ 15. Footwear and Accessories to Wear with Pastel Outfits
Summer footwear suitable for pastel outfits includes low top sneakers, boat shoes, and flip flops, as well as heeled peep toes and T-Strap pumps. Footwear should ideally be in neutral colors such as bronze, gold, beige, brown, and cream. These tones will finish off a pastel outfit beautifully without destroying your final look. You can also incorporate pastel into your look by going for a neutral outfit and pairing it with a pastel shoe like this beautiful heel.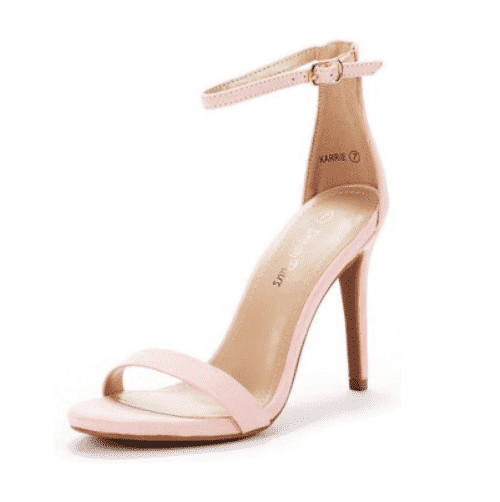 There is also a huge range of pastel sneakers that are trending this year and if you can find one that matches your outfit perfectly then go for it! You can find these sneakers from a number of renowned brands like Adidas, Chloe, Nike and Miu Miu.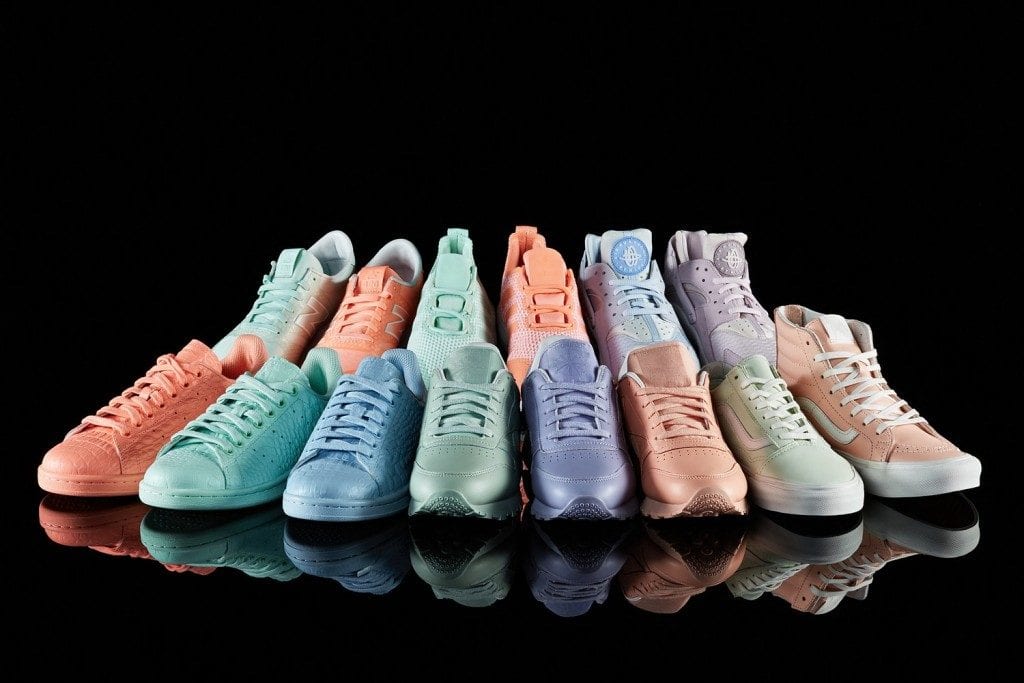 ↓ 14. Pastel Skirts
An easy way to incorporate pastels into your outfits is by going for a pastel-colored skin with a bright print overlaying it. These roses are darling and will surely put you in the mood for spring! We love this look for Church on Sunday or for a wedding guest ensemble. Here are 16 Cute Outfits To Wear With Midi Skirts.
↓ 13. Cozy, Cute Outfit for Working from Home
Every gal needs a go-to work-from-home look and we think this just might be it. It's cozy without being excessively casual and you will still feel put-together and on top of things. Plus, a sweet pastel top will have you feeling bright and fresh. Remember to add accessories, style your hair, and do your makeup (if you are a makeup-wearing gal!) so your brain gets the right signal: time to work!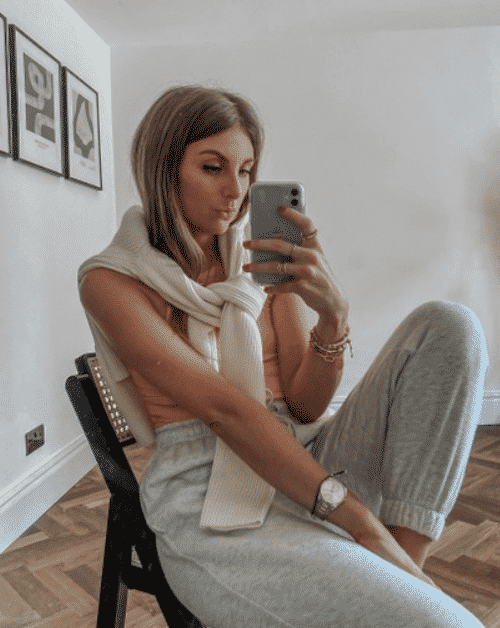 ↓ 12. Neutrals for Spring
While this look isn't strictly pastel, it's soft tones and neutral shades are very similar. This outfit is a great option for a spring look, especially for those girls who aren't the biggest fan of bright florals or lots of color. Check out these Spring Outfits With Floral Jackets.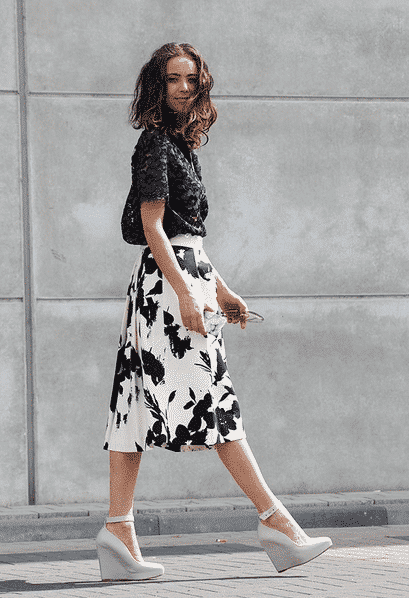 ↓ 11. Pastel Party Outfit
Did you ever think of pastels for a party look? If not, check it out! It's a gorgeous and slightly out-of-the-box option that is sure to shake up your partywear. Here are two beautiful pastel looks to try for your next house party or get-together with friends.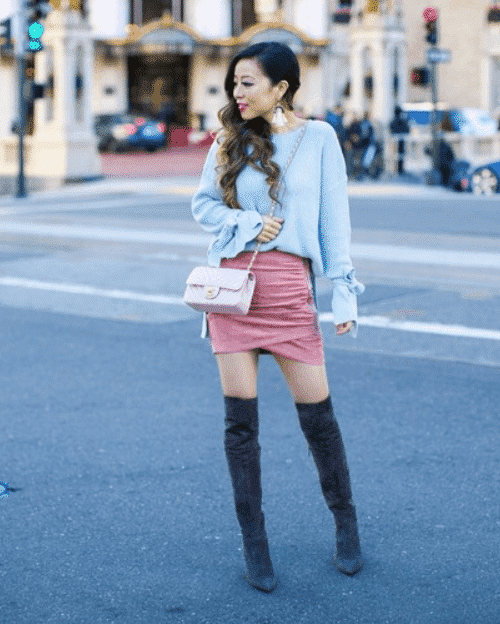 And here is a look that effortlessly blends feminine chic with a bit of grunge.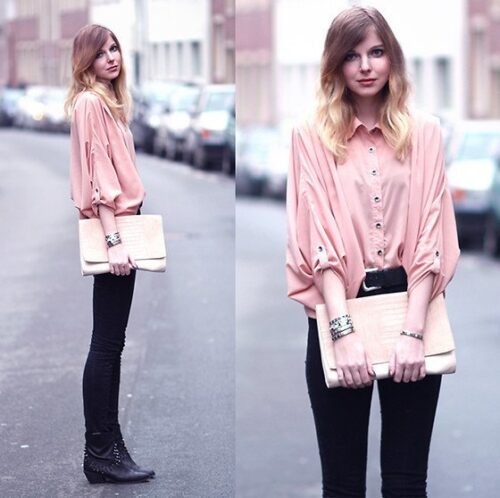 via
↓ 10. Monochrome & Silver Outfit for Fashionistas
For some truly unique outfit ideas, here's How To Wear a Backward Shirt.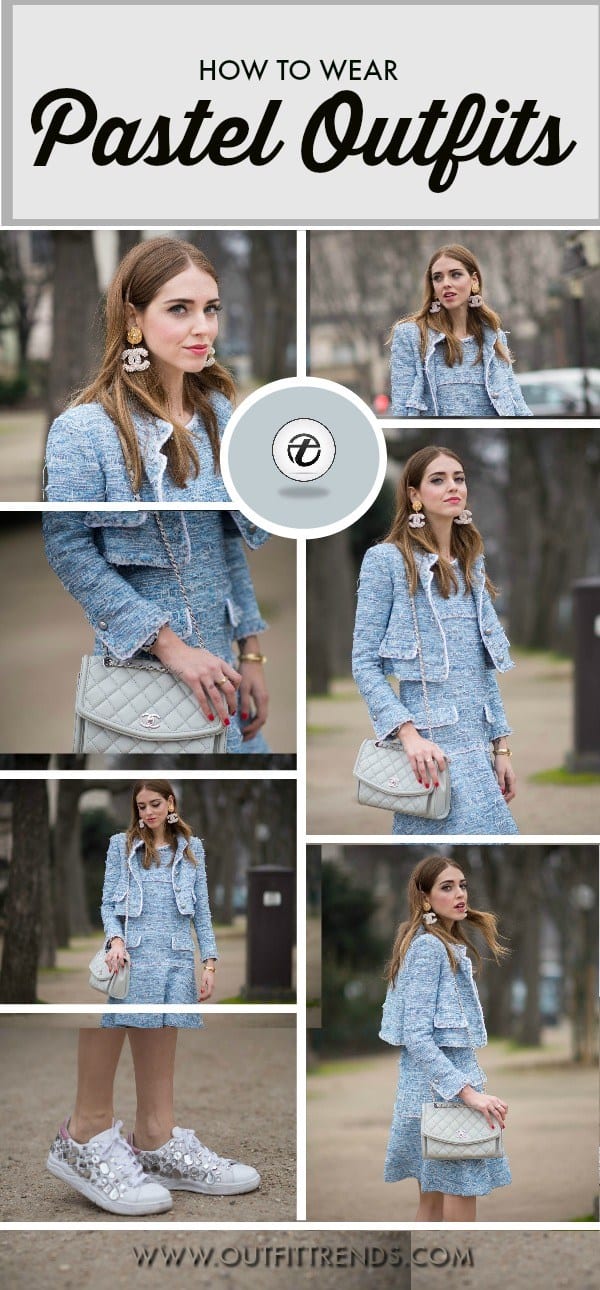 ↓ 9. How to Style a Pastel Jacket
If you like traveling then you definitely need a pastel jacket or blazer. It can go well with almost all your travel outfits and looks great in every weather. Our favorite colors are pastel blue and pink blazers. They can go well with both blue jeans or white pants. Here are some examples on how to style a pastel-colored jacket, coat, or blazer.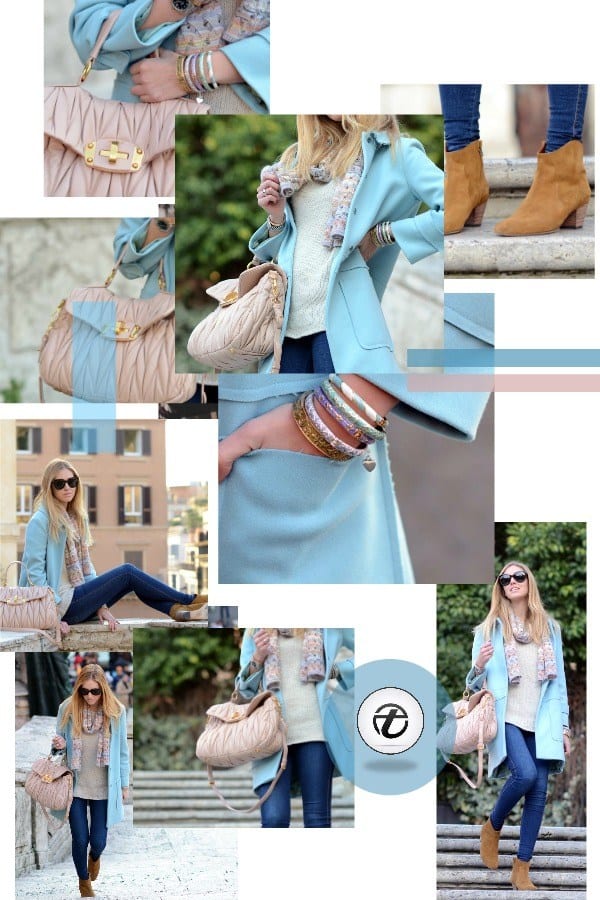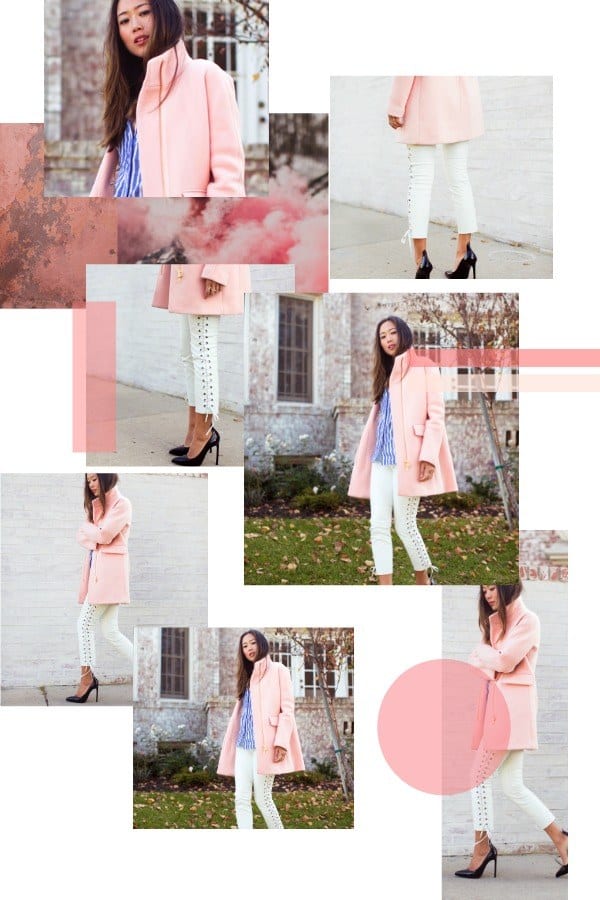 Via
↓ 8. What to Wear Around Town
Almost any pastel color would work well with black as black acts like a pulling factor that brings the whole outfit together. If you want to further soften the palette, you can add a touch of white. For example: through your jewelry. Here are 25 Celebrities All Black Outfits & Styles for Fall to Copy.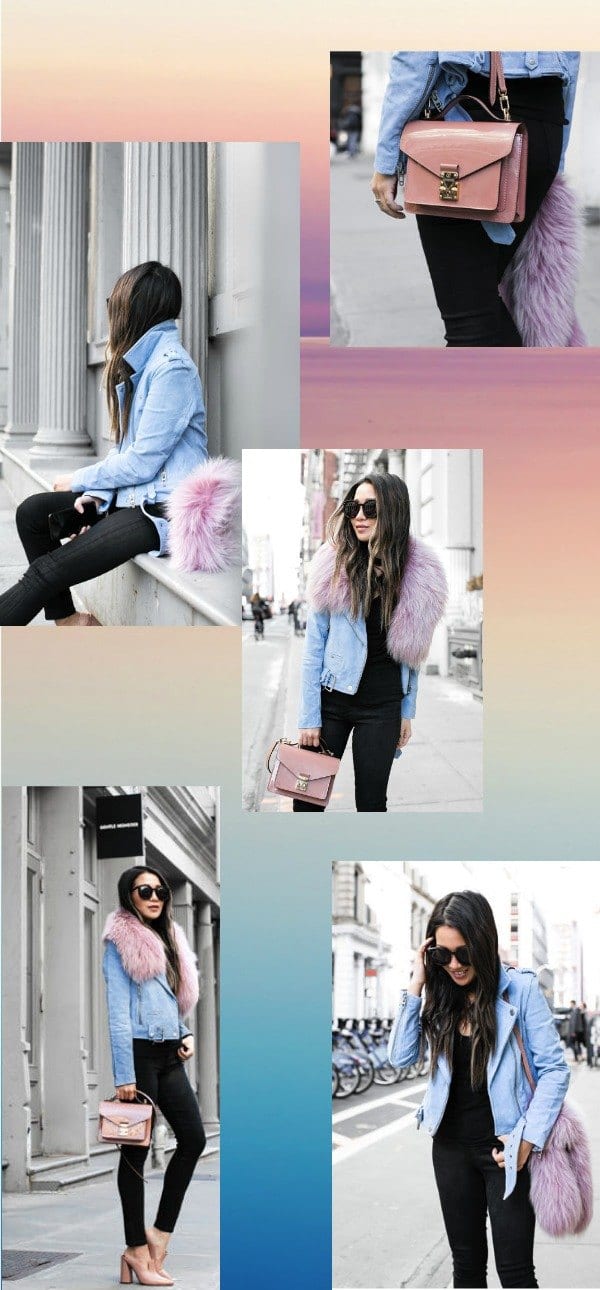 Even if you don't have black here, you can still rock this combination like these divas: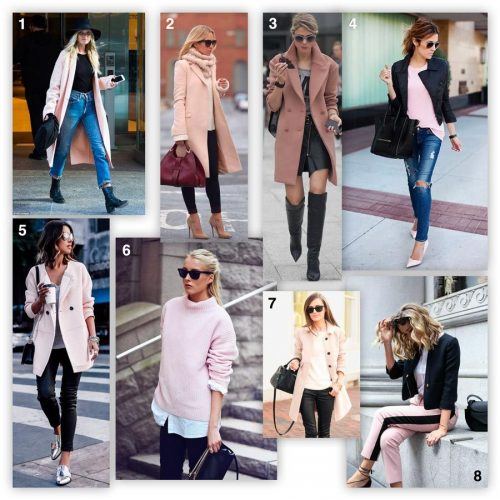 ↓ 7. Easy Professional Outfit for Work
Here's a refreshing work outfit, based on pastel macaron colors that are sure to take away all your Monday blues. You can also find all the details if you want to copy this look.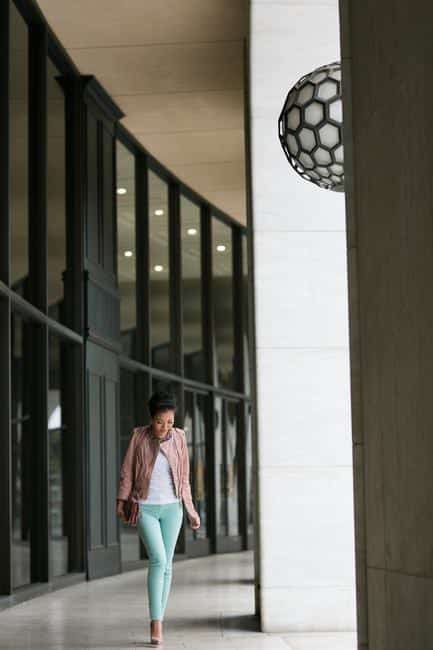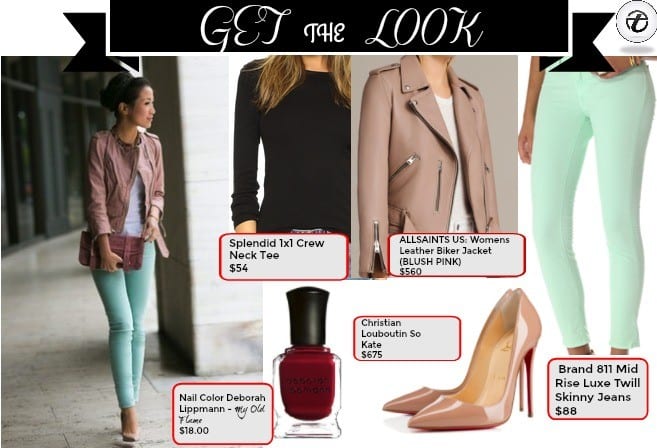 ↓ 6. Pastel Outfits for Teen Girls
 If you are not sure how to incorporate pastel into your daily outfits, start with a holiday. Obviously, Easter is the perfect holiday to attempt this. Here are 20 Outfit Ideas For Teen Girls In Summer.
A super-easy way to wear pastels is by opting for a floral skirt paired with a sheer or chambray button-down blouse. Here are two beautiful looks for you to try.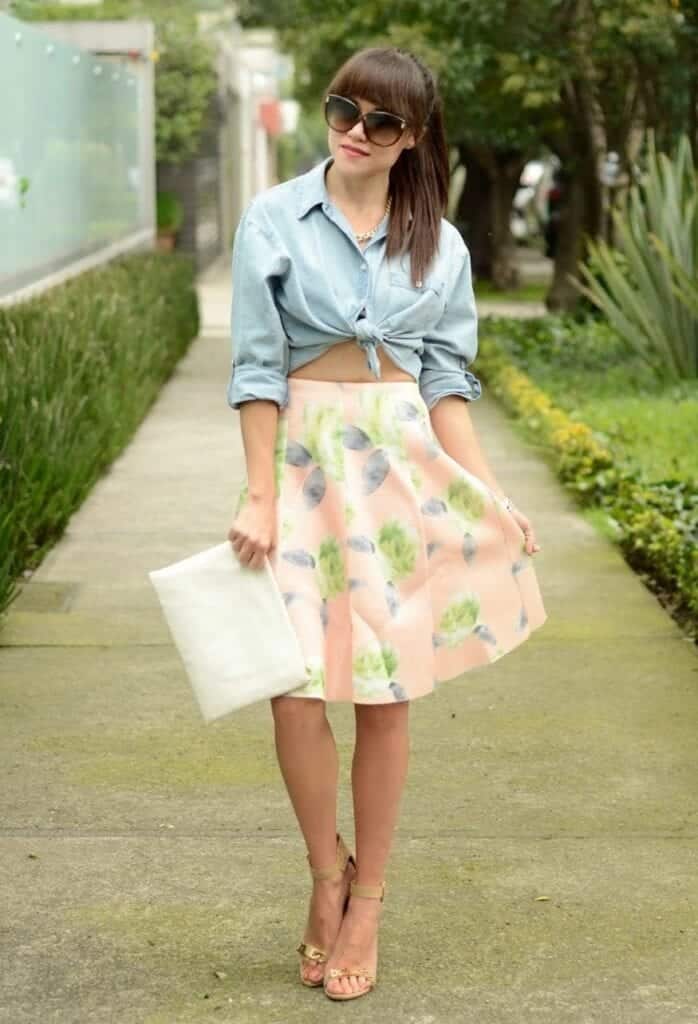 via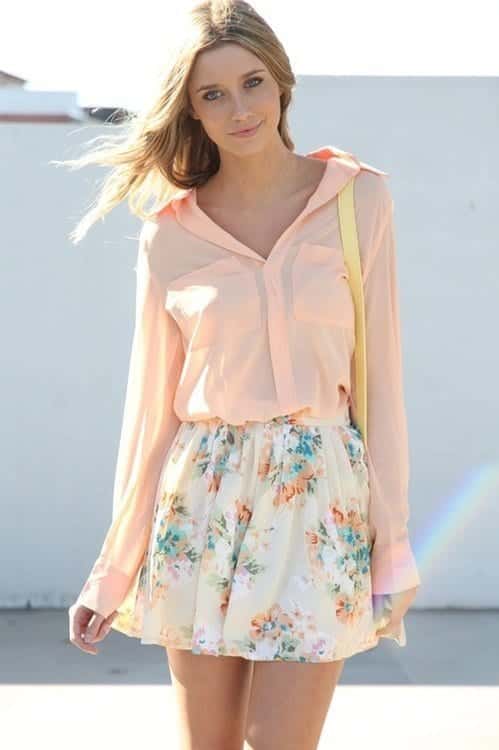 ↓ 5. Chic College Look for Women
Being some pastel into your college student wardrobe for a much-needed refresher. These light and breezy colors will have you feeling like it's summer no matter what the season is. Have fun with your accessories and consider upgrading your college backpack to a camel-brown purse for a chic overhaul.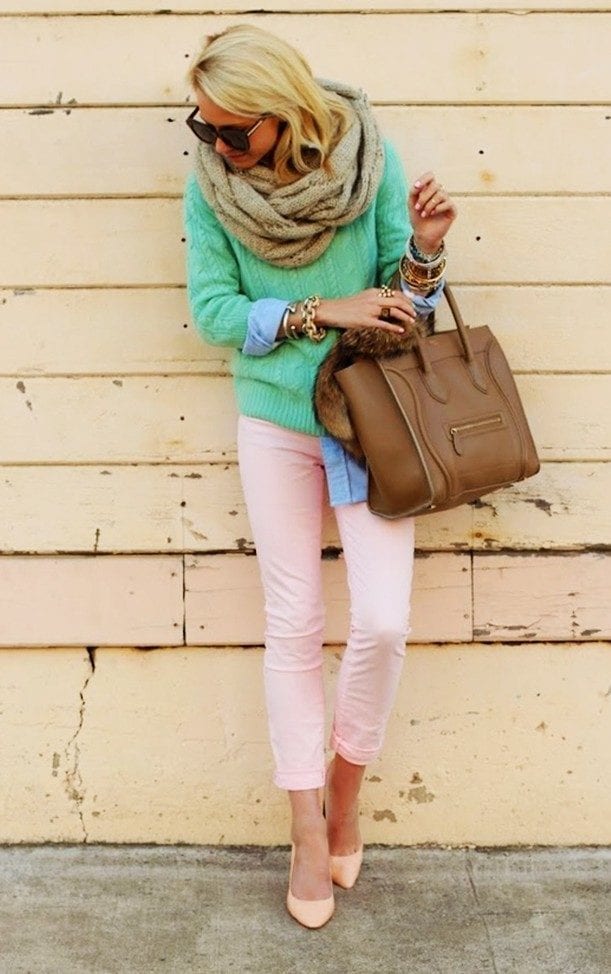 ↓ 4. How to Wear Pastel to the Office
A pastel-based outfit may be just the change you need to incorporate into your work attire. Give yourself a style overhaul and give this chic ensemble a try next Monday. Something to keep in mind is that pastel pieces can easily be mixed and matched with any print. You can opt for a striped shirt or even dresses with funky abstract prints. Here are 10 Ways to Wear Striped Shirts.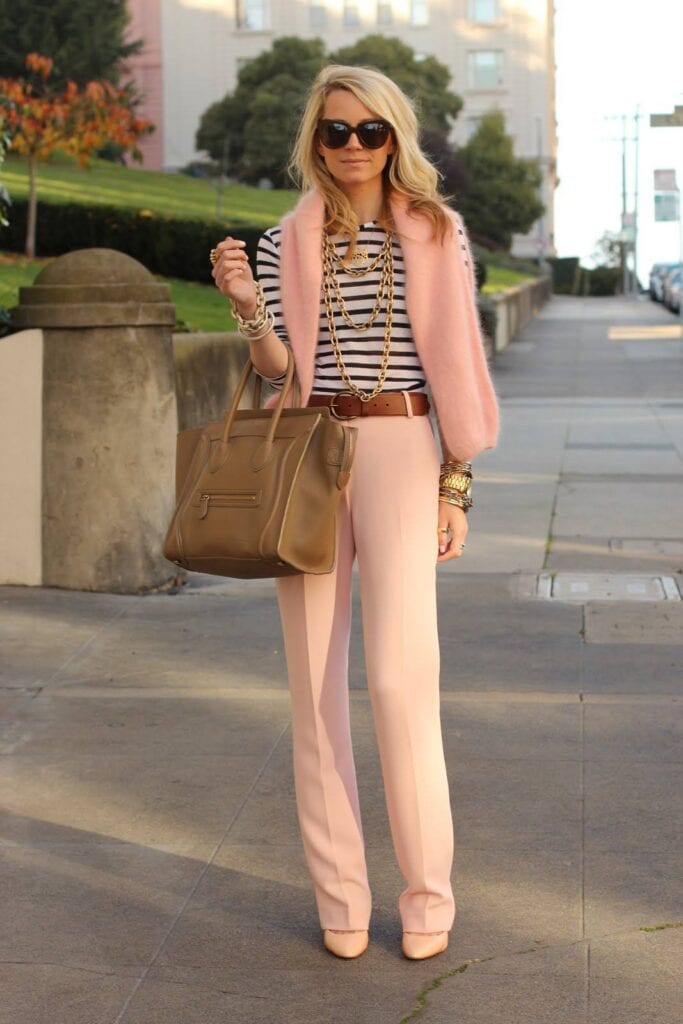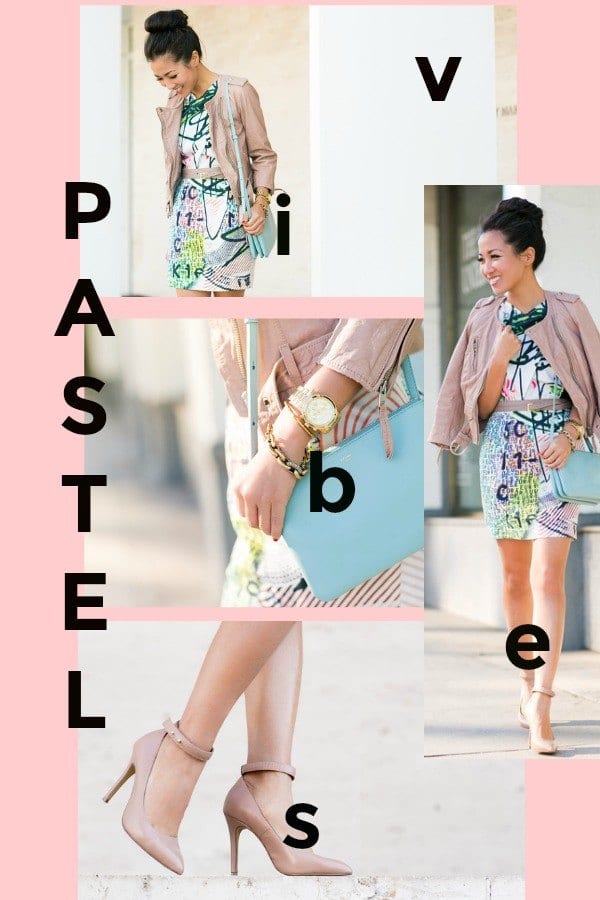 ↓ 3. Soft Beach Colors
If you are headed to the beach and are stumped for outfit ideas, pastel colors may be your ticket. These soft colors are perfect for highlighting sun-kissed skin and making you feel light and summery. Here are two pastel beach outfit looks.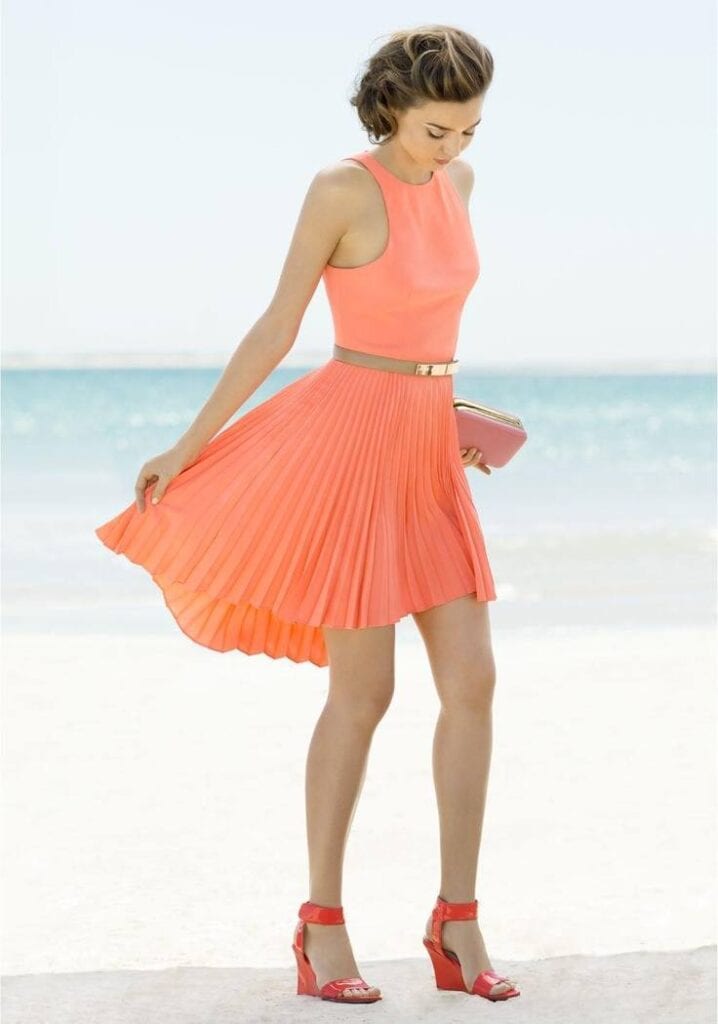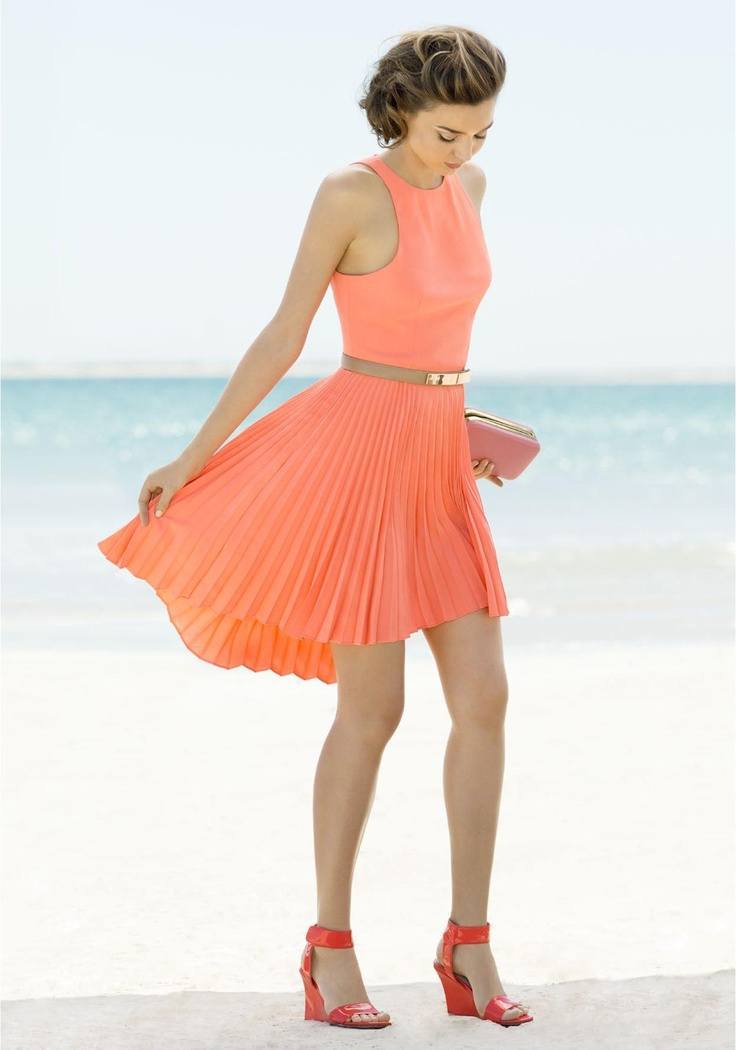 A strapless maxi is a perfect coverup for a swimsuit. It is also so fun to wear while walking down the beach or sipping on a piña colada. Pair with espadrilles or flip-flops and go for waterproof makeup.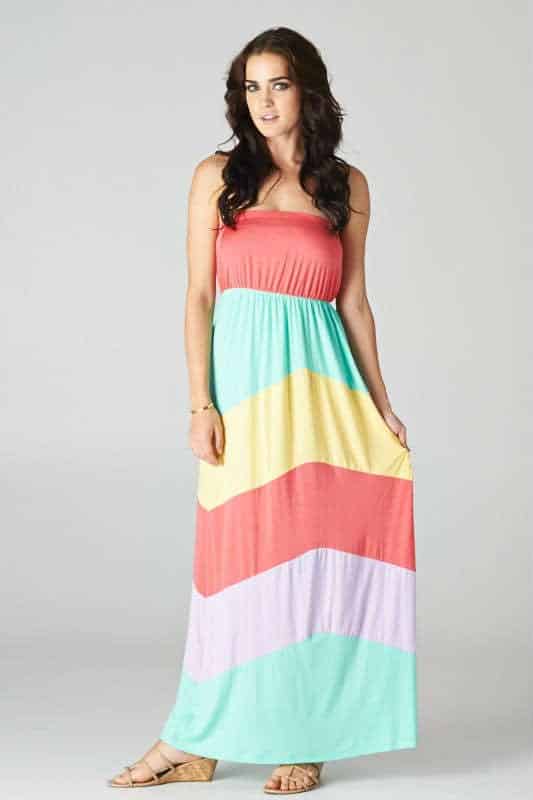 via
↓ 2. Cute and Chic Fall Outfit
Here is how you wear pastels in the fall. Look for prints that combine pastel shades with more traditional fall colors such as warm brown. This sweater does the job nicely. Combine with a soft blue skirt and pastel orange booties. Tie the look together with a black purse, which echoes the soft charcoal in the sweater.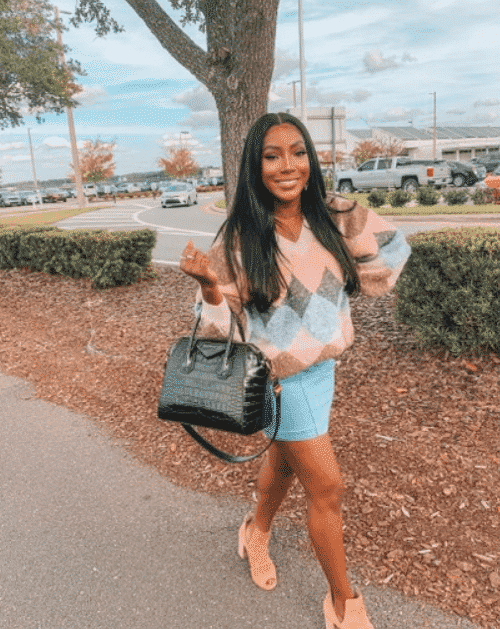 ↓ 1. Pastel Outfit Ideas for Plus Size Ladies
Take spring by storm with a lovely pastel pink dress, perfect for photoshoots! You can pair this dress with camel-colored boots or even black boots if you like to give your outfits an edge.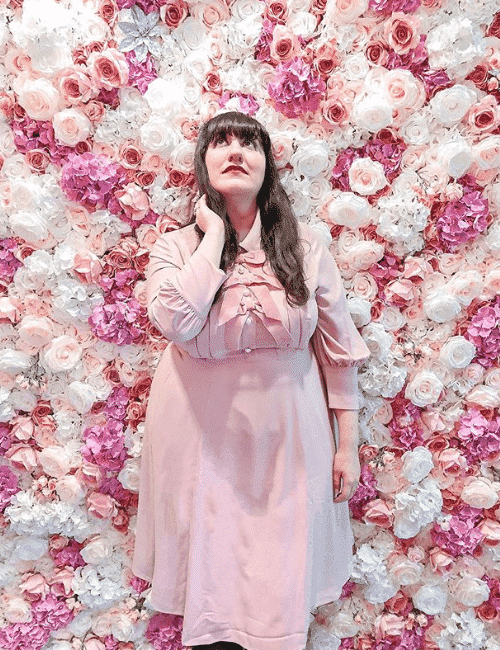 This minty green will have you feeling all kinds of way. Pair it up with a Panama felt hat and some little white booties.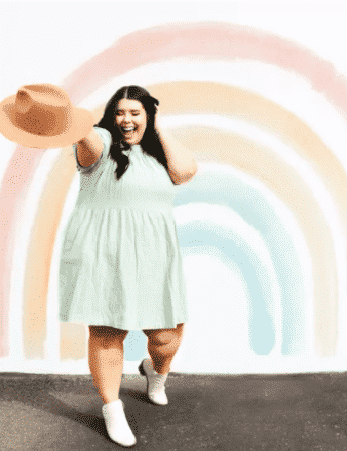 When it comes to layering your plus size dresses, nothing beats the glamorous look of a leather jacket.

via