Pastel Outfit Combinations. Pastel shades are a winning collection of tones for all women during the spring and summer periods. But with such a vast variety of ways to wear pastels, what are the best pastel outfits combinations? What accessories match pastel trends? And what shoes to wear with pastel dresses? All your questions will be answered in this post.
Pastel colours are not just limited to tops, dresses and trousers; they are also seen in jewellery such as rings, hair clips, necklaces, bracelets and anklets. Why not accessorise your outfit by including some of these items? Pastel floral rings are frequently seen and break up colour nicely. Necklaces, bracelets and anklets can have small pastel toned gems which add twinkles of colour around the body which may otherwise seem boring. Read on to find some awesome ideas on wearing pastel colored outfits like a pro. 
How to Wear Pastel Coloured Outfits
Here are the things to remember when wearing pastels:
When wearing pastel outfits, wear accessories that will stand out like black colored ones or bright and funky ones.
Remember that pastels are the easiest colors to mix and match for a bold look.
For a sophisticated look that's appropriate for work or other formal settings, go monochrome.
If you're wearing one pastel clothing item like a blazer or shirt, keep the rest of the outfit simple and in a neutral color like white, as this will make your pastel stand out.
When using the color blocking technique, try wearing the darker color as the bottom.
Keep your hair and makeup simple.
Have a look at the images below for inspiration on how to create your own pastel look. See also how the celebs rock the pastel tones.
↓ 18 – How to Wear Pastel Tops
Strappy tops and vest tops are frequently seen throughout these seasons what with the warmer weather coming in. Pastel pinks and blues are great colours for tops and can be easily contrasted against plain white or ivory blazers and cardigans. Short sleeve blouses are beautiful tops to wear especially in pastel tones. They are bright yet subtle enough to bring out stunning pale skin tones and with button-up fastenings and added lace you do not need much more decoration to make these tops stand out. Extra-long blouses make for different silhouettes and can also be used over a tank or vest top for added layers and volume. Also, check out 22 Cute Floral Print Outfits for more pastel-colored styles.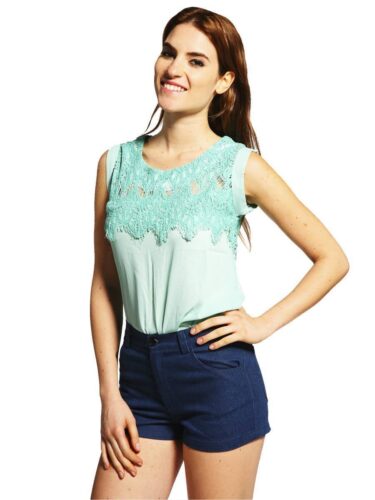 ↓ 17 – Latest Pastel Dresses Trends
Knee length pastel colored shirt dresses which have capped or short sleeves are every fashionistas summer must have. These are great for waist definition as they are shaped and can be accessorized with a small belt. If shirt dresses are not your style why not choose a gorgeous floor length maxi? These are such a popular choice for summer dresses that they are available in a wide range of beautiful pastel shades and stunning pastel patterns. Purples, blues and yellows are common shades seen for maxi dresses.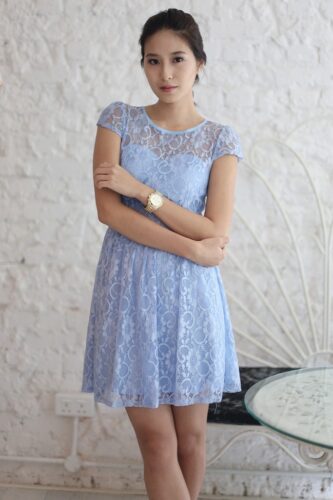 ↓ 16 – What to Wear with Pastel Bottoms
Pastel shades are also viable when it comes to skirts, skinny jeans and shorts. Chambray is a great choice of colour and fabric as it will easily match any shade of pastel. Bear this in mind when choosing a top to go with your pastel jeans or shorts. Lilac, butterscotch, mint and pale blue are shades that work with any style bottoms including skinnies, shorts and three-quarter peddle-pushers. Have a go at mix and matching your own pastel colors and see what looks you can create. Have a look at these 25 Ideas How to Wear Mint Colored Skirts.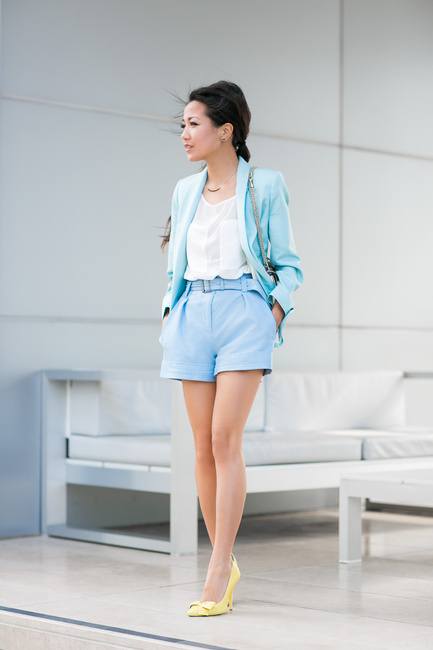 ↓ 15 – Footwear and Accessories to Wear with Pastel Outfits
Summer footwear suitable for pastel outfits include low top sneakers, boat shoes and flip flops all the way to heeled peep toes and T-Strap pumps. Footwear should ideally be in neutral colours such as bronze, gold, beige, brown and cream. These tones will finish off a pastel outfit beautifully without destroying your final look.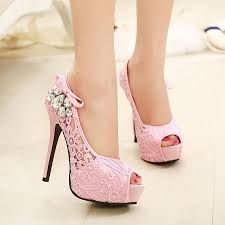 There is also a huge range of pastel sneakers that are trending this year and if you can find one that matches your outfit perfectly then go for it! You can find these sneakers from a number of renowned brands like Adidas, Chloe, Nike and Miu Miu.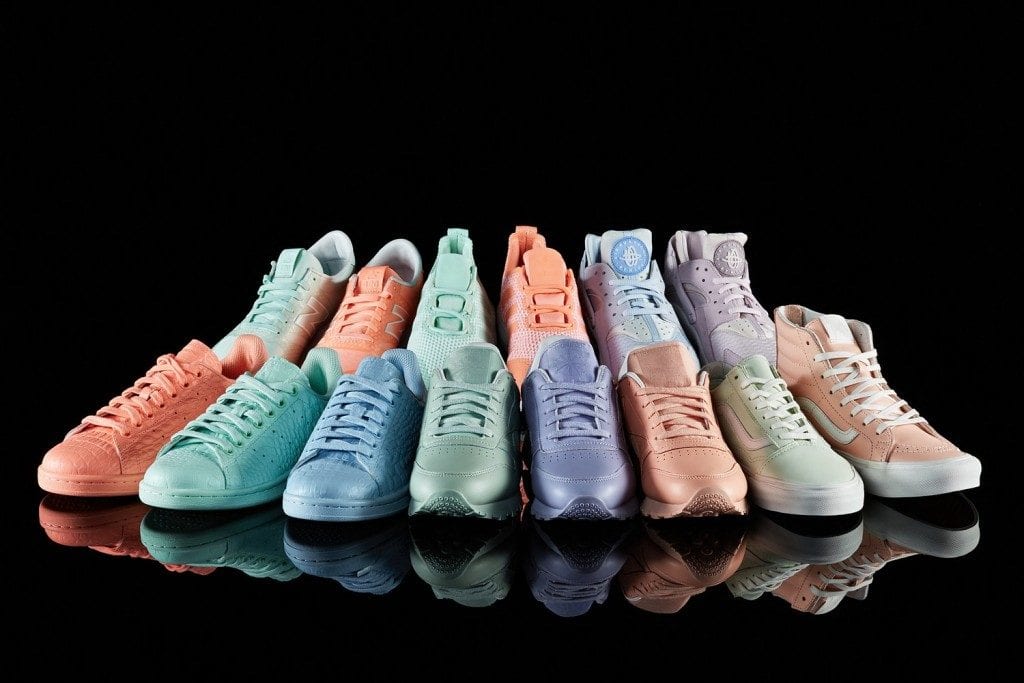 Via
↓ 14 – Pastel Colored Skirt Outfit
Here are 16 Cute Outfits To Wear With Midi Skirts.
↓ 13 – Pastel Outfits for Work
Elegant way to wear pastel at office/job in summer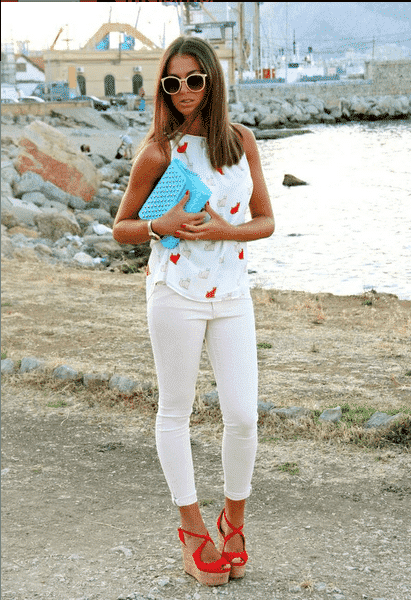 ↓ 12 – Spring Pastel Combination
Check out these Spring Outfits With Floral Jackets.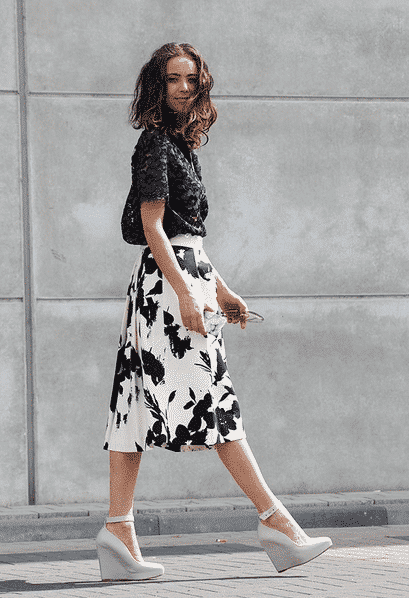 ↓ 11 – Pastel Skirt Party Outfit
Pastel blue blouse with pink skirt.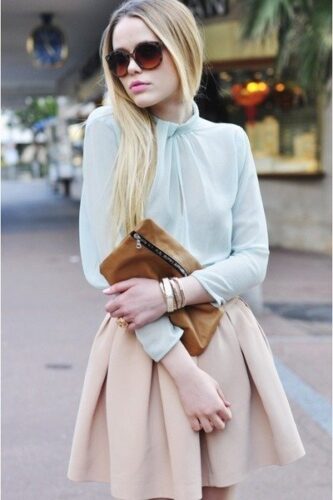 via
Pink pastel button up blouse with skinnies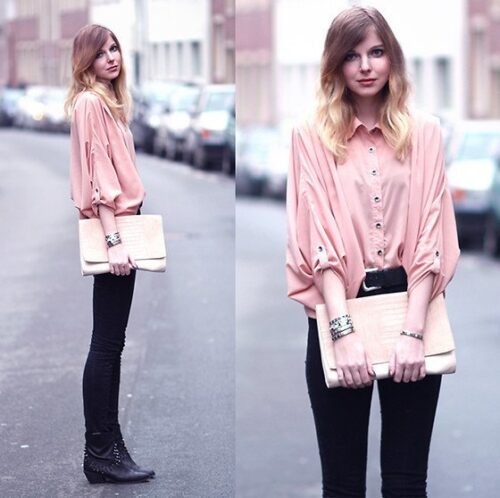 via
↓ 10 – Monochrome Pastel Outfit
For some truly unique outfit ideas, here's How To Wear A Backward Shirts.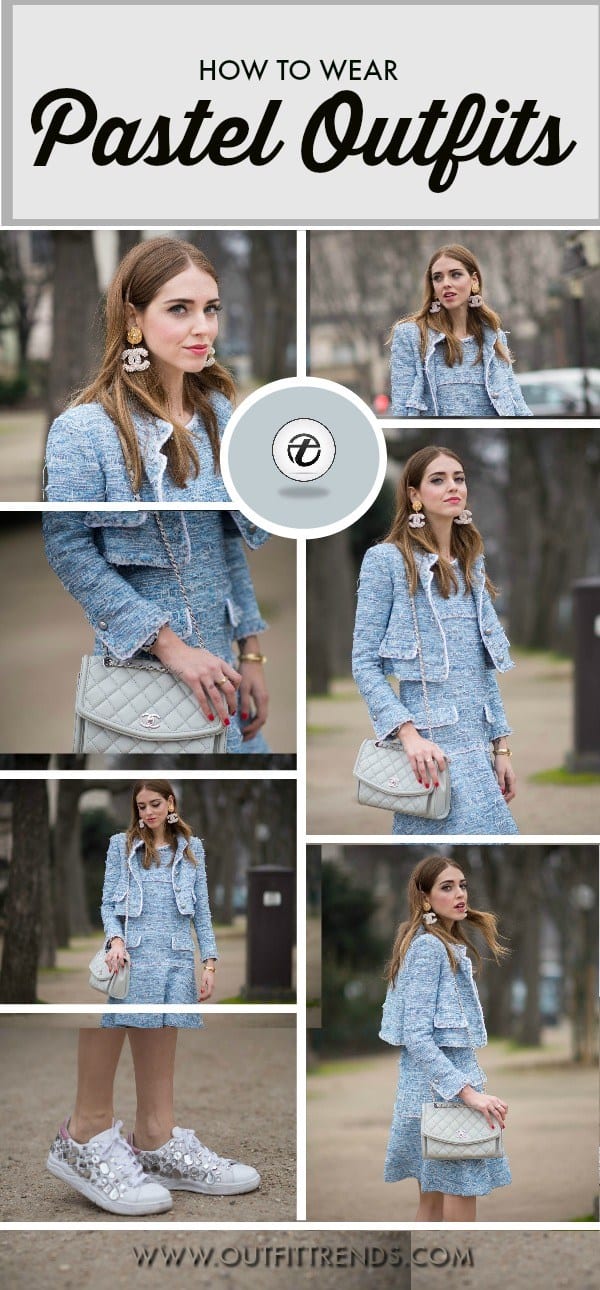 ↓ 9 – Wearing a Pastel Blazer
If you like traveling then you definitely need a pastel blazer. It can go well with almost all your travel outfits and looks great in every weather. Our favorite colors are pastel blue and pink blazers. They can go well with both blue jeans or white pants.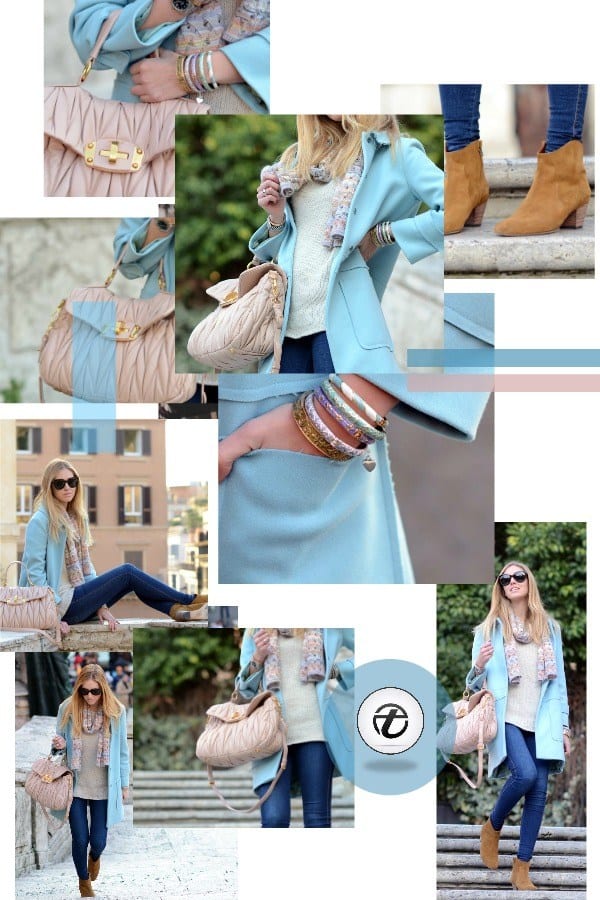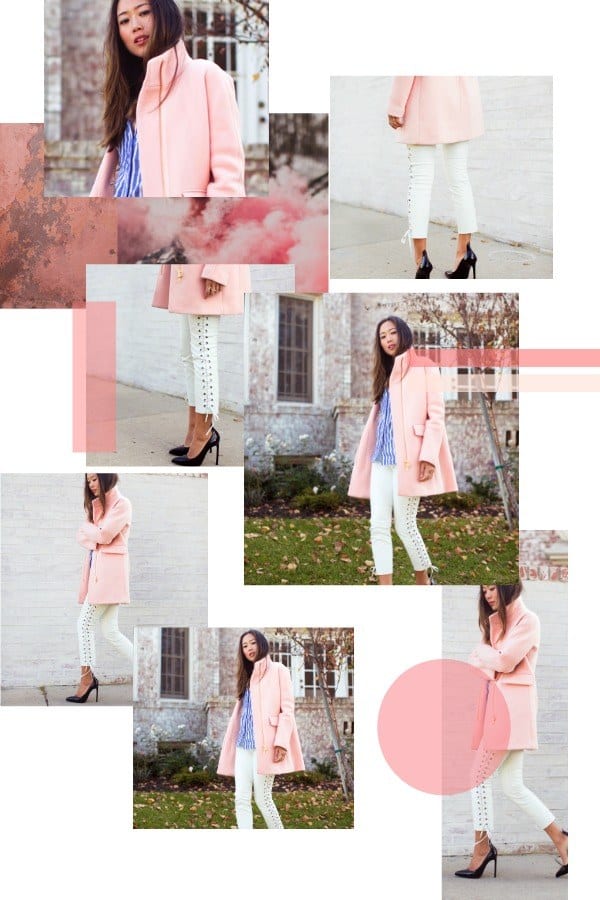 ↓ 8 – Wearing Pastel Colors with Black
This look is especially recommended for girls with black hair. Almost any pastel color would work well with black as black acts like a pulling factor that brings the whole outfit together. If you want to further soften the palette, you can add a touch of white, for example through your jewelry. Here are 25 Celebrities All Black outfits Styles for Fall to Copy.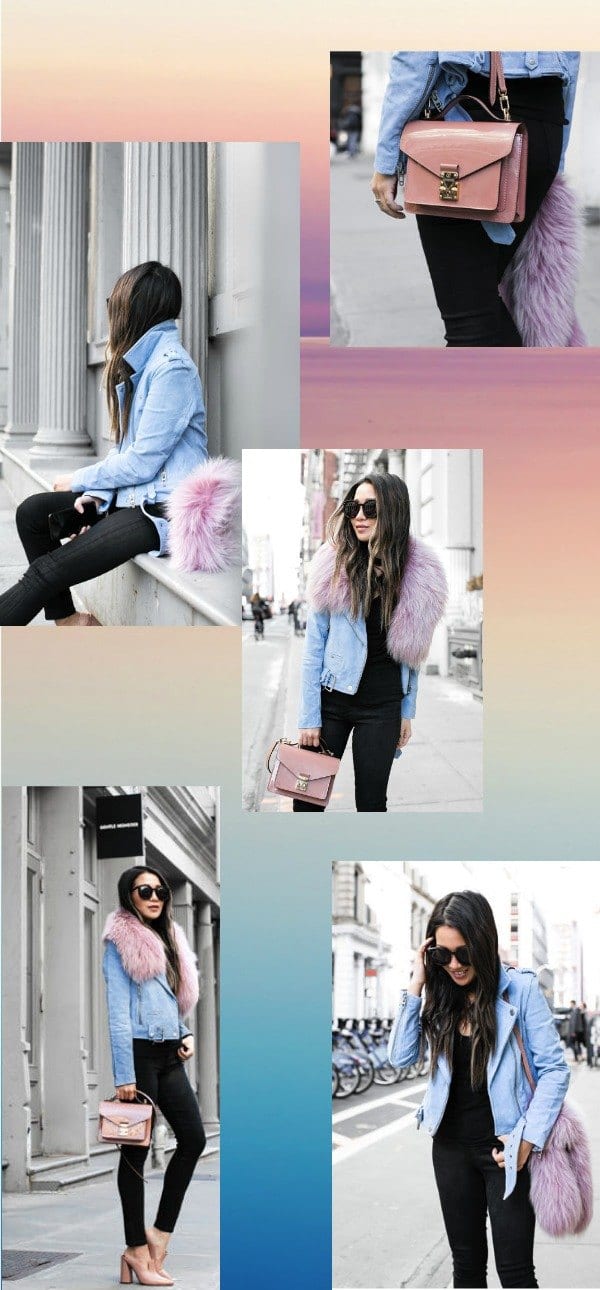 Even if you don't have black here, you can still rock this combination like these divas: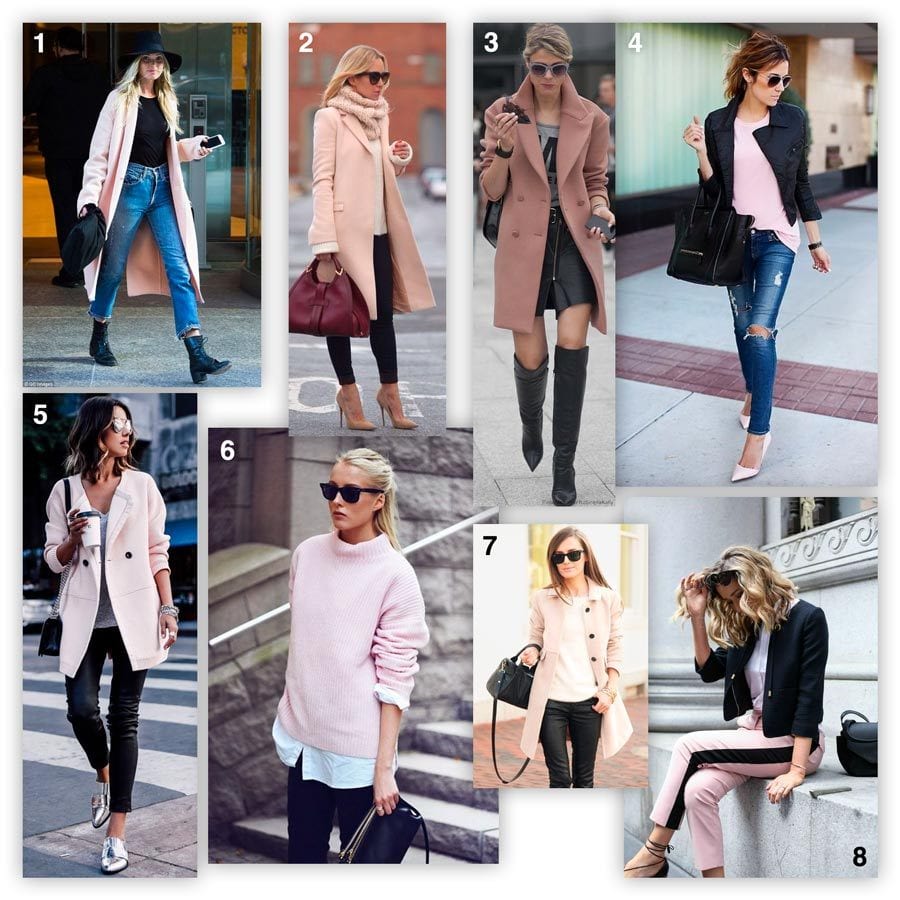 ↓ 7 – Pastel Outfit for Work
Here's a refreshing work outfit, based on pastel macaron colors that are sure to take away all your Monday blues. You can also find all the details if you want to copy this look.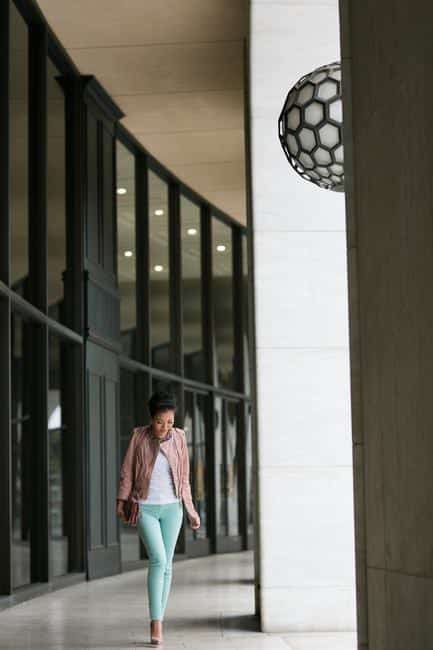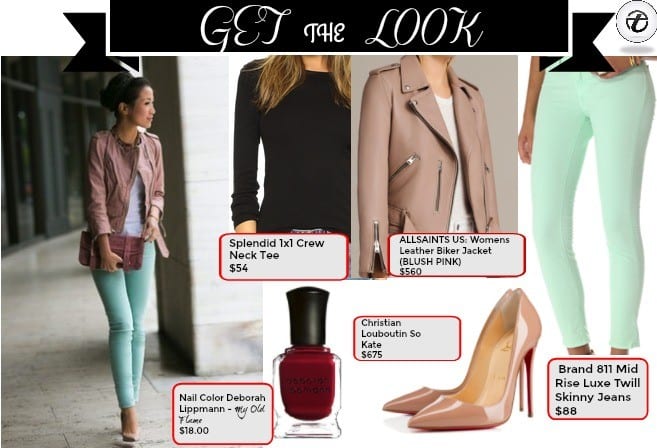 ↓ 6 –  Teen Girls Pastel Style
 Blue Pastel Blouse Accessorised with silver jewelry and Pastel Clutch. Here are 20 Outfit Ideas For Teen Girls In Summer.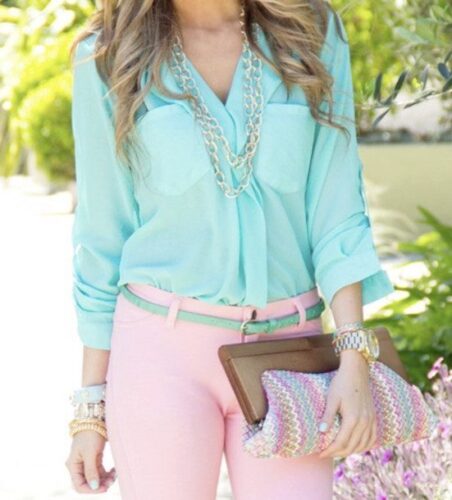 via
 Chambray Tie Blouse with Pastel Floral Skirt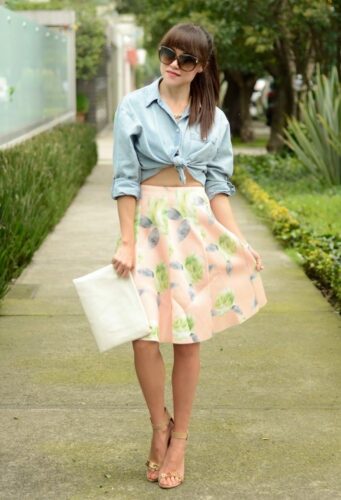 via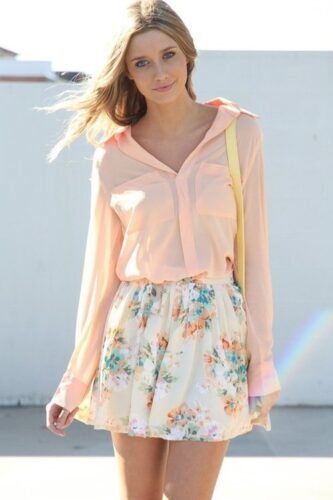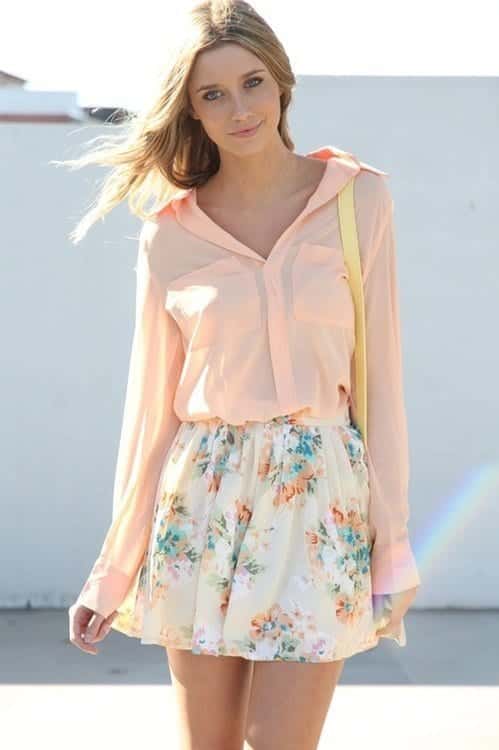 ↓ 5 – Winter Pastel Outfits for College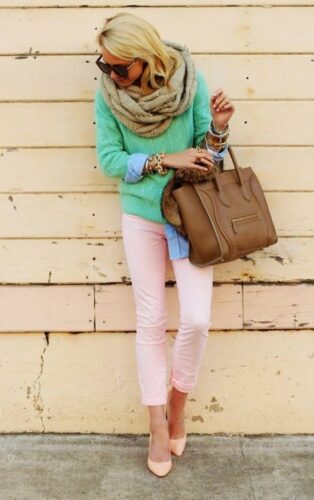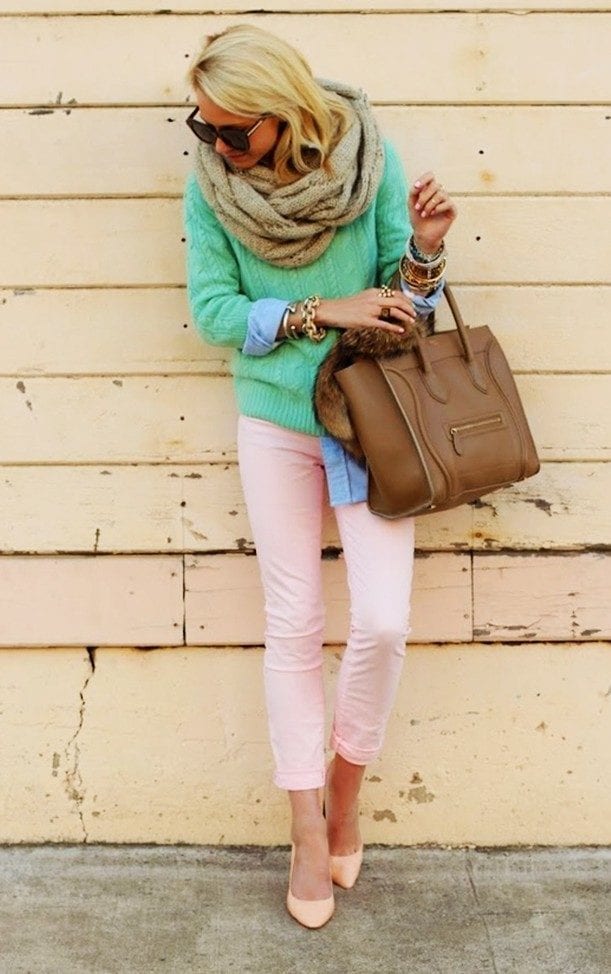 ↓ 4 – Mixing Pastels with Prints
Pastel outfits can easily be mixed and matched with any print. You can opt for a striped shirt or even dresses with funky abstract prints. Here are 10 Ways to Wear Striped Shirts.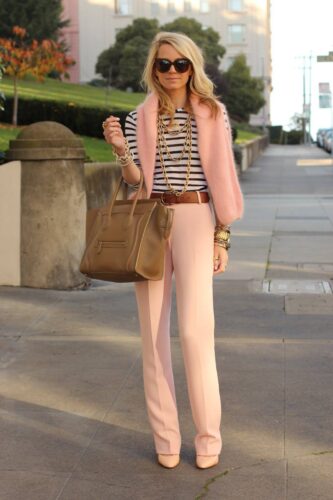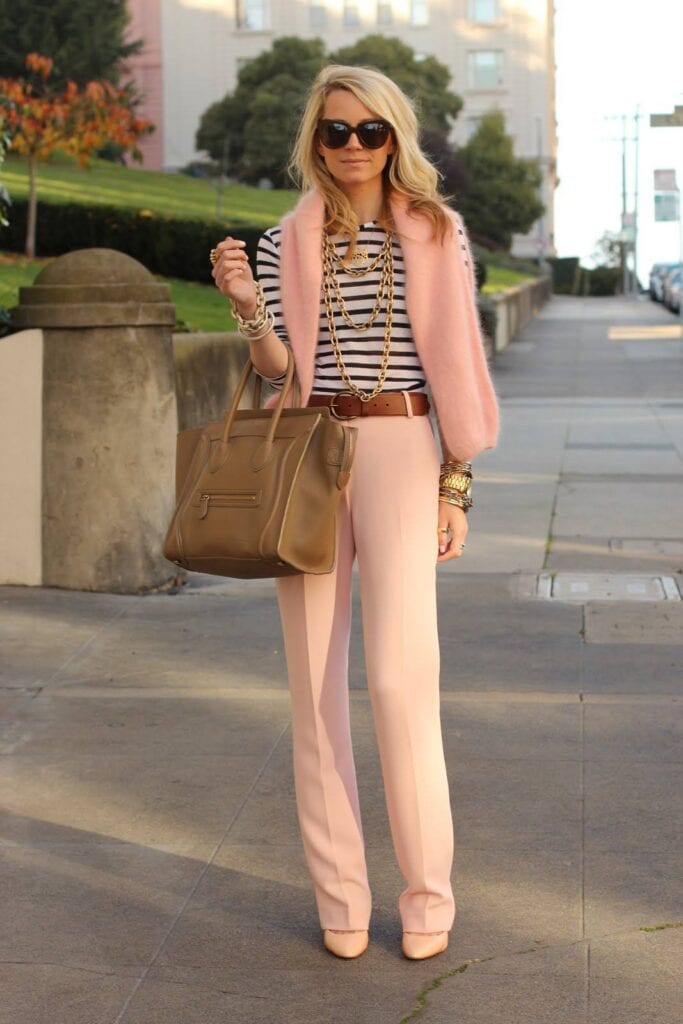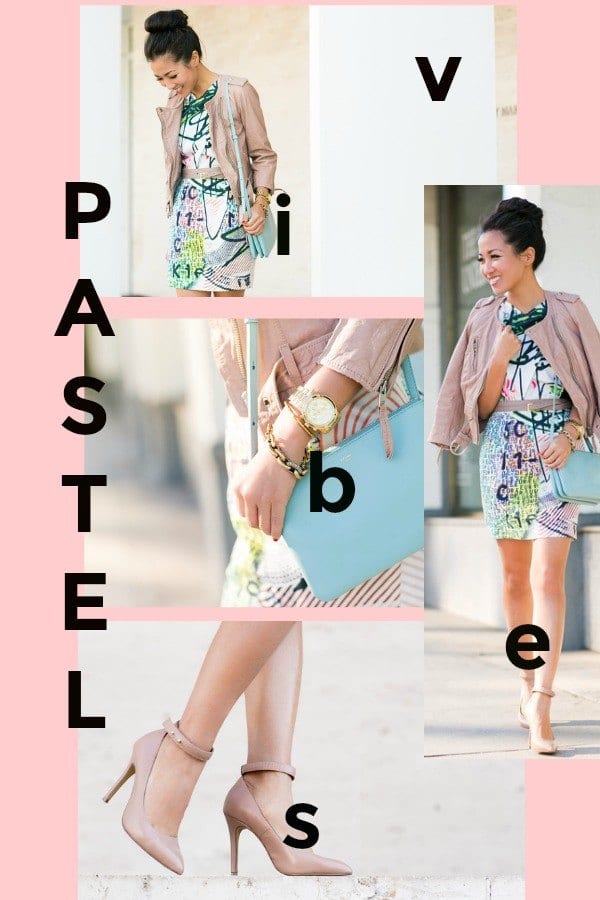 ↓ 3 – Pastel Outfits for the Beach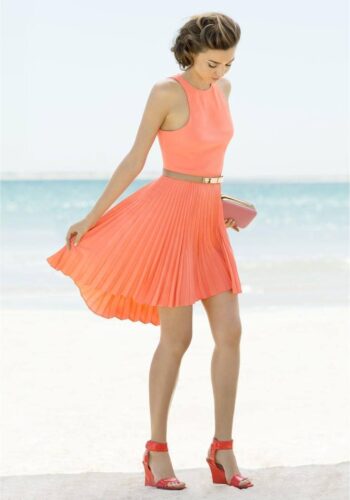 Pastel Striped Maxi Dress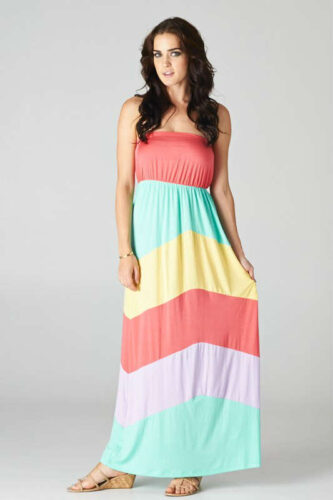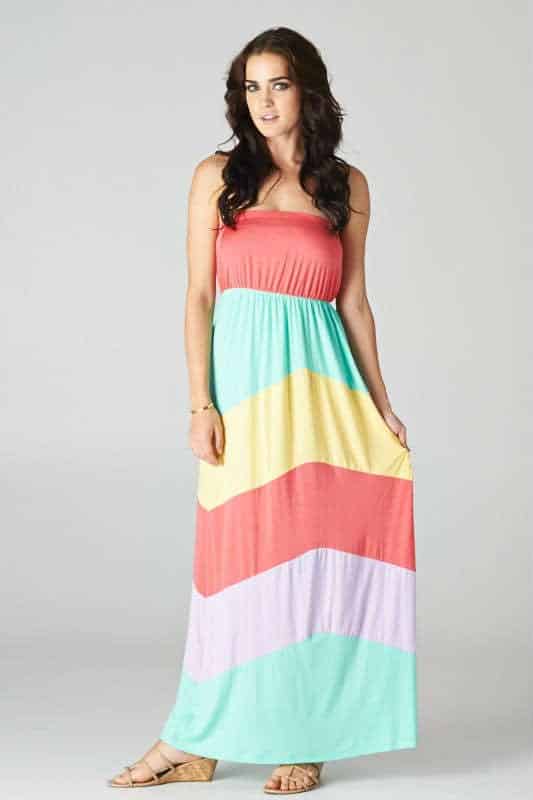 via
↓ 2 – Layering Pastel Outfits in Fall
Maxi Dress with Chambray Jacket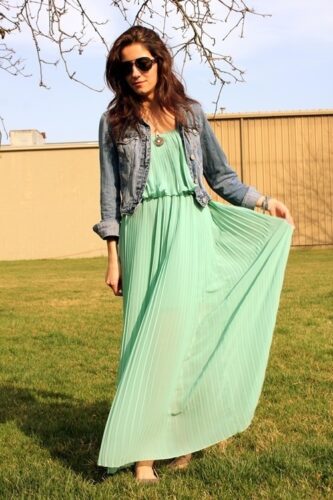 via
 ↓ 1 – Pastel Outfit Ideas for Plus Size Ladies
Lovely Lilac Pastel Maxi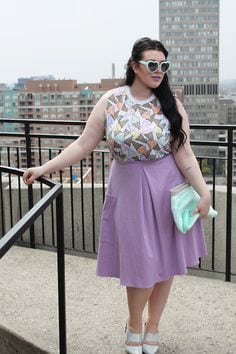 via
Beautiful Blue Pastel Floral Two Piece For Curvy Ladies.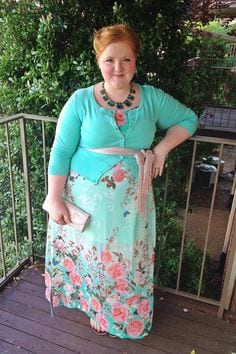 via
When it comes to layering your plus size dresses, nothing beats the glamorous look of a leather jacket.

Via