Trench Coat outfits for women- Blame it on the shape, or maybe its the timeless appeal, but there is something about trench coats that everyone loves – in all seasons and at all events. Trench coats give an effortlessly cool and chic look and add a lot of charm to the personality.
With winter all over the world, women would love to have ideas on how to wear their trench coats for different occasions and look their best. To go with these coats, here are some of the most Stylish Winter Hats for Women. To help you pull off their best look with trench coats, we have pinned down some of the most trendy ideas.
How To Wear Trench Coats Stylishly For Women
Trench coats are an all-time favorite because they help you put together any outfit whenever you want! They go with almost all sorts of colors and prints. Here we have covered almost everything that you need to know about them. Keep on reading to find out how to style a trench coat or what to wear with a trench coat!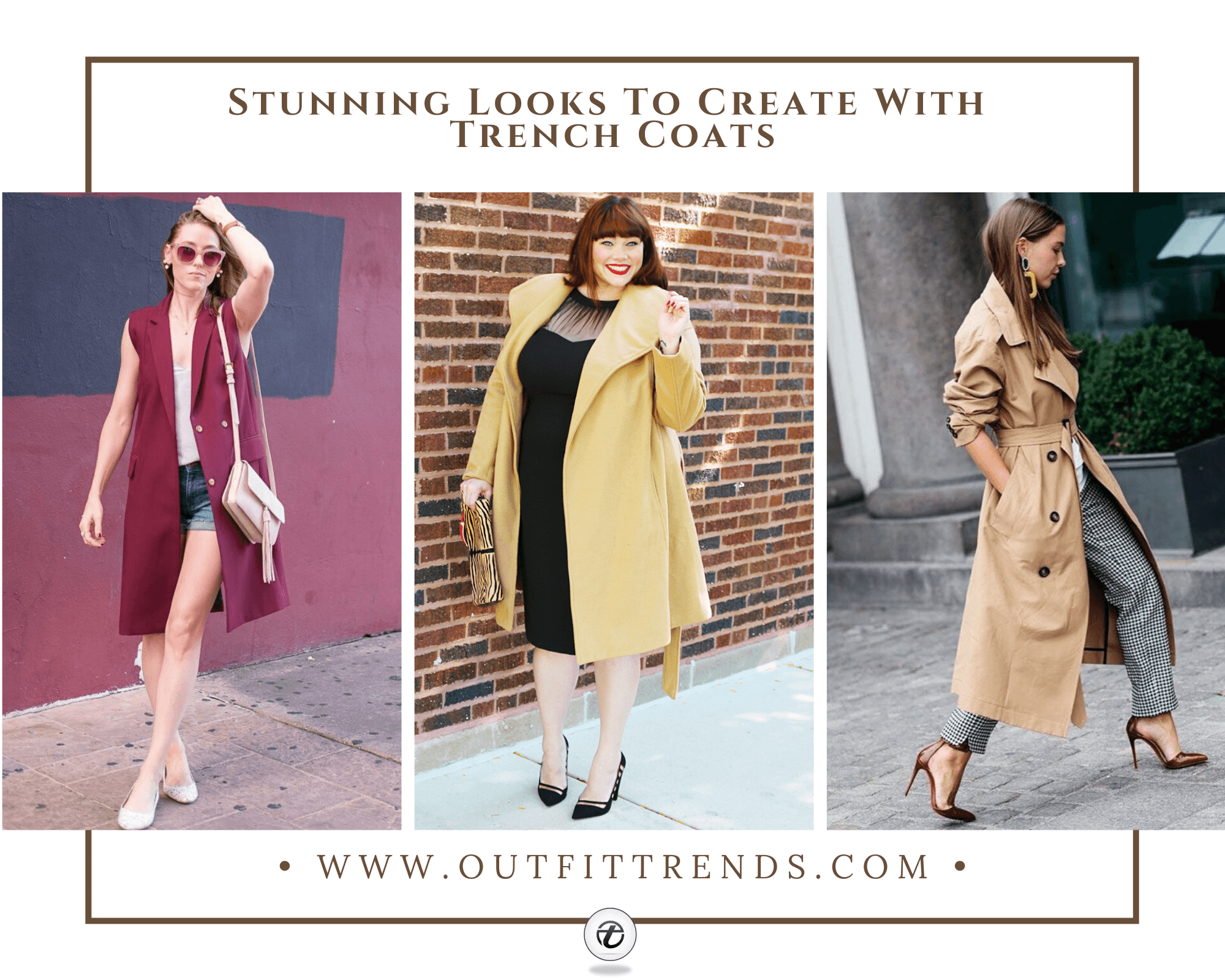 Let's start with a few tips that can help you create a fantastic look with trenchcoats!
Wear plain trench coats with colored or printed outfits to make every piece stand out.
Style up all monochrome and add printed trench coats over it to add some energy to your look.
You can wear trenchcoats over anything but if you want to go easy on yourself (for casual wear) then just pair it with a tee-shirt and leggings!
Boots and heels look classy with them, so prioritize them for semi-formal wear.
For a classy winter look pair, your trenchcoats with a turtleneck top, leggings, boots, and wear your hair in a bun.
Focus more on wear accessories and wear drop-down earrings or hoops because they will be visible enough!
Trench coats look best when the hemline of your top/shirt is shorter in length than the coat's hemline.
↓ 25 – Can You Wear Trench When Its Not Too Cold?
There are trench coats for every sort of weather, but you have to search for the right material. You can wear them to parties as well. We don't want you to miss on this amazing sheer trench coat, no matter what the occasion or season is. Wear this Ruffled embellished tulle trenchcoat over commando minimalist Tank dress and put on Milano Isabeli Tulle Ankle boots. Polish off your look with a leather bag and shades. Don't forget to accessorize with studs and a necklace. It is an elegant and unique look that you wear to any formal dinner, lunch, or even a coffee hangout.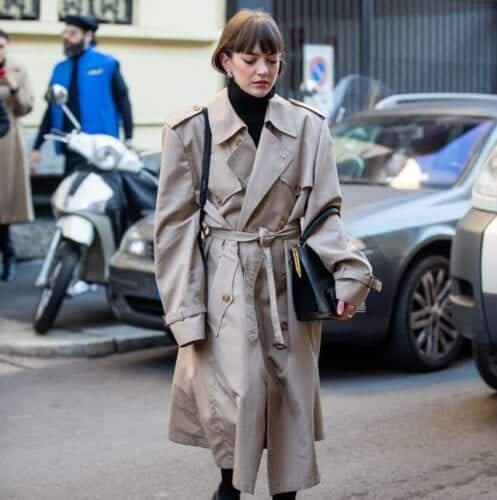 If you don't experience very long or harsh winters, you can find lighter fabric trench coats at Burberry, Net-A-Porter and Nordstrom. If you can get your hands on a sleeveless one, it will be super cool for the slightly chilly days as you can wear it over a sleeveless dress, skirts, or even your everyday shorts and tees.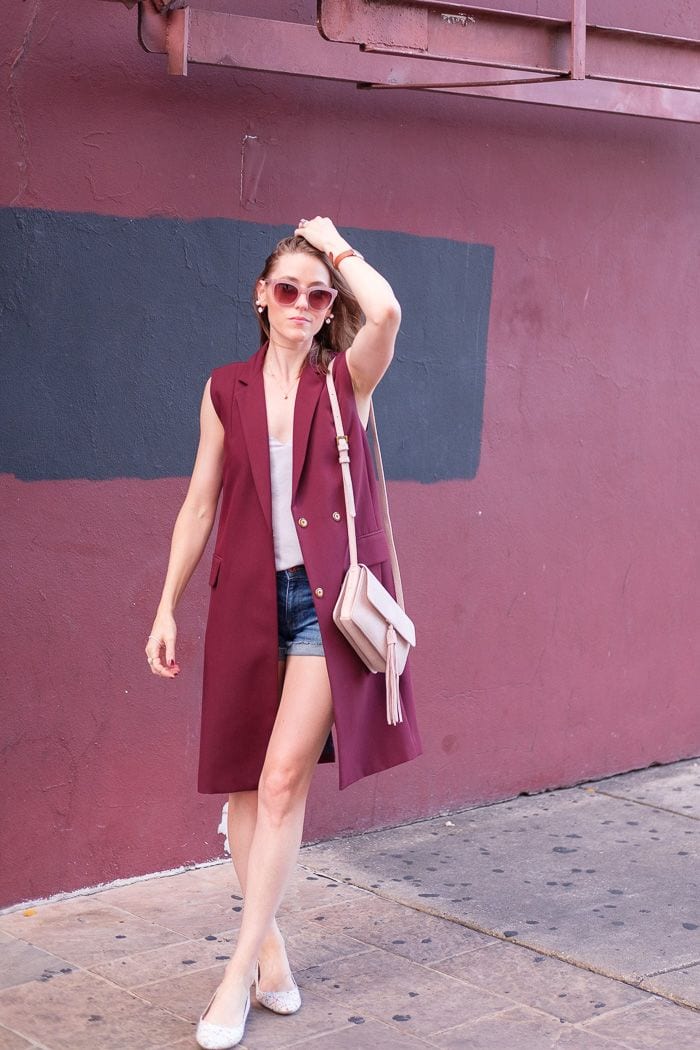 You can even belt up the coat to create a more sophisticated look for work. Pair it with heels instead of sneakers or pumps if you want to give this outfit a professional touch.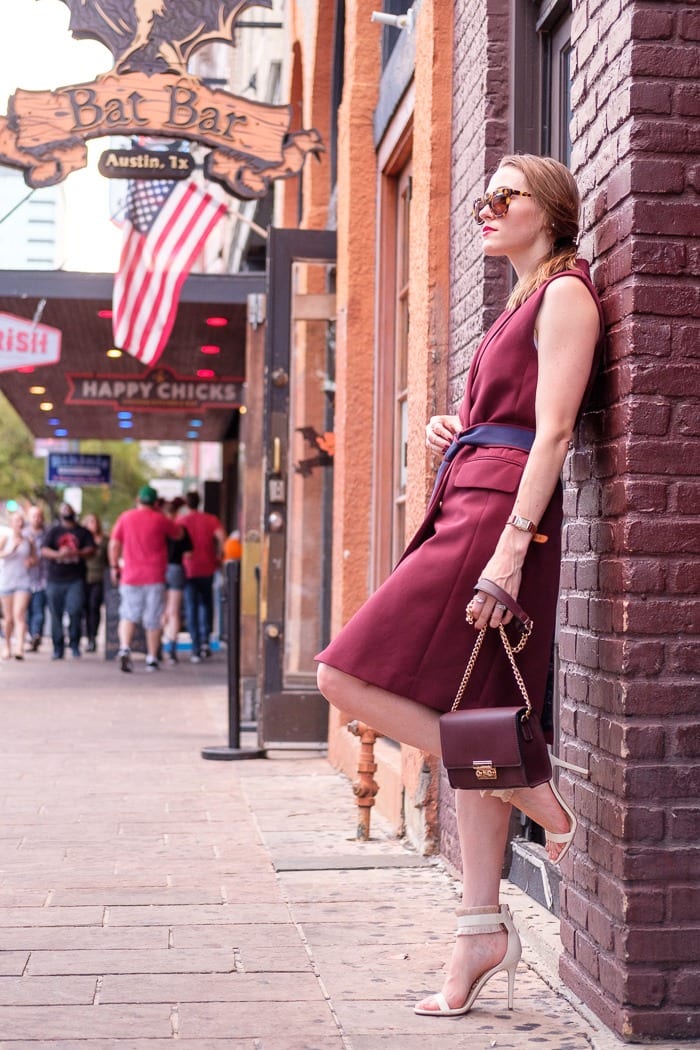 Via
↓ 24 – Latest Trend 2020: Pleated Trench Coats
Girls love flowy outfits with pleats and belts as they help them reflect feminine and bold personality. If you are one of those girls, then you need to try on this ravishing and sophisticated Vino Pleated Trench Coat in a nude shade. Pair up your classy coat with a basic top underneath and black straight pants. Wear this outfit along with black jay pumps. It is something you can easily wear and enjoy in the spring season.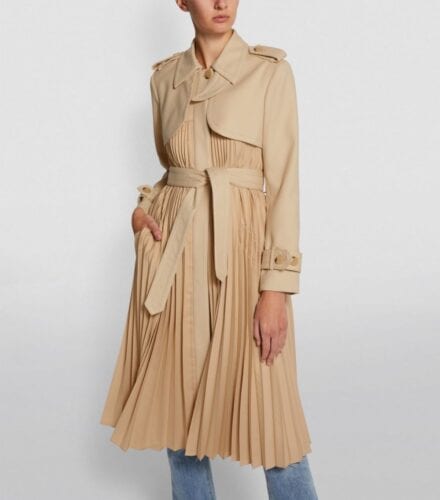 ↓ 23 – Perfect For Mature Women Over Fifty
As you grow up, you should try new pieces that are more elegant and subtle. Subtle doesn't mean you should cut off all colors from your life and shift to basics. In fact, it means you should go for balanced colors like this one. Wear a leopard printed top along with black straight pants and pair it up with a brown trenchcoat. Leave the buttons open and don't cinch the waist if you want to flaunt your top. Being old doesn't mean you can't match prints, so wear leopard print Patricia sling pumps. Put on your shades, keep your head and shoulder straight and rock the world! For more ideas, check out these Dating Outfits For Women Over 40.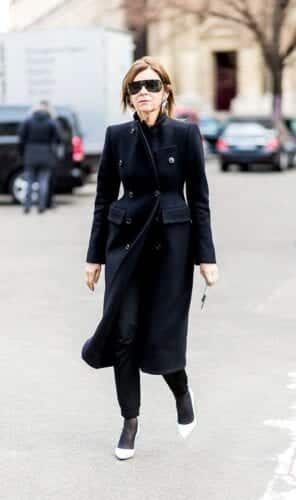 ↓ 22 – What Color Trench Coat Should You Buy?
Your outfit and style have nothing to do with your skin, don't let anyone tell you otherwise! The only thing that matters and makes you look smarter is how you style something. If you are black, a trenchcoat can still look as good on you as any white person. Look for yourself how beautifully this lady aced her long cream-colored trenchcoat. She wore it over a black turtle neck top and jeans, and that's the best way to do it. You can do the same and pair up these pieces with navy blue stretch bootie shoes and a black metallic clutch. Put on your shades and wear your hair in a ponytail. You are all set!
So choose a trench coat that goes with most of your outfits and complements your skin tone. If you feel like yellow looks good on you then there's nothing wrong with buying a bright yellow trench coat, as long as you're comfortable carrying it and feel like it will go with a couple of your outfits at least.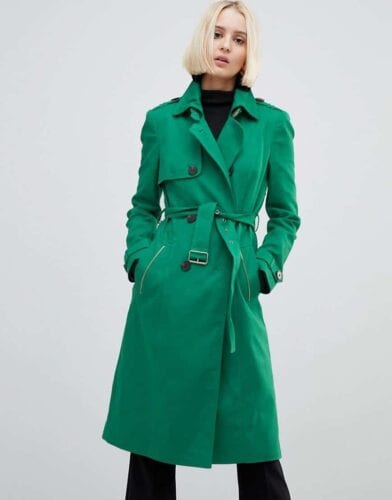 via
↓ 21 – Trench Coat Outfit For Plus Size Women
If you are plus-sized and don't want to wear skimpy clothes, then a trench coat can be a perfect choice for you! You can wear whatever you want and just throw a coat over it. The belted trench coats will help you contour your shape as well.
Here is one great look which you can try out. Wear a black top along with blue high-waist jeans and wear a brown coat over it. Accessorize your look with a leopard print handbag, bracelet, and shades. Don't forget to put on black Carson two-piece sandals to finish off your look.
↓ 20 – Prints & Patterns
Printed pieces are real game-changers when it comes to styling up. The best way to carry a printed trenchcoat is to pair it up with basic tops and pants unless you can really pull a print on print. Try out this long multi-colored checkered trenchcoat. Wear it over a simple tee shirt and jeans. Pair this cool outfit with orange joggers and hoop earrings.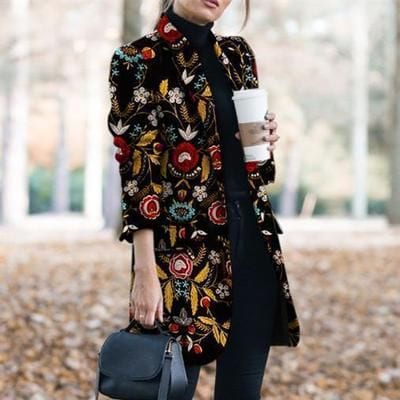 via
↓ 19 – The Woolen Trench Coat
The sole purpose of wearing a trench coat in winter is to protect yourself from the cold. To maintain your dressing and to keep away from the cold, you can opt to wear a woolen trench coat. A woolen trench coat is warm and also adds minimalistic style to the entire outfit. You can pull it over a pair of pants and a simple tee or even a more feminine top.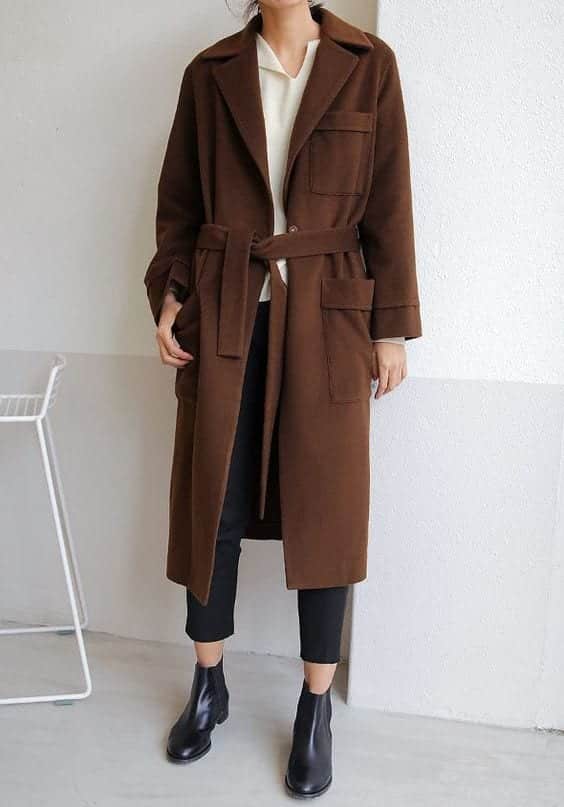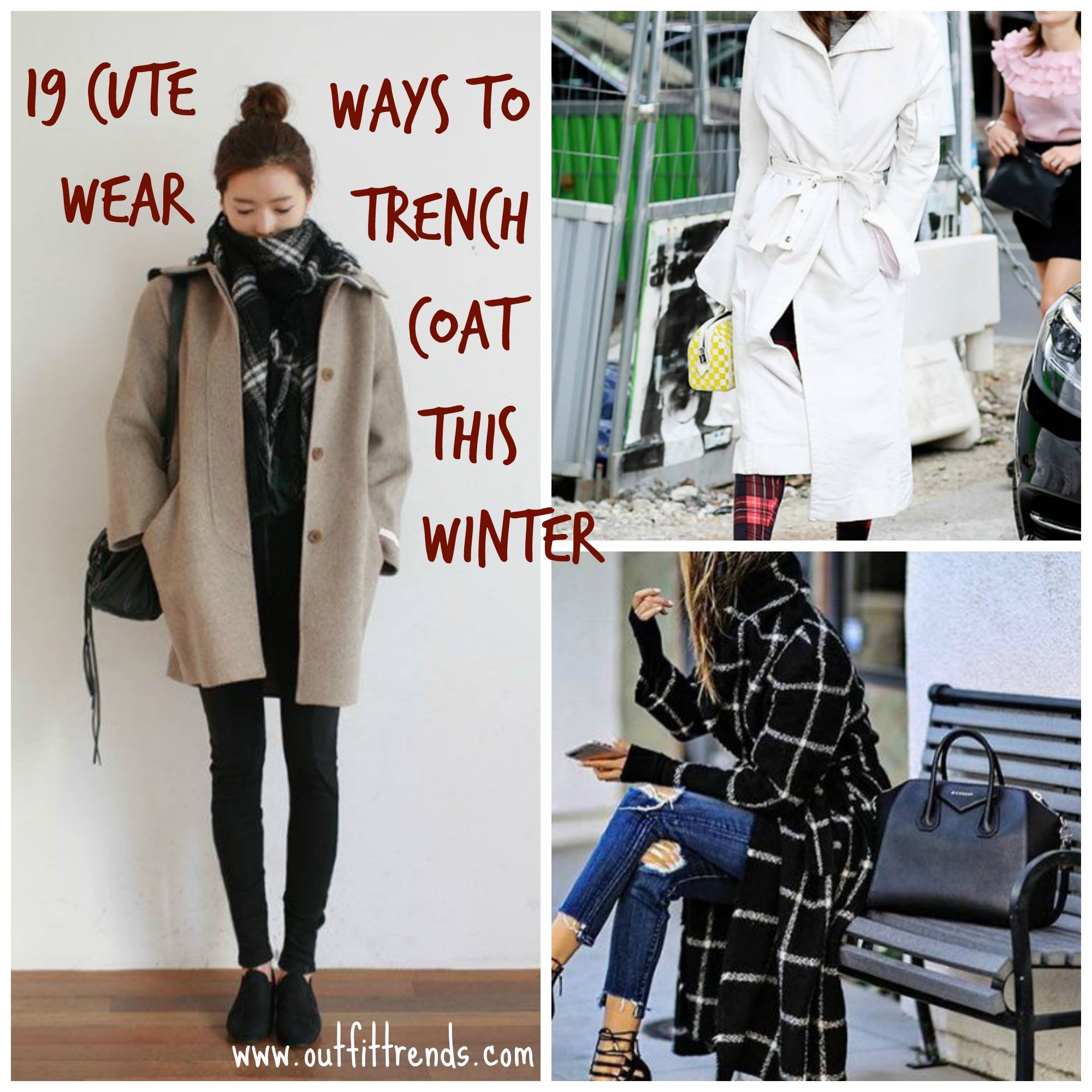 ↓ 18 – With Leather Pants
Another great way that you can dress up in winter is to wear your leather pants, which you avoid in summer. Leather pants combined with a trench coat will become your favorite attire for winter. This looks effortlessly chic, and to add on more. You can wear ankle boots to give a full winter look. If you love leather pants, then do check out 17 Cute Outfits with Leather Pants for Women this Season.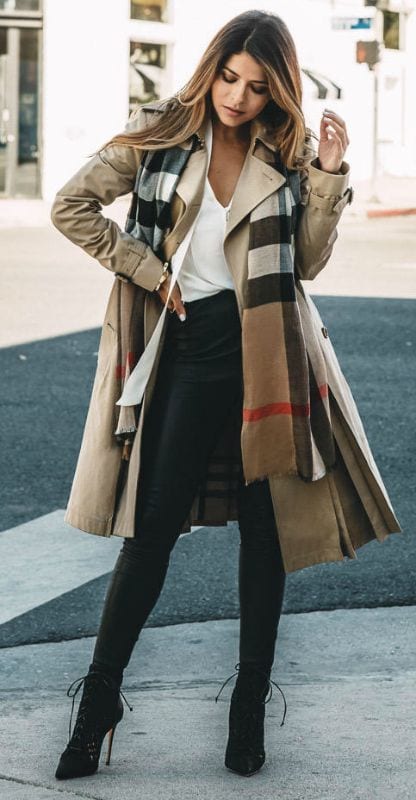 ↓ 17 – How To Wear Trench Coats For A Formal Look?
Women are not usually sure how to carry trench coats to formal events; well, it is straightforward and easy. Combine your trench coat with a pair of black leggings and black pumps. This look is evergreen, as it will always give a flawless and complete look. To look more elegant, you can tie a top knot in your hair.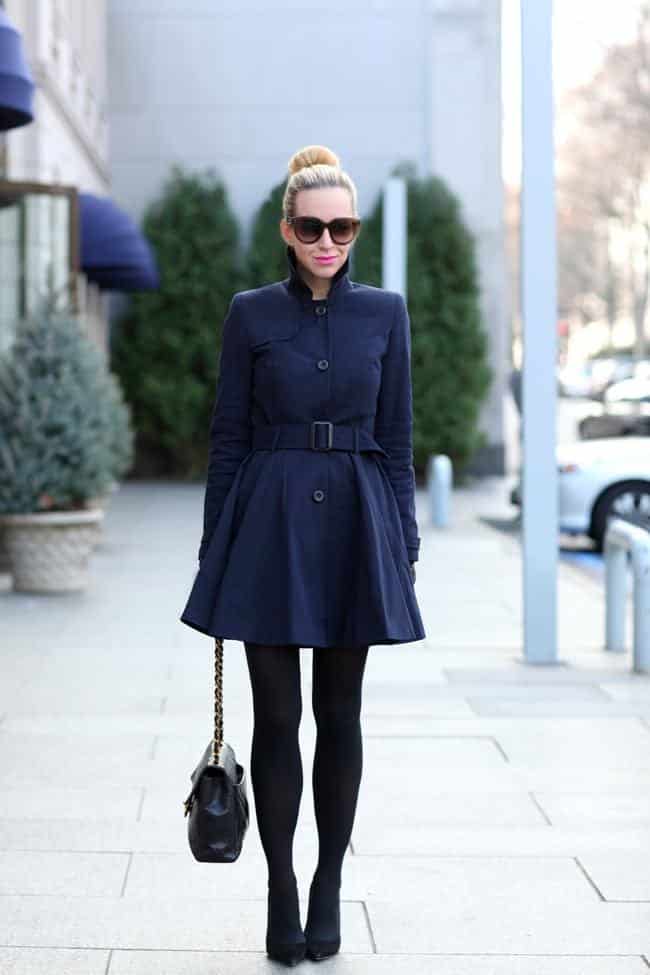 ↓ 16 – With Muffler For School
Another easy and uncomplicated way to go about with a trench coat is to wear it with a muffler. This look can be carried to school or college every day and will be highly useful in keeping you warm if you walk your way to school. You can wear flat pumps or sneakers to give them a complete school look. For further protection from the cold, you can also add leg warmers to your outfits, here are some of the best Ideas On How to Wear Leg Warmers.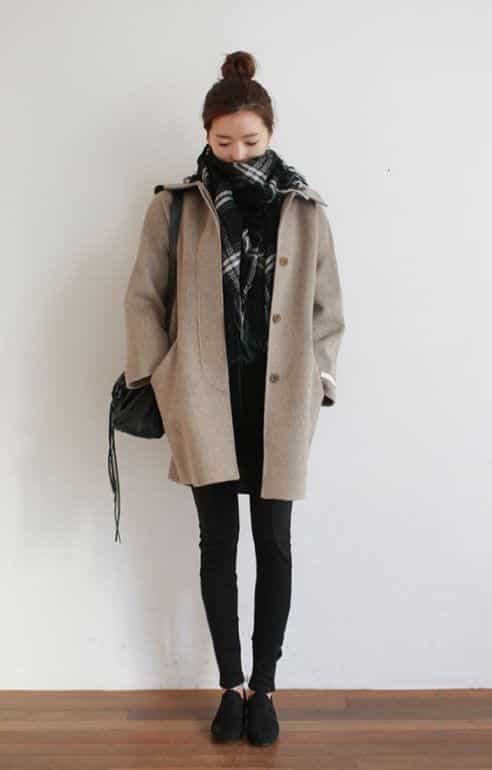 ↓ 15 – With Long Boots For Fall
Winter is the perfect time of year when you can flaunt your long boots. Combine a mid-thigh length dress with your favorite long boots and wear a beautiful toned trench coat over it. This is a perfect outfit for casual hangouts.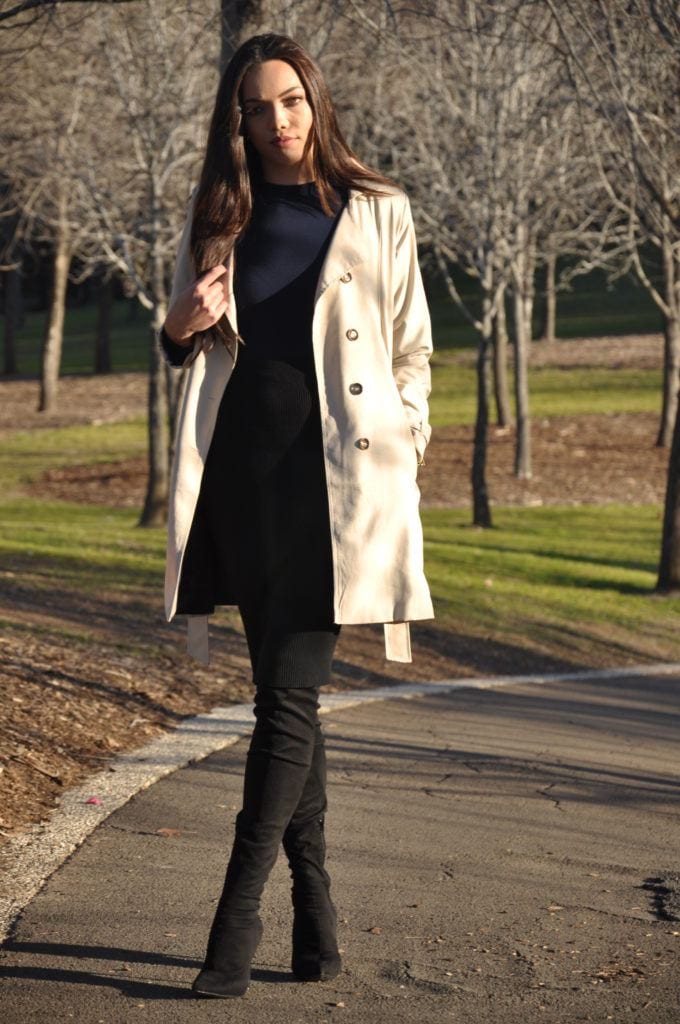 ↓ 14 – With Complimenting Heels For Work
Another great way to wear your trench coat is to pair it up with the same colored heels. This looks chic and also enhances the overall attire. You can carry this look to your office or simply when heading out over the weekend. We can guarantee that this look will earn you lots of compliments.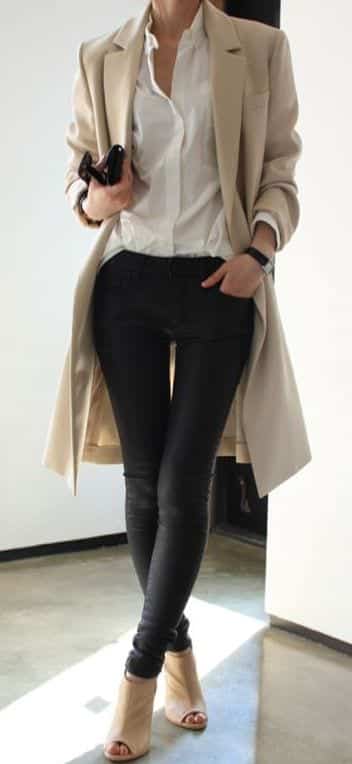 Via
↓ 13 –  Hairstyle With Trench Coat
We all know the greatness of trench coats, and wearing them not only makes you look fabulous but also classy at the same time, nut usually the issue arrives when we have to decide hairstyle with it. The best and easy way to carry hair is to put them into a top knot or a messy high bun. Here are some Cute Outfits with Top Bun Hairstyle to Compliment Style.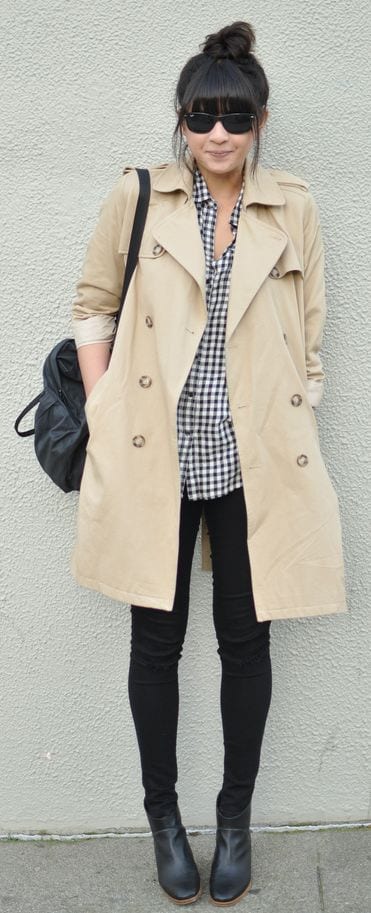 ↓ 12 – Over Plaid Pants
Plaid pants are fun and preppy at the same time. So if you want to look fun in your trench coats, then the best way to do is to wear them over plaid pants.
The pants can be as colorful as possible, whereas you can opt to wear a neutral-colored trench coat. In addition to this, you can wear colorful/printed block heels to complement the overall dressing. For those who love plaid, here's the ultimate guide on How To Wear Plaid Coats.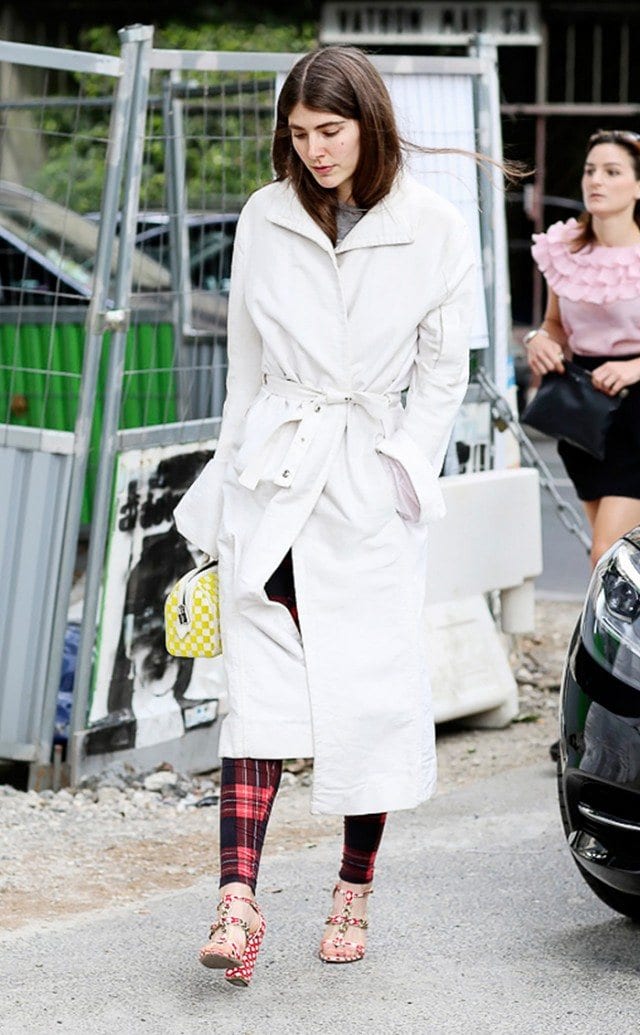 ↓ 11 – Celebrity Style
Everyone's favorite Selena Gomez also carries her trench coat look in a simple yet very classy way. She combines her denim pants with a black sweater and wears a black trench coat over it. To further enhance the look, she added beach waves to her hair.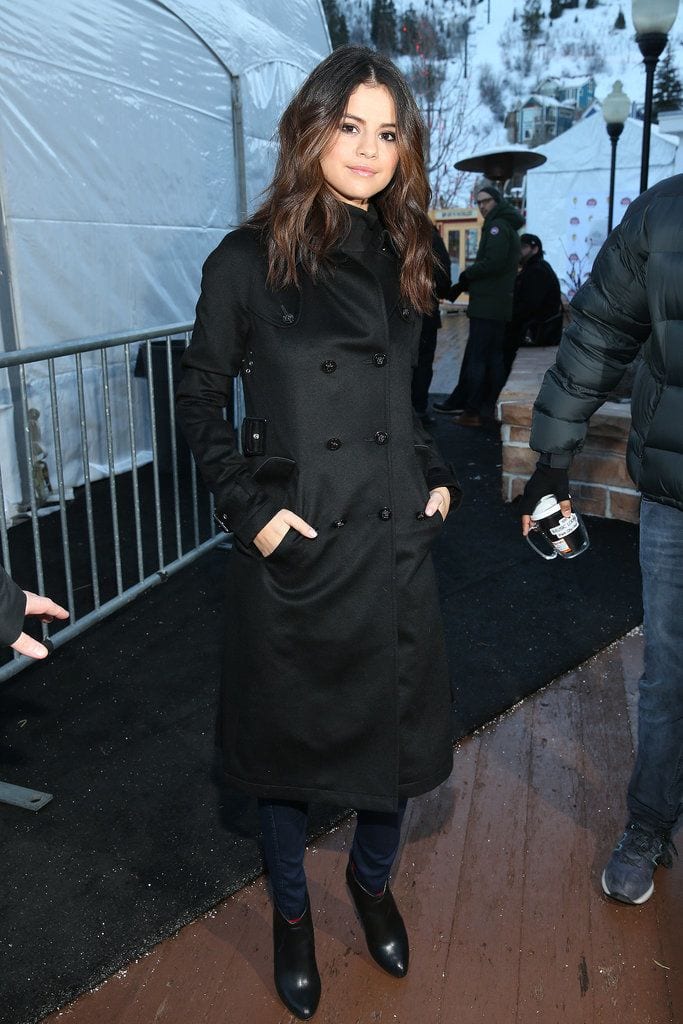 ↓ 10 – Printed Woolen Trench Coat
If you are a fan of prints and designs, then a printed woolen trench coat is all you need. You can pull it over some simple pair of pants and a shirt. To flaunt the dress more, you can wear your favorite stilettos and shine on!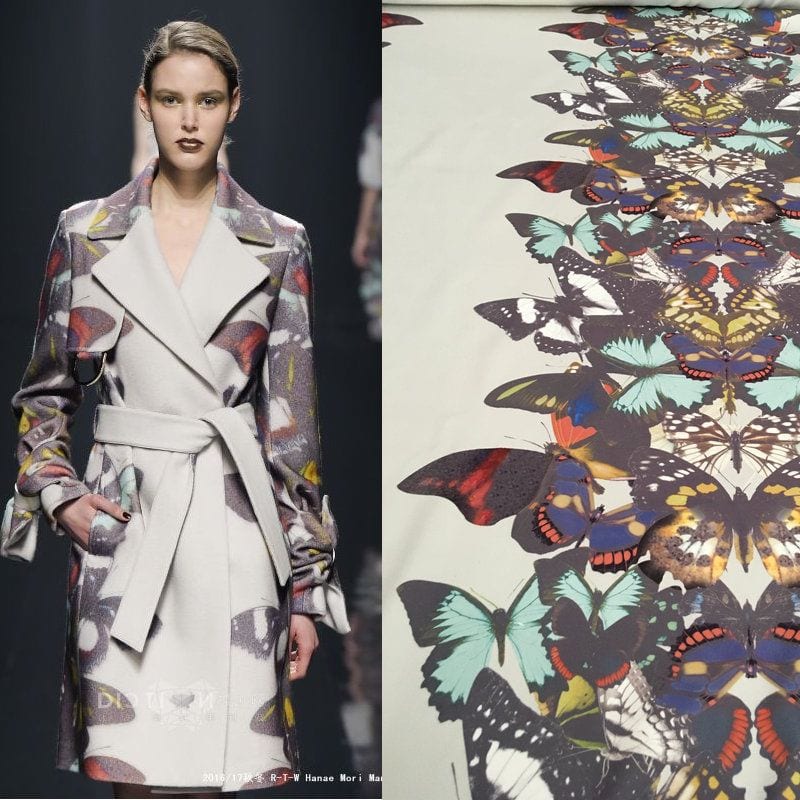 ↓ 9 – Wear It Over A White Dress
Who doesn't love white attire? Well, we all do! So why not wear a complete white attire, be it a long dress or a pair of pants and top and then wear a nude or bold colored trench coat. This will immediately uplift the entire attire and make you shine.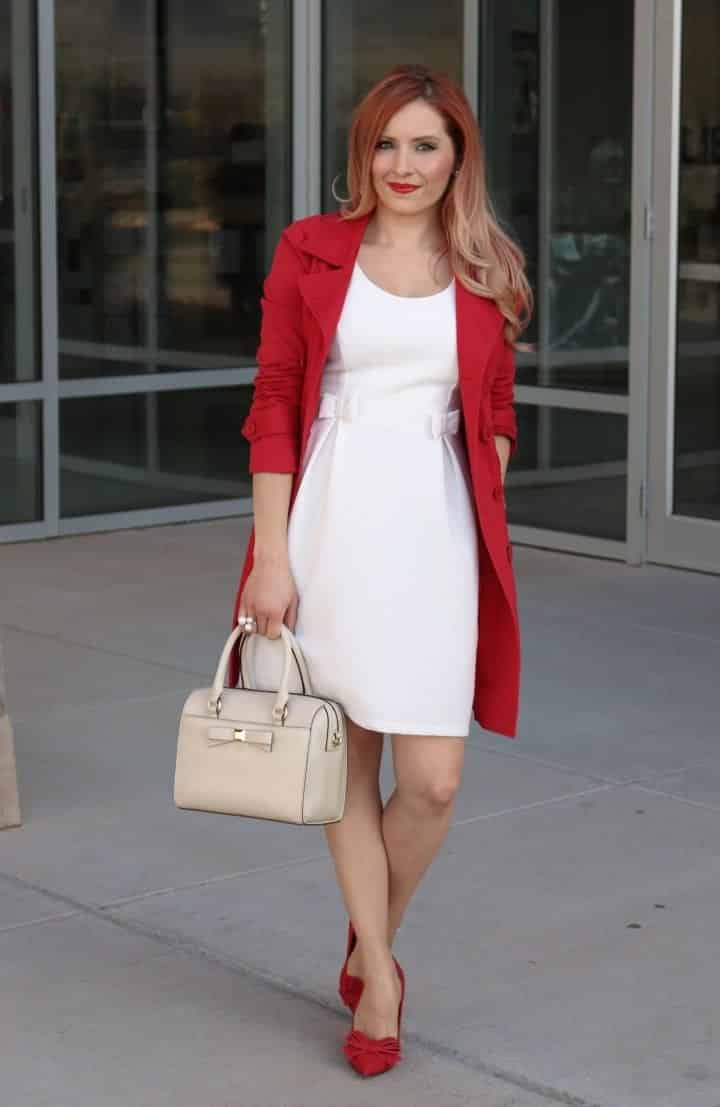 ↓ 8 – Over A Cardigan
Winter gives the benefit of multiple layering. You can wear printed pants with a cardigan, and when you are dressed up, pull over a trench coat and then hit the roads. Here are some Stylish and Trendy Cardigans for Women.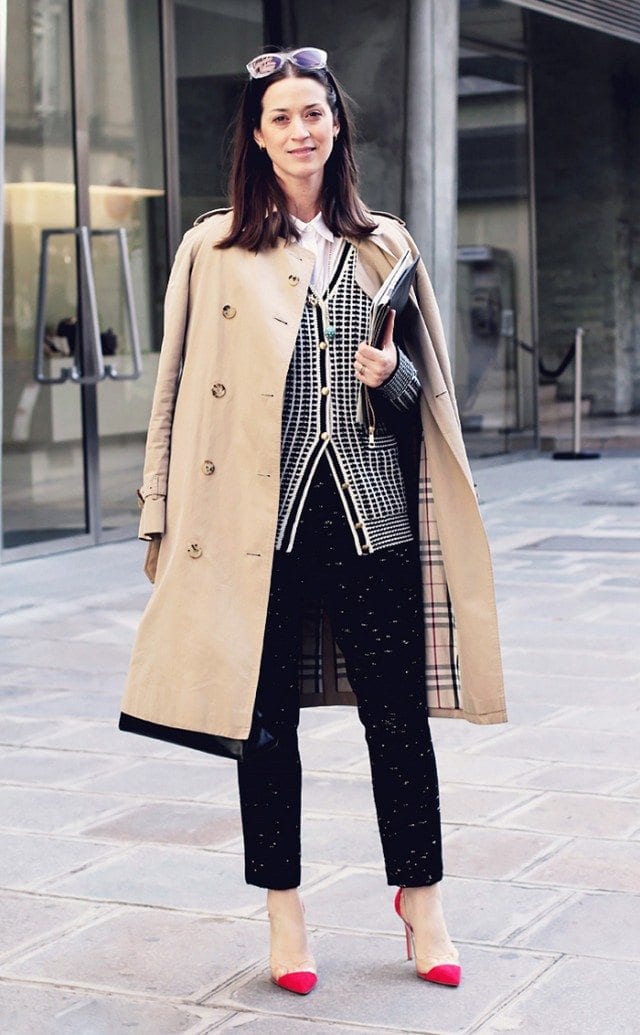 ↓ 7 – The Office Look
You can also wear a trench coat to your office without much hassle. It will add on to your professional look. Tuck in your tee shirt and wear a complimenting trench coat over it. Wear smart office shoes, and that is it! Easy and professional at the same time. Here are some  Cute Winter WorkWear Outfits For Women.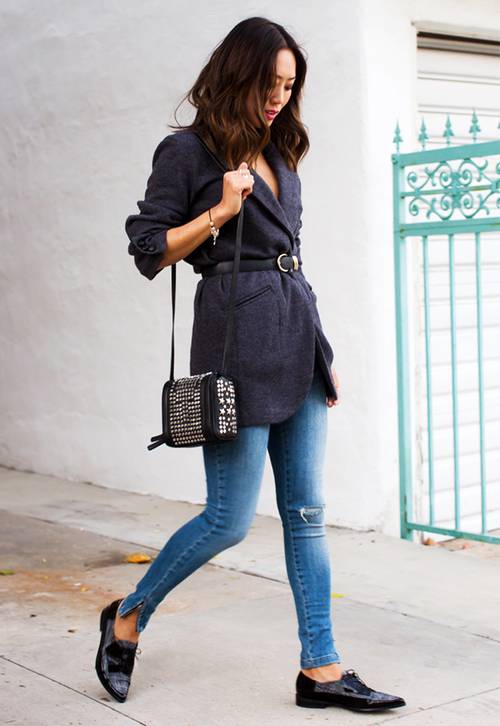 ↓ 6 – Loose Curls With Trench Coat
Instead of focusing highly on your dress with a trench coat, you must also look out for the hairstyle that you will opt for. When wearing trench coats, you must ensure that even your hairstyle also goes well with it. To ensure a chic look, you can opt for loose curls, as they look fun and give a lively appearance.

↓ 5 – Go Vintage
 If you love vintage styled clothes, then you can complement and contrast your trench coat with a high neck and high waisted pair of pants. To finish off the look, wear sneakers and rock the complete old school look.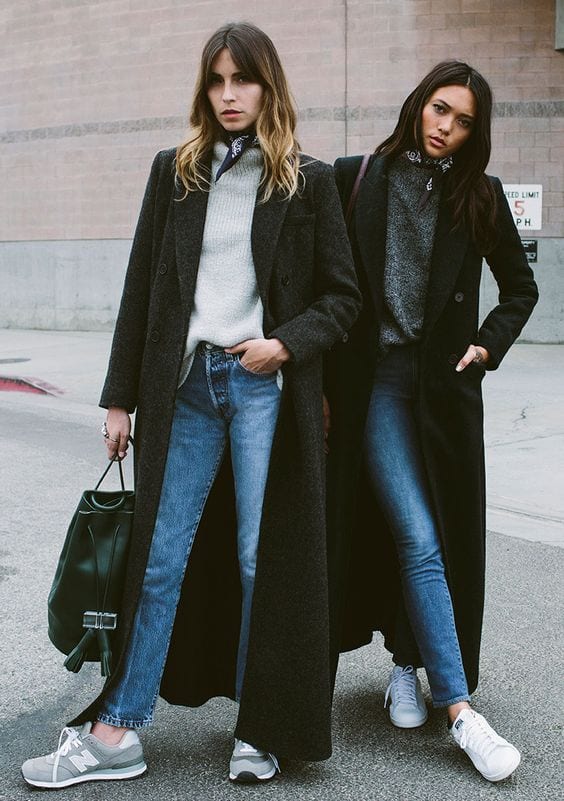 ↓ 4 – Belt It Up
To look all wrapped and packed up in winter, you can simply cinch the trench coat around the waist. You can do it with a colorful belt or with the strap provided with the coat.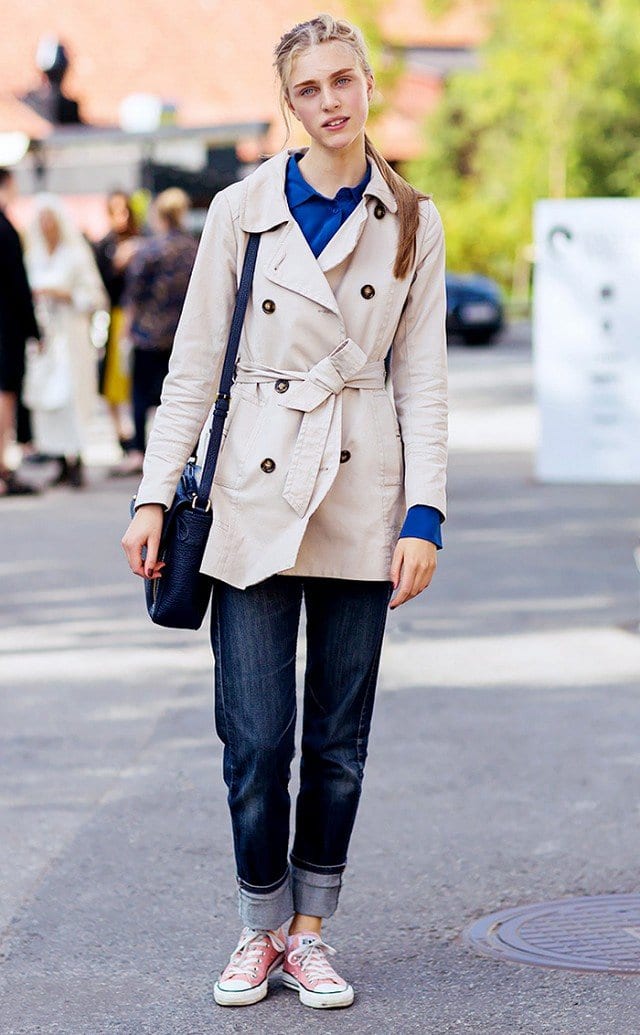 ↓ 3 – The Casual Look
You can play around with your office looks if you plan to wear a trench coat. You can wear a monotonous attire with a bright colored bandanna and a neutral tone trench coat.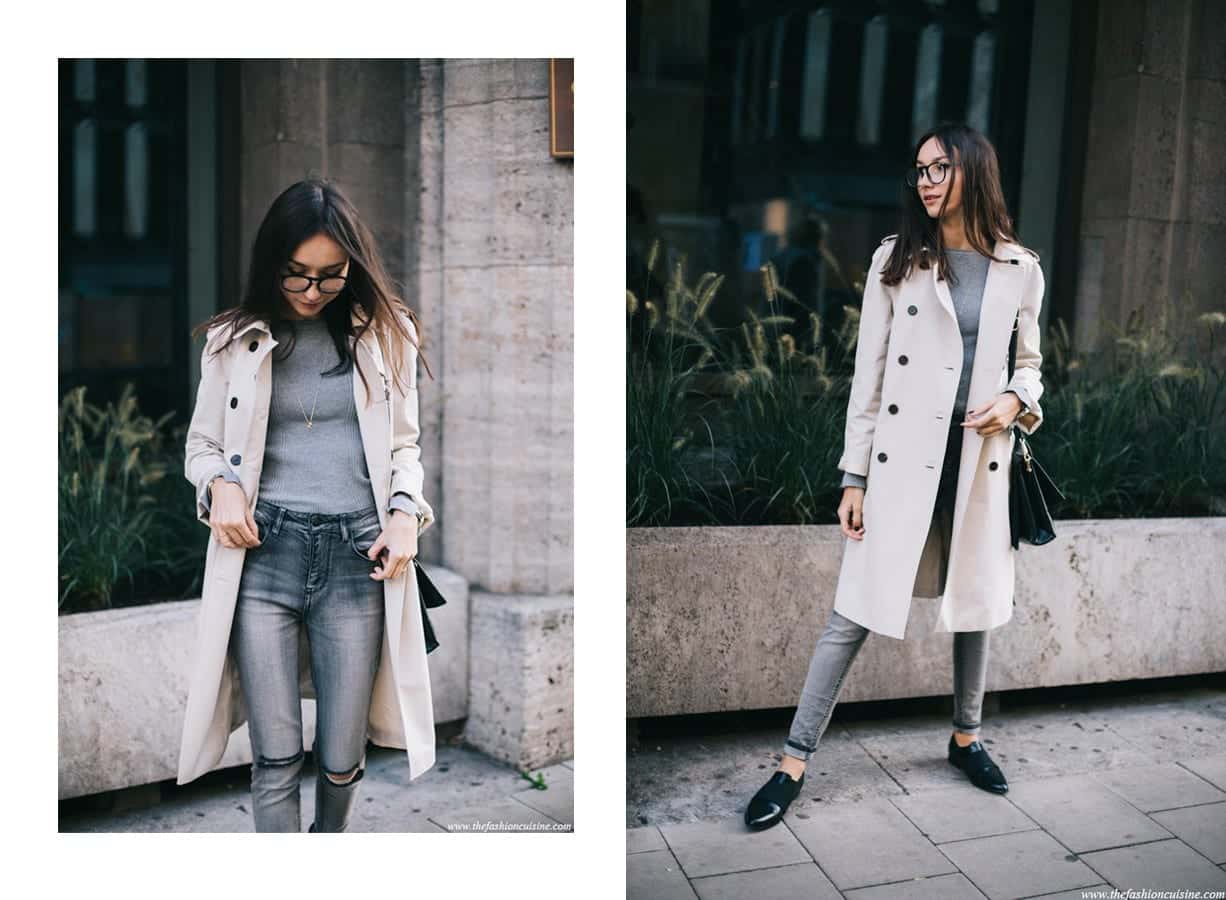 Via
↓ 2 – What To Wear With Red Trench Coats?
Winters are great as one can do a lot, like seriously a lot with their looks and have many options with respect to the colors. You can choose to wear a very bold colored trench coat over a simple attire and still look stunning.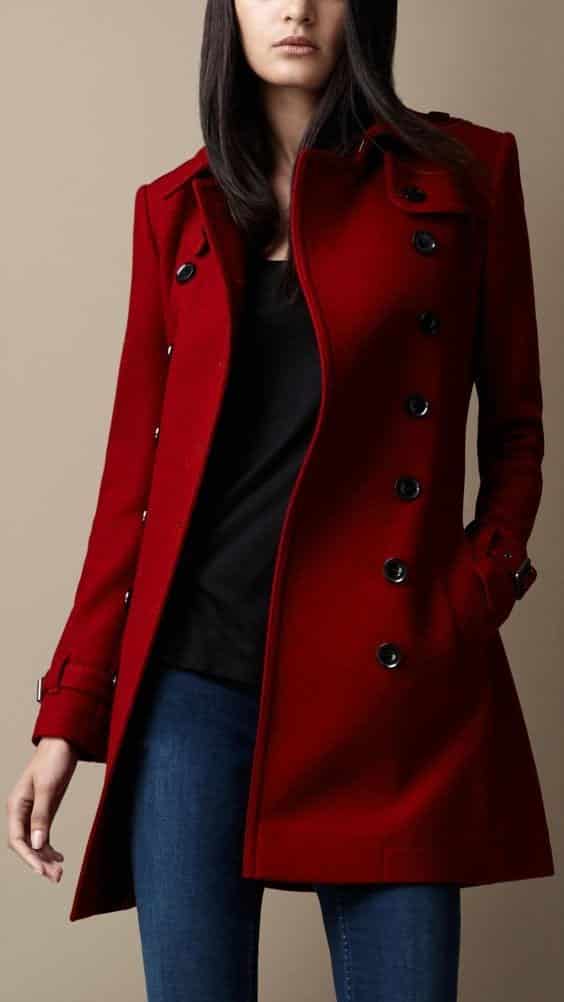 ↓ 1 – Accessorising Rightly
An exciting way to look different wearing your trench coat this winter is to combine it with some fancy or straightforward belt. This adds the difference in the attire and makes you look already. To further add on, carry a matching clutch/ handbag.