Statement jewellery outfits – Good jewellery is essential to a good outfit. Jewellery is something that can make or break an outfit. It can make a simple outfit super cool and make a classic outfit even chicer.
People think jewelry can be tricky, but it's not. You have to find your style, see what works for you, and then stick to that. When you wear what you like, you won't find jewelry confusing anymore.
Jewelry can be worn on any occasion. There is different jewellery for all different types of events. You can choose to wear it every day, which would be super simple and classic, then jewellery for a wedding and a party would be different. Always wear what you like and not what other people think is right. If you stick to your style and personalize stuff, you will look good in everything.
How to Take Care of Your Statement Jewelry?
If you have a few favourite pieces and you're scared they will get ruined; then you need to take extra care of them. Make sure not to wear jewellery in water and when you are sweaty because that will ruin the color of your jewelry, and it will fade. Buy stainless steel or real gold/silver jewelry if you want to wear your favourite pieces daily because they won't fade.
DOS AND DONTS FOR STATEMENT JEWELRY OUTFITS
• DO wear your favourite jewellery without hesitation.
• DO wear what you want to.
• DO find your style and stick to it.
• DON'T care about what people say.
• DON'T wear your jewellery underwater.
• DON'T wear what's in trend. Wear what you like.
What To Wear With Statement Jewelry?
Let's look at how our favourite bloggers and style icons wear statement jewellery.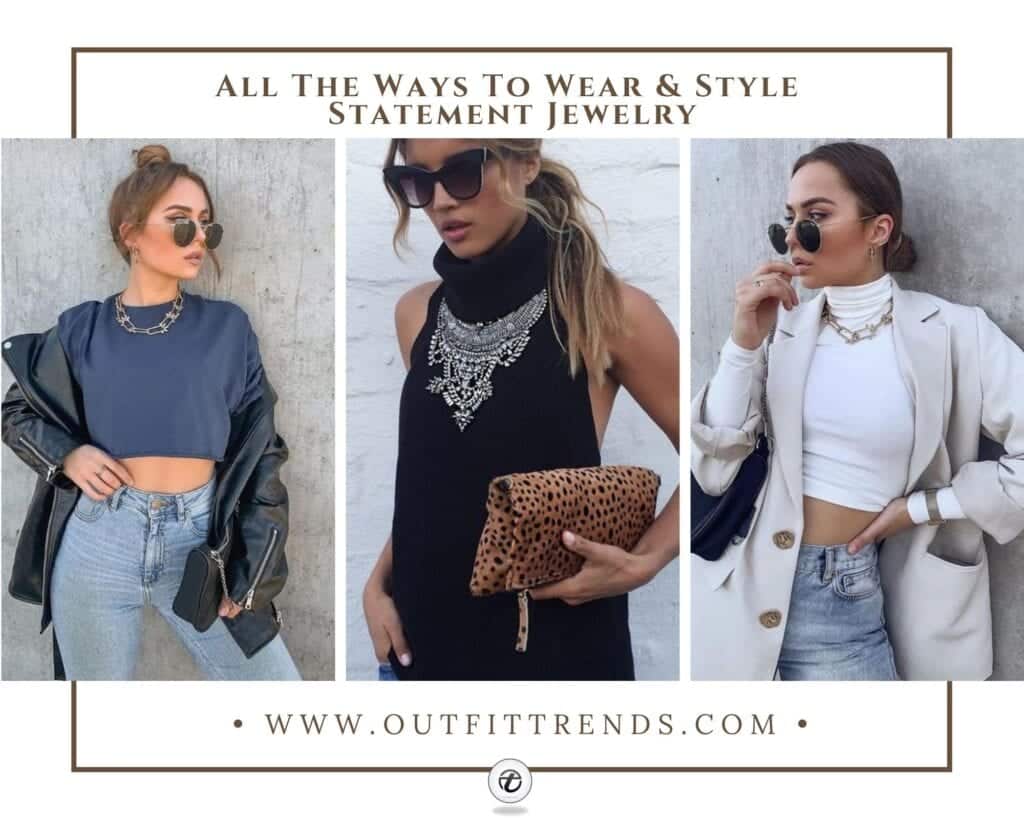 ↓ 20 – How To Wear Jewelry With A Turtleneck
Turtlenecks are always trendy. They never go out of style, so pairing them with bold jewellery would be the perfect statement. Pair a plain black turtleneck with thick, intricate gold chains and big round hoops for a classic look. Tie your hair in a low middle-part pony, and don't forget your shades! Here are some of my favourite Ways To Style a Turtleneck.
↓ 19 – Alt Style
This style is super in trend nowadays, and most teenagers try it out. It includes wearing silver chains and rings and harnesses. All-black outfits look the best with silver chains, so wear some skinny jeans and a crop top with this harness and silver accessories to get all the attention in the room. This outfit would look super cool if you wear it on your birthday, somebody else's,s or even on a day out with friends; everybody will love it!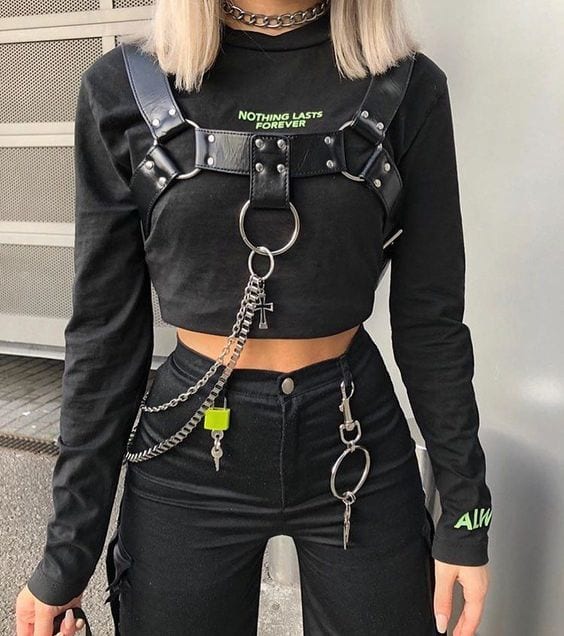 ↓ 18 – How To Wear Chunky Necklaces
Chunky and big necklaces seem harder to style than normal jewellery because of their size. Normally, people assume you need to wear necklaces like this with deep necks, but they can also be worn with a turtle or mock neck and look good; this silver statement necklace looks perfect with this black turtleneck, and the cheetah print clutch adds even more glamour!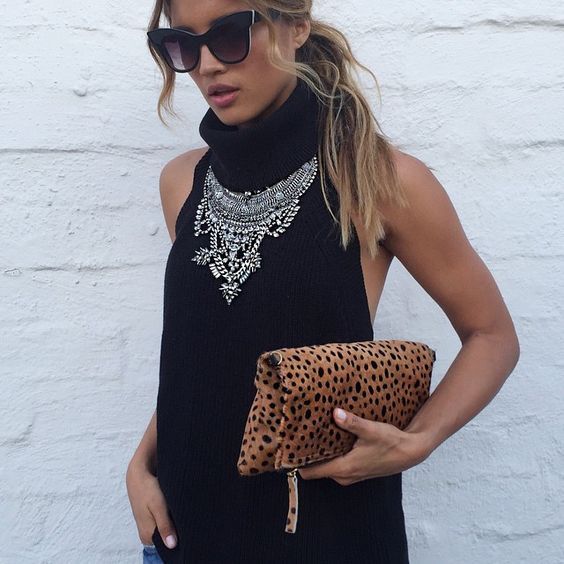 ↓ 17 – What To Wear With Eastern Clothing
Eastern clothing can seem very complicated to people from different cultures, but look at it this way: it's just very extra. This plain white blouse looks stunning with this heavy gold choker necklace and long dangling earrings. The bangles and rings are even better. This is a very classy desi look that would look amazing at a wedding.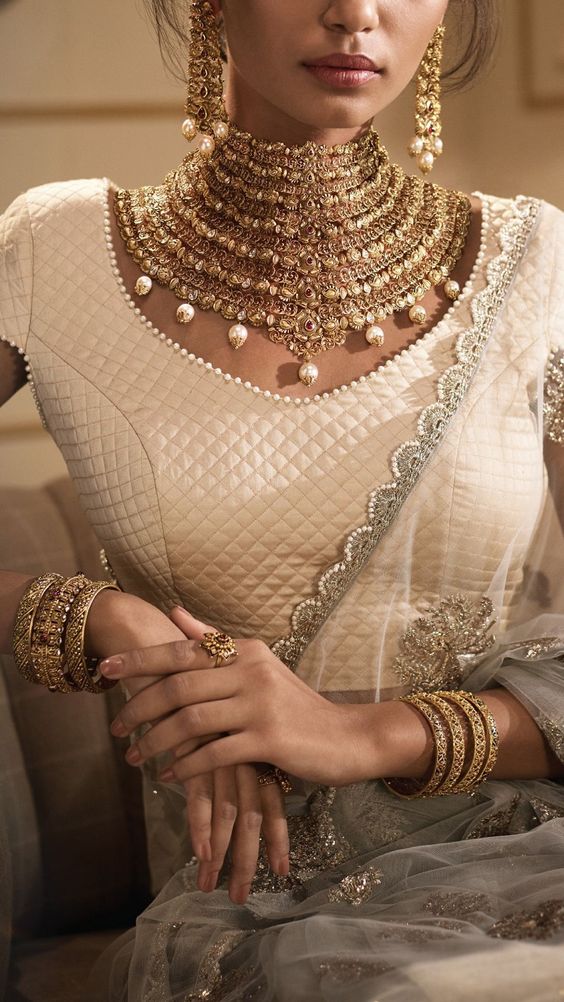 ↓ 16 – How To Style A Dress
Don't know what to wear with a dress? We got you covered. If you are worried about what jewellery to wear with a dress, try wearing a bold necklace like the one in the picture. This necklace will add a cool look to your formal attire, and just by adding the chain, you can wear this outfit to a party or lunch/dinner. Here are some more tips on styling the Little Black Dress.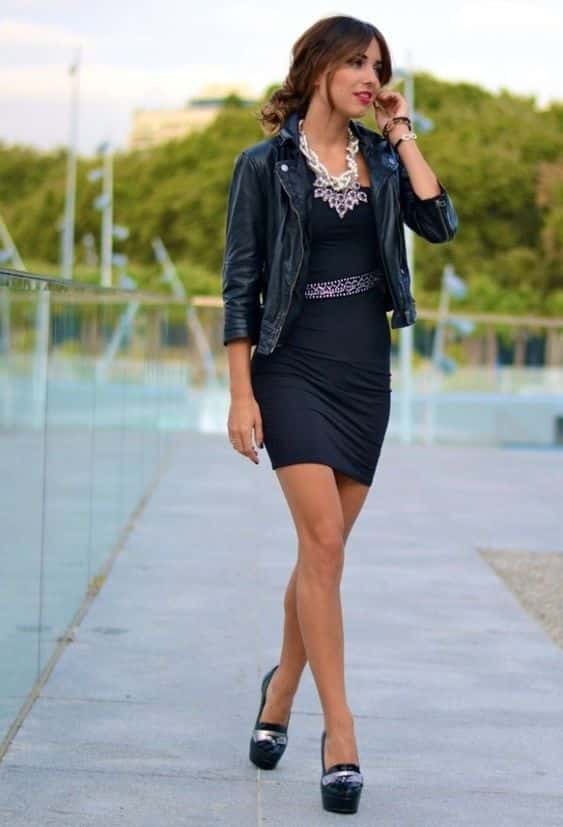 ↓ 15 – Jewels
Big shiny necklaces full of diamonds are showstoppers. This stunning copper blazer paired with a plain shirt and black pants looks amazing. The jewellery is what makes this outfit even prettier. There are four bigger necklaces and a dozen other thinner ones. This is the best way to wear different types of necklaces together. This outfit is a bit more formal, so you could wear it to a birthday dinner or party.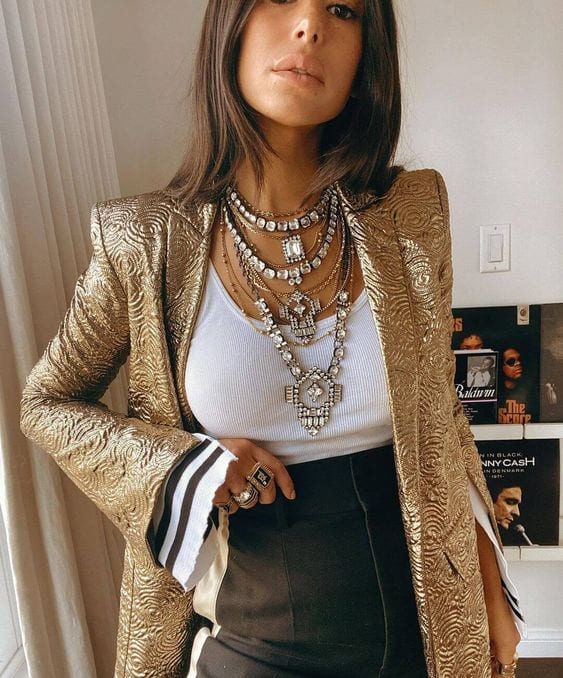 ↓ 14 – What Statement Jewelry To Wear With A Mesh Outfit
A mesh outfit always looks pretty. Just wear a pretty bralette underneath it because that always makes it look even better. Try wearing looks of necklaces on top of one another. Wear different designs you like, and even try attaching longer chains from your pants to your necklaces, adding a super cool look to your outfit.
via
↓ 13 – All White Outfit
This outfit is super pretty. In the picture, the person is wearing a white jacket with cutout sleeves and a chest area. The shorts are also distressed and white. There is no shirt under the coat, which looks super sexy. Wearing many golden necklaces underneath of all lengths, shapes and designs.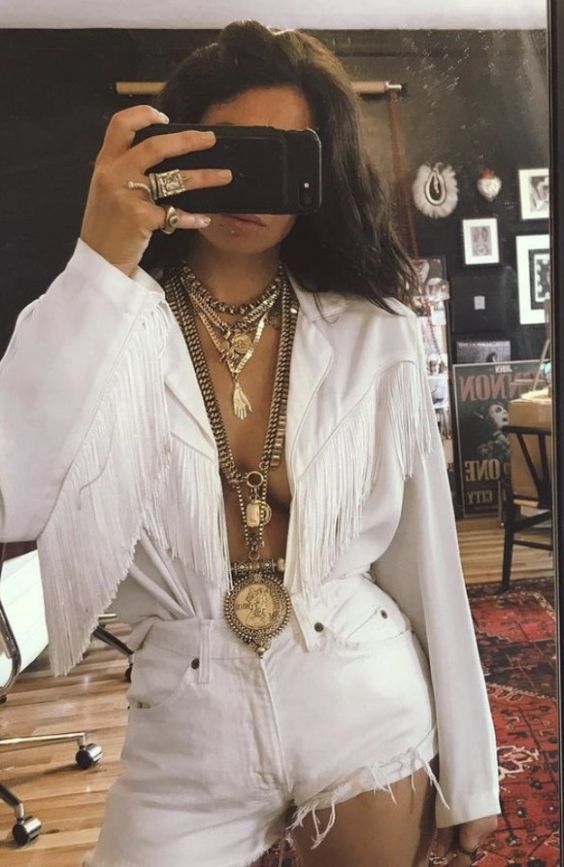 ↓ 12 – All Black Outfit
These black textured pants look super cool. The black tank top with the leather jacket makes a statement, but the silver jewellery they wear is exquisite. They are also wearing a black strap with silver detailing, which looks so sexy and chic. The big dangling earrings are stunning, and so are the shades. This outfit would look amazing if you wore it to a festival; everybody would be drooling.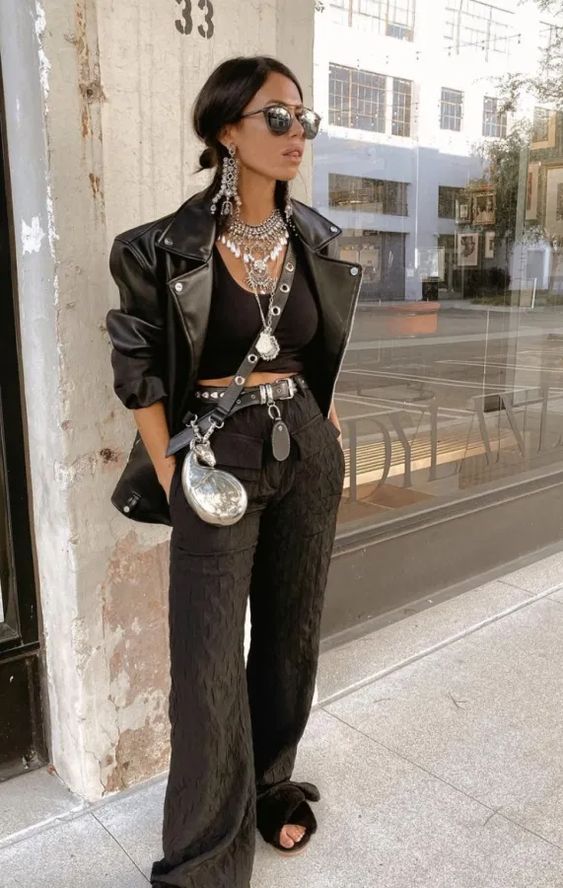 ↓ 11 – Casual Look
This is a super casual outfit but with jewelry that stands out. Wear a plain crop top in any color with basic denim skinny jeans, and throw on a black leather jacket to keep it cool. Now try wearing a gold necklace like the one in the image. Put your hair up in a bun or let it down your choice, but don't forget your shades because they look the best.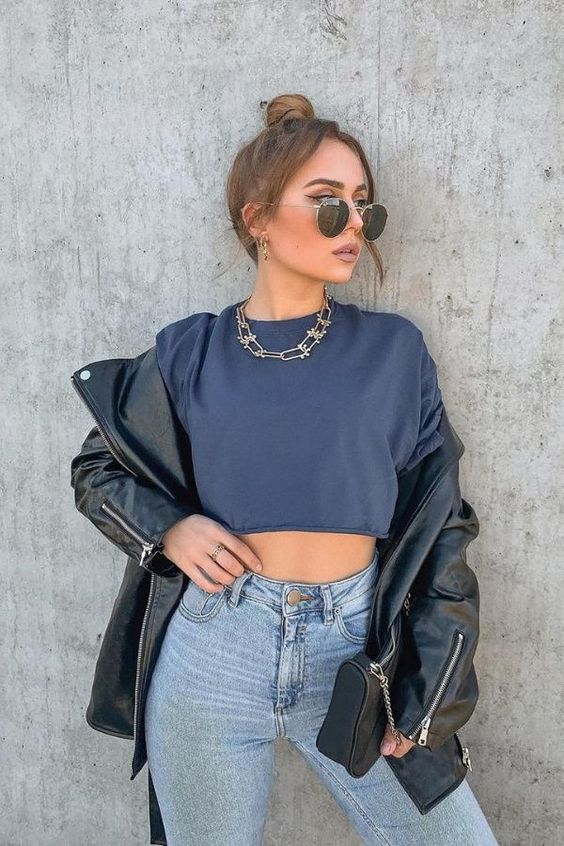 ↓ 10 – What Statement Jewelry To Wear With A Black Outfit
This outfit looks fun and cool with black ripped skinny jeans and a sleeveless plain black top. This outfit is simple, so the super bold silver necklace looks good with it. Such chains need to be paired with plain outfits because they stand out more with them. Wear this outfit to a day out with friends or a dinner at night. The black strappy sandals are super cute too.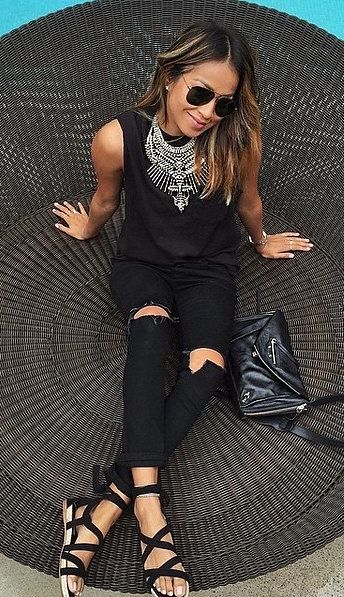 ↓ 9 – Beige Overcoat
This white turtleneck looks so crispy with the beige overcoat. Pair it with blue denim jeans and a simple golden necklace like the one in the picture, and you are good to go. Hair up in a bun looks sleeker and makes you look put together. You can wear this look to run errands, a birthday party, or even a day out with friends. It is a very versatile look as it can be changed from casual to formal by changing your hairstyle.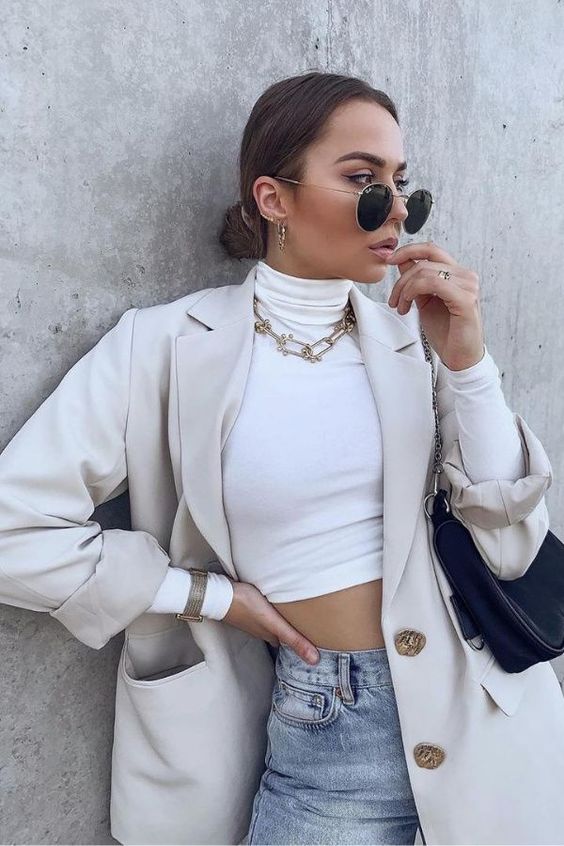 ↓ 8 – Professional Outfit
Wear a chunky chain with a silk blouse and formal pants to grab attention more professionally. This look is traditional and mostly for the office, but try it if you like to wear formal usually. Formal pants give a very sexy look to your outfits; wear them with heels, and you will look even better. Carry a handbag or clutch if you want, and don't forget to wear rings, bracelets, or a watch.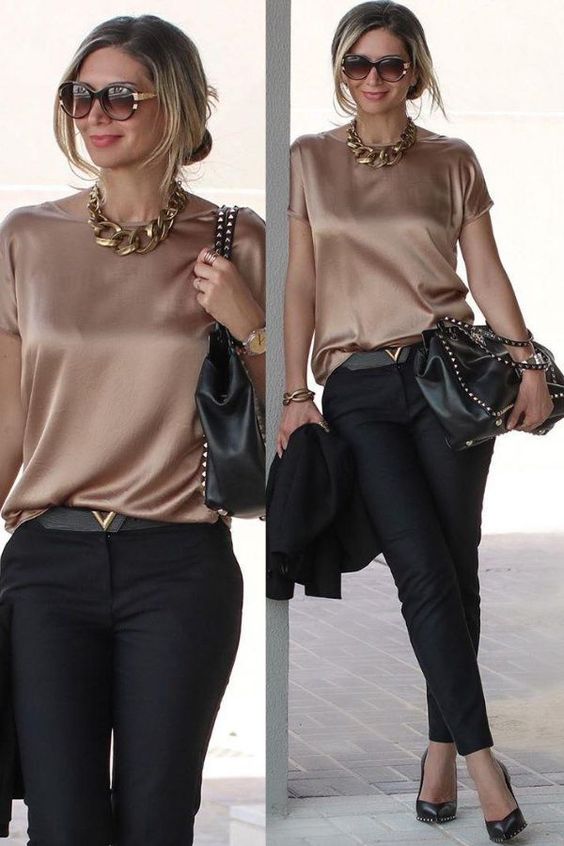 ↓ 7 – Wearing Statement Jewelry with Coats
A stylish chain always looks good with combat boots. These two are the best combination yet. This outfit is more of a fall-time business. The Houndstooth trench coat is super duper stunning and looks even better with the black dress underneath. The handbag gives the entire outfit a formal look. You can wear combat boots with almost anything, whether a dress, top, skirt or jumpsuit. They look amazing with this black dress and trenchcoat.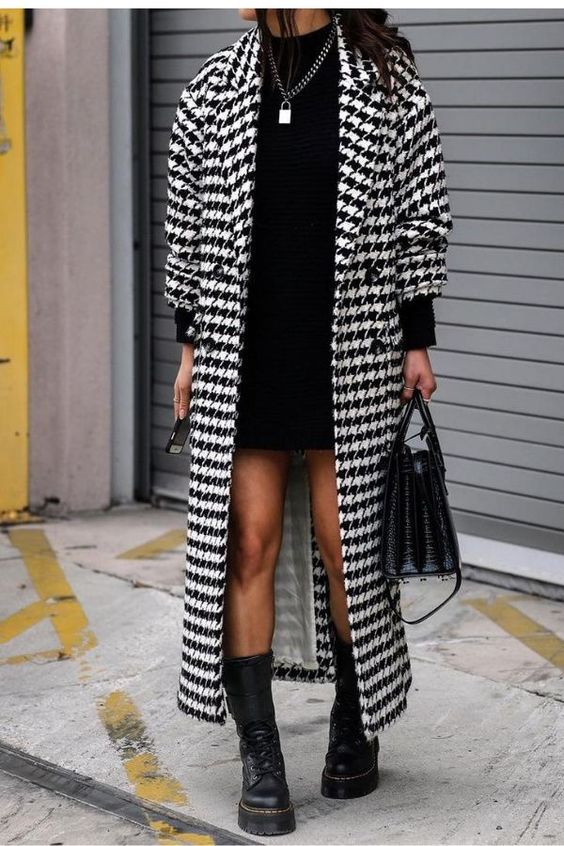 ↓ 6 – With A Light Sweater
This lemon-yellow sweater is the cutest we have ever seen! It looks amazing paired with the grey formal pants. This sweater is worn in a way that is so sexy because, in the winter, everything is covered under layers and layers of clothing. The pearl necklace looks super pretty worn with this gorgeous sweater, and the 's colour-shirt complements the chain.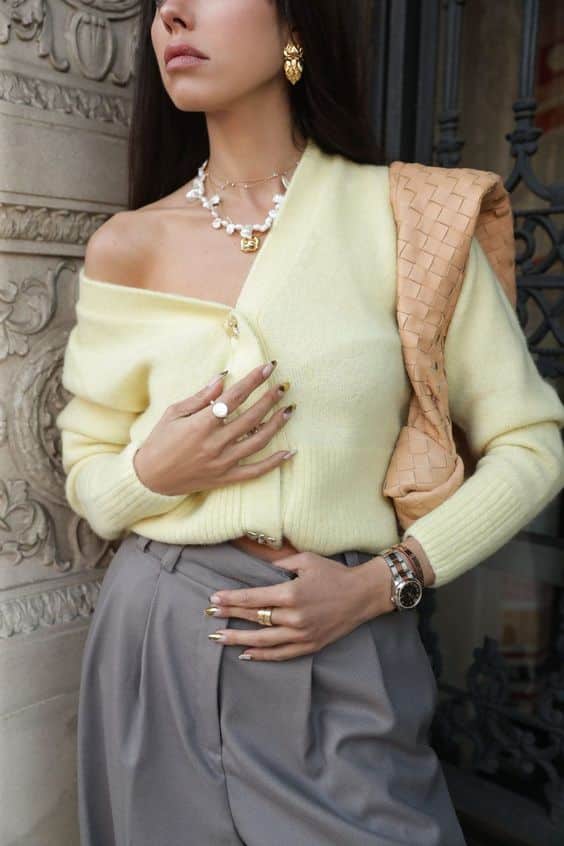 ↓ 5 – With A Formal Shirt
Wearing big chunky chains with a formal shirt has to be a power move. These big flashy chains are the statement. Wearing them to work would not be appropriate, but imagine if you did, that would be the best day ever. You could wear them with this shirt to a party or birthday dinner.
via
↓ 4 – Pretty Colors
This jewelry is different from normal jewelry. Yes, there are golden chains, too, but the choker on their neck is red and has designs that make it stand out. The designs on the collar match the print on their headscarf, which looks gorgeous. They are wearing a plain white collared shirt, and the makeup is minimal too.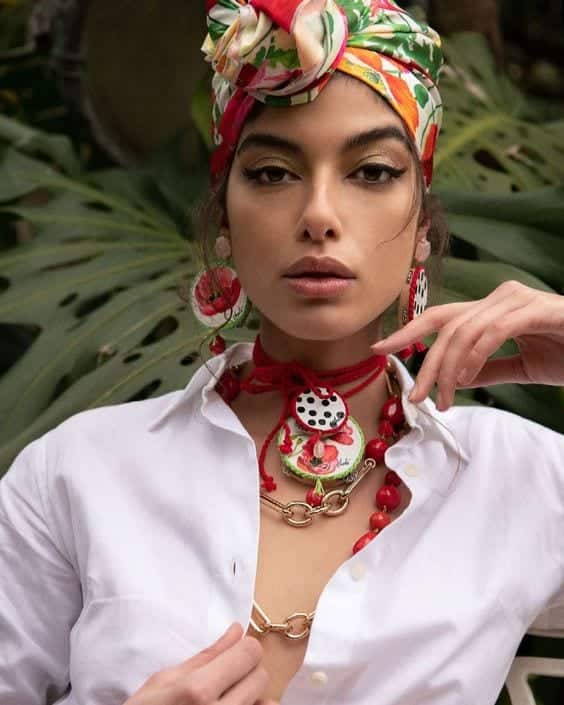 ↓ 3 – How To Wear Statement Jewelry With Denim
This denim outfit is super sexy. The denim shirt is unbuttoned in this manner, with these jeans look so amazing. This big silver piece of jewelry adds to this outfit and makes it even sexier. Some people find these jewels sexy others don't. Wear them if you like and wear them with whatever you want. This outfit is a little out there, but don't worry; you could still wear this to a party.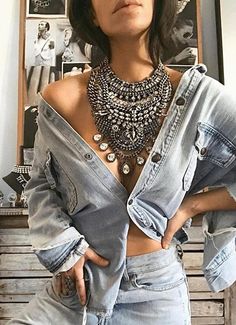 ↓ 2 – Strappy Tops
This heavy silver jewellery looks amazing with this brown strappy top and beige pants. The bangles in their hands and the chunky necklaces on their neck look like something out of our dreams! Super pretty jewelry to wear with yet another simple outfit.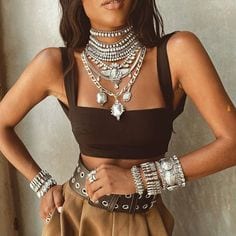 ↓ 1 – Off-shoulder Top
These big flashy, and chunky chains look so sexy. Why do people think only rappers can wear such chains? No. We all can wear them if we want. They look so cool with this black off-shoulder top. Off-shoulder tops give a very sexy look to your outfit, so try one if you like. You can wear it to a party, birthday or anniversary dinner.
Frequently Asked Questions
Q. What is statement jewellery?
A. Statement jewellery is jewellery that is bold and unique. It helps its wearer portray who they are through their outward appearance. You can use jewellery to show people what you like and your style without saying anything because what you wear will be offered to them already.
Q. How to wear statement jewellery?
A. There are a lot of different ways to wear statement jewellery. It depends on you anyway. You must choose how you want to wear your jewellery and fix it yourself. You can find help online, but you will need to decide on your own because you might be comfortable with something, but the internet will say it's trendy and vice versa. So choose how you want to wear your jewelry yourself.
Q. Are statement necklaces out of style?
A. No, statement jewellery has been in style for a long time and will be in a manner for a long time. People love statement jewelry. All chains, rings, necklaces and bangles are statement jewellery, and people will keep loving them for a long time.
Q. Why do people feel the need to wear statement jewellery?
A. First, nobody feels the need to wear statement jewellery everybody wears it because they feel like it. Everybody wears what they like and not because they need to.