Little Black Dress outfit ideas: Black is an all-time classic color, and you can never go wrong with a little black dress. Long gone are the days when you could not dress in black for Weddings and formal occasions.
It can now be worn with ease to almost any kind of occasion. It is a must-have piece for every girl out there and should be a staple in every wardrobe. They can be worn throughout the year with multiple layers during the Winter and keeping it minimal during the Summers. Black dresses are easy to style and can be worn in many ways. You can add a bit of your personal touch to jazz up the look. For a dress down kind of a day, you can wear a simple dress with a denim jacket and a pair of slides. For a more formal look, you may opt for a sparkly, fancy dress that can be styled with a number of accessories. If you are a wedding guest and need an elegant outfit to dress up in, revamp your existing little black dress in ways discussed below.
How To wear Little Black Dress?
Here are some do's and don'ts of styling little black dresses:
Add in layers to your dress with denim or leather jackets for an edgy look.
Add in stoles or scarfs for a bit of pattern and colour.
Statement heels, sandals or boots are a great way to elevate the look.
Do not wear shiny, metallic leggings under your black dress.
If your outfit is dull, accessories with jewels or bags, however, do not go overboard with the accessories.
It is important to dress according to the occasion.
Belts are a yes. They can highlight your waist and give it a very hot look.
If you plan on wearing your little black dress to the office, you may want to throw in a formal blazer with it.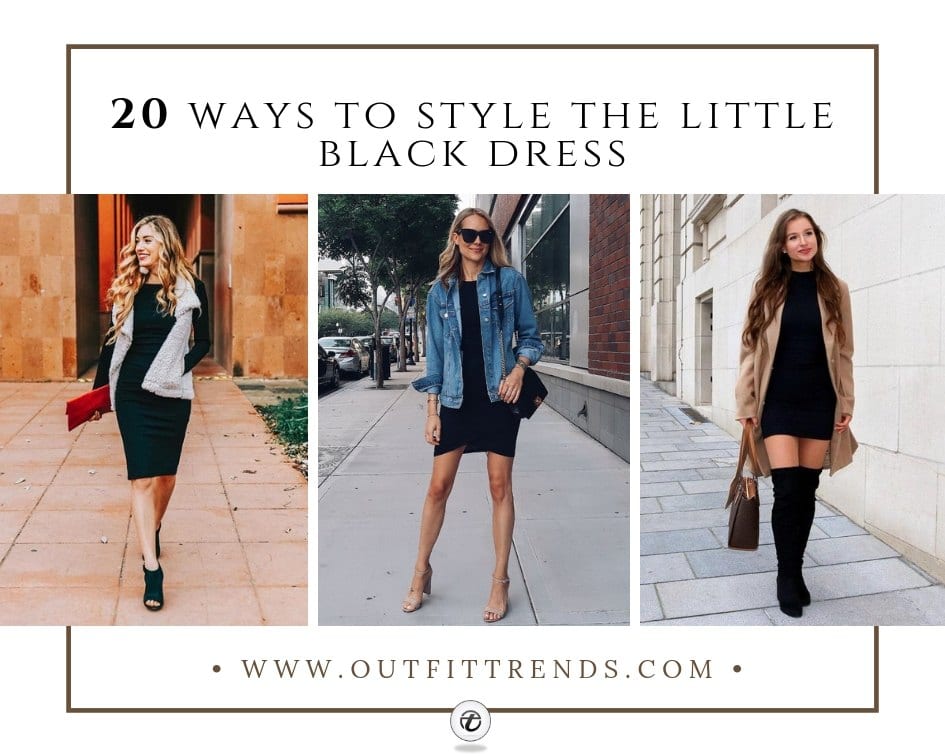 ↓ 20. Wearing The Little Black Dress In Winter
Here is how to update an existing little black dress in the best way possible. The beige overcoat is giving the ultimate fall vibes and has transformed this basic black dress into a sexy outfit. The black knee-high boots and the brown handbag are just the right accessories for this appearance. This mix of class and comfort is our favourite combination. This outfit is perfect for an evening coffee date or a stroll outside. Here are 18 Cute Outfits with Camel Coat.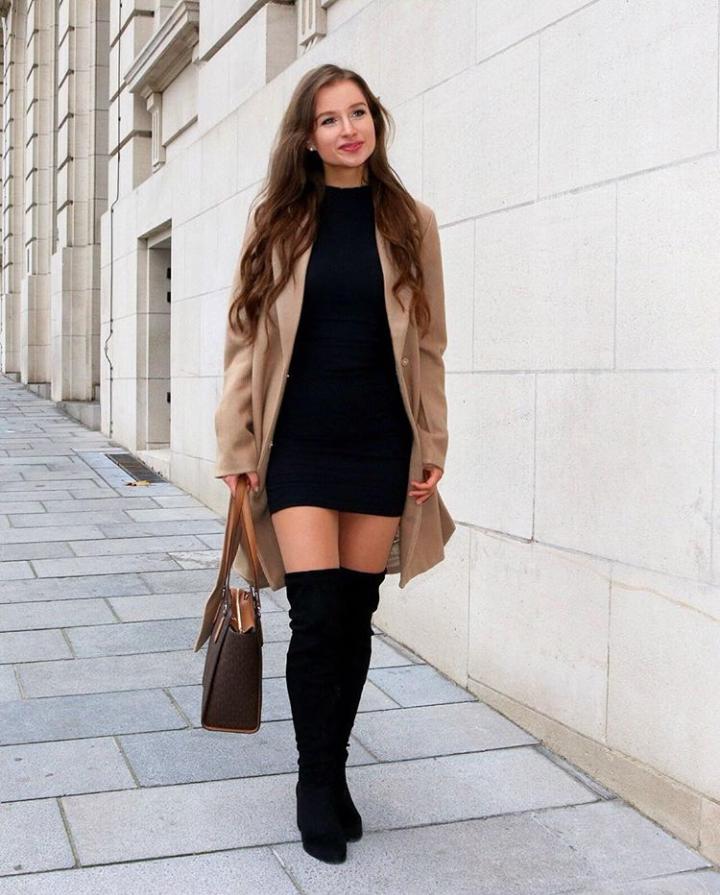 ↓ 19. Maternity Look
If you are pregnant, invest in a beautiful, bump-hugging black dress. Stretchy material fabrics can later be used post-partum even after the weight loss. During pregnancy, it will make for a great party outfit that you can wear to formal occasions. The black pencil heels look super hot; however, if you wish to go for comfortable footwear, you may wear flat pumps instead. Since the outfit is all black, we love the use of a leopard print handbag that seems to be taking all the attention here. Another great alternative is carrying a bold coloured handbag in colours like red, pink or even a neon shade.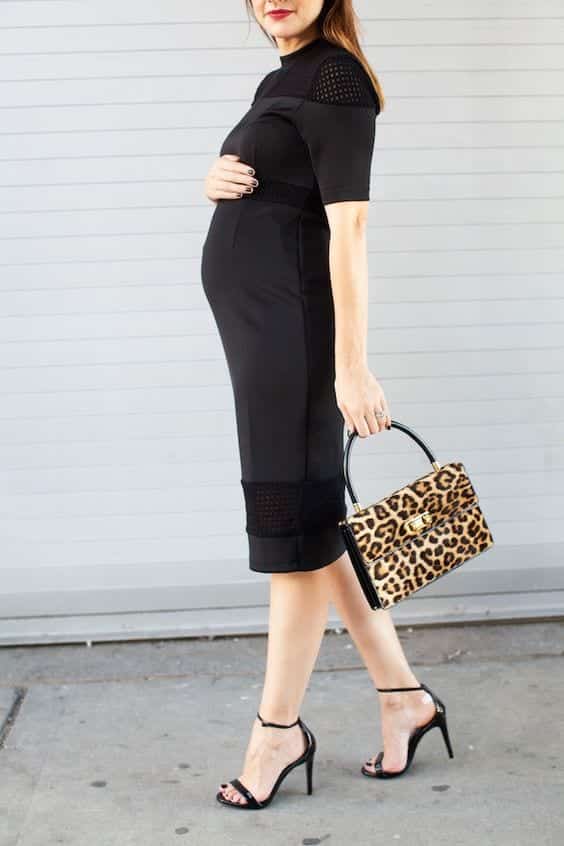 ↓ 18. Lace Details For Summer
You can never go wrong with a timeless classic like this one. This black lace dress with cutwork detailing is a tasteful piece of apparel that can be styled in many ways. The sleeveless dress has been worn over a black t-shirt to add sleeves for a sophisticated and covered up look. The nude heels help neutralize the look while the handbag acts as a smart choice to keep the look formal yet elegant. The outfit does not require any necklace as the turtleneck acts as a statement style. You can transform the same dress into a Summer outfit by wearing it as a sleeveless dress, accessorizing it with sandals and a crossbody bag.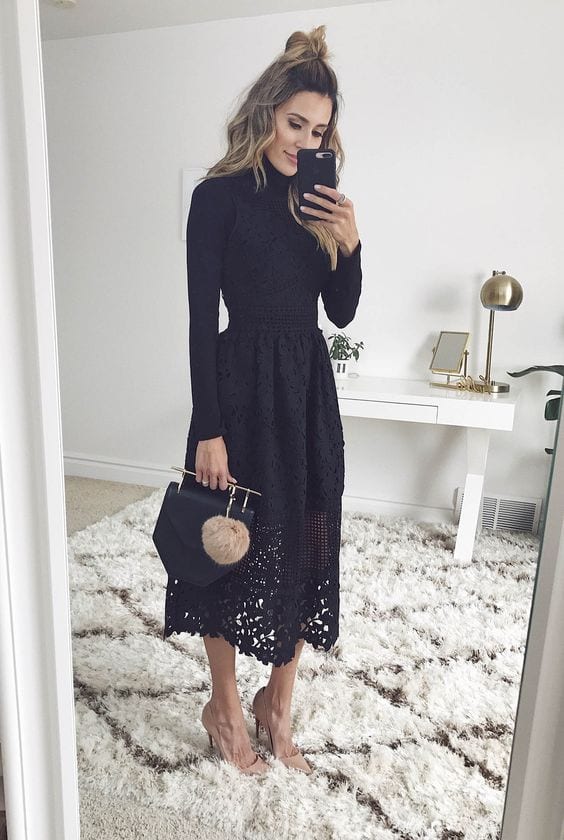 ↓ 17. Festive Christmas Look
Here is some Christmas outfit inspiration for you. You may want to upcycle an existing little black dress for a similar look. This knee-length black dress has been used with a small furry vest to make for a winter look. The black mules are complementing the short length really well. The red handbag has been used to add a pop of colour and also keeps the Christmas spirit going. Instead of spending a lot of money on purchasing new Christmas outfits, style your existing dresses in these trendy ways for an elegant look. If you live in a cold climate, you may want to wear stockings or tights underneath. Make sure to wear the same shade of black and avoid wearing shiny fabrics.
↓ 16. Little Black Dress For Wedding
There are so many elements of this cute little black dress that we admire. From the mesh sleeves and neck detailing to the velvet collar and bows, we love it all. The frilly hem detailing is another detail that we find super adorable. The minimalistic heels and black handbag have been used to accessorize this frock to accentuate the look. As mentioned earlier, black is now accepting as wedding wear. Black acts as a contrasting colour to all white weddings and looks graceful and elegant. It can be worn as a sequined dress, a cocktail outfit or a long maxi. We find this knee-length dress to be the perfect wedding appropriate outfit.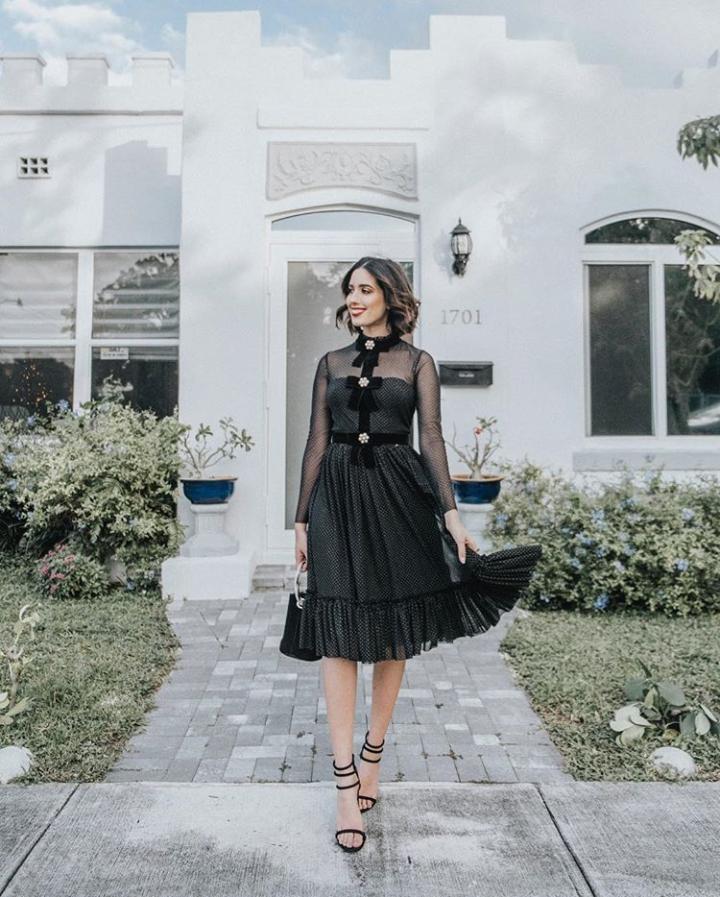 ↓ 15. LBD for Plus Size
Every woman needs a timeless little black dress in their wardrobes regardless of age and size. With the increasing acceptance of plus size women, more and more fashion outlets are catering to their sizes. How classy and stylish is this net, strapless dress? We are loving the black and metallic heels that are giving this outfit a much-needed oomph factor. A little black dress cannot let anyone down, and it will grab everyone's attention.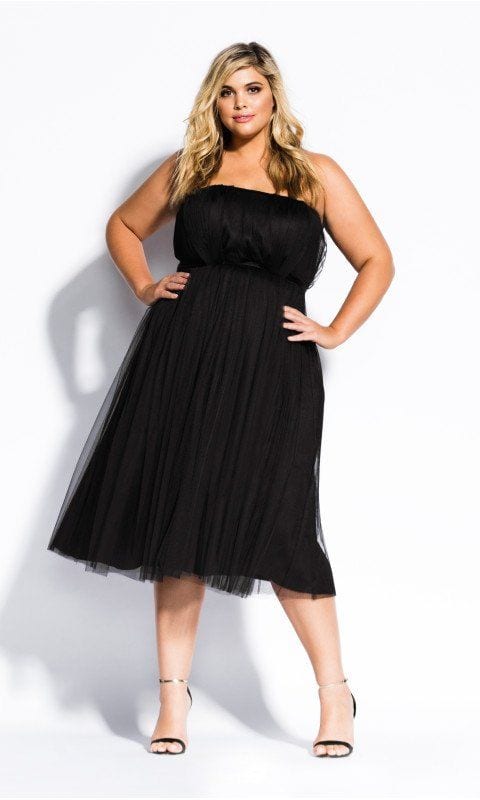 Via
↓ 14. Leather Jacket on Black Dress For Fall
Who says black dresses are boring? Combining them with funky pieces of apparel are a great way to create go-to party outfits. We love this leather jacket that makes this outfit look super edgy and classy. The studded clutch and chunky necklace are all making the outfit look super hot. Add in a statement belt to take the outfit to another level. Here are 21 Best Leather Bomber Jacket Outfits for Women.

↓ 13. Strapless Little Black Dress
Here is a stunning little black dress with frayed detailing and self-embossing that makes for a super elegant and stunning evening gown. The strapless dress can be worn to prom, weddings or parties. However, if you do not wish to show so much skin, you may use a fur stole or cape for a classic vintage look. The outfit can be worn with black or metallic stilettoes and can be finished off with gems and jewels. Silver or gold danglers can add a bit of sparkle to the otherwise dull black outfit.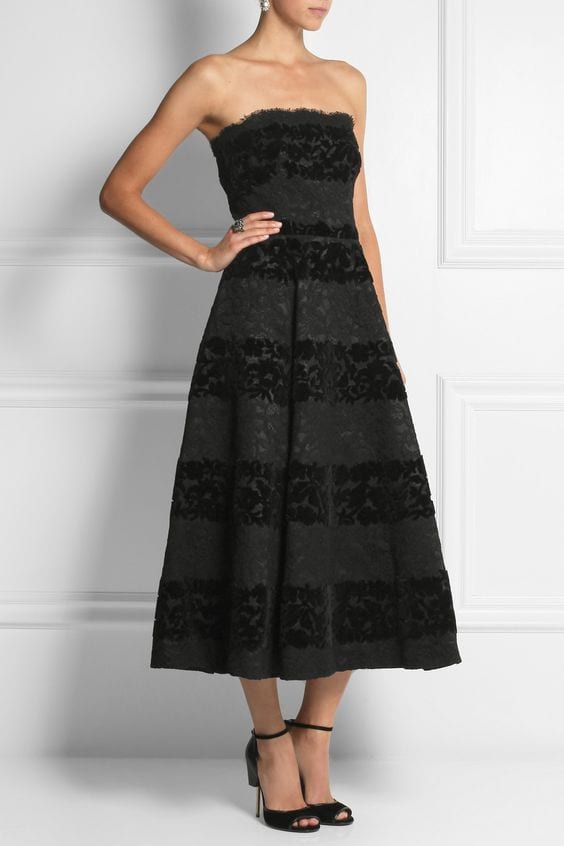 Via
↓ 12. Casual Style
Who says casual needs to be boring? Check out this laid back and comfortable street style look featuring a mid-length dress. We love the addition of the black bomber jacket that acts as a statement element. The white mule-like boots are used to neutralize the otherwise all-black look. The gold danglers are making this outfit look super chic and trendy. You may skip them for loops or tiny danglers. Lastly, a statement necklace can also be added for a funky look.
↓ 11. Classic Look
How gorgeous is this classic LBD look? We love how the dress has its beautiful features like the frill detailing on the shoulder and the flare on the hem. These elements have been allowed to shine with the use of minimal accessories. The minimalistic Gucci belt helps keep the dress in shape. While the leopard print adds a bit of pattern and colour to the dress. Since this seems to be a daytime outfit, the use of large shades seems to be a great one. Additionally, since the cat-eye frames seem to be the new in thing, you may use those as an alternative to the large frames. The outfit has been completed with the use of simple metallic stilettoes.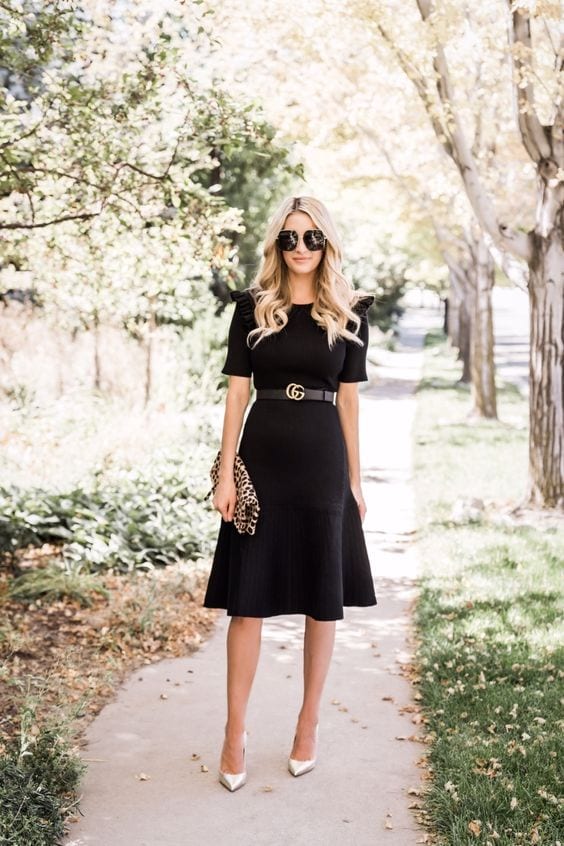 ↓ 10. How to Accessorize a Black Dress
Here are some stunning accessories that can be used to elevate an evening black dress. Little black dresses are not meant to be short. Instead, they can be long as well. The silver bangles and danglers add a bit of shine to the outfit and have just the right amount of sparkle to them. The burgundy coloured peep-toe heels can be used to add a statement touch. While a black handbag or clutch can be used for a formal yet elegant look. You should also check out these 25 Celebrities All Black outfits Styles for Fall to Copy.

↓ 9. Printed Coat
The easiest way to give your little black dress a makeover is by creating a monochrome look. Throw in a printed jacket to add pattern and colour to your look. We love this black and white jacket that has been used to create a monochrome look. The use of shades and heels are adding a bit of sass to the overall appearance. While this may be a maternity outfit, it can also be worn by others for a hot everyday look.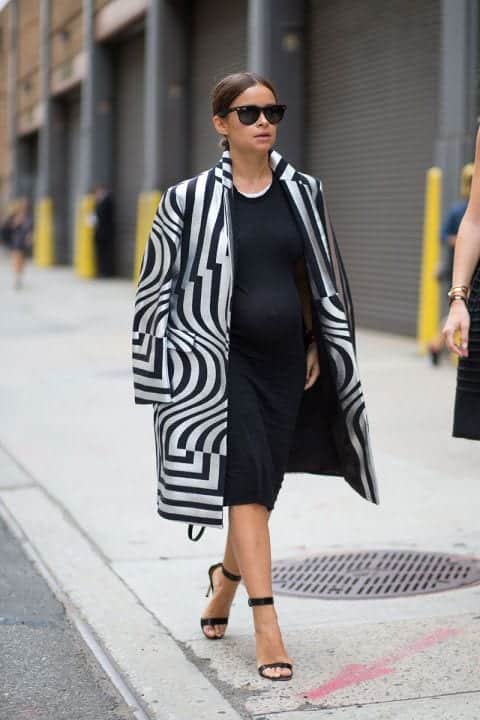 ↓ 8. Leather Dress
If you are a big fan of all things leather, here is some outfit inspiration for you. Put together your favourite leather black dress with stockings for a cool and edgy appearance. We love the necklace and the chain bag that acts as modest pieces of accessories. If there is one thing we could change, it is the use of printed stockings; we would love a plain one instead.

↓ 7. Sparkly Outfit
This sparkly little black dress is exactly what you need for your New Year's Eve. The fur pumps are complementing the fancy outfit and are fully up-to-date with the current trend. Add a pop of colour with a red handbag or keep it neutral with a nude clutch.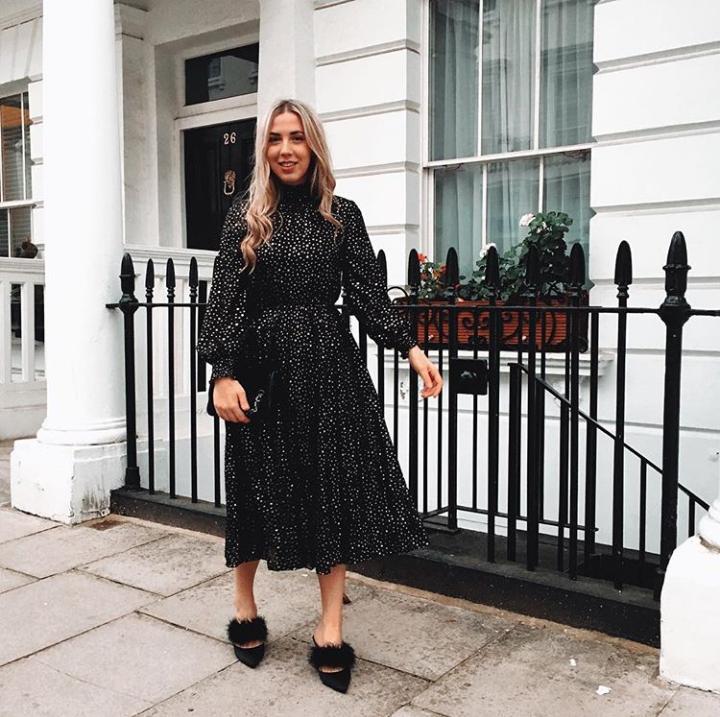 ↓ 6. Winter Look
Put together a leather skirt and top to create an LBD of your own. This winter look features a beanie, scarf, booties and a belt to keep it all together. We love how the belt has been worn over the coat and dress to highlight the figure. This outfit has been worn with tights to keep warm from the winter breeze. The overall black has been neutralized with contrasting shades of brown and grey with the overcoat and scarf.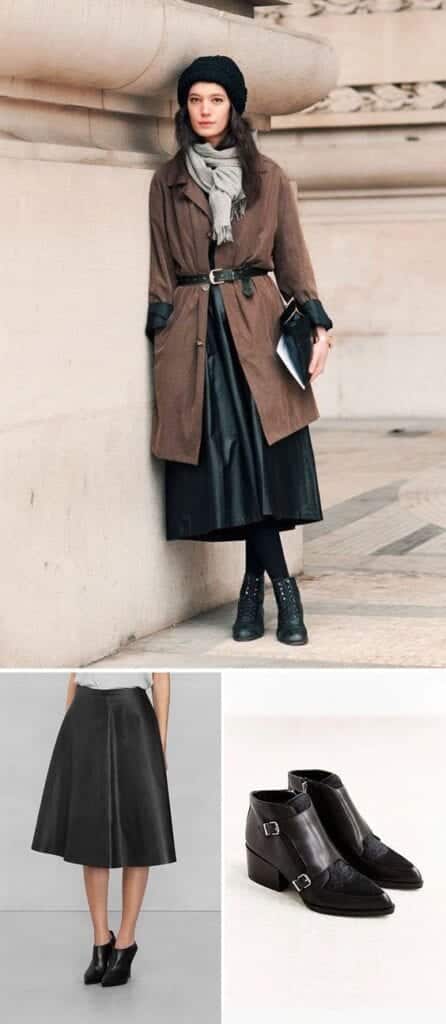 ↓ 5. Formal Style
How adorable is this minimalistic and formal evening look? Put together your little black dress with stockings and cute lace-up pumps to recreate this look. The tiny handbag and watch are the only accessories used to keep the look very minimalistic and chic. Small pearl danglers can be worn for a bit of shine and sparkle.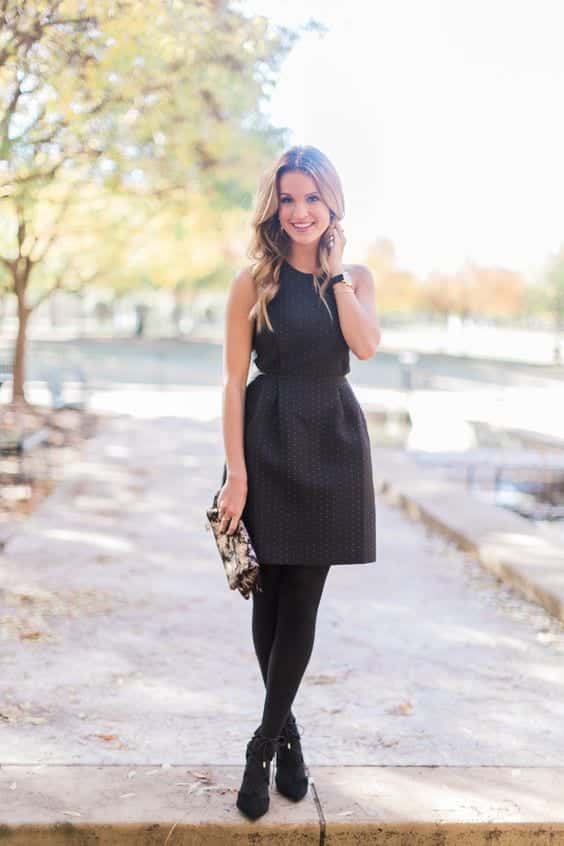 Via
↓ 4. Statement Necklace
With a wide neckline like this one, it is easier to style it with chunky neck pieces. This vintage piece of jewellery can be upcycled with a basic black dress. The necklace does not need to be reserved only for formal occasions but can also be worn on days when you feel like dressing up.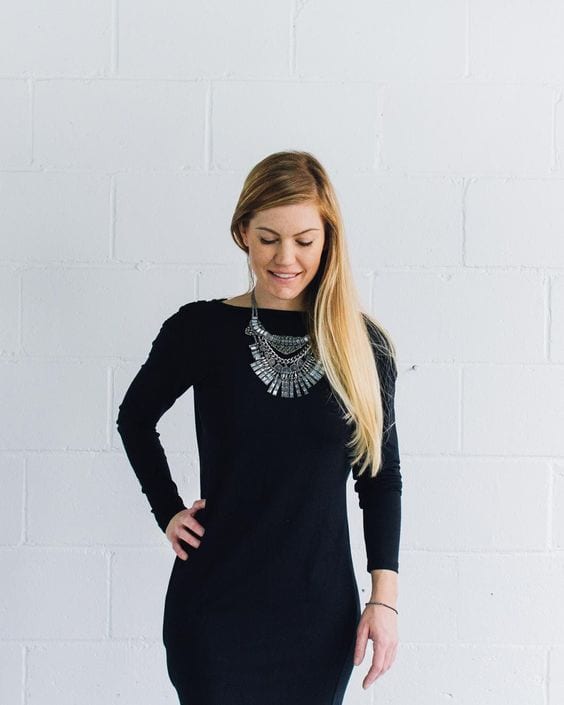 ↓ 3. Little Black Dress With Boots
Kim Kardashian's Yeezy boot trend does not seem to die down any time soon. We love how this black dress has been styled with over-the-knee boots for a killer Fall look. The waist slit is a trendy cut that makes this dress different from the rest. The casual street style looks sophisticated and can make for a great coffee date outfit. The appearance can be accessorized with a long handbag or a tote bag.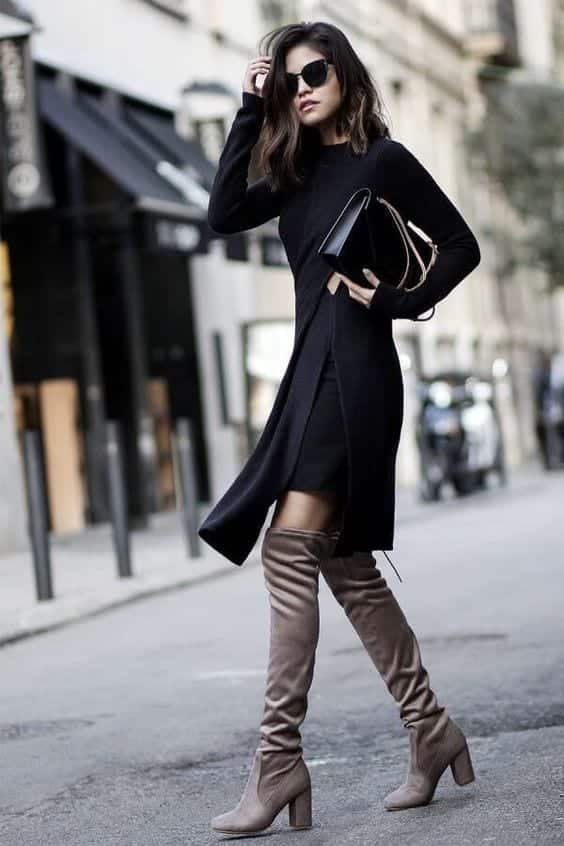 Via
↓ 2. How Celebrities wear Black Dress
BFF's Kendall Jenner and Gigi Hadid are not only friendship goals but also fashion goals. They never fail to amaze us with their fashion outings whether it is on the runway or the New York streets. Here is both of them dressed to impress in stunning black dresses. These red carpet outfits are fancy and exquisite in the best way possible. Kendall's long silk dress has the gorgeous lace detailing and looks super elegant. On the other hand, Gigi's mesh dress with geometric patterns has an edgy and cool look to it. The two have kept the looks minimal with black shoes without any pop of colour. However, if you wish to add in a bit of colour or accessories, you may choose statement heels or bags to accessorize the outfits.
↓ 1. Denim Look
Here is our favourite LBD featuring a denim jacket. This ideal combination of comfort and style makes us want to put together a black dress with a worn out denim jacket. For a girly and youthful look, you can use statement jackets with embroidery, sequin detailing or studs. This day look is perfect for Spring and Summer weather where all you want is to chill. The nude block heels neutralize the look and also add a style element. We love the chain bag and the use of shades to create a casual and fun outfit.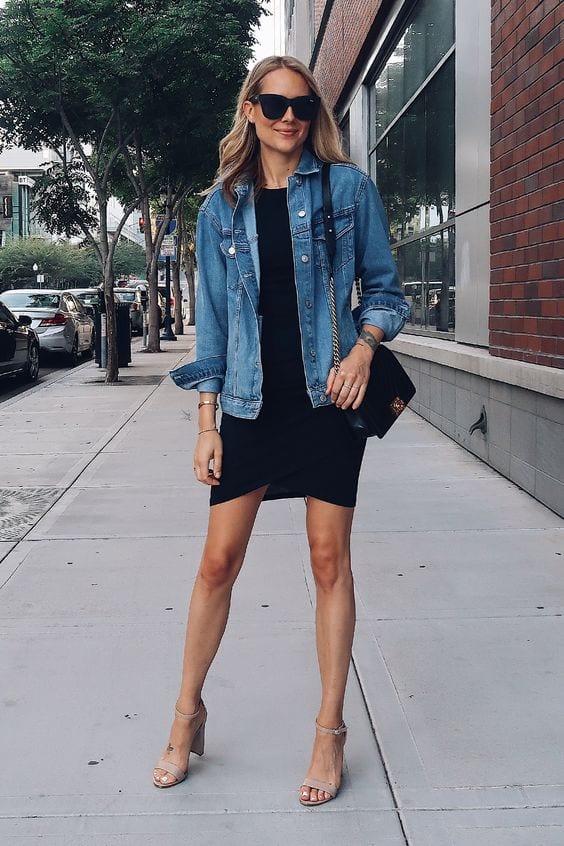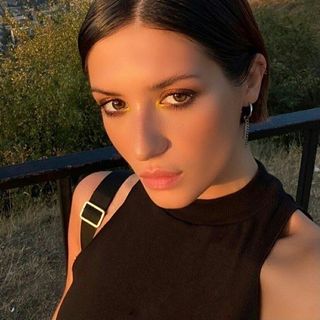 Avid reader and Fashionista. London Based freelance lifestyle editor