Outfit Ideas to Wear with Jordans for Girls. If you are wondering how to style your Jordans with some cute outfits, then you have come to the right place! Here in this article, we are going to dive into 25 ways you can style cute outfits around your Jordan sneakers.
First off, Jordans are commonly styled two ways for girls: girly and Tomboy. You may also see Jordans worn with outfits that can be classified as urban, street-style, and sporty. But in this article, we want to show you that there are so many other ways you can wear them. Keep reading to see our top picks and suggestions!
What to Wear with Jordans for Girls?
To get started, here are some simple go-to themes you can turn to when styling an outfit around Jordans!
Go super girly and style your Jordans with dresses and skirts
It can be a lot of fun to juxtapose a traditionally sporty shoe with a girly piece like a dress or skirt. They bring a different look to a common summer dress outfit, so why not give it a whirl? Jordans come in a range of styles and colors so no matter the type of dress or skirt, there is definitely a Jordans shoe out there for you! Try experimenting with different styles, but if you are stumped, classic white Jordans won't let you down. They'll go with any dress and they are cute and chic without being too loud.
Go super sporty and style your Jordans with joggers, leggings, and sweatshirts
Show off your love of athleticwear (or athleisure) and pop on some joggers or leggings to style yourself a sporty, tomboyish look. You can dress this kind of outfit up or down by adding earrings, lipstick, or other accessories. Sporty outfits are great for a long day shopping, or grabbing coffee with friends, or even hitting up your coworker's volleyball game on the weekend. You can try sweatshirts, hoodies, or skinny jeans as other options. Pop on a baseball cap to really take the look home.
Go casual and style your Jordans with your favorite jeans and a graphic tee
Styling Jordan sneakers doesn't have to be complicated. Treat them like any other sneaker and pair them up with your favorite go-to wardrobe pieces for a look as familiar as it is comfortable. The magic is in the accessories. For further ideas on how to style your Jordans and what to wear with them, read on! We are now going to look at our outfits to show you how to rock this classic and stylish shoe.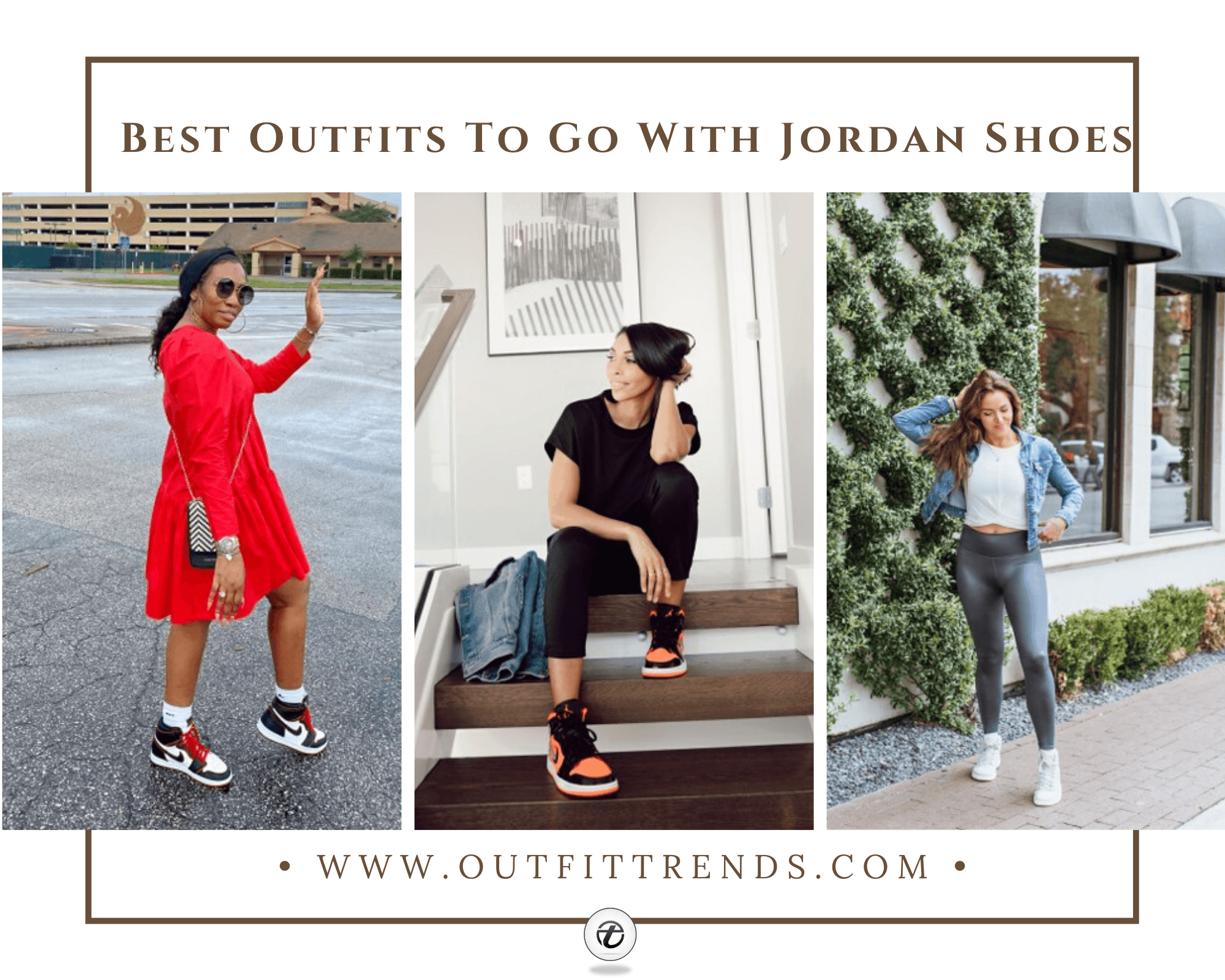 25 – Pair with Leggings and a Tank Top for a Sporty Look
We know, we know. We only just said that you don't have to go for a super sporty look to pull off Jordans. But hey, we stand by our statement. You are about to see a whole slew of non-sporty outfits built around Jordans! However, what would a whole article on Jordan sneakers be without your token sporty-girl look?!
So we are getting started with a classic. This athletic look can be worn to the gym, for your evening jog around the city, or for hitting up Target (because that's a marathon in and of itself). Plus, it's dang cute. Start with your Jordans. Got a snazzy multi-colored pair with a bold color like this black-red-and-white pair? Then build on that! Let your shoes take center stage and squeeze yourself into some cute shin-length leggings and your favorite tank. Top the look off with a matching gray beanie. And voila! You are a sporty-athletic-maybe-she-works-out masterpiece! Here are some more Cute Outfits with Tank tops.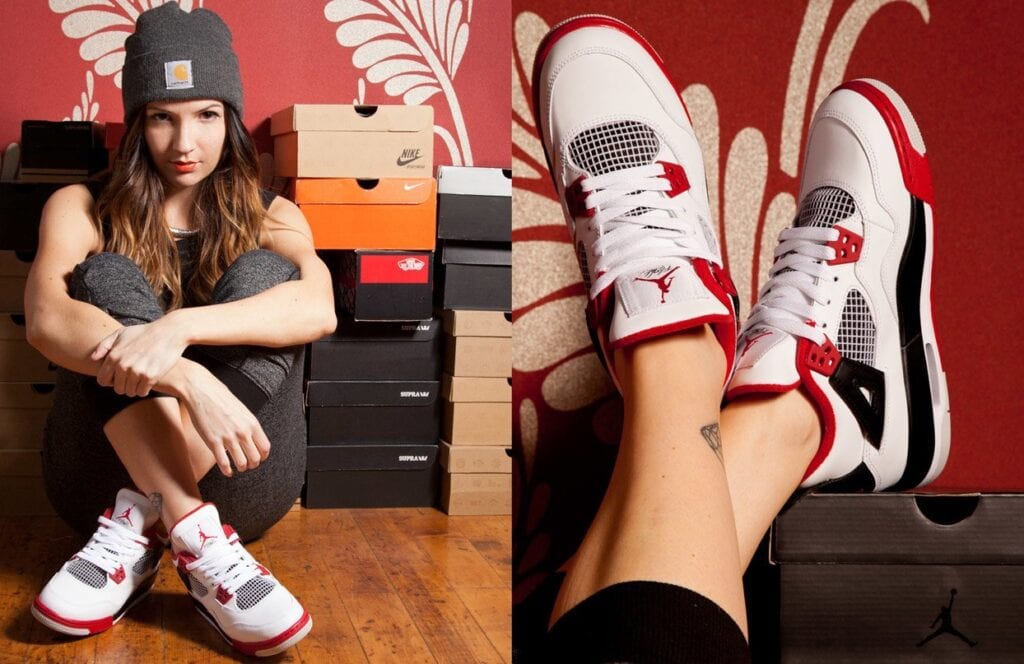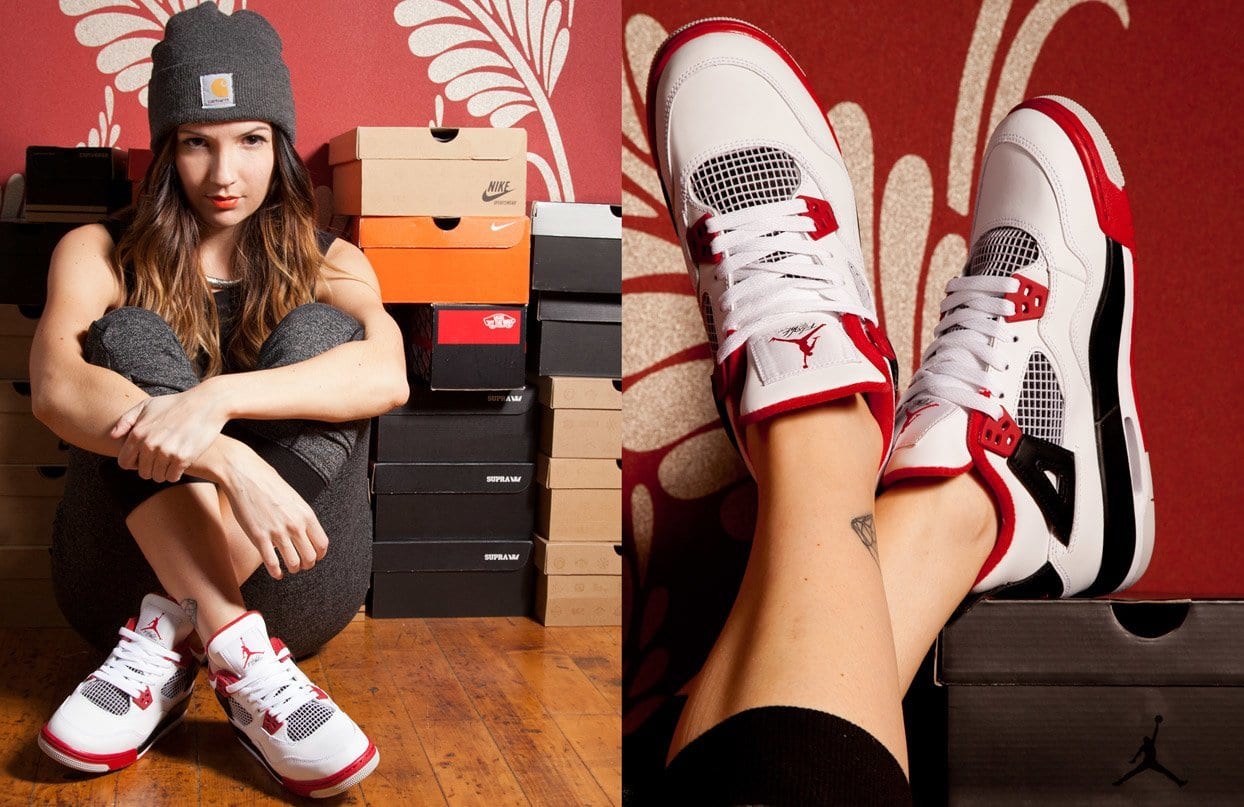 24 – With a Tank Top and Denim Shorts for a Summer Outfit
For a modern girl-next-door look, why not give this flirty summer ensemble a whirl? It's all about the attitude with this outfit. Tuck a muscle tank or other thin-strapped tank top into a pair of short, high-waisted shorts. Accessorize with a chunky belt and some bracelets. The crown pièce de résistance of the look is, of course, the Jordans. So get yourself a snazzy black-and-white pair. Style your hair in beachy waves and you are summer-ready!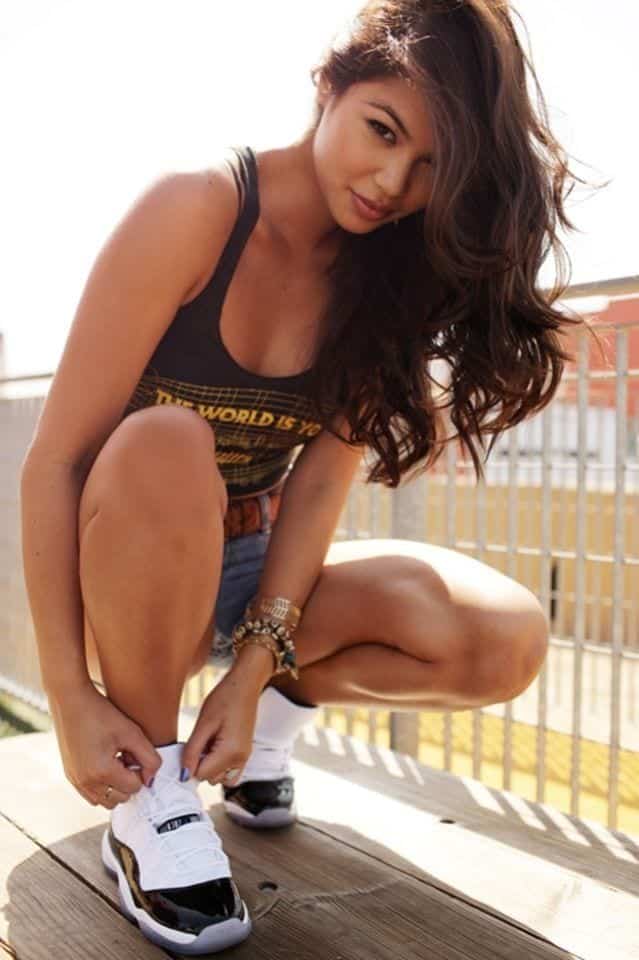 23 – With a Camouflage Jacket and Black Leather Pants
For an edgy concert look (think hip-hop, rap, or rock concerts), throw on a pair of black skinny leather pants and pair it with your favorite graphic tee. Love a theme? Try an army-inspired ensemble by choosing an army tee to go with your camouflage jacket. Accessorize with gold jewelry, including a thick ropey-style necklace, and grab your best Jordans. This is a casual look that you can adapt for a variety of occasions.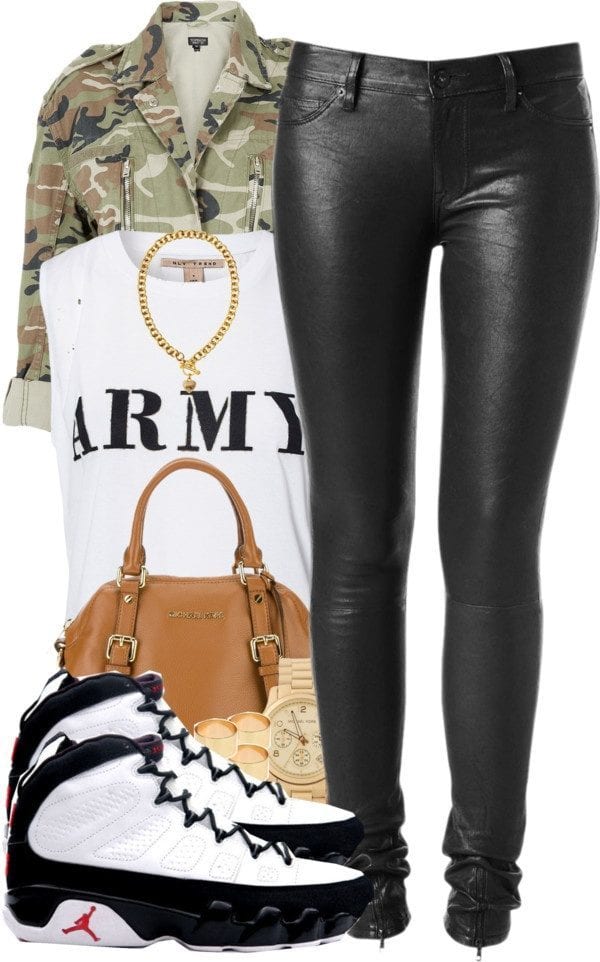 22 – With Gray and Red for a Color-Coordinated Look
Do you have a favorite color combination? Why not build an outfit around it? This inspiration board shows us how cute gray, white, and red can look when worn together. An outfit like this is great for high school girls who love to rock a stylish sneaker. Accessorize with diamond stud earrings to glam up an otherwise casual outfit.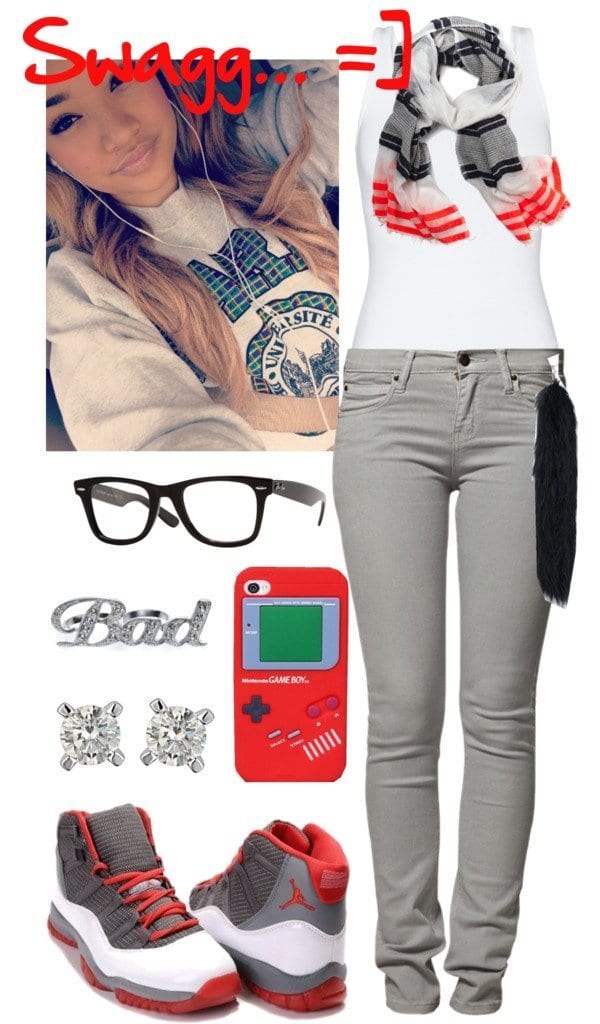 21 – With a Gray Sweatshirt and Jeans for College Look
Every college girl needs a go-to Jordans look. Why? It's easy to throw together, it's casual, and it's cute. Plus, you can stomp the college grounds easily in some comfy sneakers. This gray-and-denim look is basically monochrome and it's super stylish, too. Have at it!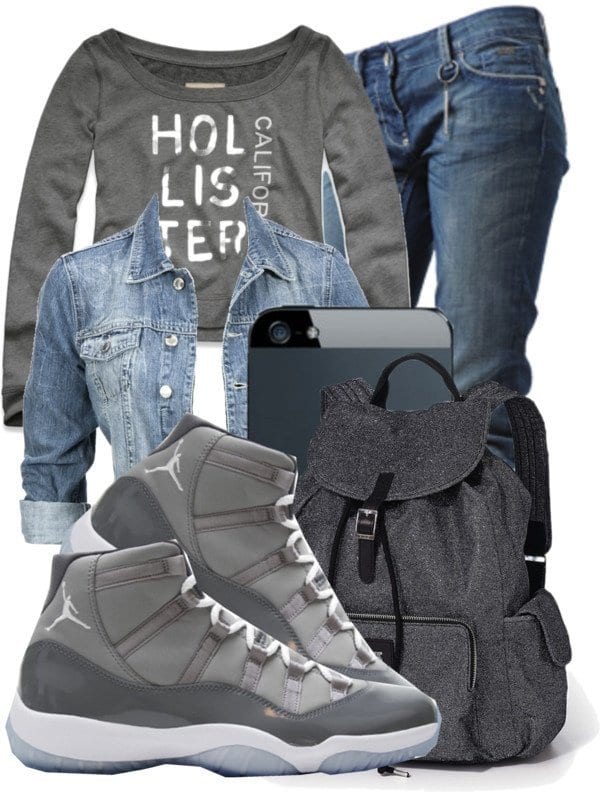 20 – With a Wool Coat and Pink Beanie
Get yourself a cozy winter outfit by pairing up some white Jordans with a woolly green coat, boyfriend jeans, and a white tee. Top it off with a pink beanie and hit the town with this winter-approved look. Here are some more Chic Outfits to Wear with Beanies.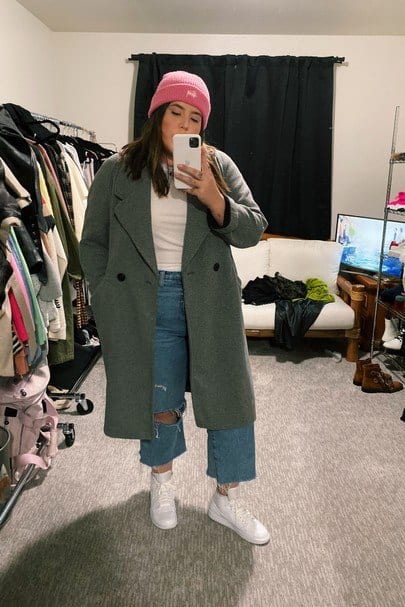 19 – With a Denim Jacket and Joggers
For this cute shopping look, pair white Jordans with some casual star-studded joggers, a white tee, and a denim jacket. Great for Target runs and long shopping days when you want to look and feel cute as well as comfortable.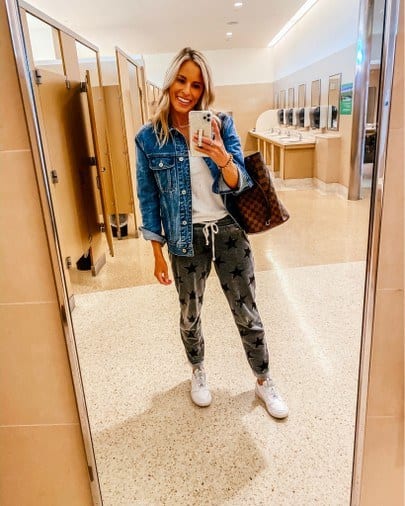 18 – With Leather Mini Skirt and Green Purse
Get yourself some bright green (even neon) Jordans and pair them up with a leather miniskirt. This is a cute, flirty look that is fun as well as easy to put together. Pair with a long-sleeved two-toned top and a green purse to tie it all together.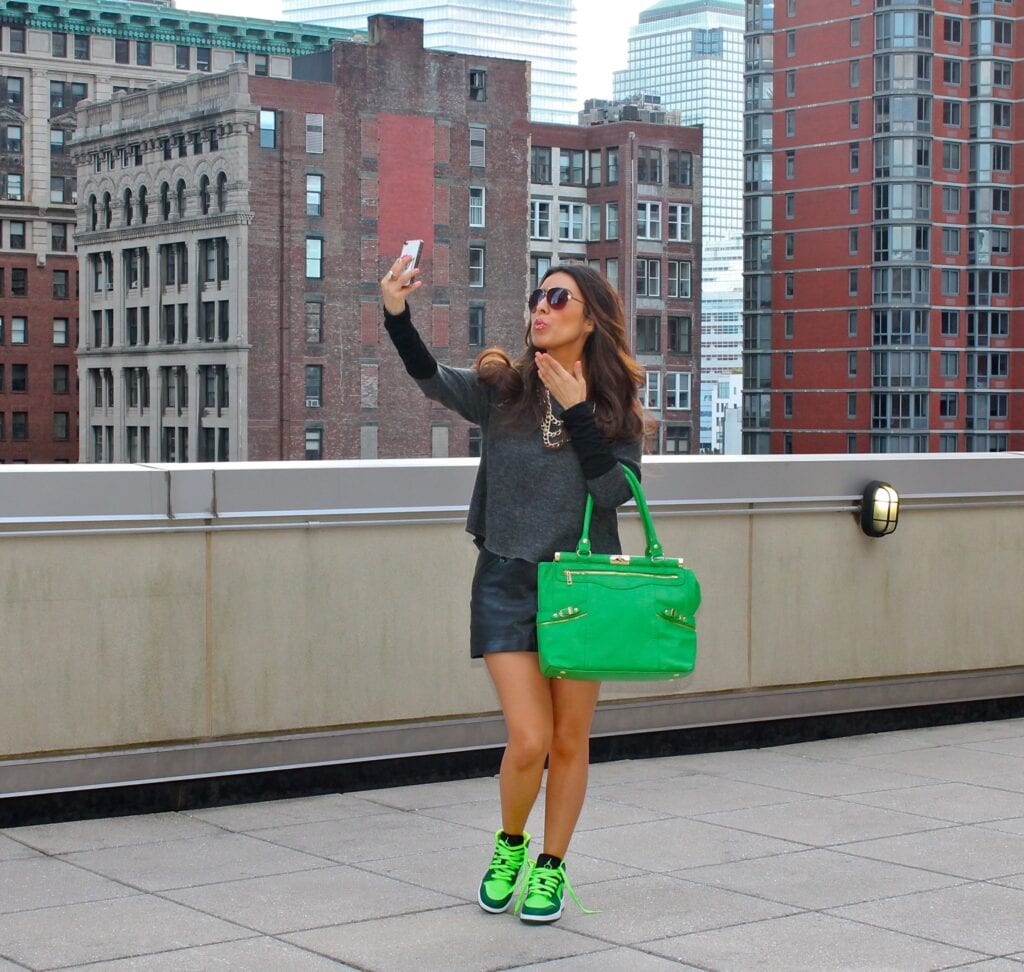 17 – With a Belted Red Dress
For a look as jaw-droppingly beautiful as it is daring, why not try a bold red dress belted at the waist to pair up with your favorite Jordans? This is an edgy look that will catch every eye in the room, no matter where you are.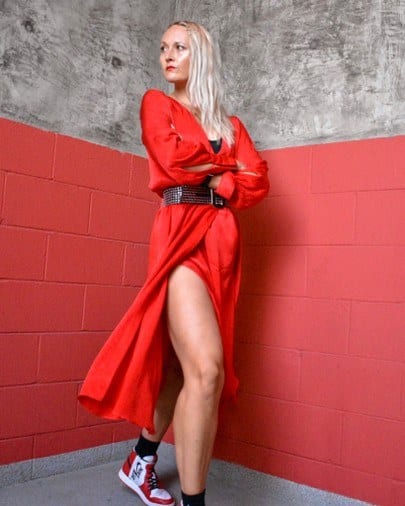 Shop the look at the links below:
ASOS Design Tea Dress with Long Sleeves
16 – With an All-Denim Outfit
If you love to push the envelope a bit in your fashion choices, then give this outfit a whirl. This all-denim ensemble is chic and just a little risky: perfect for a budding fashionista. Top off this all-denim style cocktail with a bright pink statement bag and some classic Jordans.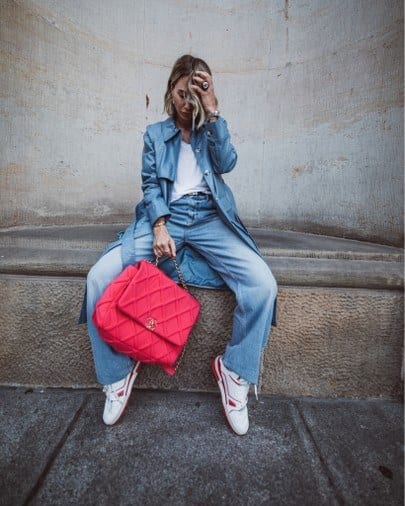 15 – With Camouflage Leggings and Baseball Cap
For a girly street-style outfit, look no further. We love how this model rocks some Tomboy pieces while still looking girly and gorgeous. A red baseball hat perfectly ties in with red lipstick and the red accents in these black, white, and red Jordans! Pop on some camo leggings or pants and a gray tank top and you are good to go.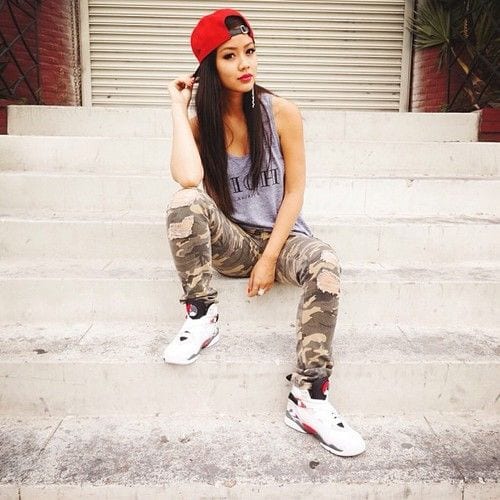 14 – With Themed Accessories for a Schoolgirl Look
Young girls can rock Jordans, too! Pair some black-and-red Jordans with a skater skirt, red tank top (check your school's dress code if you want to rock this outfit in class!) and then have some fun with accessories. We love this inspiration board because it's all here and more. Here are some ideas for accessories:
eyeglasses
beanie
chunky necklace
funky watch
cute backpack
sunglasses
hoop earrings
themed (matching) cellphone case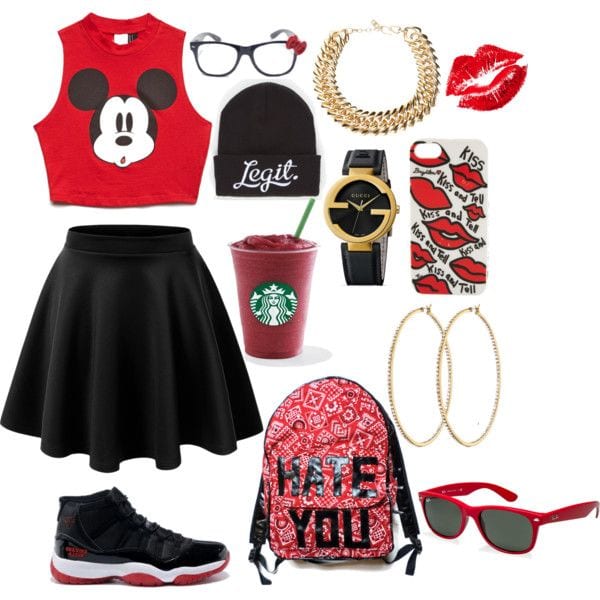 13 – With a Cute Mini Dress
Get a little hipster and pull our your favorite mini dress, bedecked with any fun design you can get your hands on! This is a great summer outfit for trips out with friends, coffee dates, or heading to the movies. Accessorize with a clutch or little purse and some Aviator sunglasses.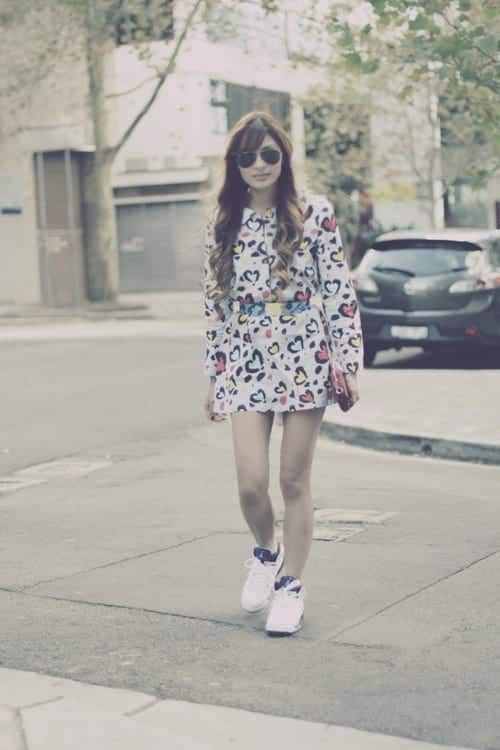 12 – With a Cozy Winter Teddy Coat
Traveling somewhere during the chilly winter weather season? Check out this gorgeous look! Go all black with your outfit and then bring some visual dimension by topping your ensemble off with a cozy, comfy teddy coat! Jordans, sunglasses, and a backpack purse help tie this whole look together.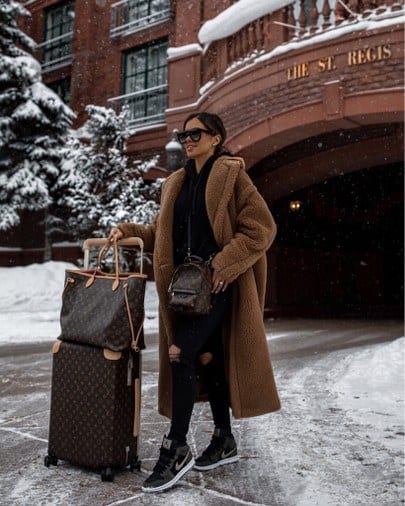 Love the look? Shop the outfit at the links below:
Nordstrom Teddy Faux Fur Coat $199
Topshop Jamie Ripped Ankle Skinny Jeans $75
11 – With Black Jeans and a Tank Top
Regular black jeans and a shirt will look awesome with Jordans if planning a summer camp or a shopping spree. This is a super easy, low-key look that you can throw together in no time.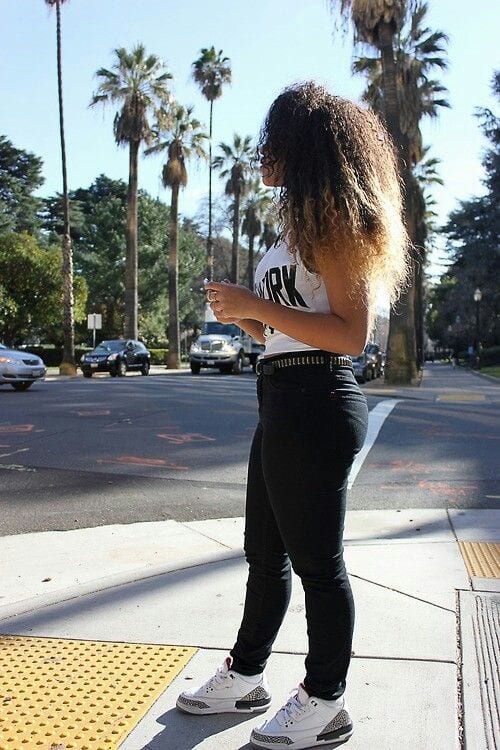 10 – With a Leather Jacket and Leggings
For a cute shopping look or even a chill date with your guy, check out this ensemble. Pair some white Jordans with leggings, a crop top, and a sleek black leather jacket. Do check out our earlier post on Outfits to wear with Leather Jackets.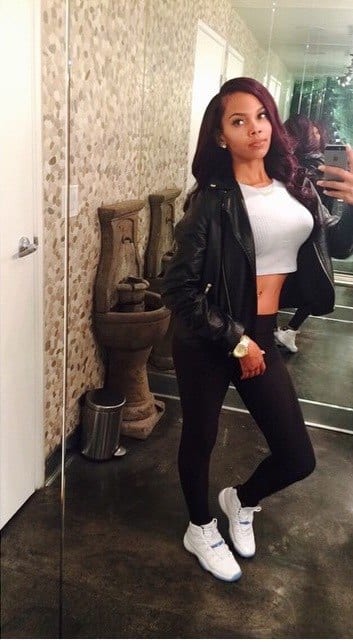 9 – With Baggy Camouflage Trousers
Are you a fan of street-style wear? Then this is the look for you. This is a super casual but cute look that you can throw together in literally five minutes. Pop on a black sports bra and white mini cropped tank. Pair with camouflaged trousers or leggings and you've got an outfit you can wear to the movies, the mall, or just chilling on the block with your friends.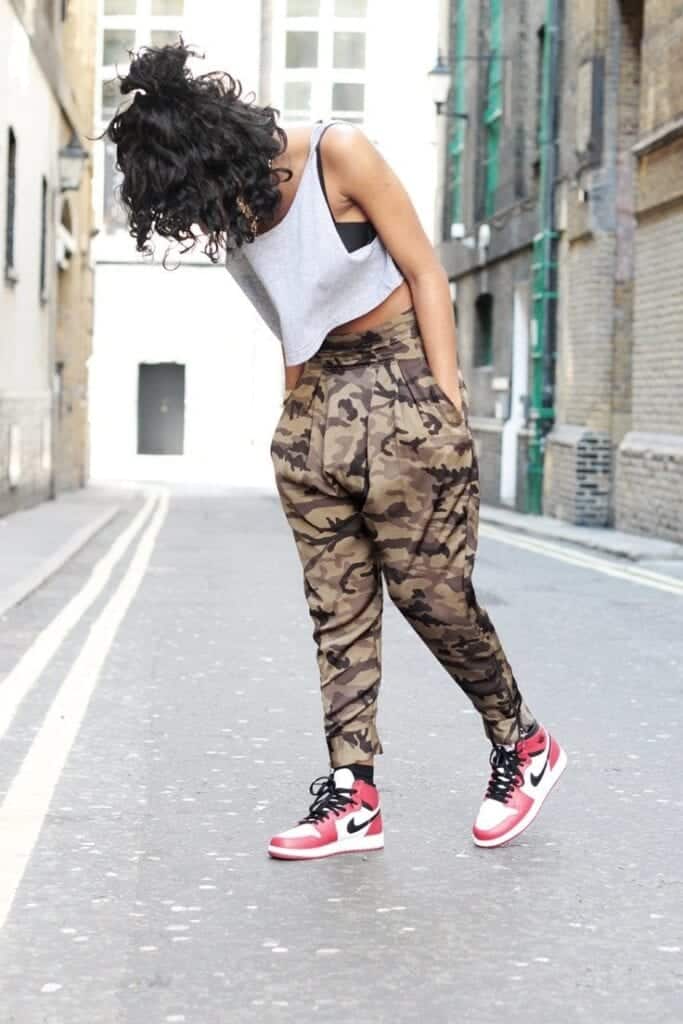 8 – With an All-Black Outfit
Ciara rocks an all-black ensemble that gives us serious monochrome envy! Pop on a black sweatshirt (points if you can score one that rocks a similar teeth-baring jungle cat) and black jeans. Got a big black purse? Sunglasses? Add them to the ensemble, as well as a couple of stacked necklaces. And boom, you are Ciara-approved. (Psst: this makes for a great airport traveling outfit!)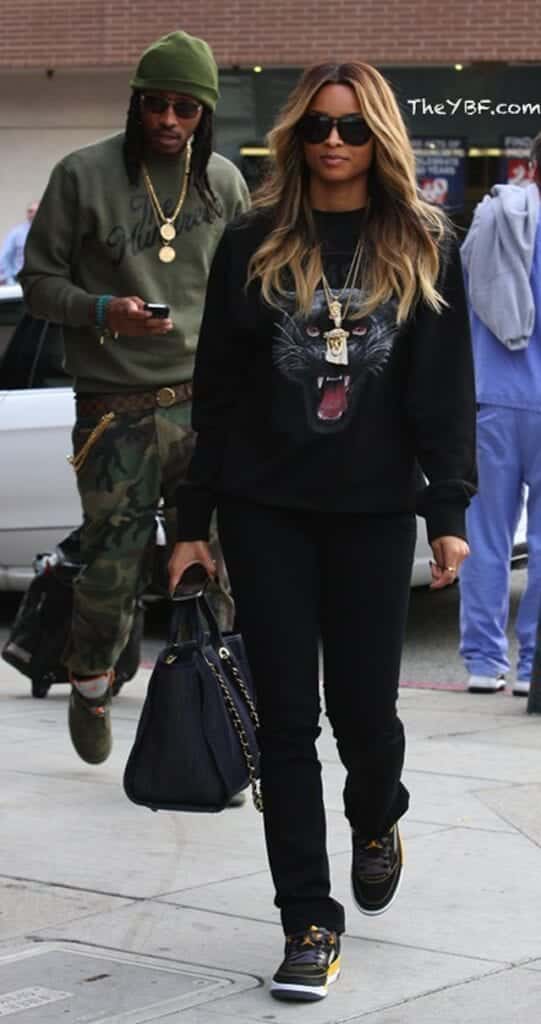 7 – With a Varsity Jacket and Denim Shorts
Not only does Rihanna know how to rock some Jordans but she gives varsity players a run for their money with her casual yet perfectly executed summer girl look. Snag the look for yourself by pairing a black varsity jacket with some cutoff shorts and your favorite Jordans. Accessorize with sunglasses and be sure to swipe on some deep red lipstick. You can opt for a sports bra or crop top under your jacket.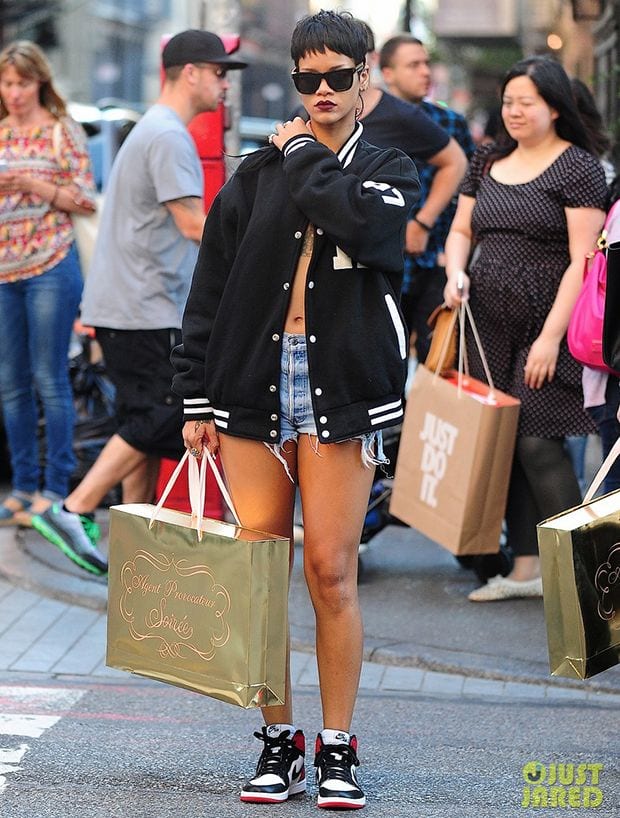 6 – With Floral Pants
We see you, Zendaya. Here she shows us how to rock some blue Jordans with some rose-covered pants, perfectly blending feminine girlishness with some serious Tomboy vibes! And boy, does she nail it. Want to get the same look? Throw in a skateboard and a black brand tee and you too can pull off this adorable ensemble.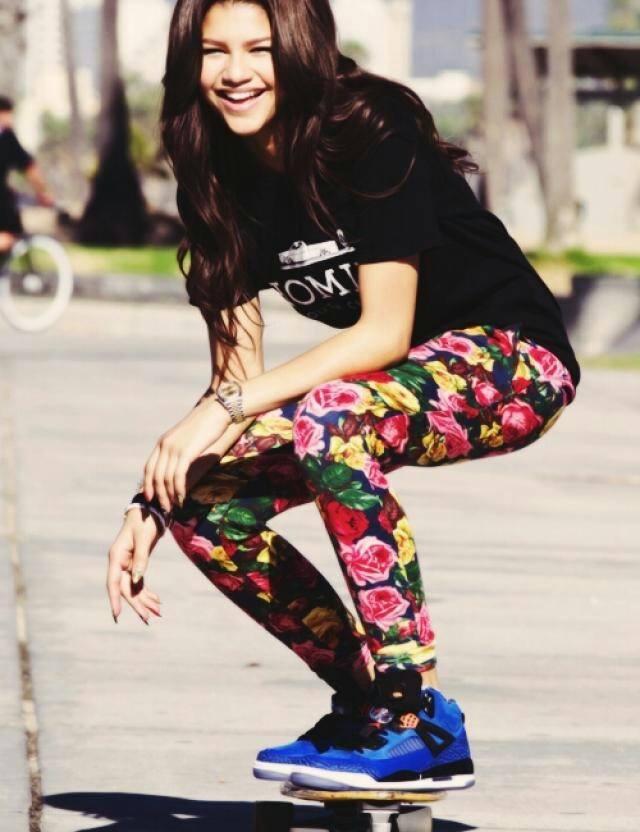 5 – With a Pink Leather Jacket
Go a little retro with your Jordans outfit like Rita Ora by pairing up a little red dress with a pink leather jacket and red lipstick. Here are some more Leather Bomber Jacket Outfits For Women.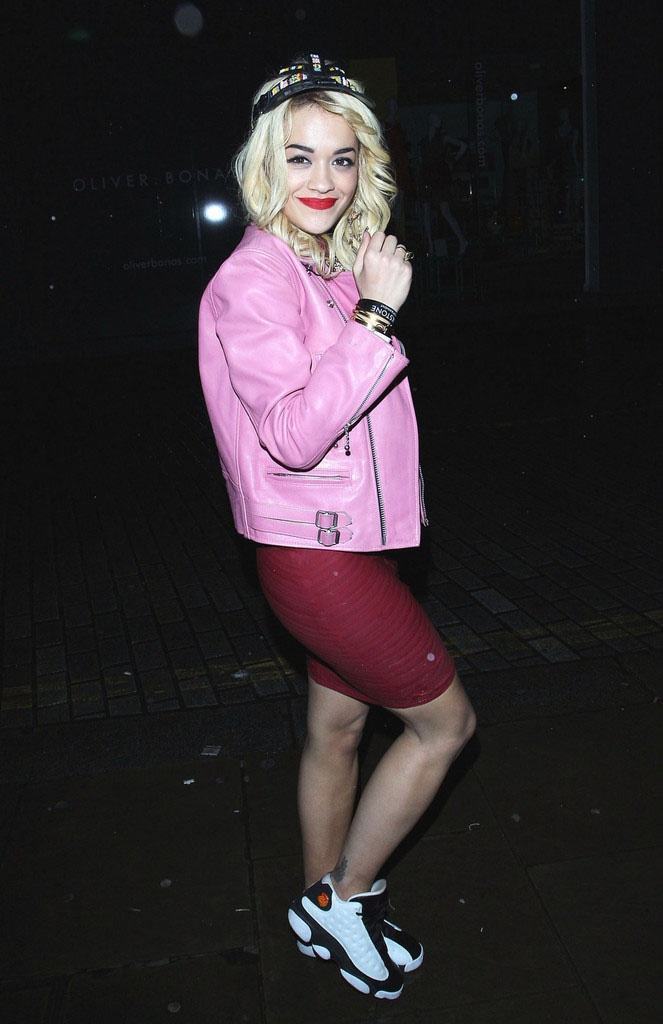 4 – Winter Outfit with Pink Jordans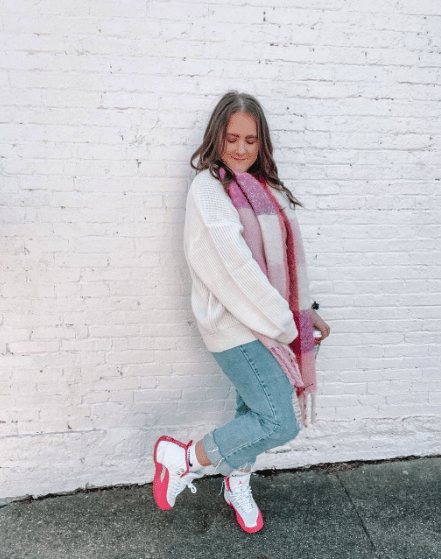 3 – With skinnies and a tank top
For a Tomboyesque look, pair your Jordans with some gray skinnies and a tank top. We love how Rihanna color-coordinated her lipstick to matching the lining on her tank! Pop a baseball cap on backward to tie the whole look together.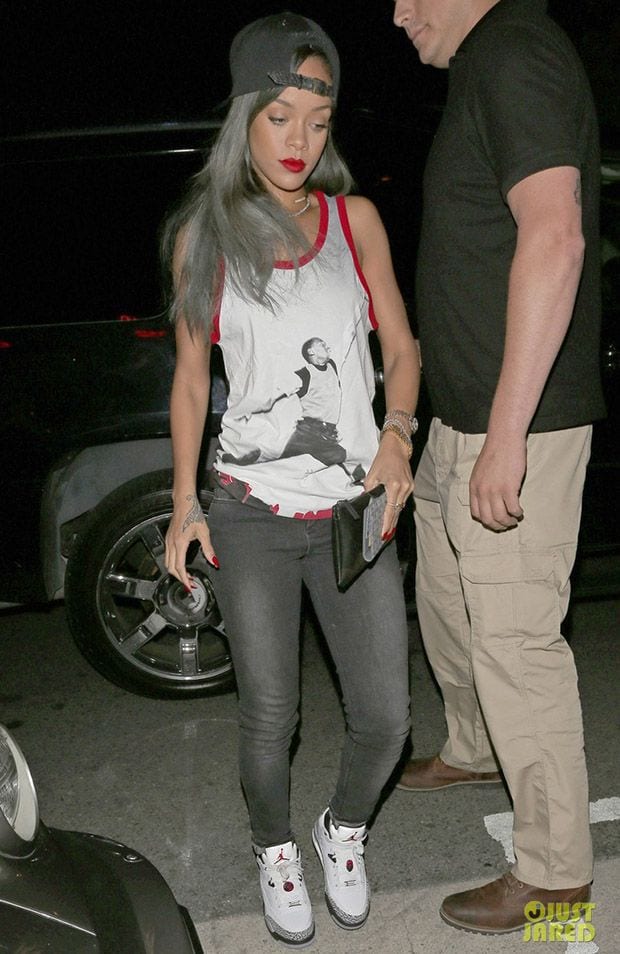 2 – With a Striped Top and Shorts
Need a cute summer outfit? Pair some white Jordans with a monochrome-approved striped top and short black shorts. Accessorize with a pop-of-color purse.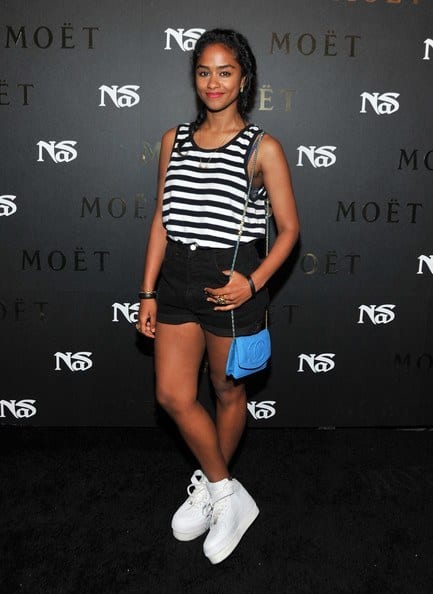 1 – With Leather Leggings
Rock your Jordans a la Kim Kardashian by pairing yours with leather leggings and a trend-setting jacket over a white top. Accessorize with some big hoop earrings and an oversized bag.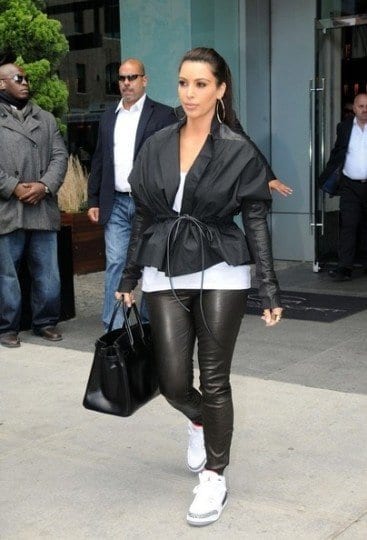 Did you find any outfits to love? Which is your favorite? Share in the comments below!