Leather Jacket Styling and Outfit Ideas. What outfit looks best with a leather jacket? How can I wear a leather jacket in the fall or in winter? Do leather jackets go with brown boots? Today we answer all your questions and more!
Whether you opt for a true leather jacket or go for faux leather, we have a collection of tips and tricks to help you rock the look like a star. Plus, we have rounded up 26 gorgeous ensembles to show you how you can best show off a leather jacket. Keep reading to check them out.
How To Wear A Leather Jacket?
If you don't have a leather jacket yet or feel like it's time to get another one, then the tips below will help you buy the right one:
A leather jacket is a life-long companion that you will be investing in. So choose one that's in a style that will last the longest. Don't just go for the latest trends since they fade out sooner or later, such as the leather bomber jackets. Instead, opt for one that can be worn anywhere and anytime, for instance, a leather biker jacket (a.k.a. the moto jacket).
Opt for quality over anything else. Like in our previous tip, consider your leather jacket an investment that will hopefully last you a long time. Take time to research the best brand and whether you want real leather or faux leather.
It's best to buy a jacket after trying it on first so try to avoid shopping for it online.
Before buying the jacket, check its inner lining to decide if the material is suitable for you. If a jacket does not come with a lining then its best to stay away from it as the leather wears off pretty quickly when in contact with the skin and it also isn't too comfortable to wear.
Since leather jackets give off rather sturdy vibes, you can try to neutralize that effect and add sophistication by pairing them with light, feminine pieces, like colored cotton shirts.
Now let's move on to some amazing styling ideas for you, so that you can create a look that not only compliments but augments your leather jacket look. One style tip that you might notice in the following pictures: avoid dressing in the same color from head to toe when wearing a leather jacket as a monochrome leather look isn't too flattering except in rare occasions. Now let's get started!
↓ 26 – Latest Trend: Colored Leather Jackets
This year is all about colored leather jackets and we love how blogger Alissa Savonne has created two very elegant looks with a blue Micheal Kors leather biker jacket. Which look is your favorite?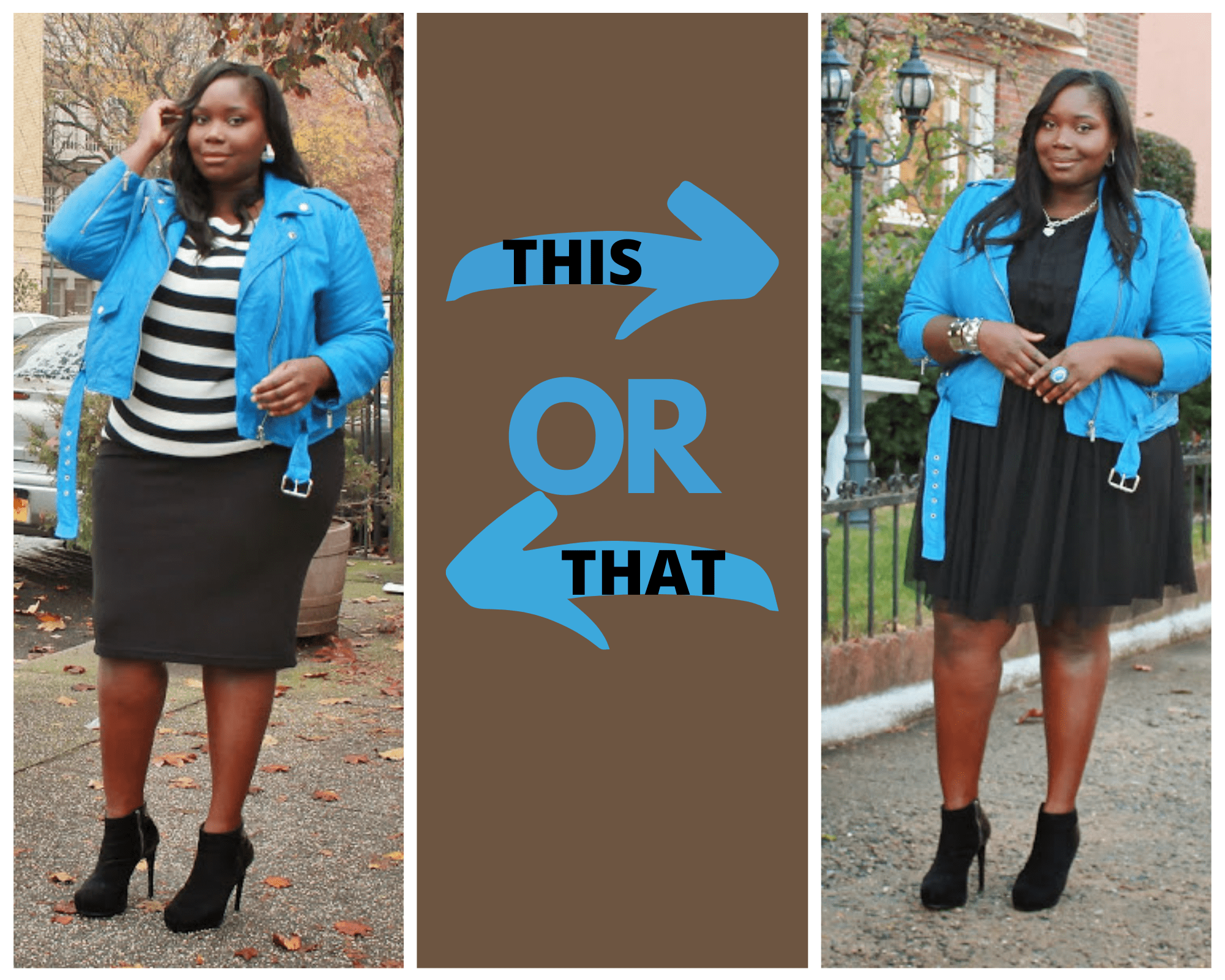 ↓ 25 – With Printed Skirts
We're loving this look of Fashion Blogger Lauren as she shows how textures and prints can be used to create fun leather jacket outfits.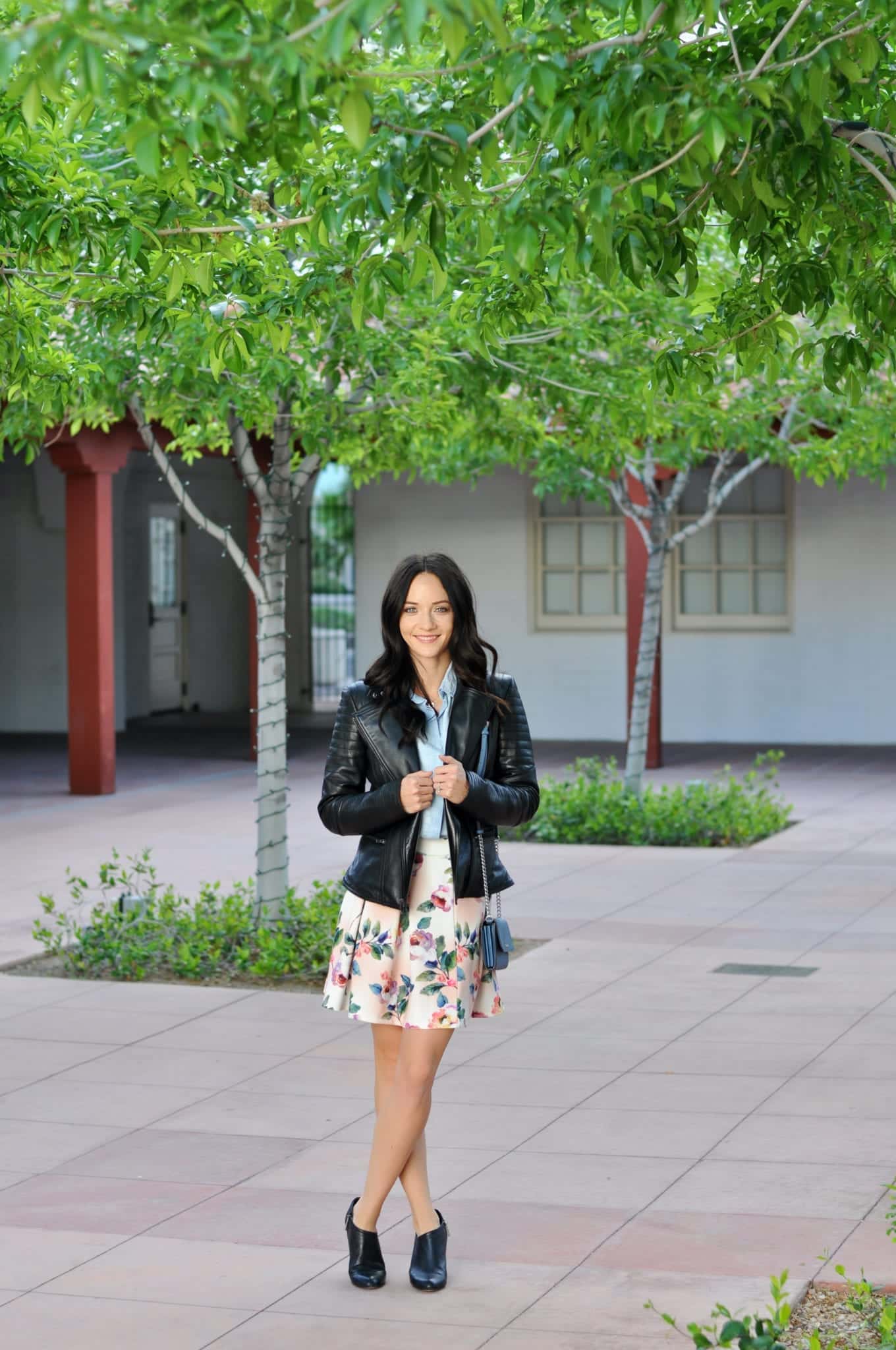 ↓ 24 – With a Tee Shirt Dress
We'll start with a casual option, perfect for jet-setting around town or hanging out with your best gal pals. Simply pop on an oversized leather jacket over a tee-shirt dress and accessorize with some funky shades. Tie up your hair in a messy pony and add sneakers or Converse to round off the look.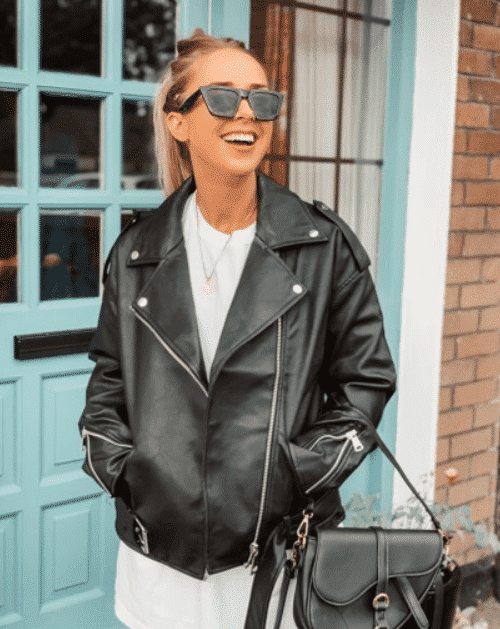 ↓ 23 – Classic Chic Outfit for Women Over 50
Feel like a leather jacket is too youthful? Think again! This classic and ultra-chic look is not only appropriate for women of almost any age, but it screams elegance and sophistication as well. Look for a warm brown jacket with extra detailing like a wide collar and pair with a pleated skirt, white top, and matching boots.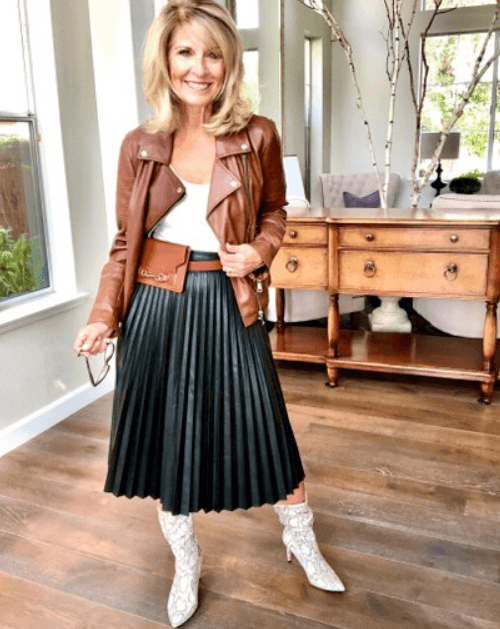 ↓ 22 – Embroidered Leather Jacket for Women over 40
Here is a fun way to incorporate a leather jacket into your wardrobe, especially if you are over 40. Simply opt for an embroidered white jacket (pro tip: this is an easy way to bring more color into your everyday looks!) and pair with a print tee shirt, comfy jeans, and your favorite pink (or any color) Converse.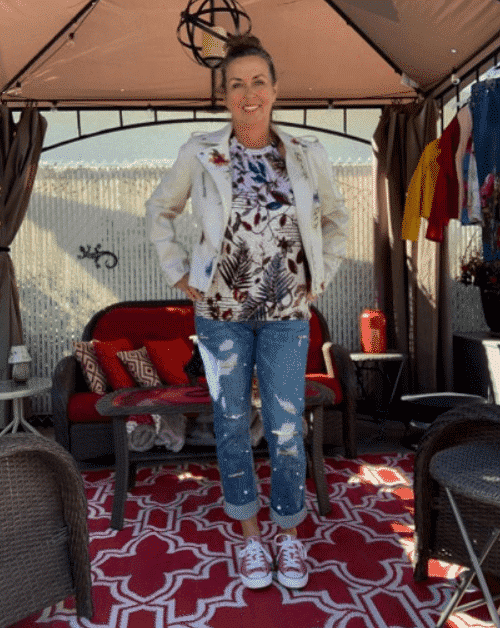 ↓ 21 – With Red Trousers and Strappy Ankle Heels
We love this look for a date, dinner with friends, or even a party. It's the perfect mix of casual and sophisticated. Pair a lined leather jacket with a white top tucked into red trousers (we love the belted bow) and strappy ankle heels. Pull your hair back and add oversized earrings to complete the look.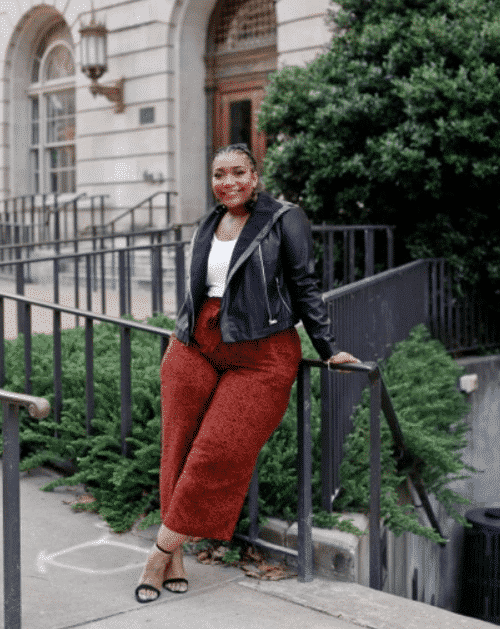 ↓ 20 – With a Dress and Ankle Boots
We love this classic look, great for women of all shapes and sizes. Simply pair up a well-made, well-fitting leather jacket with the dress of your choice. Accessorize with a cute purse and ankle boots.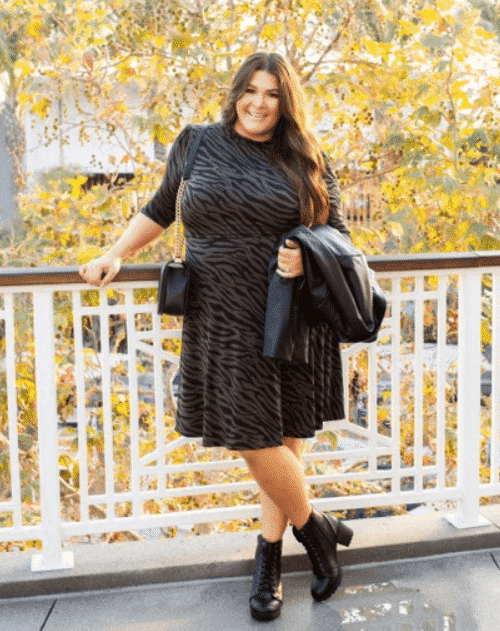 ↓ 19 – What to Wear with a Green Leather Jacket?
Be casual in style. A green jacket with a white plain shirt and faded jeans is all that you need. Make it all about being casual but don't forget to keep it stylish.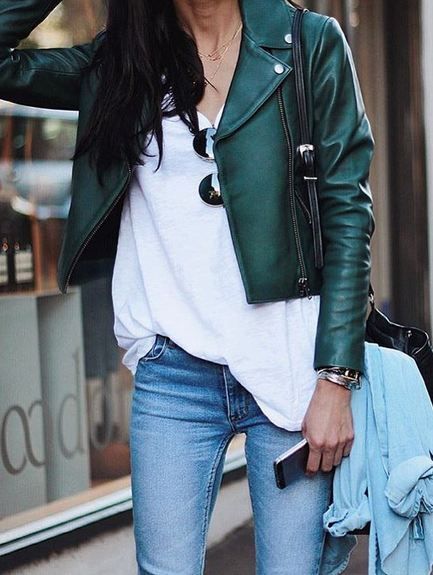 A green leather jacket is something all girls need in their closets because of the chic look it can give to any outfit. Even the model Miranda Kerr can't stop loving her green leather jacket. She too has paired it with a white shirt and jeans. You can see how the jacket adds style to the simplest jeans-shirts combinations.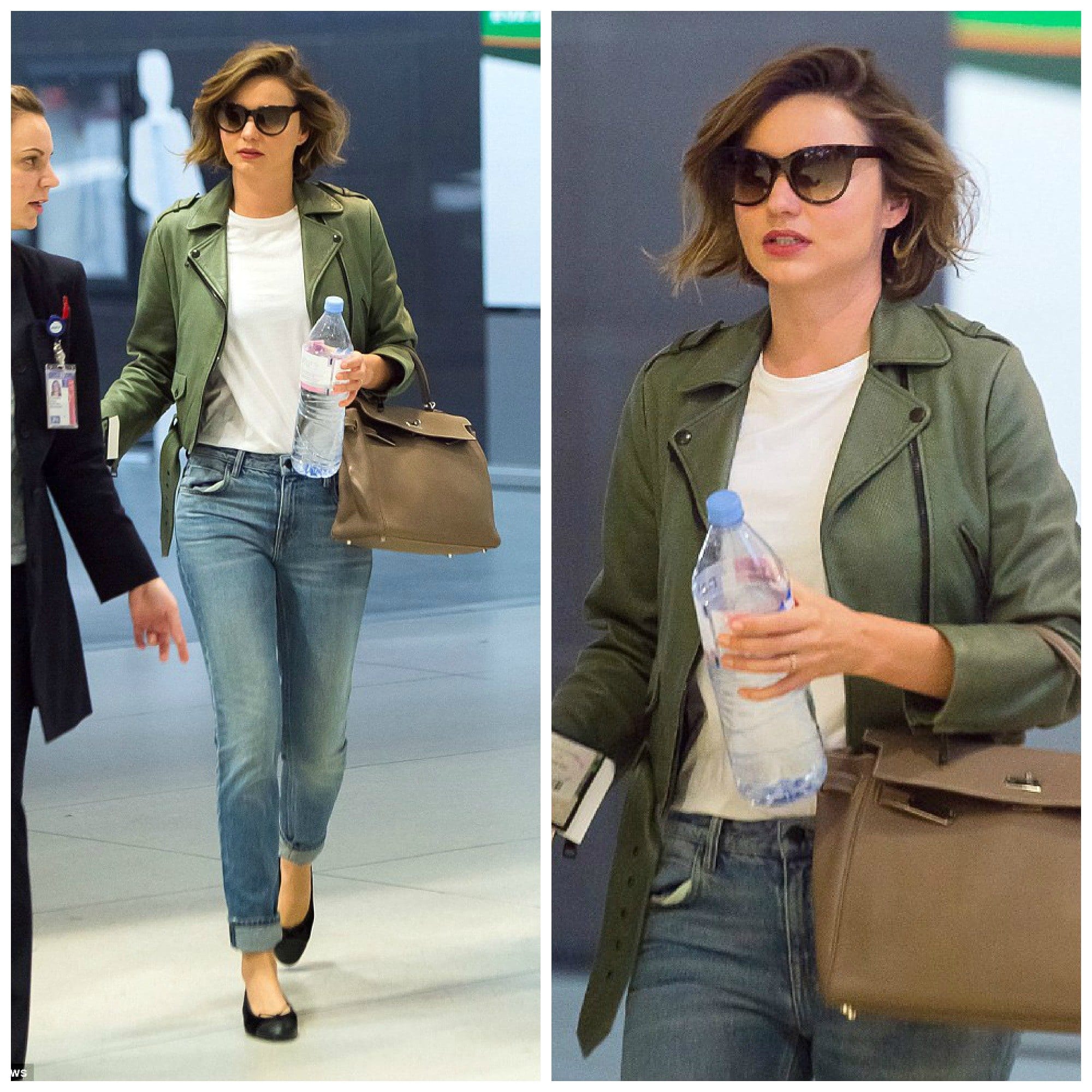 ↓ 18 – Graceful Look in a White Leather jacket
Make a statement in white. Pair your white leather jacket with some beige boots and a white bag. Red nail colors and some trendy shades, and you have the runway look for yourself.

Source
↓ 17 – Be Fabulous in a Brown Leather Jacket for Fall
Pair your simple leather jacket with a cheetah print clutch and some skin shade stilettos. This is all you need to be glamorous and fabulous in Fall. Since the Fall season is all about shades of brown and burgundy, a brown leather jacket looks nice when worn outdoors. So it would be a great choice for picnics, hikes, or just a stroll in the park.

Source
↓ 16 – Girl Next Door Look in a Black Leather Jacket
Get a girl next door look. Pair your black leather jacket with a black and white checkered dress and get the simple yet classy look for yourself.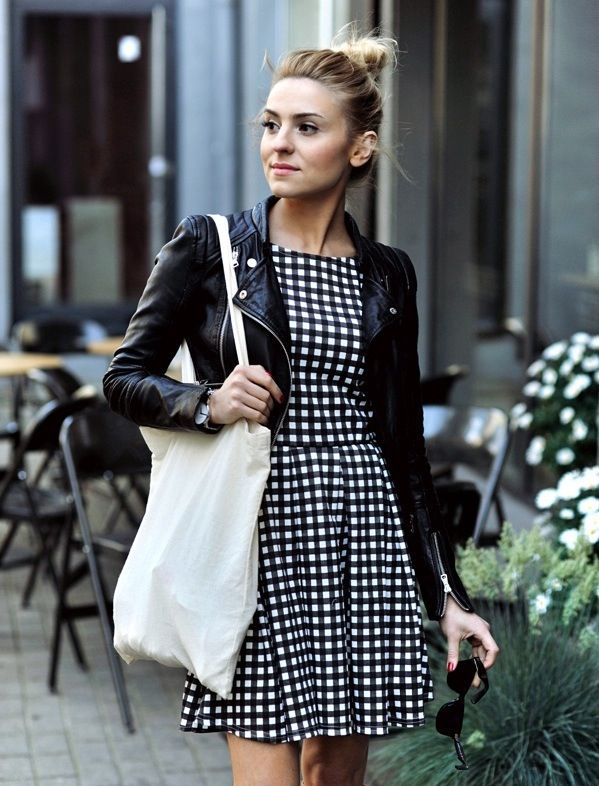 Source
Like the check dress? Then you must have a look at 18 Best check shirt outfit combinations for Girls in all seasons. If you want to take things up a notch, then take style tips from Kendall Jenner as she rocks a cropped black leather jacket with a white shirt, ripped jeans, and black ankle boots. It's one of her top street style looks.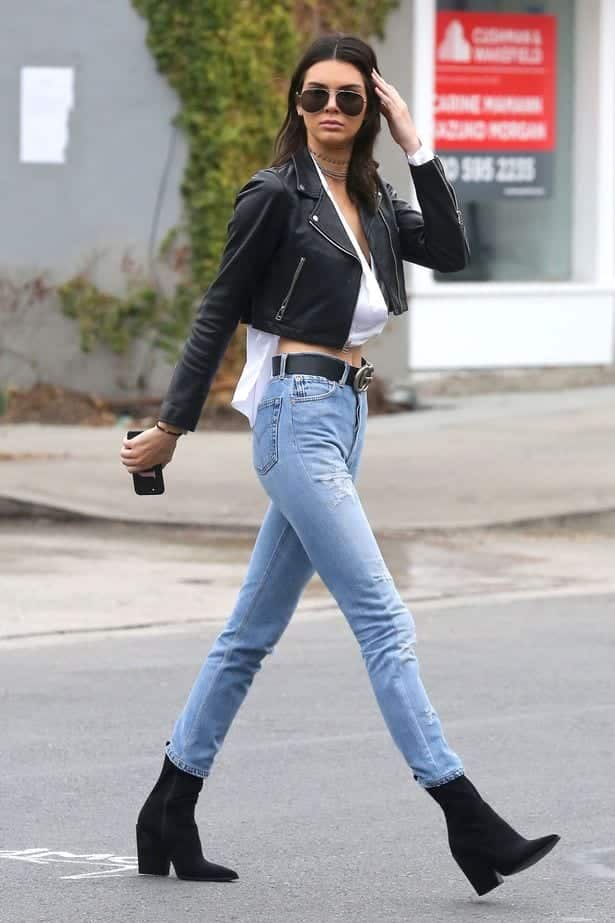 ↓ 15 – Flaunt The Long Leather Jacket With Style
Long coats can help you glamorize your look within minutes. Wear it over any short shirt and jeans and your look is complete.

↓ 14 – Complete Your Look
Be smarty pants! Pair your jacket with a beanie and a messenger bag, and you are all set to go with the classy nerd look.
↓ 13 – Elegant for Work in a Red Leather Jacket
Make it all about the jacket. Wear this jacket with a bun and some trendy shades, and your look for the day is all done.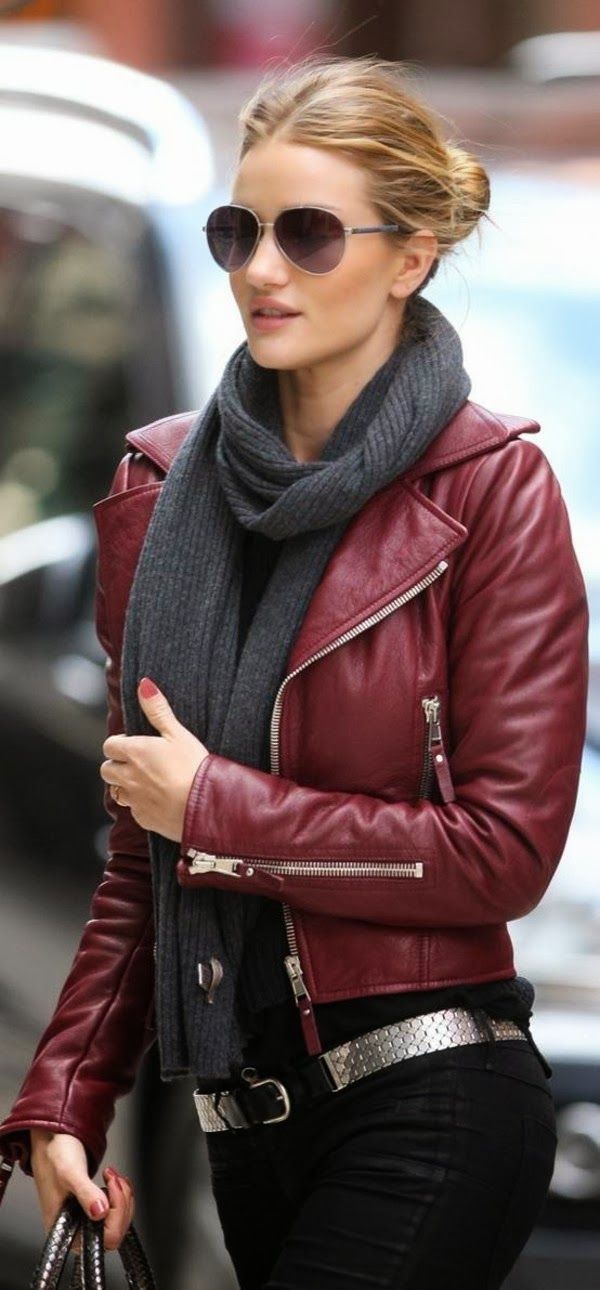 Do have a look at 17 cute winter workwear outfits for women for an elegant look. If you're looking for what to wear with a red leather jacket then an all-black outfit is the best choice. If you don't believe us, then here's Bethenny Frankel rocking her hot attire in a scarlet red leather jacket.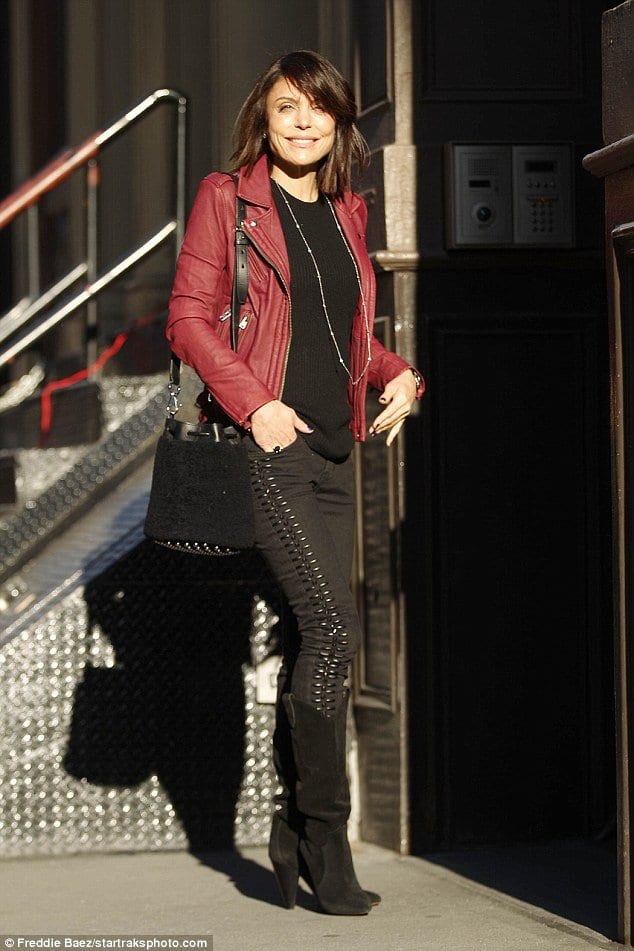 ↓ 12 – With Pleated Skirt and Bralette
Hit up a party in style with this gorgeous snakeskin print skirt, knee-high sock boots, and a racer jacket. This look needs little accessories: keep it chic in a pair of oversized hoop earrings. A strapless bralette works like a crop top and will be the perfect finish to this va-va-voom ensemble. Here are some more ideas on Different Ways to Wear a Bralette.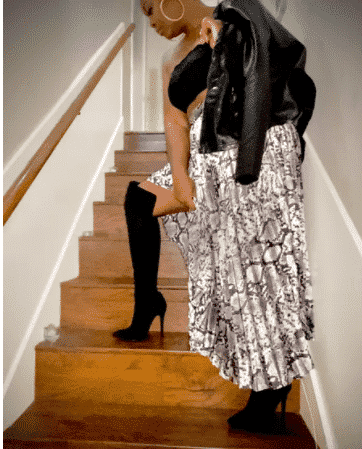 ↓ 11 – Go Glamorous This Weekend
Accessorize your dress with this buttoned-up jacket and add the glamour to your usual style. This season makes it all about the browns.

↓ 10 – Instagram Model Style
Style your leather jacket like a bonafide Instagram model by opting for a short leather jacket worn over a strappy crop top, baggy "Dad" jeans, and paired with some good ole' Doc Martens. Finish off the look by adding some trendy sunglasses and a tiny purse that you can sling over your shoulder or carry in your hand.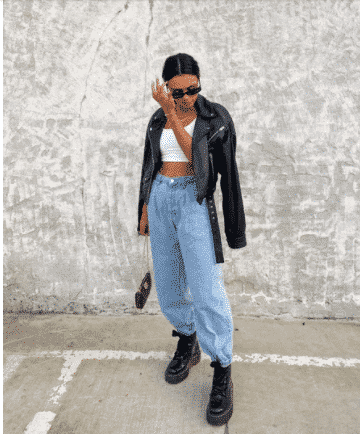 ↓ 9 – Shoes to Wear with a Leather Jacket
Light colors always please the eye. Make your regular outfit standout with a cream-colored leather jacket and nude stilettos.

↓ 8 – How to Wear a Scarf with a Leather Jacket
Create an ultimate bubbly look by pairing a brown leather jacket with a knit-wear. Throw over a woolen scarf, and you are all set for the season.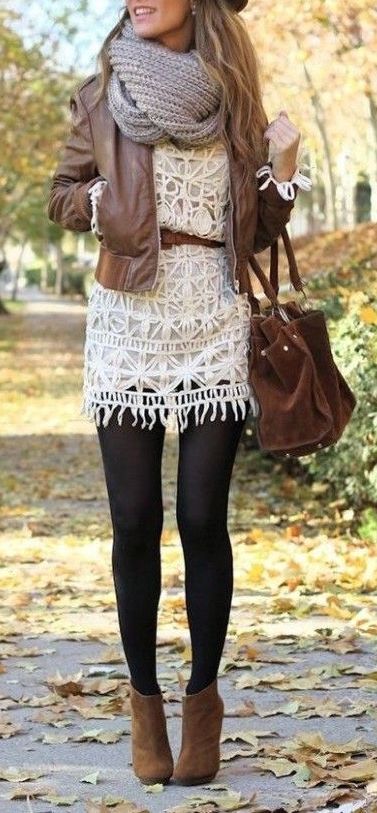 ↓ 7 – Sleek and Chic
Pair your creamy leather jacket and glamorize your simple wardrobe. Flaunt this style with messy hair and simple layers.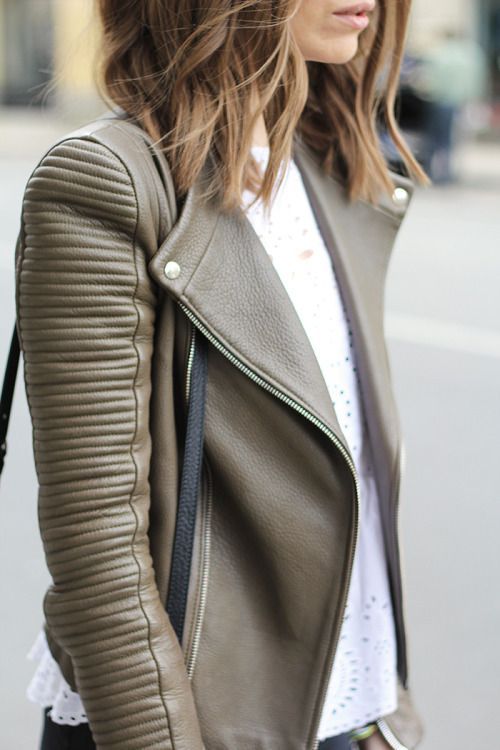 ↓ 6 – Blue Leather Jacket Outfit
Set your tone in blue. A blue leather jacket will brighten up your wardrobe. Pair it with a high ponytail to give yourself a chic look.

Source
↓ 5 – Accessories to Wear with your Leather Jacket
A classy black jacket accessorized with a vintage necklace is all that you need to create a style statement. A black leather jacket with faded jeans is the ultimate look of the season.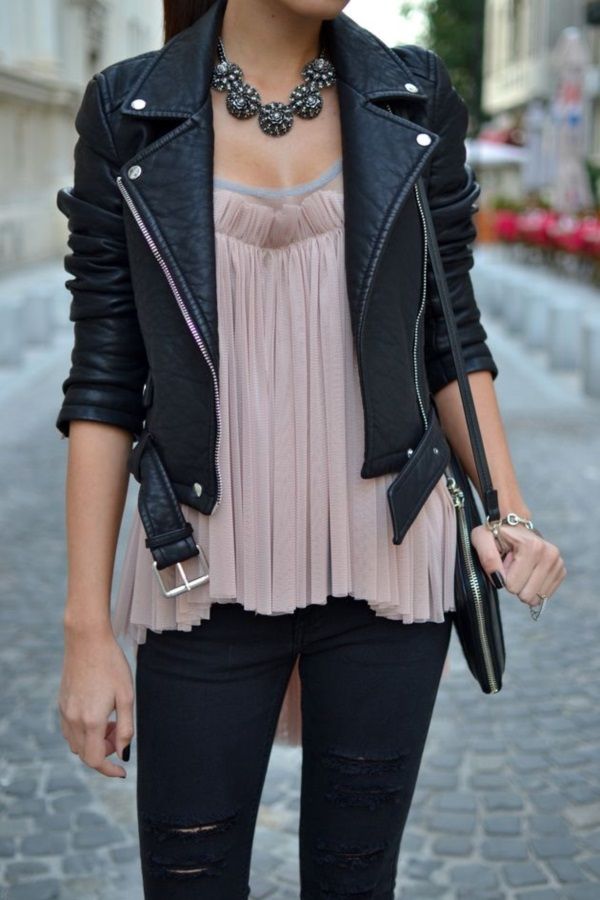 ↓ 4 – The Classy Look
Drape a leather jacket over a pencil skirt, put on leather boots and you are all set to turn some heads. Love Vintage? Check out these cute ideas on how to get a perfect vintage look.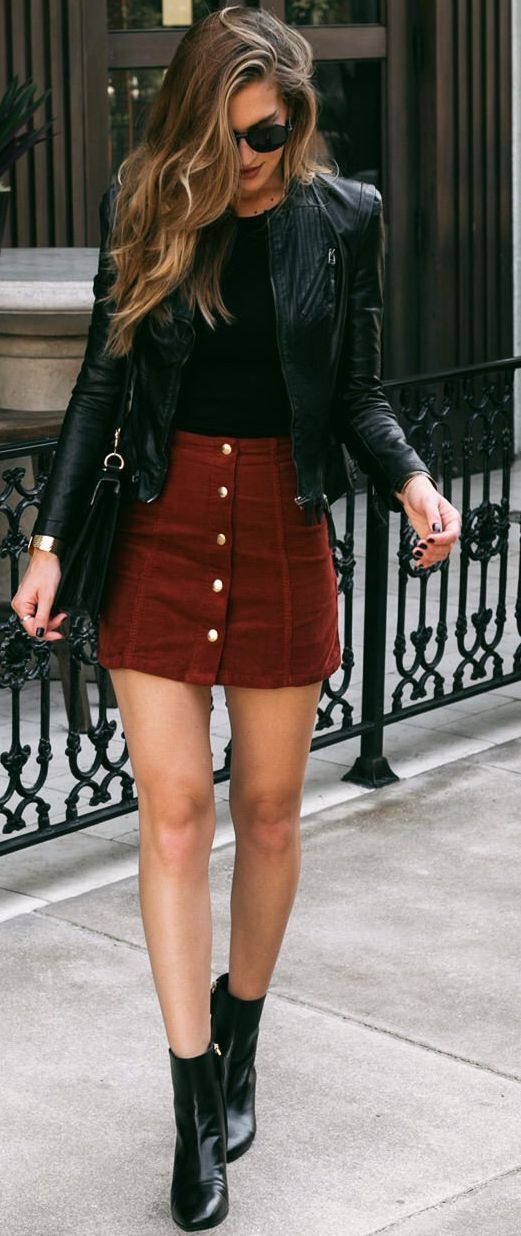 Source
↓ 3 – Leather on Leather
Make this season all about leather. Leather boots paired with a traditional black jacket is all that you need to get a runway look.

↓ 2 – Leather Trench Coat
Want to really make a fashion statement? Then go all out with a leather trench coat. Not only does this look scream "city fashion" but it's ultra-chic and makes for a great option in winter. Pair this jaw-dropping brown leather trench coat with high-rise straight-leg jeans, snakeskin print heeled boots, and a white bodysuit. Add a scarf for extra coverage!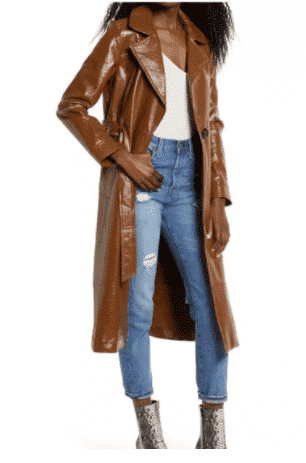 ↓ 1 – Get The Look
Your must-haves for the season give you a completely fabulous look. Pair your jacket with some high heeled boots and a pair of fashionable shades.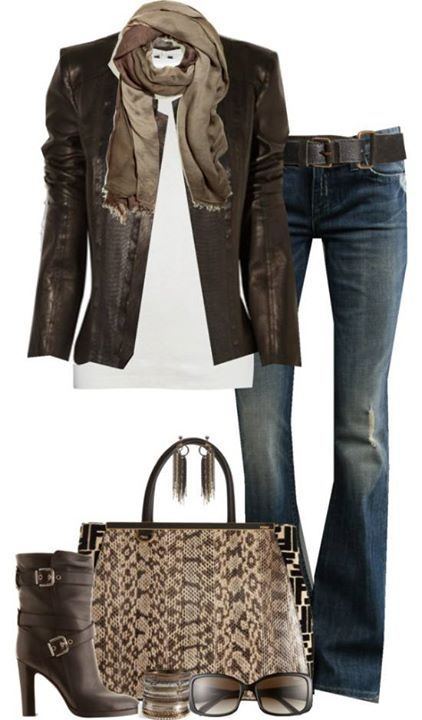 Frequently Asked Questions
Here are some frequently asked questions about how to wear a leather jacket, what to avoid if you don't want to look like a biker, and how to wear a leather jacket to specific environments like church. Check them out!
Q.

How to wear a leather jacket over 40, over 50, or over 60?
A. Leather jackets are timeless, so whether you are 25 or 65, donning this ageless piece is always possible. It comes down to appropriate styling and having an overall goal for your look. Are you wanting to look edgy? Are you wanting to look sophisticated? Are you trying to look more mature or more youthful? Check out our outfit picks #22 and #23 for examples on where to start.
Q.

What types of leather jackets are there for women?
A. There are several types to choose from. Here are the seven most popular types of leather jackets for women:
Leather bomber jackets or "aviator jackets." This style offers a loose fit and comes from the classic bomber jacket aviators used to wear.
Fur-trimmed leather jackets. These are self-explanatory. Perfect for cool fall days or warm winter days.
Biker jacket a.k.a. the Moto jacket (short for "motorcycle"). One of the most common styles of leather jackets, these bad boys will have you feeling edgy and cool with or without a motorcycle in tow.
Mid-length leather jackets. Falls around the hip line and looks similar to an anorak jacket.
Long leather jackets. Can look like a classic trench with extra button detailing and even a back slit.
Reversible leather jacket. 
Scuba leather jacket. This one is a little more streamlined than the classic moto jacket and has a sleek fit.
Q.

How to wear a leather jacket without looking like a biker?
A. If you want to rock a leather jacket but don't want to look like you belong to the local biker gang, here are some tips:
Avoid studded shoes or accessories
Opt for sneakers, sandals, heels, or flats; avoid boots
Keep your outfit from getting too "dark." Don't pair your jacket with black jeans; stick to lighter washes of denim and try to incorporate bright colors into your look
Keep your look either casual or very sophisticated and go for a sleek hairdo
Q.

Can you wear a leather jacket to church?
A. Absolutely! Consider outfits #7, #8, or #14 in this article for some inspiration.
Q.

Is a leather jacket business casual?
A. A leather jacket can definitely be business casual, especially when paired with some slim-fitting dark wash jeans, sleek heels or boots, and a turtleneck or solid-colored blouse.
Did we answer all your questions? Are you feeling ready to rock the leather jacket look? Let us know in the comments below!
R.H. Elias is a freelance writer, aspiring author, and freelance transcriptionist. She is a homebody all the way and loves curling up on a cold, rainy day with a good book and a warm cup of tea. Her favourite pastimes include reading, writing, and watching period films. She currently lives in Puerto Rico.