Outfits with Denim Jackets – Denim jackets offer great versatility and wear well with most dresses for different occasions. You simply need to know how to match your denim jackets to get an elegant look. Denim jackets fashion has become very popular among women in the recent past. From street style to business look, casual style to funky look, denim jackets are the perfect outerwear for every occasion.
As we are all aware, fashion trends keep changing, but one has never changed. It has always remained in the limelight. You guessed it right, it is denim jackets! Thus, it is safe to say that the denim jacket and jeans can never go wrong and will never go out of style. I am sure you all know that there are many different ways to wear the denim jacket. And in this article, we talk about everything related to this stylish and timeless garment.
What to Wear with a Denim Jacket?
Who said you could wear a denim jacket with a t-shirt and jeans only? I would advise thinking out of the box, and I assure you, it would do great. Maxi dresses and maxi skirts have been trending for a long time. People are going all insane over the new trend. To give it a funky look, you could wear the denim jacket over the long maxi. There is no chance you would go wrong anywhere, and you can completely transform the look.
A short or cropped denim jacket would be the best pick for this season. Something that you will love to wear the entire season. Try not to hesitate to try out different looks with the jacket. You can wear some amazing boots with your outfit if you are very daring and prefer bold looks.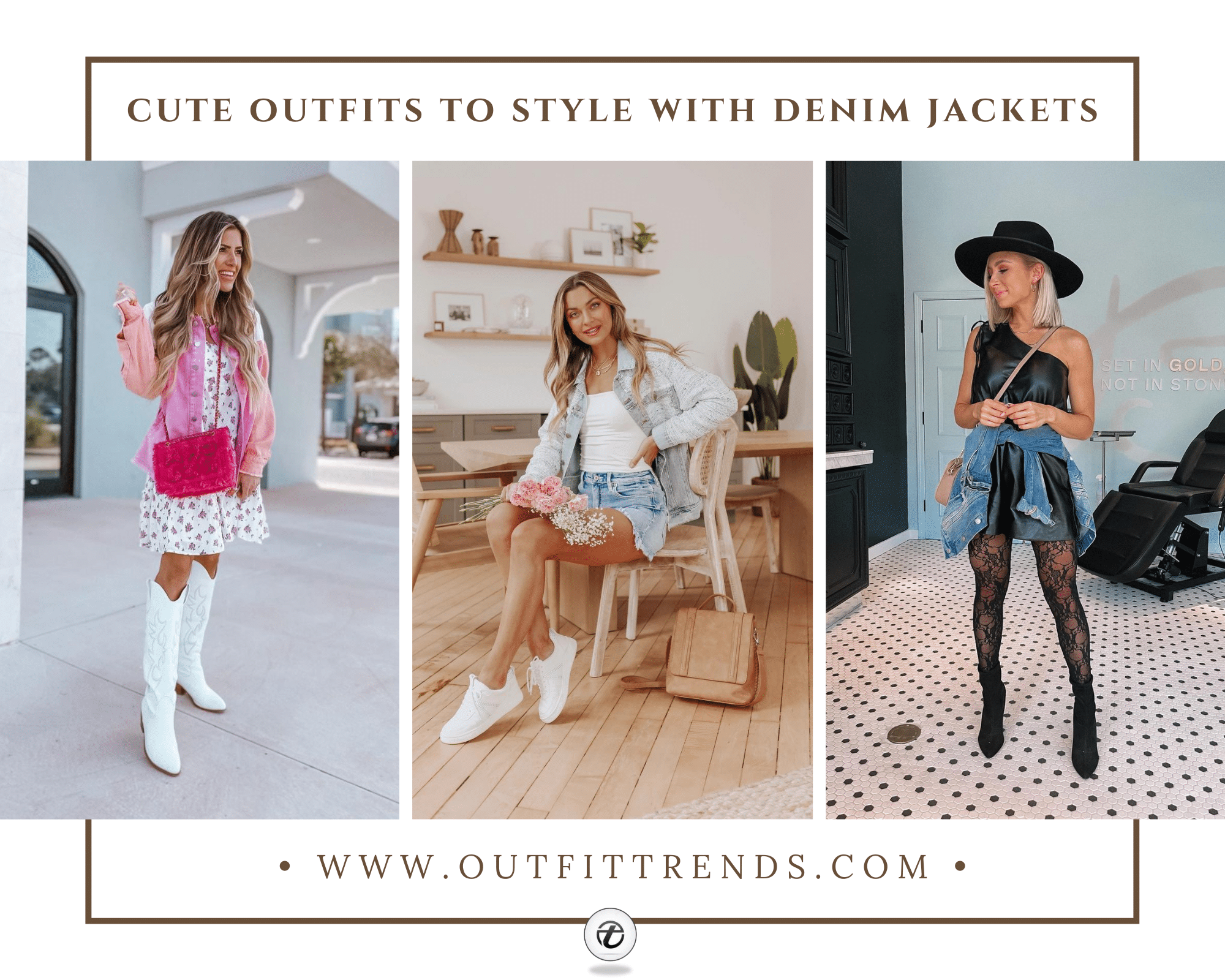 Tips on Styling Denim Jackets Outfits:
A denim jacket is a perfect item to wear in winter and individually is enough to create its charm.
One of the foolproof methods of styling his outerwear is pairing the denim blue jacket with a plain white or light-colored tee-shirt.
Avoid wearing the same colors again and again.
Moreover, keep changing the outfit colors to avoid repetition and bring versatility. You can also wear some bold colors with the jacket. A bright color like red, shocking pink, orange, and coral will look phenomenal with simple pants and a denim jacket.
Pairing up a white denim jacket with blue jeans and a red shirt is a great option.
A white denim jacket paired with a dress in shades of purple, red, and maroon will make a good combination.
Do not forget to keep shoes, accessories, hairstyle, and make-up in your mind when dressing up. After all, they can make or break your outfit!
A pair of heels or platform boots with the right outfit is a must.
From this collection, you can get the latest ideas on how to get a sexy chick look with denim jackets. See how these beautiful girls have matched denim jackets with different outfits to get a gorgeous look. We hope you gain inspiration to try out these different looks. And finally, remember to stay confident. No matter what you wear, it won't look good until you own it.
25 – Use Denim Jackets as Quirky Accessories
This outfit is an excellent way to style denim jackets with black dresses. You will easily find these two items in your wardrobe. Thus, pair them together; throw in stockings and heeled boots into the mix, and you have an excellent look on your hands. Moreover, the hat and jacket tied at the waist make this outfit super quirky and fun!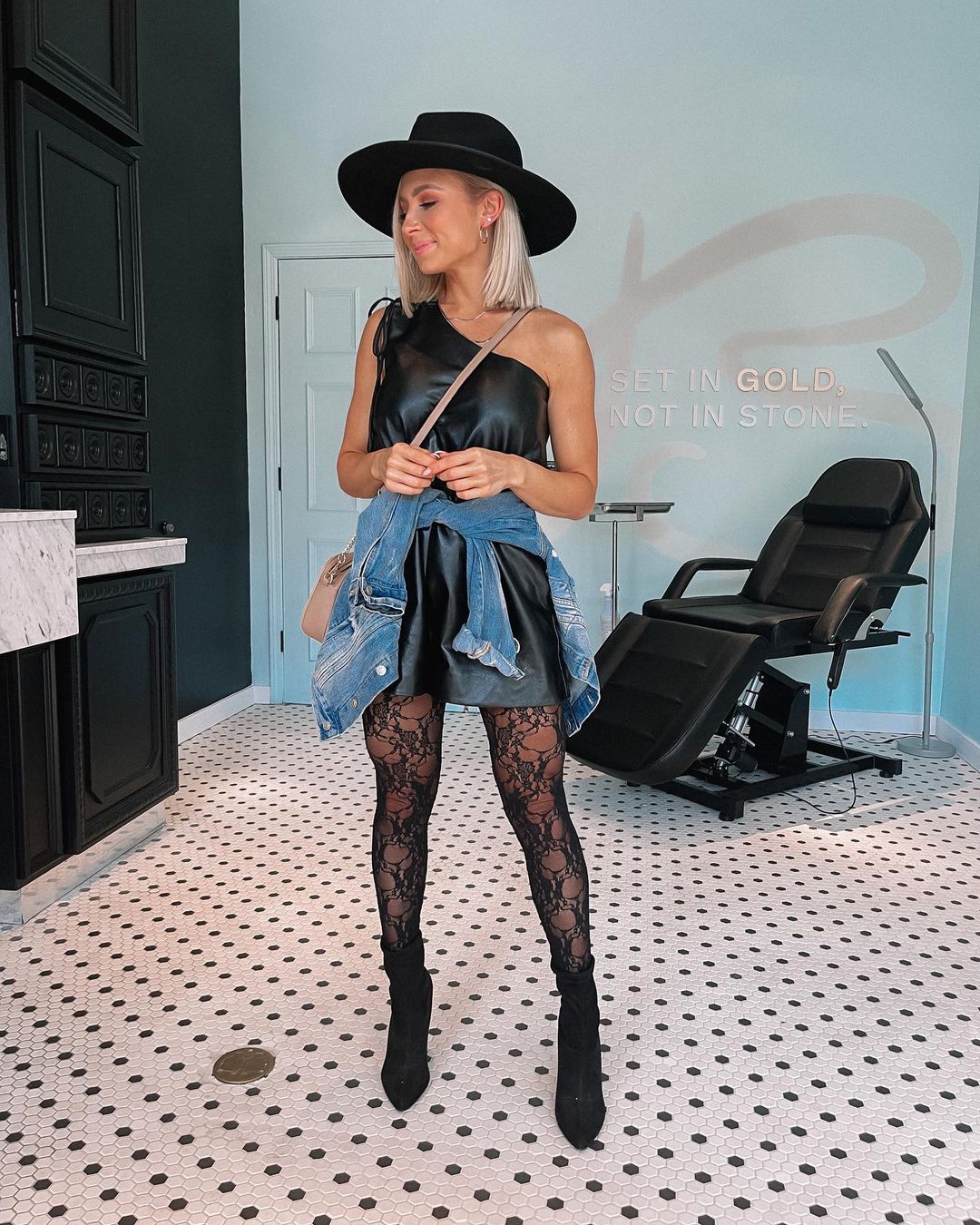 24 – Add Texture to your Outfit with a Detailed Denim Jacket
If you plan on going for a plain outfit, I will advise you to add texture to your look. Furthermore, you can play around with different shades of denim and color-block with your top and shoes to get a classy and well-put-together outfit.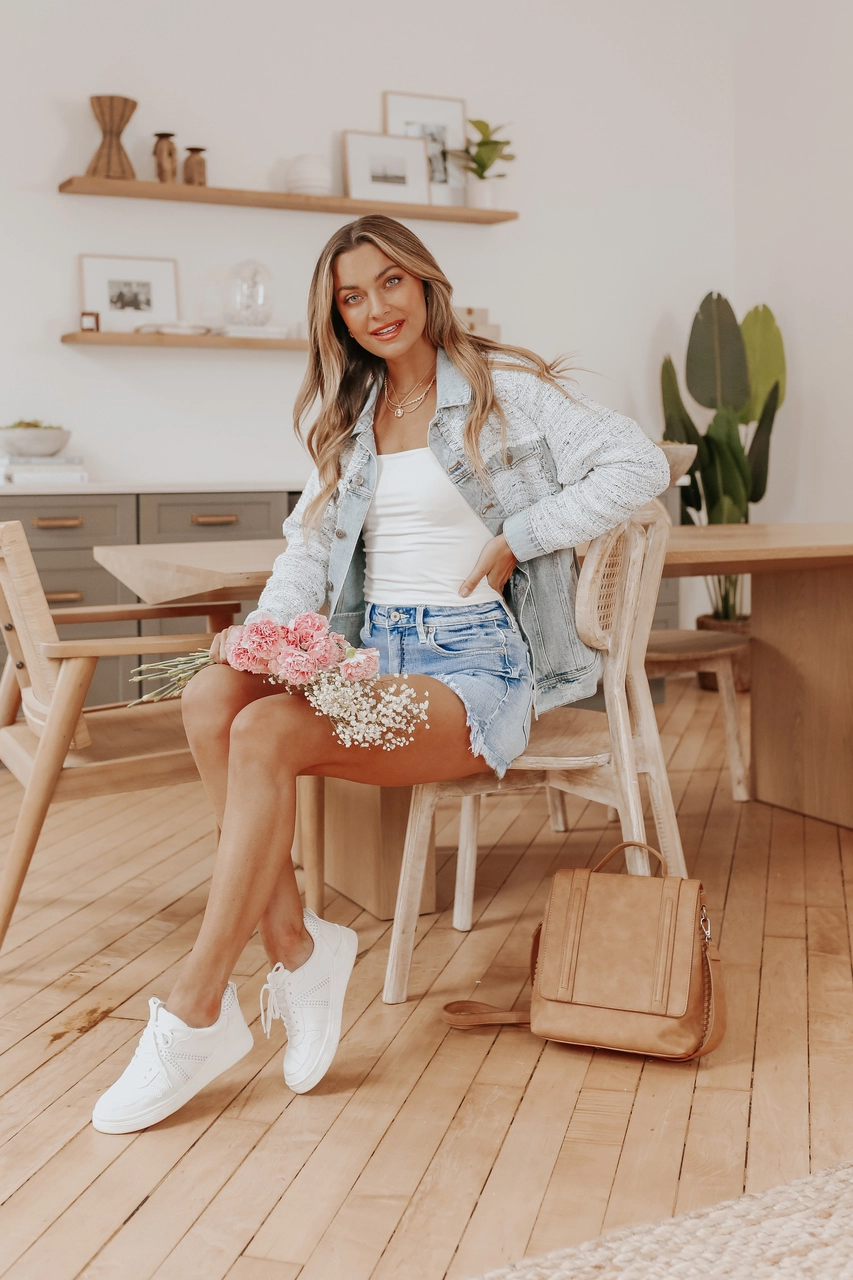 Shop this denim jacket below:
BB Dakota Festival Denim Jacket $119.00
23 – Go Bright & Bold in a Floral dress Paired with Denim Jacket!
I bet you thought denim was limited to blue, white, and black only, didn't you? Well, this look is here to put all mainstream to shame. A floral dress similar to the one in the image below works wonderfully with denim jackets of all colors. This pairing is perfect for the spring and summer seasons and looks super cute! Here are some more of my favorite Ideas on How to Style Floral Skirts This Spring/Summer.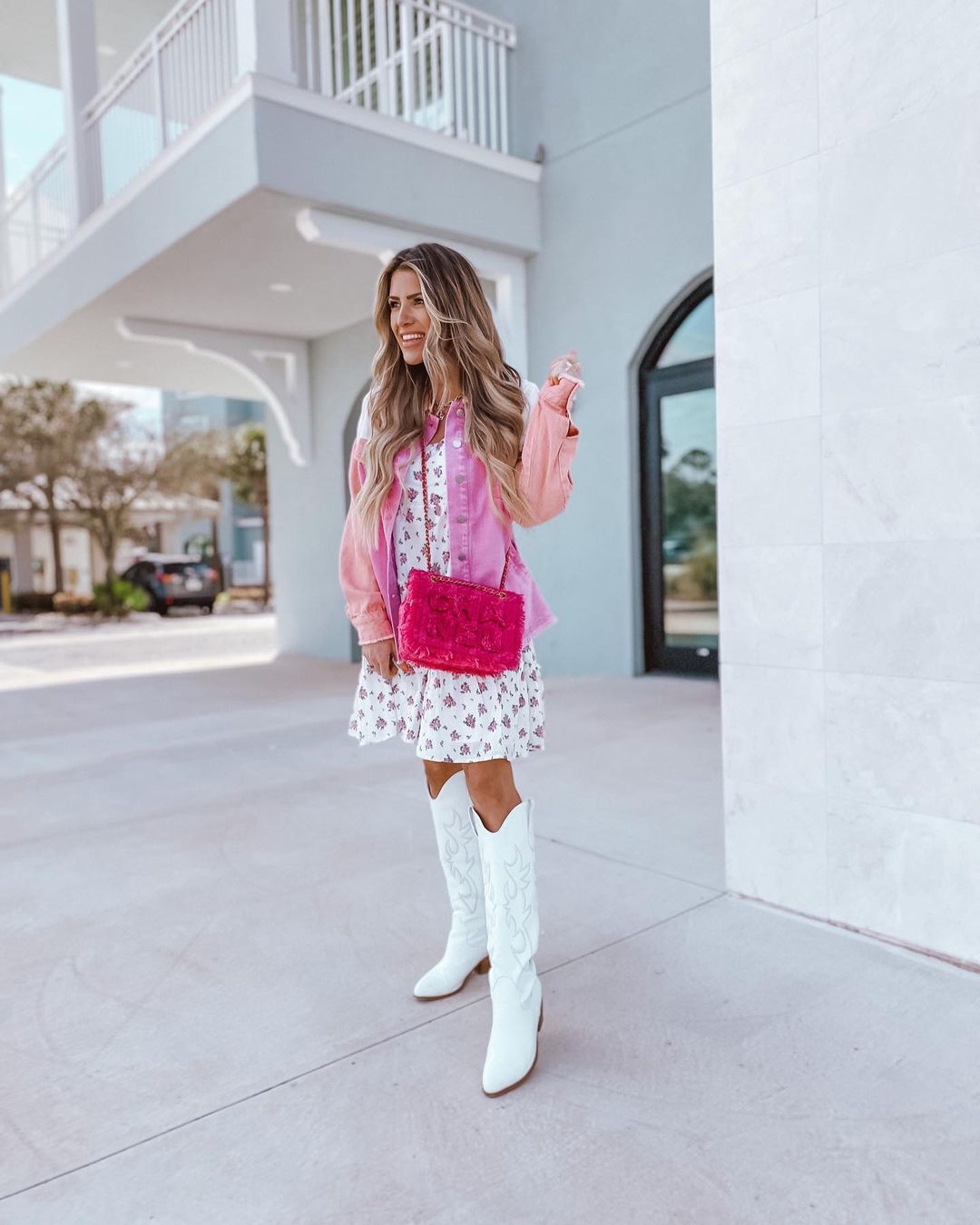 Get the look:
Clover Floral Mini Dress $52.99
22 – Oversized Camo Denim Jackets Serve the Ideal Street-Style
We are happy to let you know that denim jackets come in unlimited options and varieties! A camouflage denim outerwear pairs perfectly with ripped jeans and boots. Throw on the perfect accessories to elevate your outfit. Moreover, wear a similar cami top with glasses for an effortlessly chic look.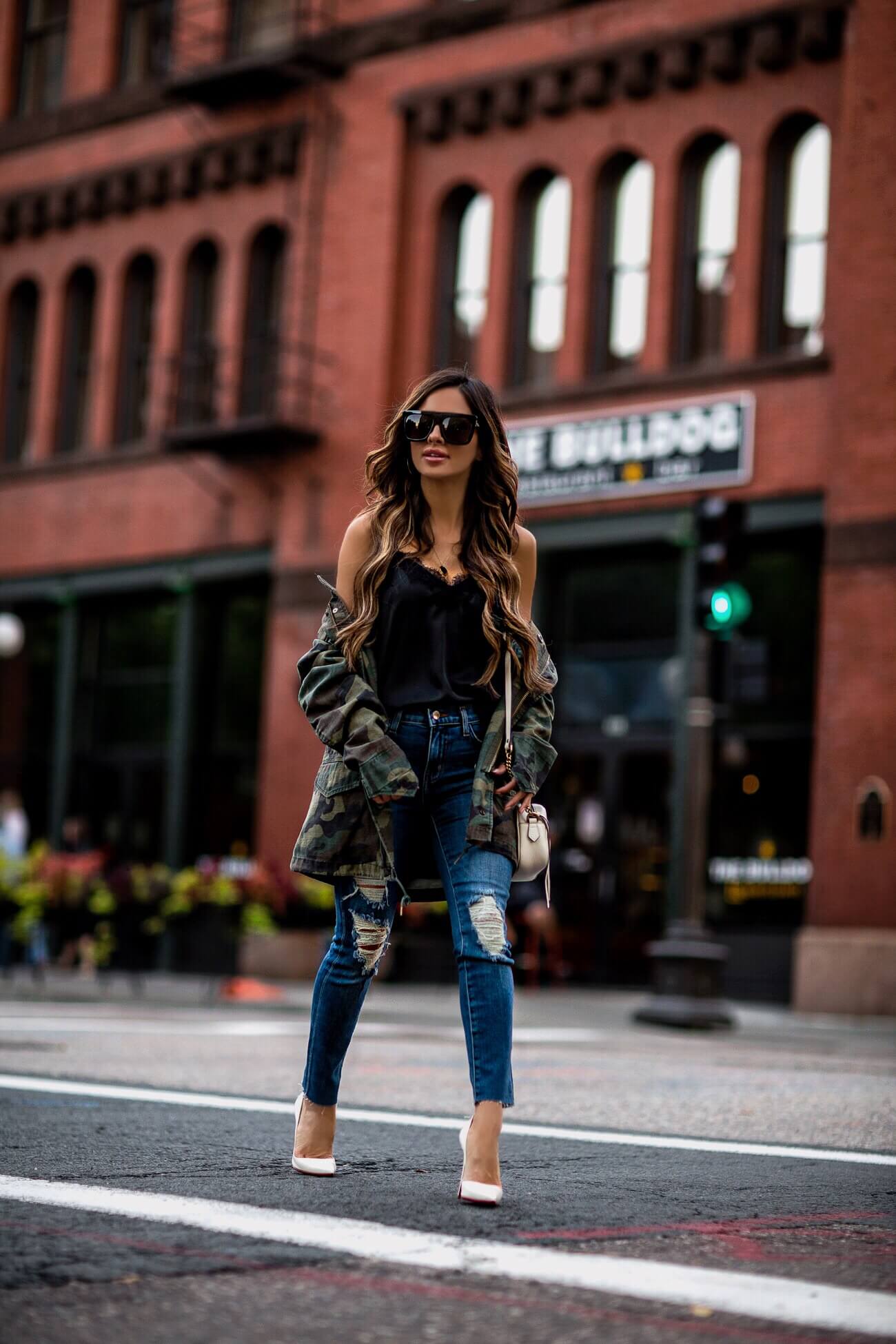 21 – Rhinestones on the Jacket to Compliment Belted Waist
This outfit is versatile and worn for different occasions, including an 80s themed party, hanging out with friends, or visiting the carnival. Go for a black bralette top to make this outfit perfect for a music festival look! And the puff sleeves and fringed rhinestone details on this faded black jacket make this outfit stand out!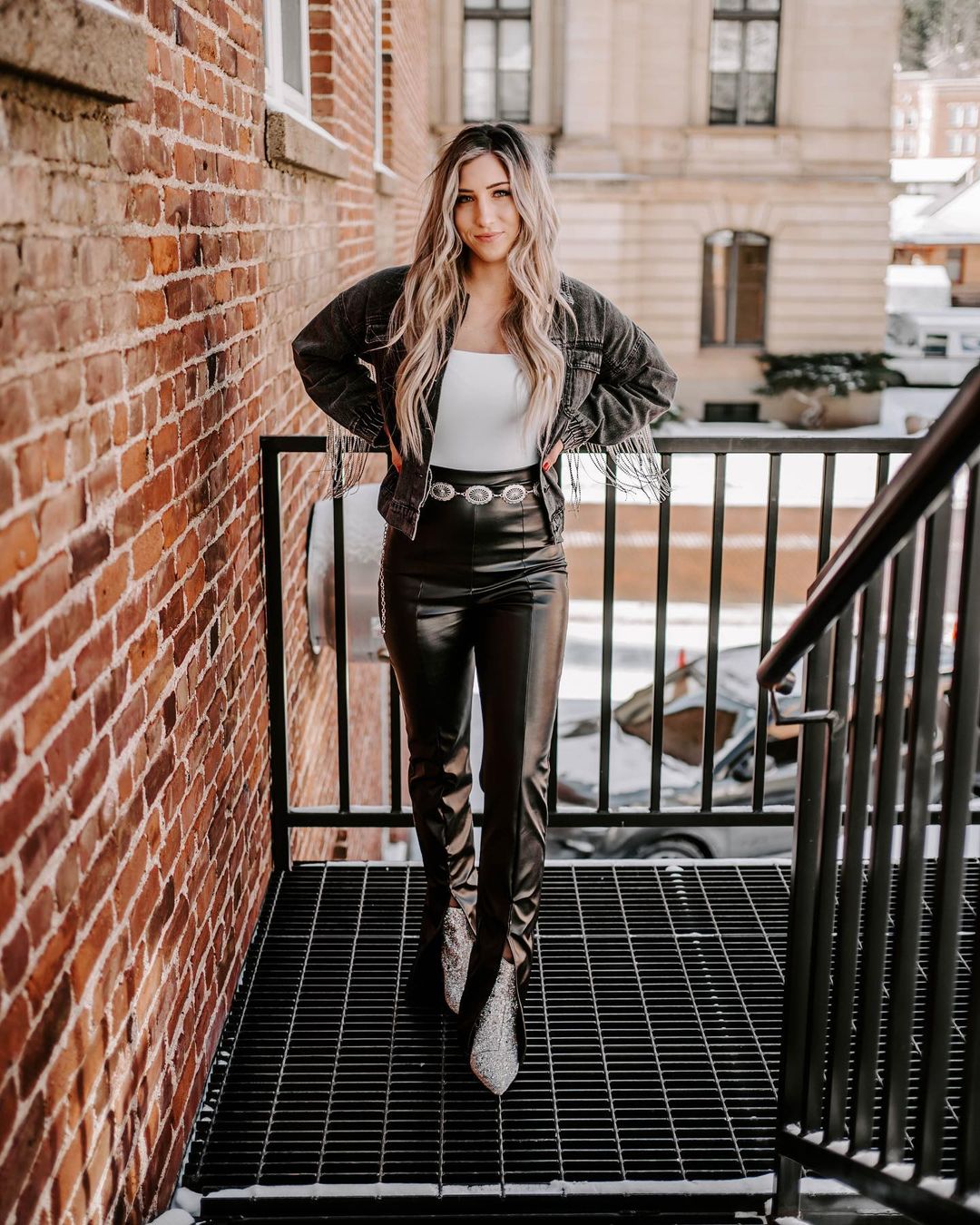 Grab the jacket right here:
Rhinestone Fringe Jacket $75.00
20 – Pull your Hair Back in a Sleek Top-Knot and Minimal Make-up
The best hairstyle is a sleeked back bun with a similar look. This will add elegance and sophistication to your outfit, and paired with minimal make-up, you are all set to shine. Opt for classy hoops and a dainty necklace to add details and sparkle to your look!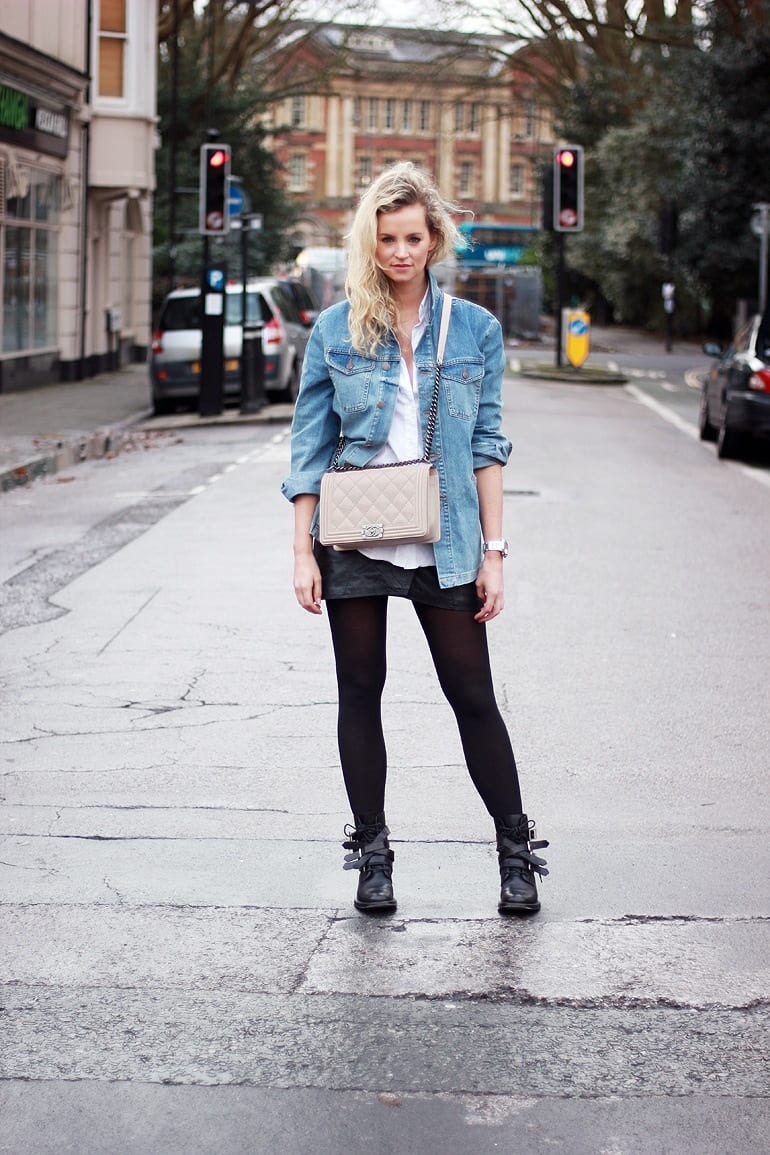 19 – Hairstyles to Make for Outfits with Denim Jacket
Pin the front strands of your hair back for a cute & feminine look, and leave it down in beachy waves! Furthermore, a messy bun at the nape of the neck is a great way to style your hair. Honestly, your hairstyle depends more upon the occasion you are dressing for. You might want to go fancier for an event being held a bit more formally.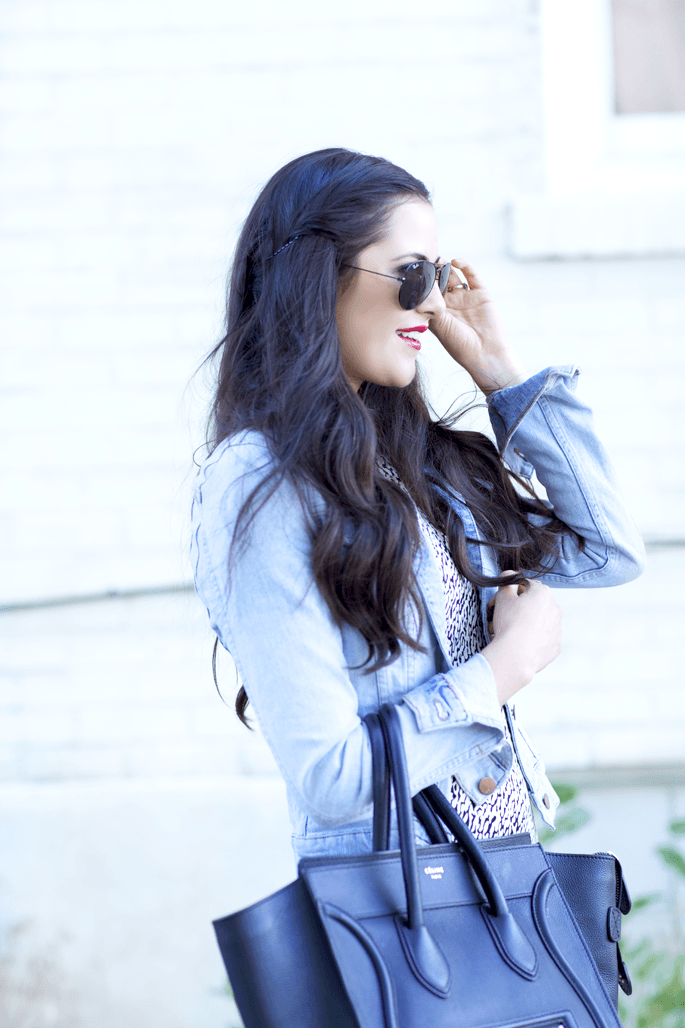 18 – Opt for Sneakers for a Casual Look!
Black dresses are easy, seamless, and incredible outfits to wear with denim jackets. Your choice of footwear depends upon the occasion you are dressing. Opt for a dress with a denim jacket and sneakers for a casual look. Contrarily, heels look remarkable for formal gatherings, whereas combat boots for an edgy street look.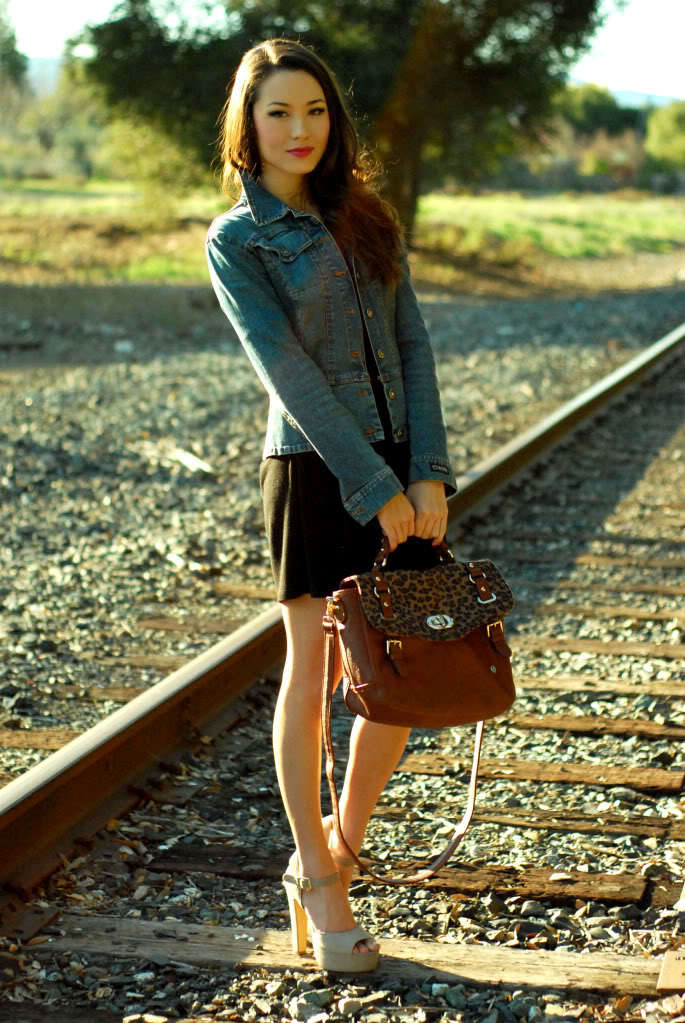 17 – White Denim Jacket Makes this Look Stylish and Sober!
If you wish to tone down your flashy outfit without taking away any glamour; then a white denim jacket is a way to go! It pairs seamlessly with majority outfits and non-mainstream to make a fashion statement!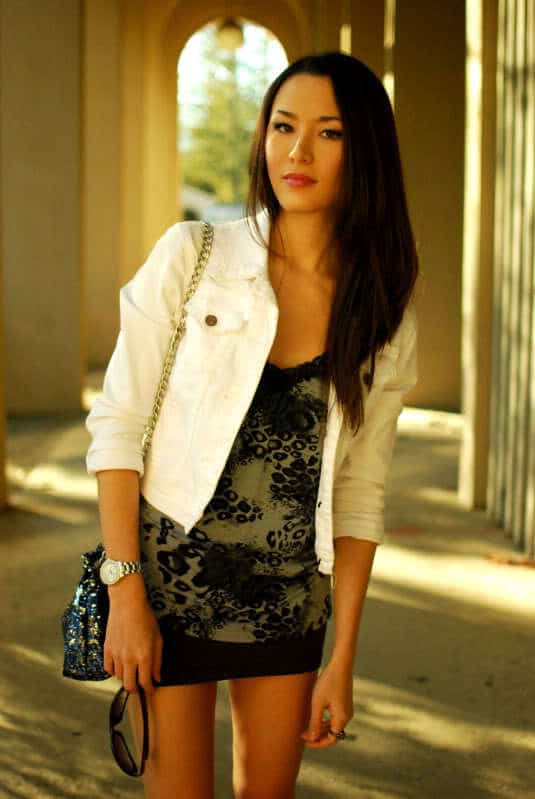 16 – Makeshift your Jacket to Act as a Shirt too!
Style your denim jacket as a top when running out of options! You can pair it as a top with all sorts of pants, including printed maxi skirts. Let your hair down in loose waves and glowy make-up for an ethereal look!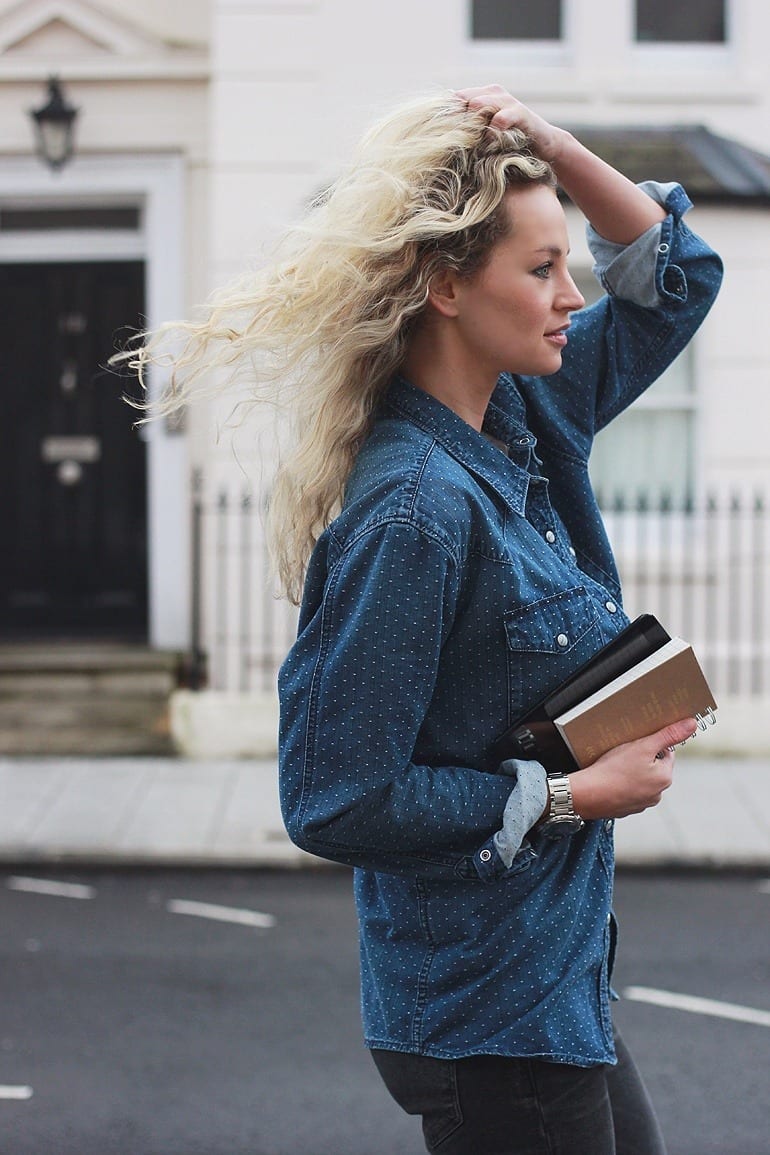 15 – Add Edge to your Look with Tied Details on the Pants
It is truly the details that make or break your outfit. The match of blue denim, white and black is made in heaven, and the detailed pants and top make this outfit. Opt for a bright red lip color to tie the entire look together!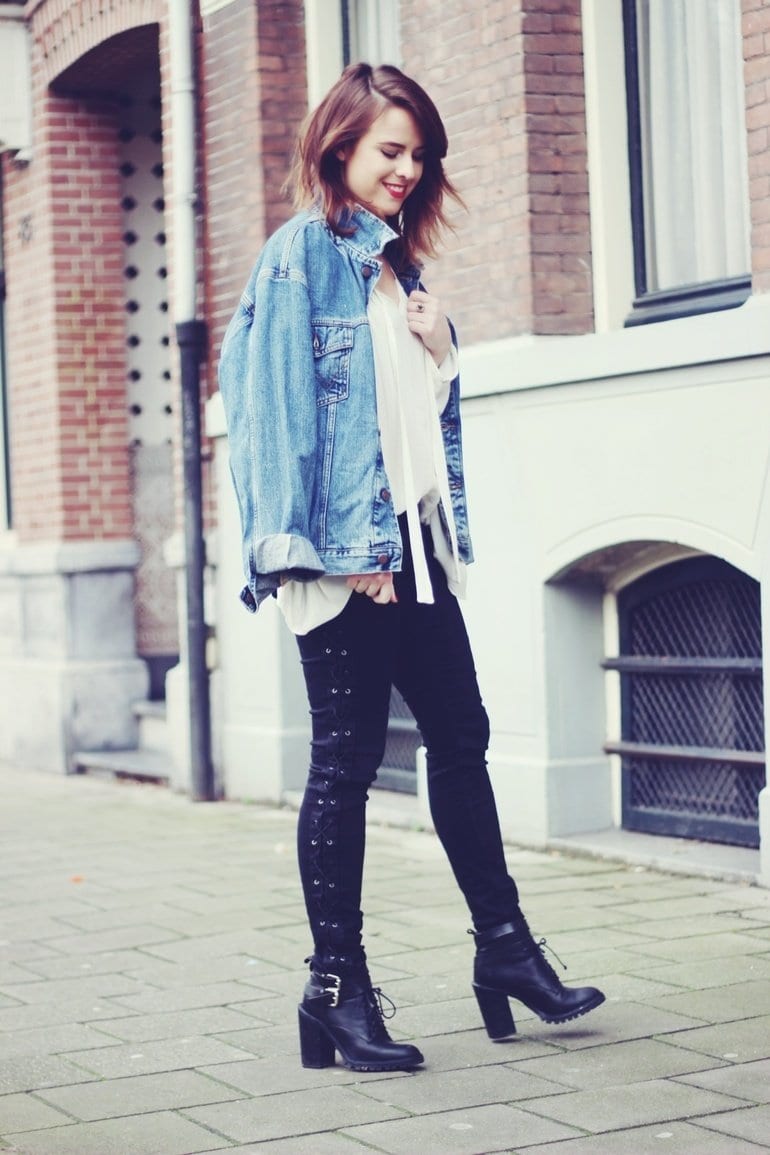 14 – Go Casual & Effortless for a Street Look
Match your accessories and handbag to the color or print found the least in an outfit. This would not just create cohesiveness but make you look well put together as well. Moreover, the infinity scarf is an accessory that is a staple for the fall and winter seasons!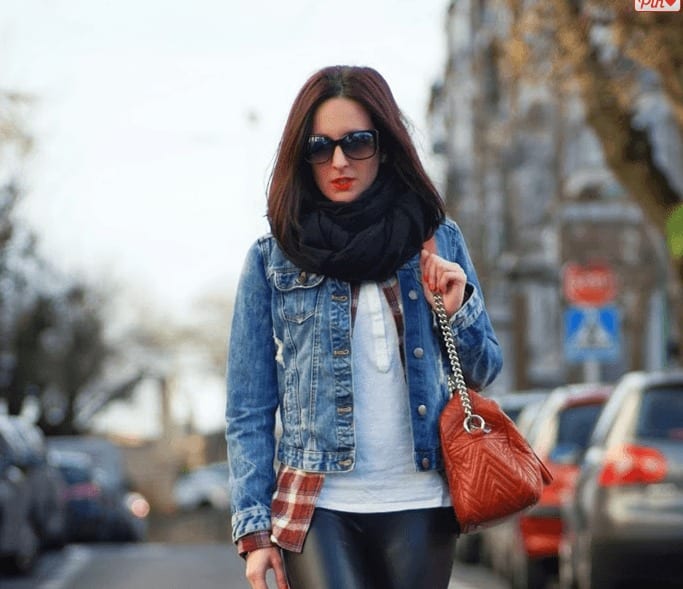 13 – Add Flashy Accessories to Make it a Party Outfit!
Choosing the right accessories might make or break the ensemble for an outfit that seems boring and repetitive. Adding on a statement, tribal jewelry is the quickest way to turn an outfit around and make it fun!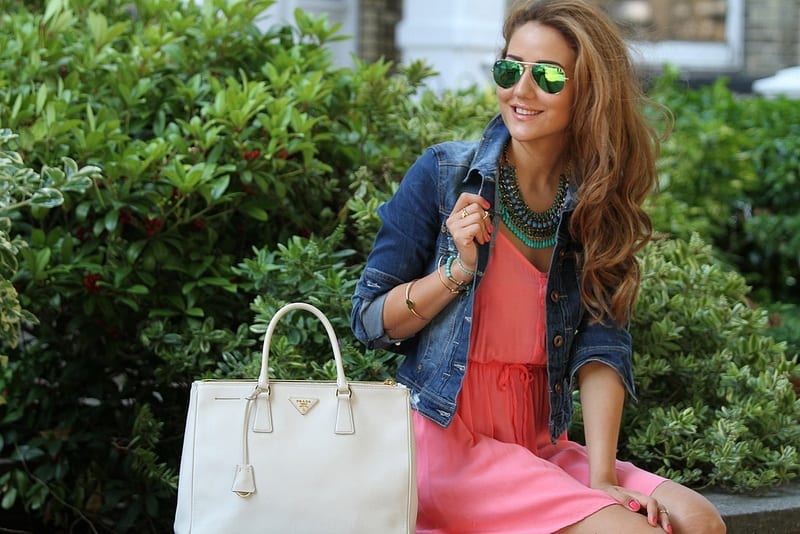 12 – How to Wear Denim Jacket to Work?
This outfit is a wonderful way to style work outfits with denim jackets. Simply throw on a pair of heels to make your outfit fancy. And for the after-party, put on your sneakers, let your hair down, and you are ready to have a good time with friends!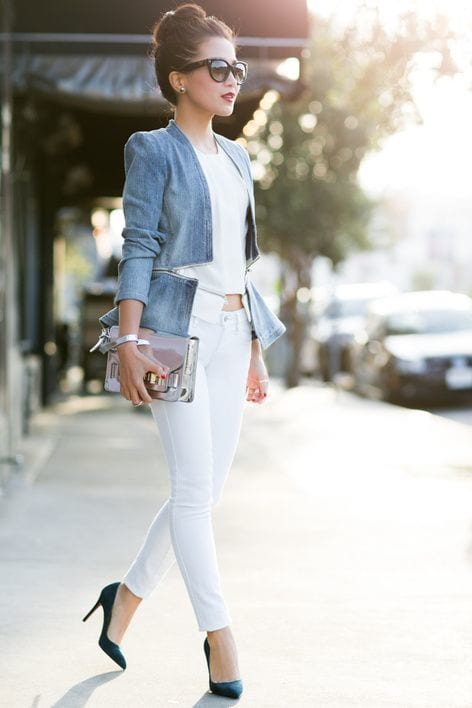 11 – Go Simple and Chic with the Classy White & Blue Combo!
I would advise opting for nude accessories and a tan hat to compliment the outfit.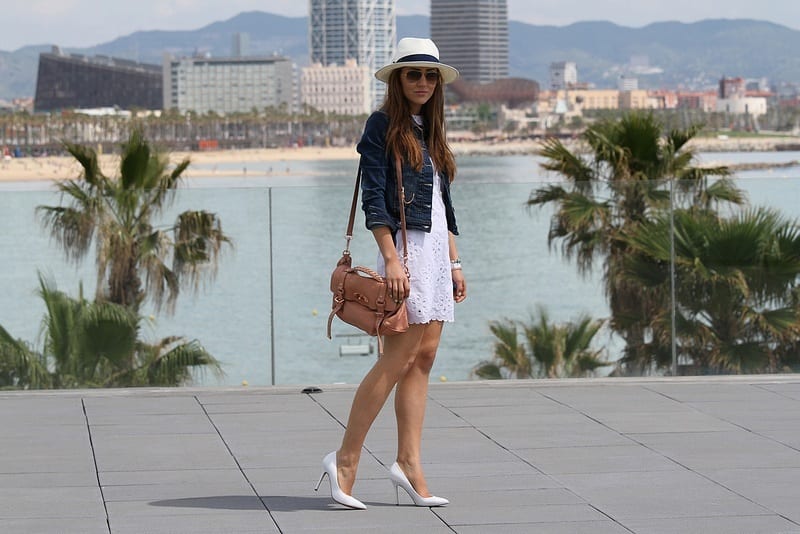 10 – Three Ways to Style Outfits with Denim Jacket
With one jacket, we bring your three ways to style it and look stunning while doing so. Add prints, textures, and the right colors to make your jacket stand out.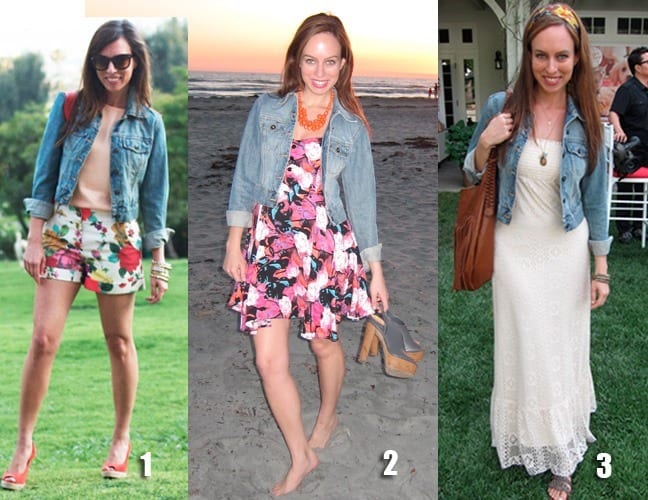 09 – Add a Plaid Scarf for the Perfect Fall/ Winter Look
Scarves are a wonderful way to make your outfit cozy, warm, and statement worthy. Go for black denim with this jacket and lace-up boots for an ultimate fall and winter look!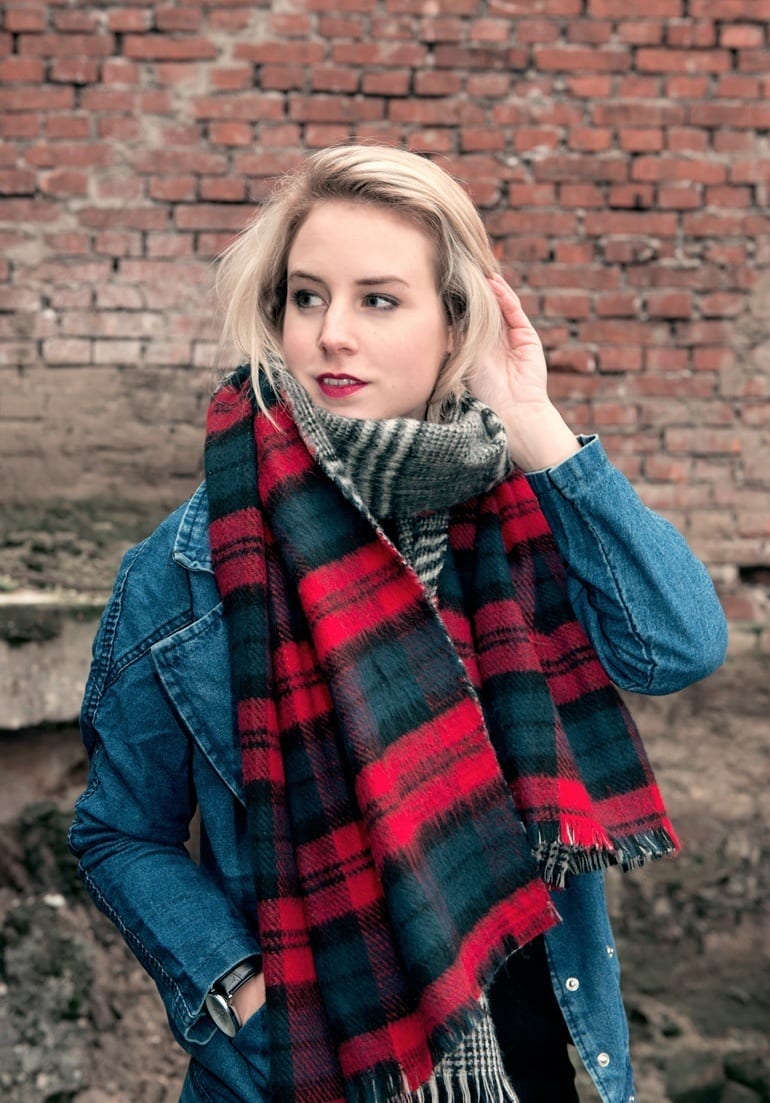 08 – Make Denim Look Flawless with Black
Add a belt to bring attention to your waist and heels to make this look formal. Pin your hair back and go for a red lip color to go bold, bright, and utterly beautiful! Or get more ideas from these Black Dress Makeup Ideas & Hairstyling Tips for Chic Look.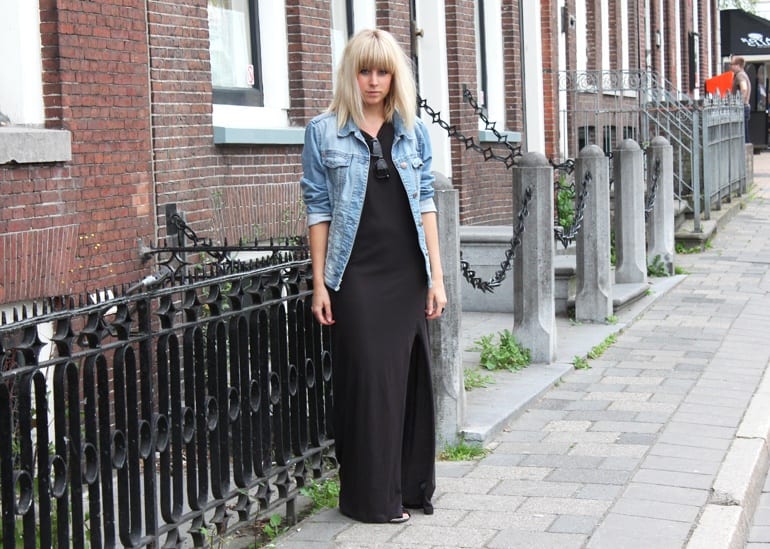 07 – Add a Little Sparkle to your Look with Bedazzled Denim Jacket!
An excellent way to uplift your outfit and make it more exciting is by opting for embellished jackets.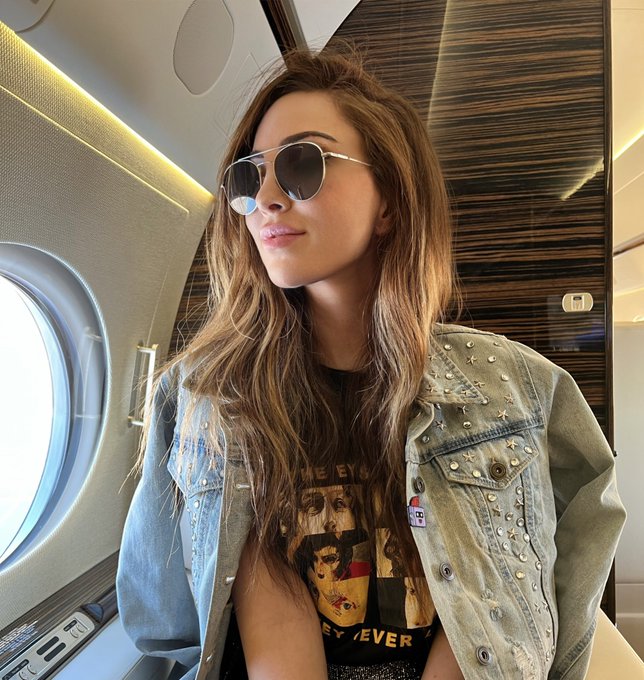 06 – Pair a Dark Outfit with Lighter Accessories
Playing around with different colors and shades is always a foolproof method of ensuring the best of outfits!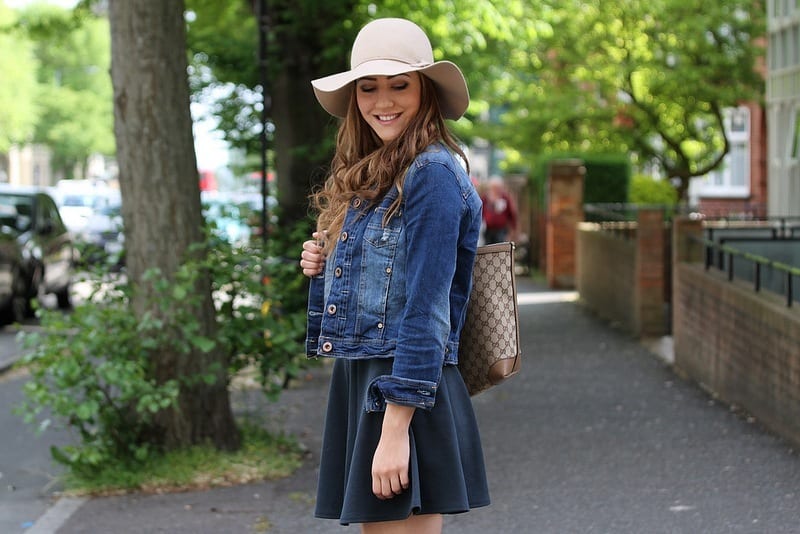 05 – How to Style Boating Outfits with Denim Jacket?
Rompers, playsuits, and dresses are the ideal outfits to wear with denim jackets. Style your clothes with sandals or flip-flops and a floppy hat for the ultimate vibe! Don't forget to lather on loads of sunscreen!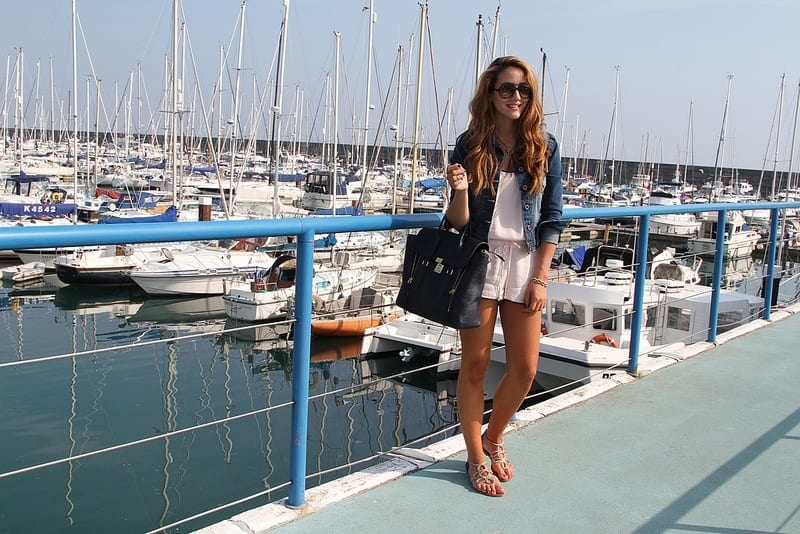 04 – Match the Blue of your Denim Jacket to your Pants
This outfit is ideal for university students or running errands around the town. You will be ensuring effort and hard work are being delivered in style!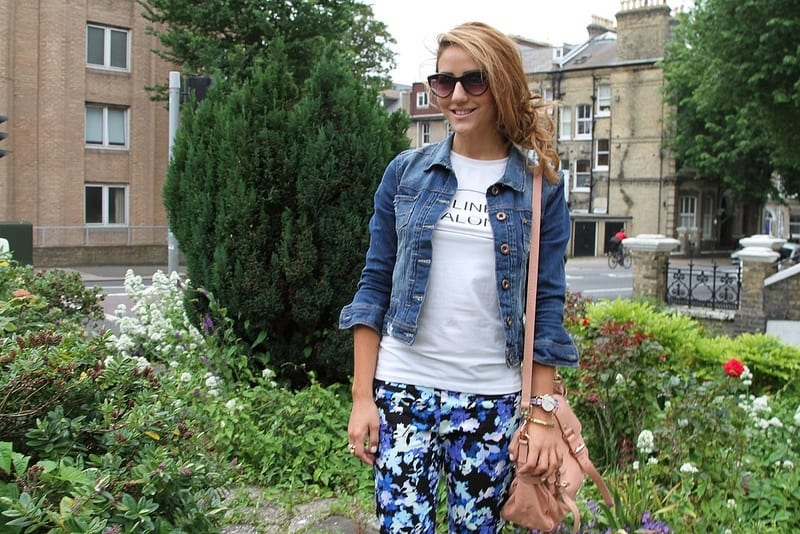 03 – Go for Statment Shoes with a Simple Dress
Add texture and depth to your outfit by choosing the right colors and incorporating prints into the look.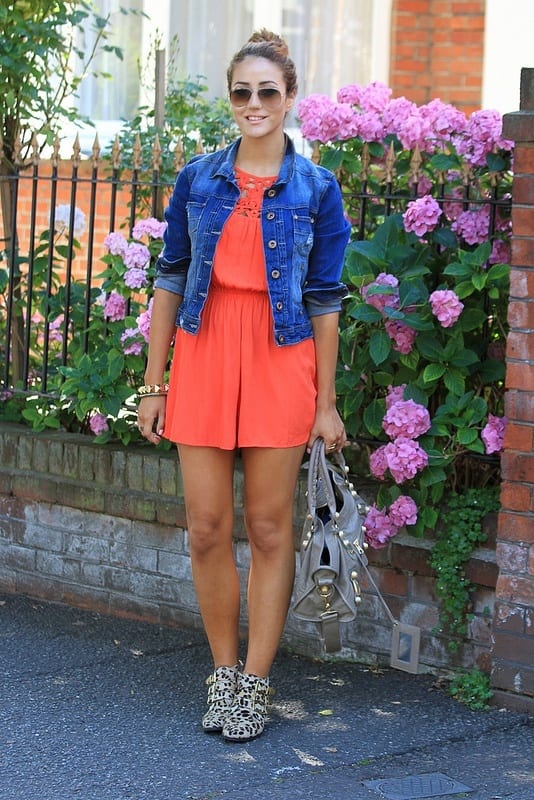 02 – Wear a Hoodie Under Your Denim Jacket
Wearing a hoodie beneath your jacket may give the illusion of wearing a hooded jacket, and we love the little hack! This look is perfect for winters, and the pop of blue pairs well with the entire outfit. Smokey eye make-up and hair let down complement the look beautifully!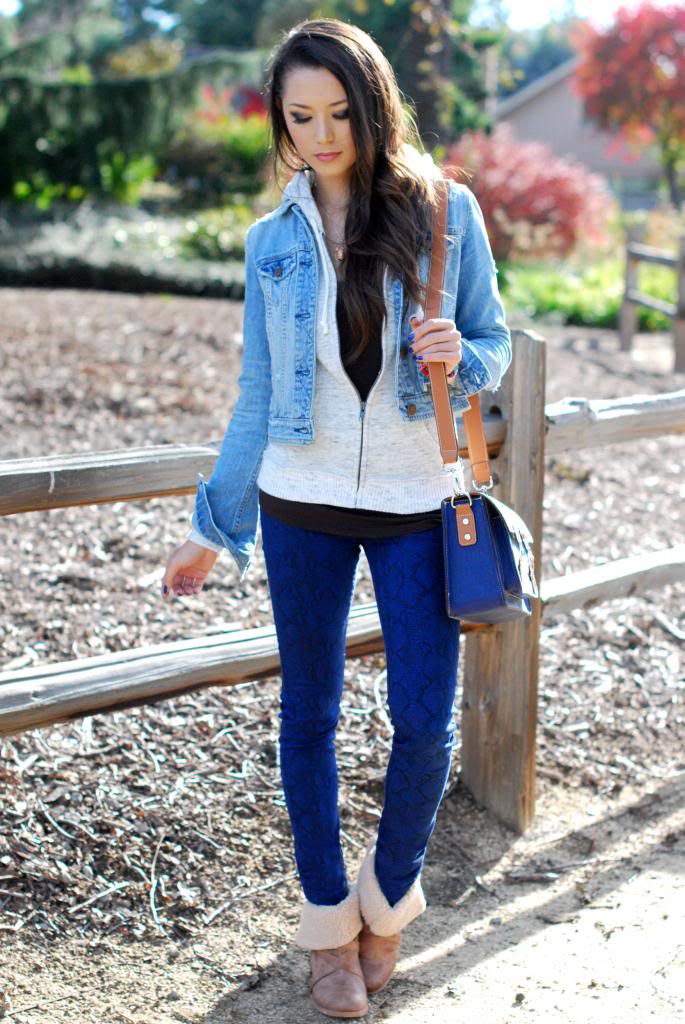 01 – Layer Denim Jacket with Trench Coats in Winters
Most people think that denim refers to the blue color. Well, they are wrong. Denim material is available in white, black, and other colors & prints. Go for a jacket tied up at the waist to accentuate your figure and layer it according to the weather outside!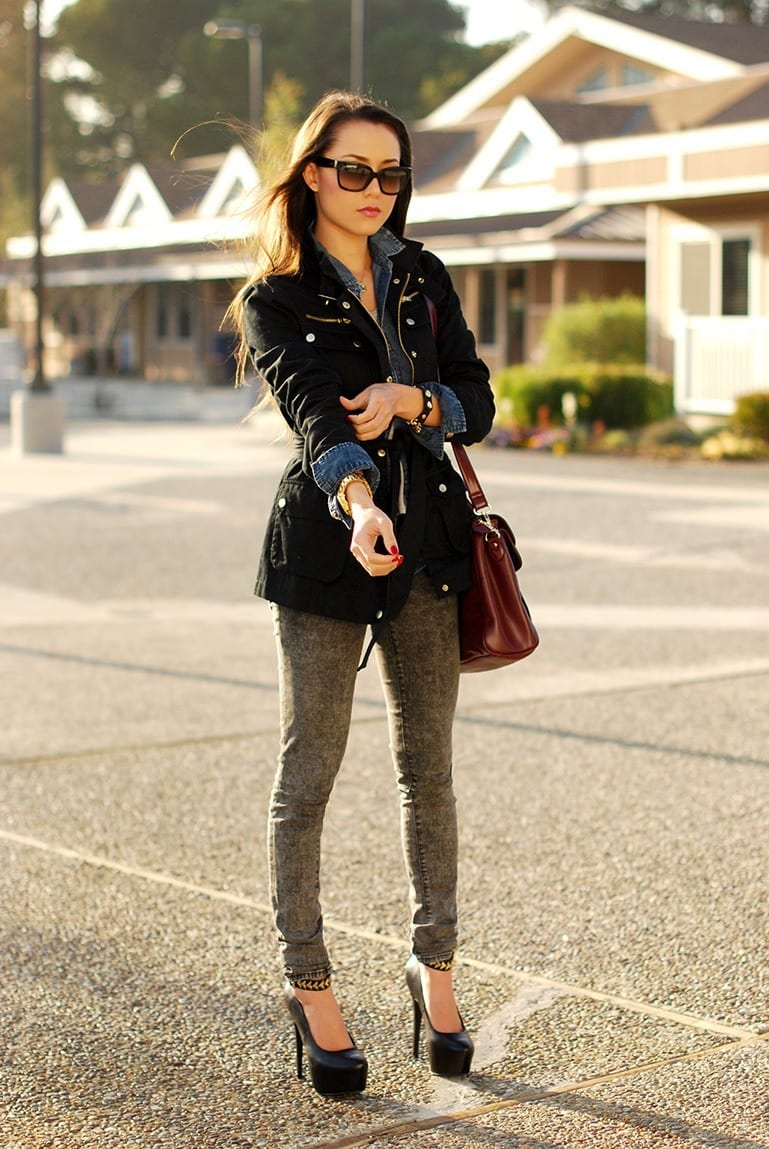 Buy the jacket below: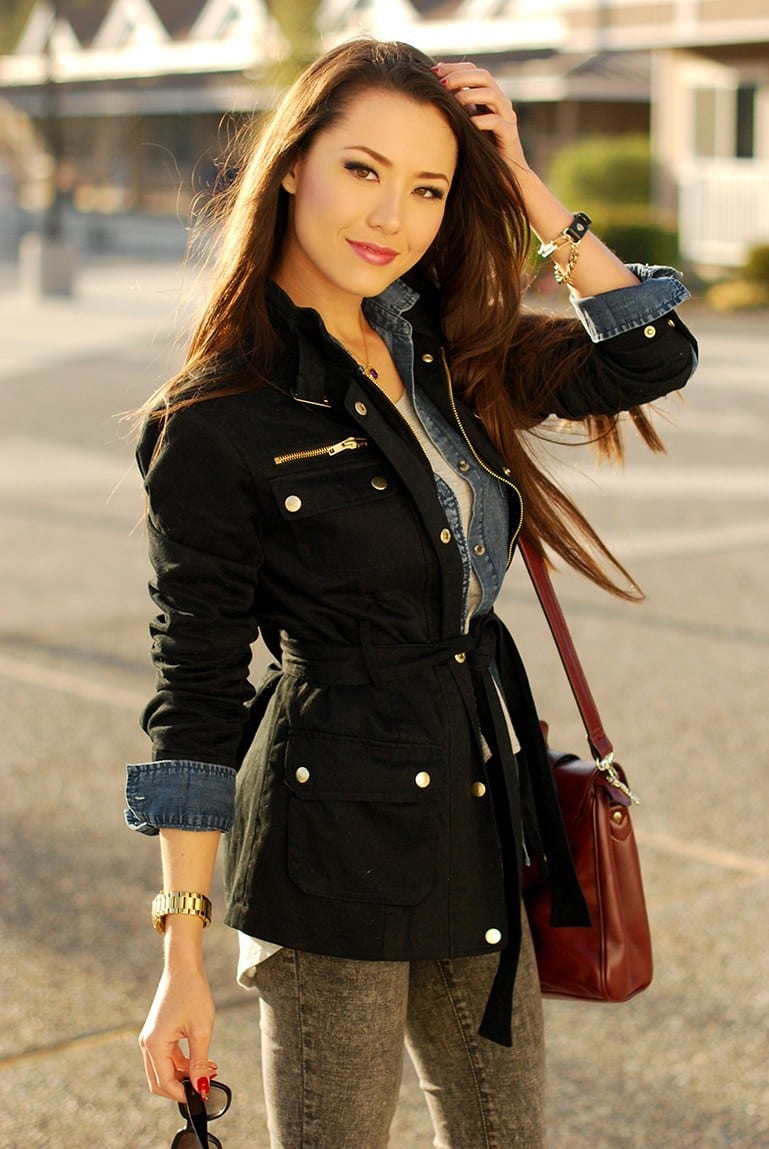 Frequently Asked Questions
Q. What can a teenage girl wear with a denim jacket?
A great way to style an outfit is to go for a crop top or bralette, paired with dad jeans and denim jackets. Let your hair loose and throw on a snapback for a trendy, street-style look. For footwear, you can either go for boots or sneakers. Both options will not fail you and will blend effortlessly with your outfit. Contrarily, a short crochet or lace dress wears well with a denim jacket and sneakers.
Q. Are denim jackets in style?
Very much so! Denim jackets are that timeless garment that never gets old. I would go as far as to say that they are indeed a wardrobe staple for everyone – men or women! There are countless ways to style this item of clothing, and remains a fashion statement to this day. Thus, it is safe to say that denim jackets are – and will remain in style for more years to come.
Q. What pants to wear with denim jackets for females?
All sorts of bottoms work exceptionally with denim jackets. People hesitate to wear denim on denim, but it is only one of the best ways to style an outfit. I find skinny jeans in black or blue pair nicely, along with shorts. Flared pants look chic with a cropped denim jacket, and joggers give off-street vibes. I would advise opting for leather pants or sequined midi skirts for a more daring look.
Q. Where can I buy denim jackets?
Brands such as Nordstrom, Mango, Zara, Levi's, and Madewell carry an exceptional range of denim jackets. Browse through the options to find the one that suits you best. Check out this draped denim jacket from Anthropologie!