Black Dress Makeup Ideas: Black is the queen of all colors. It makes everyone look gorgeous and it immediately draws attention to you wherever you go. When you wear all black, your options are limitless when it comes to creating the style you want to show off to the world. Take advantage of the versatility of black and use it to create many different outfits that fit your needs on any given day. Just be sure to match pieces accordingly to form looks that work together as a whole.
As wonderful as black is, many women are afraid to go for a full-on, all-black look. Taking the plunge for an all-black look is understandably intimidating. While no one wants to be ignored, turning heads in an all-black outfit is still a bit scary. Well, it's no more a problem cause we got you. Here at Outfit Trends, we have rounded up some makeup looks, showing you how you can rock the black outfit look. Be sure to let us know your favorite look in the comments below. Let's get started!
How to do Your Hair & Makeup With Black Outfits?
Party season is around the corner and this is the time to sport an all-black outfit. An all-black outfit looks extremely sexy and chic but may also look monotonous. So, you need to play with colors aptly otherwise the entire look can appear quite boring and sometimes even dark too. Read on to find out how to try the best makeup for black dresses for party prom, weddings, etc.
Skin: The skin should be thoroughly prepared before applying perfect makeup for a black dress. Cleaning the face with some tonic, apply moisturizer. Then you need to smooth the tone of the face, regardless of the type of makeup you've chosen.
Lips: In this case, for lip makeup, you should choose matte bright shades of red. Women with light skin can choose cooler shades, for example, plum. If you have tanned skin, it is better to use warm colors. Apply the lipstick with a special brush to distribute it evenly and without lumps.
Eyes: To do fast and simple but effective eye makeup, it is enough to use eyeliner and mascara. They must be black, as brown mascara is too pale, and the blue one will make them too colorful and frivolous. Eyelashes can be emphasized with black mascara applied in two layers. And for the perfectly styled look, you must check out these Outfit Ideas on How to Wear The Little Black Dress.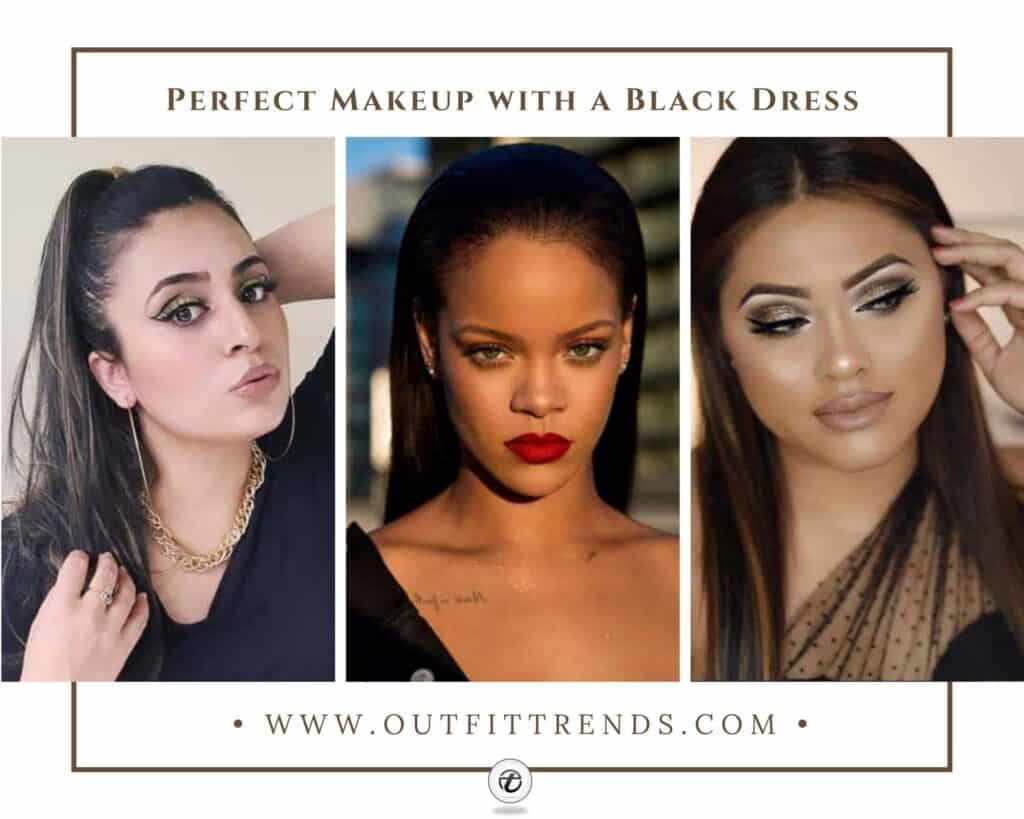 18 – Wedding Guest Look
Applying sheer, light shadow colors to the top and bottom eyelids can change things up in an instant and work as a great alternative to smoky eye looks when you're pressed for time or want to keep your look a bit more natural. Style your hair with these gorgeous waves and opt for subtle jewelry and you're good to go. Side parts and bountiful waves are favorites these days, and we can see why.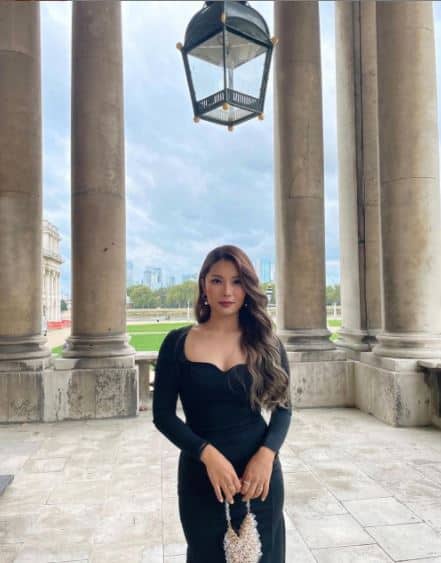 17 – Wing it
Create an abstract feel with your winged eyeliner by pairing it with pink nude lipstick when wearing a black dress, especially if you're someone who likes to keep the drama only on the eyes. Gleaming gold tones aren't only for golden hour, as the warm hues bring a delicate glow to the skin that works well with a black dress or any outfit. Be sure to trace out your wing on each eye before filling it in to ensure the shapes match.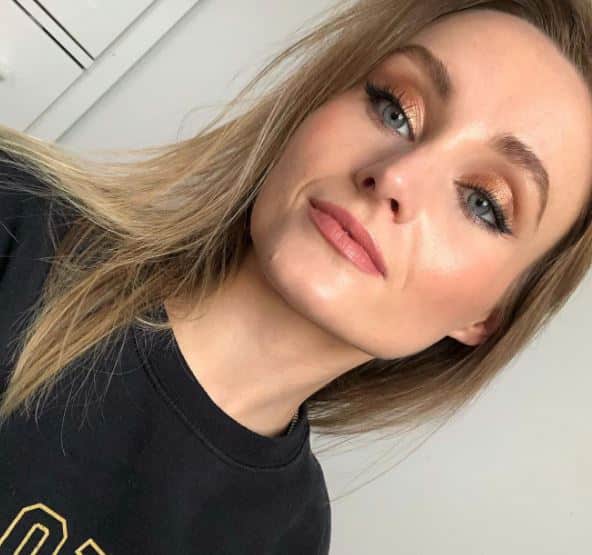 16 – Boss Girl
A structured eyeliner paired with natural, rose-colored lipstick is an easy look to try with a black dress. When creating this look yourself, be sure to use a long-lasting eyeliner that will stay in place without smudging to ensure you keep the shape intact. Here's an example of a simpler makeup look that features some strong lashes, bronzer, and highlights. For all the boss ladies out there! If you're looking for a confident and elegant office look then look nowhere else. Take a look.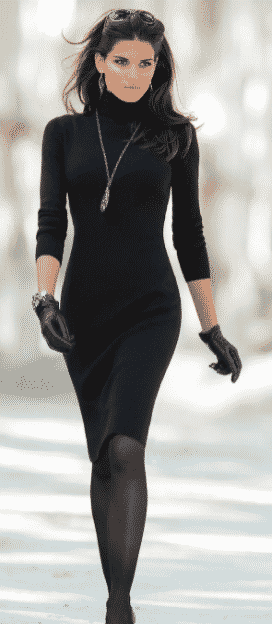 15 – Soft Petal Look
Soft petal pink applied as a monochromatic tone throughout this makeup idea gives a natural, fresh feel to the skin all while defining features. This is an easy way to put together a makeup look for wearing a black dress, as it enables you to create a beautiful color story. Wear your hair down in beachy waves as it is the most trendy hair look these days.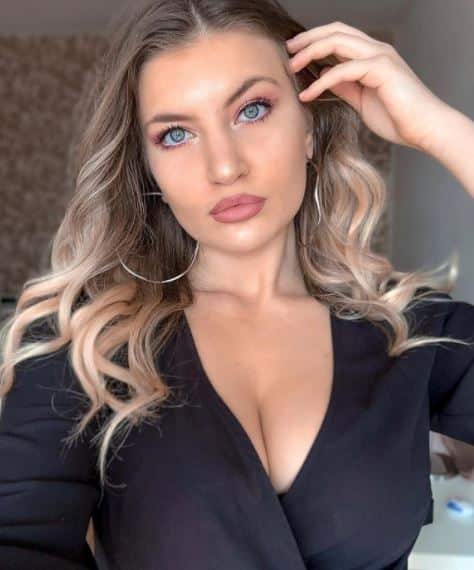 14 – Go Neutral
Neutral makeup is one that involves selecting neutral and earthy colors. A neutral makeup goes well with every dress color but with a black dress, it looks lovely and puts focus on your beautiful features and skin. Therefore, when trying earthy neutral makeup for a black dress, daytime is the best. As seen on Olivia Wilde. The bubbly ponytail helps keep hair manageable and under control. They make a statement without being high maintenance and can be dialed up or down depending on the circumstances.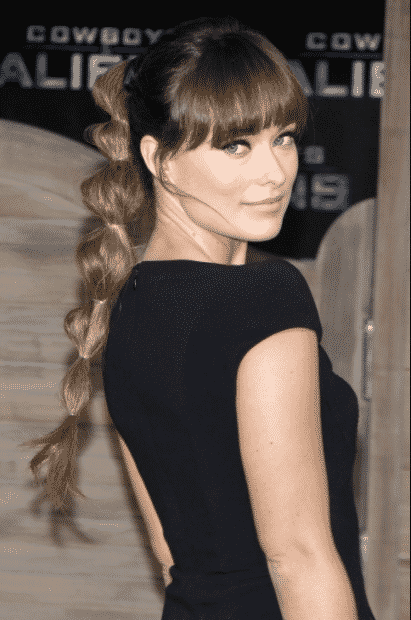 13 – Street Style
Black makes everything more elegant or classy. From the turtle neck to the stylish blazer to the chunky boots, here's how you can look super cute and edgy as well as super comfortable. Be sure to style your hair and do your makeup if you want to look polished and not frumpy. She has opted for a no-makeup makeup look and center-parted sleek hair.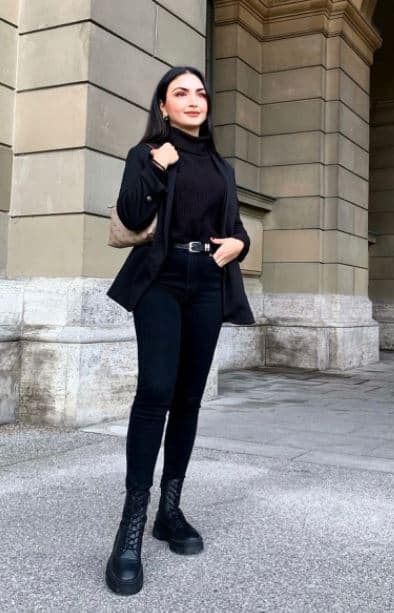 12 – Glam Look
If you want to create a glamorous look, gold eyeshadow, champagne highlighter, and nude lipstick will revamp your black dress. Shimmering shadow creates a striking contrast when paired with smoky eyeliner and lots of mascara. You can choose to wear this color alone or add definition in the crease by contouring with a deeper shade to bring out your features. To get a dramatic look like this one, make sure your hair is sleek and straight.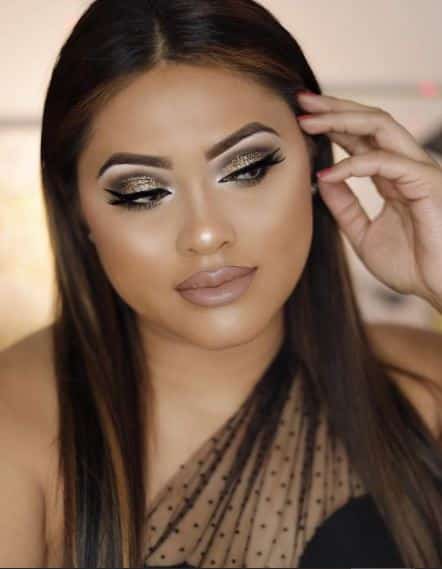 11 – Celebrity Style
This is by way the most sultry and sexy makeup idea that goes well with this gorgeous black outfit. She has soft eye makeup with gorgeous eyelashes popping . Her eye makeup with almost no lip color makes her look like a million-dollar here. You can try something like this when wearing a black sexy dress for a party or event.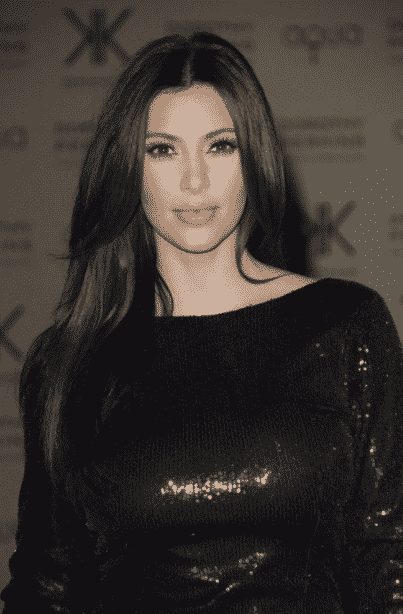 10 – Lunch Date
Black dress? Always a good idea. Add some drama to your makeup look by lining your bottom lash line. This technique allows for a more prominent definition, especially in the outer and inner corners. Finish with a few coats of your favorite mascara and a soft contour on the cheeks topped off with a highlighter and pink lips.
For special occasions like these, the shoes are as important as the makeup so do check out these ideas on What Shoes To Wear With A Black Dress.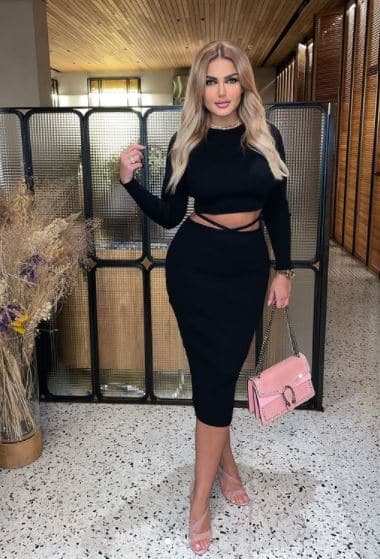 9 – Subtle Look
Show me that smile, the weekend is here! To create soft drama, try mixing a subtle pink eye with lips in a pale rose or pink nude shade. Go light on the liner with this one, and finish with a touch of mascara for a simple look that will stun alongside your black dress. Amy Adams is the dream in this look. She matched her earrings with the dress, and her hair is straightened with just a little bit of swish to it! From her lip gloss to her highlighted cheekbones, she enhances all her features in just the right kind of way.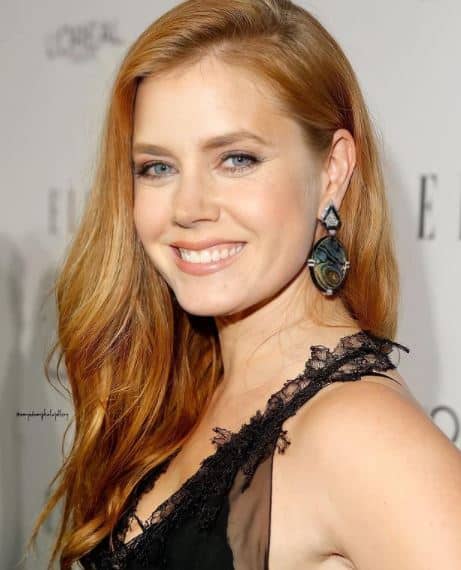 8 – A little Drama
Liquid liner, defined brows, and an accentuated crease help to bring definition to the eyes and add some drama to an otherwise natural makeup look. We tend to match our accessories and jewelry when dressing up, but don't think you'll get a flattering look when you apply the same rule on your makeup. If you want to add some pop of color to your black dress, you can go for metallic and jewel tones on your eyeshadow, but keep the rest muted. Throw some cool accessories for a more dramatic look.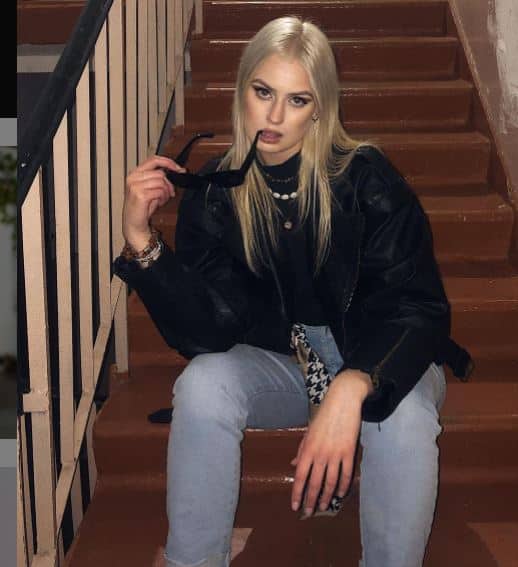 7 – Bold and Bright
Bold and bright lips paired with minimal eye makeup show that the smallest bit of color is a powerful tool that takes your look to the next level while wearing a black dress. These red lips seriously set the tone for all the right kinds of drama. The effect is super chic. You'll also note she went for filled-in brows, winged eyeliner, and some well-blended bronzer. The cowboy hat might be stealing the limelight here though.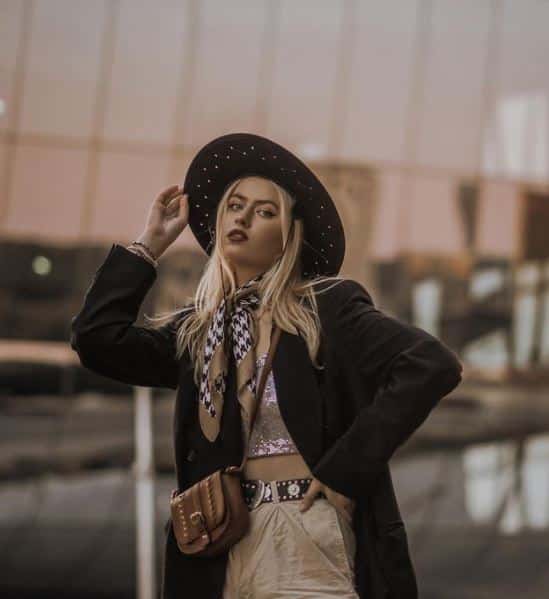 6 – Bad Girl Riri
Bold brows, smoldering eyes, and a classic bright red lip. This classic makeup look is a total win-win to pair with a black dress and the reasons why are endless. Make the eyes as dressy as you like the more dramatic, the better. Here's a classic Rihanna makeup look that really highlights her beautiful eyes.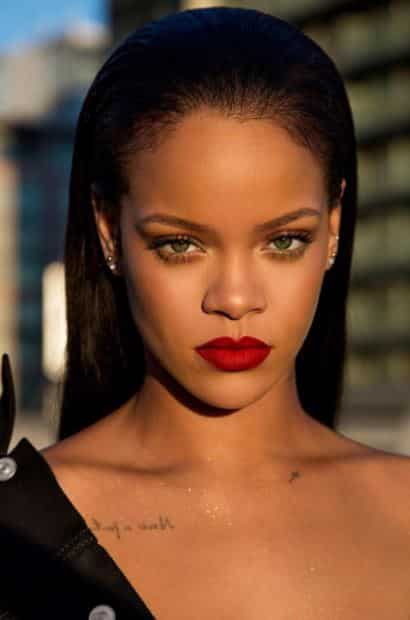 5 – Girls Night Out
Bright orange lipstick brings the heat when paired with a black dress, and is a chic alternative to true red or berry colors. Seeing as it's suitable for all year round, test a few orange-red shades to see which one is your favorite. Emphasizing eyes and lips while wearing a black dress brings balance and versatility to your makeup look, due to the fact you can choose any color palette you want. The options truly are endless. The soft orange eyeshadow colors on the eyes and lips here are an excellent example of how wearing color can elevate any look instantly.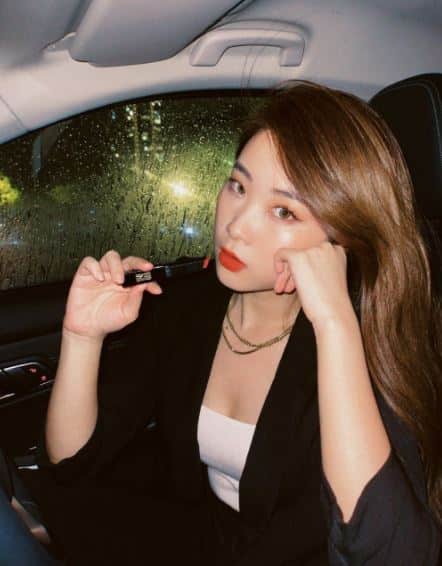 4 – Chic Black
While we can't see the up-close details of this makeup and hair look, the overall effect is really gorgeous. You can see this girl is wearing dark lips, and she went all out on her accessories as well. If you're someone who wants to keep it simple but also appreciates glam, this look is always a great choice to wear with a black dress. Wear your hair in a low loose bun and you're good to go.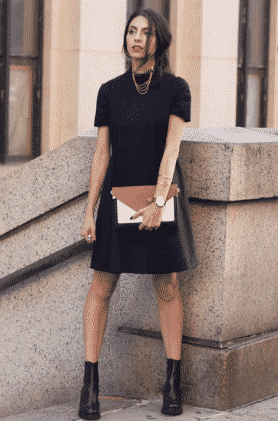 3 – Bold Brows
When you have good skin like hers, you can simply try a nude lip and soft minimal eye makeup. Bold brows add structure to a soft, natural makeup look. When wearing neutral colors, enhancing eyebrows, eyelashes, and cheekbones are all ways of defining features without wearing a lot of product. When you are heading for a daytime event, the makeup can be kept this simple. It will not just make you look pretty but will not be too dramatic. Finish off your look with a sleek high ponytail.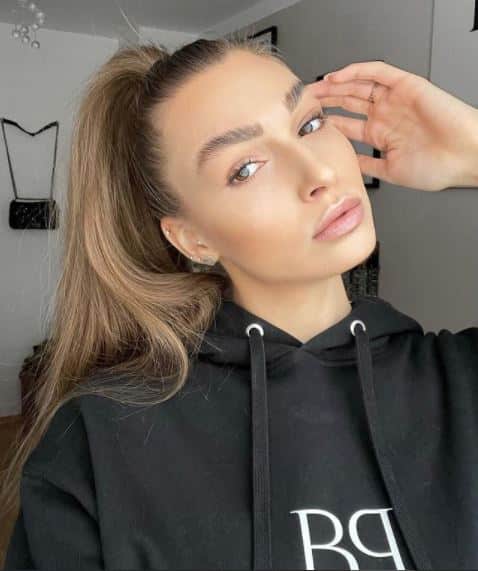 2 – Voluminous Curls
This voluminous curl style on her is a showstopper. If you have long hair but want to add volume while leaving out some of your own hair, go for a partial sew-in. Glossy, shiny lips and precise eyeshadow are a quick and easy way to put a makeup look together to wear with a black dress. She looks absolutely divine in this look. I'm in love!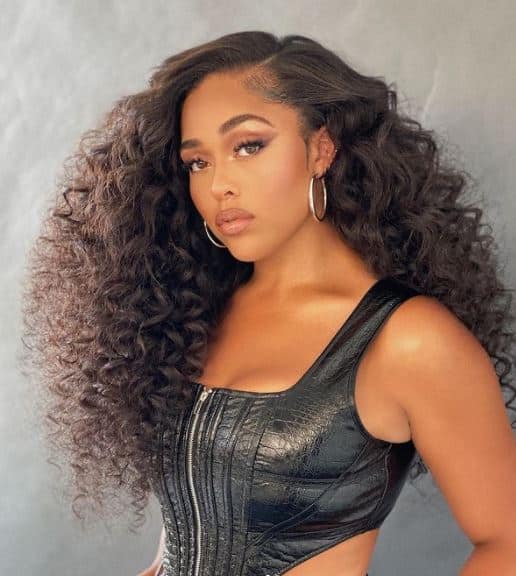 1 – Festive Look
A festive, detailed flick takes eye makeup a step further than everyday trends and looks amazing when worn with a black dress. Shaped brows and a shiny, glossy lip don't take away from the work of art on the eyes. She is wearing her hair in an Ariana Grande-inspired half ponytail. Half ponytail is coming back into fashion. It is one of the most versatile hairstyles because it works on any hair length or texture.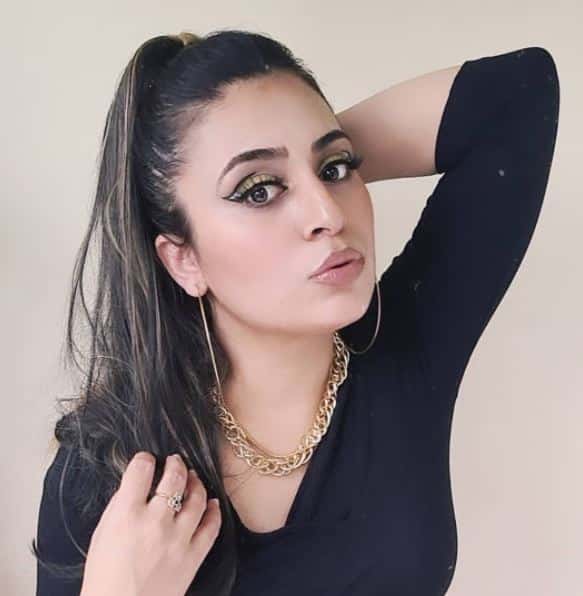 FREQUENTLY ASKED QUESTIONS
Q. How should I do my makeup when wearing a black and gold dress?
Gold smokey eye and black liner! Maybe red lipstick or go nude… avoid orangey tones on your lips though, it'll look trashy with the gold. You can never go wrong with a smokey eye and try to choose a gold that's close to what's on your dress that way it doesn't crash! Keep all your colors in the same-ish family but don't overdo it!
Q. Which color lipstick goes best with a black dress?
A black dress is an option that allows you to carry different lip shades. You can really experiment with your shades with a black dress. Nude shades always go well with black, but depending on the accessories you're wearing or the color of your shoes you can mix and match different shades that look best with your skin tone. Deep reds are always a classy fit with a black dress. Pinks and purple shades look very cool when worn with black jeans and a black top for a more casual look. And if you're going goth, black lipstick is the way to do it 😉
Q. What hairstyles look best with a black dress?
Cascading waves. Flaunt your strapless little black dress with gorgeous cascading waves and make heads turn wherever you go!
Elegant Side Bun
Textured Long Bob
Sleek Ponytail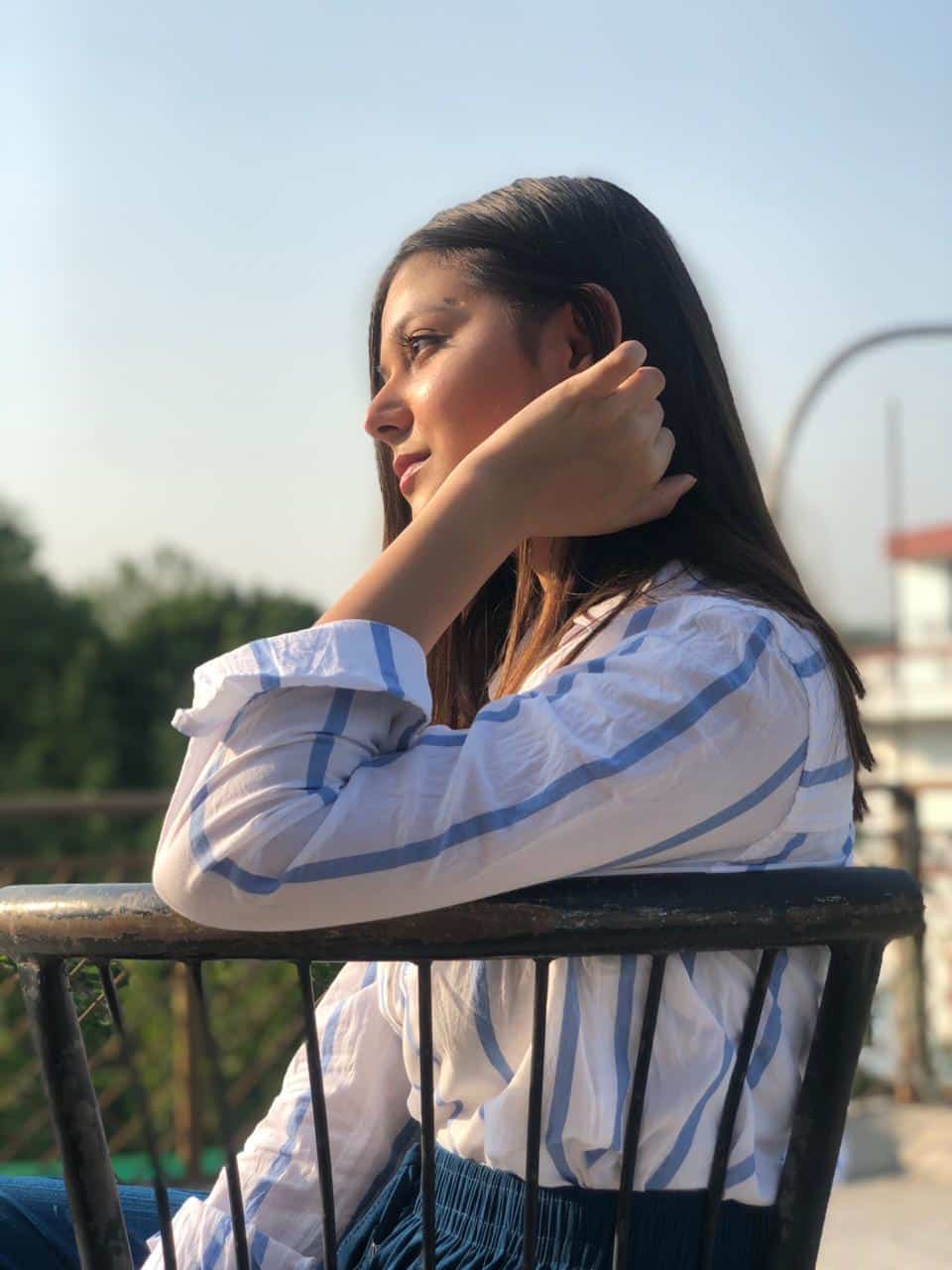 Maria is a 21 years old, skilled, and amazing writer. She loves to write and spread positivity through her eloquent writing. She believes that writing is an art through which one can narrate a complex idea, thinking, and project in an easy and simplified way. She is passionate about fashion, style, and beauty. She is here to write about styling tips, trends, and ways how to dress for various circumstances. Hope you gonna love her posts.