Black Denim Jacket Outfits for Women: Having a chic black denim jacket in your wardrobe is a must, that is due to many reasons such as; classic black denim can easily be paired up with any outfit and can be used for layering up, and guess what the best part is? There is always denim for everyone, either it's for men, women, kids, or teenagers. Denim of any sort is timeless, so never feel shying away from this denim, as even if the sun is not shining bright, they can still be worn easily. Surprisingly, all the denim especially black has now lasted for so many decades into the fashion, not one time it has been out of fashion.
Black denim doesn't mean it would a black uniform color; instead, even the shade of black comes in various shades making it an array of different colors. If any of you is looking for chic and classic black denim I will recommend you to go for strong black denim, making sure it has no type of wash to it. These types of denim are very easy to style, making it a part of your every outfit. In order to find yourself a perfect fit, there are a few factors that you can consider, such as what type of fit would you like to have? The black denim can come in various fits such as cropped denim, fitted denim, oversized denim, and fancy denim which will have something made or drawn on it.
The second factor to consider is the color, such as there is classic black denim, followed by washout denim, and so on. The last factor that you might need to consider before choosing is the style you would like to make with your black denim and the overall outfit that you have in mind. Girls, don't forget an important thing and brownie points for everyone who knew this before, the color black makes you look slim. Keeping this in mind if you wear a small size, go for a loose fit, and if you are bigger considering wearing tight black denim.
How to Wear Black Denim Jackets?
Since black is a color that is usually loved by all, how about we give it a look at how our chic, beautiful girls are styling the black denim with their outfits. We have a lot of inspirations such as bloggers, celebrity stylists, and all of our pretty ordinary girls.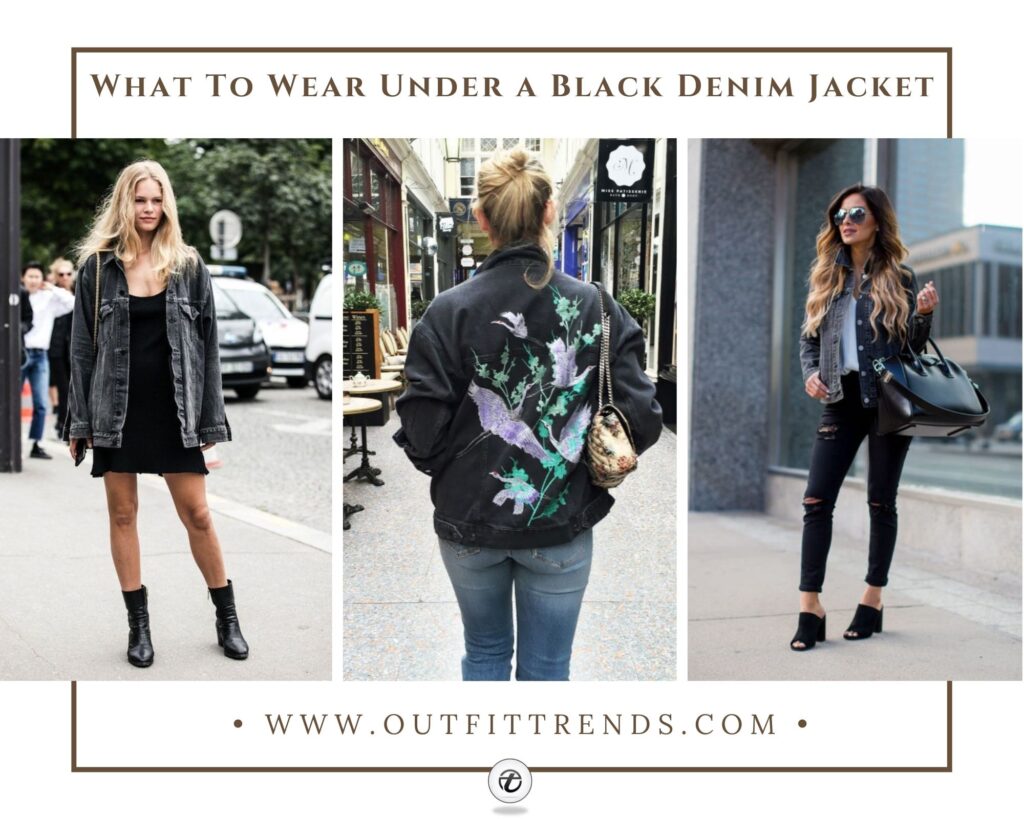 Where can you find black denim jackets for Women?
Since technology these days has eased up the lives of people in many ways but on the same hand it can become overwhelming as well; that is because if you are on the internet trying to search for good black denim so many options are going to pop up! Weird right? When you are trying to find one good piece and end up getting confused because of hundreds of options available to you. Well for that worry not as we have got you covered. Outfit trends have detailed out a few places from where you can find good black denim.
Amazon has a number of options to choose from, every denim jacket below gives a review as well which can ensure you about the quality. Amazon has got you covered, girls'.
Zara as always never lets a girl go sad, without finding a right fit for themselves, the same way Zara also has a huge variety of black denim.
Target. Want a denim tucker? A classic moto jacket? Hit target right away, It's impossible for the target to not have anything. Also, the target will be very useful for you if you are on a budget.
H&M. Trendy, oversized or fitted, choose your style and raid the stores of H&M, you will find a good variety of denim with quality.
Macy's. Here at Macy's, you will find your item on sale, which means buying yourself a jacket and saving money as well, isn't that what we all want, girls?
Boohoo. Not attracted to clothes quickly? Well then open boohoo and see their wide collection of jackets to pick your favorite one, trust me you won't regret this.
# 12 – Influencer Style – What to Wear with a Printed Denim Jacket
Printed or embroidered denim jackets can be tricky to style but some influencers make it look so easy with their effortless styling. Dawn from DressMePerfect proves this by styling her everyday jeans with a buttoned up black denim jacket and a messy top bun hairstyle. I especially love how she complemented the printed jacket with printed shoes for a modern day-time look.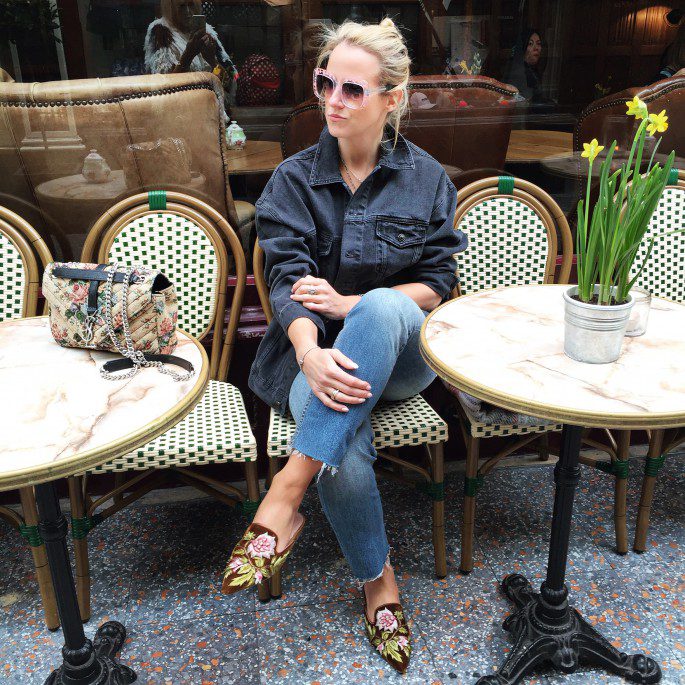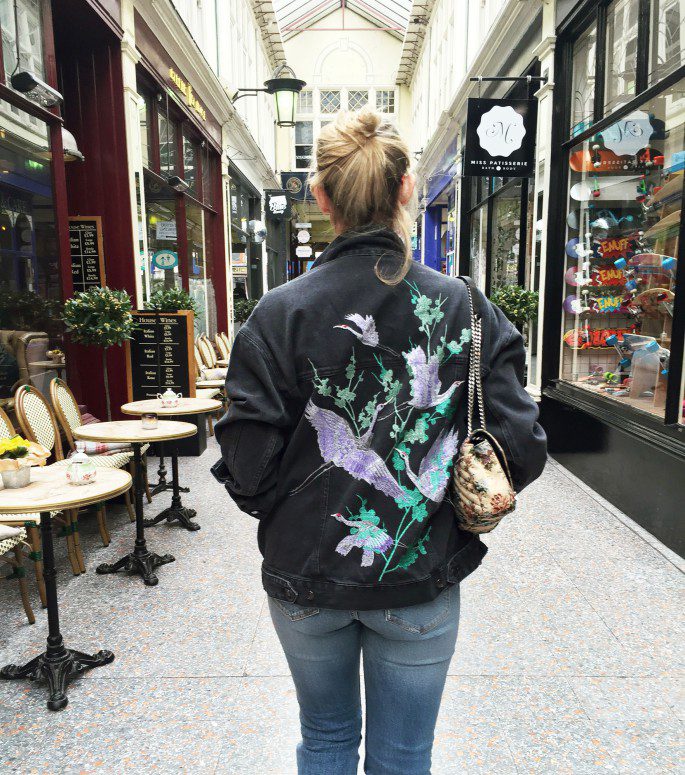 # 11 – What to Wear With a Long Black Denim Jacket?
Long denim jackets look best with shirt dresses and other long shirts such as tunics. Here are some more ideas on Unique Ways to Wear a Shirt Dress.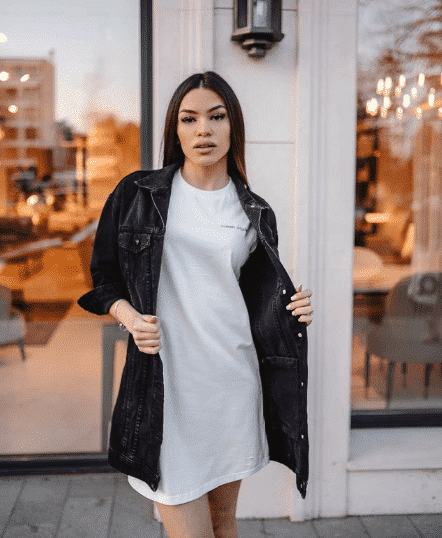 # 10 – Black on Black
A full black outfit can never go wrong, it will make you feel good because of all the compliments that might come your way because of this outfit. Here, we have a full black sweater, I'm sure everyone has a black sweater in their wardrobes already so creating this look for yourself won't be a problem!
Following a black sweater, pair it up with black ripped skinnies, a pair of leather boots, and our most important ingredient in this look which is our black denim. As comfy as this look might feel, it is going to give a tough vibe from you to all the people who see you, interesting isn't it? Having a tough look on while having some crazy fun with your girlfriends sounds like an interesting combo to me. Here are some more of our favorite Outfits with Black Jeans.
via
# 9 – Styling Oversized Denim Jackets
Is it cold outside? Do you have plans to go out? Feeling lazy? Don't worry, get up and put on this outfit which is super comfortable yet very modern. Get yourself leather pants, combine them with an oversize pullover grey hoodie and wear your black denim on top of it. Since it's cold and you want to stay warm, take out your best black boots to wear it with this outfit. Oh, wait! The outfit isn't complete yet, to make it a whole look, carry a cool and nice black bag with yourself. Liking this complete look, ladies? This look is inspired by Allaboutelisa.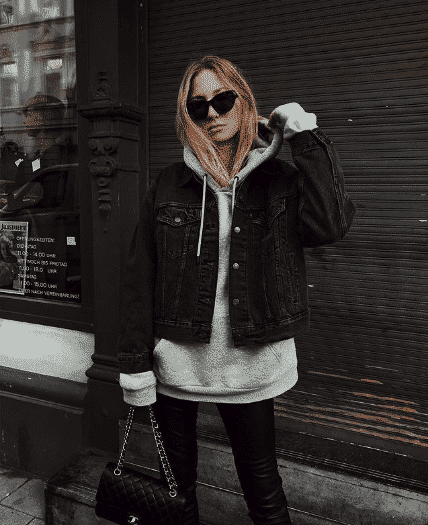 # 8 – Street Style
Anastasia Steele was spotted wearing black denim, she made the outfit look stylishly fashionable. Anastasia is surely giving us some major outfit inspiration here, I must say! Anastasia Steele effortlessly wore a simple short black dress with a cropped denim black jacket. She is also seen carrying a black long strap bag. Ladies, you can also wear a skin color stocking underneath your dress if you wish as it can add more elegance to this total outfit, thank you Anastasia Steele for this amazing outfit idea we are absolutely loving it!!
# 7 – With Mom Jeans
Every day cannot be a lucky day, where you take out some clothes, put it together and be satisfied with them. But it's completely okay because balance is the ley, ladies! Same way pulling off mom jeans can a full task, in order to rock your outfit, wear your mom jeans with a t-shirt preferably white, and put on oversized black denim on top to make it look good with the high-waisted mom jeans. Voila, your outfit is complete and you are good to go. For more ideas like these, check out our previous post on Outfits with Mom Jeans.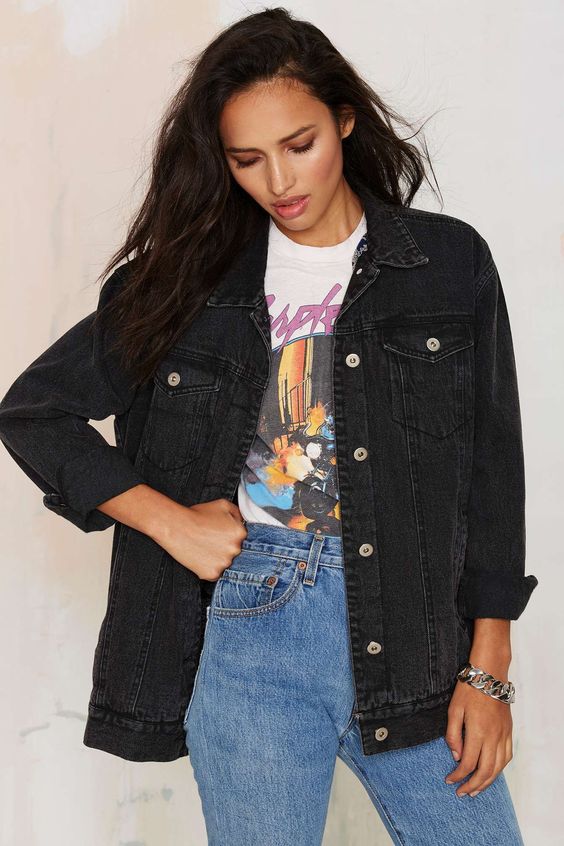 # 6 – With a Crop Top
A cute white, lacy crop top with light blue mini ripped skirt is going to make you look super-hot! A strap less white mini crop top paired up with oversized black denim and a pair of black ankle boots will make you ready to go to a part and grab all the attention to yourself. To make it look classier, add up on a mini silver pendant, this will give it a complete look. If you want to add more to your outfit then grab a pair of funky sunglasses and put on your rock on roll, girl!
# 5 – Casual Look
All my curvy ladies, it's time to flaunt your curves. I mean who doesn't like curves. A casual outfit can easily be made by grabbing your high waisted black skinny jeans, a plain white round shaped t- shirt which will be tucked in and finally short black denim and don't forget to wear those black and white sneakers, don't let its trend die.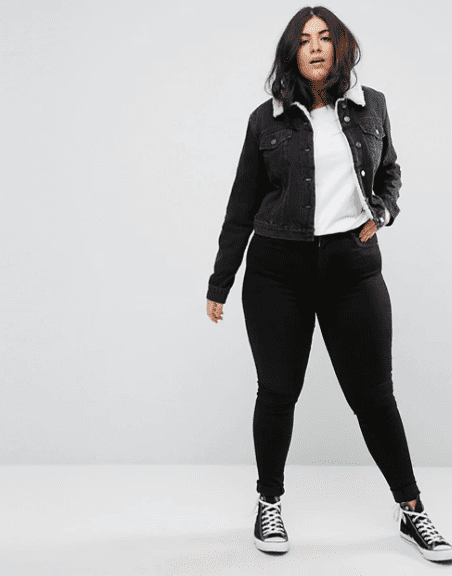 # 4 – Cropped Black Denim Jacket With Bell Bottoms
Another way to style your black denim is by wearing black plain bell bottoms with a plain black crop top and of course wearing black denim on top of your outfit. If you want to make it look chicer, hop on to your scissor sandals to make it a whole look. This is the perfect combination for girls who wish to appear taller as the cropped jacket and bell-bottoms work together to create an elongated look.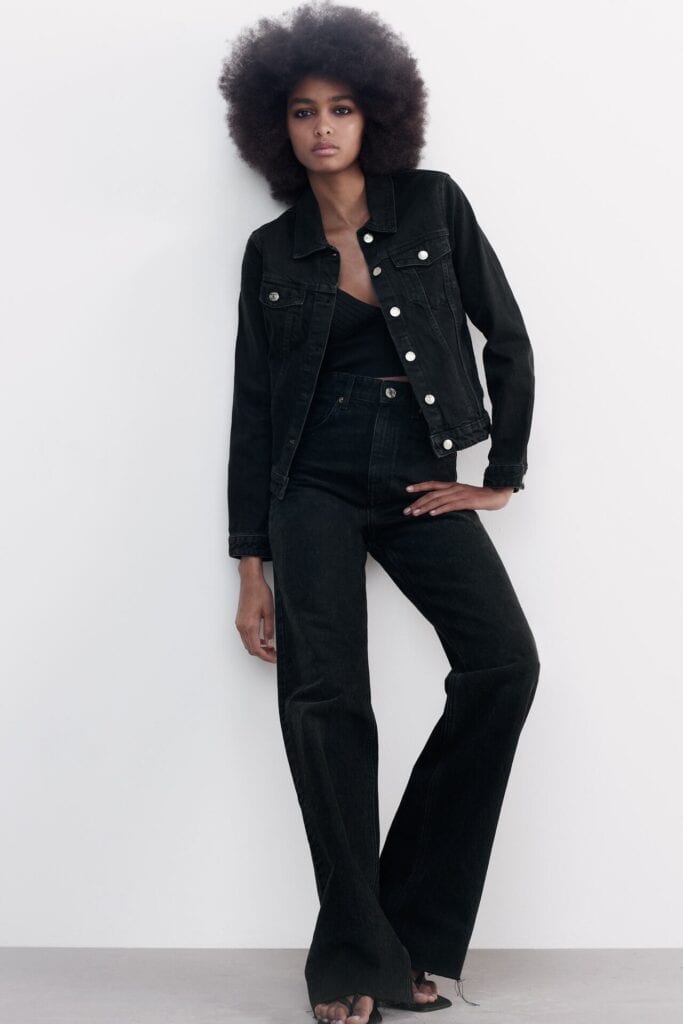 # 3 – Celebrity Style: Rock it like Gigi Hadid
Is there any basketball and fashion fan out there? Because the Air Jordan brand connect them both. His brand speaks out black and red and this is what gives us great outfit inspo, thank you Jordan. Wear a simple red hoodie with a black denim jacket along with black crop jeans and leather ankle boots in order to look smart.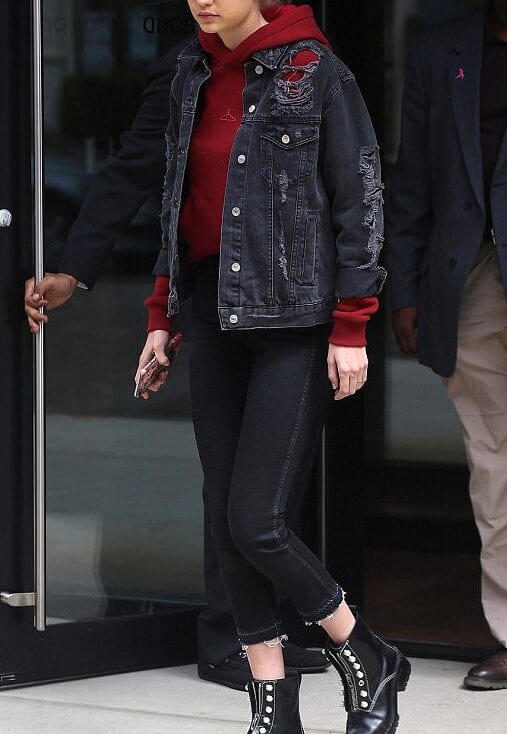 # 2 – With Printed Jogger Pants
Jogger pants have been trending a lot lately and we totally love this combination of printed pants with a black denim jacket. The best thing is that you can literally choose a top in any color of your choice with this look. Here are some more ways to Style Joggers for Women.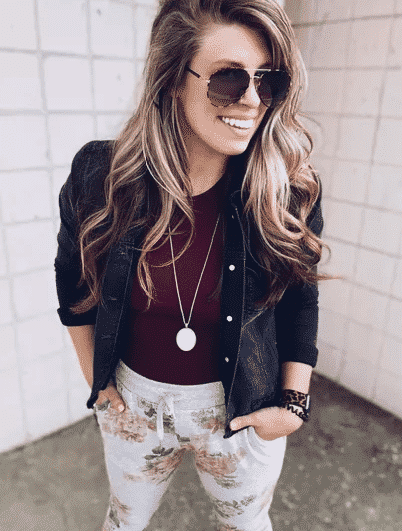 # 1 – What Colors to Wear with Black Jacket?
We've already discussed a number of combinations above but our ultimate favorite for the season is the combination of light blue outfits with black denim jeans.
Here's one example: High heel boots, light blue ripped jeans, a white plain shirt, and black denim with your hair let down will give you a cute casual outfit, where you can enjoy your evenings with your friends or maybe even to a party.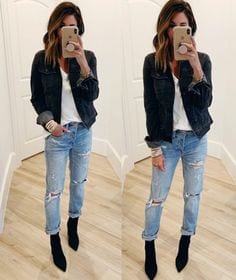 Another great combination for daytime is to wear a Yellow dress with a black denim jacket – this is such a vibrant combination that it instantly catches the eye, making it perfect for days when you want to make a lasting impression on someone.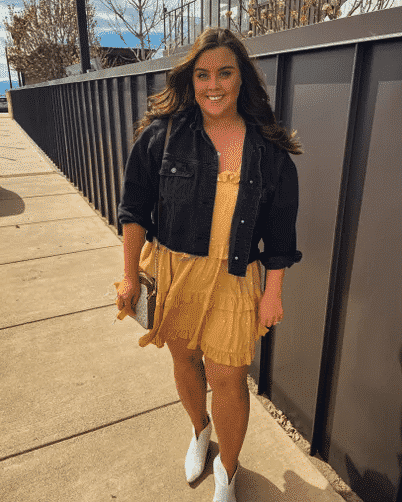 You can buy a similar dress here for $35.89 and here for $27.99.
And last but not the least, we have the very refreshing combination of black jacket with Lilac outfit that's the most fabulous evening wear combination ever.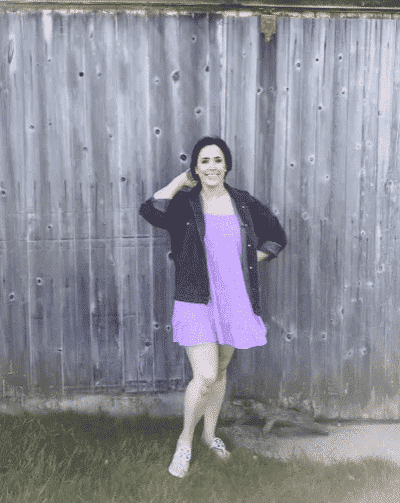 Frequently Asked Questions
Q. How to wear black denim in summer?
A. A few ways to style black denim in summers:
Denim with dresses. These two options can never go wrong, take a long or short dress which can be either floral, plain, or full of patterns. Anything will do, it depends upon your choice whatever you feel suits you the most.
Black denim with skirts, wearing a lightweight skirt such as mini, maxi, or a maxi can be worn for both; evenings and the daytime giving you a cute casual look.
Denim on denim outfits can never go wrong, so give it a try. All black denim on denim outfits have also been discussed above, so don't forget to shed a light on them.
Black denim with jumpsuits and rompers, as cute as it can get.
Q. Can a black denim jacket be a misstep in the whole outfit?             
A. Ladies, it is very easy to make one of your denim jacket outfits look like a misstep, but the key to ensuring that nothing of this sort happens is by not dressing up too much or down too far because the wrong kind of black denim can ruin your whole look immediately. In order to ease you up, we have detailed out ten full outfits above which you can give a look to take some ideas from. Cheers!
Q. What is a black denim jacket?
A. Despite it being any season, such as summers, winter, autumn, or spring black denim is an essential wardrobe and is a must. However, if we talk about fall nothing else comes to my mind except black denim as it can either be worn itself or can even layer up with something else. It helps in giving an outfit a complete look and makes it versatile. How about you try pairing up your black denim with the ten complete outfits ideas that we have mentioned above? I'm sure you won't be disappointed.
Q. Are denim jackets for older women as well?
A. When it comes to different generations and clothing, there is a huge generation gap between the women who are forty and fifty as compared to the ones who are younger. This is mainly because of how rapidly fashion is changing these days. However, there is no gap which cant be filled, the same way this generation and fashion gap can also be filled by some of the iconic pieces which helps all of us bring on the same page which obviously you might have guessed until now, which is a good old classy denim.