Karaoke Night Outfits – If you're anything like me, then karaoke is your go-to activity when you want to unwind and have some fun with your friends. Karaoke nights are super fun, singing your heart out especially when everyone is equally bad at it, sounds perfect.
That's why it's extra important to look cute; have to make up for the terrible singing am I right? Whether you're out on the weekend or it's a karaoke night-themed birthday or even if it's a date with someone you like, we have the perfect outfits for you to take everyone's breath away!
Outfits To Wear For Karaoke Night
Karaoke nights are some of the most fun and memorable nights of the year and to pair with those memorable nights, there must be memorable outfits.
Its outfits can range from something that's a little more casual and comfortable like a pullover sweater with some cute mom jeans or they can be semi-formal like shimmery dresses with some sexy stilettos depending on the occasion.
We've curated 20 Karaoke Fashion tips to help you command the stage!
Do's And Don'ts For A Karaoke Party
Don't Be Afraid To Be Bold. Karaoke night is supposed to be fun and make you feel powerful. This should be reflected in your outfits as well. Wear some bold colors, maybe try some neon pants outfit ideas, and do a thematic dress-up.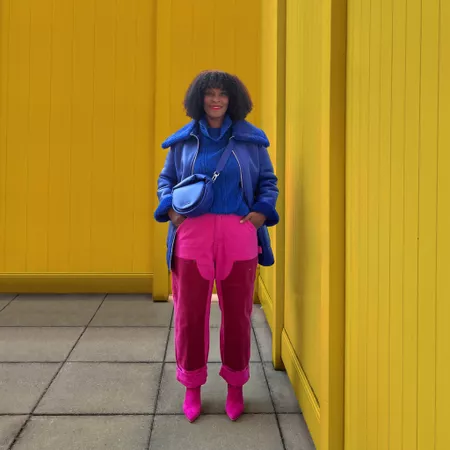 Wear Comfortable Shoes. This is super important because there will be a lot of moving around and singing your lungs out so you must wear something that you can do all that in, or you can always take off your shoes.
Remember To Keep A Jacket. As the night progresses and all the energy fades away, you will start feeling more chilly so it's important to take a jacket with you just in case. We don't want you to be catching a cold!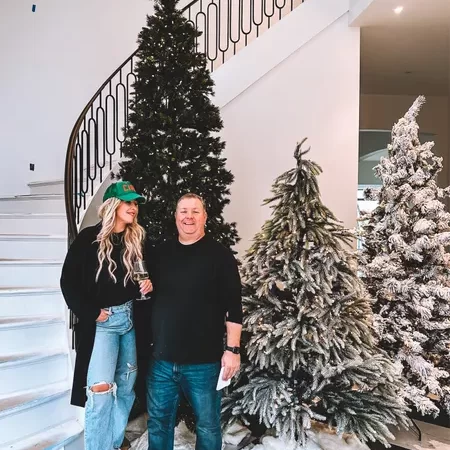 Avoid Fitted Outfits. We know you want to look extra but if you're feeling super restricted, it will prevent you from fully screaming the lyrics to your favorite Taylor Swift songs & none of us want to miss out on that opportunity so avoid overly fitted clothing.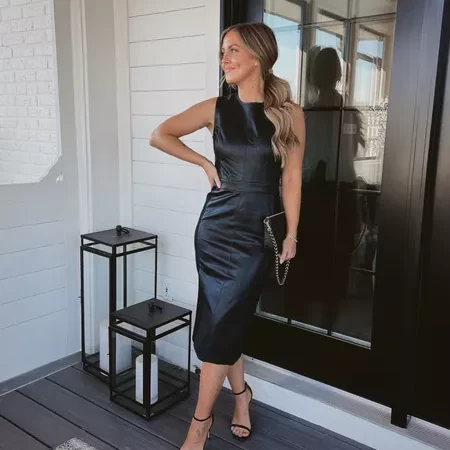 20 – Shimmery V-Neck Jumpsuit With Pleated Half-Sleeves
Go full out wearing this stunning look that showcases a bedazzled black jumpsuit. This jumpsuit has long wide legs and a waistband in the center.
The ruffled pleated half-sleeves added with the deep v-neck further give the jumpsuit dimension. Pair this with some cute silver jewelry like a pendant, some rings, and a petite bracelet. Grab your black clutch, wear some black boots and you're all set.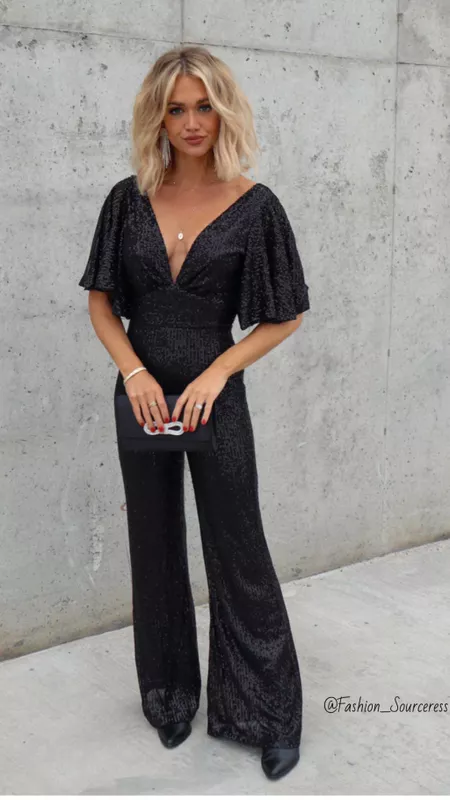 19 – Red Crop Top With Printed High-Waisted Fleece Pants
This look is not only funky but has an explosion of color, exactly what you need to slay your night out! It highlights a red crop top with cuffed sleeves paired with high-waisted black and white patterned fleece pants with a white undershirt.
Match this outfit with some black pumps, white socks, a pink purse, and a dark lip color to look extra sexy.
18 – Layered Off-Shoulder White Floral Dress With Cowboy Hat
This look features a layered off-shoulder white dress with flowers embroidered all over it. The dress has a belt that can be tied at the front.
Pair it with some square-toed sandals, a cute cowboy hat, a side bag, some vintage shades, and cute gold hoops.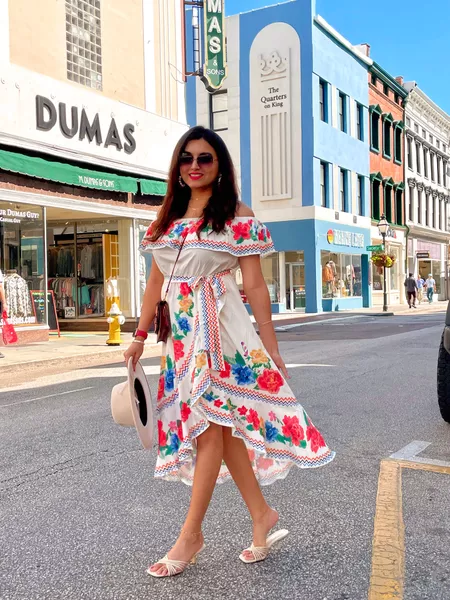 17 – White Button Down Shirt With High-Waisted Black Pants
Don't worry if you're not here to look for something adventurous because this look is simple but extremely hot. It features a plain white button-down tucked into some high-waisted black denim jeans.
Add in a gold chained petite belt, a cute pair of square-toed black flats, and some matching gold jewelry. Don't forget to leave the top buttons open to leave everyone gasping for more air!
16 – Yellow Pullover Knitted Sweater With Yellow Belted Pants
Need a splash of color in your karaoke night outfit? Well, we've got a whole bucket! This outfit showcases a yellow matching knitted sweater that has a V pattern across it, paired with a high-waisted straight-cut pleated yellow pant that is belted on top.
To accessorize the outfit, grab a black handbag, throw on some brown heels (or some sneakers if you want to belt to Justin Bieber) and your outfit is all complete.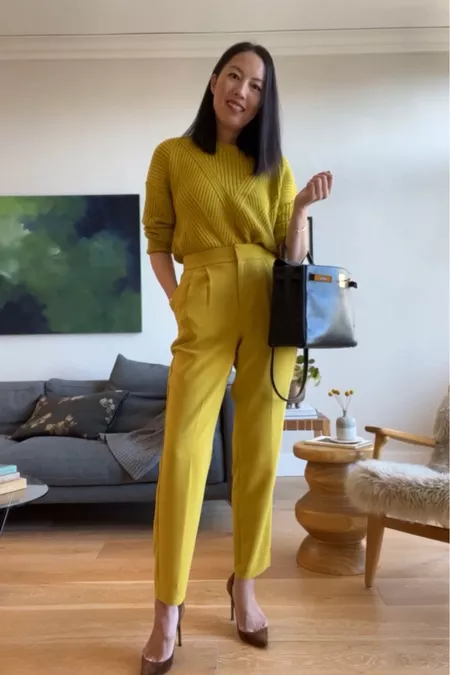 15 – Sheer Top With Black Bralette And Faux Leather Pants
This outfit will make you look stunning and will allow you to take some very aesthetic and Instagrammable karaoke night pictures as well. It highlights an off-shoulder black bralette with a sheer sparkly overlay top with a mock neck.
This overlay is tucked into some black high-waisted leather pants and paired with black booties. To bring the look full circle add a black chained bag and a brown watch to the outfit.
14 – Dark Green Knee-High Dress With Brown Waist Belt
In search of a dress for your night to de-stress? This may be right what you needed. This outfit has a beautiful palm green colored mini dress going up to the knees. It has mesh three-quarter sleeves of the same color with a brown buckle belt going across the waist to improve the fitting.
Pair this dress with some skin-colored flat sandals that are lined with pearls and wear a gold chain bracelet to bring the entire look together.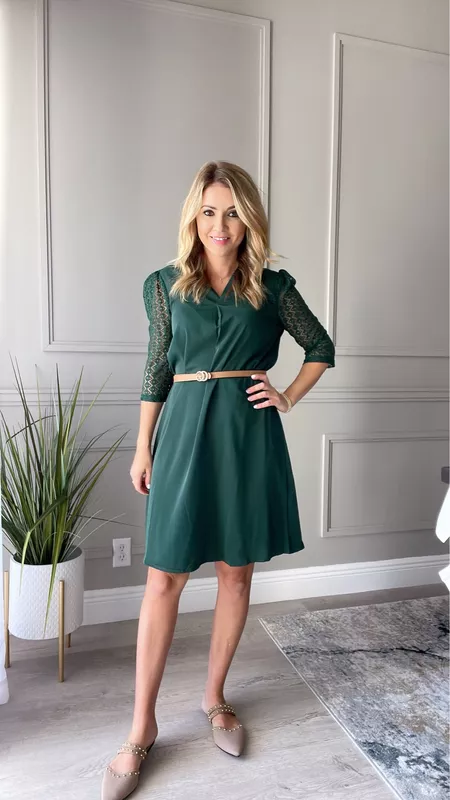 13 – White Bodysuit With Cream Blazer And High-Waisted Black Pants
This outfit might be simple, but it is definitely still very gorgeous. It shows an off-white blazer draped on top of a white U-neck bodysuit that is tucked into navy blue high-waisted loose-fit pleated pants which have an elastic waistband.
Pair the outfit with some white loafers with a gold broch on top.
12 – Mini Strapless Black Dress With Sheer Over-Layer
Karaoke night should be done in style and this look definitely pays heed to that saying. Look absolutely glam in this outfit featuring a spaghetti-sleeved mini black dress that has pleats at the bottom and a square-cut neck.
Put on a sheer shiny overlayer that has loose flowy half-sleeves and add a splash of color with a pastel green purse and matching pastel green heels.
11 – White Turtle Neck Knitted Sweater With Brown Heeled Boots
Winter season is here and we want you to stay warm throughout the night so this look highlights a knitted white turtle neck dress that has long oversized cuffed sleeves.
This cozy and warm dress can be paired with some long brown knee-high block-heeled boots and some cute dangling rustic bronze earrings to match it. Be sure to add in some additional rings to look extra cute.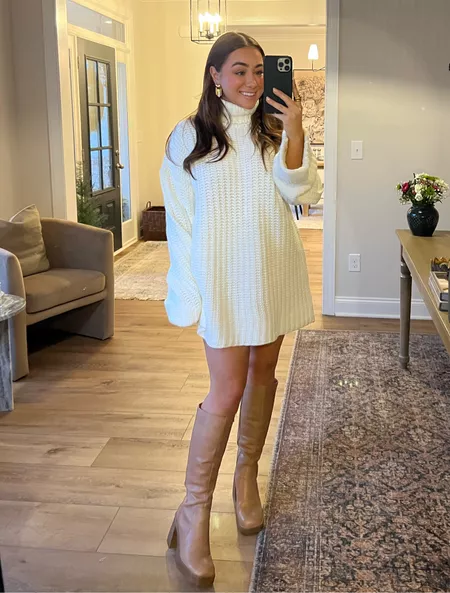 10 – Green Co-ord Set With Cream Square-Cut Bralette
Your karaoke night outfit needs this gorgeous green color to make it even more special! This outfit showcases a cute green co-ord set with a loose-fit green skirt with lines running down it and an elastic waistband.
Paired with it is a green button-down with rolled-up sleeves and a collared neck. Add a cute cream square-cut bralette below to make the look stand out. Additionally, throw on some brown heels, and tada, the outfit is complete.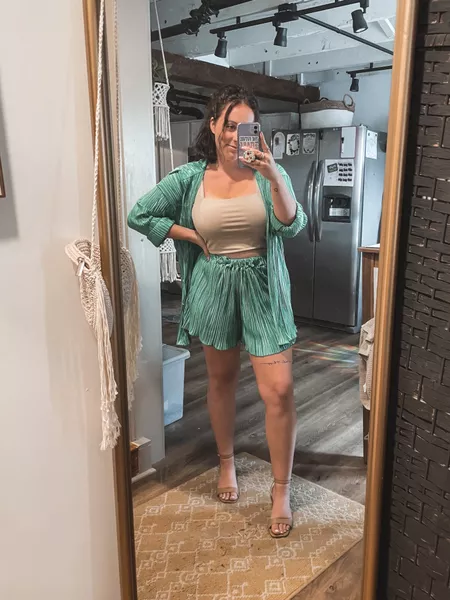 9 – White Crop Top With Pastel Pink Cardigan And White Wide-Legged Leggings
This trendy look highlights some cozy and neutral-colored pieces with a white off-shoulder corset-style crop top and a baby pink buttoned cardigan with rolled sleeves.
Add in some wide-legged white high-waisted stretchable leggings, brown suede boots, and a gold rope chain to add some more spice to the look.
8 – Seamless Embroided White Top With Side Slit Black Denim Jeans
If you've seen Emily In Paris, this look might excite you just as much as it excites me. Featuring a seamless embroidered off-shoulder white top with bell-shaped arms matched with some black denim jeans with a side slit at the bottom.
To make the look come full circle, add chunky white heels, a textured black purse, and a cute beret hat on top.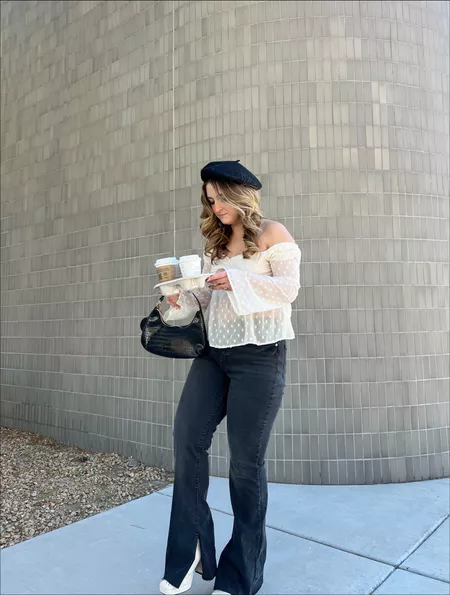 7 – Cream Waistcoat With Cream Pleated Trousers And A Brown Belt
Cream-colored clothes not only look super cute but they can also be used as a blank canvas. This outfit highlights a cream sleeveless waistcoat with a basic plain white tee underneath tucked in.
To pair with the waistcoat, there is a cream pleated trouser with a brown buckled belt going across it. Add in some cream-colored sneakers, a black shoulder bag, and a mini gold pendant.
6 – Black Denim Jumpsuit With Center Zip And Black Chunky Boats
Do we want to embody Taylor Swift's "Look what you made me do" on our karaoke night? Yes, we do! This look is exactly that featuring a black denim jumpsuit with two side pockets and rolled-up sleeves.
The jumpsuit has a center zip and a baggy finish. To complete the look add in chunky black combat boots, a small gold bracelet, and a pastel green cap.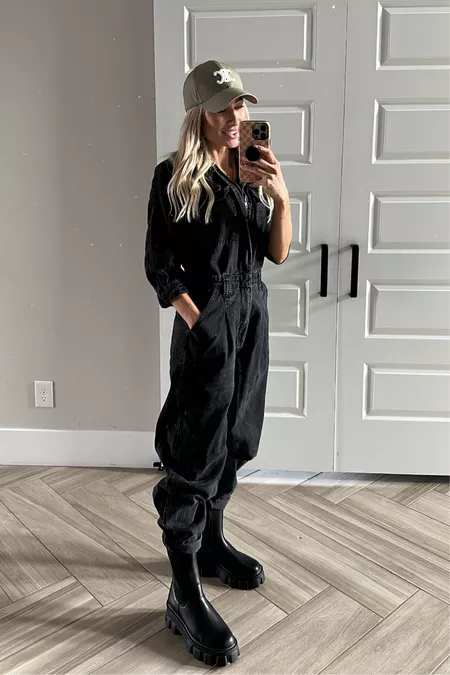 5 – Blue Denim High-Waisted Pants With Black Sleeveless Blouse
This look features a simple but elegant look showing a high-waisted blue classic pair of jeans with a black sleeveless deep-neck blouse and a brown leather vest on top.
Additionally, added to this outfit are 90s vintage pull-on black sleeves, some big gold hoops, a mini brown bag, and some snake-printed pointy-toed pumps.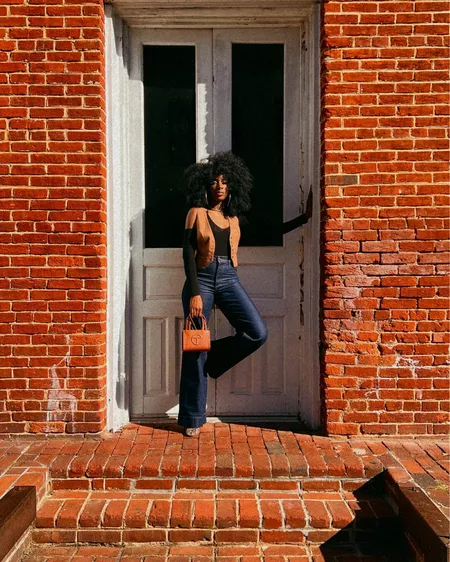 4 – Yellow Check Button Down With Black U-Neck Tank Top
Looking for something that's more chic and classic, then this might be the right look for you. Simple but well-balanced with a yellow check button-down shirt paired with a black u-neck tank top underneath it.
Worn with it are light blue distressed and ripped denim jeans with brown heeled pointed boots and a black backpack. Don't forget to add in some layered gold necklaces with small charms to further glam up the outfit.
3 – Side Slit Leather Black Skirt With Seamless Brown Blouse
If you're feeling a bit more adventurous, then this outfit is what you should be wearing. It showcases a seamless mesh brown see-through collared and cropped blouse with a black bra underneath.
Matched with it is a black mini-leather skirt with a slit going down its side. Put on some black chunky boots, a cream textured clutch, and some gold hoops and some rings to complete the fit.
2 – Green And White Stripped Knitted Sweater With Distressed Jeans
This outfit will definitely keep you warm and cozy while also making you look fabulous in the cutest karaoke night outfit in the room.
It highlights a warm knit pullover sweater that has white and green boxes all over it. French tuck it in some light blue classic ripped denim jeans, and add in some furry beige slides along with a pendant.
1 – Blue Co-ord Set With High-Waisted Blue Pants and A Blue Padded Blazer
Lastly, this look is not for the faint-hearted as it's both bold and bright. It features bright blue high-waisted and wide-legged pants along with a matching blue blazer with padded shoulders.
Underneath the blazer, there is a brown u-neck tank top with a yellow belt tied in front. Add in a cream, textured clutch and some cream-colored sandals to bring the look full circle.
Frequently Asked Questions
Q. How do I prepare for karaoke night?
Ans. It's okay if you're feeling a bit nervous before going on the stage so it's ideal to pick songs you're familiar with already. Practice a bit more and let that fear of judgment go because everyone is there to have fun like you.
Q. What do I wear to karaoke night?
Ans. The answer to this question depends entirely on you! Wear something you feel empowered in or wear something you'll feel more comfortable in, make a statement or stick to your normal closet, everything works with karaoke.
Q. What to do before going to a karaoke bar?
Ans. Remember to keep hydrated because karaoke nights tend to get a tad bit carried away. Bring a jacket with you in case you feel chilly after and just come prepared to belt your favorite songs and have lots of fun.