Cute Outfits For Muslim Girls: It can be an everyday hustle to put up an appropriate outfit, according to work, school, an event or just running everyday errands.  Because we know that things can not get done in your lazy PJs and a lazy environment.
Whether you are a working woman, a student or a homemaker, it is practically unaffordable and unreasonable to buy an outfit for every day, which will mean 365 different outfits for a year. Think smartly and invest carefully in your clothing items to keep your wardrobe versatile yet fashion friendly. Every person usually has a signature style of dressing which revolves around their favourite clothing items, the same is for hijabis, their every day or occasion appropriate outfits revolve around hijabs and modesty. Honestly, it is best to have a signature style for choosing your outfits as it gets easier to plan put everyday outfits, and especially to shop according to your needs and your liking. For hijabis, their fashion revolves around outfits that complement their hijab style, their modesty and cover them from head to toe properly.
Modest Fashion For Muslim Girls
In this article, we will be talking about all appropriate Islamic outfits that will fit into your everyday wardrobe be it work, school, or outfits for events or festivals. Without further ado, let's get into the details of all the cute outfits that a Muslim girl can carry, making sure fashion and modesty go hand in hand.
Before going any further, we would like to state some common tips and tricks for planning a modest outfit for Muslim girls which are cute, fashionable, and complement the hijab style or everyday style of a Muslim girl without hijab.
You can look fashionable and trendy in not-so-tight outfits as well.
Carry whatever you are wearing confidentially.
Make a statement with your outfit every day.
Shrugs, kimonos, uppers and anything to throw over your outfit is a must-have in your modest wardrobe.
Accessorize all your outfits the right way to achieve the desired looks.
Wear your modesty proudly.
Jumpers can be a great addition to your modest wardrobe, they are trendy and fashionable.
You are beautiful in everything you wear if you are wearing it confidently and the right way.
If you like an outfit that doesn't look too modest for example a sleeveless top or a skirt with a slit, you can still buy it and make minor adjustments to turn it into a modest one.
Let your outfit speak for your personality.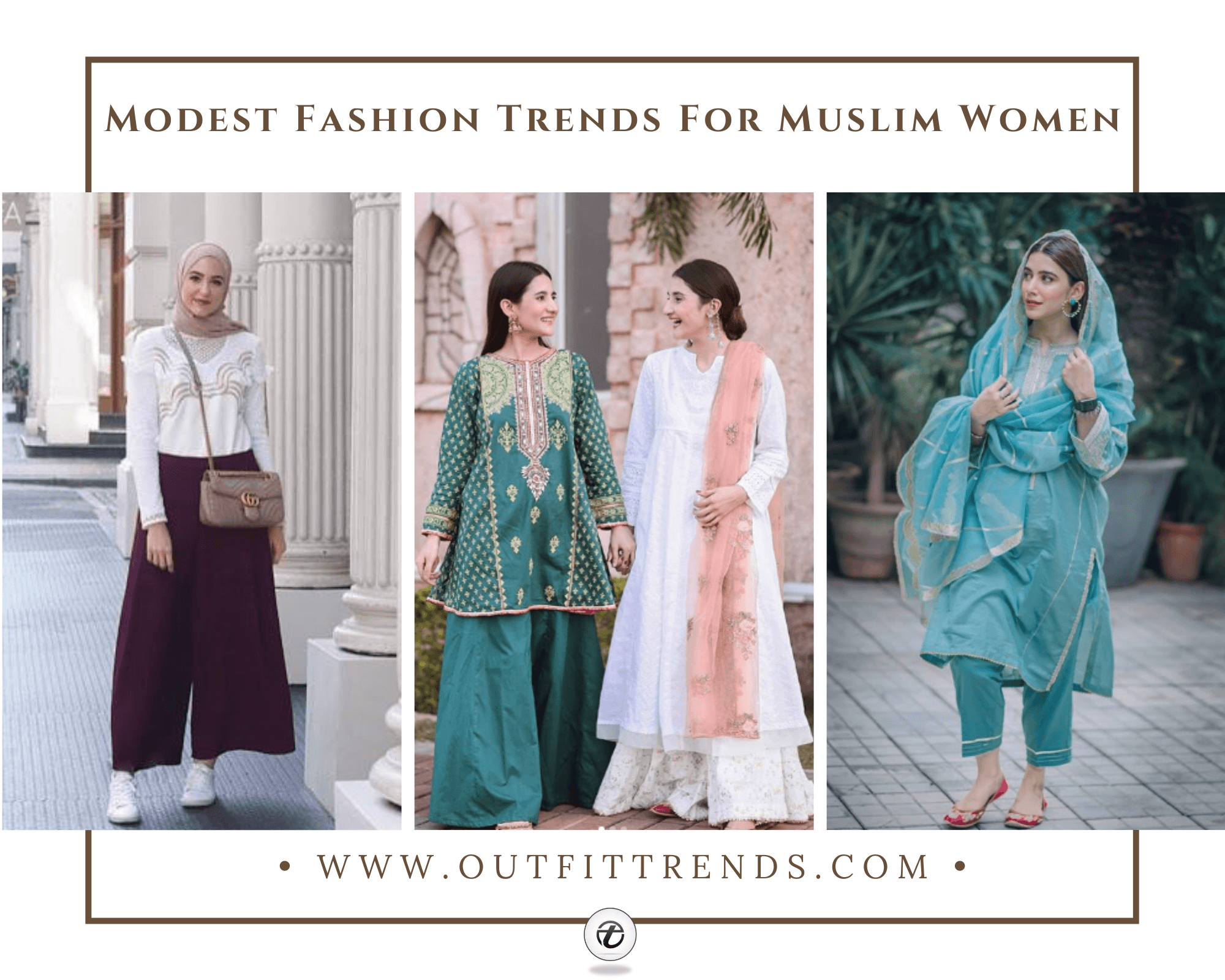 There is nothing you can't achieve in life if you dress up for it ladies, your outfit may be just some pieces of clothing thrown over your body for the sake of carrying forward the social need of having clothes over your body for others. But me and all the ladies on the other side of the computer screen reading this right now know how much of a difference an outfit can make for your confidence. Dress to ace the day, dress to conquer your dreams. A perfectly styled outfit can be the make or break attribute of your everyday hustles. So let's get into some details of some every day wear worthy cute outfits for Muslim girls:
↓ 17 – Denim Jumper Outfit
Nothing better than a cute denim jumper outfit for Muslim girls for everyday office wear or as a school outfit. Denim jumpers can be pulled off in summers, springs, fall, as well as winters with maybe a layer over it to keep you warm.
Denim jumpers can be paired with plain t-shirts or silk tops underneath according to the need of the day. Add your favourite sneakers, cutely done hijab style, and a side bag to make it look chic and age-appropriate for teen girls.
If you want, you can wear tights underneath in winters to keep yourself warm enough or for the purpose of covering yourself completely.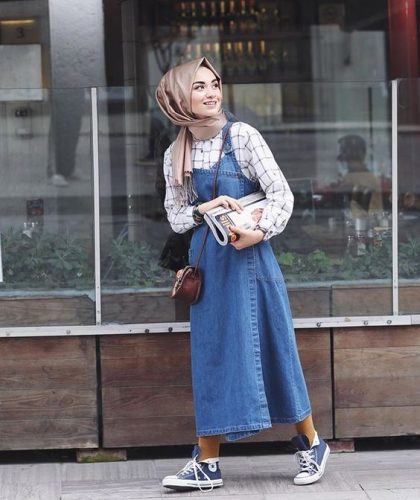 Via
↓ 16 – Cute Winter Sweater
Be it summers, winters, or spring, we need a proper outfit for every day. We can not conquer a day without a killer outfit, can we ladies? So a perfect winter outfit to keep you warm and keep the modesty in the outfit intact would be a lose fitted warm sweater, straight blue jeans, your favourite sneakers to throw on for everyday chores, and a plain black headscarf.
It is a perfect outfit for a school day or it can also be worn to work if you are not in the mood to make an effort for a well-thought outfit. Comfortable yet never runs out of style chic outfit, blue jeans, and a wool sweater. Honestly, I wouldn't choose anything over a warm sweater for a winter workday.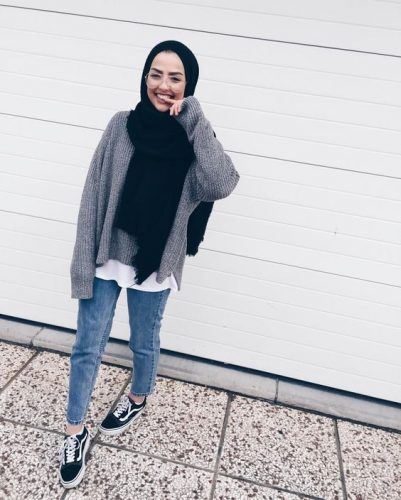 ↓ 15 – Everyday Long Dress
In the list of every day comfortable outfits for work and school for Muslim girls, long floral dresses fit perfectly. Pair a long frock style dress with heels for work, or sneakers for a hectic day at school, or heels as anything can go with a beautiful long dress. This outfit comes in pretty handy if you are opting for a light day in spring, summers or in winters with a jacket worn over.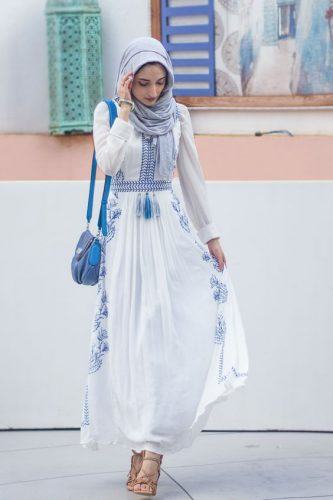 ↓ 14 – Jacket Style Winter Outfit
Nothing beats a basic bomber jacket winter outfit for school or work, my absolute favourite and go-to for any day. Pair a white plain t-shirt, blue mom jeans, and a hip bomber jacket which brings the 90's vibe back mixed with a modern touch.
Wear the jacket front open or closed, if it is worn in a larger size than your actual size, it will perfectly cover your body parts and complement your modest style of fashion. It's comfortable daywear for a quick lunch with your girls and it does not even require a lot of effort. Pair it with your favourite sneakers and some hoops for a little bling in the outfit – You are ready to ace a long day ahead.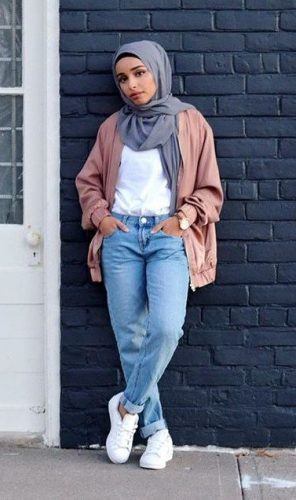 ↓ 13 – Comfortable Everyday Long Dress Outfit
Having a full-fledged branded wardrobe for everyday use is unreasonable and unaffordable, so people are always on the lookout for reasonable everyday wear which can be paired with different clothing items to make a new outfit.
One such random clothing item is a long dress, of any fabric. Long dresses can be worn in summers or winters with the right accessories and layers to beat the heat or beat the cold. A chic everyday outfit for winters would be a long dress paired with sneakers and a denim jacket to top it off, worn over the shoulder or off the shoulder to give it some character. Alternately, you can also tie the jacket or sweater around your waist as it keeps your legs warm while adding to your style.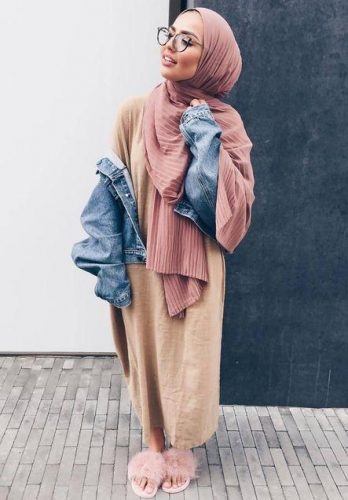 ↓ 12 – Muslim Teenage Fashion
Some simple hijab outfits for young Muslim girls with different types of jeans, straight pants, flared pants, different types of pajamas, t-shirts and fancy shirts, uppers and kimonos, which fit in the criteria of modest fashion are as follows: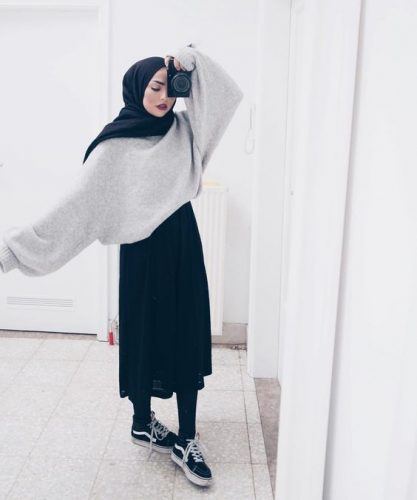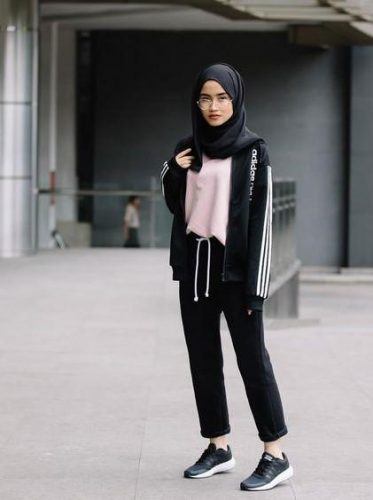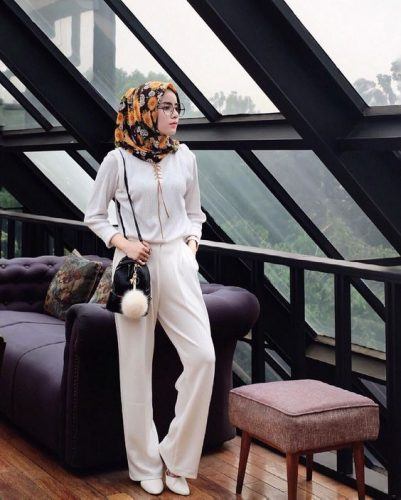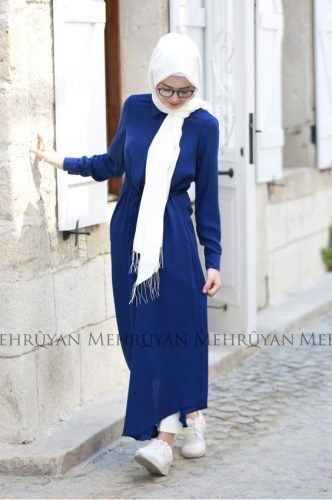 ↓ 11 – Modest Outfits With Jeans
↓ 10 – Trendy Look For Fall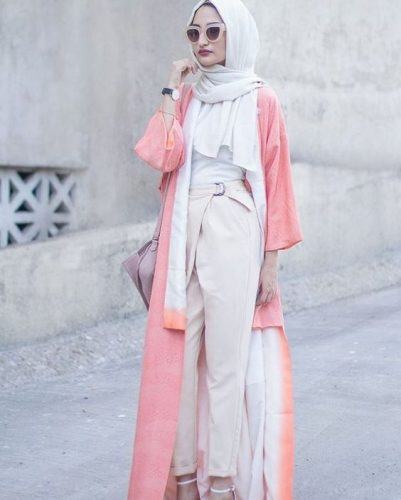 ↓ 9 – Look For Statement-Making Details
Some simple detailing can often take your outfit from ordinary to extraordinary. The perfect example is this long abaya dress with wrap detailing around the waist that makes it look all the more graceful.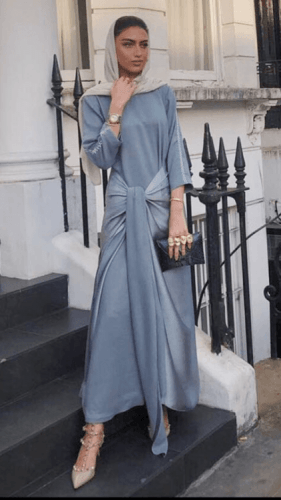 ↓ 8 – Long Skirts With Matching Hijabs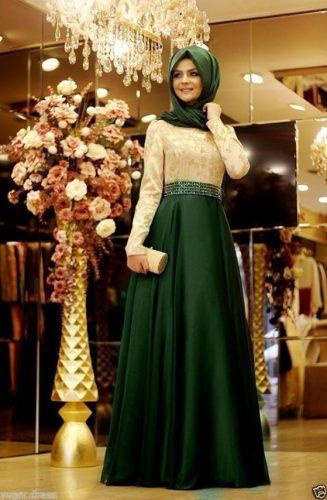 ↓ 7 – Winter Outfits For Hijabis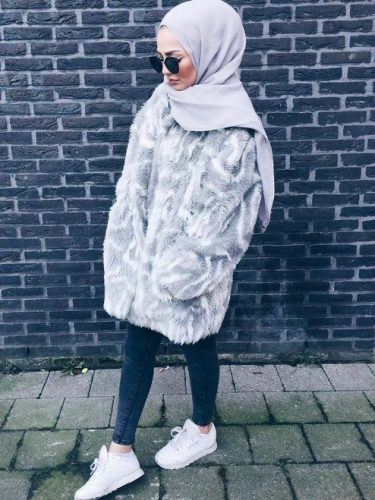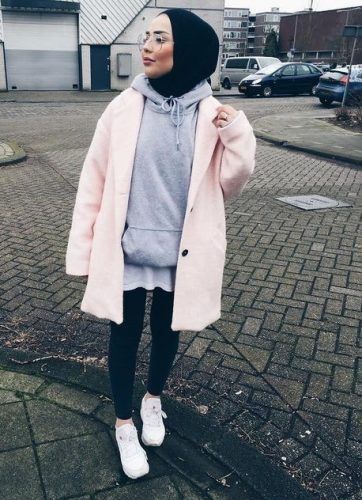 Abaya Outfits For Muslim Girls
Abayas are associated with the religious identity of a Muslim girl. Some women in Islam don't take on abayas while others do, it works both ways. Girls who take abayas prefer merging modern fashion with their modest style to gel in and stay in the middle of both the worlds.
Abayas have emerged as a new style in the fashion industry as renowned brands have come up with their own abaya collections like Dolce and Gabbana and Mango. Muslim girls all around the world are now adopting chic abaya fashion as their everyday style.
There have been a lot of abaya choices in recent times to take up for everyday wear or occasional wear at parties and weddings. Some of them are as follows:
↓ 6 – Velvet Abaya Style As Fancy Wear
Women who religiously take on abayas do it every day, as it is told in the religion of Islam by Allah. They take abayas and hijabs over their head in order to cover themselves from head to toe properly so that none of their body parts are visible or prominent enough through any tight clothing they might be wearing.
It is an everyday phenomenon for Muslim girls, and they march on in life keeping their modesty intact with the touch of modern fashion in their outfits. Be it a fancy event, work, school, a wedding or even going out to run everyday errands, Muslim girls wear abayas whenever they step out of their house on the streets.
A lot of brands and boutiques have come up with fashionable, trendy and blingy abayas for weddings, which honestly are the most amazing thing someone has ever come up with. They look more like event appropriate dresses than abayas, which is definitely a win-win.
For winters or colder days, nothing beats the warmth and elegance of a velvet abaya. Moreover, velvet abayas have been really trending lately. Here are 10 Latest Velvet Abaya Styles And Tips On How To Wear Them.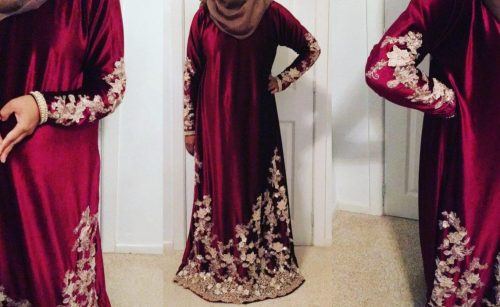 ↓ 5 – Everyday Work Abaya Attire
It is essential for Muslim girls who take abaya to wear it every day they step out of their house. To blend in modern fashion with modest fashion, girls have started taking long abaya style gowns that can be worn over everyday outfits like t-shirt and jeans, long dresses, or jumpers paired with light fabric hijabs to complete the full modest look.
These modern style abayas give out the look of long gowns and shrugs more than traditional abayas. They're available in different colors, cuts, and styles. You can put on these gown style abayas over anything you wear to make them school appropriate, work-appropriate, or even to attend an event or a get-together. Makeup and the right accessories make a lot of difference for dressing up according to the need of the day.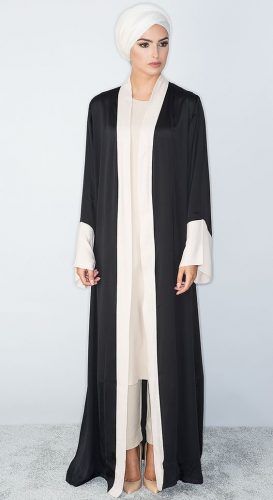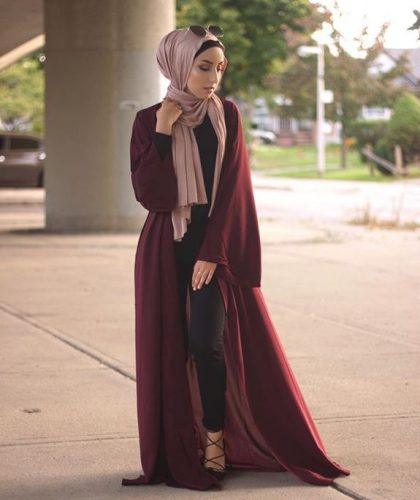 Modest Fashion For Non-Hijabi Muslim Girls
Even for non-hijabi Muslim girls, modest clothing is of a lot of importance. The religion of Islam does not allow women to wear revealing or tight clothes which might lure other men to their body. So, in order to cover themselves properly, Muslim girls prefer wearing long gowns, abayas, long jackets and kimonos to cover themselves. Shalwar kameez and kurtis are basic common wear for Muslim girls in India, Bangladesh and Pakistan. Ethnic clothing from these regions includes kurtis and tights, different types of frocks, short and long both, coat style shalwar kameez and many more. Lehengas and sarees are also desi attire that Muslim girls wear for weddings and festivities.
↓ 4 – Everyday Modest Fashion
An everyday chic look for school could be achieved with a plain long shirt paired with some skin fitted tights of either black colour or any other colour of your choice. This look is appropriate for a lazy day at school or a laid back day at home. A plain t-shirt is something that every girl has in their wardrobe, a long walk out in summers or winter, with a little layering, has got you covered.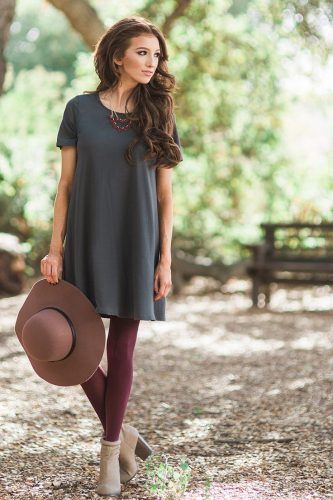 ↓ 03 – Modest Western Outfits
A classy yet modest outfit for work can be achieved with below the knee straight, stretchable fabric skirt paired with a baggy sweater. This look will be a perfect fit for winter days, to keep you perfectly warm and fashionable.
Such classy looks can be worn to work, school as well as to lunch and dinner outings. Throw on some heels and you are ready to flaunt at a dinner hang out with your girlfriends or your man, who will be totally drooling over you, ladies. Or pair this outfit with your favourite white sneakers and it is complete for a day outing.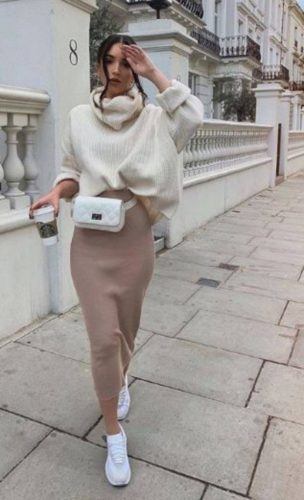 Some more modest fashion outfits can include cute western long dresses and kimonos as well: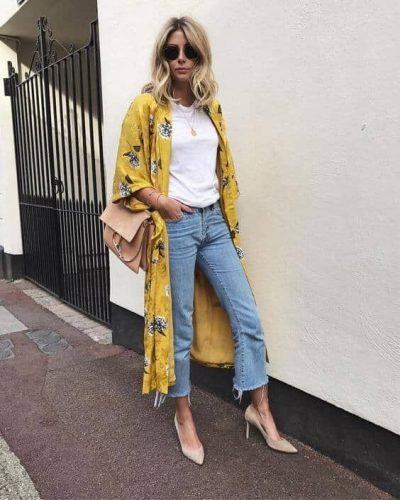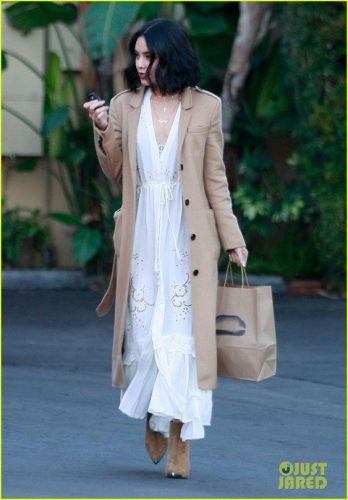 ↓ 2 – Ethnic Wear
Ethnic wear is always a favorite for Asian communities with shalwar kameez being the most common. There are always new and upcoming trends in ethnic wear too that you can adapt while staying modest and chic. For ideas, here are some stylish Sleeve Designs For Shalwar Kameez.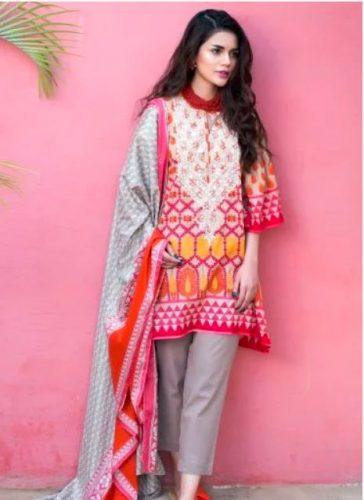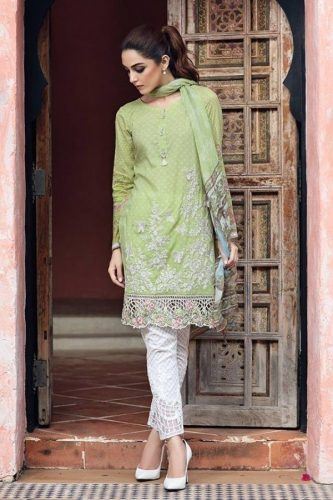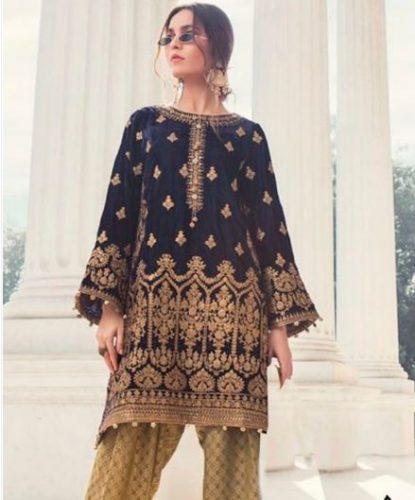 ↓ 1 – Tunics
Tunics – both eastern and western look extremely elegant and you can pair them with trousers, jeans, pajamas, and even pants. They're great for everyday wear and extremely popular amongst young girls.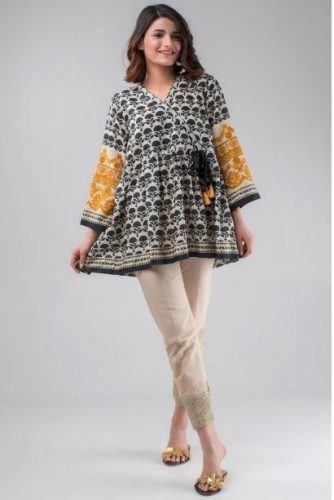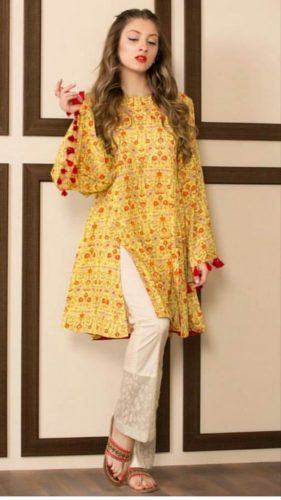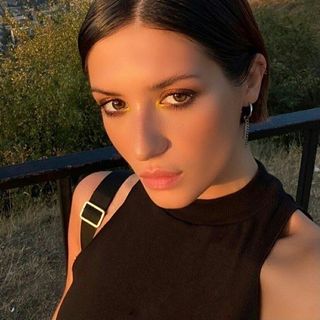 Avid reader and Fashionista. London Based freelance lifestyle editor