How To Style A Baseball Jersey: Thinking of what to do with the baseball jersey that you once wore to the game, but now it's of no use? How about incorporating it into your casual wardrobe and wearing it as your daily wear outfit? That sounds like a fun idea, right? Well, for that purpose, we are bringing plenty of ideas for you.
What To Wear With A Baseball Jersey?
A baseball jersey can be worn and styled in many different ways. You just have to think differently to get the most unique ideas out of your head. Wear a baseball jersey shirt with biker shorts, leggings, or casual pants paired with sneakers, flats, or flip flops for a super comfy and casual outfit that you can easily wear for daily activities.
Pair a jersey shirt with straight silk pants, pleated, midi skirts, or denim shorts paired with either heels or shoes for a semi-formal look that you can wear to work or for your hangout plans. Buttoned-down jersey shirts and jersey jackets can be used as a layering option with your dresses as well.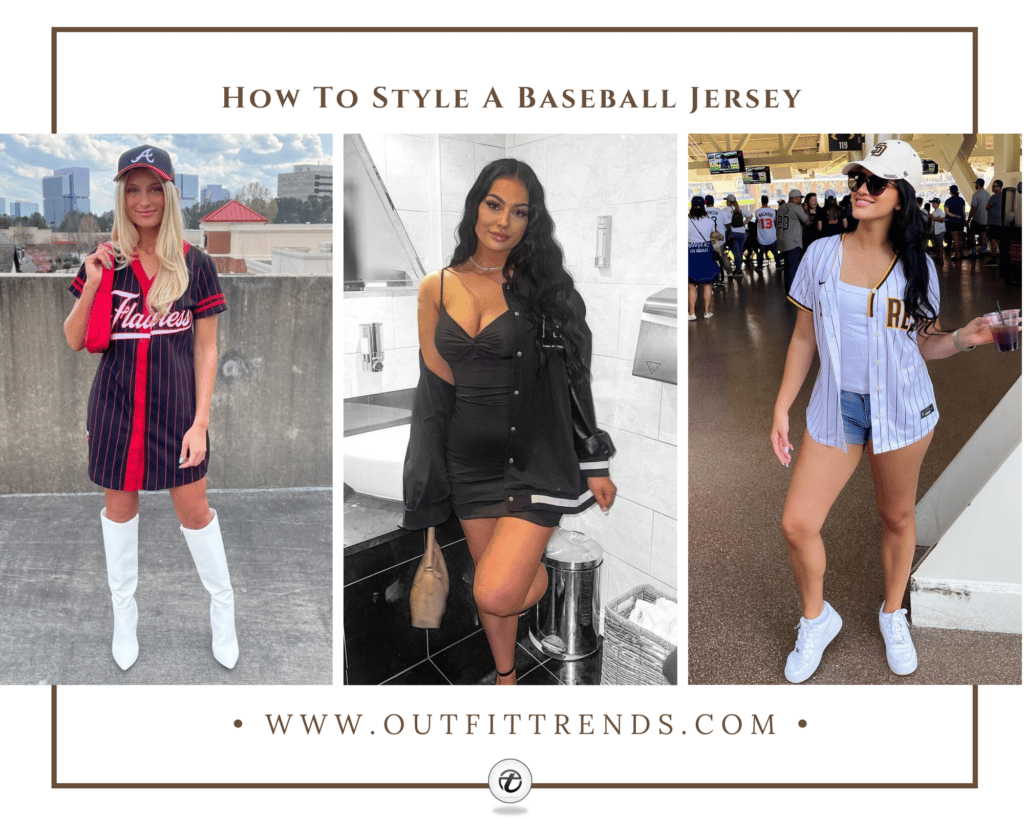 Tips For Styling Baseball Jerseys
If the jersey is in bold colors and patterns, go with lighter shades of bottoms to balance out the look.
Even though a baseball jersey is a great clothing item, it is still not the best choice for formal wear. So don't consider a sports jersey while deciding on a formal look.
While pairing a jersey shirt with pants, tuck it in the pants or tie a front knot to get a defined look.
20 – Baseball Jersey Shirt With Denim Pants
Let's start with the easiest and the most common option which is to wear a baseball jersey shirt with denim. There is no styling required as this is the most basic way, however, you can still play around with the look by accessorizing it.
Big silver hoops, a ponytail, and a crossbody bag are the added accessories to this look. White sneakers are ideal for footwear. With all of these details, your simple yet classic outfit is ready that you can wear to the game to support your favorite team.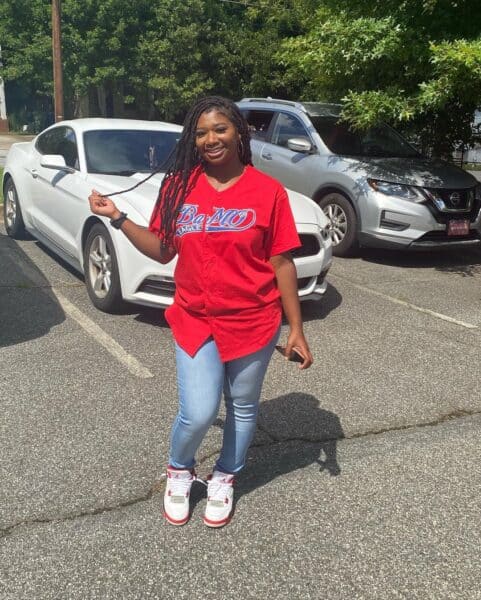 19 – Wear An Oversized Jersey With An Orange P Cap
The easiest and most stylish way is to just put on an oversized jersey as a dress, no need to worry about putting a whole outfit together as only accessories are enough to lift up this look. Put a belt around the waist to get a more defined look. And also add accessories like a cap, chains, bracelets, and hoops.
Go with the basic sneakers in a bright color for a casual and comfy look, you can also wear knee-high socks with the shoes.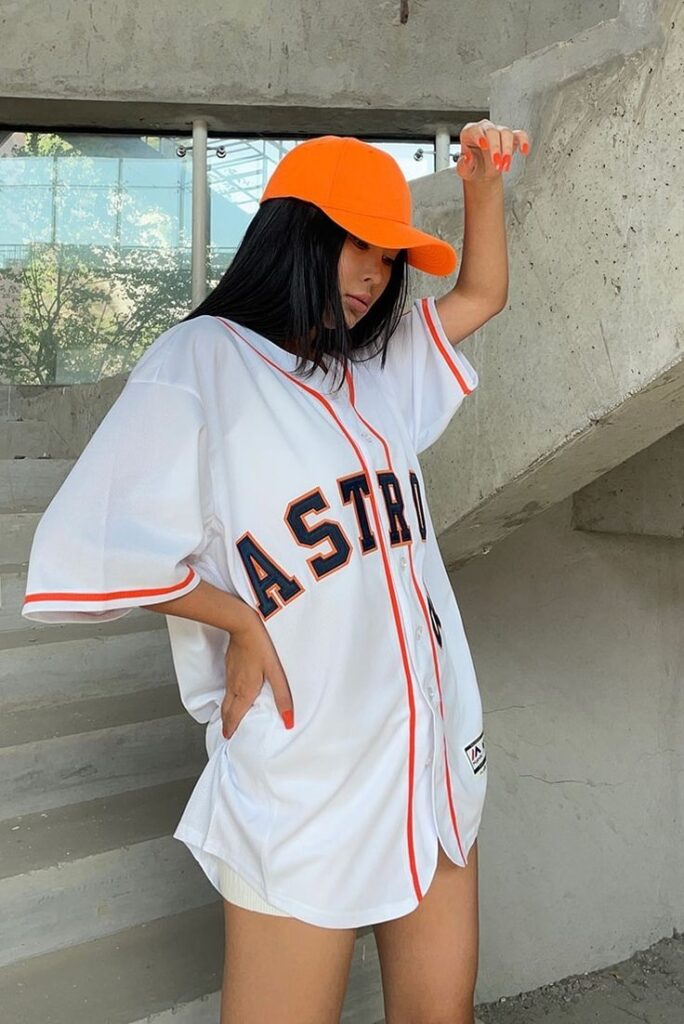 18 – Add Layers Denim Shorts And A White Tank Top
Another cute and sporty look can be achieved by wearing denim shorts with a white tank top, and layer your favorite buttoned-down baseball jersey over it. Style your outfit according to your jersey's color, if it's black, wear it with a black top and vice versa.
Add some summer essentials like sunglasses, a cap, and sneakers for footwear, and your perfect summer outfit for the game is ready.
17 – Black Jersey Shirt With Matching Denim Shorts
This cute black outfit can be achieved by pairing a black jersey shirt with high-waisted black denim shorts. You can also wear a cropped jersey top with shorts. It is a simple outfit so you should add accessories to amp up the look, like scrunchies, bracelets, and earrings.
16 – Layer Jersey Over Crop Top And Biker Shorts
15 – Buttoned-Down Jersey With Shorts And Bra Top
Wearing a baseball jersey to the beach, as a layer over your swimsuit is quite an interesting idea. You can either pair a long jersey with shorts to get a beach outfit or leave them unbuttoned over your swimsuits. It will cover you up, protect you from tan, and also you can wear it while playing beach games. So, ditch your old boring beach coverups and try this fun idea for your next trip to the beach.
14 – Long Baseball Jersey Shirt With White Knee-High Boots
A chic outfit idea is to pair a long jersey shirt with long leather boots. You can also wear biker shorts with it. Any color of the shoes is suitable, however, the whole outfit in black color would look super stylish. You can also wear accessories like a black choker and multiple bracelets and rings to get the emo-girl look.
13 – Long Jersey Shirt With Ankle Boots
12 – Cropped Jersey With High-Waisted Pants & Laced-Up Boots
An outfit idea that is most likely to be appreciated by the fashionistas. This uber cool outfit will bring out all of your fashion game. Both jersey and jacket are cropped and paired with stylish ripped denim. Not only this but a belly chain is also added to highlight the waistline.
Black lace-up leather boots as footwear, large hoops as jewelry, and pigtails for the hairstyle got some brownie points for the look. Everything from the outfit, accessories, and hairstyle is on point, all of this might take a little effort but the outcome would be worth the hype.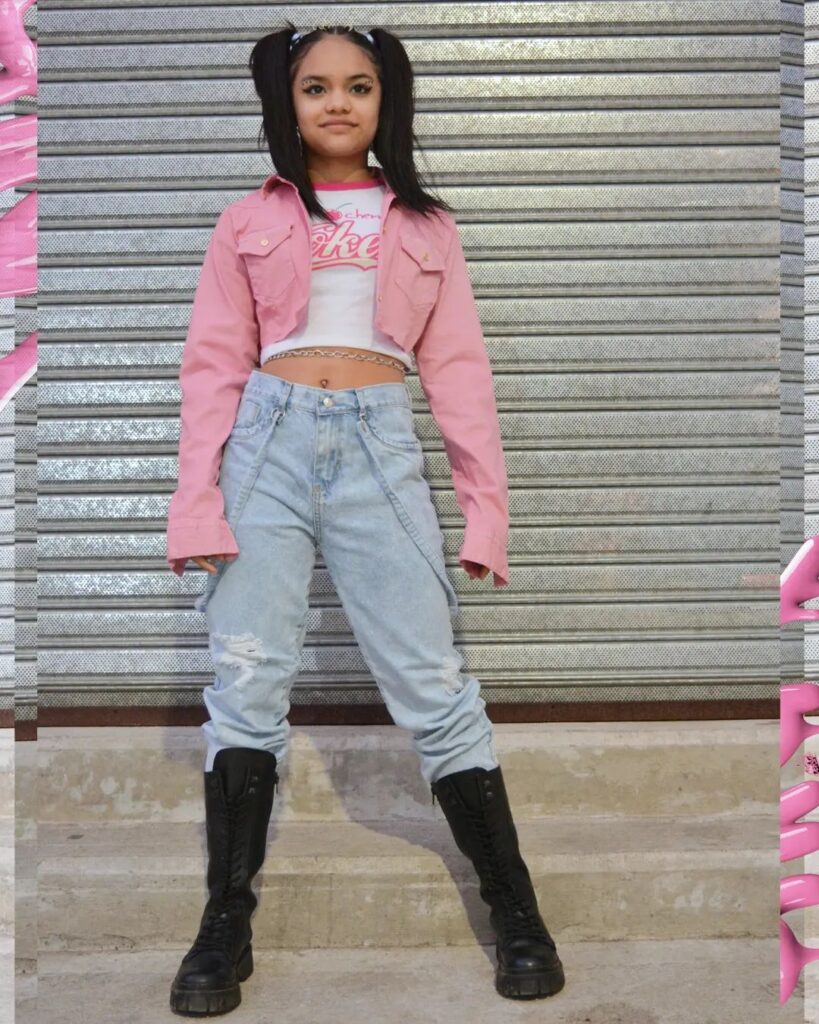 11 – Pair It With Thigh High Stockings And Doc Martens
If you have already tried and are bored of all the shorts and shirts outfits paired with jerseys, then try out this new look. It is not completely unique but a little different from all the boring outfits. Pair a buttoned-down baseball jersey with mini black shorts and thigh-high stockings.
For footwear, the most suitable choice would be doc martens as they act as the charm factor in the whole look. Check out some other ways of styling doc martens.
10 – Baseball Jersey With Black Pleated Skirt
It is almost impossible not to mention skirts when we are talking about chic outfits. There's something flattering about pleated skirts, they give you a beautiful look. So if you want a cute outfit, you know that skirts are the right option to choose.
Wear a baseball jersey with a pleated skirt, either you can tuck in the shirt or tie a front knot. Another option is to wear cropped jersey shirt. Pair your favorite sneakers and shades with them to finish off the look.
9 – Black Baseball Jersey Jacket With Bodycon Rib Knit Dress
Have you ever thought of wearing a jersey to a date night or to a fancy dinner? Well, here is how you can not only wear but also slay the look with a jersey jacket. All you have to do is wear an alluring deep-neck rib knit bodycon dress with a black jersey jacket.
The pearl choker necklace can be a highlight of your outfit, other than that strappy platform heels are the perfect choice to wear with this. Complete your look by carrying a brown shoulder bag with it.
8 – Yellow Buttoned Down Jersey With Straight Leg Pants
A cool and modest way of styling a jersey for the hijabi girls is to wear a long buttoned-down jersey shirt with high-waisted straight-leg pants and a basic top. You can wear both the shoes and heels with it according to the pants but specifically, platform boots would look cool.
You can wear this whole outfit in contrasting colors while matching your hijab with your top's color. On the other hand, choosing the jersey in a brighter color would lift up the outfit. Lastly, don't forget to carry a tote bag to look more fashionable.
7 – Satin Jersey Jacket Paired With Silk Top And Denim
This casual chic outfit is easy to style and looks absolutely stunning. Silk clothes have their own charm and satin jackets can be styled in so many ways. You can pair silk cropped top with flared denim and a satin jersey jacket over it.
Now, this is a different outfit from casual shorts and shirts but looks chic and stylish. Accessorize it with a cool shoulder bag and a cap for a sporty look. Wear this outfit in bright colors to get the best look.
6 – Baseball Jersey Jacket Paired With Cargo Pants
Baseball jersey jackets are one of the best options to get a sporty look. You can achieve this simple look by pairing a white long-sleeved sweater crop top with beige cargo pants and a baseball jersey jacket. Complete the look by adding chunky sneakers as footwear.
5 – Kendall's Jersey Outfit With Skinny Pants
Kendall keeps her outfits comfy and chic, many girls can relate to her fashion sense and this is how she decided to style a baseball jersey in a cool way. She paired black skinny jeans with a white bra top and over it, a black buttoned-down jersey is also added to the outfit.
Also wear a skinny black belt with pants and joggers for the footwear to steal this stunning look from Kendall Jenner.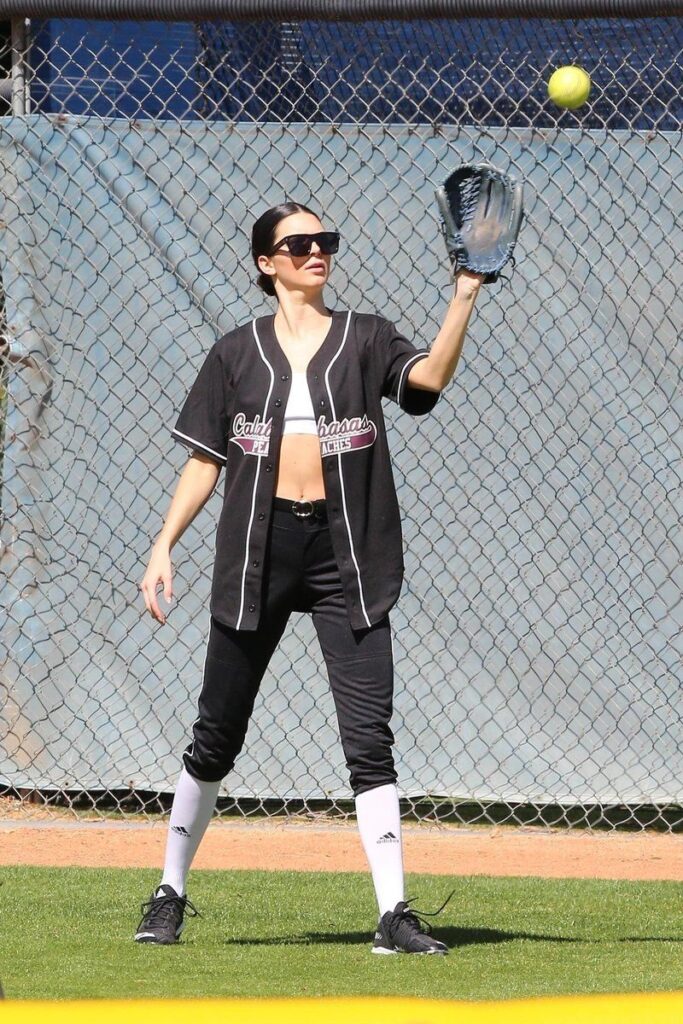 4 – Wear It With A Simple White Dress
You can also wear jersey jackets like you would wear your normal ones. For a casual and effortless outfit, layer it over your simple top and dresses to make them look a little more put together.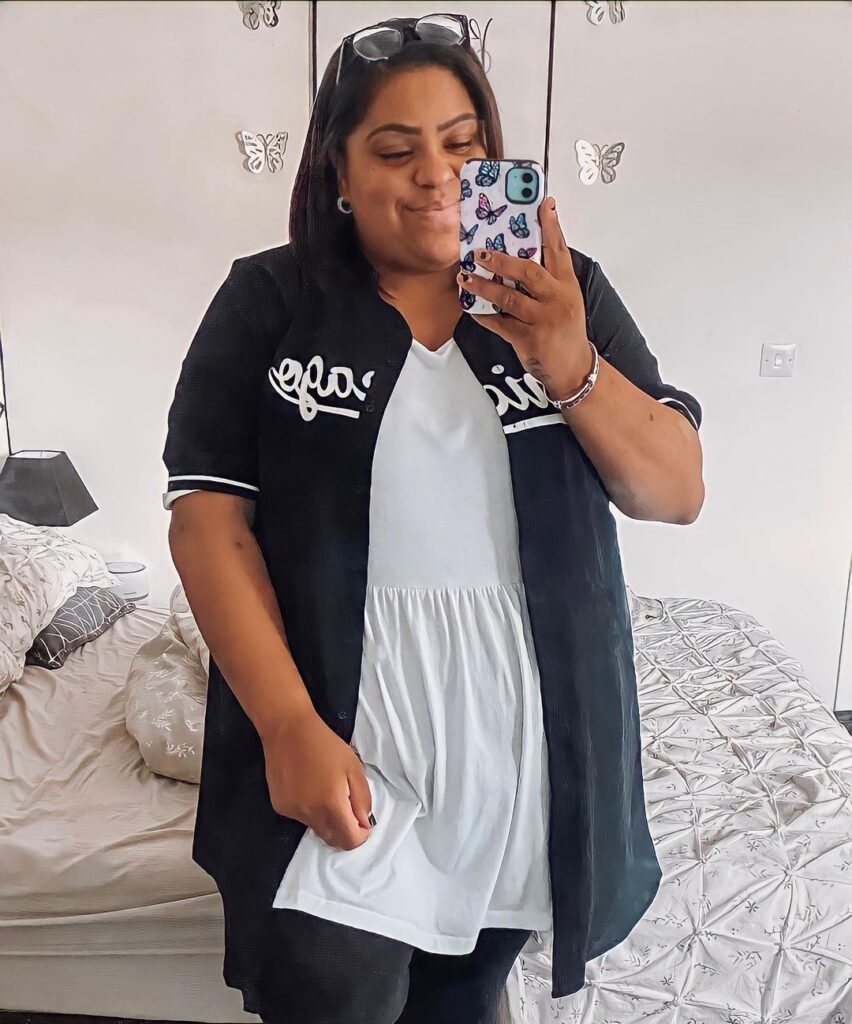 3 – Cropped Jersey Tee With High Waisted Ripped Denim
Cropped tops and tees look super stylish especially if they are in a sports jersey. The best way to style them is to pair them with high-waisted pants or high-waisted skirts. Wide-leg linen trousers are another option to wear at the bottom.
To get the uber-chic look, pair it with ripped denim or distressed shorts. Moreover, get your favorite pair of sneakers, earrings, and a high ponytail and you are ready to slay.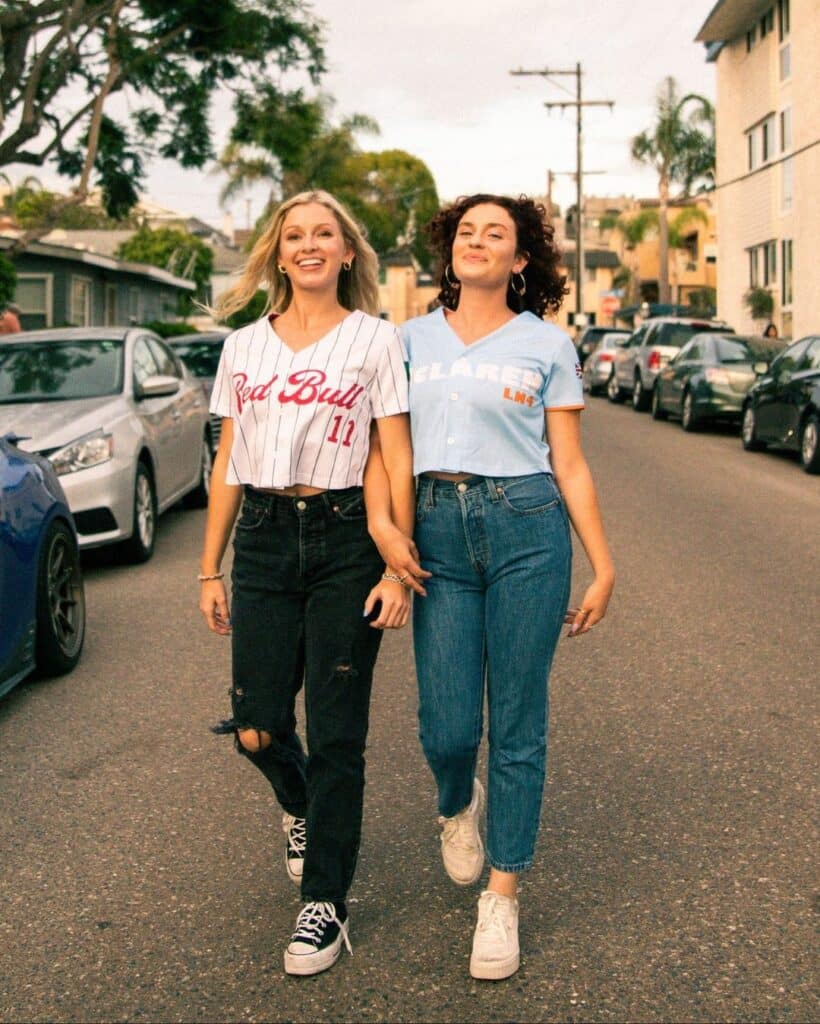 2 – Pair Collared Jersey With Distressed Jeans And Hooded Jacket
An easy-to-style outfit that looks cool is something that we all dream of. This is a lazy day outfit where you just put together whatever you find in your wardrobe and it turns out good. What you have to do is to pair a collared jersey with distressed denim and printed canvas shoes. Add a layer in the form of a coat, hooded jacket, or even a varsity jacket.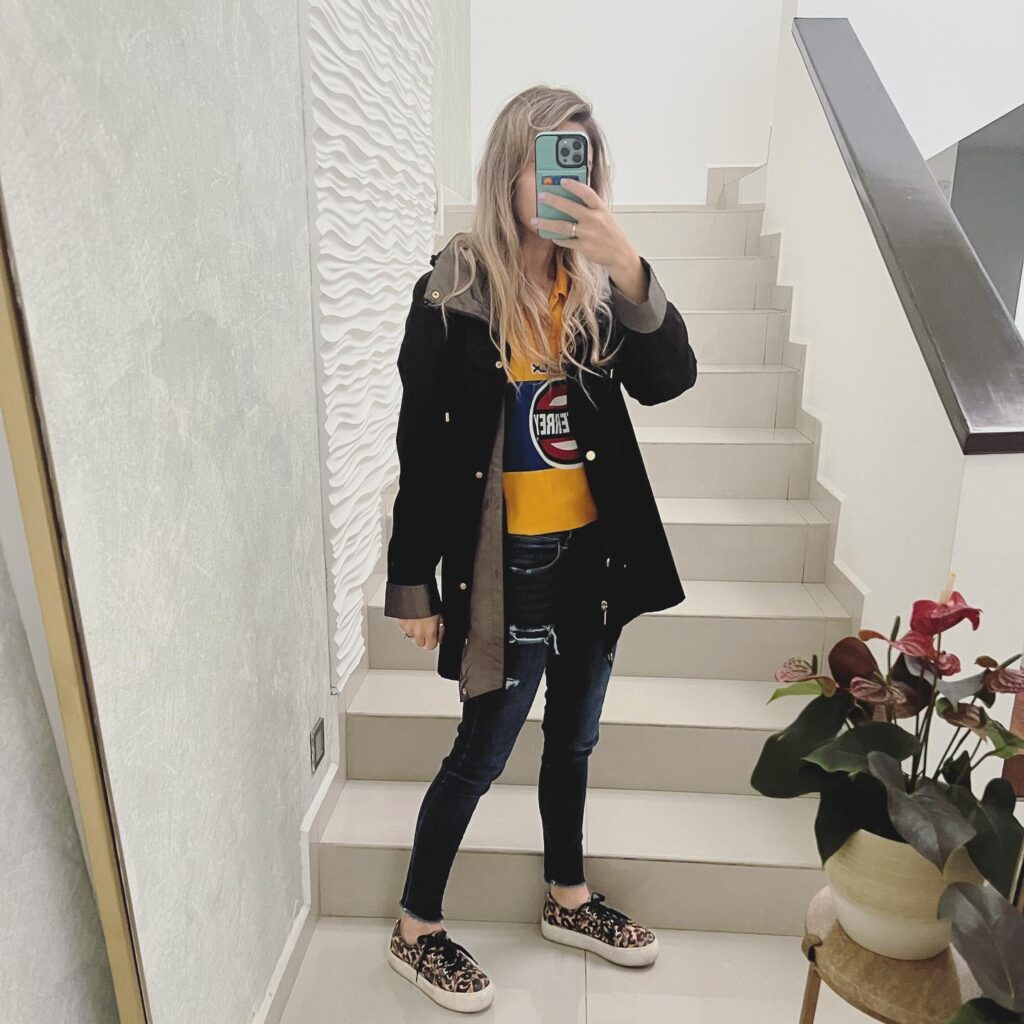 1 – Baseball Jersey Paired With Turtle Neck And Wool Coat
Styling a jersey for summer is easy and all fun and games, but the real task is to form a cute outfit for winter from a jersey. Even though you can't consider it as a layering option in extremely cold weather but still, you can wear it as a top.
The secret to cute winter outfits is layering, so wear a turtleneck first and layer the jersey on top. Pair them with corduroy pants and the last layer of wool coat to be added and the winter outfit is ready.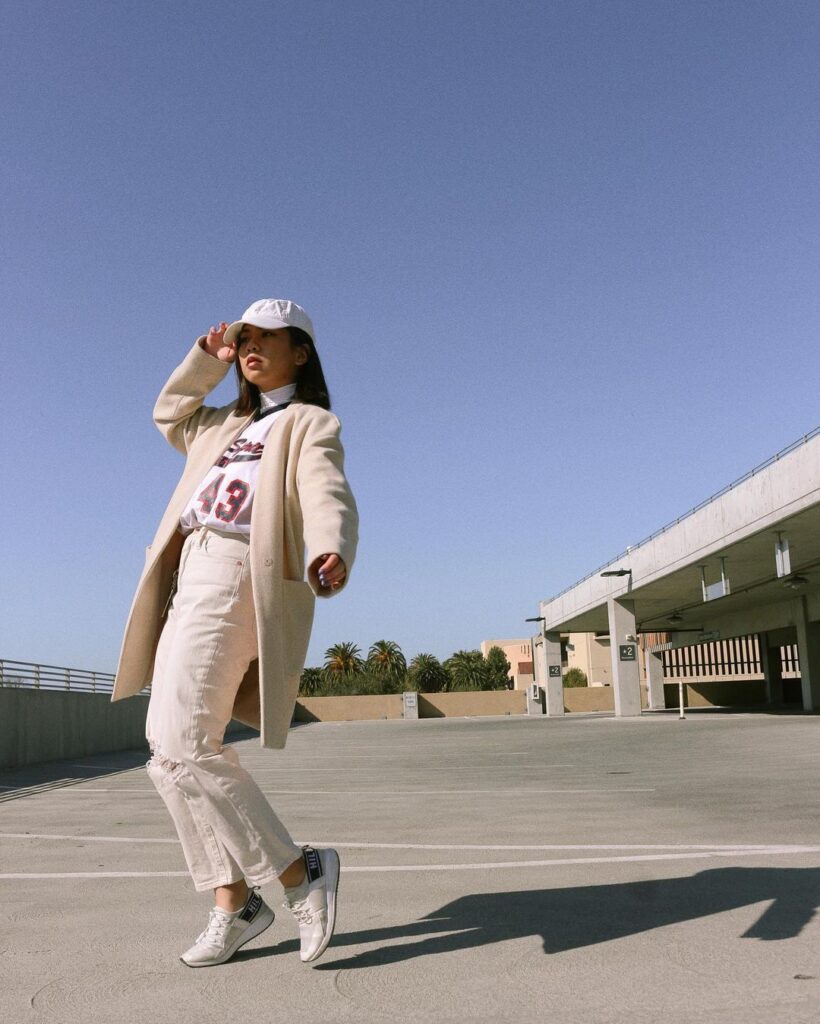 Frequently Asked Questions
Q. What looks good with baseball jerseys?
Ans. If you are choosing to wear the jersey as a layer, then pair shorts and crop tops inside it for a casual look. A semi-formal way of styling the jersey is to wear it with pleated skirts or straight-leg jeans. Pairing a long jersey shirt with thigh-high leather boots is a chic outfit that you can wear for night outs. You can also wear jersey jackets over your fancy bodycon dresses. In short, there are many different ways in which you can style baseball jerseys with your daily wear outfit.
Q. What pants do you wear with a baseball jersey?
Ans. Almost every kind of pants can be worn with a baseball jersey, however, it depends on what kind of look you want. Wear it with casual pants like ripped denim or mom jeans with sneakers for a casual look. Straight-leg or wide-leg dress pants with a belt and heels to go for a slightly formal look.
Q. Where can you wear a baseball jersey?
Ans. Obviously, the first option is to wear it to the game while supporting your favorite team, however, you can also easily wear it outside the stadium as well. Whether you want a casual look or a formal one, baseball jerseys can be styled with any of them to form some casual and chic outfits.
You can either wear them as a top, as a dress or as a layering option hence, making them a perfect clothing item for all your needs. So, don't think that baseball jerseys can be only worn as sportswear or for an athletic look, in fact, you can easily wear them for your daily outfits.