How to wear Crochet Tops – Crochet, whose name is synonymous with individualistic attire, consistently returns throughout the festival season. Perhaps because several of our favorite festivals have been given the go-ahead this year, it feels especially prevalent and in demand right now.
We've seen it trending everywhere this year, from crochet pants to crochet shorts. But what crochet clothing item is the one that you can wear the easiest? Obviously, a crochet top. People of all ages are starting to get more interested in wearing it and for all the right reasons!
What to Wear with Crochet Tops?
There is no need to worry about your outfit if you are unaware of how to rock this style or need a little assistance. You might try some of our excellent outfit suggestions with your knitted top.
In addition, we have a list of several crop top patterns for you to purchase if you are new to this trend.
Tips
Put on a nude tank top or bra under your crochet top because woven tops can look incredibly revealing. The ideal approach is to wear a nude camisole underneath your crochet top. Selecting a neutral hue won't blend in or take attention away from the knitted design, which is the focal point of your ensemble.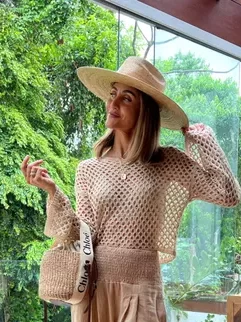 Put on a loose cardigan: A woven shirt might not be warm enough on chilly nights. Fortunately, flowy cardigans look fantastic with these tops! Tighter or skimpier crochet shirts, in particular, look great with easy, loose-fitting sweaters. Look for a cardigan that has a weight and texture that complements your top, and let it hang loosely over your shoulders.
Use formal pants to elevate the look. You can wear your woven shirt in a setting that is more professional. Balance is key. Choose a more sophisticated pencil skirt or pair of leggings to go with your more laid-back crochet top. By pairing a knitted top with tailored bottoms, you can add depth to your outfit.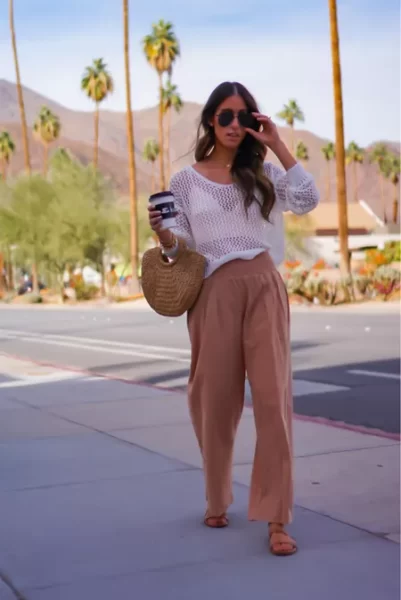 Add vibrant, interesting patterns to your outfit. This tip will help you fully embrace the hippie aesthetic. An eye-catching pattern on a skirt, shorts, or pair of pants will look great with a woven top in a solid hue. The more unusual alternative of combining crochet with a design will make your outfit stand out.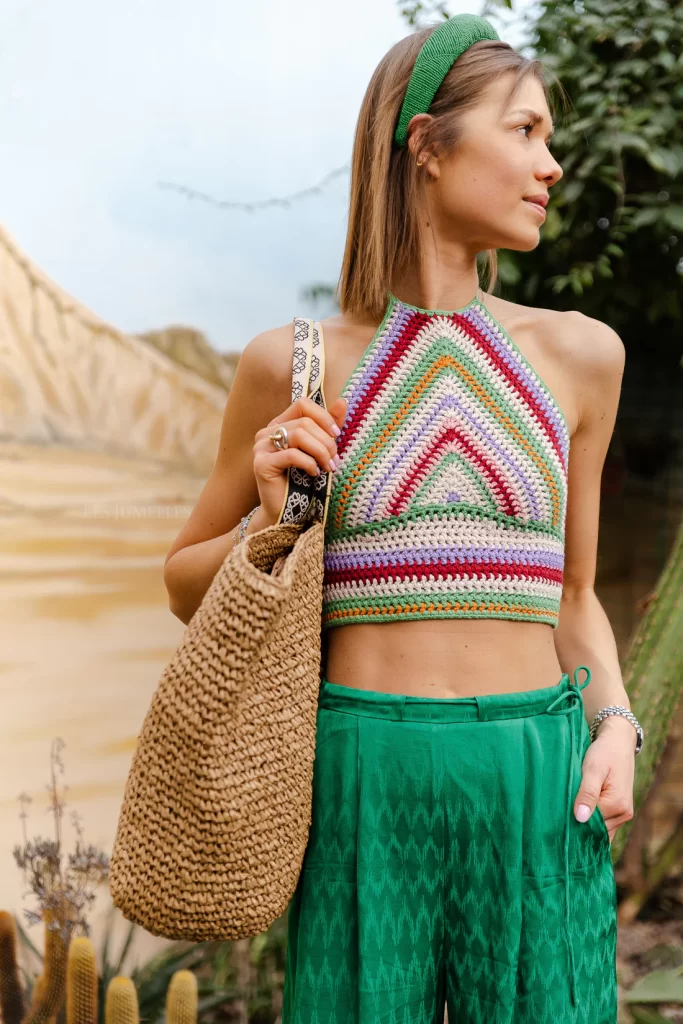 In order to complete your crochet top for the summer festivals, add a crochet bag. Choose a bag that is lighter in color than your outfit and more unstructured. Fringe or flower prints on the bag will complement the boho style. All of your belongings will fit in such lightweight cross-body bags that nevertheless seem casual and effortless.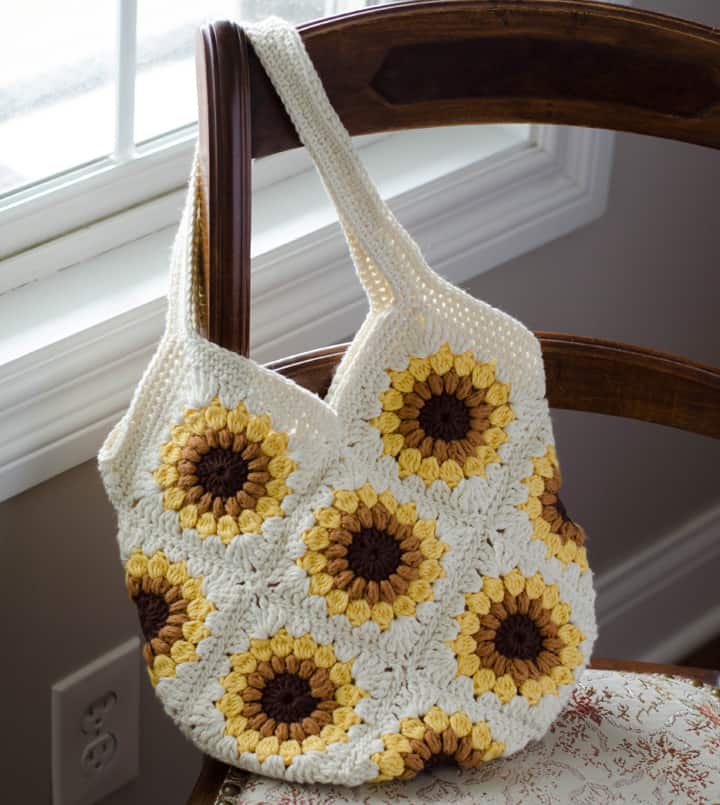 13 – Get Party Ready
Yes, you can style these tops for not just casual wear but also for parties. Of course, you would want to give them a dressier feel for which you can pair them with pants or skirts – don't forget to pick a classy clutch to go with them.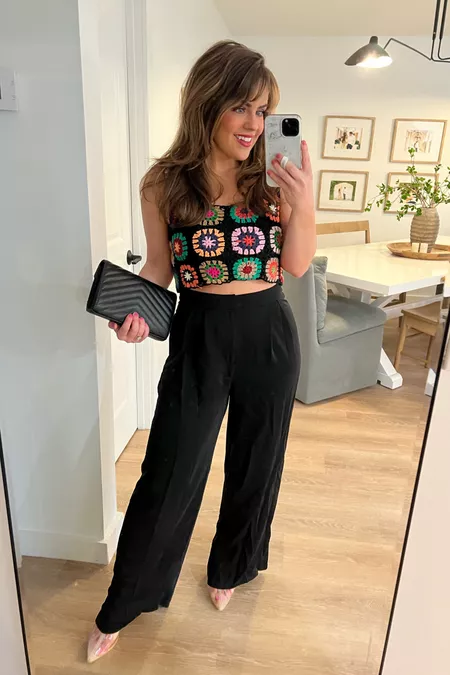 12 – Try them on for the Beach
If you like wearing cover-ups on the beach – you need to give these tops a try for sure.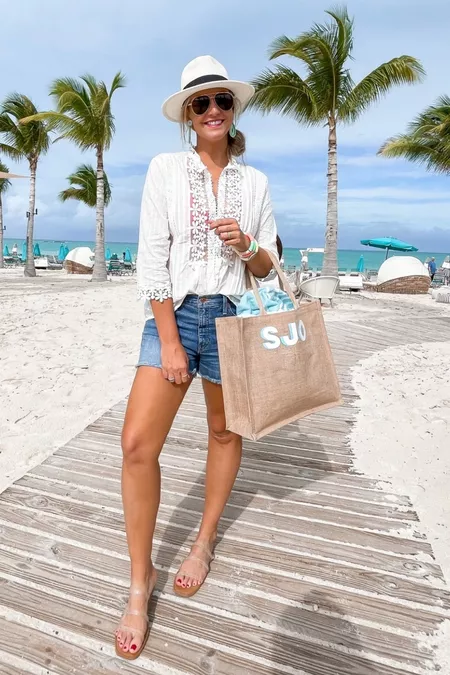 11 – Maxi Skirt Contrasts a White Crochet Top
Are you in need of more than just a crochet top? Why not wear it with a similarly sewn skirt that matches or contrasts for a look that shouts "summer"?
You might balance your look by pairing a small, attractive crochet top with a floor-length maxi skirt. To strike a balance between modest and risqué, wear a more form-fitting, cropped knit top.
A drapey maxi skirt worn with a flowing woven top is loose enough to keep your outfit more comfortable and controlled.
10 – Square Neck Multi-Colored Top
Especially in the summer, wearing a multi-colored crochet top will give you a sultry look when you go out. The square neckline will enhance its outstanding appearance.
Additionally, the full sleeves will make the look more appealing and cozy for you. The colors as well as the style of the knitted blouse will make you look prettier than ever.
By combining accessories, the outfit will look even more lovely. Great streetwear can be created by pairing white sneakers or shoes with sky-blue ripped or distressed jeans.
9 – With Denim Shorts
Want to test them out with your top? Do you have a lot of shorts in your closet? Your shirt can be worn in a variety of ways with shorts.
Shorts are the ideal summer attire because they go with everything in your closet. Shorts are always appropriate to wear with any sort of knitted top.
To glam up your ensemble, you can also layer your attire or use more trendy belts and accessories. Additionally, you may instantly achieve a voguish look by wearing woven tops and shorts together.
8 – Wear a Bralette or Bandeau Underneath
If you're brave enough, you can choose to wear only your top without a tank top or shirt underneath. You might wear a bandeau or a bralette under.
Although a bralette resembles a bra, it lacks an underwire. It doesn't resemble a typical bra. The main purpose of a bandeau, which resembles a tube top, is to hide your chest.
Your stomach will be exposed, but your chest will be covered when you wear one of these two outfits with your woven top. You will look like a diva, beach-ready, with such a look.
7 – Co-Ord Crochet Outfit
Your top and bottom can be coordinated. Crochet skirts are quite comfortable, and you can dress up a corset top by wearing it with a crochet skirt to complete the look for a party.
Some of the cutest clothing items to have in your collection are crocheted skirts. When worn with a stylish crop top, a tank top, or a tie-up top, skirts look their finest.
Maxi or short skirts are perfect for rave parties or wearing to the beach. A fresh style can be achieved with a maxi weaved skirt by pairing it with light tops, off-shoulders, or halter necks.
6 – Timeless Mesh Crochet Shirts
Mesh or see-through tops are classic pieces of clothing that are very simple to style!
See-through knitted tops can be worn with bralettes, bikini sets, or even tank tops as a layering piece. Because mesh crochet shirts exist in various mesh sizes, it is usually preferable to wear something with coverage underneath.
They create gorgeous overlays and may be worn with black flared denim jeans like these, as well as cargo trousers, high waist shorts, maxi, or mini skirts.
5 – Crochet Some Words on Your Top (Cutest for Teens)
If you know how to crochet, or if you are ordering a customized shirt, then you have the freedom to also get something written on your shirt, just like this one.
A quote or some words that hold meaning in your life and something that you always want to remember, stitched on your shirt, will be perfect for you.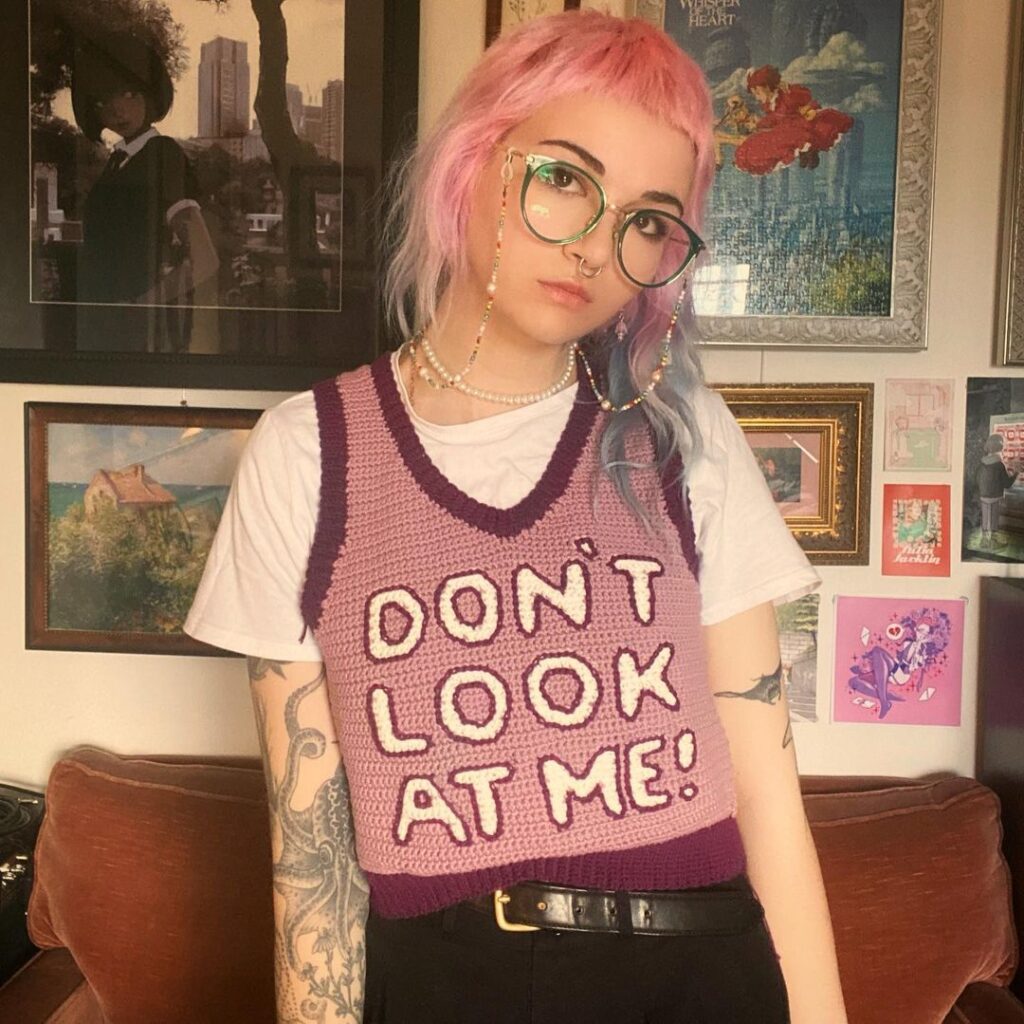 The popularity of knit vests is currently growing. However, if you prefer a vest, this summer rather than a warm or heavy knitted one, go for a color-block separates look instead. A similar color-block separates patterned crochet bra top can also be worn for the summer.
A vest can be worn year-round, in every season, and is incredibly adaptable and comfortable. You may wear it alone by pairing it with high-waisted shorts or jeans.
To make the vest more elegant and fashionable, you can layer it by donning a contrasting tee or shirt underneath.
3 – The Ultimate Duo of Tie-Up Top and Cargo Pants
Given how light, comfy, and attractive they are, tie-up tops are quite popular these days. The tie-up shirts can be challenging to wear, but you can do it by pairing them with a bandeau or a stick-on bra.
You may easily wear any bra underneath a tie-up top that offers full coverage like this one if it helps you feel comfortable the entire day.
You may wear it with a skirt, shorts, wide-leg jeans, or even the now popular cargo pants.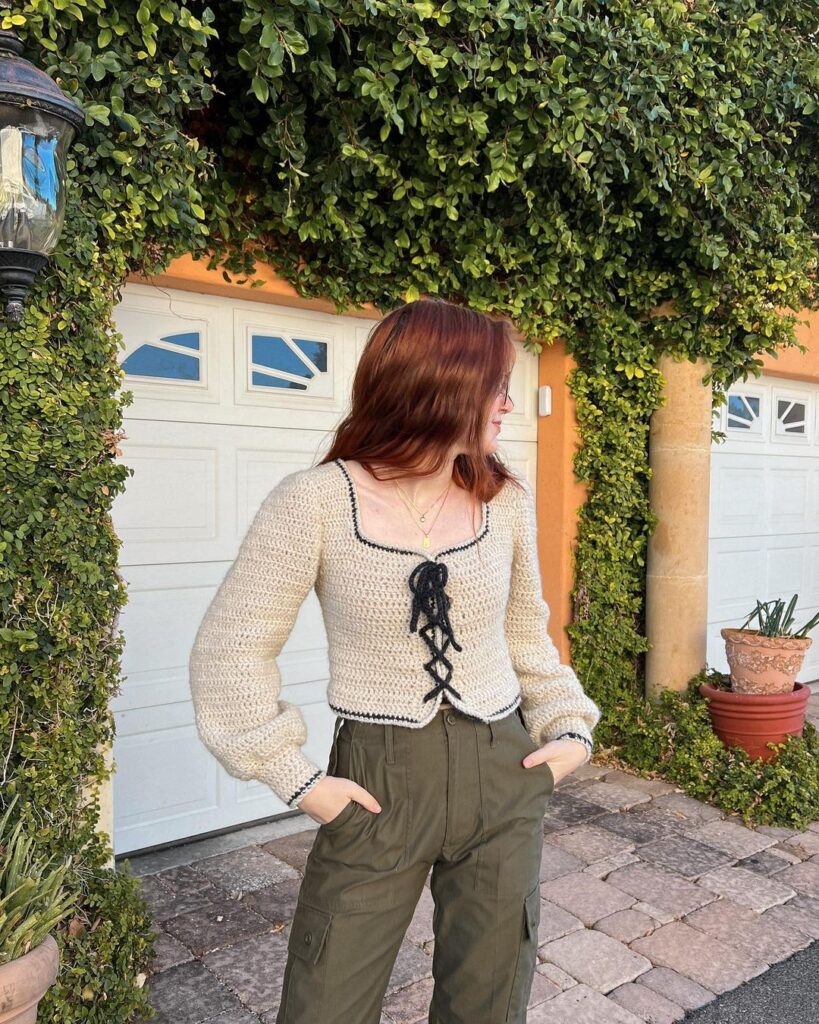 2 – Pair it with a Printed Scarf
On colder days when you are wearing a thicker shirt, you can also try pairing it up with a scarf.
It would be great if you have got a woven scarf to complete your outfit. Not only will the yarn or wool protect you from the harsh winds, but the whole crochet look will surely catch all the attention with the fashion statement that it will make.
Wear any black jeans and boots that go well with your ensemble, and you are good to go.
1 – Pair them with Ripped Jeans for a Casual Date
This is unquestionable evidence that a sweater top and blue denim shorts look great together when worn casually. Wear a blouse with light blue denim trousers to take your easygoing look to the next level.
For a casual but really stylish ensemble, pair a crochet sweater with light blue denim trousers. Add black leather lace-up ankle boots to the mix to round off your look for something more refined.
You may also match your knitted sweater top with shorts; a shirt and a pair of blue, ripped jeans shorts are incredibly adaptable and instantly stylish.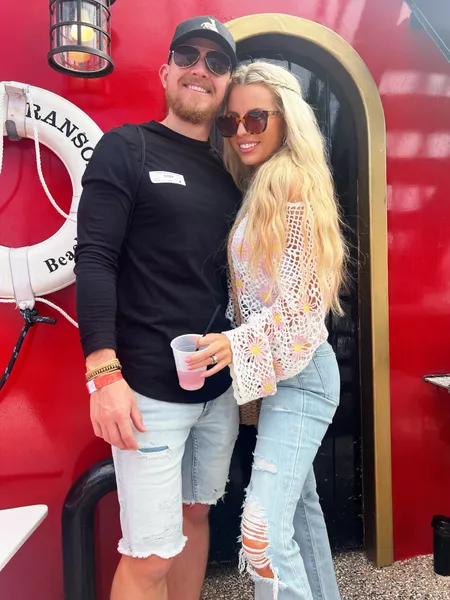 FAQs
Q. Are crochet tops in fashion?
Ans. Absolutely! Everyone is aware of the crochet trend, from celebrities to luxury labels to fashion weeks. Crochet is one of the resurrected 60s and 70s fashions. The tops are back in style and versatile enough to pair with a variety of ensembles.
Q. Why are crochet tops so popular?
Ans. Crochet has emerged as a key fashion trend in the last few years. The patterned fabric has been a standard for small producers and high street businesses alike due to a rise in interest in healthy, handcrafted hobbies, a demand for more whimsical, crafts things, and a strong '70s influence.
Q. Are crochet tops good for summer?
Ans. A wonderful way to take advantage of the summertime is by wearing crochet tops. They are usually light and breezy, which makes them ideal for warm days.
Q. Can you wear crochet tops in water?
Ans. The quick answer is that you can swim in it without drooping or stretching if you're using the proper kinds of yarns. In fact, if you use a suitable yarn, it will also dry quickly. Without a second thought, you can go to the beach wearing a knitted top.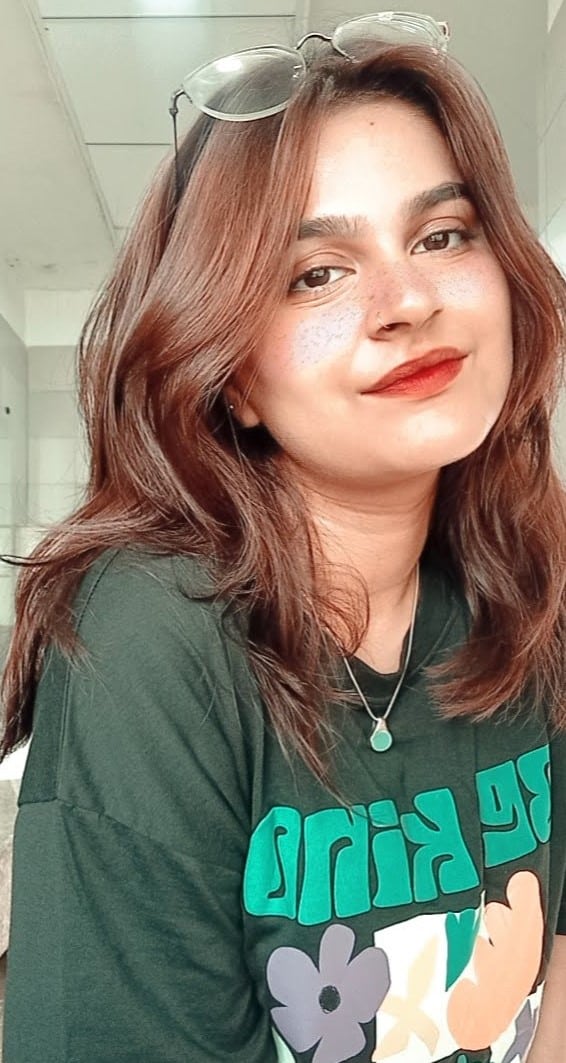 Adeena is studying Media Sciences at IoBM. She is a freelance content writer and graphic designer with experience in UI/UX as well. Adeena loves writing about fashion, taking photographs, making videos, and exploring many artistic things in her life.