Crochet Shorts Outfits: Do you think crochet is only for the winter seasons? You are absolutely wrong about that. You can wear crocheted clothing even on the hottest summer days if you know how!
The shorts we have included in this article can help even in the wintertime with some leggings. You just need to find out where to buy these sets from (which is also pretty easy to do), and you'll be good to go.
Crochet can be worn with anything you like; treat them like normal shorts but of course, the fact that they are way cooler and cuter remains. They come in the cutest patterns and designs that you won't be able to say no to. If you don't believe us then go get yourself a pair and you'll understand why we're addicted to this new trend.
What To Wear With Crochet Shorts?
You can wear your favourite collar shirt with these shorts or even a cute mesh top. Always keep trying new things. Denim Jackets are versatile and go with just about any outfit so why not give them a try? Plain tank tops and crop tops are super basic and easy to buy so always keep those on you and wear them whenever you can't understand what to wear.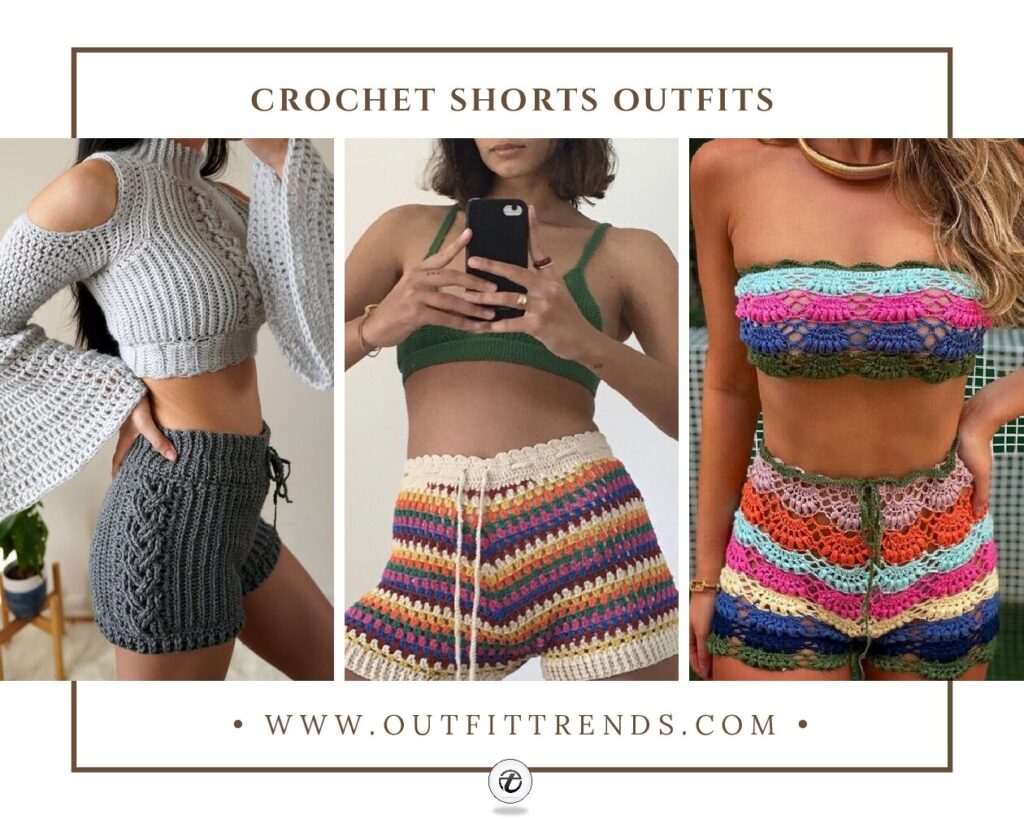 Tips on How to wear Crochet Shorts
• When wearing these shorts, you need to keep in mind that some shorts might be see-through because of their design so make sure you wear something underneath them.
• These shorts can be uncomfortable and cause irritation so make sure you wear undergarments.
• Pair these shorts with bright tops for the best results. These shorts come in the brightest of colours so make use of that and wear bright coloured tops, not dull colours.
• The best thing is that you don't need to buy these shorts if you learn how to make crochet yourself, its easy DIY
• Sandals or any other type of flats will look best with shorts because they aren't formal enough to be paired with heels so stick to outfits with sneakers or sandals for best results.
19 – Gold Crochet Set
Gold is a stunning colour that we need to incorporate more of into our closets. Don't shy away from this colour and wear more of it. This gorgeous gold crochet matching set would be a cute addition to your wardrobe.
You can wear it as it is or wear a plain white tank top under the shirt. Wear this to a beach party or a meetup with your friends. Matching gold earrings and a necklace would really make the gold colour pop. If you own any shoes or sandals with gold detailing then that would be a cute addition to this outfit.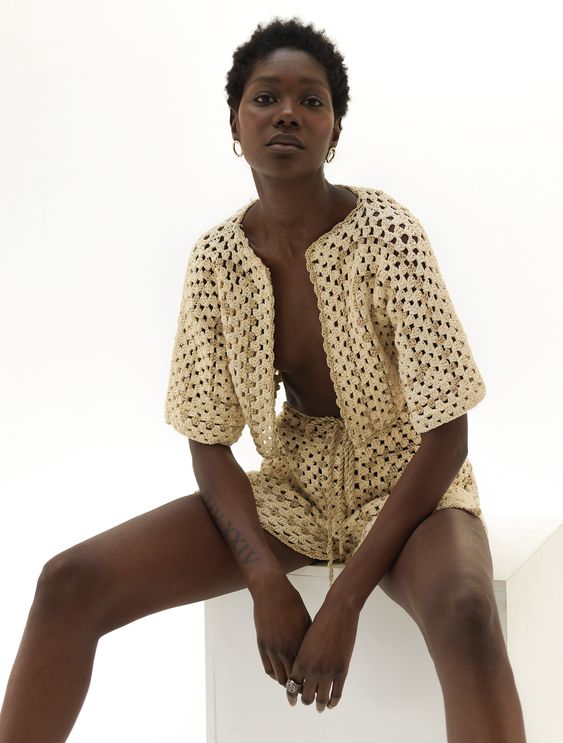 18 – Stripes For Days
Stripes are fun to wear, especially in the summertime. The more colours and patterns you wear, the more you'll be in the spotlight. Wear these shorts with the matching crop top and pair them with some black or nude sandals. A kimono or printed beach coverup would also be a good idea. Let your beach waves down or put them up in a bun it's your choice but don't forget to lather yourself in sunscreen!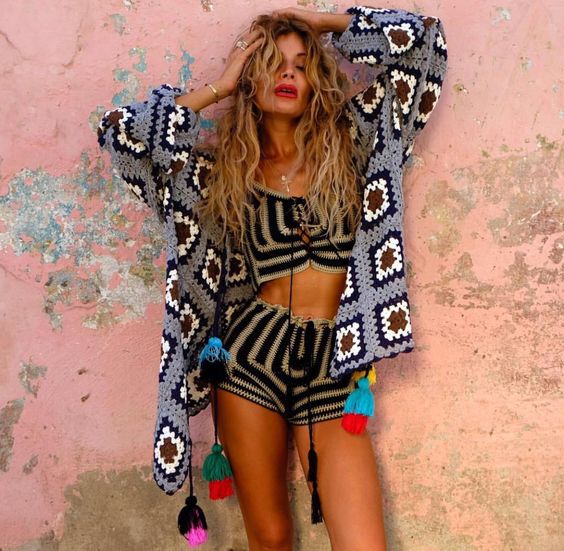 17 – Checkered Print
This halter top and matching shorts in a stunning pastel checkered print would be great for days in the sun! Wear this to picnic or a beach party with your friends and watch all the heads turn. This outfit is quite unique too so if you like wearing clothes that not everybody has then definitely give this outfit a try. If you have any plain white sandals then wear those but if you can find sandals in a matching checkered print then that would really complete this outfit. Checkered sandals would make the print on the top and shorts pop even more.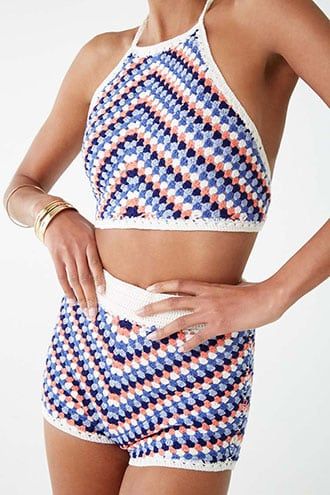 16 – Simple Going Out Outfit
Need a simple but summery outfit to go out? we got you. Crochet screams summer. A simple pair of rainbow shorts paired with a white tank top will help you out. Wear this cute outfit with heels or flats to stay comfortable on a hot summer day. A matching crochet purse would be an adorable accessory.
15 – Neons For The Win!
Outfits to Wear to a Carnival or festival seem to be a hard find. However, this neon crocheted matching set is going to be your new favourite outfit to wear to any festival. The bright colours are perfect for a festival. Do your makeup and wear jewellery that stands out and you'll be good to go. Don't forget to wear cool shades!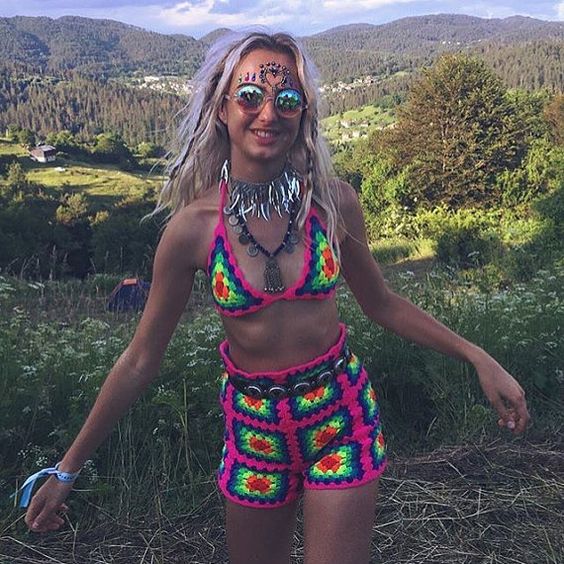 14 – Oranges And Yellows
This matching crochet set of shorts and a sleeveless shirt is perfect for summer because it has all the oranges and yellows that would look amazing in the summer sun. Give a fun twist to this outfit and wear matching orange or yellow heels. This outfit would look good on a night out with your friends or just to lounge around the house because it looks extremely comfortable.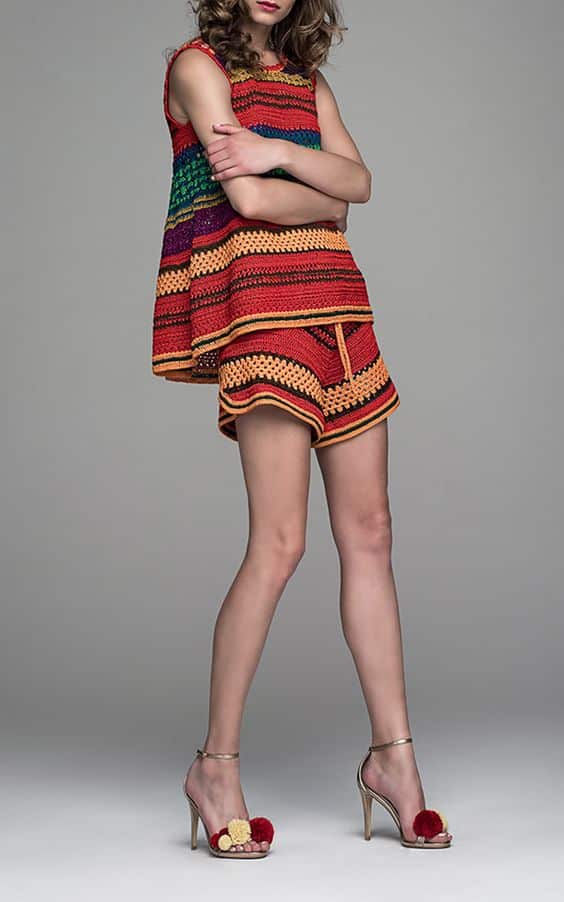 13 – Rainbows
Who wouldn't want to wear this cute rainbow set? we sure would love to! Wear this set with matching rainbow sandals or plain sandals. Sneakers would also work. This outfit would be cute for any pool or beach party. Don't forget to wear some pretty jewellery that will bring more attention to you because who doesn't love glitz and glam?
12 – Blue And Orange
These shorts look like candy. Blue and orange make a cute combination so why not try it out? Any crop top or tank top would look cute with these shorts. Even if you wear an orange or blue top, it would look good. Bright colors look good in the summertime so it's a win-win! This is another chill outfit that you can wear to the beach or just hang out with your friends. Pair it with nude or white sandals and just enjoy.
11- Matching Flower Set
This matching set is so gorgeous we can't stop looking at it. The purple is stunning and the flowers are even prettier. Why would you not what to grab this set right away? It will make all your summer outfit dreams come true. Wear it on meetups with friends and beach parties all summer long! Gold hoop earrings and coloured sunglasses will make this outfit look even cooler than it already is!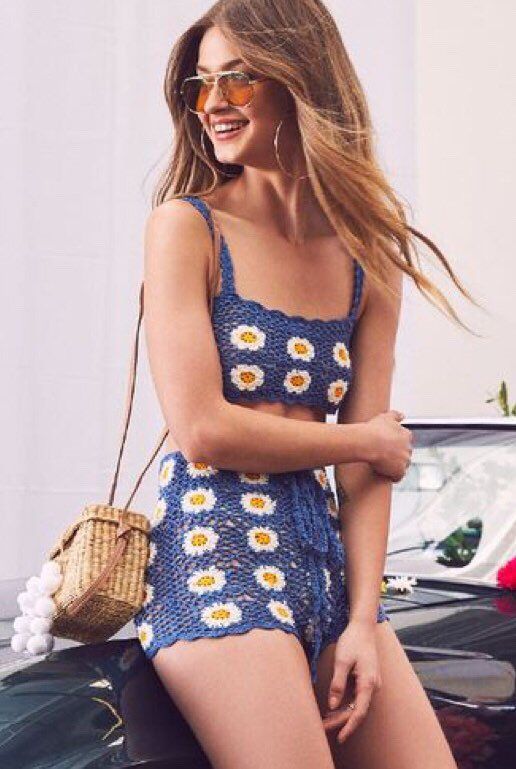 10 – Boohoo Style
If you are a fan of Aztec or boohoo style then this is the outfit for you. These shorts have black, browns, and white in them and they look stunning paired with a plain white shirt because it makes the colours pop even more. This could make a casual outfit for an at-home dinner party. Pair it with sneakers for a casual vibe and black heels for a classy look.
9 – Dua Lipa's Look
Dua is seen wearing this adorable pair of shorts. It is a checkered print in green, red, black, yellow, and white. She has paired a fun crocheted black sweatshirt with a smiley on it with these shorts. She seems to be enjoying her time in these shorts. These shorts are great for lounging which is exactly what Dua is doing, so grab yours today!
8 – Browns
These shorts have browns and yellows and would look really good in the fall. You can pair them with a brown leather jacket or a brown tank top but a white one would work just as well. Wear matching sandals and a bag to complete the look! This outfit would be good for lunch to catch up with your old friends or when you're on vacation and need an outfit that will stand out.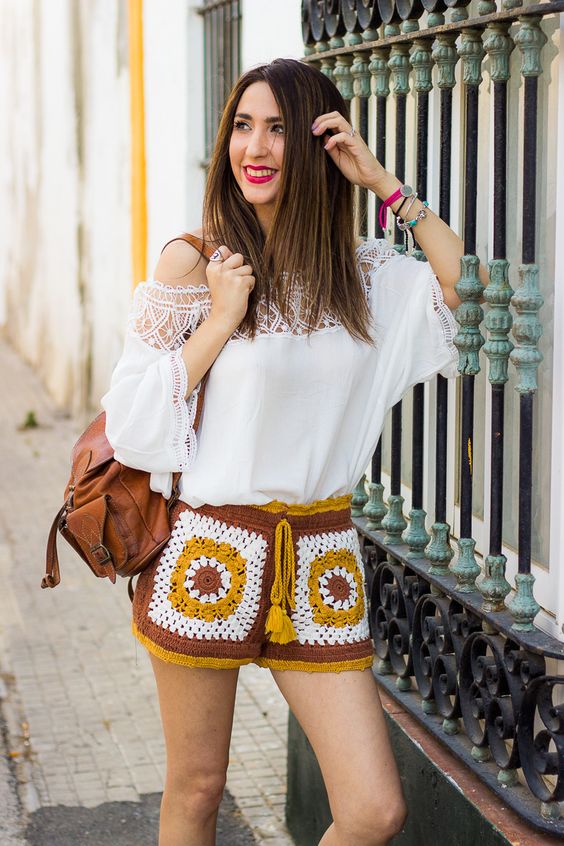 7 – Nude Set
This halter-neck striped top looks amazing with matching shorts. You can wear this set with sandals or heels to turn it a notch. Don't forget to wear your shades if you wear this to a beach party. Try out a new hairstyle; you won't regret it!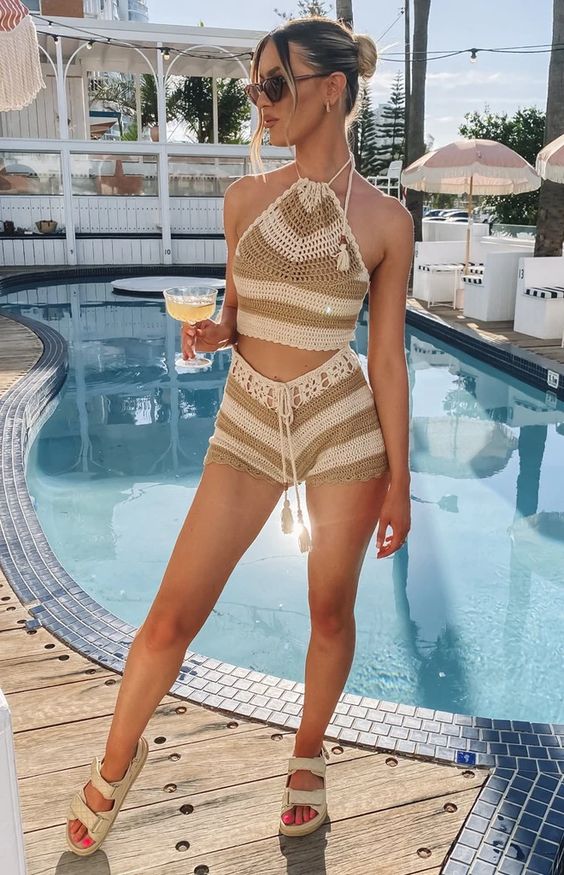 6 – Bikini With Shorts
These shorts have a pattern on them and they look like pockets. You can match a bikini top with these shorts and have a day at the beach with your friends. Don't forget to wear sunblock! This is a super simple outfit for the beach and it won't take a lot of effort to put together either. So if you are somebody that doesn't like to wear a conventional bikini then this is the outfit for you.
5 – Vacation Fit
Don't know how to wear crochet on a vacay? we got you. This outfit is pretty simple yet stunning enough that it can be worn on vacation and won't require much effort either. You just need a pair of plain shorts, they don't have to be multi-coloured they can have only one colour in them too, keep it simple. Pair them with a plain white tee and you'll be good to go. Tie the t-shirt into a knot from the bottom and that'll switch things up.
4 – Winter Set
Did you think you wouldn't be able to wear shorts in the wintertime? This bell-sleeved top is stunning and perfect for wintertime. You can wear leggings with these shorts and a winter outfit there you have it. Pair this outfit with some cute sneakers or thigh-high boots.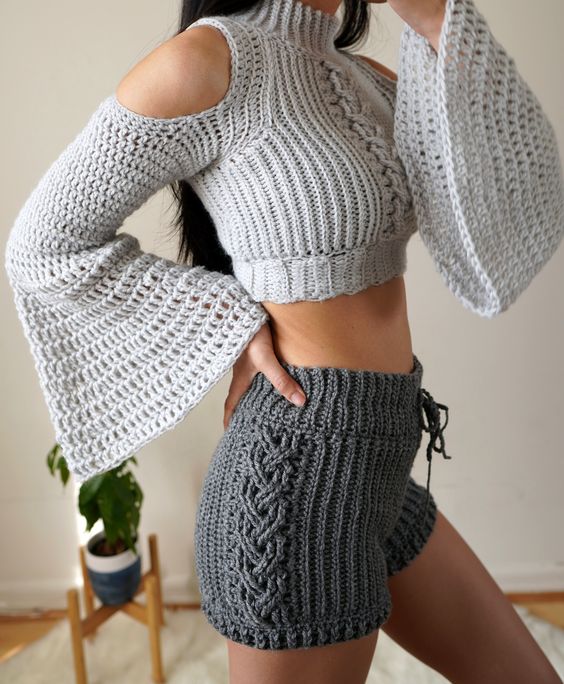 3 – Purple Passion
If purple is your favourite colour then we have good news for you. This purple set is stunning as ever in crochet. You need to try this outfit. Wear it to a meetup with your friends or on a date night. This set would look great with white Nike air force 1s. Throw on a cardigan or a denim jacket if it gets chilly out.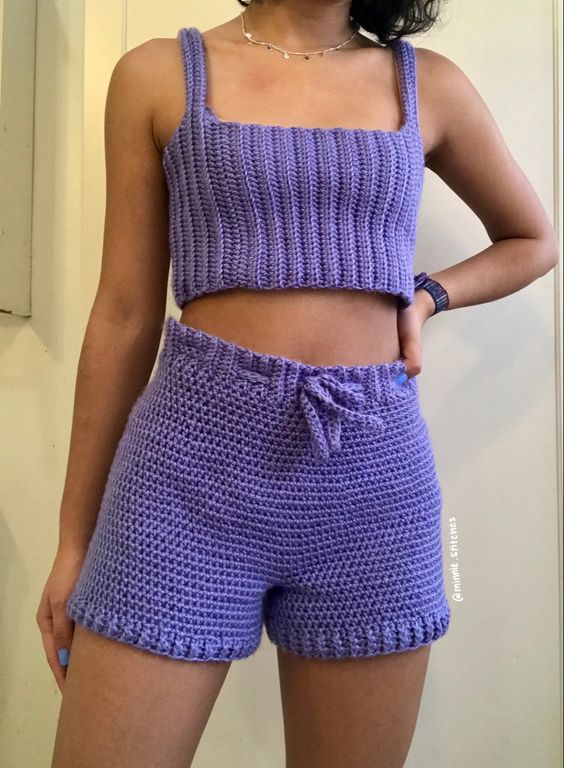 2 – Going Out Fit
This outfit is perfect for going on a dinner date. You just need a silk sleeveless blouse and nude shorts. If you prefer to stick to heels then go for nude ones and matching jewelry. Straw bags are quite trending these days so give them a try as well! Lace shorts look cute with just about anything so do give them a try.
1 – Lounging Outfit
Love to lounge around the house? do that but with a cooler fit. Try these shorts with a cute bralette. You will look cute even while lounging around the house and isn't that the best thing ever? This outfit is super simple and even more comfortable. We didn't know you could look this cute when chilling at home.
Frequently Asked Questions
Q. What to wear with black lace shorts?
Ans. There are a lot of options when it comes to the colour black. If you need to find something to wear with black lace shorts then you should know that you can wear any color with black. You can wear a white collared shirt and pair it with heels for a more put-together look. For more of a comfy vacation vibe, you can wear a matching bikini top with black lace shorts or maybe just a black crop top. A lace Kimono would be a good option as well, just wear a plain black t-shirt under it and your outfit will look great.
Q. Are lace shorts in style 2023?
Ans. Yes, crochet are definitely in style for 2023, so grab yours before they go out of style! Most celebrities are seen wearing them, and we can't help but adore this trend. These shorts are definitely worth buying, so get your hands on them and wear them with matching crochet sets or any plain shirts or crop tops.
Q. What looks best with these shorts?
Ans. They usually look good with matching crochet tops and shirts but who says you can't wear them with anything else? You can try wearing a plain crop top or a halter top with crochets. Crocheted bikini tops would also look really cute paired with shorts. A plain white tank top tucked into your shorts would look cute!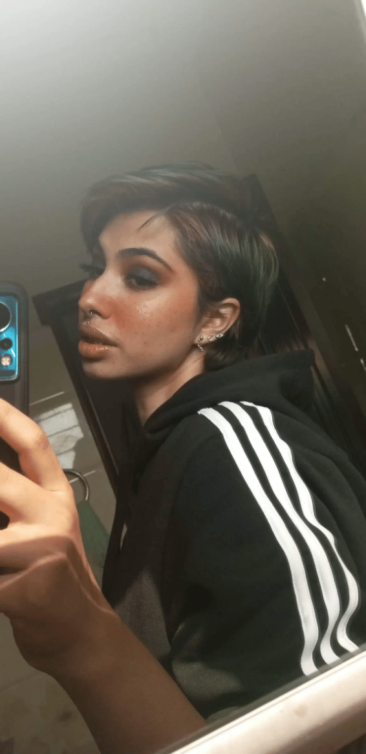 I am a women's holistic health coach and student that enjoys history, experimenting with makeup and skincare, playing sports, working out, and doing all things adventure-related.