Jumpsuits are trending lately, which is why we all need to be prepared with the right jumpsuits and some cool shoes to go with them. So today, we'll be sharing some of the best jumpsuit outfit combinations and the ideal choice of shoes that go with them.
By the end of this post, we're sure you will be a pro in choosing the right shoes with all kinds of jumpsuits.
 What Shoes to Wear with Jumpsuits
There are several things that a girl needs to keep in mind when deciding which jumpsuit she wants to buy or wear for a particular occasion. While jumpsuits were one of the most popular trends in the 70s and 80s, they are now being revived with a modern look.
ALSO SEE  Ideas to Wear  Leather Jumpsuit
Since jumpsuits are one of those outfits that can help flatter your figure, you want one that fits nicely according to your body shape. So whenever you're trying a jumpsuit, make sure that it fits well and that you feel comfortable in it – ensure this by focusing on how easy it is to put it on and take it off as skin-tight jumpsuits are not very practical, no matter how good they look. For best results, it is highly recommended to go for tailor-fitted jumpsuits.
For Mature Women:  see:  Jumpsuit Outfits for Women Over 50
Right now, a huge range of jumpsuits is available in the markets in different shapes, sizes, colors, and styles – we bet you'll spot your favorite style in our list today. Another great thing about jumpsuits, which makes them so lovable is that you can wear them at any time of the year and for both casual and formal wear. We've covered all the different ways to style jumpsuits and the latest jumpsuit trends in our previous post, so today, the focus will mainly be on shoes. So without any more delay, let's have a look at some excellent combinations of shoes to go with your jumpsuits.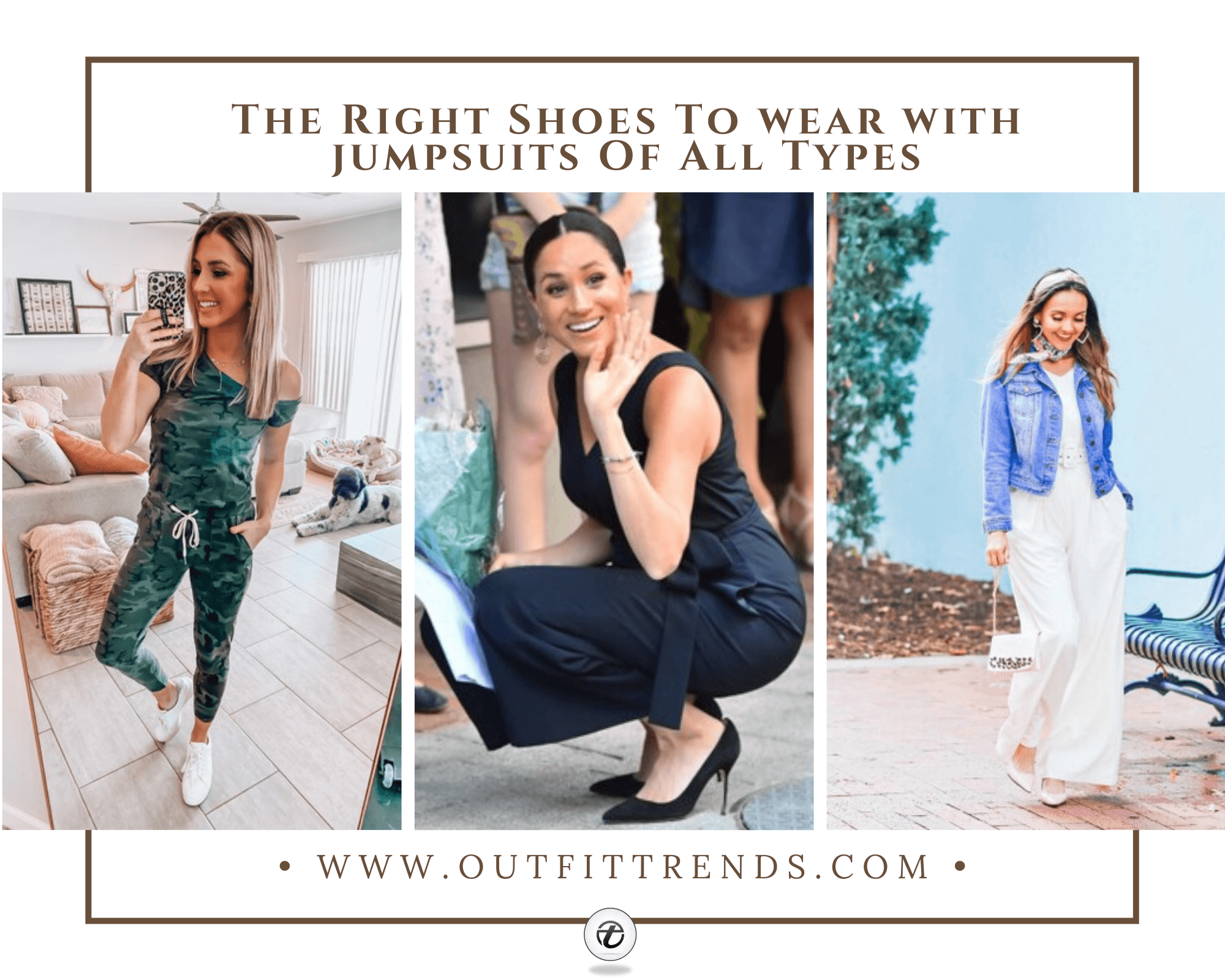 ↓ 26 – Best Shoes To Wear With A Striped Jumpsuit
It's often confusing to decide the right shoe color to go with a striped jumpsuit. If you've faced this dilemma, here's the simplest solution: Go with a shoe color that matches the stripes. And if you're a stripe lover, do have a look at these Striped Pant Outfits.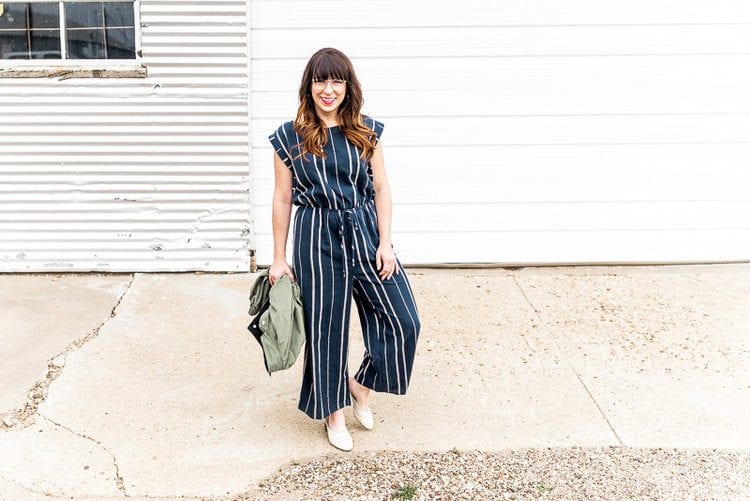 ↓ 25 – With White Pumps
How angelic is this look! There's nothing more pure and beautiful than a white jumpsuit paired with white pump heels. You can layer it with a denim jacket in Fall or Winter.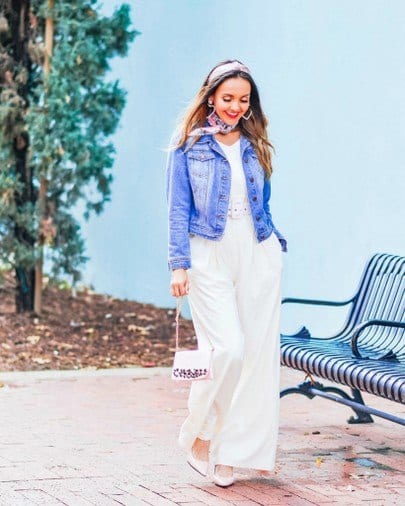 ↓ 24 – With Metallic Shoes
The metallic trend isn't going anywhere for now, and we highly recommend having at least one pair of metallic shoes in your wardrobe this year. You can easily pair them with any solid colored jumpsuit, but they undoubtedly look super hot with a black one.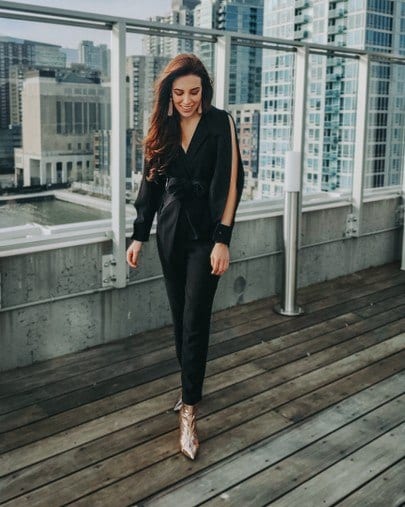 ↓ 23 – With Cutout Gladiator Ankle Booties
Many girls love the menswear-inspired outfits, so here's one of those looks with a jumpsuit. For more such looks, here are the Best Menswear Inspired Outfits Ideas.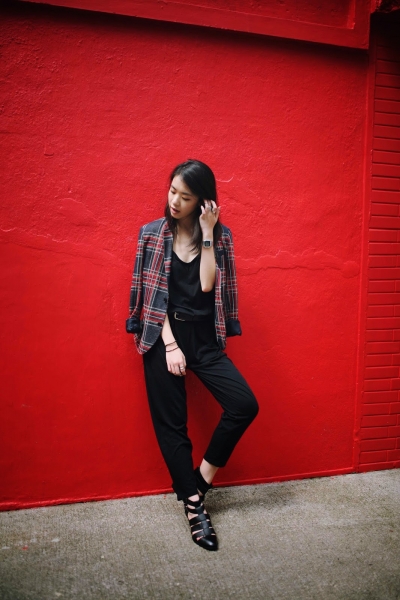 Via
ASOS ATTACK leather cutout gladiator ankle boots for $49: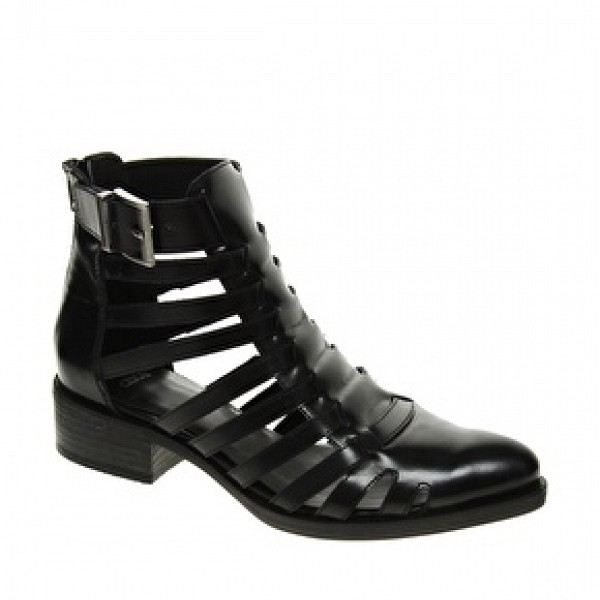 ↓ 22 –  With Slides for the Beach
This culotte jumpsuit with slide shoes looks ideal for a day at the beach or any other place where your feet are likely to get wet, for example, a pool party. One thing to consider is that such culottes and wide-leg jumpsuits look best on girls who are longer, so short girls should try to avoid them as they're likely to look stunted.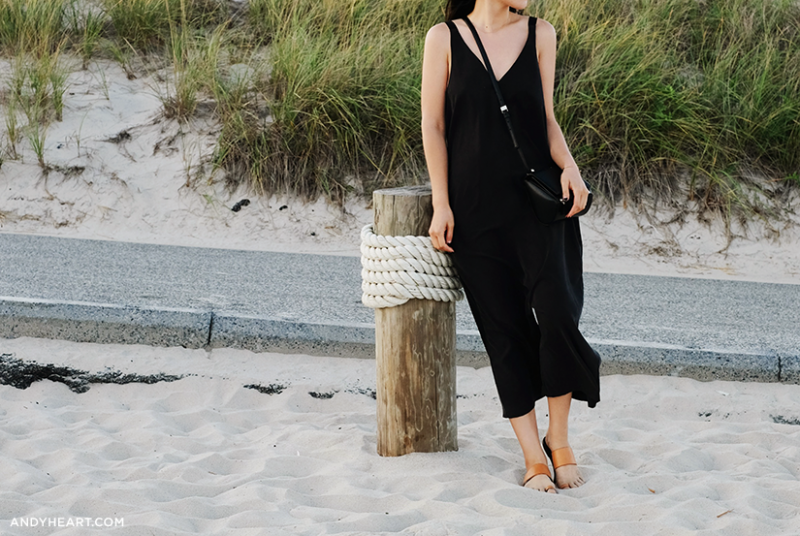 Givenchy black pandora box bag for $1550: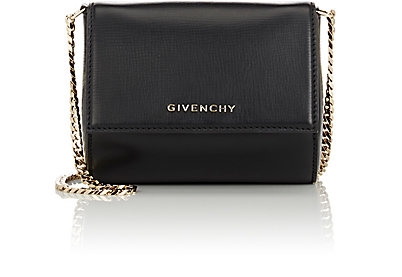 The slides we recommend for this look are Rosa's cutout leather slides, priced at $188, that are available in five fantastic colors.

↓ 21 – With Flatforms
If you want height along with the comfort (something that you can not get with heels), then flatforms should be your go-to shoes in 2020!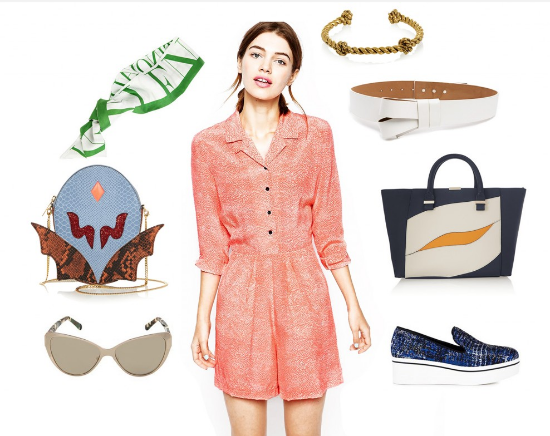 Stella McCartney's flatforms are available in a range of colors and designs, starting from $200. Here's our top pick:
↓ 20 – With Black T Straps
While this bold look isn't for everyone, those of you who like sheer dressing need to give this a try. This sheer ivory jumpsuit is hot enough to make people turn their heads for another look! The good thing about a sheer jumpsuit is that they make you look good without feeling overexposed. If you're a fan of sheer clothing, you wouldn't want to miss out these Sheer Outfits For Clubbing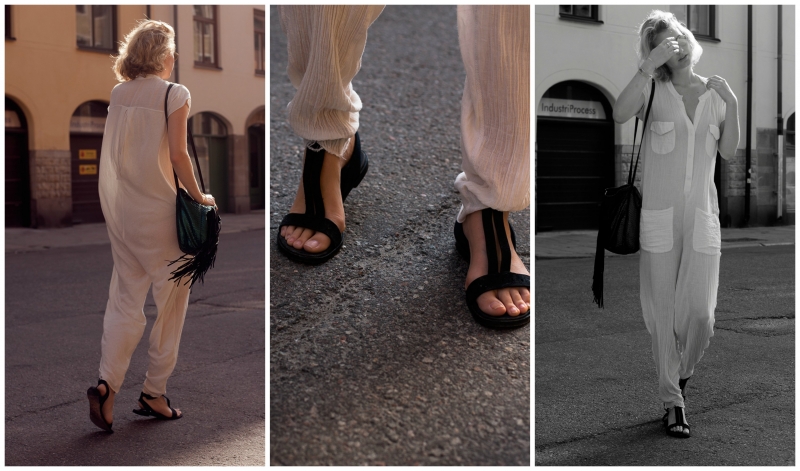 The T-strap flat sandals for $279: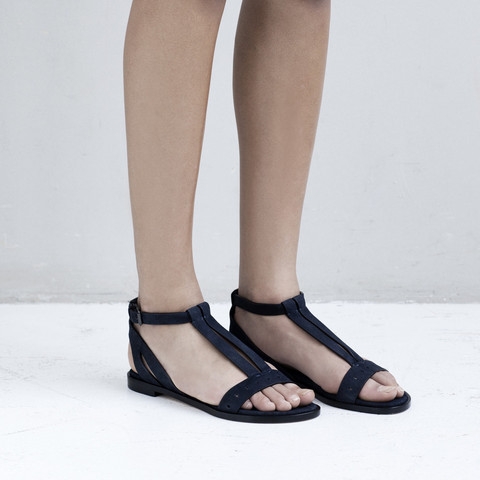 ↓ 19 – With Sandals
If you're looking for tips on how to wear jumpsuits casually, then here it is. Wear a monochrome jumpsuit such as this green one with flat slip-on sandals.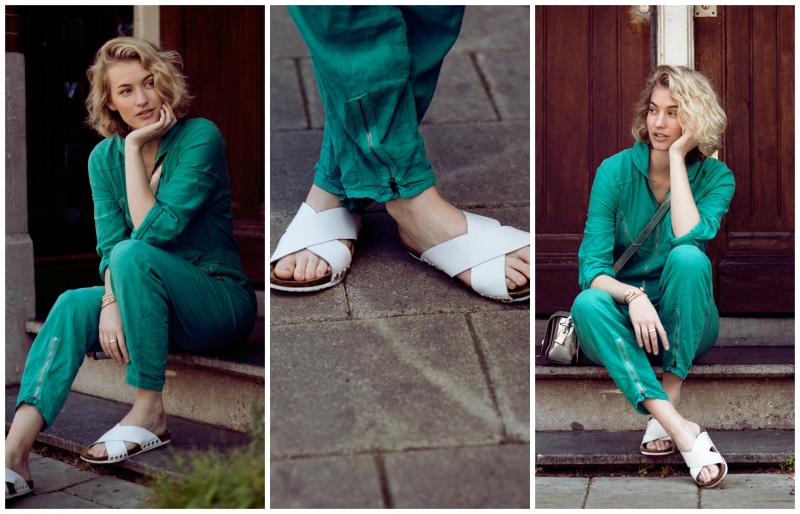 ↓ 18 – What Are The Best Shoes with Jumpsuits in Winters?
Add some colors to the dull winters with a Printed Floral Jumpsuit and pair it up with black Platform Sandals. We suggest black so you can add in a lovely black leather jacket for the perfect combination. We've recommended that you wear a printed jumpsuit with jackets for winters because monochrome jumpsuits don't blend that well with such jackets. Moreover, the jacket also helps tieing together your jumpsuit with shoes and other accessories to give a uniform and complete look. We find them to be the best winter shoes with jumpsuits as they can be worn both with and without socks. If you're looking for other options, then you can go with pumps, sneakers, and, of course, the good old booties.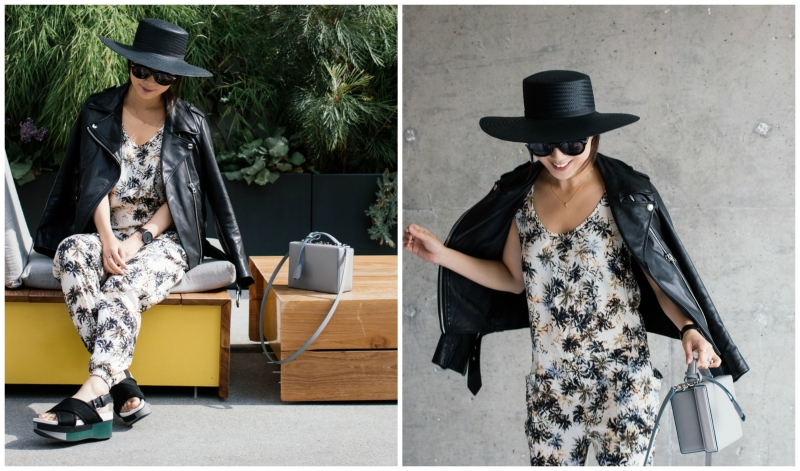 The color block platform sandals for $339:
Mark Cross grace small box bag for $2195: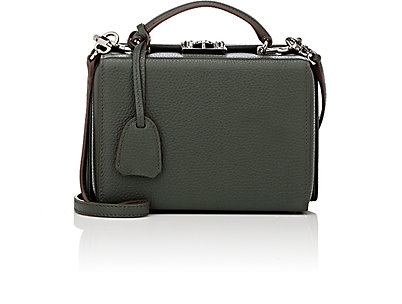 ↓ 17 – For Evening Wear
Here's how you should to style jumpsuits for evening wear: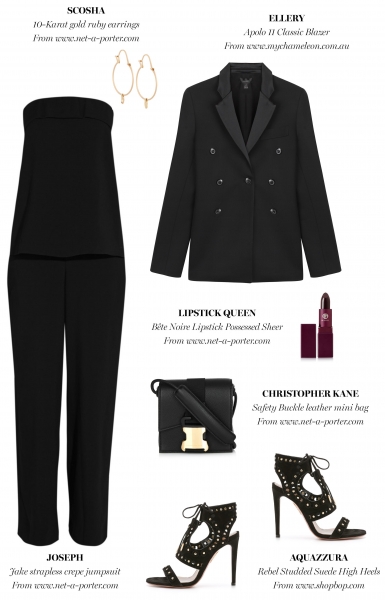 ↓ 16 – Sporty Leather Jumpsuit with Nike Shoes
A great and unique winter look for sporty girls.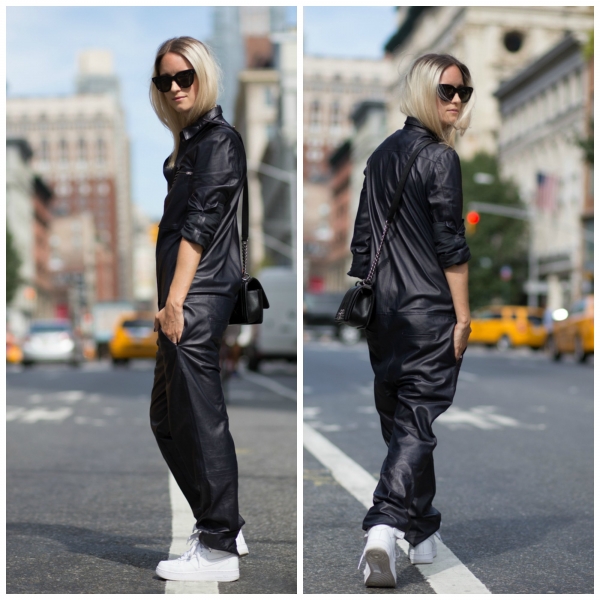 Nike Air Force shoes: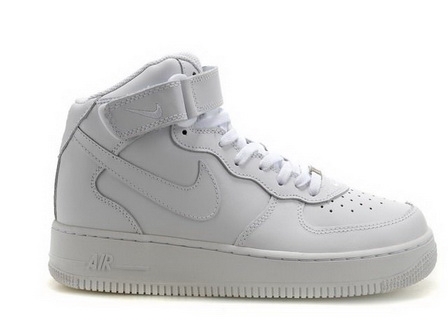 Wear it with this H&M leather jumpsuit for $200: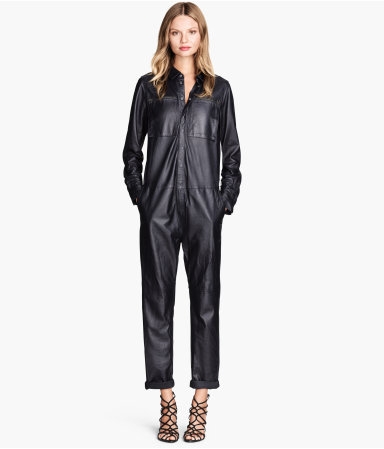 ↓ 15 – Denim Jumpsuit with Converse Sneakers
Here are some more chic Outfits to Wear With White Sneakers for Women.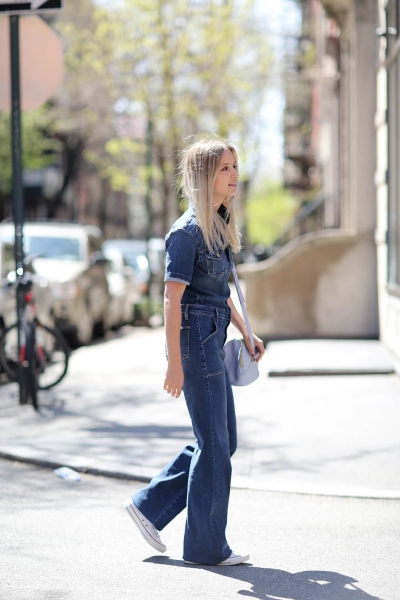 These Chuck Taylor all star converse sneakers are currently available for around $30: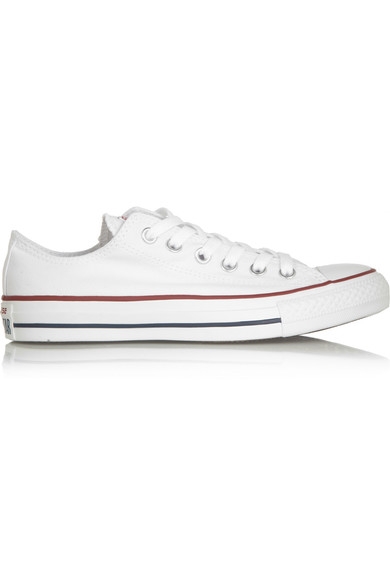 The Manufacture Pascal bags are so good looking that they can go with any outfit. Have a look at 4 of our favorite colors: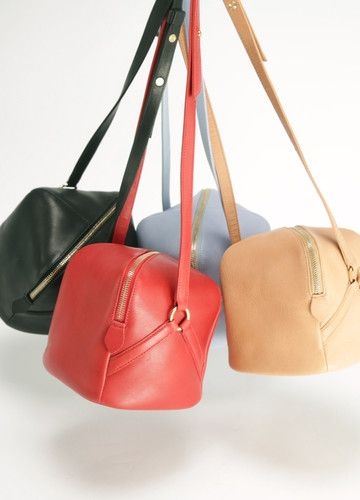 The Frame denim jumpsuit if for $369: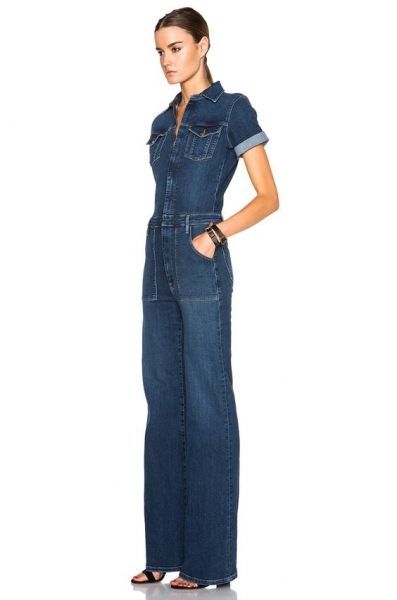 ↓ 14 – Bow Jumpsuit with Trainer Sneakers
Who can resist a white on white outfit? Add in a yellow bag like this for a pop of color. Wear it in Summers, and you'll feel more relaxed than ever.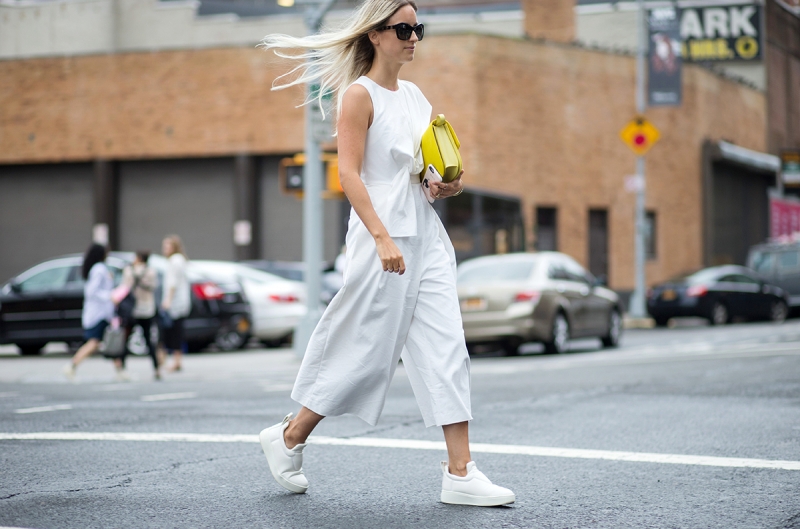 This white jumpsuit is for $ 695: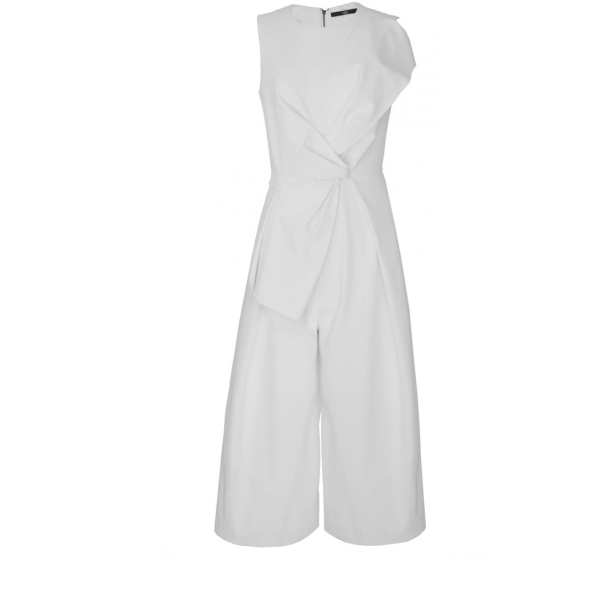 And the Celine Pull-on white trainer sneakers for $729:
The sneakers are so amazing that even celebrities can not stay away from them. Check out Kendall Jenner rocking these sneakers with different outfits:
↓ 13 – Denim Jumpsuit with Printed Pumps
Girls who like wearing denim can not miss out on a denim jumpsuit. But matching the right shoes with denim jumpsuits is the most challenging task. So here's our recommended look: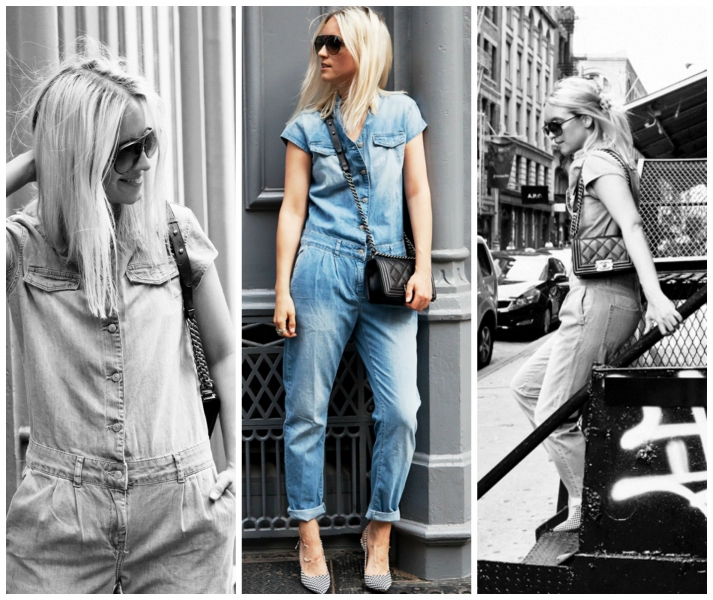 The jumpsuit sure looks fantastic with this Chanel bag, priced at $3653: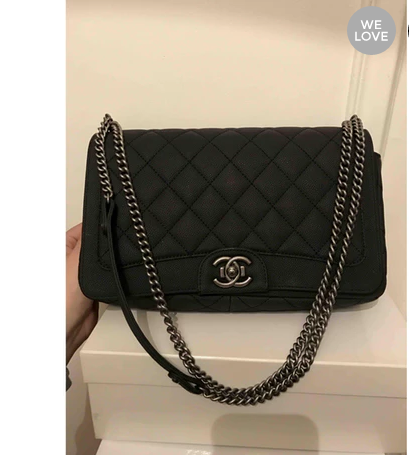 The checkered printed slingback pumps are for $86.73: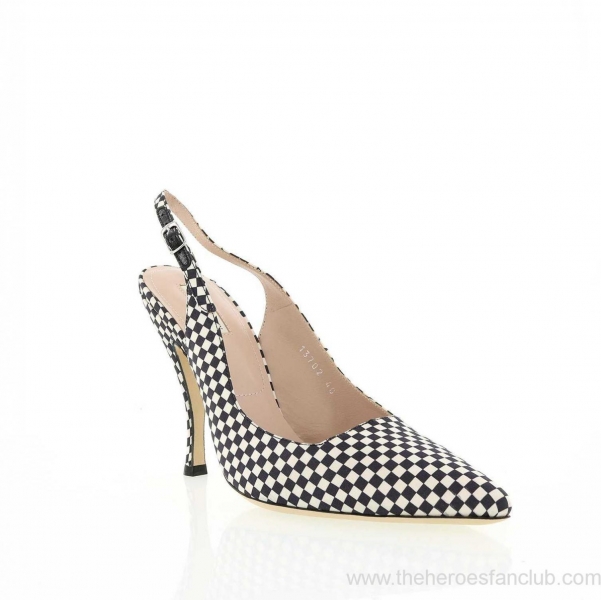 ↓ 12 – Jumpsuit with Gladiator Heels for Curvy Girls
For plus size girls, solid-colored ankle-length jumpsuits can do wonders. They can flatter the curves perfectly.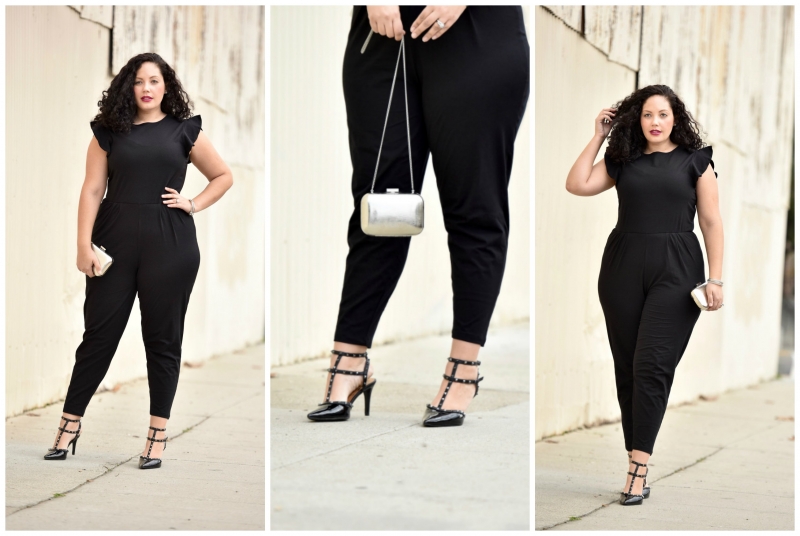 The studded gladiator pump heels are for $64.99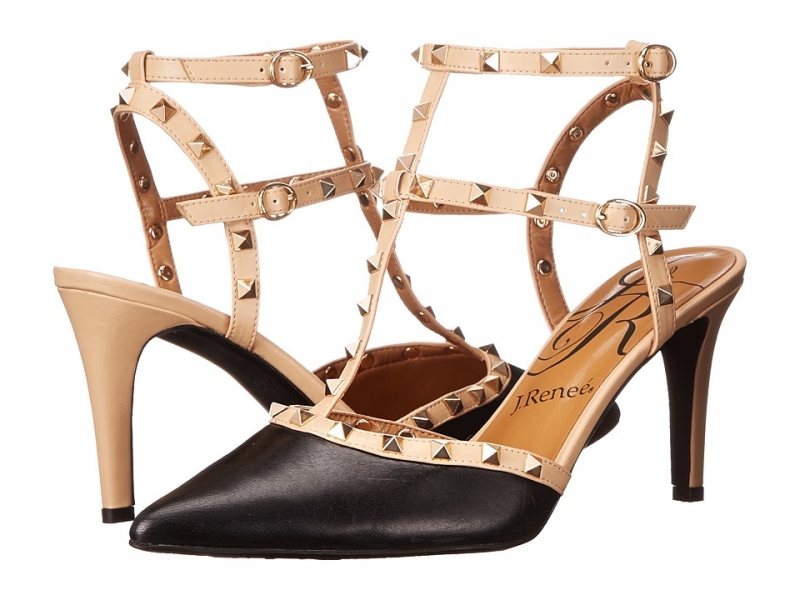 ↓ 11 – Chambray Jumpsuit with Brown Mules
You might notice that in a majority of the looks which we discuss today, the models have chosen to keep their accessories simple. Most have only used a chic handbag, sunglasses, and a hat at most. This is because jumpsuits themselves are the kind of overwhelming outfit that won't look good if you over accessorize them.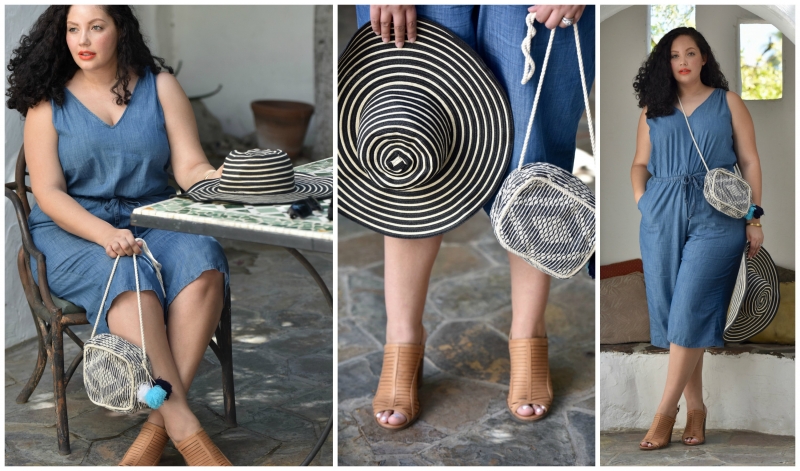 While the mules that you so above are now out of stock, we found these similar ones for you. They are the Vestata leather peep-toe mules for $118: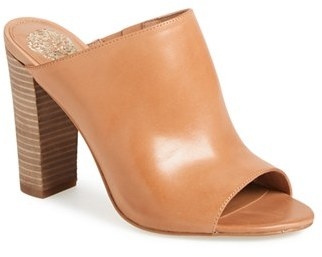 ↓ 10 – With Brogues for School and College
This is how you should wear jumpsuits for school or college. The contrasting colors added with the bag create a magical look.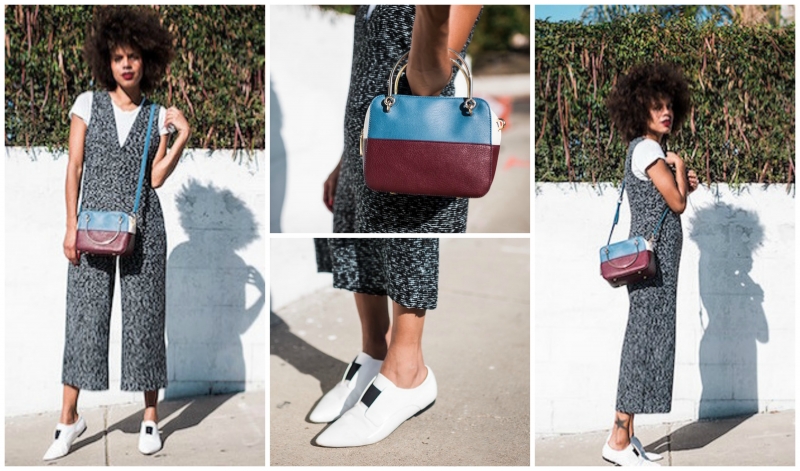 ASAKA Collection's LOYD flat brogues for $395: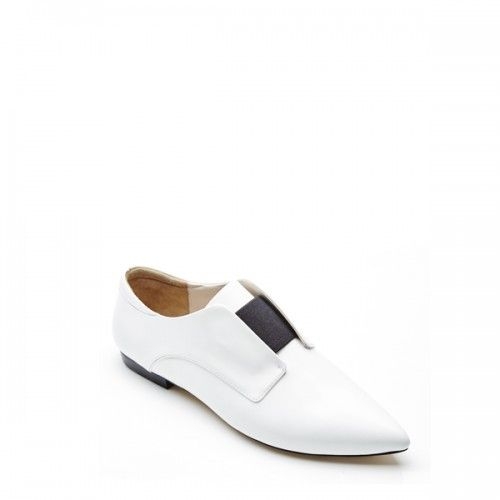 ↓ 9 – With Mules for Night Out
This is the coolest look for all young girls out there. I particularly love the sweater around the waist and that messy braided hairstyle. These beautiful Vince leather mules are available in many beautiful colors

↓ 8 – Black Jumpsuit with Toe Ring Sandals
A chic look for girls who have a busy day planned.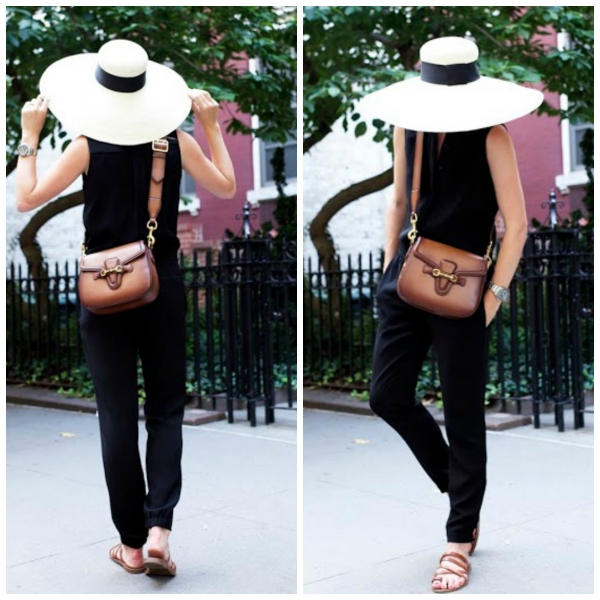 Steve Madden strappy toe ring sandals for $35.96: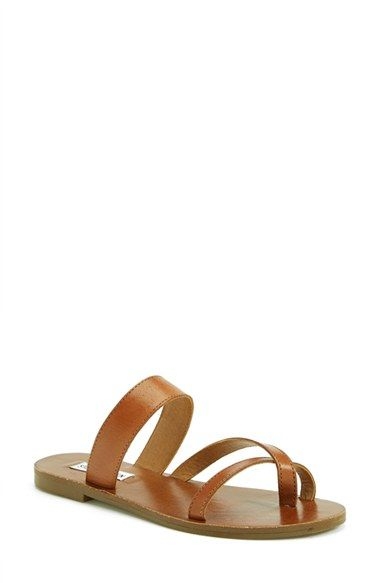 ↓ 7 – Bow Jumpsuit with Bow Pumps
The simple jumpsuits can often get boring, which is why every girl needs a fun piece in her wardrobe. Check out this gorgeous jumpsuit with genius cut-out details and that oh so funky bow! It would be an excellent choice for any party where you want to be the center of attention.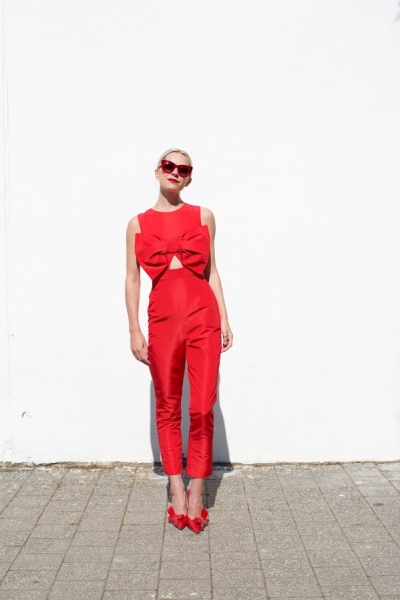 Miu-Miu Bow-embellished patent leather pumps for $400: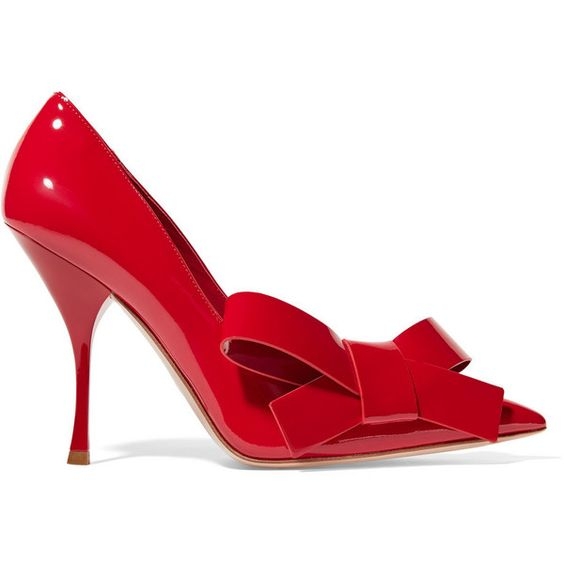 ↓ 6 – With Geometric Heels
If you're bored with your old heels and want to try something new, then geometric heels are the ones to go for.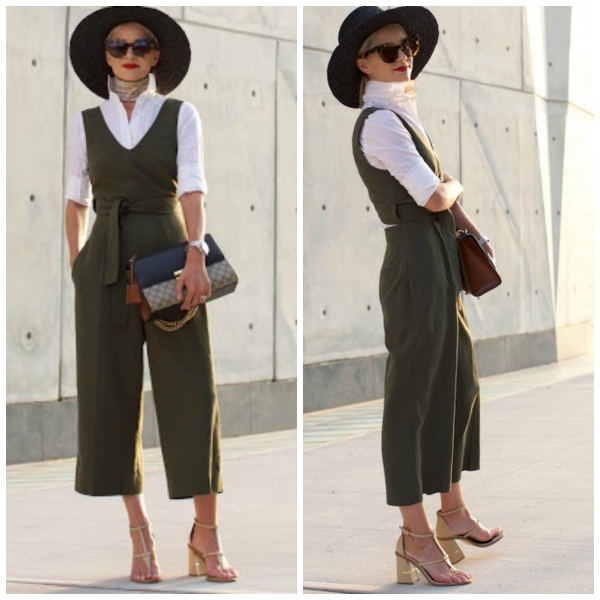 Geometric Heels/Sandals by Tibi for $495: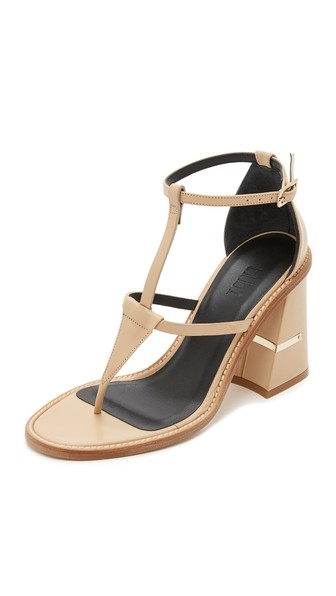 ↓ 5 – Green Jumpsuit with Red Heels for Spring
For short girls wearing jumpsuits, heels are the obvious choice of shoes, and nothing can beat the combination of red and green, especially in Springtime.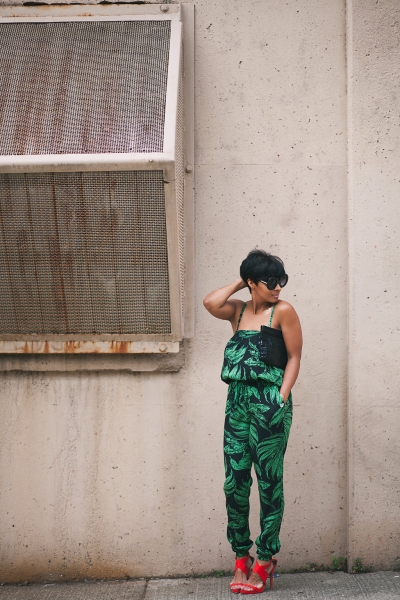 ↓ 4 – Culotte Jumpsuit with Matching Boots for Work
Check out these Ivanka Trump 'Taren' Suede boots for $101: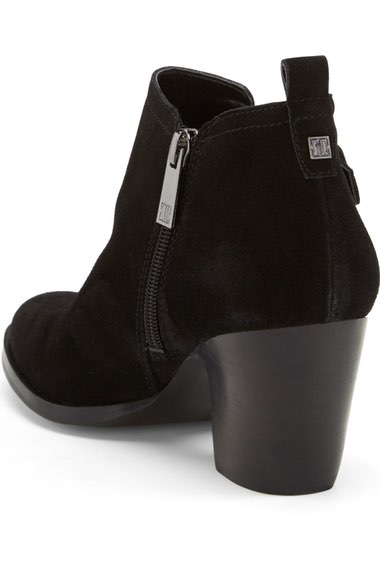 ↓ 3 – With Animal Print Heels
Here's Short Length Hunter Green Jumpsuit with Animal Print Heels. Short rompers like these are perfect for petite girls.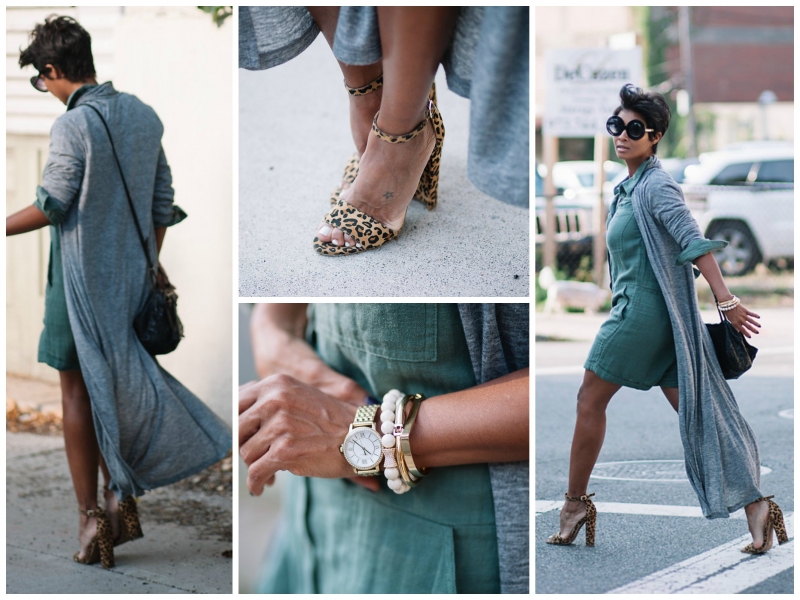 Via
Get the Leopard Heels you see in the shots above for just $68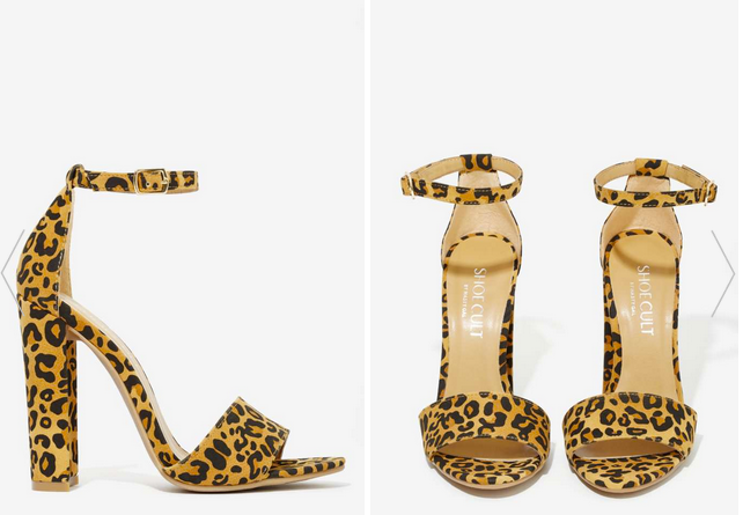 ↓ 2 – Blush Pink Party Jumpsuit with Black Heels
When wearing a monochrome jumpsuit like this one, try adding a colorful or contrasting belt at the waist as it makes the final look much more enjoyable.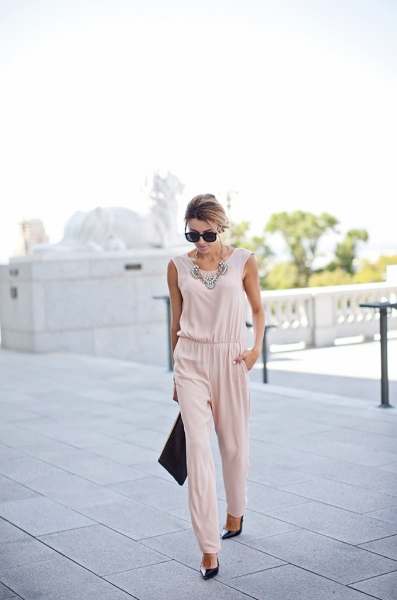 CHRISTIAN LOUBOUTIN So Kate Pumps for $675: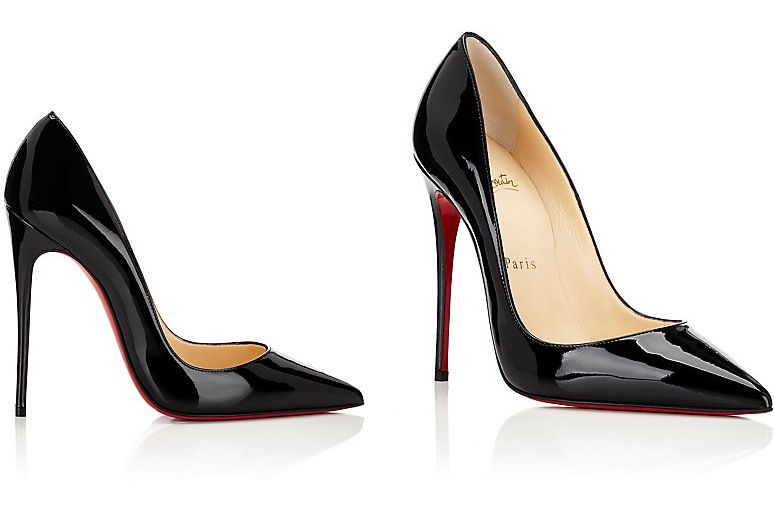 ↓ 1 – Wedding Jumpsuits with Ankle Booties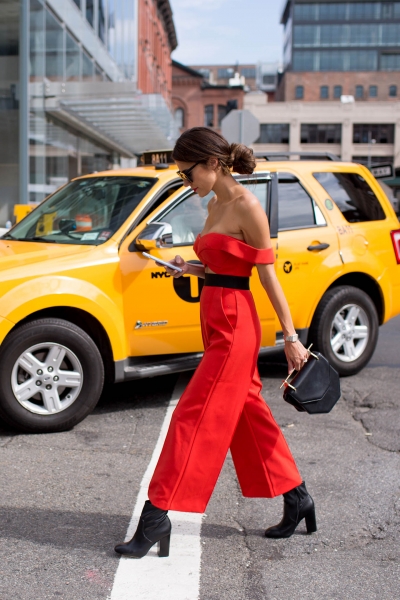 Last but not least, don't forget to get these Rebecca Minkoff Bojana Black ankle booties: