How To Wear A Leather Jumpsuit – Jumpsuits are essential additions to any closet when it comes to fashionable alternatives to dresses. Regular cotton or denim jumpsuit is already a fashionable and distinctive ensemble. However, try leather jumpsuits if you want to take your outfit to a next level.
Before buying a full leather overall, you must ensure it fits you because an ill-fitted jumpsuit doesn't look good no matter how expensive it is. Moreover, you need an appropriate amount of accessories for this outfit.
But worry not as we are here to help you with everything related to leather jumpsuits. From the right fitting and accessories to the best colours and outfit inspiration, this article includes everything you need to know. So without any further ado, let's begin.
Best Ways to Style A Leather Jumpsuit
First up, leather overalls are appropriate for winter as it gives you a warm and edgy look. However, you don't need to always wear plain jumpsuits. With the correct styling, can be dressed up or down.
Finding the correct costume ideas to help you carry off the appearance can be difficult because there are so many different patterns and sizes to take into account. Hence, we have put together an easy guide of 20 looks along with some styling tips.
Tips And Tricks on Styling Leather Jumpsuits
Choose the proper style and style. Finding the ideal jumpsuit design is just as crucial as determining the ideal fit. To discover your ideal fit, try on jumpsuits based on your body type with long sleeves, halter tops, and deep v-necks.
Carry shoes. Bring the shoes you'd want to pair with the attire and try them on when you're shopping. While heels look best with more professional, wide-leg jumpsuits, sneakers go great with casual jumpsuits.
Jumpsuits may be accessorized with a variety of items, such as purses, blazers, belts, bracelets, necklaces, and more. Combine different accessories to provide a finishing touch to your appearance. However, don't go overboard with accessorizing as a jumpsuit
If you are going for a strapless jumpsuit, add a blazer. Experiment with different blazers. Go for puff sleeves or a ruffle jacket if you want a bold look.
19 – Strapless Brown Leather Romper
Black leather is very common, and you can find a lot of people wearing it. If you are tired of your everyday jumpsuits or want to try something different, try on different shades of brown.
Brown overalls are trendy right now and are a safer option as this colour looks good on everyone.
Add your black leather jacket over your shoulders and these two pieces of clothing will make you look like a diva. To give your look a fresh, finished look, wear some mix-and-matched high heels and carry around a black designer bag that matches your jacket.
A cherry on top would be all those minimal, super cute gold jewellery you can wear that would make your bare hands and neck look as fashionable.
18 – Brown Long Sleeves One-Piece
Brown and black are the two colors that go well on everyone.
Leather is perfect for the cooler months, with the thick hide also helping you with the harsh winter winds. You can stay stylish while staying safe from catching a cold too.
Wear a shirt underneath for further protection from the snow and an extra point for the woolen gloves and snow boots. You are ready to go out in the extreme winter weather while staying in style anytime you want.
Instead of going for a beanie, try wearing some furry ear muffs that match well with your outfit to amp up your outfit and give it a more cute look.
17 – Hazel Toned Jumpsuit
Talking about brown, hazel is considered to be a shade of brown that is more enhanced and bright. Overall, hazel is a perfect color for everyone out there. If you have not already, you really need to get your hands on such a pretty colour.
The straps help give you more of an enchanting yet cute look. The belt tied around your waist is the icing on the cake; the perfect fit of such a romper will help you be the center of attention in the whole room.
You can always try on some different accessories or matching jackets if you think your fit is too simple.
Lastly, heels work best with overalls. You can grab matching or transparent heels. That's it and you will have a fabulous fall outfit.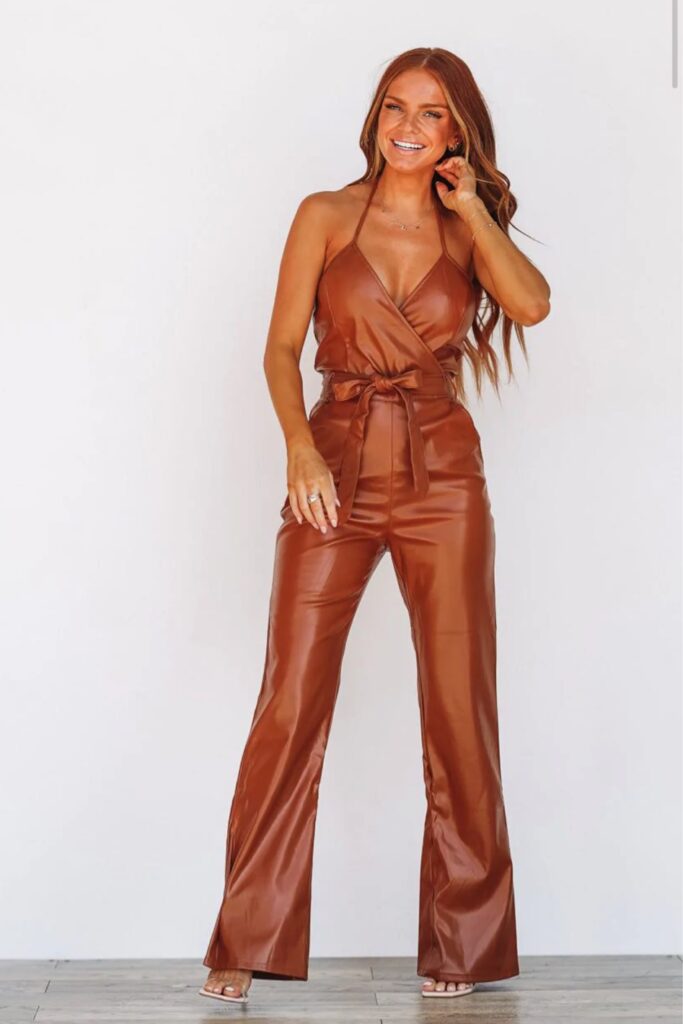 16 – Slay in Chocolate Brown Leather Jumpsuit
Among all the full-sleeved, sleeved, or strapped jumpsuits, you can also go for something strapless. A strapless bodycon suit would give you a more desirable look and help make you picture-perfect-ready with little to no extra effort.
The bodycon design will make you look as beautiful as ever in just a one-piece suit. Because of the simplicity of this fit, you can wear this outfit anywhere, from your day out with your friends to a date night.
Try pulling over a matching or contrasting jacket if you feel like covering your shoulders to protect yourself from the sun, and this can also help give you a stunning look.
15 – Short Sleeve Jumpsuit for Warm Days
Short sleeves are adored by everyone out there, especially in the warmer season. You can always try such a fit and look as classy as ever.
14 – Belted Black Jumpsuit
I love this look! When thinking of trying on a romper, you can never miss out on something very famous and loved a black belted jumpsuit.
There are a hundred different designs that you can find on the market, but only some will catch your eye. For example, a jumpsuit with short sleeves.
Short-sleeved overalls like this one would make you look as amazing as ever, and the belt would help give you a more defined shape and make you look more alluring. The simple yet bold style will make you stand out from the rest.
You can wear such a fit anywhere, from your everyday casual outings to a concert or night out with your friends.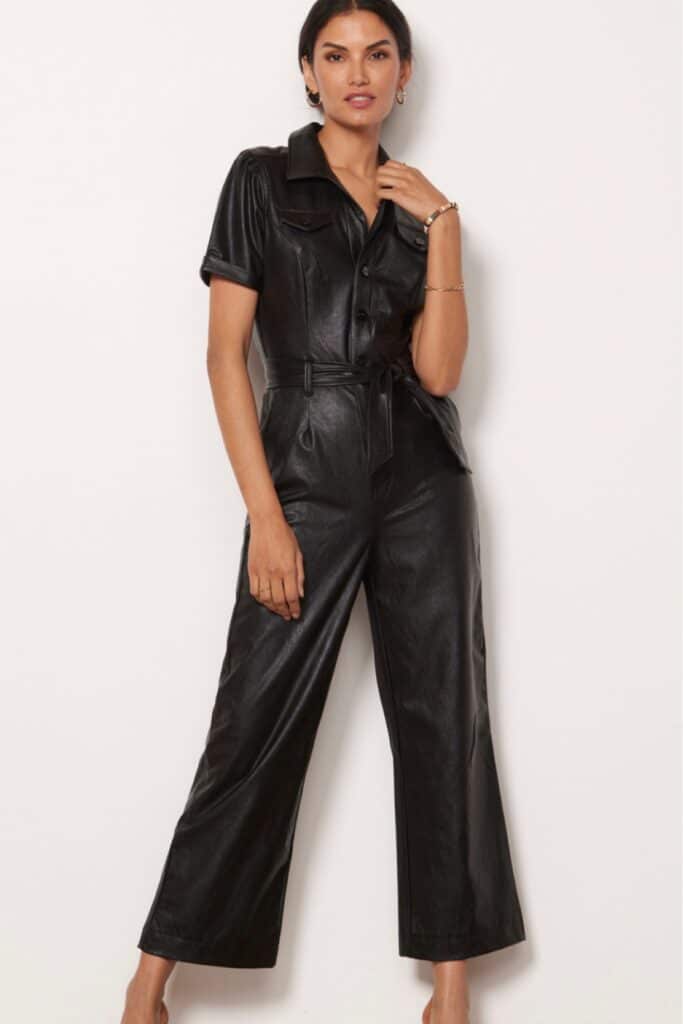 13 – Faux Leather Overalls
Leathers come in different shapes, sizes, and qualities. If you are not looking for pure hide, you can always opt for faux outfits.
They are different from your everyday leathers, yet they give off the same vibe. Since they do look as good as normal fabric, maybe even more attractive.
A cherry on top is the short sleeves that come along with the faux leather jumpsuits. They are perfect for you to wear in warmer weather, as leatherette works well in summer as well.
Amp up this simple look with some easy steps, which will help you not go 'too extra' and not be too simple as well. Tie a belt around, wear some laced-up heels, and minimal jewellery like necklaces to look better than ever.
12 – Belted Leather One-Piece Romper
On a sunny day out, when the weather is pleasant, but you still want to protect your skin from tanning under the high heat, you should definitely wear a jumpsuit with long sleeves. It is better to protect yourself before any damage is done.
Your hero in disguise for such a situation is a black full sleeves leather jumpsuit. Similar to this reporter, who has to report out in the open air, underneath the sun.
Fashion and safety can go hand in hand; such overalls look super cute, or if you pair them right, they even make you look alluring.
You can try wearing a hat or cap to match the vibe of the weather further or roll up your sleeves to give it a more classy look.
Finish off your look with a pair of black and white shoes, and you are ready to slay!
11 – Zipper Jumpsuits for The Win
What could be better than a pleather jumpsuit that also makes you look and feel a hundred times better? This full-sleeve jumpsuit covers you fully while giving you that defined look as well.
The zipper at the front helps enhance the style and boldness of the fit, and it is left to you if you want to make it more alluring by pulling the zipper down low or making it look more professional or modest by pulling it up. Both styles will look great on you.
Pair your look up with some boot heels, and you can always try putting on some shades and necklaces to boost your whole look.
10 – The Classy Deep Neck Bodycon Jumpsuit
Talking about warm weather and black jumpsuits, we cannot miss out on such a beautiful deep neck overall. The skinny bodycon style is something nobody will be able to pry their eyes off of.
The bold dark colour and the bodycon look make you look more captivating and attractive than ever. For a classy night out with your friends, you can go for a thick pelted belt to wrap around your waist to accessorize your dress and give a little boost to your fashion statement.
Add hoop earrings and ankle strap heels and you are good to go. Step out, be confident, and steal the show.
9 – Pair Your Fancy Jumpsuit With Beret Hat
If you are tired of your everyday bodycon jumpsuits and are looking for something that you can easily wear for your New Year party, then have a look at this outfit. This frill look is perfect for a fancy party.
The minimal design combined with the black leather look will amp up your style in seconds. In addition to the frills around the upper half of your jumpsuit, the puffy sleeves help give it a more vintage look.
This is quite uncommon in overalls, so getting your hands on something like this will not only make you look party-ready but also make you stand out from the rest.
Try pairing it up with a fancy buckle or wearing a hat and some sunglasses to give your outfit more of a bold and classy look. This would be a great outfit to wear at the races.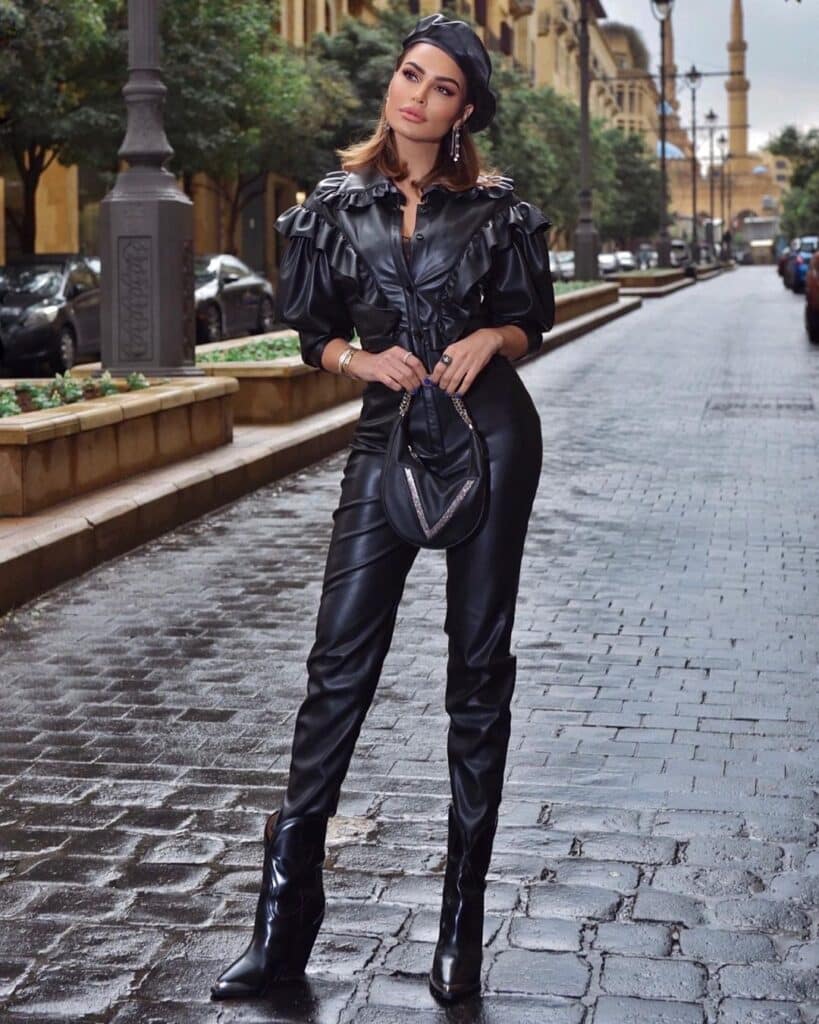 8 – The Irina Shayk Look
You will find nearly all of the fashion influencers or models trying on a pleather one-piece at least once in their lives. The actress and model Irina Shayk also went with the trend and pulled off a jumpsuit on the red carpet at the Met Gala, and everyone had their eyes fixed on her.
Very different from the rest of the celebrities who go for something flowy and filled with embellishments, this actress showed how a leather jumpsuit could also be a fashion statement that anyone can wear and look good in. Irina wore a black jumpsuit and a similar jacket on top.
The all-black hide look was complimented by the black hoop earrings and boots. This simple attire had a vibe that attracted everybody, and it showed how everyone could wear such a look and be able to pull it off so effortlessly.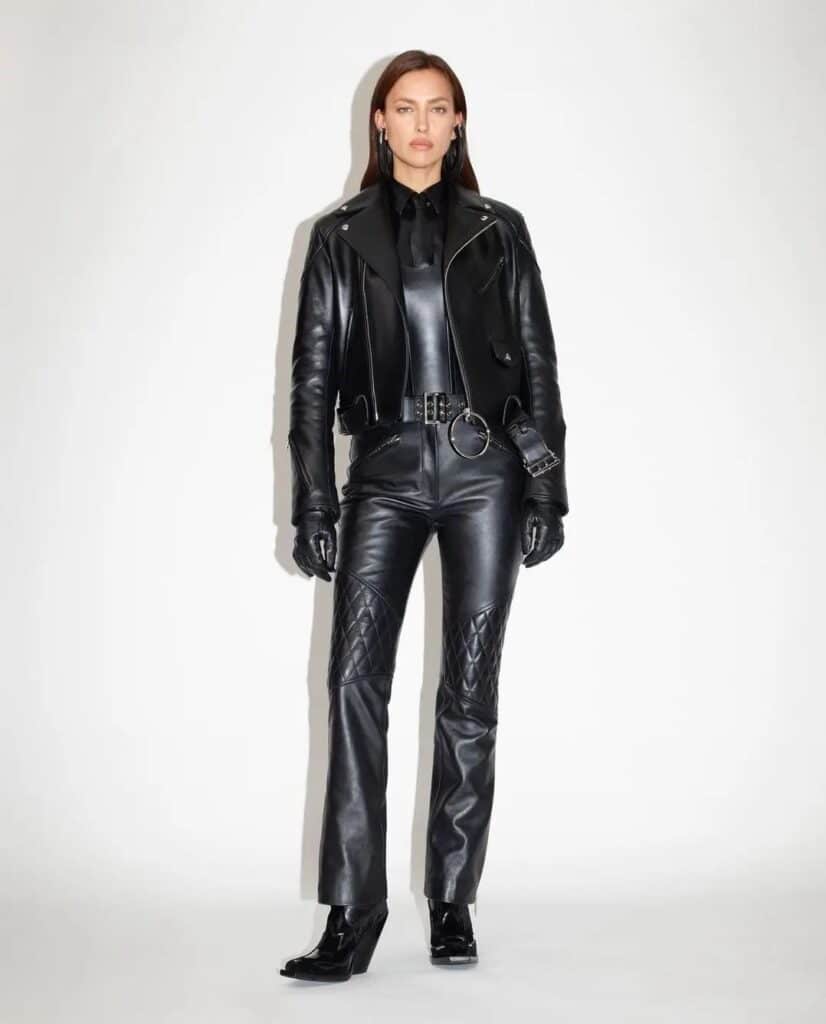 7 – Cap Sleeve Jumpsuit
A combination of satin fabric and leather would help do wonders with your fashion statement.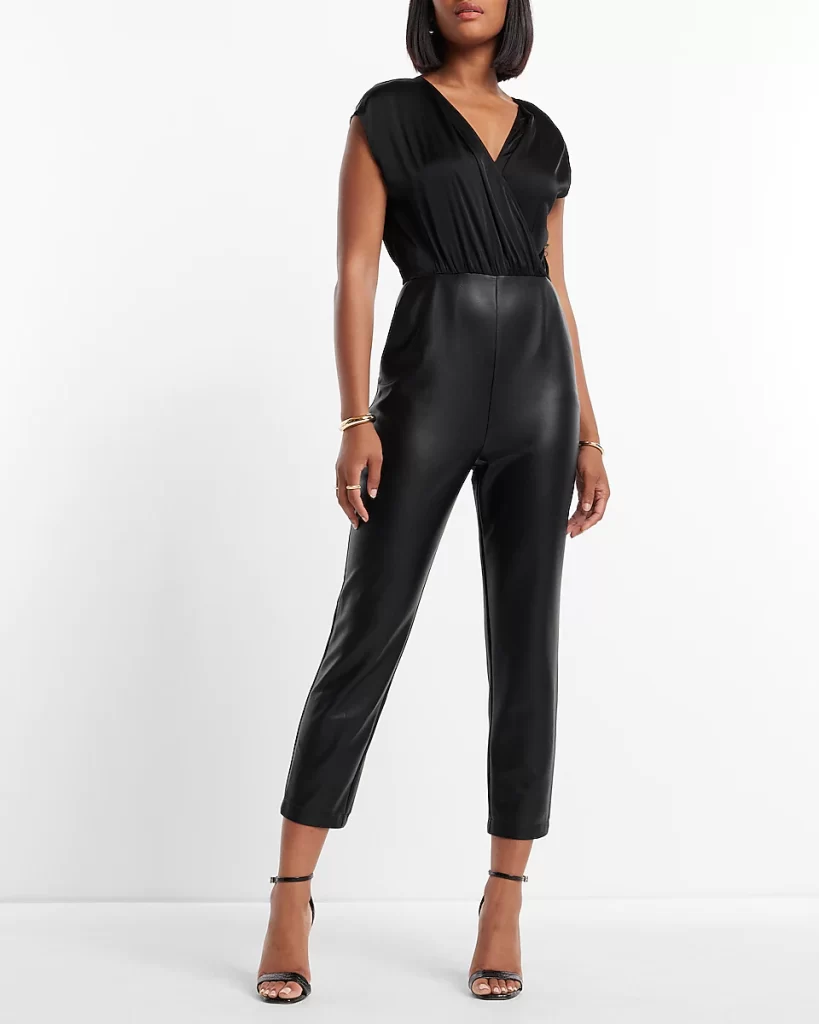 6 – Split Hem Overalls
Split hems are the talk of the town these days; combine it with a romper, and voila! You look picture-perfect.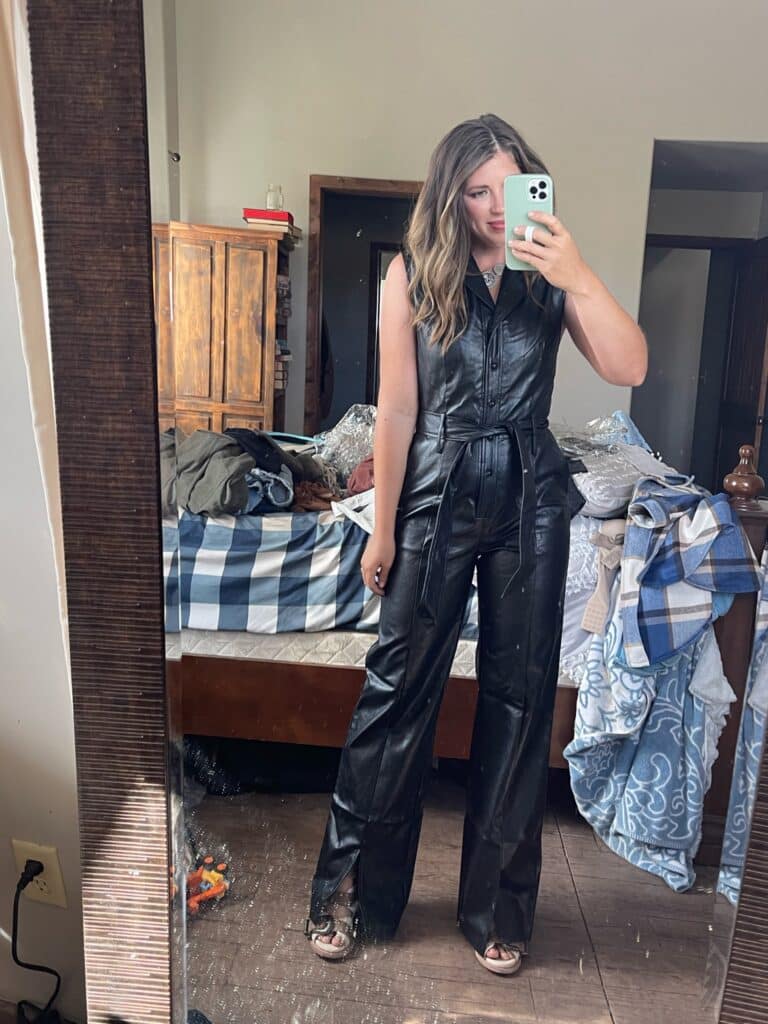 5 – Cutout Jumpsuit
Try a cutout jumpsuit if you are looking for something sexy and stylish. The cutout design will make you look a hundred times more enticing and classy.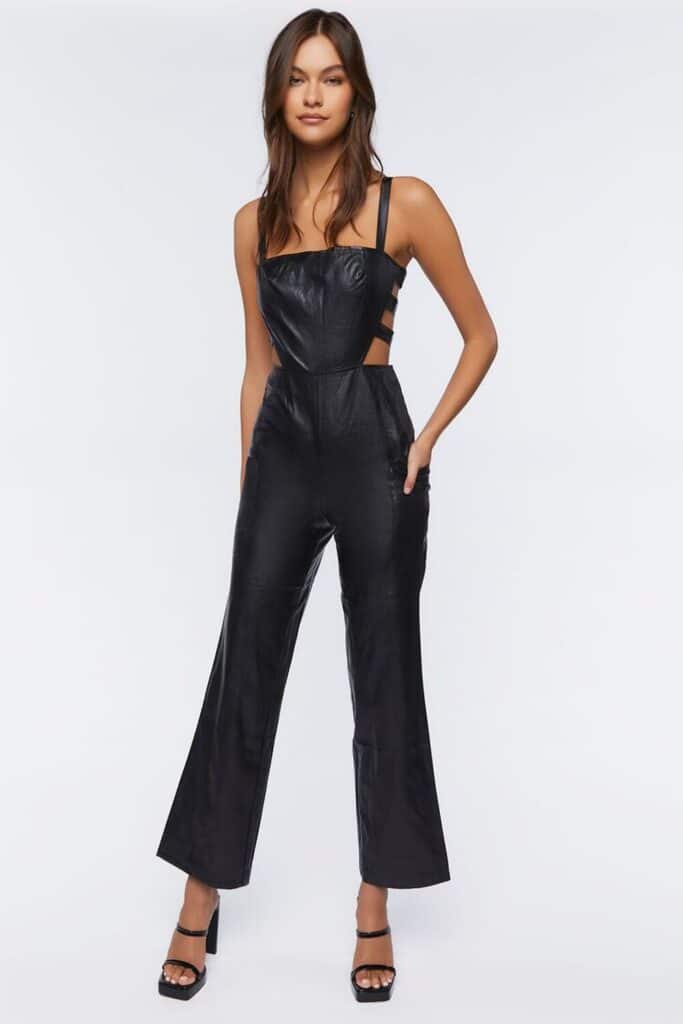 4 – Go for Flare Bottom Jumpsuits
3 – Full Coverage Jumpsuit for Girls Who Prefer Modest Fit
2 – Green Collared Neck Belted Overall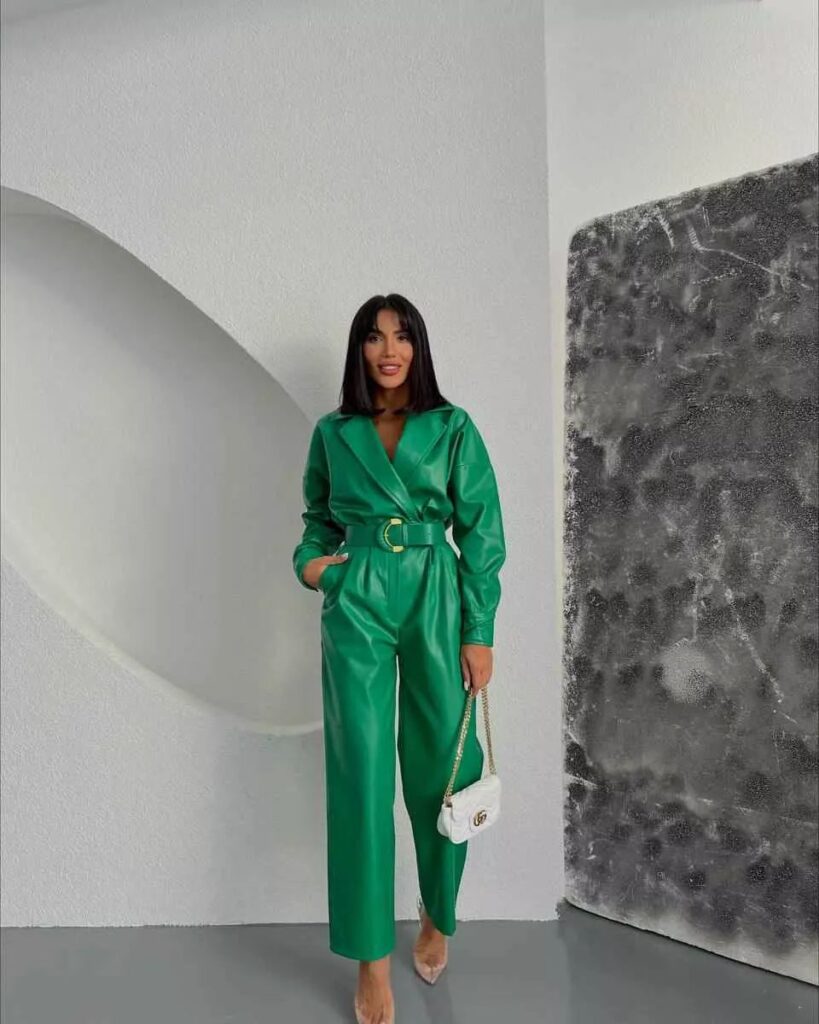 1 – Try V-NeckRomper in Salty Nut Color
Different from your everyday black or brown jumpsuits, this salty nut color would suit you so well and make you stand out from the rest.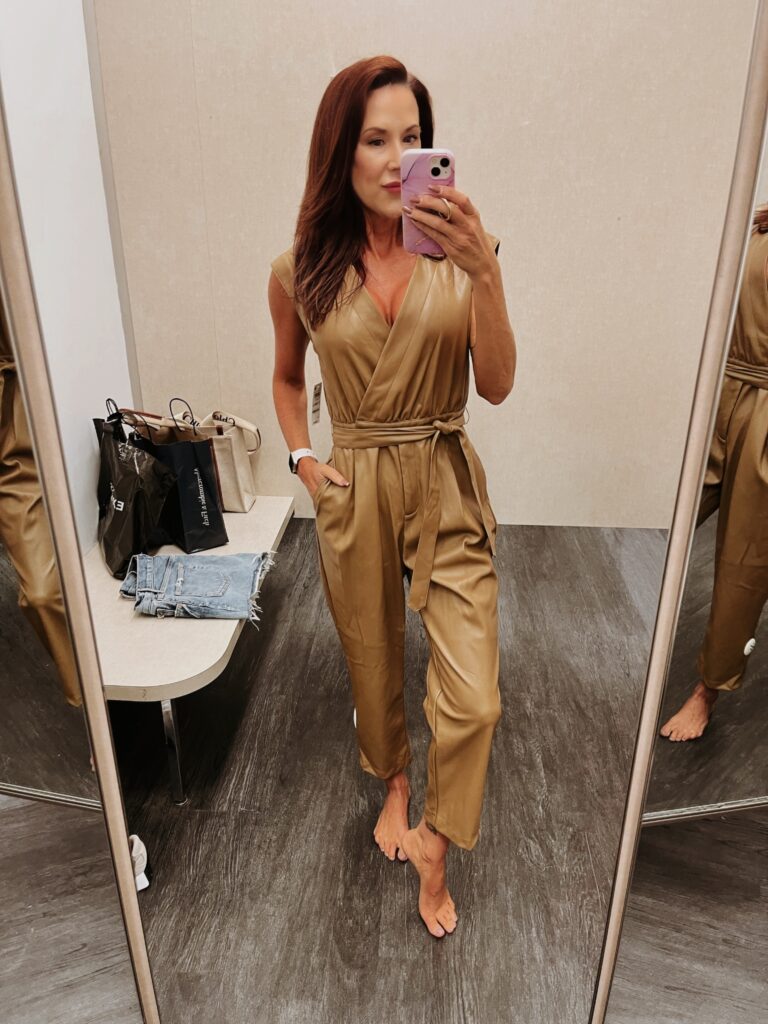 Frequently Asked Questions
Q. What top do you wear under a jumpsuit?
Ans. You can always wear a simple solid-colored tee underneath your overalls. From camisoles to your woollen shirts, anything would work really well underneath, it depends on the weather and the style of your jumpsuit.
Q. Are jumpsuits still in fashion 2022?
Ans. Yes, jumpsuits are still very much in fashion this year. Specially catsuits are loved by every woman out there. There is no season throughout the year where overalls are out of style. However, leather jumpsuits are more appropriate for winter season.
Q. Can we wear shoes with jumpsuit?
Ans. Leather jumpsuits go with all of your favourite shoes. All of your favourite shoe designs, like chunky sneakers, ankle boots, and shoes with pointy or square toes, go well with leather rompers.
Q. Is jumpsuit formal or casual?
Ans. Choose a flowy jumpsuit with strings around the waist if you want to seem casual. Remember to select a jumpsuit that is well-tailored and enhances your body shape for a sophisticated appearance. The most adaptable item of apparel for ladies is a jumpsuit since you can wear it to any event.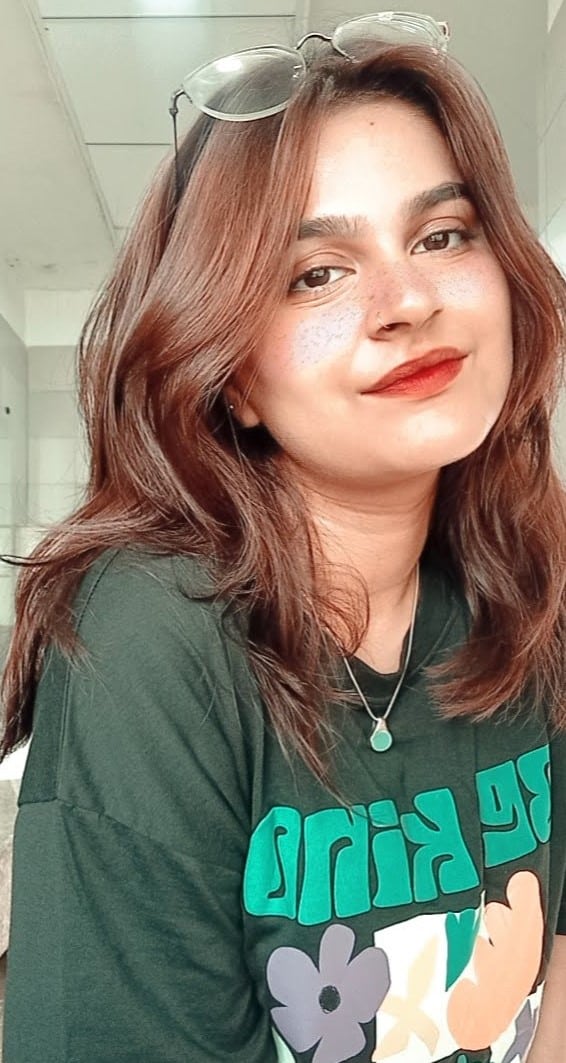 Adeena is studying Media Sciences at IoBM. She is a freelance content writer and graphic designer with experience in UI/UX as well. Adeena loves writing about fashion, taking photographs, making videos, and exploring many artistic things in her life.