Baggy Sweater Outfits: You might think that baggy sweaters are outfits reserved for weekends when all you want to do is put on something comfy and relax, but ladies, these sweaters are a new way to look classy and attractive.
Women worldwide are integrating their cozy baggy sweaters into their winter wardrobes in the most fashionable way. Be it a formal event or a day out; your baggy sweaters will keep you warm while you make a statement!
The only way to beat the harsh winters is with cozy baggy sweaters, and in all the chic ways they can be styled, we guarantee you that these will be your go-to this winter. After all, who doesn't want to be protected from the unforgiving chilly weather all while looking as stylish as ever? Winter is coming, ladies, so it's time to let your baggy sweaters have their moment!
How to Style Baggy Sweater Outfits?
You might be curious how women around the world are styling their baggy sweaters and looking effortlessly chic and extremely fashionable, so we thought we might inspire you with some of our favorite looks!
Where to buy baggy sweaters?
If you're inspired to let your baggy sweaters shine this winter, check out the list of our top picks for you to add to your collection. Scroll through these links, and happy shopping!
Boohoo Oversized Cable Knit Jumper
ZARA Oversized Knit Sweater
Next Lipsy Stripe Slash Neck Knitted Jumper
Free People Angelic Pullover
Pull & Bear Grey knit V-neck vest
Boohoo Petite Cable Roll Neck Oversized Jumper
Free People Oasis Tunic
#41. Sweater Weather
Teal is such a pretty color, and adding it to your winter wardrobe will make the dull winter days full of color. Throw on a baggy teal sweater over a mini denim skirt, and you can keep warm all while showing some skin. The layered necklace makes the look complete.
#40. Sweater, meet lazy days
Hailey makes a statement every time and continues to leave us in awe. Who would've thought that you can make a statement in all yellow during winters? But Hailey showed us how it's done, so girls don't shy away and get yourself a yellow baggy sweater to style with matching yellow pants.
#39. Sweater Obsession
We love the style of this sweater not only because the oversized neckline serves as an off-shoulder but also the loose sleeves, which naturally give it a baggier look. Pair it with shorts or your favorite denim piece, and you're off to go!
#38. The baggier, the better
If any look speaks winter perfect, it's this one. Maroon and black is a winter showstopper. Style a maroon baggy sweater with a lace top and leather pants, and girl, you're on fire!
#37. Lace-up, pace up!
There's something about lace-up sweaters that gives off a very chic look-and if it's a baggy lace is up sweater in black, then we don't think it gets any better than that! You can either go all black or style it with white pants since white and black is the OG contrast that everyone loves!
Check out more cool ways to style Black Sweater outfits for women.
#36. Fashionable Freezing
Turtlenecks are a winter must-have, and with that said, what's stopping you from wearing a baggy turtle neck with nothing but over-the-knee boots? It's incredibly chic and comfy all at the same time!
#35. Break out the sweaters
A green baggy off-shoulder sweater to show off your beautiful collarbones styles with jogger pants with a hint of green. Top off with heels and a bag to add a touch of formal to this overall casual look!
#34. BFF goals
If you're looking for ideas to match with your best friend In winters, then let it's a sign for you to hop onto the baggy sweater bandwagon with your BFF! Either matching baggy sweaters or different colors of the same design, the secret to perfection lies in wearing them over plain white skirts to let the sweaters add to the look and have their moment!
#33. Baby, it's cold outside
If the chilly weather stops you from wearing your favorite dresses, then we have just the solution for you! Throw on a baggy sweater over your dress for that extra warmth, and add a pair of sneakers to match the vibe or to keep you comfortable!
#32. The snuggle is real
If looking at this sweater made you think of your dad's sweaters, then it's time for you to raid his winter wardrobe because these sweaters as looking chic as ever. Style them with straight jeans and a collared shirt, and you got your dad game on!
#31. Up to snow good
You can quickly turn your ribbed knit skirt into a sweater dress look by adding a baggy sweater on top and tucking it in!
#30. Sleigh all-day
You already know that we love two-piece outfits, and black and white is our favorite contrast combination! Are you thinking what we're thinking? This check baggy sweater and skirt set is definitely on our winter must-have list, and we can't wait to get our hands on something similar. We love how the black bag and white nails match the whole vibe and add to the look!
Check out more ideas on wearing abstract sweater ideas such as striped sweater trends for women this upcoming winter.
#29. Love at frost sight
Beanies and winters go hand in hand, especially for someone who likes to keep their ears warm and cozy. It's the best winter accessory out there, so we thought of giving you an outfit inspiration that cozy and comfortable top to bottom. Beanie, baggy sweater, jeans, and sneakers nothing speaks comfort and warmth more than this look!
#28. Ladies, stay cozy!
If you're planning on taking pictures in a field or maybe going on a cute picnic date, then why not get your hands on this gorgeous off-shoulder baggy sweater and pair it with ripped jeans. We love how subtle this look is, and the green and white are just adding to that!
#27. Hella heart eyes for you!
Say goodbye to gloomy, dull winter days as you throw on a sweater filled with heart-eyed smiley's because it's all about manifestation, ladies! The headband, the sweater, the handbag – everything about this look gives us 'That 70's show' vibes, and we're all here for it while the nostalgia hits hard!
#26. Orange is the new Black
Orange is definitely the new black because look how fabulous this outfit looks! We for sure wouldn't mind adding a little orange here and there instead of our all-black winter outfits, not that there's anything wrong with them. We love the French tuck technique used as it surely adds to the look. Topping it off with shades, a cross-body bag, and timberlands adds that extra sass to the look!
Check out more ways you will definitely love on how to wear sweaters with jeans.
#25. Freeze the day!
The design of this baggy sweater is everything, but we'd be lying if we said that the lace top, bag, leather pants, and sneakers didn't put this look together!
#24. Snow Angels
The cutest way to style your overalls in winter is with a baggy sweater! Look at how adorable and chic this attire looks…the white sneakers matching the baggy sweater, the belt. The shades and even the hairstyle- everything is on point!
#23. She was a skater girl!
If you're a skater girl, then we can't let you miss out on this look! We love how there's a hint of yellow in everything like she's matched her look to her skateboard. A baggy sweater with skinny jeans and a hint of your skateboard's color incorporated in your look is how skating around the block is done in style!
#22. All-black
Behold, ladies, the winter staple! Winter wardrobes are incomplete without an all-black look, so we bring to you a baggy black sweater paired with leather pants, a black bag, and a pair of timberlands. Now you're ready to take over the fashion world because you can never go wrong when it comes to all-black!
#21. Graffiti-Style
Throw on a graffiti-style baggy sweater, and you might as well grab your friends to go for some graffiti fun. The contrasts of this look are striking!
#20. It's colder than my soul outside!
Plaid pants are the best kind of pants. Be it a dinner date or a formal event; you can always be cozy yet ready for the occasion with a baggy sweater styled over plaid pants!
#19. Let it snow!
If you're going to the library or planning on reading Wattpad stories at the park, then we have just the outfit for you. The pastel color scheme of this look is everything! Style up your baggy sweater with a matching bag and footwear- brownie points to the layered necklace!
#18. Winter is coming!
Wondering how to make a cardigan-style baggy sweater look chic? Tuck it in your jeans, add a belt, stylish shades, and hair tied back!
#17. She knows her dinos!
This outfit is the perfect one for a Jurassic Park screening- get your friends together for a movie date and make sure it's Jurassic park because you have just the outfit for it! Forget a bag and accessorize your outfit with a matching phone case because nothing about this look is conventional, so why not?
#16. The cold never bothered me anyway!
This look is perfect for the autumn when the weather is forgiving enough to show some skin- an off-shoulder baggy top styled with mini shorts!
#15. -Xoxo Gossip Girl!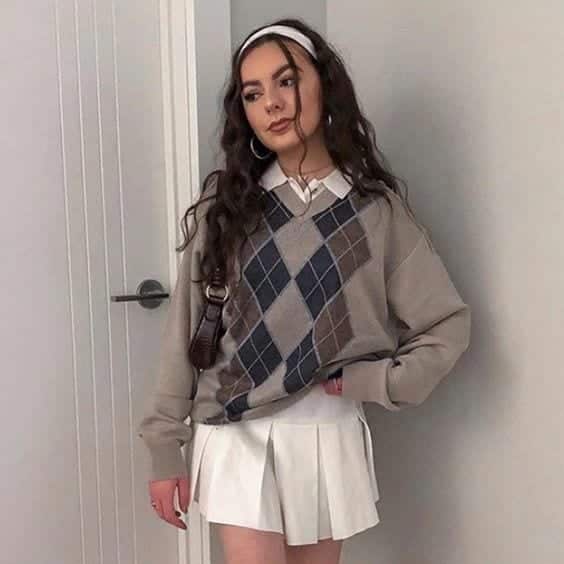 This outfit takes preppy style to another level, and it looks like you just walked out of an Upper Eastside school!
#14. Black and Camel
Add a hint of camel to your all-black outfit with a cardigan-styled camel tone baggy sweater.
#13. Leopard is treasured
We know that styling baggy sweaters with skirts round up a chic look but adding an animal print bag (preferably leopard) to the ensemble is a game-changer, ladies!
#12. Office wear
If you want to keep warm at the office but still classy as ever, then a baggy sweater tucked into an A-line skirt will come to your rescue!
#11. Barbie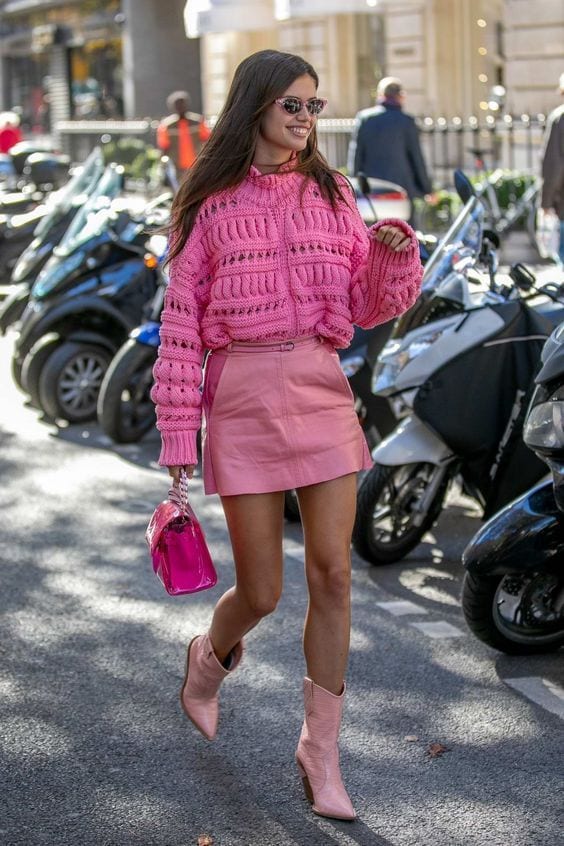 This outfit lives up to all our Barbie girl dreams! All pink and, even better, all shades of pink. We love everything about this look, especially the design of the baggy sweater. Adults aside, you'll have little girls drooling over your look because life's fantastic in this ensemble!
#10. Un-brrr-lievably Beautiful
Spice up your baggy sweater outfit with accessories like snakeskin print boots and be the stunner that you are!
#9. Tis' the season to sparkle
Christmas festivities mean it's time for baggy Christmas sweaters!
#8. Winterful Life
Leave the crowd in awe as you strut around wearing a yellow baggy sweater styled with purple pants! That's a contrast we're living to see, and the turquoise footwear is the cherry on top!
#7. Did someone say baggy?
Go for an all baggy look by pairing your baggy sweater with bell bottoms-we're taking comfort t another level!
#6. Totally sleigh-ed it!
Silk skirts are a statement style and paired with baggy sweaters that's a show stopping look!
#5. Snow much fun!
Is it just us, or does this sweater looks like it's perfect for Easter? If it's still cold around Easter time where you live, why not go for this outfit. Bonus points to the white converse with red lines, which match the hearts design on the sweater!
#4. Every day I'm shovelin'
Collared baggy sweater, white pants, and a belt! This look is the definition of immaculate. Wear it to the office or even a round around the block; you'll be the center of attention wherever you are!
#3. Sugar, ice and everything nice!
Winters just can't be done without turtlenecks and if it's extra chilly where you live, then add a baggy sweater to go with it! And if you're brave enough to show some skin in the chilling cold, then fishnet and a buttoned skirt is the way to go, ladies!
#2. Portrait Sweater?
A sweater with a portrait? It really is magical living in the 21st century. You can get a customized baggy sweater with your portrait or a loved one and style it with plaid pants. You'll surely be standing out in the crowd with this look!
#1. Rainbow Party
We always talk about adding colour to your winter wardrobe, but this look takes it to the next level! A baggy rainbow-colored sweater is definitely what we've been looking for all this time. Styling it with black jeans brings out the colors of the sweater and will make you look fabulous as ever!
Frequently Asked Questions
Q. How to tuck in baggy sweaters?
A. A full tuck is what girls usually go for but to add some chic to your style, go for a French tuck, i.e., tuck in only the center front of the sweater. To avoid a bulk while tucking in, either fold your hem under your bra or wear a skinny belt and tuck the sweater up and under the belt.
Q. What do you wear with a baggy sweater?
A. Following are some options you can wear with a baggy sweater:
Tucked into Jeans or Leggings
With Leggings and Hiking Boots
With Wide-Leg Trousers
Layered Over a Dress
With a Fitted Skirt
In a Monochrome Outfit
Avid reader and Fashionista. London Based freelance lifestyle editor